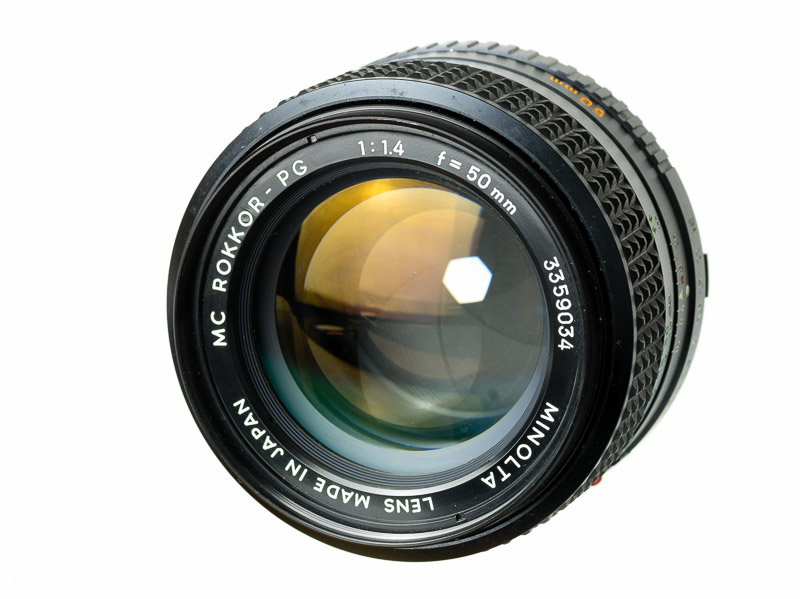 There is an abundance of manual 1.4/50 lenses available, is there anything which makes the Minolta MC 1.4/50 special? That's the question I try to answer in this review.
Sample images
Images are linked to the full resolution, just click on them.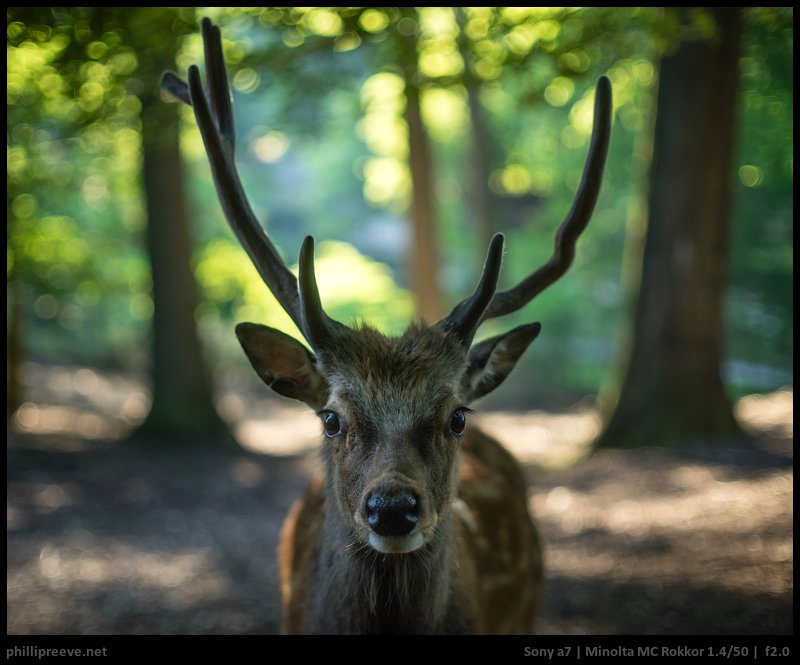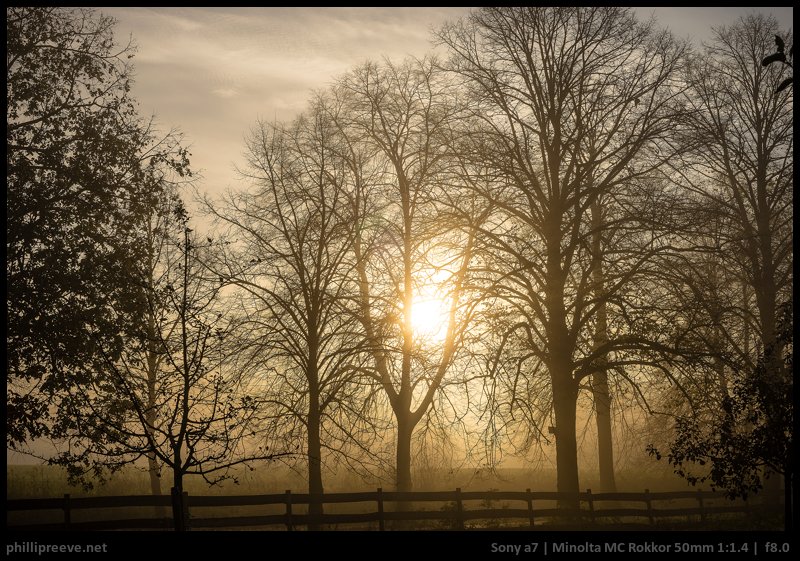 Specifications
Diameter: 65.2 mm
Length:  46 mm
Weight: 305 g
Filter Diameter: 55 mm
Number of Aperture Blades: 6
Elements/Groups: 7/5
Close Focusing Distance: 50 cm
Mount: Minolta SR
The Minolta MC 50mm 1:1.4 usually sells for around $40-80 at ebay.com (affiliate link). 
In Germany you can buy it for 50-85€ at ebay.de (affiliate link).
Also check out my Minolta SR-mount adapter guide.

Versions
The Minolta MC 1.4/50 was released in 1973 and remained in production until 1977.
The mechanics and optics remained unchanged but minor cosmetic changes happened. In 1974 on the north American market ROKKOR became ROKKOR-X in orange and at the same time the index was changed from a painted red dot to a red plastic bead in all markets
(Thanks to Maury Jacks for additional information.)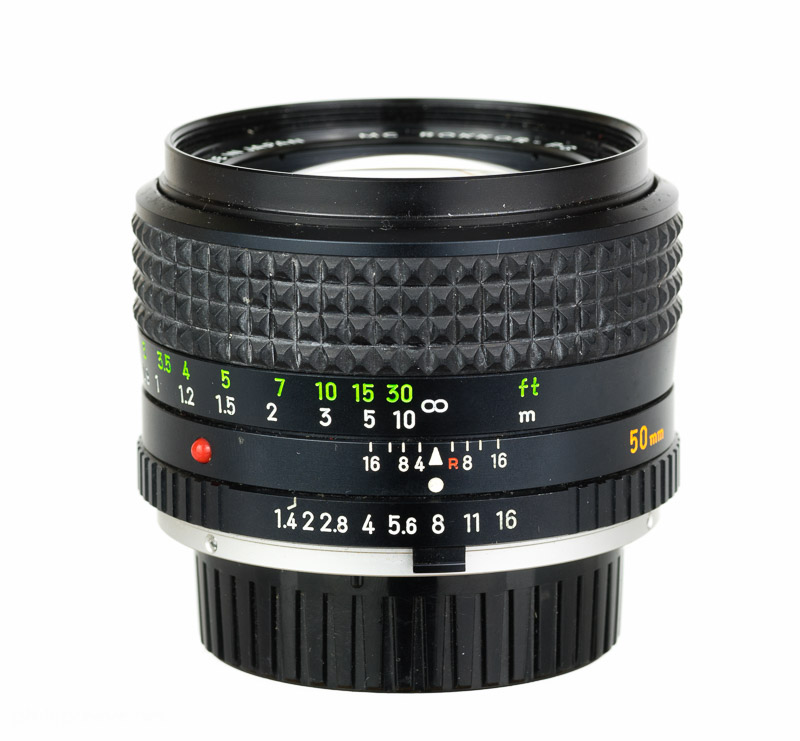 It's successor was the MD 50mm 1:1.4 which is 65g lighter and a bit shorter.
Build Quality
Typically for a Minolta MC lens built quality is great, it doesn't get much better than this. The lens is made of nothing but metal and glass (well and some rubber for the focusing ring but it has aged well). All markings are engraved.
Size, Weight and Handling

The Minolta MC 1.4/50 is about as large and a little heavier than your average 1.4/50. It is well balanced on the Sony a7 but it feels like a substantial lens.
The focusing ring is a pleasure to use because it has just the right resistance and travels about 90 degrees from 0.5m to 1m and a further 80 degrees to infinity.
The metal made aperture  ring of the has a good resistance and distinctive stops. There is no  stop between f/1.4 and f/2, then it stops down half steps to f/16.
Lens Hood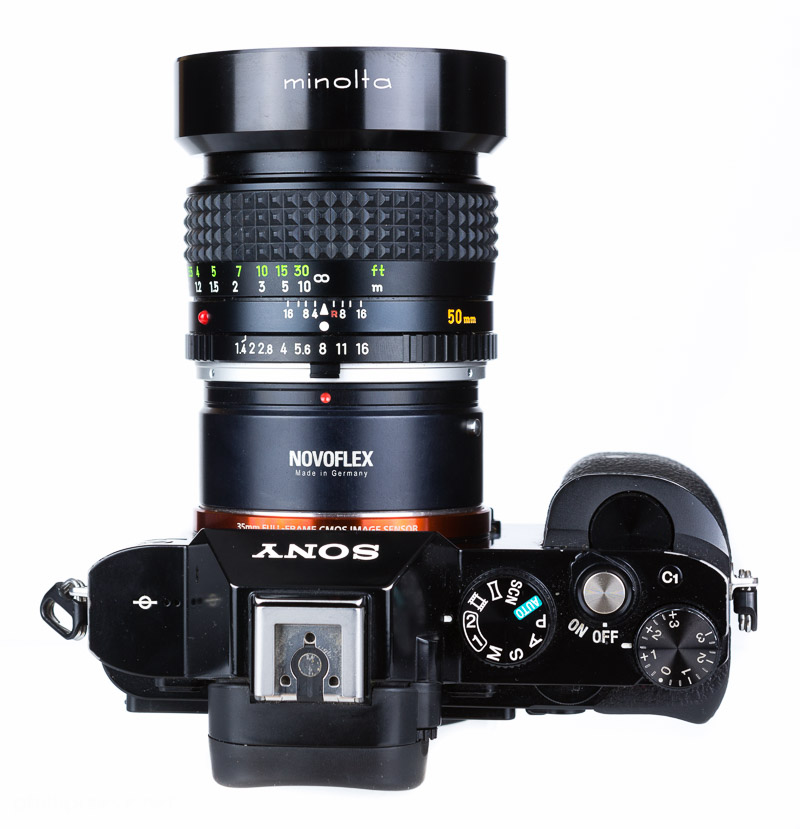 The original lens hood is made from metal, on the inside it is flocked with a velvety material. Since it is very solid and because it isn't too large I usually leave it on the lens and put lens the lens in my camera bag without a front cap which speeds up operation.
Filters
The 55mm filter thread is made from metal.
The front of the lens does not rotate.
Image Quality
Vignetting
At f/1.4 vignetting is significant, at f/2 it is reduced but still noticeable and from f/2.8 a no-issue.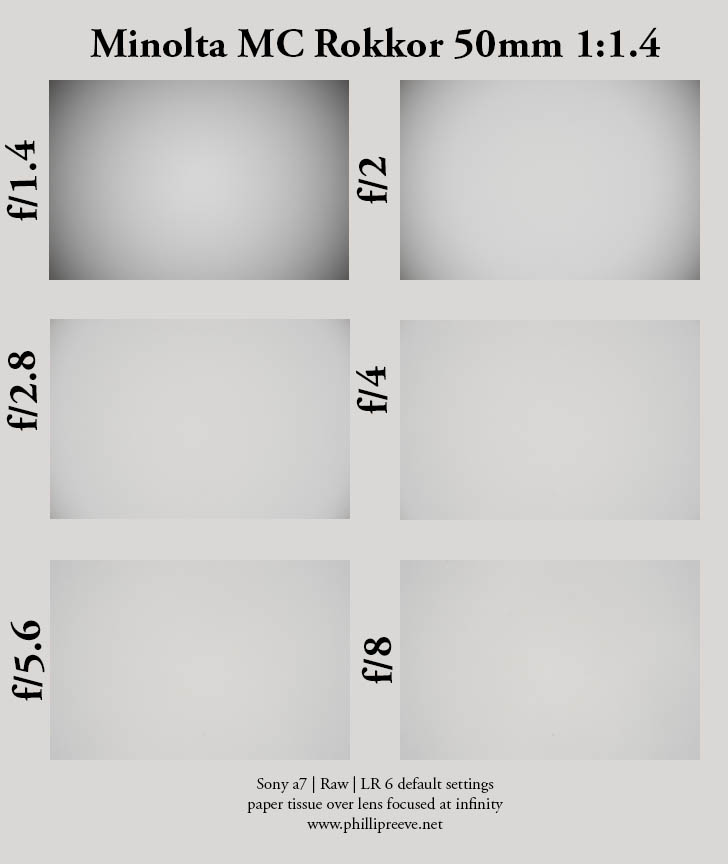 Flare Resistance
Typical for a Minolta the MC 1.4/50's flare resistance is nothing to write home about.
Ghosting isn't hard to provoke:
Veiling flare is rather strong and robs the image of contrast: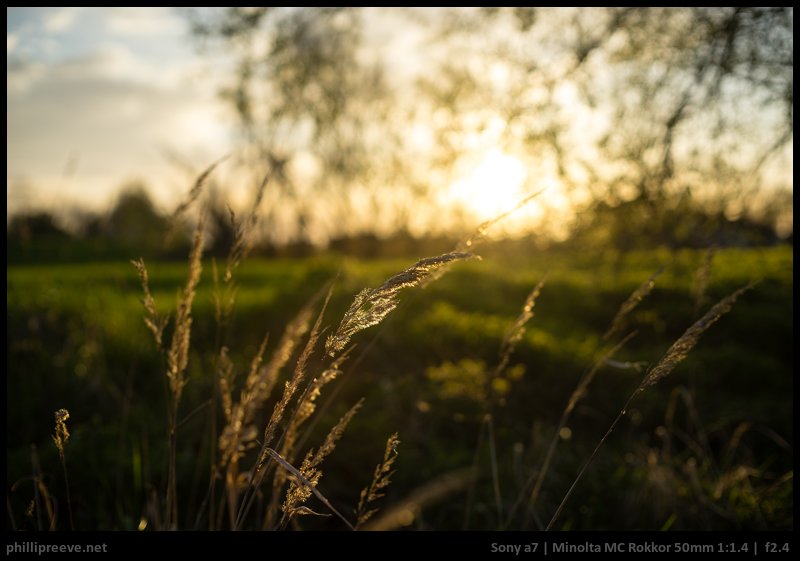 Distortion
The lens shows a small amount of barrel distortion.
Chromatic Aberrations
There is a little bit of lateral CA. I would say the performance is average for a 50mm.
There is quite a lot of longitudinal CA. Again an average performance for a 50mm. But also much more expensive 50mm lenses struggle in this aspect.
Bokeh
The Minolta MC 1.4/50 doesn't have the smoothest bokeh but it isn't bad either.
At f/1.4 there is a pretty strong outlining effect and the cat's-eye effect is prominent as well:
Here is a worst case scenario:
At f/2 the outlining effect is much less annoying but still visible, especially outside of the center.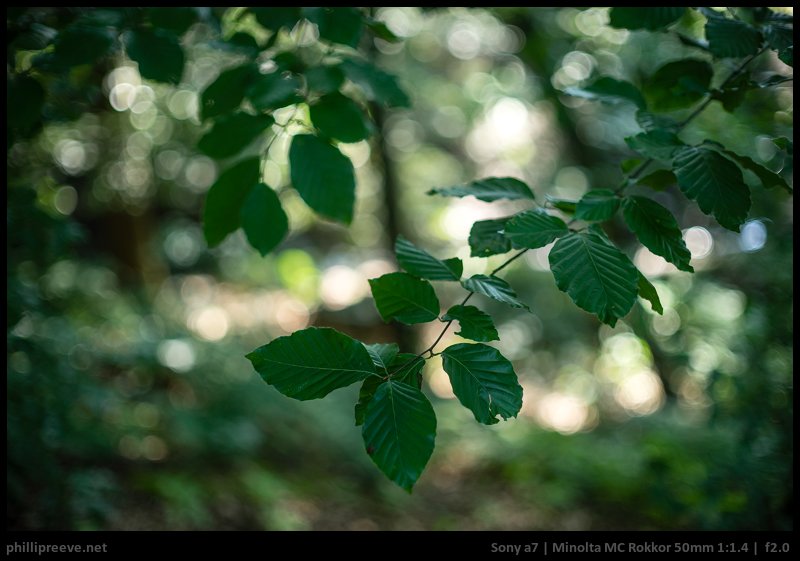 My preferred aperture is f/2.4. Here oof highlights are rendered quite smooth and the shape of the aperture isn't too obvious.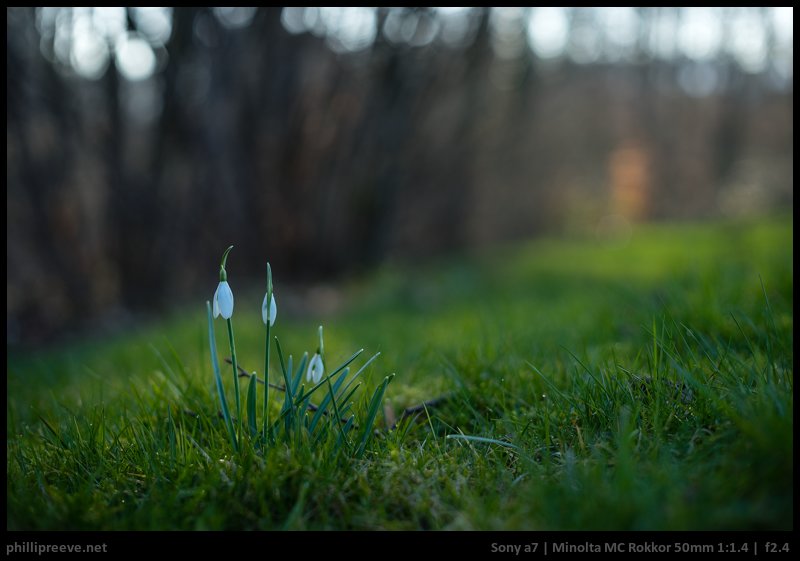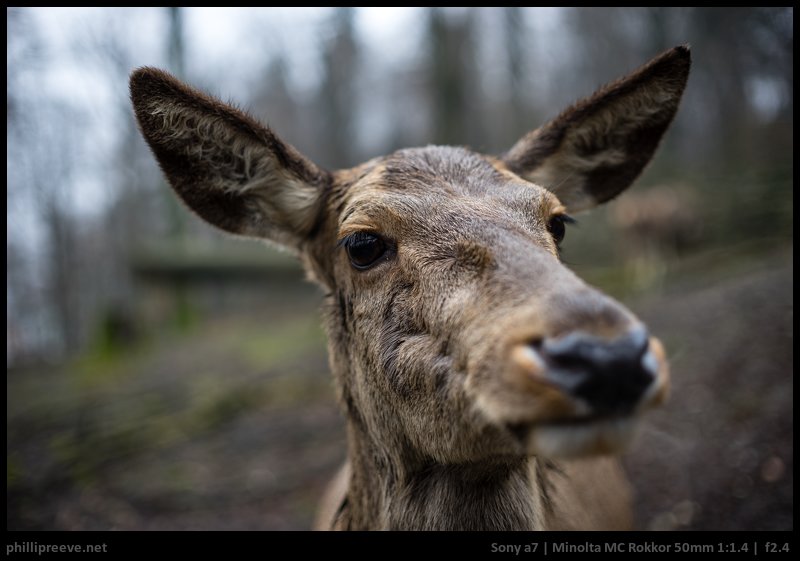 At f/2.8 the hexagonal shape of the aperture is pretty obvious and a bit annoying.
Of course bokeh depends a lot on the background, in scenes of low contrast and with backgrounds farther away you can get smooth bokeh even at f/1.4 and especially at f/2.0.

Sunstars
The Minolta MC 1.4/50 only has 6 aperture blades so sunstars only produce 6-pointed stars. From f/11 they are reasonably well defined  but they don't come close to the nice sunstars of lenses like the Zeiss Loxia 2/50.
 Sharpness
You can find the full resolution test images in the Minolta MC 1.4/50 flickr set.
f/1.4:  Good resolution in the center, still decent midframe area and bad in the corners. Contrast is quite low.
f/2: Performance is much improved and f/2 is my go-to aperture for portraits.
The center shows good sharpness but there sharp area is quite small.
f/2.8: Any softness is gone, contrast and resolution are excellent in the center and midframe region, the corners only improve a little.
f/4: A significant improvement in the midframe region and further, corners are better but still rather soft.
f/5.6: Excellent across the frame, only the extreme corners are a tad softer.
f/8: Excellent across the frame.
f/11: A little softer due to diffraction.
For me the most important stops are:
f/2.4 for portraits and images where it is really sharp in the relevant area and you can still blur the background nicely.
f/8 for landscapes where everything is tack sharp.
Close Focus Performance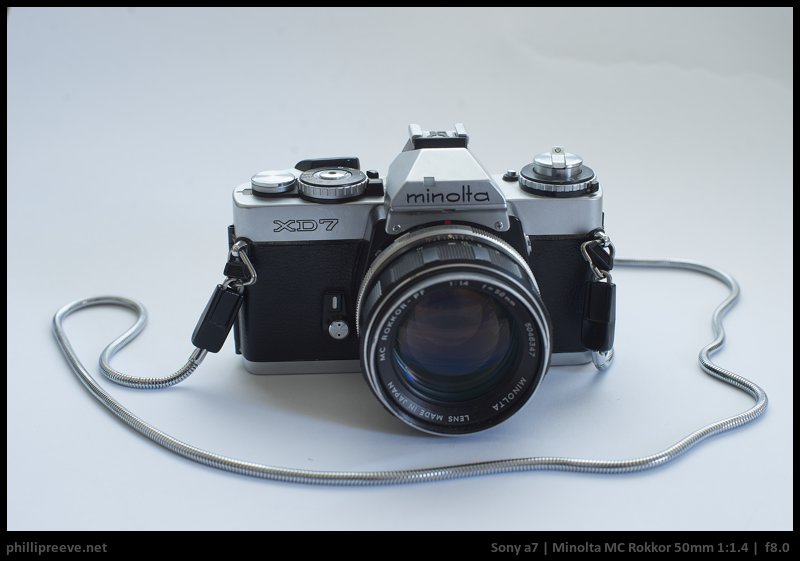 The Minolta MC 1.4/50 has a close focusing distance of 50cm which results in a reproduction ratio of about 1:8 which is a little below average for a 50mm lens.
The Minolta does not feature floating elements so performance suffers quite a bit at shorter distances.  You won't reach the same level of performance as at longer distances, no matter the aperture you are using. Results are good enough from f/2.8 but the level of CA is quite high, even in the center. My Minolta MC 3.5/50 macro performs much better here.
A full aperture series can be found in my Minolta MC 1.4/50 flickr set.
Alternatives
Minolta MC 1.2/58: Quite a bit smoother bokeh and 8, not just 6 aperture blades make it a superior lens when bokeh is important. Sharpness is similar, the 1.4/50 might be a tad better. It also costs about 6 times as much and is nearly 150g heavier.
Minolta MC 1.7/55: Not as sharp at wider apertures but it has nicer bokeh and is a bit smaller.
Minolta MD 2/50: Worse bokeh but it is sharp across most of the frame from f/2, very small and only weights half of the MC 1.4/50. This is reflected in the build quality though. It is also free of lateral CA and distortion which the 1.4/50 is not.
Zeiss C/Y Planar 1.4/50: The Planar has more effective coatings which results in a much better flare resistance and higher contrast at wider apertures. The Minolta is a lot cheaper though.
Canon nFD 1.4/50: The Canon is quite a bit sharper at f/1.4 and f/2 but  and it doesn't feel nearly as solid. Price is similar.
Zeiss Loxia 2/50: A modern lens which is sharp across the frame from f/2 with high contrast and exif transmission. Bokeh is the only real weakness I found. Oh an the price of course.
Sony FE 1.8/55 ZA: The Sony is super sharp from f/1.8 and it has much smoother bokeh. Manual focus is a pain in the a** though and it is expensive.
Conclusion
good

sharpness in the center from f/2.4

excellent sharpness across the frame at f/5.6

build quality

price

average

size and weight
bokeh
distortion
vignetting

not good

performance at f/1.4

flare resistance

soft corners at wider apertures

only 6 aperture blades
Like any classic 50mm lens the Minolta has decent resolution and low contrast at f/1.4, bokeh is quite busy und vignetting quite strong. You still can take nice pictures at this aperture but I would avoid broad daylight and look for darker scenes without busy backgrounds.
There is a very significant improvement when it is stopped down to f/2 where it is quite sharp in the center of the image and the bokeh depends a lot on the situation. Sadly the MC 1.4/50 has only six aperture blades wich is detrimental to the bokeh, but since they are somewhat rounded the effect isn't too strong at f/2 and f/2.4.
Stopped down to f/2.8 sharpness is excellent across most of the frame but you need to stop down to f/5.6 for excellent across the frame performance.
Flare resistance is a weakness of this lens; both veiling flare and ghosting can be bothersome.
Typically for a Minolta MC lens build quality is great, and I see this as one of the stronger arguments for this lens, it is just satisfying to use such a well made lens.
I think the Minolta MC 1.4/50 offers really good value, for about $80 you get a lens which is built to higher standards than today's $1000 lenses. Optically you have to live with a number of compromises but most of the time you will be able to get really good results.
All in all a versatile lens which will give you very good results for most application, at least if you stop it down a bit. Using it is a joy because it is so well made. Compared to other 50mm lenses the build quality and sharpness stand out. It offers great value.
The Minolta MC 50mm 1:1.4 usually sells for around $40-80 at ebay.com (affiliate link). 
In Germany you can buy it for 50-85€ at ebay.de (affiliate link). 
Also check out my Minolta SR-mount adapter guide.
If this review was helpful to you, please consider using one of my affiliate links. I will earn a small commission on your purchase and it won't cost you anything. Thanks!
Minolta MC Rokkor 1:1.4 50mm Sample Images
All images are processed in Lightroom from Raw. Many more full resolution samples in my Minolta MC 1.4/50 flickr album.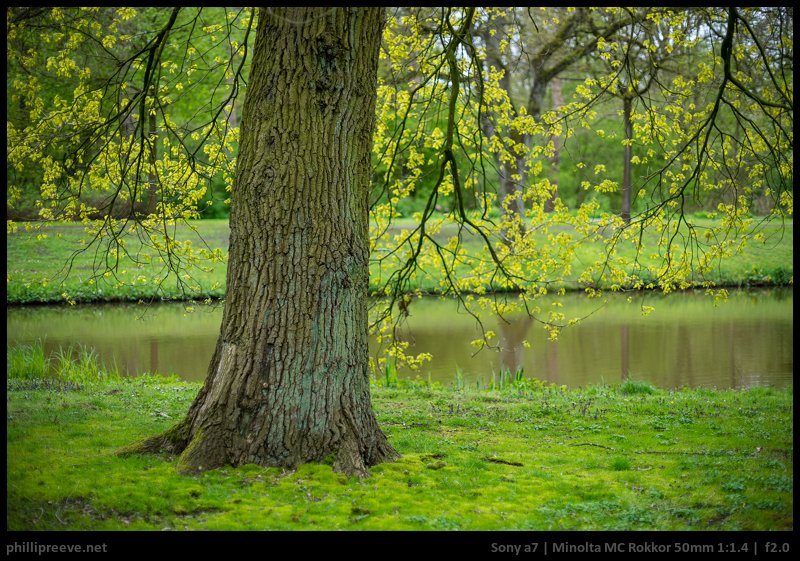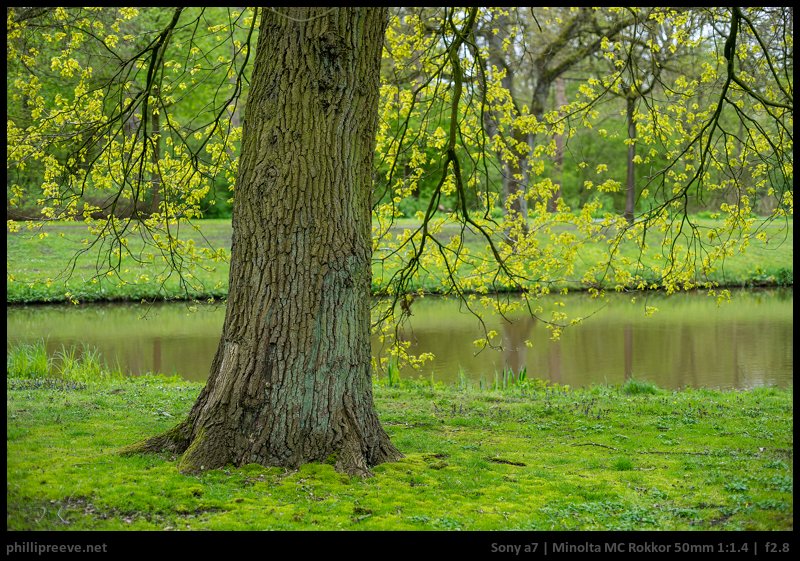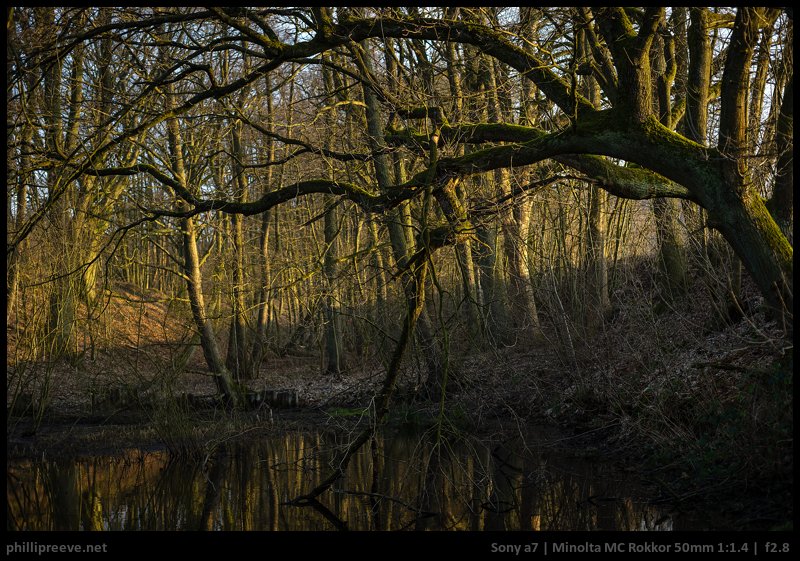 Further Reading
The following two tabs change content below.
I have two hobbies: Photography and photographic gear. Both are related only to a small degree.
Latest posts by Phillip Reeve (see all)