Introduction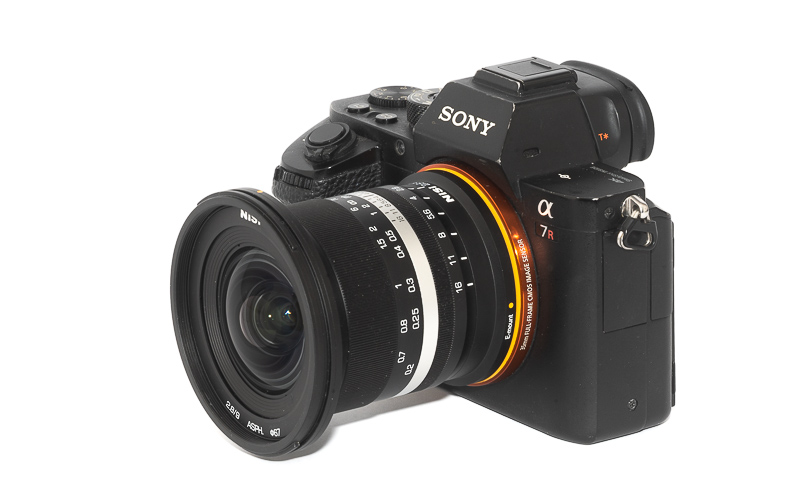 We rarely review APS-C lenses here, but I already reviewed the Laowa 9mm 2.8 APS-C lens so thought it might still be interesting to have a look at this NiSi 9mm 2.8 APS-C to be able to compare these two.
Sample Images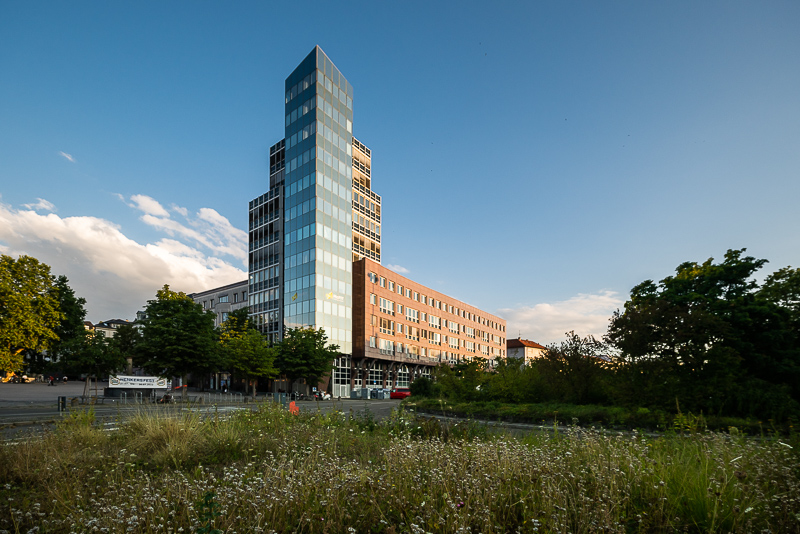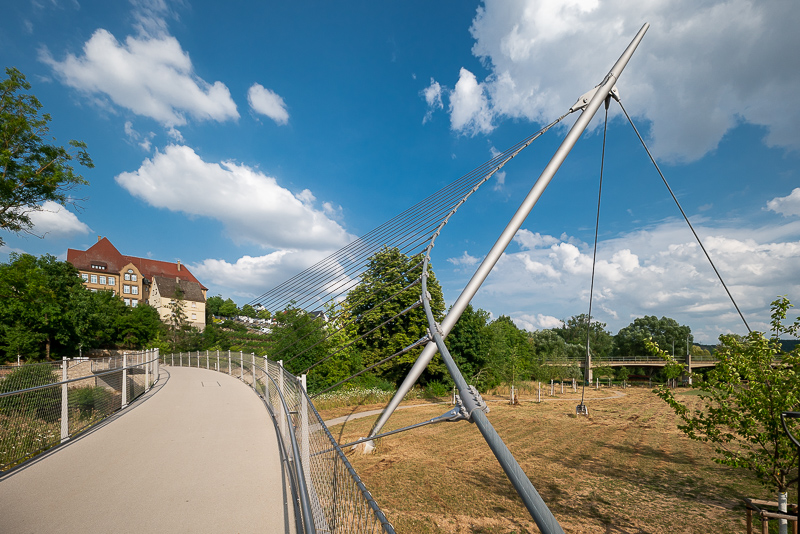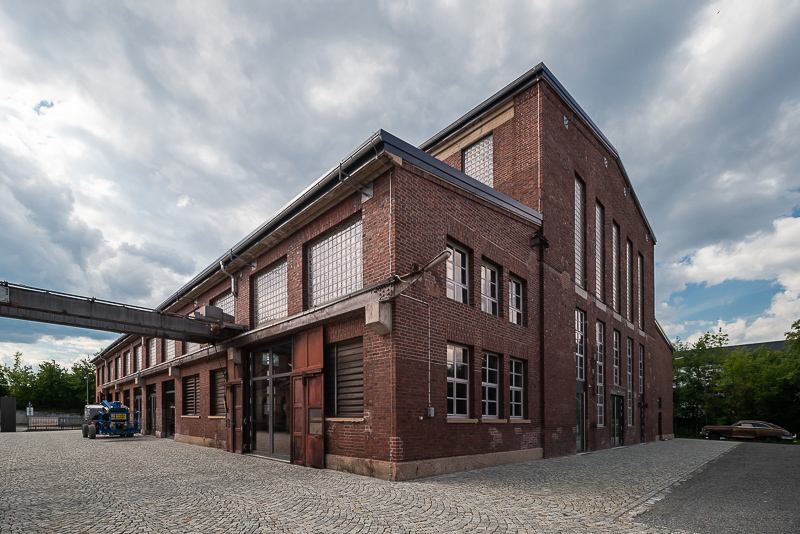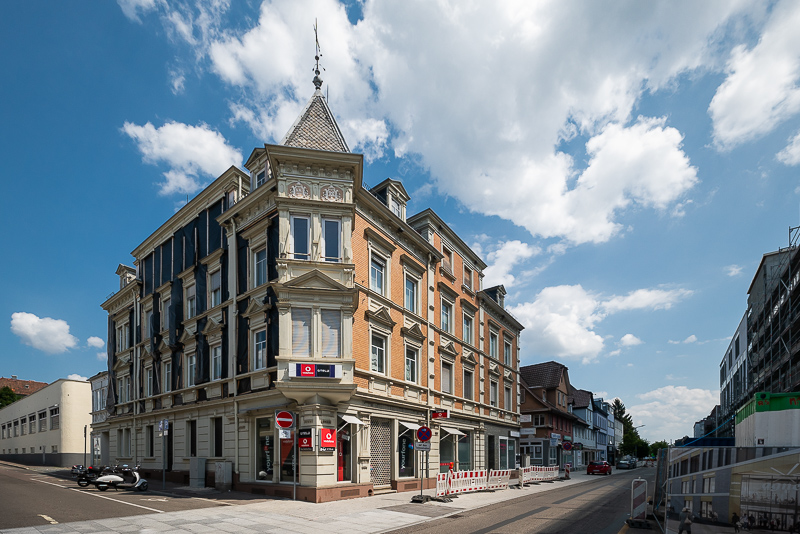 You can find most of the shots in this review in full resolution here.
Specifications
I am reviewing a final production model here which has the following specifications:
Diameter: 75mm
Field of view: 113° (diagonally)
Length: 72mm
Weight: 368g
Filter Diameter: 67mm
Number of Aperture Blades: 10 (straight)
Elements/Groups: 14/12
Close Focusing Distance: 0.2m
Maximum Magnification: ~1:12.8 (measured)
Mount: E-mount
The lens should soon be available from the manfucaturer's homepage, ebay.com and B&H (affiliate links) and the price is $459
Disclosure
A final production sample of this 9mm 2.8 APS-C lens was provided free of charge by NiSi Optics for reviewing purpose for a few weeks.
From 2016 to 2018 I have been a NiSi ambassador and received a few filters for free, so maybe crosscheck what I have written with some other trustworthy reviewers (e.g. lenstip or cameralabs) when possible.
Handling / Build Quality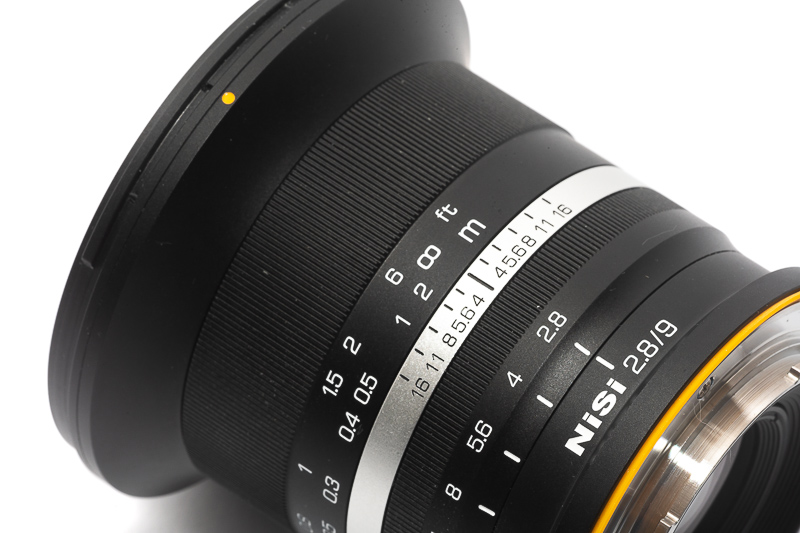 The feeling of the materials and rings is similar to that of the Zeiss Loxia lenses, we have a very big focus ring which turns ~120° from the minimum focus distance (20 cm) to infinity and a clickless aperture ring with equidistant stops that rotates ~90° from f/2.8 to f/16.
The lens focuses slightly behind infinity which is normal for modern lenses because of mount tolerances.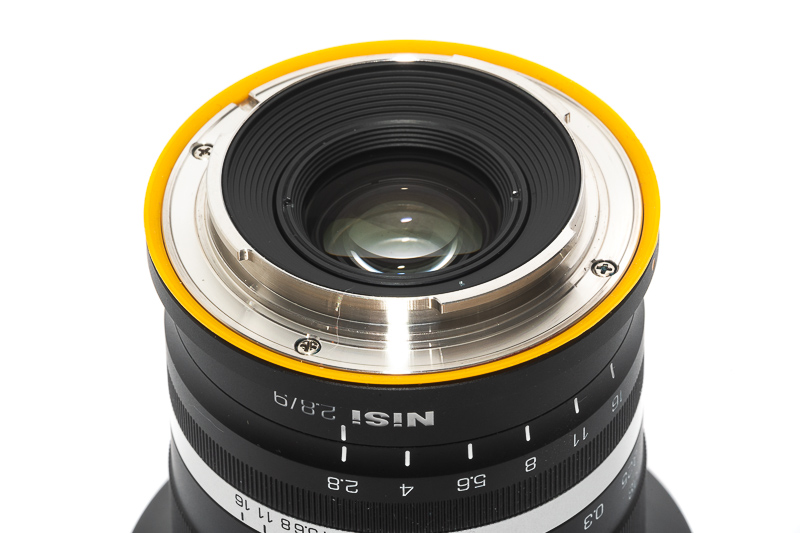 The fullframe 15mm 4.0 was NiSi's first lens and the build quality was already convincing, but they did improve it further by adding a rubber gasket at the bayonet.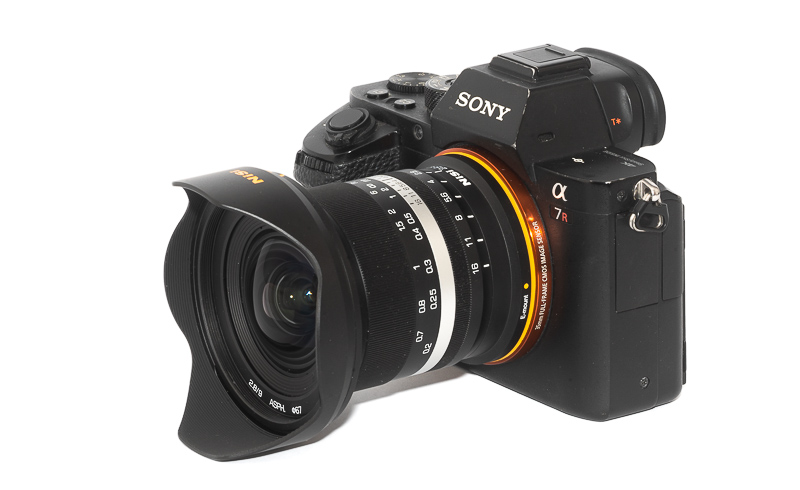 A petal shaped aluminium hood was also part of the package and sits tightly.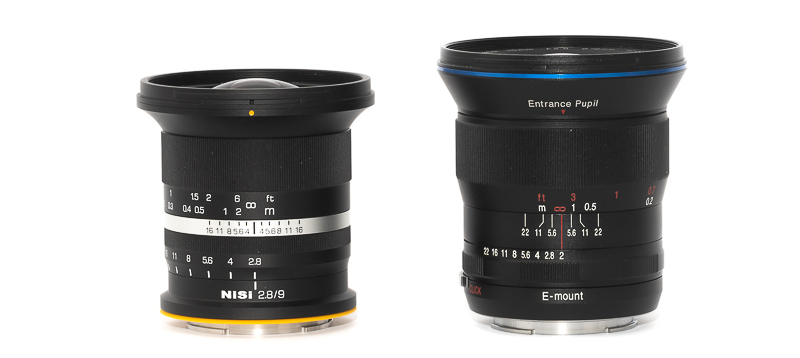 For an APS-C lens the NiSi 9mm 2.8 is comparably big and almost the size of the Laowa 15mm 2.0. I couldn't take a picture next to the main competitor, the Laowa 9mm 2.8 APS-C, but in its review you also find a comparison to the Laowa 15mm as well, that should give you an idea.
Unfortunately the lens does not feature electronic contacts to communicate with your camera.
Vignetting and colorcast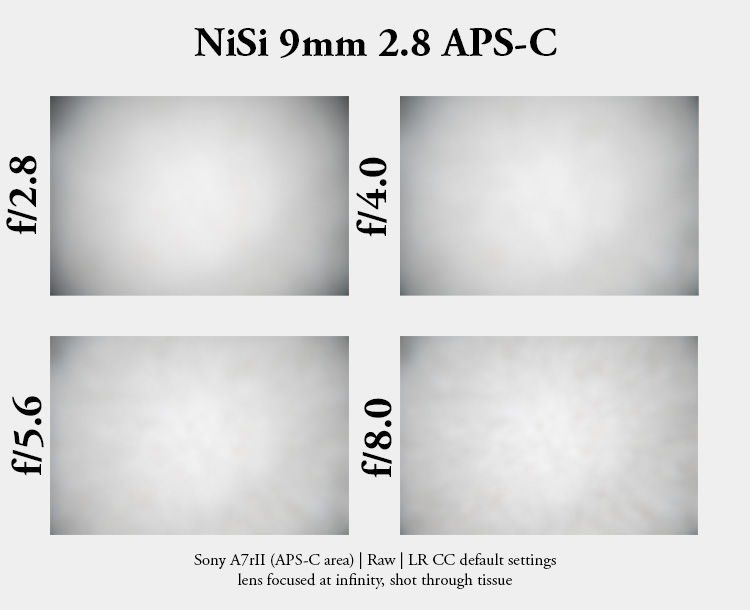 | | |
| --- | --- |
| f/2.8 | 3.6 EV |
| f/4.0 | 2.9 EV |
| f/5.6 | 2.5 EV |
| f/8.0 | 2.4 EV |
The Laowa 9mm 2.8 had very high vignetting figures. When seeing the dimensions of this NiSi lens I was hoping it would perform better here in comparison, but actually these values are very much comparable.
This happens when using this lens on a full frame camera without crop mode – with and without the hood:
Many of the super wide lenses have issues with color cast in the corners, fortunately here this is not the case and I didn't have to correct this in any of the sample pictures in this review.
Sharpness
infinity (Sony A7rII, crop mode)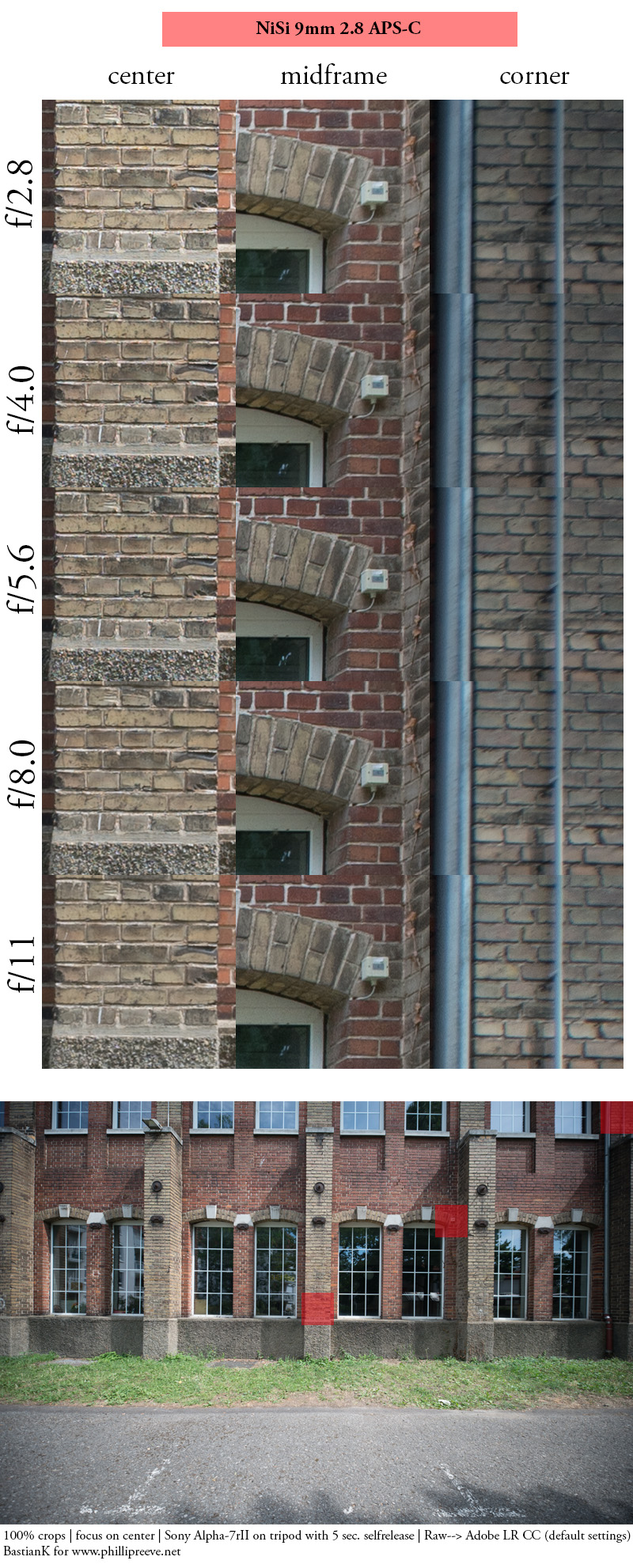 The extreme corners are a tad soft at f/2.8, but the lens is very flat field without any midzone dip so I wouldn't hesitate to use it at f/2.8 if needed.
I also found this lens to give particularly crisp results, something I always like to see.
close focus (0.2 m, Sony A7rII)
100% crops from center, A7rII
The NiSi focuses down to 0.2 m which is not as close as the Laowa 9mm 2.8 APS-C but should still be sufficient for most use cases I could think of.
In the center the performance is great from f/2.8, but the field curvature is very high at these distances (which is the case for most ultra wide lenses), but I guess no one will be using a 9mm APS-C lens for repro work, so it should not be an issue in the field.
Distortion
The NiSi 9mm 2.8 shows a bit of barrel distortion but luckily of the uniform type which can easily be corrected in post. I found dialing in +6 in Photoshop/Lightroom gives very good results.
Sunstars
Already the fullframe version NiSi 15mm 4.0 Asph was using 10 straight aperture blades and the same is the case here. The alignment of the blades also seems to be very good as we see clear stars with even rays at all apertures.
If sunstars are a topic you want to learn more about have a look at this article.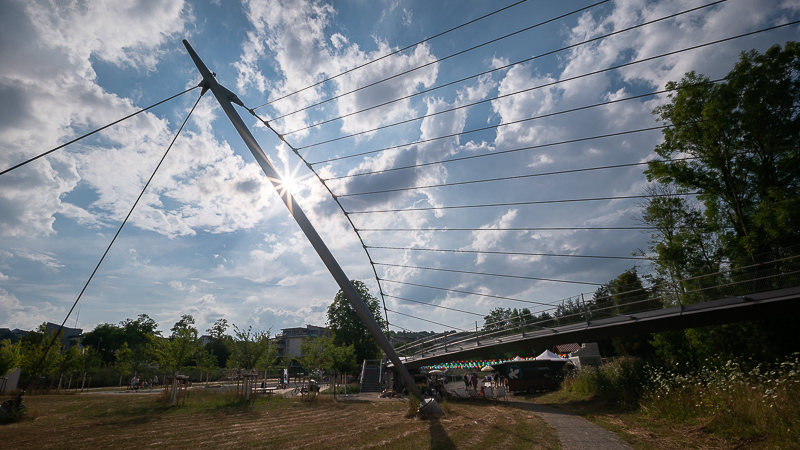 Coma correction
100% crops from extreme corner, A7rII (crop mode)
As we have seen the corner sharpness is pretty good so I was hoping for good coma correction and I haven't been disappointed. There is only minor coma visible even at the maximum aperture.
Flare resistance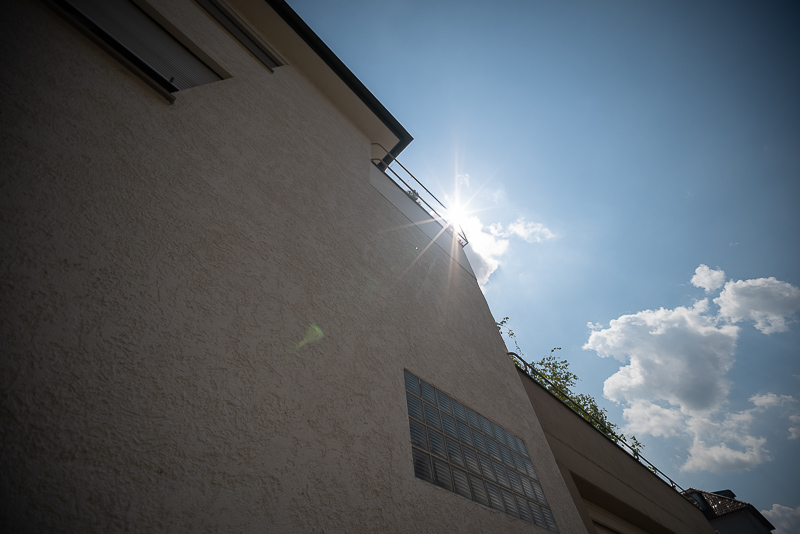 This section can actually be a short one, because the flare resistance is really good. With a strong light source in the frame this tiny ghost you see on top is the worst I could create.
There is that one specific position with the light source close to the corner that creates a bigger flare, but it is easy to avoid by slightly reframing.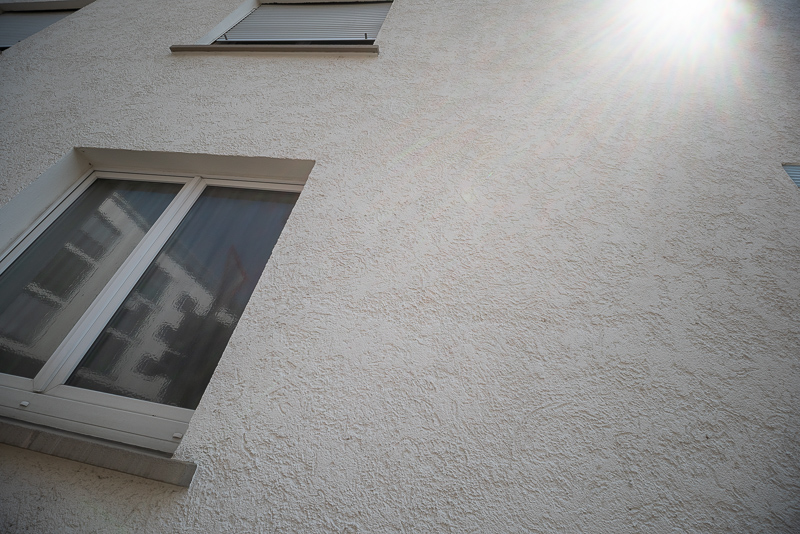 The NiSi 9mm 2.8 creates very nice sunstars, but only because of the good flare resistance you can actually make use of them.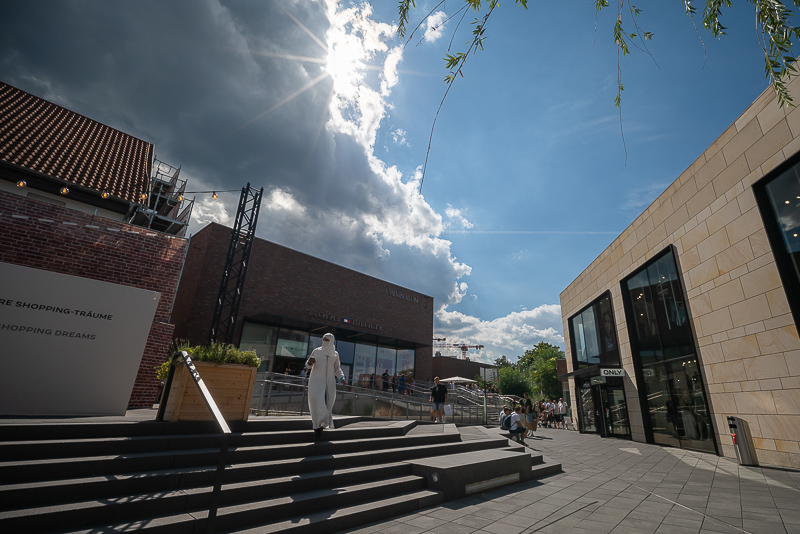 In this category the performance is way better than that of the Laowa 9mm 2.8 APS-C.
Chromatic aberrations
lateral
Sony A7rII | NiSi 9mm 2.8 APS-C | f/8 | CA 100% crop before/after APS-C corner
I really had to search for lateral CA in the pictures I took with this lens and this is the worst I could find. This is a very good performance.
longitudinal
Longitudinal CA in the way of bokeh fringing are not really an issue when dealing with a lens with these parameters and also purple fringing is corrected remarkably well.
Alternatives
Laowa 9mm 2.8 APS-C:
Sharing the same focal length and maximum aperture this Laowa lens is the most obvious competitor. The Laowa lens is significantly smaller and lighter but had some issues with flare resistance ruining the landscape party a bit.
It really comes down to whether you prefer the small size of the Laowa or the better optical performance of the NiSi.
buy from manfucaturer's homepage | amazon.com | amazon.de | ebay.com | ebay.de or B&H (affiliate links) for $499
Laowa 10mm 4.0 Cookie:
This lens has just been announced and I didn't get my hands on it yet so I cannot tell you much about its optical performance. What I can tell you is that the focal length is similar, it is a stop slower and only weighs a third of this NiSi lens.
buy from manfucaturer's homepage (affiliate links) for $299
Sony 11mm 1.8 E:
Sony offering three new APS-C wide angle lenses at the same time in mid 2022 came as a real surprise to me. The most interesting one is this 11mm 1.8. While the difference between 9mm and 11mm is more noticeable than you might think, the difference between f/2.8 and f/1.8 is also huge.
Especially if you are interested in astrophotography this is a remarkable lens and very fairly priced.
buy from ebay.com / amazon.com / amazon.de / B&H (affiliate links) for $548

Samyang 12mm 2.0:
This lens is a stop faster but the difference in focal length is also more significant than you might think. In my opinion this is one of Samyang's better lenses. If you mostly want an ultra wide angle lens for landscape astrophotography and you cannot afford the aforementioned Sony lens it can be a good choice.
buy from ebay.com / amazon.com / amazon.de / B&H (affiliate links) for $229
Sony E 10-18mm 4.0 OSS:
This lens does not only offer auto focus but even an in lens image stabilizer (OSS). It is about 50% more expensive, 1 stop slower and not as wide but allows you to zoom to 18mm. If you are not sure yet about the focal length you want or need this is a good choice if you don't plan on doing landscape astrophotography often.
buy from ebay.com / amazon.com / amazon.de / B&H (affiliate links) for ~$700

Sony E 10-20mm 4.0 PZ G:
The successor to the aforementioned lens. It seems the optics have been noticeably improved while size and weight have been reduced. It is also a true internal focus design. The OSS of the predecessor is gone though and this is a power zoom design which will not be to everyone's liking.
buy from ebay.com / amazon.com / amazon.de / B&H (affiliate links) for ~$748
Conclusion
good

resolution and contrast


flare resistance

coma correction

sunstars

correction of CA

build quality

average
not good

no exif data

vignetting

size/weight
Bad flare resistance can be a real deal breaker for a landscape lens as it has the potential to completely ruin your shots. Unfortunately many of the lenses from "new" manufacturers struggle a lot in this category, so I am really delighted to be able to list flare resistance in the "good" column here, which only rarely happens. Maybe NiSi has an advantage here by using the knowledge on coatings and light baffles they gathered making filters and filter holders before.
Now if you settled on the APS-C format to be able to use a smaller camera with smaller lenses you may very well be disappointed by the size of this lens, especially compared to the Laowa 9mm 2.8 APS-C. In terms of optical performance I do prefer the NiSi lens here though, especially because of its great flare resistance. So ultimately it is up to you, what is more important to you here.
You see it from the table, the good list is long, the not good list is short and there aren't really things on it that will really get in the way, so what else is there left to say?
The lens should soon be available from the manfucaturer's homepage, ebay.com and B&H (affiliate links) and the price is $459
Sample images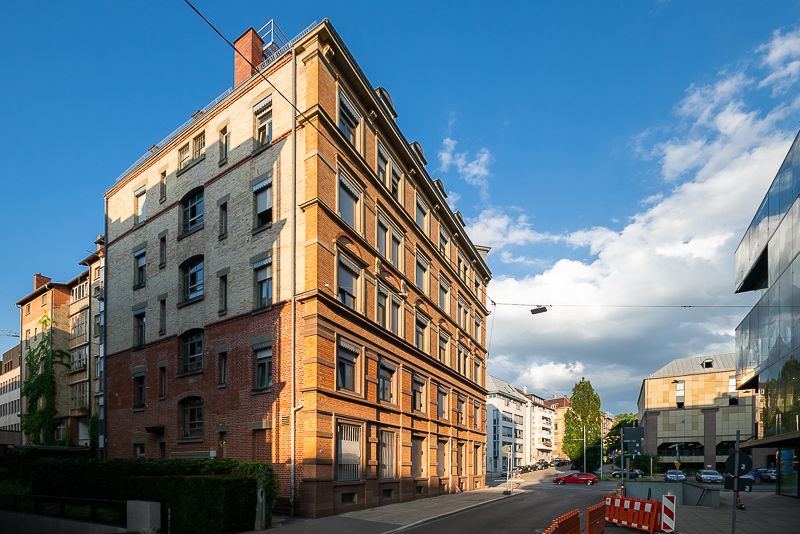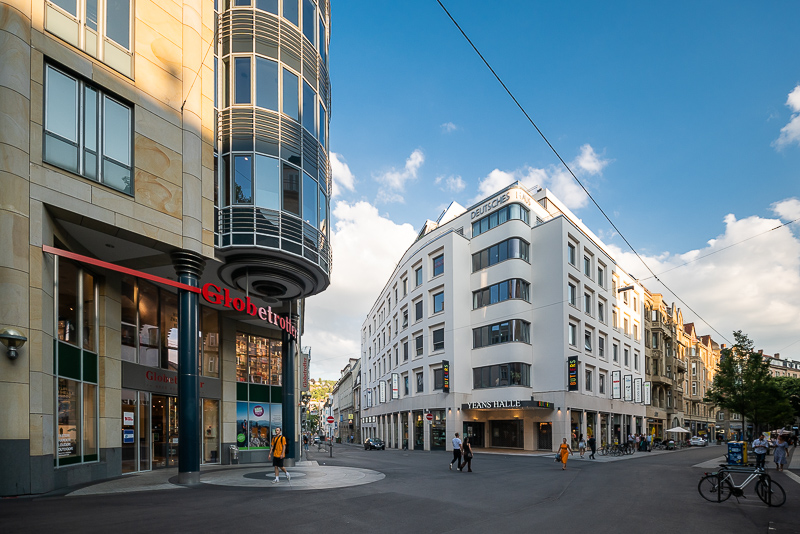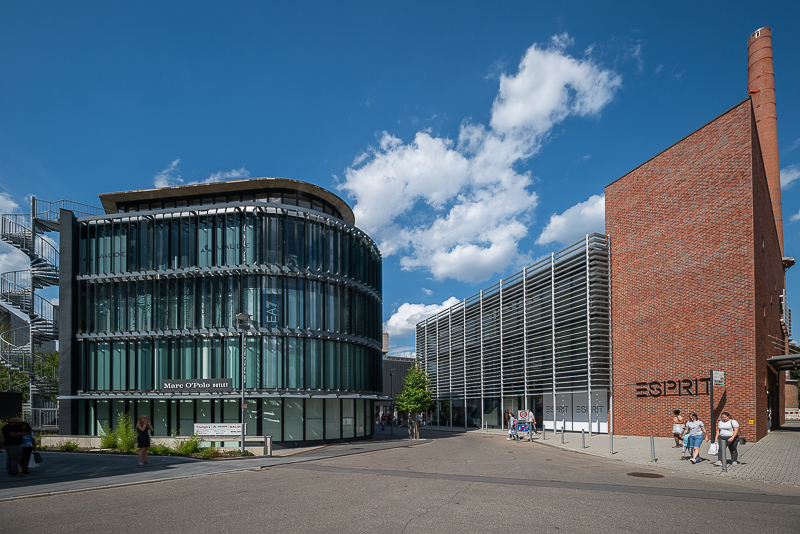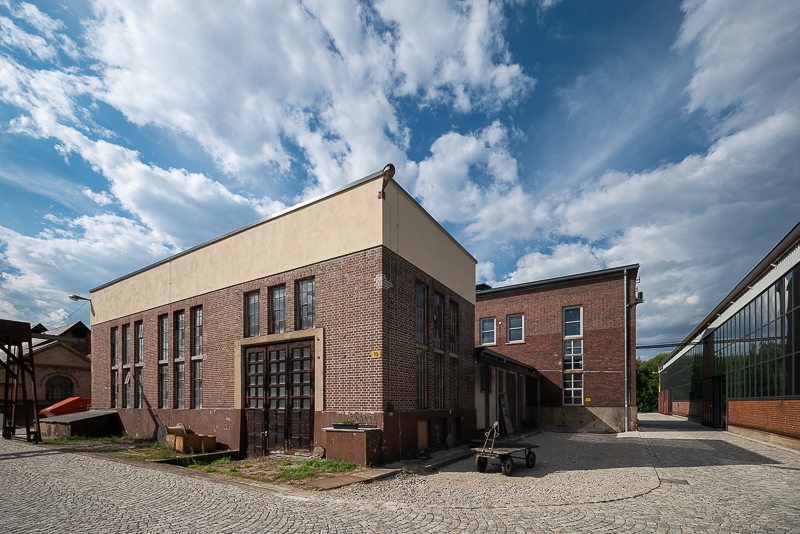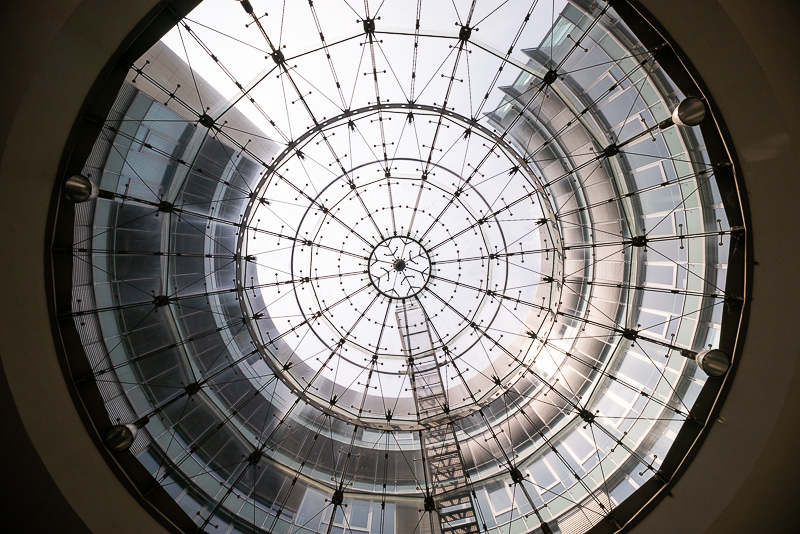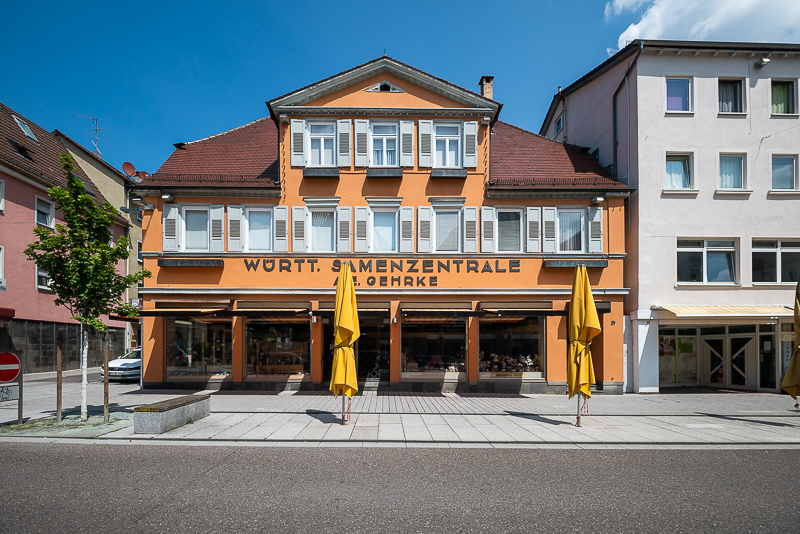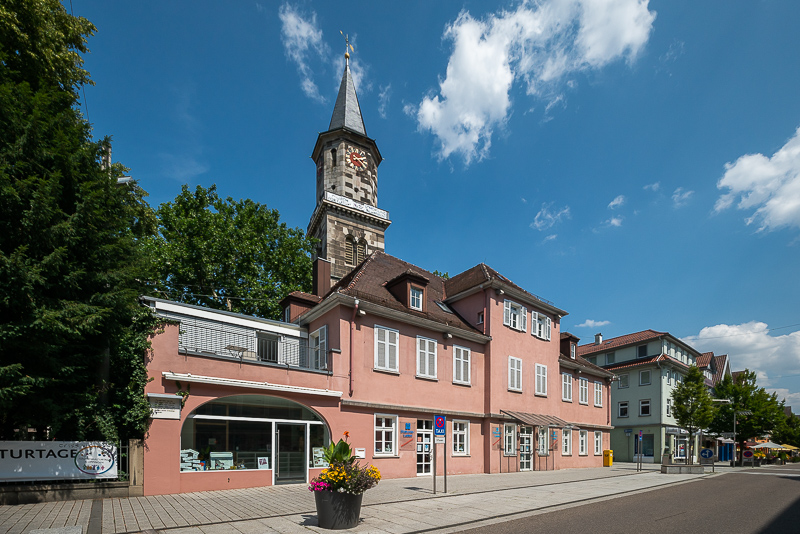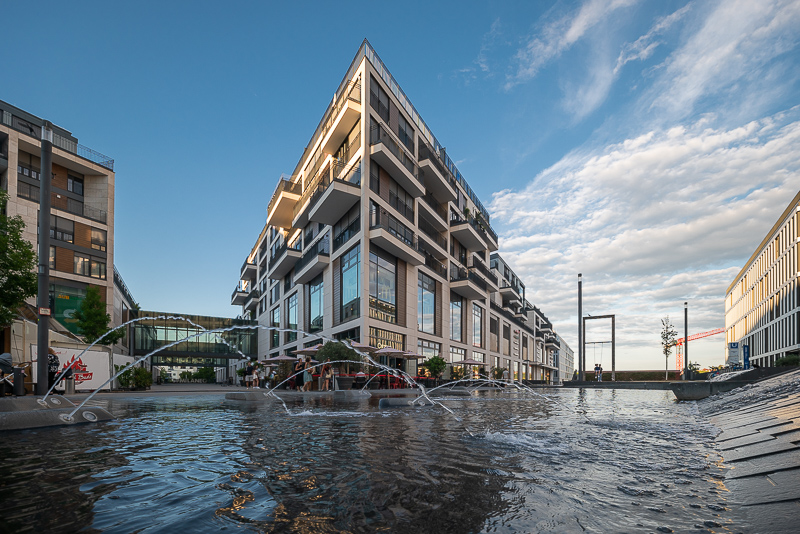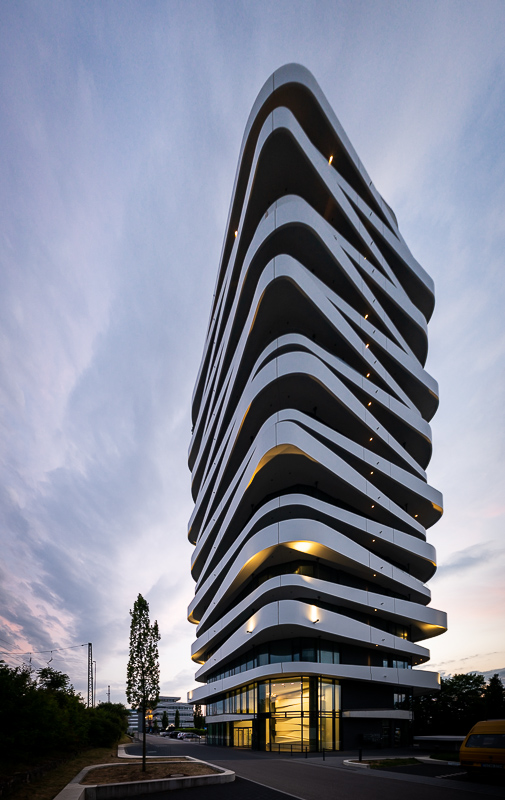 You can find most of the shots in this review in full resolution here.
Further Reading
Support Us
Did you find this article useful or just liked reading it? Treat us to a coffee!


via Paypal
The following two tabs change content below.
My name is Bastian and I am your expert here when it comes to ultra wide angle lenses, super fast portrait lenses (ranging from a 50mm f/0.95 to a 200mm f/1.8) and I also have reviewed way too many 35mm lenses. Don't ask me anything about macro or wildlife shooting though.