My friend Matt had a review copy of the Samsung NX1 at his hand so we met up and I could get some hands on experience with this new camera which created quite some buzz.
This is in no way an in depth review, just some thoughts and impressions after using it for about five hours.
edit: Matt has finished his review now, he knows the Samsung system much better and had much more time with the camera. Check out his review on his blog.
Size and Weight
When Matt took it out of his bag my first impression was: Thats a big camera! It is quite a bit bigger than my Alpha 7. Pair it with the  2-2.8/16-50 S and you get a pretty big package.
Size and weight are a bonus when you are handling bigger lenses, my Canon FD 4/300 L for example was a little nicer to handle than on my Sony a7.
Built Quality
I was quite impressed by the built quality, the body felt more robust than that of my a7 because there is more metal and less plastic.
The shutter and most buttons did not feel as nice as the body itself but still good enough. The shutter release was okay, there are nice ones but it was not as bad as that of the a7 which has a totally mushy shutter release.
I think Samsung's claims about weather sealing are more robust than those of Sony, there are more gaskets and there is a rubber ring gasket on the lens mount of the 16-50S. Sony's lenses don't have that.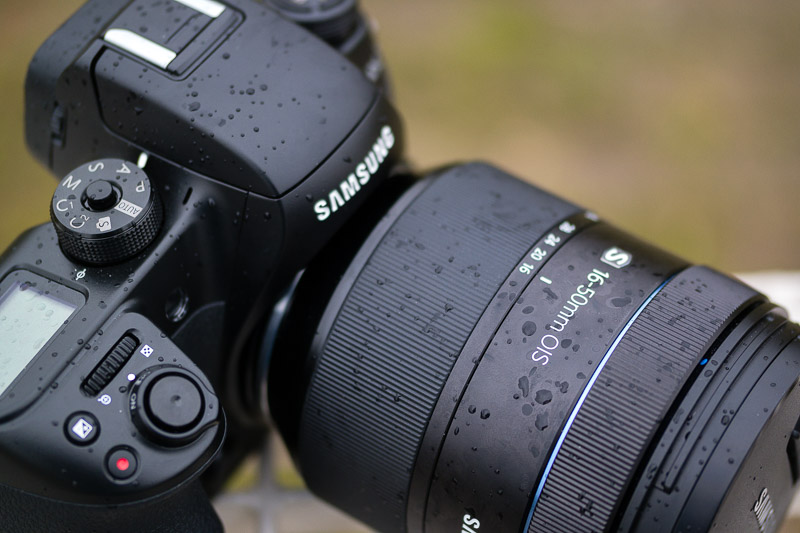 The Shutter
The shutter sounded quite nice and unobtrusive, the Sony a7's shutter is much louder.
I also noticed a rather long shutter blackout, the time after an image is exposed and the display stays black is about as long as with the a7, Sony's APS-C cameras have a shorter blackout.
The EVF
The EVF left a very positive impression on me, the refresh rate is very high and Samsung did a better job at rescaling the image for the EVF's resolution, than Sony on my a7 which will produce moire or flickering in certain situations.
Because there is no aliasing and the very high frame rate the image comes very close to a full frame optical viewfinder while also offering the advantages of an EVF like focus magnification  and live exposure preview.
Another bonus is the dedicated EVF/Display button which allows you to manually switch between the EVF, Display and Auto. Such a button is dearly missed on the a7 with it's too sensitive EVF sensor.
Manual Focusing
I make no secret about my preference of manual focus over AF so I had brought a Canon FD 4/300 L with me to see how the NX1 behaved.
On my Sony a7 I can place the focus magnification function on any button I want and I have placed it on the AF/MF button because that is easiest to reach while the camera is on my eye. On the NX1 this function is always dedicated to the 'ok' button and I have to stretch my fingers quite a bit to reach that while my index finger rests on the shuttter release button.
The second thing I noticed is that you can only magnify the very center of the image, you can not move the magnified section around. This is annoying for off center compositions. (Matt pointed out to me, that you can move it around with native lenses).
A third issue is that the zoomed in live view image is very soft and holds much less detail that I am used from the Alpha 7.  This made it very hard to critically focus a lens.
Both issues could probably fixed with a firmware update and Samsung has been very active in creating new firmware updates but at the moment I wouldn't recommend to camera if your focus lies on manual focus, it is doable but you get a nicer experience on a Sony a7 or a6000.
One positive impression: I used Matt's Samsung 2.8/60 Macro (affiliate link) and was positively surprised to learn that it has a coupled focus ring which makes manual focus much more enjoyable than the usual focus by wire which every Sony E-mount lens uses and which I find rather annoying. As far as I know the 1.4/85 (affiliate link) is Samsung's other lens with this feature, all other lenses use focus by wire. The downside of this seems to be that both lenses have pretty slow AF.
Autofocus
I was quite impressed by the single shot focus with the 16-50 S in brighter situations, it was really quick and noiseless.
The impression was impaired by the lowlight performance though. In a not that dark church the AF did not find something to focus on at all. Matt who used his older NX30 alongside me had no issues at all and I am sure that a a6000 wouldn't have had  a problem either.
Tracking worked very well as well, with the 16-50S Matt could track me while I was riding towards him on my bike and I could follow a pair off geese running away from me. I was quite impressed by the tracking performance  and I would love to use it with the 50-150S while shooting sports.n
There is one issue here though. You loose live view while you track something. The camera will show you the last image it took which means that the image you see is about 1/15 of a second delayed from what is currently happening in front of you. For more predictable subjects thats fine but if you want to follow a more erratic subject it can become a real problem.
So the AF could impress in some scenarios and failed in others. I think it depends on your needs how much this matters to you.
Menues and Configuration
I did not play much with the settings but my superfical impression was that you can configure about everything and that the menues are efficient.
One feature I found on the NX really miss on my Sony is that you can configure it too use higher ISO values in favor of shorter, safer shutter speeds.
What I didn't like was that you have less freedom with what you map to the buttons, e.g. you can't put AF magnification on the AEL button, that button is reserved for different AEL functions. Here I have more freedom with my a7.
Image Quality
Because my time with the camera was limited my impressions must remain somewhat superficial.
Dynamic Range
When we compared the NX1's dynamic range to that of my Alpha 7 at ISO 100 I was surprised to find that the NX1 came very close, it had a  bit less headroom in the highlights  but the shadows were as clean as those of the a7 when heavily pushed.
This is certainly a better performance than that of a a6000 which has about one stop less reserves in the shadows.
High ISO
At higher ISO values we found that NX1 raw files at ISO 3200 had about as much noise in them as Sony a7 raw files at ISO 6400. We didn't test color reproduction and dynamic range but from the files I shot at higher ISO values it seems plausible to give the a7 a lead of about 1 stop here.
I didn't shoot a direct comparison agaonst the Sony a6000 but I think both cameras would be pretty close at higher iso values.
Sharpness
We did a quick sharpness comparison between my Tokina 2.5/90 on the a7 and the Samsung 2.8/60 macro on the NX1. We used AF on the NX1 because it is close to impossible to focus that lens manually because of the issues mentioned above.
My expectation was that the my setup would be about as sharp because the Tokina is a very good lens and because the a7 is less demanding on the lens because of it's of it's lower pixel density. On the other hand a 20 years younger macro lens should give very good results and the higher resolution of the Samsung should be an advantage for that system.
I was a bit shocked when we compared the results: The a7 file was much much sharper, not just in the corners but in the center and at every aperture, I have more than 10 images of the NX1 and all of them are very similar in sharpness to the one shown here. I don't want to rule out a focus error but I think it is unlikely.
We got the same result when we compared the Samsung 1.8/45 with my Minolta 3.5/35-70. The a7 with a 30 years old zoom lens was noticeably sharper.
I would expect a more favorable outcome for the NX1 when comparing the Samsung 12-24mm against my Canon FD 2.8/20.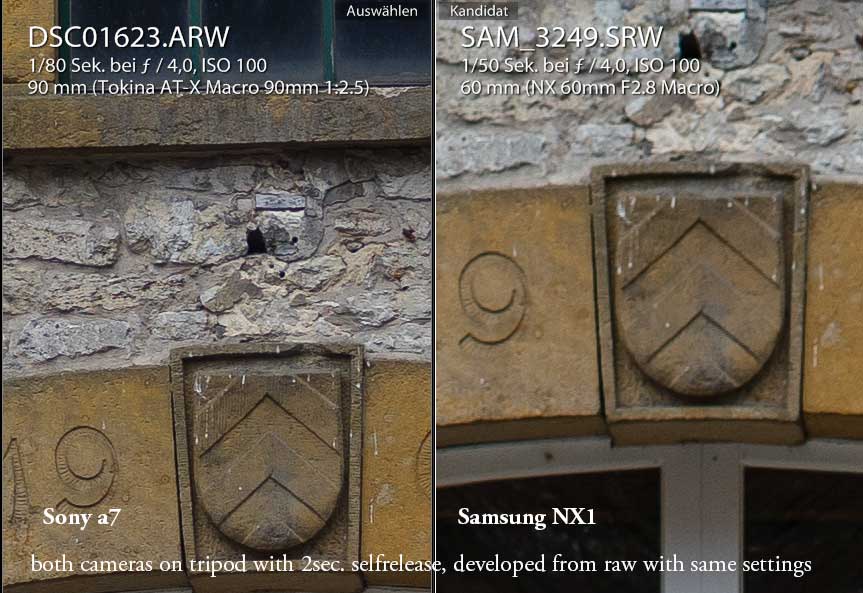 100% center crop showing much more detail in the a7 image
You can access the full resolution images on flickr: Sony a7 full image, Samsung NX1 full image
I am not totally sure what the reasons were but I think it is most likely that the lenses, both of which are among Samsung's better lenses, are not sharp enough to make efficient use of the 28MP sensor which has a higher pixel densitity  than micro fourthirds cameras. We saw similar results with the Sony Nex-7 were many lenses struggled with the high resolution and only very few lenses could outperform the sensor.
So despite it's higher resolution, the 28MP NX1 images contain noticeably less detail than those from my 24 MP fullframe a7.
Video
I have no idea about video and I didn't use it so I can't give a qualified comment about the video quality and features. 4k is an attractive selling point for sure.
The Samsung 2.0-2.8/16-50 S
The lens is built very well, in my eyes better than Sony Zeiss lenses. It has a dedicated switch fro AF and IS, a feature Sony's lenses are lacking.
The lens felt quite big and together with the already big NX1 I had a pretty hefty package in my hands.
The AF worked very well at decent light levels but failed me in a darker setting. more under AF
I didn't do a formal test with it, for that check out Matts SAMSUNG 16-50MM F2-2.8 S REVIEW.
I think it performs well as a reportage lens but it isn't a very good lens for landscapes because of corner softness.
The lens lineup
I think Samsung's lens lineup is a little more extensive than Sony's. Built quality on the cheaper lenses is lower than on the more affordable Sony lenses, no metal, just plastic. The S-Line in contrast is built even better than Sony's G or Zeiss lenses.
Because of the about 10mm longer flange focal distance some lenses can be smaller but the camera is bigger.
The Samsung 4-5.6/12-24 has a more useful range than the 4/10-18 OSS from Sony and it is a lot cheaper. Both are very good optically.
They have a 1.4/85. There have been rumors about a portrait lens from Sony but so far there is a gap in Sony's lineup here
There is a very big and expensive 2.8/90 for Sony cameras but no small APS-C lens like Samsaung't 2.8/60 Macro
The Samsung 2/30 is a small and sharp lens which is very affordable, Sony's 1.8/35 has OSS and is as good but twice as big and expensive.
I think Sony's 1.8/50 OSS has much nicer bokeh than the 1.8/45 by Samsung but it is a bit bigger.
The Zeiss 4/16-70 and the Samsung S 2-2.8/16-50 S are both expensive and both do not have very sharp corners but I think the Samsung is better for reportage work while the Zeiss is good for travel photography.
The Samsung 2.8/50-150 S is more interesting for APS-C users than the Sony 4/70-200 in my eyes.
Conclusion
My impression is a mixed one.
I think the NX1 is the most advanced mirrorless camera yet with (mostly) impressive AF, great built quality and good ergonomics. The sensor is probably the best in a APS-C camera and it is a fast and confidence inspiring camera which can compete with the likes of a Canon 7dII oder Nikon D7200 in many aspects and even outfeature them in some.
But it also has some quirks like very bad AF in not that low light and mushy details in magnified focus which can be a real problem. If Samsung manages to fix the AF issue they have redefined the limits  of mirrorless cameras. Right now they have an interesting camera with a serious flaw.
Personally I found it an interesting experience but it became obvious that this camera is more geared towards photographers who require speed and robustness, not people like me who prefer a slower mostly manual process.
The following two tabs change content below.
I have two hobbies: Photography and photographic gear. Both are related only to a small degree.
Latest posts by Phillip Reeve (see all)