The Canon FD 20mm 2.8 is an affordable wideangle lens (around $200 mid 2015) which performs well on the Alpha 7. I have owned and used my copy for more than a year now and wanted to share my experience with you.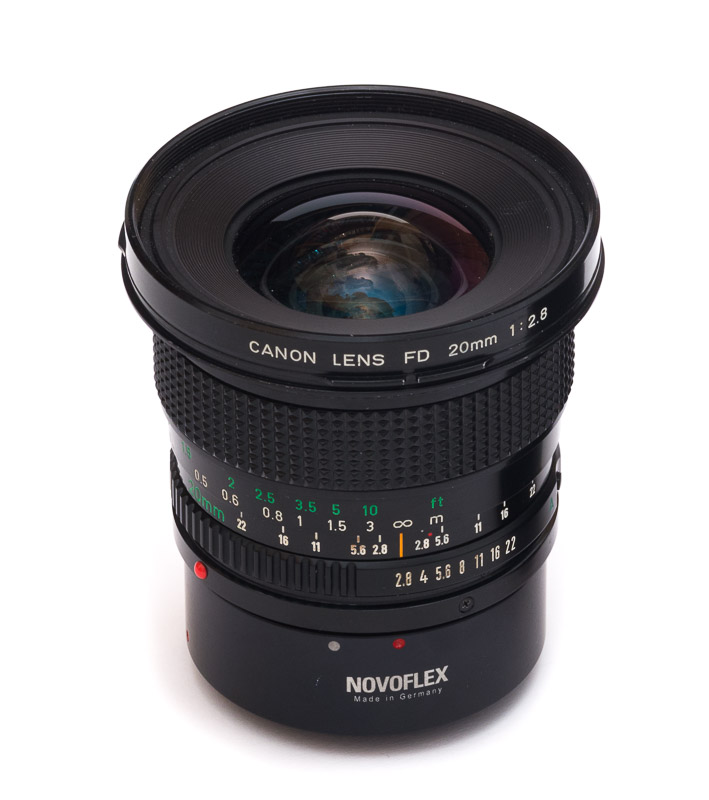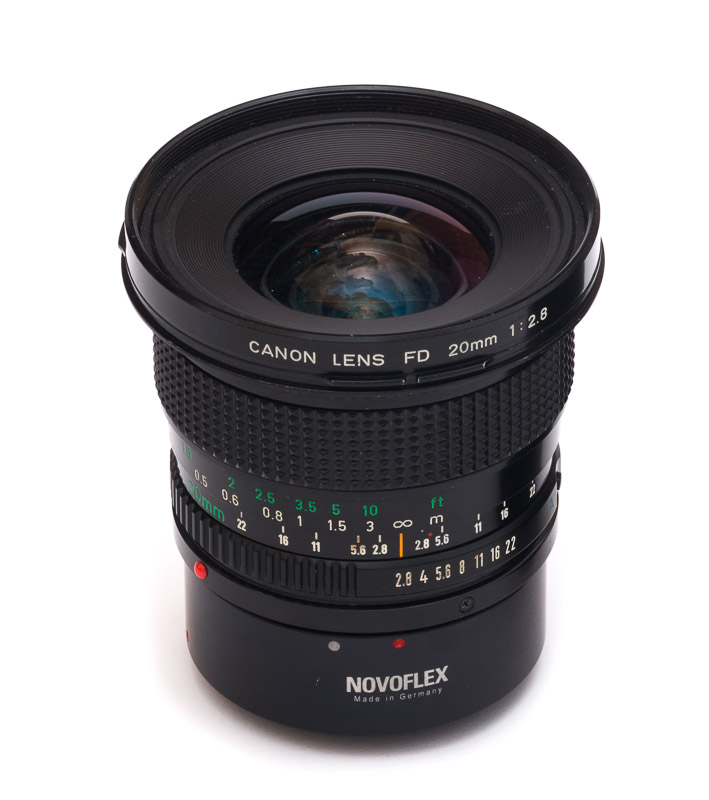 Sample Images
 Specifications
 
CANON FD 20 2.8
Length
62mm
Diameter
78mm
Weight
305g
Filter Thread
72mm
Aperture Blades
6
Short focusing distance
25cm
The Canon FD 2.8/20 at ebay.de | ebay.com (affiliate links)
Versions
As far as I know Canon made two mechanically different 2.8/20 lenses which share the optical design but I have no good source about Canon FD lenses to back this up.
The older FD version has the classic silver breech lock mounting system and weights 345g.
The newer nFD version is 40g lighter and  has the newer nFD mounting system. I own this version
I would prefer the nFD version because it is 40g lighter than the older version and it might have better coatings.
Size, Weight and Handling
I think the 2.8/20 is well balanced on the  a7.  At 305g it is a little heavier than your typical 1.4/50, it is also a bit longer and has significantly larger diameter at the front.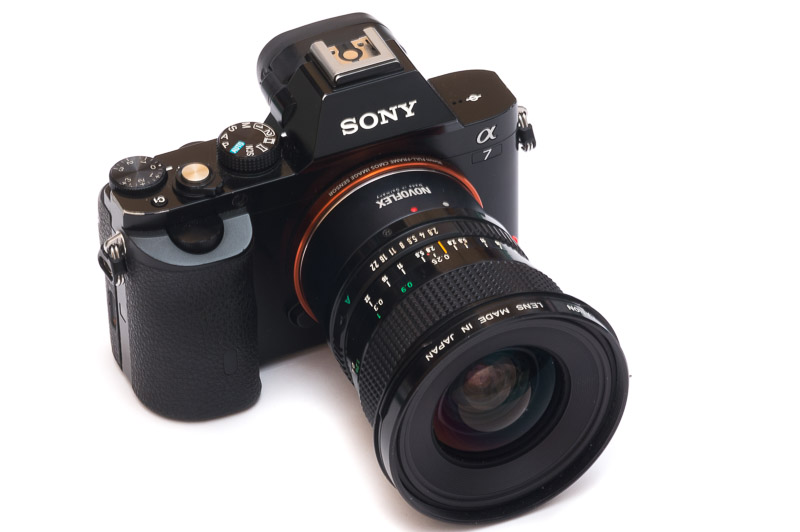 The focusing ring turns about 130° from the short focusing distance of 25m to 1m and a further 30° to infinity. Focusing is smooth with a pleasant resistance.
The aperture  ring of the Canon  has a higher resistance than I would prefer and the lens stops down in half steps to f/22.
The barrel of the lens is made from metal and some parts like the aperture ring and the plate around the front of the lens are made from plastics. By todays standards this is a rock solid lens but some older lenses feel a bit more solid.
The front ring rotates as the lens is focused which makes the usage of  polarizers a bit of a pain.
Optical Performance
Flare Resistance
Flare resistance is not a strength of this lens. You can get very obnoxious flare like in this sample:
This does not mean that any image with a brighter light source shows ugly flares, here is another example:
The lens does not lose much contrast in backlit situations.
Distortion
Some mustache distortion but I think it will rarely be a problem.

Vignetting
At f/2.8 vignetting is very noticable, by f/8.0 it's gone for all practical purposes.
Bokeh
For a 20mm lens it's probably okay but it can be distracting, especially in the corners. Specular highlights have a very defined brighter outer ring.
Coma
The lens has lots of coma, you can even see it in the small image below.
CA
There is a significant amount of lateral CA and you want to correct that.
Here is a link to is my sharpness test without CA correction.
Sharpness
f/2.8: The lens is sharp in the central area covering about 40% of the frame. The cornes are actually not that bad resolved but contrast is very low and there is lot's of coma and saturation is very low as well. I hardly ever use this aperture.
f/4: Still only the center of the image is usable but the performance is very good there. There is less coma outside of the center but it is still very notable.
f/5.6: very good sharpness across 90% of the frame with a very notable drop in the far corners.
f/8: Very similar to f/5.6 with a small gain in the corners.
At f/11 the Canon is sharp across the frame, only the last few pixels are soft. This is my default setting for this lens.
The lens shows some field curvature but in my experience that works in my favor more often than not. For best corner sharpness I would recommend to focus the edges, not the center.
Other
From time to time I have noticed a hotspot in images with my Canon FD 2.8/20, it was only in a very few images mostly at sunset but it can be a bit annoying.
 Alternatives
I have no personal experience with other 20mm lenses but from what I have read online these lenses have a good reputation:
Olympus Zuiko 3.5/21: s very small and users report good across the frame sharpness at the expense of a little less sharp center.
Voigtländer 3.5/20: another very small lens with good performance at f/8 and because it is a modern lens it seems to be very flare resistant. I plan to test one in the future but it is a bit more expensive  than the FD.
Voigtländer Ultron 1.8/21: a M-mount lens which is faster and much better in the f/1.8-f/4 range. Modern coatings will also help with reflections. In the F/5.6-f/11 range performance is very comparable to the FD 2.8/20, only vignetting is still noticeable at f/8 and there is a slight color cast.
Zeiss 2.8/21: a legend of a lens with very good across the frame sharpness from f/2.8. It is large heavy and expensive though.
Sony FE 4/16-35:  the Sony is more flare resistant and performs well from f/4. The larger zoom range and OSS are also handy. But it is bigger, heavier and much more expensive.  At f/11 the Zeiss has a little more contrast but less details in the corners.
Conclusion
The Canon FD 20mm 1:2.8 has it's limitations: You will want to avoid f/2.8 for almost any allpication and you need to stop down at least to f/5.6 for good across the frame sharpness  and the corners are best at f/11. The mediocre flare resistance can be a bit limiting and other 20mm lenses are  smaller.
In the field it usually delivers a very good performance, at f/8 or f/11 my images are very sharp, contrast and colors are nice. The corners are a little sharper even than the much more expensive Sony 4/16-35 ZA OSS.
SoI think it is a very interesting lens for anyone on a budget.
You can buy the Canon FD 2.8/20 at ebay.de or ebay.com (affiliate links).
Sample Images Canon FD 20mm 1:2.8
You can find more full resolution images in this flickr set: Canon FD 20mm 1:2.8
Other Articles
The following two tabs change content below.
I have two hobbies: Photography and photographic gear. Both are related only to a small degree.
Latest posts by Phillip Reeve (see all)