The Minolta MD 50mm 1:2 is one of the smallest and cheapest Minolta lenses and most importantly it is also an excellent lens for landscape photography.
Specifications
| | |
| --- | --- |
| Diameter | 64 mm |
| Length | 36 mm |
| Filter Thread | 49 mm |
| Weight | 150g |
| Max. Magnification | 0.15 |
| Close Focusing Distance from the sensor | 45cm |
| Number of aperture blades | 6 |
| Elements/ Groups | 6/5 |
Price
(June 2015): $10-30 in good condition.
Check current prices at 
ebay.de
 or
ebay.com
 (affiliate links).
Image Samples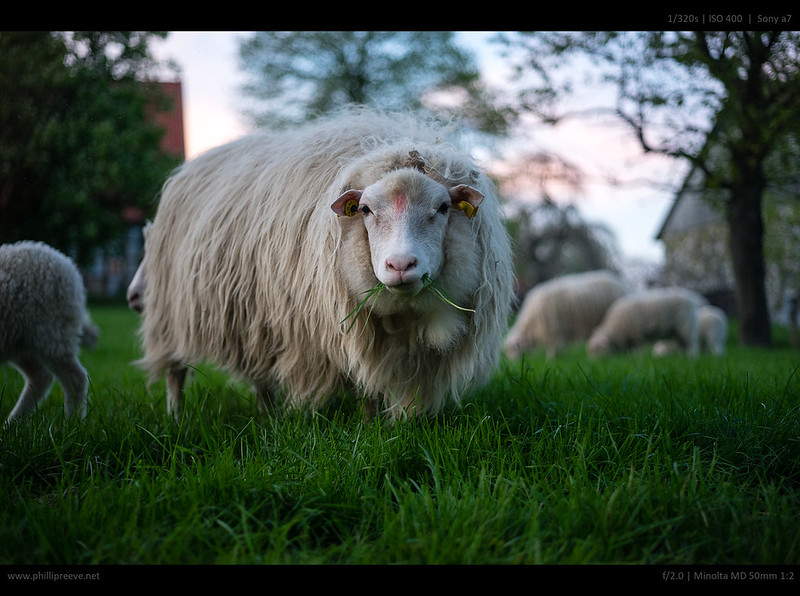 You can find some more samples in this flickr set: Minolta MD 50mm 1:2.
Versions
Minolta made three different 2/50's
The Minolta MC Rokkor 50mm 1:2 was introduced in 1973
The Minolta MD Rokkor 50mm 1:2  was introduced in 1977. As it's predecessor it has a 55mm filter thready and weights 230g.
The Minolta MD 50mm 1:2 was introduced in 1981, it has a 49mm filter thread and only weights 150g.
This review is about the 3rd version which is lighter and I think it has a new optical design.
For more technical details visit the Minolta SR lens index.
Build quality and handling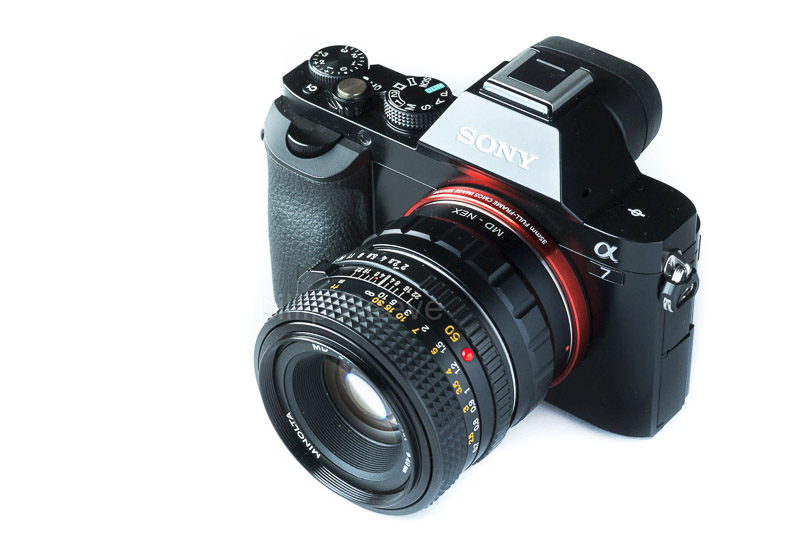 By today's standards the built quality is very good but compared to the best manual lenses it isn't that good. It feels a little plasticky.
The barrel and the mount are made from metal and anything else is made from plastics or glass.
Focusing Ring
The focusing ring travels around 90 degrees from 45cm  to 1m and a further 40 degrees to infinity.
The focusing ring isn't the smoothest, resistance is a bit higher than I prefer it but it is still good.
Aperture
The aperture ring has full stops from f/2.0 to f/2.8 and f/16 to f/22 and half stops from f/2.8 to f/16.
The aperture ring is made from plastics and clicks quite nicely.
The lens has 6 straight aperture blades .
Hood
The front element is about 1cm recessed from the front of the lens so it is well protected from the sun and scratching. I think this is really handy because I can throw it in my camera bag without a lens cap or hood and don't have to worry about it.
I don't own the original hood but I have one similar to this (affiliate link) which works very well.
Size and Weight
It is the smallest SLR lens I own and even if you include the adapter few M-mount lenses are smaller. And people pay lots of money because these are so small.
Optical performance
These results are based on the use with a Sony Alpha 7.
Flare Resistance
About average performance: You can't shoot directly into the sun because you get ugly flares but with not that powerful light sources there is only a small drop in contrast and little flare.
Bokeh
Bokeh is neither a strength nor a weakness of this lens. My Minolta MC 1.2/58 has nicer bokeh. But the Minolta's bokeh seldom distracting.
Chromatic Aberrations
Lateral chromatic aberrations are very well controlled and more or less not visible!
Axial chromatic aberrations ("bokeh fringing")  can be visible at faster apertures.
Distortion
I don't see any. Most other 50mm lenses have a moderate amount of barrel distortion but the Minolta MD 2/50 does not. This really surprised me.
Sharpness
f/2: Sharpness in the center is very good and the midframe area is sharp as well. Even the far corners have good resolution but contrast is very low.
f/2.8: The center and midframe region improves to excellent levels, contrast in the corners improves as well but it is still a bit low.
f/4-8: Excellent center and midframe region with very good corners.
f/11: Diffraction reduces image quality to very good levels
This is similar performance to most other 50s in the center but the corners sharpen up faster than with any other 50mm lens I have used.
 Alternatives
Minolta MC 1.2/58: many times as expensive and three times as heavy but it has very nice bokeh and a better portrait lens. It is also a very good lens for landscapes but it has more CA and you need to stop down to f/8 for very sharp  corners.
Canon nFD 1.4/50: The Canon's strengths is its faster aperture and the superior performance at f/1.4 (compared to other 1.4/50 lenses). It is also cheap and small. The Minolta 2/50 is a better landscape lens because the corners are sharper at wider apertures.
Zeiss Planar 1.4/50 C/Y: This lens is also optimised for landscape photography and I see a little more micro contrast. But it is one of the most expensive classic 50mm lenses.
Conclusion
The Minolta MD 2/50 is my favorite hiking lens: It is small and very light weight and it is also one of my sharpest lenses. The corners improve faster than I am used to from other 50mm lenses, by f/2.8 they are very usable.  Most other normal lenses need to be stopped down to f/5.6 to reach a similar performance. By f/8 the lens is very very sharp across the frame.
For portraits I prefer other 50mm lenses which have nicer bokeh but the bokeh is not so bad that it would really ruin a portrait.
So all in all a very good performer which is small, light and affordable. I wouldn't recommend it as your only 50mm lens but it's great as a small landscape lens. At current prices below $30 it offers great value.
If you consider buying one please use one of my affiliate links and support my work: Minolta MD 50mm 1:2 at ebay.de
 or ebay.com
 (affiliate links).
Also check out my Minolta SR-mount adapter guide.

Images Samples in full resolution
Sony a7 | f/2
You can find more images in this flickr set: Minolta MD 50mm 1:2 full resolution samples
 Further Reading
For more Minolta lenses check out my Minolta list.
To learn about manual lenses in general this beginners guide for a7 users might be helpful.
The following two tabs change content below.
I have two hobbies: Photography and photographic gear. Both are related only to a small degree.
Latest posts by Phillip Reeve (see all)