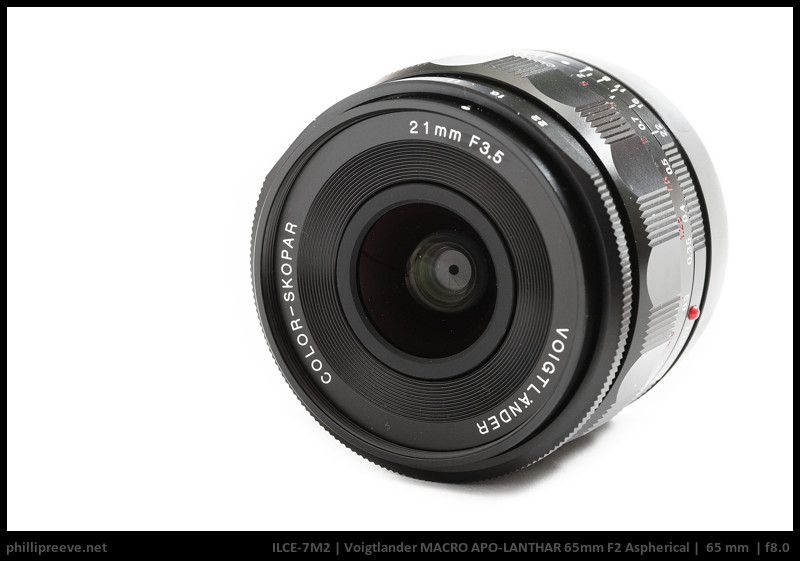 The Voigtlander 3.5/21 is a tiny, relatively affordable, manual focus lens for the Sony FE system. In this rolling revie I evaluate it's performance.
Image Samples
You can find most images shown in this image in full resolution in this album.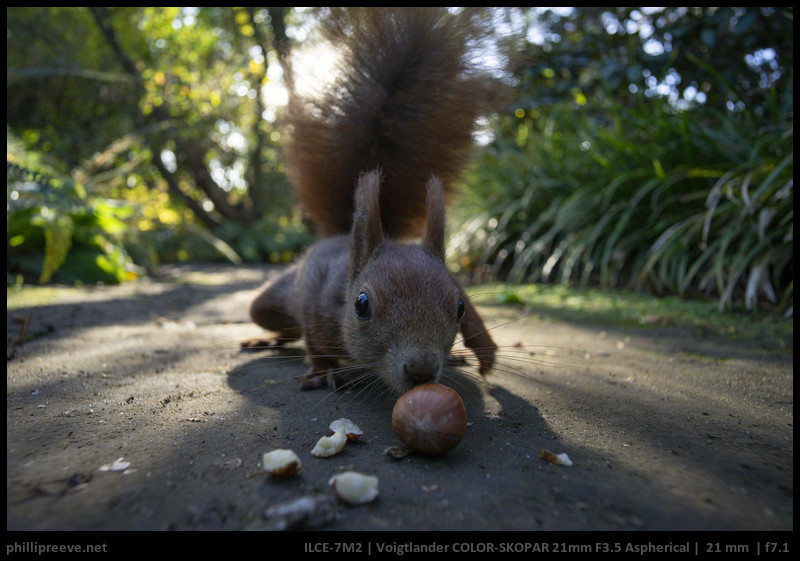 Specifications
| | |
| --- | --- |
| Diameter | 63 mm |
| Length | 40 mm |
| Filter Thread | 52 mm |
| Weight | 230 g |
| Max. Magnification | |
| Close Focusing Distance from the sensor | 0.2 m |
| Number of aperture blades | 10 |
| Elements/ Groups | 9/8 |
The Voigtlander 3.5/21 sells for $699 at CameraQuest, B&H or amazon.com.749€ at ebay.de (affiliate links).
6.11.18: Updated Alternatives, Sharpness, Alternatives and conclusion
Disclosure
I bought this lens at full retail price from my own money.
Features
The Voigtlander Color-Skopar 21mm F3.5 is a fully manual lens so you have to change focus and aperture by yourself. The camera can't change the aperture so S- and P-mode will not work as with native lenses.
It has electronic contacts to communicate with the camera though. That provides correct exif-data, the OSS in all Sony cameras with IBIS will automatically know the correct focal length and the focus magnification can be automatically activated when the focus ring gets turned. Unlike Loxia lenses the Voigtlander has a distance encoder so the camera will show a pretty much useless digital distance scale and stabilization might be a bit more effective.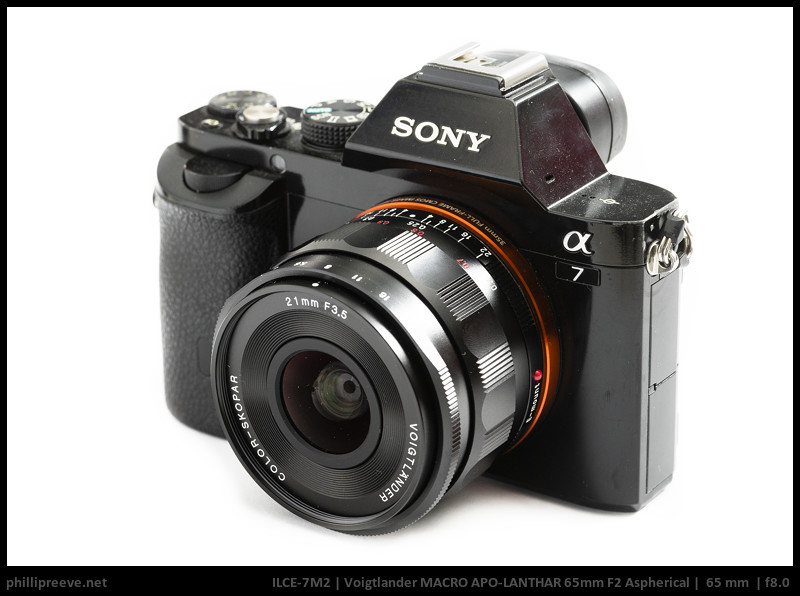 Build quality and handling
The Voigtlander 21mm F3.5 feels really solid. The lens hull is made from nothing but metal and tolerances are very low. Most but not all markings are engraved.
There is no gasket around the mount and Voigtlander does not claim any weather resistance.
Of course I can't tell you how durable the lens will be in the long term. All I can do is give you my superficial impression which is very positive in this case.
Handling
If you have used Zeiss Loxia lenses you will probably have been frustrated by the fact that there is no good place to grab them when you change lenses. This is not an issue with the Voigtlander since you can easily grab it by its base which is textured for better grip.
Focus Ring
The focus ring travels around 120 degrees from 20 cm to 1 m and a further 23 degrees to infinity. I think that is a very reasonable transmission for a macro but it is a bit slower to focus precisely at longer distances. The ring itself is well textured and the resistance is about perfect.
Aperture ring
The aperture ring situated at the front is a joy to use. It is made from metal with distinctive stops and a very pleasant resistance. I would have preferred 1/2 or even full stops but 1/3 stops work ok. The Voigtlander stops down to f/22.
Hood
The Voigtlander 3.5/21 has a solid yet low profile hood which adds just 10 mm to the length so I always leave it on the camera for lens protection.
Size and Weight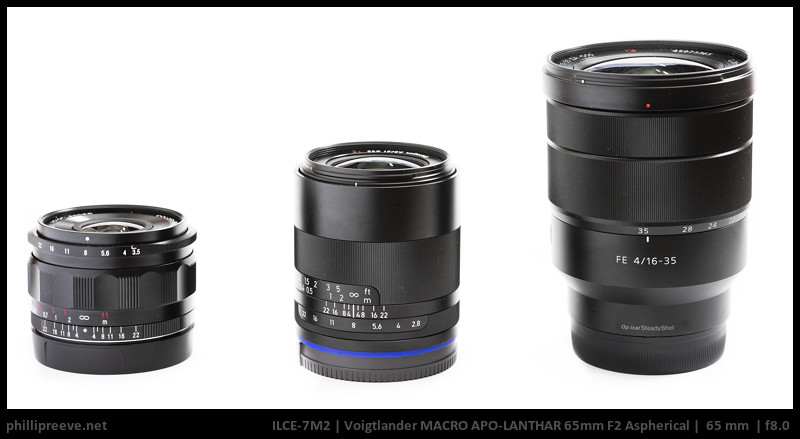 The Voigtlander 3.5/21 is a very small lens, significantly smaller than it's competitors and I think that is one of it's most important qualities.
Close Focus
The Voigtlander focuses down to 20cm which can give an interesting perspective emphasizing a subject while including the background.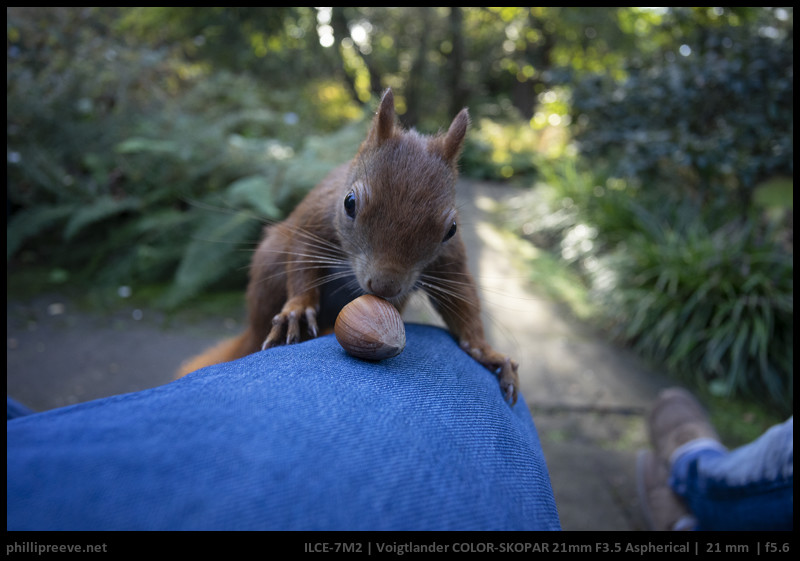 Optical performance
These results are based on the use with a Sony Alpha 7II.
Flare Resistance
As always evaluating flare is a complex matter since you can get any lens to look bad if you push it hard enough and a slight change of scenario will affect results a lot.
I think the Voigtlander compares very well to other lenses, especially in regards to veiling flare.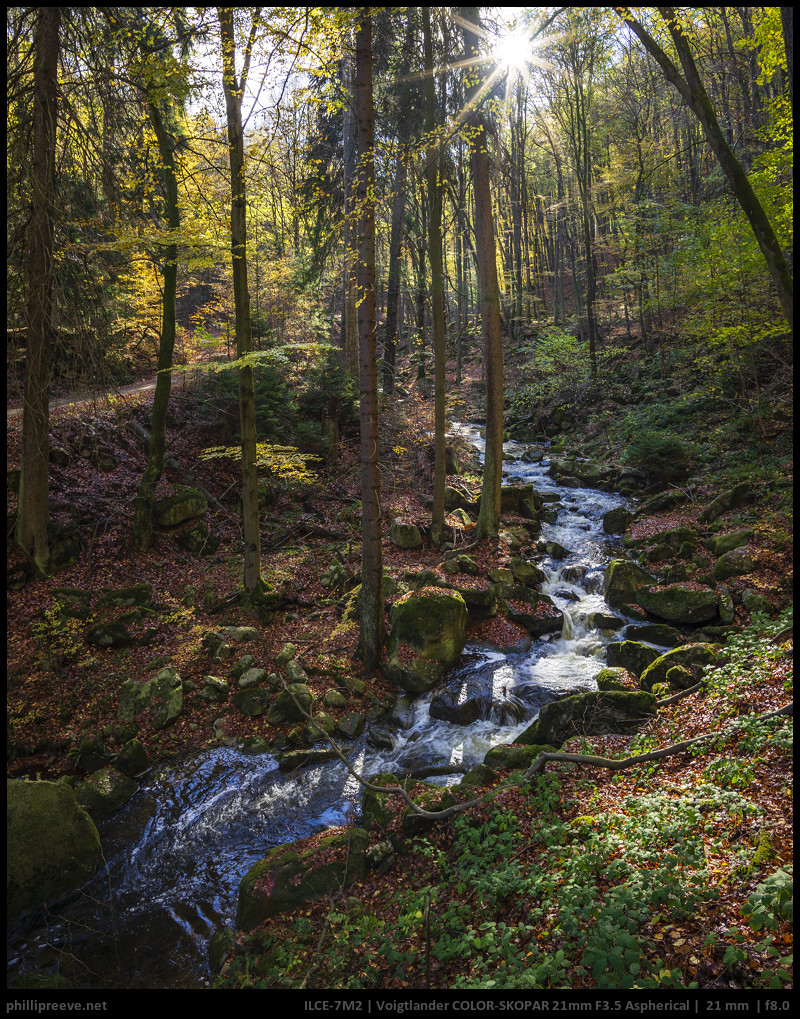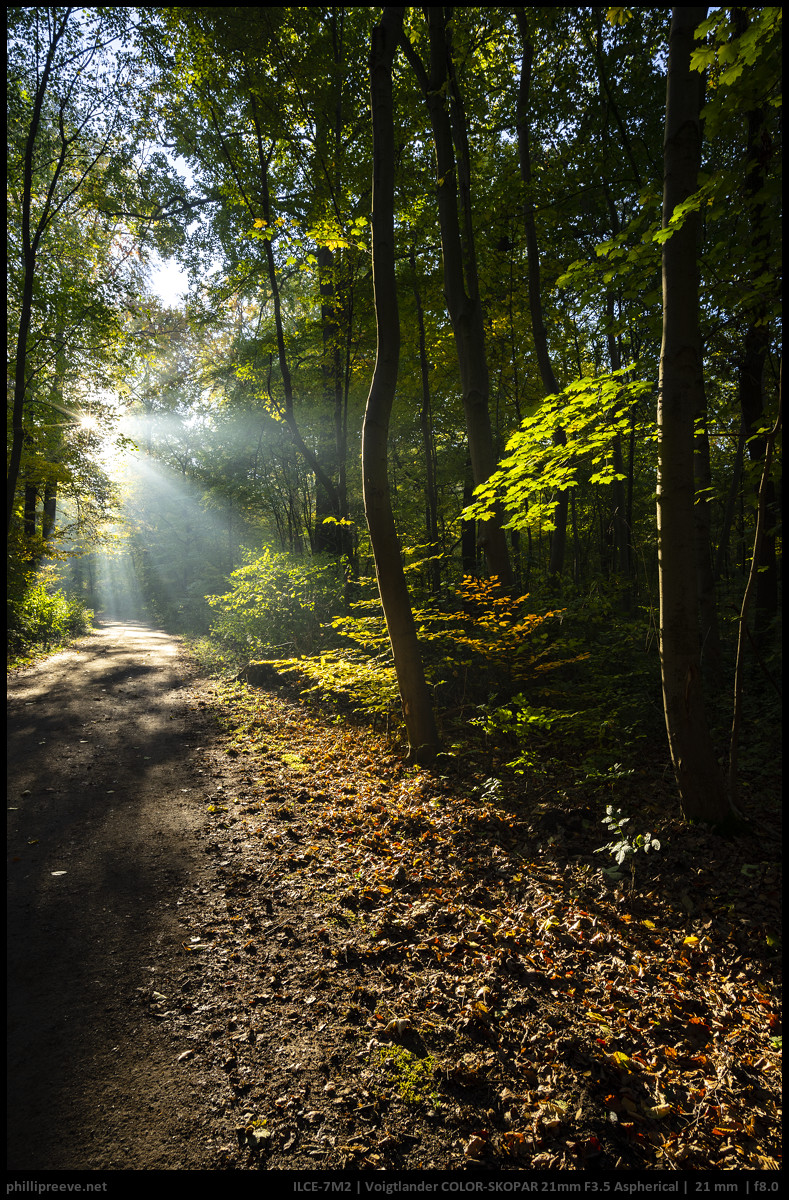 But not everything is perfect and I lost a few images in very demanding scenarios to ghosting. Sensor reflections can also be a serious issue and I am not talking about the very flare prone a7 but the a7II.
Here is a comparison with the Loxia 2.8/21 and FE 4/16-35:
I will post a few more scenarios in the next update.
Sunstars
Voigtlander lenses are known for their very defined 10-pointed sunstars. Personally I like this effect a lot, other people don't. You just need to stop down to f/4 until they are very well defined.
Bokeh
Not a very important aspect with a super wide angle lens but bokeh is rather smooth.
Chromatic Aberrations
Unsurprisingly for a slow wide-angle axial CA is well controlled.
Vignetting
As I have come to expect with smaller Voigtlander lenses vignetting is very high at 2.6 stops wide open which is reduced to still high 1.9 stops from f/5.6.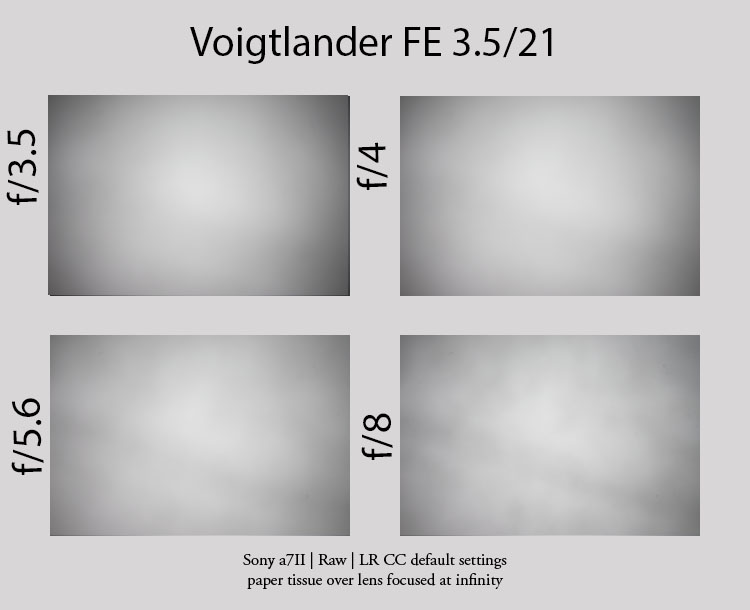 | | |
| --- | --- |
| Aperture | Vignetting |
| f/3.5 | 2.6 EV |
| f/4 | 2.3 EV |
| f/5.6 | 1.9 EV |
| f/8 | 1.9 EV |
| f/11 | 1.9 EV |
Distortion
The Voigtlander 3.5/21 shows a small amount of barrel distortion. +4 in LR corrects it very well.
before/after correction
Sharpness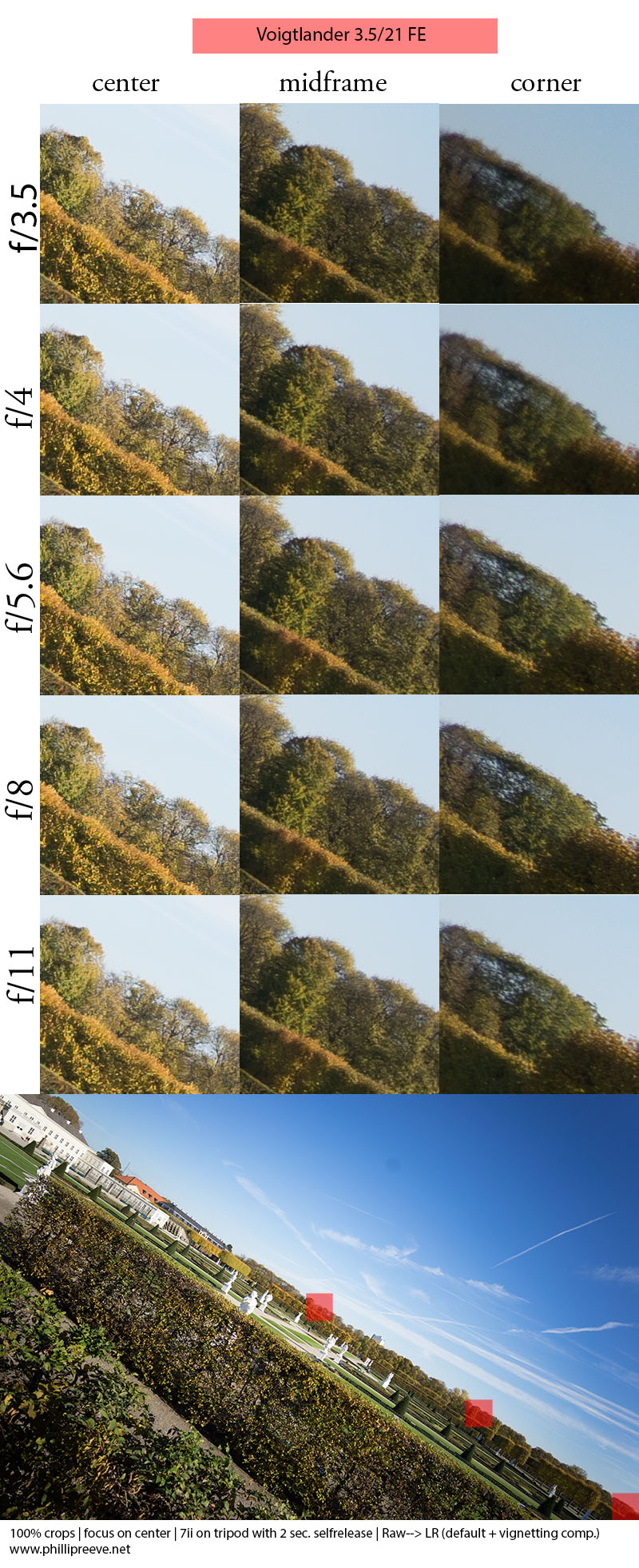 f/3.5: Excellent in the center, good to very good in the midframe area and not that great in the extreme corners.
f/4: slight improvement in the corners
f/5.6: midframe is very good now, corners are good.
f/8: ever so slightly softer in the center, very good across the frame.
f/11: significantly softer everywhere
All in all a very good performance. The Voigtlander is not the sharpest wideangle in the system but unless you compare it to other lenses directly you probably won't notice that.
Alternatives
Zeiss Loxia 2.8/21: The Loxia is nearly twice the weight and price but it is a bit sharper especially in the midframe region where it also has slightly higher contrast. Check out Fred's well done comparison which mirrors my experience. Flare resistance is different: In my comparisons the Voigtlander was better for one scenario while the Loxia was better in others. So if you are after the very best performance go for the Loxia. If very good is good enough for you and size and/or price are more important go for the Voigtlander.
review | 394 g  | $1499
Tokina Firin 2/20: I haven't  compared them directly but I think that the slightly more expensive Firin is a little sharper and of course 1.5 stops faster which together with good coma-correction make it an obvious choice for astro. Because of better flare resistance, nice sunstars, better close-focus ability and smaller size I would prefer the Voigtlander as a landscape lens.
review | 490 g | $799
Sony FE 4/16-35 ZA: The only thing these two lenses share is the focal length. The Sony is much larger, heavier and more expensive but also more flexible with AF, optical stabilizer and a super handy zoom range. Performance wise the Voigtlander is a little sharper in the corners while the Zeiss beats it in the midframe region. Flare resistance of the Voigtlander is significantly better but not perfect and sunstars are much more defined.
review | 518 g | about $1348 
Zeiss Batis 2.8/18: A little sharper, much higher volume, more expensive and I wouldn't discount the difference in focal length, for a super wide angle 3 mm are very significant.
review | 330g | about $1500
Canon nFD 2.8/20: If you are on a tight budget the Canon is a decent wideangle solution. You need to stop it down to f/5.6 for good and to f/11 for very good across the frame sharpness and you have to consider the weak flare resistance but I was quite happy with the results in the end. If you can afford it the Voigtlander is a more versatile and significantly smaller lens .
review | 305 g | about $200 used 
Samyang 2.8/24: Again a rather different focal length. The even smaller Samyang is cheaper but it also performs worse in regards to sharpness and especially flare resistance. Handling is also less pleasant but it offers AF.
review | 93g | $349
Preliminary Conclusion
pros

Size

Price

Build quality

Handling

Sunstars

Distortion

Sharpness 

average
cons
Cosina has answered our calls for smaller lenses and released the Voigtlander 3.5/21 at nearly half the size and weight of the competing Loxia 2.8/21. It a very well made small lens and one of the most pleasant to handle lenses in the system.
Performance in general is on a high level with some minor tradeoffs you expect in such a small an (relatively) affordable lens. Sharpness is very good when the Voigtlander is stopped down a little but not quite as high as with the Loxia 2.8/21. Bbut at nearly half the weight and price it would be unrealistic to expect it to be on the same level. Vignetting is also pretty high and remains close to two stops stopped down. Apart from these minor deficits I find little to complain about.
I think the Voigtlander 3.5/21 is a very attractive lens which finds a really good balance between a very small size, good performance and a competitive price. Therefore I have decided to keep my copy and not get a Loxia 2.8/21.
The Voigtlander 3.5/21 sells for $699 at CameraQuest, B&H or amazon.com.749€ at ebay.de (affiliate links).If this review was helpful to you, please consider using one of my affiliate links. Thanks 🙂
More Image Samples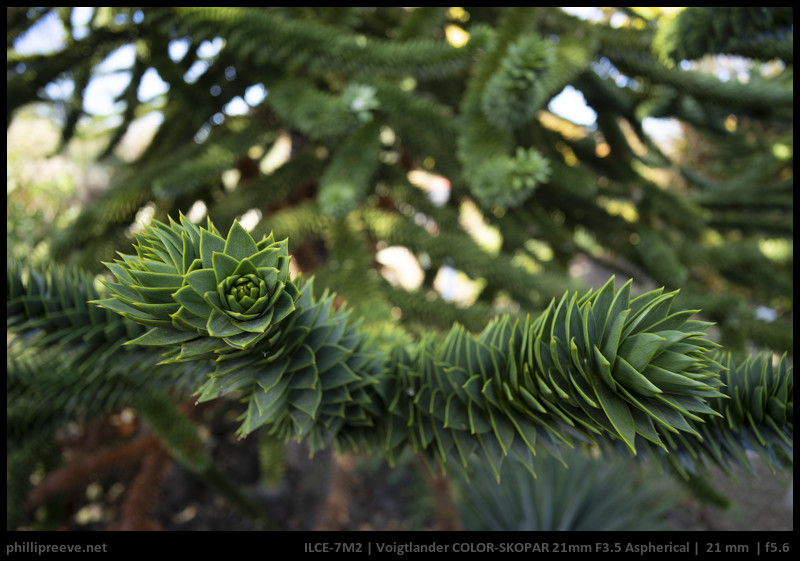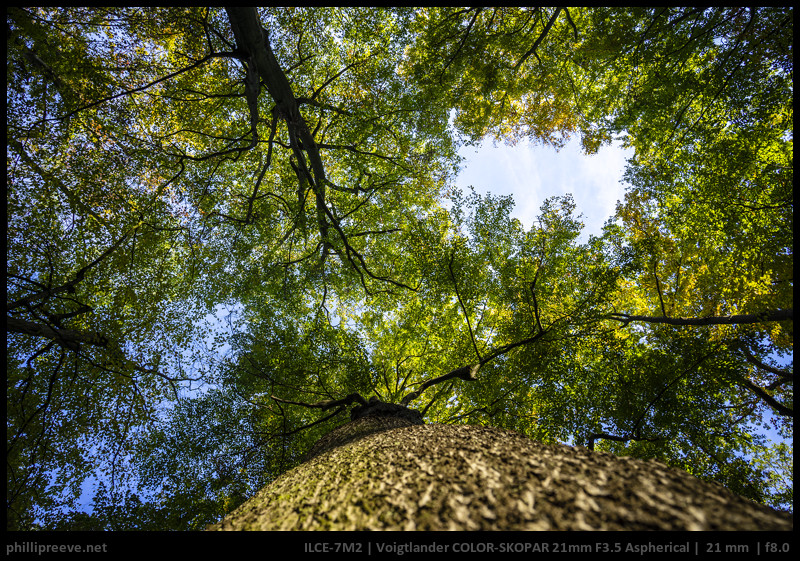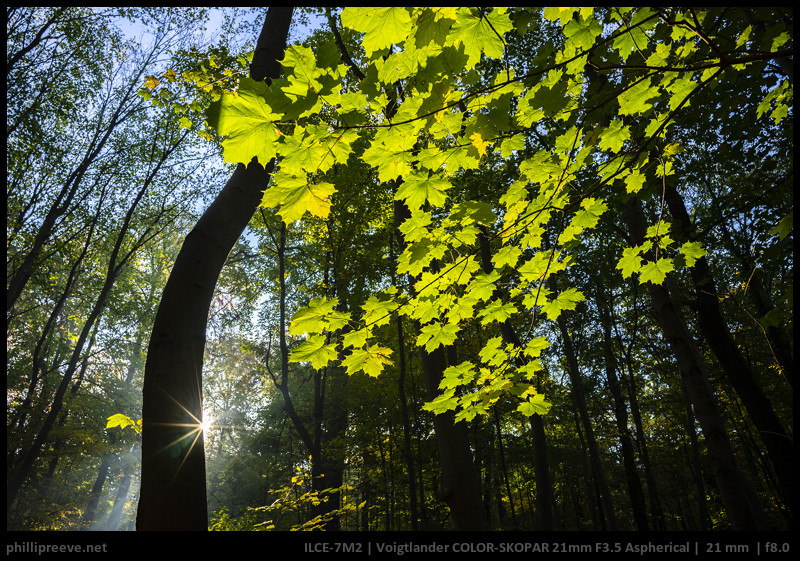 You can find most images shown in this image in full resolution in this album.
 Other articles
The following two tabs change content below.
I like to be outside with my camera and I am also a gear head with a love for manual lenses.
Latest posts by Phillip Reeve (see all)