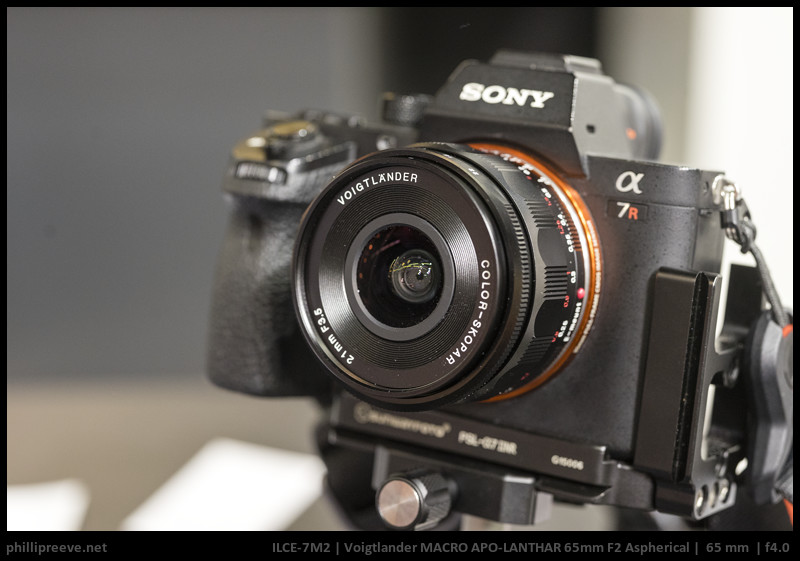 Specifications
| | |
| --- | --- |
| Diameter | 63 mm |
| Length | 40 mm |
| Filter Thread | 52 mm |
| Weight | 230 g |
| Max. Magnification | |
| Close Focusing Distance from the sensor | 0.2 m |
| Number of aperture blades | 10 |
| Elements/ Groups | 9/8 |
Despite my appreciation for Voigtländer lenses which usually balance performance, size, handling and price in a way that suits my needs like few others I initially couldn't find a reason to buy their new 3.5/21 since I have been eying the Zeiss Loxia 2.8/21 for quite some time and Jannik, Bastian and David all vouch for it's excellence.
And just when I had the funds together and was waiting for a good offer on a used Loxia the specs and price for the CV 3.5/21 were announced. These made me preorder it.
The Voigtlander 3.5/21 weights 230g which is a little more than half as much as the Loxia which comes in at 394g. At 40mm it is also significantly shorter than the 73mm Loxia. I paid about 650€ for my preorder at Robert White which is less than half as much as the Loxia. It also focuses a little closer (20cm vs 25cm).
So I will get a truly small lens which I expect to take with me more often. I think there will be a few situations when the Loxias faster speed would have been handy. For astro photography for example but that is not where my focus is so it is not a significant compromise for me. This is nothing but speculation but at that size and price I don't quite expect the CV 3.5/21 to reach the Loxia's performance. I hope it will be close enough that it won't matter for my photography. So I think that the CV could be a really interesting lens because of the very compact size and competetive pricing aswell as the good flare resistance and contrast I have come to expect from a Voigtlander lens.
I could take a few test shots at PK which you can find here. They don't reveal much because the conditions were pretty bad but at least they tell me that the Voigtlander has decent enough corners from wide open. Anything more detailed will have to wait until I have my own copy. We will also compare it to the Loxia.
I got an estimated shipping date of November while other places talked of October. So check back in a month or so for my rolling review.
The following two tabs change content below.
I like to be outside with my camera and I am also a gear head with a love for manual lenses.
Latest posts by Phillip Reeve (see all)