There is a vast amount of affordable  and very good 1.4/50 lenses out there and I think the Canon new FD 50 1.4 is one of the sharpest and most affordable.
Sample Images
 Specifications
 

| | |
| --- | --- |
| Length | 44mm |
| Diameter | 61mm |
| Weight | 235g |
| Filter Thread | 52mm |
| Aperture Blades | 8 |
| Short focusing distance | 45cm |
The Canon new FD 1.4/50 at ebay.de | ebay.com (affiliate links)
Versions
As far as I know Canon made two mechanically and optically different 1.4/50 FD lenses. There was also an even older FL 1.4/50.
The older FD S.S.C. version has the classic silver breech lock mounting system and weights 370g and it is larger. Size and weight are the result of a very solid construction.
The new FD version (nFD in short) is much lighter at 235g  and  has the new FD mounting system. Built quality is okay but more plasticky. I own this version and this review is about it. Notice that the inscription is still Canon FD, not new FD which is an inofficial name.
I never used the older FD version so I can't tell you how they compare optically. Comments on the comparison are welcome!
Size, Weight and Handling
The lens is very well balanced on the a7, because it is relatively   small and light.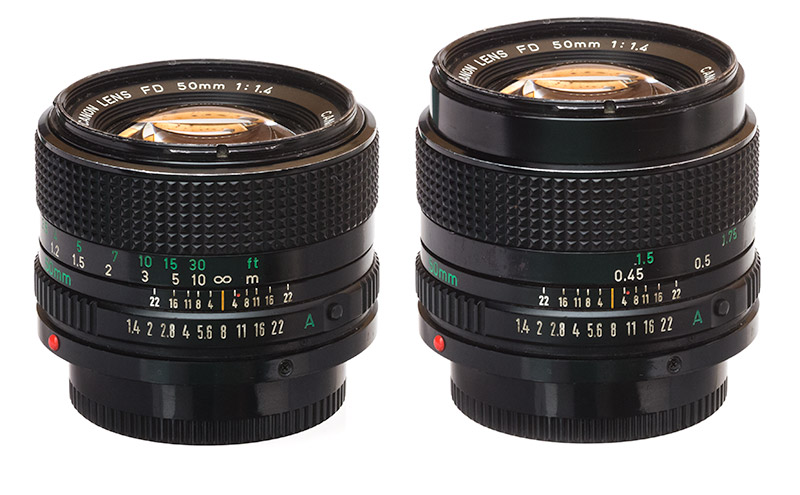 The focusing ring turns about 110° from the short focusing distance of 45cm to 1m and a further 40° to infinity. Focusing is smooth with  little resistance.
The aperture  ring of the Canon  has a higher resistance than I would prefer and the lens stops down in half steps to f/22.
The barrel of the lens is made from metal and some parts like the aperture ring and the plate around the front of the lens are made from plastics. By todays standards this is a rock solid lens but some older lenses feel a bit more solid.
The front ring does not rotate the lens is focused which makes the usage of  polarizers easier.
Lens Hood
I don't own the original lens hood BS-52  but from the pictures I have seen from it it is quite large.
Optical Performance
Flare Resistance
Neither very good nor very bad. Moderate contrast loss and some ghosting.
At f/1.4 you sometimes see a little rainbow like in this image, you can get rid of by using a hood or shielding your lens with your hand
Distortion
A small amount of barrel distortion, only relevant for the most critical applications
Vignetting
At f/1.4 vignetting is very noticable, at f/2 it is less noticeable but still distracting for a few applications and from f/2.8 there is no vignetting for all practical applications.
Bokeh
Decent but not great. Specular
Sharpness
f/1.4: Resolution is quite high  in the center and midframe region and very low in the corners. Contrast is lower and micro contrast  is very low due to some spherical aberration.
I think the lens performs quite a bit better at shorter distances with more contrast.
f/2: Much more contrast in the center, sharpness is quite high across most of the frame with bad corners.
f/2.8: A little sharper in the center.
f/4:  Excellent sharpness across most of the frame, corners start to improve.
f/5.6: Only the last few pixels in the corners are a little blurry, excellennt across the rest of the frame.
f/8: Excellent across the frame.
f/11: A little softer due to diffraction.
I think f/1.4 is very usable for portraits, f/2.8 will give very very good results for almost any application but for critical landscape work with detail in the corners you should stop down to f/8.
  Alternatives
Back in the 80s any major manufacturer had a 1.4/50 lens in it's lineup. These normal lenses share more similarities than differences but every lens has characteristics which sets it apart from it's peers.
Minolta MD Rokkor 1.4/50:  Not as sharp at f/1.4 and still a little behind at f/2 but it has nicer bokeh in my eyes, the 6 aperture blades are a disadvantage though.
Minolta MD 2/50: Better for landscapes and architecture, not as good for portraits and available light photography.
Pentax SMC 1.4/50: Never tried one myself but it has a very good reputation and I guess it could be as good at f/1.4 while having nicer bokeh.
Zeiss FE 1.8/55: The Zeiss is a lot sharper in the corners and a little sharper in the center at f/1.8, it has nicer bokeh, is more flare resistant and you can buy about 15 Canon nFD 1.4/50 for it's price.
Conclusion
good

better than it's peers at f/1.4

size and weight

price and availability

8 aperture blades
super sharp stopped down

average

built quality
distortion
flare resistance

not good
I think the biggest strenth of the Canon nFD 1.4/50 is it's sharpness at f/1.4. It clearly outperforms all the other fast normal lenses I know in this regard. At f/2 it is still better than the competition and the 8 aperture blades are also and advantage.
Stopped down to f/8 it is very very sharp from corner to corner but this can be said about many normal lenses. The lens is also rather small and light for a 50mm lens while it is very affordable and easiliy available.
There are only a few shortcomings. One of them is quite nervous bokeh in the transition zone. This is not an issue for portraits but it can be distracting for pictures of flowers and other stuff at closer distances, other lenses perform better in scuh settings.  You also need to stop down quite a bit for good corner performance but this is expected from a fast 50mm lens and the results are very good at f/5.6.
All in all I think the Canon new FD 50mm 1:1.4 is a good and versatile lens which will give very good results in a very wide range of applications. I also think it is the 1.4/50 lens with the best value.
You can buy the Canon new FD 1.4/50 at ebay.de | ebay.com (affiliate links).
If this review was helpful to you, please consider using one of my affiliate links. I will earn a small commission on your purchase and it won't cost you anything. Thanks!
For the right adapter check out our Adapter Guide.
Sample Images Canon FD 50mm 1:1.4
You can find more full resolution images in this flickr set: Canon new FD 50mm 1:1.4 full resolution sample images
Other Articles
The following two tabs change content below.
I have two hobbies: Photography and photographic gear. Both are related only to a small degree.
Latest posts by Phillip Reeve (see all)