The Olympus OM Zuiko 3.5/50 Macro packs decent performance into a lens which is as small as it is affordable. In-Depth review on the Sony a7ii.
Specifications
| | |
| --- | --- |
| Diameter | 60 mm |
| Length | 40 mm |
| Filter Thread | 49 mm |
| Weight | 200 g |
| Max. Magnification | 0.5 |
| Close Focusing Distance from the sensor | 0.23 m |
| Number of aperture blades | 6 |
| Elements/ Groups | 5/4, floating elements |
The Olympus OM MC 3.5/50 Macro usually sells for around $40 used at ebay.com (affiliate link). 
In Germany you can buy it used for around 50
€
 at ebay.de (affiliate link). 
Image Samples
Just click on any image to get to the full resolution.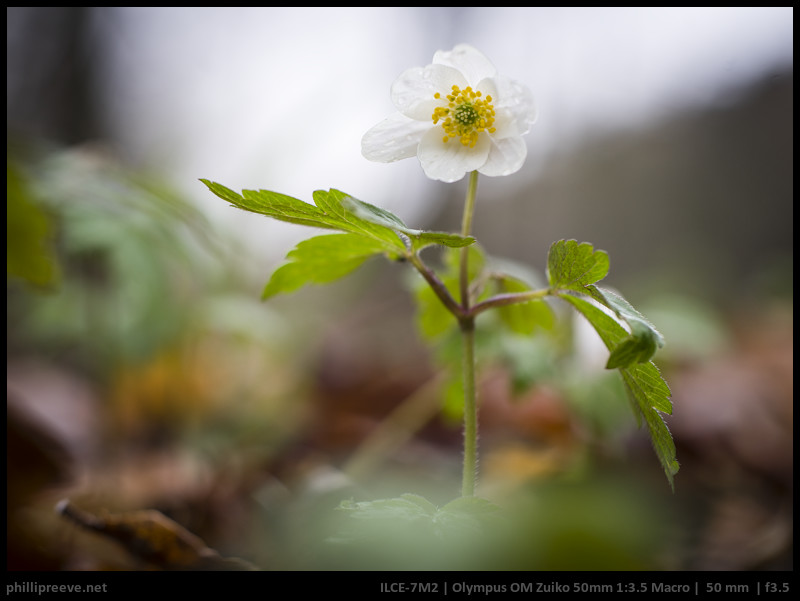 Versions
For practical purposes I see three versions of the Olympus 3.5/50 Macro:
The Olympus OM Zuiko Auto-Macro 1:3.5 f=50mm was released in 1973. It is single coated and there are versions with "silver nose" and without.
The Olympus OM Zuiko MC Auto-Macro 1:3.5 f=50mm shares the optics of its successor but it is multicoated.
The last version is the Olympus OM Zuiko Auto-Macro 50mm 1:3.5. It is multicoated, probably with updated coatings but there is no MC-engraving. The copy I own is of this generation.
All three versions share the same optics but I would recommend to stay away from the first version (no MC in the name and f=50mm) because my experience with single coated Olympus OM lenses is that they flare a lot.
Data according to Olypedia.de
Build quality and handling
Olympus OM lenses usually combine a very small size and great handling. The Olympus OM Macro 50mm 1:3.5 is no exception.
Focusing Ring
The focusing ring travels around 40 degrees from 1 m to infinity which is  rather steep, normal lenses usually travel around 90 degrees. From 1 m to 0.23 m the Zuiko travels a further 200 degrees.
The rubberized focusing ring offers good grip and a pleasant diameter. The resistance is pleasant but a little on the higher side. My copy has had a CLA recently so I don't know if other copies will have a similar resistance.
Aperture
The aperture ring sits at the front of the lens and it has full stops from f/5.6 to f/22. There is no stop  between f/3.5 and f/5.6. I think this is one of the best aperture ring designs I have come across.
Hood
The front of the lens sits deeply recessed in the lens and is well protected from flare and damage. This is one of those lenses you can throw in your camera bag without lens-cap or hood which is always nice.
Size and Weight
At 200g and with a length of just 40mm the Olympus is quite small but still large enough to be very pleasant to handle.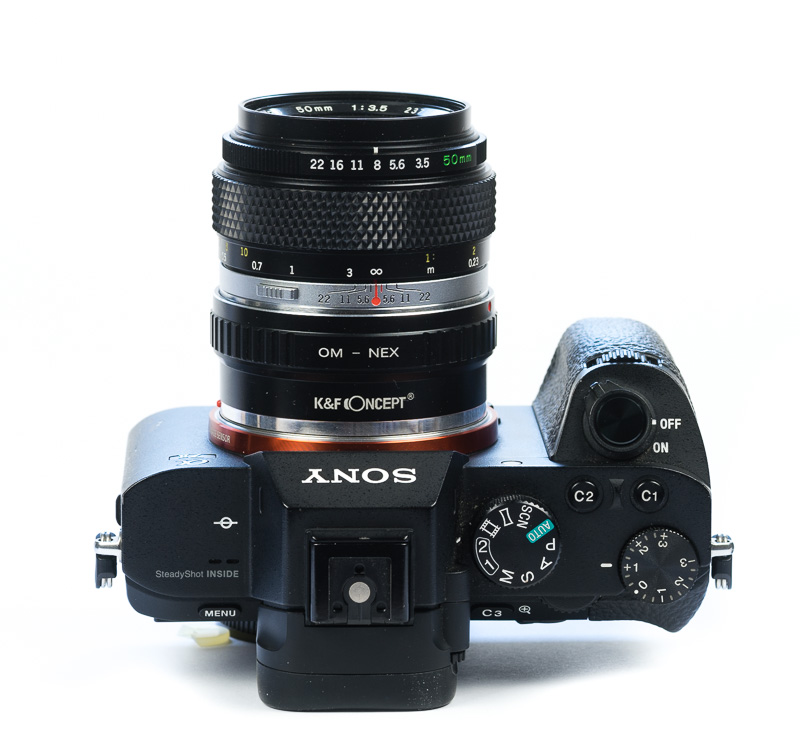 Optical performance
These results are based on the use with a Sony Alpha 7/7II.
Flare Resistance
I was very positively surprised by the Zuiko's good flare resistance: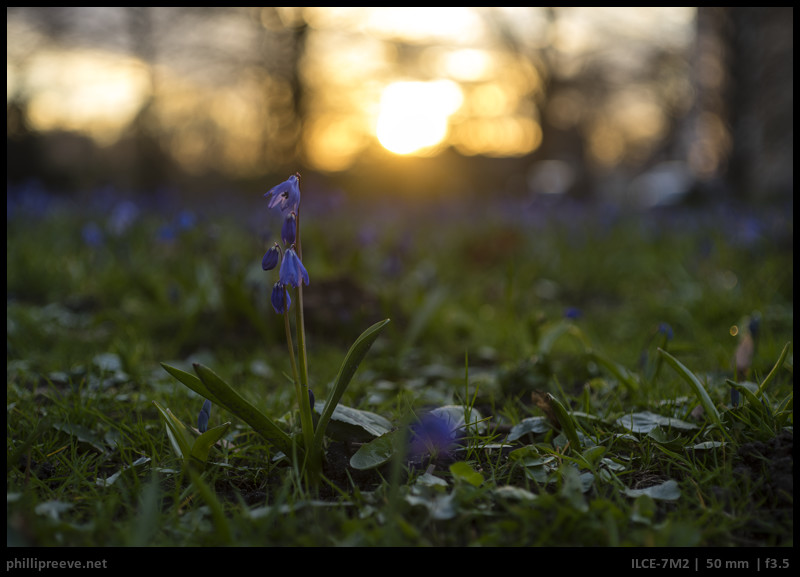 Compared to the modern Sony FE 2.8/50 Macro the Olympus Macro shows a very respectful performance as long as the light source is in the frame.
There is one scenario though which causes issues and that is when a powerful light source is just outside of the frame. This will result in significant veiling flare:
Exposure was the same for both images.
Bokeh
In general the Olympus OM 3.5/50 Macro has good bokeh.
At f/3.5 background bokeh is smooth with minor cat's-eye effect.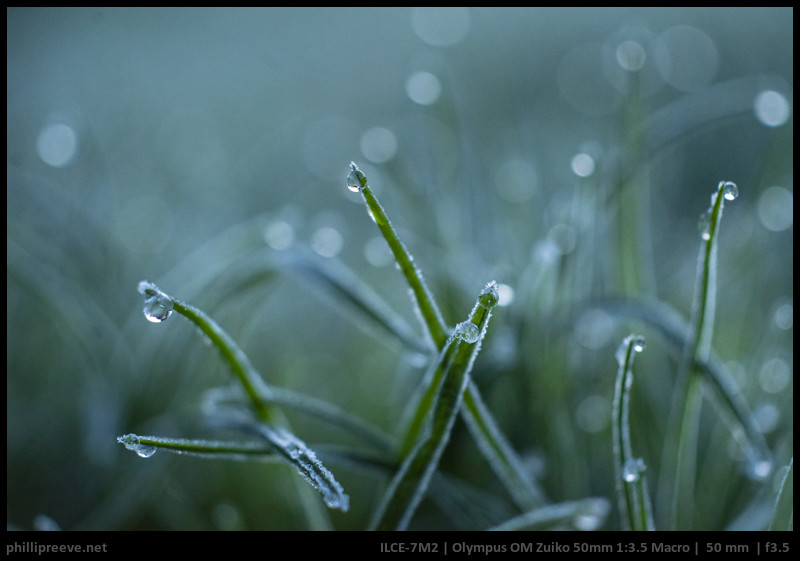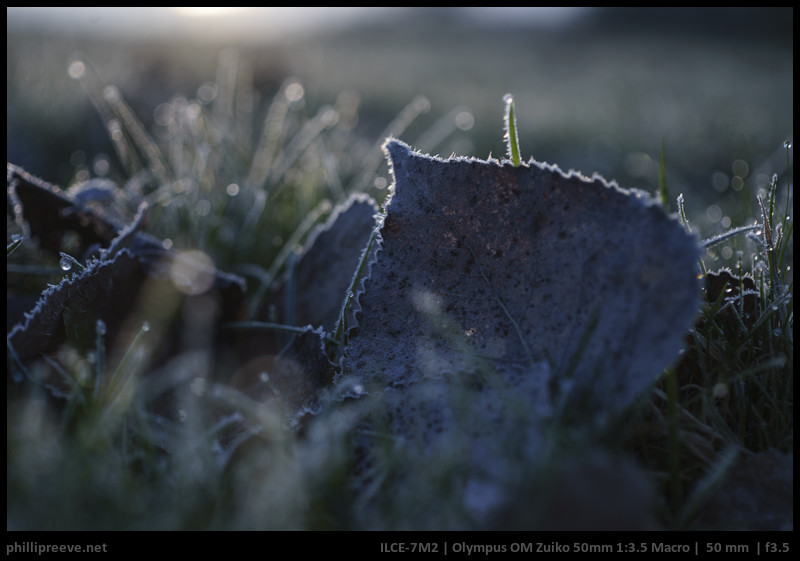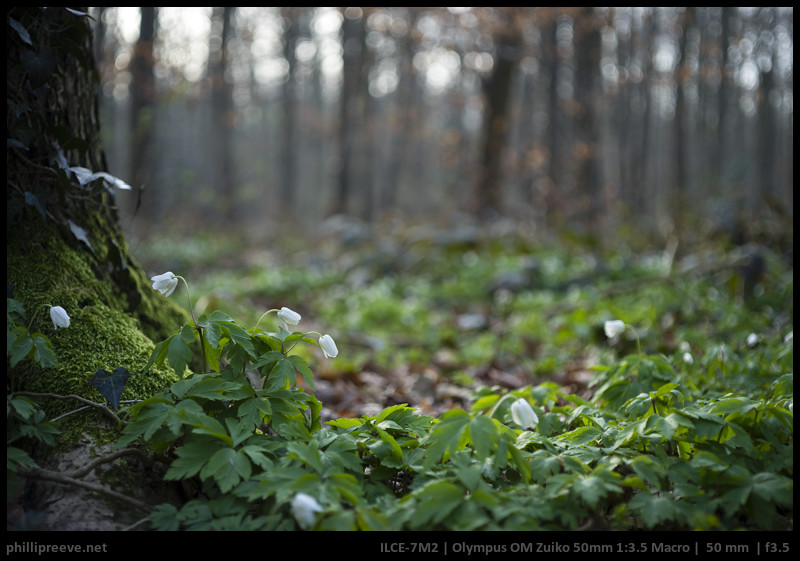 Stopped down to f/5.6 though the hexagonal shape of the aperture blades becomes quite obvious and it can be distracting for some images. Also note the neutral foreground bokeh:
full resolution f/3.5 | f/5.6
The transition zone isn't very smooth which won't matter at macro distances but can be distracting at longer distances.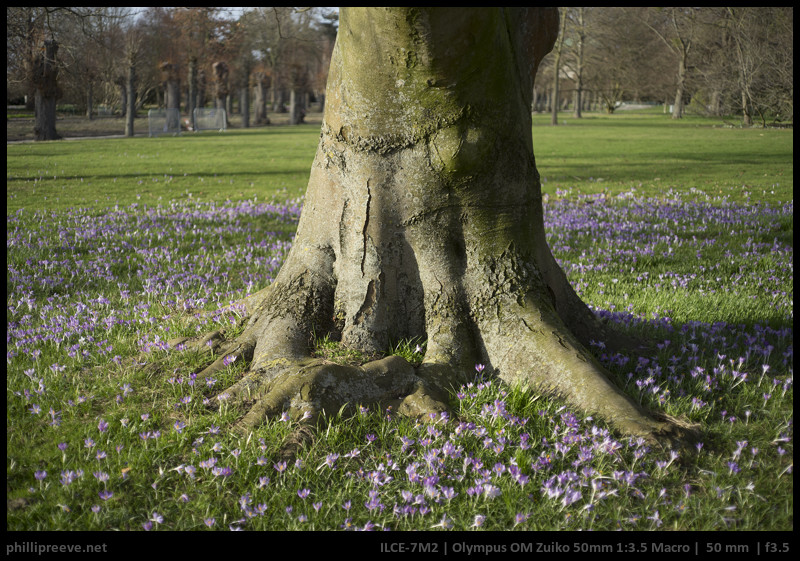 Chromatic Aberrations
CA is very well corrected, both axial as well as lateral.
Vignetting
Vignetting at f/3.5 is 1.4 stops which can be noticed in critical situations and is significantly more than other normal lenses show at f/3.5. From f/5.6 it is below 0.8 stops which will hardly be noticeable.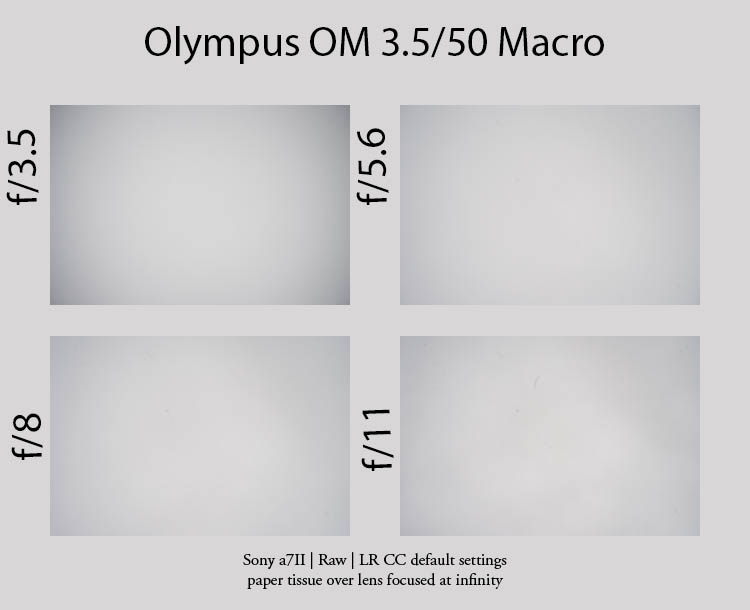 Distortion
Typical for a macro lens the Olympus OM Zuiko 50mm 1:3.5 Macro has close to zero distortion.
Sharpness
Most lenses are optimized for infinity. Not so the OM 3.5/50. It is sharpest at a reproduction ratio of around 1:10 where it is very sharp from wide open and only gains a little as you stop down:
100% crops f/3.5 | f/5.6
At the largest magnification ratio of 1:2 it is somewhat soft at f/3.5 and there is a very significant gain in sharpness as you stop down to f/5.6:
100% crops f/3.5 | f/5.6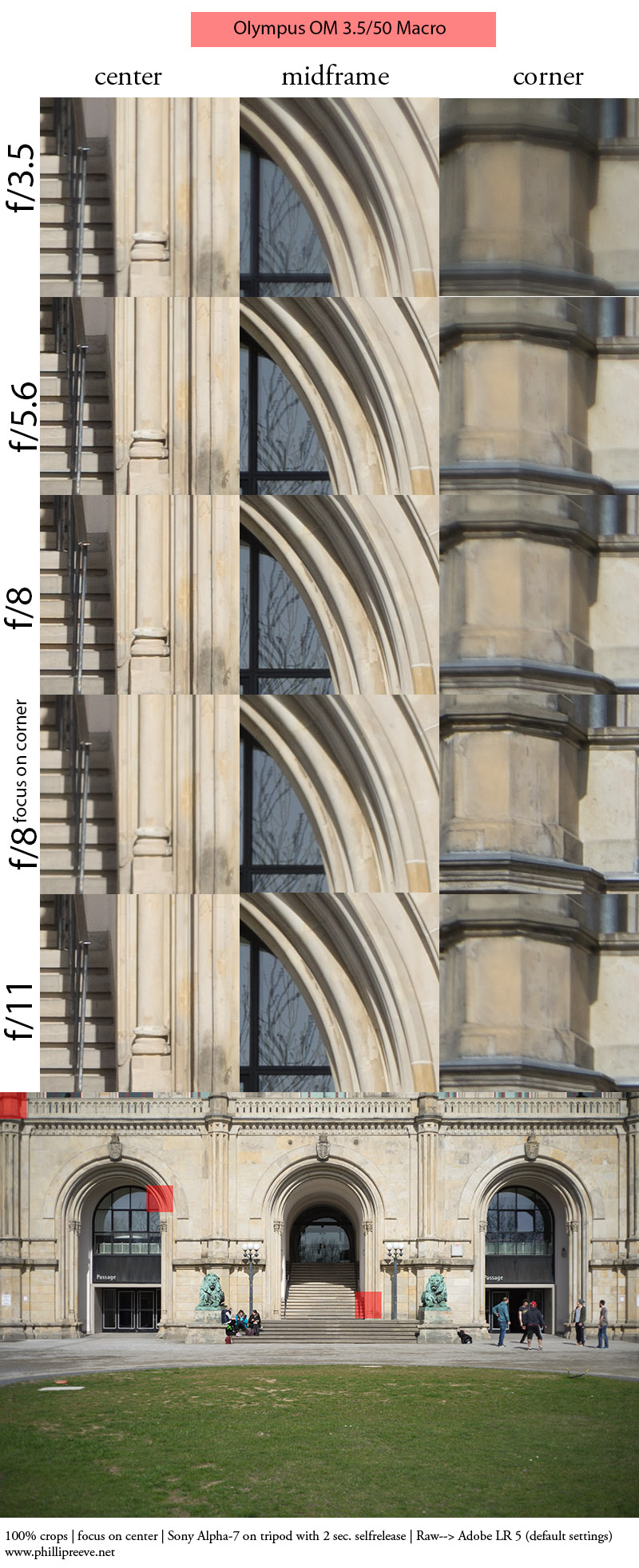 At infinity the Olympus OM 3.5/50 Macro has decent resolution in the center but lower contrast and the corners are rather soft. Stopped down to f/8 it shows very good sharpness across the frame but also quite a lot of field curvature: the corners are focused behind the center. If you want sharp corners for a flat infinity scene you need to take the field curvature into consideration and sacrifice some performance in the image center.
Applications
I think macro lenses are among the most versatile lenses you can buy. Compared to a faster normal lens you gain a wider focusing range and better performance as well as flare resistance. Right now it is spring here in Germany and I choose the Olympus over a fast normal lens any time when I go for a walk in the forest.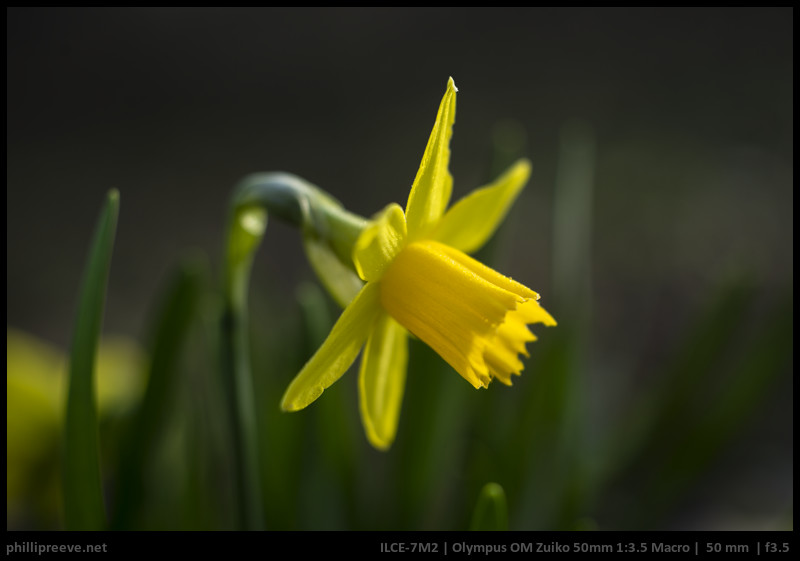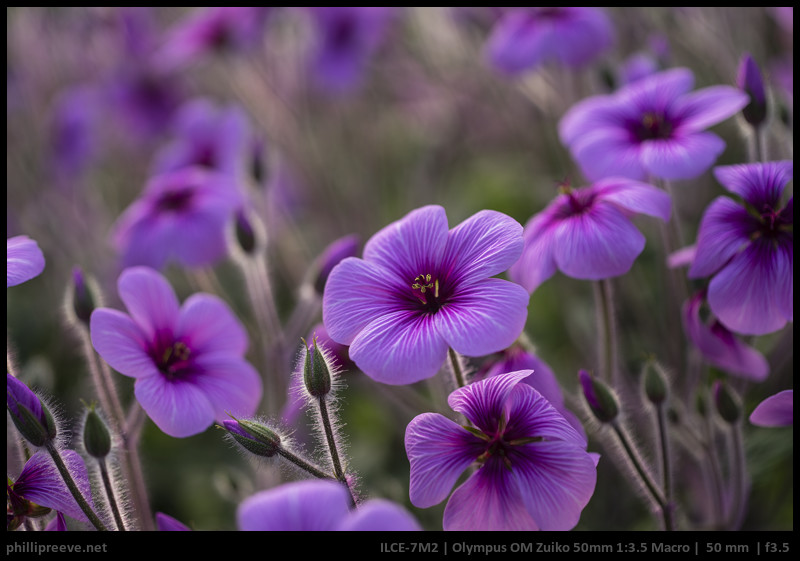 Of course you sacrifice speed and some performance at longer distances but even at a distance the results are quite good if you consider the field curvature so the only real disadvantage is the slower speed.
Alternatives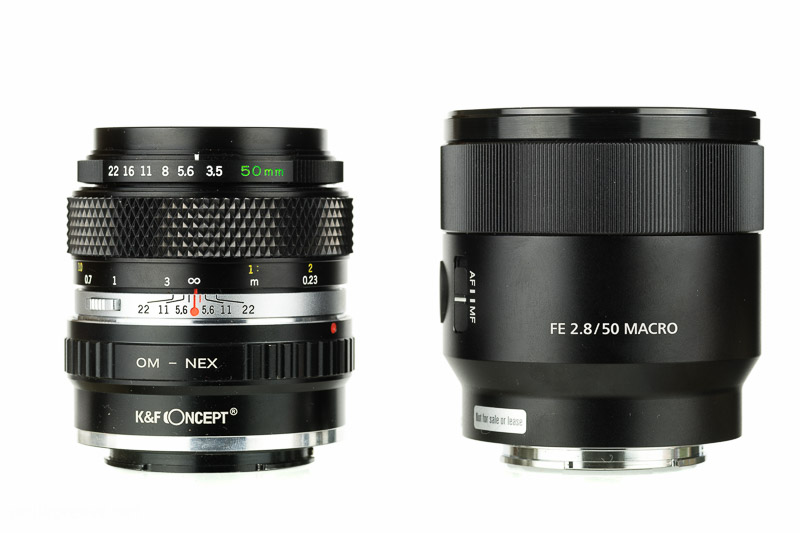 Sony FE 2.8/50 Macro: The Sony offers AF, focuses down to 1:1 and it shows excellent sharpness at any distance. Bokeh is a tad smoother but the Olympus offers better build quality and it is more pleasant to handle. How much the performance difference matters depends a lot on what you shoot but the Olympus certainly offers the better value at 10% of the Sony's price.
Olympus OM Zuiko 2/50 Macro: In the 80's Olympus released a range of spectacular unusually fast lenses. I have already reviewed the spectacular OM 2/100 and from the available information the 2/50 Macro plays in the same league.
Nikkor 2.8/55: Nearly 100g heavier but also half a stop faster it offers a little better image quality and costs a little more. I am tempted to buy one.
Leica Elmarit-R 2.8/60 Macro: At twice the weight and several times the price the Leica is a bit faster, longer and sharper outside of the 1:10 reproduction ratio. It also show a lot more flare.
Minolta MC 3.5/50 Macro: I found the Olympus to be sharper, smaller and a lot more flare resistant.
pros

Size & Handling

Price

Bokeh

Flare Resistance

Versatility

Sharpness

No distortion

average

1:2 max magnification
Rather slow
Vignetting

cons

Somewhat soft wide open at 1:2 and infinity

6 aperture blades cause hexagonal bokeh from f/5.6

Significant field curvature at infinity
The Olympus OM Zuiko 50mm F3.5 Macro has many arguments going for it: It is very well built and none the less it weighs just 200 grams. No other manufacturer managed to put that much performance in such small SLR lenses as Olympus did. Usually I was quite happy with the images, when I used it to capture spring flowers the results were usually pleasing with good sharpness and bokeh and I could even play with back-light which is an issue for many legacy lenses.
Olympus did not manage to maintain very good sharpness at any distance though. I think this is less of an issue at longer distances because if you take the field curvature into consideration you can still manage to get good across the frame sharpness. I found it a bit limiting at short distances though: I want to avoid stopping down because then the six aperture blades will yield less pleasant bokeh, but wide open it is rather soft at a 1:2 magnification. If you work a lot at really close distances I wouldn't know of a manual lens which offers better quality at a comparable price though. I think the Olympus offers great value at the current rate of around $40. Especially if you only occasionally need a macro the Olympus is a great option.
All in all I can recommend the Olympus: It has some shortcomings but its strengths usually matter more to me  and I will keep my copy for those occasions when I my focus is on smaller objects.
The Olympus OM 3.5/50 Macro usually sells for around $40 used at ebay.com (affiliate link). 
In Germany you can buy it used for around 50€ at ebay.de (affiliate link). 
If this review was helpful to you, please consider using one of my affiliate links. Thanks ?
Images Samples in full resolution
You can find more images in this flickr set: Olympus OM Zuiko 50mm F3.5 Macro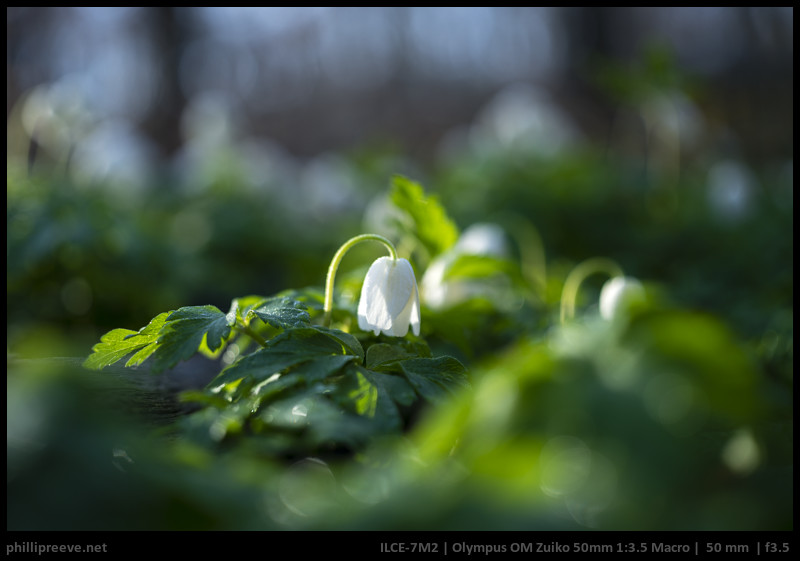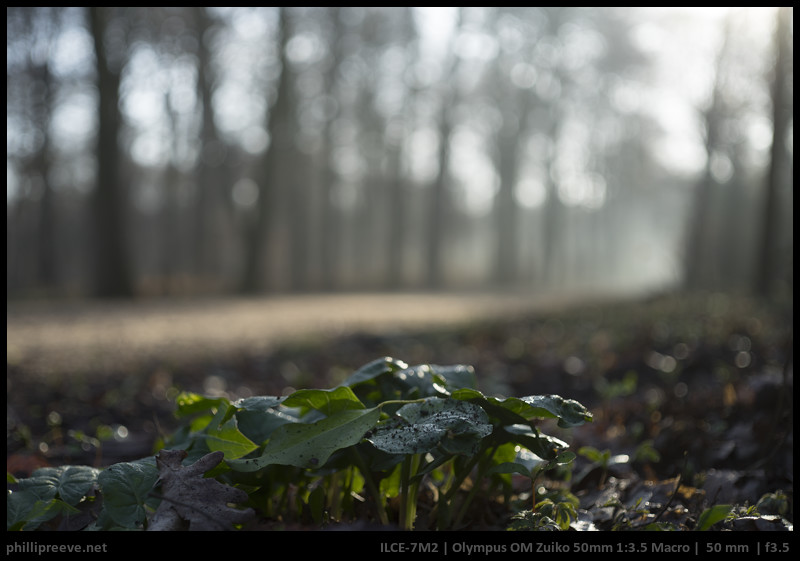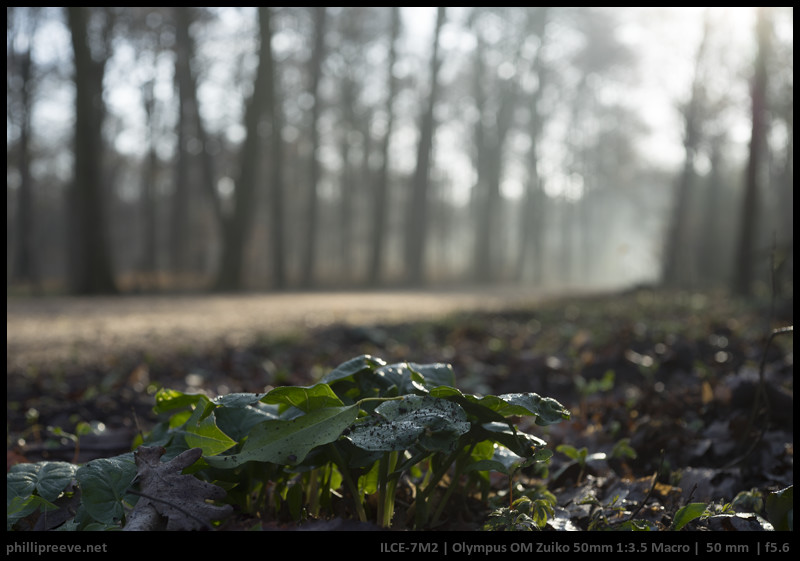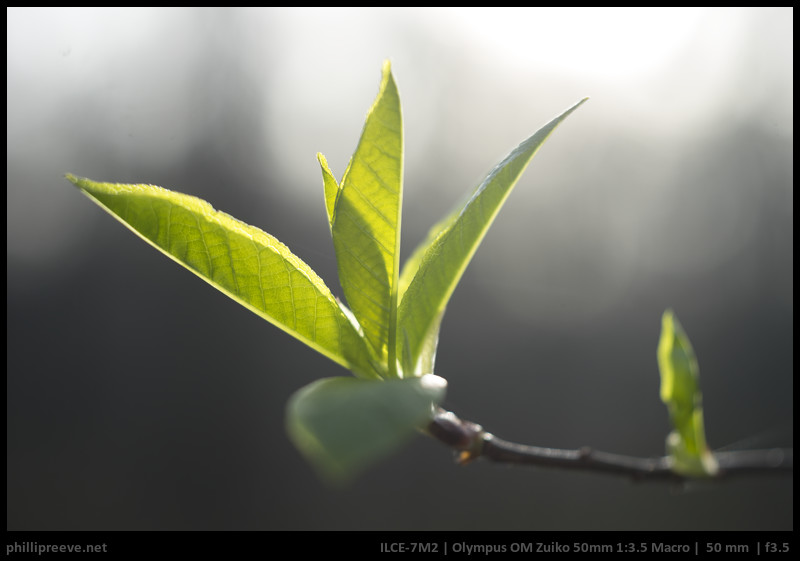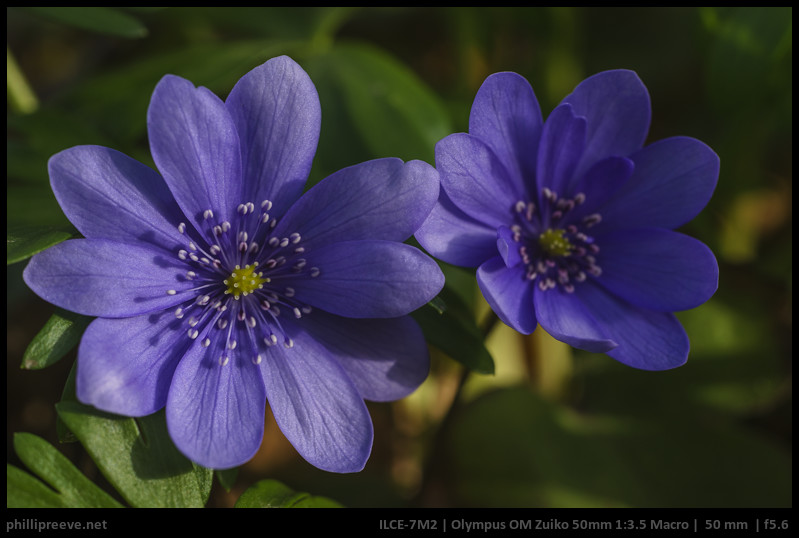 Other articles
The following two tabs change content below.
I have two hobbies: Photography and photographic gear. Both are related only to a small degree.
Latest posts by Phillip Reeve (see all)