The Minolta MD 35-70mm 1:3.5 is an very affordable, light weight zoom with a very good performance in a limited but handy focal range
Specifications
Diameter
69 mm
Length
68.5 mm
Filter Thread
55mm
Weight
365g
Max. Magnification
0.1
0.25 (Macro Mode)
Close Focusing Distance from the sensor
80cm
33cm (Macro Mode)
Number of aperture blades
7
Elements/ Groups
8/7
Price
(June 2015): $80-120 in good condition.
Check current prices at 
ebay.de
 or
ebay.com
 (affiliate links).
Also check out my Minolta SR-mount adapter guide.
Image Samples
You can find some more samples in this flickr set: Minolta MD 3.5/35-70.
Versions
Minolta made three different 3.5/35-70 lenses
The Minolta MD Zoom Rokkor 35-70mm 1:3.5 was introduced in 1978. Leica used the same optics for their Vario-Elmar-R 35-70mm f/3.5. Short focusing distance is 1m.
The Minolta MD Zoom 35-70mm 1:3.5  dropped the Rokkor from the name plate and the zoom mechanism looks different.
The Minolta MD Zoom 35-70mm 1:3.5 was introduced in 1983, it has a short focusing distance of 80cm and a 1:4 macro mode.
I have never used the first and second version but Stephan from artaphot.ch  found that the first version was clearly inferior to the second version and I would assume that the second and third version are the same optically.
Since there is only a small price difference between the second and third version I would recommend to buy the third version because of the handy 1:4 Macro mode. Stay away from the first "Rokkor" version.
Build quality and handling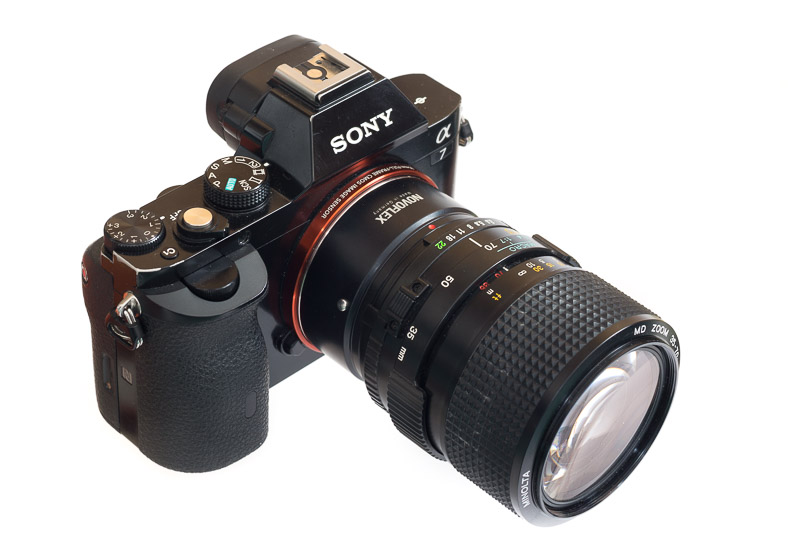 By today's standards the built quality is very good but compared to the best manual lenses it isn't that good. The Minolta 3.5/35-70 feels a little plasticky.
The barrel and the mount are made from metal and anything else is made from plastics or glass. The zoom ring and the aperture ring feel a little cheap.
The lens is not a push-pull zoom but it has a dedicated zoom-ring.
Focusing Ring
The focusing ring travels around 10 degrees from 80cm  to 1m and a further 90 degrees to infinity.
The focusing ring is quite smooth, resistance is just right.
Aperture
The aperture ring has full stops from f/3.5 to f/5.6 and f/16 to f/22 and half stops from f/5.6 to f/16.
The aperture ring is made from plastics and clicks quite nicely.
The lens has 7 straight aperture blades.
Hood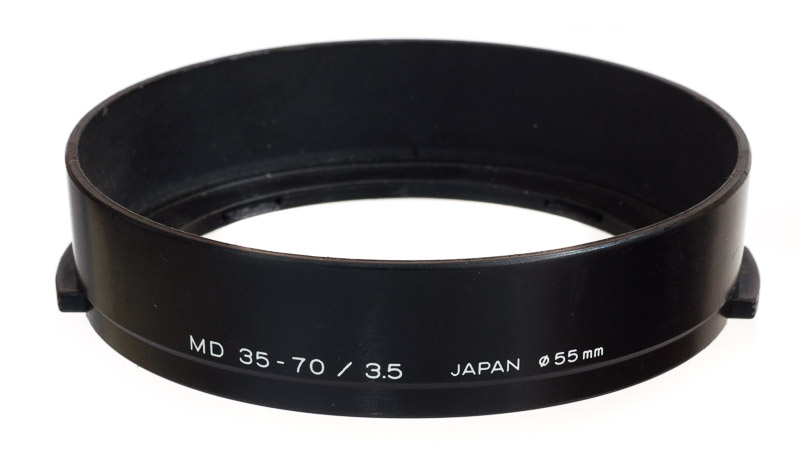 The original hood is rather small and protects the front element without adding too much size. It is made from plastic, feels solid enough and attaches firmly to the lens.
Size and Weight
The 3.5/35-70 is a medium sized lens. It is well balanced when used on the Sony a7, adding a L-bracked improves the balance further.
The lens is a little (5mm) wider than a typical 1.4/50 lens and 25mm longer. At 365g it is also about 100g heavier.
Filters
The filter thread is made from metal and the front element does turn when the lens is focused.
The Macro Mode
The lens has a very long short focusing distance of 80cm, most 35mm primes are at 30cm and most 50mm lenses at 45cm so they offer a much higher magnification.
But the lens also has a macro mode. You activate a switch and turn the zoom ring behind the 70mm marking and the image is magnified. So at shorter distances you can focus with the zoom ring.
Optical performance
These results are based on the use with a Sony Alpha 7.
Flare Resistance
Flare resistance is better than I expected from a 1980's zoom lens.
There is some contrast loss when a bright light source is in the image but the images remain usable with minor processing, I have seen much worse.
Ghosting is very well controlled.
Bokeh
At  f/3.5 bokeh is a bit distracting because blur circles have a defined brighter edge.
At f/5.6 the blur circles have a much less defined edge but they are now take the shape of the aperture with it's seven not rounded blades.
I prefer to stop down to f/5.6 because I find the bokeh at f/3.5 too distracting. For images with nicely blurred backgrounds there are fo course nicer lenses.
Chromatic Aberrations
Lateral chromatic aberrations are moderately well controlled at 35mm, well ontrolled at 50mm and more or less not visible at 70mm.
Axial chromatic aberrations ("bokeh fringing")  can be visible at f/3.5
Distortion
At 35mm there is a moderate amount of barrel distortion
At 50mm there is almost no distortion and at 70mm there is a slight amount of pincushion distortion.
Sharpness
35mm
f/3.5: The center and midframe region show very good sharpness and a little reduced contrast, the corners are soft with some coma.
f/5.6: Contrast and sharpness are high across most of the frame now.
While the far corners remains soft right next to it sharpness is quite good actually.
f/8: Some improvement in the corners.
f/11: The center is a little less sharp, only the very last few pixels of the corners are unsharp.
50mm
f/3.5:The lens is sharp across the frame with only a little corner softening. Contrast is a bit lower.
f/5.6: Center and midframe region are very sharp, the corners are sharp. Contrast is good.
f/8: The lens is sharp as a prime across the frame.
f/11: The corners improve a tiny bit, the center is a little bit softer.
70mm
f/3.5:A little weaker than at 50mm: Contrast is lower and sharpness is okay.
f/5.6: Center and midframe region are very sharp, the corners are sharp. Contrast is good.
f/8: The lens is sharp as a prime across the frame.
f/11: The corners improve a tiny bit, the center is a little bit softer.
 Alternatives
Carl Zeiss Vario-Sonnar 3,4/35 – 70 mm: A highly regarded lens among landscape photographers.  I think it is a bit better stopped down at 35mm and at f/3.4 in general  but it is a push-pull zoom and it is a little heavier at 475g. Here is the MTF graph.
LEICA VARIO-ELMAR-R 1:4/35-70 mm: Even more expensive and heavy than the Zeiss it also enjoys a very good reputation. The MTF-graph hints at severe astigmatism in the corners at 35mm, pretty similar to the Minolta. Built quality will be top notch.
The Sony FE 4/24-70 ZA OSS is better at f/4 than the Minolta at f/3.5 with much more contrast so the Sony is a much nice lens for reportage work. Stopped down to f/8 though the Minolta is the sharper lens so for landscapes the Minolta is the better lens.
Conclusion
The Minolta MD 35-70mm 1:3.5 is a versatile lens, because it performs so well it can replace 2 or 3 primes and make your bag much lighter. The 1:4 macro mode adds to it's usability as well. You will sacrifice some the ability to blur backgrounds though.
In the 40-70mm range this lens can compete with very good primes and it beat my $1000 Sony 4/24-70 in the corners.
At 35mm 98% of the image is very sharp but the far corners deteriorate noticeably.
Distortion is noticeable at 35mm but well controlled at 50 and 70mm, CA and Vignetting are present but not too much so.
You need to be aware that at f/3.5 contrast isn't very high and bokeh a bit rough.It is a good choice when you need a light lens and some flexibility. I like to use it for city walks and short trips into nature.
All in all this is a very good lens which outperforms many much more expensive modern zoom lenses.
If you consider buying one please use one of my affiliate links and support my work: Minolta MD 3.5/35-70 at ebay.de
 or ebay.com
 (affiliate links). Thanks!
Images Samples in full resolution
You can find more images in this flickr set: Minolta MD 35-70mm 1:3.5 full resolution samples
 Further Reading
For more Minolta lenses check out my Minolta list.
To learn about manual lenses in general this beginners guide for a7 users might be helpful.
The following two tabs change content below.
I have two hobbies: Photography and photographic gear. Both are related only to a small degree.
Latest posts by Phillip Reeve (see all)