As I am writing this blog post I am on my way back from the island of Madeira where I spent a week with my friend Matt. I enjoyed the trip a lot so I would like to share my experience and my favorite pictures and photo spots with our readers.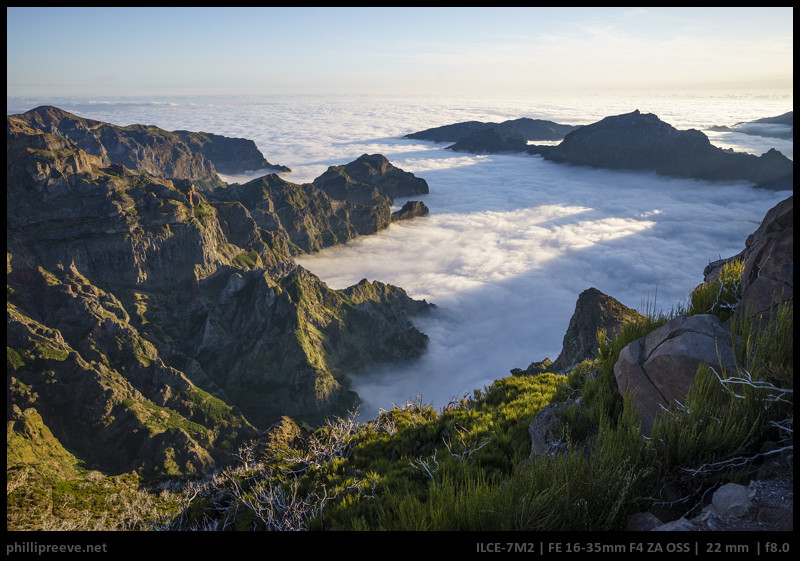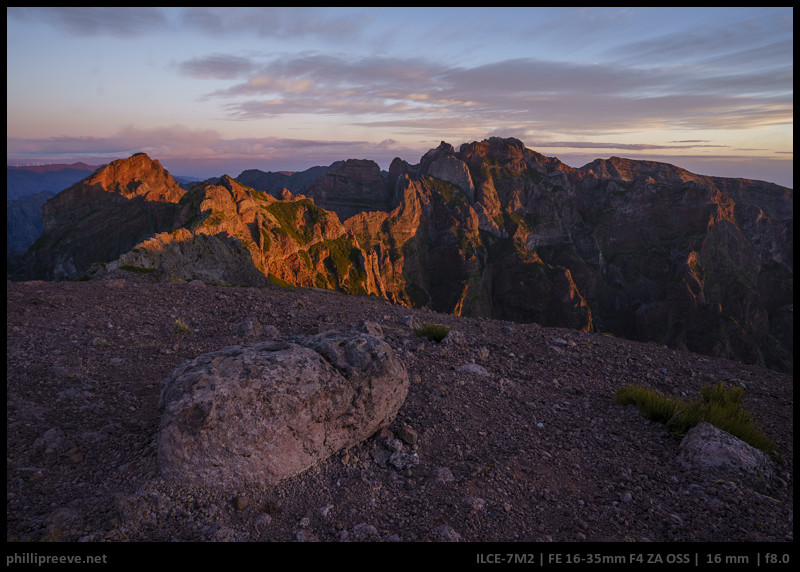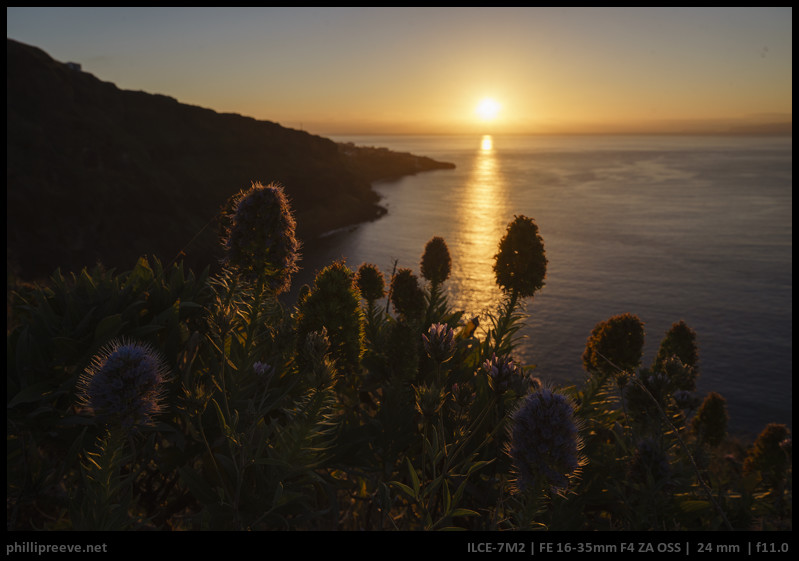 How we traveled
This was a dedicated photography trip. Sunrise and sunset dictated our schedule and we spent little time on other activities because when we got up early enough to catch the sunrise after driving for 45 minutes and got home after photographing the sunset there is not that much time left for other activities.
We stayed in Canico, a few kilometers east of the capital Funchal and we had a rental car to get around. We stayed for a week and this was our first trip so this is in no way a complete guide to the island but just an account of our experience. For the account I have parted Madeira into 5 sections to organize it.
The East
The eastern coast of Madeira is rather developed with the city of Machico and the airport, only the peninsula Ponta de Sao Lourenco at Madeira's east-end is a natural reserve. The more mountainous parts in contrast are much less developed and feel more authentic.
Our very first walk (16: Vereda das Funduras in the Rother walking guide) lead us to Portela which lies 600m above sea level from where we enjoyed a great view of the North coast.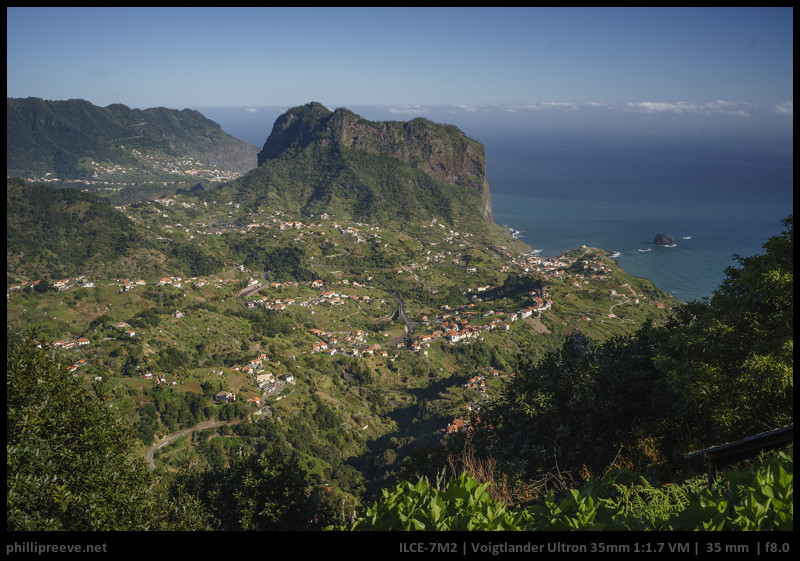 View from Portela to the Penha de Águia
The walk offered not only nice vistas but a pretty magical forest: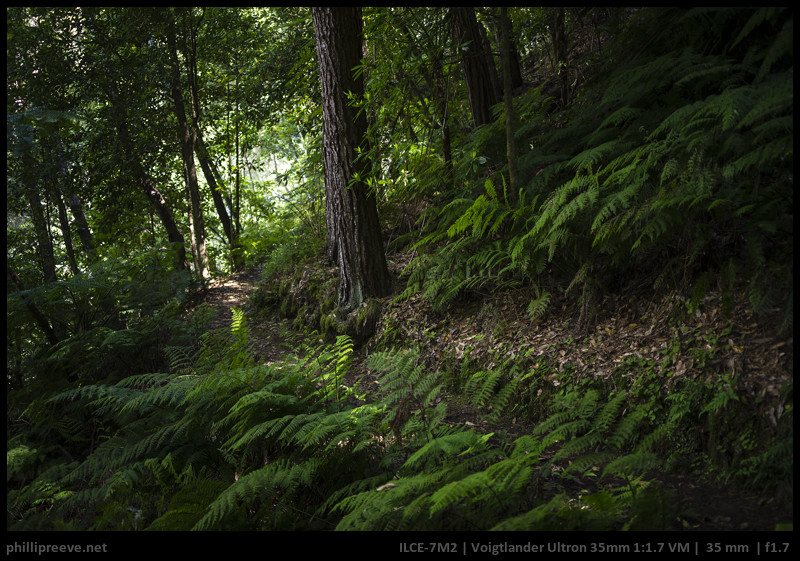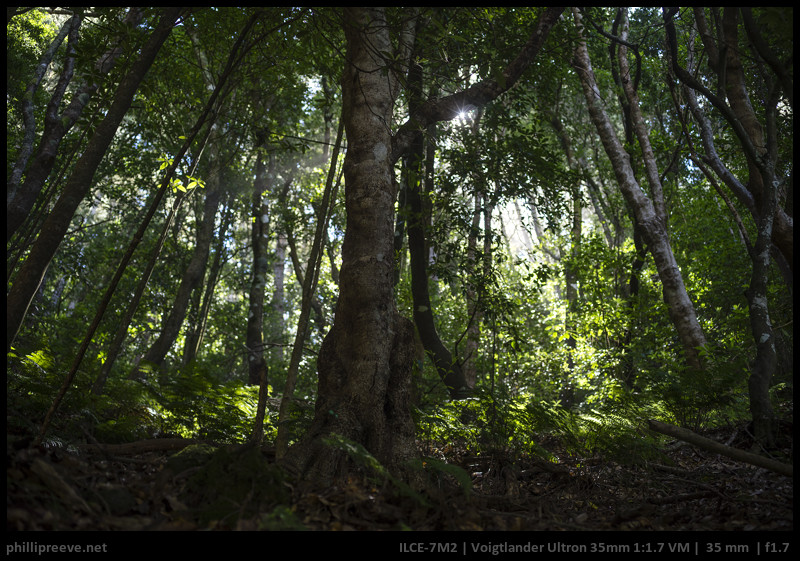 and the Madeirian chaffins which are as tame as they are greedy: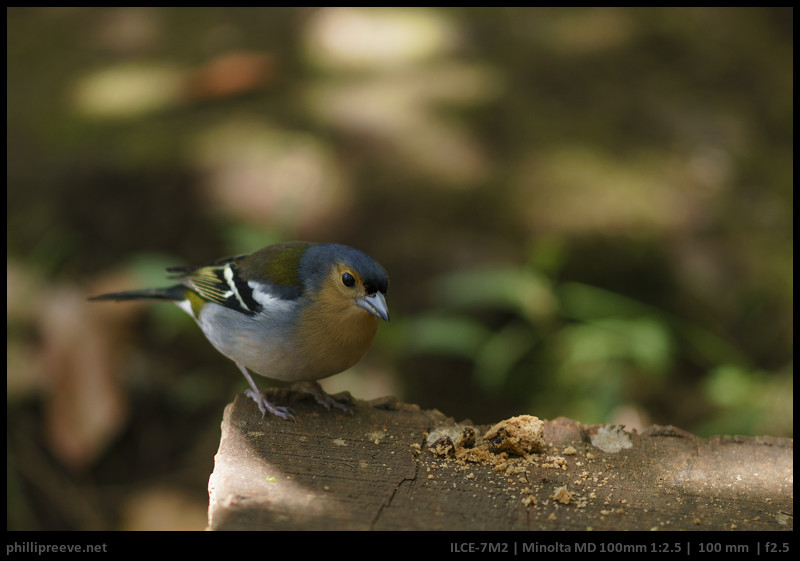 but apart from that it was one of the less spectacular walks we did.
When we were at Portela the next morning the view was very different. Our plan was to photograph the sunrise but we were stuck in the clouds: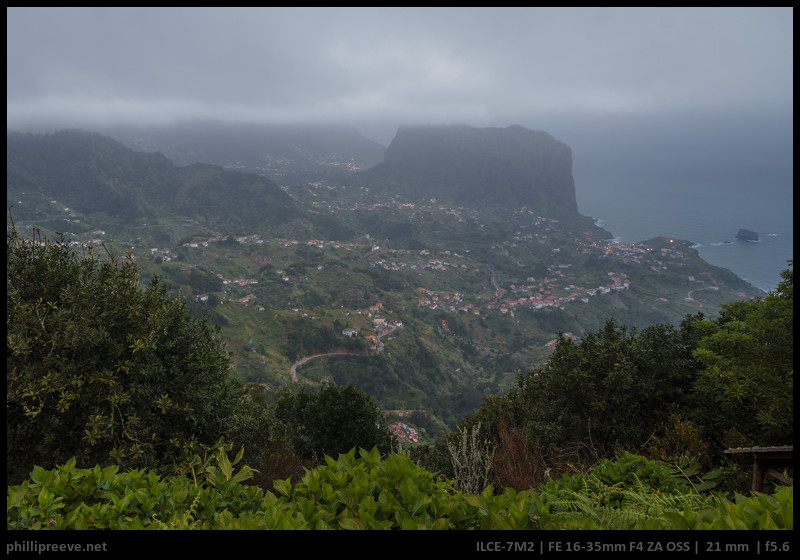 We improvised and drove just a few kilometers further and a few meters higher so we came above the thick layer of clouds and enjoyed a great sunrise:
Another trip we did in the North-East was the peninsula Sao Lourenco (Trip No. 12 in the Rother).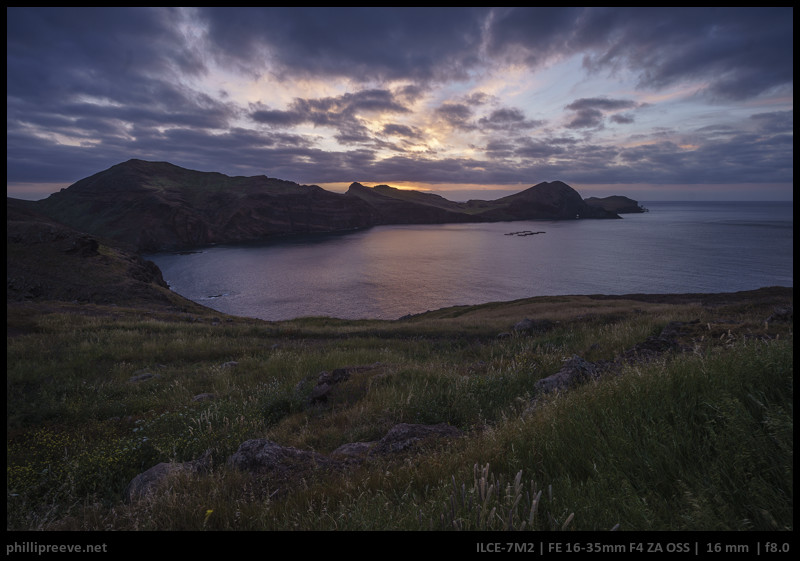 We arrived here a few minutes before sunrise but it was a little too cloudy for a really nice sunrise and it stayed rather cloudy during our walk. This lead to rather average photos but the experience was worth it none the less because of the bizarre rock formations and proximity to the sea.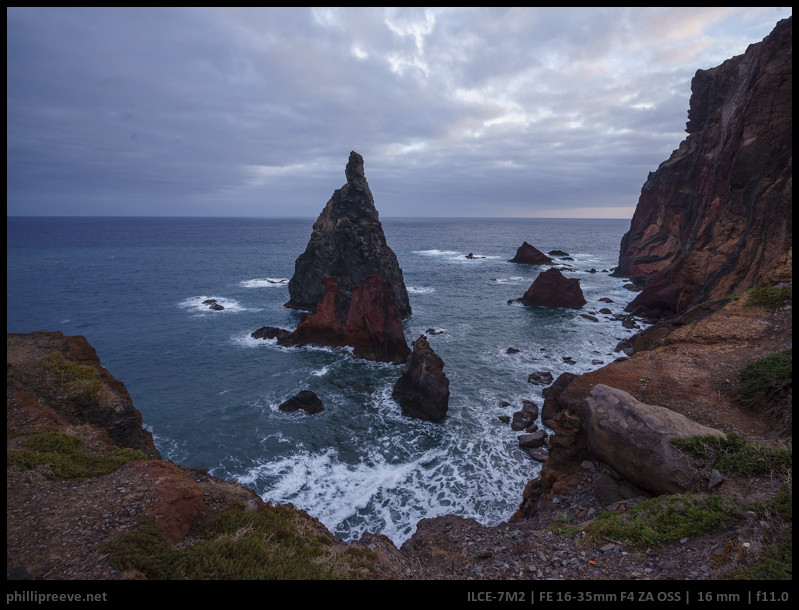 Since the walk is quite popular with tourists I would recommend to arrive early, when we returned to the car at around 11 AM the path was rather crowded but when we started shortly before sunrise a little before 8 we had the place for ourselves.
The North
Unlike the South of Madeira, the North has hardly any hotels, it is less densely populated and it is also much greener. There is of course a reason for that: It sees more rain because many clouds coming from the sea are stopped by the central mountains. We were rather lucky with the weather this trip and only experienced some rain on our last day so we had little reason to stay in the less beautiful South.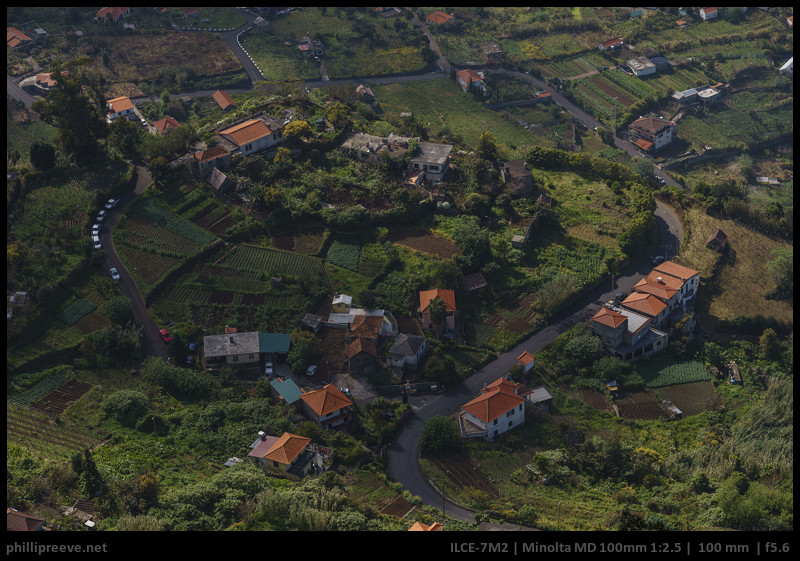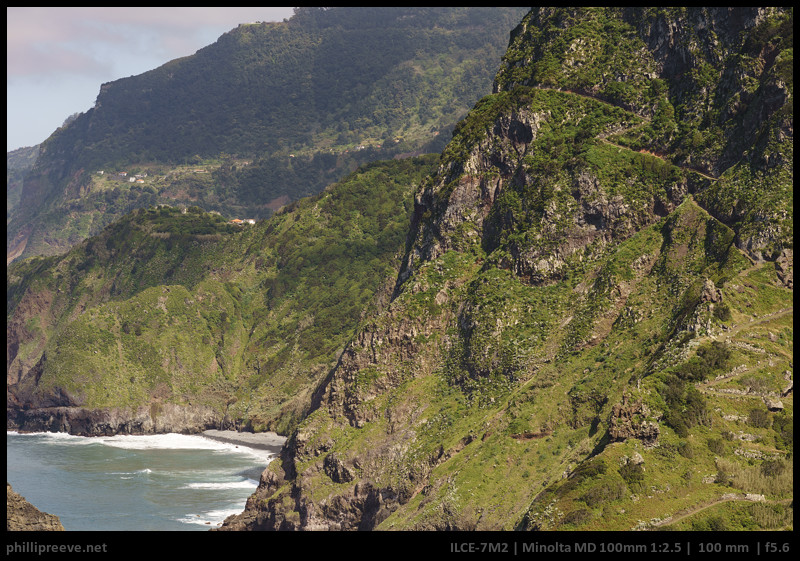 I took this picture because on the right you can see an older path forged into the mountain at seemingly impossible places. The Madeirans are still masters at developing their island despite the very difficult terrain. In the South there is a highway which goes through many tunnels and as many bridges which makes for quick travel from A to B. In the North-West the old coast-road has been replaced by a modern road which offers much less romantic views of the coast because it mostly leads through tunnels but it is also much faster and safer.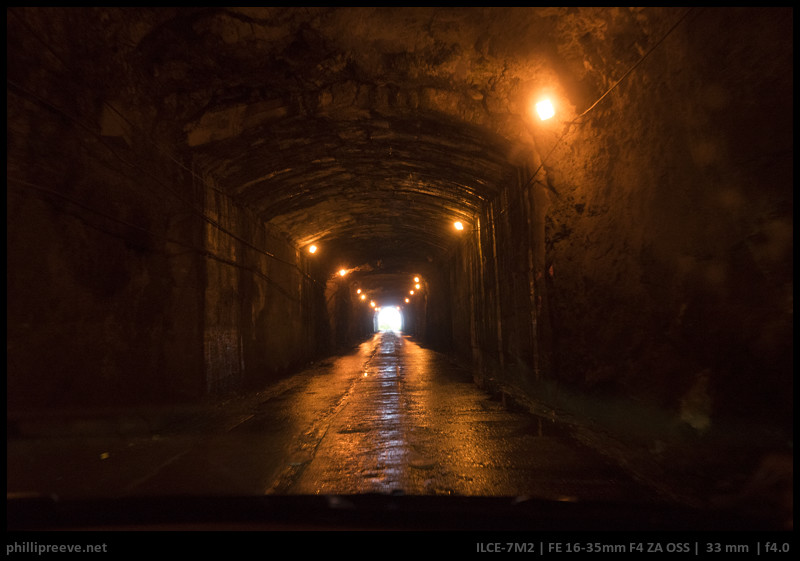 A very nice walk we made in the North is the Levada do Rei (Rother Tour 30) which lead through a beautiful forest…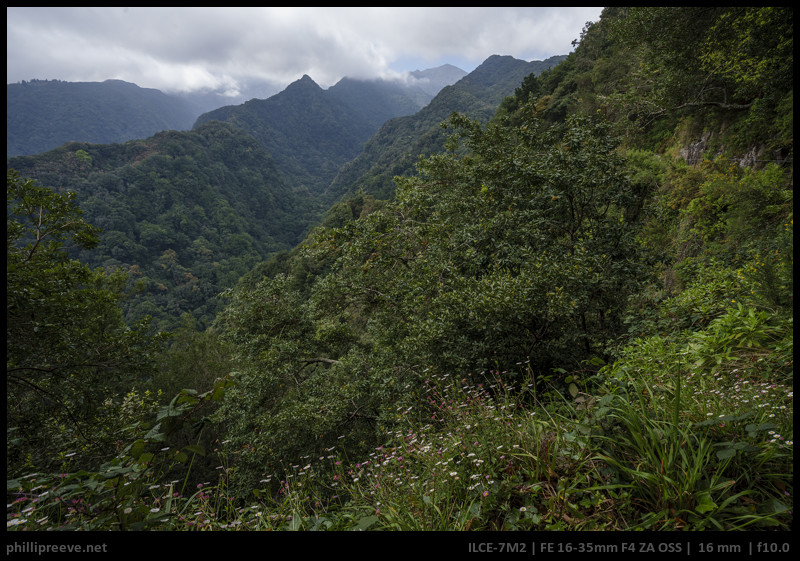 to a beautiful gorge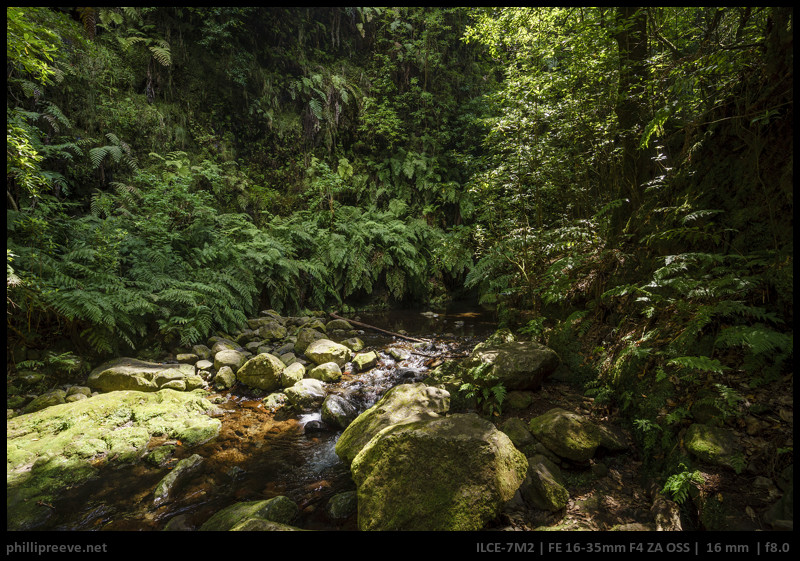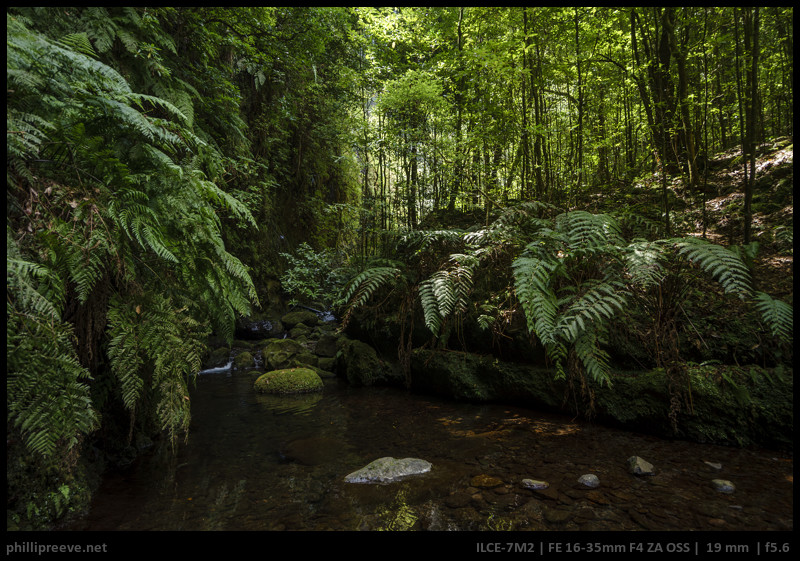 The East
We spent only a little time in the east. One trip lead us to Ponta do Pargo (Rother Tour 57) where we were greeted by a very persistent church bell.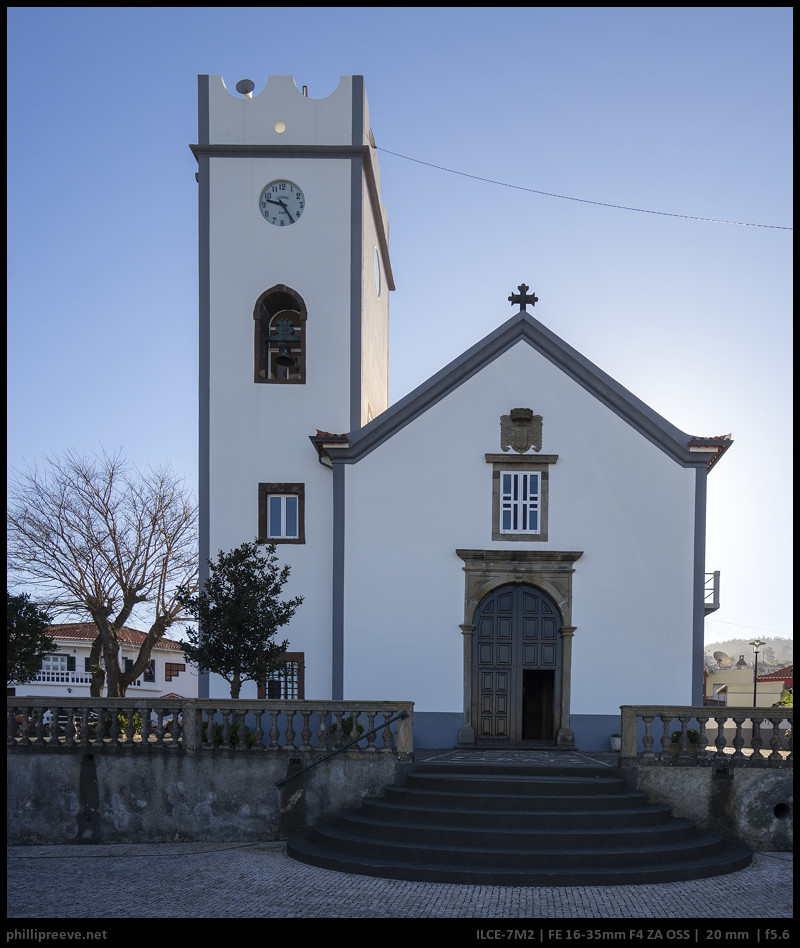 This part of the island seems to see much less traffic, there were few signs of tourists, some agriculture and quite a few derelict buildings.
Most memorable was probably the great view over the coast: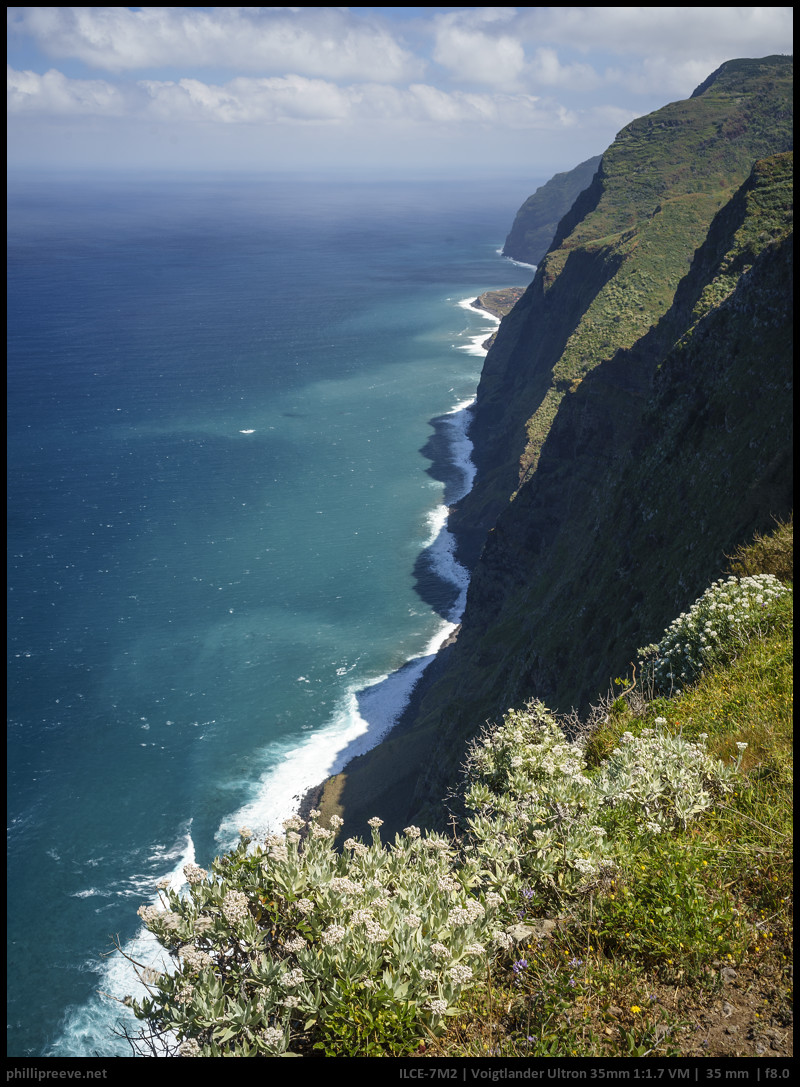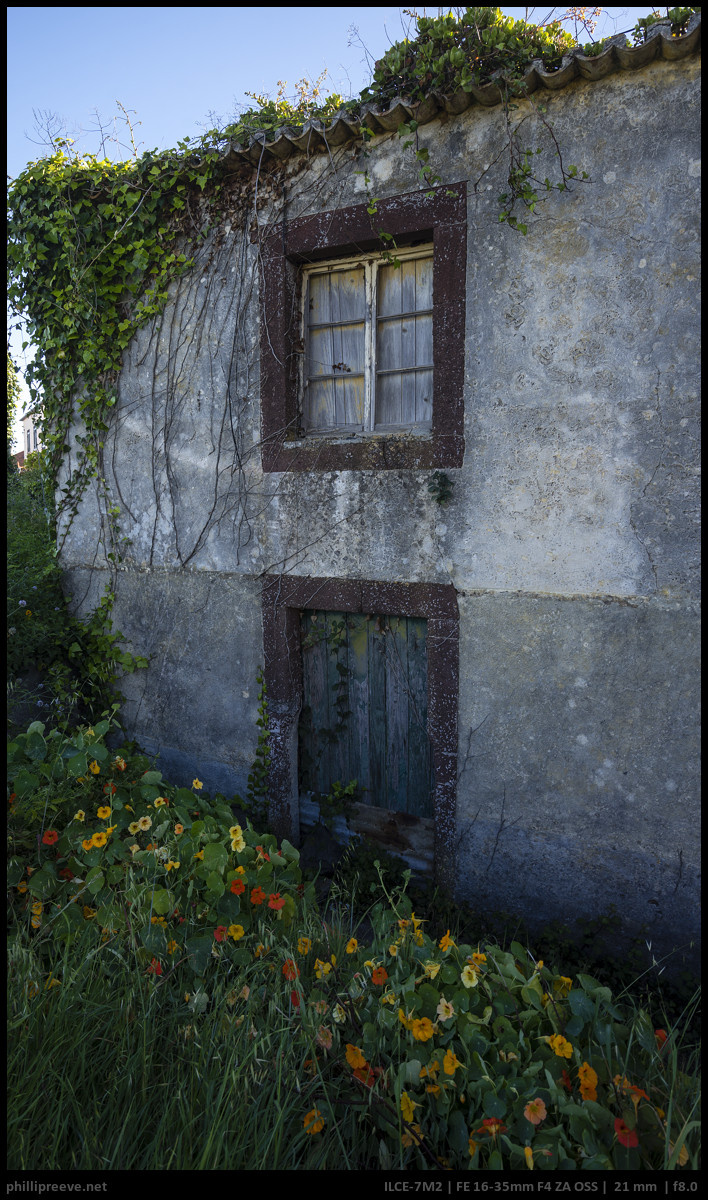 We also did the Levada das 25 Fontes walk (Rother Tour 51) which leads to a nice waterfall but it was very crowded and apart from the waterfall it wasn't a very exciting tour.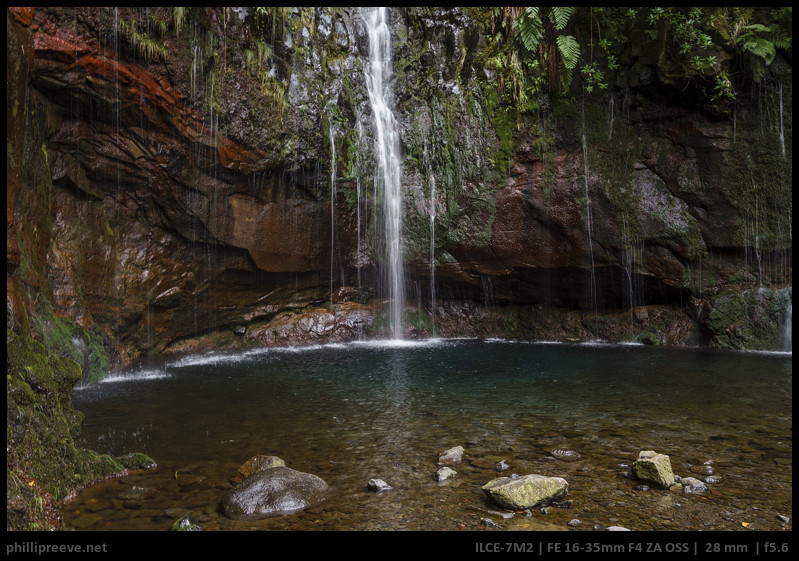 The South
While we stayed in the South in Canico, a few minutes west from the capital Funchal, we spent rather little time in the south which had little to offer to us nature photographers. As I experienced it, it is basically just a lot of concrete.
That doesn't mean that there aren't any beautiful places left. For example when searching for a sunset location we found a great spot below the little town of Campanario.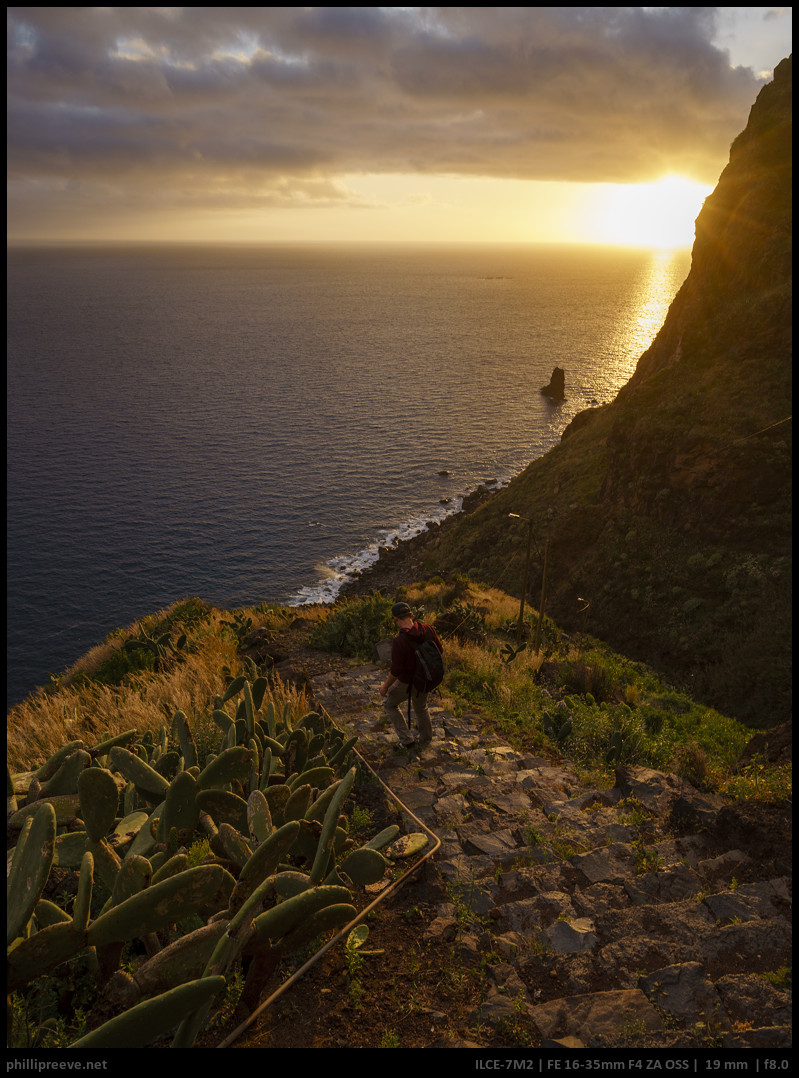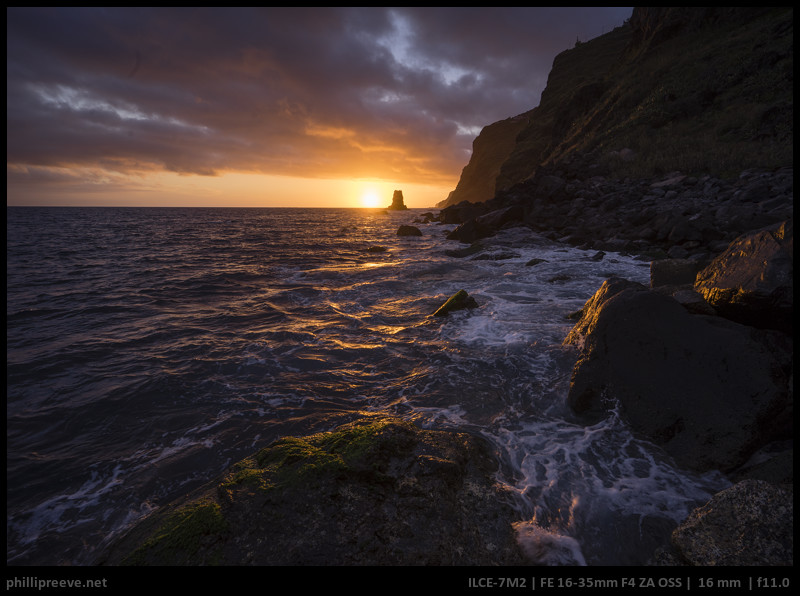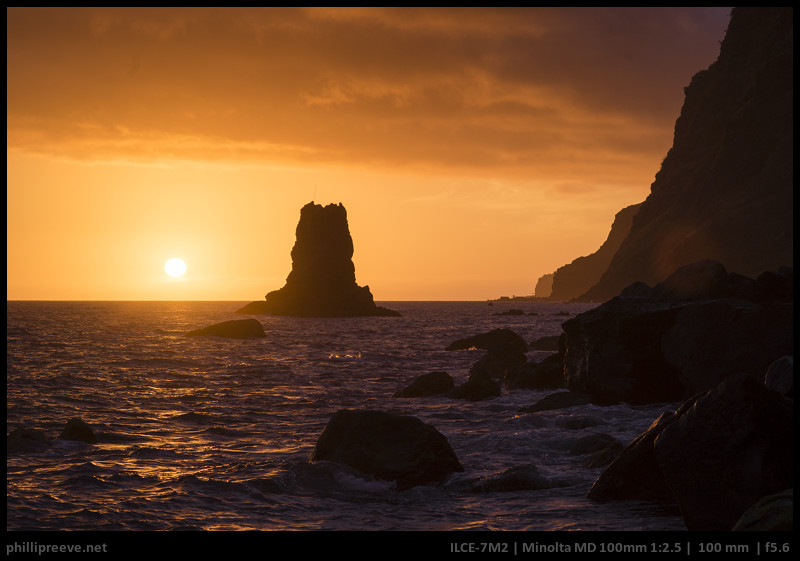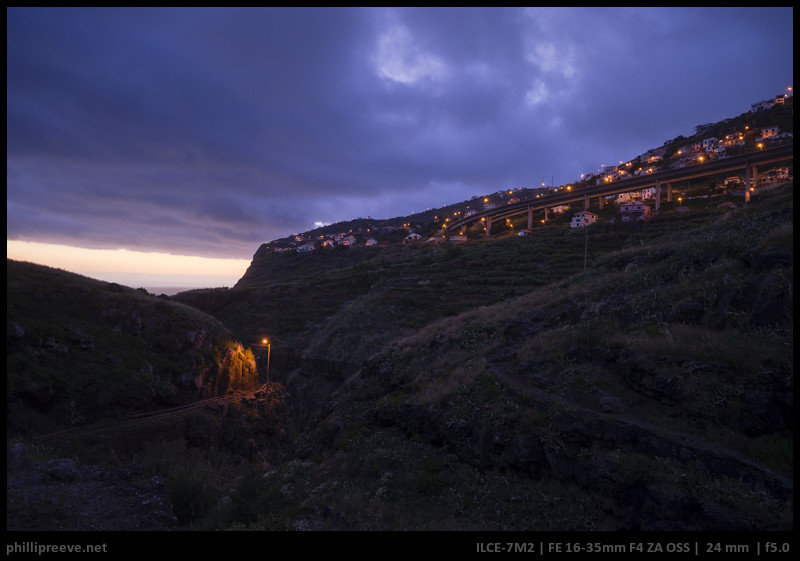 We also explored the capital Funchal for an afternoon but we both didn't like the experience nor did we find many photo opportunities. A friend of mine liked the city a lot though, so I guess it comes down to what you are looking for.
So we found the South not very rewarding photographically and spent more time elsewhere.
The central Mountains
Madeira has a central mountain range which rises more than 1800 m above sea level and we found them to be very rewarding photographically so we spend quite a bit of time there.
Madeira's highest peak is the Pico Ruvio which is accessible by a rather undemanding walk just a little over an hour from the car park (Tour 33 in the Rother). Of course the ascent took us a little longer because we had to capture the great scenery around us.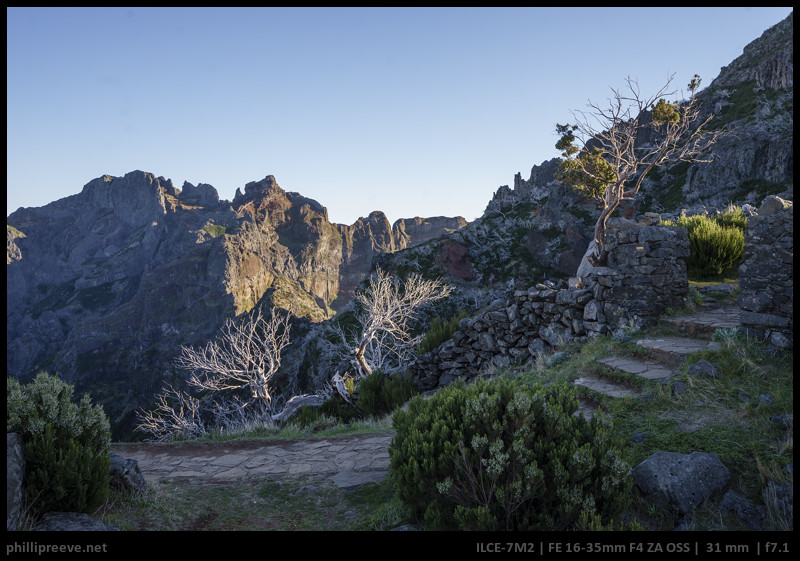 Near the top we had a great view over the whole island which was covered in clouds. This seems to happen quite often in Madeira.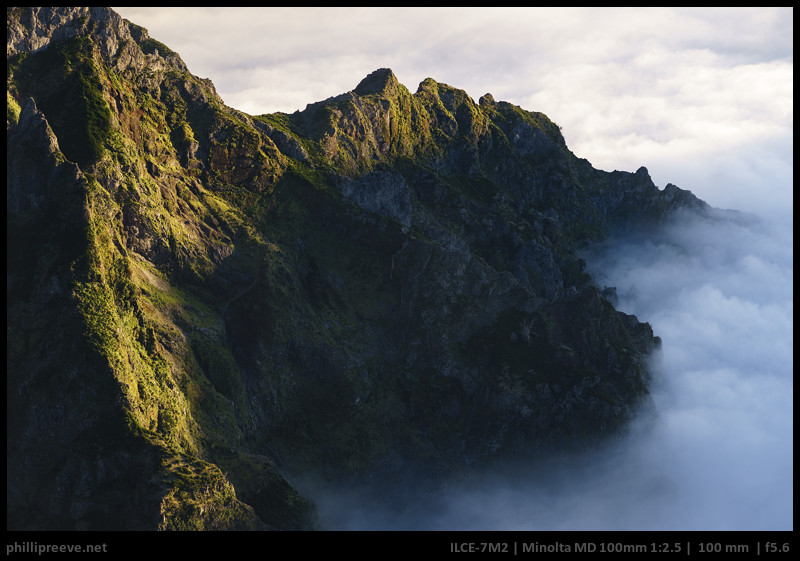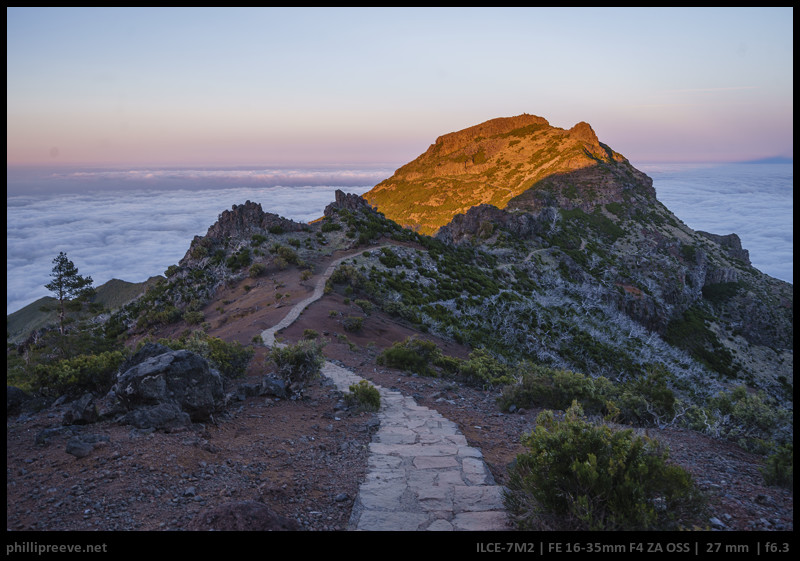 Access to the second highest peak, Pico do Arieiro is even easier. A road leads right to it.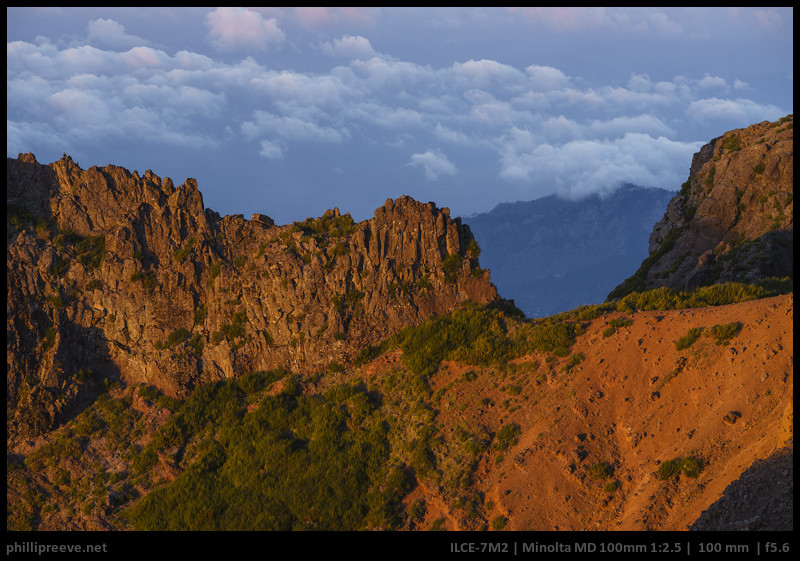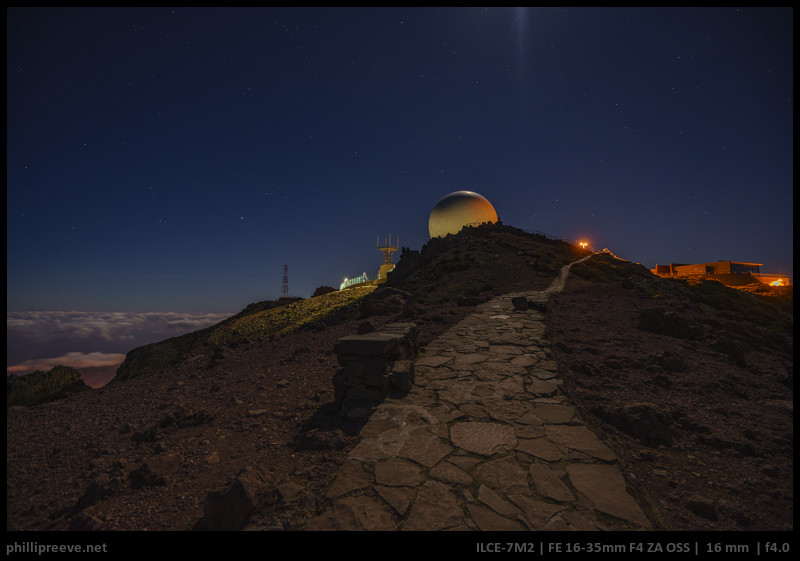 Sunrise at the same location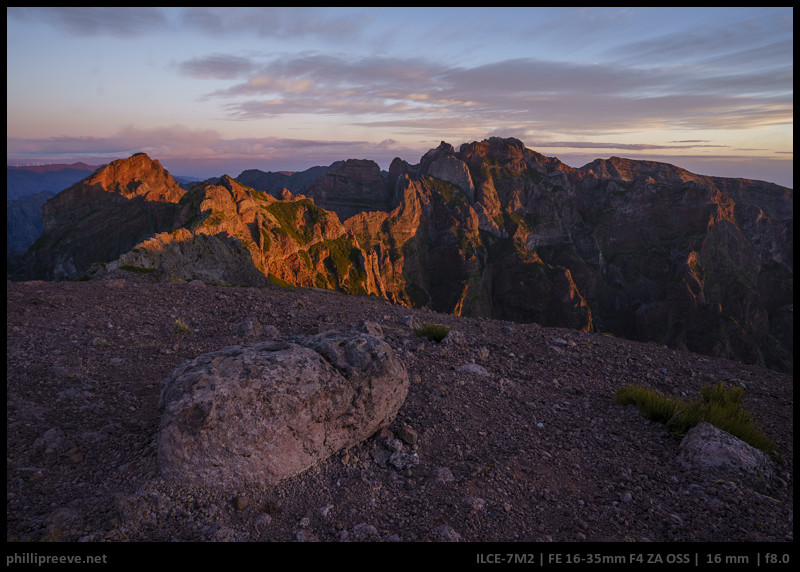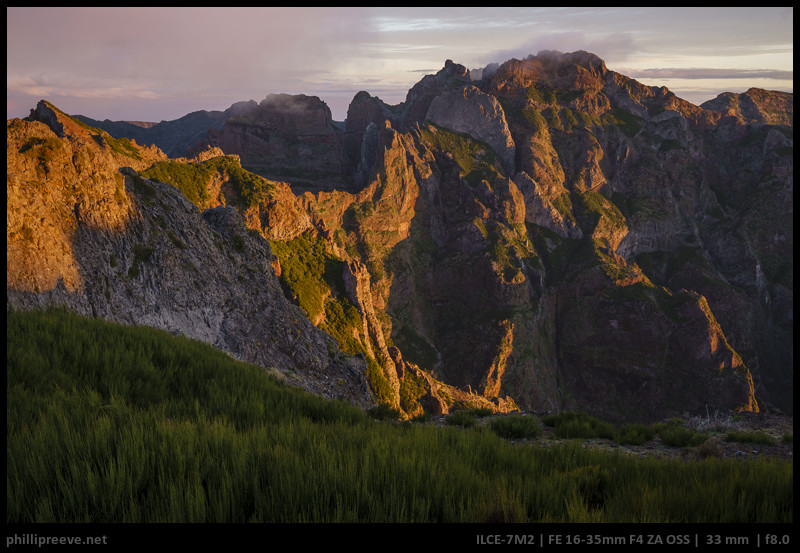 One last tip
Be on location early or late. We visited some popular locations around sunrise and had a great experience there and when we were back at the car at around 10 AM they started to become rather crowded. We made the same experience later in the day. At 6PM, two hours before sunrise some of the more popular locations were deserted. Twice we started around 10 AM and both times the experience was a much less pleasant one because of the crowds.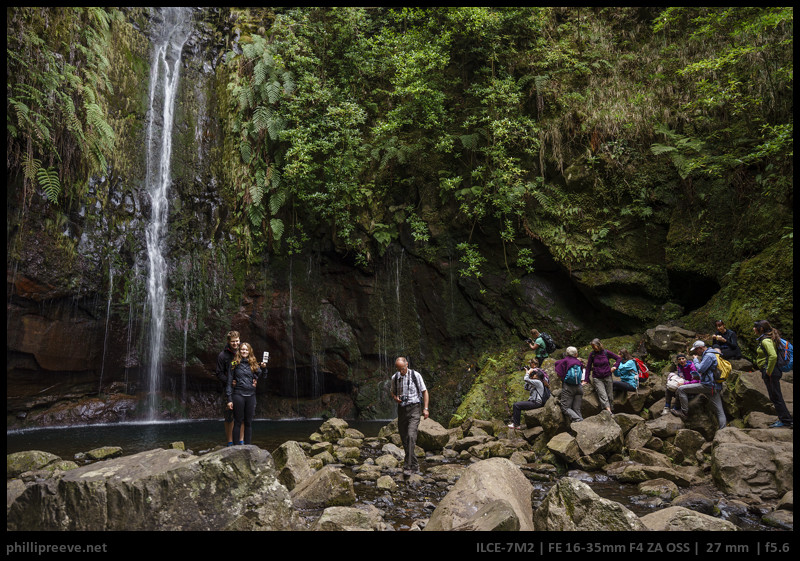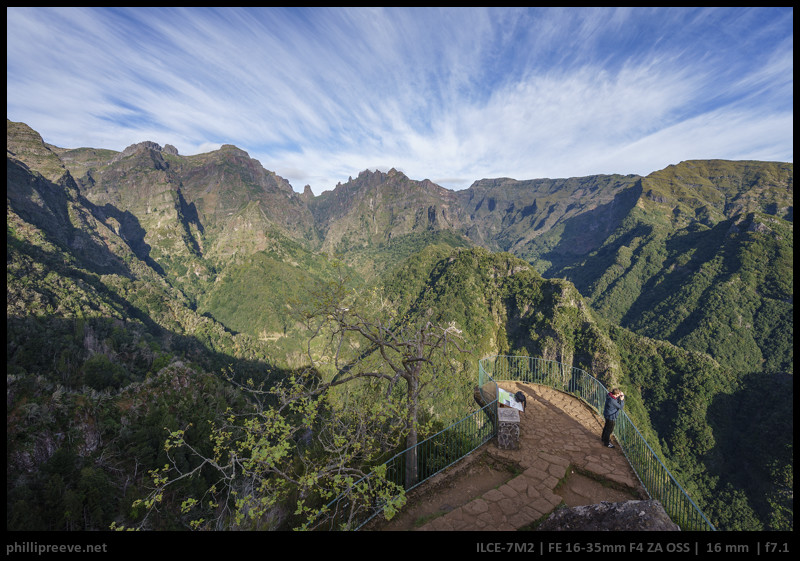 This tip is certainly much easier to follow if you travel just with a companion who is as enthusiastic about photography as you are and will be harder to realize in other constellations. But at least to us it made a big difference because we had the best places in the best light to ourselves.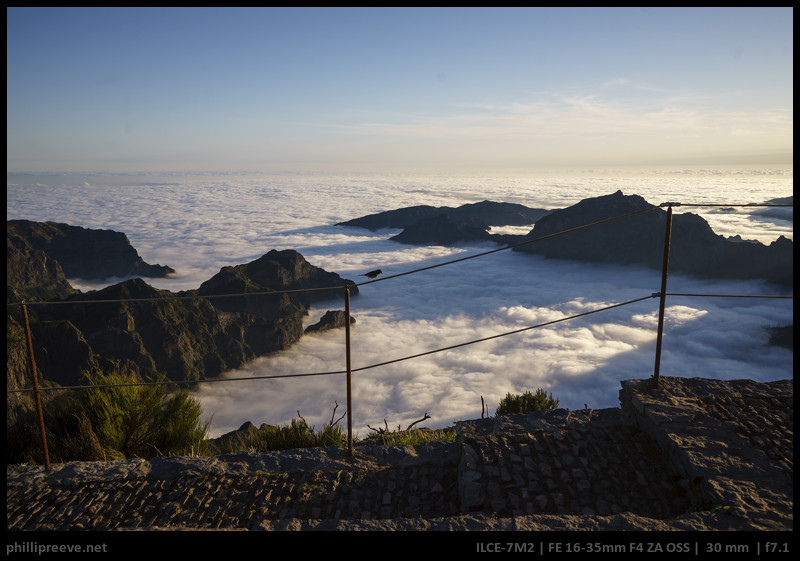 The highest point of Madeira in great conditions with just a finch for company
My Gear
After all this is a blog about gear so I want to reflect a little on what gear I used.
Sony a7II* – My main camera for a nearly year now and I am still very happy with it. I brought it's dynamic range to it's limits quite often this trip.
Sony FE 4/16-35 – I don't use it a lot at home but it is very handy for traveling and I took about 60% of my images on this trip with it because of it's handy range and very good performance.
Minolta MD 2.5/100 – A rather new acquisition of mine but it is an excellent lens for landscapes as well as for portraits. My second most used lens.
Voigtlander 1.7/35 – Still my favorite lens. I did use it for shallow depth of field images and when it's superior flare resistance came in handy.
Canon FD 4/300 L– I didn't use it often nor did I expect to but it was handy to have it in the car.
Rother Walking Guide (Amazon.de* | Amazon.com*) – A very well researched guide which I can only recommend to anyone who wants to do some walking on Madeira. It comes with a link to GPS tracks and we used it all the time.
I had two camera bags with me, my smaller one fit the a7II with FE 4/16-35 and MD 2.5/100 which was my lighter setup und the bigger one fit the FD 4/300 and CV 1.7/35 as well though usually I left the 300 in the car.
If forgot my polarizer*  for the 16-35 which I came to regret for quite a few forest scenes. If you go to Madeira bring one.
* = affiliate link
Conclusion
I really enjoyed the trip and I am rather happy with the results I got. So if you live in Europe and look for a destination with good photo opportunities – especially in the colder months – I can only recommend you to consider Madeira.
If you have any questions or your own tips to share please leave a comment 🙂
The following two tabs change content below.
I have two hobbies: Photography and photographic gear. Both are related only to a small degree.
Latest posts by Phillip Reeve (see all)