Introduction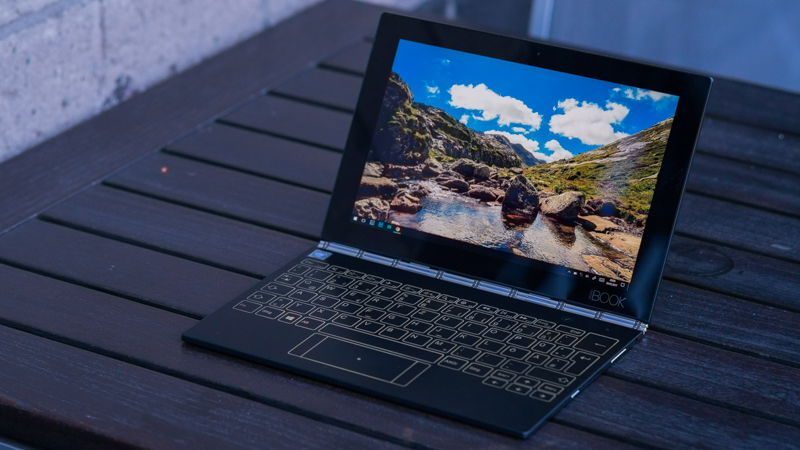 I was looking for the smallest and lightest notebook possible to accompany me on my trips. It needed to have a great screen, allow me to move files from one external device to another and to do some minor photo editing from time to time. I was looking at the Ultrabooks at first, but they were still to big and heavy for my taste, so I decided to give this unusual device a try…
My wishlist
I made a list of things my new device should offer and divided them into "must have" and "nice to have":
So it must…
…allow me to move files from an SD card directly to an external hard drive
…beas small and lightweight as possible
…have a decent IPS display with close to 100% sRGB coverage
and would be nice if…
…it had a touchscreen
…it was a fan-less design (would now be on my "must" list for sure)
…could be charged with a standard micro USB charger
…it had an SD slot
Ultrabooks
At first I took a closer look at all that fancy and pricey ultrabooks, but most of them I had to rule out quite quickly:
DELL XPS 13: as big and heavy as my former device (Vaio Duo Pro 11 ) and you don't know which display you will get, some are good, others are not
HP Folio G1: ticked most of the boxes, but only 65% sRGB coverage is an absolute no go for me
Microsoft Surface Pro 4: great display, nice form factor, but I don't like the stand as it makes using it in non-tablet-mode rather difficult where there is no solid surface to place it on
Macbook 12: nice formfactor, ok display, but I am not the macOS guy (we won't talk about the price as well)
Asus Zenbook 3 UX390: I was almost ready taking the plunge for this one, despite the questionable design (blue and gold!?) and the high price tag it looked like the best compromise, until I came across the…
Lenovo Yoga Book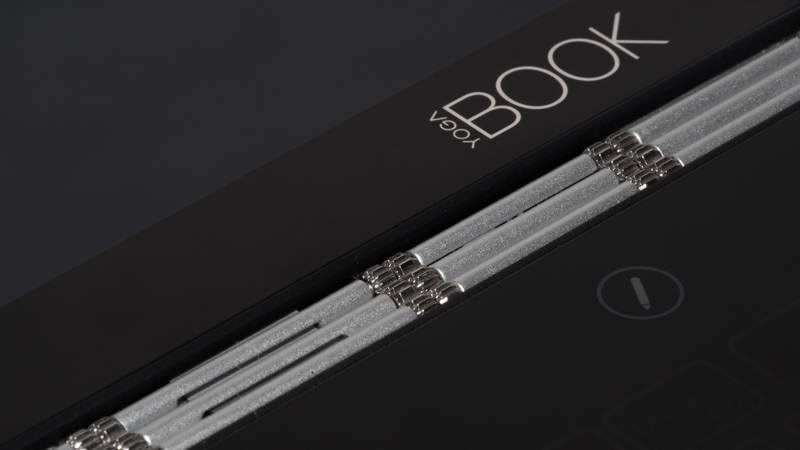 Unlike the devices mentioned before this one isn't in the ultrabook category and only features an Intel Atom and not an m3 or even i5/i7 processor. The last time I got into contact with an Atom processor was in 2009 with the Vaio P and its performance was abysmal, so I was very skeptical. Luckily it seems in 8 years on the Atom processors have come a long way. Of course they are no match for the stronger processors, but they are now good enough for using office programs, watching videos and even some Lightroom editing as well as ok start up times.
You can get this device either running Android or Windows 10 Pro and there are WiFi only and LTE versions, despite these differences the hardware is the same:
Processor: Intel Atom x5-Z8550
Ram: 4 GB LPDDR3 (dual channel)
Display: 10.1″ 1920×1200 IPS, 218 PPI, capacitive touch
HDD: 64 GB Samsung eMMC
Ports: micro USB (also used for charging), micro HDMI, micro SD
Battery: 32 Wh, 8500 mAh
Size: 25.7 x 17.1 x 0.96 cm
Weight: 695g (+87g for supplied charger)
I chose the Windows 10 Pro non-LTE version, which costs around 500$/550€ on amazon.com/amazon.de (affiliate links)
Handling / Build quality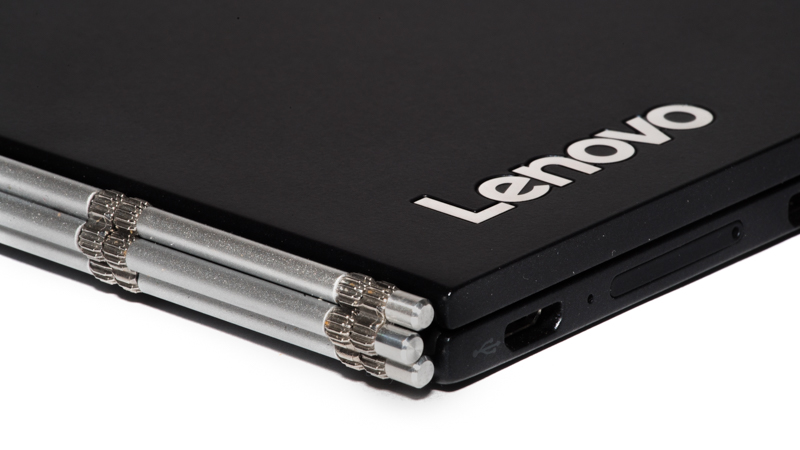 Display and keyboard parts are both very solid and the unique "watchband" hinge actually inspires confidence (especially compared to many other convertibles I have seen) and stays in place where you left it.
My main criticism with the other Yoga notebooks was the unprotected keyboard when in tablet mode, this is not an issue here.
Furthermore the two halves fold perfectly with very tight tolerances.
Because of the very slim design one should pay a little attention when buying micro HDMI or micro USB adapters, the ones with thick plugs will be thicker than the keyboard part itself, making it unstable and putting a little too much pressure on the connectors for my taste.
Input devices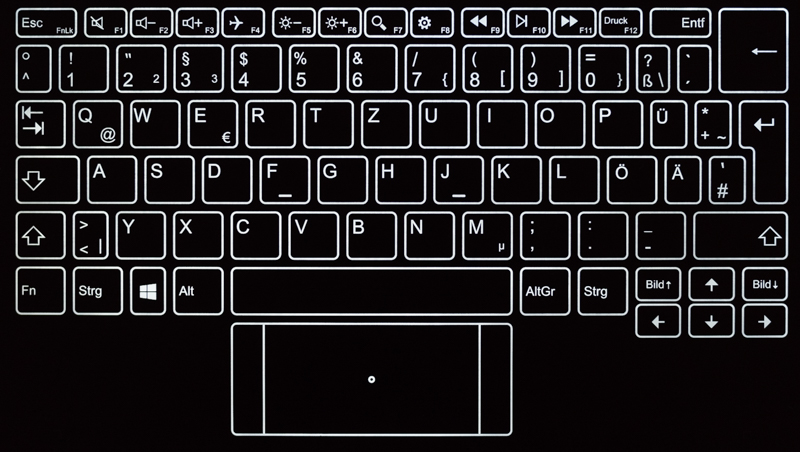 What is really interesting is the so called "Halo Keyboard" as it isn't really a keyboard but a touchscreen, which can display the letters with adjustable brightness. It also offers some vibration when typing as feedback, which can of course be turned off. I have written this whole article on the Yoga Book and often switched between vibration feedback and no feedback and with some minor practice both worked quite well. This is not to say a real keyboard is still more pleasant to use, as it is much easier remembering the exact position of the different letters (I miss the small bumps on "F" and "J" here). But don't forget: most keyboards alone are much bigger and heavier than this entire device 🙂
The touchpad is also part of the Halo Keyboard and pretty much works like any other, also offering gestures like zooming or scrolling with two fingers.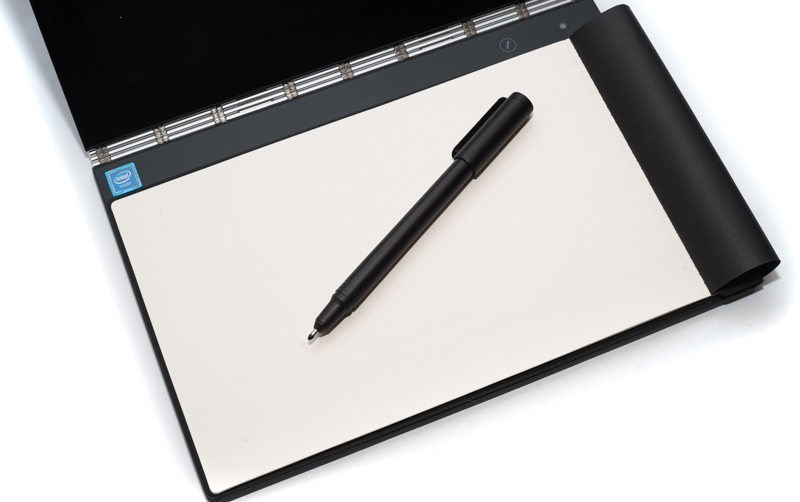 Part of the package is a digitizer pen and a magnetic clipboard you can attach on top of the keyboard. The pen can either be used with a soft tip or a real ink tip, so when physically writing or drawing on the pad everything gets digitized in real time. For me this feature was more of an added bonus, time will show if I am actually going to use it much. If you want to know more about this feature and see it in action you might want to have a look at this video.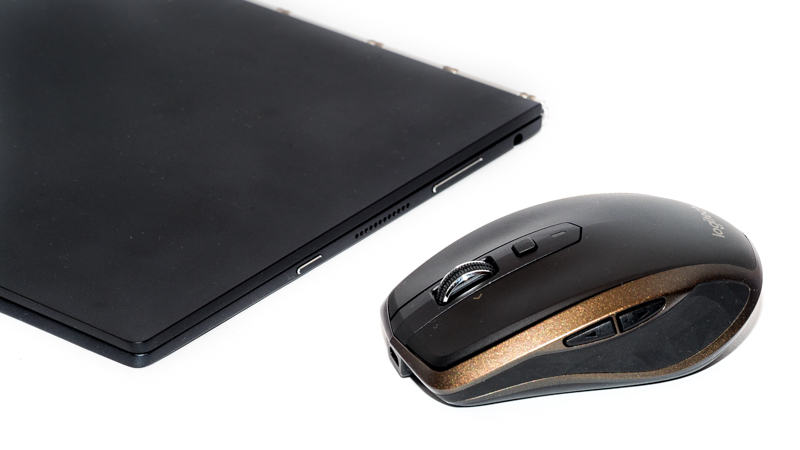 I also got myself a Logitech MX Anywhere 2 bluetooth mouse (affiliate link). Bluetooth really makes sense here as you don't have to waste a port (of your hub) for it. Furthermore this mouse can be charged using a micro USB charger as well, so no need carrying spare batteries or an additional charger.
Screen
The screen is very important to me, I don't want my photos to show whacky or false colors. I don't have the tools to measure this myself, but according to another review this one offers 101% of the sRGB color space. After some minor adjustments to the gamma levels what I see is in line with what I see on my desktop PC's 100% sRGB screen. The display is a glossy type. Glossy and matte, they both have their pros and cons, I am ok with either. No complaints here.
Performance
I could run some PCMark or whatever other benchmarks, but others have already done that and they actually don't tell me anything. So instead I will tell you about my personal, highly subjective experiences.
But let me first tell you what I plan on doing with Lightroom on this device: I usually make a new catalogue when on vacation, I like to go through the images and do some minor editing on a few of them to have something to show to the ones left at home. So my catalogues on this device will only contain a few hundred photos and I won't perform some heavy multi layer editing in Photoshop.
Judging by my experiences with Atom devices from 8 years ago I though this won't be possbile, especially not with the A7rII's 42mp files. But to my surprise this actually works quite ok. To test this I also edited the photos for this article on this very device. Keep in mind though: if you edit like 20 shots in a row performance will decrease as the not so big Ram will just run full.
For office work the battery gives me 8-11 hours, but your mileage may vary here.
Connections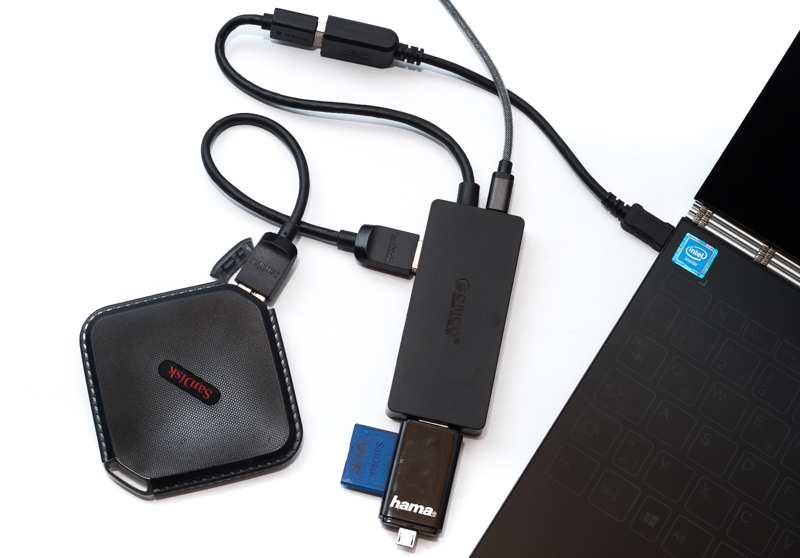 This is an important one. The Yoga Book only offers one micro USB slot which is used for data transfer and charging. Unlike the newer USB-C (3.1) standard simultaneously charging and data transfer isn't the norm here. Nevertheless a few manufactures offer such devices. I tried several and with these two at least battery life doesn't change when the device is turned on:
Orico 4-Port USB Hub: amazon.de (affiliate link)
Sawake/Kobwa 4-Port USB Hub: amazon.com/amazon.de (affiliate links)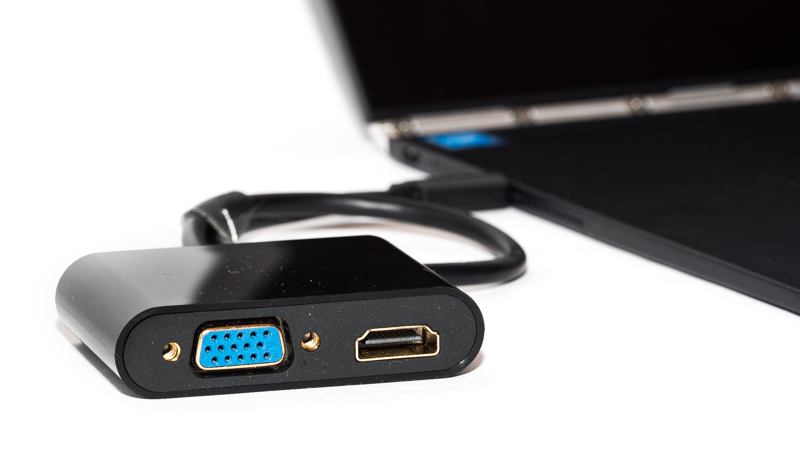 For the micro HDMI slot I got this adapter (affiliate link) to be able to use standard HDMI and VGA screens for presentations, both types worked flawlessly.
Conclusion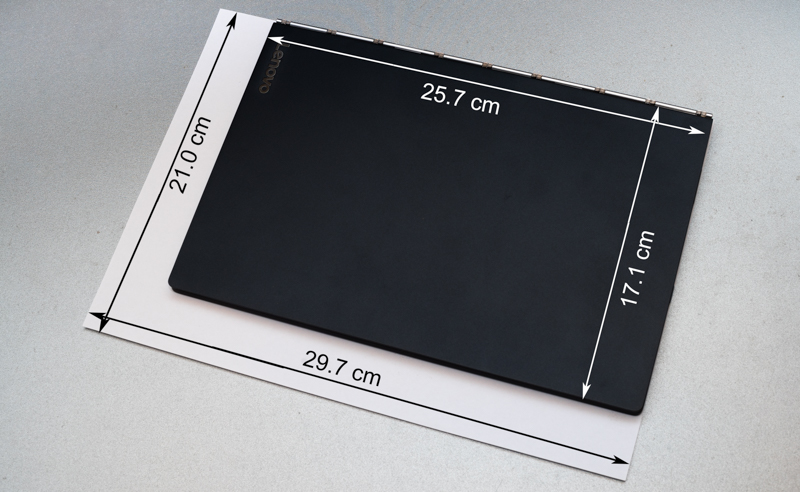 I have used the Yoga Book for a few weeks now. At first I saw it more as an addition to my former device (which still offers better performance), but now I can hardly see myself ever going back. The size makes other devices like the Dell XPS13 or the Macbook Air look huge and clunky by comparison. With the fanless design and the decent heat managment it feels like a small tablet but offers so much more usability for me, as I can write longer articles on it and use it for minor post processing of images (and pretty much anything else).
Of course I would not recommend this as a desktop replacement to anyone and the question whether the performance is sufficient for your needs or not is a question I cannot answer. I can only say it is sufficient for my needs.
With charger (with a slightly longer 2.0 m cord), USB hub, micro HDMI adapter and SD card reader the whole packages weighs just a little over 900g, try beating that.
This still looks and feels a bit like the notebook from the future to me, apart from the fact that is is already available today.
The Windows 10 Pro version (non-LTE) I use costs around 500$/550€ on amazon.com/amazon.de (affiliate links)
Packshots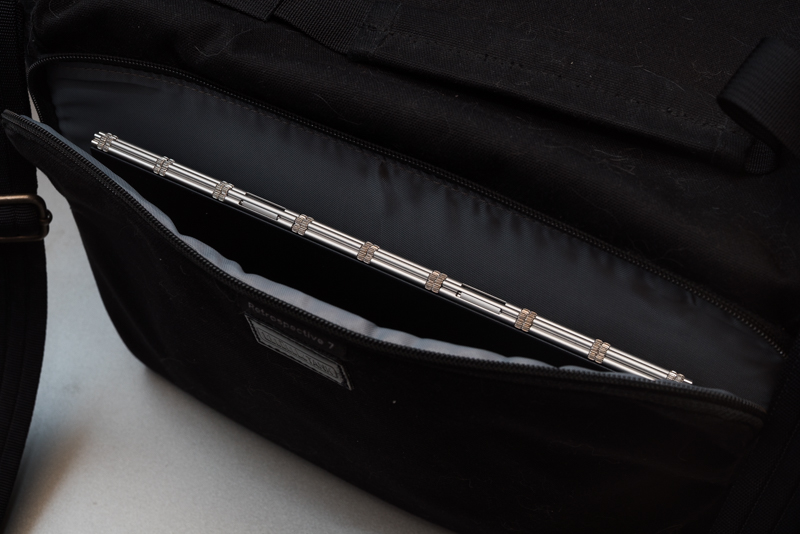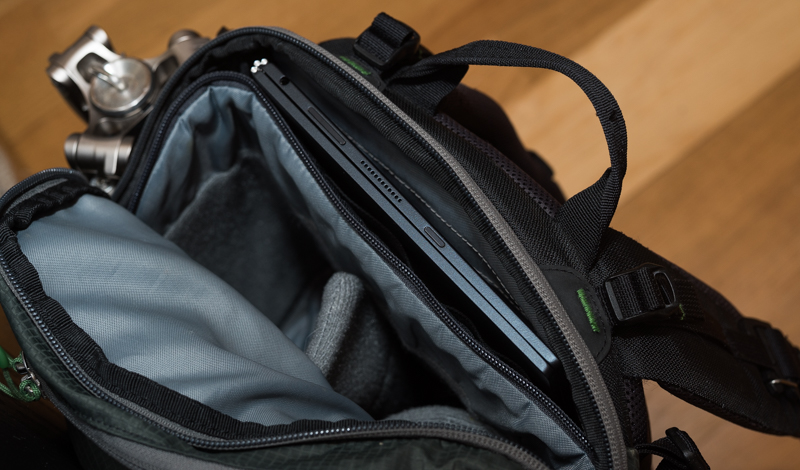 The following two tabs change content below.
My name is Bastian and I am your expert here when it comes to ultra wide angle lenses, super fast portrait lenses (ranging from a 50mm f/0.95 to a 200mm f/1.8) and I also have reviewed way too many 35mm lenses. Don't ask me anything about macro or wildlife shooting though.