Introduction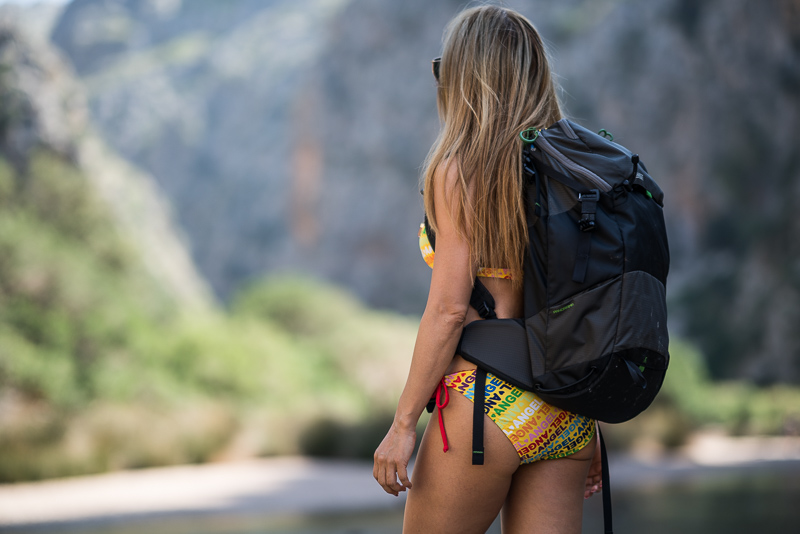 I already told you about my favorite shoulder bags, but this backpack is the camera bag I use most of the time when out with my camera. It has travelled with me to many destinations all over the world, so let me tell you what I like about it.
Disclosure: I never received anything from Thinktankphoto or Mindshiftgear for free, ever.

Versions
There are three notable versions of the Rotation 180° backpack (Trail and Travel Away are too small):
Mindshift Gear Rotation 180° Panorama (Volume: 22 l, $199)
Mindshift Gear Rotation 180° Professional (Volume: 38 l, $389)
The Professional is the "original" Rotation 180° backpack and hit the market in 2013 via Kickstarter. I still have one of these from my DSLR days and while it is an amazing backpack with lots of room and pockets I rarely use it nowadays as it is simply too big (38 l) for my current kits.
The Panorama was the second backpack in the series and still the one I use most. This is the bag being reviewed here.
The Horizon sits in between in terms of size and was released after the Panorama. In terms of design it is closer to the Panorama but offers more room, see Jannik's review.
Specifications
Backpack exterior:
9.8″ W x 19.7″ H x 8.3″ L | 25 x 50 x 21 cm (fits carry on)
Beltpack interior:
9.4″ W x 7.5″ H x 4.7″ L | 24 x 19 x 12 cm
Beltpack exterior:
9.8″ W x 8.2″ H x 5.1″ L | 25 x 22 x 13 cm
Weight:
Backpack 2.0 lbs (0.9 kg)
Beltpack 0.9 lbs (0.4 kg)
Total 2.9 lbs (1.3 kg)
Colors:
Charcoal (light and dark grey with green accessories)
Tahoe blue (light and dark blue with orange accessories)
Price: 199$/219€
Get it on amazon.com | B&H | ebay.com | amazon.de | ebay.de (affiliate links)
The Rotation Mechanism
The rotation mechanism is the heart of this whole series of backpacks. It allows easy access to your gear without having to put the bag down or worry anything will drop. I used it even while standing more than knee deep in sea water.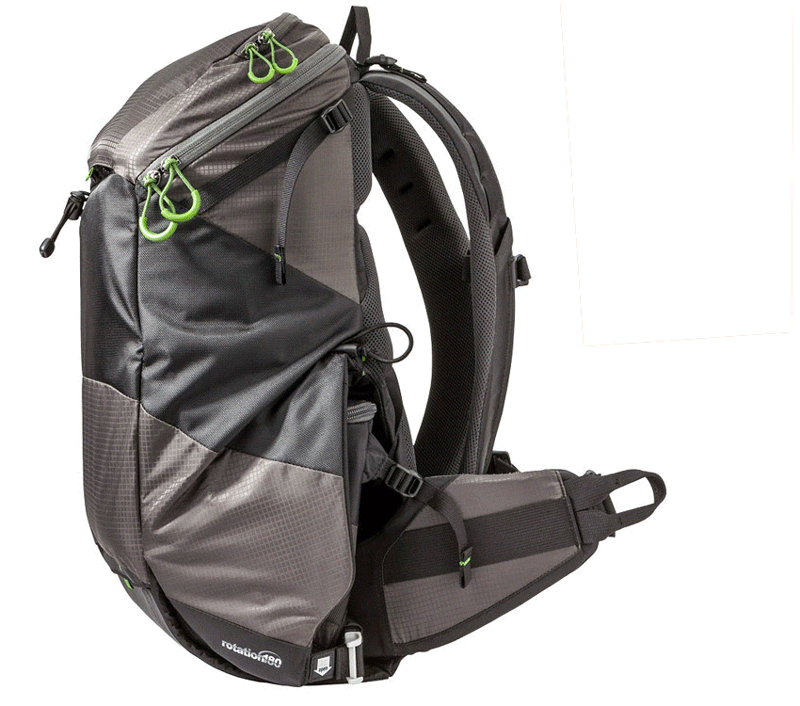 The buckle is a patented design: there are magnets inside and you have to push the white buckle down before the side door opens and you can move the beltpack. This is pretty secure as you cannot just pull to open the latch, it won't work.
The latch will stay open waiting for you to put back the beltpack.
The Beltpack
The beltpack is where you are supposed to store your camera gear to have it readily available. In the following sections I will show you different kits that fit and that I usually use it for.
4 prime setup
I usually have my A7rII+L-bracket with 4 small lenses (Voigtlander, Loxia, Laowa primes) in the belt compartment. When you take the camera out you also have some space left for changing lenses.
5 prime setup
If you don't mind a tight fit you can even have 5 small lenses in the beltback. 4 lenses at the bottom and the camera with another lens on top of that. The main disadvantage of this setup is that you don't really have space to put a lens when changing them.
2 zoom setup
In case you have bigger lenses and you also want to use their big hoods you might only be able to put the camera with 2 lenses in there. When leaving the hoods at home you could also fit a Sony FE 24-70mm 2.8 GM and the Sony FE 16-35mm 2.8 GM in there.
Tablet compartment
There is also a small compartment for a 10″ tablet, I usually use that to store a lenspen and remote or a filter.
Attaching a modular pouch
The belt features a loop where you can put some of Thinktank's modular pouches or a filter bag. This is very useful, when out shooting landscapes I always have my filter bag ready there.
The Backpack
Main Compartment/Daypack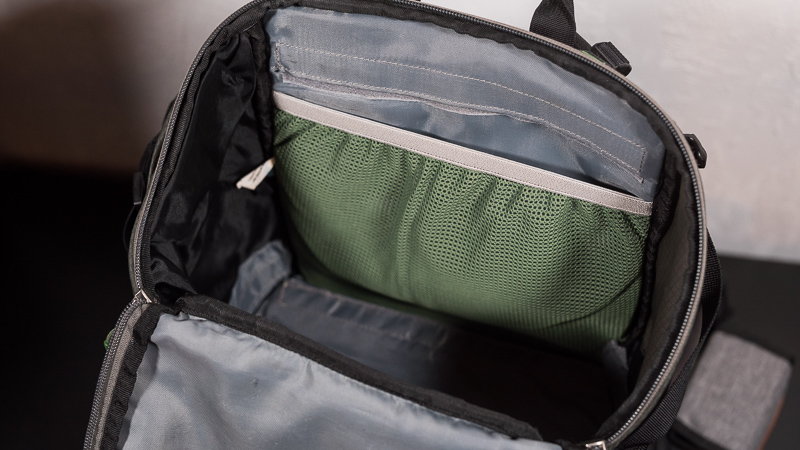 As shipped from factory there is just one big compartment with no dividers (just a small net at the back). Therefore I recommend getting the Photo Insert even if you don't intend to put camera gear in this compartment.
It will make organizing your stuff much easier and the main comparment will be significantly more useful. Sometimes I even carry a small tripod like the Velbon UT-43DII or the Leofoto LS-223C hidden in here.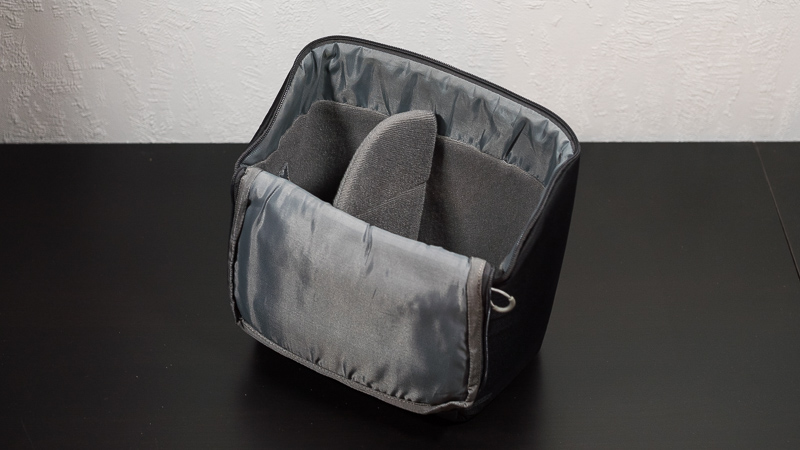 You can also use the space between the insert and the wall of the backpack to store a smaller 10″ notebook or a tablet.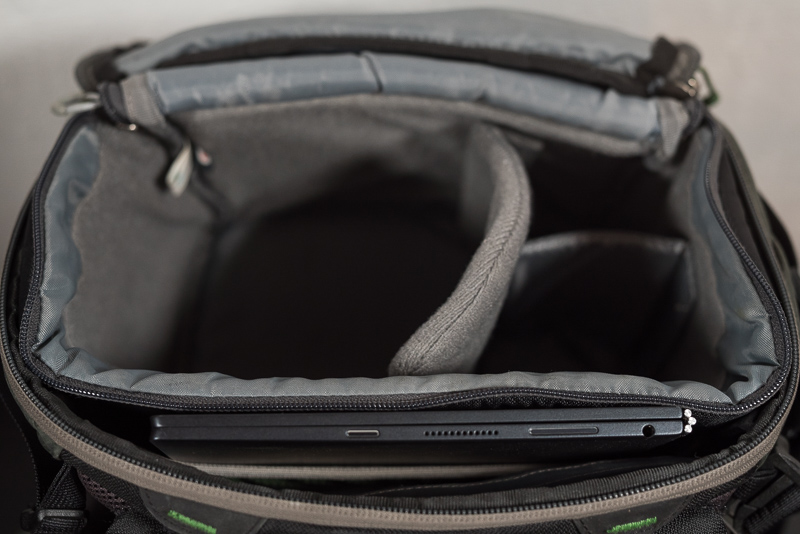 Top Compartment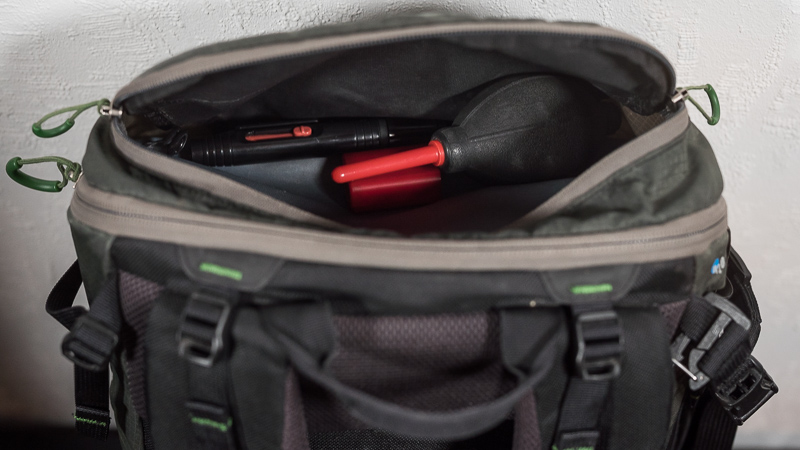 There is a small top comparment, I usually put blower, lens pen, spare batteries and sometimes a mini tripod here. There are no dividers, so things in this comparment will move around freely.
Attaching a tripod
On the back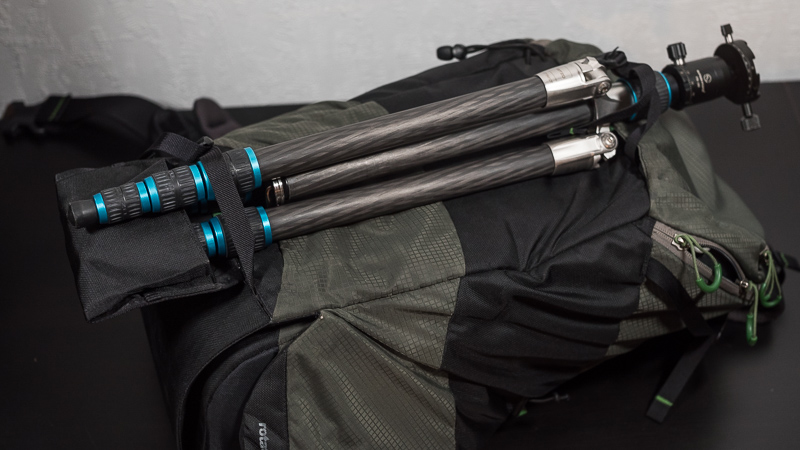 This is where you are supposed to put your tripod by the designers. There are hidden straps and a hidden tripod foot pouch to secure your tripod.
When putting your tripod here it is pretty far away from your body which makes it rather uncomfortable to carry. Chances are also high you will hit things or people with your tripod when you put it here, so this is not my preferred option.
On the side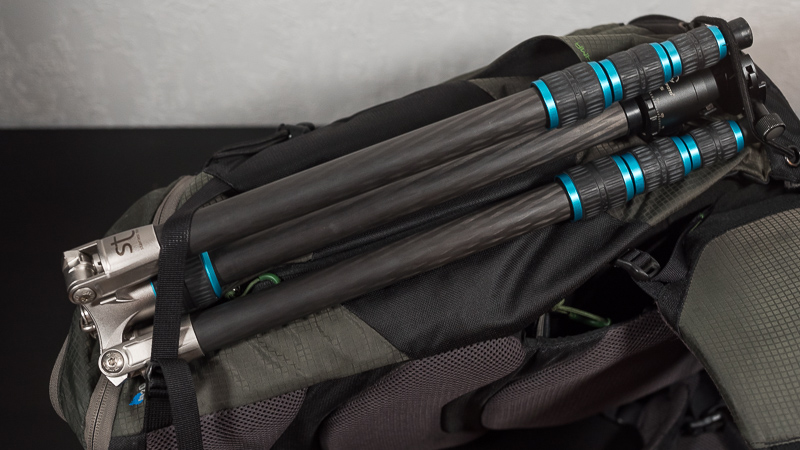 There is a loop on the side with that you can secure your tripod but it is not very handy. So instead I used an attachment strap (they come with some of the Thinktank/Mindshiftgear bags or can be bought separately) to have a quick release buckle.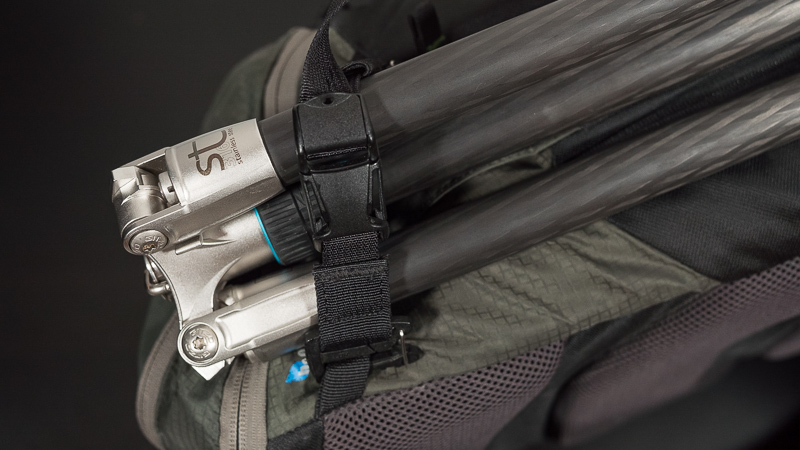 The side attachment works best for tripods up to 50 cm, for longer ones you may have to resort to the back attachment.
Hydration bladder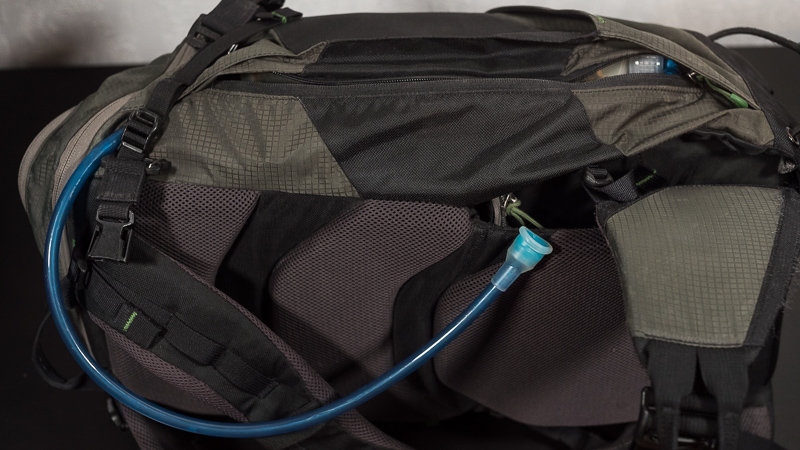 There is a side pocket for a hydration bladder, but as this is where I usually put my tripod I rarely use it. One can also just put a hydration bladder in the main compartment, this is what I usually do.
Comfort
Shoulder straps, belt strap and the back are well padded and all the straps are adjustable. While the padding is breathable it is no comparison to pure hiking backpacks that come only with a net at the back.
So if it is hot outside your back will get wet.
Accessibility
Having your camera gear readily available in the beltpack is what puts this bag above all the others for me.
But I can also get to the tripod and stuff in the back comparment without taking the bag off. I keep the belt strap on and rotate the whole bag to the front (similar to the Mindshift BackLight or Lowepro Flipside series). This may take some practice and it might not work as well when you are significantly smaller than I am, but it will save you lots of time when you have figured it out.
Durability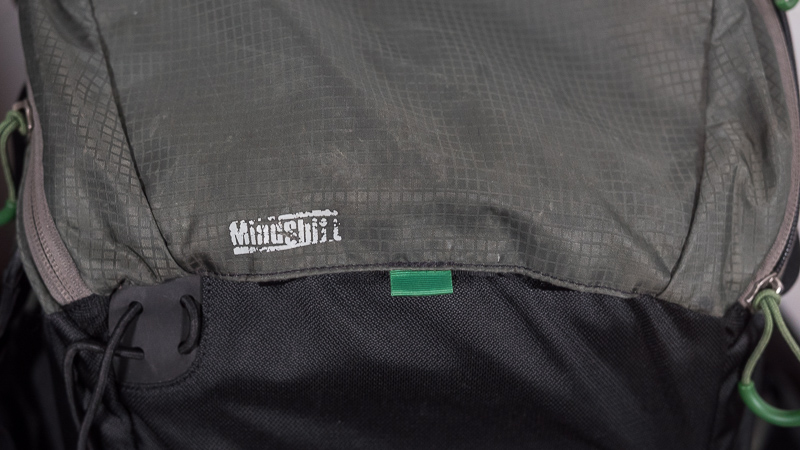 I have been using this bag for several years now, it has seen cities, deserts, sea water, ice and snow.
Some of the writing peeled off but that's it, still works like it did on day one.
Weather resistance
For $20 you can buy a rain cover that comes in two pieces so the rotation mechanism will still work. As the backpack is already made of water repellent fabric I never bought this raincover and never missed it. The weather protection the backpack itself offers is good enough for me.
Conclusion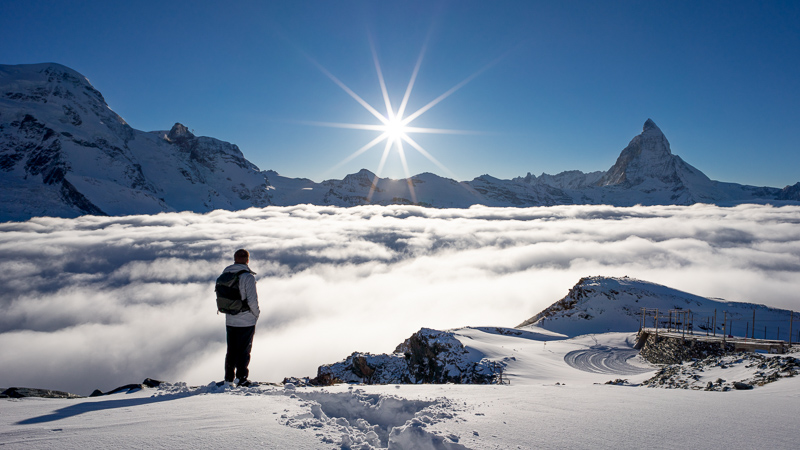 I have been using other backpacks before but in terms of usability this is so far ahead of everything else. It made the combination of travel and taking pictures much more enjoyable for me and also for my travel mates, as it takes less time taking the camera out or changing lenses.
For me it is the perfect size, I rarely travel with more than 4 small lenses and if I wish to bring a larger one I can still put it in the main compartment. On top of that it meets all the carry on restrictions.
When attaching a travel tripod to the side it is close to the body and carrying it won't wear me down as much.
If I don't visibly carry a tripod on the outside it doesn't even look like there is camera gear inside.
I have several camera bags, but if I were to keep only one this would be it, without hesitation.
You can find this backpack on amazon.com | B&H | ebay.com | amazon.de | ebay.de (affiliate links)
If you want to support this blog you can always use one of our affiliate links before you buy anything, we will get a small commission, and it won't cost you anything extra.
Other Articles
Support Us
Did you find this article useful or just liked reading it? Treat us to a coffee!


via Paypal
The following two tabs change content below.
My name is Bastian and I am your expert here when it comes to ultra wide angle lenses, super fast portrait lenses (ranging from a 50mm f/0.95 to a 200mm f/1.8) and I also have reviewed way too many 35mm lenses. Don't ask me anything about macro or wildlife shooting though.