Introduction
A panorama adapter can be a great addition to your kit, as it allows you to create shots with a wider field of view (up to 360° panoramas) and also vastly improves the image quality in any of your shots (e.g. in astrophotography). Unfortunately most pano adapters are either bulky and heavy, very expensive or cheaply made junk. A compact yet affordable and at the same time sturdy pano adapter was missing so far and pocketPANO tries to fill this gap. Let us find out if they managed to succeed!
How does it work?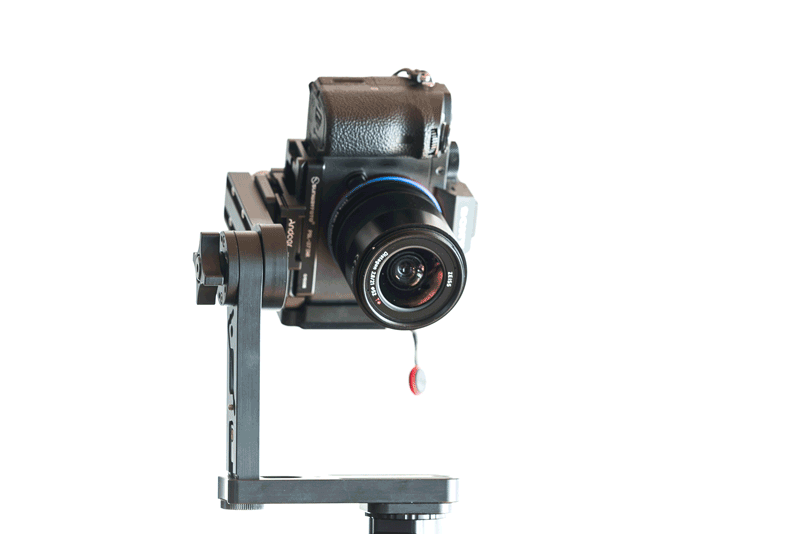 The idea behind a panorama adapter is to make it easier for you to take a panorama and also rotate around the nodal point of your lens.
Thanks to click stops (more on that later) you will have pictures with the same overlap in every row which will not only make taking the panorama much easier but also simplify the stitching afterwards.
Why would you want to take panoramas?
There are several reasons why you might want to use a panorama adapter:
1. You are only using primes
If you are only using primes but don't carry a bag full of these you may sometimes not have the perfect focal length for the scene at hand. You will usually have two options: you crop from a wider lens or you take a panorama with a longer lens.
Personally I usually have a spacing of roughly factor 2 between the focal lengths of my primes (e.g. 21mm, 35mm and 85mm).
With just taking a 3 shots single row panorama I will also have the equivalents of 14mm, 24mm and 58mm at hand.
Why I rather take a panorama with a longer lens than crop from a wider brings us to the next reason:
2. Incease the image quality of your shots
If you want to print really large or you are using a camera with lower megapixel count you may also want to use panorama technique to get better image quality.
The 100% crop from the Voigtlander 35mm 1.7 does not look bad, but the crop from the panorama taken with the 85mm 1.4 looks much better (you can find the full panorama later).
3. To get a wider field of view
Maybe you only rarely need an ultrawideangle lens so you don't want to spend big money on it.
With a panorama adapter you can mimic any wider lens you can think of. Let's say your widest lens is the Zeiss Loxia 21mm 2.8. With a 2 row panorama with 5 shots each (10 shots in total, 30% overlap) you will get the equivalent field of view of a fictional 8mm lens.
4. To use a different projection
Most lenses you can buy are rectilinear. Apart from these there are a few fish-eye lenses. Sometimes another projection might fit the scene better. Personally I found that for a wide landscape scene a cylindrical projection often works better than the rectilinear one.
When using good stitching software like Microsoft Image Composite Editor you can choose the projection yourself.
Specifications/Versions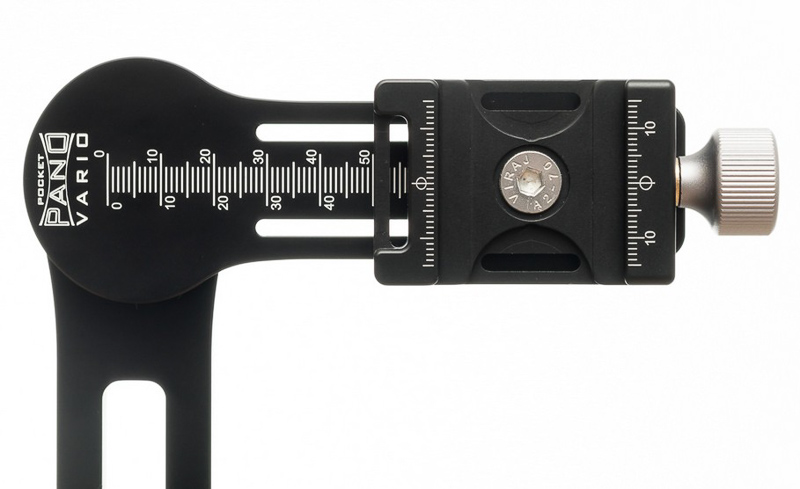 The Adapter comes in different versions.
First we have to differentiate between pocketPANO Vario and Compact. The pocketPANO Compact line is meant for compact cameras and these are also all camera specific. Good thing about these: you don't have to adjust for the nodal point or anything, just mount your camera and be done.
The pocketPANO Vario is meant to be used with all sorts of mirrorless and/or interchangeable lens cameras. This one can be adjusted to your camera and lens.
The Vario also comes in different versions, you either have:
K = Arca Swiss clamp (see picture above) or
S = screw (for directly screwing your camera on the adapter, see picture below)
And then you have to decide between :
XL = a little longer (recommended for A7 series if you are using L-bracket or Arca Swiss plate)
non XL = normal one for smaller cameras or A7 without plates and brackets
As you can see the difference between XL and non-XL isn't as big as it sounds: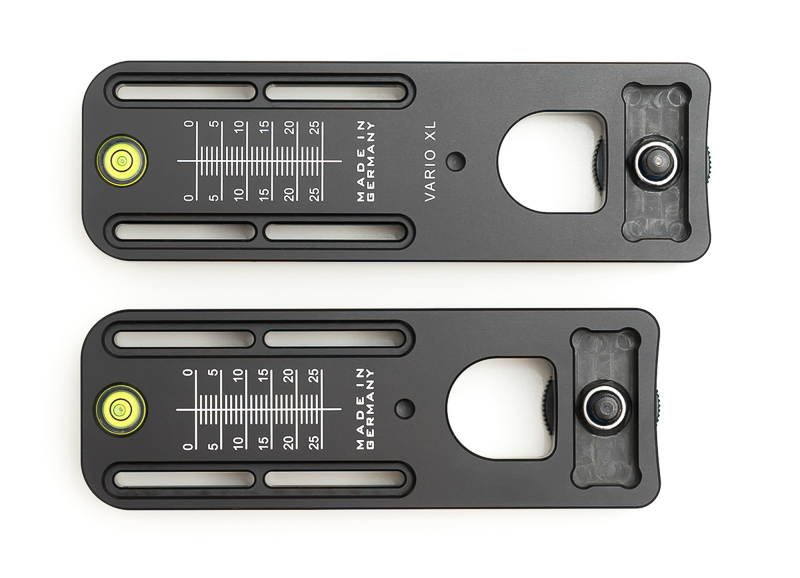 As I am always having an L-bracket attached to my camera I got myself the pocketPANO Vario XL K version which has the following specifications:
Weight: 430g
Length: 165mm (folded)
Width: 45mm (folded)
Height: 83mm (folded)
I am pretty sure this is also the version most of you will be interested in.
You can get this for 199€ on amazon.de (affiliate link) or directly at the manufacturer's homepage.
Handling / Build quality
The material is quite special, it feels like aluminium but is in fact high pressure laminate which is lighter than aluminium yet apparently more sturdy.
The pano adapter consists of 2 parts, which are connected with just one big screw, setting it up is very easy and straightforwared.
You have two "rotators" on the adapter, the lower rotator for horizontal rotation and the upper rotator for vertical rotation. Both offer different click stops, the lower one can be adjusted to either 15°, 20°, 30° or 60°: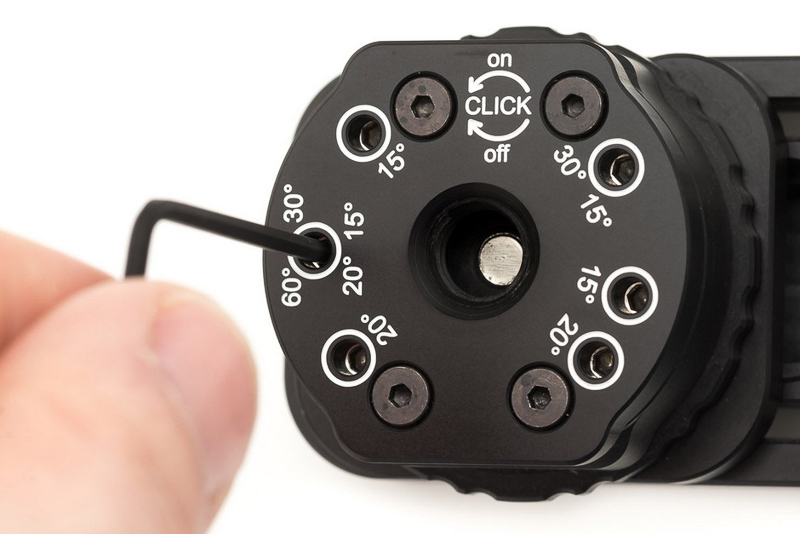 While the upper one can be adjusted to 22.5°, 30°, 45° and 90°.
You can even adjust the strength of the click stops for both rotators.
The upper rotator has also one big screw which can be used to adjust the friction of the vertical movement. This can even be set for heavier lenses, more on that later.
In the picture above you can also see the wrench for adjusting the click stops, it has a very clever store away feature and is hold in place by magnets.
This table gives a little overview how the click stops work for different focal lenghts: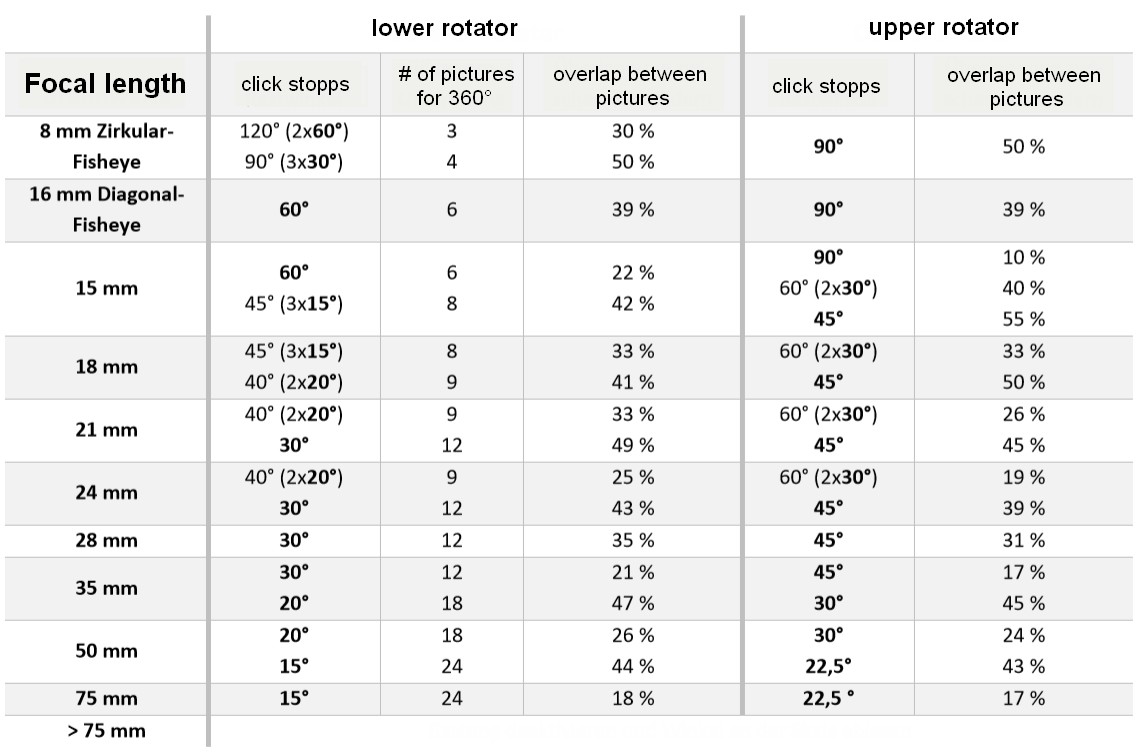 The manufacturer recommends to not use a combination of camera and lens which is heavier than 1 kg, but you can still use it with heavier stuff as I will show you in the following section.
In the field
I have used this panorama adapter for different usage scenarios to see what it is capable of and how it handles in the field.
Lago die Braies with Loxia 21mm 2.8
To use this adapter with the Zeiss Loxia 21mm 2.8 was my main intention when I bought it. Currently there is no wider lens with the same lens signature (combination of compact size, contrast, sunstars, flare resistance) and I also didn't really like the idea of having to pack bigger filters besides my beloved small 70mm filter system.
While even with a simple one row panorama I can get to the field of view of a 14mm lens with a lens as wide as 21mm rotationg around the nodal point is quite important.
Furthermore this whole multi row setup weighs less than my former Novoflex Castel-Q nodal rail.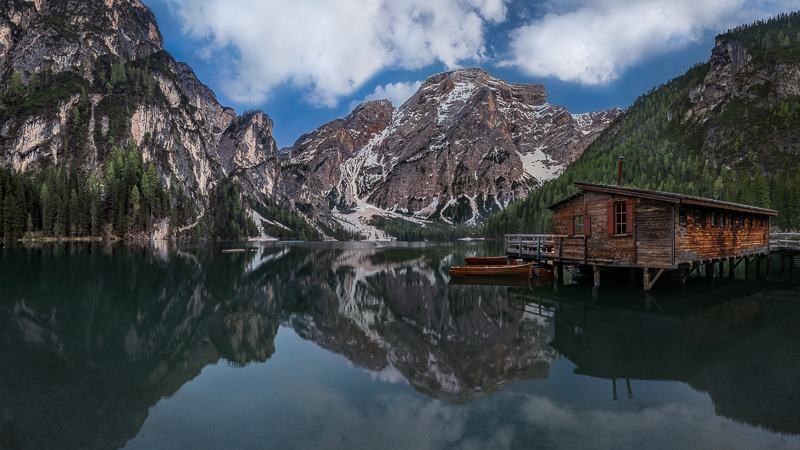 For this application there wasn't really anything to complain about. Once set up for this lens it was possible to take panos in a breeze with the help of the click stops.
Church St. Sebastian with FE 85mm 1.4 GM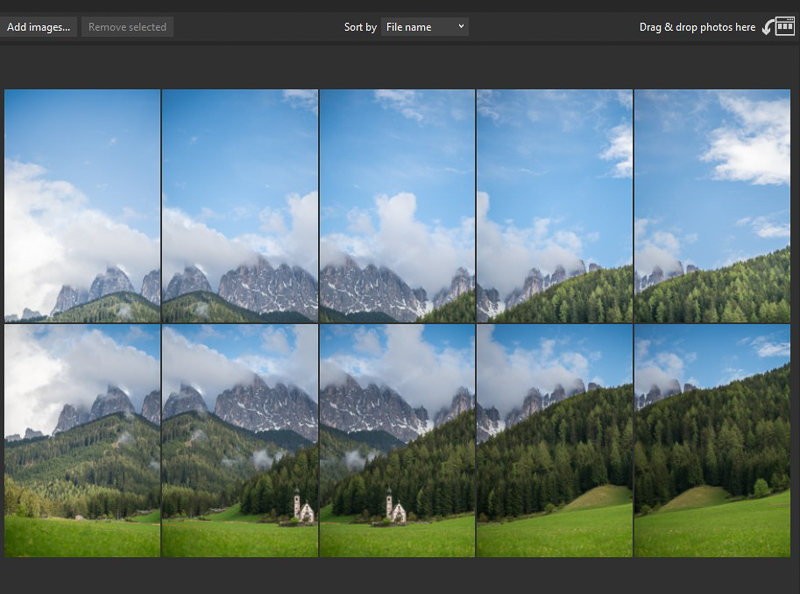 Usually I only travel with a few primes so sometimes I don't have the "right" focal length in the bag. Many people crop in these situations but I rather take a panorama to increase image quality and not degrade it by cropping.
I do especially like 85mm lenses for this purpose: many of these offer really great image quality with a flat field of view and you also don't necessarily have to rotate around the nodal point.
For this scene I wanted something like a 50mm framing but I only carried 21, 35 and 85mm. I also liked the idea of using that GM at f/1.4 to get a bit more depth with the very slightly blurry foreground.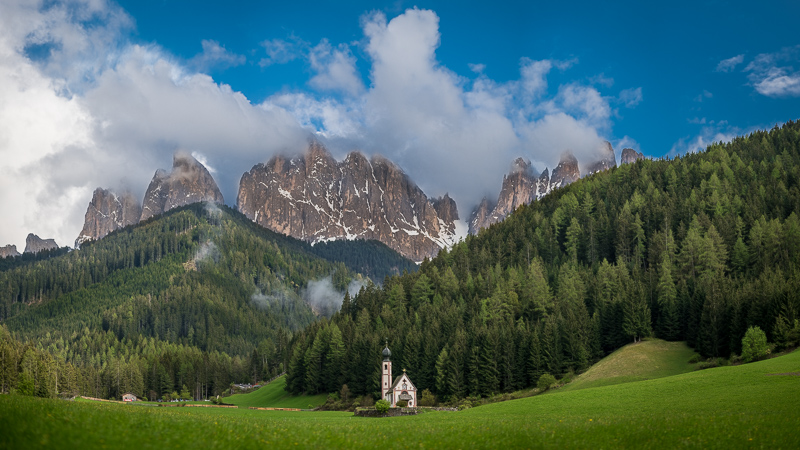 As you have seen in the previous chapter the smallest click stops are best used for 75 or better 50mm lenses, not for 85mm lenses.
So in this case I set it to the smallest increment (15°) and always took another shot inbetween the click stops.
Even if you only have a click stop every second frame this makes life much easier, as you have some orientation when going for another row.
The Sony A7rII with L-bracket and the Sony FE 85mm 1.4 GM is about 1.6 kg, despite the 1 kg rating this was absolutely no problem.
Bike Brenizer with Olympus OM 180mm 2.0 Zuiko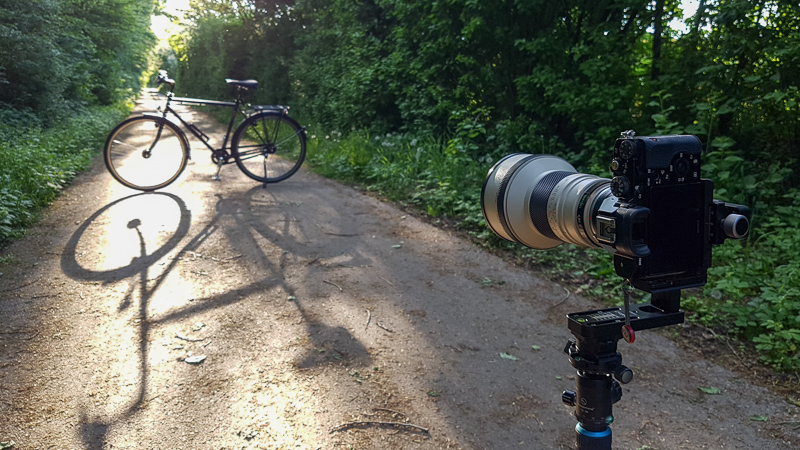 Another application for which I like to use panoramas are Brenizer or Bokehpanoramas. For these you sometimes have to take multiple rows of several shots with fast, long, heavy glass.
After I had used the adapter a bit I was brave enough to try it with the 1.7 kg Olympus OM 180mm 2.0 Zuiko Auto-T lens. So with camera we are talking about a 2.5 kg setup.
With such a setup it takes a bit longer until the vibration is gone, but it was still possible to get the job done.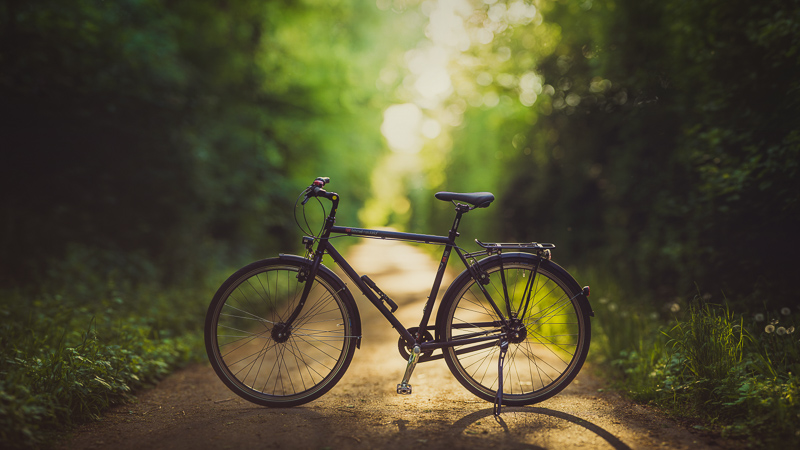 Be cautious: I am not recommending to use this adapter with whatever heavy setup you can think of (I didn't want to put my almost 4 kg Canon EF 200mm 1.8L USM with camera on it). I am just saying the manufacturer is being very honest with his 1 kg rating in a time, where most manufacturers will give you the breaking load of their products.
Recommended for 
This product actually exceeded my expectations, something which only happens very rarely. It is ligther than most ultra wide lenses and allows me to imitate pretty much any wider focal length with my 21mm Loxia, while I can still keep using my small filters.
It is also easy to set up which makes me actually use it in the field.
The only thing I would wish for were slightly smaller steps on the rotators. But there is no question: at this size compromises had to be made and my occassional brenizer work is obviously not the intended usage scenario anyway.
You can get this for 199€ on amazon.de (affiliate link) or directly at the manufacturer's homepage.

Other Articles
Support Us
Did you find this article useful or just liked reading it? Treat us to a coffee!


via Paypal
The following two tabs change content below.
My name is Bastian and I am your expert here when it comes to ultra wide angle lenses, super fast portrait lenses (ranging from a 50mm f/0.95 to a 200mm f/1.8) and I also have reviewed way too many 35mm lenses. Don't ask me anything about macro or wildlife shooting though.