After the favorite lenses series fell dormant I thought it would be interesting to give an update on our current gear which has changed a bit and change the format a bit at the same time. So feel invited to have a look into my camera bags.
If you purchase the lens through one of the affiliate-links in this article I get a small compensation with no additional cost to you. 
The Bag
I use a Think Tank Turnstyle 10 V2. The bag fits a camera and 3 medium sized lenses.The biggest argument for a shoulder bag to me is quick access and that it is more ergonomic to carry than a messenger bag. The bag works really well for not that long hikes without a backpack and when I am on my bike. I have carried it besides a daypack on longer hikes and that is anything but enjoyable. A Mindshift Gear 180° Panorama Backpack would be a much better solution but those are expensive.
The bag just feels like a very well made, well engineered product from a company which knows how to make good bags. After nearly two years of constant use it shows few signs of wear. Even though I forgot to close the zip several times I never lost a lens thanks to its clever design which keeps lenses from falling out. It also comes with a waist strap you can easily stow away in one of the many pockets. The strap is a big help when I am on a bike. The bag comes with a cape for bad weather and has many smaller pockets so packing away accessories is easy.
amazon.de | amazon.com (affiliate links)
The Camera
I am still using my good old Sony a7II which I bought in July 2016. I know that a a7rIII would be a much nicer camera but that doesn't make the a7II a bad camera for my needs. I rarely actually feel limited by it so spending 1500€ to upgrade doesn't seem to be that smart an idea. That doesn't mean that I am tempted to upgrade.
The Lenses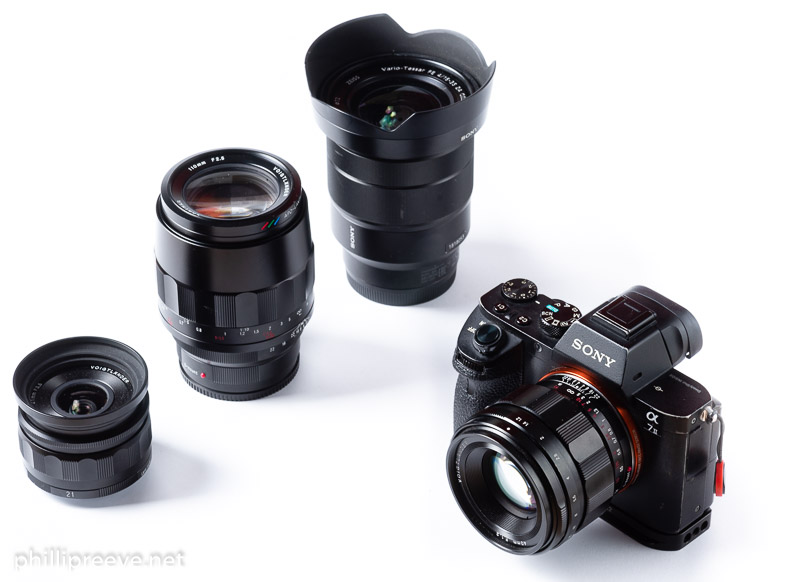 We always tell people to chose lenses according to their needs so I should probably say something about my own needs. For my landscape and nature photography I still enjoy using manual focus lenses a lot more than AF lenses. I am also competent at shooting family, friends and the occasional gig with manual focus lenses but that is not my focus so my kit is mostly manual focus lenses. I still own some legacy lenses like a Pentax K 3.5/28, Minolta MC 1.2/58, Zeiss 2.8/90, Minolta MD 2.5/100 or Canon FD 4/300 L but these see only occasional use since having electronic contacts makes the shooting process easier and I usually prefer the better flare resistance and contrast of my modern lenses.
Whenever I review a lens that also gets used a lot. Only rarely do I go out with a specific picture and the process is more important than the result to me so I know that I can get decent results out of about any lens and enjoy shooting it. That is not to say that I don't care about results: Obviously I analyze lenses with quite a lot of effort and only keep a few but I like the challenge of getting to know a lens and produce decent results with it as well as finding its limits.
Usually I carry a 3 lens kit. A wideangle (21mm oder 16-35mm), my 40mm (almost always) and a tele (2.5/110 most of the time. Replaced by the Zeiss 2.8/90 when needed) but obviously I adjust my kit to the occasion.
Voigtlander 1.2/40: I have owned it for 1.5 years now and it is my most used lens. As David described it so well in his review this lens is far away from optical perfection but pretty close to perfect handling and very versatile thanks to its focal length and speed. At times I feel tempted to replace it with the Voigtlander 1.2/50 which offers better bokeh in more difficult settings but then I remind myself that it gaps well with the 21 and keep enjoying it.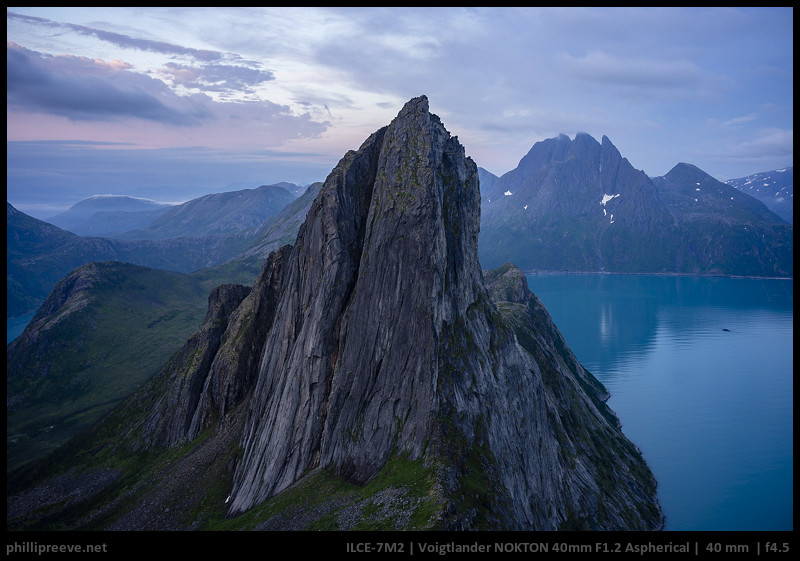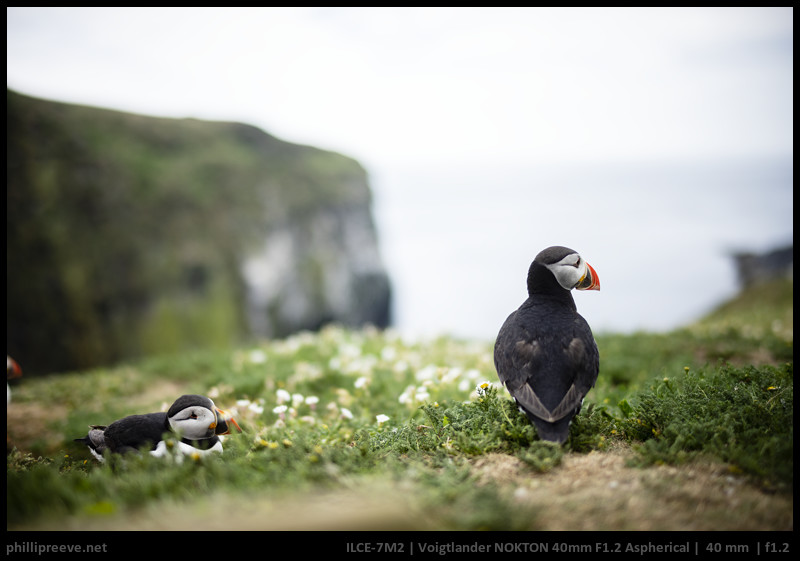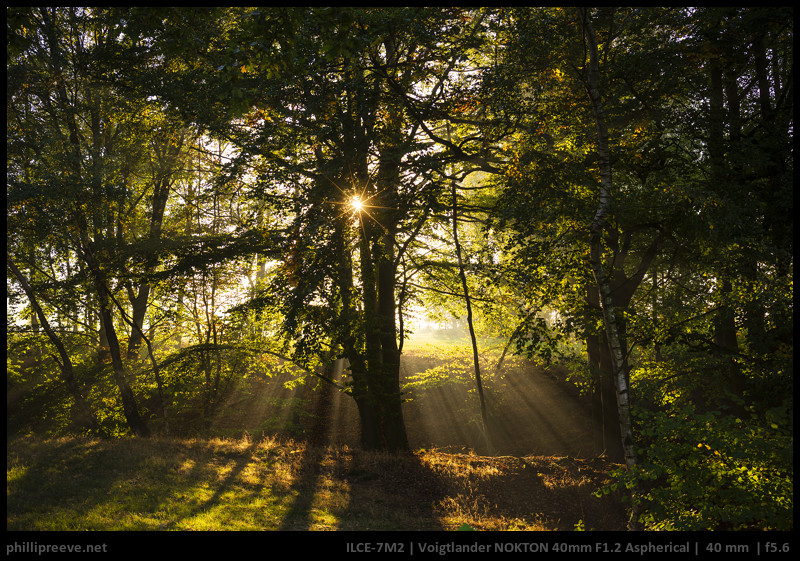 Amazon.com | B&H |  ebay.com (affiliate links)
Sony FE 4/16-35 ZA: I have owned it for about 4 years now and while its flare resistance could be better and I am still not a fan of fly by wire focus it is just a very handy lens which I take on most of my holidays. Recently I compared it to the Tamron 2.8/17-28 and the Tamron is a bit sharper in the corners and more flare resistant but I decided to keep the Sony for now for its wider zoom range.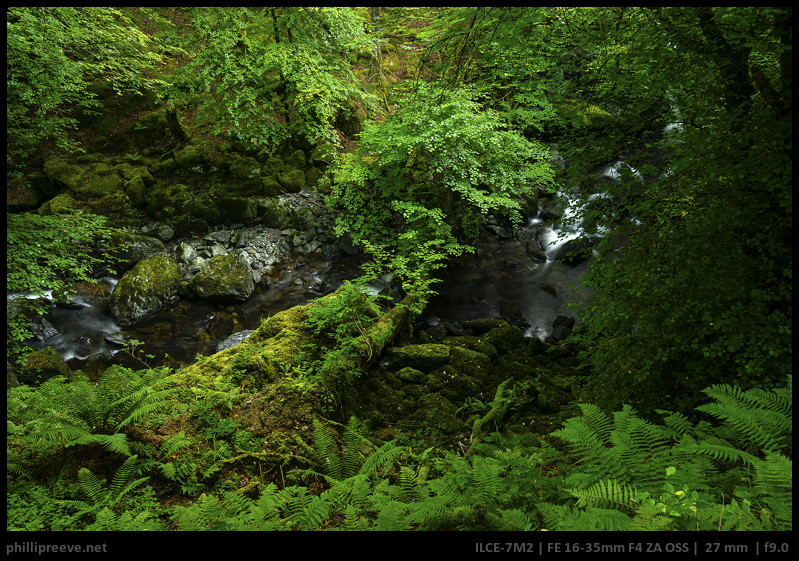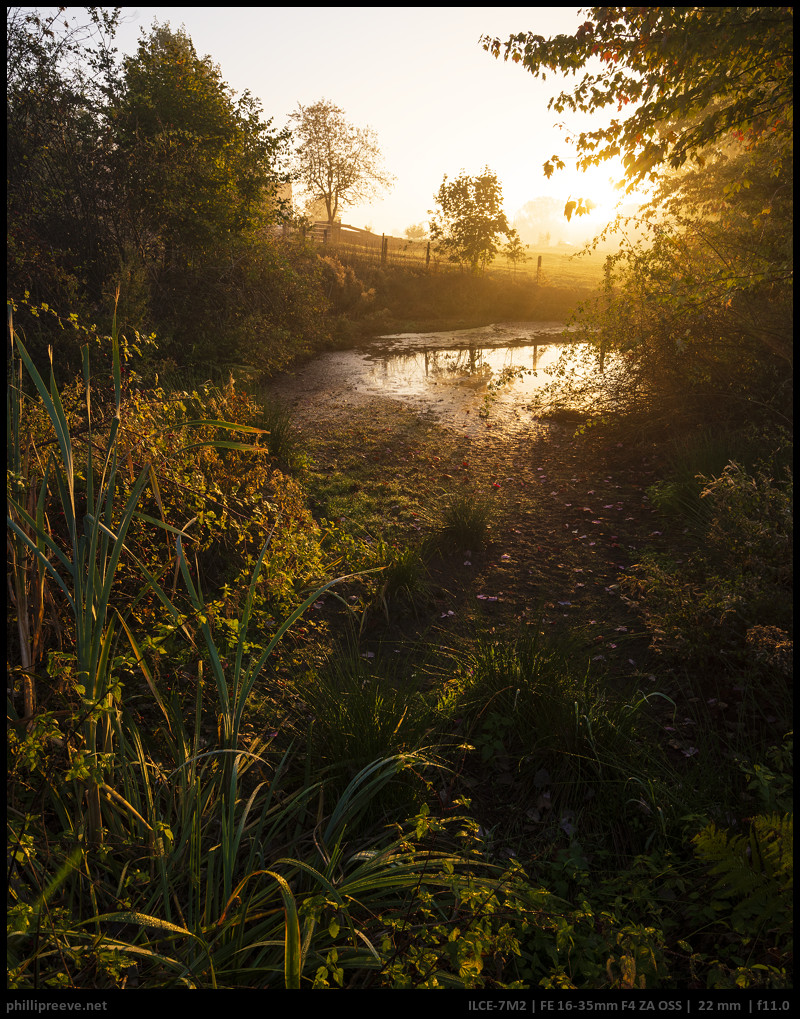 Amazon.com | B&H | Amazon.de | ebay.com (affiliate links)
Voigtlander 3.5/21: I have owned it for about a year now and it sees less use than I would have anticipated and at times I am a little bothered by the midzone dip but then it has good flare resistance, nice sunstars and it is just tiny.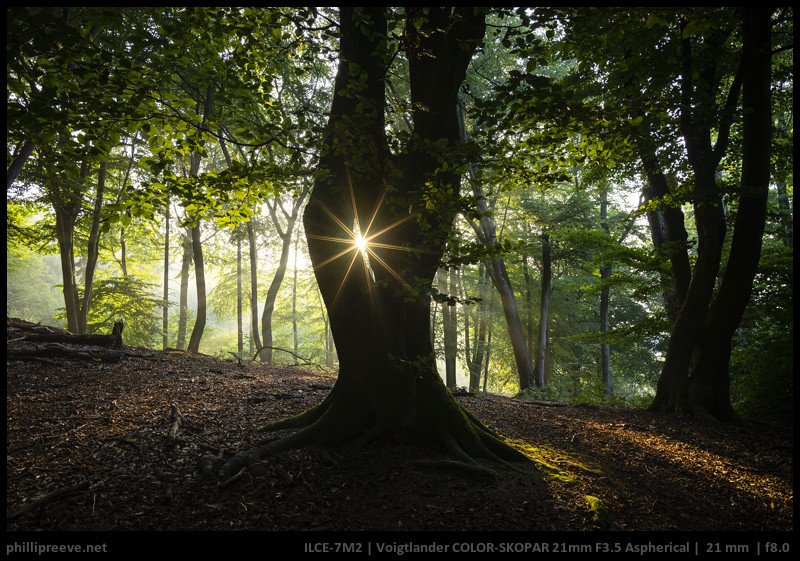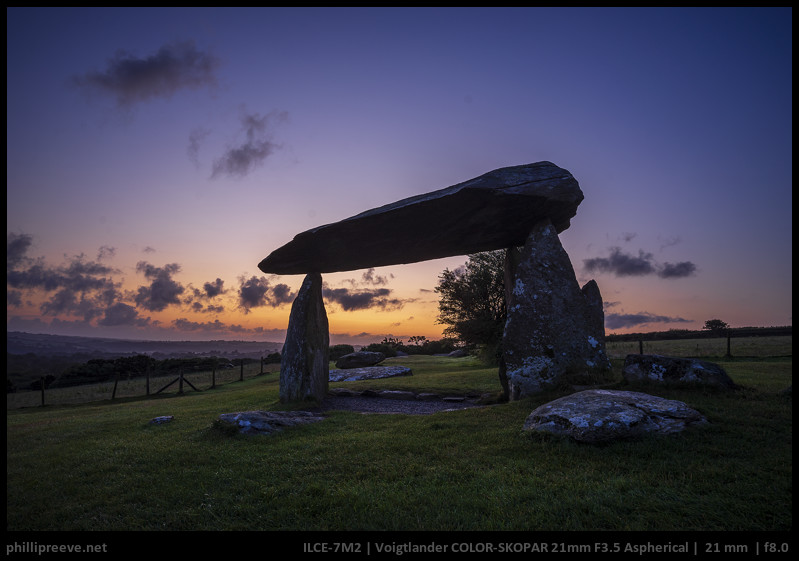 Amazon.com | B&H | Amazon.de | ebay.com (affiliate links)
Voigtlander 2.5/110 APO Macro: Optically my best lens with some margin and I have zero complaints about it in that regard. I like the focal length in a kit with the 21 and 40. What I like less is the bulk and weight of it. I rarely use it to shoot macros but I always have to haul the weight added by that feature with me. But then the only manual focus alternative in E-mount is the Loxia 2.4/85 which is a bit short for my taste and not much lighter.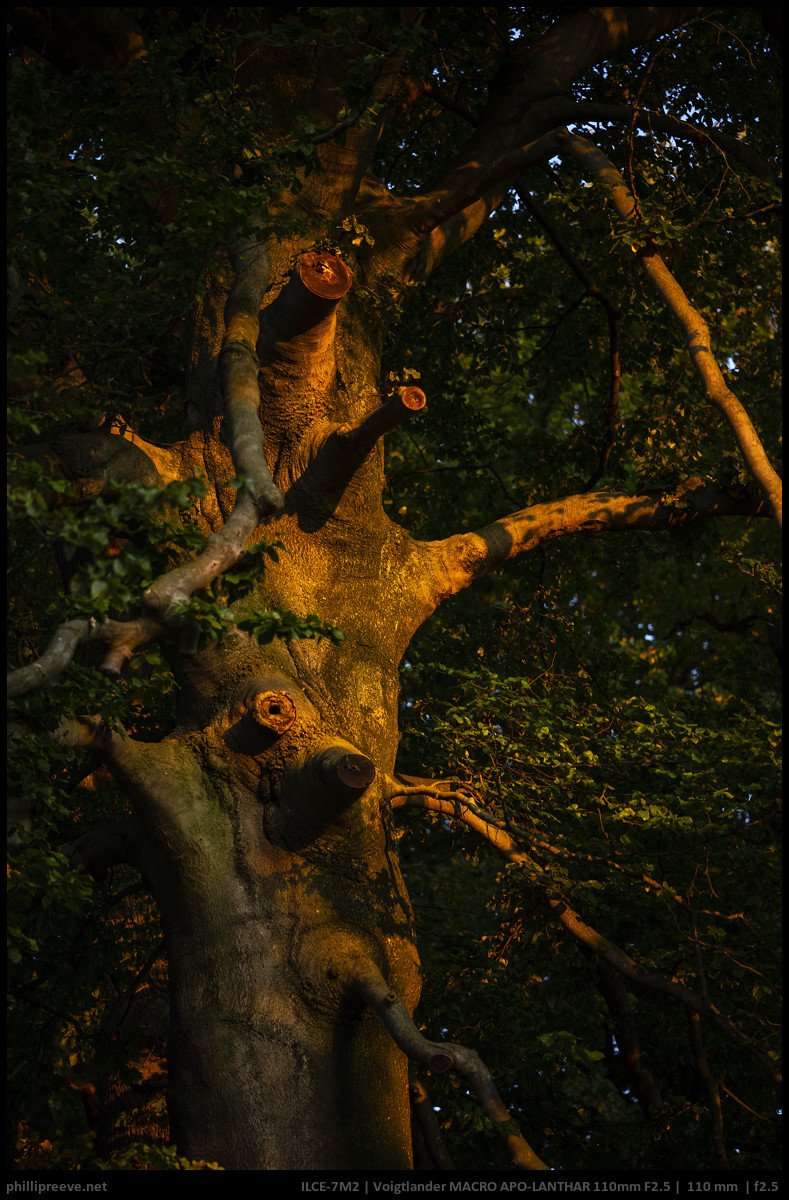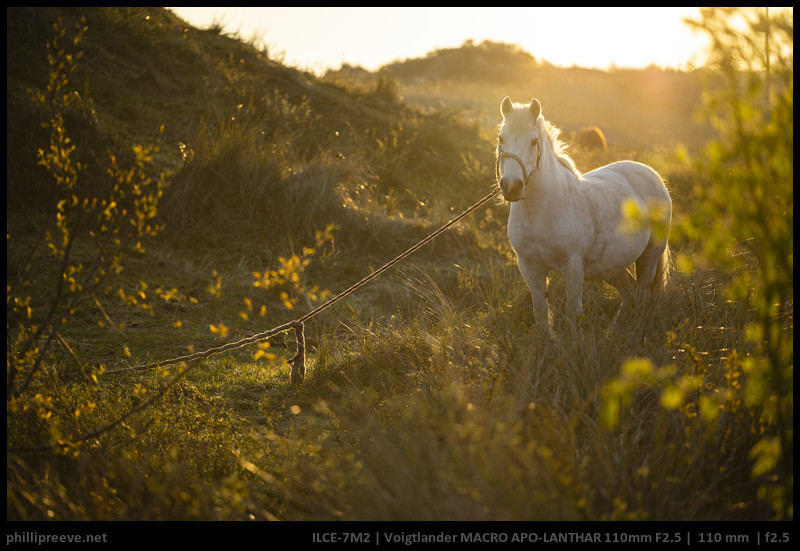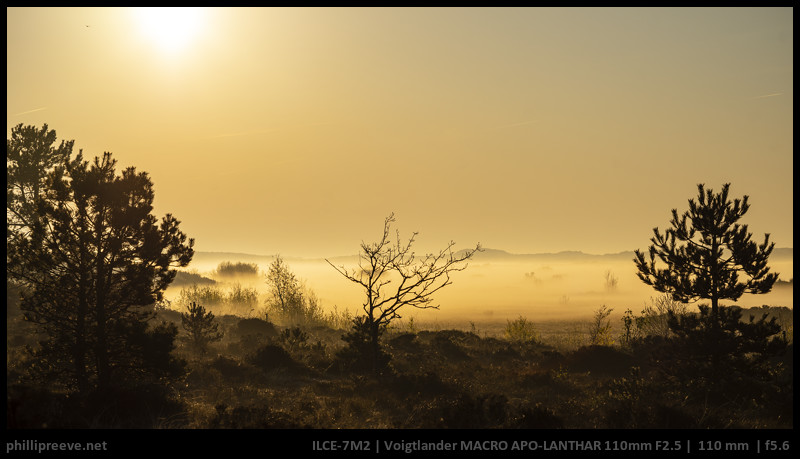 Amazon.com | B&H | ebay.com (affiliate links)
Contenders
I have a Sony FE 1.8/85 which I got for a good price but I don't enjoy using it and I am bothered by the bokeh at times so I will probably sell it. I also have a Samyang 1.4/35 AF which I bought for 400€ and I like it's optical performance but MF is a pain and AF seems to be not that reliable so I am not sure I will keept it.
Tripod
I don't like using tripods. I guess I am not patient enough for them. I think my photography could benefit from working slower and spending more time on improving compositions but whenever I try to slow myself down I fail. I have a bigger Sirui ET-1004 which is a solid enough tripod but it very rarely gets used for anything but testing. I have found another solution for myself and that is a very small Cullmann Carvao 816TCS. It fits into my bag (well kind of) and comes in handy for testing but also when I run out of light. One advantage I wouldn't have expected is that it helps me handholding the camera. Mounting the camera and pressing the 3 legs to my chest I gain about two stops so I can work as quickly and flexibly as I like longer thanks to this small tripod.
amazon.de (affiliate link)
Accessories
Usually a spare battery, a spare card and a blower to get rid of dust.
Filters
I don't see a good reason to use filters nowadays that we have cameras with very high dynamic range. As I said I avoid to use a tripod whenever I can get away without one so NDs and GNDs wouldn't work well for me and in case I wanted to use them I would prefer getting better results by combining several images. Polarizers are the only exception and I use them to reduce reflections in foliage and thus improve saturation. I use affordable Hoya HD filters which work well enough for me but since I don't use them often and saw no obvious issues I didn't delve far into the topic.
Further Reading
The following two tabs change content below.
I have two hobbies: Photography and photographic gear. Both are related only to a small degree.
Latest posts by Phillip Reeve (see all)