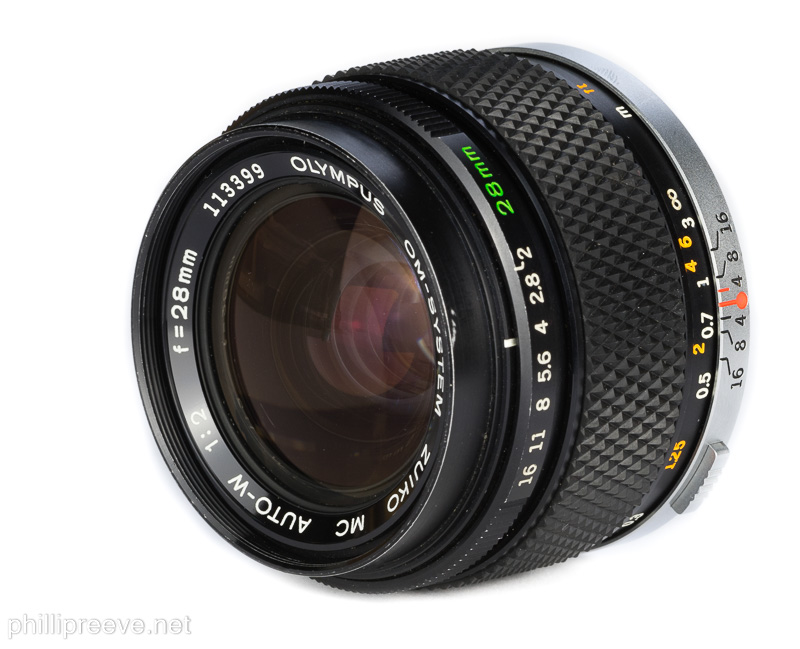 The Olympus OM 2/28 is the smallest manual 2/28 mm lens you can buy and in this in-depth review on the Sony a7II I check if it is still relevant in 2017.
Sample Images
You can find these images in full resolution in this Olympus OM 2/28 flickr set.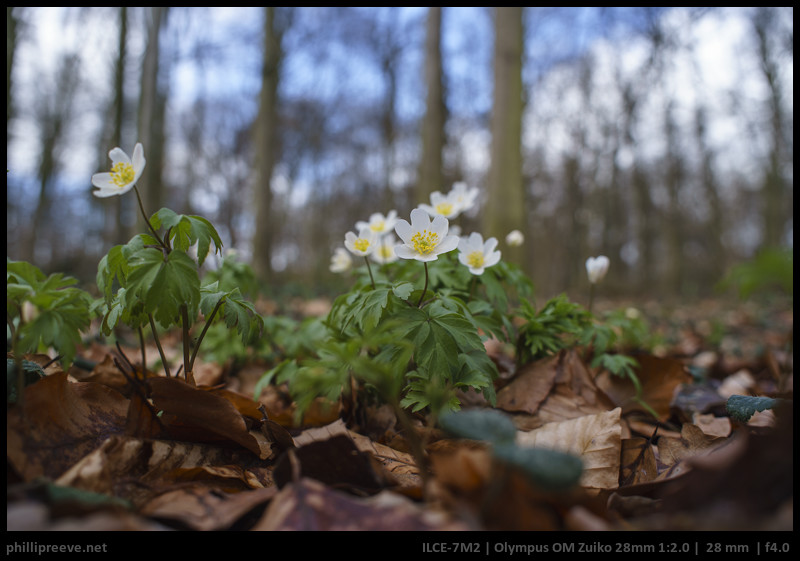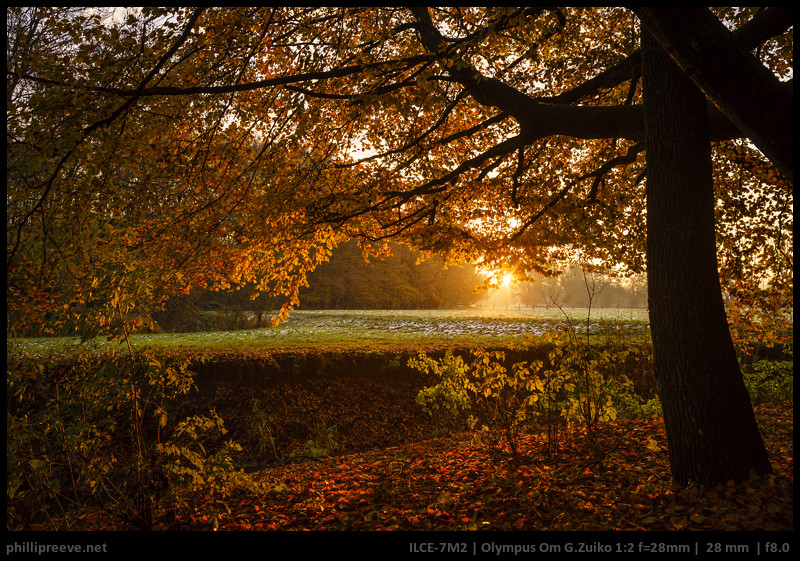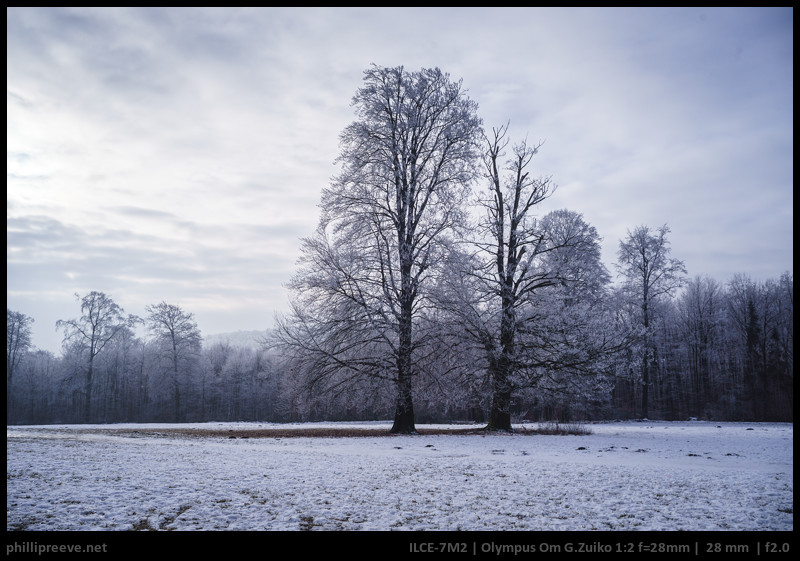 Specifications
| | |
| --- | --- |
| Diameter | 60 mm |
| Length | 43 mm |
| Filter Thread | 49 mm |
| Weight | 248 g |
| Max. Magnification | 1:8 |
| Close Focusing Distance from the sensor | 0.3 m |
| Number of aperture blades | 8 |
| Elements/ Groups | 9/8 |
At the time of this review the Olympus OM Zuiko 2/28 usually sells for around $170-250 at ebay.com (affiliate link). 
In Germany you can buy it for 130-200€ at ebay.de (affiliate link).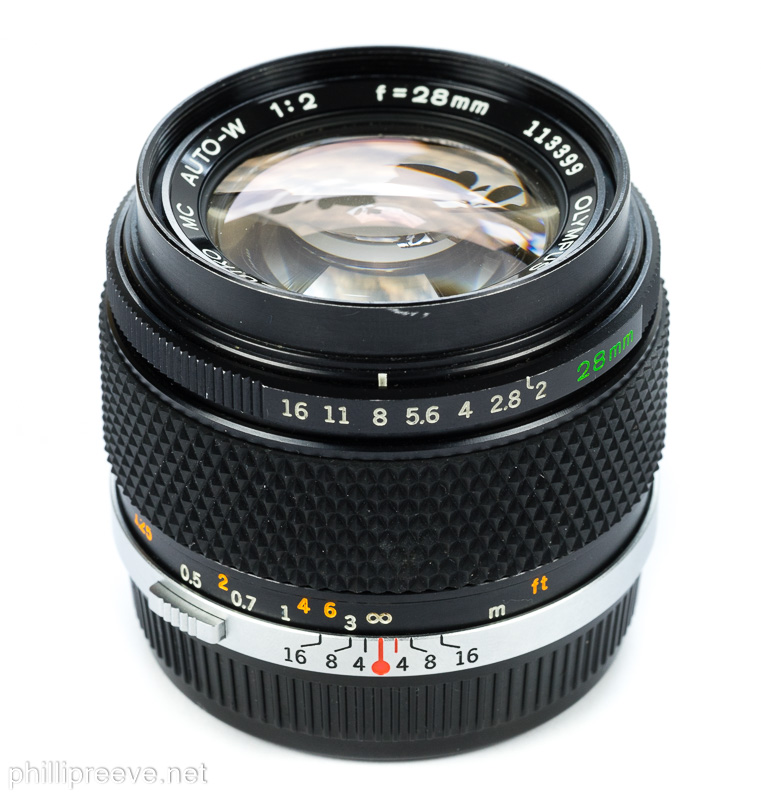 Versions
For practical purposes I see only one version of the Olympus OM 2/28:
The Olympus Zuiko MC Auto-W 1:2 f=28 mm with "silver nose" is the oldest version.
The Olympus Zuiko MC Auto-W 1:2 f=28 mm with a "black nose" is younger but apart from the cosmetic change it is the same for all practical purposes.
The last youngest version is the Olympus Zuiko Auto-W 1:2 28 mm. The MC was dropped from the name but that is the only change. This is the version I own (don't be confused by the wrong name in the exifs, would have been quite a hassle to change that after I noticed my mistake).
Data according to Olypedia.de
Compatibility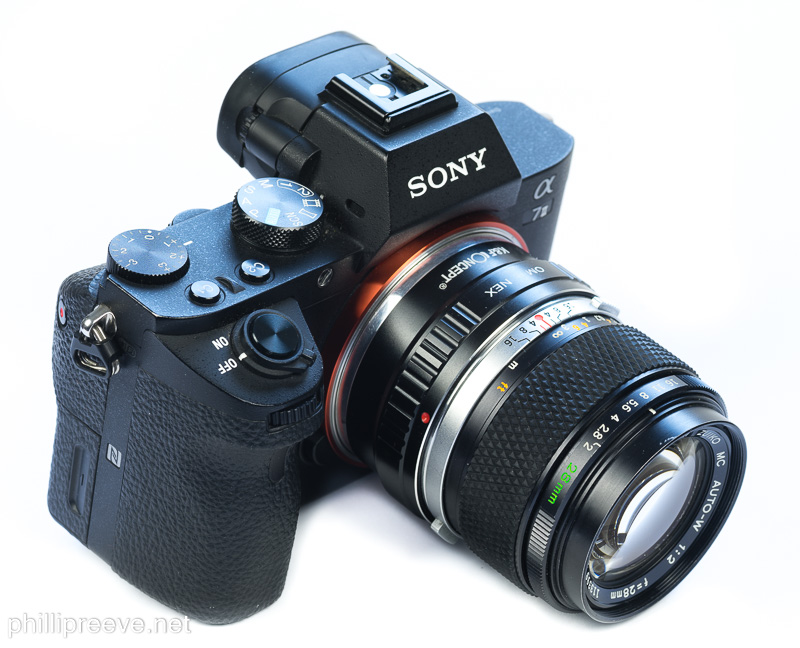 The Olympus Om 2/28  can of course be used on a wide range of Olympus OM film cameras but I know little about those so I can't tell you any details.
You can also buy adapters to use it on Canon EOS cameras but in some cases the mirror will hit the back of the lens. Check out this site for more information.
To use a OM lens on a Nikon F-mount camera you need to replace the mount of your OM lens. Check out Leitax for more information. I can recommend their products, they are very well made.
The easiest way to use a C/Y lens on a digital camera is to buy a mirrorless camera. I think the Olympus 2/28 makes little sense on a crop sensor and I can only recommend to buy a full frame camera so the Sony Alpha 7 series cameras are your only choice (unless you have too much money and want a Leica SL). Check out this article for more information about how to use manual lenses on the Sony a7-series.
Build Quality and Handling
Olympus OM lenses usually combine very small size and great handling. The Olympus OM 2/28 is no exception.
Focusing Ring
The focusing ring travels around 80 degrees from 0.3 m to 1 m and a further 20 degrees to infinity. This is a little steep for a wide angle but not much of an issue.
The rubberized focusing ring offers good grip and a pleasant diameter. The resistance is very pleasant on my copy.
Aperture
The aperture ring sits at the front of the lens and it has full stops from f/2 to f/16 which click into place very nicely. I think this is one of the best aperture ring designs I have come across.
Hood
I don't own a hood for it but it would make sense to get one since the front lens is quite exposed and flare an issue.
Size and Weight
At 248 g and with a length of just 48 mm the Olympus is small but still large enough to be very pleasant to handle and very well balanced on the a7 series.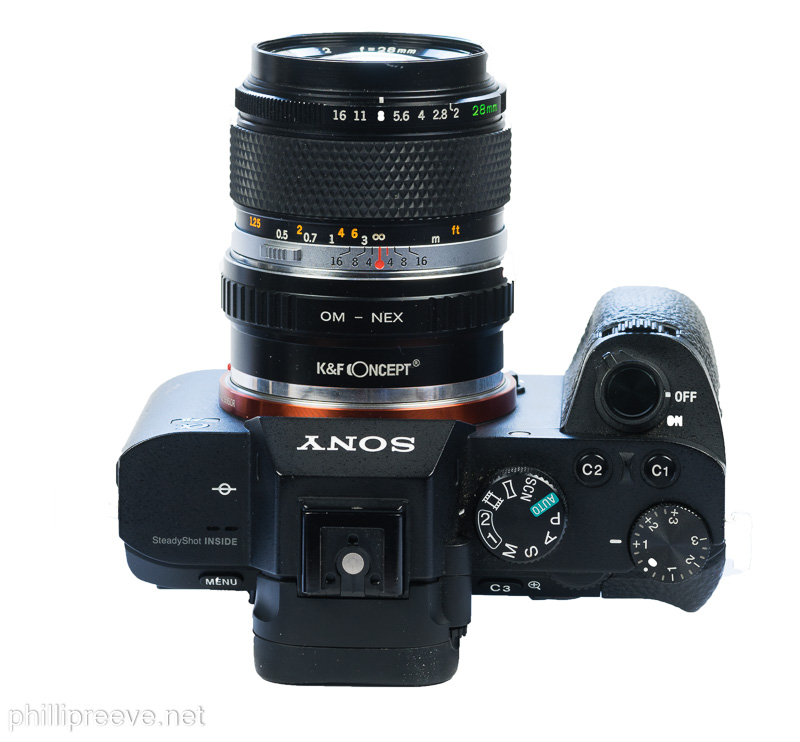 Filters
The 49 mm filter thread is made from metal
The front of the lens does not rotate so polarizers are easy to use.
Image Quality
Vignetting
At f/2 vignetting is very strong at 3 stops. At f/2.8 it is reduced a little to still significant 2.3 stops. By f/4 vignetting is 1.7 stops and at f/5.6  it still measures 1.5 stops. These are really high figures but they are the price you pay for the small size of the Olympus OM lenses.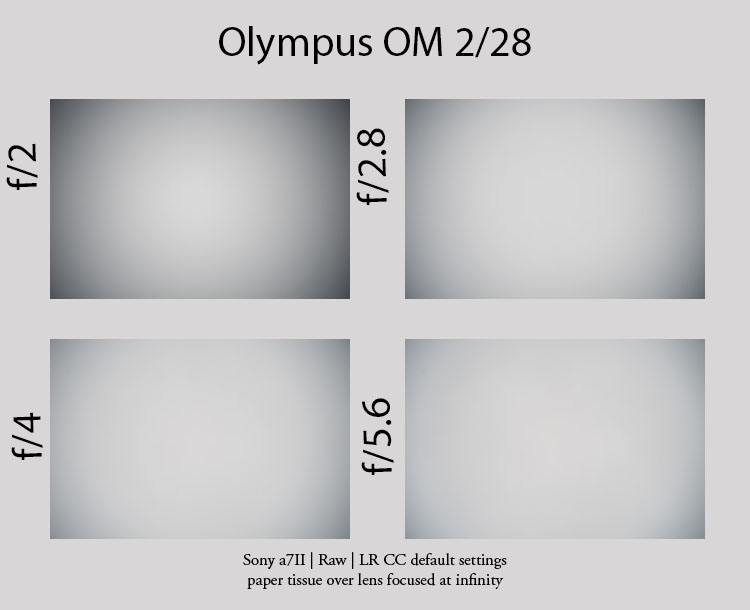 Flare Resistance
The flare resistance of the Olympus 2/28 is quite good for a legacy lens but of course not perfect. Veiling flare is reasonably well controlled but it is quite easily to get a little ghosting.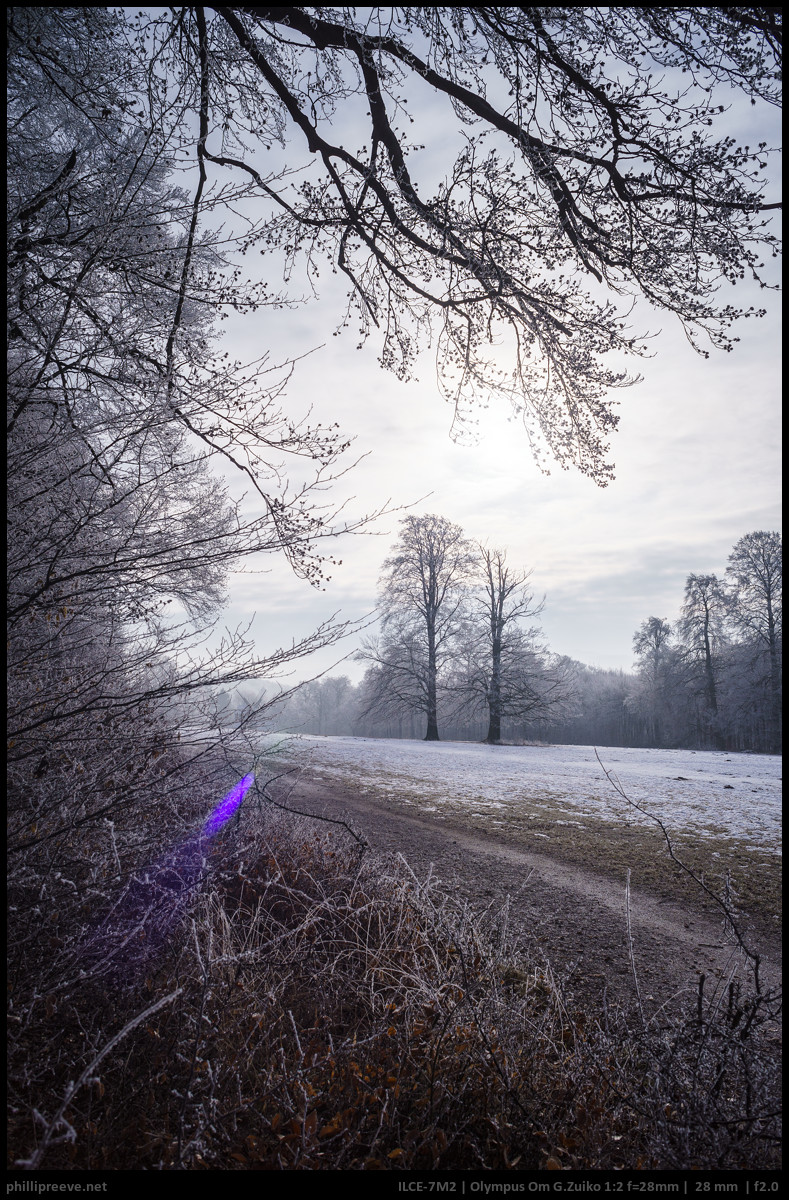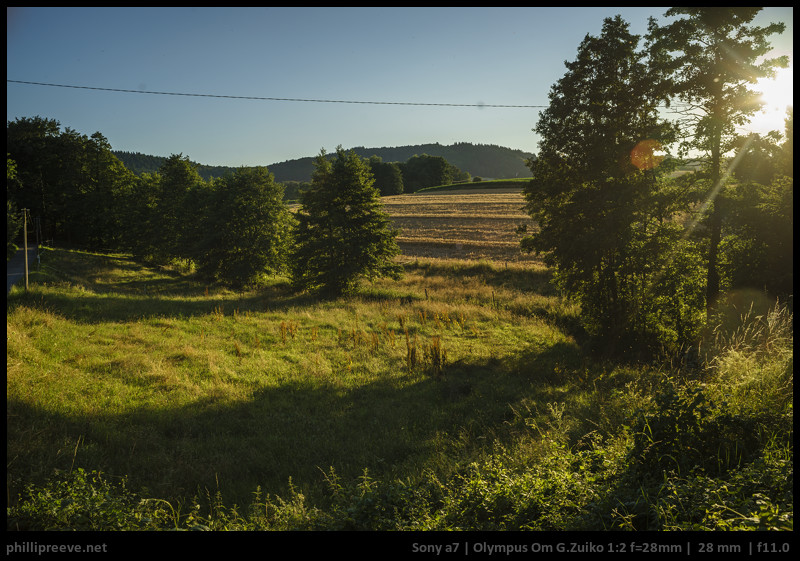 The Olympus 2/28 is not quite on the same level as the Pentax K 3.5/28 or Zeiss Distagon 2.8/28 but it is much better than most legacy 28 mm lenses in this regard.
Distortion
The OM 2/28 shows some moustache distortion which you won't be able to fully correct in your raw-converter of choice without creating a custom profile.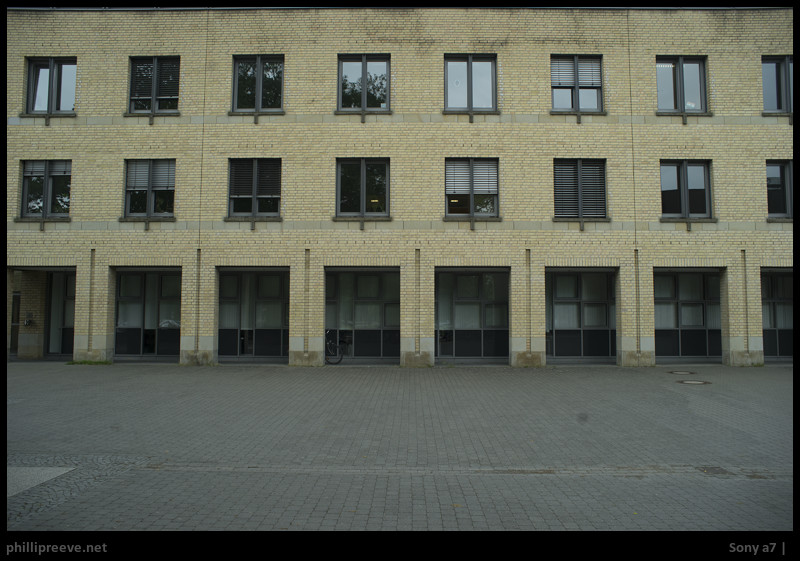 Chromatic Aberrations
There is a moderate degree of CA which should be corrected.
100% crop from the extreme corner | f/11 | Sony a7II
Axial CA and Bokeh fringing are not a big issue with the Olympus 2/28.
Bokeh
The Olympus OM 2/28's bokeh changes a lot through the apertures. Wide open bokeh is very busy with strong outlining. The only good thing I can say is that there is little bokeh fringing. I guess some people will like the effect like some people like the Trioplan 2.8/100 but for most applications it isn't too useful.
Stop the lens down to f/4 though and bokeh will be much smoother and the aperture shape not much of an issue so it is my go-to-aperture for closeups. f/2.8 is still somewhat nervous but to a lesser degree.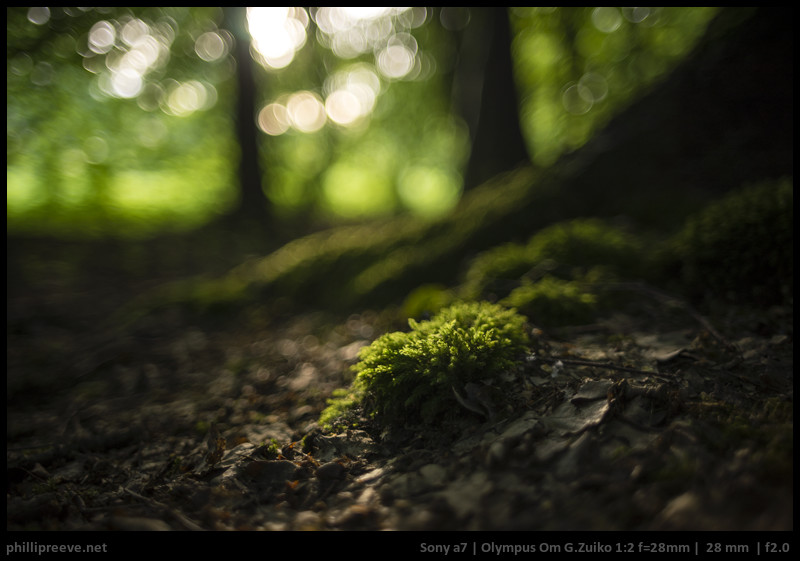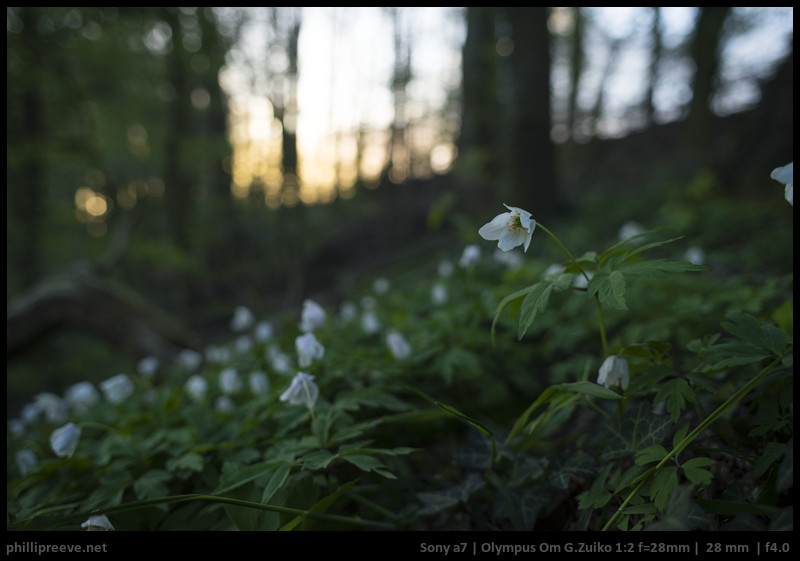 Sunstars
A strength of the Olympus 2/28 is that it has 8 aperture blades while most competitors have just 6 blades. These make for decent 8-pointed sunstars.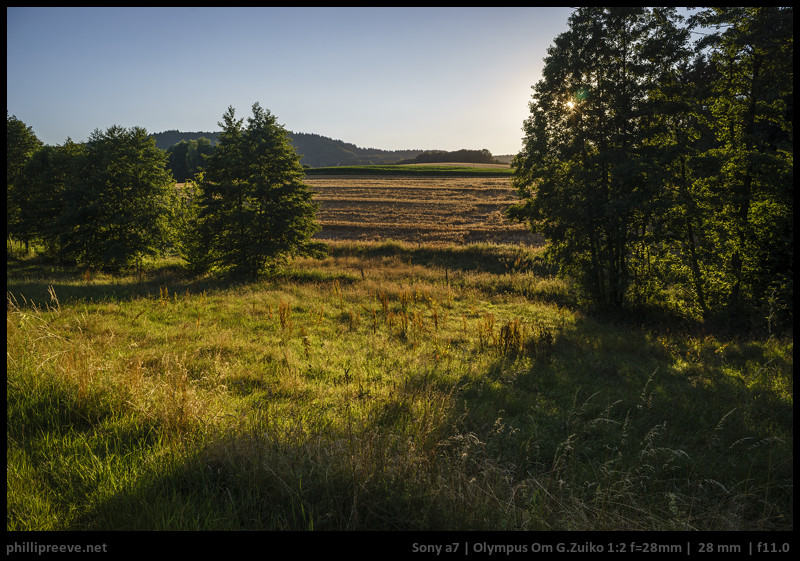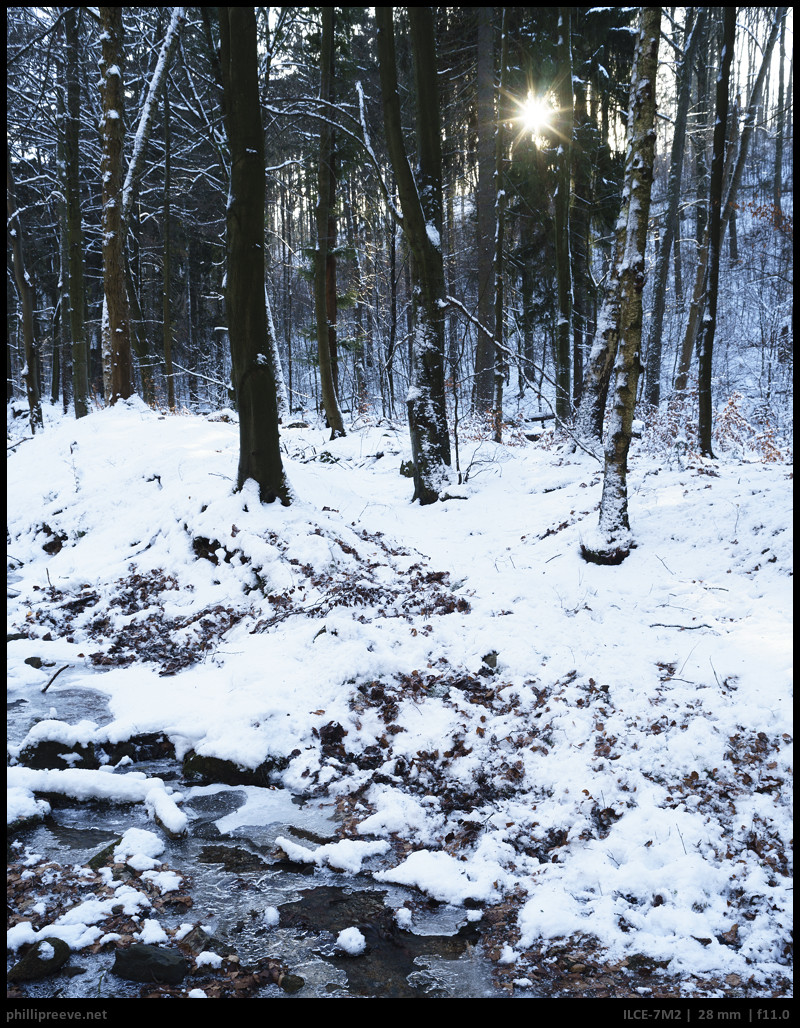 Sharpness

The full aperture series can be found at flickr.
f/2: The center is a little soft with lower contrast, midframe performance is only a little weaker and the extreme corner's softness is partially cloaked by the very strong vignetting.
f/2.8: The center is now very sharp and midframe performance increases a little. Corners are still very dark and soft.
f/4: Excellent center and a significant midframe improvement to very good figures. Extreme corners are still soft but if you look at the full image you see that it is really only the extreme corner which is still soft.
f/5.6: Midframe and corners improve a little.
f/8: Corners are somewhat sharp now.
f/11: Corners are sharp, the rest a little softer.
Analysis: f/2 is sharp enough for many applications but you should avoid it if you want very good performance. From f/2.8 you don't have to worry about performance in the center but only from f/4 you get really good sharpness across most of the frame. For landscapes I would recommend f/11 unless you have no detail in the corners, then f/5.6 will give you very good results.
Adapter issues
With the Olympus OM 2/28 it is essential to have an adapter of exact thickness or you will get serious issues with field curvature. That is because the Olympus uses floating elements which are very sensitive to and incorrect flange focal distance. When I got the Olympus I initially thought that it had the most severe field curvature I had ever seen but the true cause of this was my too short K&F adapter. Only after I tuned the adapter for the correct thickness of 28.00 mm I got good results. I don't have a OM Novoflex adapter but those are usually 0.1 mm too short and I would guess that this will be enough to have a negative effect on image quality.
Because of these issues I would either recommend an expensive Rayqual adapter (affiliate link) or a cheap K&F adapter (affiliate link) which you would have to tune yourself with help of a digital calipher (affiliate link).
Alternatives
These are alternative lenses for the Sony a7/a9 series.
Sony FE 2/28: The Sony isn't built nearly as nice, manual focus is much less enjoyable and it is and a little more expensive. Apart from these points of criticism the smaller auto focus Sony is a stronger lens optically with better sharpness, better flare resistance and significantly smoother bokeh. If you are after optical performance go for the Sony. If handling is very important to you or you enjoy the harsher bokeh of the Olympus go for it.
Voigtlander 2/28 – If you want a small manual 2/28 for your a7 the Voigtlander would be my suggestion. It is much sharper with smoother bokeh and better flare resistance. It is quite a bit more expensive though and only focuses down to 0.5 m without a helicoid adapter. It also has some issues with the thicker filter stack of the a7 series but that doesn't weight too heavily.
Zeiss Distagon 2.8/28 T* (C/Y mount) – The Zeiss is about as expensive as the Olympus and a stop slower but actually a little larger. The Olympus performs better at short distances and bokeh stopped down a little is also smoother so I would prefer it for close focus work. For landscapes the Zeiss is sharper with better flare resistance.
Pentax K 3.5/28: My favorite manual lens for landscapes is actually a little larger but it is sharper with better flare resistance and less vignetting. If you can find one it is usually more affordable than the Olympus.
Olympus OM 3.5/28 – The tiny lens is even smaller and much more affordable. It is also quite a bit sharper but there is a big catch and that are the primitive coatings which make flare a serious issue.
Conclusion
good

Build quality and handling

Size and weight

Bokeh (at f/4)

8 aperture blades

average

Sharpness
Price
Flare resistane

not good
The Olympus OM 2/28's small size combined with very good build quality makes it stand out from other classic 2/28 lenses. Handling is certainly a big plus for it.
The Olympus' optical performance is probably best described as good enough for many applications but it doesn't really excel at anything. Sharpness is okayish wide open but you need to stop down to f/2.8 for very good performance in the center of the image. For landscapes f/8 or f/11 is recommended. The small size is paid for in terms of very strong vignetting. I liked the bokeh quite a bit. At f/4 at least, where the 8 aperture blades come in handy. Wide open bokeh is just funky and I quickly grew tired of this "effect". One aspect I was positively surprised by is the flare resistance which isn't perfect but much better than that  of many other legacy 28 mm lenses.
My recommendation for the Olympus OM 2/28 is a very limited one. I found it performed quite well for closeups at f/4. It also works well enough for landscapes where its performance certainly isn't class leading but quite decent. So if you own one from back in the day you can certainly take nice pictures with it but I don't think it makes much sense to buy one today.
All in all the Olympus OM 2/28 turned in a decent but unexciting performance. F/2 is of limited use because of very funky bokeh and very strong vignetting but since it is as small as most other f/2.8 lenses that doesn't weight too heavily. What I really enjoyed about it is the great build quality and handling. The current used marked price seems to be pretty high for the given performance.
At the time of this review the Olympus OM Zuiko 2/28 usually sells for around $170-250 at ebay.com (affiliate link). 
In Germany you can buy it for 130-200€ at ebay.de (affiliate link).
If this review was helpful to you, please consider using one of my affiliate links. I will earn a small commission on your purchase and it won't cost you anything. Thanks 🙂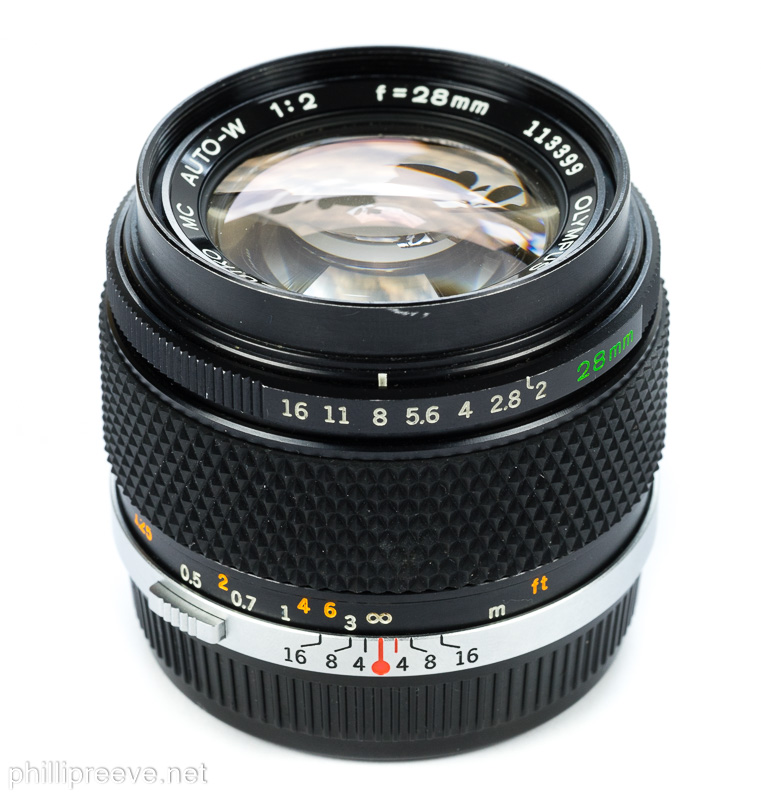 Olympus OM Zuiko 1:2 f=28 mm Sample Images
All images are processed in Lightroom from Raw. Many more full resolution samples in Olympus OM 2/28 flickr set.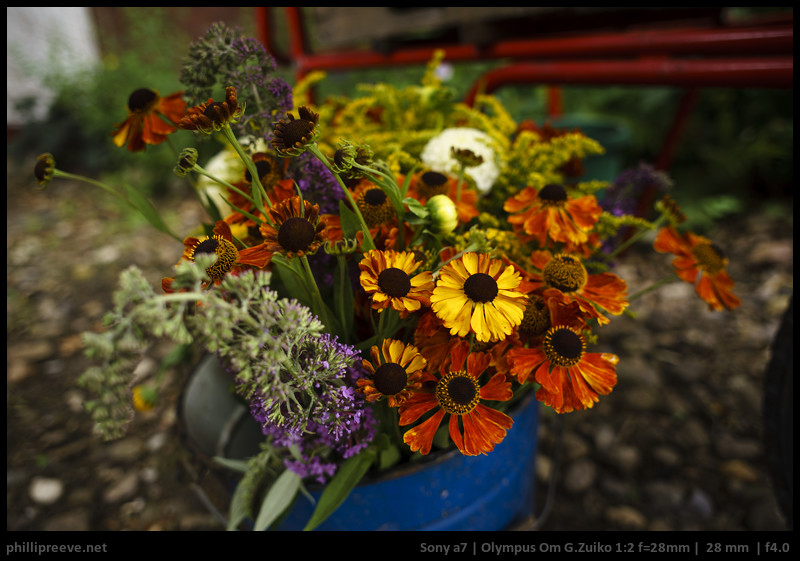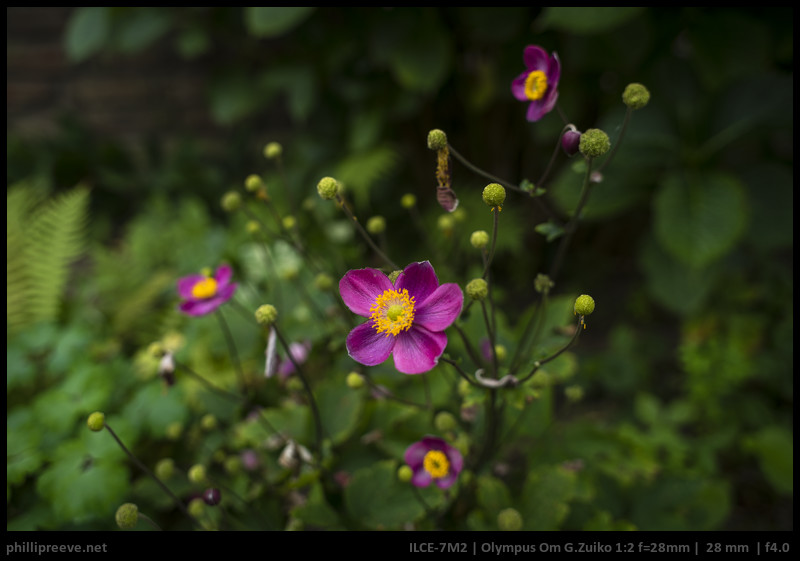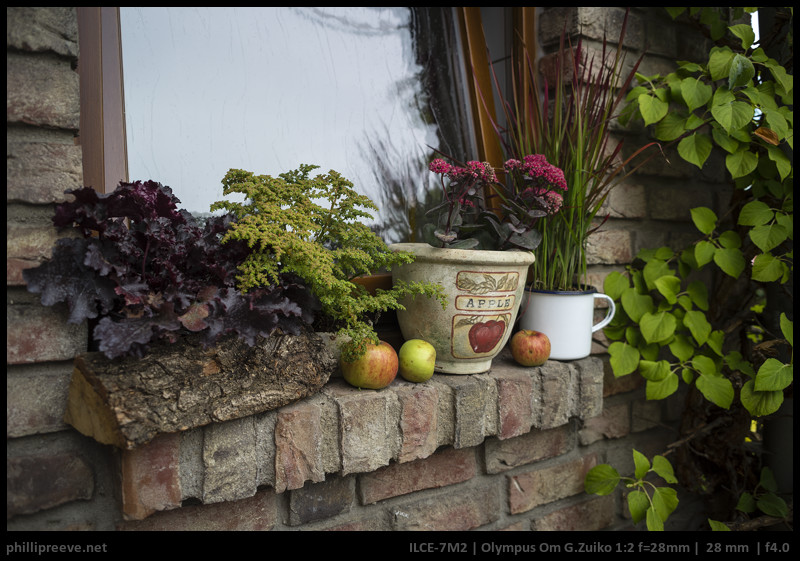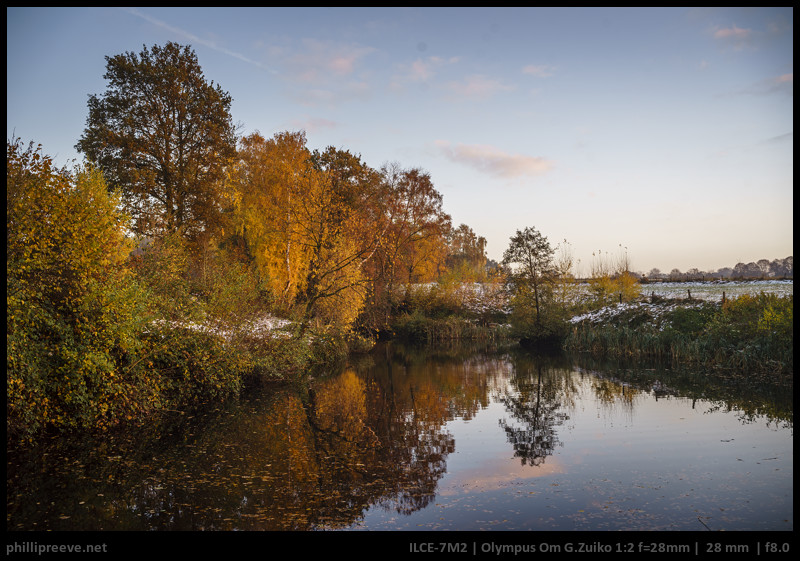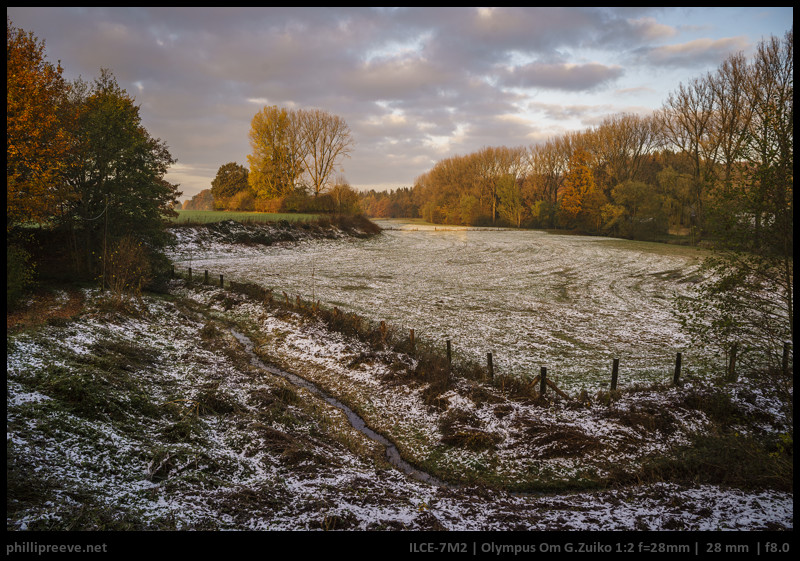 Other Articles