Introduction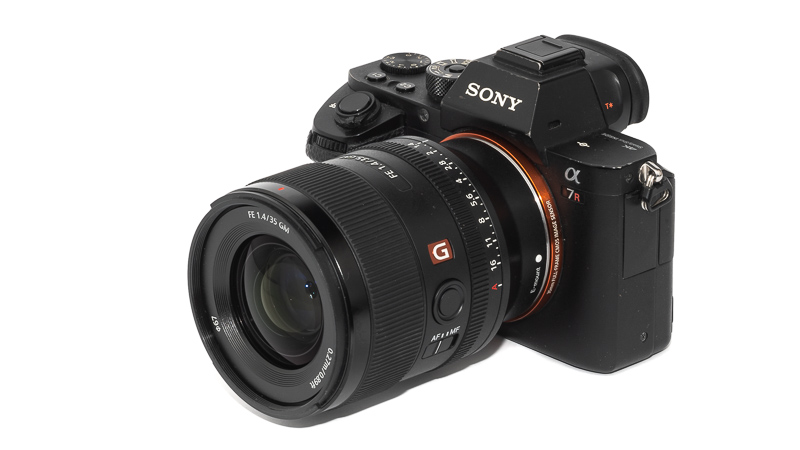 A fast 35mm lens is one of the most popular lenses for wedding and reportage photographers. In the Sony world we had to wait a long (read: very long) time for a really good one though, as the Sony FE 35mm 1.4 ZA was a bit of a dud with its huge sample variation and even the third party manufacturers were a bit late too the game (I am looking at you, Sigma 35mm 1.2 Art DG DN).
Now Sony has proven they know what the duds in the lineup are and after 5 years released the Sony FE 35mm 1.4 GM to rule them all. Let us have a look, if this really is the perfect fast 35mm lens.
Sample Images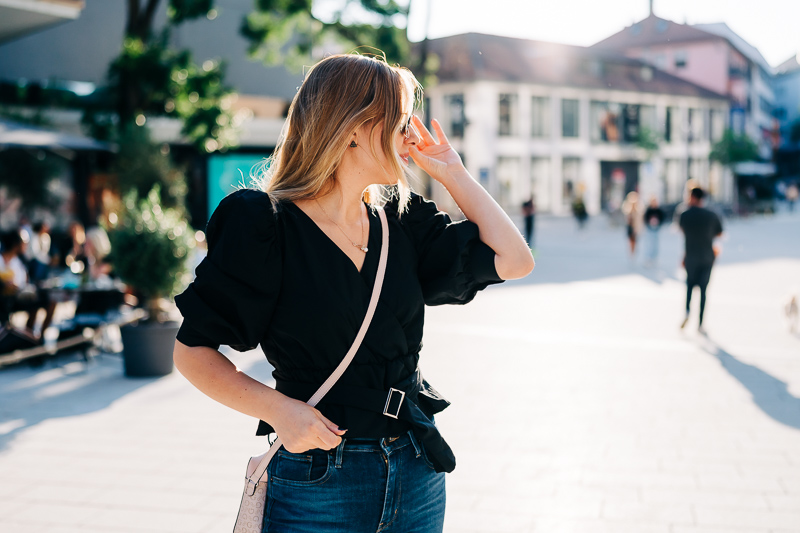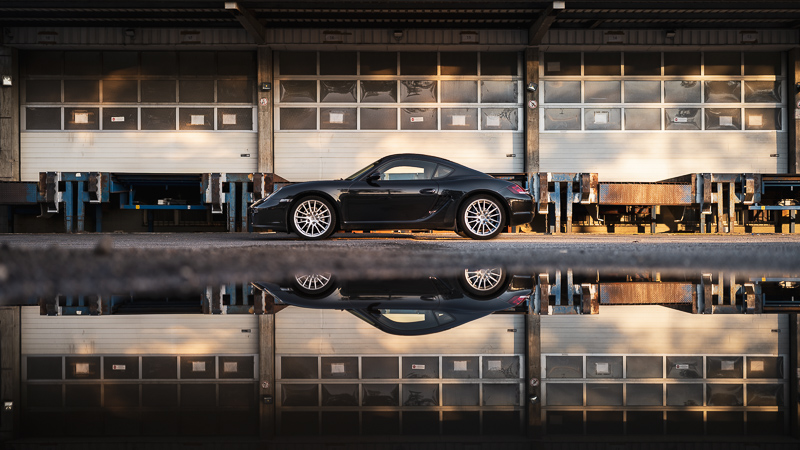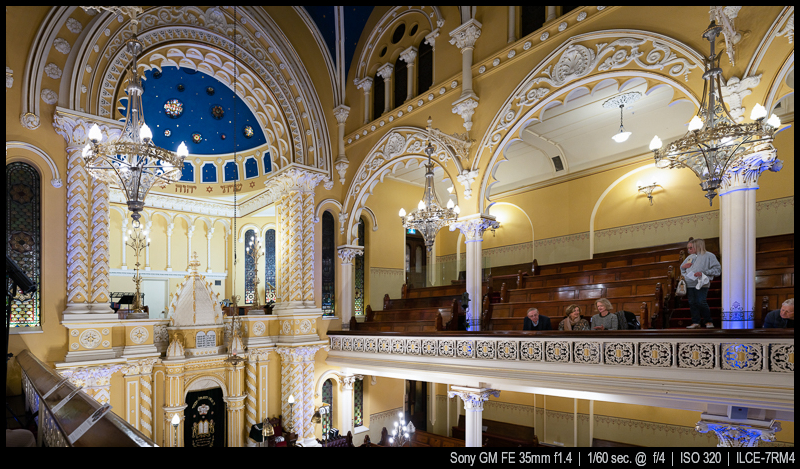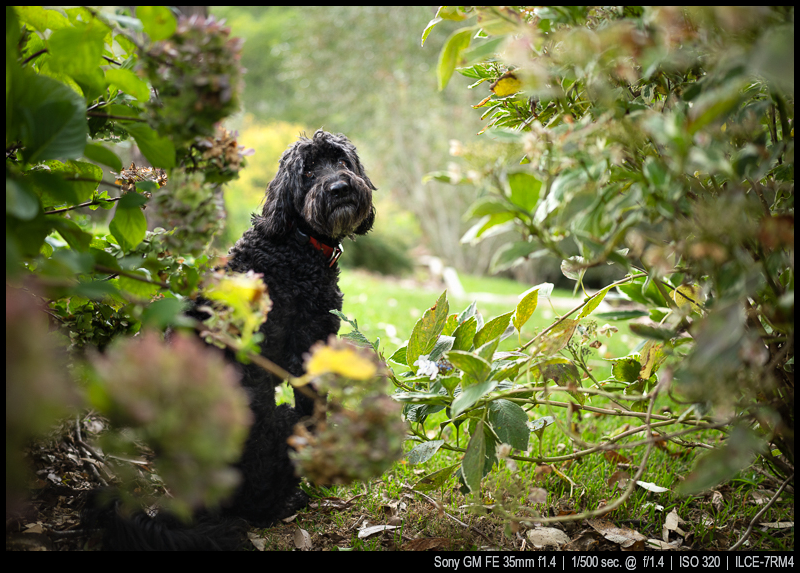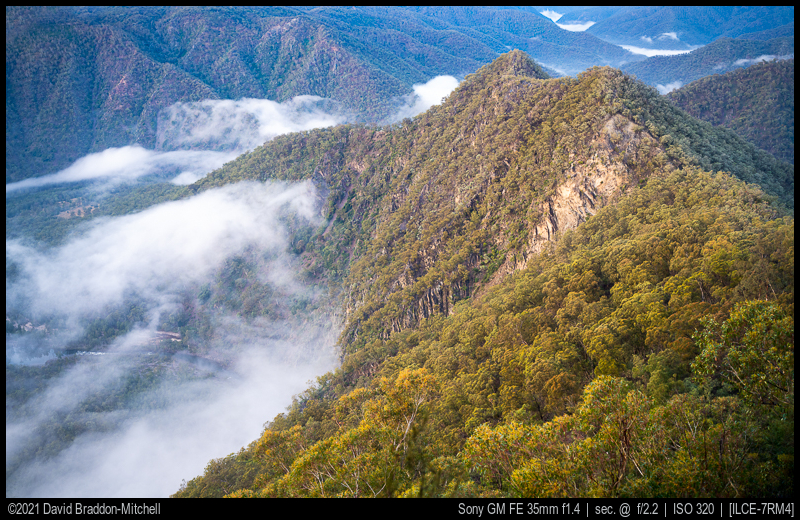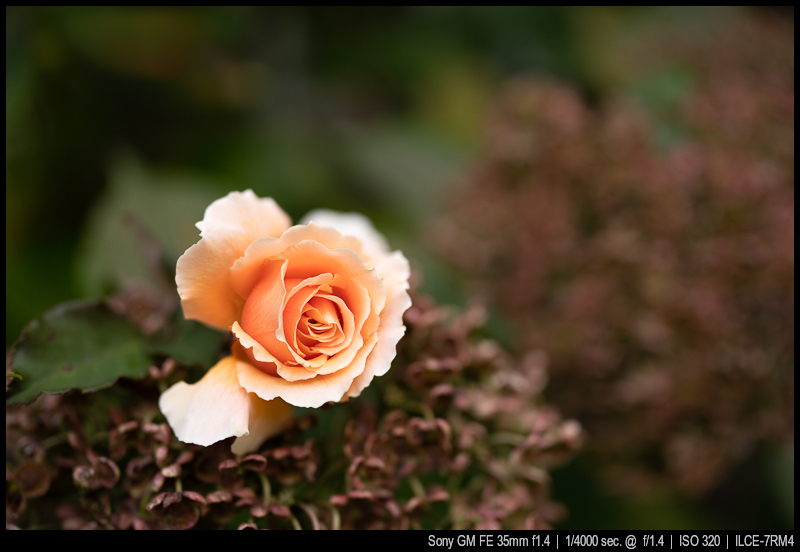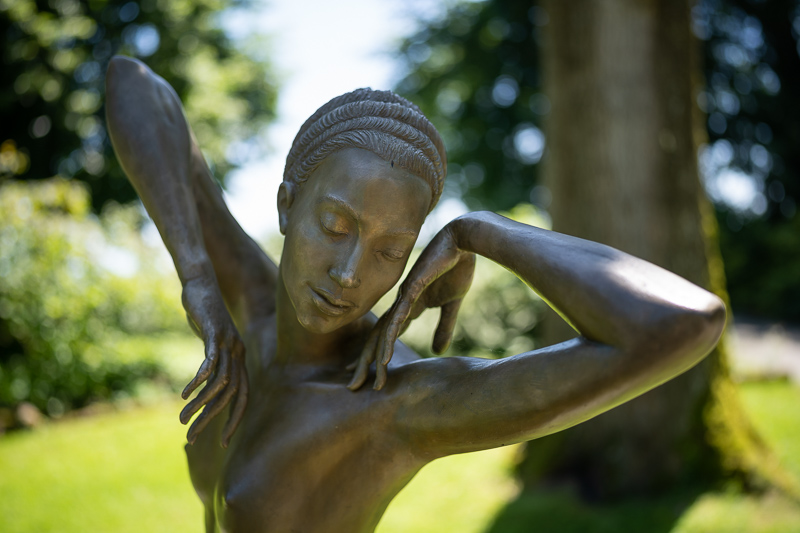 You can find most of the sample images in full resolution here.
Specifications / Version History
The Sony FE 35mm 1.4 GM is the successor to the Sony FE 35mm 1.4 ZA. We are used to newer lenses being optically better than the ones they replace, but also bigger and heavier. As you can see when comparing the specifications this is surprisingly not the case here: the newer Sony FE 35mm 1.4 GM is smaller, lighter, focuses closer and makes use of the better 11 blade diaphragm.
Diameter: 76 mm
Field of view: 63° (diagonally)
Length: 96 mm
Weight: 520g (without hood, without caps)
Filter Diameter: 67 mm
Number of Aperture Blades: 11 (rounded)
Elements/Groups: 14/10

Close Focusing Distance: 0.27 m (AF) | 0.25 m (MF)
Maximum Magnification: 1:3.9
Mount: Sony E
The lens is available from amazon.com | amazon.de | B&H | ebay.com | ebay.de (affiliate links) and the price is $1399/1659€.
Handling/Build quality
In short: we are getting all the GM goodness (declickable aperture ring, AF-MF switch, focus hold button, linear manual focus) but also some improvements over earlier GM lenses like the Sony FE 85mm 1.4 GM.
The rubberized focus ring has decent damping and works better for me than those of the ZA lenses, especially as it does not matter how fast you turn the focusing ring but only how far.
It takes 180° from the minimum focus distance (0.25 m) to infinity.
When you turn your camera off the lens will remember the last focus position and will still be there when you turn the camera on again.
The aperture ring has 1/3 of a stop click stops (which you can declick by using a lever on the lens) and those are more distinct compared to the FE 35mm 1.4 ZA.
You can also set the ring to "A"(utomatic) and let the camera choose the aperture value or use the camera dial to change the aperture value when it is set to "A".
Compared to the Sony FE 85mm 1.4 GM the click stops are more distinct, especially the "A" setting. Nice touch.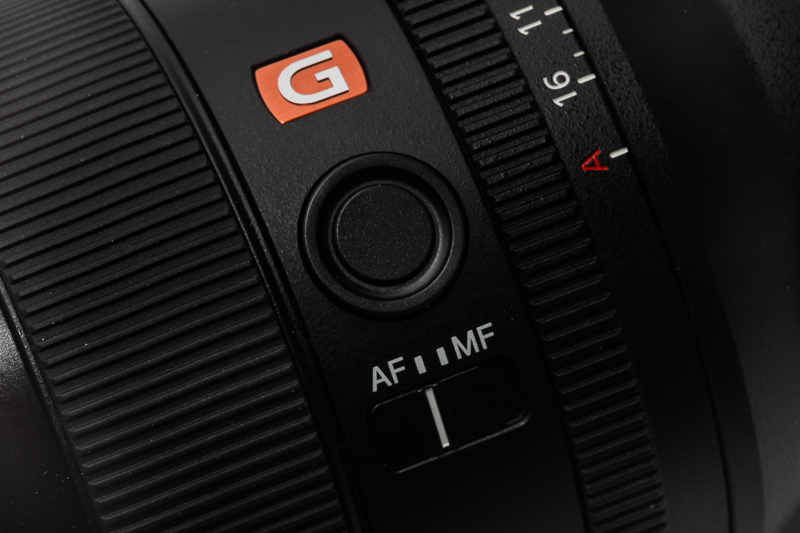 On the left side of the lens there is a programmable button and an AF-MF switch.
The outer casing seems to be made from a high quality polycarbonate and all markings are engraved and filled with paint.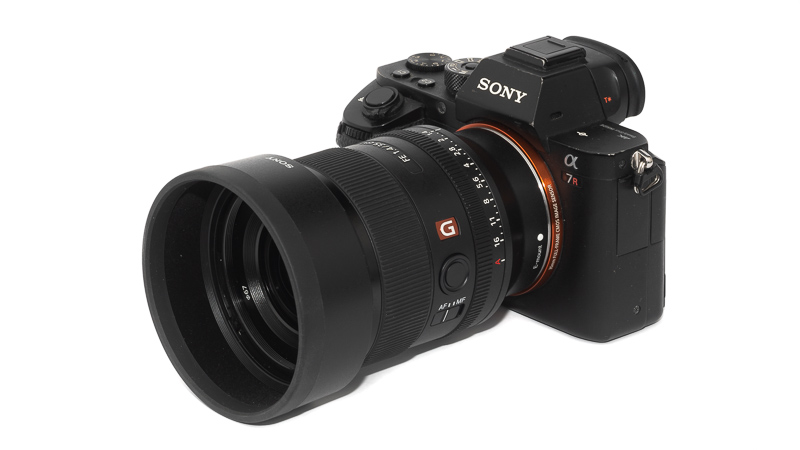 The hood also features higher than usual build quality with a rubberized front bumper and felt on the inside to counteract stray light. Furthermore there is also a button which you have to press to remove the hood, which is usually only found on higher grade tele lenses.
The Sony FE 35mm 1.4 GM is significantly smaller than the half-a-stop-faster Sigma 35mm 1.2 Art DG DN whereas the optically inferior Voigtlander 35mm 1.2 is still noticeably smaller.
Vignetting
light falloff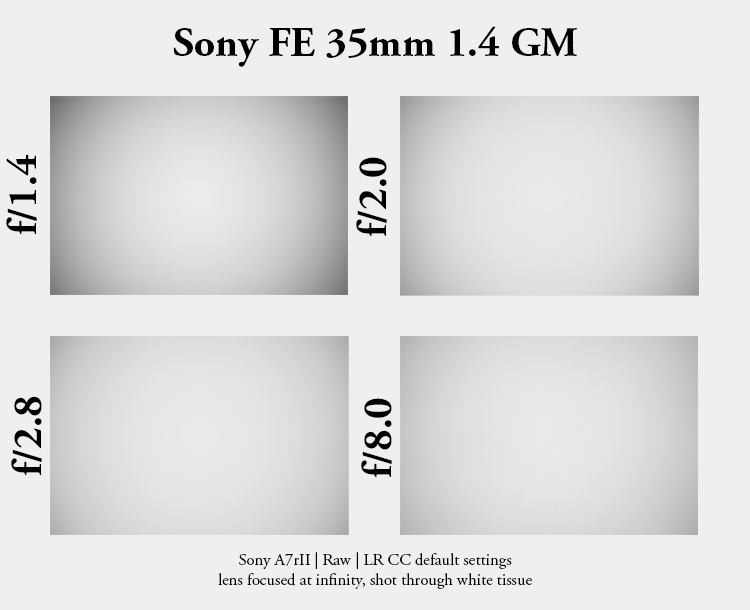 | | |
| --- | --- |
| f/1.4 | 2.6 EV |
| f/2.0 | 2.0 EV |
| f/2.8 | 1.7 EV |
| f/4.0 | 1.4 EV |
| f/5.6 | 1.4 EV |
| f/8.0 | 1.4 EV |
| f/11 | 1.4 EV |
At shared apertures these values are comparable to the Sony FE 35mm 1.4 ZA, stopped down the Sigma 35mm 1.2 Art DG DN shows about half a stop less corner shading.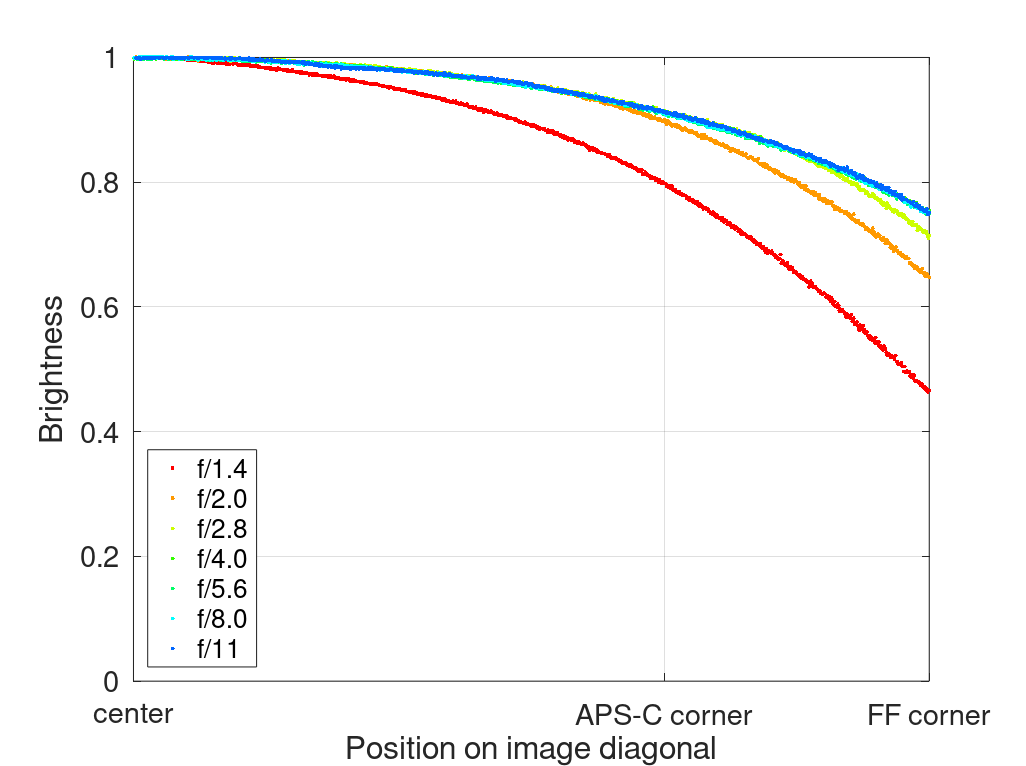 It is recommended to have a look at this article first to get an idea how this brightness graph works.
optical vignetting

Fast lenses usually show a noticeable amount of optical vignetting. Without going too much into technical details optical vignetting leads to the truncation of light circles towards the borders of the frame.
In the center of the frame almost every lens will render a perfect circle, but only lenses with very low optical vignetting will keep this shape in the corners.
So in the following comparison we move from the center (left) to the extreme corner (right) and see how the shape of the light circle changes.
I did shoot both lenses side by side, they were set to the tipping point between 0.3 and 0.4 m on the digital distance scale to get the same focus distance on both lenses. Focus breathing might have an effect at these distances.

In the past some of the Sony GM lenses have shown an above average performance in this category (e.g. Sony FE 85mm 1.4 GM and Sony FE 24mm 1.4 GM) and also the Sony FE 35mm 1.4 shows a decent performance.
In a direct comparison with the Sigma 35mm 1.2 Art DG DN we obviously get bigger circles with the Sigma lens ( = more subject separation due to it being a faster f/1.2 lens) in the center and the midframe areas whereas in the corners the difference is smaller. So the Sigma lens shows slightly higher optical vignetting.
Both 11 blade diaphragms do a really good job at keeping the highlights round and both lenses show mild onion ring structures due to their aspherical lens elements.
Sharpness
infinity

(42mp Sony A7rII)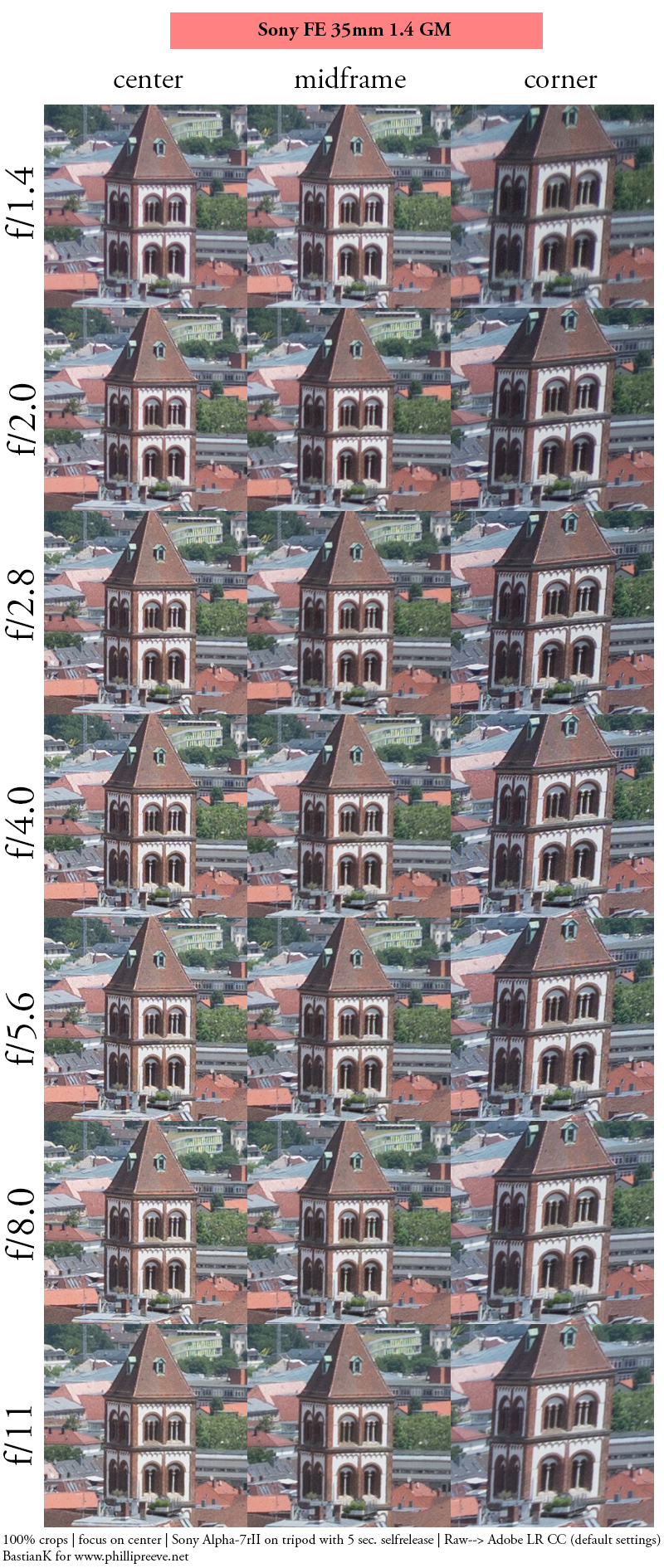 With the latest Sony GM lenses we always got great across frame performance even at wider apertures and the 35mm 1.4 GM is no exception.
Now if you compare this chart to the one in my Sigma 35mm 1.2 Art DG DN review the Sigma's corners look better at f/1.2, but in David's case it was the other way round, so the differences you are seeing are well within the margin of sample variation.
Don't ask which of these two is the sharper lens, both are more than good enough for anything and this also becomes very apparent when comparing them to the Sony FE 35mm 1.4 ZA, which is not even remotely playing in the same league.
portrait distance (1.0 m)

For portraiture it isn't so important how flat the field is, it is more interesting to see what the sharpness is like when focused at different parts of the frame to take field curvature out of the equation.

This is what I did here, I refocused for every shot and aperture to get the best possible result at different locations in the frame (center, inner midframe and outer midframe).
Focus distance was roughly 1.0 m and the circle of the dollar bill is more or less the size of a human eye.
100% crops, A7rII
Also at portrait distances the Sony FE 35mm 1.4 GM shows a great performance. In the outer midframe I got a bit more moiré with the Sigma 35mm 1.2 Art DG DN @f/1.2 in a direct comparison, but these differences are completely negligible.
close (0.25 m, 1:3.9)

100% crops from center, A7rII
Performance at and near the minimum focus distance is impeccable. Also field curvature is almost perfectly corrected, so the lens can double as a mild (1:4) wide angle macro lens.
Flare resistance
As always evaluating flare is a complex matter since you can get any lens to look bad if you push it hard enough and a slight change of scenario can affect results a lot.
Veiling Flare and artefacts with the sun just outside frame
Here is the absolute worst case I could create, at three apertures. I should  note though that this only happens at a very specific position of the sun outside the frame. Moving it only millimetres away removes the issue, as does shading with a hand!
Interestingly, this effect goes away almost completely using your hand to shade the lens. It also goes away using a slightly longer hood! I tried wrapping black cardboard around  the supplied hood to extend it  and with no vignetting eliminated veiling flare. Supplied hoods are usually (sensibly) a compromise between being compact and effective for 99% of images, and being optimal for shading, but very much larger. I personally would not want a larger hood; I much prefer a useful but compact hood, and use my left hand to shade in the rare cases when needed.
This is a respect in which I found the Sony preferable to the Sigma: quite apart from the overall better flare performance of the Sony, I was not able to successfully hold the Sigma in my right hand and shade with my left, due to the size and weight of the Sigma.
Flare with sun in frame
In any case here is a set of sun-in-the-image photographs wide open, at corner, rule of thirds intersection and centre.
This is  very impressive performance. Contrast stays very high, and the he only image in which I can see any artefact is a tiny green image in the the ROT intersection frame. Since sometimes flare gets worse, or at least more defined, as you stop down I decided to make an aperture series in that location:
In this category the Sony FE 35mm 1.4 GM is doing a better job than the Sigma 35mm 1.2 Art DG DN. With the Sigma you should really be using the hood and even then veiling flare can still be an issue.
Coma
100% crops from extreme corner, focused on corner, A7rII
I see a little more coma with this sample here compared to the Sigma 35mm 1.2 Art, but it is nevertheless a very good performance.
Distortion
Sony A7III | Sony FE 35mm 1.4 GM | f/2.8
There is a bit of wavy pincushion distortion but the profiles are doing a good job at correcting it.
Bokeh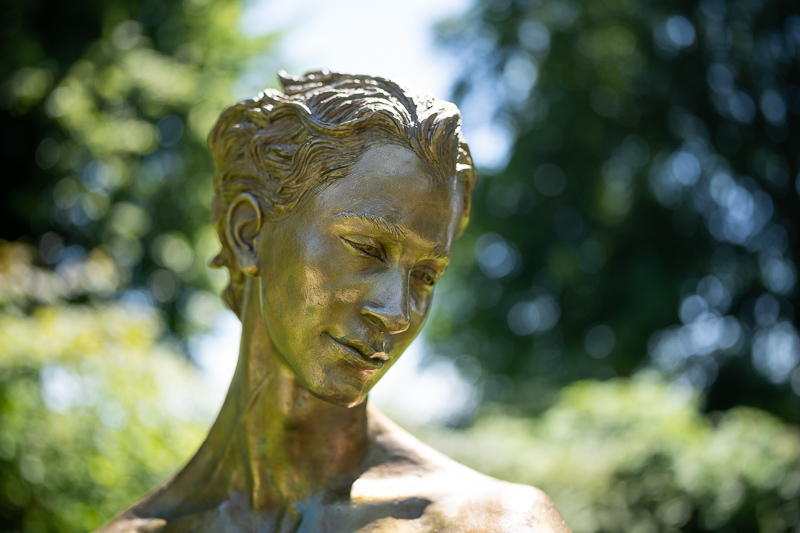 The bokeh rendering is probably a very important aspect for many people interested in buying a fast 35mm lens. Some of the previous GM lenses put a huge emphasis on this and the Sony FE 24mm 1.4 GM as well as the Sony FE 85mm 1.4 GM surpassed all the competition here. In the 35mm realm Sony is facing a serious competitor in form of the Sigma 35mm 1.2 Art though, so let us see if the Sony FE 35mm 1.4 GM manages to follow these footsteps.
Close distance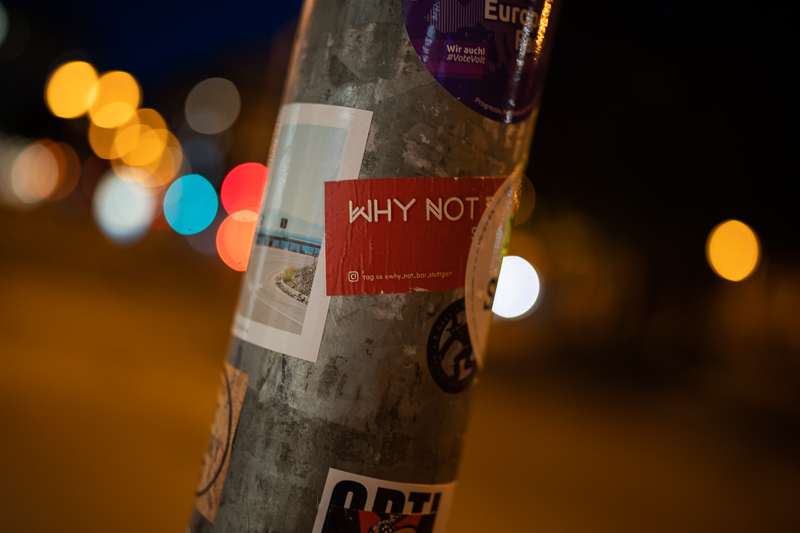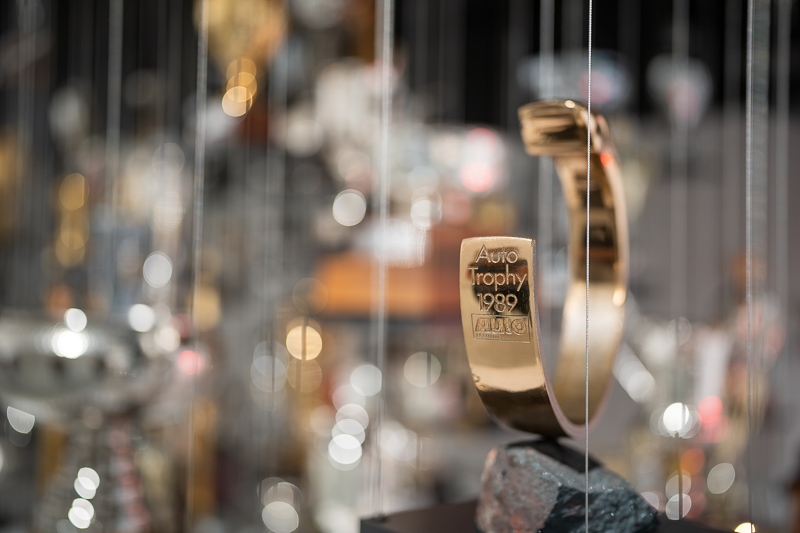 As is ususally the case in close focus scenarios the bokeh is smooth and non-distracting and as we are used from the GM lenses optical vignetting is comparably low here.
Mid distance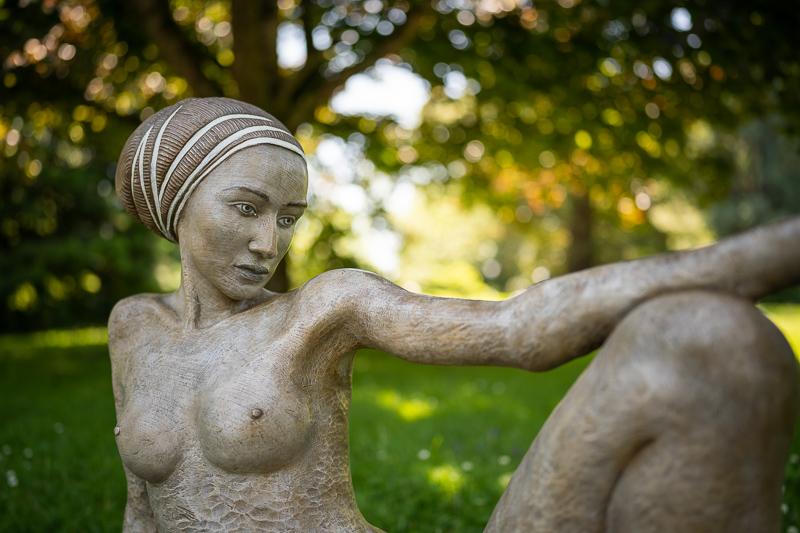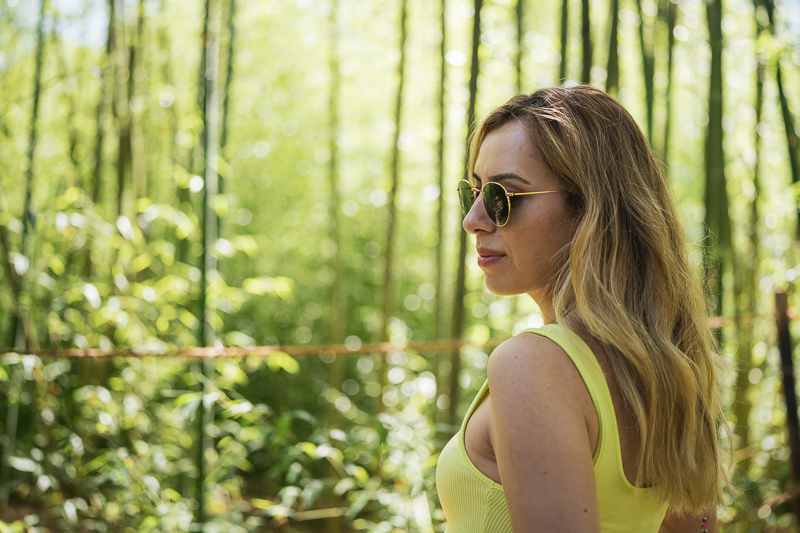 Cat's eye shaped highlights can become visible at these distances, but the remain mostly undistracting. With more complex backgrounds some nervousness appears in the transition zone though.
Long distance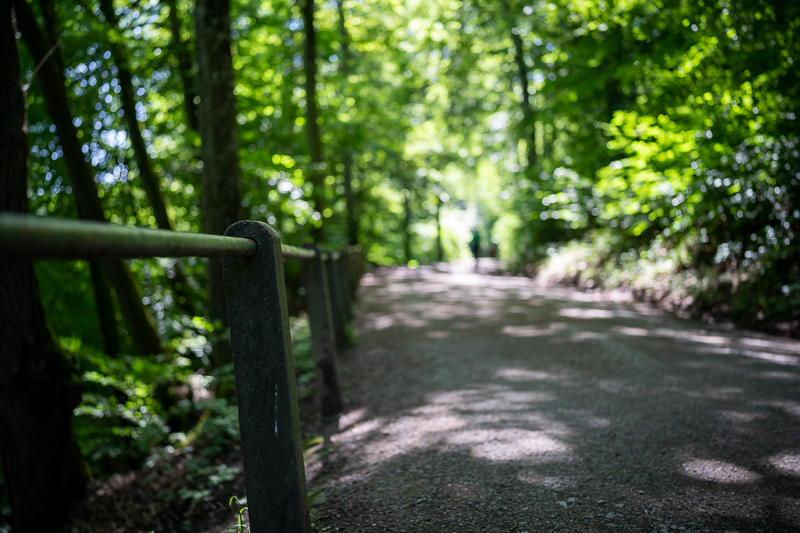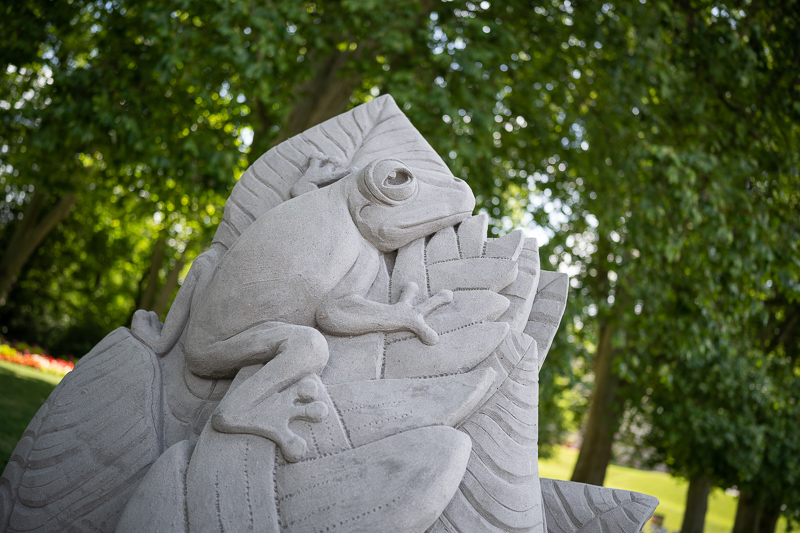 At longer focus distances where the background is only slightly out of focus 35mm lenses usually struggle the most and the Sony FE 35mm 1.4 GM is no exception: towards the borders we see some outlining around point light sources that lead to a more nervous rendering, the only lens I know that can do a little bit better is the Sigma 35mm 1.2 Art DG DN though (see next section).
Compared to Sigma 35mm 1.2 Art DG DN
Scene 1: Forest close
Scene 2: City close

Scene 3: Forest mid

Scene 4: Forest far

Scene 5: City far

Observations
When seeing both lenses side by side what is most obvious, is the Sony lens being a bit wider which of course makes direct comparisons a little harder, but it is how it is. For everything but scene 1 a tripod has been used so the camera position was the same.
Personally, in every scene I prefer the Sigma's bokeh rendering, as the highlights in the background are simply rendered smoother. In scene 4 I also added the Sigma @ f/1.4 but as we already know the Sigma's bokeh doesn't change a lot between f/1.2 and f/1.4 away from the center.
The noticeable differences are in the center and the midframe though, in the corners the lenses look very similar and will be hard to distinguish.
My favorite is the Sigma here. Even though the differences are not huge, the Sigma often gives that little extra.
As always you best judge by looking at the samples and deciding for yourself, what is good for me is not necessarily good for you.
Sunstars
100% crops from center, A7rII
The Sony FE 35mm 1.4 GM features 11 rounded aperture blades which means it will only rarely yield obvious sunstars. Between f/11 and f/16 they do look nice and unobstrusive though. If you want to learn more about this topic have a look at this article.
Chromatic aberration
lateral
Lateral CA are already corrected by the built in lens correction profile in most raw converters, so in the end: you won't see any.
David's Take
Bastian has done all the heavy lifting on this review, but I've had it for a while — I sold my Sigma 1.2/35 and purchased a copy of this GM, so we agreed I'd add a few words of my own take.
I like it very much. You can see from Bastian's review that optically it's as good as we ever need a lens to be, and I concur completely. (in terms of corner sharpness either my Sigma was a little bit worse than his, or my Sony was a little bit better than his, or both. But any of the four copies of these lenses would be outstanding, and well within expected reasonably variation.)
So lets not talk about its optical properties, at least not in isolation. What is amazing about the lens for me is that it is the first 1.4/35 AF lens that doesn't feel like a special purpose tool. It's just small and light enough that it can be our go-to general purpose lens, and give you great results at every aperture and distance. Would I on occasion prefer the crisp sunstars of some manual focus straight balled 35s? Maybe, but the only fast one that makes sense at all is the ZM 1.4/35, and that is not quite as good overall, astonishingly, and it requires adapting and a special PCX filter to perform well on Sony. Would I prefer the Sigma 1.2 Art's speed and bokeh from time to time? Yes, but but only occasionally and only slightly. I sold it to get the GM knowing this, and I have never regretted it for a moment.
The only class of Sony shooter (aside from those on a tight budget) for whom I'd recommend a different lens is someone who almost only shoots landscape, and almost never people. They should buy the CV Apo Lanthar 2/35 and get a slight weight and size reduction, and nicer sunstars at some apertures, and the pleasure (for at least some of us) of using a true helicoid lens. Everyone else who can afford it: just buy this lens.
The lens is available from amazon.com | amazon.de | B&H | ebay.com | ebay.de (affiliate links) and the price is $1399/1659€.
Sample Images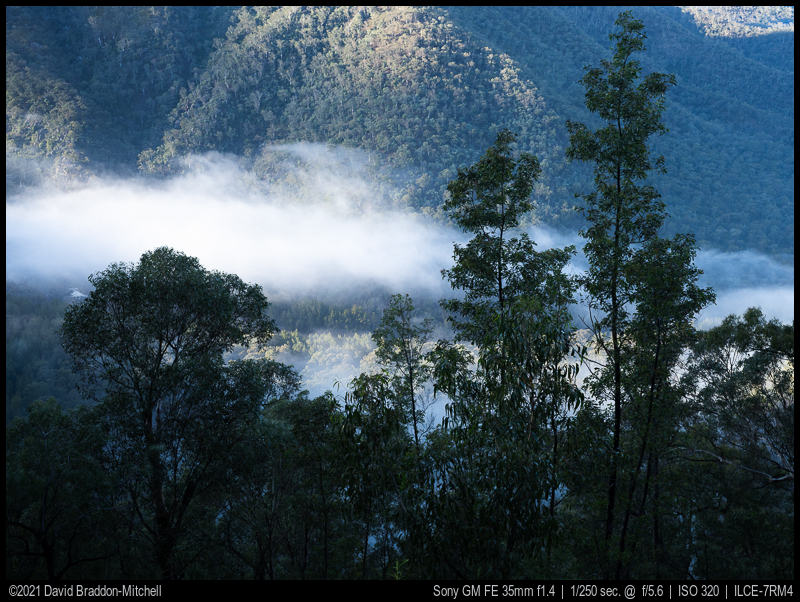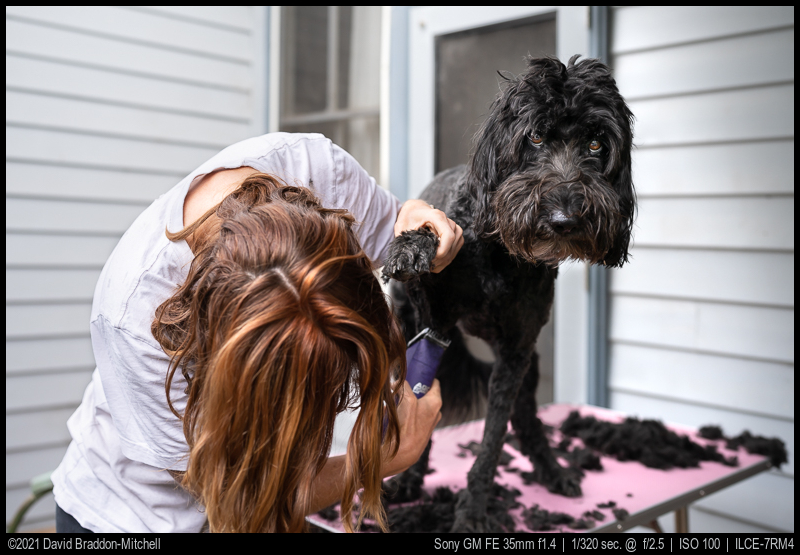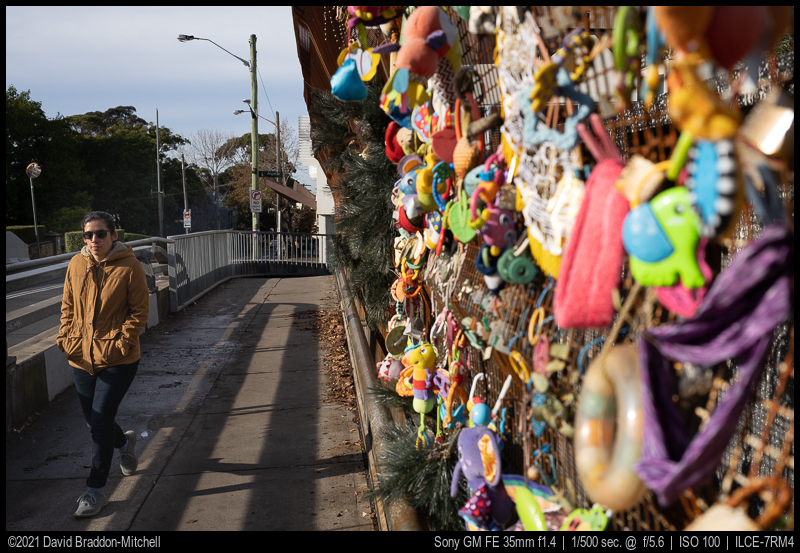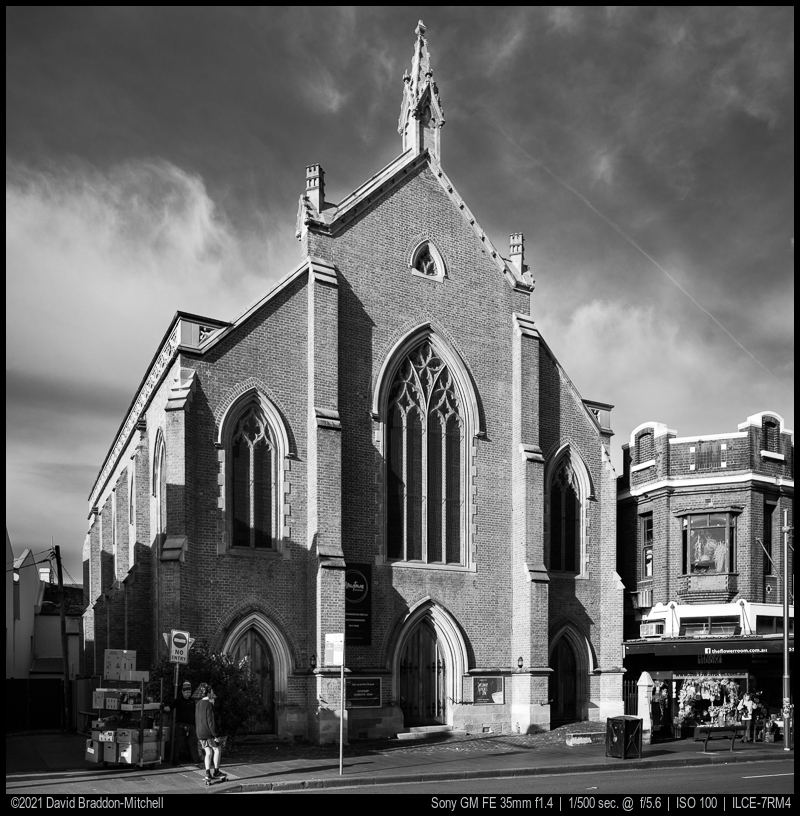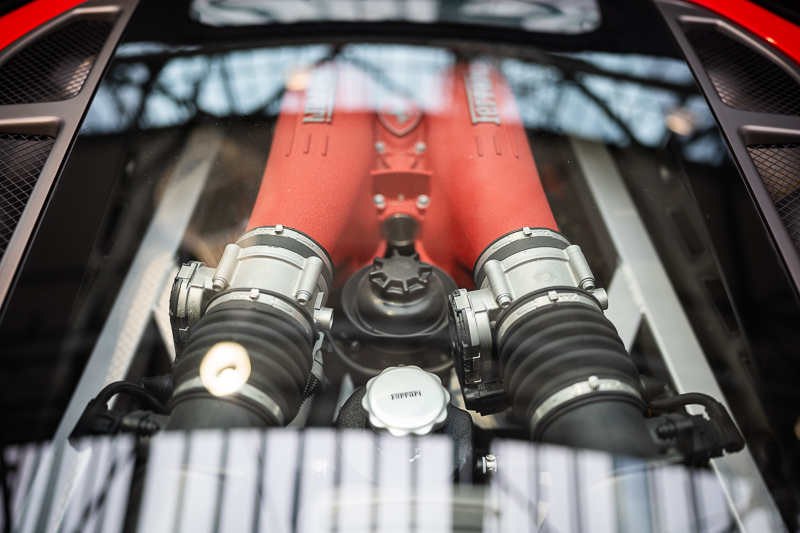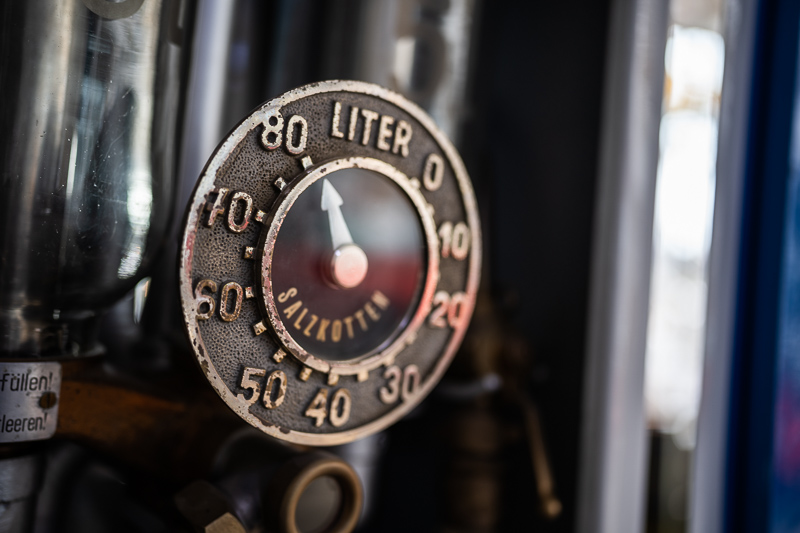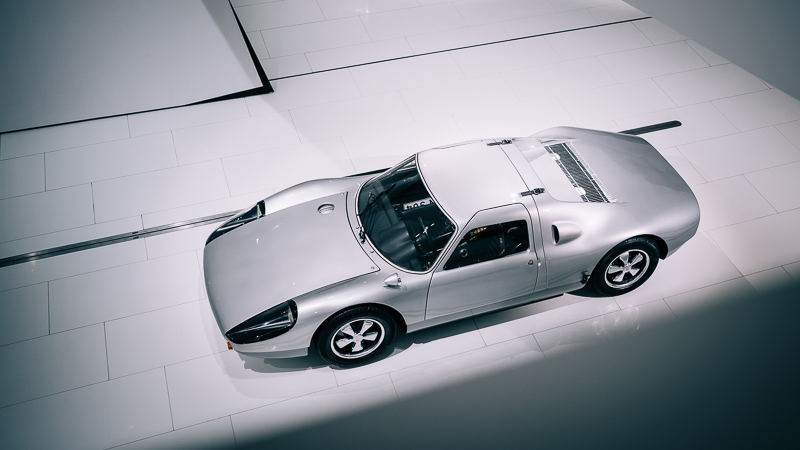 You can find most of the sample images in full resolution here.
Further Reading
Support Us
Did you find this article useful or just liked reading it? Treat us to a coffee!


via Paypal