Introduction
The Voigtlander Nokton 35mm 1.2 SE is a pretty compact yet super-fast 35mm lens. Let's check out which tradeoffs had to be made to make it so compact.
Sample Images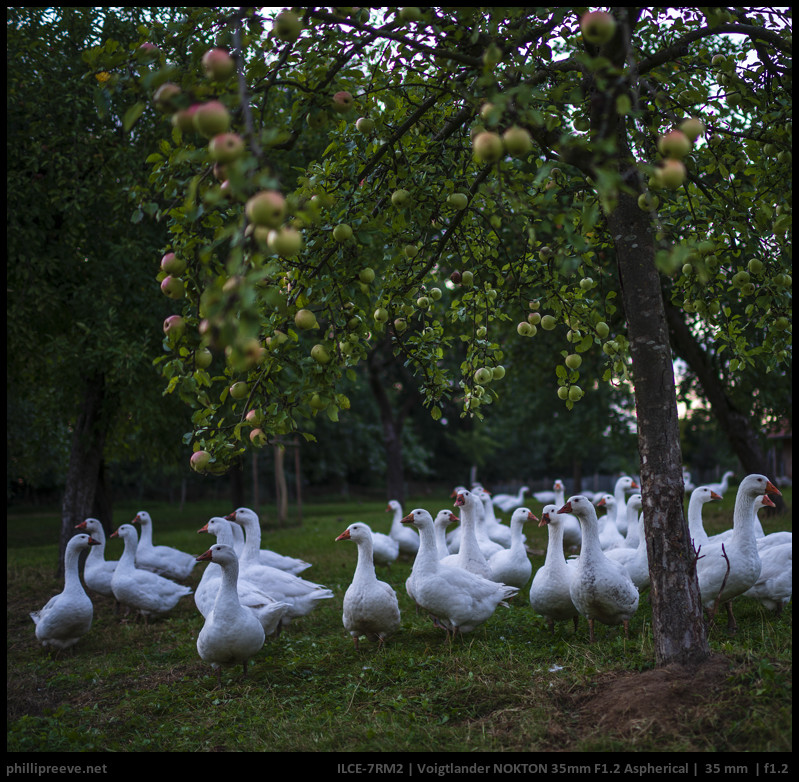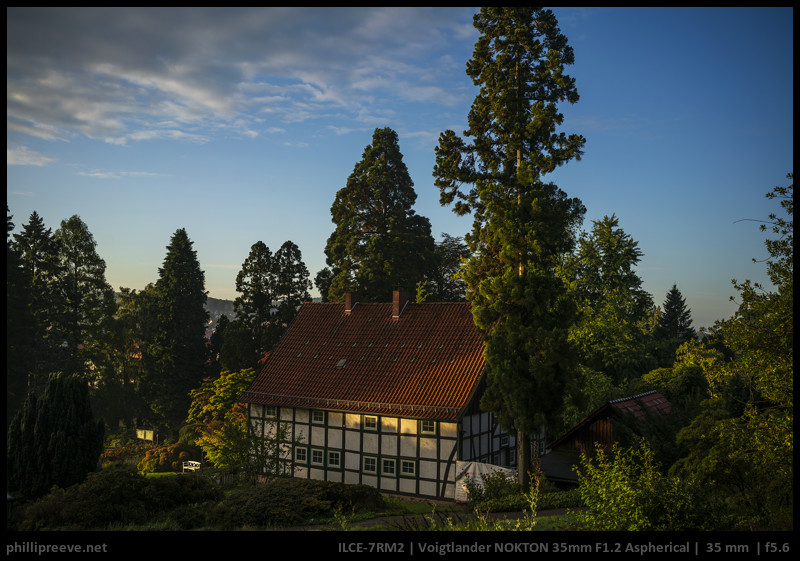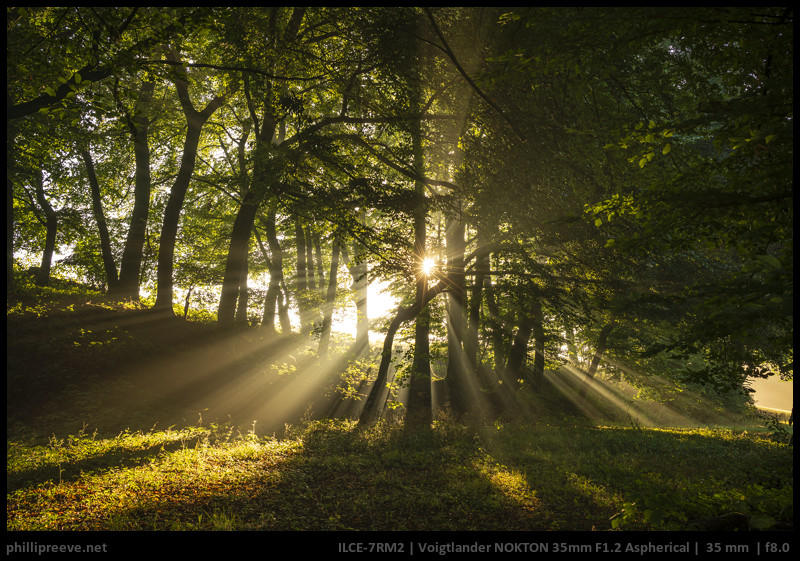 Most of the sample images in this review can be found in full resolution here.
Specifications
| | |
| --- | --- |
| Diameter | 66 mm |
| Length | 59 mm |
| Filter Thread | 58 mm |
| Weight | 387 g |
| Max. Magnification | 1:5.8 |
| Working distance |  cm |
| Number of aperture blades | 12 |
| Elements/ Groups | 9/7 |
$999 at CameraQuest, Amazon.com, B&H, ebay.com (affiliate links). If you purchase the lens through one of these affiliate-links we get a small compensation with no additional cost to you.  
Version History
While the Voigtlander 35mm F1.2 SE is Cosina's first E-Mount 1.2/35 there are three different M-mount 35mm lenses.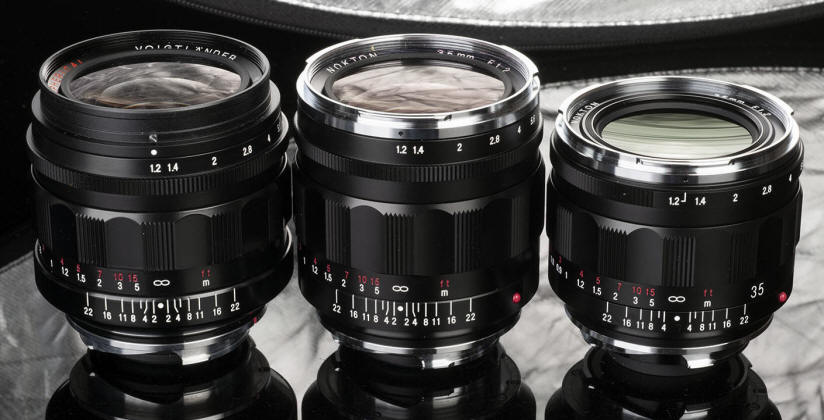 Voigtlander VM 35mm 1.2 Nokton
490g, 10/7 design, MFD 0.7 m
Voigtlander VM 35mm 1.2 II Nokton
471g, 10/7 design, MFD 0.5 m
Voigtlander VM 35mm 1.2 III Nokton
332g, 9/7 design, MFD 0.5 m
The III version shares the optics of the Voigtlander 35mm F1.2 SE but the E-mount version is electronically coupled and focuses up to 0.3m.
Disclosure
The Voigtlander SE 1.2/35 Nokton was kindly provided free of charge by Robert White/Flaghead for reviewing purpose for a duration of a few weeks.
Handling and Size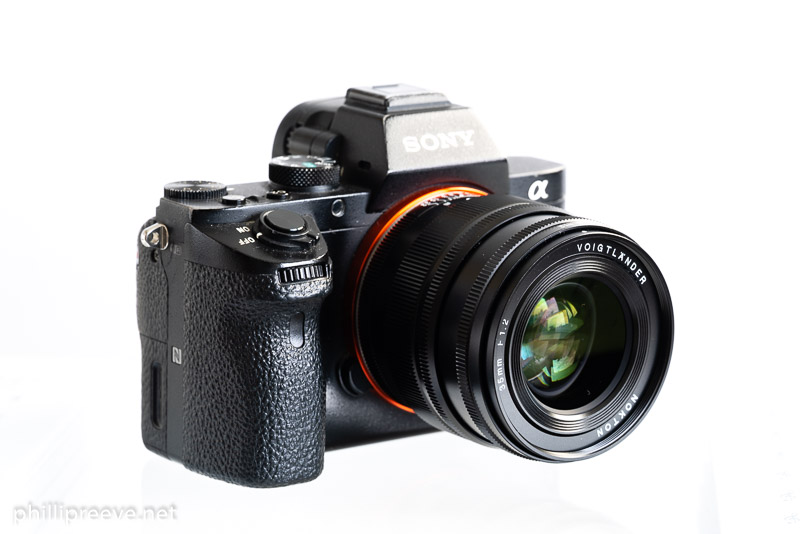 So far none of the Voigtlander lenses disappointed in this category and this holds true for this new SE 35mm 1.2 as well. The focus ring has perfect resistance and travels ~160° from the minimum focus distance (0.3 m) to infinity. The focus ring still feels nice but not quite as nice as that of the non-SE Voigtlanders like the 1.2/40.
The aperture ring has 1/3 stop click stops as any other electronically coupled E-mount lens. It travels about 120° from f/1.2 to f/22. 
Most parts seem to be made from metal and all markings are engraved and filled with paint.
The hood is rather small and does a decent job of protecting the front element from damage but less so from sunlight hitting the front element.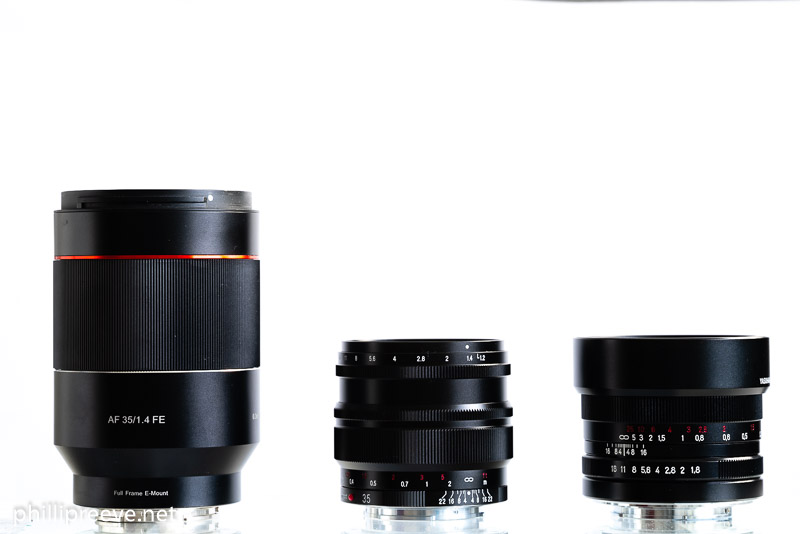 Considering the specifications we are dealing with a very small lens here, this becomes very obvious when we compare the Voigtlander SE 35mm 1.2 to the half a stop slower Samyang 1.4/35 FE and the difference would be even starker with the only other 1.2/35 in the system, the Sigma 35mm 1.2 Art.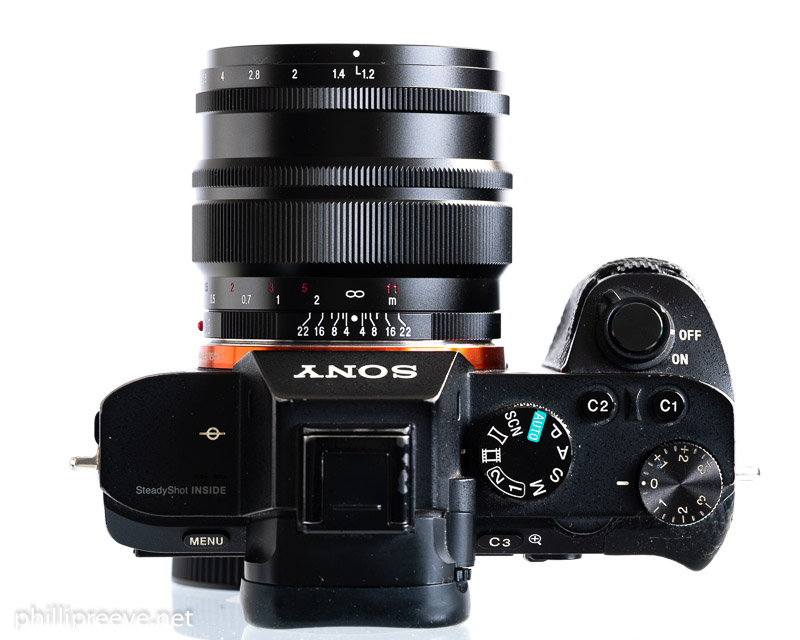 Optical Performance
Vignetting
| | | |
| --- | --- | --- |
|   | corrected | uncorrected |
| f/1.2 | 2.4 EV | 3.3 EV |
| f/2 | 1.2 EV | 2.2 EV |
| f/2.8 | 1.2 EV | 1.7 EV |
| f/8 | 1 EV | 1.6 EV |
By default there is a forced vignetting correction so I give you both figures. The uncorrected values are remarkably high indeed at over 3 stops wide open and vignetting is still quite noticeable at over 2 stops at f/2 and vignetting stays above 1.5 stops even stopped down to f/8.0. The corrected values are about a stop lower but can still be very noticeable.
Flare resistance
Always a tricky subject to test since slight changes in the setup can affect results a lot so this test is a lot harder to standardize than others.
In backlit situations I encountered significant veiling flare and the occasional ghost. I did not compare the Voigtlander directly to other lenses but my feeling was that the fast speed makes it a bit more flare prone than excellent performers like the Voigtlander 2/50 APO. Overall though I would still rate it is a good performer.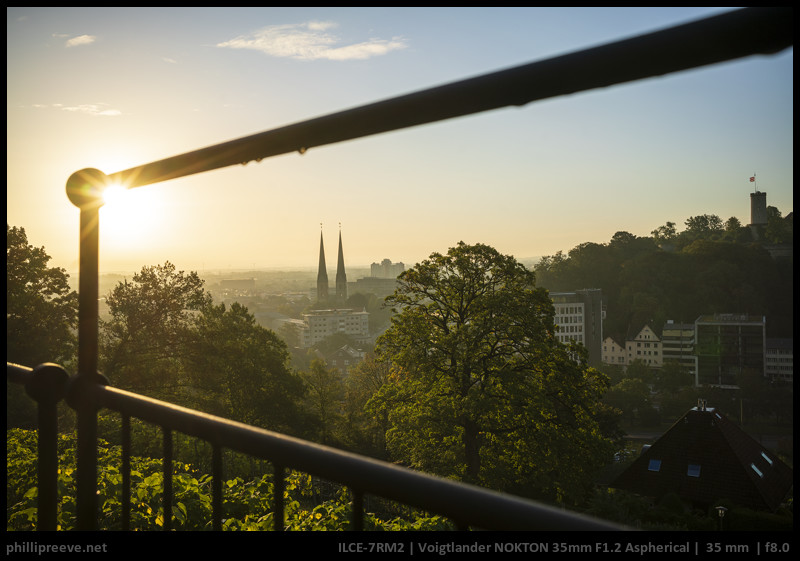 Coma
I did not test for coma. Head over to Bastian's review of the VM 1.2/35 to see his results which won't be any better for the SE version.
Distortion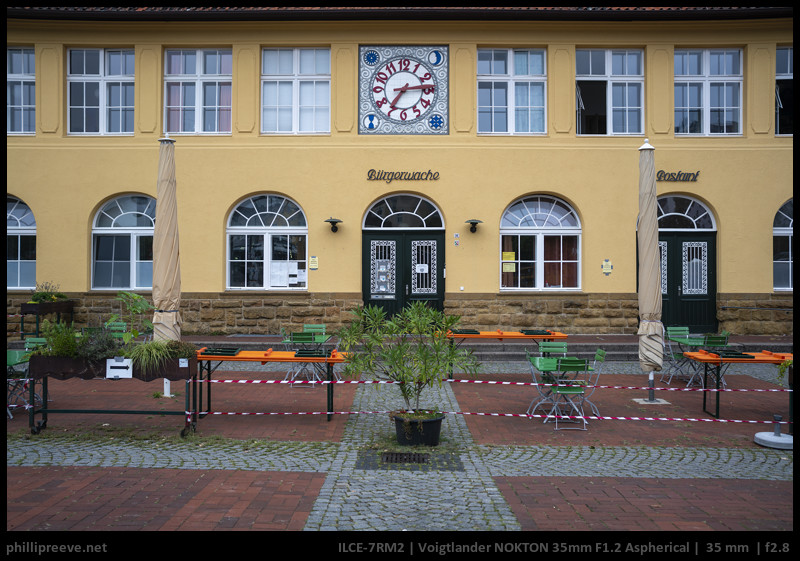 The Voigtlander 35mm F1.2 SE shows a moderate degree of moustache distortion. When you shoot jpg it is automatically corrected in camera but if you shoot raw there is no good way to correct it yet. In Lightroom profiles for older E-mount lenses are available but at the time I publish this review the SE 1.2/35 isn't supported yet.
Bokeh
Close distance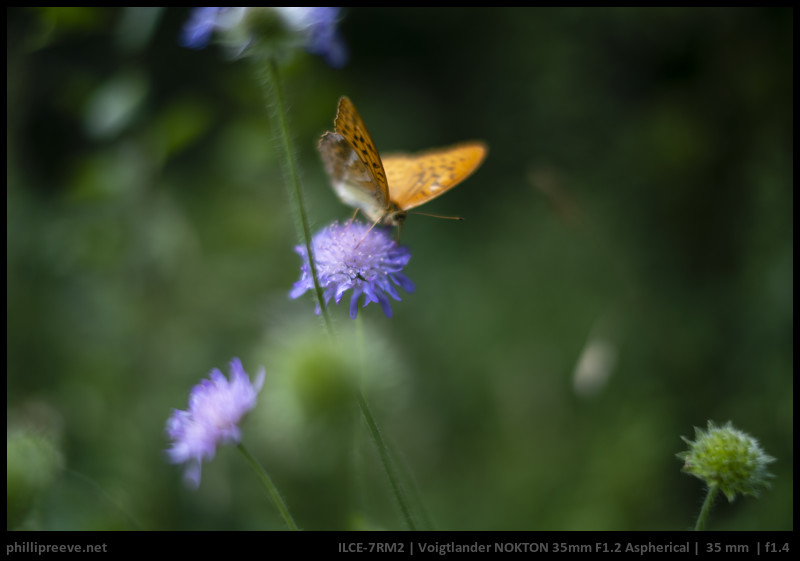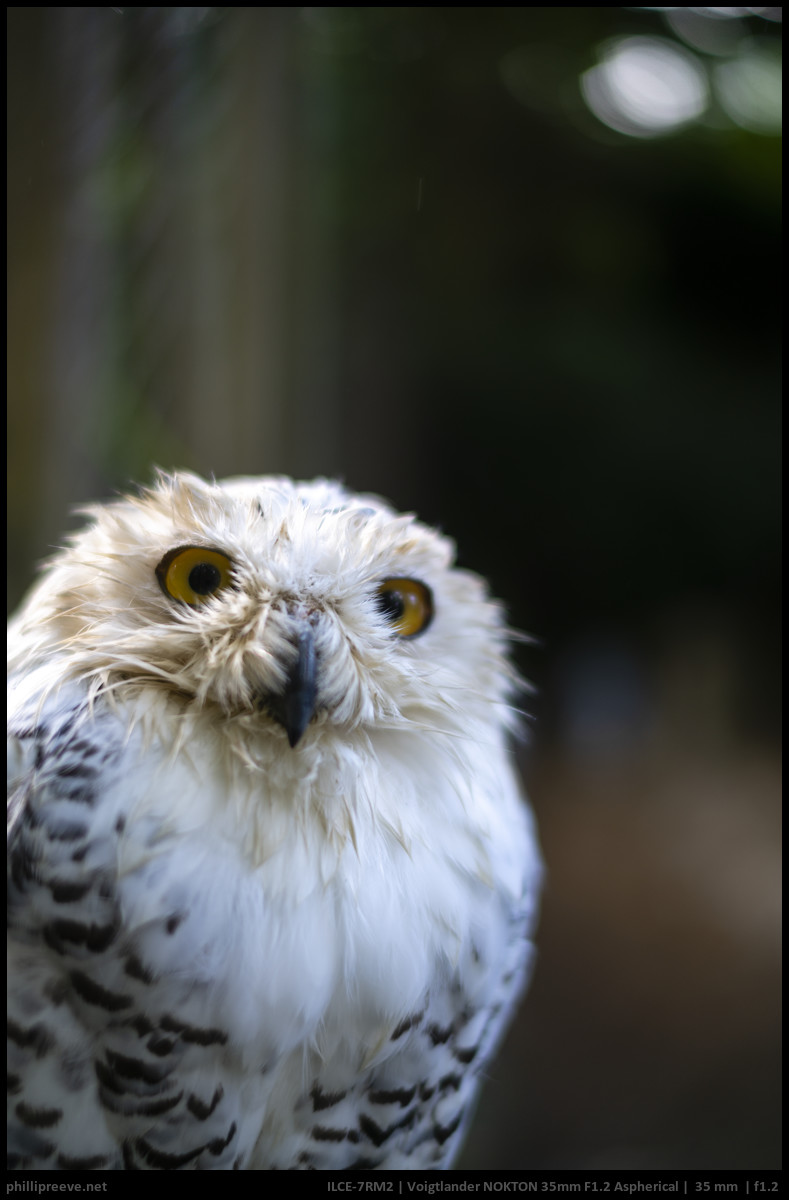 At closer distances very smooth, no complaints. As mentioned in the sharpness section you can choose a very dreamy look with lots of SA by keeping the aperture open or stop down to at least f/2 for a better corrected but still smooth image.
Mid distance
At typical portrait distance the Voigtlander 35mm F1.2 SE really shines with very smooth bokeh.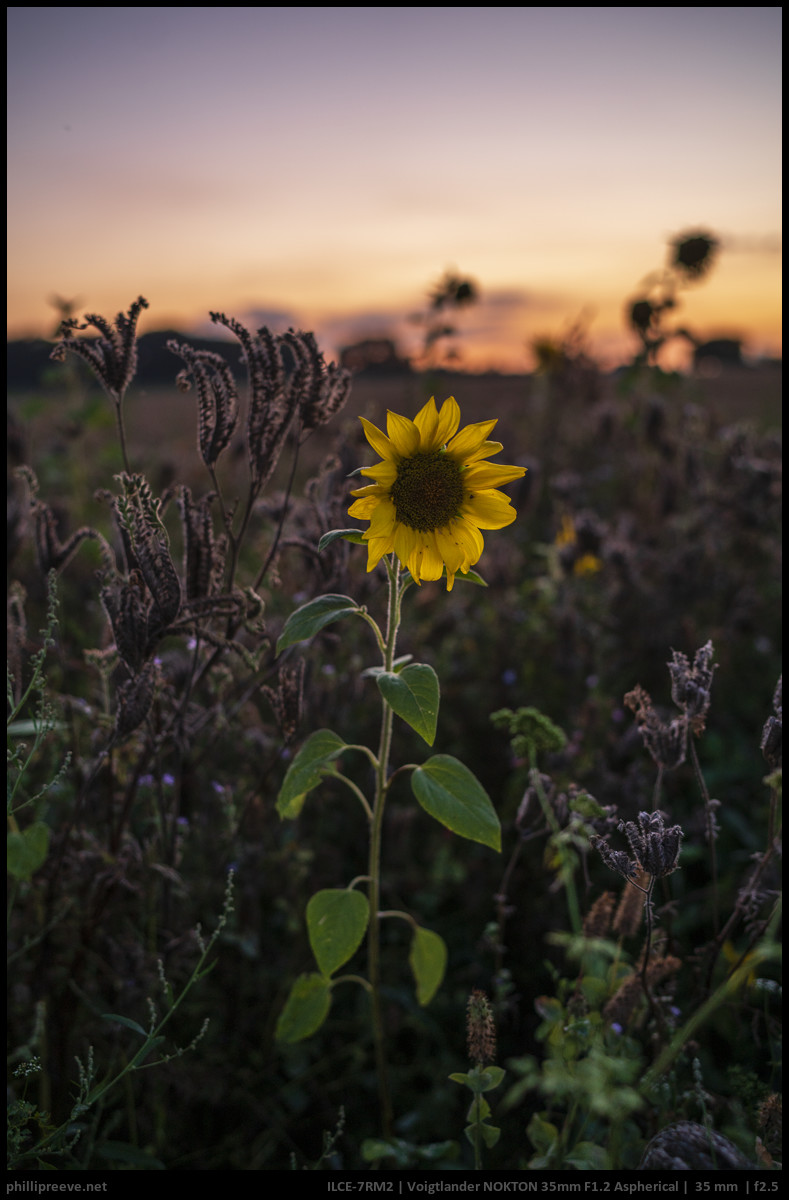 Long distance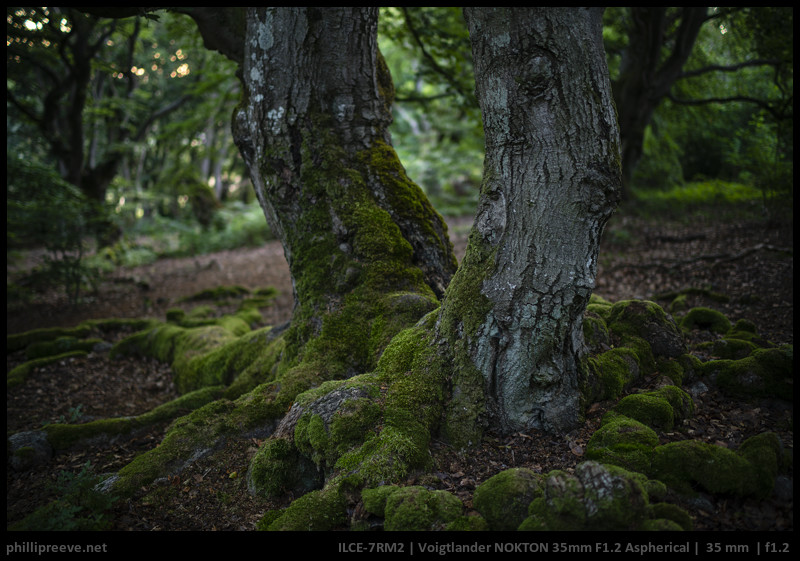 Still nice bokeh across most of the frame but the corners are nervous with stronger CA. With one exception all the other E-mount lenses suffer from the same issue so this isn't much of a surprise but we had hoped that the SE would come closer to the smoothness the Sigma 1.2/35 delivers even in this most challenging of all bokeh scenarios.
Sunstars
The sunstars are well defined 12 stroked between f/2.0 to f/22. If you want to know more about sunstar rendering of different lenses have a look at this article.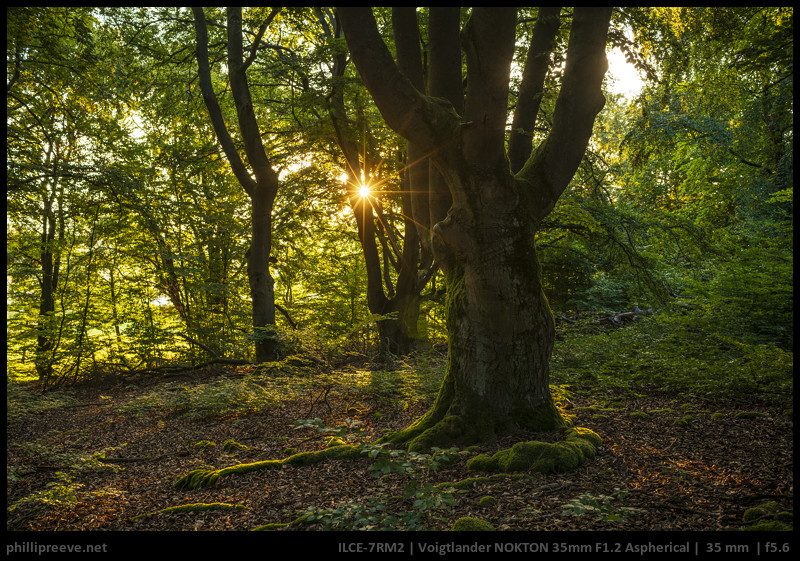 Chromatic aberration
Head over the Bastian's review of the Voigtländer 35mm F1.2 VM III which has more or less the same CA-characteristic which is moderate lateral CA and weaker correction of LoCA and especially purple fringing.
Focus shift
At least at the very short distance which I tested there is no focus shift.
Sharpness
infinity 

In the center the resolution at infinity is okay at f/1.2, but we can see quite a bit of glow (spherical aberration) and also purple fringing. Midframe and corners are rather soft here.
The center starts to show good resolution figures at f/2.0, but the midframe area needs f/5.6 to look good and gains at f/8.0. The extreme corners never get into very sharp territory. It is only the extreme corner though which stays soft.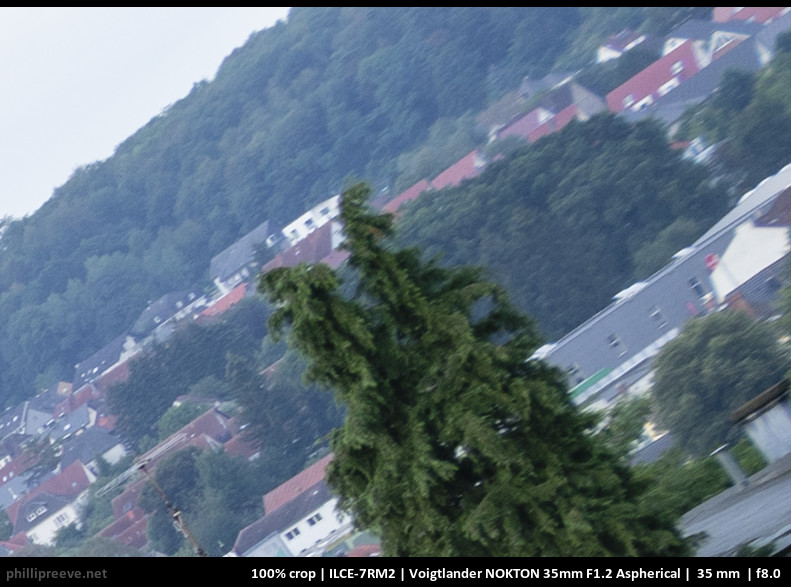 Portrait Distance
For portraiture it isn't so important how flat the field is, it is more interesting to see what the sharpness is like when focused at different parts of the frame to take field curvature out of the equation.
This is what I did here, I refocused for every shot to get the best possible result at different locations in the frame (center, inner midframe and outer midframe).
Wide open off-center sharpness is only acceptable but no more but by f/2 you can expect good sharpness and by f/2.8 I would call the results very good.
close focus (0.30 m | 1:5.8)

Close focus performance is an area where the smaller fast lenses like the Voigtlander 40mm 1.2 E or 50mm 1.2 E struggle, as they don't feature a floating elements design which would keep the lens well corrected at any distance and the Voigtlander 35mm 1.2 SE behaves similar.
Performance wide open at the minimum focus distance is very dreamy and one is reminded of older days when a high amount of spherical aberration was to be expected from very fast lenses. At times I like this look but if you want ok sharpness and contrast you should stop down to f/2 or even better f/2.8.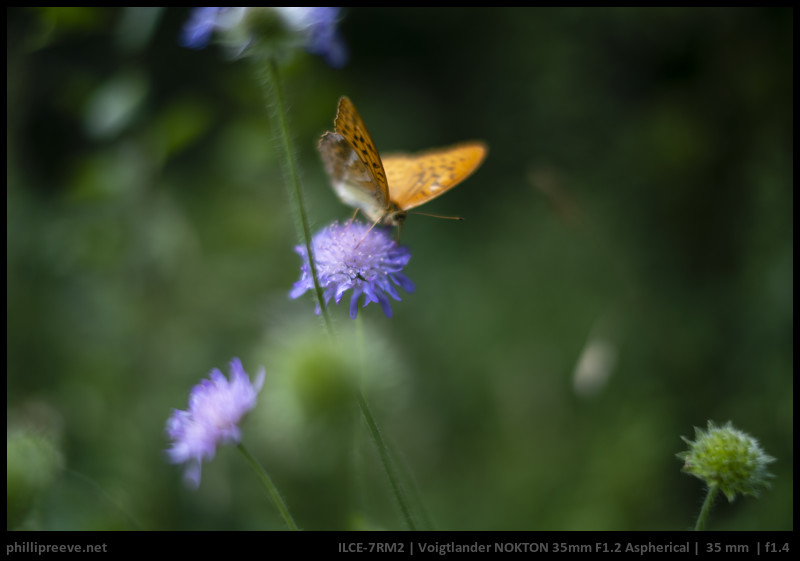 Alternatives

Just lately we put together a rather
comprehensive guide on 35mm lenses
for Sony FE cameras which should give you a good overview. I will talk about a few obvious alternatives in more detail here though:
This was the first lens of the new f/1.2 series from Voigtlander and it shares most of tradeoffs with the 1.2/35 SE. The 1.2/35 only controls onion rings better and has a 12 bladed aperture. I think the haptics of the 40mm are a bit nicer but for that it is also a little heavier and more expensive if you buy new. Used it can be significantly cheaper. Personally I don't feel a need to upgrade from the 40mm to the 35mm for now, also because 40mm fit better into my current
kit
.
Sigma 35mm 1.2 Art: The Sigma shows much higher sharpness and contrast at f/1.2 than the Voigtlander 35mm 1.2 at pretty much every aperture value over most parts of the frame. It is a really big and 3 times as heavy AF lens though, and pricier. I am sure you already know whether you want to carry this lens or not and whether you need AF or not, which will make your decision easy.
Voigtlander 1.4/35: A close relative of a 40-years-old Leica lens with corresponding performance. Very busy bokeh and low contrast wide open. More of a special character lens.
Sony FE 1.8/35: 100g lighter but a little longer the 1 stop slower Sony is a bit sharper with less smooth bokeh and a not as nice sunstar. It is of course a quick focusing AF lens while the Voigtlander is much nicer to focus manually. 
Sony/Sigma/Samyang 1.4/35 FE AF: All three AF f/1.4 competitors are sharper but also a lot bigger with less nice sunstars and a little more nervous bokeh. 
Conclusion
strengths
size/performance ratio

very smooth bokeh most of the time

sharp enough from wide open

excellent handling 

build quality

flare resistance

sunstars
average
sharpness, while sufficient for most uses, not that high at wider apertures 
field curvature
price
weaknesses
vignetting

visible CA at faster apertures

moderate degree of mustache distortion 

softer corners, even stopped down

sharpness wide open at close distances

strong coma makes it more or less unusable for astro photography
One could consider the Voigtlander 35mm F1.2 SE to be a pretty lousy performer for a $1000 lens if one just looks at the correction of aberrations. Sharpness wide open is only good in the center and not at closer distances, there is significant field curvature limiting sharpness for landscapes. CA can also be an issue and you don't want to use it for astro photography. Moustache distortion and strong vignetting could also be mentioned.
And yet I would consider the Voigtländer 35mm F1.2 SE to be one of the most attractive 35mm E-mount lenses available at the moment (if one is at least ok with focusing manually). It is even smaller than the 1 stop slower Sony FE 1.8/35 and a lot smaller than the available f/1.4 lenses, which makes it easy to always carry it. Cosina, the company behind the Voigtländer brand, has really perfected the handling of lenses and even though I see the SE design a slight step back the SE 1.2/35 is a joy to handle. The optical compromises are such, that they rarely have a negative effect unless you print super large images all the time. Usually one only notices the smooth bokeh and generally high contrast images. But then there are of course exceptions where other lenses offer more performance and some of you will make use of that.
Recommendation
If you have read this far, then I would assume that manual focus is not an issue to you but a feature. In that case I can only recommend to seriously consider the Voigtlander 35mm F1.2 SE. It is the nicest handling 35mm lens in the system, and it is a very versatile lens which will cover a wide range of applications with usually excellent results.
If ultimate performance or AF are at the top of your priority list on the other hand, then the Voigtländer is probably not for you and I would give either the Sony FE 1.8/35 (compact, fast AF, not as nice rendering) or the Sigma 1.2/35 (a behemoth of a lens but optically in a class of it's own) a closer look.
$999 at CameraQuest, Amazon.com, B&H, ebay.com (affiliate links). If you purchase the lens through one of these affiliate-links we get a small compensation with no additional cost to you.  
Sample Images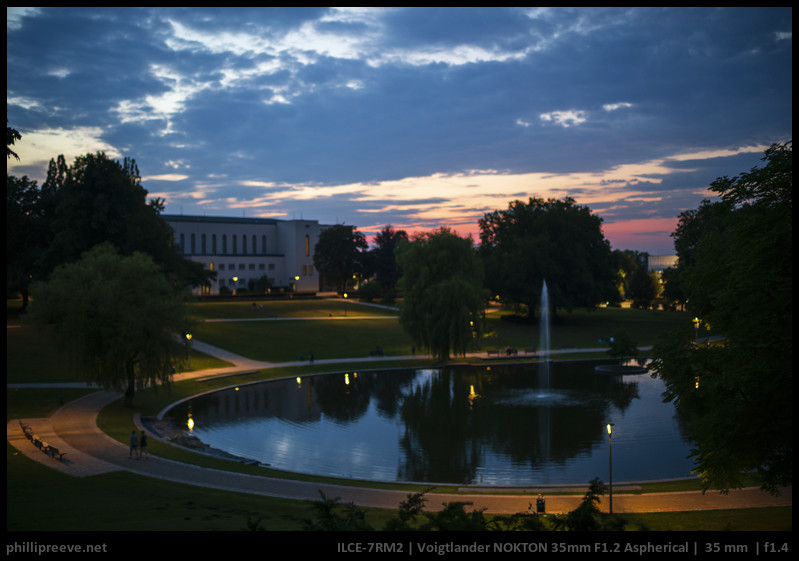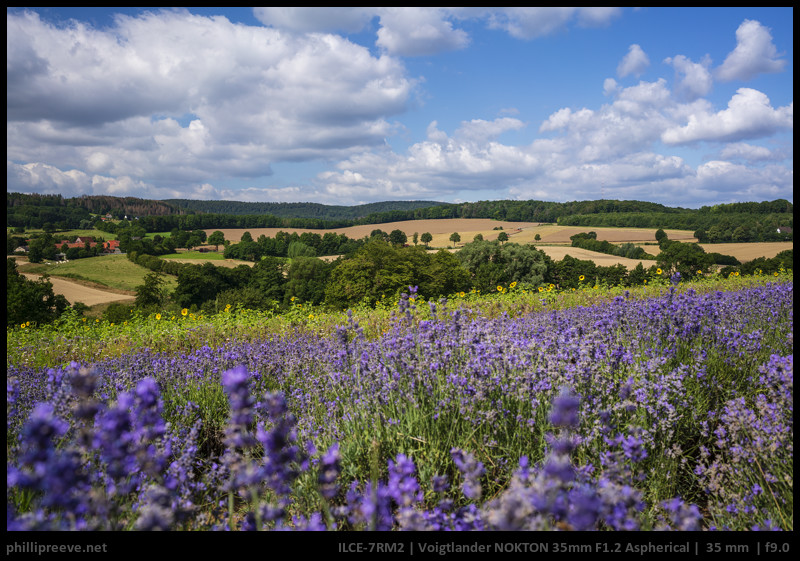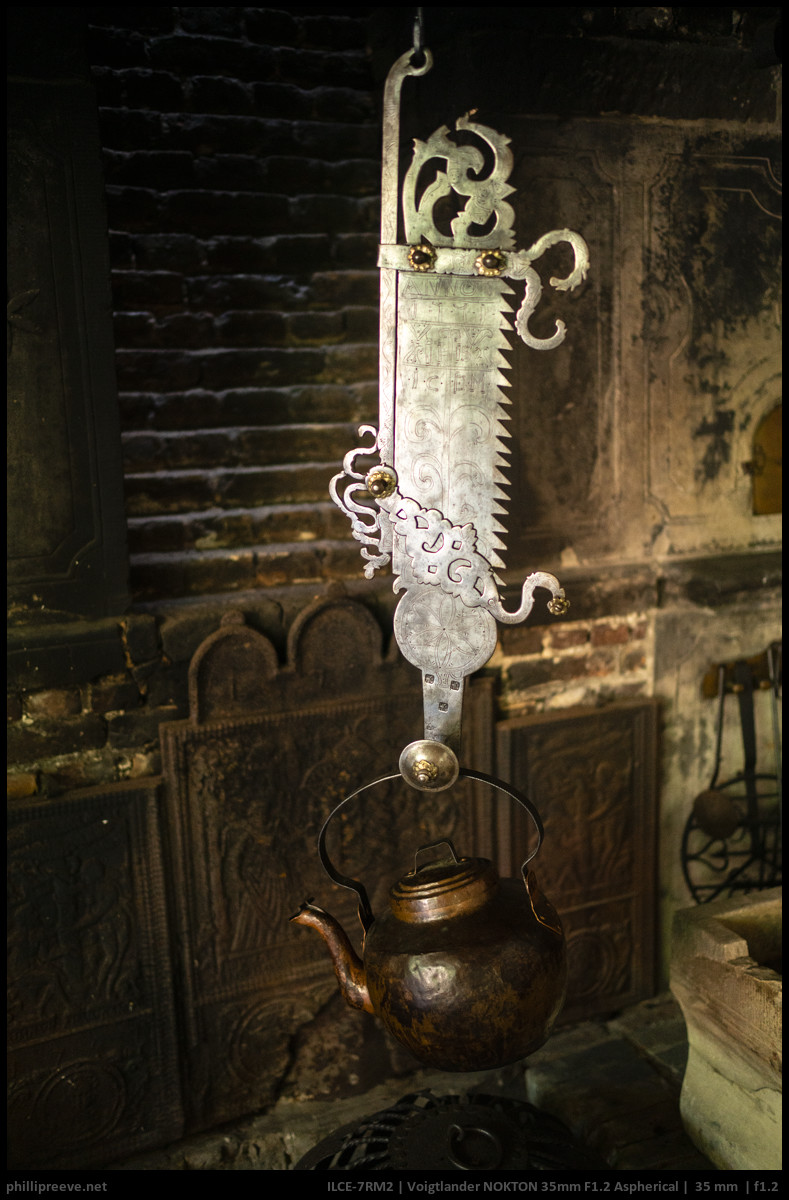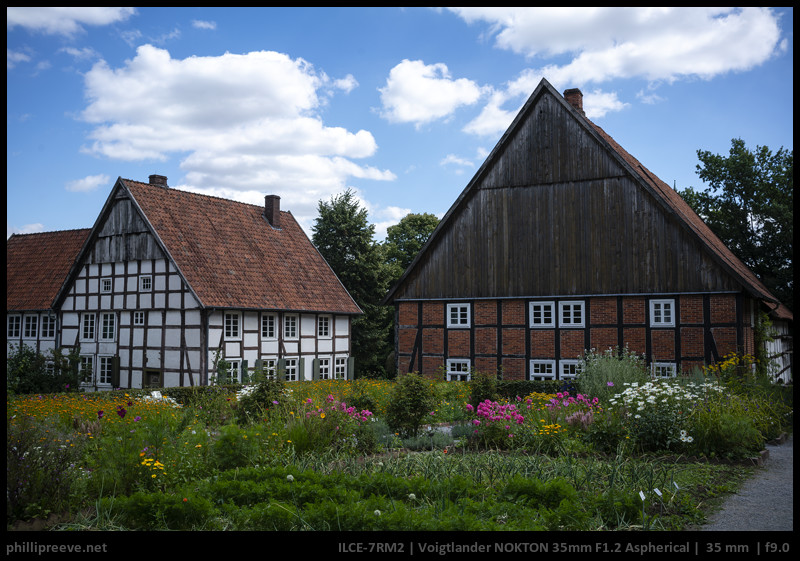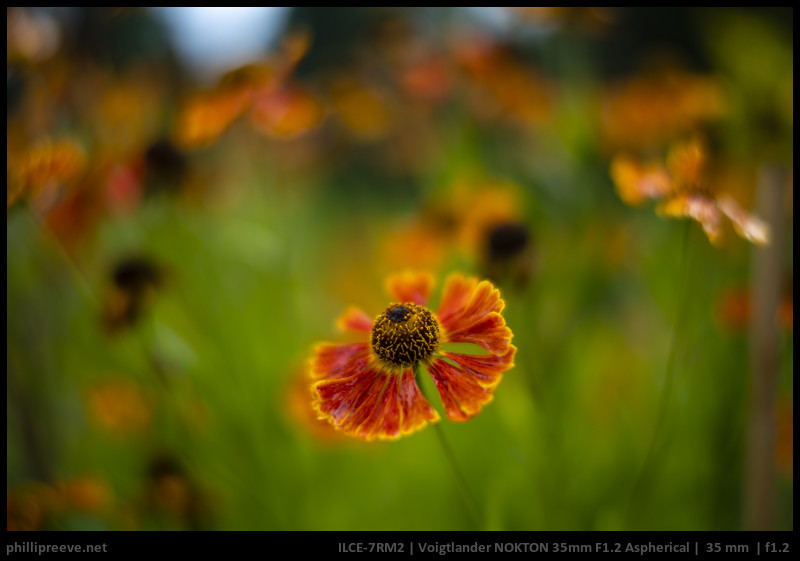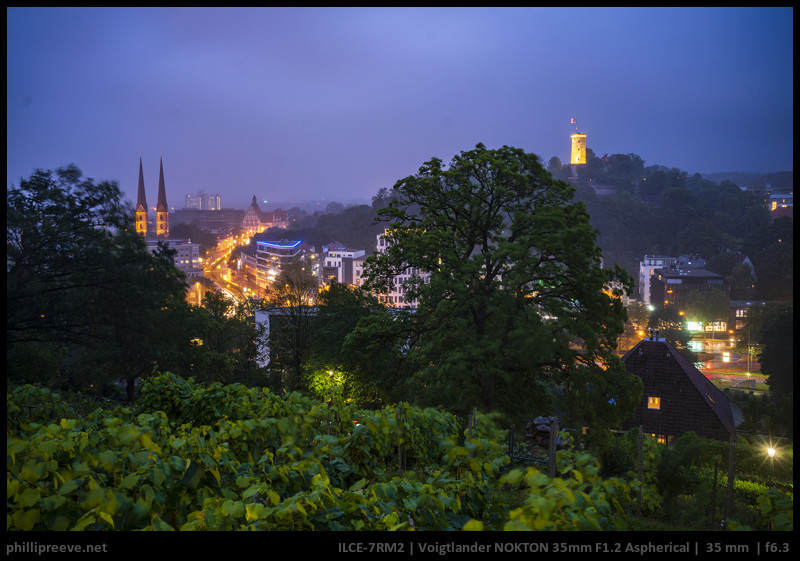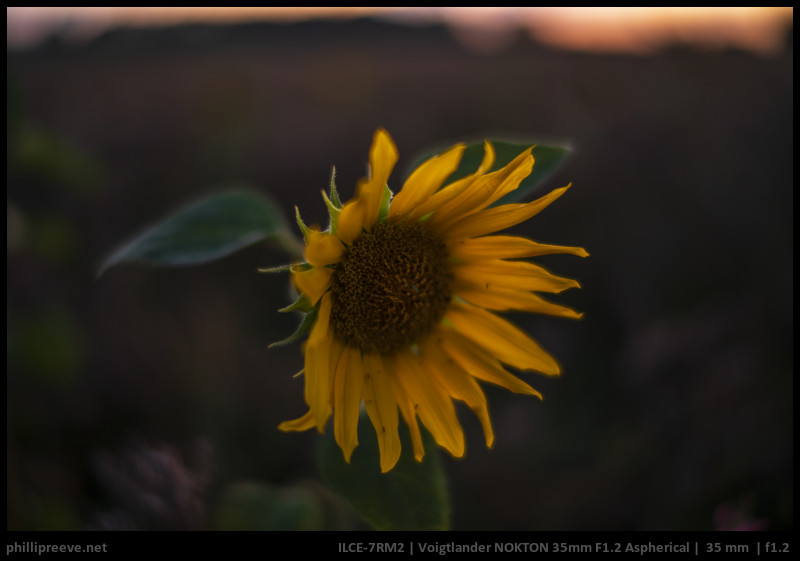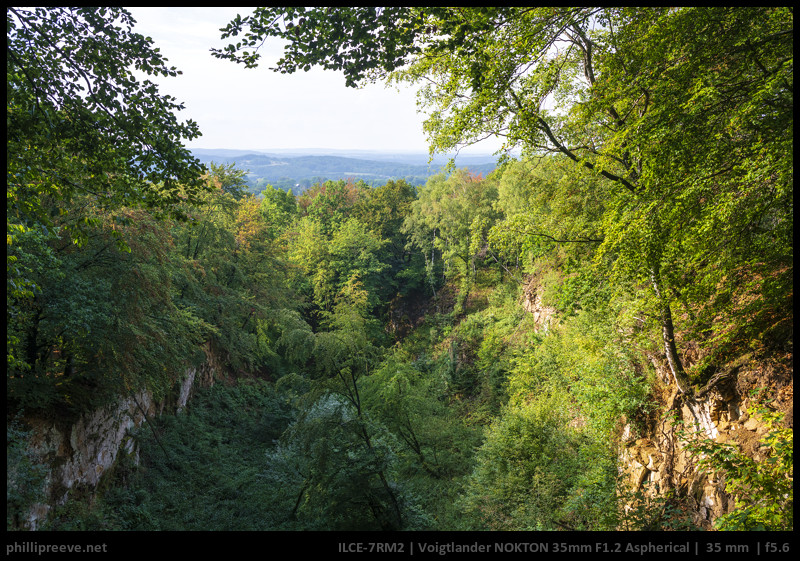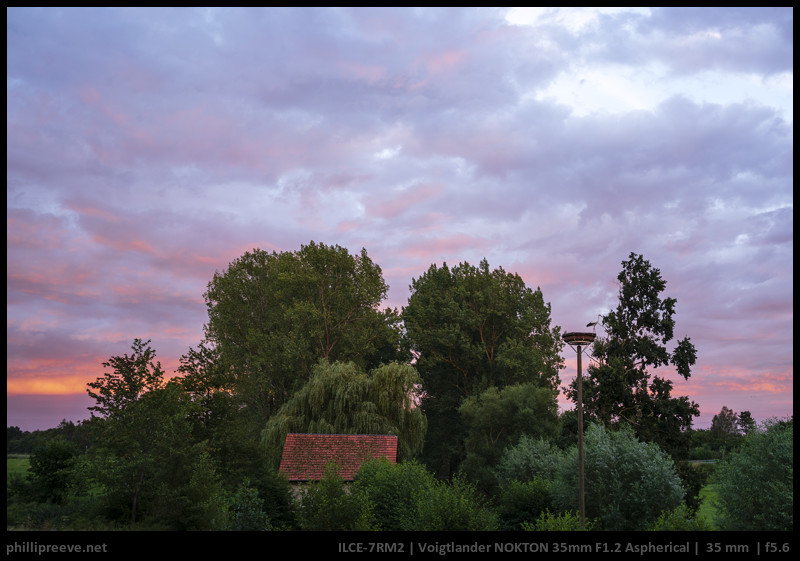 Most of the sample images in this review can be found in full resolution here.
Further Reading
The following two tabs change content below.
I have two hobbies: Photography and photographic gear. Both are related only to a small degree.
Latest posts by Phillip Reeve (see all)