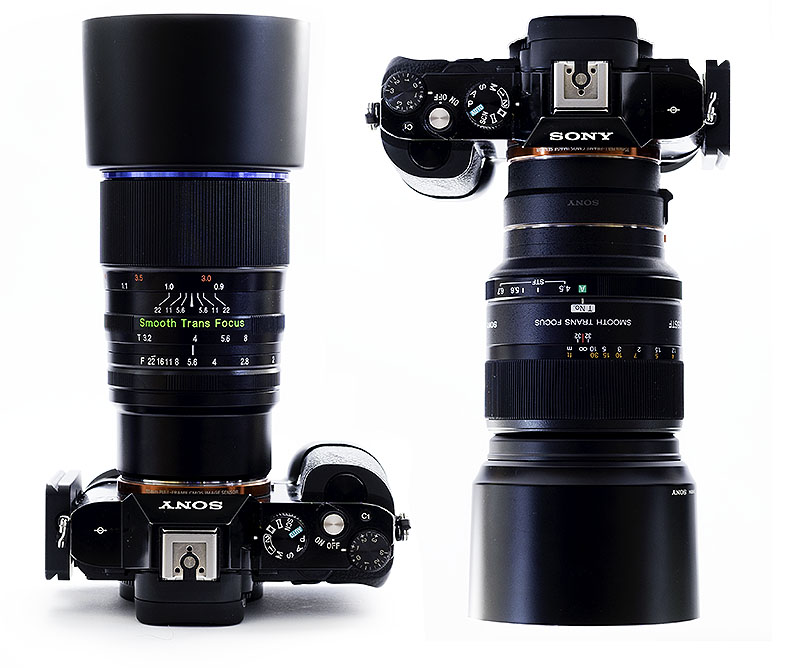 There is only a hand full of lenses which incorporate an apodization element which improves bokeh at the cost of light transmission. Today I will compare two of them. The Sony STF 2.8/135 was released 1999 by Minolta and is known for it's uniquely smooth bokeh. The Laowa STF 2/105 is a new lens released this year by Chinese newcomer Venus Optics. In this post I will see where their strengths and weaknesses lie.
Disclosure
The Laowa STF 2/105 was loaned to my by the manufacturer Venus Optics free of charge for about three weeks.
The Sony STF 2.8/135 is borrowed from co-author Yannik, thanks for that!
Specifications
| | | |
| --- | --- | --- |
| | Sony STF 2.8/135 | Laowa STF  2/105 |
| Weight | 730 g + Adapter |  745g (probably the weight of the EF version, my scale is broken) |
| Dimensions (LxD) | 99 mm x80mm | 98 mm x 76 mm |
| Number of aperture blades | 9 | 13 |
| Close focusing distance (maximal reproduction ratio) | 87 cm (0.25) | 90 cm (0.15) |
| Elements/Groups | 8/6 | 11/8 |
| Price | $1398 new | ~$900 used | $699 new |
The Method
Unless mentioned images are raw files from the Sony a7 converted in LR with the default settings.
Unless mentioned I used a tripod and a 2 seconds timer.
To view the images in full resolution check out this flickr set.
I have tried to keep the reproduction ratio for the subject the same but I wasn't too careful with the framing.
The Images
Bokeh
While both lenses show pleasing bokeh there isn't much of a similarity between the two.
The Sony STF 2.8/135 displays it's very unique bokeh, out of focus highlights blend into the background super smoothly, as if you had applied a gaussian blur filter in photoshop. It should also be remarked that the Sony STF has  almost zero vignetting and therefore we don't see any cat-eye-effect.
The Laowa 2/105 has  much more conventional bokeh. There is notoutlining effect and compared to most other lenses I would say that it has really good bokeh but the transition from highlights to normal background simply isn't nearly as smooth as with the Sony. It also shows significant vignetting which causes the cat- eye-effect.
Axial CA
The Laowa turns in an truly exceptional performance here, only very few lenses could compete with it and those are a lot more expensive.
The Sony isn't bad by the standard of most other lenses but it can't hold a candle to the Laowa's performance.
Contrast
The Laowa has a real issue with veiling flare. Even in this scenario where there is no direct light source in the image this causes some contrast loss and the blacks turn a little brownish. I haven't had any issues in this regard with the Sony so far but I haven't tested this aspect in depth.
Apart from the much warmer rendering of the Laowa this image lets us compare the bokeh in transition zone:
While the Laowa shows somewhat nervous bokeh in the transition zone the Sony performs absolutely superb here.
I didn't change the tripod position for this image but none of the less it shows that the foreground bokeh is in both cases a little weaker than the background bokeh. It also shows again that the Laowa has some vignetting while the Sony has none.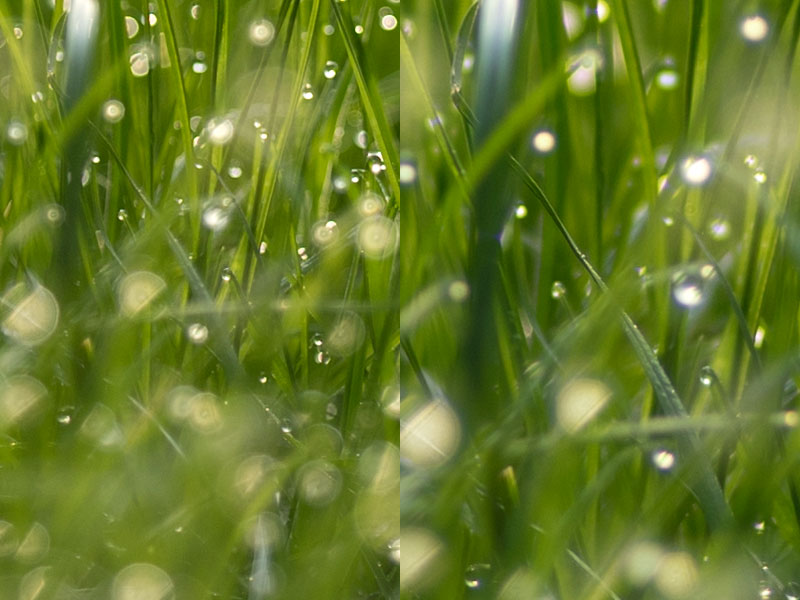 Both images were taken at the respective close focusing distances of each lens. You see that the Laowa has an average  reproduction ratio of about 1:7  while the Sony allows you to get quite close with a reproduction ratio of 1:4.
Sharpness
Tested wide open at portrait distance both lenses are very sharp, the Laowa might have the edge but both lenses deliver a very good performance and you won't ever have to worry about sharpness.
More Images
I have analyzed the important aspects in the images before but here are a few more images to get a more rounded impression of the lenses .
The following images are processed with my usual methods. Again they can be found in full resolution in this flickr set.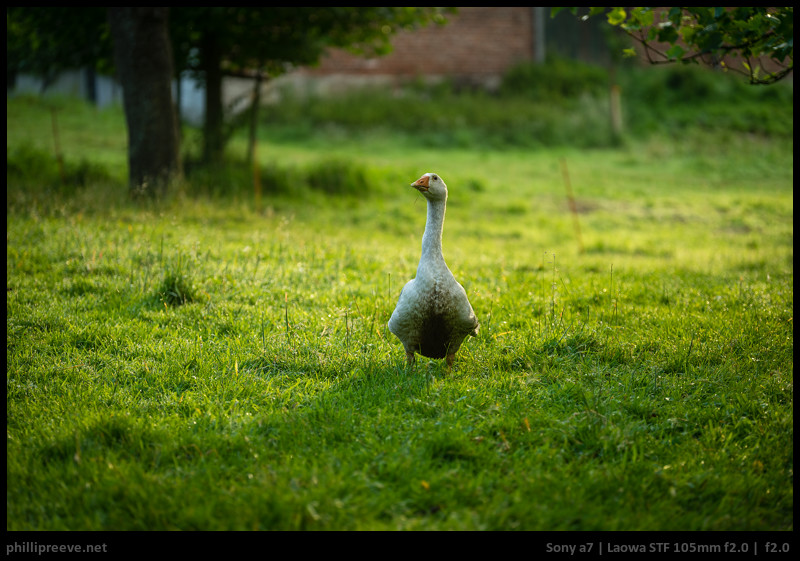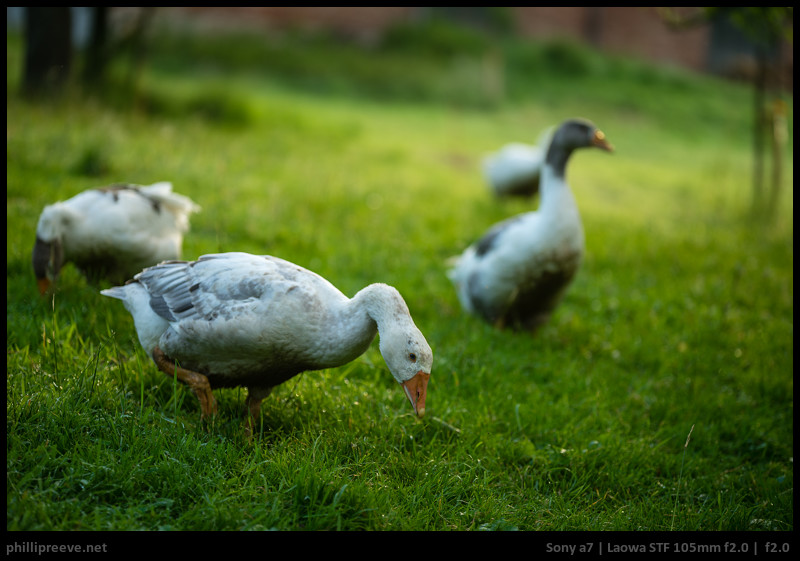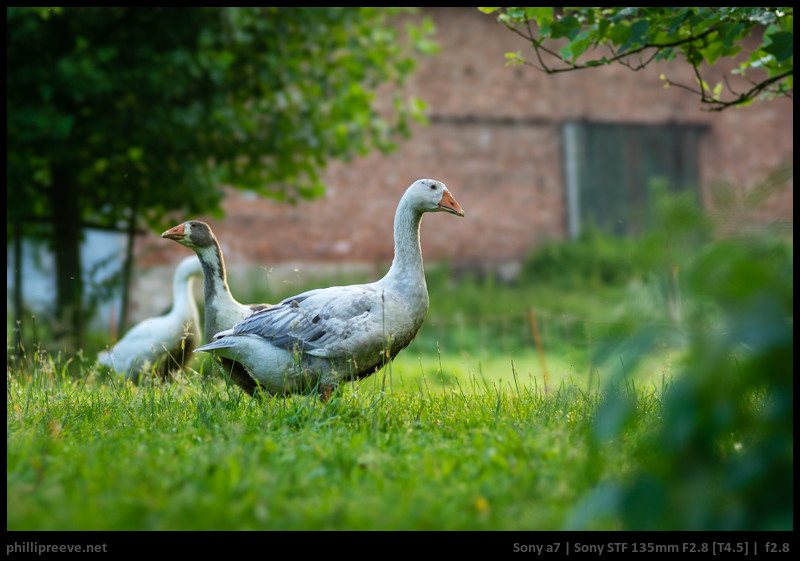 Handling
Both lenses are of similar weight and size so no advantage for either one.
The Laowa is very pleasant to handle, the focusing ring is quite smooth and it does not extend when it is focused. It also feels very solid because it is completely made from metal.
The Sony's handling is okay but less pleasant than the Laowa, the focusing ring isn't very smooth, I found it sometimes hard to nail the focus and it extends nearly 4cm when it is focused at the closest distance.  Since it is partly from plastics it doesn't feel as nice as the Laowa but it doesn't feel cheap either.
When you use the Sony LA-EA3 or LA-EA4 you can control the aperture of the Sony STF 2.8/135 with the camera and lens and aperture will be recorded in the exif file.
Conclusion
So the conclusion is that both lenses are exceptional in one aspect and that's the degree of CA correction for the Laowa and the bokeh for the Sony.
Both lenses are super sharp and among the sharpest lenses you can buy in their focal length, you should never need to worry about sharpness. You also lose about 1.5 stops of light with both lenses which is more of and issue with the Sony because it is only semi fast to begin with.
The Laowa has still very good bokeh by any standard but bokeh will look much the same if you use a lens like the Zeiss Makro Planar 2/100 or Olympus 2/100. Unlike those lenses the Laowa has almost zero axial CA but the competitors don't loose a stop of light to the apodization element and they are far more flare resistant which can be a real issue with the Laowa. The handling of the Laowa is quite good and it feels very solid. I think the price of the Laowa is just right.
The Sony has truly unique bokeh and no competition in this aspect. I can't say that I always like the effect, it works well for some scenarios but often I prefer to have some structure in the background and the Sony excels at eliminating any structure from it. I think the handling of the Sony STF 2.8/135 is good enough but at this price point I would have expected a little more premium feel and a nicer focusing ring. The very short minimal focusing distance and the exif information are a bonus for the Sony.
So which lens should you buy? That depends a lot on what you are looking for. Both lenses are specialist lenses which do some things really well but they also have their limitations.
If you feel you could have use for a semi-affordable, very sharp lens with excellent CA correction and good bokeh the Laowa might be a good option for you.
If you want the smoothest bokeh money can buy the Sony is just your lens but you have to be wlling to pay quite a lot for that and be willing to make some smaller compromises when it comes to build quality and handling.
The Laowa STF 2/105mm currently (July 2016) sells new for $699 at ebay.com (affilate link).
The Sony can be bought new at amazon.com for $1398 or used for about $900 at ebay.com (affiliate links).
If this review was helpful to you, please consider using one of my affiliate links. I will earn a small commission on your purchase and it won't cost you anything. Thanks!
Further reading
The following two tabs change content below.
I like to be outside with my camera and I am also a gear head with a love for manual lenses.
Latest posts by Phillip Reeve (see all)