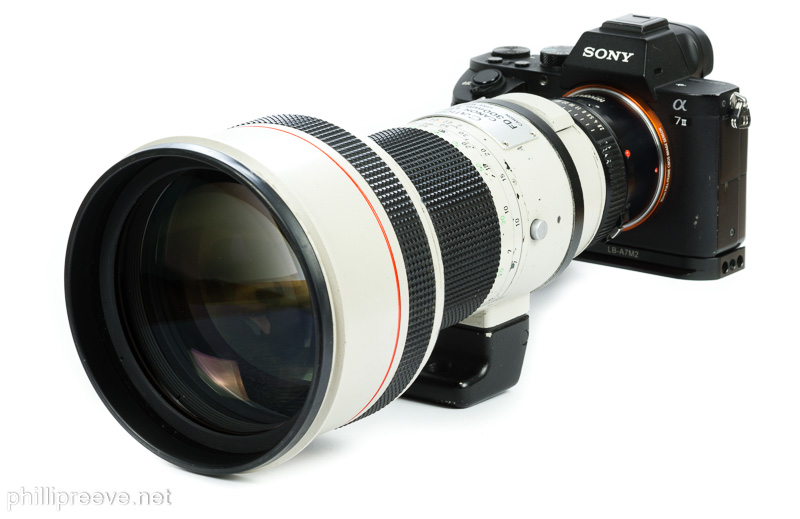 The Canon FD 2.8/300 L was one of the most highly regarded manual super tele lenses in the 80s. Today it can be had for much less money and in this review I evaluate how it performs today on a modern mirrorless camera.
Image Samples
You can find all images shown in this image in full resolution in my Canon FD 300mm f/2.8 L flickr album.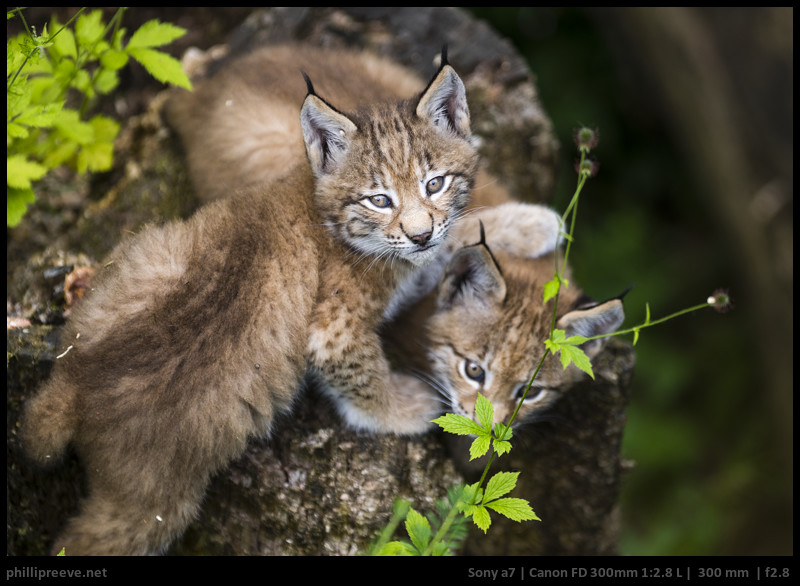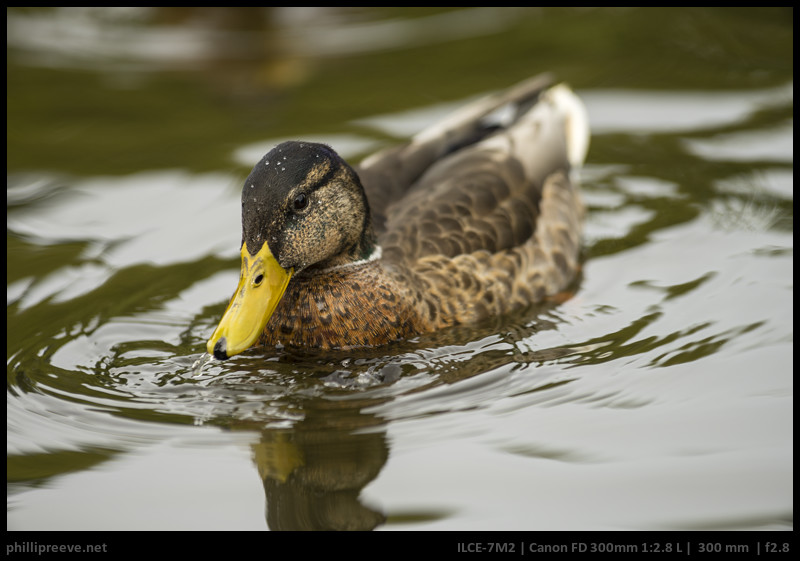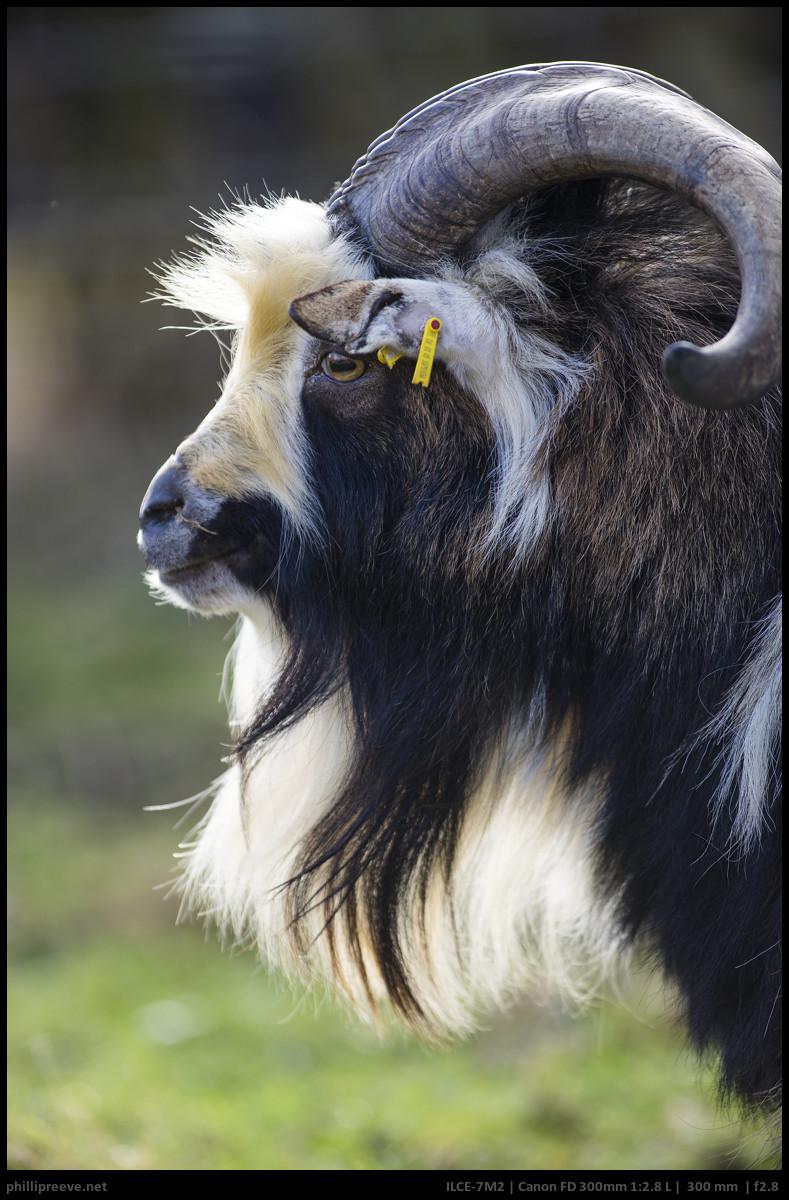 Specifications
| | |
| --- | --- |
| Diameter | 127 mm |
| Length | 245 mm |
| Filter Thread | 48 mm screw in |
| Weight | 2348 g (without hood or caps, with filter) |
| Max. Magnification | 0.11 |
| Close Focusing Distance from the sensor | 3 m |
| Number of aperture blades | 9, slightly rounded |
| Elements/ Groups | 9/7 |
The Canon new FD 2.8/300 sells for around $750 at ebay.com, 700€ at ebay.de (affiliate links) if you have some patience and find an auction. It costs more if you buy it for a fixed price from a retailer. 
Versions
I am aware of two versions.
The Canon FD 300mm f/2.8 S.S.C. Fluorite was released in 1975. It is black, weights 1900g, focuses to 3.5m and uses the older breech lock.
The Canon New FD 300mm f/2.8L followed in 1981. It is white, weights 2348g (my measurement with filter, Canon specifies 2310g), focuses to 3m and has the new FD mounting mechanism. This is the version discussed in this review.
I have no reliable information on the performance of the older version but since it uses only one fluorite element I would expect more CA from it.
Features
The Canon FD 2.8/300 is a fully manual lens so you have to change focus and aperture by yourself and you have to use an adapter to use it on a mirrorless camera.
The Canon has an adjustable infinity stop which is easy to change and works well.
The lens also has a slot for 48mm screw in filters in the back.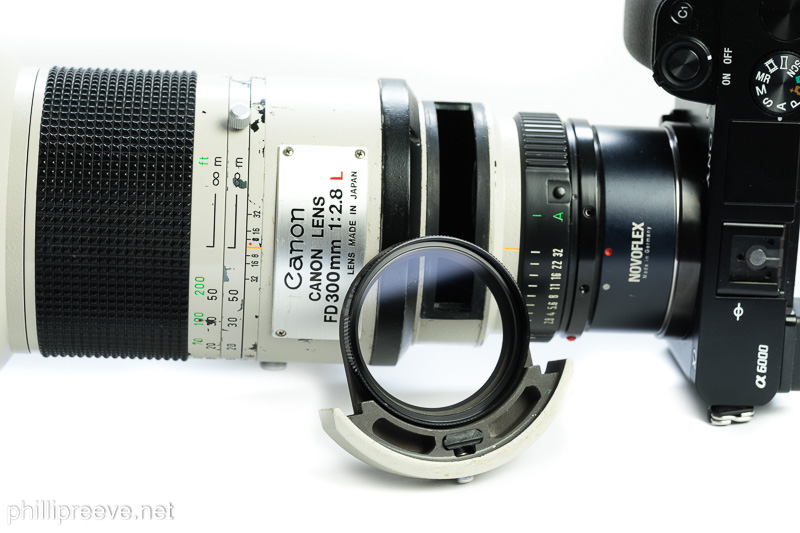 The Canon has an unusual mechanism to change it from landscape to portrait orientation. With the press a silver button at the left side of the lens you can rotate the whole back of the lens and with it the camera by 90 degrees.
The Canon also focuses internally which means that it does not extend and that it is much easier to focus quickly with it.
Build Quality
The Canon FD 2.8/300 offers excellent build quality. This lens was made to withstand professional abuse for many years and it is up to the task.
Handling
Focus Ring
The focus ring travels around 260 degrees from 3m to infinity. Resistance is very low which makes sense because it makes tracking manually easier. It makes focusing the lens very precisely more difficult though.
In my experience it wasn't too hard to follow a subject manually with the Canon 2.8/300 because the focus ring offered so little resistance and because subjects jump into focus thanks to the very large aperture and good performance.
Aperture ring
The aperture ring is a solid one. It is made from metal with distinctive enough stops and a very pleasant resistance. It works in half-stops from f/2.8 to f/32.
Hood
Oh boy. The Canon comes with a very solid integrated hood which it about 3cm deep. It locks into place very reliably and it's rubber coated at the front so that I don't hesitate to put the whole lens on it. The integrated hood does little to protect the giant 100mm diameter front lens. For that it comes with a very big 110 mm long hood (Model EH-123) which turns this lens into an gigantic monster but it actually helps to keep contrast high in backlit scenarios.
Size and Weight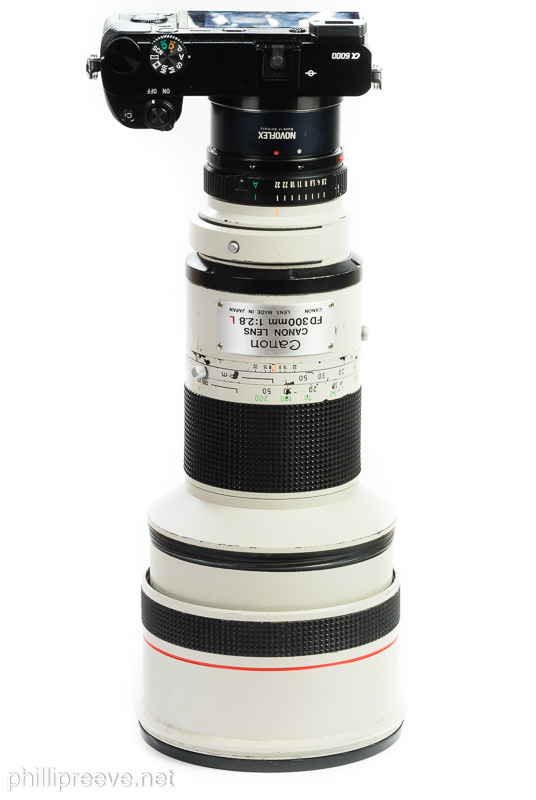 This is a very big an heavy 5 pounds lens. You won't enjoy carrying it, nor hand-holding it. I had to borrow a stronger tripod head from Bastian to perform my test because it is so heavy. You can handhold and focus it from your hand especially with activated image stabilizer on the Sony a7(r)ii but unless you are a really strong guy your arm will quickly tire.
Optical performance
These results are based on the use with a Sony Alpha 7II.
Flare Resistance
Flare is an issue with this lens. I forgot to keep any of the images I lost to it but there were quite a few of them and if you manage I can only recommend to use the hood.
Bokeh
In short: very smooth.
Now let's have a deeper look.
Up close  the background is super smooth and just melts away.
The same is true in the typical headshot scenario where the subject is totally isolated from the background which is rendered very smooth. Oof highlights take on a cat-eye shape wide open but the effect isn't pronounced and there is only very little bokeh fringing. Also note that even stopped down there blur discs stay mostly round thanks to 9 aperture blades.
Background rendering deteriorates a little in this upper body shot with a close background but it is still mostly smooth.
This test scene at a long distance with a close background shows average foreground bokeh and less smooth background bokeh.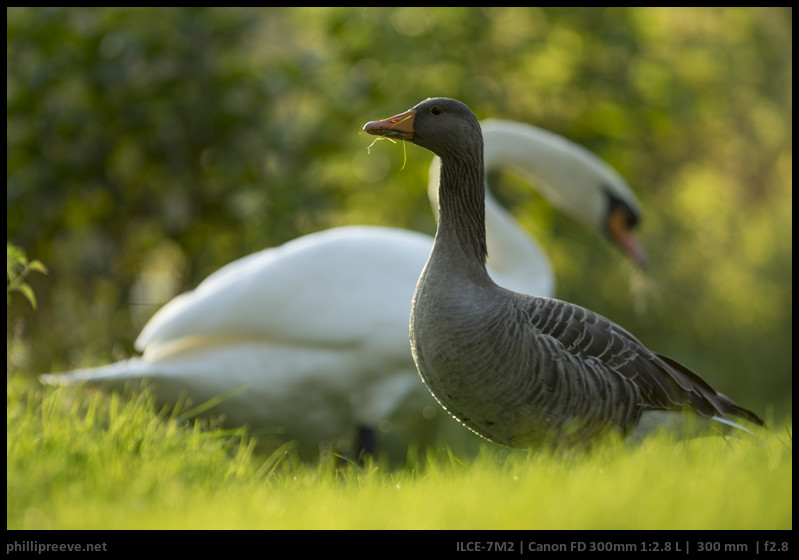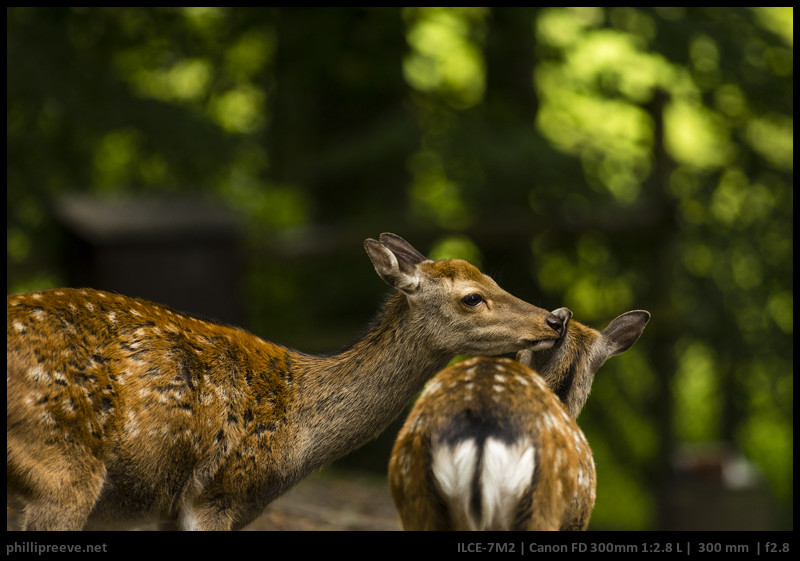 The transition zone is decent but not great.
So bokeh isn't perfect but pretty smooth and it is really easy to throw backgrounds out of focus with this lens.
Chromatic Aberrations
The Canon's suppression of any kind of CA is impressive. I have only seen such great performance in this aspect by the 30-years-younger Voigtländer 2/65 APO. Even my worst case torture test failed to show more than traces of axial CA.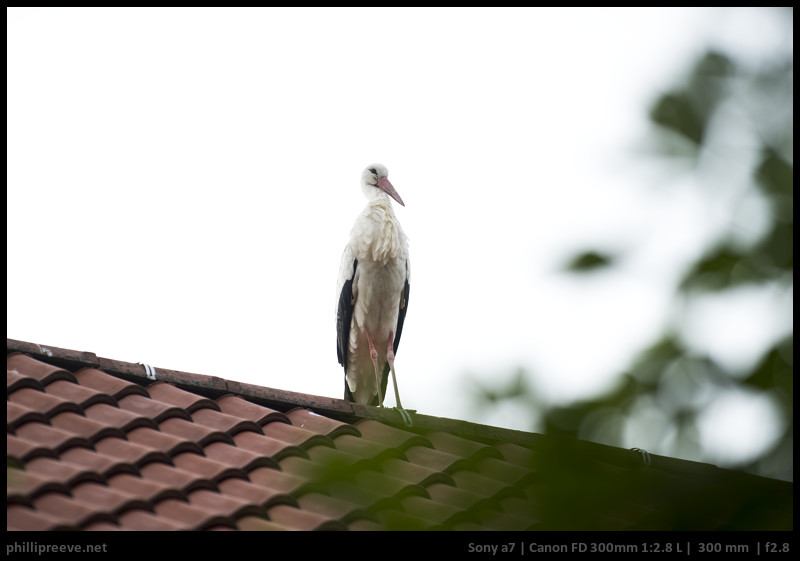 Lateral CA is low but visible in critical cenarios.
Vignetting
Vignetting at f/2.8 is low at 0.8 stops and basically unnoticeable from f/4 at 0.3 stops. Very good performance here.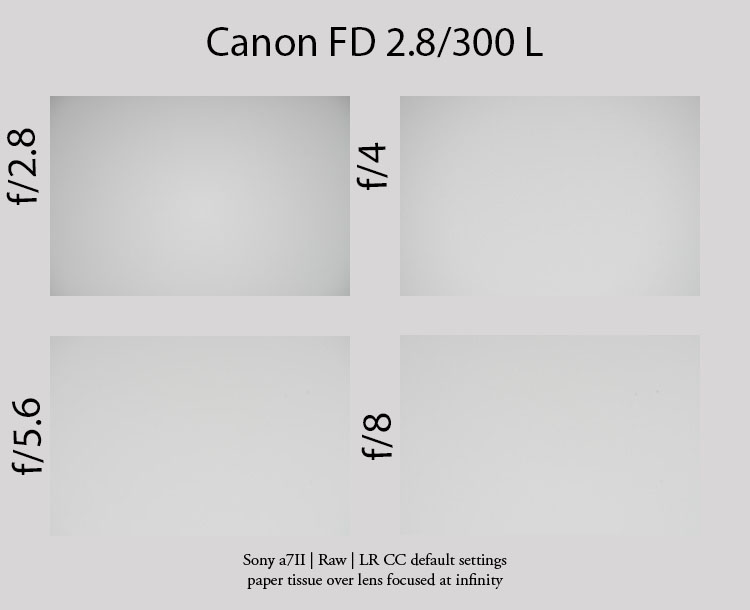 Distortion
The Canon FD 300mm 1:2.8 shows minor pincushion distortion.
Sharpness
My sharpness series isn't optimal but after my first attempt failed because my tripod wasn't up to the task, the second one had issues with flare and alignment this is the best I could come up with in pretty hazy conditions. 
The Canon is very sharp in the center and midframe from f/2.8 but it gains a some contrast and sharpness as you stop down to f/4. Corners are good from wide open but for best results you should stop down to f/8.
Contrast is rather average, I have often bumped it up a bit in processing for images taken with the FD 2.8/300.
Alternatives
Nikon ED-IF 2.8/300: I have not shot a direct comparison but from what I have seen and read it seems to me that the Nikon is very similar in that it is very durable and it also features internal focus for fast manual focus but it only focuses down to 4m. Optically It seems to be not as well corrected for CA as the Canon but it is still a very sharp lens with very good bokeh. So if you want a 2.8/300 for your mirrorless camera the Canon seems to be quite a bit more attractive to me.
Canon FD 4/300 L: A much more reasonable lens which weights and costs less than half as much as the big f/2.8. I shot a few comparisons and I have to say that the difference  f/2.8 makes over f/4 is bigger than I had thought. The f/2.8 version also has a little longer focal length and superior CA correction. Sharpness is very similar. So the f/2.8 gave me nicer images but I really had to think twice about bringing it with me while the 4/300 can fit into my larger camera bag and it is much less tiring to operate.
Conclusion
pros

Excellent CA correction

Very good sharpness

Bokeh

Build Quality

Quick to focus

Low Vignetting

Low Distortion

Price

average
cons

Size & Weight

Flare resistance
The Canon FD 300mm f/2.8 L is the best corrected legacy lens I have used so far. Sharpness is very good from wide open and excellent from f/4, there is practically not distortion and vignetting is low as well. What impressed me the most is the excellent CA correction which even today, 36 years after the Canon's release is not standard. Only flare can be an issue but that is the be expected with such a large front lens.
So while I was very happy with the optical performance, the handling turned out to be a challenge. Not because the Canon's design, it is very well designed, but because it was a challenge for me to transport this 2.3k lens to location. Usually I travel by bike and since it doesn't fit into any of my bags I had to transport it in a backpack and it takes me about a minute to get it out of that and onto my camera. It's little brother in contrast fits into my bigger bag and is easier to operate. But once it was attached to my camera I was always very happy with the results, the wide aperture really makes a difference and the very good performance and smooth bokeh made images stand out.
So how much sense does a manual 2.8/300mm lens make in 2017? Manual focus is of course a limitation and it makes very little sense to shoot birds in flight or other demanding scenarios with this lens because your success rate will be much lower than with a good AF 2.8/300 lens on a faster camera than my a7ii. Such a setup would cost many times as much though. For someone who occasionally needs a fast 300 for zoo pictures, for portraits or for reportage work and who has decent manual focus skills this lens will deliver results which stand out from those of slower (AF-) lenses.
The Canon FD 2.8/300 L is an outstanding lens optically and can be bought for less than a grand. So you get a lot of glass for your money. The important question is if you can handle the glass but my answer is that for some applications it still performs very well today.
The Canon new FD 2.8/300 sells for around $750 at ebay.com, 700€ at ebay.de (affiliate links) if you have some patience and find an auction. It costs more if you buy it for a fixed price from a retailer.
If this review was helpful to you, please consider using one of my affiliate links. Thanks ?
More Image Samples
You can find these more images in full resolution in this flickr set: Canon FD 300mm f/2.8 L.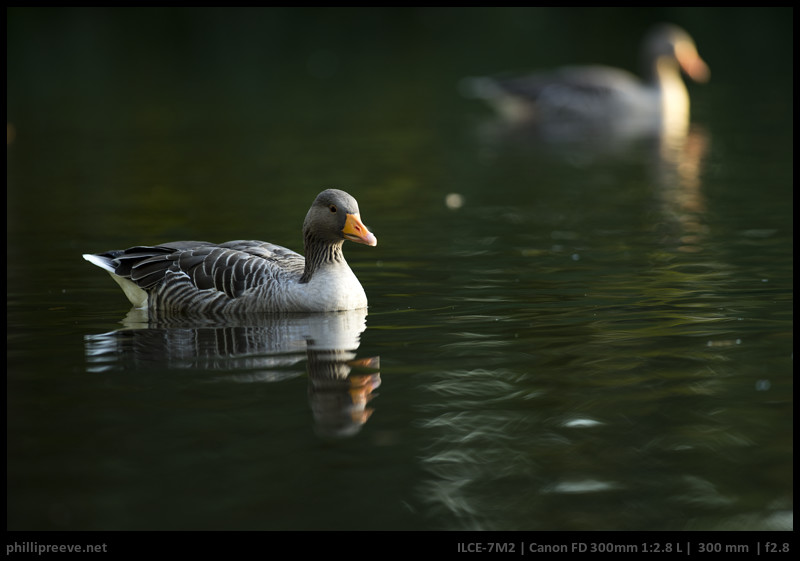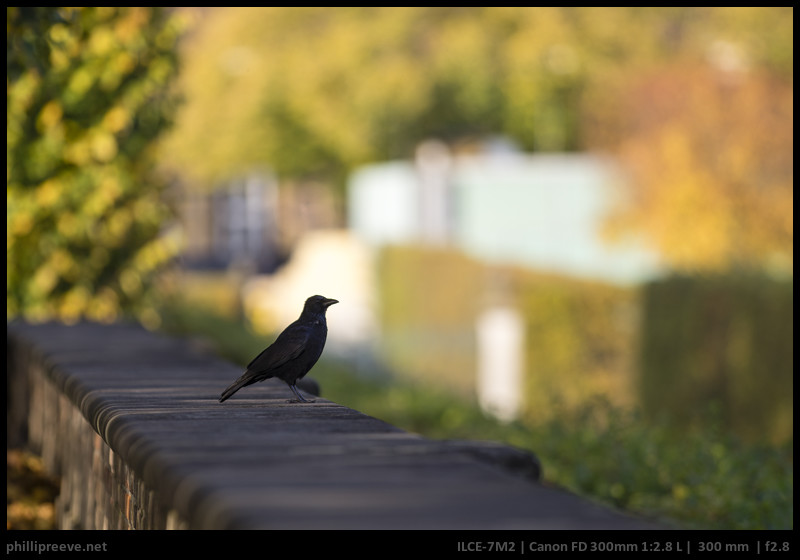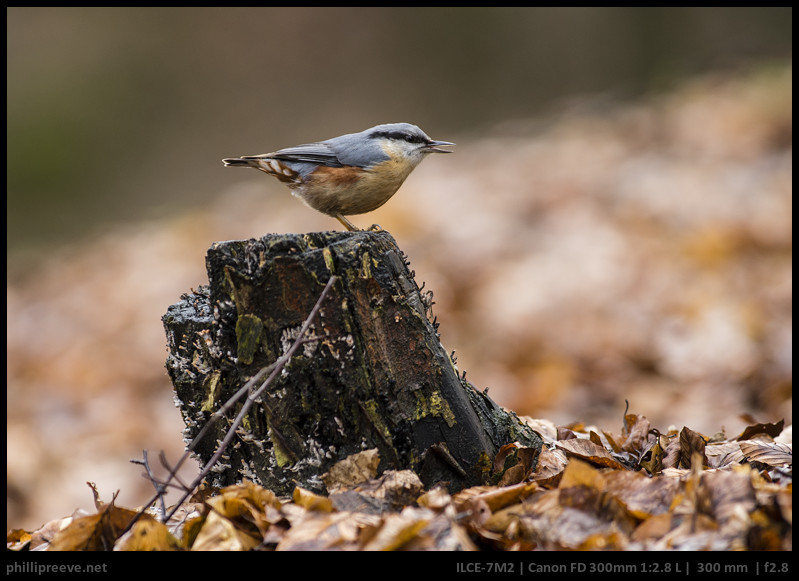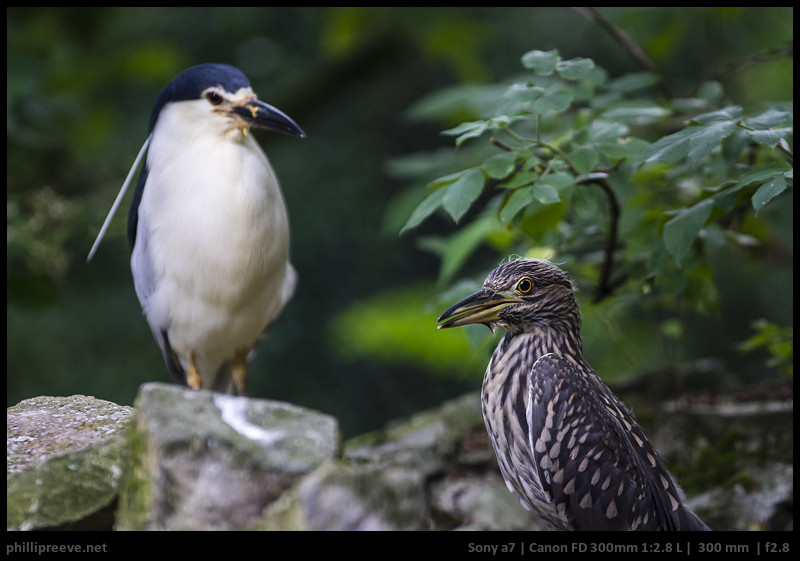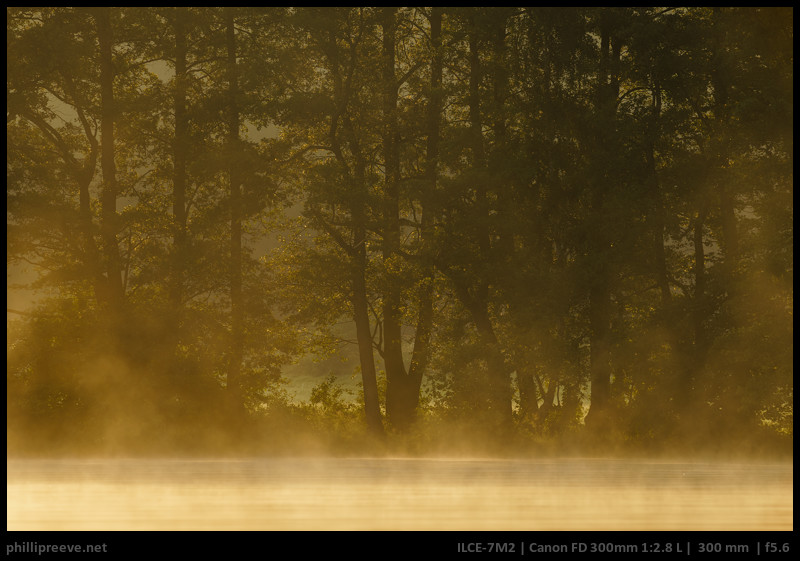 Other articles