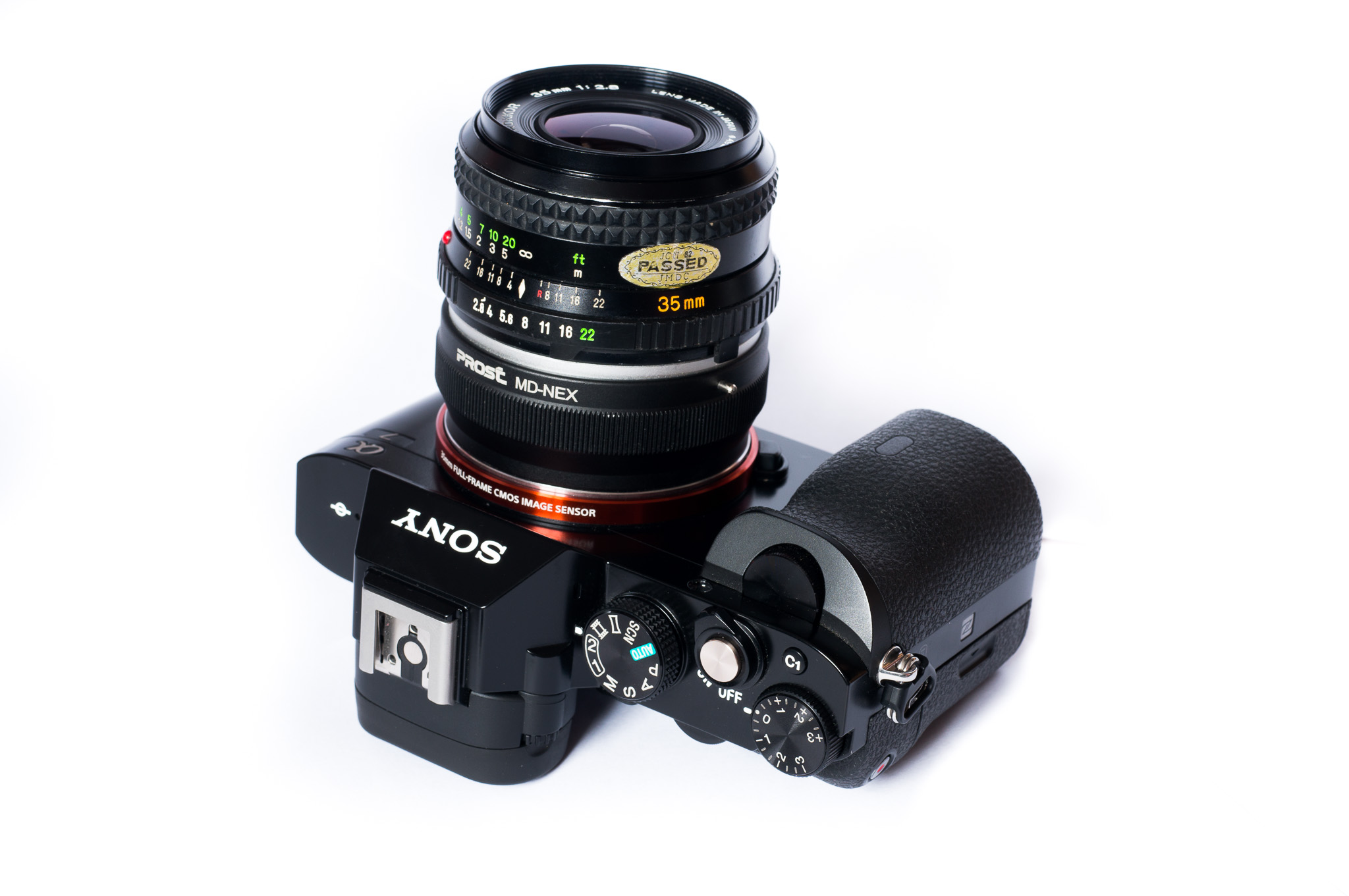 Five years ago I was a broke student and manual lenses were a way for me to get much more creative freedom and image quality for my very limited money. This post is aimed at people just like my 5-years-younger self who have a very limited budget but want to get the most out of it. I think that manual lenses are a smart way to deal with a limited budget since I wouldn't know another way to get image quality on that level for a similar budget. Sure, manual focus can be a limiting factor for some applications but most people are surprised how far they can get with manual focus.
When I started with manual lenses there was very little reliable information about manual lenses available so I had to spend a lot of time to tell apart the good from the bad lenses. Now 5 years later I have reviewed several dozen lenses and gained a good oversight which I would like to share with you in this artice.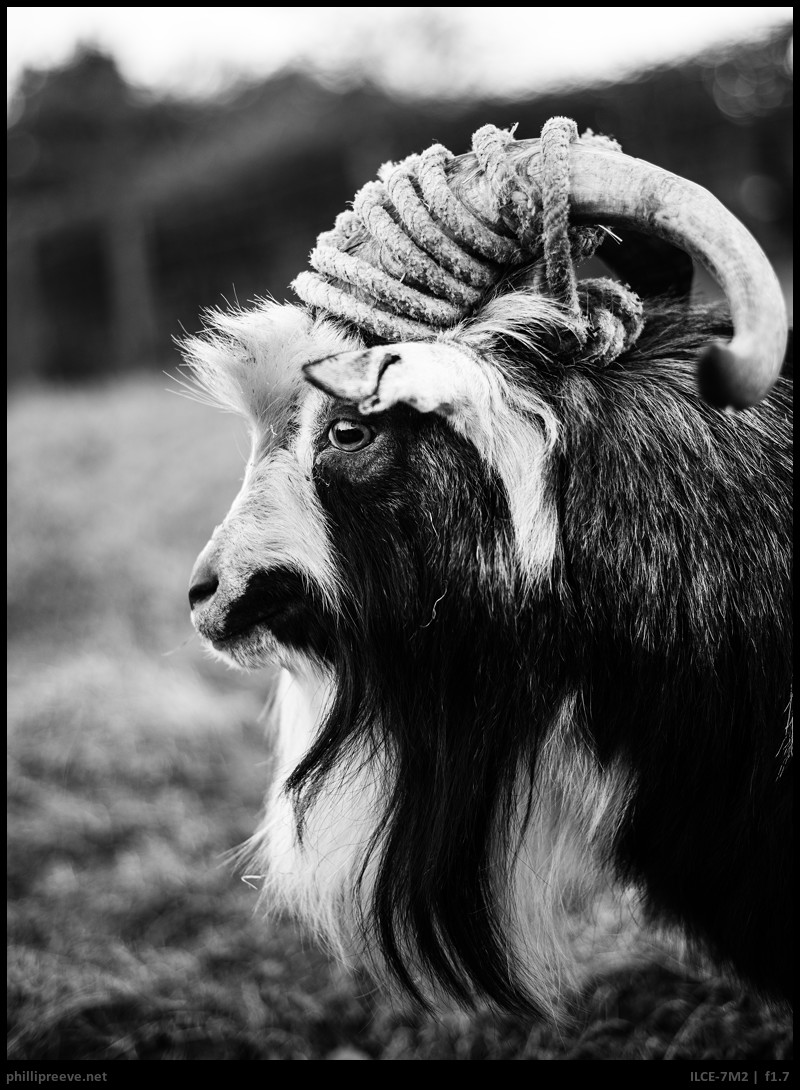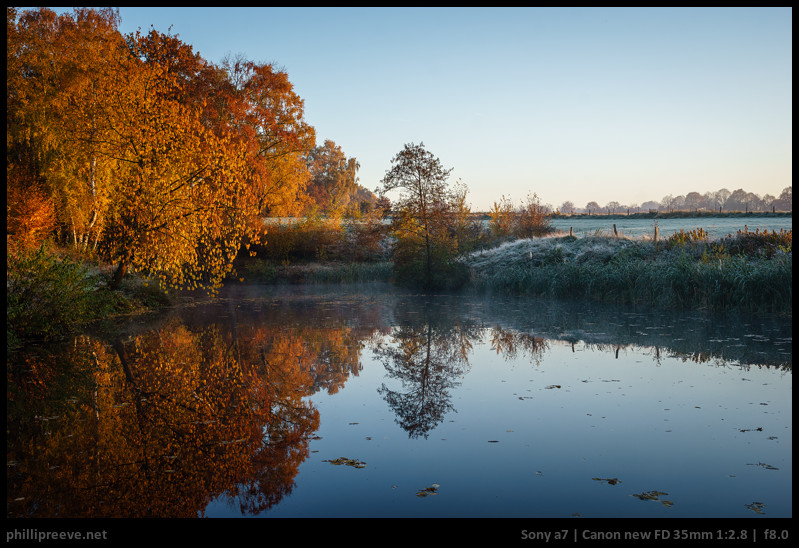 The Kit
Okay, first I will give you a rundown of the System I would recommend and then I will go a bit more into detail and explain my reasoning for suggesting this kit.
In total that are less than $400 if you shop with a little patience.
*=affiliate link
The Wide Angle: Canon nFD 2.8/24
24 mm lenses are popular among landscape and reportage photographers because they allow you to include the surroundings in the pictures but they do not overexaggerate the foreground as much as wider lenses often do. They are also signignificantly cheaper than wider lenses. I like the Olympus OM or Minolta plain MD 2.8/24 even more than the Canon because they offer better build quality, but the Canon offers the best value in my eyes.
The Canon nFD 2.8/24 is among the sharpest 24mm lenses I have come across so far and at typical landscape settings it is as sharp as the $1000+ Sony FE 4/16-35. It is also a decent solution for reportage work at wider apertures. The age shows in the weaker coatings which result in a not that great flare resistance and soft corners wide open.
$80 | 240 g | my review |  ebay (affiliate link)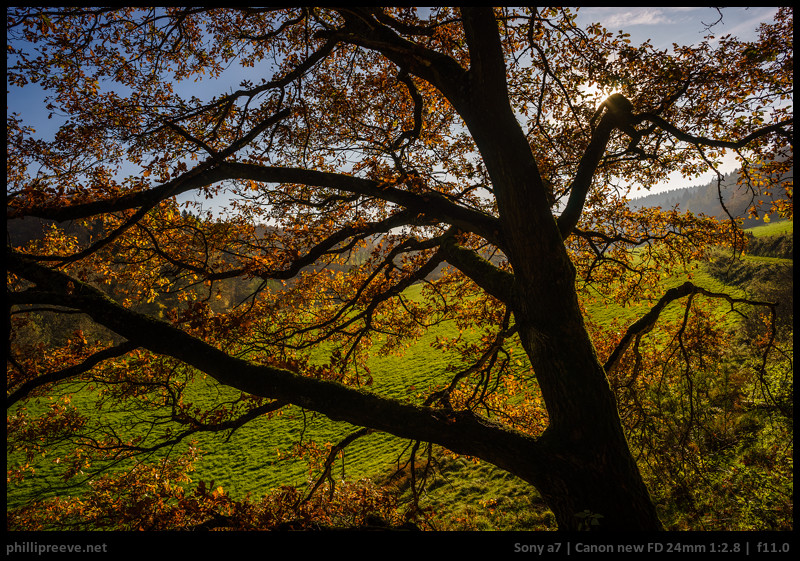 Alternatives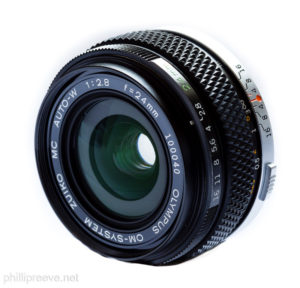 Smaller and with nicer build quality but a bit more expensive. The Canon offers a bit better flare resistance and sharpness is very similar. The Olympus shows stronger vignetting which can be corrected but this takes time.
Sony FE 2/28: Compared to other E-mount lenses the 2/28 is a bargain but it costs many times as much as the Canon. You get inferior build quality and mushy manual focus but fast AF. The Sony is sharp from f/2 with smooth bokeh and good flare resistance which make it a more versatile lens.
The universal lens: Minolta MD 2.8/35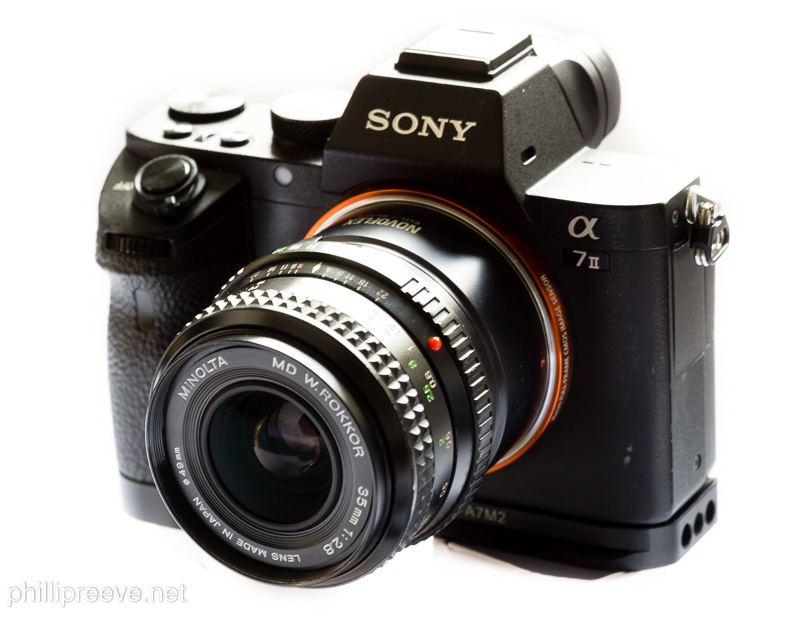 I think 35 mm lenses are the most universal lenses you can buy. If I could have just one lens it would be a 35mm. My all time favorite 35mm is the Voigtlander 1.7/35 but that is a very expensive lens at around $700. The classic 2/35 lenses I have tested so far weren't that good at f/2 and were outperformed by the smaller and more affordable 2.8/35 lenses at smaller apertures, therefore I would recommend a 2.8/35.
About any manufacturer back in the 70's made a good 2.8/35 but I think the Minolta MD offers the best value. It is very sharp from f/2.8 and small just like the Canon nFD 2.8/35 but offers better build-quality. Bokeh is good but not great and it isn't very flare resistant.
$60 | 170 g | ebay (affiliate link)
Alternatives
Canon nFD 2.8/35: As good optically but the Minolta feels a bit more solid
Minolta MC 1.8/35: Bigger, at least twice as expensive and more a character lens wide open
Canon FD 2/35: Probably the best legacy 2/35 with decent f/2 performance but not very smooth bokeh and weak flare resistance.
A normal lens: Minolta MC Rokkor 55mm 1:1.7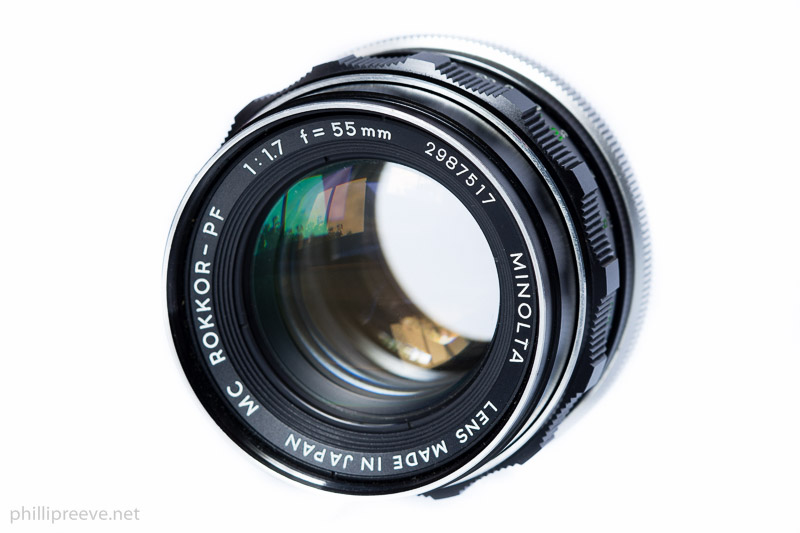 Normal lenses were the kit-lenses of earlier days so you can get them for very little money today. Stopped down the Minolta 1.7/55 performs as well as a modern $1000 lens. Normal lenses are also among the most versatile lenses, you can shoot portrait, landscape, reportage and many other things with them. Some time ago I used nothing but this 1.7/55 for a month and I was surprised how little of a limitation that was.
The Minolta MC 1.7/55 is not the sharpest normal lens but still my favorite of the more affordable ones because it offers better bokeh than most, it is small and it is affordable. Others are sharper but I never hesitate to use it at f/1.7 where it is a bit lower in contrast with moderate sharpness which is still good enough for moderately large prints.
$40 | 230 g | my review | ebay (affiliate link)
Alternatives
Canon nFD 1.4/50: The sharpest normal lens you can buy for less than $100 but its bokeh is less smooth and build quality isn't as nice.
Minolta MD 2/50: An even smaller lens which is technically better but not as well built and the bokeh is significantly less smooth.
Zeiss C/Y 1.4/50: The Zeiss has better coatings which result in higher contrast and better flare resistance and it is also a bit sharper but you pay for the Zeiss label.
Sony FE 1.8/50: Sony's most affordable lens still costs many times as much and is built more like a yoghurt cup. It has more effective modern coatings and higher contrast at wide apertures but it isn't much sharper than the old Minolta. In fact the Canon linked above is sharper off center at wide apertures. Bokeh is a bit smoother on the Sony. The Sony 1.8/50 has a pretty crude AF drive which is so slow that it isn't much help either in those scenarios where I can't follow with manual focus.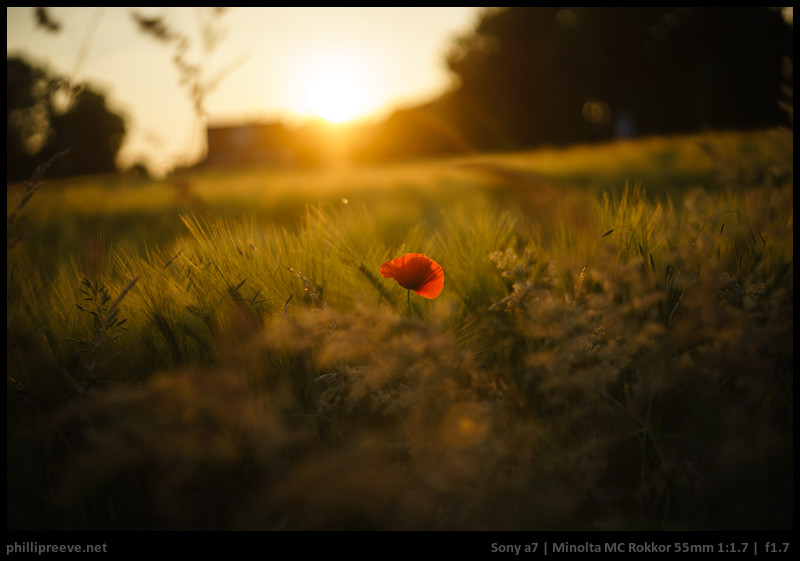 Minolta MD 2.5/100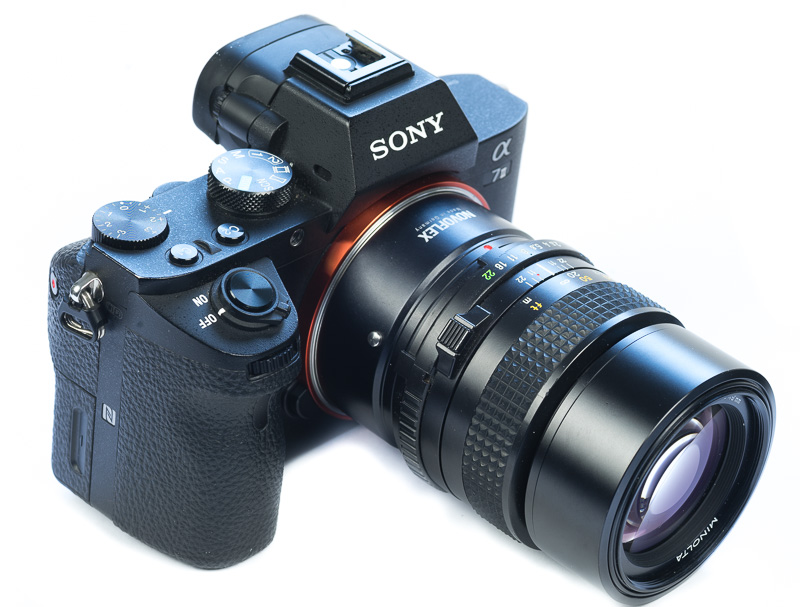 A 85 mm, 100 mm or 135mm lens could be found in most camera bags before zooms became popular. They are often used as portrait lenses but they also perform very well for landscape photography and a number of other uses. Since I don't know of any 85mm lens which if affordable and performs really well from wide open I prefer a little slower 100 mm lenses which do.
The Minolta MD 2.5/100 is very sharp from wide open with smooth bokeh so it makes for a very nice portrait lens. Stop it down to f/5.6 and its sharpness is top notch across the frame so it work very well for landscape photography as well. Flare resistance and CA correction could be better but few tele lenses are good in this aspect. So I am very happy with the performance but what I like most about the Minolta is that at 310g it is only a little more heavy than most normal lenses.
$110 | 310 g | my review | ebay (affiliate link)

Alternatives
What this kit can't do
This is a budget kit and of course you will have to make compromises at this price point.
No AF: How much of an issue is that? Depending on whom you ask the answers will range from no issue at all to that it is a total dealstopper. So you have to ask yourself what you want to shoot and how manual focus will affect your photography? In my experience for landscape and still life good manual focus lenses are actually be preferable to AF lenses. For portraits of adults manual focus can work well but it is a little slower than AF and requires some practice. For shooting kids you can forget about it.
Old lenses: I do not only review legacy lenses but also Sony's pretty expensive native FE lenses. When I compare them against these older lenses on my a7ii the result is usually that the modern expensive lenses have better flare resistance, a little higher contrast and much sharper corners at wider apertures. But in the center the difference in image quality is usually not significant and stopped down the difference can be very small to not noticeable and a legacy $50 can be hard to distinguish from a modern $1500 zoom. Again you have to ask yourself what you shoot and how much of an issue these compromises are for you. I have shot whole holidays with legacy lenses only and I was more than happy with the results, even when I printed them big. While I see some advantages of modern lenses these advantages are rather small in relation to the much higher price you have to pay for those.
What this kit can do
I think this kit will give you a lot of creative freedom for very little money.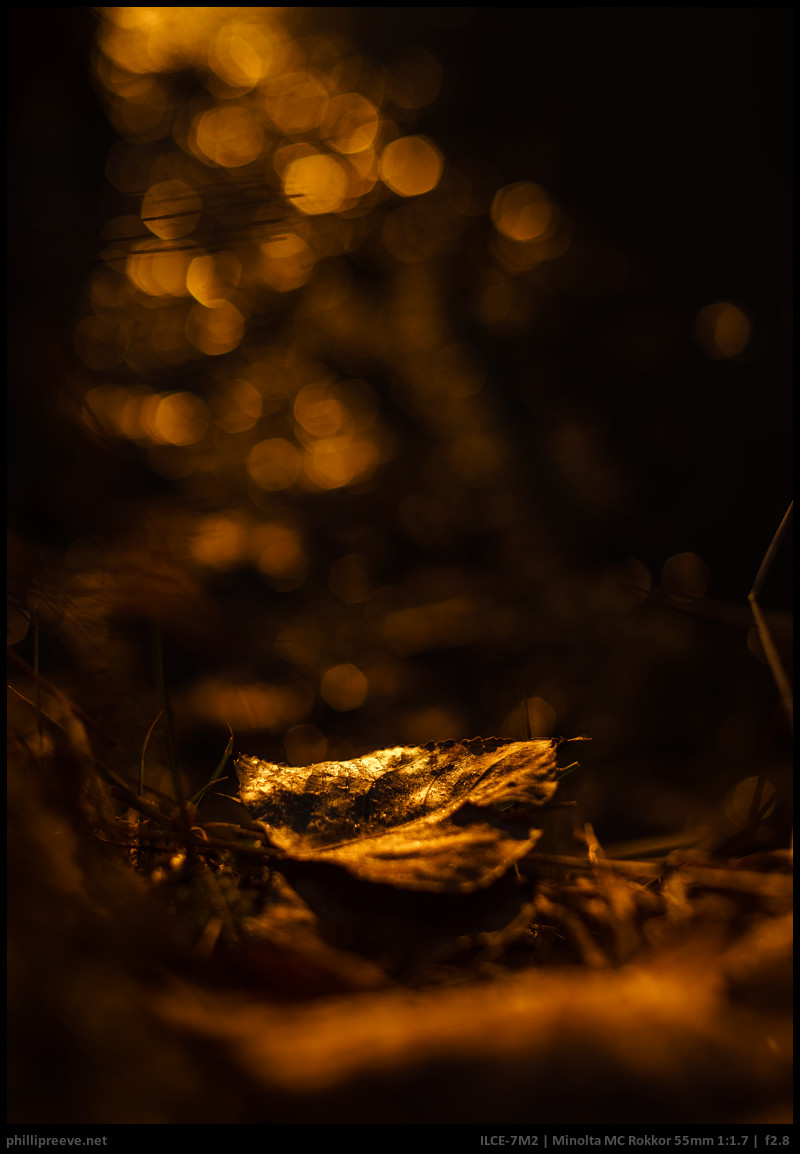 1. Image Quality
This aspect is hard to communicate by text, just have a look at these files and compare them to those out of alternative systems. If you want similar quality out of other systems you have to spend a lot more than a few hundred dollars on lenses.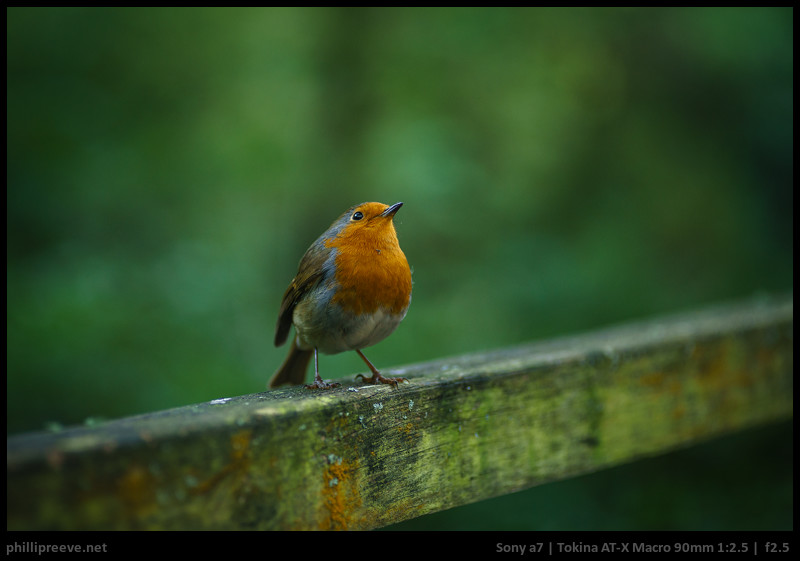 2. Bokeh
Again its relevance depends on what you shoot and on your style but if you want shallow DoF with good bokeh you have to spend a lot for fast lenses in smaller formats. With the Sony you can buy a 1.7/55 which is equivalent to a 1.2/36 in APS-C or 0.9/28 in MFT. The $140 MD 2.5/100 above will give you more separation than a $1600 Panasonic 1.2/42.5. For me shallow DoF is an important creative instrument so FF was the logical consequence.
3. Build Quality
Today even $1000 Sony ZA lenses are made from plastic with just a thin and not very scratch resistant metal hull. The AF motor in the FE55 for example is just glued on and falls of from time to time. Manual lenses in contrast were built to very different standards and a $35 Minolta MC 1.7/55 feels a lot more solid than the 20 times as expensive Sony FE 1.8/55 ZA.
Conclusion
Manual lenses are not for everyone, but if you are on a tight budget they are a great way to get a lot of image quality for very little money. And even if you aren't they can be a lot of fun. If you are unsure my tip would be to start with one lens like the Minolta MC 1.7/55 which is a $55 investment, adapter included. This will give you the opportunity to get some first hand experience with manual focus. If it works for you: great, a large range of very affordable lenses has opened for you. If manual focus does not work for you you can sell lens and adapter for $45 and start saving for the more expensive AF lenses. So there is a lot to gain and little to lose.
A few more images with affordable manual lenses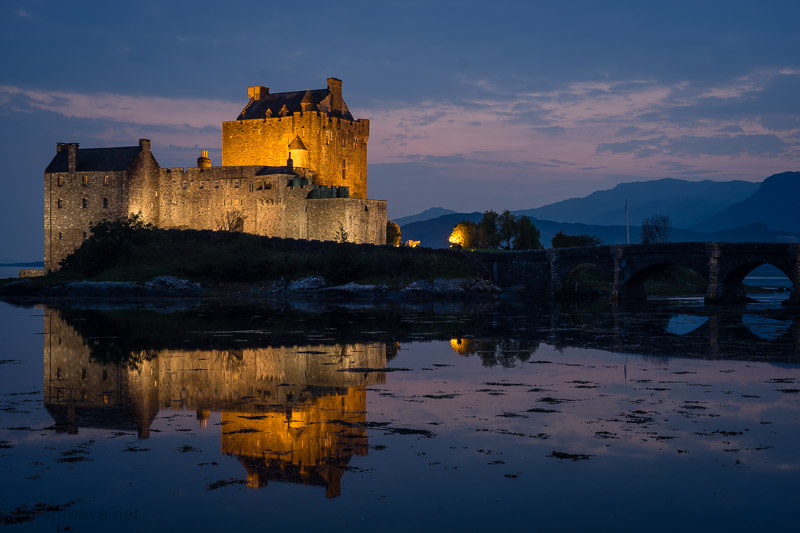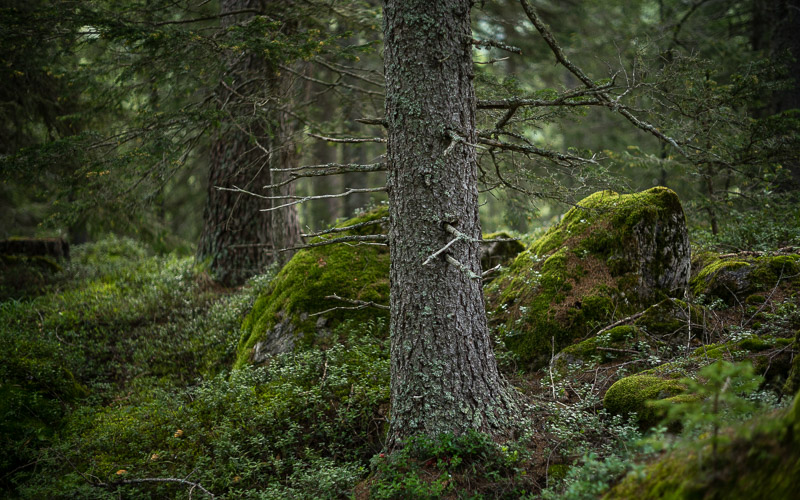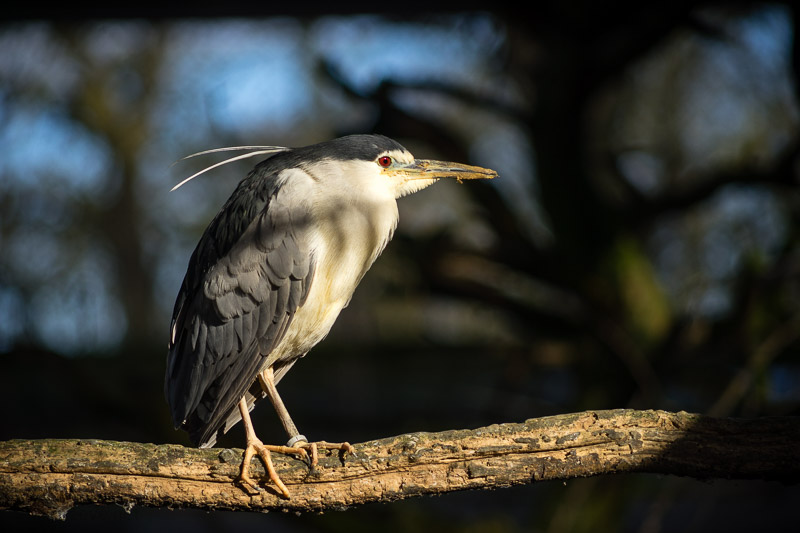 Other articles
The following two tabs change content below.
I have two hobbies: Photography and photographic gear. Both are related only to a small degree.
Latest posts by Phillip Reeve (see all)