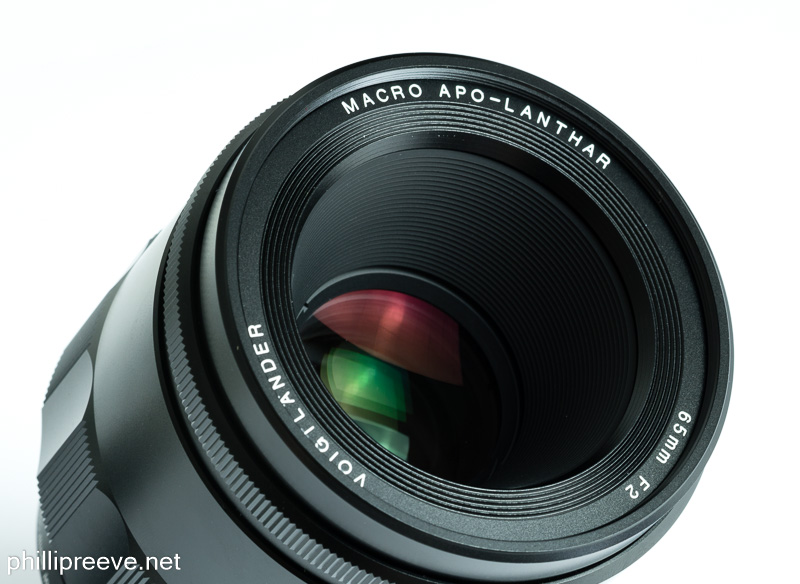 The Voigtlander 65mm F2 Macro APO-Lanthar is the second APO branded E-mount lens and promises great image qualities as well as macro capabilities in an unusual focal length. In this review I evaluate whether the high price and relatively large size are worth it.
Image Samples
You can find all images shown in this image in full resolution in this album.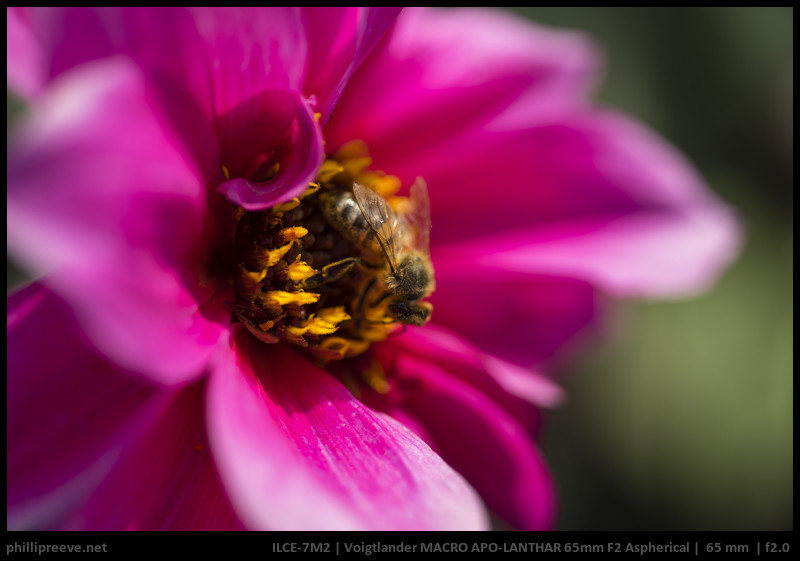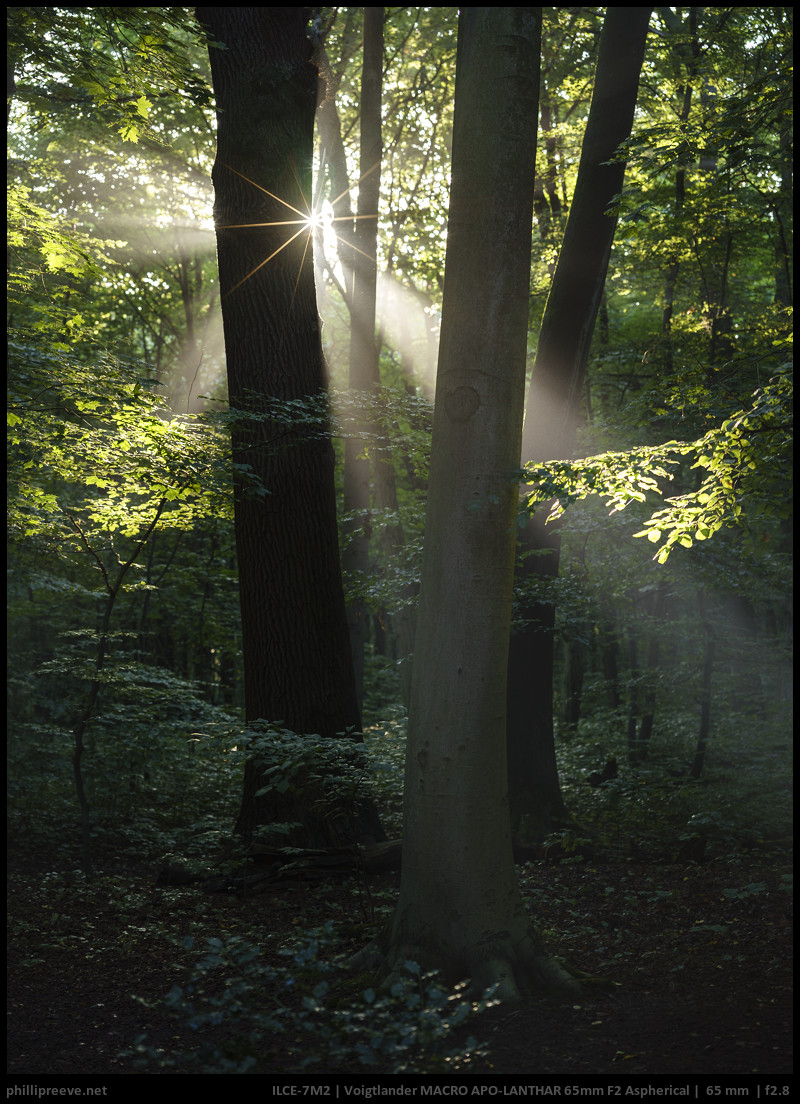 Specifications
| | |
| --- | --- |
| Diameter | 78 mm |
| Length | 91 mm |
| Filter Thread | 67 mm |
| Weight | 635 g |
| Max. Magnification | 0.5 |
| Close Focusing Distance from the sensor | 0.31 m |
| Number of aperture blades | 10 |
| Elements/ Groups | 10/8 |
The Voigtlander 2/65 APO-Macro sells for $999 at CameraQuest, B&H, amazon.com or ebay.com, 999€ at ebay.de (affiliate links).
Disclosure
A copy of the 2/65 APO was loaned to me from Voigtlander's German distributor ringfoto.de for a few weeks. After that I bought my own copy at full retail price.
Features
The Voigtlander 65mm F2 Macro APO-Lanthar is a fully manual lens so you have to change focus and aperture by yourself. The camera can't change the aperture so S- and P-mode will not work as with native lenses.
It has electronic contacts to communicate with the camera. The lens provides correct exif-data and distance information so that 5-axis OSS can be used. Focus magnification can be automatically activated when the focus ring gets turned.
The Voigtländer carries the Macro tag but unlike most other modern Macros like the Sony FE 2.8/50 Macro it only reaches a magnification ratio of 1:2. This is quite usual for a manual lens which does not focus internally, it would need to have a very large helicoid otherwise.
Voigtlander also calls it an APO lens which means that chromatic aberrations are very well corrected. More on this further below.
Build quality and handling
The Voigtlander 65mm F2 Macro offers very good build quality. The lens hull is made from nothing but metal and tolerances are very low. Most but not all markings are engraved.
There is no gasket around the mount and Voigtlander does not claim any weather resistance.
Of course I can't tell you how durable the lens will be in the long term. All I can do is give you my superficial impression which is very positive in this case.
Our experience with getting Voigtlander lenses repaired is not the best though, the lens had to be shipped to Japan so the repair took two months.
Handling
If you have used Zeiss Loxia lenses you will probably have been frustrated by the fact that there is no good place to grab them when you change lenses. This is not an issue with the Voigtlander since you can easily grab it by its base which is even textured for better grip.
Focus Ring
The focus ring travels around 250 degrees from 31 cm to 1 m and a further 40 degrees to infinity. I think that is a very reasonable transmission for a macro but it is a bit slower to focus precisely at longer distances. The ring itself is easy to grip and the resistance is about perfect.
Aperture ring
The aperture ring is a joy to use. It is made from metal with distinctive stops and a very pleasant resistance. I am not a fan of 1/3 stops but apart from that it is great. The Voigtlander stops down to f/22.
Hood
The Voigtlander 65mm F2 Macro has a deeply recessed front element so I see no reason for a hood but none the less it comes with a small hood made from metal.
Size and Weight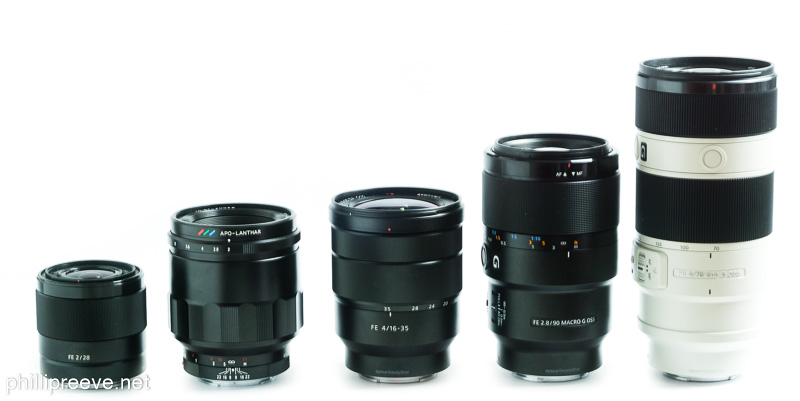 This is not an internally focusing lens so it extends a lot when focused at 1:2.
The CV 2/65 is a substantial lens. In my experience so far handling is still pleasant but many smaller lenses feel better matched with my a7ii. In light of the great performance this is not a big issue but something to consider when you decide whether to purchase the lens.
Optical performance
These results are based on the use with a Sony Alpha 7II.
Flare Resistance
When pushed very hard the Voigtlander will show ghosting, some veiling flare and an unusually high amount of sensor reflections at least on my a7ii.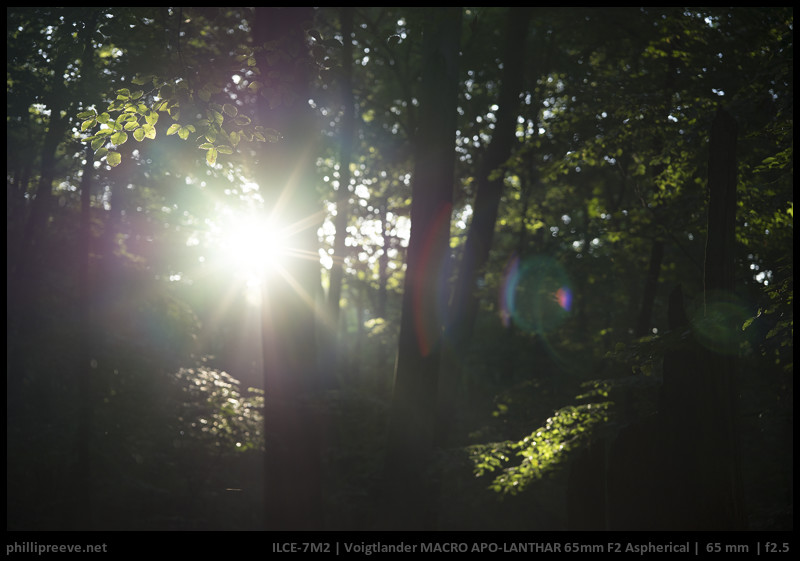 I made the image above early in my rolling review and it lead to me rating the lens average in this aspect. Since then I have had a closer look at the flare resistance and usually it performed well even in demanding scenarios so now I would rate it quite good actually.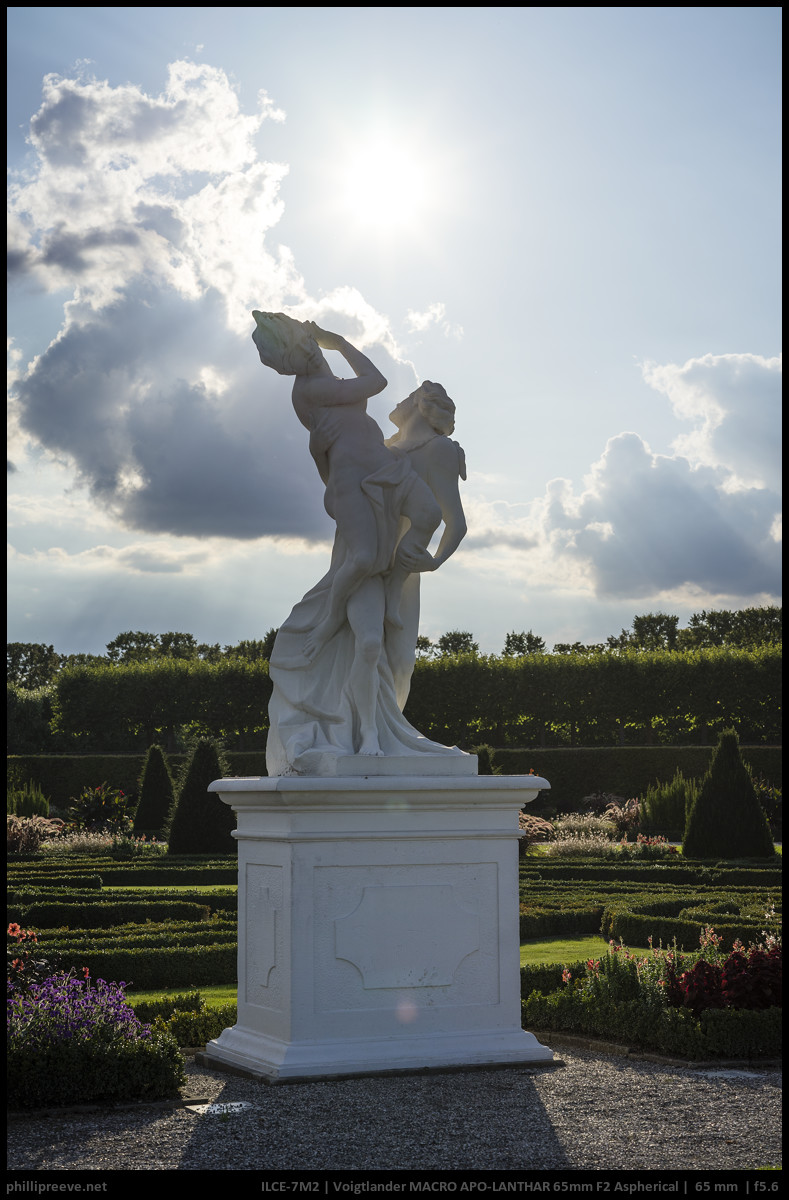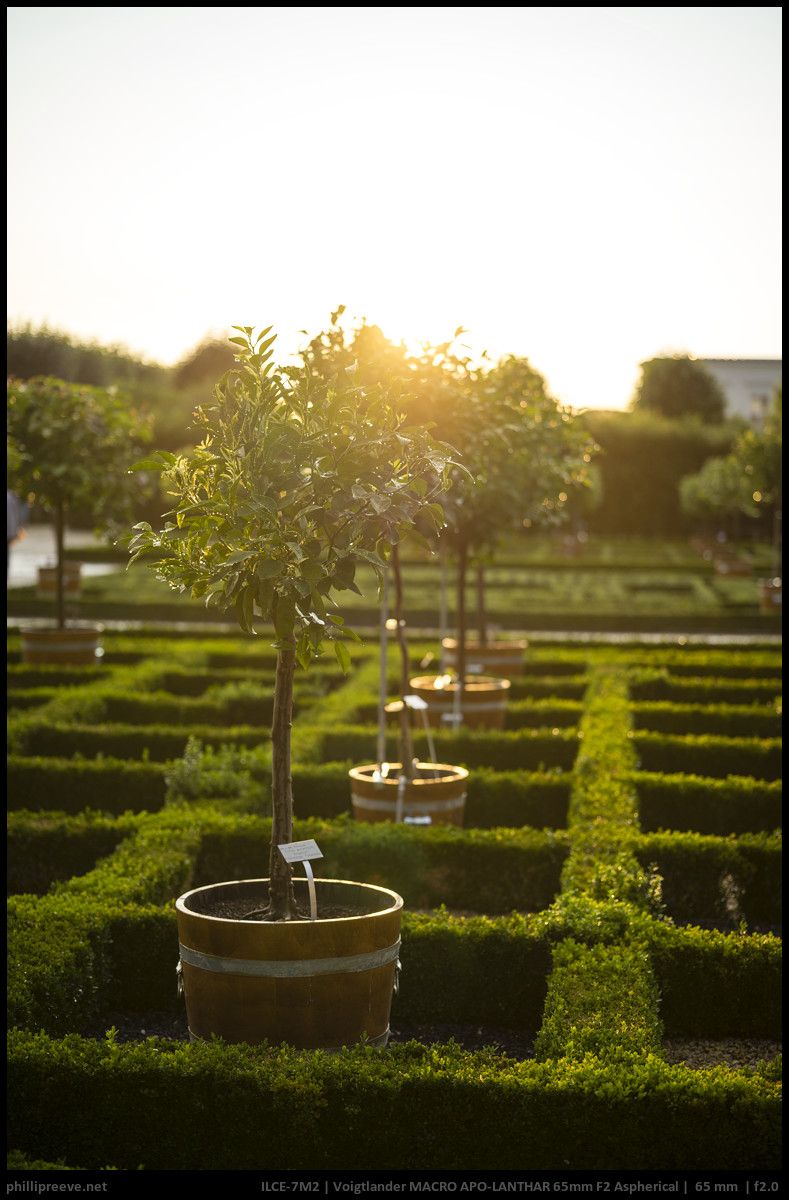 Sunstars
Voigtlander lenses are known for their very defined 10-pointed sunstars. Personally I like this effect a lot, other people don't. You just need to stop down to f/2.5 until they are very well defined.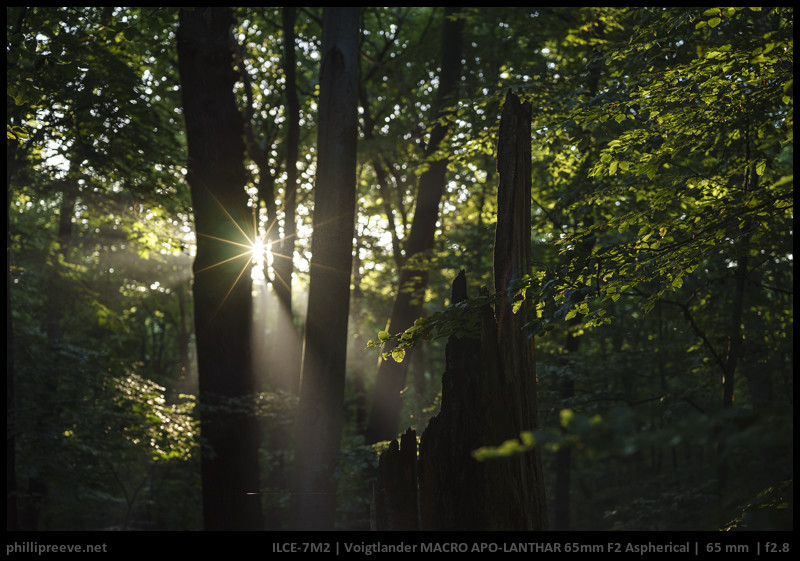 Bokeh
Overal I would rate the Voigtlander's bokeh positive but let's have a closer look.
Wide open at f/2 it is nearly as smooth as that of the FE55 which in my eyes has one of the smoothest bokehs in any normal lens but the APO-Macro has a lot less bokeh fringing. As usual bokeh is the smoothest at close distances and deteriorates a bit as you focus further.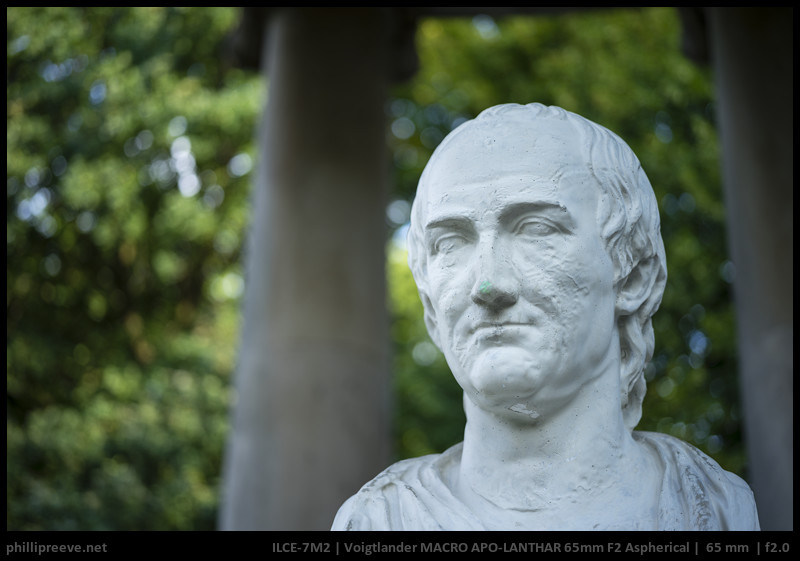 The transition zone is neither good nor bad:
Cat eyes are quite pronounced and there are minor onion rings: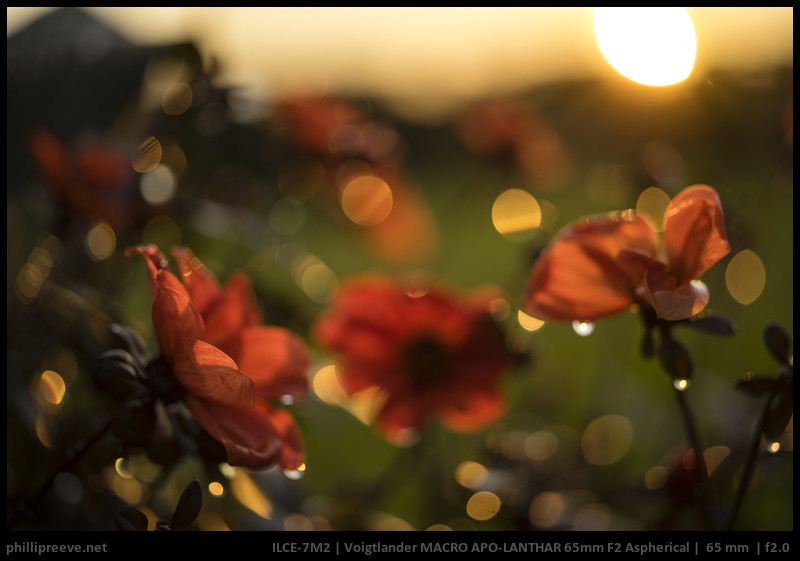 Stopped down beyond f/2 the aperture shape becomes visible because the Voigtlander has straight aperture blades. This can be annoying especially if you have a high contrast background or it can be of little consequence if your background has less contrast. It is also less noticeable as the oof-highlights get smaller as you stop down.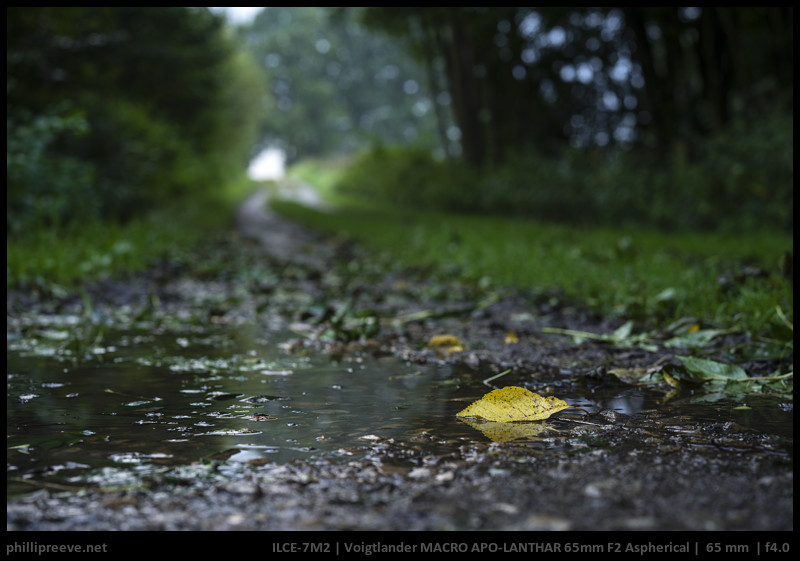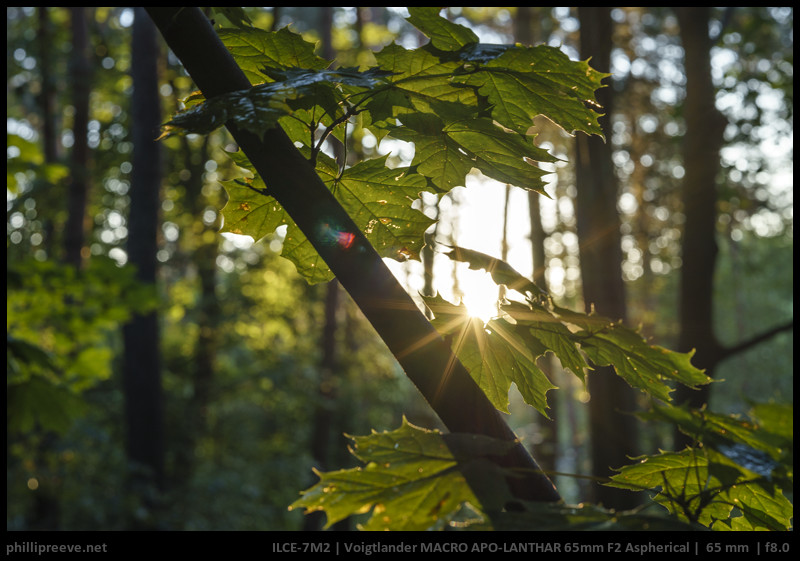 So most of the time the Voigtlander has pretty good bokeh but there are a few situations where it isn't that good.
Chromatic Aberrations
Since the apochromatic correction is one of the more unusual features of the lens and because not all lenses which are called APO offer exceptional CA correction I was curious how the Voigtlander APO 2/65 would fare.
In short: It lived up to my expectation to the fullest. Optically I was pretty impressed by the FE 1.8/55 except that it showed a lot of axial CA and spherochromatism. The 2/65 APO in contrast shows almost zero CA, even in a worst-case-scenario as backlit water fountain.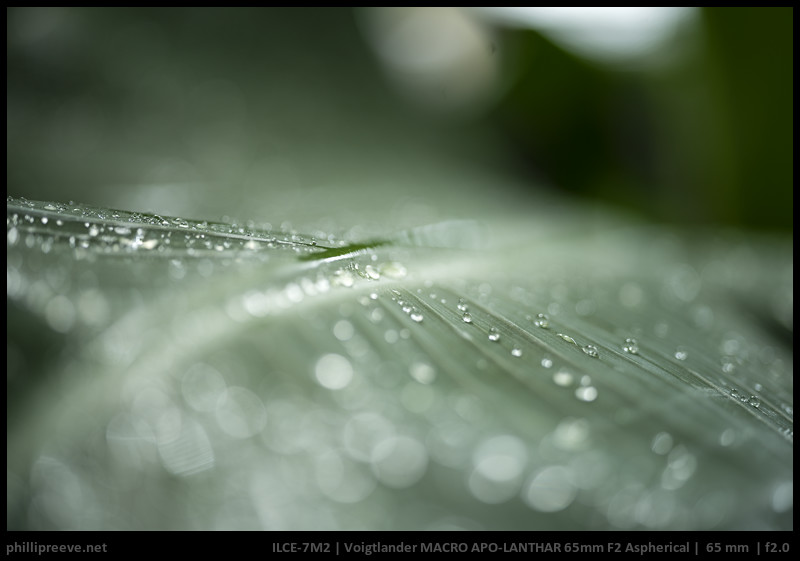 Vignetting
Vignetting at f/2 is 2 stops which is quite a bit and easily visible if uncorrected. Stopping down to f/2.8 reduces it to 1.2 stops which are still noticeable. At f/4 vignetting is hardly noticeable at 0.7 stops and at f/5.6  I measure 0.6 stops: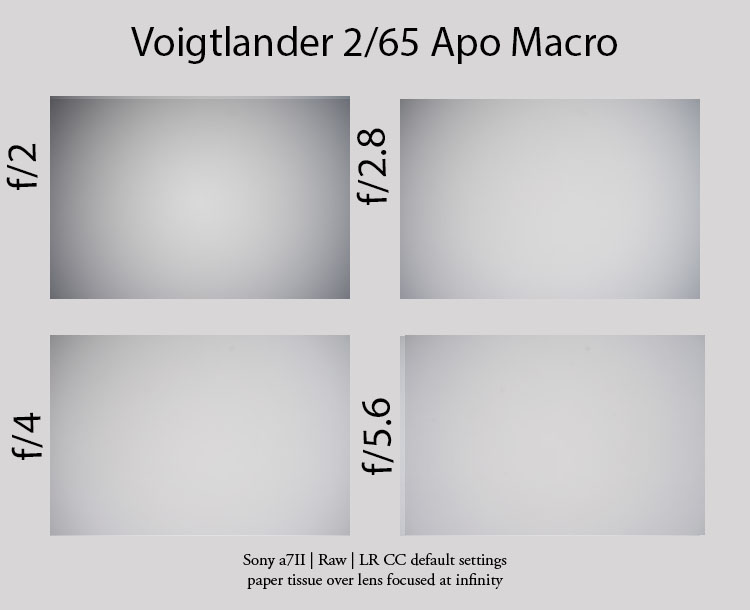 Distortion
The Voigtlander 65 mm F2 Macro shows no visible distortion. That is not unusual for a macro but still an achievement.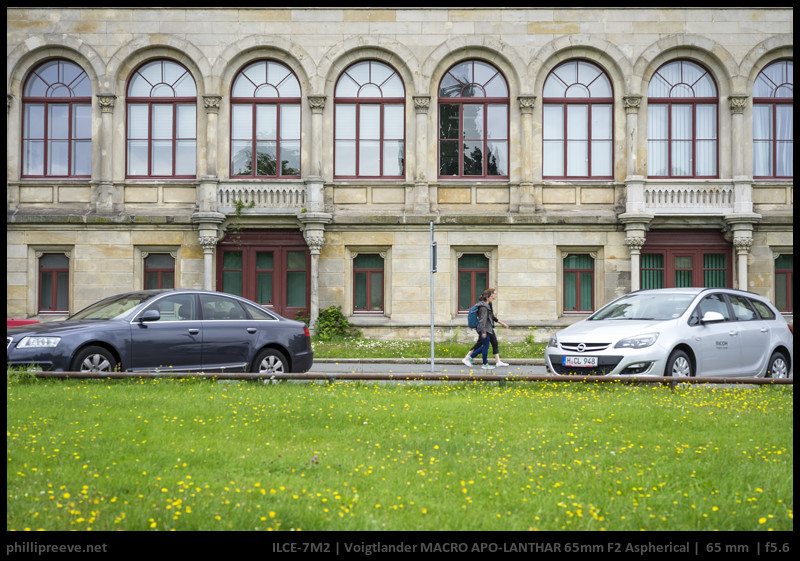 Sharpness

Just wow! I have never before tested a lens with such great results. The Voigtlander 2/65 APO is excellent across the frame from wide open with only the slightest bit of falloff towards the corners.
At 1:2 the Voigtlander 2/65 is also a great performer, I think it is a tad less sharp at f/2 though.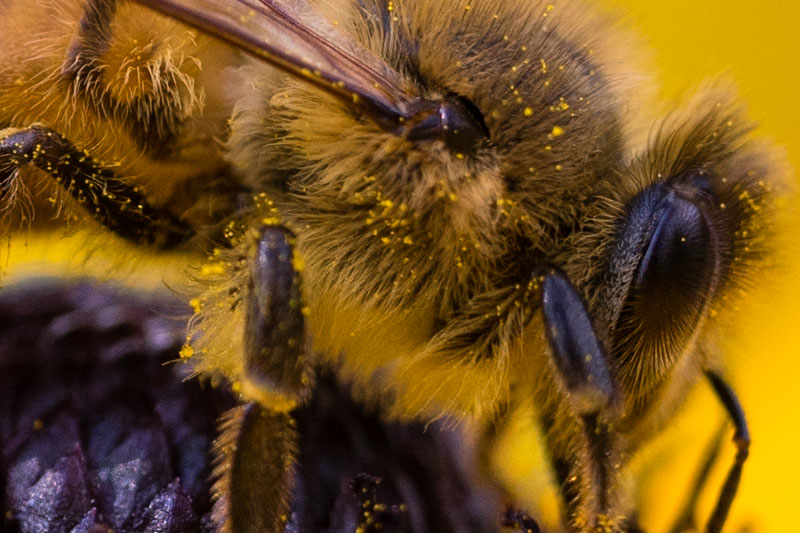 Alternatives
65 mm is a rather unusual focal length so I have to interpret the term alternative a bit more loosely here.
Sony FE 2.8/90 Macro: Of course the focal length is quite different but apart from that I found the Voigtlander a tad sharper at longer distances and both lenses similarly sharp at shorter distances. The Sony has smoother bokeh, especially in the transition zone. The Sony offers pretty good CA correction but it does not reach the perfection of the Voigtlander. The Sony of course offers AF and 1:1 but I find the manual focus rather sluggish and I also prefer the handling of the more compact and much more solid feeling Voigtlander. Another advantage of the Voigtlander are the very nice sunstars which come at the cost of stopped down bokeh. If your focus is on macro photography the Sony makes more sense.
602 g | $998 | amazon.com (affilate link)
Sony FE 2.8/50 Macro: The much smaller, cheaper and slower Sony lens can reach a higher magnification ratio of 1:1 but I think the Voigtlander is the more universal lens since it is faster and better corrected. Optically the Voigtlander is superior because it is sharp in the corners from f/2 with no CA but the Sony is a bit more flare resistant. Manual focus on the Voigtlander is much more pleasant than with the Sony which has a very indirect transmission.
If your focus is on macro or light weight the Sony might be the better option but I found it very slow AF frustrating and the 7 aperture blades can be an issue.
My review | 236 g | $448 | at amazon.com (affiliate link)
Sony FE 1.8/55: The Sony is a damm fine lens with only a tad smoother bokeh (although with much more CA and onion rings). The only aberration which I found at times annoying was the axial CA which is a no-issue with the Voigtlander. The Voigtlander is a tad sharper in the corners at wider apertures but both perform on a very high level here. The most important argument for the Sony I see is the fast AF and the fact that it weights not half as much. The Voigtlander focuses much closer and is build much more solid with great manual focu so personally I prefer the Voigtlander.
My review | my comparison | 281g | $898 | amazon.com (affiliate link)
Tokina 2.5/90 Macro: The nicest legacy macro-lens I have come across so far. It is very sharp in the center from f/2.5 but needs f/5.6 for great corners and it also shows CA at times. Its biggest disadvantage is the weak flare resistance. Bokeh of the Tokina is a bit smoother. A more affordable alternative which does not offer the perfection of the Voigtlander.
My review | 530 g + adapter  | about $300 used | at ebay.com (affiliate link)
Zeiss Macro Planar 2/100: Now I am streching it because the Zeiss is a very different focal length but both are modern high performance manual macros. The Zeiss is a bit larger and heavier (with adapter) but not by much. In the end I sold it because I was too bothered by the high amount of axial CA which outweighed its otherwise awesome performance. Now the Voigtlander overcomes that issue and I find it the much more convenient lens.
MTF-data | review | 660 g + adapter | about $750 used | at ebay.com (affiliate link)
Sigma AF 2.8/70: Optically a great lens which approaches the Voigtlanders performance you loose one stop and more importantly the ease of handling because the manual focus is not as pleasant as that of the Sony. With the right adapter it also offers AF though not as nice as that of native lenses. A good choice if performance and value are your biggest concerns and you are willing to sacrifice some ease of use.
Photozone.de review | 525 g + adapter | $ 220 | ebay.com (affiliate link)
Legacy 50/60mm Macro lenses: Lenses like the Nikon Ai-S 2.8/55 can be had for a fraction of the cost and they usually perform quite well although not as exceptional as the Voigtlander 2/65. They are usually smaller and lighter and some even do 1:1. With the exception of a Olympus 2/50 they are not as fast though which to me would limit their use as a standard lens.
Conclusion
pros

Excellent CA correction

Excellent Sharpness

Bokeh (most of the time)

Build Quality

No Distortion

Sunstars

1:2 Magnification

average

Vignetting/ Cat-Eyes
Price

cons

Size & Weight


1:2 magnification

No Weather Sealing
I think I haven't found so little fault with a lens before. The Voigtlander Macro 65mm F2 APO-Lanthar shows excellent sharpness from f/2 across the frame. It also does the APO-label justice since its CA correction is close to perfect. Neither is there any distortion. Bokeh is smooth most of the time but cat-eyes can be a bit distracting as can be the straight aperture blades. Only vignetting is on the higher side but that is a small price to pay for this exceptional performance. In my eyes it is optically the best E-mount lens at the moment, together with the Batis 2.8/135.
The Voigtlander is a rather large and heavy lens, especially if you compare it with the smaller and much lighter FE 1.8/55 so to enjoy its performance you have to put up with the weight. I would probably leave it at home for a hiking trip but for my everyday use I am happy to carry a little more for that level of performance. Handling is close to perfect for a manual lens with a very nice focusing ring and excellent build quality.
So who should buy this lens? I think the Voigtlander APO 2/65 is an interesting amalgam of the classic 50mm and 85mm lens, still wide enough to function as a normal lens but with a bit more compression for undistorted portraits. I think it works great in a kit with a 35mm and 135mm lens. The 1:2 macro function and the superior performance is a clear advantage over classic normal lenses but I don't think that it is great choice if your focus is on macro since it doesn't get that close and you would probably want something longer for that. Manual focus will be an issue for some, for me it is a bonus. I can't say that I enjoy the large size but for the level of perfection it is a small price to pay.
All in all I have never before been that impressed by a lens. The Voigtlander APO Macro 2/65 delivers a nearly flawless performance. For me this is the optically best E-mount lens at the moment, only rivaled by the Zeiss Batis 2.8/135. It is quite large but the handling is a joy if you like manual lenses. The price is quite low compared to lenses of similar performance but of course still high in absolute terms.
The Voigtlander 2/65 APO-Macro sells for $999 at CameraQuest, amazon.com or ebay.com, 999€ at ebay.de (affiliate links).
If this review was helpful to you, please consider using one of my affiliate links. Thanks ?
More Image Samples
You can find these more images in full resolution in this flickr set: Voigtlander 2/65 APO.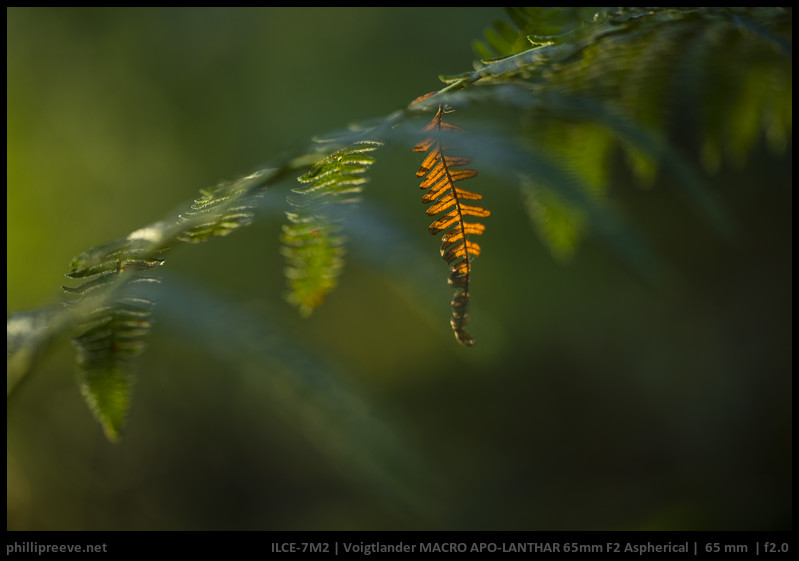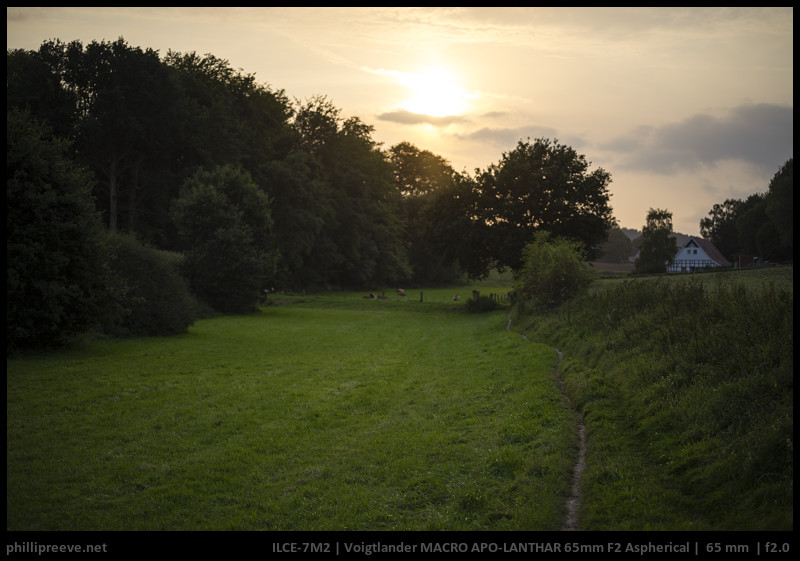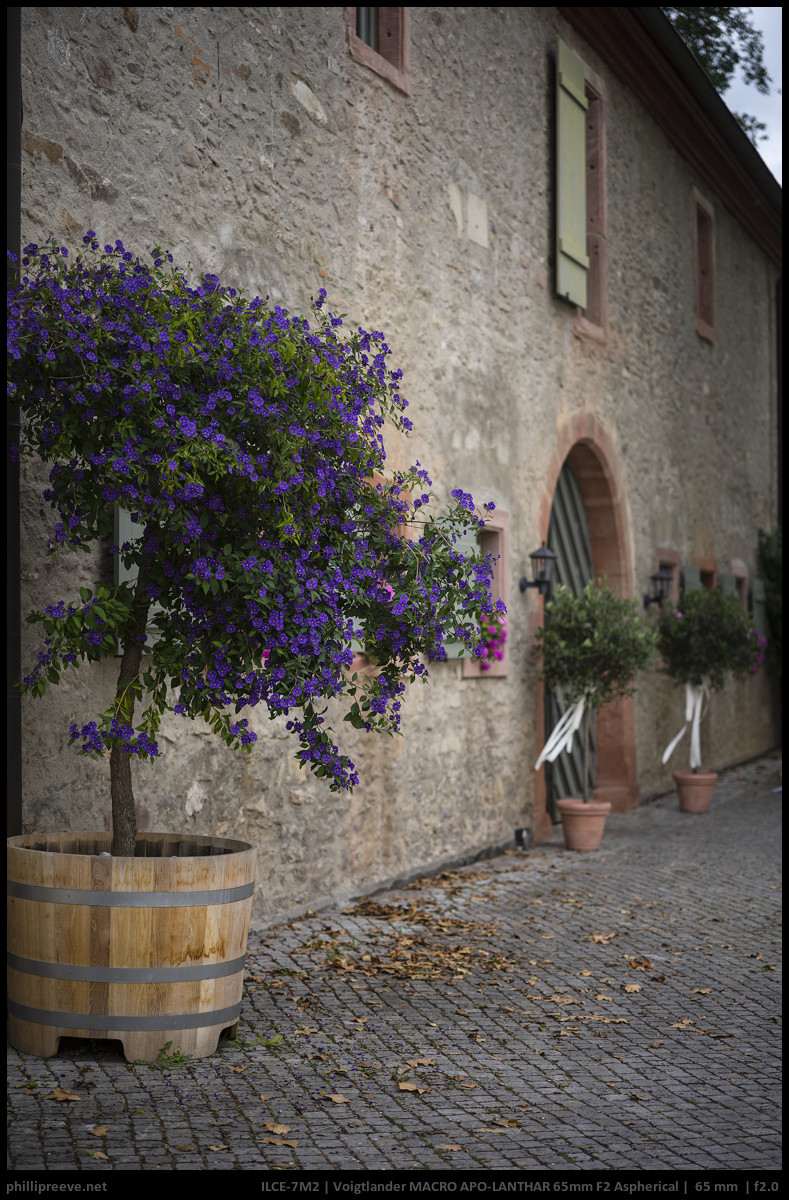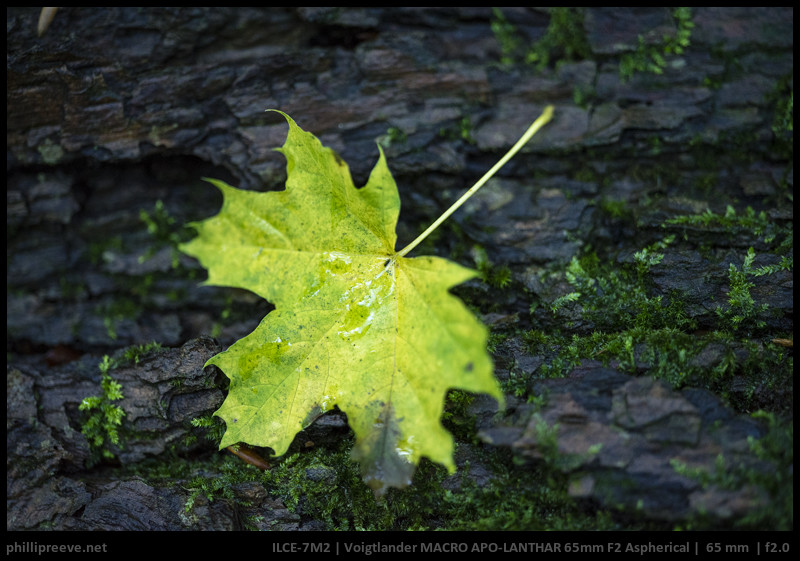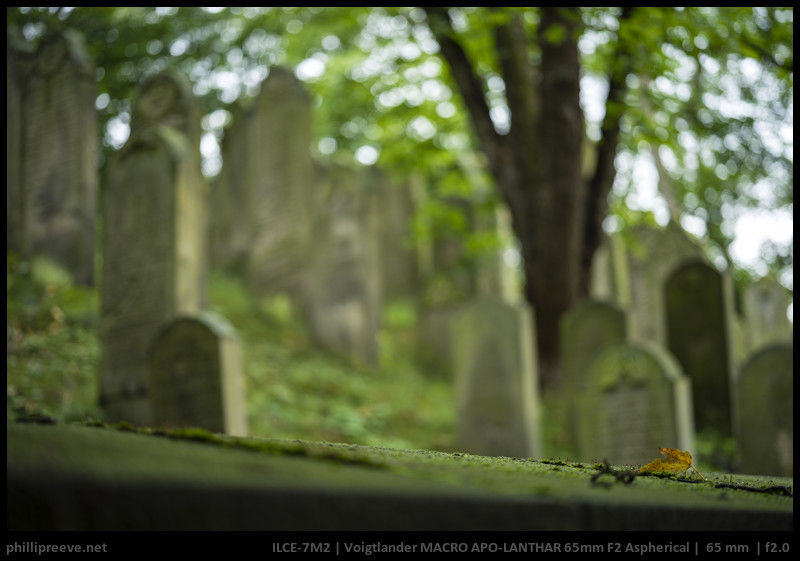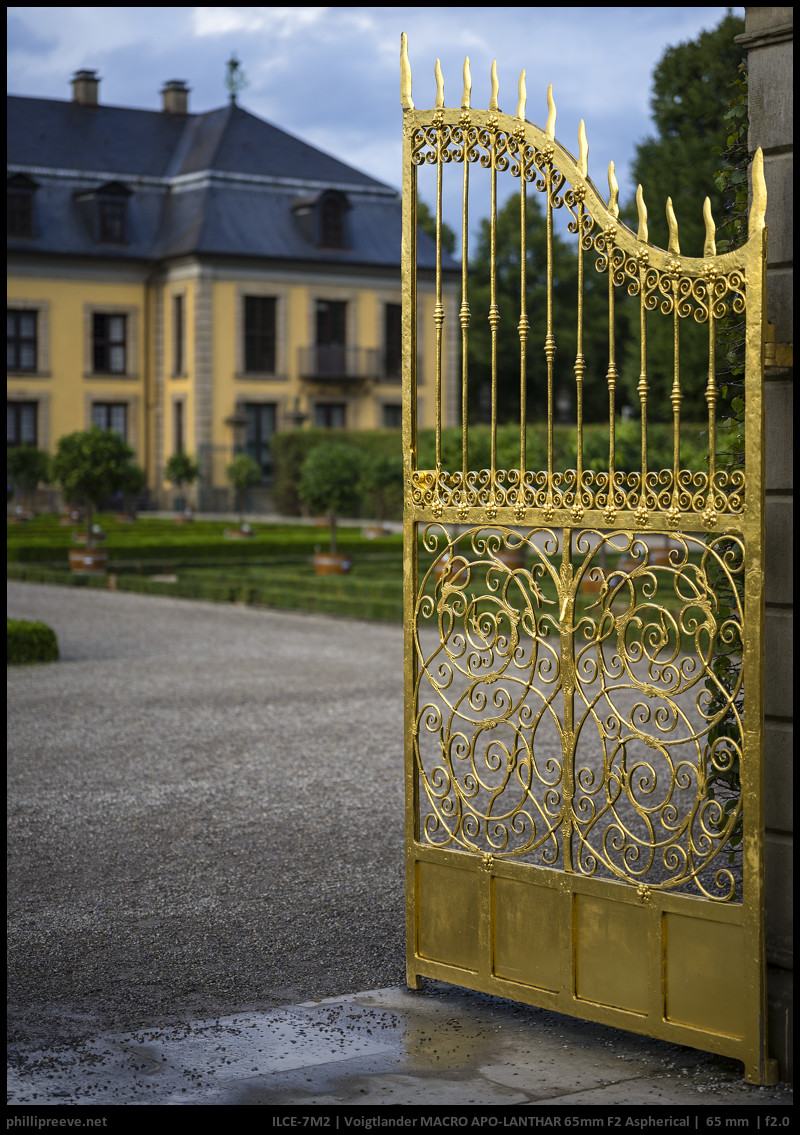 You can find these and more images in full resolution in this flickr set: Voigtlander 2/65 APO.
 Other articles
The following two tabs change content below.
I have two hobbies: Photography and photographic gear. Both are related only to a small degree.
Latest posts by Phillip Reeve (see all)