Introduction
The blogosphere melted down with frustration when the 135mm Batis was announced. Too slow and too expensive was the common verdict. But it's also much lighter than the fastest medium teles, and faster and more convenient than the smallest. So is this lens the ideal compromise, or is it stranded uselessly between the fastest and the smallest? That will depend on performance, and handling. This review looks at just those issues.
---
Sample Images
Images can be seen and downloaded in full resolution here.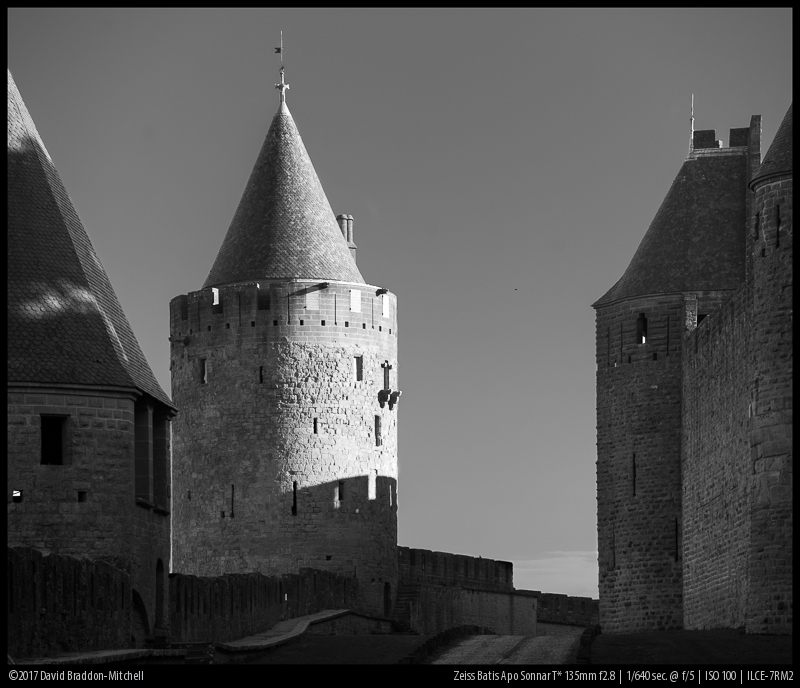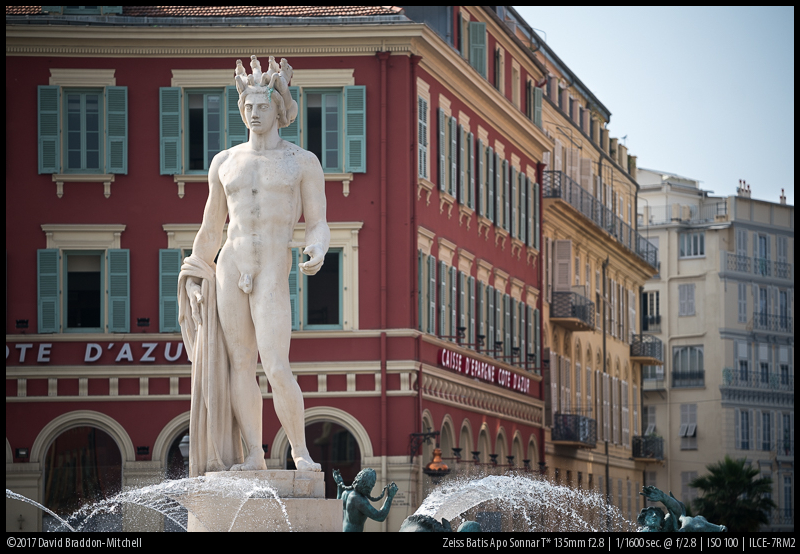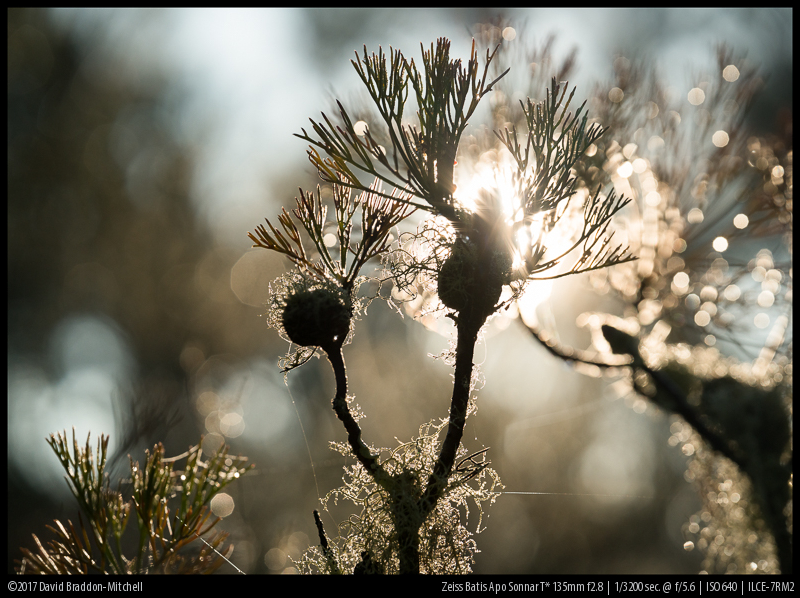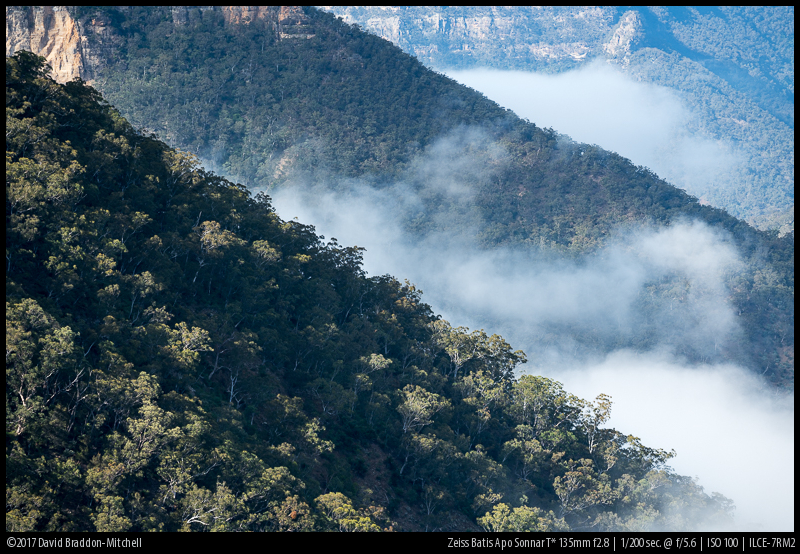 Specifications
Max. Diameter: 98.6 mm
Diagonal Field of view: 18°
Length: 120 mm (without cap)
Weight: 614g
Filter Diameter: 67 mm
Number of Aperture Blades: 9 (rounded)
Elements/Groups: 14/11
Close Focusing Distance: 0.87m
Maximum Magnification: 1:5.3
Mount: Sony E (covers full frame)
Build and Handling
The shell of the lens is a durable metal composite material, with a rubberised focus ring. If you have used a Zeiss Batis lens before, you know what to expect. It's like the 85mm but a bit larger. Not everyone likes the focus ring material on Batis lenses. I find it comfortable to turn, but actually locating the ring by touch alone is trickier – it's not as easy to find with your fingers as a heavily ribbed ring. I work in a very mild climate and rarely wear gloves. But I think if you were wearing gloves while trying to tell where the focus ring is without looking, it would be very hard. But the overall build quality is of the highest standard; and the use of various composite materials internally keeps the weight down, and very likely the strength up. It's impressively light for its size. It comes, like all other Batis lenses except the Batis 2.8/18, with a 67mm filter thread.
The manual focus is focus by wire; opinions vary a lot about this. I have finally got used to it, and rather like the better implementations, of which this is one. It's possible to make big changes quickly by rapid movement of the ring, and fine tune focus very precisely with slow movements. This system does require learning though if you are used to linear travel on focus rings. The OLED focus scale is of some use, though it's not perfectly accurate. But it really helps in getting your focus into roughly the right area before fine tuning, without having to look in the viewfinder. It's great for people whose instinct is to look at the lens while focussing. The DOF scale is of limited use on a lens of this focal length. It is possible to set infinity accurately by starting on the the close side of infinity, and focussing further away, stopping immediately when you first see the infinity sign. If you keep focussing you will be past infinity, even though the infinity sign is still displayed.
The AF seems very good. Completely silent, and generally quick and accurate. On the A7rii, though, it does depend on PDAF points – when your af point is one of the CDAF only points on the periphery AF-C doesn't work well. It's excellent over most of the AF area though. The other caveat is that  the AF can hunt a little if you start with deep defocus; but this is just the fast tele problem on A7rii. I'd expect much better performance on A9 and future Sony bodies. Eye AF is just like magic. It works especially well, perhaps because of the contrast. This makes portrait sessions incredibly stress free – you just press the button you have assigned to eye AF and take the image.
It's much smaller than the big modern F2 and faster lenses; but it's not tiny or featherweight either. The Batis 2.8/135 is very similar in terms of dimension and weight to the Sony 2.8/90 macro. This places it right on the cusp of portability for me. I have carried it all day comfortably, but I wouldn't want it to be any bigger or heavier, and taking it on a trip means leaving something else behind. I have never taken a 2.8/70-200 or a 2/135 on travel of any kind, but I do plan to take this lens on four weeks of travel in the Northern Hemisphere this summer, and that will be the real test of whether this lens is worth the rather high price. I'll report back in late July about that!
Compared to other 135mm lenses
As you can see the lens is middling in size: much larger than the tiny Zuiko 3.5/135 and a little smaller (but significantly lighter) than its Zeiss big brother, the Apo Sonnar 2/135.
And here's an image of the three lenses with their hoods:
The weight on my scales of the lenses with hoods, caps and the adapters you see  is:
OM Zuiko 3.5/135: 439 grams (note that a legacy 2.8/135 will weight more).
Zeiss Batis 2.8/135: 665g.
Carl Zeiss ZF2 2/135: 1.28 kg (the Milvus version weighs about 100g more).
Resolution at Infinity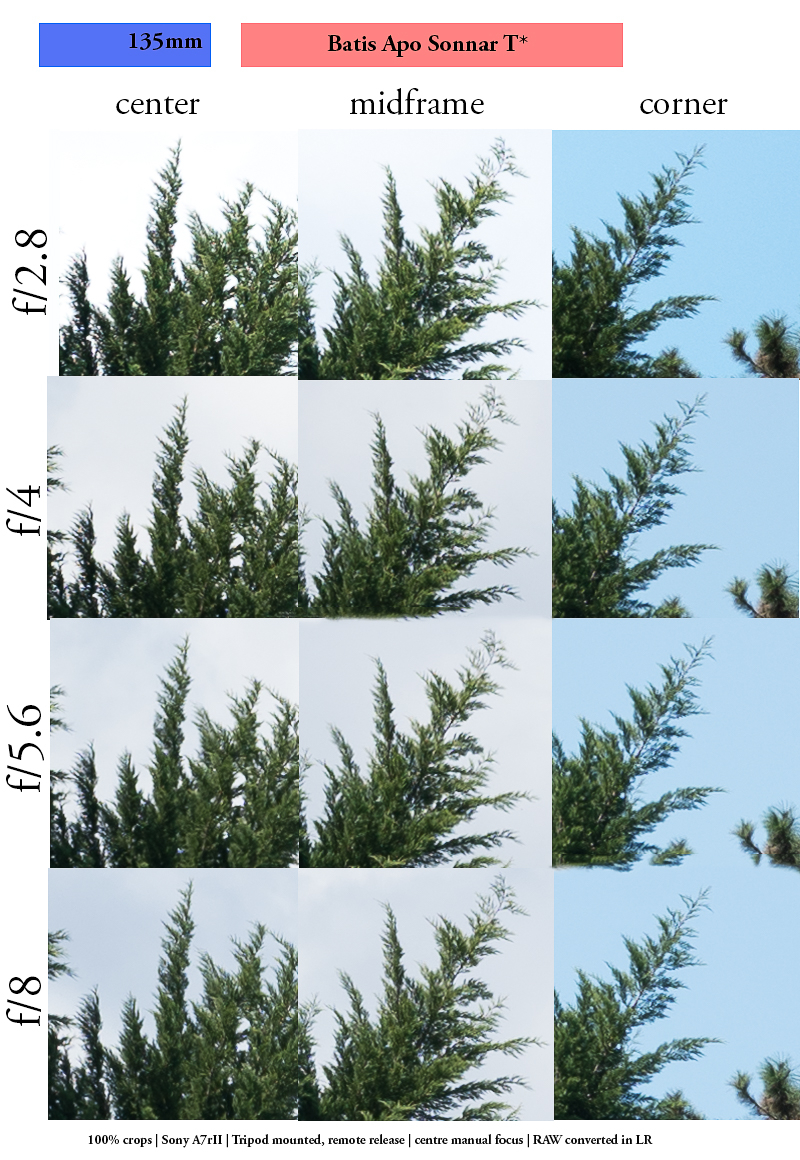 For context here is the overall scene with the positions of the crops (exposure raised a bit in the wide open corners for easier comparison)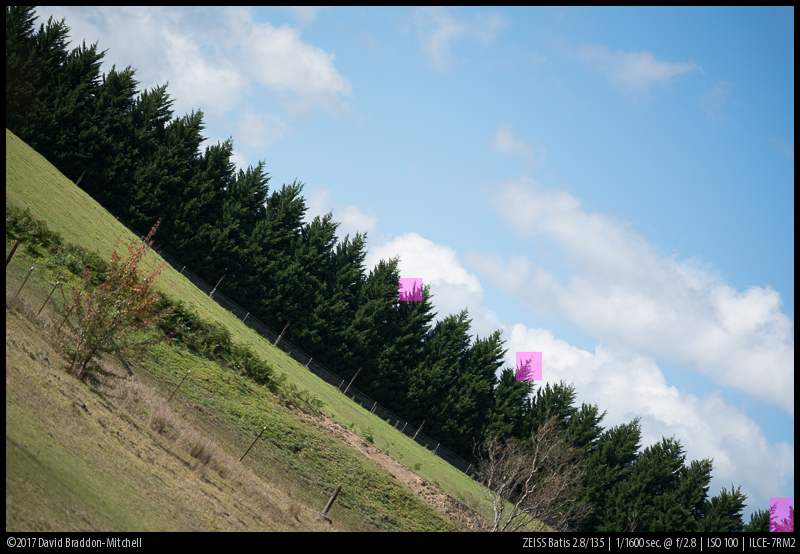 These crops are at very close to infinity: actually 850m which is just before the lens gives the infinity sign. Even a 135mm lens is unforgiving of focus at long distances. It's possible to tell, at 1:1, that the corners are different from the centre at wide aperture; but the difference is small and completely goes away just a tiny bit further towards the centre (these crops are only 250 pixels or so wide, so a tiny proportion of the diagonal of the frame). By f8 the difference just about vanishes on close inspection. But at any aperture the performance across the field is exceptional. Of course that's not something to get too obsessed with – some of the competing modern lenses would be hard to distinguish in sharpness terms in field use, and plenty of legacy 135s would be sharp enough for practical purposes. But it is confidence inspiring to know that you can choose aperture purely for creative reasons, never because you need stopping down for more quality.
Resolution at 1:5
A very useful magnification ratio; 1:4 would be even  better, but you can get a very close face crop, and at 0.87 metres you can get close enough for lots of work that you might otherwise use a macro lens for. Performance seems unaffected by the close focus. This is remarkable performance; just as sharp at close distance as at infinity. It suggests that use of extension tubes to get a useful semi macro with a longer focal length than most macro lenses might give good results, but I have not formally tested this.
Image Stabilization
The Batis 2.8/135 has optical image stabilisation, which on a body which has IBIS works together with the camera, the lens stabilising two axes and the camera three. I compared the results with stabilisation on a manual 135mm lens (the Olympus) using IBIS alone with the focal length dialed in manually.  Results are very similar between 1/60 and 1/250 of a second (on modern high resolution bodies I regard (1/2 x focal length) as the same minimum handholding speed, rather than the traditional (1/focal length). But at very low shutter speeds the Batis-A7rII combination reliably produced occasional  critically sharp images, long after the other lenses were no longer able to do so. Indeed at 1/4 of a second perhaps 15% of images where critically sharp. This may not seem many, but it is very useful. It means that with static subjects and no tripod, you can take a burst of ten images at 1/4 second and be fairly confident there will be a keeper in their midst. There will be times when the alternative is a substantial ISO boost or no worthwhile image at all. I have not tested the lens on a body without IBIS to see if the synergy is indeed better than OSS alone.
Bokeh
Two questions arise when considering the bokeh of this lens; quantity and quality.
Quantity first: the complaint that many had was that at f2.8 it wouldn't dissolve backgrounds like an f1.8 or f2 lens would. Of course to some extent this is true: but does it dissolve them enough for you? You can compare the sample image from above with this similar image taken with the Zeiss ZF.2 2/135 Apo Sonnar wide open:
Now you can judge if you think the difference is a deal breaker. For what it's worth yes I prefer the f2.0 background in this image, but the difference is not enough to make me carry a significantly heavier lens with me, even if I might use the faster lens in and around home. Another factor is that in these two images, the extra depth of field of the f2.8 image is quite welcome on the subject herself, even if not on the background.
One thing to bear in mind is that the above test is a best case for the faster lens. The background is very distant, and this is where speed differences have the greatest effect on bokeh. With a background one to three meters away the difference would be much less.
Now on to  the quality of the bokeh. Lovely – in part because of the almost perfect colour purity of it (more on this in the chromatic aberration section). One interesting thing to note is that in the bottom right of these two images you can see an oval "cats eye" highlight that is exactly the same shape on these two images. Presumably Zeiss have a standard of mechanical vignetting wide open that they have applied to both lenses. Of course the f2 version will be rather better at f2.8.
Bokeh balls remain circular up to f4; at f5.6 and smaller they are visibly nonagons. The lens has nine slightly curved iris blades. A lens this long could (if only to reinforce the super premium aura) have benefited 11 or more blades.
Finally here's an image which is a torture test of "swirly bokeh": i.e. the extent to which mechanical vignetting can create a swirly look in the bokeh. The orange tree manages to make bokeh look swirly on most lenses, so this is a good worst case scenario!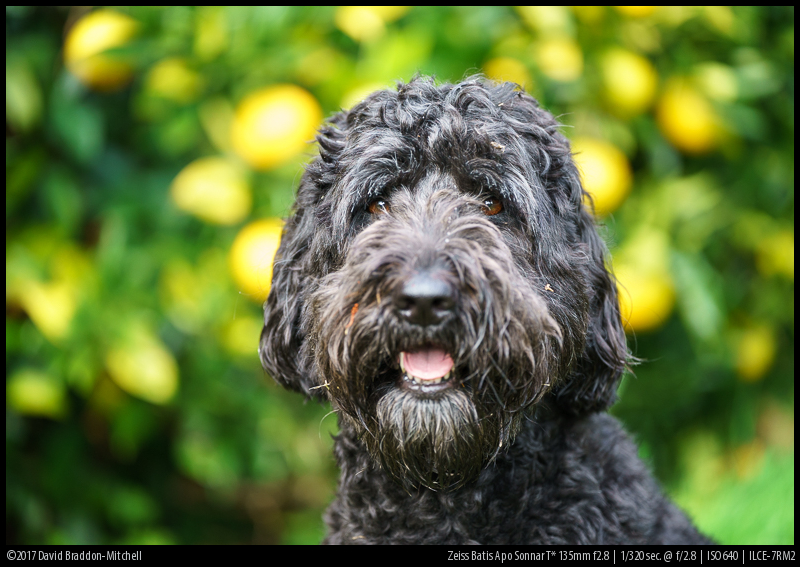 Chromatic Aberration
There is no visible lateral chromatic aberration (LaCA). But like all native FE lenses there is an automatic profile applied in ACR/LR which corrects it. It would be possible to check if there is any LaCA in the underlying RAW file by using a converter that ignores this profile (such as DCRAW) but I haven't bothered—since LaCA correction is lossless there's no point.
Axial CA and spherochromatism  are the interesting aberrations, since they are very hard to edit out, and are sometimes very unsightly, giving green edges to things behind the plane of focus, magenta ones in front of the plane of focus, and discolouring specular highlights. Here the performance is exemplary. It's even a touch better than the 2/135 APO Sonnar. It creates a clean, pure look to out of focus areas that is very appealing.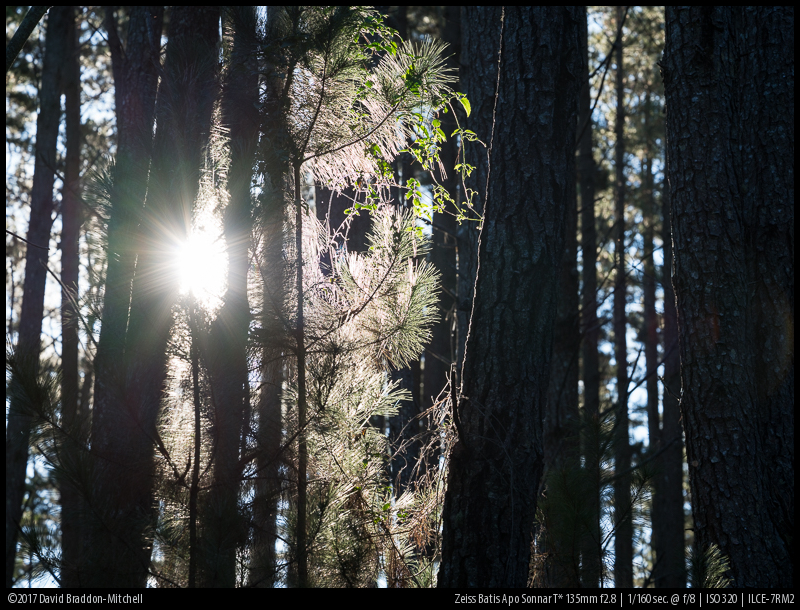 Here's a 1:1 crop of the torture test area right next to the sun, with remarkably little fringing of any kind on the casuarina needles.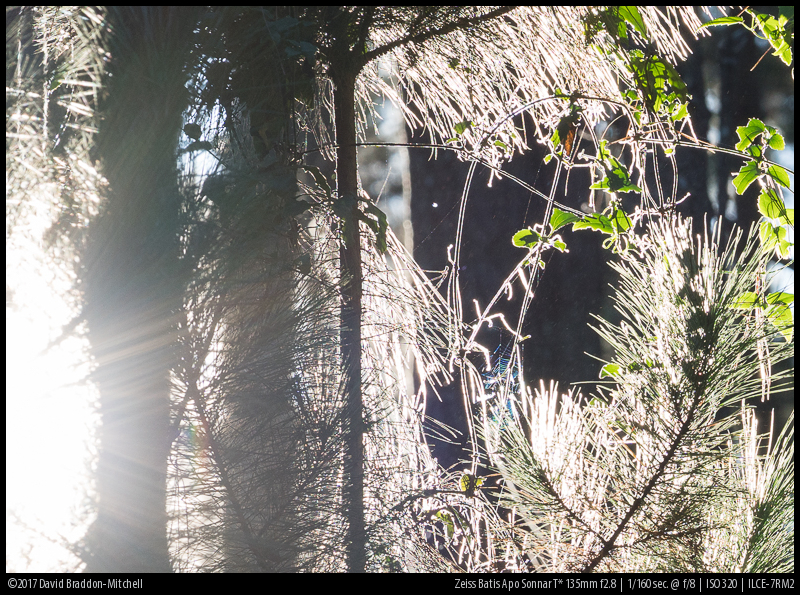 Flare, Contrast and Sunstars Against the Light
This is about as bad as I could make flare with the sun in the frame: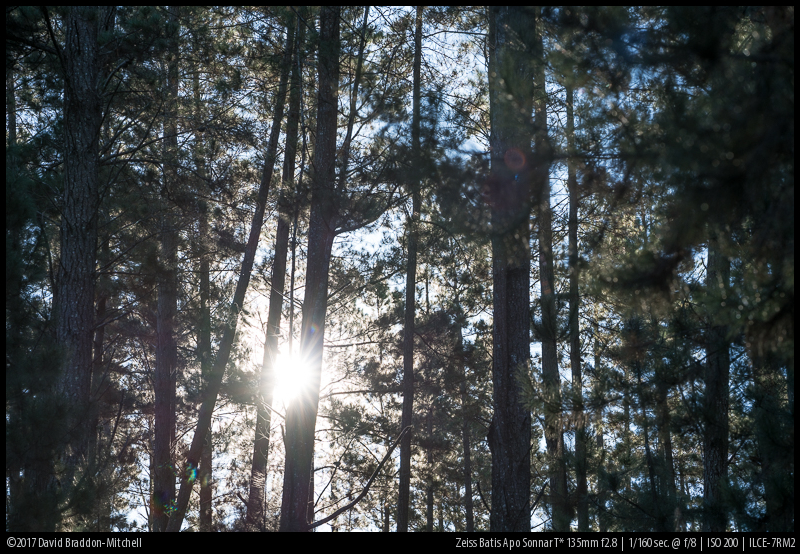 With a dark foreground, shadows lifted to the max, and off centre, this a very demanding scenario. Just a couple of small artefacts in a line on either side of the sun, and no significant reduction in contrast.
The sunstar is not extremely defined, but not bad for a tele. It has 18 points, though in some scenarios the lens produces small 9 point stars, which mystifies me.
The worst result is with the sun just outside the frame. But recall that with a tele lens it only takes a very small difference in framing to move the sun away: and it was always possible to move just fractionally and remove the flare.
Here is the worst I could get compared to what a slight recomposition resulted in:
But just using your hand, or a longer lens hood, completely eliminates the issue in a way I have never seen before: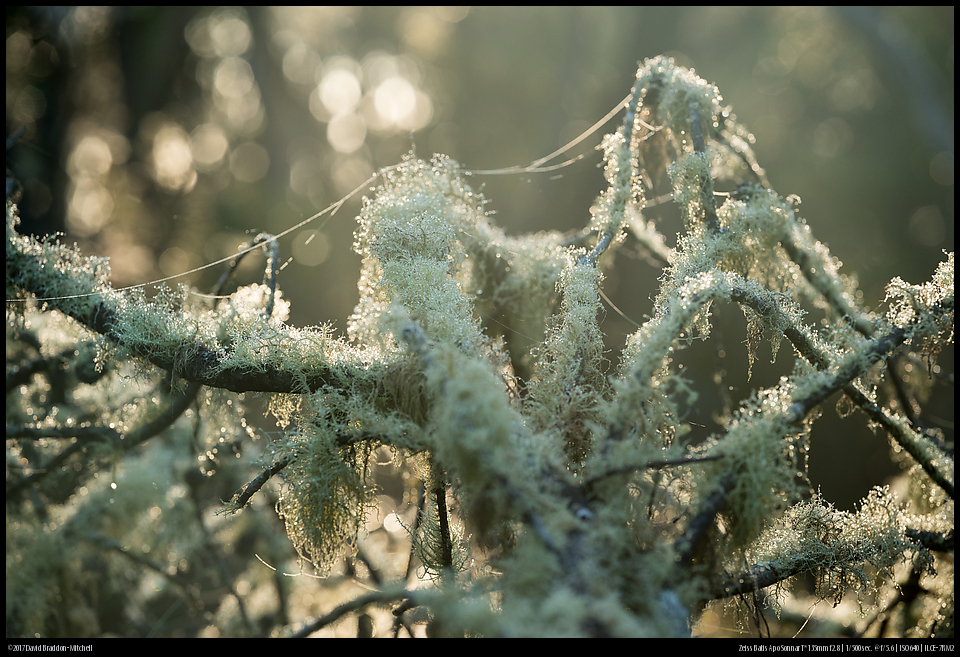 When the sun is higher in the sky it is stronger, and incorporating the sun without any occlusion by clouds or vegetation will always produce a stronger flare. So I took some images of a fairly high sun, unobstructed, with some foreground with heavily raised shadows.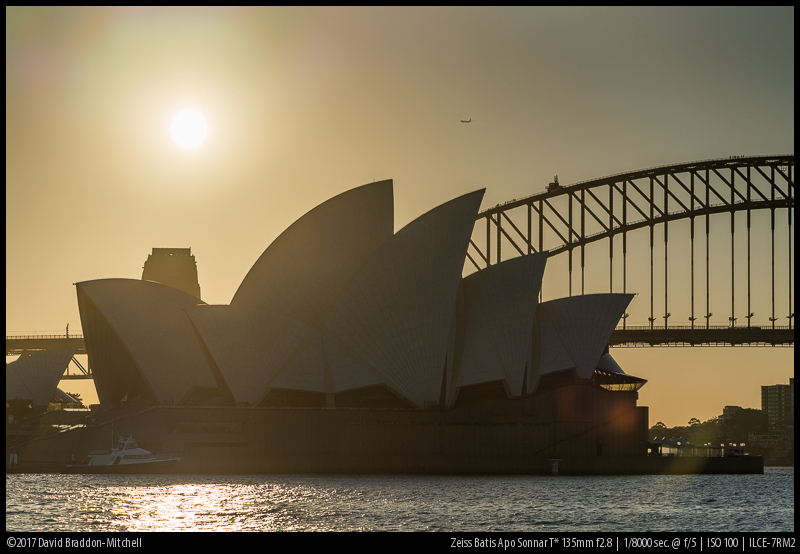 This produces some colour artefacts around the sun (sensor reflections is my guess) and a distinct flare artefact in the bottom  right area. The shadows here have been raised 100% and the exposure raised over a stop (underexposure was to keep detail around the sun), so it does not reflect normal use! This image also serves to illustrate something else about using tele lenses, even relatively short ones. The building is in focus, and is close to a km away, but the bridge behind it is noticeably softer even at f5.0!
Some Historical Reflections on the 2.8/135.
There were only ever a few AF 2.8/135 lenses made, and they were all back in the very earlier days of AF (Minolta and Pentax made one, and Canon made a soft focus model). There have been no modern designs until this Batis. However the 2.8/135 mm lens was the mainstay medium telephoto in nearly every manual focus system. Why did the industry turn away from these lenses?
My guess as to why it happened was that as zoom lenses became better, the role of prime lenses changed. If you could get a good f2.8 zoom lens, customers began to think that to justify the lack of convenience a prime lens had to be very much faster. So since 135mm f2.8 can be had in a 70-200 zoom lens, a prime lens needed to be a stop faster to entice someone to purchase it instead of, or as well as,  the zoom. So the industry switched to 70-200 zooms and most made a faster prime 135. But this of course misses two things. The best of these zooms is very good indeed, but there have been people insisting on using fast primes partly  for speed but also for the (admittedly subtle) quality advantages over a good zoom, especially when used on modern cameras with very high megapixel count. And there are others looking for a mid tele that is a great deal more portable than an f2.8 zoom or even than a good f4 zoom.
So compactness and slightly greater image quality are promises a lens might make to tempt someone away from a big zoom lens.  Until this Batis, you could get quality and compactness at the price of dollars, speed and lack of autofocus with some lenses. You could get quality and speed but at the price of bulk and mass with others. But no one offered you this compromise—fairly fast, AF, relatively compact but with uncompromised image quality.
Travelling with the Batis Apo Sonnar
The justification for this lens over faster lenses is in part its compactness. As things stand the faster alternatives all have some drawbacks—no AF on the ZE/F Apo Sonnar; LoCA and adapted AF on the Sony-Zeiss f1.8 A mount, and adapted AF on the excellent new Sigma. But in the not too distant future we might expect a Sony G for not much more, with native AF and F1.8 or f2. So why would one prefer this lens over the existing fast lenses, or (if it isn't urgent) why wouldn't you wait for the G?
If you really need f2 or faster for what you do, that's of course what you should do. But for many of us the relative compactness is tempting. I paid for this lens because I wanted a fast tele lens, and knew I would never take a 2.8-70-200 travelling, or for that matter my f2 Apo Sonnar.
So after the preliminary version of this review was published I took it with me for over a month of travel through Italy, France and Greece, mostly for work, but with a week's leave. So do I now think that the compactness is worth it (given that it's pretty much optically impeccable)?
Mainly, yes. By 'mainly' what I mean is that on part of that trip I was hiking. But I never packed the Apo Sonnar. It stayed at our accommodation when we were doing long days in the mountains. I'm sure there are others that would take it on 10 hour hikes, but here's one data point from one user. Yes it's small and light for an optically amazing fast tele. But that's not small and light in absolute terms.
I think that this leaves one niche unfilled: a modern lens a bit like the Leica Apo Telyt. If there a Loxia 4/135 — or even 4.5/135 — I might at last have a hiking landscape tele. But this lens is just a bit too large for that.
On the other hand it wasn't a pain to travel with – it didn't get me over the hand luggage limit, nor was it too heavy for ordinary use. So I did use it quite a bit on short walks (less than 3 hours) and when driving around and taking little walks to lookouts, or strolling in and around towns and villages. I would never do that (yes I know many of you are different in this regard!) with any of the above mentioned larger pieces of glass. So yes, the lens filled a niche for me.
It is, however,  an expensive niche; and after rating the images from the trip (on which I took three lenses), only about 12% of the high quality keepers were taken with this lens. Just worth it for me: your mileage may differ.
Alternatives
Carl Zeiss Apo Sonnar 2/135 (Milvus 2/135)
The grandfather of the 135 territory. Superb at every aperture and distance, and a piece of lovely engineering that will last a lifetime. But it has no AF, and once you add an adapter, caps and a 75g tripod foot it weighs 1.25 kg. The Milvus version is more expensive, better sealed, weighs 100g more and has better coatings on one element. You can buy the original from B&H via our affiliate link or the Milvus version
Sigma 1.8/135
The new kid on the block. Likely as good as the original APO Sonnar at distance, though some reliable reports say that the original APO Sonnar remains preferable at or near close focus. Of course the Sigma has AF with an MC-11 adapter. With an adapter and caps and hood it weighs over 1.2 kilos. The Canon version, which adapts well with the MC-11 adapter, can be had from B&H via our affiliate link.
Sony Zeiss 1.8/135 for A mount
I originally didn't discuss this one since I have no personal experience of it. But in fact Phillip reviewed it here. Based on that review and the testimony of others it looks like it's very sharp: quite possibly in a similar league for practical purposes as the modern designs I discuss, and certainly usefully sharper than the legacy lenses. It's not APO though; and if you don't like axial colour errors (LoCA) you might have a lot of complex editing to do in some scenarios. It's also large, heavy (though not as heavy as the APO Sonnar f2) and has limited AF on the LA-EA4. If used manually Phillip found play in the focussing ring annoying. But for lovers of AF it's the only fast game in town, and cheaper than the Batis. People appear to hope there will be a GM fast 135 in the next year, and if I wanted a fast AF 135 and was prepared to pay the expected high price (at least as expensive as Batis, probably more more, is my guess)   I'd probably wait. It will no doubt AF much better than the ZA and probably have much better axial colour correction.
Leica Apo Telyt 3.4/135
This lens has been the cost-is-no-object landscape and hiking lens for a while. I have used this lens occasionally, and almost purchased it used, but the price—even used—always put me off. It's small and light and mechanically superb. Stopped down it's likely close to  the Batis (but perhaps lower in contrast). The first couple of apertures, while great, are not quite in the league of the two (much larger) Zeiss lenses under discussion. But for landscape a modern lens with these specifications might be good. If you are prepared to pay the large price for the compactness and quality then it'll cost you no more and send a few pennies to our blog to buy it from our affiliate link at B&H
Optically superb by all accounts. It's not light and it is manual only. I have never had a Samyang lens that has not gone out of specification after much use, which has put me off trying this one. Reports are that sample variation and durability are a bit better on this lens though. B&H Affiliate link
Olympus OM Zuiko 3.5/135
One of the smallest 135mm lenses every made – there are similar lenses from about any other manufacturer of the era. I have used it as a hiking lens from time to time. It performs better in closer ranges than at infinity, and at all distances has much less resolution, contrast and colour correction than the Batis. But it is a very useable and tiny lens. Look for a late one that says "Zuiko" rather than E. Zuiko on the lens ring—this is the (very rare) multicoated version.
This was my mainstay short tele for many years. It's a great lens. I could never get it to autofocus on my Metabones III adapter, but I'm told it works well with some newer adapters. It has more LoCa than the Batis, is less contrasty, a bit more flare prone, and resolution – while very high and plenty for practical purposes – is at least on my copy slightly less until mid apertures.
It's not much larger than the Batis 2.8/135, and although it's significantly heavier it's one of the  lightest ways to get an f2 135. It's  a very fine lens and  good choice. If it's a new copy of this lens you want you can get it via B&H (affiliate link)

Quite sharp but not  great contrast or colour correction. A bit heavy for a travel or hiking lens, too slow for some purposes. Very cheap however. On the subject of cheap lenses the Zeiss Jena 3.5/135 was made over many years in huge quantities and trusted people have claimed to me that it's in the same league as the Leica if you get a decent one. And it can also be found for very low prices.
Conclusion
The optical qualities are as Zeiss' own MTF suggests; impeccable. At every aperture and at every distance it seems to have resolution and contrast that are about as good as can be distinguished by the naked eye staring at enlarged crops. I think it's safe to say that it's optically one of the finest lenses you can buy. You can buy it from B&H or Amazon.de (affiliate links).
But it is very expensive: so it will justify its price only if it's not only optically outstanding but also offers ergonomic and handling advantages that make it preferable to larger, faster and cheaper lenses. Especially given that some of those are also among the technically finest you can buy. So in the travelling section I asked the question: when travelling, will it stay in the hotel safe rather than be in the camera bag? At the last minute when packing, will a lighter lens go in the travel kit instead? Would one ever take it on an overnight hike? The answer for me is yes it is a more useful travel lens than the larger, faster ones for me. But also, no I'm not likely to take it on multiday hikes. That makes it for me a keeper; but at the high price only just. Who else is it for? I actually think a certain kind of studio or portrait photographer might prefer this over a large faster prime, or a 70-200. It's a lot smaller and thus less intimidating to non professional models. It is superb at full aperture, so there's no need to stop it down for better performance: and for many portraits the thinner DOF at f 2 is really too thin, except as a special effect. If focusses quickly and with eyeAF. The bokeh is a touch more swirly than an f2 lens stopped down to  f2.8, and some have complained about this. But in fact this is inevitable: the only way to make the f2.8  bokeh the same in terms of mechanical vignetting as on a stopped down f2 lens, is to increase the diameter of the relevant elements. But once you do this you effectively have an f2 lens (or one which is as large as an f2 lens and with some redesign could actually be f2). So that is not a flaw in the design: it's just the consequence of it being f2.8.
So do I recommend it? Yes. For travel work it's a wonderful companion for someone who wants a fast tele and won't tolerate more bulk. For portrait work, it's an impeccable lens that's also a lot less intimidating than the other fast options that are anywhere near its performance. The price is high in absolute terms, but whether that's worth it to you is something only you know. You aren't going to be suffer if you don't own it. But it is a remarkably fine, and for some purposes remarkably useful, piece of glass.
More Sample Images
You can find them in full resolution here.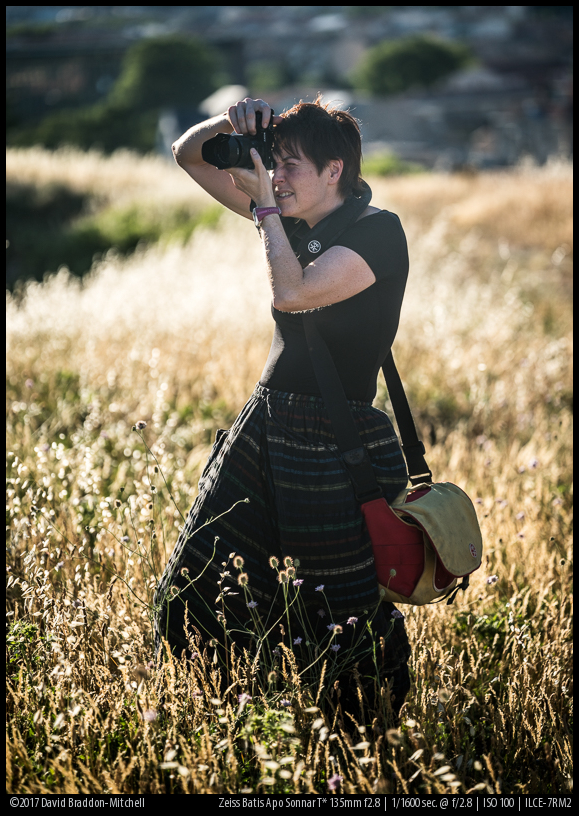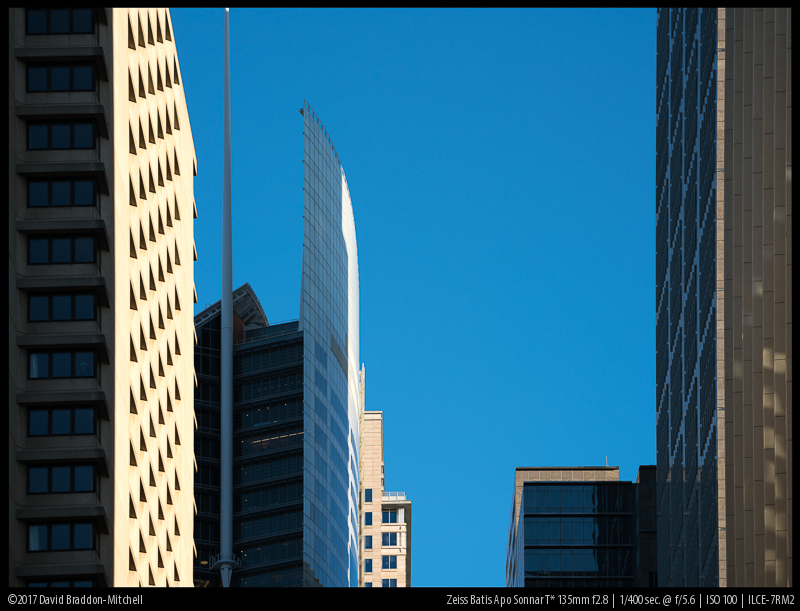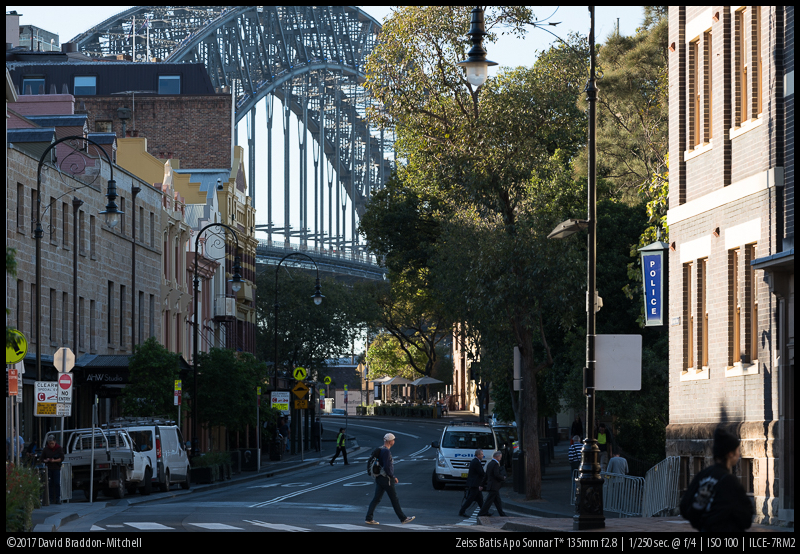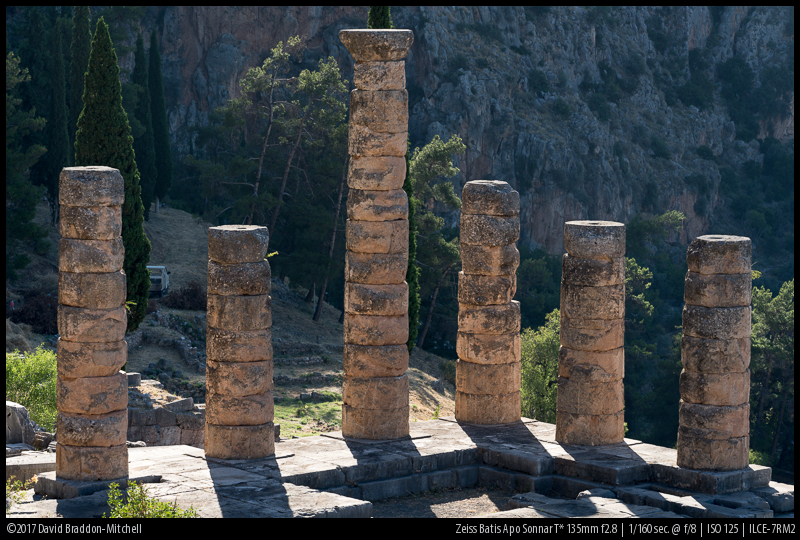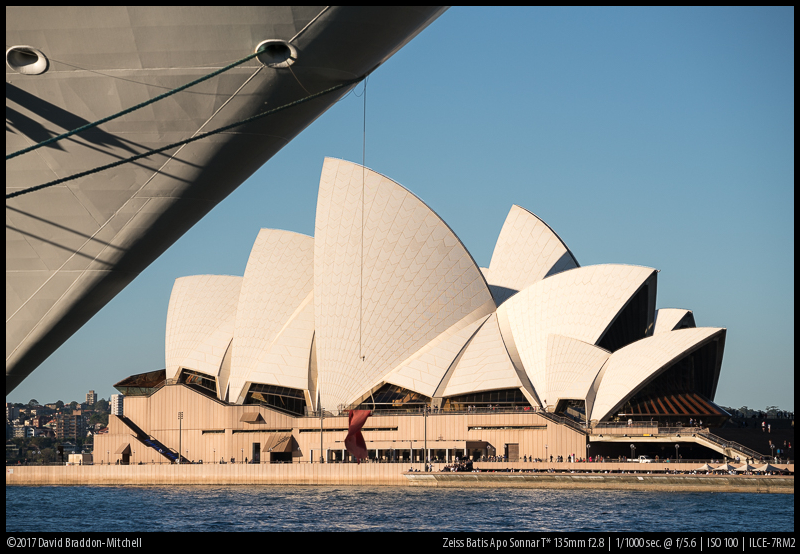 The following two tabs change content below.
David Braddon-Mitchell
David Braddon-Mitchell is a keen landscape and environmental portrait photographer. In the last decade of film he was a darkroom practitioner and worked with Olympus OM SLRs and various medium format cameras. He switched to Canon DSLRs when digital imaging improved, and made a move to Sony bodies as soon as the A7 series was born. He enjoys using a mixture of legacy manual lenses, modern manual lenses, and E mount AF lenses.
Latest posts by David Braddon-Mitchell (see all)