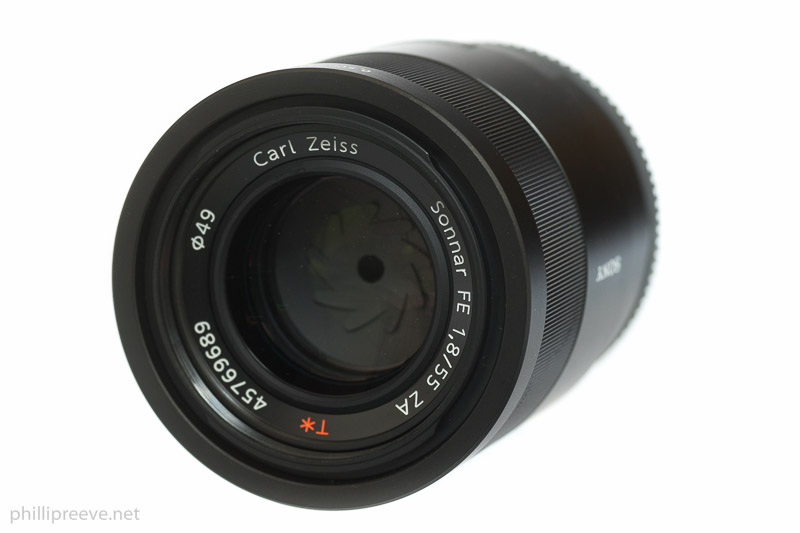 The Sony FE 1.8/55 ZA set a new standard for normal lenses, surpassing the competition in many aspects. For this review I bought the lens and used it on my Sony Alpha 7 for about a month.
Sample Images
Specifications
| | |
| --- | --- |
| Diameter | 64 mm |
| Length | 70.5 mm |
| Filter Diameter | 49 mm |
| Weight | 281g / 324g with hood |
| Max. Magnification | 0.14 |
| Close Focusing Distance from the sensor | 50 cm |
| Number of aperture blades | 9 (circular) |
| Elements/ Groups | 7 / 5 |
$998 at
 amazon.com
or
B&H photo,  
858€ at
amazon.de
 (affiliate links)
Built Quality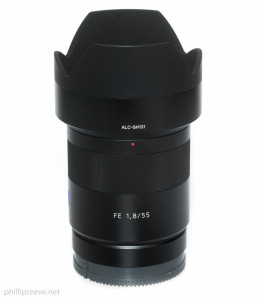 The lens is built to very high standards with a metal hull and a focusing ring which has zero play.
One nice touch is that all the markings are engraved and filled with paint. Not just printed on the hull like with the FE 2/28.
The lens shade feels very solid as well and attaches very firmly to the lens. It is made from thick, high quality plastics with a matted inside. It is also quite large which can be an annoyance if you want to keep your kit small.
Although Sony claims that the design is "dust and moisture resistant"  the lens has no gasket around the lens mount, so weather resistance will be limited.
Autofocus
My impression is that the FE55 is one of the slower FE lenses when it comes to autofocus, my FE 2/28 and 4/16-35 are bit faster and less likely to hunt. On my Alpha 7 I found AF to often be too slow, especially when using the small Flexible Spot. I am often faster using manual  focus despite the mediocre manual focus implementation.
I guess that it will perform better on the a7II or a7rII. The AF drive is very quiet and the lens does not extend.
Manual Focus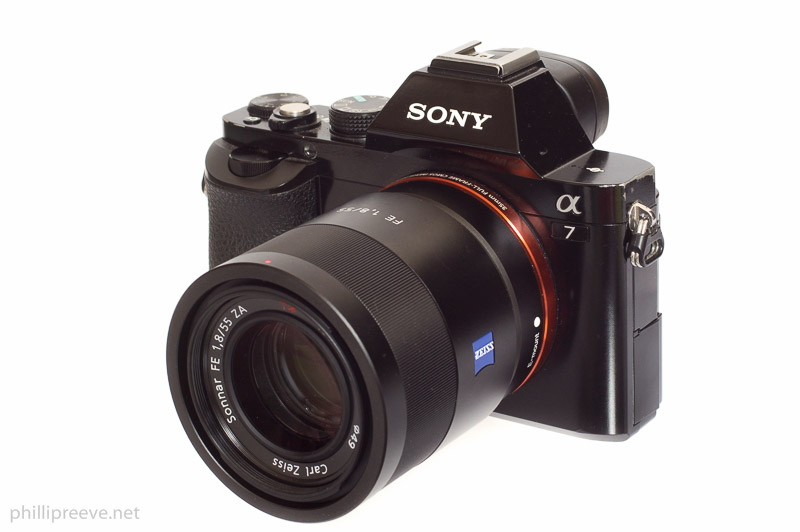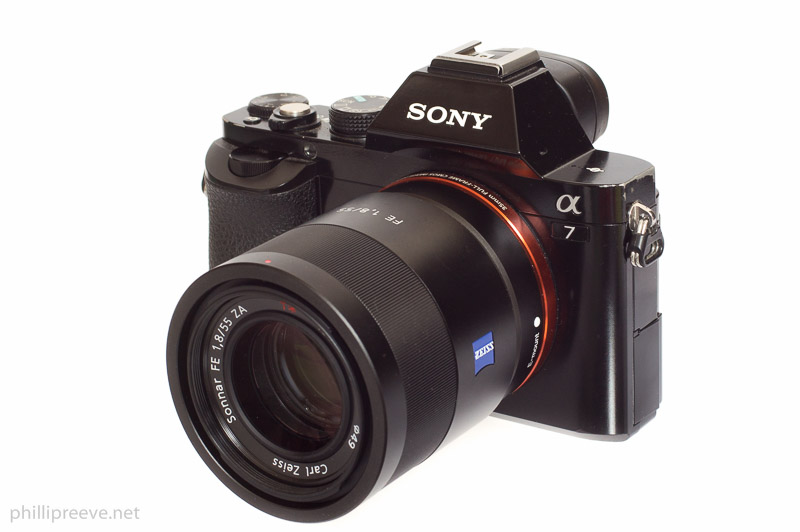 As mentioned before, the focusing ring feels nice nice, what I don't like too much is the focus by wire implementation.
One problem here is that it matters how fast you turn the focusing ring,  if I turn it by 45 degrees very fast the focus changes from 50cm to infinity. If I turn it slowly it takes more than 360 degrees (one full turn) to change focus from the close focusing distance to infinity. In theory this sounds like a great idea because focusing should be either super precise or very quick, depending on what you need. But so far I have failed to get to a point were my I am able to use this subconciously, and I have used manual focus with this lens and the FE 2/28 a lot.
The other problem is that there is a small lag between the moment when you turn the focusing ring and when the lens reacts. It is only a small fraction of a second but noticeable.
I am used to manual lenses where the focusing ring is coupled directly to the focusing helicoid and I am faster and as precise with them. So manual focus works okay but it isn't very enjoyable (says a hardcore manual lens user).
Flare resistance
Zeiss has a reputation for very effective coatings and it is justified in this case, the lens does not loose contrast even in very demanding situations.
I could provoke some ghosting under extreme conditions but I have never tested a lens with a better performance in this regard.
Chromatic Aberations
While lateral CA are very well corrected longitual CA correction is one of the few weaknesses the lens has. LoCA can be very visible in some situations, even my 45 years old Minolta MC 1.7/55 has less LoCA.
Distortion 
The FE 1.8/55 shows minor barrel distortion.
Bokeh
The FE 1.8/55 has smoother bokeh than any classic normal lens I have ever used.
Because the lens contains aspheric elements you can sometimes see so called onion rings in specular light sources.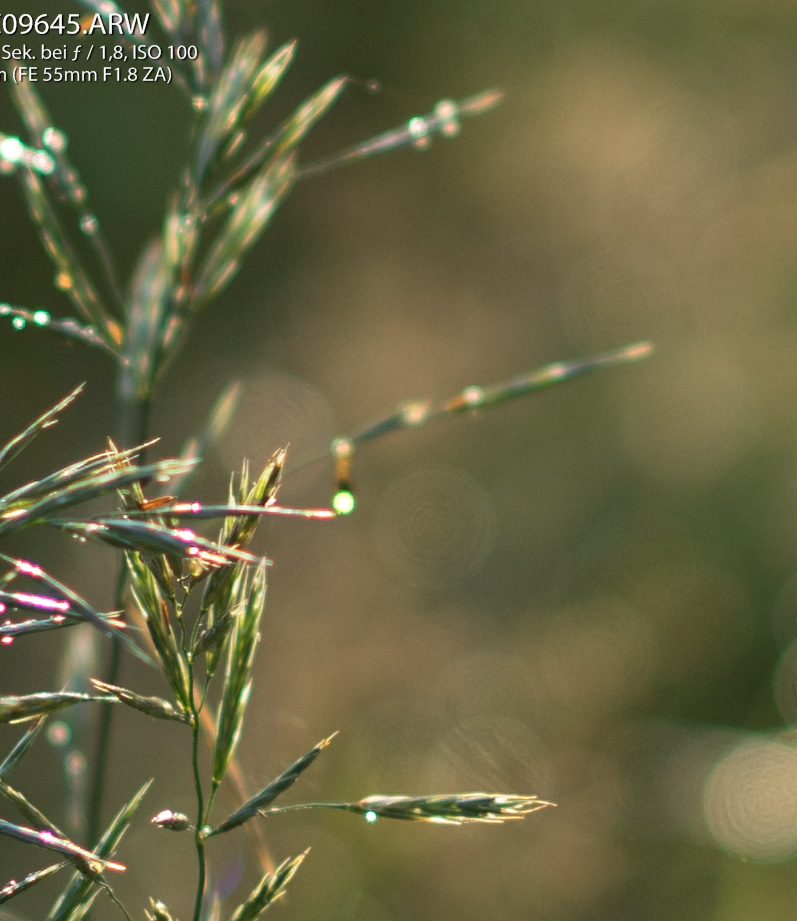 I think the smooth rendering will be visible much more often than the onion rings so all in all bokeh is exceptional.
Vignetting
At f/1.8 vignetting is quite obvious. At f/2.8 it is mostly gone.
Sharpness
f/1.8: very good to excellent in the center, very good in the midframe region and good to very good in the corners where some coma is visible.
f/2.8: Excellent to the corners with a minor drop in the far corners. f/4 to f/8: Excellent across the frame.
f/11: Some softening due to diffraction.
This is a pretty remarkable performance.
Compared to other Lenses
The Zeiss Loxia 2/50 is a more traditional design with not as smooth bokeh and not as sharp corners at faster apertures but it has no onion rings and less LoCA. It might be the better solution for lovers of manual lenses.
The Mitakon 0.95/50 is much faster and bigger special lens. It performs quite well at f/0.95 but it is not as sharp as the FE55 and I wouldn't want to carry it around as a general purpose lens.
The Minolta MC 1.7/55 has less smooth bokeh, is much less sharp at f/1.7 and much more susceptible to flare. When I compared it to the FE55 I was surprised to see that there is very little difference between them at f/8.
The Canon nFD 1.4/50 is nearly as sharp in the center at f/1.8 but it is much less sharp in the corners. Bokeh is also inferior but it is much more affordable and still a very good lens.
The Zeiss Otus 1.4/55 APO is about three times as expensive and heavy but it is a bit faster and LoCA is much much better corrected. I think it is also a tad sharper in the corners at f/1.8. It is also a manual focus only lens.
The Sigma 1.4/50 ART plays in the same league as the FE55 but it is a lot bigger. See this interesting comparison.
Conclusion
good

sharp across the frame from f/1.8

very smooth bokeh

built quality

very high contrast and excellent flare resistance

average
not good

manual focusing experience

LoCA

onion rings
The Sony FE 1.8/55 ZA T* is one of the best ~50mm lenses available today.
While classic normal lenses at faster apertures are only sharp in the very center, the FE55 is sharp to the corners. I don't need sharp corners at f/1.8 very often but it can be liberating in some scenarios.
Built quality, Bokeh and contrast also set it apart from the competition. You simply never have to worry about the bokeh or any light source, the Sony FE 1.8/55 simply works well.
Is it a perfect lens? No it isn't, I found the manual focusing experience unpleasant and LoCA can be bothersome in some scenarios.
What I find quite important is that it performs so well without being a large lens, so you don't have to think twice about putting it into your bag. The price is a higher than CaNikons normal lenses but those do neither perform as well nor are they built as well. Compared to Zeiss' or Leica's premium normal lenses it is priced very competitively. Prices have come down since the lens was released and I think the lens offers decent value now.
All in all it comes much closer to being the perfect normal lens than any other normal lens I have used so far.
———————–
You can support my work on this blog by ordering through one of these affiliate links:
The FE 1.8/55 costs $898 at amazon.com or B&H photo,  858€ at amazon.de.
You can buy the lens used at ebay.com ($650-700) or ebay.de (600-700€).
————————
Full Resolution Sample Images
more samples in this set: Sony FE 1.8/55 on flickr
Other Reviews
The following two tabs change content below.
I like to be outside with my camera and I am also a gear head with a love for manual lenses.
Latest posts by Phillip Reeve (see all)