Is the Novoflex adapter worth a three digit figure when I can get one from China for 10 bucks? That was the question I had in mind when I bought it.
Currently I don't own a single lens with an E-mount for my Sony Alpha 7,  so every lens I use is adapted and I use adapters all the time. Over the last three years I have gained some experience with  cheap adapters but I hadn't used one of the more expensive ones. So I decided to buy a Novoflex NEX/CAN adapter,  which was made in Germany and put it to the test.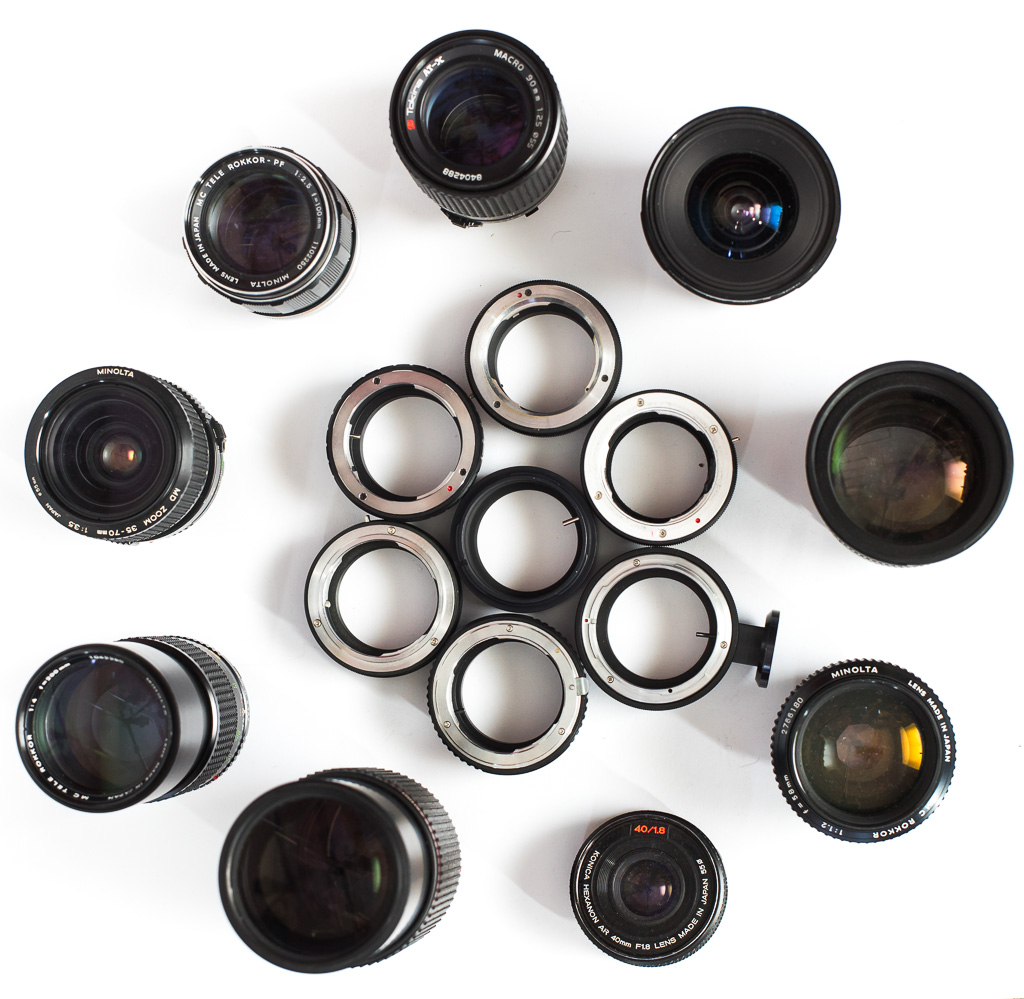 Material
The adapter is made from one piece of aluminium and coated black. I think it is anodized but I am not sure. It was much harder to scratch it with a sharp needle, than my cheap adapters.
I was a bit worried that aluminium would be less durable than chromed brass but the Novoflex support assured me that there hadn't been a single case were someone had problems with the durability and after 4 months I see no signs of wear.
Design
The design of the adapter is rather clever. Unlike my cheap FD adapters there are no moving parts on this adapter to engage the aperture mechanism of a FD lens.
Attaching the adapter to a FD lens is a bit tricky,  there is a white and a red dot on the adapter. At first you have to align the white dot with the red dot of the lens, then you turn the adapter for about 25 degrees anti-clockwise until the red dot of the adapter sits  above the red dot of the lens. Now you can turn the adapter 80 degrees clockwise and the adapter is installed. This sounds much more complicated than it is in practice.
For me this design has two advantages over other designs:
No moving parts means that the adapter is more reliable
Once attached you can be sure that the lens I stopped down to the aperture you set. I prefer this design a lot over that of my $10 adapters were I have a moving ring which has two settings: LOCK and OPEN. When attaching the lens it has to be set to OPEN and to stop the lens down you have to set it to LOCK. On one of my cheap adapter this mechanism got loose and I have lost some nice pictures because I believed that my FD 2.8/20 was at f/11 while actually was at f/2.8 which ruined the shot and when I noticed, it was too late to retake it.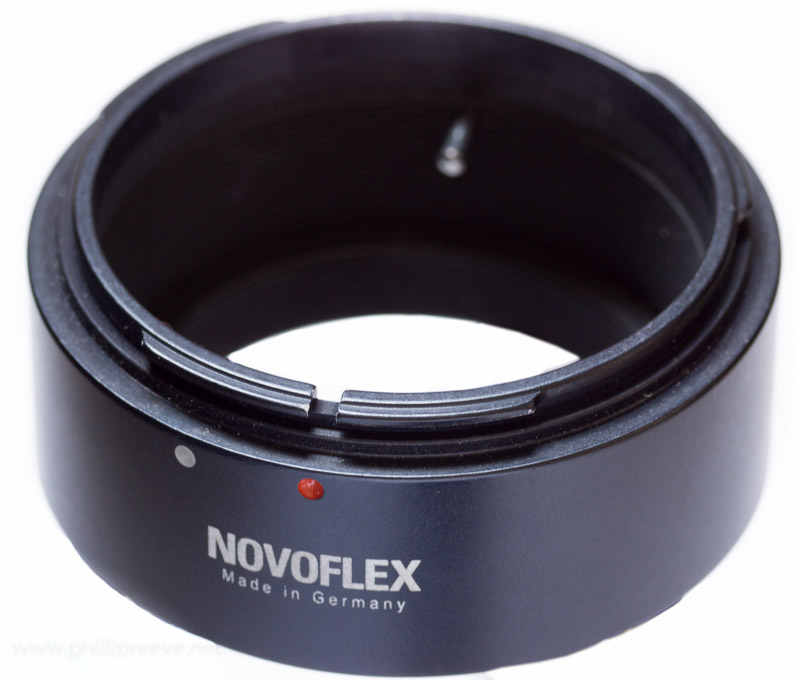 Infinity focus
With adapters for DSLRs you often have problems with infinity focus because adapters are too thick. With E-mount adapters most are a little bit too thin which is less of a problem, you still can reach infinity focus, you can actually focus "behind infinity". But the distance scale of you lens will be off.
Here I saw a big variance between my cheap adapters, some were a little short, some quite a bit and some had the right thickness so that you are focused at infinity when you have reached the hard stop of the lens. You can adjust it on most adapters though with a screwdriver, patience and some tinfoil.
The Novoflex adapter is very precisely made and has the correct thickness so that my FD 1.4/50 or 2.8/20 are at infinity when I hit the hard stop. This is more important to me than I though before because now I can actually use the hard stop when I am shooting stars at night or work with the hyper focal distance.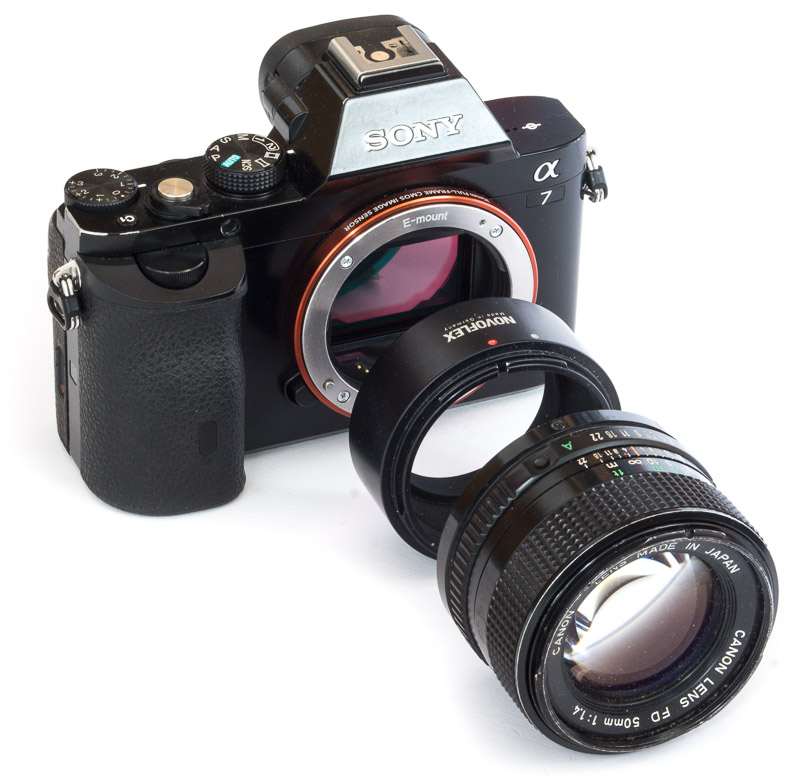 Accuracy of fit
With cheap adapters I saw a high variance in how well they fit. I had one adapter which was very hard to get off my camera without damaging my a7.  Then there were adapters which had so much play that the whole lens moved when I turned the focusing ring.
Most of my adapters are precise enough, there is a little bit of play when I try to turn the lens but in practice it is not a real issue.
The Novoflex adapter fits noticeably better than all my cheap adapters, there is zero play and lens, adapter and camera feel like one unit.

Alignment
Some time ago Roger Cicala put several adapters to the test on his optical bench and found that – without exception – ever adapter caused a quite noticeable drop of sharpness in at least one corner. He concluded that in the real world the problem would be far less noticeable but would probably show up in a wideangle/landscape scenario.
So I tried to recreate the problem in the real world but I failed. I used my FD 2.8/20 lens at f/11 and applied my usual decentering test  but all the corners were very similar in sharpness even with the cheap adapters.
I think this is more likely to be an issue when modern lenses like the Samyang 2.8/14 or Zeiss 2.8/21 Distagon  are used which – unlike my FD 2.8/20 – have sharp corners from f/2.8.  In fact Helge from 3d-kraft.com told me that he had to replace his cheap adapter with a Novoflex adapter when testing the Zeiss 2.8/15 because the cheap adapter caused decentering like issues.
Reflections
There were quite a few reports about reflection issues with  the Metabones Smart EF to E-mount adapters so I was curious if Novoflex had this issue under control.
A short look at the adapter showed a significant difference between the Novoflex and my cheap adapters: While the cheap ones have a rather reflective inner side the Novoflex absorbs light much better.

You will also notice that a cheap adapter which I have coated with an light absorbing material reflects even less light.
In the field it wasn't easy to find a situation were even the cheap adapter caused any issues but when I found one the Novoflex fared much better. It showed a very moderate contrast loss compared to my coated adapter but very far from the uncoated adapters nasty reflections
Tripod Mount ASTAT-NEX
Because the a7 is a small camera I don't like to put medium large lenses which don't have a tripod mount of their own like my Canon FD 4/80-200 L on the tripod mounted camera.  I want an adapter with a tripod mount for better stabilization and less stress on the camera mount.
There is a tripod collar from Novoflex for their adapters which is as expensive as the adapter. I didn't buy it because I already own a cheap adapter with a tripod mount which does the job well enough for now.
From what I read about the Novoflex ASTAT-NEX it is as well made as the adapter, rock solid and well designed. You can also change the lens from landscape orientation to portrait orientation, my cheap adapter can't do that.
For reviews and prices check it out on Amazon.com or Amazon.de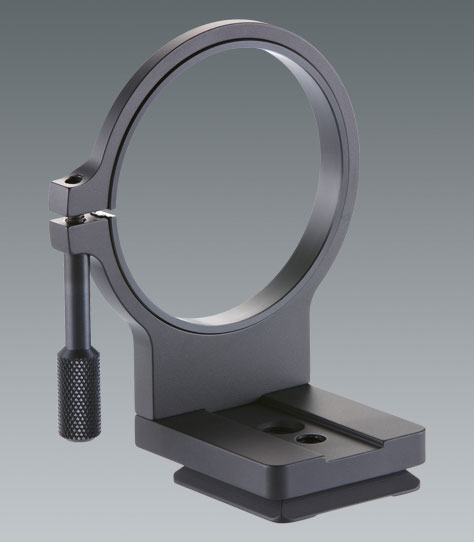 Conclusion Novoflex Adapter
Is this adapter worth that much money? I think it is. It performed very well in every aspect and whenever I use a FD lens I will make sure that the Novoflex ist attached. This is because I don't have to think about the adapter, it just works.
You don't need this adapter to take nice images. Images taken with cheap adapters will look the same. So if you have a very limited budget buy them, you could have some hassle with them but more often than not they work fine and many of the issues are fixable and you can buy 10 adapters for the price of one Novoflex.
What I like a lot about the Novoflex is that I don't have to worry about the adapter. I know that I set the lens to infinity and it will be at infinity, there are no movable parts which could break, there won't be any reflection issues and it fits very well.
Affiliate Links
If you consider buying this adapter please use one of my affiliate links, it is an easy and effective way to support me.
Canon FD to E-Mount  Amazon.com |  Amazon.de
Minolta MD/MC to E-Mount  Amazon.com |  Amazon.de
Leica R to E-Mount  Amazon.com |  Amazon.de
Olympus OM to E-Mount  Amazon.com |  Amazon.de
Other mounts to E-Mount  Amazon.com |  Amazon.de
The following two tabs change content below.
I have two hobbies: Photography and photographic gear. Both are related only to a small degree.
Latest posts by Phillip Reeve (see all)