Introduction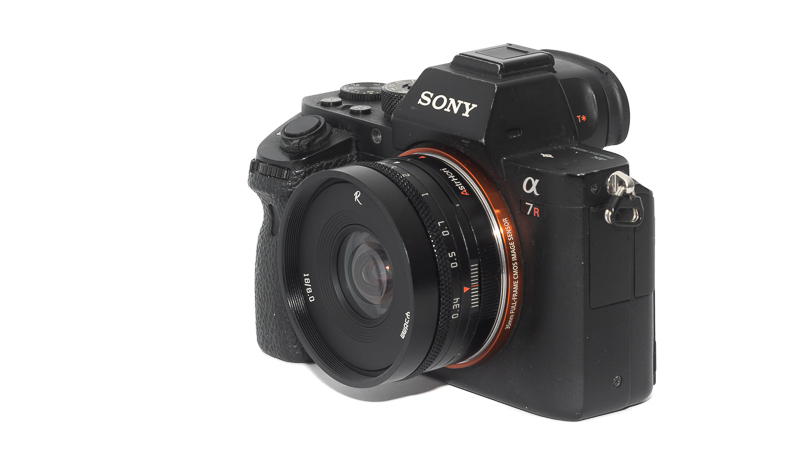 This AstrHori 18mm 8.0 Shift is already the third AstrHori lens I am reviewing here. Their lenses often feature a "little extra" over the competition to make them more interesting. In this case this isn't just a compact 18mm lens, a ±6mm shift function has been added on top. Judging by the size of this lens, especially the diameter of the lens elements, I am wondering how useful that shift function will be though. But let's have a look together in this review.

Sample Images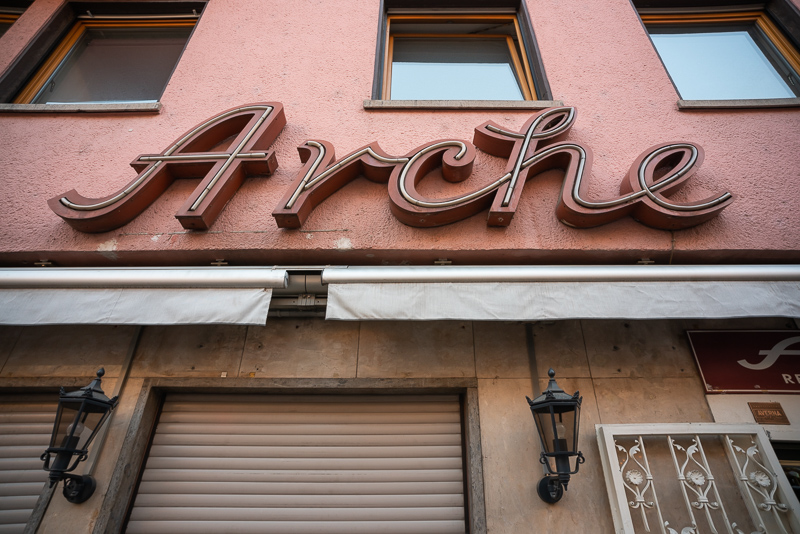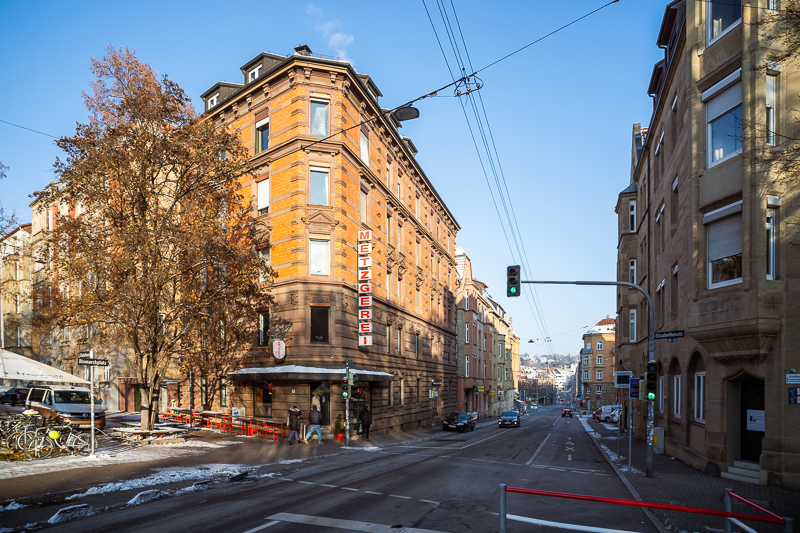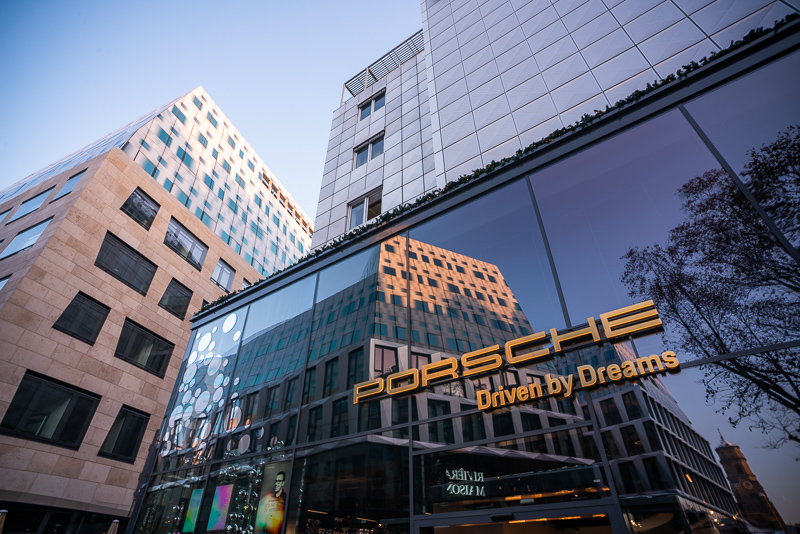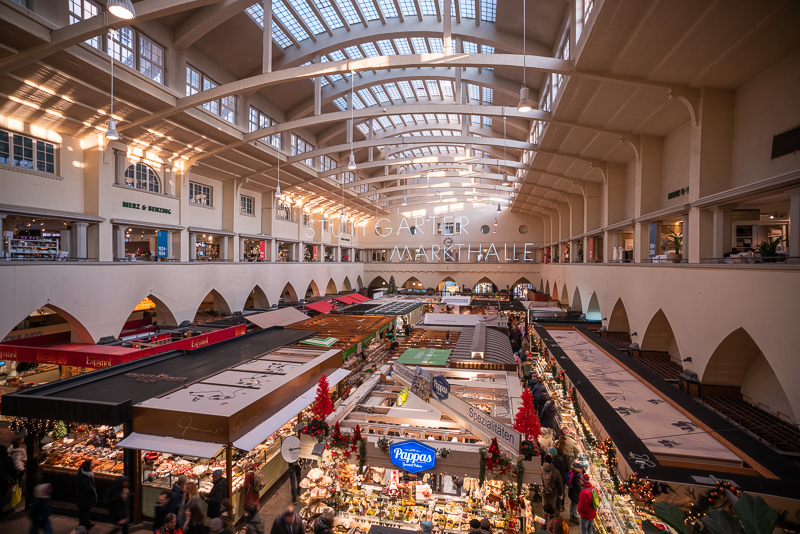 You can find most of the sample images in full resolution here.
Specifications
Some people speculated this is just a Funleader 18mm 8.0 with added shift mechanism, but that lens' optical design is completely different and less complex. This AstrHori 18mm 8.0 Shift is available for several mounts (Sony E, Nikon Z, Canon RF and L), I am reviewing a Sony E-mount version here which has the following specifications:
Diameter: 63 mm
Field of view: 99.2° (diagonally, unshifted)
Length: 33 mm
Weight: 167g
Filter Diameter: 58 mm
Shift Range: ±6 mm
Number of Aperture Blades: –
Elements/Groups: 9/9
Close Focusing Distance: 0.34 m
Maximum Magnification: 1:14.4 (measured)
Mount: Sony-E
buy from ebay.com | ebay.de | amazon.de (affiliate links) for $119
Disclosure
The 18mm 8.0 Shift was kindly provided free of charge by AstrHori for reviewing purpose for a duration of 4 weeks.
Handling / Build Quality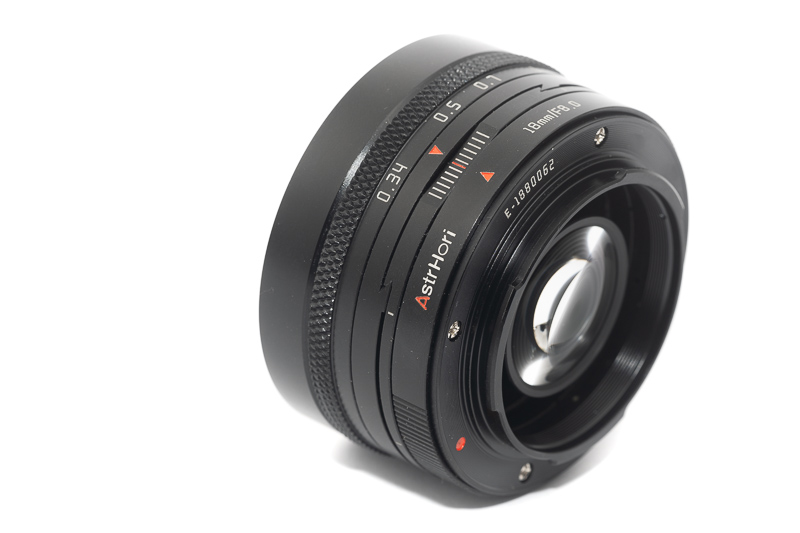 The build quality of this AstrHori 18mm 8.0 Shift reminds me a bit of some of the later 7Artisans lenses (those not made by DJ-Optical), as the markings on the lens barrel seem to be engraved and filled with paint and the writings on the retention ring seem to be only printed.
The narrow focus ring turns a little more than 90° from the minimum focus distance of 0.34 m to infinity and has a nice resistance.
As this is a fixed aperture lens there is no aperture ring to talk about.
Compared to most other shift lenses the mechanical construction is pretty basic though. While the lens can be rotated freely by 360° (with 45° click stops) and shifted by ±6 mm there are no locking knobs for either the rotation or the shift function.
The resistance for rotating the lens is a bit higher than that of the focus ring, but it still happened to me several times in the field that I rotated the lens instead of just the focus ring as I intended to.
The weight of the lens is low and this lens is new from factory and currently when shifted up it stays in place by itself, but I am not sure if this will still be the case after years of use. There is a click stop for the unshifted position though.
The lens also doesn't feature any electronic contacts to communicate with the camera.
Vignetting
light falloff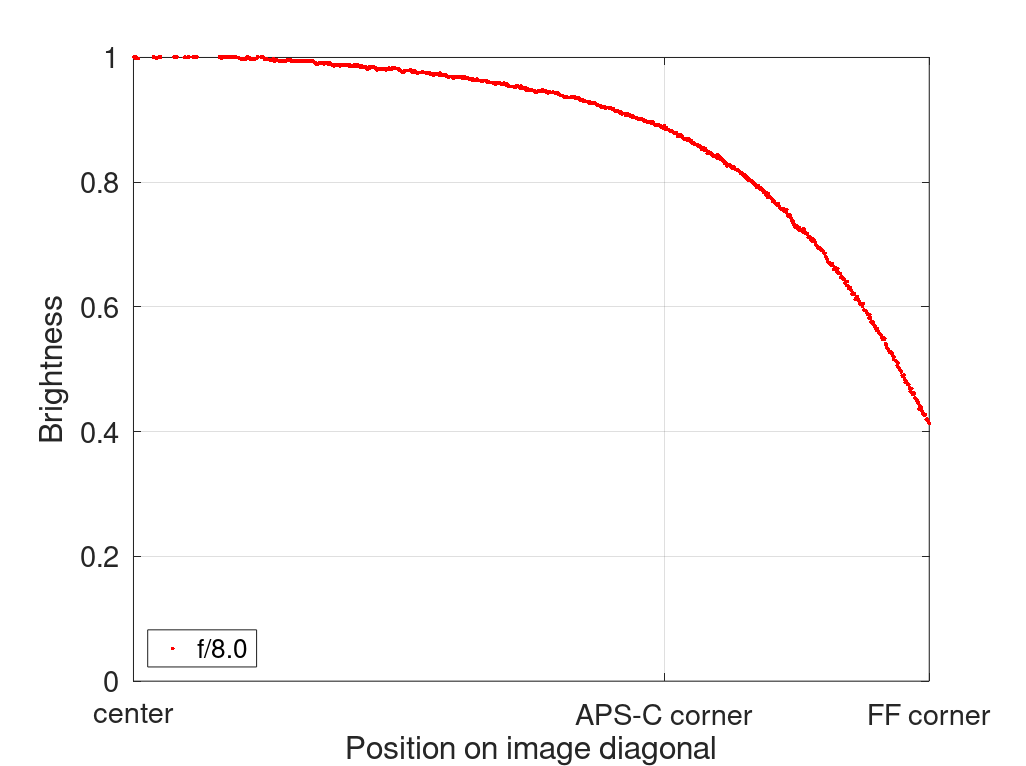 Compared to the Funleader 18mm 8.0 the performance of this AstrHori lens is much better. On the Sony A7rII I measure 2.7 EV in the corners. This is unshifted, but what happens when we shift the lens?
Sony A7rII | AstrHori18mm 8.0 Shift
As can be seen from these pictures shifting the lens easily leads to black corners. There is maybe 1 to 2 mm shift up without running into completely black corners, so the shift function is hardly useful on a fullframe camera. This is why in the following sections I will treat this as a normal non-shift lens.
color cast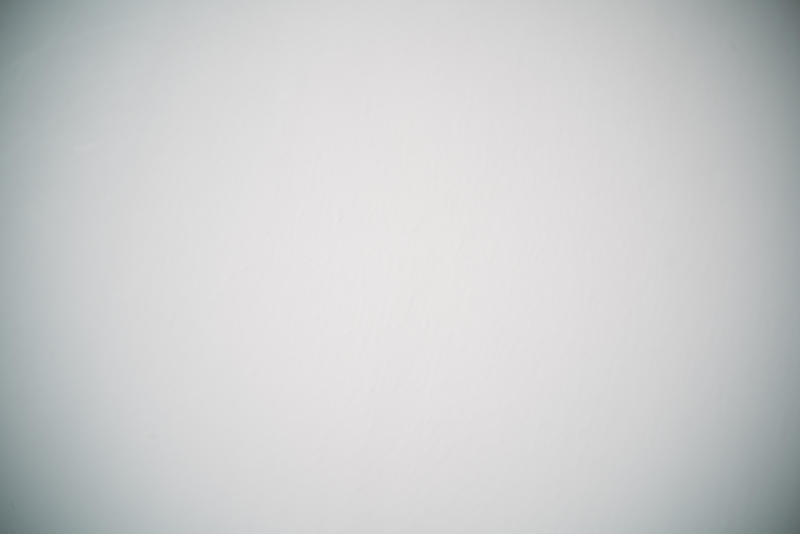 As we have often seen with compact ultra wide angle lenses there is a slight green color cast visible when using them on most of the Sony cameras like A7rII or A7III.
If you want to know how to fix this you can have a look at my article How to: Correcting Color Cast in Lightroom.
Sharpness
infinity (42mp Sony A7rII)
Some of you may remember my review of the AstrHori 12mm 2.8 fisheye. We saw that the lens performs noticeably better on cameras with a thinner filter stack and this is again the case here.
On a normal stock Sony camera the midframe doesn't look great but the corners simply look bad. For a slow fixed aperture wide angle lens this performance would be unacceptable to me.
close 0.37 m (42mp Sony A7rII)

The minimum focus distance of 0.34 m is decent for an 18mm lens. The performance in the center is also very good here, but as is usually the case with ultra wide angle lenses without floating elements the corner performance is nothing to write home about.
Flare resistance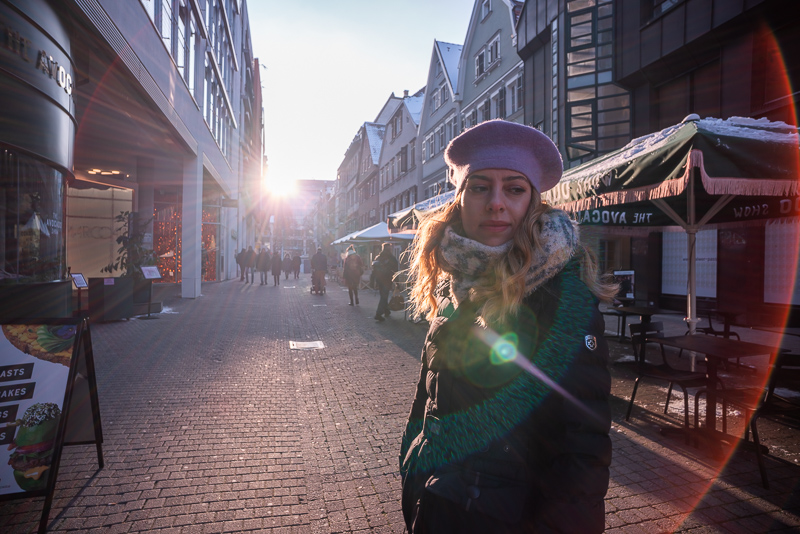 Under the "right" conditions you can create some crazy lens flares like in the picture above, but most of the time things aren't that bad.
Compared to many other lenses from Chinese manufacturers the AstrHori lenses fared comparably well in this category so far and for a wide angle lens a good flare resistance is definitely important to me.
Ghosting is once more hardly an issue. I do wonder what the AstrHori guys do differently, but some of the other manufacturers could definitely learn from them here.
With the sun outside the frame close to the corner there is that one specific position again that leads to a significant flare. As usual this can be avoided by a slight reframing.
Sony A7rII | AstrHori18mm 8.0 Shift
With a strong point light source outside the frame on the sides veiling flare can also be an issue. Shading the lens did a good job at solving this and I think including a decent lens hood would have been more useful than the shift function.
Not the best performance I have seen in a wide angle lens (Zeiss Loxia 21mm 2.8, Tamron 17.28mm 2.8 or Zeiss Batis 18mm 2.8 come to mind), but definitely above average and way better than e.g. the Funleader 18mm 8.0 or Brightin Star 23mm 5.6.
Distortion
Sony A7rII UT | AstrHori18mm 8.0 Shift
Talking about negative surprises. The Funleader 18mm 8.0 had such crazy, wavy distortion, I really hoped this AstrHori lens would perform better, but here we are: it is just as bad.
For correcting this a lens specific correction profile is needed, but in my experience with such a complex distortion pattern it will be hard to create a profile that actually works really well.
Again, what would you want to use a slow wide angle shift lens for? First thing that comes to my mind is architecture, but I certainly don't want to use this lens for that task.
As I already told you in the vignetting section: this is not a full frame shift lens. If the black corners when shifted are not reason enough to come to that conclusion this utterly ridiculous distortion in the shifted area is one more.
Coma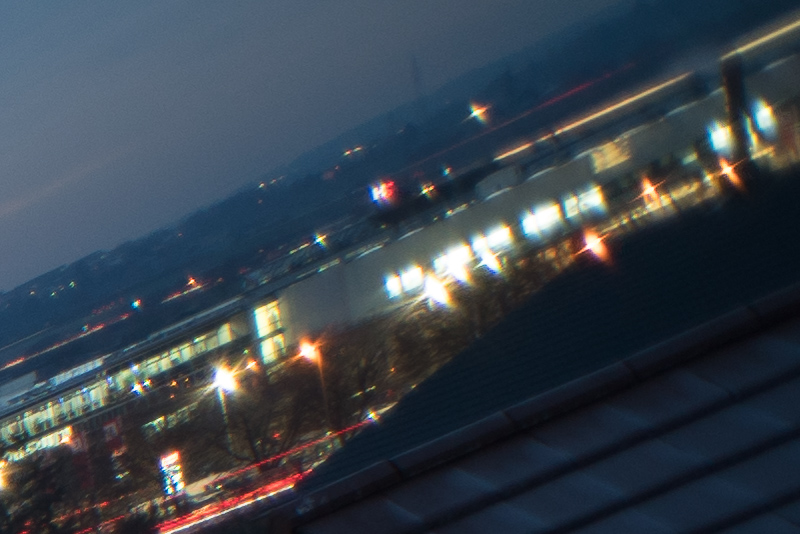 Story here is the same as in the sharpness section. Performance is better on a camera with a thinner filter stack like a Nikon Z.
Sunstars
The AstrHori 18mm 8.0 Shift does not feature an aperture diaphragm and simply has a perfectly round opening instead, so no sunstars here.
Chromatic Aberrations
lateral
Ultra wide lenses often show strong lateral CA and the AstrHori 18mm 8.0 Shift is no exception. Luckily the lateral CA are still easily corrected in a raw developer like Lightroom by one click.
Sony A7rII | AstrHori 18mm 8.0 Shift | 100% crops from border
longitudinal
Due to this being a slow ultra wide angle lens longitudinal CA are nothing to worry about.
Alternatives
Funleader 18mm 8.0:
Comes without unusable shift function and worse flare resistance but is way smaller.
buy from ebay.com (affiliate link) for $140
Samyang 18mm 2.8 AF:
The Samyang 18mm 2.8 AF ist not a great performer at wider apertures, but it is much better stopped down than this AstrHori lens being reviewed here. The Samyang is even 10% lighter than despite offering AF, the price you pay for it is a plastic casing.
buy from amazon.com | amazon.de | B&H | ebay.com (affiliate links) for $299

There are also many zoom lenses covering the 18mm focal length, you can find them in our FE Guide.
Conclusion
good

sharpness

(barely and only on the right camera)

size/weight

price

average

vignetting (unshifted)
flare resistance
CA correction
coma correction

not good

shift function useless on fullframe

wavy distortion

seems not to have been designed for the Sony filter stack

lack of locking knobs for shift and rotation

no electronic contacts to communicate with the camera

slight color cast
Sometimes when a new lens is being announced people ask me what I think of it (and if I will review it). Especially when that lens sounds too good to be true on paper.
This is one such case. A tiny and cheap 18mm lens with shift function for fullframe? I didn't have exactly high expectations here. But then the shift movements are limited to ±6mm only and a 9/9 design with aspherical element could potentially allow for a decent correction of most optical aberrations, too.
Fact is, after having used this lens I don't even know where to start now. So let's talk about the elephant in the room first: this is not a fullframe shift lens. At the very best you can shift 1-2mm before you start running into black corners. The shift mechanics and controls are also very basic – to say the least.
A small non-shift 18mm fullframe lens for $119 could still be very appealing though, so let us pretend this isn't a shift lens, where does this leave us?
That horrendous distortion is the next reason to stay away from this lens. But we could still try to create a distortion correction profile for it, so what about sharpness?
This is the second AstrHori wide angle lens I reviewed and also the second one that doesn't perform well on (unmodified) E-mount cameras. Either the AstrHori designers don't know that digital cameras feature different filter stacks in front of their sensors or they simply don't care about that (I already took the time trying to explain it to them). When it was possible to make adjustments to the Funleader 18mm 8.0's design to account for that it would have surely been possible here, too.
Now if you are using a camera with a very thin filter stack (a modified Sony or Nikon maybe?) and you really really want a compact, manual focus 18mm lens and don't mind the distortion – and that this isn't actually a shift lens – it can be an okayish deal, but to everyone else: stay away from this.
The AstrHori 18mm 8.0 Shift was not a fun lens to use, so please excuse the exceptionally low number of sample images, but I don't want to spend any more time with this lens.
buy from ebay.com | ebay.de | amazon.de (affiliate links) for $119
Further Sample Images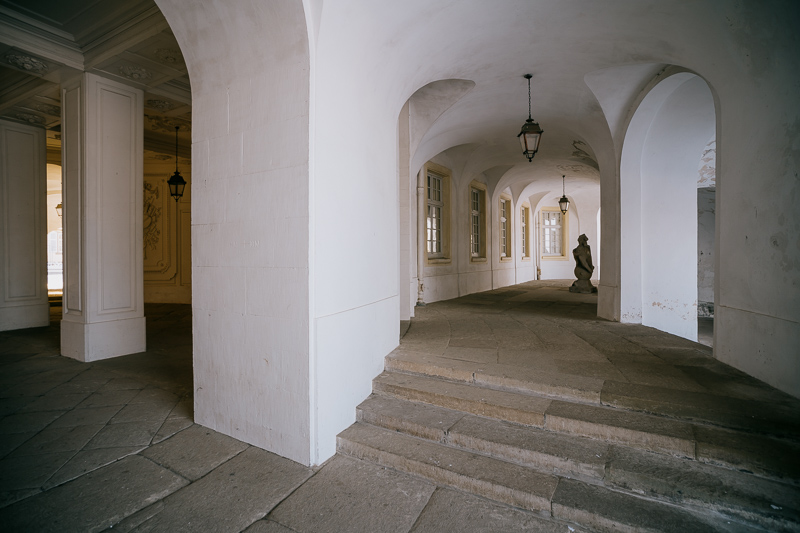 You can find most of the sample images in full resolution here.
Further Reading
Support Us
Did you find this article useful or just liked reading it? Treat us to a coffee!


via Paypal
The following two tabs change content below.
My name is Bastian and I am your expert here when it comes to ultra wide angle lenses, super fast portrait lenses (ranging from a 50mm f/0.95 to a 200mm f/1.8) and I also have reviewed way too many 35mm lenses. Don't ask me anything about macro or wildlife shooting though.