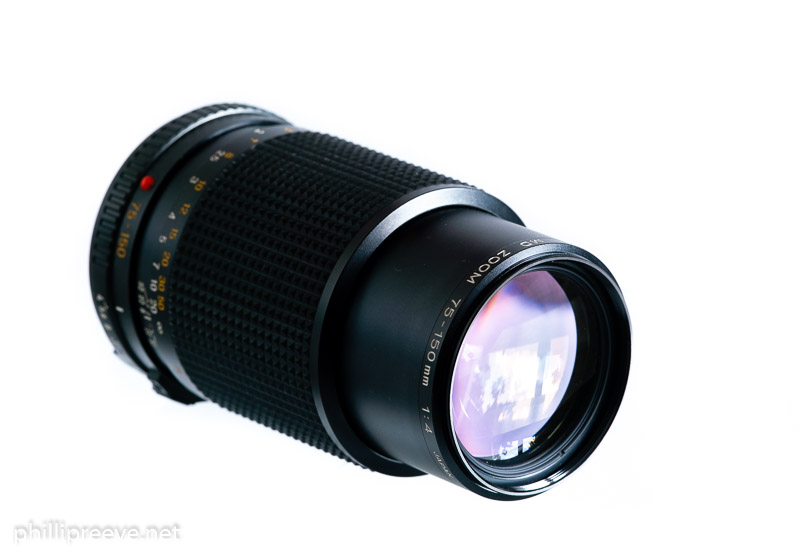 The Minolta MD 75-150mm f4 was released nearly 40 years ago but still it makes a good argument for a category of lenses which has nearly died out: Zooms with a limited range and slower speed.
Image Samples
You can find most images shown in the review in full resolution in this You can find many of the images shown here in full resolution in this flickr set: Minolta MD Zoom 75-150mm 1:4..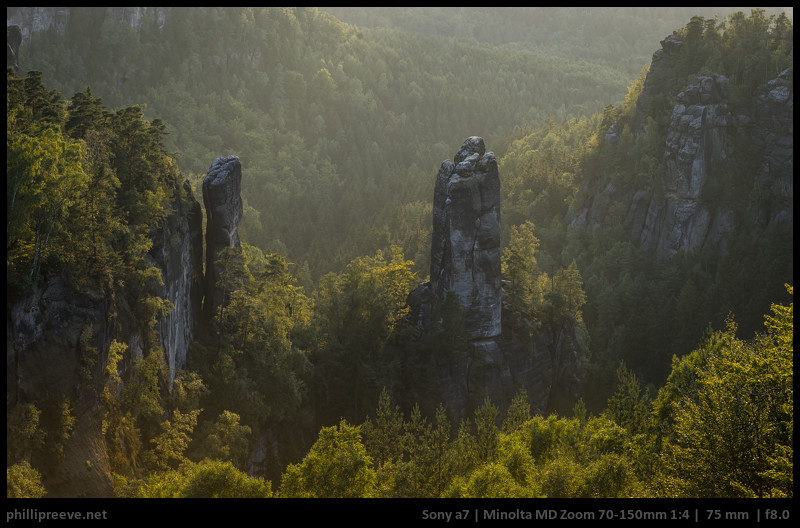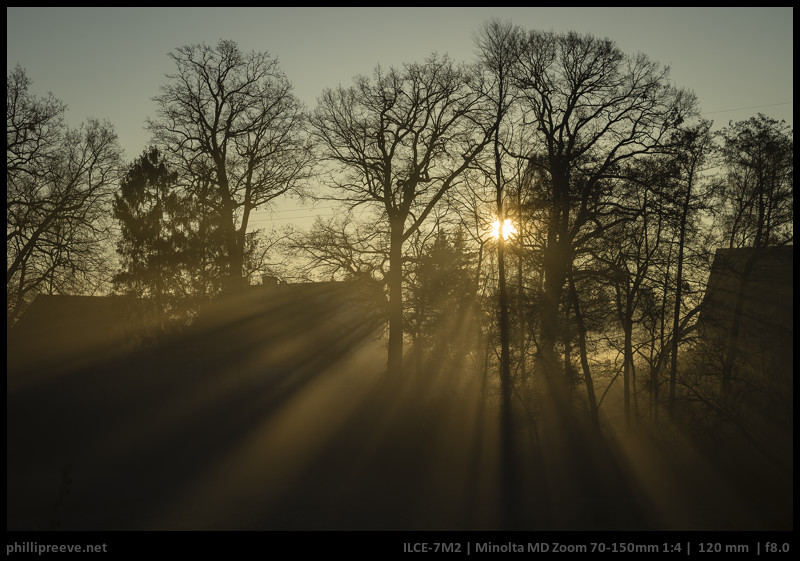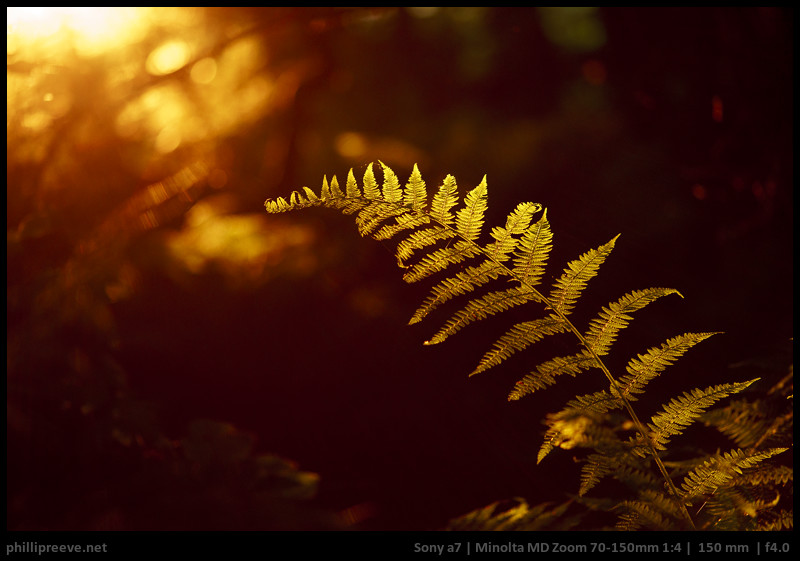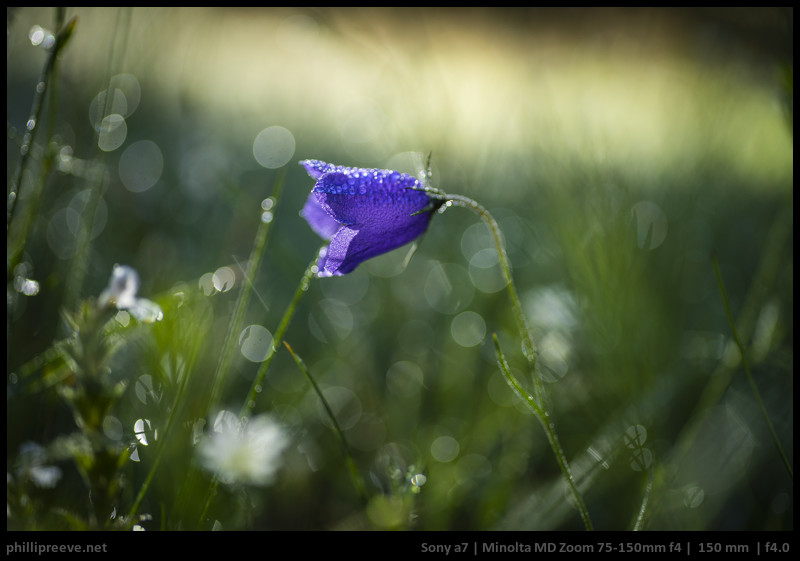 Specifications
| | |
| --- | --- |
| Diameter | 63.6 mm |
| Length | 114.7 mm |
| Filter Thread | 59 mm |
| Weight | 438 g |
| Max. Magnification | 0.17 |
| Close Focusing Distance from the sensor | 1.2 m |
| Number of aperture blades | 6 |
| Elements/ Groups | 12/8 |
The Minolta MD 4775-150 sells for around $70-100 at ebay.com or 70-90€ at ebay.de (affiliate links). If you purchase the lens through one of these affiliate-links I get a small compensation with no additional cost to you. 
Versions
There is just one version of the Minolta MD Zoom 75-150mm 1:4 which was release in 1981 at the end of the SR-mount era.
Build quality and handling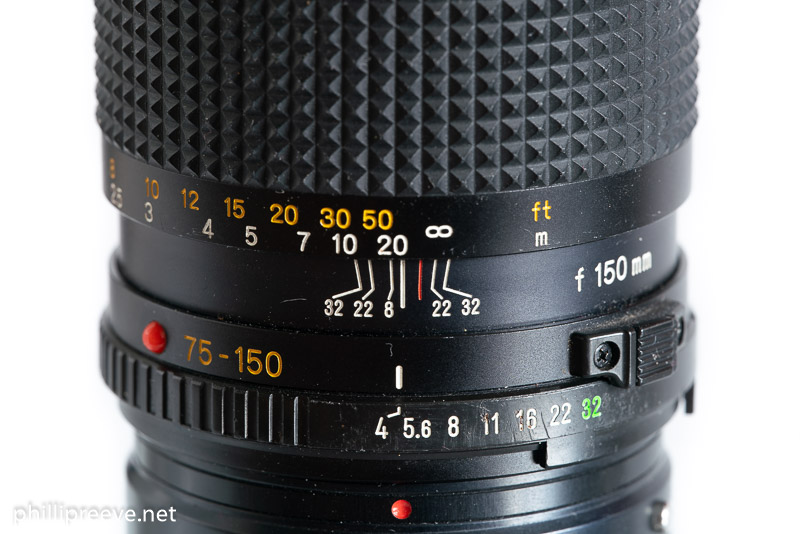 By today's standards the Minolta 4/75-150's build quality is very good. If you compare it to earlier Minolta MC lenses though it feels not quite as nice. The barrel is made of metal, the focus ring is rubberized and has aged very well on my copy.
The MD 4/75-150 is a push-pull zoom. Because  of the limited speed and zoom range that isn't too annoying but still these have died for good reason. The focus and zoom ring turns with proper resistance but at least on my copy it is a little scratchy. Itring travels about 180° from 1.2 m to infinity.
The aperture ring can be adjusted in half-stops from f/5.6, down to f/32.There is no stop between f/4 and f/5.6. The aperture ring is made of plastics an has gathered quite a few scratches on my copy, unlike the rest of the lens. It also feels a bit tacky but the stops are distinctive.
Size and Weight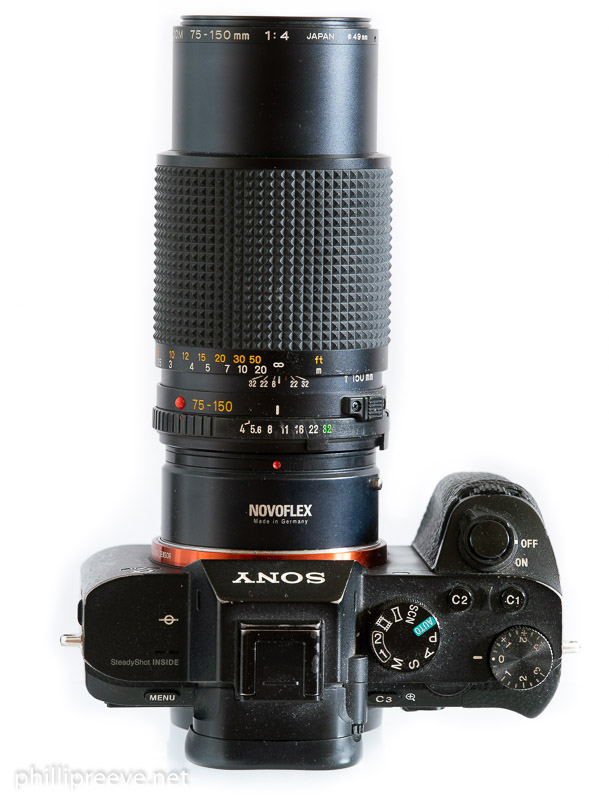 At 438g the Minolta MD 75-150mm f/4 is one of the lightest zooms I have ever used. It weights about half as much as a contemporary 4/70-200. It is also a lot smaller. That is one of it's biggest strengths to me.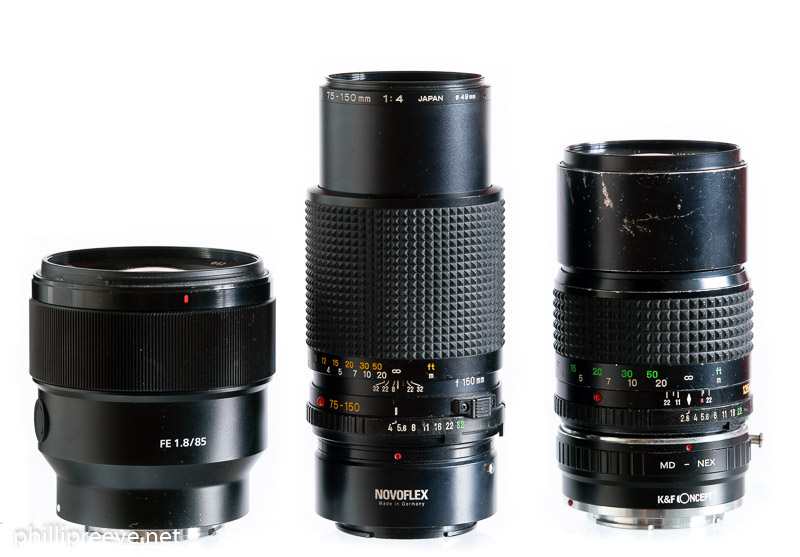 Optical performance
These results are based on the use with a Sony a7II and a7rII.
Flare Resistance
Minolta lenses are known to be rather flare prone and the Minolta MD 4/75-150 shows strong veiling flare and some ghosting. Modern lenses like the FE 4/70-200 show less veiling flare but still even the best modern tele lenses are far from perfect in this regard.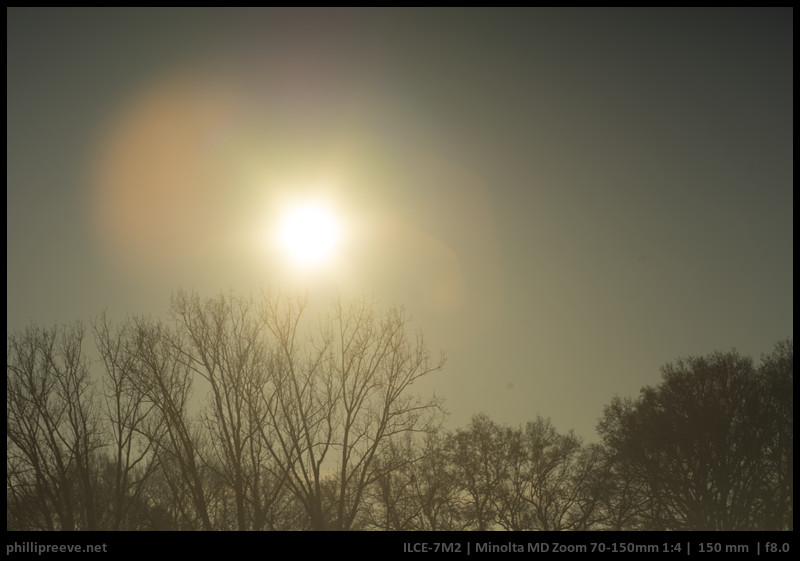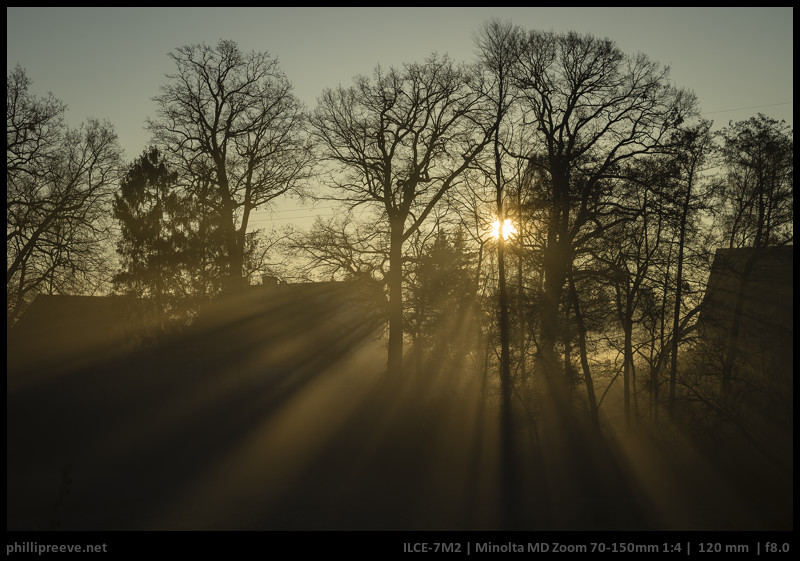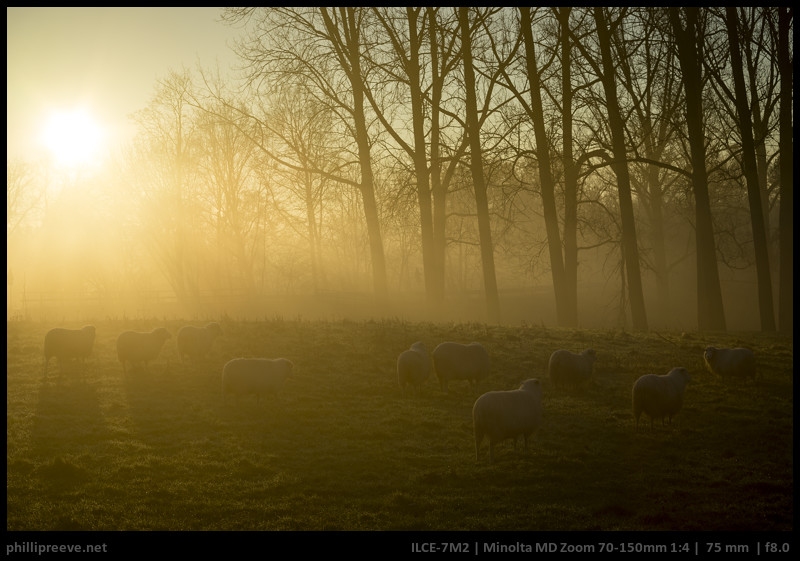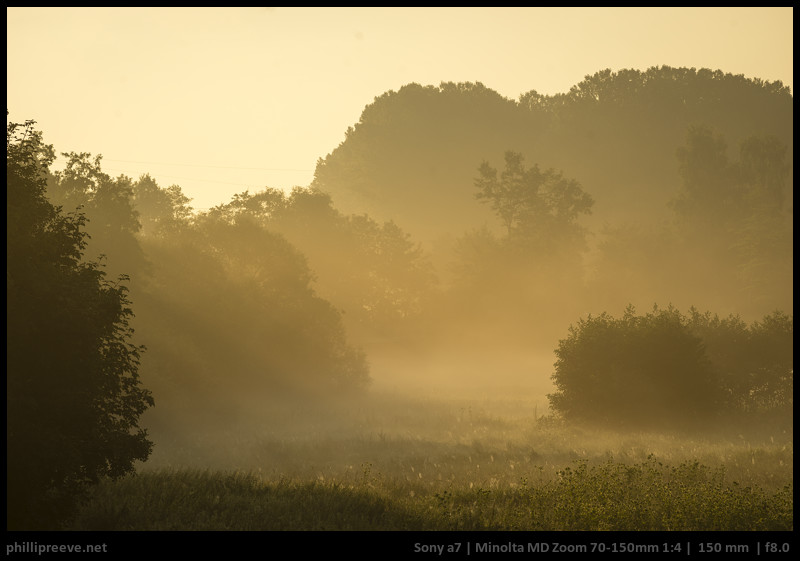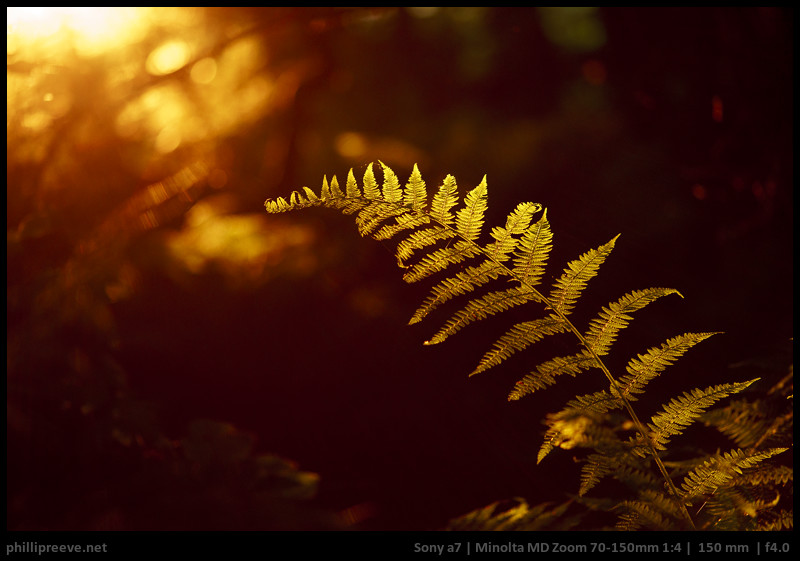 Sunstars
The Minolta has only 6 aperture blades and therefore yield 6 pointed sunstars which aren't well defined even at f/11.
Bokeh
Since this isn't the most important aspect for this lens I won't go into detail too far but the Minolta's bokeh is generally smooth with noticeable cat's eyes and oof-highlights become hexagonal from f/5.6.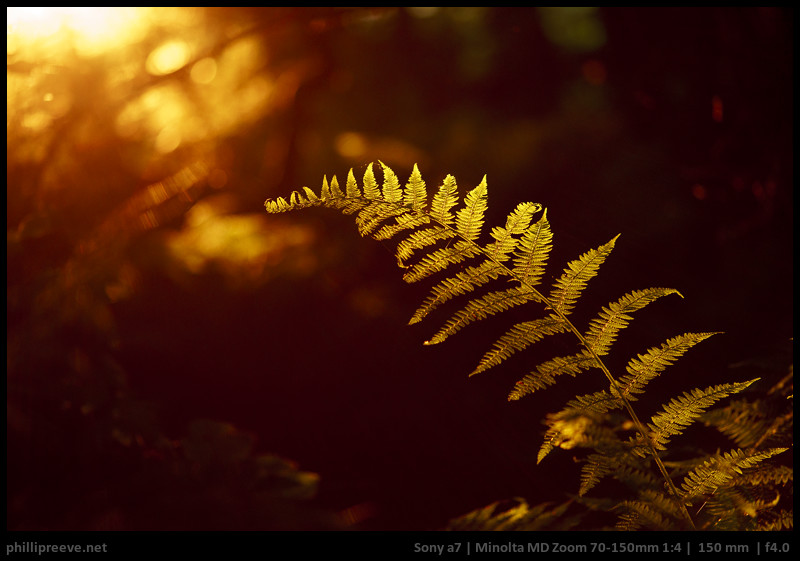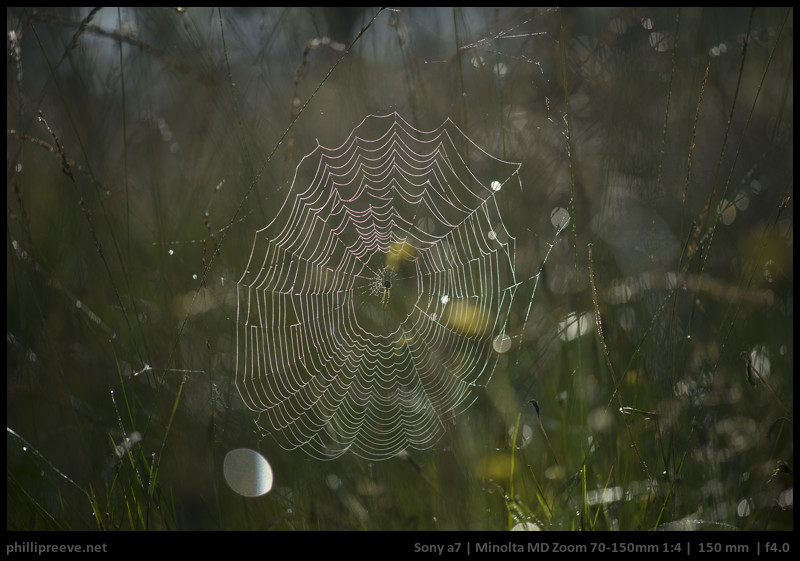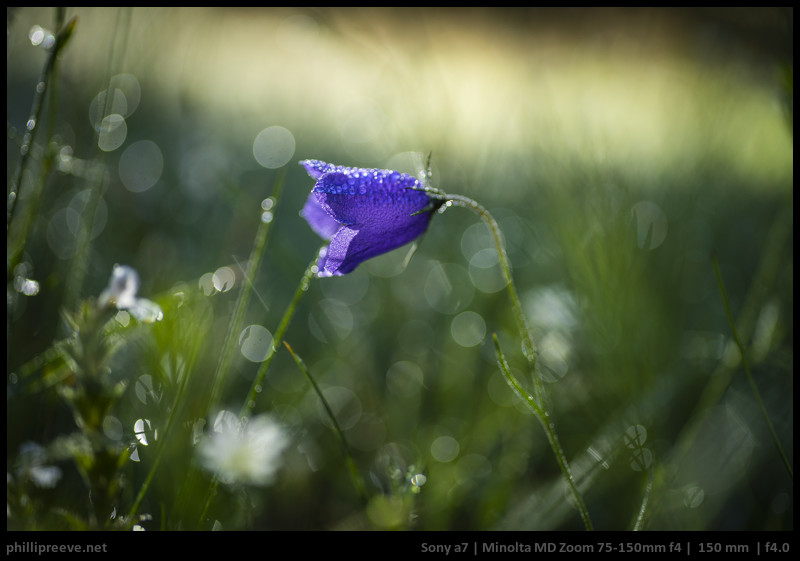 Chromatic Aberrations
The Minolta doesn't use any ED-glass so it isn't surprising that it's CA correction isn't great. It is still ahead of most legacy lenses but it will be visible for some critical applications.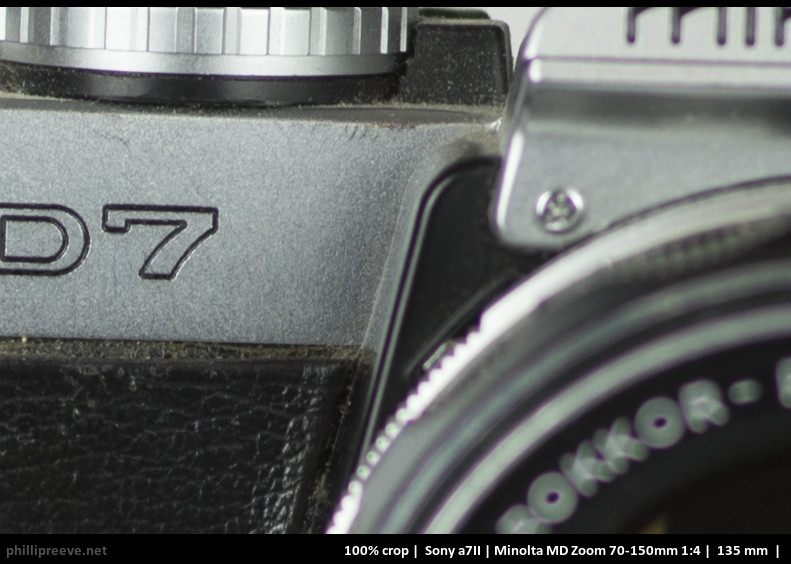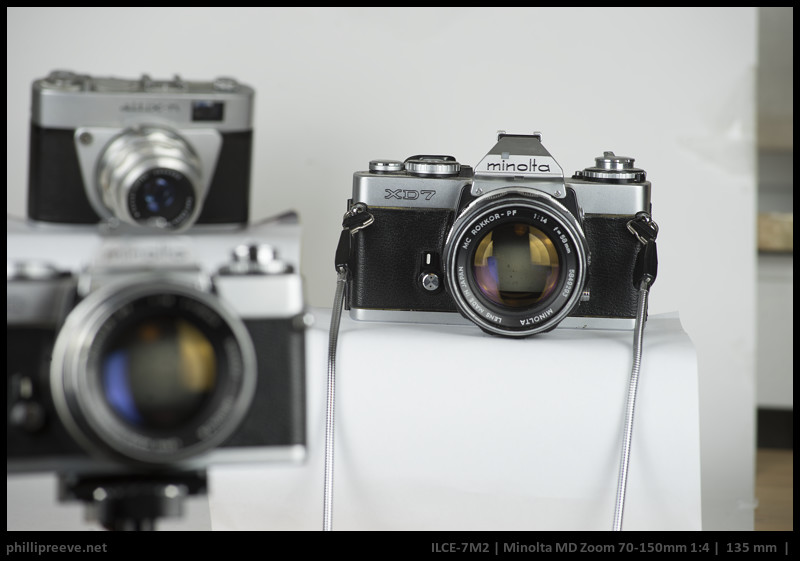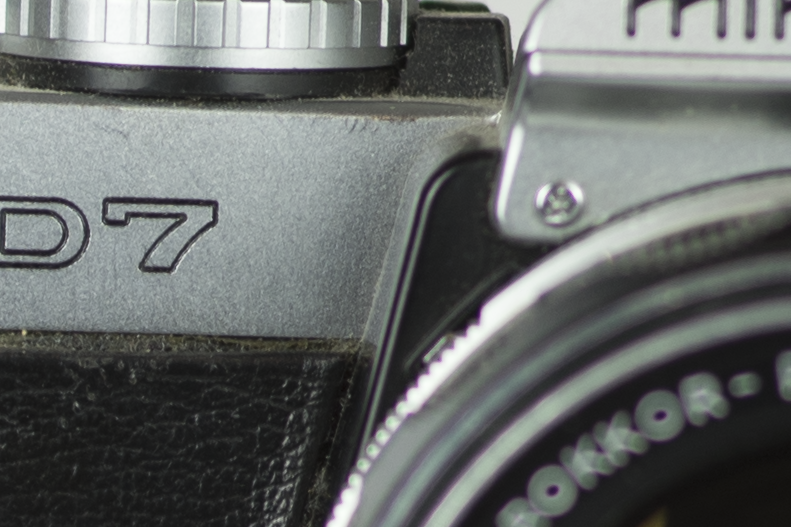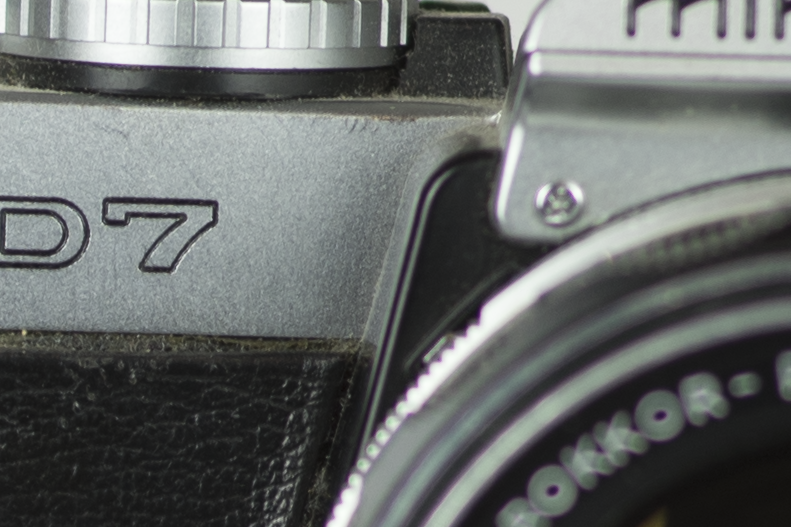 Lateral CA on the other hand are corrected really well until about 100mm but quite noticeable at 150mm.
Focus Shift
At least at short distances there is significant focus shift so one should focus at the working distance.
Vignetting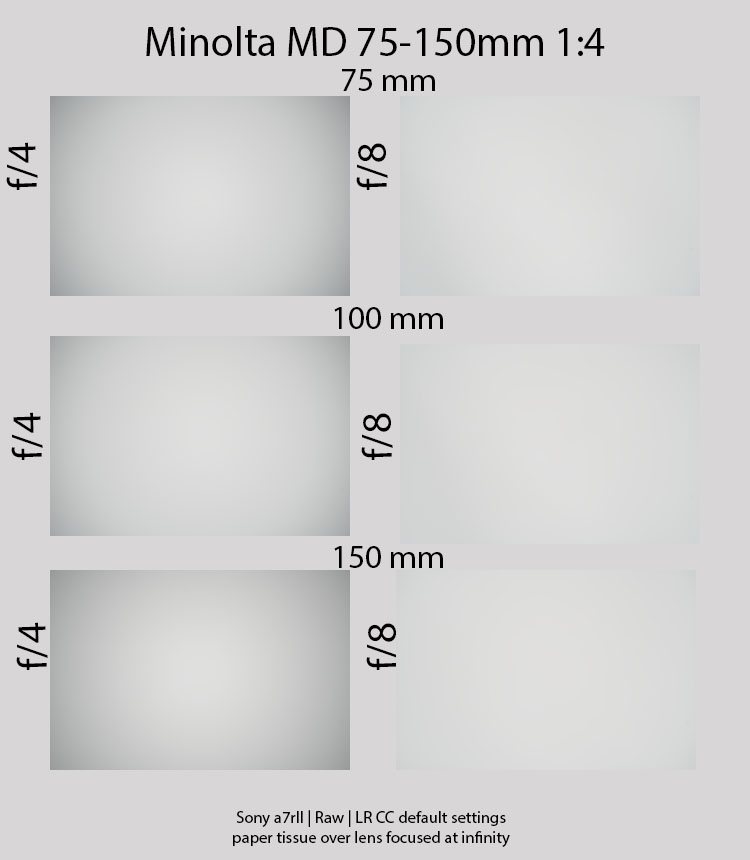 Vignetting is strongest at the long end with moderate 1.4 stops which are reduced to negligible 0.3 stops at f/8.
Distortion
The Minolta 4/75-150 shows little to strong distortion depending on the focal length. At 75mm we see significant barrel distortion which needs about an value of 8 to be corrected in LR. At 100mm there is very little distortion. At 150mm We see strong pincushion distortion which needs -7 to be corrected. A typical performance for a tele zoom.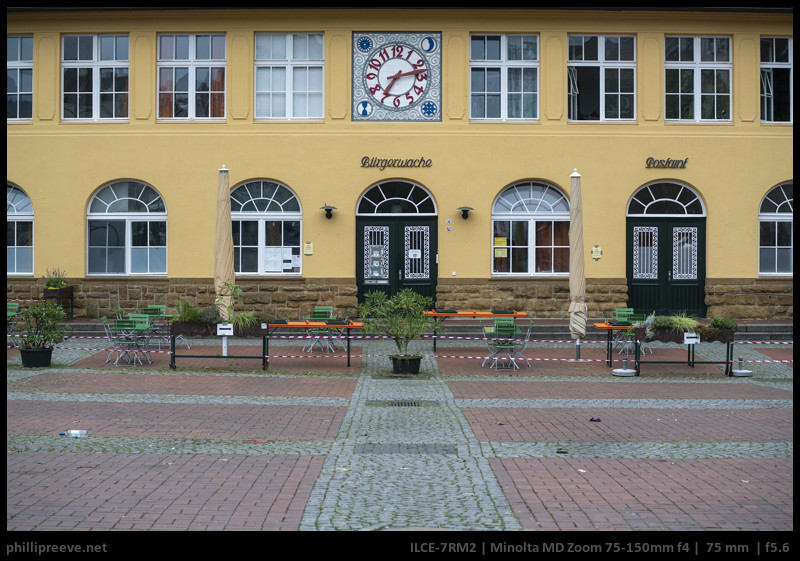 Sharpness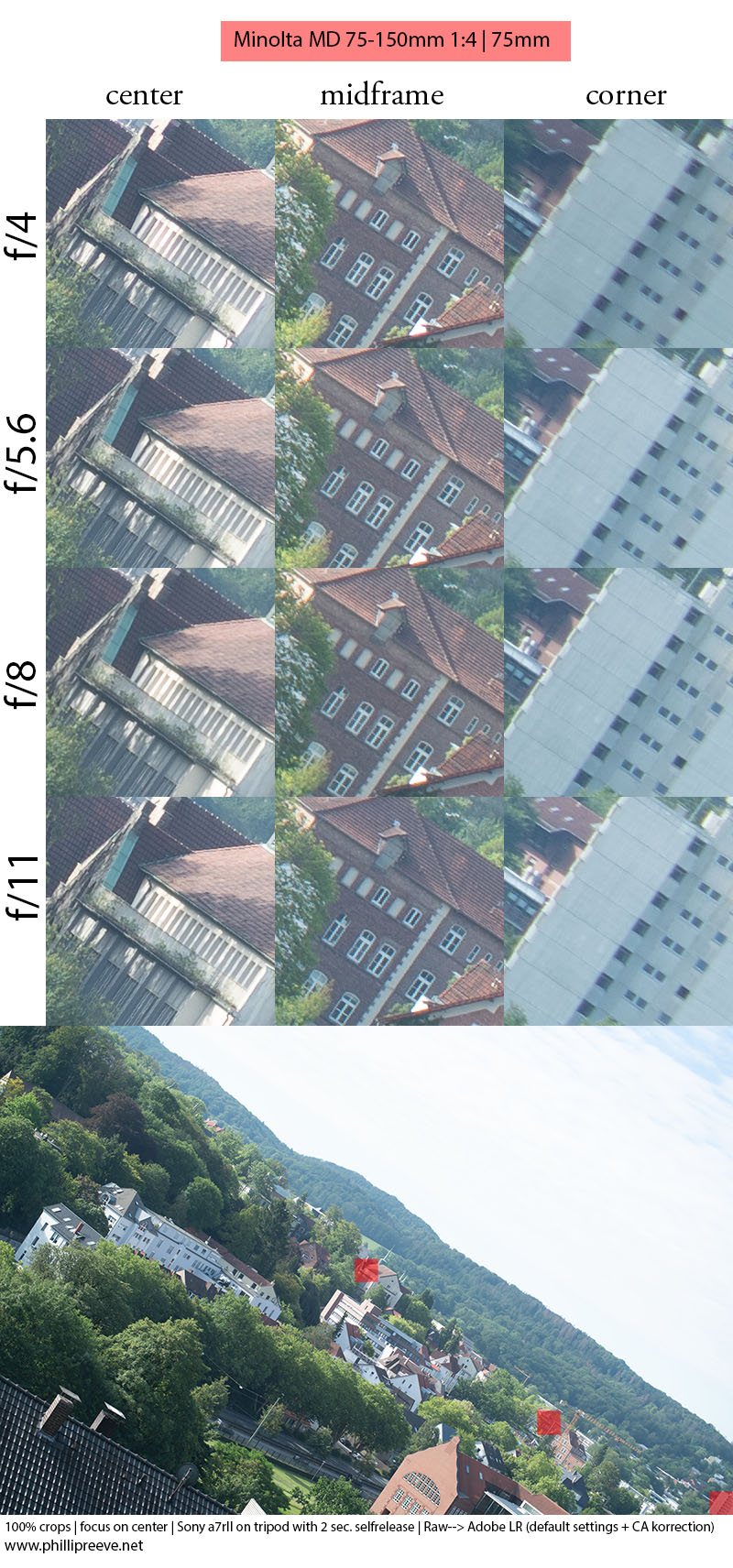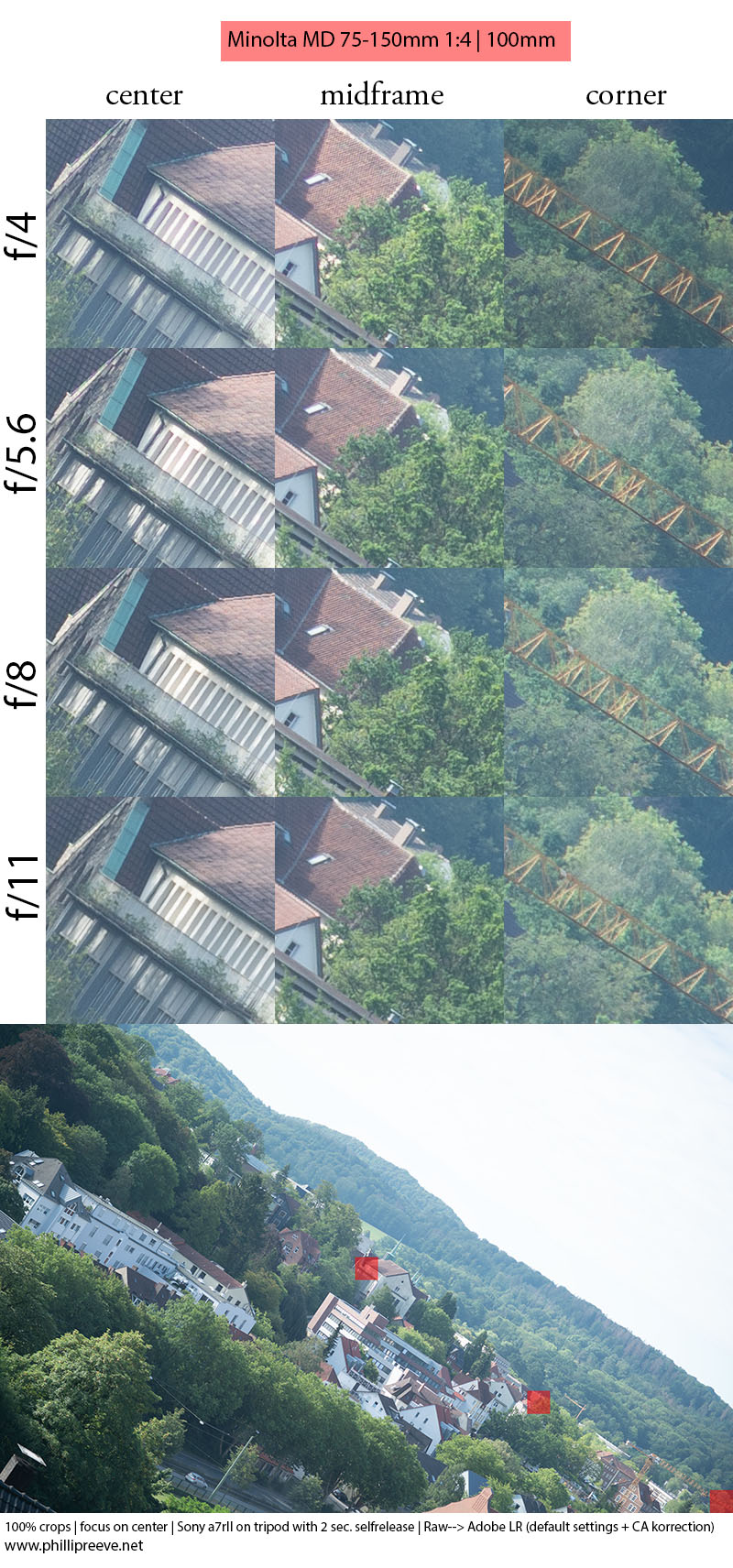 f/4: Excellent sharpness in the center across the zoom range. The midframe area is excellent as well. The corners show good sharpness.
f/5.6: A small improvement in the corners which are very good by now. Also a reduction of PF and a slight increase in contrast.
f/8: A slight decrease of center sharpness but a slight increase of corners sharpness at 75 and 100mm
f/11: The whole image is a little softer.
All in all an excellent performance for a zoom or even a prime.
Alternatives
Tamron 2.8/70-180 AF FE: As the Minolta is has a  limited zoom range and it is very light for it's speed but still nearly twice as heavy as the Minolta. It's performance has generally been applauded for it's very strong optical performance so it shows that a limited zoom range can be a very reasonable trade-off. While relatively affordable for a f/2.8 tele zoom it is many many times as expensive as the Minolta.
Sony FE 4/70-200: The twice as heavy and more than 10x as expensive Sony can not match the Minolta's across the frame performance so for landscapes the Minolta could be the better alternative while the Sony of course is a lot more versatile thanks to AF and a little wider zoom range.
Canon EF 4/70-200 L USM: Similar performance as the Sony but more affordable. The big disadvantage is that it needs an adapter which makes it less attractive if it is your only EF-mount lens.
Minolta MD 2.5/100: An even lighter yet faster prime with similar image quality for those who do not put much value on the ability to zoom.
Conclusion
Strengths
Weight and Size significantly smaller than 4/70-200 zooms

Very good Sharpness, better than some modern zooms 

Very affordable

Generally smooth Bokeh
Average
Build Quality average for a lens from the 80s but very competitive by modern standards
Weaknesses
Typically high Distortion for a zoom

Weaker Flare Resistance than modern lenses 

Stronger LoCA than modern lenses

Push-Pull Zoom
The Minolta MD 4/75-150 shows very good sharpness even on modern 42MP sensors, beating some modern zoom lenses 10x as expensive. It's age shows in the below average correction of LoCA and weaker flare resistance.
While its zoom range is limited the weight of the Minolta MD 4/75-150 is very limited as well and it is much lighter than any modern zoom covering a similar zoom range. The push-pull design though is a bit of an hassle.
The Minolta MD Zoom 75-150mm 1:4 makes a very strong case for slower zooms with a limited zoom range. If a 35-years-old design without any fancy glass can outperform a modern Sony FE 4/70-200 for $1000, then I ask myself what a modern lens with similar parameters could achieve? Because of it's parameters I would recommend it either to those who look for a very affordable tele zoom or for landscape photographers.
The Minolta MD 4/75-150 sells for around $70-100 at ebay.com or 70-90€ at ebay.de (affiliate links). If you purchase the lens through one of these affiliate-links I get a small compensation with no additional cost to you. 
More Image Samples
You can find many of the images shown here in full resolution in this flickr set: Minolta MD Zoom 75-150mm 1:4.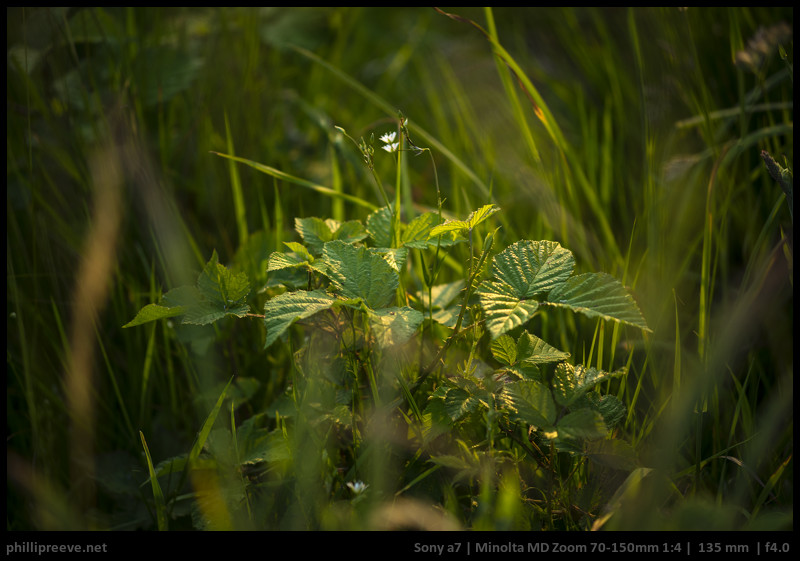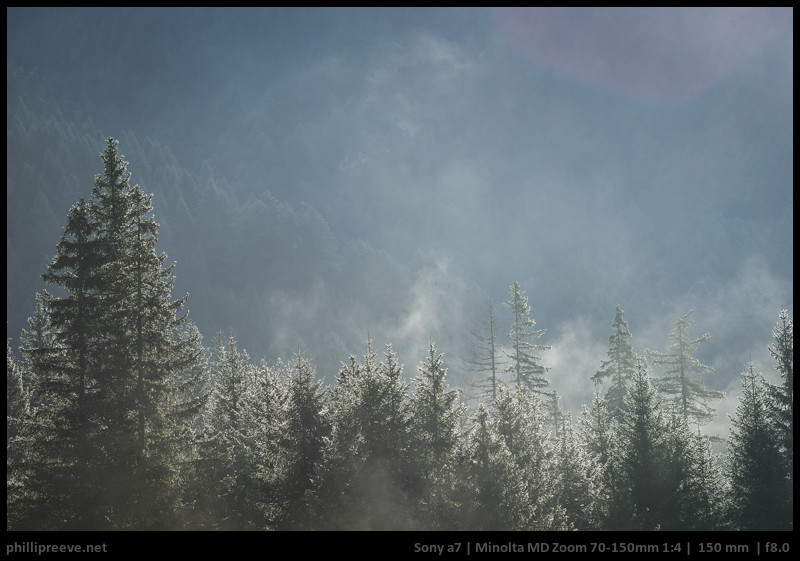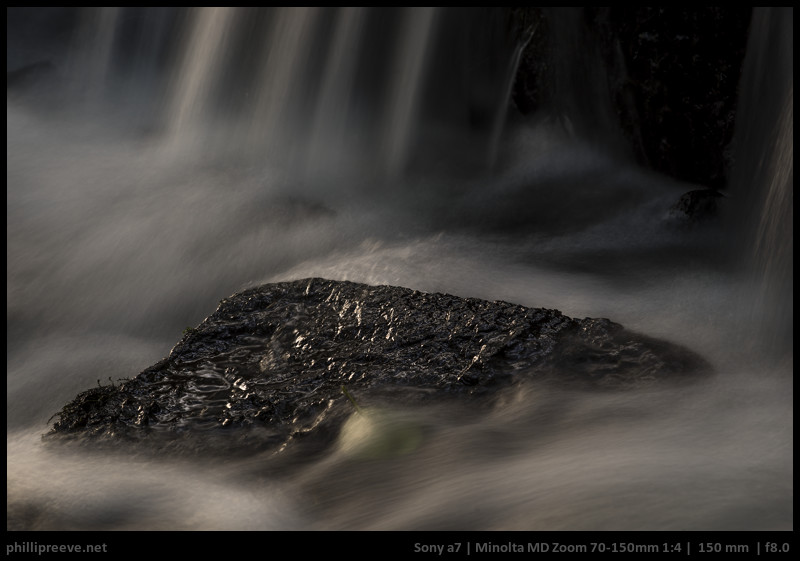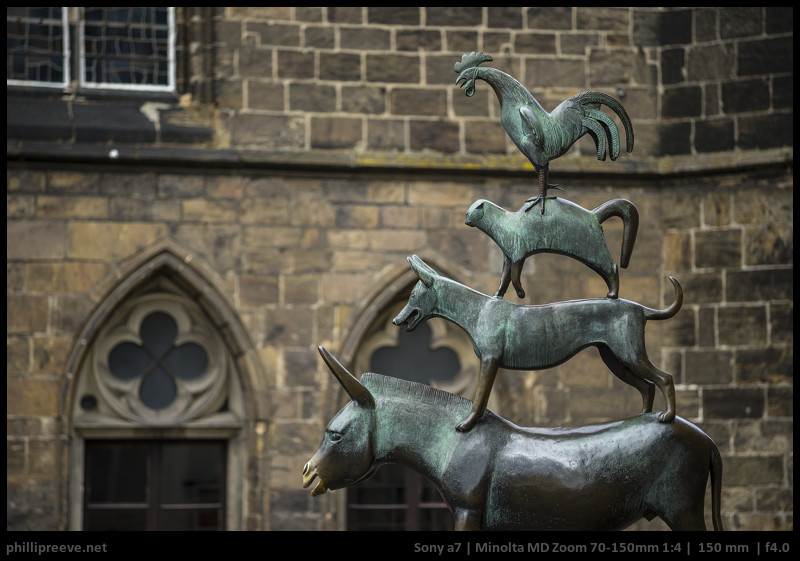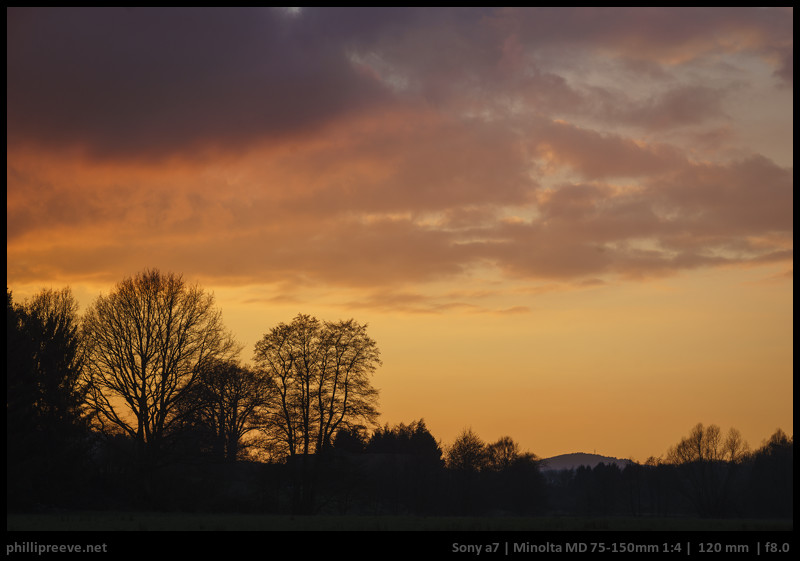 Other articles
The following two tabs change content below.
I have two hobbies: Photography and photographic gear. Both are related only to a small degree.
Latest posts by Phillip Reeve (see all)