Introduction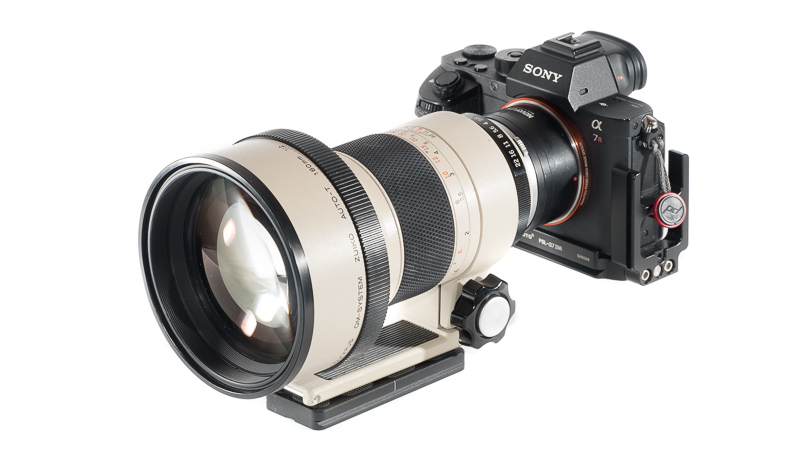 I have already reviewed the Canon EF 200mm 1.8 L and the rare Voigtlander SL 180mm 4.0 APO-Lanthar, but the Olympus OM 180mm 2.0 Zuiko Auto-T is even rarer. I guess most of you didn't know it even existed.
The Olympus an exotic relic from the past, one of Olympus' masterpieces when it comes to 35mm lenses. So let us have a look at what I think is the first and only review of this lens on a (high res) digital full frame camera like the A7rII.

Sample Images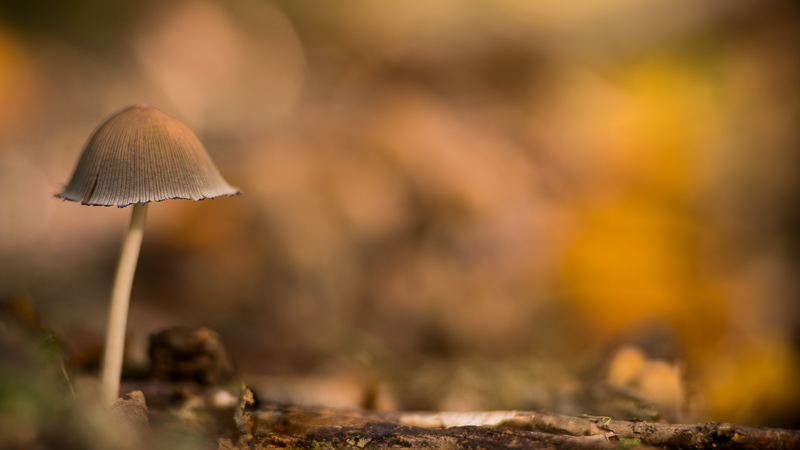 You can find most of the shots in this review in full resolution here.
Specifications / Version History
In the mid 1980's Olympus really wanted to rival Canon and Nikon in the professional sports photography segment, so they introduced this 180mm 2.0, an even more extreme 250mm 2.0 and a 350mm 2.8 super tele lens.
All three are spectacular designs: floating elements, special glass ED elements, lightweight construction, best in class minimum focus distance and high optical performance.
I didn't manage to find out how many of these have been produced yet, but the 350mm 2.8 seems to be the easiest to get, the other two are a lot harder to come by. Nevertheless, the OM 2/180 has the following specifications:
Diameter: 113 mm
Field of view: 14° (diagonally)
Length:  174 mm
Weight: 1700g + Tripod collar 200g
Filter Diameter: 100mm
Number of Aperture Blades: 9 (rounded)
Elements/Groups: 10/8
Close Focusing Distance: 1.6 m
Maximum Magnification: 1:7 (measured)
Mount: Olympus OM
Your best bet getting one is on ebay.com
(affiliate links). But these are really rare. Prices can vary between 2500$/€ up to 5000$/€ or even more.

Condition of this lens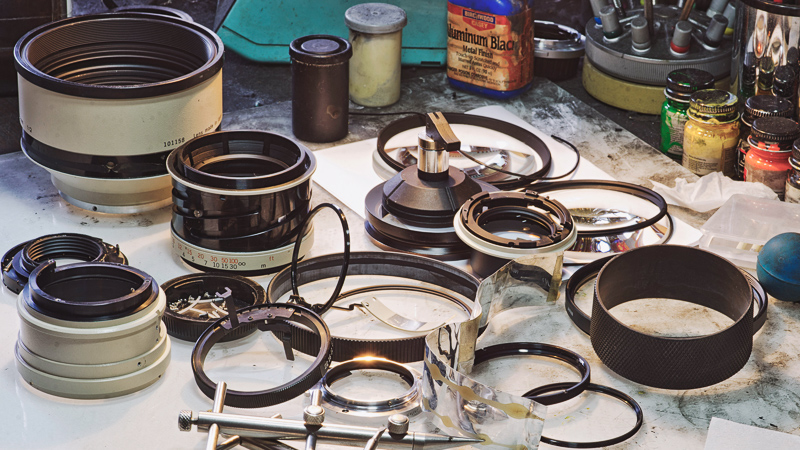 When buying such an expensive lens from a reknown dealer who tells you there is only a small scratch on the rear lens and apart from that everything is alright you don't expect to end up with a stiff focus ring and several elements affected with fungus. But this pretty much sums up what has happened to me.
As alternative options of getting another sample of this lens are severely limited (to say the least) I decided not to send it back to the dealer. I send it to the OM-Lab for CLA instead and now the lens works almost as new, so I can really recommend this address if you happen to be in the same spot with an Olympus lens (or another manual lens).
Build quality / Handling
If have yet to come across a super tele lens with bad build quality. Everything except for the aperture ring is made from metal and feels very solid. After CLA the focus ring feels also very nice and offers even resistance. It takes 180° from infinity to the minimum focus distance (1.6m).
The aperture ring has half-stop click stops and turns roughly 60° from f/2.0 to f/22.
Unfortunately – and unlike its two bigger brothers – this lens does not feature a drop-in filter slot but uses 100mm front filters. My lens came with a protection filter, but I had no luck finding a polarizer so far, as only Olympus and Leica have used this filter diameter for a short period of time.
The tripod collar is detachable, I equipped it with an arca swiss compatible plate (100mm length). Without tripod collar this lens is only 1700g. Only? Yes, compared to other lenses in this class (see Alternatives section) this lens is roughly 1 kg lighter and therefore comparable to a 70-200mm 2.8 in terms of handling. This makes using it without a tripod for a longer period of time much easier.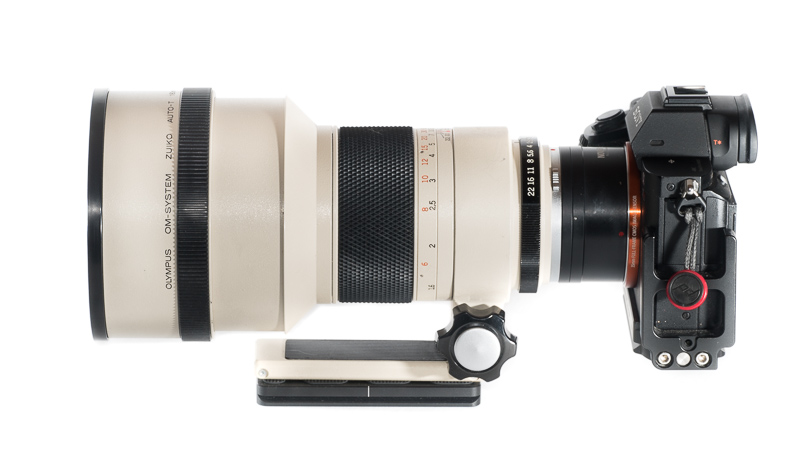 The Olympus 2/180 offers a retractable hood, I quite like these as they are easy to use and don't take up additional space in the bag.
This lens feature a very complex internal focusing mechanism with lens groups changing their positions relative to each other, so the flange focal distance has a high influence on image quality. Therefore I am using the Novoflex OM-E adapter (affiliate link), as these adapters are tightly manufactured to give the correct flange focal distance.
Vignetting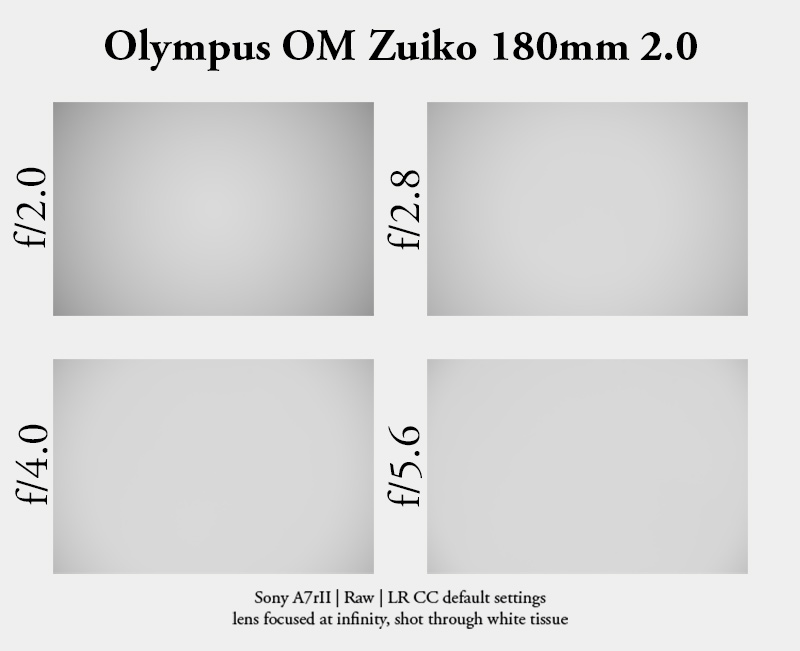 Wide open there is vignetting of roughly 1.5 EV, stopped down to f/2.8 this improves to only 0.9 EV, stopped down to f/5.6 it is negligible with 0.5 EV and further improves to 0.3 EV at f/8.0. There is no Lightroom profile for this lens.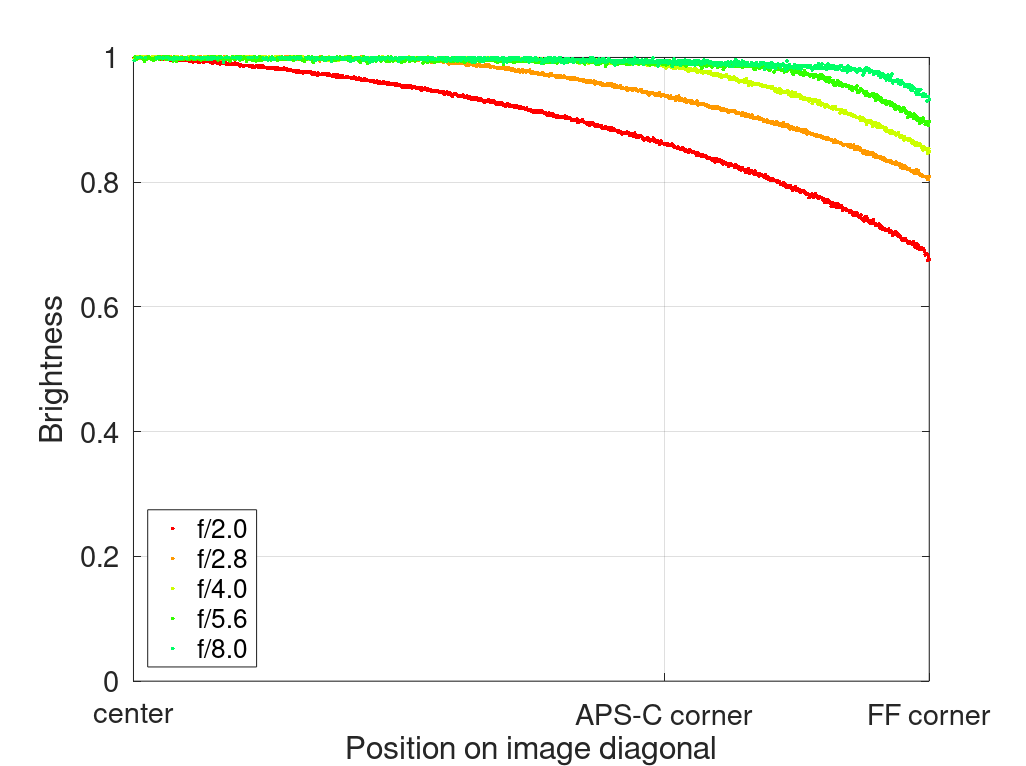 It is recommended to have a look at this article first to get an idea how this brightness graph works.
Sharpness
infinity


The center looks really good already at f/2.0. Stopping down to f/2.8 increases contrast as well as midframe and corner performance slightly. By stopping down to f/4.0 the performance across the whole frame looks really good. Peak performance is reached at f/5.6, at f/8.0 you already see the impact of diffraction.
The exposure of the f/2.0 and f/2.8 corner crops has been slightly lifted in post.
Compared to Canon EF 200mm 1.8 L:
I shot the scene above with both lenses side by side. In the center of the frame there is not much difference at any aperture; wide open I would give the nod to the Olympus, as it already shows slight moiré patterns while the Canon doesn't.
Midframe and corners up until f/4.0 look much better on the Canon: it shows impressive resolution figures across the whole frame already wide open (see my Canon EF 200mm 1.8 L review).
By f/5.6 the Olympus has caught up and might even be slightly better in the corners.
close focus (1.6 m)

A minimum focus distance of 1.6 m is quite good for a fast 180mm lens. For most applications even shooting wide open will give satisfactory results, but stopping down to f/2.8 boosts contrast and resolution considerably.
close focus (with 14mm extension tube)
With the 14mm OM extension tube you can increase the maximum magnification to 1:4.4. The performance suffers slightly.
close focus (with 21mm extension tubes)
With the 14+7mm OM extension tubes you can increase the maximum magnification to 1:3.8. For really good performance you need to stop the lens down, but remember: the lens was initially never meant to be used at these distances.
Flare resistance
Shooting into the sun will result in a small loss of contrast. With the sun just outside the frame (especially near the corner) you may also catch severe veiling flare. Nevertheless, compared to other lenses in this segment I have used the performance is rather better than worse.
Distortion
There is only an absolutely negligible amount of distortion with no field relevance.
Bokeh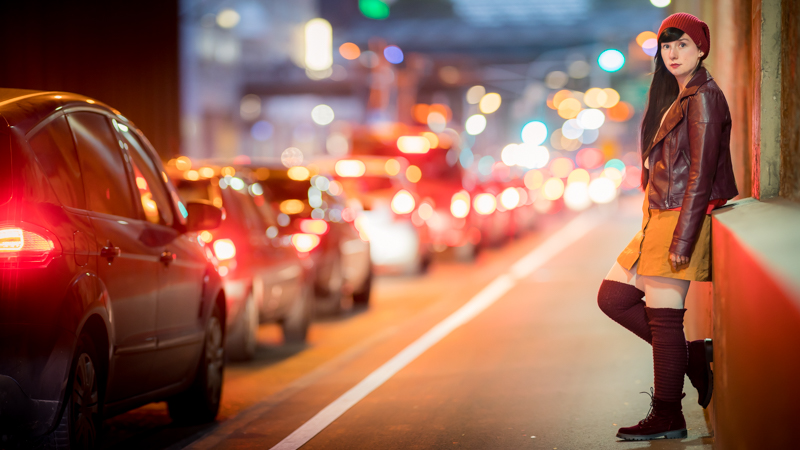 When having a look at the specifications you expect extraordinary bokeh and this is what you will get. Compared to the Canon EF 200mm 1.8 L out of focus highlights are of course a little smaller, but because of the significantly lower minimum focus distance this lens allows for more dramatic shots in close focus scenarios.
There are no onion rings to be found but in some cases a slight outlining may appear, nothing distracting though. Just have a look at the sample images and let them speak for themselves.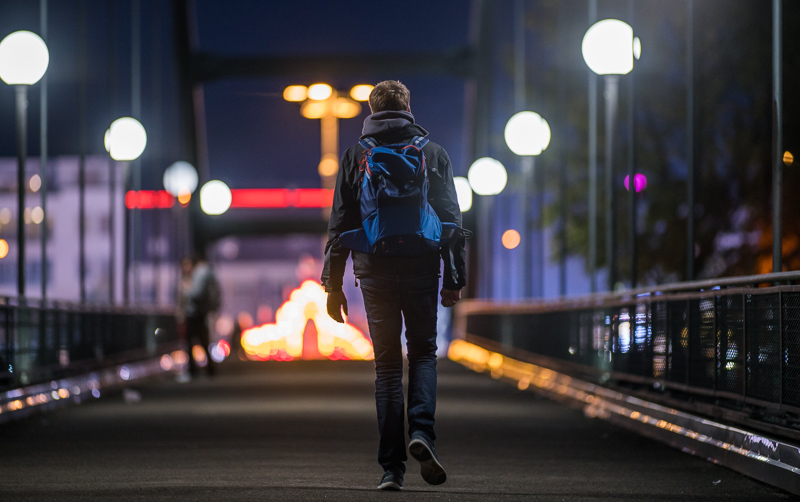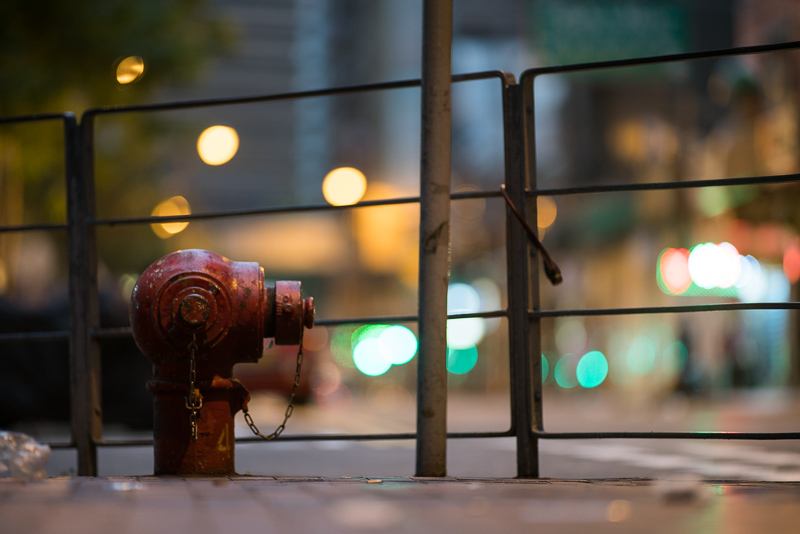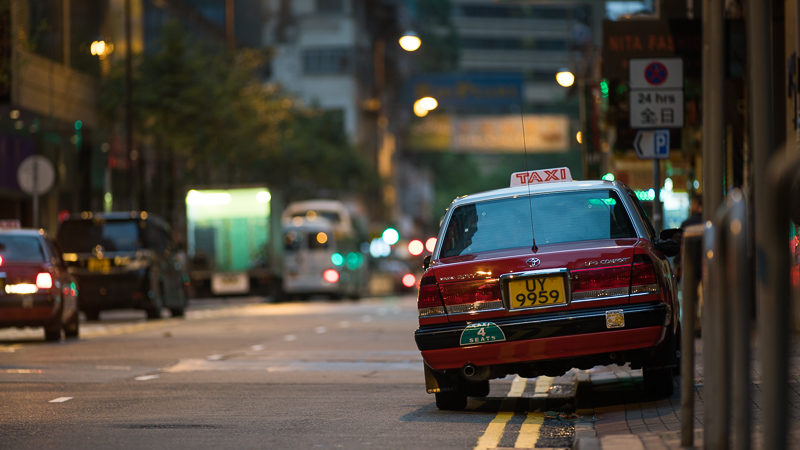 Stopped down to f/2.8 the highlights exhibit very strange geometrical shapes. My guess is you needed pretty big aperture blades for a lens like this and some compromises had to be made in order to keep the lens diameter as small as possible.
At f/2.8 the highlights take on "saw tooth" shapes (similar to Canon EF 200mm 1.8L), stopped down to f/4.0 or further you get slightly rounded 9-sided-figures.
Sunstars
9 rounded aperture blades rarely yield nice sunstars. You need to step down to at least f/8.0 for distinct sunstars to appear, better f/11 or even f/16. The rays don't have a constant length, so all in all not the greatest lens for sunstars, but considering the typical applications for a lens like this not really an issue. For further reference you can also have a look at out best lenses for Sunstars article.

Chromatic aberrations
longitudinal
Sony A7rII | Olympus 180mm 2.0 | loCA 50% crop | before: f/2.0 | after: f/2.8
Slight longitudinal CA (loCA) are present in front of and behind the plane in focus wide open, so we are not dealing with an apochromatic lens here (the Nikon AF-S 200mm 2.0G VR and the Voigtlander SL 180mm 4.0 Apo-Lanthar are apochromatic lenses). Still the problem is not overly pronounced here, comparable to the Canon EF 135mm 2.0 L or the Canon EF 200mm 1.8 L, so I rate the performance as average.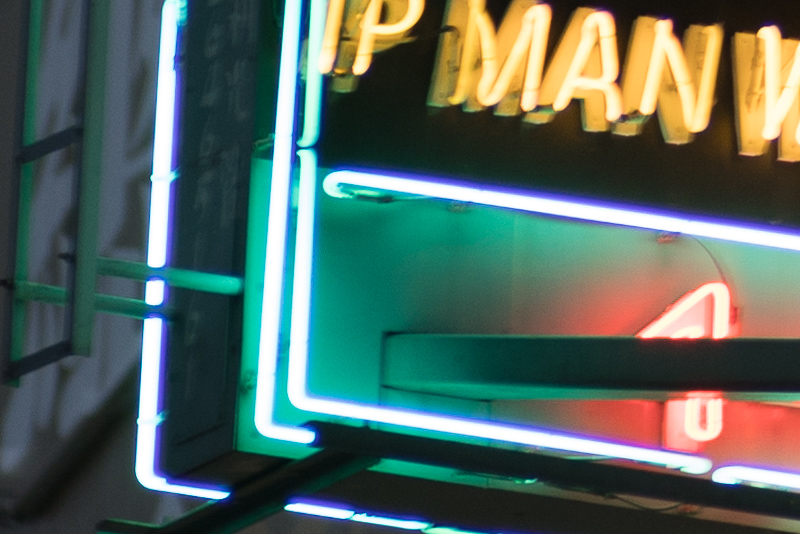 lateral
Sony A7rII | Olympus 180mm 2.0 |  f/8.0 | CA 100% crop before/after corner
There are only slight lateral CA which can easily be corrected by using Lightroom.
Alternatives
Auto focus
Nikon AF-S 200mm 2.0 G VRI(I):
I was using one of these on my Nikon DSLRs. Unfortunately adapting Nikon glass to E-mount cameras does not work as well as Canon glass. This is also pretty much the only reason I sold it.
Technically the Nikon is the better lens in most categories, but it is also heavier and the minimum focus distance is worse.
Price range: 3000$ (VRI used) to 5700$ (VRII new*)
Canon EF 200mm 2.0 L IS:
I did not yet get the chance to try one of these. From what I have read it is as good as the Nikon lens mentioned above. It might be your best option (in terms of availability) if you are looking for such a lens to use on your E-mount cameras with AF.
Price range: 4600$ (used) to 5700$ (new*)
Canon EF 200mm 1.8 L:
This one offers the most impressive bokeh, but it is also the heaviest and repair parts are not readily available anymore as well. For any further reference have a look at my review.
Price range: 3000$ (used*)
*= Affiliate link
Manual focus
Nikon Ai-S 200mm 2.0 ED:
This might be the optically least impressive of the bunch but it is also the most affordable. From what I have seen sharpness wide open isn't as impressive and it has the worst loCA correction of the super fast 200s.
Price range: 1700$ to 2500$
Zeiss Aposonnar (C/Y) 200mm 2.0 T*:
I barely know anything about this lens. If you happen to own one drop me a note 🙂
Price range: 3000$ to 4500$
Leica APO-Summicron-R 180mm 2.0:
This is the most expensive lens in this class. Today most of them are probably in some collector's showcases and therefore I can't tell you much about it. If it is a true apochromatic design it might be – in terms of optical quality – the best manual lens in this class, but I will probably never find out.
Price range: I have only seen one for 7000$ so far
Canon nFD 200mm 1.8 L:
Optically the same as the Canon EF 200mm 1.8 L, but with manual focus only and FD mount. Very rare!
Price range: I have only seen one for 8000$ so far
Conclusion
good

bokeh

excellent sharpness wide open at all distances across the whole frame

distortion

correction of lateral CA

build quality

size/weight (compared to competition)

average

vignetting
sunstars
flare resistance
correction of longitudinal CA

not good

saw tooth bokeh at f/2.8

price/availability
In terms of image quality it is hard to find fault with this lens. Resolution is not an issue even on the 42mp A7rII, contrast is good already wide open and while not an Apo design loCA are still well corrected and unobtrusive in most cases.
This is one of these lenses where it is a shame we haven't seen anything comparable in the last 30 years. Sure, the newest generation Canon/Nikon 2.0/200 lenses offer sligthly superior image quality, but at what price to our backs? Carrying around a 1.7 kg lens is something completely different compared to carrying around a 3.0 kg lens.
I hope, despite the trend of huge "no optical compromise" lenses (see Sigma Art and Zeiss Milvus lines), we will one day see tele lens designs like this again, where very slight optical compromises lead to huge savings in terms of weight and size.
The real problem with this lens though is the availability. I still don't know how many have been made, but it certainly is a very rare lens. The prices also vary a lot and finding a mint sample might be next to impossible (I haven't seen one for years). So if you really want one of these prepare for a long search…
Your best bet getting one is on ebay.com
(affiliate links). But these are really rare. Prices can vary between 2500$/€ up to 5000$/€ or even more.

Sample Images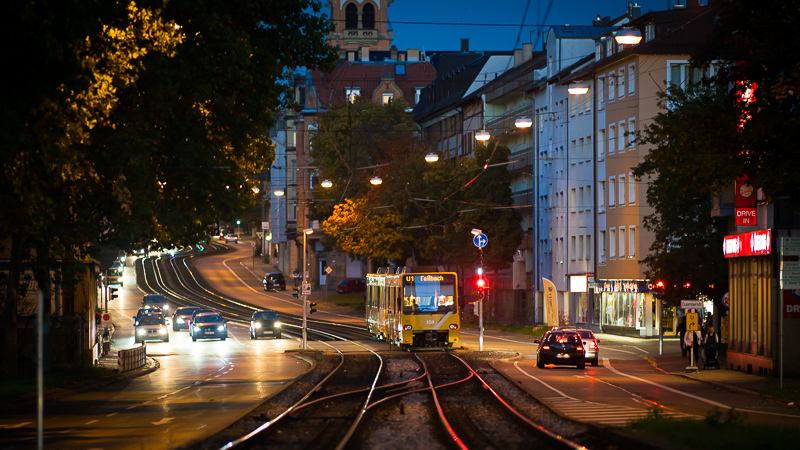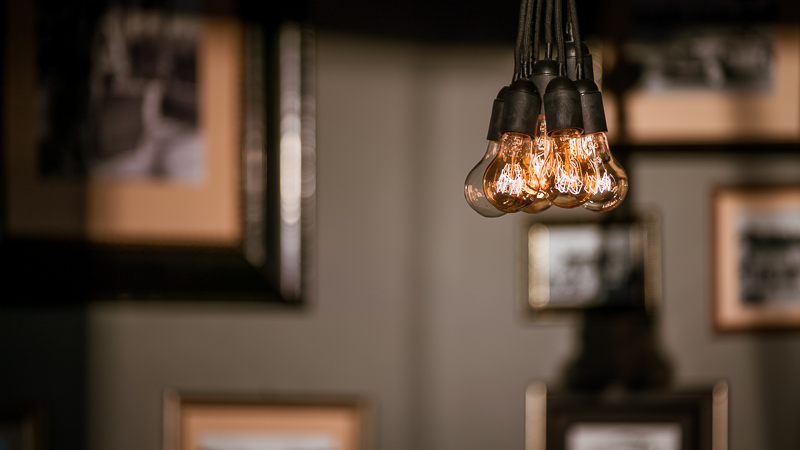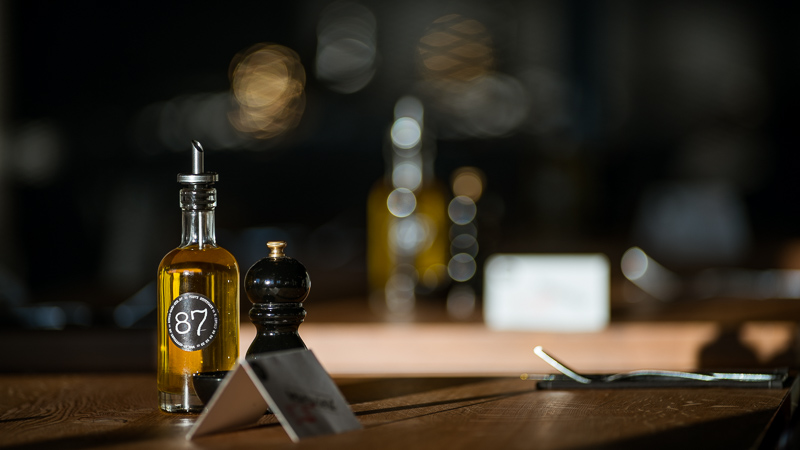 You can find most of the shots in this review in full resolution here.
Further Reading
Support Us
Did you find this article useful or just liked reading it? Treat us to a coffee!


via Paypal