Introduction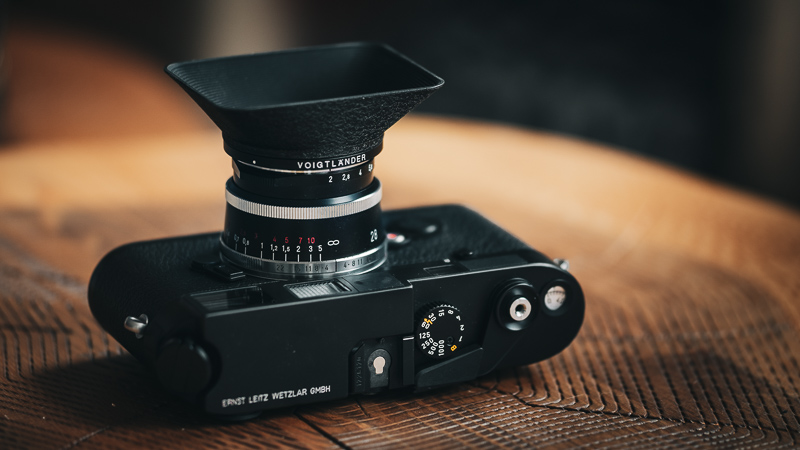 Even though most smartphone's main camera features a 28mm equivalent lens, when it comes to fullframe lenses this focal length has been a bit neglected lately.
One of the few recent additions to the 28mm line up has been the updated Voigtländer VM 28mm 2.0 Ultron. The predecessor was the first lens I reviewed on this blog, so I am very curious about this updated version 6 years later.
This lens will be reviewed on the 42mp Sony A7rII and the 24mp Leica M10.
Update June 2023: Alternatives section updated

Sample Images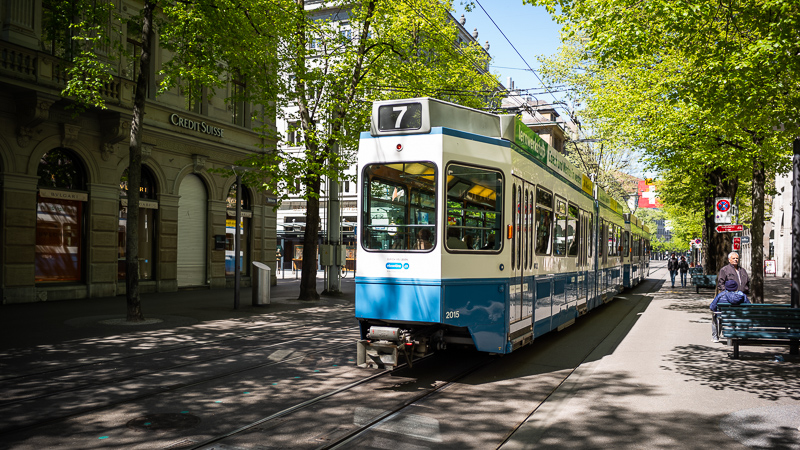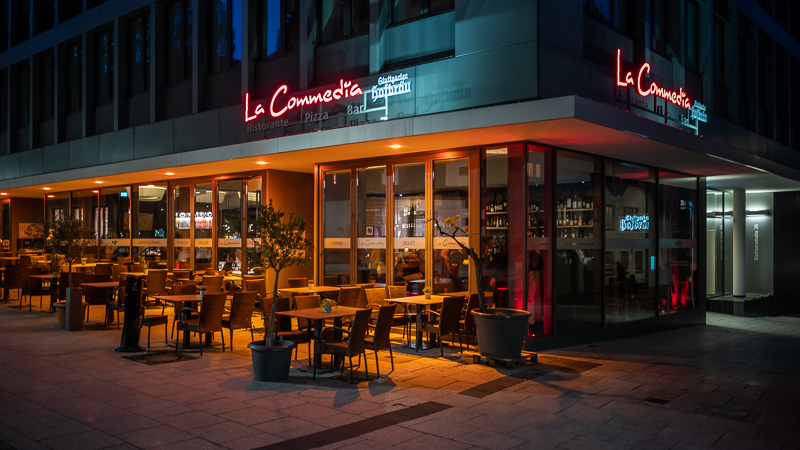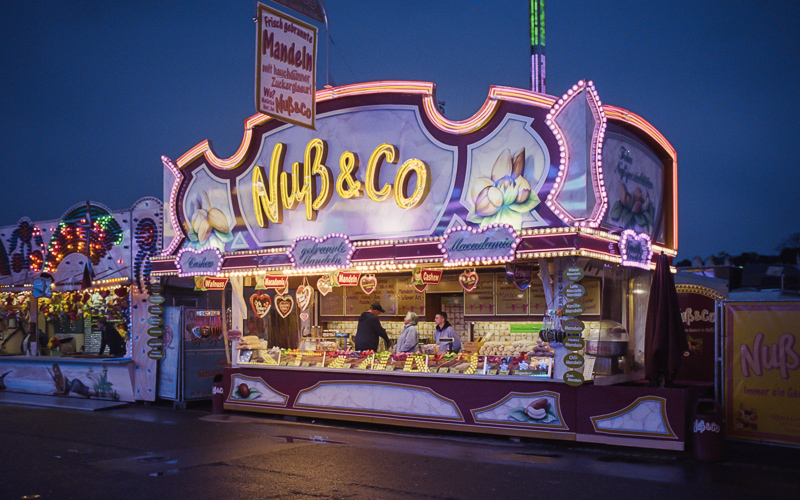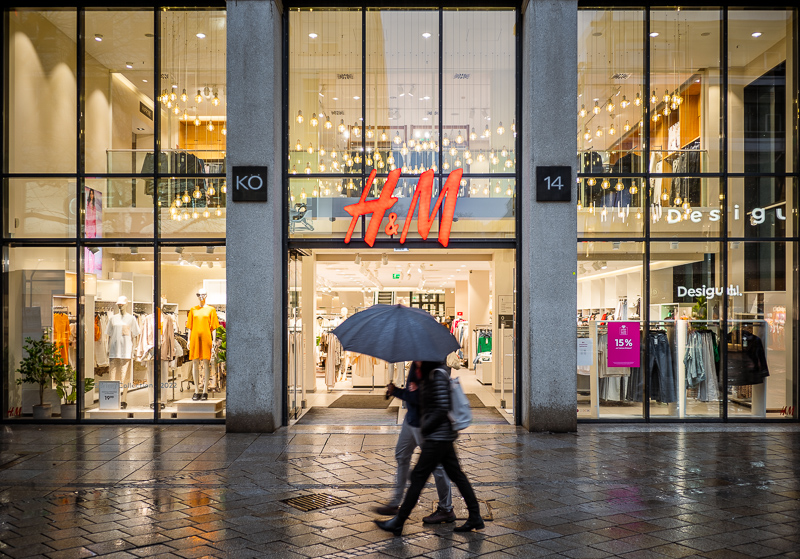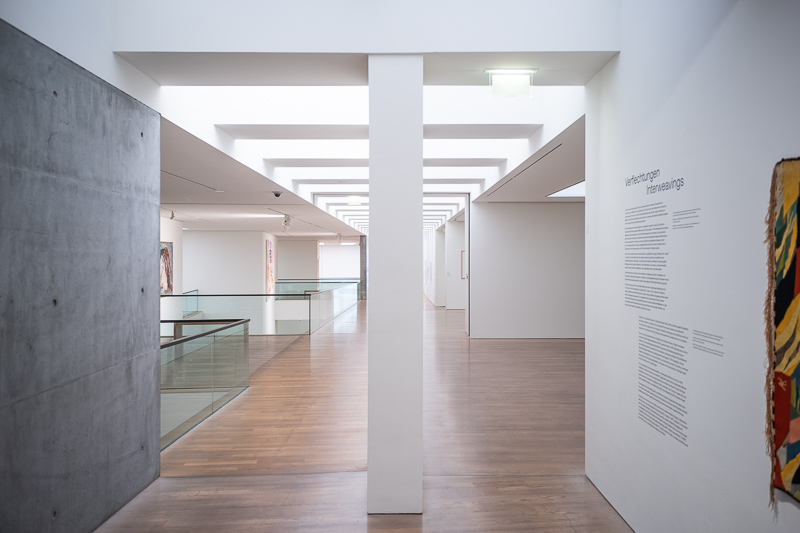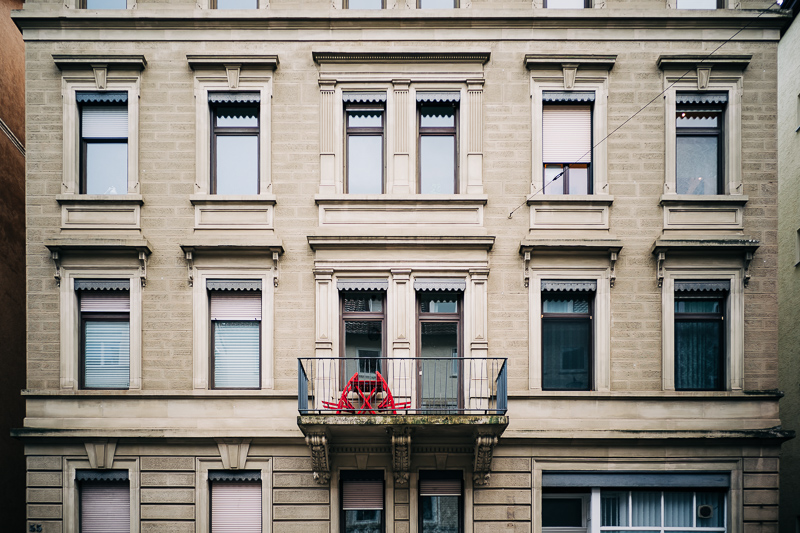 Most of the sample images in this review can be found in full resolution here.
Specifications/Version History
There have already been 3 versions of the Voigtländer 28mm 2.0 M-mount lens, 4 if we add the earlier 28mm 1.9 M39 lens:
Voigtlander 28mm 1.9 Ultron
261g (black and silver), 9/7 design, 46 mm filter thread, MFD 0.7 m, M39
Voigtlander VM 28mm 2.0 Ultron
238g (black), 10/8 design, 46 mm filter thread, MFD 0.7 m, M-mount
Voigtlander VM 28mm 2.0 Ultron Type I
188g (black), 10/7 design, 39 mm filter thread, MFD 0.5 m, M-mount
Voigtlander VM 28mm 2.0 Ultron Type II
230g (black/silver), 10/7 design, 39 mm filter thread, MFD 0.5 m, M-mount
Type I and Type II apparently share the same optics, only the casing design is different. The Type II versions feature a bigger focus tab whereas Type I only features a tiny focus lever. So pick your favorite based on looks and feel.
I am reviewing the Type I here which has the following specifications:
Diameter: 52 mm
Field of view: 74.5° (diagonally)
Length: 36 mm
Weight: 188g (without hood and caps)
Filter Diameter: 39 mm
Number of Aperture Blades: 10 (straight)
Elements/Groups: 10/7

Close Focusing Distance: 0.5 m
Maximum Magnification: 1:15 (measured)
Mount: Leica-M
The lens is available from Robert White (UK) | Cameraquest (US) | B&H | ebay.com | ebay.de (affiliate links) and the price is $899/849€/£699.
Handling / Build Quality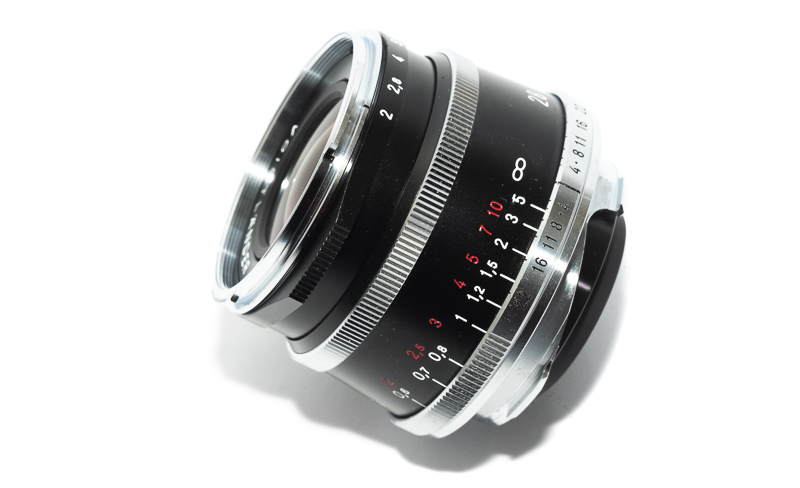 As noted before Cosina doesn't follow a clear line when it comes to the casing design of their M-mount lenses, but this one comes in 3 different versions, so there is a higher likelihood to find something you like. I bought the Type I which has the same exact styling as my Voigtländer VM 21mm 3.5: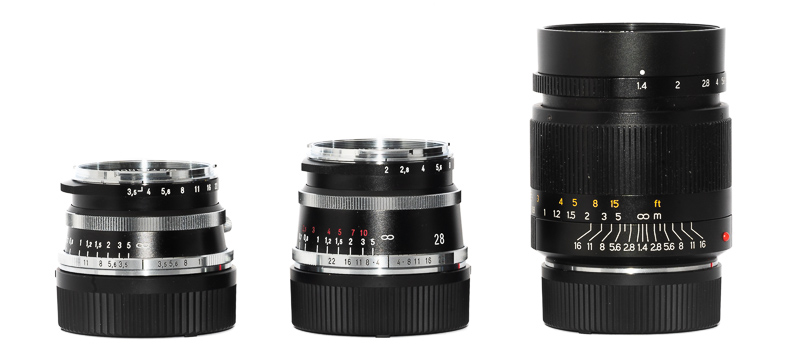 Because almost everything on the lens is a moving ring it is not that easy to attach it to or detach it from the camera. Zeiss Loxia users know this problem already.
Markings are red/white (engraved and filled with paint), focus ring has a very nice but again not perfectly even resistance and turns about 120° from the minimum focus distance of 0.5 m to infinity.
The aperture ring has equidistant and distinct half-stop click stops and feels very tightly assembled.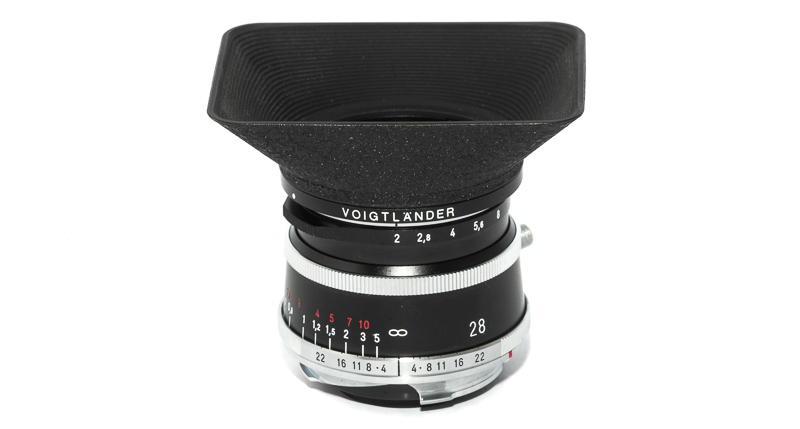 As is unfortunately usually the case for Cosina's M-mount lenses there is no hood included in the package and you are supposed to buy them separately. There are officially two versions to choose from: LH-4N round vented and LH-12 rectangularish. If you don't want to buy the overpriced original ones Haoge offers replacements. They all use a bayonet with spring to attach to the lens.
The LH-11 I bought for the 21mm 3.5 also fits, doesn't vignette, looks cooler than the other two, but most probably offers less protection. But I already have it, so I am not going to buy one of the others.
The lens features a rangefinder coupling and a small lever instead of a focus tab on Type I. Type II features a more traditional focus tab. Out of the box the lens was well calibrated on my Leicas M10 as well as M6.
Vignetting
light falloff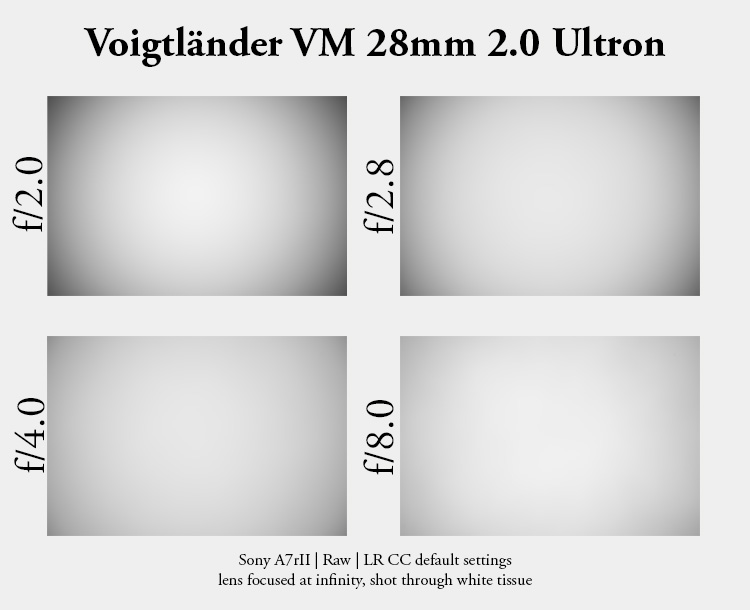 | | |
| --- | --- |
| f/2.0 | 3.5 EV |
| f/2.8 | 2.6 EV |
| f/4.0 | 1.9 EV |
| f/5.6 | 1.8 EV |
| f/8.0 | 1.8 EV |
| f/11 | 1.8 EV |
Most of the Voigtländer lenses are very small considering their specifications and this certainly holds true for this 28mm 2.0. But there is also a price to be paid for this and that is high vignetting figures. Wide open I measure about 3.5 EV corner shading which is a whole lot. For comparison the 7Artisans 28mm 1.4 shows 1.5 EV less vignetting at f/2.0 which is a visible difference. Stopped down they show very similar values of around 2.0 EV though.
I haven't reviewed more 28mm lenses I could compare it to, when looking at 35mm lenses the Voigtländer VM 35mm 2.0 Apo-Lanthar shows about 0.5 EV less vignetting at all apertures.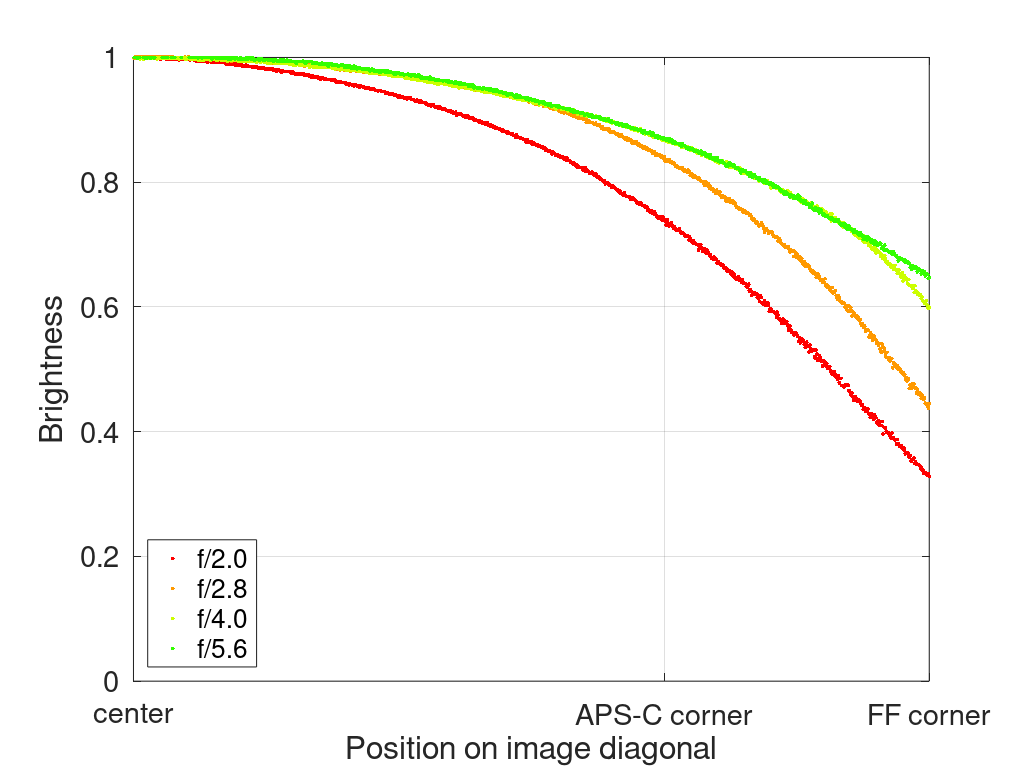 It is recommended to have a look at this article first to get an idea how this brightness graph works.
optical vignetting
Very fast yet compact lenses usually show a significant amount of optical vignetting. Without going too much into technical details optical vignetting leads to the truncation of light circles towards the borders of the frame.
In the center of the frame almost every lens will render a perfect circle, but only lenses with very low optical vignetting will keep this shape in the corners.
So in the following comparison we move from the center (left) to the extreme corner (right) and see how the shape of the light circle changes.
As has often been the case with compact Voigtländer lenses optical vignetting is quite significant, especially compared to the 7Artisans 28mm 1.4. We will have a look at this in the bokeh section to find out how it affects the look of the pictures.
This comparison was done at 0.5 m focus distance, you may get slightly different results at other distances. Both lenses were focused at the exact same distance so the results are directly comparable.
color cast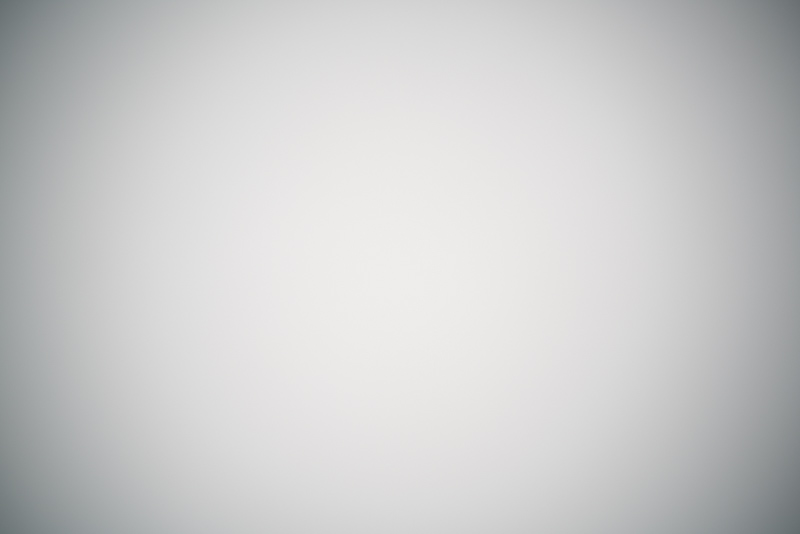 Already the predecessor showed a slight green color cast in the corners on the Sony sensors and this holds true for the new lens as well. In the field this is hardly visible though, so I don't even have a sample clearly showing it.
Sharpness
infinity (42mp Sony A7rII)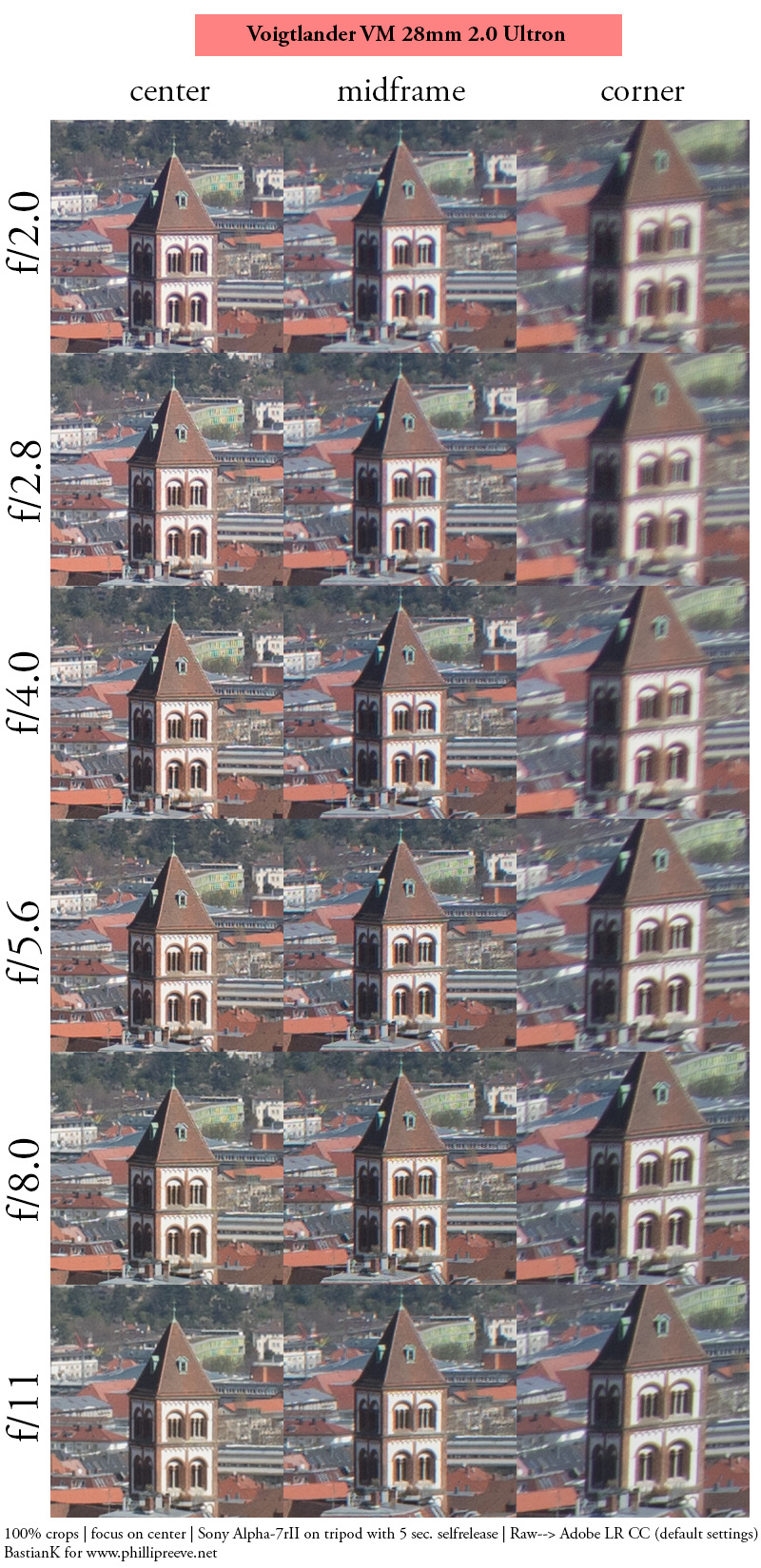 On a Sony camera we see very good center resolution from f/2.0 and the midframe looks very good from f/4.0, but the corners lack behind quite a bit because of the thicker Sony filter stack.
infinity (24mp Leica M10)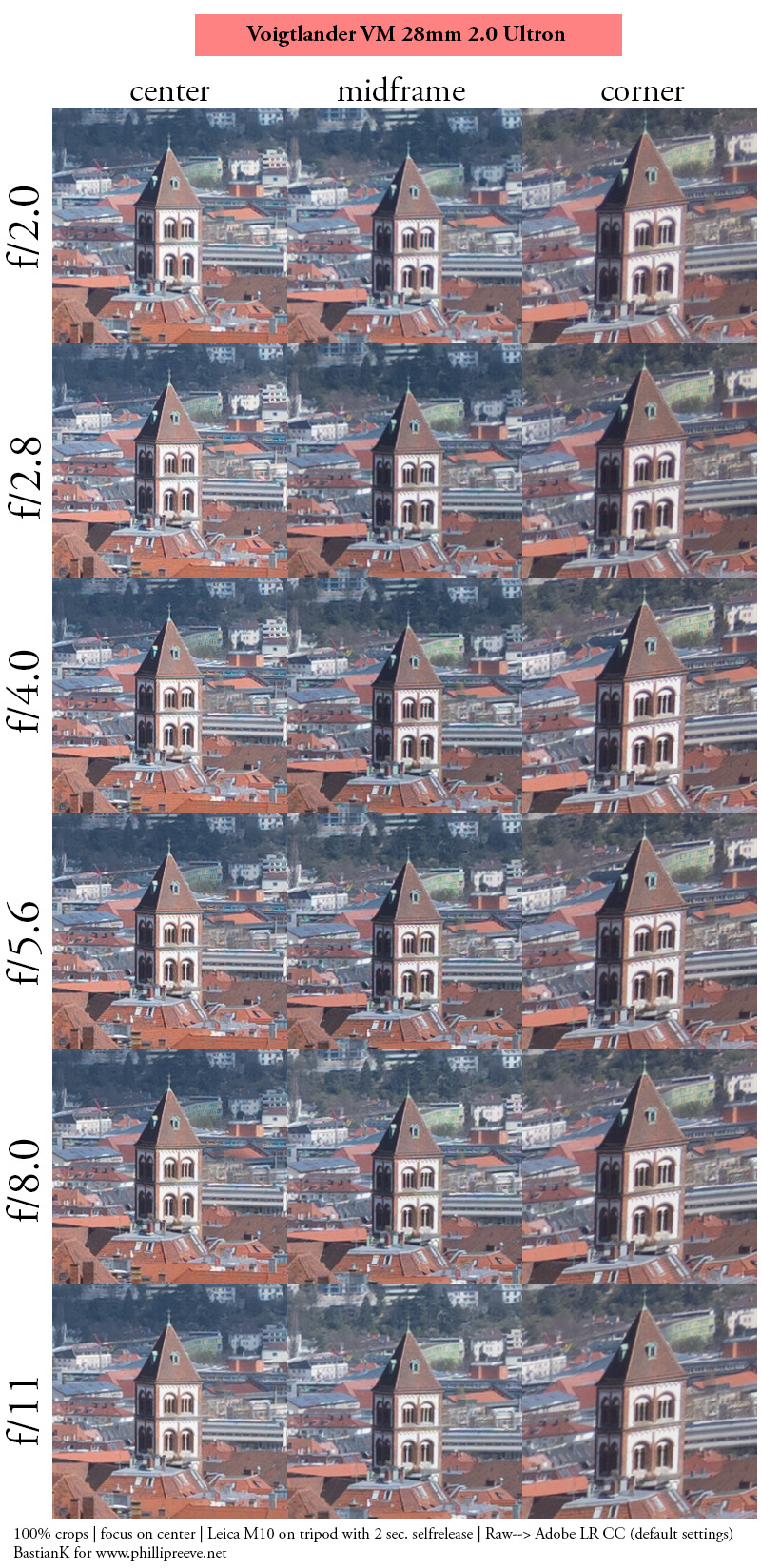 Now on the Leica M10 the Voigtländer VM 28mm 2.0 Ultron shows a significantly better performance – as we would expect. At the maximum aperture there is a very small midzone dip but I wouldn't hesitate using the lens at f/2.0 if the light conditions asked for it.
What is also notable: this 28mm 2.0 Ultron shows a performance very close to the Voigtländer VM 35mm 2.0 Apo-Lanthar, despite featuring a simpler design, being wider and noticeably smaller and ligther.
portrait distance 0.9 m distance (24mp Sony A7III vs 24mp Leica M10)
For portraiture it isn't so important how flat the field is, it is more interesting to see what the sharpness is like when focused at different parts of the frame to take field curvature out of the equation.

We will be looking at 100% crops from the 24mp Sony A7III and the Leica M10. Both cameras do not have an anti aliasing filter in front of the sensor.
Sony A7III <—> Leica M10
At a focus distance of 0.9 m in terms of sharpness the lens performs very good in the center of the frame and the inner midframe. In the outer midframe the performance is a bit reduced most likely because of astigmatism.
On the Leica with its thinner sensor stack the performance looks slightly better in the outer midframe area, but the differences are not big and within the margin of shot to shot focus accuracy.
close (0.50 m, 1:15, 42mp A7rII)

100% crops from center, A7rII, refocused for every shot.
For a 28mm lens a minimum focus distance of 0.5 m is not particularly great, but at least it is better than the usual 0.7 m we see on most M-mount lenses.
For a lens without a floating elements design the performance is surprisingly good from wide open though, unlike many other lenses stopping down is not needed to get crisp results.
Flare resistance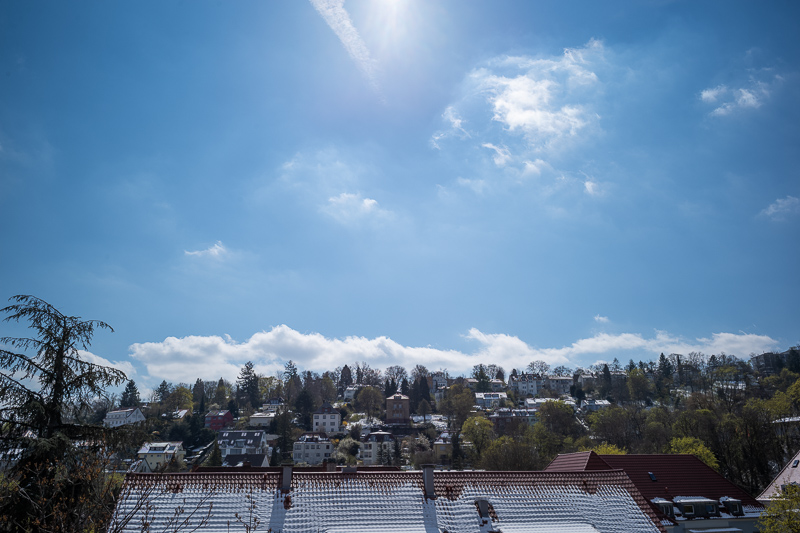 As always evaluating flare is a complex matter since you can get any lens to look bad if you push it hard enough and a slight change of scenario can affect results a lot.
Generally Voigtlander lenses have fared very well in this category, especially when it comes to veiling flare. Lately I reviewed a few that didn't fare all that well though, but I am happy to report they are back on track with this 28mm 2.0 lens.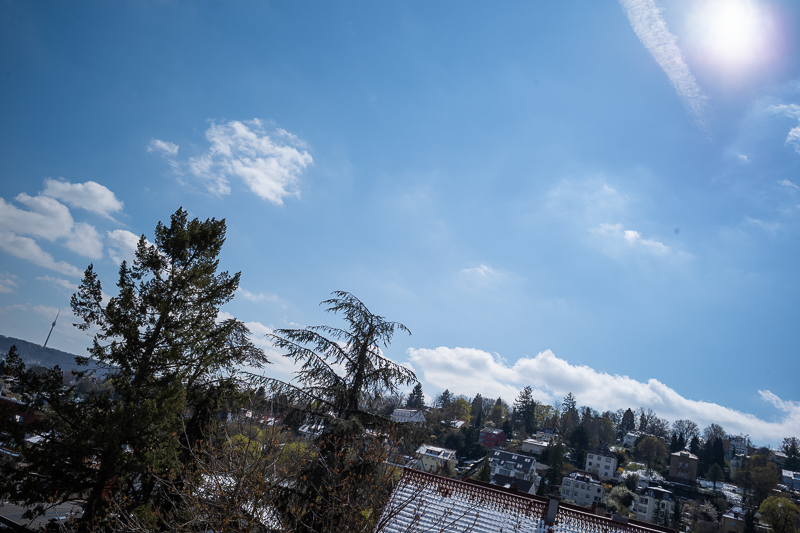 It doesn't matter where the sun is inside or outside the frame, it is very hard to create any kind of artefacts.
Coma
After seeing the sharpness charts it shouldn't come as a surprise: coma is corrected surprisingly well from wide open. Peak performance is reached at f/4.0, but I wouldn't hesitate using the lens at f/2.0 if needed.
If I was able to overlook 3.5 EV vignetting this lens would actually be a good performer for landscape astrophotography.
100% crops from extreme corner, focused on center, Leica M10
An example what you can expect when taking a picture of a nightly city scene at f/2.0: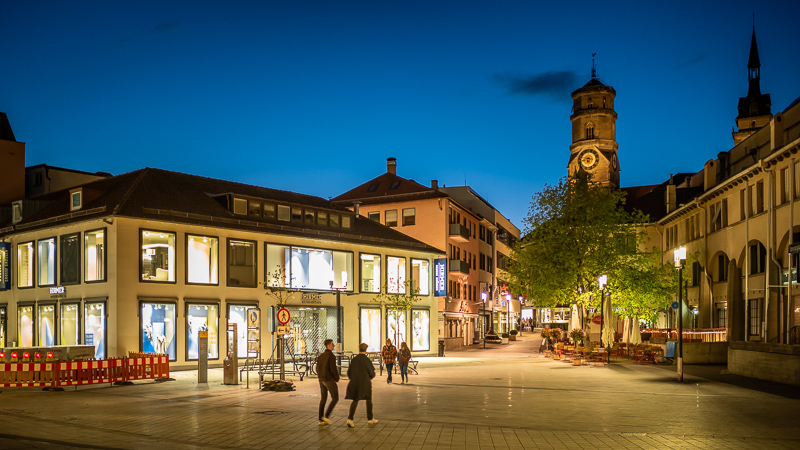 Distortion
Sony A7III | Voigtländer VM 28mm 2.0 Ultron | f/4.0
Distortion is low and mostly uniform. There is no profile in Lightroom available (yet?) – the one profile for a Voigtländer VM 28mm 2.0 you can find is for the older version and makes things worse with this lens when you apply it.
Dialing in +4 in Lightroom/Photoshop is doing a good job and should be sufficient for most subjects.
Bokeh
We don't have remotely as many 28mm options as we do have 35mm options, but there are 28mm lenses with a maximum aperture of f/1.4 available, so if you are after bokeh quantity I can already tell you now: this won't be the lens you are interested in.
Nevertheless, as usual we will have a look how the lens performs at different distances in different scenarios.
Close Distance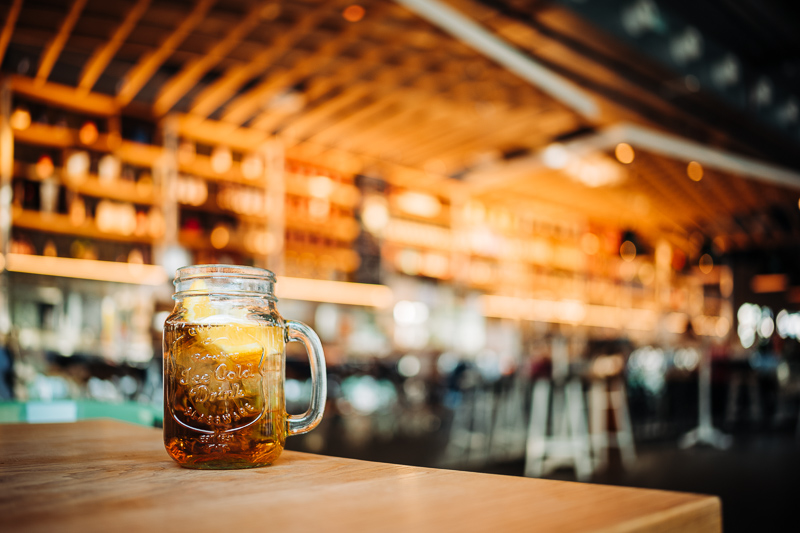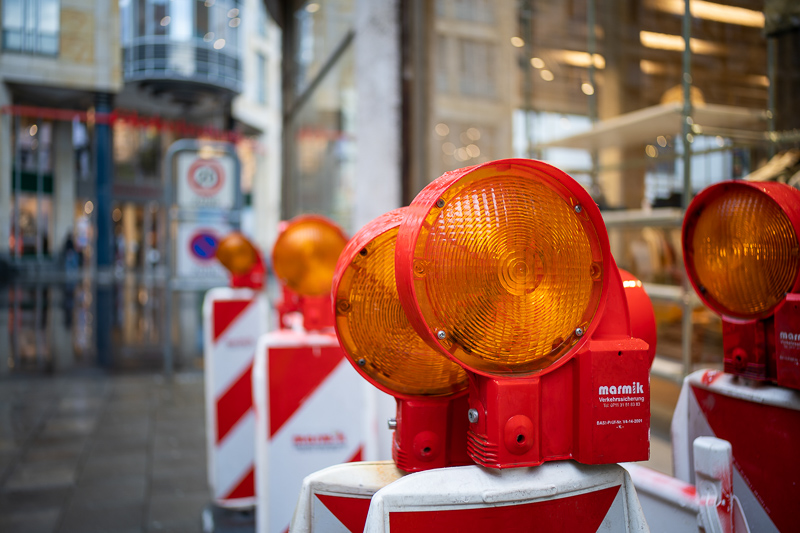 A minimum focus distance of 50 cm is quite decent for an M-mount lens, but compared to 28mm lenses for other mounts not that spectacular. With point light sources in the background you can easily spot the high optical vignetting and sometimes with rather busy backgrounds even double edged structures may appear.
Mid Distance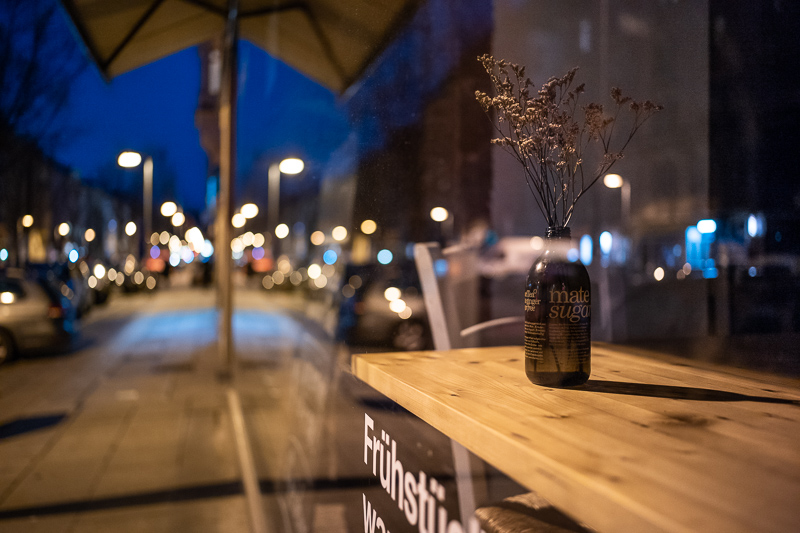 At mid distances the lens is generally doing a good job, but then 28mm are not exactly a focal length I would recommend for head or head-and-shoulder portraits.
Long distance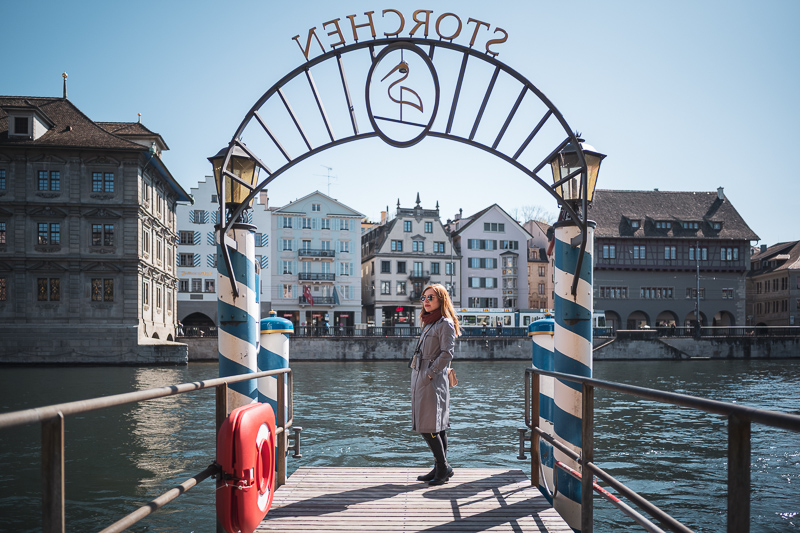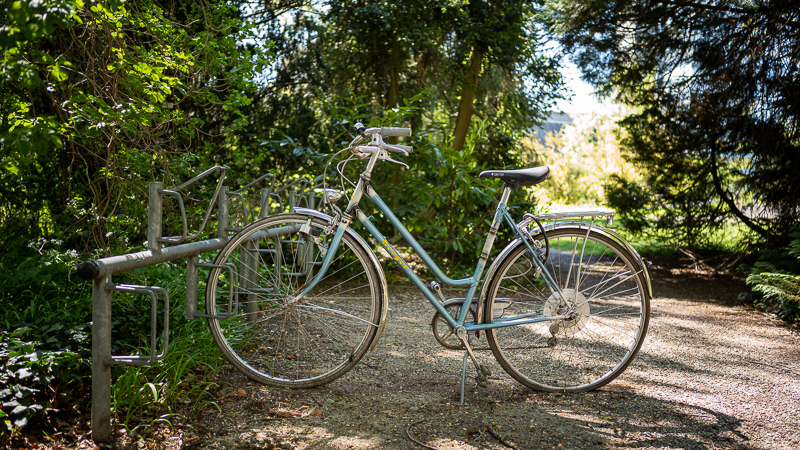 Now at longer focus distances a maximum aperture of f/2.0 in a 28mm lens doesn't really cut it for isolating your subject, but we knew that before. The very strong optical vignetting also plays its part, so you will only get a rather subtle amount of bokeh at these distances. Compared to the Voigtländer VM 35mm 2.0 Apo-Lanthar the bokeh is generally a bit smoother though.
If you are looking for a lens that yields this full-body-shot-wide-angle-bokeh there are better options available, the first that comes to mind due to having the same focal length is the 7Artisans 28mm 1.4. Even better suited are fast 35mm lenses. The most compact option is the Voigtländer VM 35mm 1.2 III. The Laowa 35mm 0.95 and Sigma 35mm 1.2 Art are capable of delivering even more impressive results, but obviously we are also dealing with very different lens dimensions here.
Now if you are a regular reader you already know that the thicker filter stack of Sony cameras can (and will) lead to worse bokeh rendering (compared to shooting a lens on film or a thinner filter stack like that of the Leica M10), especially at longer focus distances and as can be seen from this example the Voigtländer VM 28mm 2.0 Ultron Type I is no exception:
Sunstars
Sunstars start to become visible by f/4.0 but look best defined between f/8.0 to f/11 to me. If you want to know more about sunstar rendering of different lenses have a look at this article.
Full pictures, Leica M10
Chromatic aberration
lateral
100% crops from corner, A7rII
Lateral CA are on a low level and as usual easy to correct in post.
longitudinal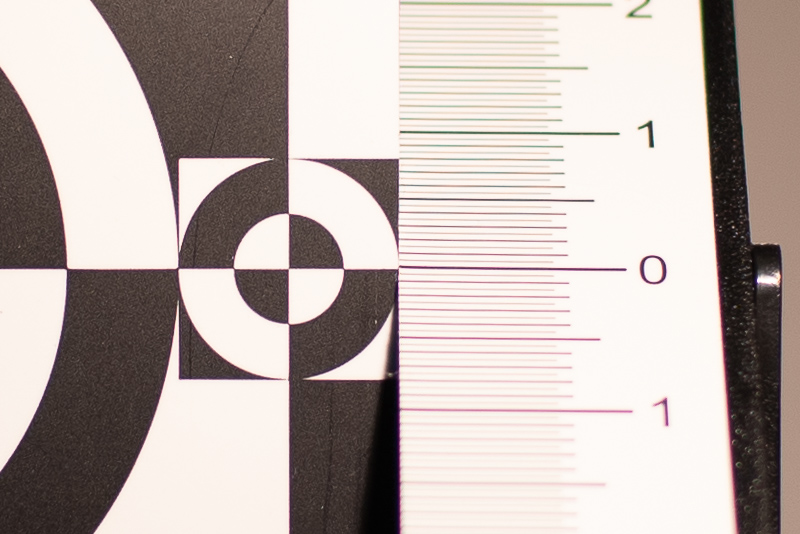 In close focus scenarios longitudinal CA are clearly visible at f/2.0, but improve fast on stopping down.
But how is the situation in the field at normal distances?
Bokeh fringing is less of an issue. We see a bit of magenta outlining in front of and cyan outlining behind the focal plane, but nothing that has the potential to constantly ruin your pictures:
Leica M10 | Voigtlander VM 28mm 2.0 Ultron | f/2.0
I noticed quite a bit of purple fringing at wider apertures though, so I had a closer look here and this aberration is indeed rather pronounced:
Leica M10 | Voigtlander VM 28mm 2.0 Ultron | 100% crops from corner
When you stop down the color correction greatly improves, but it takes stopping down to at least f/5.6 to really get rid of the purple fringing. So even though the resolution is already high at f/2.0 it is still a good idea to stop down when possible for cleaner results.
Focus shift
100% crops, A7rII
The Voigtländer 28mm 2.0 Ultron shows a very small amount of focus shift. Except for the minimum focus distance this should hardly be noticeable.
Conclusion
good

sharpness at all distances

distortion

flare resistance

sunstars

coma correction

build quality and handling

size/weight

average
not good
M-mount user: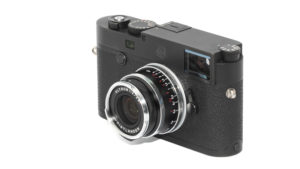 The Voigtländer VM 28mm 2.0 Ultron is a lens that generally fits the M-system very well: it is compact, lightweight and not too fast – so encountering rangefinder calibration issues should not be the norm.
Thanks to its high resolution, contrast and flare resistance as well as low distortion this 28mm is a great choice for landscape or architecture shooting and due to its f/2.0 maximum aperture it can also be used indoors or during blue hour without a tripod if needed.
If you are mainly interested in shallow depth of field photography I would rather recommend the 7Artisans 28mm 1.4 or one of the faster 35mm M-mount lenses though.
Still, the only notable disadvantage is the high vignetting, but ultimately this is the price to be paid for the small dimensions and doesn't take away from the fact that this is a very well balanced lens and one easy to recommend to almost anyone looking for a 28mm M-mount lens.
E-mount user:

Just like its predecessor the new iteration of the Voigtländer VM 28mm 2.0 Ultron cannot show its full potential on the thicker Sony sensor stack. While the performance is impressive at f/2.0 on the Leica there are some limitations here: if you are shooting at infinity the corners need stopping down a lot to show a comparably good performance and there is also a negative influence on the bokeh rendering, especially at longer distances.
It is still possible you will be happy using this lens on a Sony camera, especially as apart from the – already much bigger and heavier – 7Artisans 28mm 1.4 FE+ and Laowa 28mm 1.2 Argus there are no manual focus alternatives for FE cameras available.
So in the end the situation is similar to the Voigtländer VM 35mm 1.7 Ultron and VM 75mm 1.5 Nokton – where there are also no direct E-mount alternatives available – a real pity.
The lens is available from Robert White (UK) | Cameraquest (US) | B&H | ebay.com | ebay.de (affiliate links) and the price is $899/849€/£699
Alternatives
M-mount
Voigtlander VM 28mm 2.0 Ultron:
The predecessor. I don't see any category where it is better than the new lens, but it also isn't a bad lens, so if you find it used for a tempting price it can still be an interesting option.
buy from CameraQuest | amazon.com | amazon.de | B&H | ebay.com | ebay.de (affiliate links) for 400$ (used) to 599$ (new)
7Artisans 28mm 1.4:
One stop faster and a very decent performer, especially so taking into account its low pricepoint. Disadvantages are a minimum focus distance of 0.7 m, only average flare resistance and unappealing sunstars.
In terms of size and weight it is a great fit to the Sony cameras, but (too?) big and heavy when using it on a Leica M-camera.
If you are a dual E-mount/M-mount user get the FE+ version of this lens as it has less issues with field curvature on the Sony cameras than all the other 28mm M-mount lenses.
buy from B&H, amazon.com/amazon.de ebay.com/ebay.de for about $436 (affiliate links)
Leica 28mm M-mount lenses:
Leica offers a 28mm 2.8 Elmarit ($2600), 28mm 2.0 Summicron ($5100) and 28mm 1.4 Summilux ($7800). Due to their prohibitive pricing I have no personal experience with any of them.
buy from B&H (affiliate link)
E-mount
Laowa 28mm 1.2 Argus:
The Laowa lens is a very fast 28mm lens (the world's fastest actually) and I especially like its high contrast at wider apertures which in combination with the f/1.2 aperture and the wide angle view makes this a great choice for environmental portraiture. If you don't mind its size and weight this is a great option for E-mount users.
buy from manufacturer's shop | B&H for $599 (affiliate links)
Sony FE 28mm 2.0:
This is the most obvious competitor in the FE system featuring the same focal length and maximum aperture. Its weight is very similar and it is a native lens that offers autofocus and is affordable at the same time. The build quality is not that nice though and it features the non linear focus ring. If these things do not bother you it can be pretty good value for the money.
buy from Amazon.com | Amazon.de | Ebay | B&H for $460 (affiliate links)
Sigma Art 28mm 1.4:
This is a very high resolving lens already wide open that also comes as a "native" lens with autofocus including eye-AF. Unfortunately it is five times the weight and also very big because it has originally been designed for DSLRs.
buy from Amazon.com | Amazon.de | B&H | ebay.com for $999 (affiliate links)
Sony FE 24mm 1.4 GM:
This is probably the best 24mm f/1.4 lens you can buy today. It has autofocus, GM build quality and a great minimum focus distance.
If you don't mind the 4mm difference in focal length and a paying a higher price you should definetly have a look at this one.
buy from amazon.com | amazon.de | B&H | ebay.com | ebay.de for $1298 (affiliate links)
Other
Leica Q Series (28mm f/1.7):
If the Leica Q-series had an M-bayonet I would have probably praised it for being the future of the M-mount system, as it is it is a rather big fixed lens fullframe camera, but it is one of the few really high quality 28mm options available these days.
buy from B&H | ebay.com | ebay.de (affiliate links) for $2800 (MK I used) to $5700 (MK II new)
Sample Images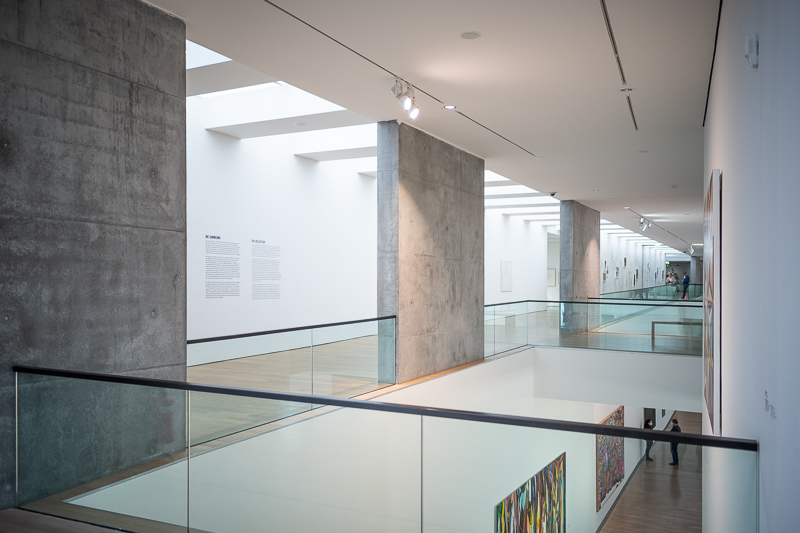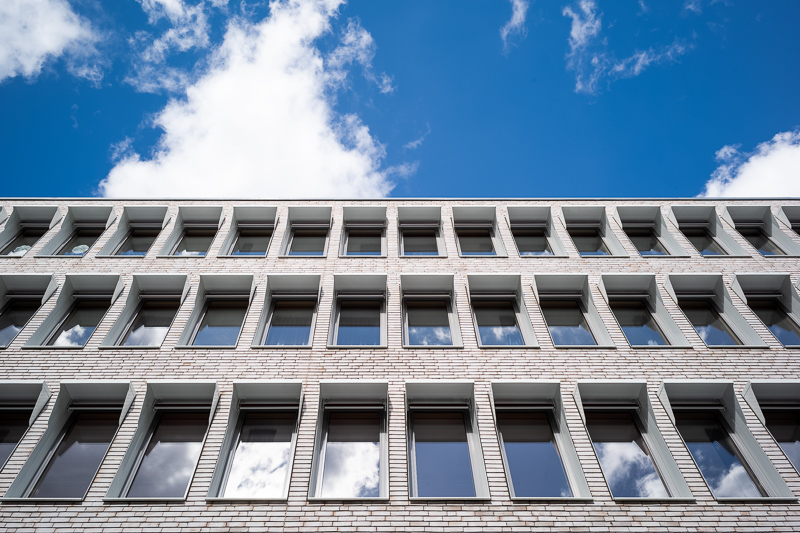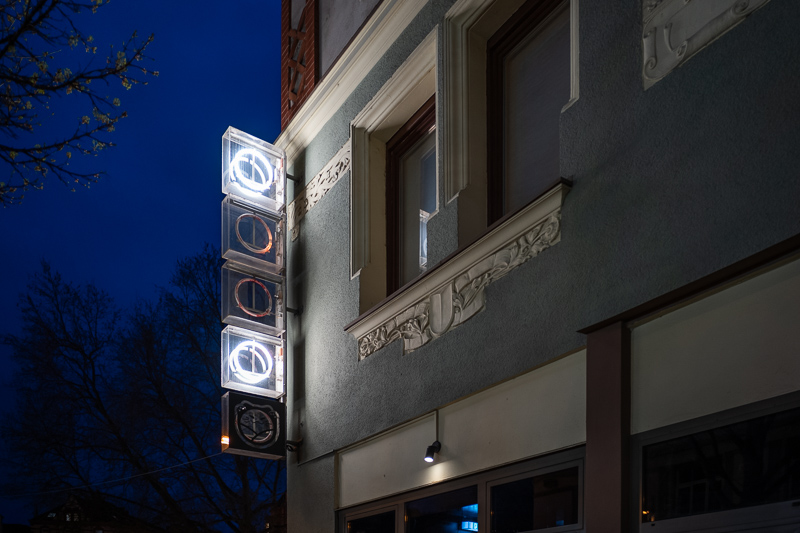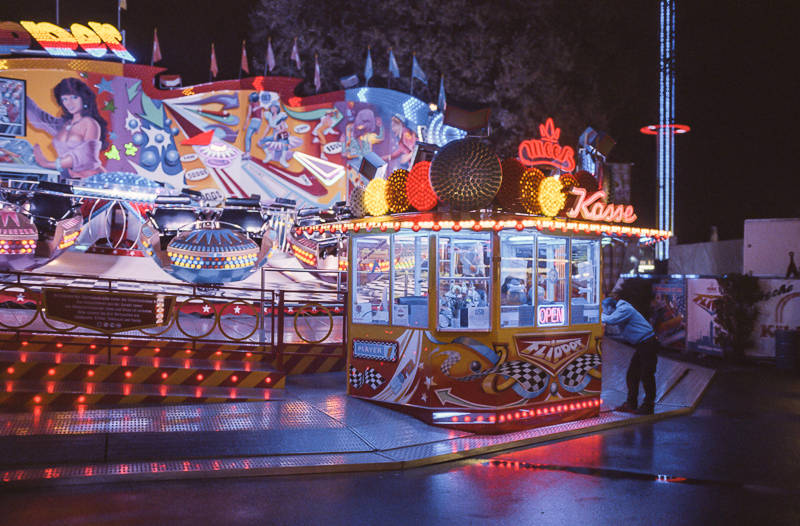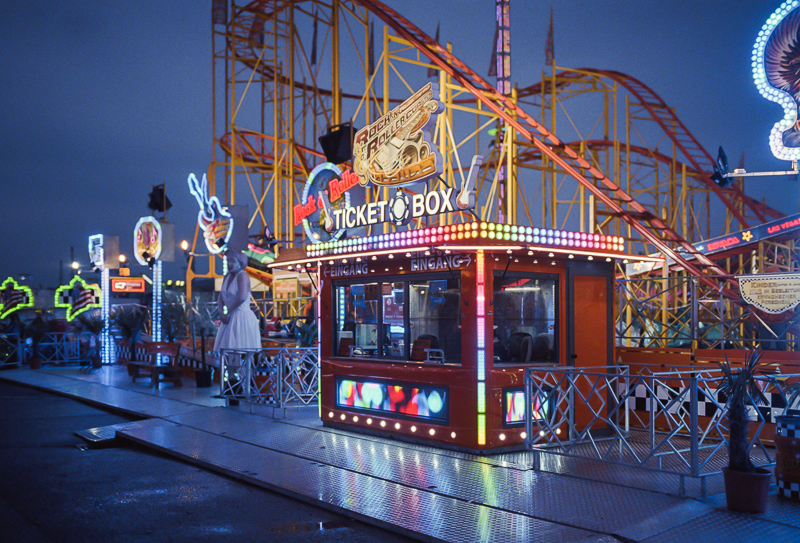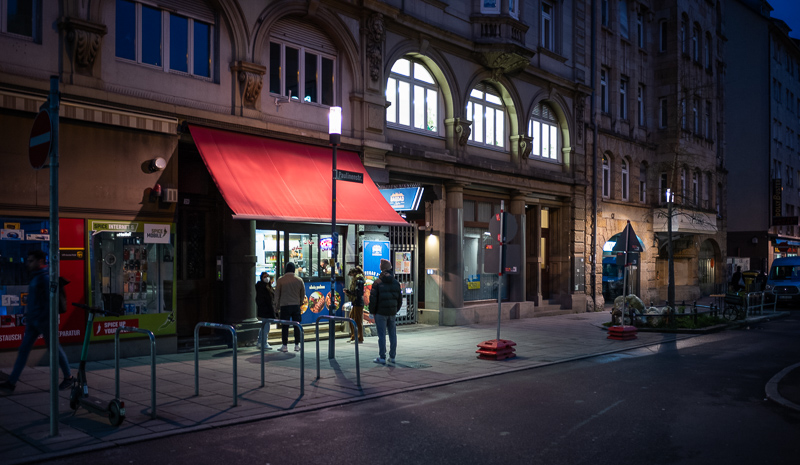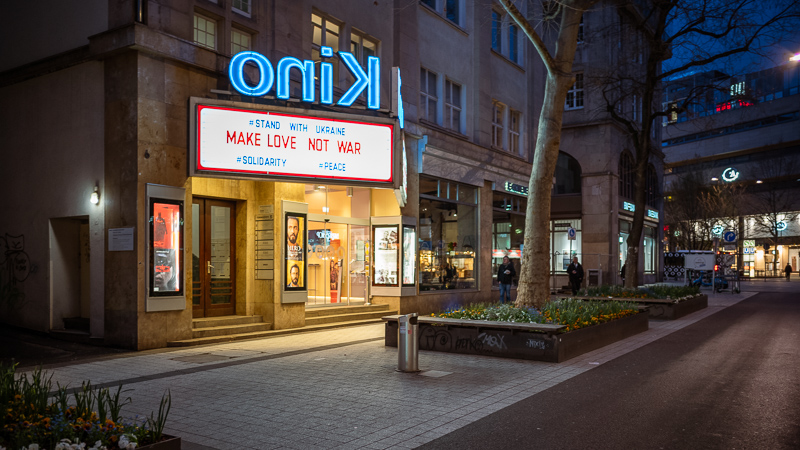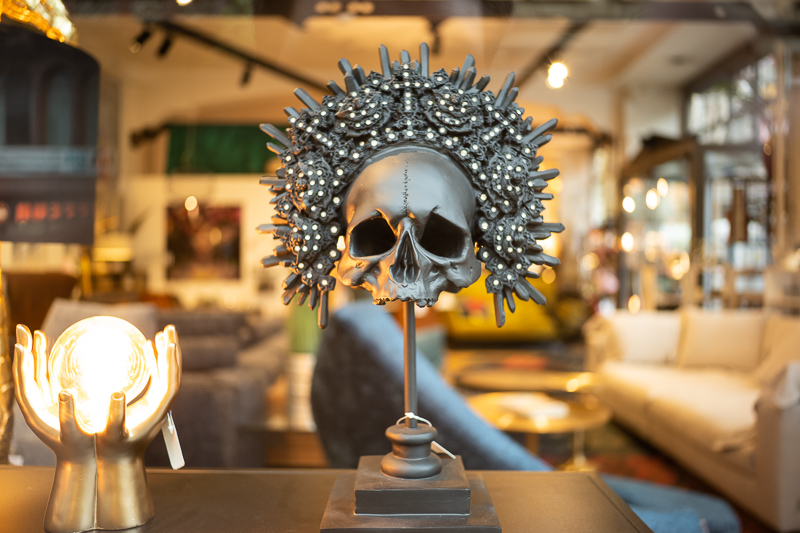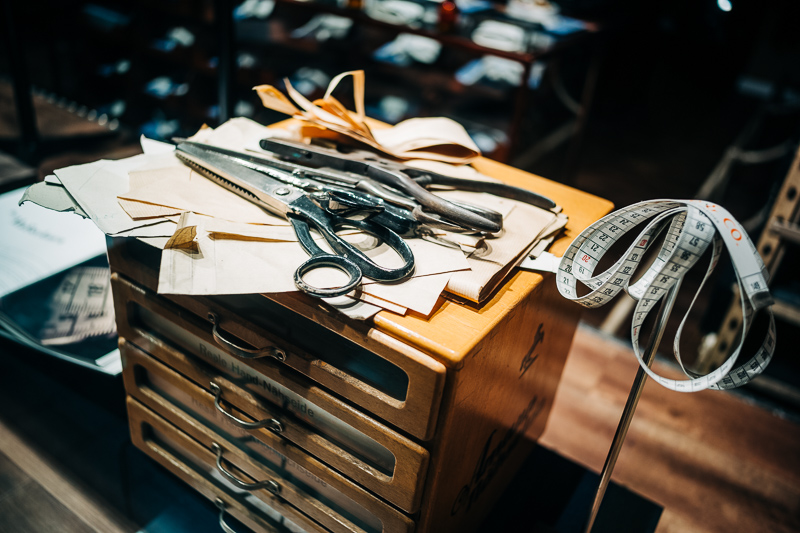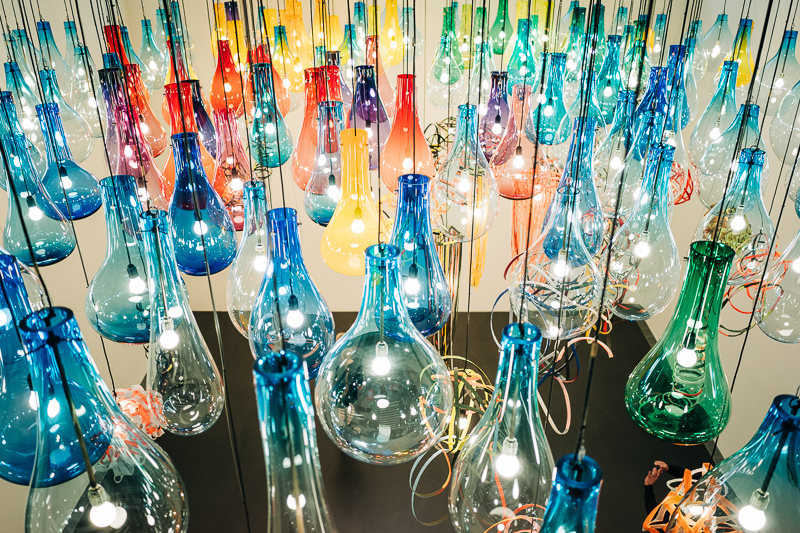 Most of the sample images in this review can be found in full resolution here.
Further Reading
Support Us
Did you find this article useful or just liked reading it? Treat us to a coffee!


via Paypal
The following two tabs change content below.
My name is Bastian and I am your expert here when it comes to ultra wide angle lenses, super fast portrait lenses (ranging from a 50mm f/0.95 to a 200mm f/1.8) and I also have reviewed way too many 35mm lenses. Don't ask me anything about macro or wildlife shooting though.