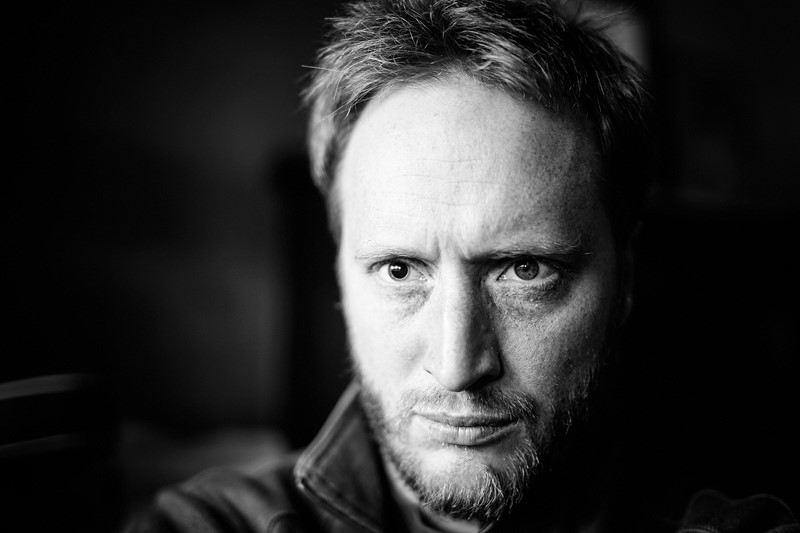 P: Hi Sebboh, can you tell us a little bit about yourself and how you came to use manual lenses?
S: I'm a neuroscience researcher from Portland, OR. Photography has been a hobby for most of my life and I shot with my father's manual focus film camera (Minolta XE-5) when I was a kid. I wanted something smaller when I went to college and switched to the tiniest point and shoot I could find (still film). I was pretty happy with that way of shooting for a number of years till I became afflicted with the desire to take pictures of birds. That led me into DSLRs (Olympus and Nikon). This was my first experience of AF without the giant dof of a p&s and I quickly became extremely aggravated by the inability to get focus where I wanted it easily. Landscape shots were often ruined by miss focus that I didn't detect till after the fact and shooting people moving seemed nearly impossible if dof was small. I found I got more consistent results with my old Minolta lenses as well as having a more enjoyable experience of fuller control of my images.
Being able to zone focus or use the infinity stop for landscape and street shots drastically improved my hit rate and speed. Focusing on moving targets was slower than AF, but I had a lot fewer misses and a lot more decisive moment catches. With only a meager number of old lenses from my father, I looked around ebay and discovered that manual focus lenses offered much cheaper ways to get long focal length or high speed lenses. I began experimenting with all the different lenses I could get cheaply and found many had very distinctive looks that I preferred for one type of shot or another. Unfortunately, this has led to me having far more lenses than are necessary, many of which are seldom used except for special circumstances.
When mirrorless cameras came along I quickly switched for the smaller form factor, superior manual focus abilities they provide, and the ability to use smaller rangefinder lenses. Now I can go out with a kit barely larger than my old film p&s and get amazing image quality with the instant shooting control of a fully manual camera. Auto-focus has gotten much better in the past few years, and I'm sure it would annoy me much less if I tried it again now, but now I've become hooked on manual focus and older lenses so that I don't really have any interest in AF.
Can you give us a look into your camera bag and tell us a little about your gear?
 Cameras
Sony A7 – My main camera that gets used for everything. Whenever it looks like I can go for a bit of time without it, I'll send it to Kolari for the thin filter conversion.
RX1 – The best 35mm lens every made in my opinion. Unfortunately it's attached to a camera with terrible AF and terrible manual focus. I've gotten comfortable manual focusing it, but it's never as enjoyable to use as of my older manual focus lenses. It makes up for it with amazing images though.
NEX-5N – My 1.5x extender when I need extra reach and also the camera I take in harsh environments when I'm worried the camera might get lost or damaged.
Minolta XD-11 – My main film body. I still shoot film from time to time because I enjoy the feel of an old viewfinder and camera, like the look of certain films, and enjoy the forced wait to see how the images turned out.
Contax Aria – My other film body, used exclusively with my C/Y 35/1.4. A bit big and plasticky but a very nice viewfinder.
Hint: All images are linked to the higher resolution version on flickr, just click on them.
 Lenses
I have a few different kits I use on trips depending on the circumstances.
My landscape/cityscape kit:
Zeiss Contax G 28mm f/2.8 Biogon – The weakest lens in my landscape bag, but also my favorite. It is a rangefinder lens that suffers dramatically in the corners but has beautiful colors, contrast, and a focus fall off that I like better than the other Contax G lenses. I also find the field curvature to be helpful for the close in type of shots I typically use a 28mm for.
Zeiss Contax G 45mm f/2 Planar – This is the lens I use most for landscape. It is extremely sharp across the frame and has a very hard contrast to it that seems harsher than any of the other extremely sharp normal lenses I've tried (including the newer Loxia that was based off the same design).
Zeiss Contax G 90mm f/2.8 Sonnar – Lightweight, tiny, extremely sharp across the frame, and with the same great colors and contrast to match the rest of my landscape kit. Like the 45mm, I find this lens to be too contrasty to use for people in many situations.
RX1 (Zeiss 35mm f/2 Sonnar) – Beautifully sharp across the frame from wide open but with a less harsh look than the rest of my landscape kit. I use this for night shooting and landscapes with bokeh.
I have converted all my Contax G lenses in this kit to have real focus with proper infinity stops. This has made shooting experience dramatically better than using the AF adapter or manual focus screw drive adapters.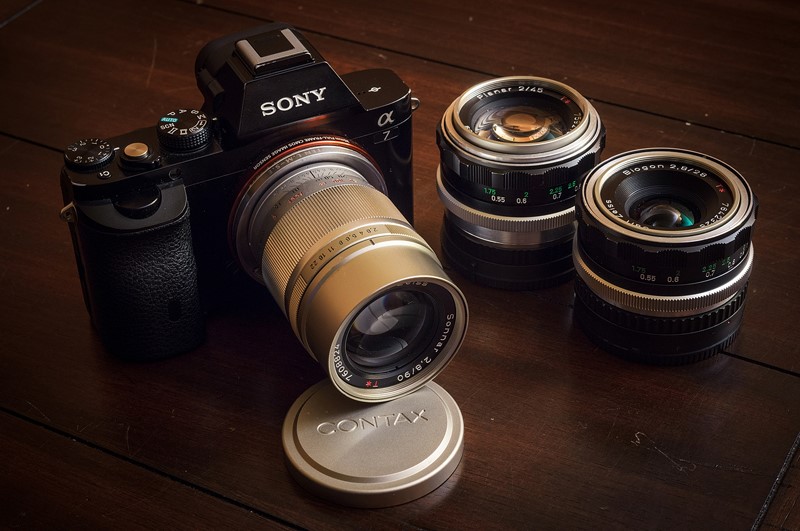 My kinder gentler kit:
Leica M 35mm f/1.4 Summilux pre-asph – Tiniest 35mm f/1.4 around with a beautiful classic Mandler look. Very glowy (due to spherical aberration) at large aperture but still has lots of detail and can still take solid landscape images by f/5.6-8. Does wonderful things to skin tone and has very delicate colors.
Minolta Rokkor 58mm f/1.2 – Just about the perfect lens for me except in size. Also very glowy at full aperture while still retaining lots of detail and has a very attractively funky bokeh wide open. Stopping down to f/2 removes most of the SA (unlike the 35 lux) and makes it quite sharp with bokeh that is smoother than any of the (many) fast normals I've tried at f/2. Stopped down to f/5.6-8 it's a very capable landscape lens.
Jupiter-9 85mm f/2 – Very glowy and low contrast wide open and doesn't retain detail in the glow as well as the leica and rokkor. Has the typical bokeh signature of a fast sonnar wide open, which can be good or bad depending on the background. Bokeh gets very smooth with stopping down. Never gets terribly sharp towards the edges. I plan to replace this with the Leica M 90mm f/2 summicron pre-asph, which I preferred when I tested it out.
RX1 (Zeiss 35mm f/2 Sonnar) – Beautiful smooth look for portraits. Nice color and contrast with the tiniest bit of glow and never a distracting bokeh.
My film kit:
Minolta MD 24mm f/2.8 – Nice compact wide with beautiful color and extremely good close up performance. Best infinity performance requires stopping down to f/13 on digital, but it seems great on film by f/5.6.

Sony A7 | Minolta MD 24mm f/2.8 | f/11 | View from a dead tree
Minolta MD 28mm f/2 – Pretty solid landscape lens, but not a world beater, has typical Minolta colors. Lower contrast and higher spherical aberration wide open make it pretty nice for portraits. Bokeh is busy up close, but nice and smooth at longer focus distances.

Kodak Portra 400 | Minolta XD-11 | Minolta Rokkor MD W 28mm f/2 | f/2 | Local earth
Sony NEX-7 | Minolta Rokkor MC 58mm f/1.2 | f/1.2 | Wave dancer
Minolta MD 85mm f/2 – Very sharp from wide open, good contrast and color. Bokeh can be mediocre or good depending on the situation. Better for portraits than the Contax G 90mm and better at everything except portraits than the Jupiter-9.

Sony A7 | Minolta MD 85mm f/2.0 | f/2 | Hospital with a view
Minolta Rokkor MC 135mm f/2.8 – Super cheap well-built lens that is sharp enough wide open with nice bokeh. Could be a bit more contrasty for landscape, but who cares on film.
Sony NEX-3 | Minolta Rokkor MC 135mm f/2.8 | f/2.8 | Weaving through the reeds
My specialty lenses:
Kodak Ektar II 25mm f/1.9 – This is a c-mount lens that I use reversed as a macro for greater than 1:1 enlargement. It has FF coverage (actually large format coverage reversed) and fantastic sharpness and contrast at large aperture for large magnification. At lower magnifications the corners begin to suffer similar issue to rangefinder wides on the A7.
Sony A7 | Kodak Ektar II 25mm f/1.9 | f/2.8 | Rose dew
Zeiss Contax Yashica 35mm f/1.4 – The Best Portrait Lens Ever. I love this lens for environmental portraiture, close up images of nature, and abstracts. It has typical Zeiss contrast and color, but more gentle focus transitions and a bit of spherical aberration. Bokeh is quite good close up but questionable at longer distances (particularly in the corners). It's a solid stopped down landscape lens as well. If it were smaller, it would be in my bag more often (the RX1 is smaller than the lens by itself).
Fuji Velvia 50 | Contax Aria | Carl Zeiss Contax 35mm f/1.4 Distagon | f/1.4 | Baby squirrel
Olympus Zuiko Pen F 42mm f/1.2 – A very "characterful" lens designed for half frame film that still covers a 4×5 crop of FF no problem. It has distinctive swirly bokeh and very pastel colors. Can do decent job emulating the petzval lens look for portraits. Stopped down it is surprisingly well behaved (though it still has dark corners).

Sony A7 | Olympus Zuiko Pen F 42mm f/1.2 | f/1.2 | Petzval mimicry
Jupiter-3 50mm f/1.5 sonnar – Like the Jupiter-9 but less sharp and funkier. Very retro look with lots spherical aberration, but very smooth focus transitions and nice bokeh stopped down to f/2.5. Horrible flare that can sometimes be used artistically. I often replace the Rokkor 58/1.2 with the J-3 in my portrait kit if I'm looking to travel light.

Sony A7 | Jupiter-3 50mm f/1.5 Sonnar | f/11| Water's edge
Canon FL 55mm f/1.2 – Extremely sharp (even very good wide open), harsh bokeh, and kinda weird "dirty" colors. This lens is very good for landscape, but I mostly use it for narrow dof work in industrial environments.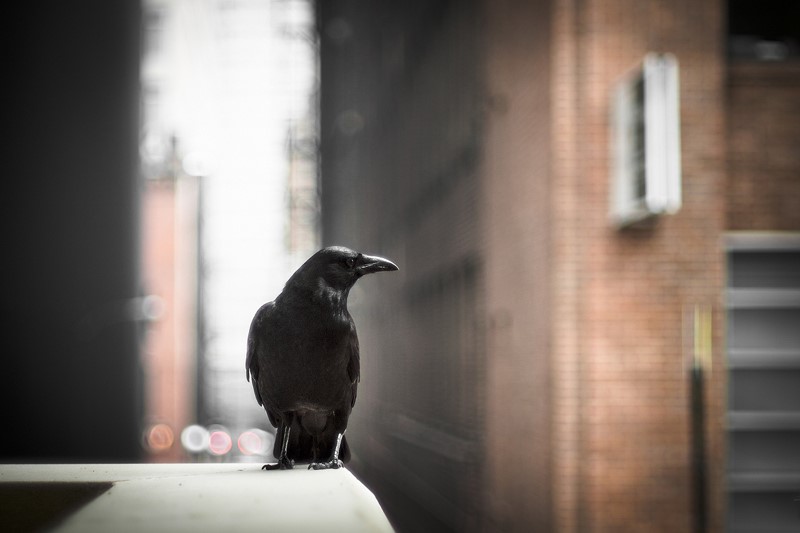 Olympus E520 | Canon FL 55mm f/1.2 | f/1.2 | City bird II
Minolta Rokkor RF 500mm f/8 – Surprisingly sharp and contrasty reflex lens. Good for landscape and birding, but beware the donuts.

Sony A7 | Minolta Rokkor RF 500mm f/8 | f/8 | Ocean beach fishing
Those kits are what I take with me on a vacation or multi day trip. If I'm just going on a photo walk I usually just take one or two lenses max. I have a cheap tripod and a manual flash kicking about somewhere, but they almost never leave home – I just don't enjoy using them.
Do you have a favorite subject matter?
S: My favorite subjects to photograph are definitely birds. A big part of that is the challenge involved in getting close enough, managing to get focus before they leave, and still managing to make a decent composition. Most of the bird pictures I see are taken with a fast super telephoto and fill the frame with the bird giving no indication of its environment. I find these types of images to usually be rather boring, so I try to take more of an environmental portraiture approach to bird images. I try to use wider lenses and include more environment and often I try to use some of my less perfect lenses in order to give a more stylized look to the images.

Sony A7 | Minolta Rokkor MC 58mm f/1.2 on tube | f/1.2 | Hummer portrait

Sony A7 | Minolta Rokkor QF 200mm f/3.5 | f/3.5 | Junco with prey

Sony A7 | Leica R 350mm f/4.8 Telyt | f/8 | Bringing home the bacon

Sony A7 | Carl Zeiss Contax G 28mm f/2.8 Biogon | f/2.8| Chickadee inspection
Birds are the subjects I enjoy shooting the most, but the photographs I like the best are documentary type images of people that imply a story or many possible stories. Unfortunately, I'm not terribly good at this type of photography. Most of my attempts end up either ineffective or contrived, so I need more practice. I also really like pictures that juxtapose nature and technology. I didn't notice it until other people pointed it out to me, but many of my images of landscape and those of people fall under this theme.  Finally, I take more pictures of my family than anything else. I've tried to condition them to ignore the camera so I can get more documentary style images of them and preserve memories of more than just what they look like.
Sony NEX-7 | Leica M 35mm f/1.4 Summilux pre-asph | f/5.6 | Walk on the beach

Sony RX1 | Carl Zeiss 35mm f/2.0 Sonnar | f/2 | Sea cowboy

Kodak Portra 160 | Minolta XD-11 | Minolta MD 24mm f/2.8 | f/5.6 | Ciao bella

Kodak Portra 400 | Minolta XD-11 | Minolta MD 24mm f/2.8 | f/11 | Happy Valentine's day
Is there a photographer which has inspired you?
S: I really like Jane Bown's portraits. She does a fantastic job of getting her subjects in the proper light and drawing out their personality in a short time. Her photos almost never look like she overly coached the subject as many portraits do to me. I'm also very fond of a lot of William Eggleston's work. I like his focus on the mundane and his ability horribly clashing colors add to a picture rather than ruining it. I haven't really paid much attention to more modern photographers and probably should, but it is so easy to just browse through flickr and find inspirational photography.

Sony A7 | Carl Zeiss Contax G 28mm f/2.8 Biogon | f/8 | Island
Are there certain characteristics that you look for in a lens?
S: Yeah, I like dual personality lenses better than lenses that are near perfect and perform the same throughout the aperture range. I want a lens to be sharp across the frame at f/5.6, but if it has some flaws that give it a distinctive look wide open that is a good thing in my opinion. I don't always want a faithful representation of what I'm taking pictures of. Sometimes I'd like an image that looks like it was taken through a veil, a background that looks like an oil painting, skin tones that seem to glow, or swirls that frame the subject. If a lens has a distinctive artistic look wide open and extreme sharpness and contrast a few stops down that's just about perfect for me. Of course, I have opinions about the quality of lens flaws too – sometimes the same type of flaw can create an attractive look in one lens and something really unattractive in another…

Sony A7 | Minolta Rokkor MC 58mm f/1.2 | f/1.2 | Spot for a break
Do you have a favorite lens at the moment?
S: It's the Rokkor 58/1.2, because it's pretty much the embodiment of what I just said I look for in a lens. But, I spent the last couple weeks shooting with a Leica R 80mm f/1.4 Summilux and I absolutely loved it's look. Optically it definitely beats out my previous favorite in this focal range, it's little sister the Leica M 90mm f/2 Summicron pre-asph. Colors are typical Leica (which I like) and contrast is good stopped down. It has a fairly large amount glow wide open while still retaining a lot of detail that I love for portraits.  Bokeh is a little funky wide open, but improves a fair bit with stopping down. Sharpness wise, it's very good at f/2 or smaller (considerably better than the 90 cron pre-asph), but not a match for my Contax G 90mm. Looking over the photos over the last few days I'm struck by how beautiful my random family portraits look with it when compared to similar shots with other 85/1.4 lenses. This is entirely subjective, other people might prefer the higher contrast and greater realism in a more modern looking 85/1.4.
In any event, the Leica is too big and has too long of a focus throw for me to track the kids easily, which means I would rarely use it no matter how beautifully it draws. I hear the Leica M 75mm f/1.4 Summilux is nearly identical optically but smaller and with a shorter focus throw though. Perhaps the 75mm would be my perfect portrait lens, too bad I'd have to sell a kidney to afford it.

Sony A7 | Leica R 80mm f/1.4 Summilux | f/1.4 | Frosty bench
What do you think is the best picture you have taken so far and why?
S: I don't know; it changes often. I have lots of landscape and abstract images that I'm very happy with, but mostly I find that type of picture to be pretty but boring. My favorite shots are usually more of the documentary style images. Here is one of my current favorites images, which I like because I feel it does a wonderful job capturing my experience of San Francisco during the years I lived there, I really like the afternoon lighting, it does a decent job of conveying motion with the framing, and you can imagine there is a story to it.

Sony RX1 | Carl Zeiss 35mm f/2.0 Sonnar | f/2 | San Francisco
Can you suggest a lens we should review?
S: I'd like to see reviews or maybe a shootout between CV 40/1.4 and M-Rokkor 40/2 (or Leica M 40/2). Both lenses make the A7 series tiny enough to easily squeeze in a coat pocket and have good performance stopped down. I'm curious how they compare in terms of design trade-offs and large aperture performance. I'd also like to see a review of the CV 21/1.8 and 75/1.8.
Where can people see more of your images?
https://www.flickr.com/photos/28476552@N04/

Sony A7 | Minolta Rokkor MC 58mm f/1.2 | f/4 | Sunset hawk

Sony RX1 | Carl Zeiss 35mm f/2.0 Sonnar | f/2 | Foggy road

Olympus E-520 | Leica R 350mm f/4.8 Telyt | f/4.8 | Shy cardinal

Sony RX1 | Carl Zeiss 35mm f/2.0 Sonnar | f/4 | View from the trash bins on a foggy night

Sony A7 | Carl Zeiss Contax G 28mm f/2.8 Biogon | f/2.8 | Nova
Related Articles
The following two tabs change content below.
I have two hobbies: Photography and photographic gear. Both are related only to a small degree.
Latest posts by Phillip Reeve (see all)