Introduction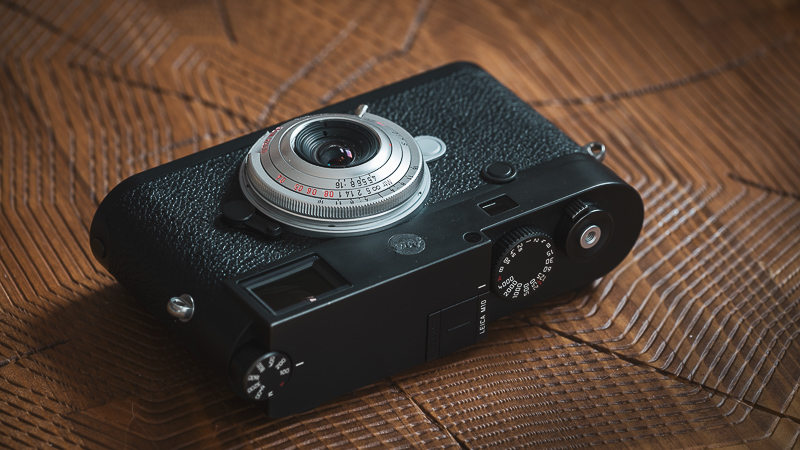 The MS-Optics 17mm 4.5 Perar is Miyazaki's widest M-mount lens so far and thanks to a reader I got the chance to have a closer look at it. I like very small lenses, I like ultra wide lenses, so nothing can go wrong here, right?
Lens is being tested on 42mp Sony A7rII and 24mp Leica M10

Sample Images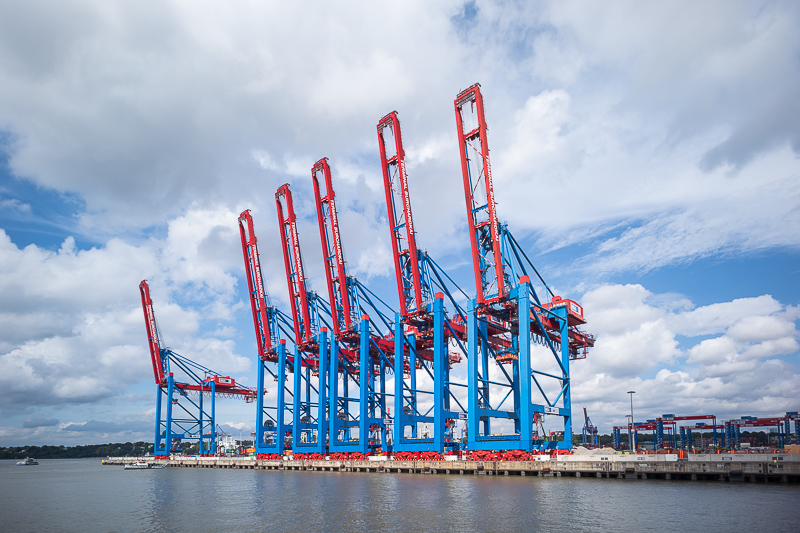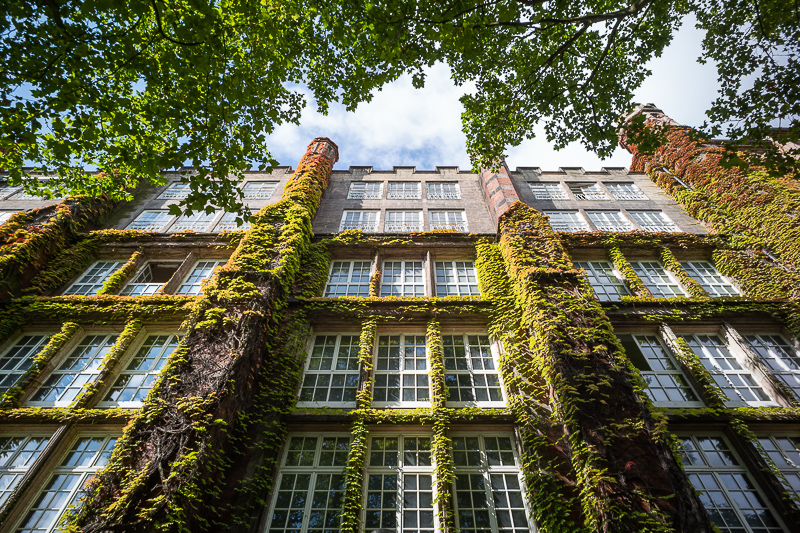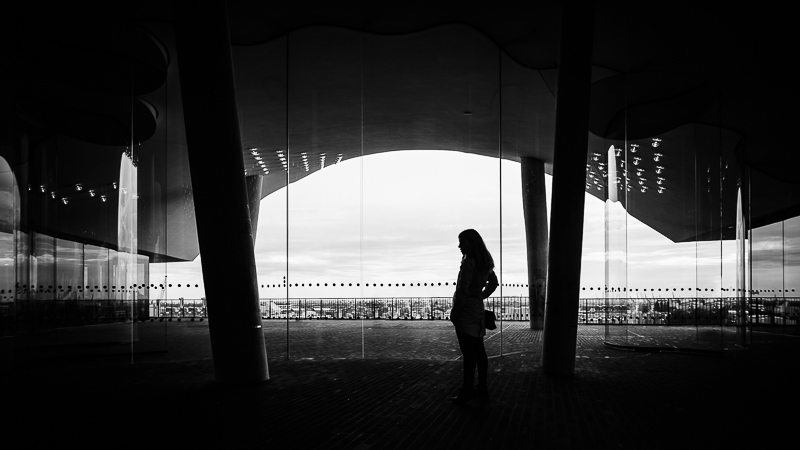 You can find most of the sample images in full resolution here.
Disclosure
The MS-Optics 17mm 4.5 Perar was kindly provided by our reader Christian for a review. He is also active under the name gladstone at digicamclub.de.
Specifications / Version History
You can find information on all the MS-Optics M-mount lenses in my Overview: MS-Optics M-mount lenses. The MS-Optics Perar 17mm 4.5 is the widest MS-Optics lens so far and has the following specifications:
Diameter: 50mm
Field of view: 100° (diagonally)
Length: 10.2mm
Weight: 47g (measured, without hood)
Filter Diameter: 34mm*
Number of Aperture Blades: 10
Elements/Groups: 4/4
Close Focusing Distance: 0.3 m (measured)
Maximum Magnification: 1:16 (measured)
Mount: Leica-M
*you are supposed to salvage the glass from a 34mm filter and glue that glass element to the lens hood

These days you can mainly find this lens used on ebay.com (affiliate link), but a few stores still have old stock. The price for a new one in Japan is around $450/450€

Handling / Build Quality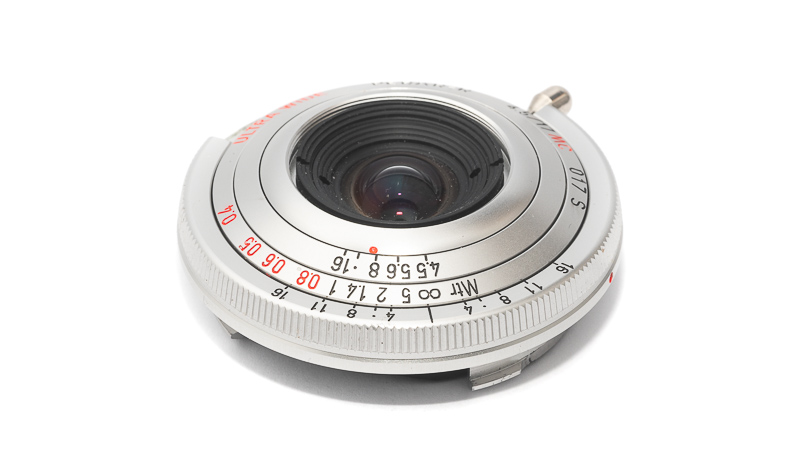 On focusing the whole lens rotates and while I am usually not a big fan of focus tabs here the small lever comes in very handy. The lens rotates ~90° from the minimum focus distance (0.3m) to infinity. The lens is rangefinder coupled between 0.8 m and infinity.
Setting the desired aperture value is a fiddly endeavour, as only the small inner ring serves as aperture ring and there are not even grooves like on the Aporia 24mm 2.0 to be able to grab it.
Here the lens hood attaches directly to the aperture ring though, so you can actually grab and use the hood to change the aperture value.
The lens is tiny, see this comparison to a Leica M body cap:
As is the case with every MS-Optics lens I have used so far (except for the 135mm 2.4 Aporis): on the Leica M10 the 6-bit-code-reader is not fully covered and therefore under bright light the camera will often think you changed the lens and throw you ouf of live view should you be using that. I added a small piece of duct tape which solves the issue, it looks particularly nice on a silver lens: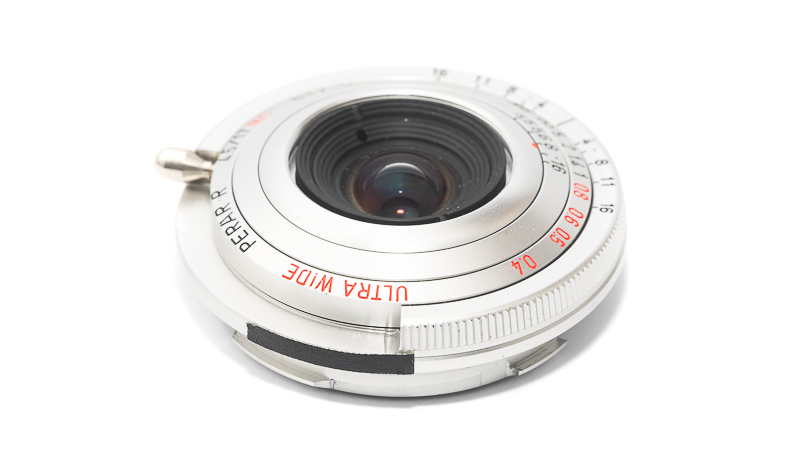 The filter situation is also once more very interesting, as the small leaflet says: 34mm filter, only glass. What does it mean? It means you are supposed to salvage a 34mm filter by removing the glass element and then glueing this glass element to the front of the small lens hood. Enjoy!
My current M-mount lens of choice in this focal length range is the Voigtländer VM 15mm 4.5 II, where I had the hood cut off to make it more compact and allow for easier use of filters. Still, compared to the Perar it looks like a huge lens:
Vignetting
light falloff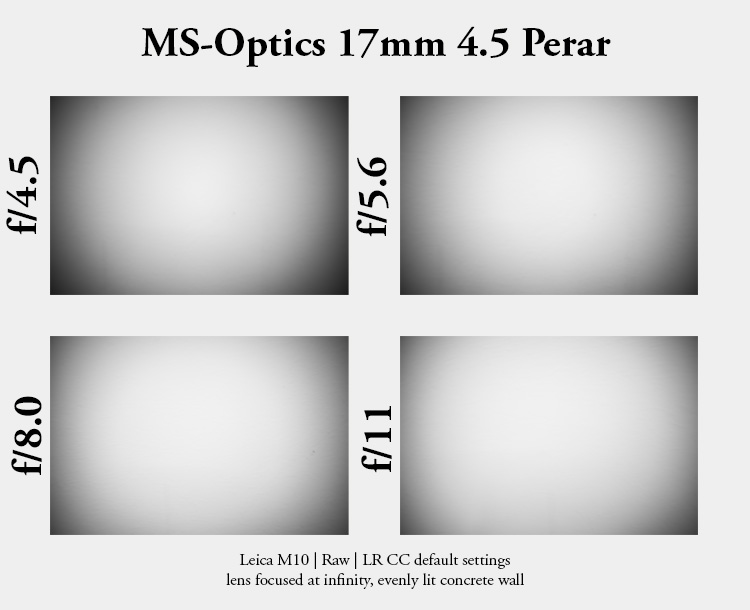 | | |
| --- | --- |
| f/4.5 | 4.3 EV |
| f/5.6 | 4.0 EV |
| f/8.0 | 3.7 EV |
| f/11 | 3.5 EV |
| f/16 | 3.2 EV |
Considering the dimensions we were expecting high vignetting, right? We did not get disappointed, as these values are almost record breaking. Stopped down they are quite similar to the Voigtlander VM 15mm 4.5 II though.
It is recommended to have a look at this article first to get an idea how this brightness graph works.
color cast
Sensor design makes a big difference here. On the A7rII we have a bit of a green color cast in all the 4 corners, which is what we have often seen in the past with other compact ultra wide lenses as well.
On the M10 the situation is very different: the left side of the frame shows a bit of green color cast while the right side of the frame shows a strong magenta color cast.
Also have a look at the Distortion section where I show an image with/without color cast corrections.
This is what it looks like in an unedited picture: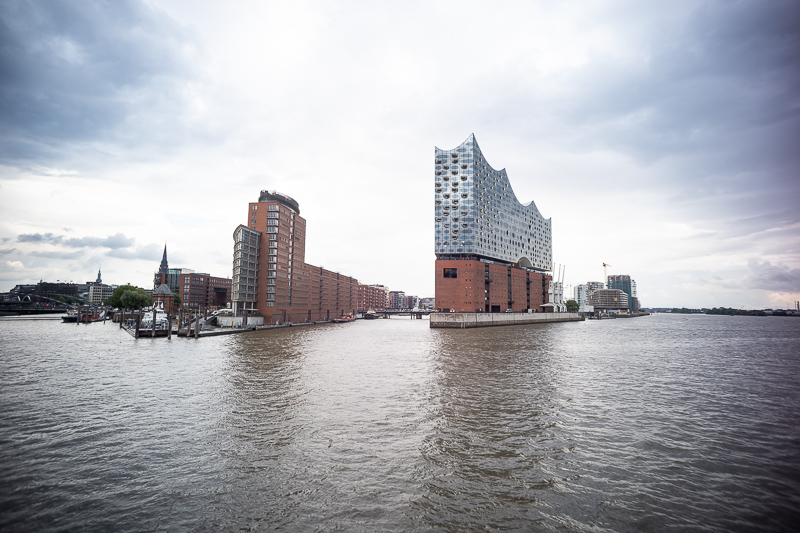 You can check out my article How to: Correcting Color Cast in Lightroom where I explain different methods to fix this.
Sharpness
MTF-Graphs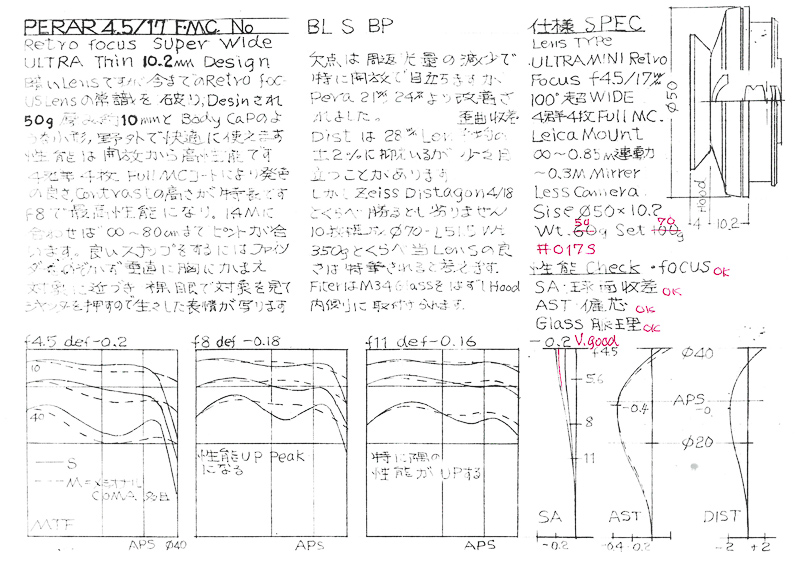 The MS-Optics lenses always come with hand-drawn MTF-graphs which do give a hint what to expect.
The graphs show a good performance at the maximum aperture from the center to the APS-C corners, but a steep drop in performance past that.
This significantly improves on stopping to f/8.0, but f/11 seems to be needed for best corner performance.
Let's find out how these MTF graphs translate into reality.
infinity (42mp Sony A7rII)
The center looks good from f/4.5, the midframe lacks about one stop behind, but the corners are just a mess.
By f/8.0 most of the frame does look good, but the corners actually benefit from stopping down to f/16. Because of diffraction I usually don't stop down further than f/11, but here I might actually consider using f/16 so the corners look less distractingly bad.
Let us see in the next section how the lens performs on a camera with a thinner filter stack which it ought to have been designed for.
infinity (24mp Leica M10)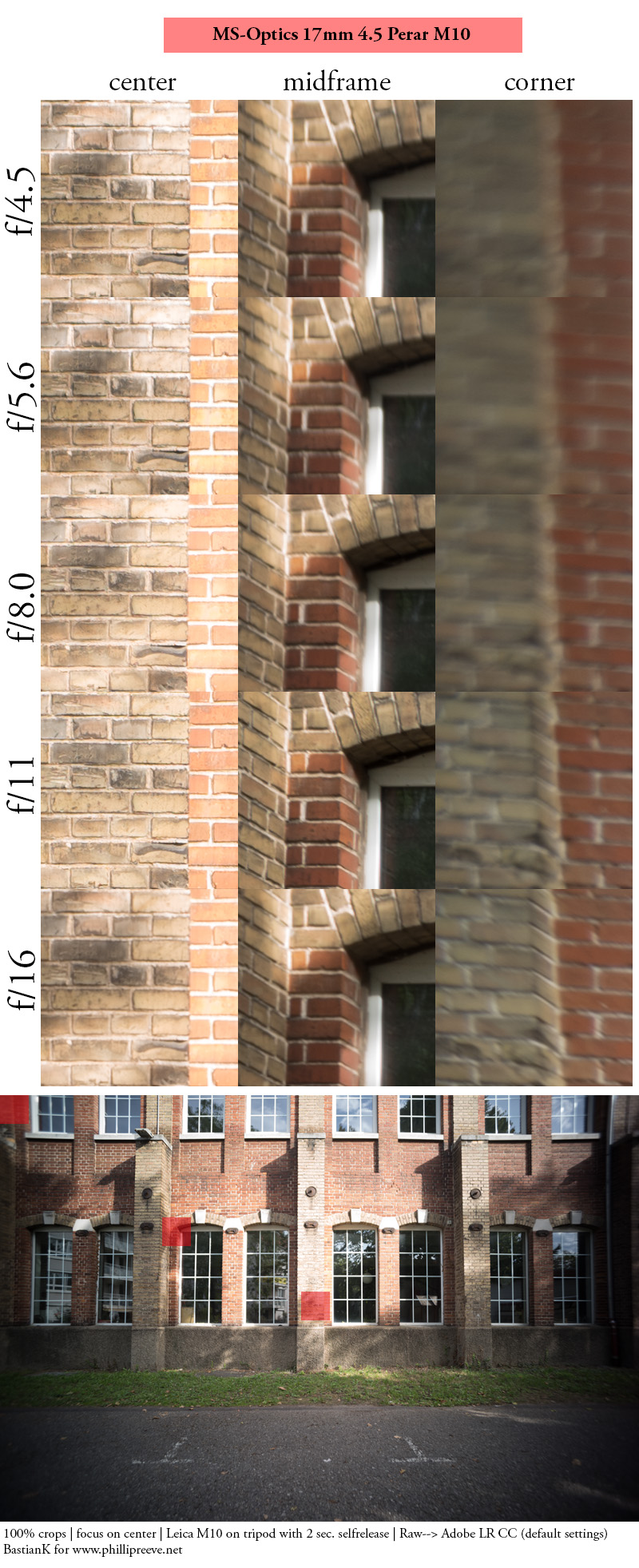 Interestingly the performance on the Leica M10 with its thinner filter stack is very similar. The corners do show a bit more details at shared apertures, but again I would stick to f/11 to f/16 if there are fine details close to the borders and corners of the frame – if possible.
close (0.3 m, 1:16)

100% crops from center, Sony A7rII
The official minimum focus distance is 0.4 m, but I actually measured 0.3 m. Not bad for a 17mm M-mount lens. Performance in the center is great from f/4.5, but as is the case for most ultra wide angle lenses the field is not flat at all at these distances. Still, with the subject close to the center of the frame you can create some dramatic perspectives.
Flare resistance
As always evaluating flare is a complex matter since you can get any lens to look bad if you push it hard enough and a slight change of scenario can affect results a lot.
This MS-Optics 17mm 4.5 is actually doing a good job though. Ghosts are hardly an issue, the only things to watch out for are internal reflections when shooting at f/4.5 (which I don't really advise to do anyway) and sunstars turning into long streaks.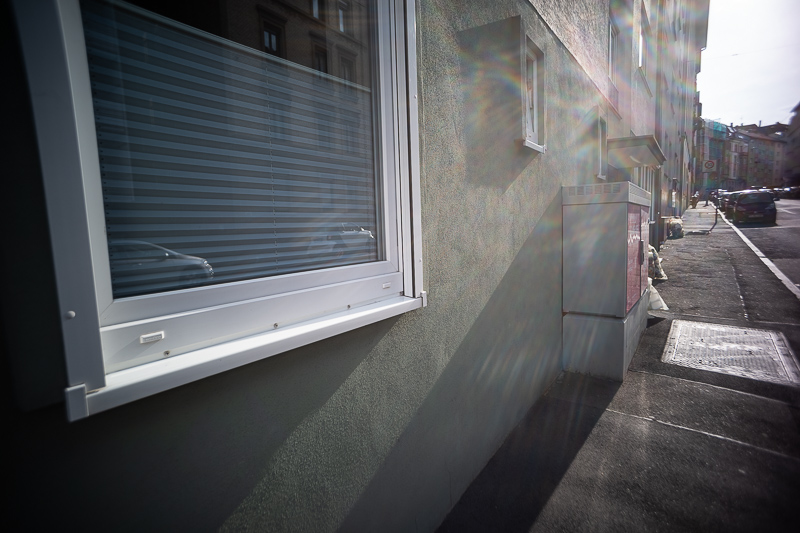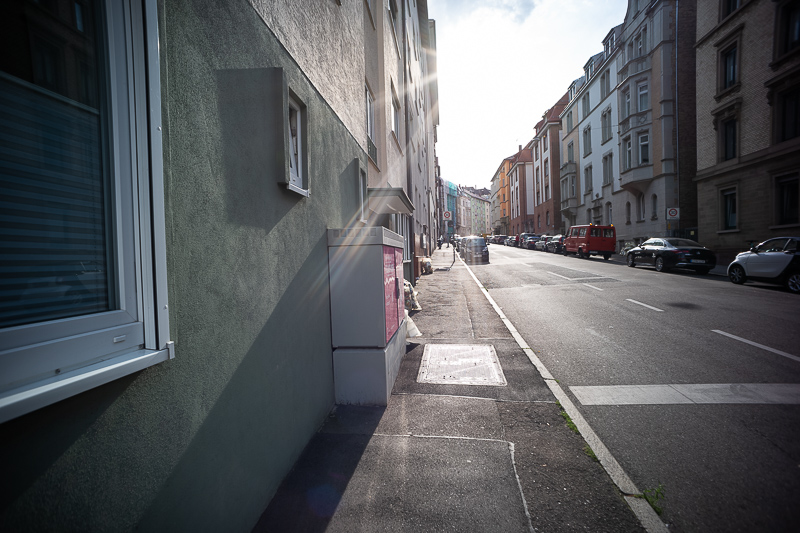 These are also somewhat engineered scenarios, in the field the flare resistance of this lens never got in the way.
Coma
100% crops from extreme corner, Leica M10
At wider aperture it seems not coma is the main issue, but field curvature, as the corners are not in the same focal plane as the center of the frame. What I said in the sharpness section is again obvious here: if there are any details close to the corners or borders and the light situation allows for it: better stop down to f/11 or even f/16.
Distortion
Leica M10 | MS-Optics 17mm 4.5 Perar | f/8.0
Now this was a negative surprise. The distortion is very wavy, I am even tempted to say Saymang 14mm 2.8 level wavy, but here the most distorted areas are the corners, not the center. Luckily this 17mm 4.5 is one of the few MS-Optics lenses where there is actually a Lightroom profile available. I still didn't find it to correct the distortion completely though and added -4, this leads to very likable results, even suitable for architecture shooting. A bit viewing angle is lost in the correction process though.
After seeing this I created a preset for this lens in combination with the Leica M10 to get rid of the ugly asymmetrical color cast and to lower the vignetting a bit.
I used this preset for most of the sample pictures in this review.
Sunstars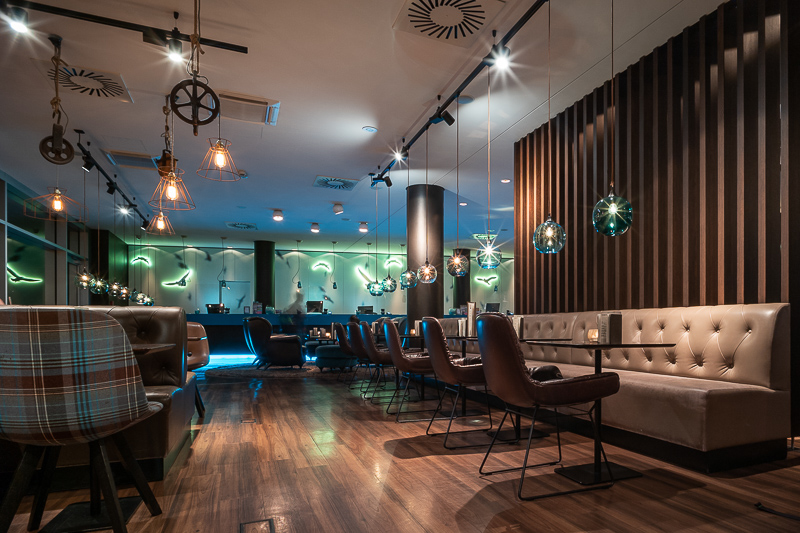 The MS-Optics 17mm 4.5 Perar is using 10 tiny aperture blades. When shooting into the sun there are some issues with reflections, but at night I found it to produce actually nice sunstars.
If you want to learn more about this topic have a look at this article.
Chromatic Aberrations
lateral
Ultra wide lenses with a retrofocus design often show strong lateral CA and the MS-Optics 17mm 4.5 Perar is no exception. Luckily the lateral CA are still easily corrected in a raw developer like Lightroom by one click.
Leica M10 | MS-Optics 17mm 4.5 Perar | f/8.0 | 100% crops from border
longitudinal
Bokeh fringing is not really an issue when it comes to slow ultra wide angle lenses, but what about purple fringing? Luckily there is none to be found, even at the maximum aperture.
Leica M10 | MS-Optics 17mm 4.5 Perar | f/4.5
Alternatives
As usual when dealing with MS-Optics lenses the list of alternatives is a short one. There is actually another MS-Optics lens which comes to mind, the Hipolion 19mm f/8.0, which is even smaller, but I haven't used it yet and being a 2 element design I don't expect better performance from it (their MTF graphs are backing up my theory).
The closest less exotic alternative is the Voigtländer VM 15mm 4.5 Super-Wide.Heliar MK I or MK II. A very capable and compact lens with significantly better performance at wider apertures and less quirky handling. It is 3 times the weight though and noticeably bigger. Unfortunately it also has some issues with color cast on the M10 and earlier digital Leica M cameras.
Apart from that there are the already discontinued Zeiss ZM 18mm 4.0 Distagon and the Leica 18mm 3.8 Super-Elmar, both lenses I haven't personally used and I don't consider actual alternatives due to their size.
Conclusion
good

sharpness in center and midframe

no purple fringing

sunstars

size/weight

average

quirky handling
correction of lateral CA
flare resistance

not good

high, wavy distortion

corner sharpness never great

vignetting at all apertures

color cast
It was surely an interesting and enjoyable experience to have a closer look at the MS-Optics 17mm 4.5 Perar. As is always the case with the MS-Optics lenses it is amazingly compact and lightweight and as is also usually the case there are some notable compromises one should be aware of.
Here the most obvious one is the high, wavy distortion, which I pretty much always felt the need to correct. Because of this type of distortion I also don't think this lens is a particularly great choice on film.
Another one are the resolution figures. If there is something with fine structures located close to the borders and/or corners of the frame the Perar 17mm 4.5 shouldn't be used below f/11.
At the end of the day I personally prefer the Voigtländer VM 15mm 4.5 MK II. While noticeably bigger and heavier it is still a very small lens (especially when you have the hood cut off like I did) and thanks to using aspherical elements it offers significantly better across frame sharpness and also very low distortion. Both lenses share the color cast issues on most digital Leica bodies and the generally high vignetting figures though.
As you can see from the sample pictures I was using this 17mm 4.5 Perar as (the only) ultra wide angle lens during a trip to Hamburg and I don't feel like I was missing out on something.
These days you can mainly find this lens used on ebay.com (affiliate link), but a few stores still have old stock. The price for a new one in Japan is around $450/450€
Further Sample Images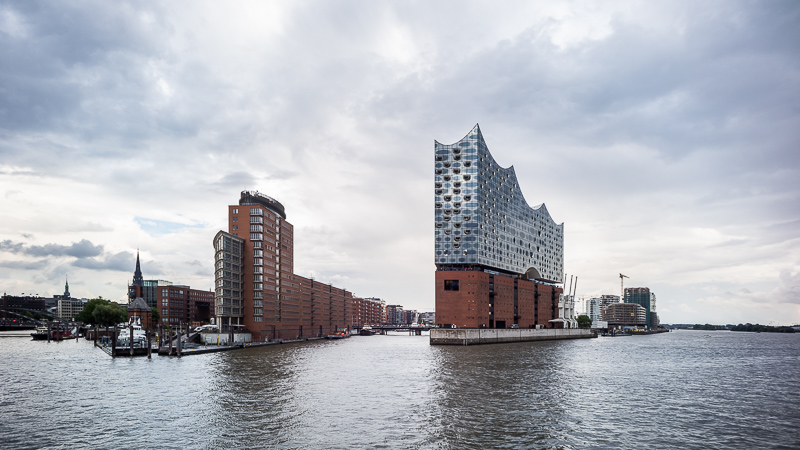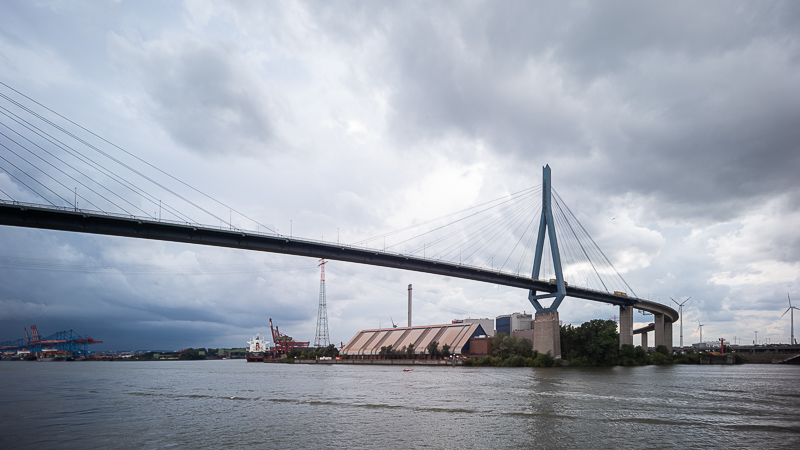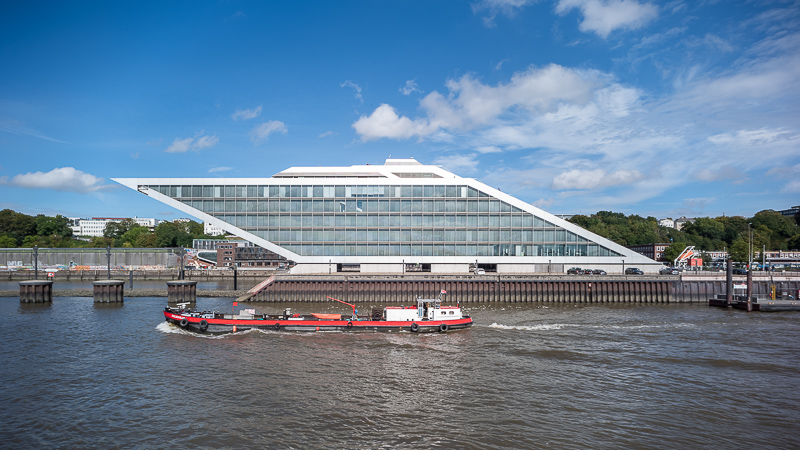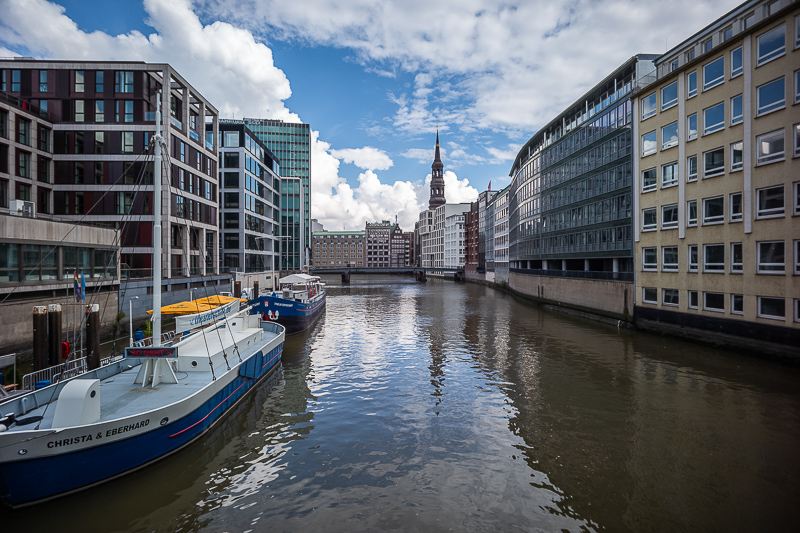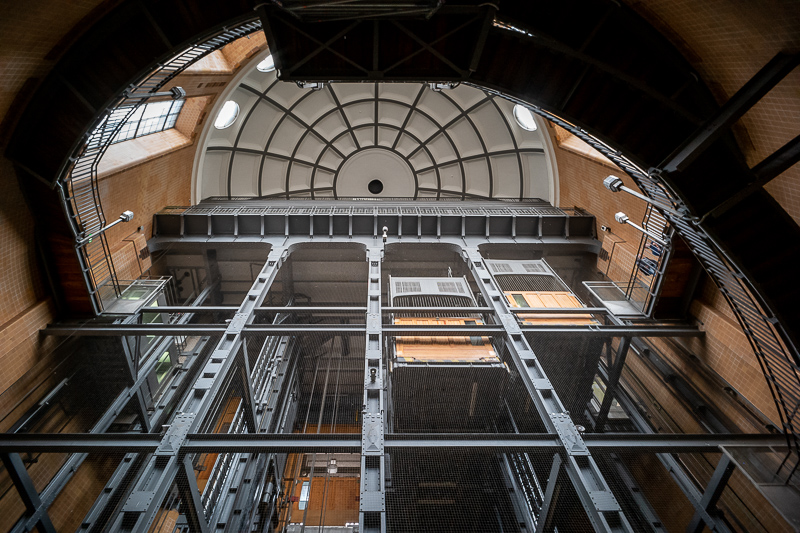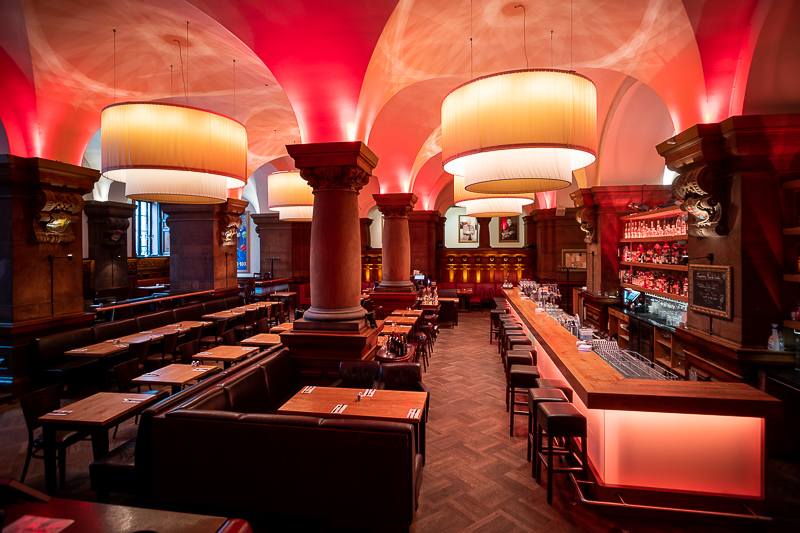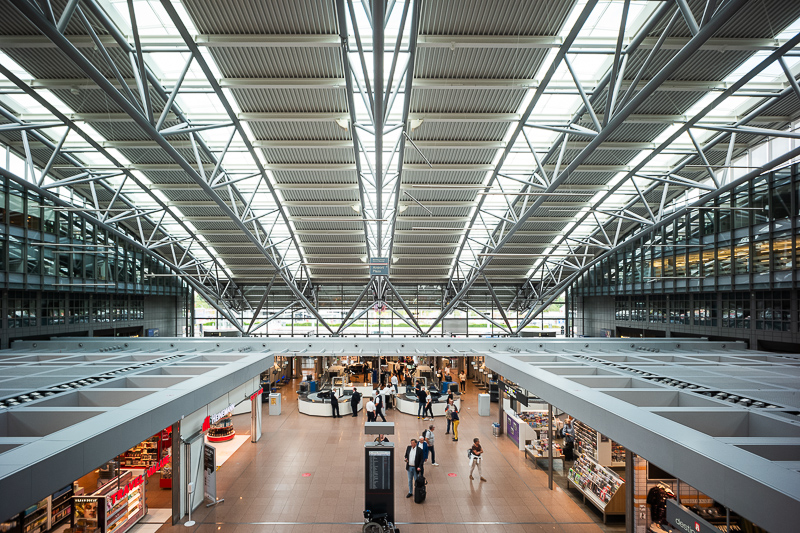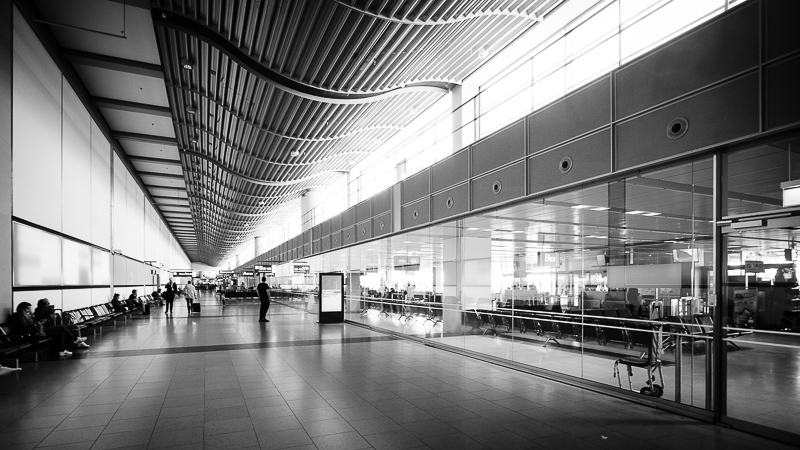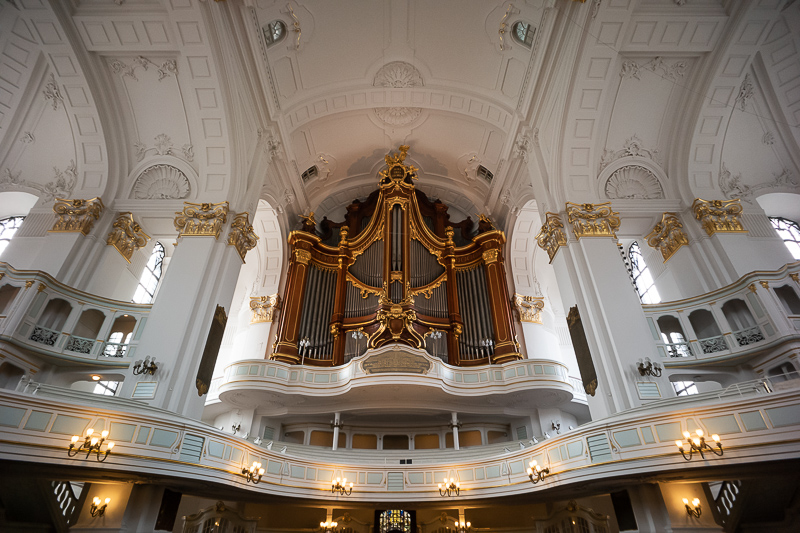 You can find most of the sample images in full resolution here.
Further Reading
Support Us
Did you find this article useful or just liked reading it? Treat us to a coffee!


via Paypal
The following two tabs change content below.
My name is Bastian and I am your expert here when it comes to ultra wide angle lenses, super fast portrait lenses (ranging from a 50mm f/0.95 to a 200mm f/1.8) and I also have reviewed way too many 35mm lenses. Don't ask me anything about macro or wildlife shooting though.