Introduction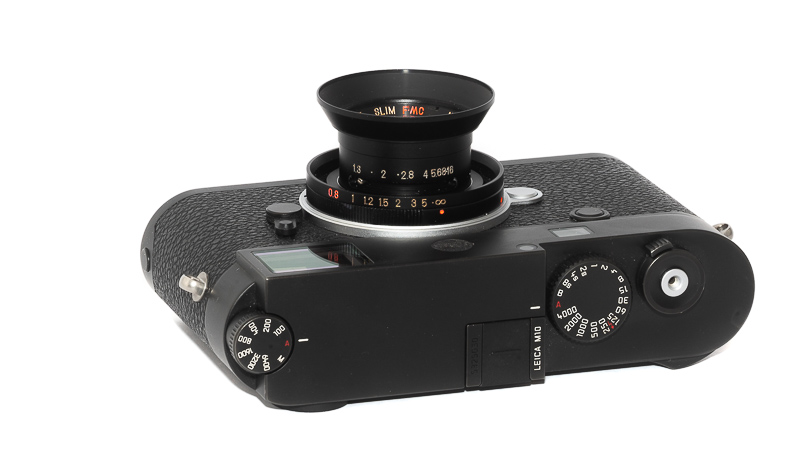 Today the MS-Optics 35mm 1.4 Apoqualia is somewhat hard to get and usually only to be found on the used market. But – at least on paper – we got something quite similar: the MS-Optics 35mm 1.3 Apoqualia II Slim, its official successor.
But is it as good as the predecessor while being even a little bit faster? Let us find out in this review.
Lens is being tested on 42mp Sony A7rII and 24mp Leica M10

Sample Images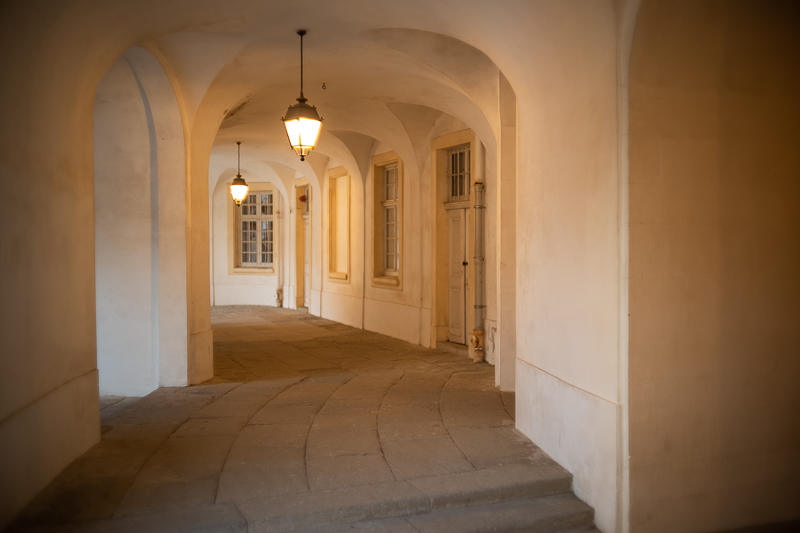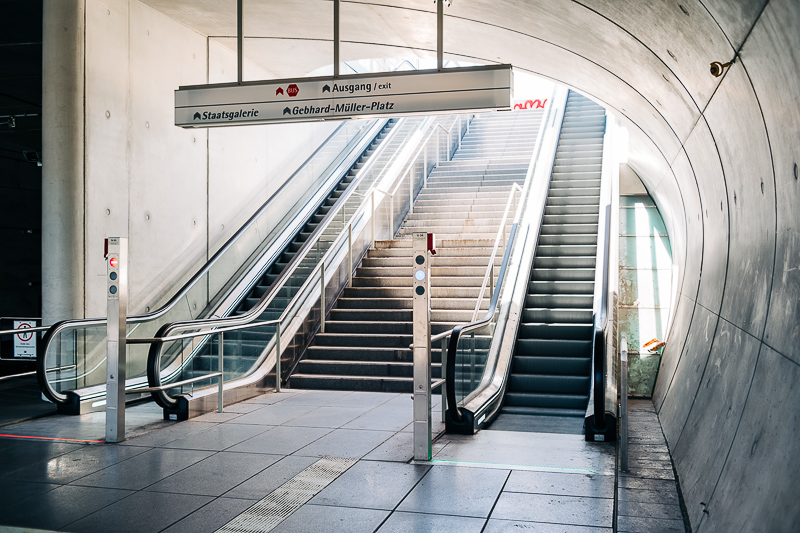 You can find most of the sample images in full resolution here.
Specifications / Version History
Miyazaki made two fast 35mm lenses so far. I already reviewed the earlier MS-Optics 35mm 1.4 and now I am reviewing the latest MS-Optics 35mm 1.3 II Apoqualia Slim which has the following specifications:
Diameter: 50mm
Field of view: 63° (diagonally)
Length: 21mm (without hood)
Weight: 61g (measured, without hood)
Filter Diameter: 34mm (reverse)
Number of Aperture Blades: 14 (rounded)
Elements/Groups: 6/4
Close Focusing Distance: 0.54 m (measured)
Maximum Magnification: 1:12.5 (measured)
Mount: Leica-M
you can sometimes find this lens on ebay.com (affiliate link) starting at $1100 

Handling / Build Quality
With the MS-Optics lenses there is always something new to discover here and the 35mm 1.3 Slim is no exception.
Compared to the older MS-Optics 35mm 1.4 the mechanical design is completely different but actually more typical for an MS-Optics lens.
The whole front barrel rotates on focusing and the aperture ring is located on this front barrel. With the other MS-Optics lenses this usually meant that when changing the aperture setting you will also change the focus position. But here the aperture ring is kinda special, as it is a tiny recessed lever:
This lever has very little resistance, so I did manage to move it with my finger every now and then, but it wasn't exactly easy to hit the desired aperture value. The less obnoxious way to set it is using a toothpick or something similar.
As is often the case the MS-Optics lenses come in a variety of different versions and colors. Some of these 35mm 1.3 lenses are collapsible, but many later ones are non collapsible ("lock type").
Either way, when collapsed the optical block will move freely instead of staying retracted by itself, so I consider this more of gimmick than an actual feature.
The focus ring travels exactly 90° from infinity to the minimum focus distance of ~0.6 m. The resistance of the focus ring is also quite nice actually.
The aperture ring is clickless with a very soft resistance and turns roughly 90° from f/1.3 to f/16. It is of the non-equidistant type.
The lens comes with a small metal hood which can even be mounted reversed.
The lens itself is a bit smaller than its predecessor, so when set to infinity – even with the hood attached – there is no rangefinder blockage. At the minimum focus distance you can see a tiny bit of the hood in the corner though.
Unlike what you usually encounter the filter thread is reversed (male), so you screw on filters the other way round. For ND or UV/Protection filters this makes less of a difference, for polarizers it is a different story though, as the circular ones only work in one direction. A filter thread of 34mm is also more of an odd size.
Many other MS-Optics lenses feature an additional – easier to use – filter thread in the lens hood, but this is not the case here.

The MS-Optics 35mm 1.3 is even smaller than its f/1.4 predecessor, but clearly at the cost of the ergonomics.
As is the case with all MS-Optics lenses I have used so far (except for the 135mm 2.4 Aporis) on the Leica M10 the 6-bit-code-reader is not fully covered and therefore under bright light the camera will often think you changed the lens and throw you ouf of live view should you be using that. I added a small piece of duct tape which solves the issue.
If you are wondering what the lens looks like on a Sony camera: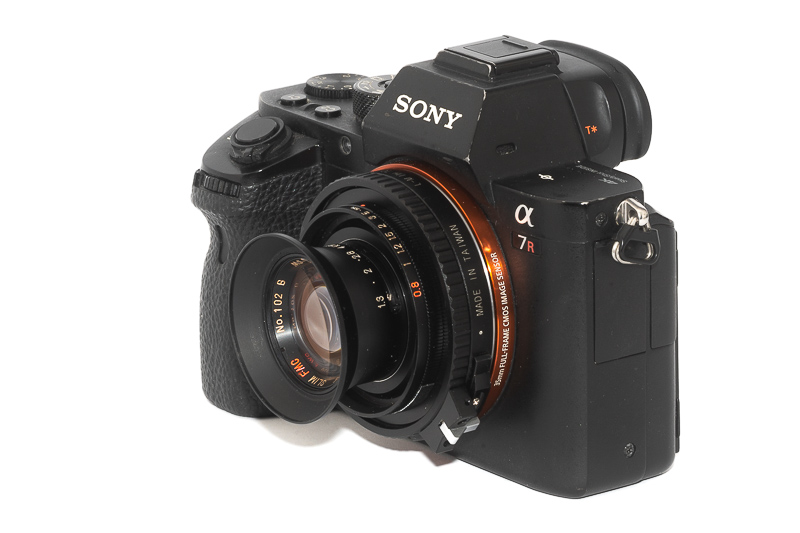 Vignetting
light falloff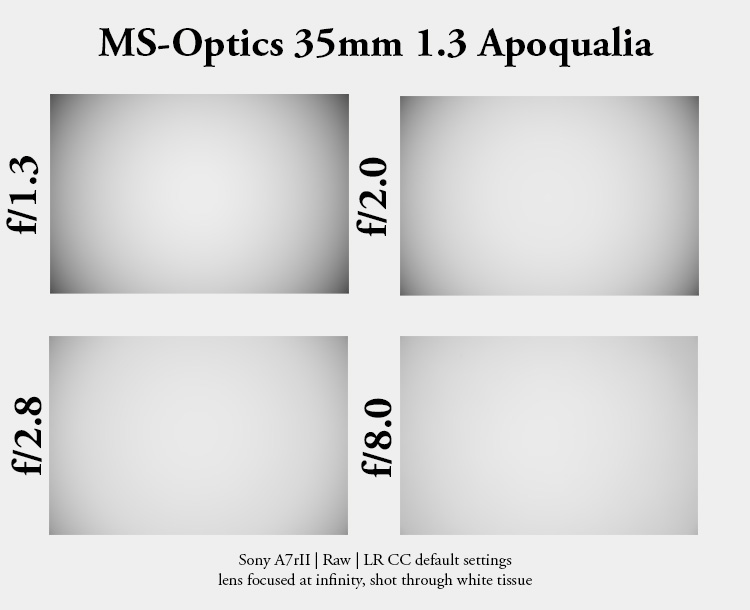 | | |
| --- | --- |
| f/1.3 | 3.3 EV |
| f/2.0 | 2.7 EV |
| f/2.8 | 2.0 EV |
| f/4.0 | 1.8 EV |
| f/5.6 | 1.6 EV |
| f/8.0 | 1.5 EV |
The vignetting figures are a bit higher than those of the MS-Optics 35mm 1.4, but in the end these values are actually not worse than those of the much bigger competitors like Leica 35mm 1.4 FLE, Zeiss ZM 35mm 1.4 or Voigtländer VM 35mm 1.2 III.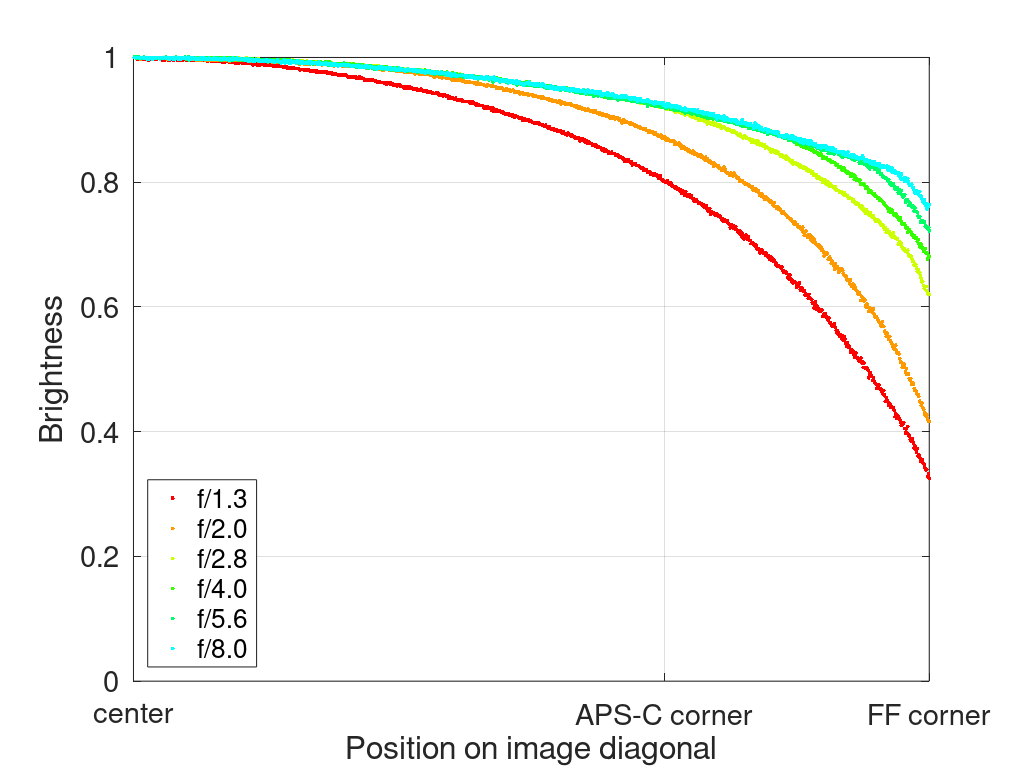 It is recommended to have a look at this article first to get an idea how this brightness graph works.
optical vignetting
Very fast yet compact lenses usually show a significant amount of optical vignetting. Without going too much into technical details optical vignetting leads to the truncation of light circles towards the corners of the frame.
In the center of the frame almost every lens will render a perfect circle, but only lenses with very low optical vignetting will keep this shape in the corners.
So in the following comparison we move from the center (left) to the extreme corner (right) and see how the shape of the light circle changes.
For comparison's sake I included the predecessor MS-Optics 35mm 1.4 and Voigtländer VM 35mm 1.2 III here and we can observe the following things:
both MS-Optics lens shows very high (and comparable) optical vignetting
both MS-Optics lenses show noticeable outlining, it is slightly more pronounced with the f/1.3 lens
the MS-Optics lenses only uses spherical elements whereas the Voigtländer lens uses aspherical ones, hence the noticeable onion ring structures
due to using rounded aperture blades highlights still look natural when stopping down the MS-Optics lenses
Due to their mechanical construction I did not manage to shoot the lenses side by side, the MS-Optics 35mm 1.3 was shot from a longer distance so the circles appear slighly smaller here compared to the other two at shared apertures.

Sharpness
MTF-Graphs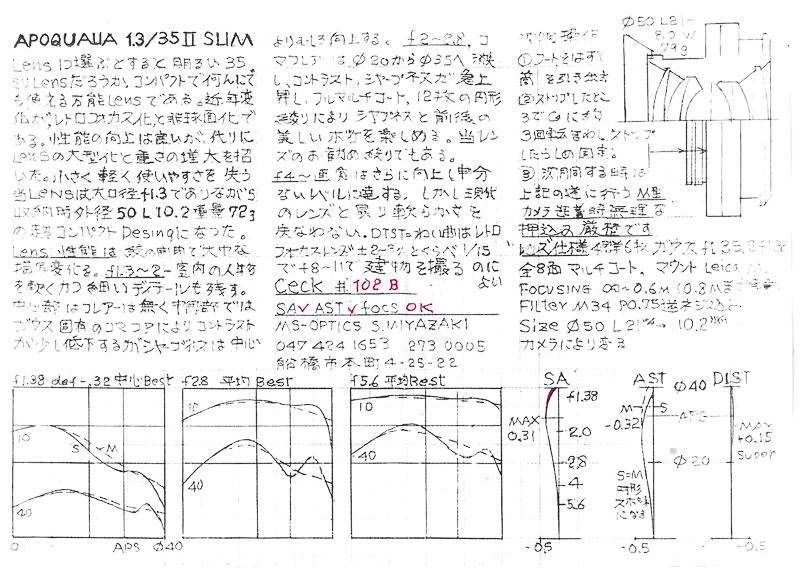 Generally the MTF are a bit lower compared to the predecessor 35mm 1.4, but they are similar in shape, so we see low resolution and contrast at f/1.3 as well as high field curvature. As is usually the case with MS-Optics lenses Astigmatism is comparably well corrected. Distortion is also supposed to be close to zero.
Glow / Spherical Aberration
The predecessor 35mm 1.4 and also the 50mm 1.0 ISM showed a noticeable amount of "Glow" (which is just an easier to understand term for spherical aberration) at their maximum aperture so I already expected to see the same here.
Spherical aberration is the only classic lens aberration that has an effect on the center of the image. It will make your image appear softer and add some additional "glow" to already bright parts of the image like the white bike in this example:
This 35mm 1.3 shows a lot of that glow at f/1.3 (and then still some at f/2.0). Generally this is not something many people would want in their architecture or landscape images, yet some people enjoy the softer look for portraits and nature photography.
You can find a few image sets shot at f/1.3 and f/2.8 (where most of the glow/spherical aberration is gone) so you can compare the rendering and decide for yourself if this is something you would enjoy or could make use of.
Focus shift
There is a lot to talk here as this is one of the most unusual lenses I have ever dealt with. But first let's have a look at this graph Miyazaki provided after releasing the lens:

What is this supposed to tell us? Quite a lot actually. First thing is: there is noticeable focus shift. But what is way more important: at wider apertures contrast and sharpness do not peak in the same focal plane.
This is not the only lens where this is the case, I saw the same behaviour with the Canon EF 85mm 1.2L II, it was noticeable with that lens because the plane with the least color outlining wasn't the plane with the highest resolution. But with the MS-Optics 35mm 1.3 there is a whole new level to this issue.
We need some pictures to understand this:
We first look at the picture set taken with the MS-Optics 35mm 1.4. Here everything is normal. Sharpness and contrast peak roughly in the same plane, this is how it is supposed to be.
Now we move on to the resolution plane crops taken with the MS-Optics 35mm 1.3. In the 33% crop the image looks soft, but looking at the 100% crop it looks correctly focused.
When looking at the contrast plane crops we see less green soft outlining in the left half, the image looks contrastier. When looking at the 100% crop it again looks correctly focused.
Now comparing both the 33% crops taken with the 35mm 1.3 we see that the contrast and resolution peaks do not overlap. In the resolution picture the depth of field extends to the front whereas it extends to the back in the contrast picture.
That Miyazaki graph comes with a Japanese description that I had translated. He pretty much says that this lens allows the photographer to choose between higher contrast and higher resolution and that by f/2.8 to f/4.0 the planes overlap and this lens behaves normally.
Now my take is a bit different. I think this is one of the softest and hardest to focus lenses that has ever seen the light of day and a complete nightmare if you want to use it on a rangefinder camera at apertures wider than f/2.8.
infinity (42mp Sony A7rII)
The predecessor suprised me in a positive way here, but it doesn't look like history will repeat itself. I used the lens with the Hawk's adapter and adjusted the hard infinity stop to give best results at f/2.8 but still focus shift is notable stopped down further.
But then I don't see anyone using this lens on an unmodified Sony camera anyway, so lets see what the situation is like when using it on the Leica M10 in the next chapter.
infinity (24mp Leica M10)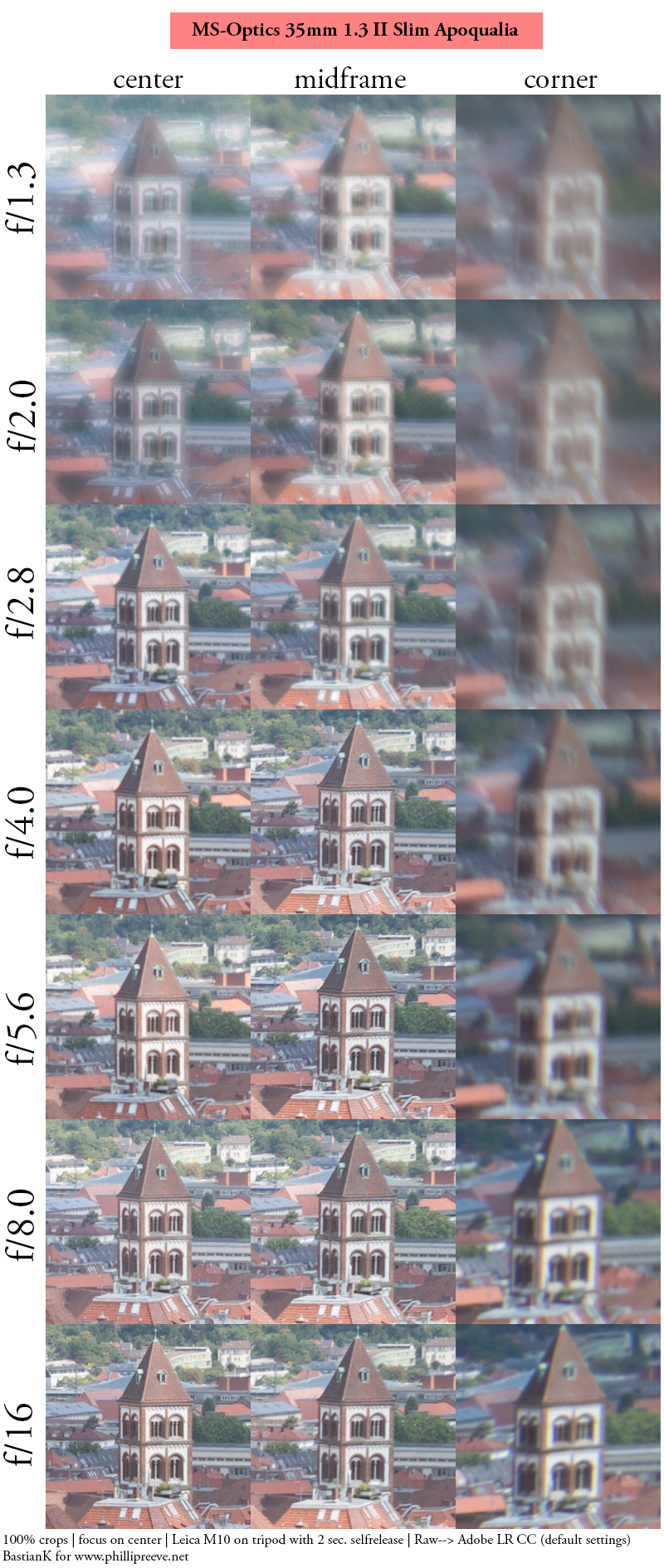 I was hoping for better here, and yes, at f/2.8 we get okayish performace in center and midframe and actually good performance starting at f/4.0. The corners are still a complete loss though.
This is not a lens I would like to use for stopped down (let alone at wider apertures) landscape or architecture shooting. Even when looking at the small downscaled samples here taken at f/8.0 the smeared corners stick out like a sore thumb to me.
portrait distance (1.0 m, 24mp Leica M10)
For portraiture it isn't so important how flat the field is, it is more interesting to see what the sharpness is like when focused at different parts of the frame to take field curvature (and also focus shift) out of the equation, especially when dealing with lenses with a high amount of field curvature.

This is what I did here, I refocused for every shot and aperture to get the best possible result at different locations in the frame (center, inner midframe and outer midframe).
Focus distance was roughly 1.0 m and the circle of the dollar bill is more or less the size of a human eye.
100% crops, Leica M10
When looking at these crops remember what I wrote in the Focus Shift section. I tried my best to achieve best possible focus, but with this lens it isn't always clear what that means.
In the center –  and I found this to be true in the field as well – f/1.3 actually looks better than f/2.0.
Comparing the general performance of the MS-Optics 35mm 1.3 to that of the 35mm 1.4 (and I shot both lenses side by side under the same exact conditions) I see a 1 to 2 stop advantage for the f/1.4 lens at this distance. For example in the center you need to stop down the 35mm 1.3 to f/2.8 to get similar resolution and contrast figures you can get with the 35mm 1.4 when shooting wide open at f/1.4.
In the field I often used this lens at f/2.8 for portraits, as it was simply too unpredictable, hard to focus and often just lacking in terms of sharpness at apertures wider than that.
close (0.54 m, 1:12.5)

100% crops from center, Sony A7rII, refocused for every shot
Now this is also interesting. According to the markings on the lens the minimum focus distance is a little less than 0.8 m but it actually focuses closer than the MS-Optics 35mm 1.4 which has markings down to less than 0.6 m.
This is partly due to the interesting optical design described in the Focus Shift section. One somewhat sharp plane at f/1.3 is at 0.54 m from sensor but then there is another one at 0.6 m.
I am not even sure which of these focal planes I hit in the crops in this section, but if you want crisp images at close distances better use at least f/2.8.
Flare resistance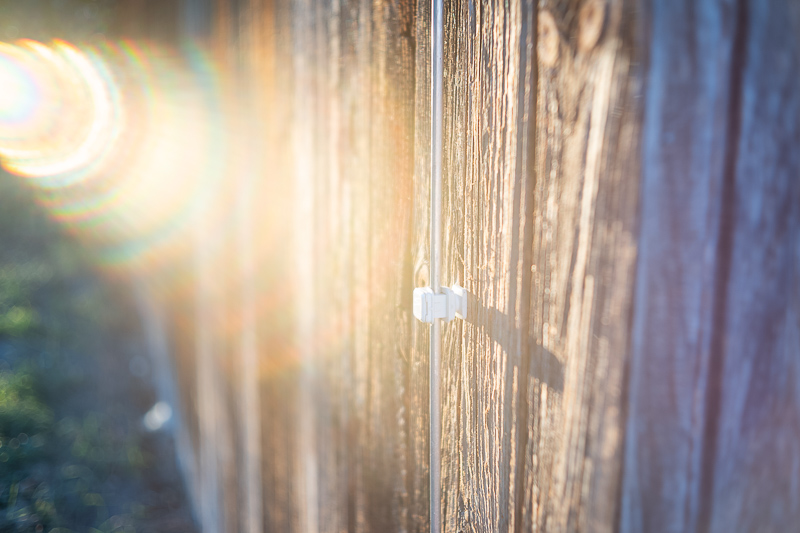 The past has shown anything can happen here with MS-Optics lenses, so let's have a closer look. Keep in mind I was using the small hood for all of the pictures you see in this review.
Sun inside frame
In terms of ghosting with a strong light source in side the frame this MS-Optics 35mm 1.3 is doing a pretty good job actually. There are some minor ghosts but nothing that should completely ruin your picture.
Sun outside frame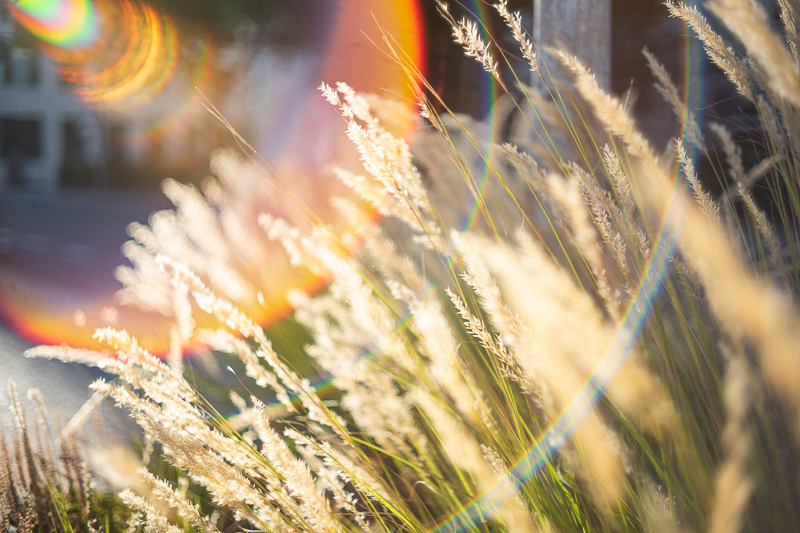 As usual with a strong point light source close to the corner (and this case also border) of the frame you can create something like this: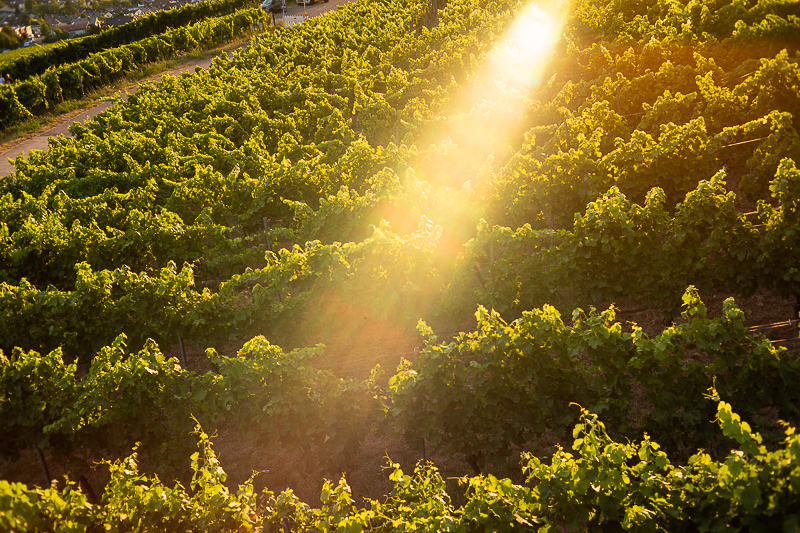 This can often be avoided by slightly reframing.
Ring flares at f/1.3 are more pronounced though:
Shading the lens with you hand can help here, but this is of course something you can only do when using live view, not when solely relying on the rangefinder:
Leica M10 | MS-Optics 35mm 1.3 | f/1.3
Coma
100% crops from extreme corner, Leica M10
After seeing the sharpness performance in the corners it should not come as a surprise that coma is not well corrected. By f/5.6 most of the frame is clean, but the corners are still not looking good at all.
How bad is it in the field at f/1.3? This bad: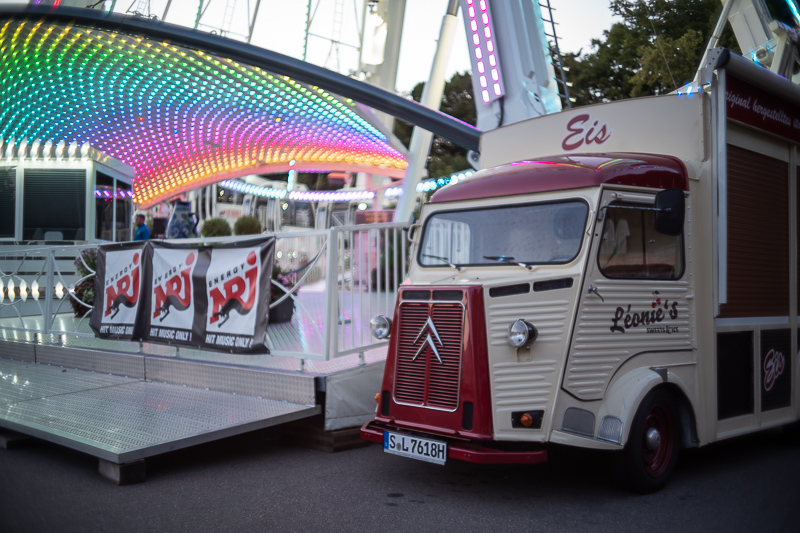 Distortion
Leica M10 | MS-Optics 35mm 1.3 | f/8.0
As described in the manual distortion is very low, but it is slightly wavy towards the corners. I think when dialing in +2 in LR/PS it looks best.
Sunstars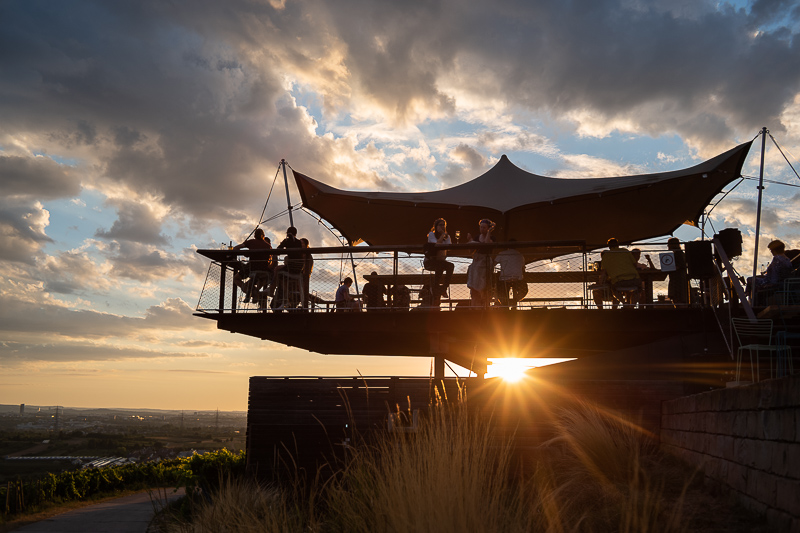 The MS-Optics 35mm 1.3 is using 14 rounded aperture blades so I wouldn't have been surprised not to see sunstars at all, as was the case with its predecessor (12 aperture blades).
But surprisingly stopped down to f/8.0 to f/11 you can create actually nice sunstars, so the alignment of the aperture blades must be really good.
If you want to learn more about this topic have a look at this article.
Bokeh
The MS-Optics 50mm 1.0 ISM as well as the 35mm 1.4 Apoqualia both behaved similar in the way that their bokeh rendering is harsh and busy at their maximum aperture, but becomes significantly calmer and more likable stopped down by one stop.
How is the situation with this new 35mm 1.3? At the maximum aperture everything which isn't close to the center is rendered in a very busy way which is easy to see by the amount of outlining in this scene:
The MS-Optics 35mm 1.4 was in a way similar at its maximum aperture, but the big difference is that it cleared up a lot when stopping down to f/2.0, which isn't the case with this 35mm 1.3 here. It really takes stopping down to f/2.8 to get clean and undistracting bokeh over most of the frame.
In the Glow/Spherical aberration category you can find a few direct comparisons between the rendering at f/1.3 and f/2.8.
Close distance
As usual we will have a look at the bokeh rendering at different distances, starting with close focus scenarios: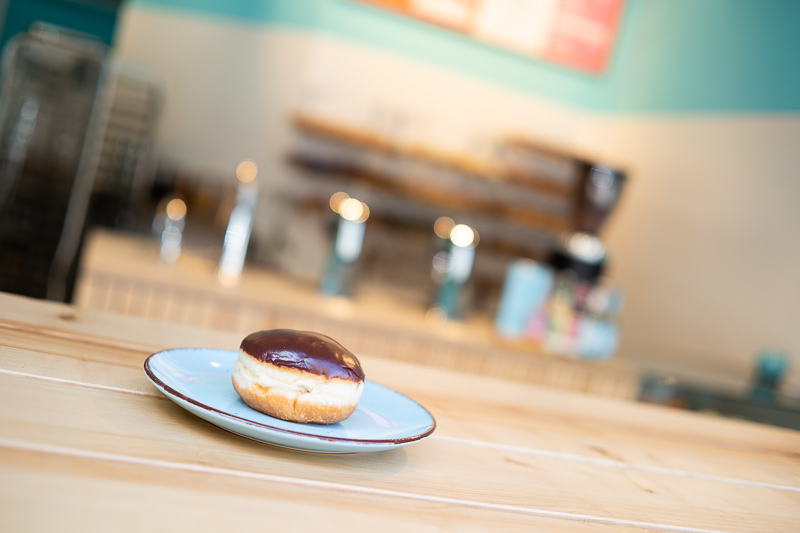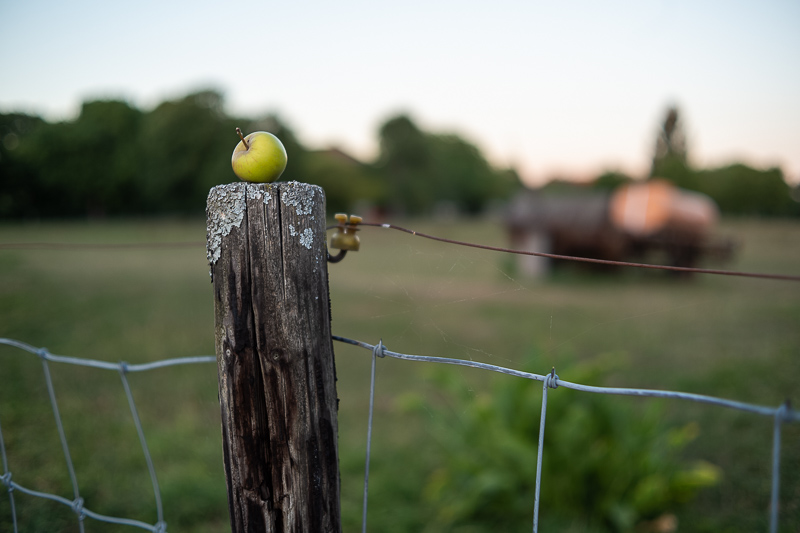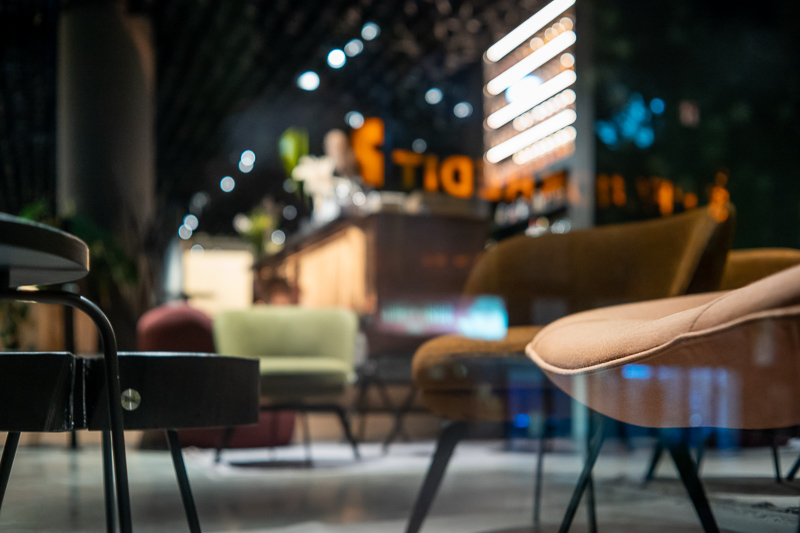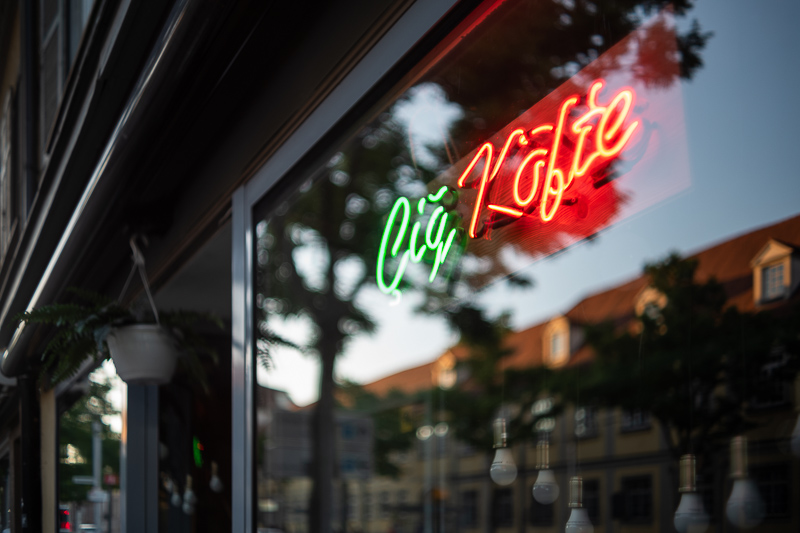 At close distances most lenses render a smooth and undistracting bokeh and this is also the case here. Still, even at these distances when shooting at f/1.3 you can see the light circles aren't exactly clean.
Mid distance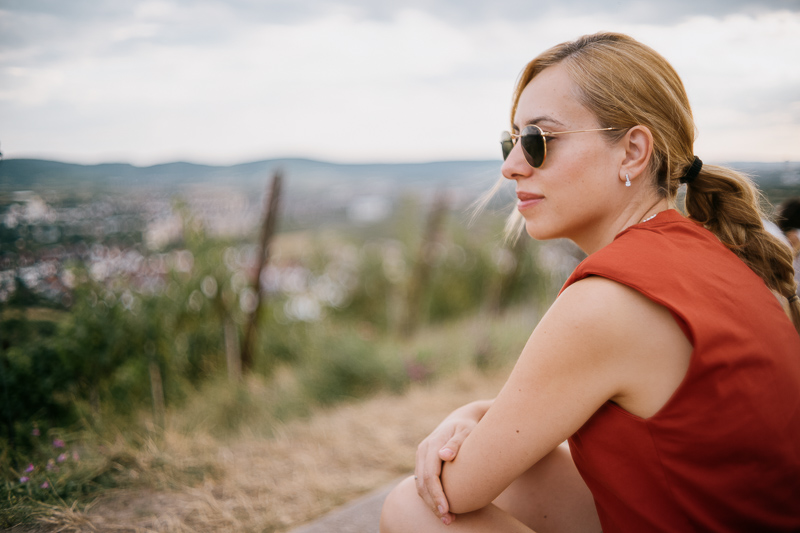 At mid distances I guess some people may describe the rendering at f/1.3 as "painterly" whereas I would describe it as very busy and distracting. We also see that there is a lot of "bokeh fall off" towards the corners, a combination of optical vignetting and unfavourable field curvature.
Long distance
Very high optical vignetting, field curvature issues, regular readers can already guess how this one will play out: distracting and ugly bokeh rendering at longer focus distances: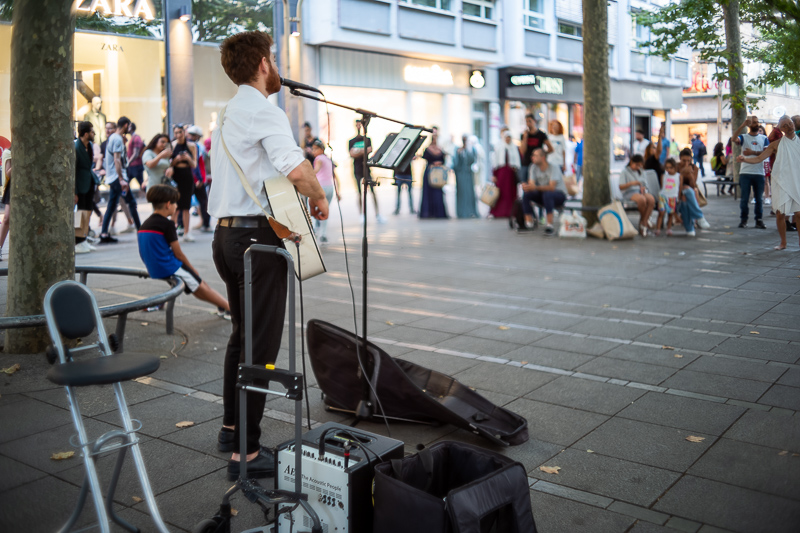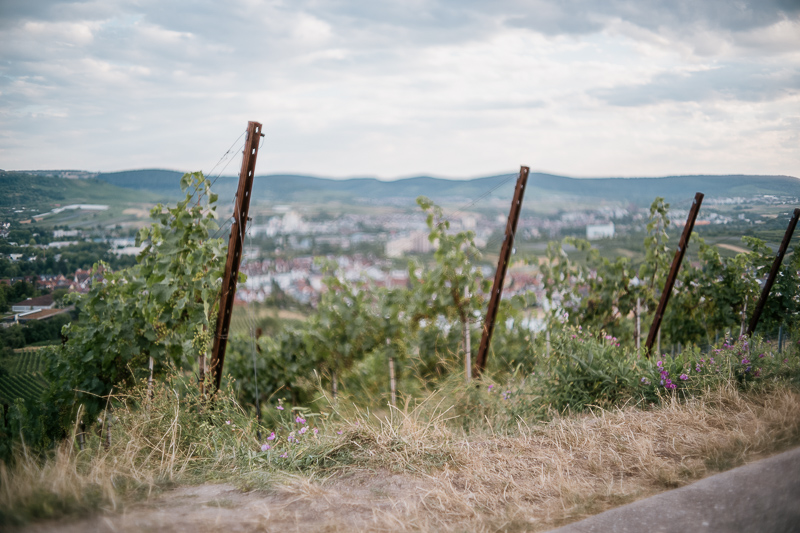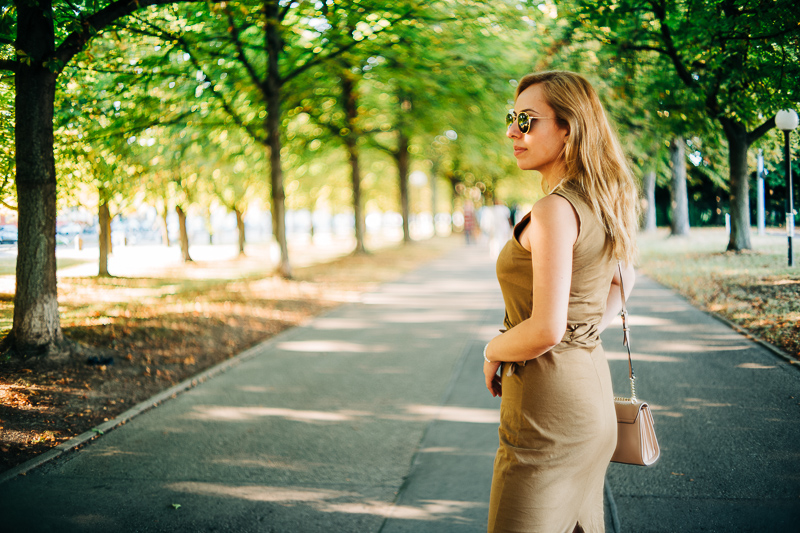 Should the guy in the white dress on the right border be in focus? Should the town in the background on the edges be in focus? Should the latern and trees on the side be in focus? I don't think so.
On top of that at f/1.3 and f/2.0 the sharpness off center really isn't great at these distances which also makes acquiring focus quite difficult. I recommend to have a look at the full resolution samples of some of these f/1.3 pictures that I uploaded.
Chromatic Aberrations
lateral
100% crops from border, Leica M10
Lateral CA are very high, so high that even the correction doesn't work perfectly and sometimes has the potential to introduce new issues.
longitudinal
Many of the MS-Optics lenses have fared well in this category (e.g. 24mm 2.0, 35mm 1.4 or 135mm 2.4) but then there were also a few that didn't (e.g. 73mm 1.5). What is the situation like with this new 35mm f/1.3 lens?
We definitely see some colorful outlining in the out of focus areas, but the amount of aberrations is generally so high that this issue is a bit masked by some of these other aberrations.
Leica M10 | MS-Optics 35mm 1.3 Apoqualia
Alternatives
The most obvious competitor is the predecessor, the MS-Optics 35mm 1.4 Apoqualia, and if you ask me it is the better lens in pretty much every way (sharpness, bokeh, handling, build quality). The only disadvantage: it is somewhat hard to get these days.
I also reviewed plenty of "normal" 35mm (M-mount) lenses here. If you are looking for something less exotic the Voigtlander VM 35mm 1.2 III comes to mind. It is even faster and as compact as you can make a 35mm f/1.2 with such optical capabilities.
If you want something with a less "polished" look but as fast and small as possible the Voigtländer VM 35mm 1.4 II might be an option. I reviewed the E-mount version which has the same character as the M-mount one.
Other notable 35mm M-mount lenses are the Voigtlander VM 35mm 1.7 (still the best allround option imho), or the Zeiss ZM 35mm 1.4 (very good sharpness in an f/1.4 lens but big and heavy).
If money is not an issue there is of course also the Leica 35mm 1.4 FLE and if you are a true Leicaman you need the reissued 35mm 1.4 steel rim of course.
If you ended up here by accident and you want to have a general overview over the 35mm E-mount lenses have a look at our rather comprehensive guide on 35mm lenses for Sony FE cameras.
Conclusion
Some people claimed the optics of this new MS-Optics 35mm 1.3 II Slim are very similar to those of the predecessor, namely the MS-Optics 35mm 1.4. I own both lenses. I have used both lenses. I can say this is – unfortunately – not the case. And while I consider the older 35mm 1.4 being one of Miyazaki's best lenses I consider this 35mm 1.3 being one of his worst. Why is that?
This sample cannot be collapsed, so maybe I shouldn't comment on this feature, but I will still do as you see it dictated the whole design: with the lens in retracted state the whole optical block is loose and can move around. This makes the feature pointless in my opinion. And the price we have to pay for this useless gimmick is a very unergonomic aperture ring and an unncessarily ugly lens.
But these ergonomic "quirks" and the sometimes make-shift casing design are also part of the charme of these handmade lenses, so this is not my main issue, that would be the optical performance.
I said it before, I consider the MS-Optics 50mm 1.0 ISM a mediocre f/1.0 but a decent f/1.4 lens and the 35mm 1.4 a mediocre f/1.4 but a decent f/2.0 lens.
But this MS-Optics 35mm 1.3 II Slim is a very soft f/1.3 lens and a decent f/2.8 lens only.
Never before did I encounter a lens where the peaks of different MTF frequencies are that far apart. This makes the lens incredibly difficult to focus and also leads to the most severe focus shift I have ever seen – a nightmare when using this lens on a pure rangefinder camera. I think many people were surprised by this behaviour, which is why Miyazaki issued a statement describing this very behaviour (have a look at the Focus Shift section in case you missed it).
Nevertheless. Leica can sell an even softer Thambar 90mm 2.2 for 6 grand, so maybe there are actually some people out there that are looking for a lens like this that is just "different".
you can sometimes find this lens on ebay.com (affiliate link) starting at $1100 
Further Sample Images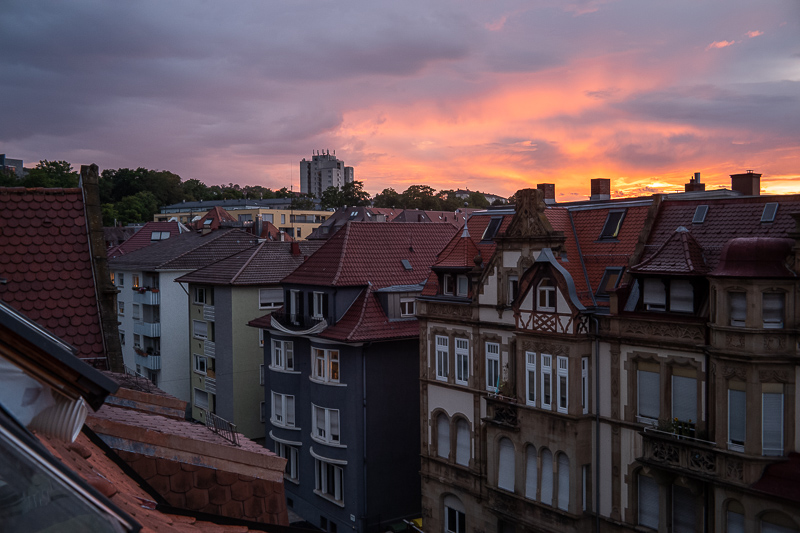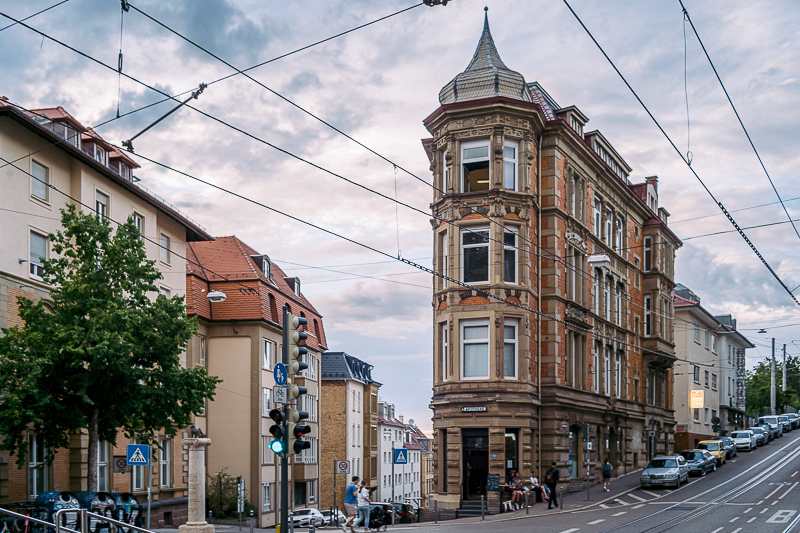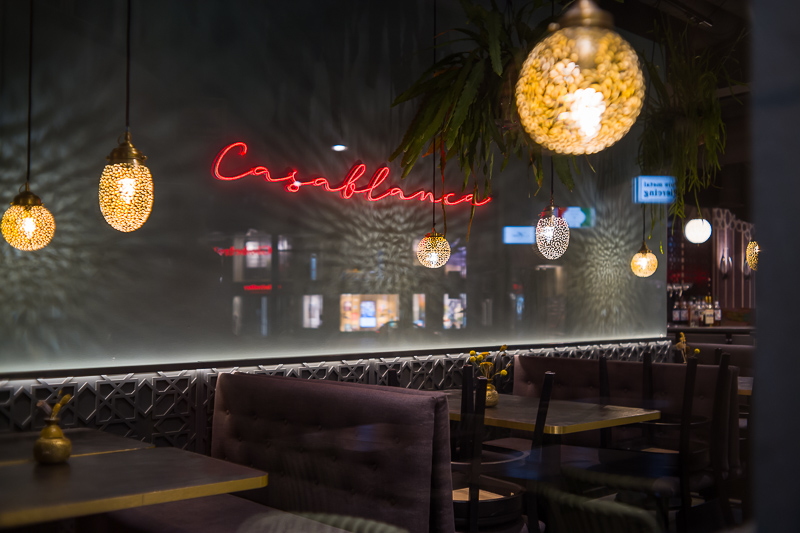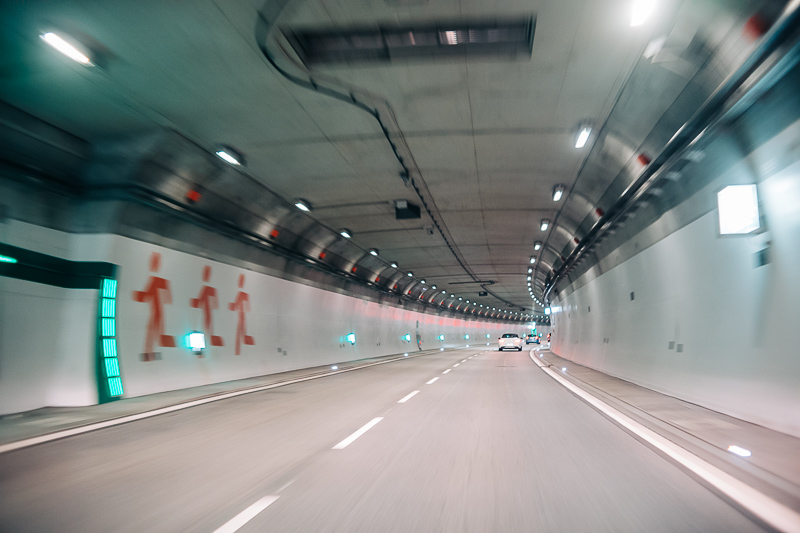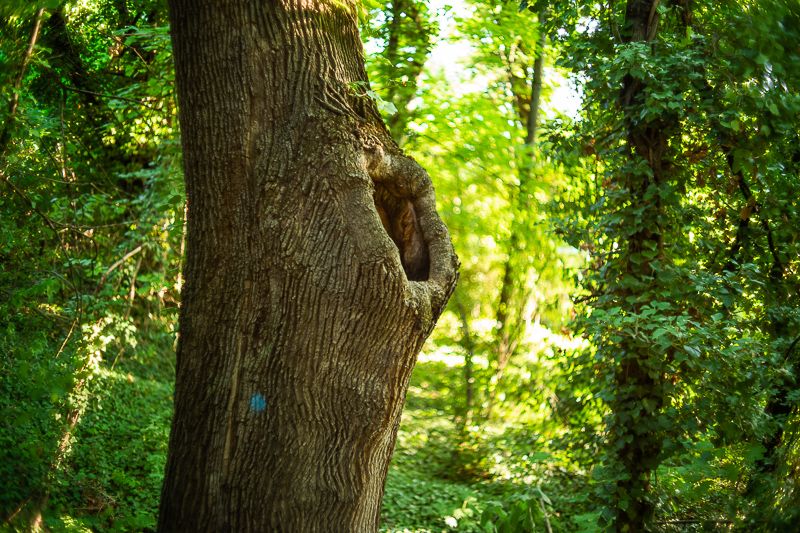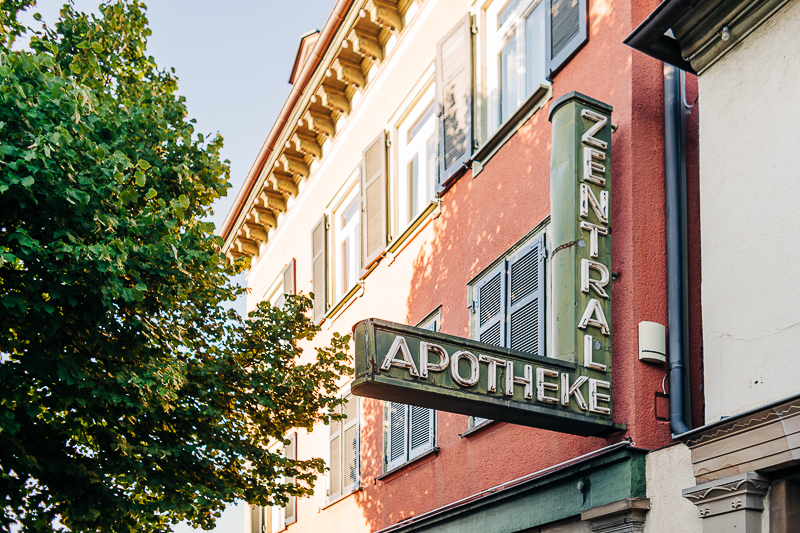 You can find most of the sample images in full resolution here.
Further Reading
Support Us
Did you find this article useful or just liked reading it? Treat us to a coffee!


via Paypal