The Voigtlander Heliar 75mm F1.8 is a rare representative of the family of 75mm lenses. In this shorter review I give you my impressions on how it performs on the Sony a7ii.
Specifications
| | |
| --- | --- |
| Diameter | 58 mm |
| Length | 74 mm |
| Filter Thread | 46 mm |
| Weight | 427 g |
| Max. Magnification | 0.12 |
| Close Focusing Distance from the sensor | 0.9 m |
| Number of aperture blades | 10 |
| Elements/ Groups | 6/3 |
The Voigtländer 1.8/75 usually sells new for $599 at CameraQuest or for around $430 used at ebay.com(affiliate links). 
In Germany you can buy it used for around 400
€
 at ebay.de (affiliate link). 
Image Samples
Just click on any image to get to the full resolution version.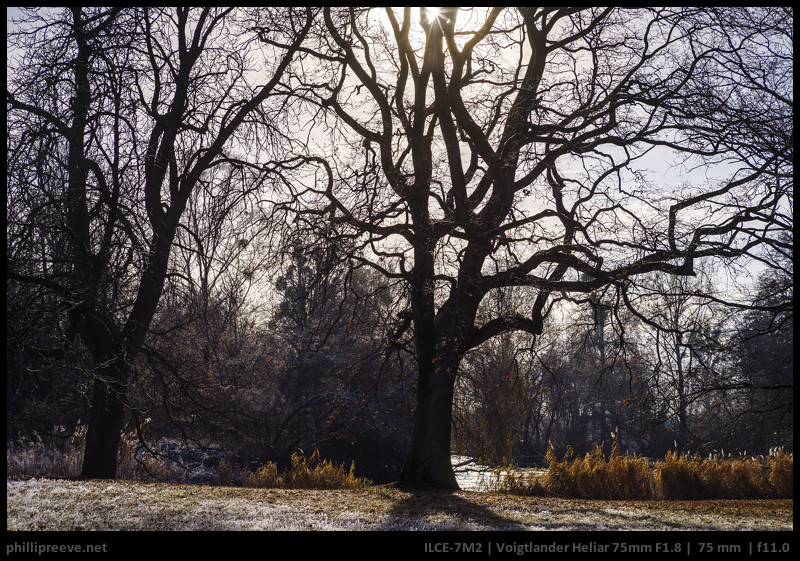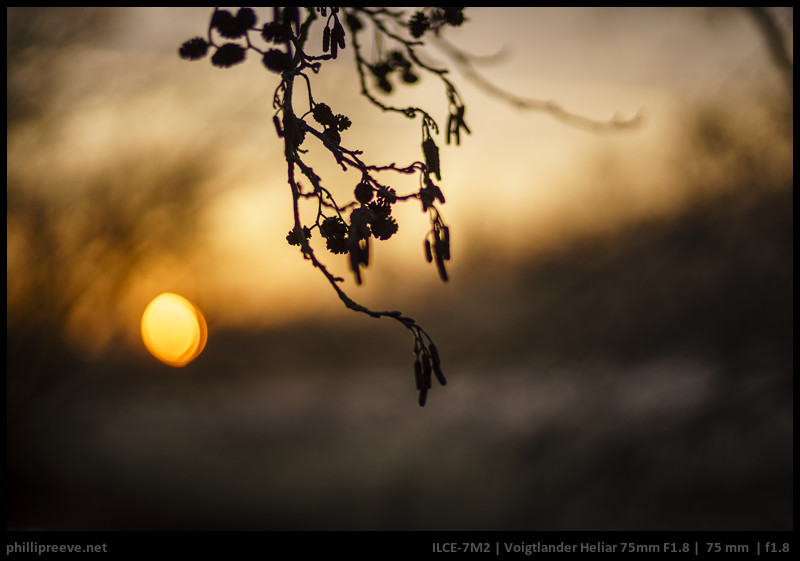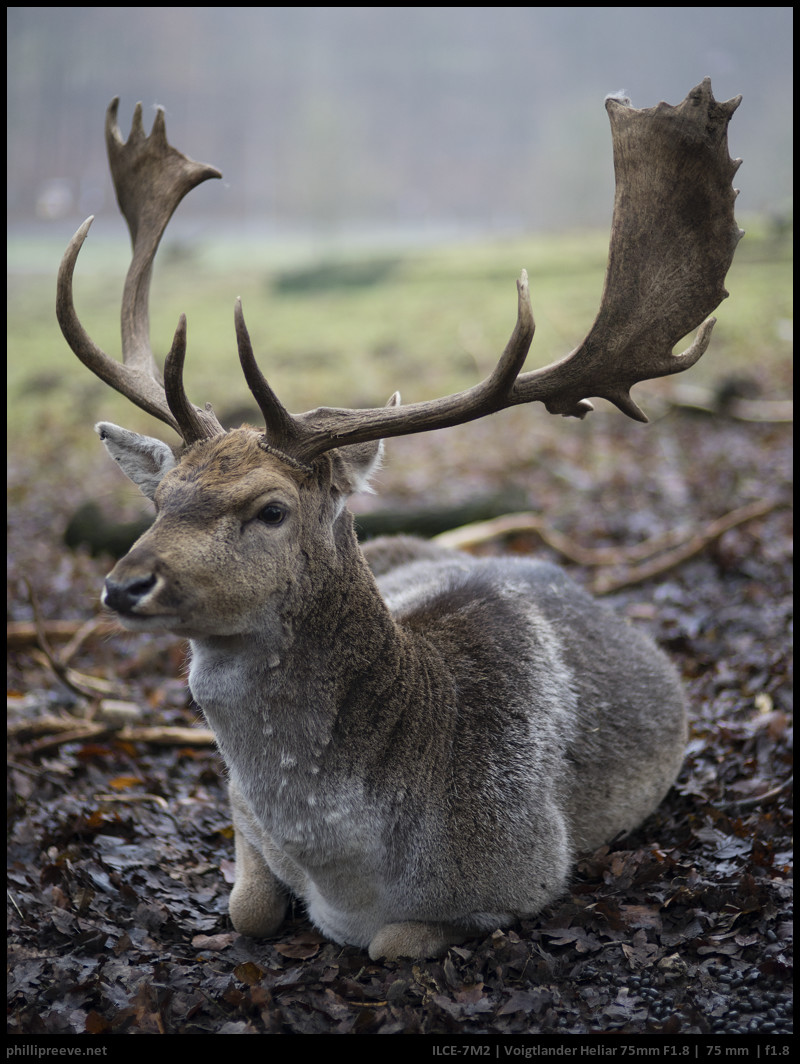 What I like about it
The Handling
The Voigtländer 1.8/75 is very well built, rather small and it has a smooth focusing ring with a good transmission. So handling is very pleasant.
The sunstars
Thanks to 10 straight aperture blades you can get very well defined sunstars from f/5.6.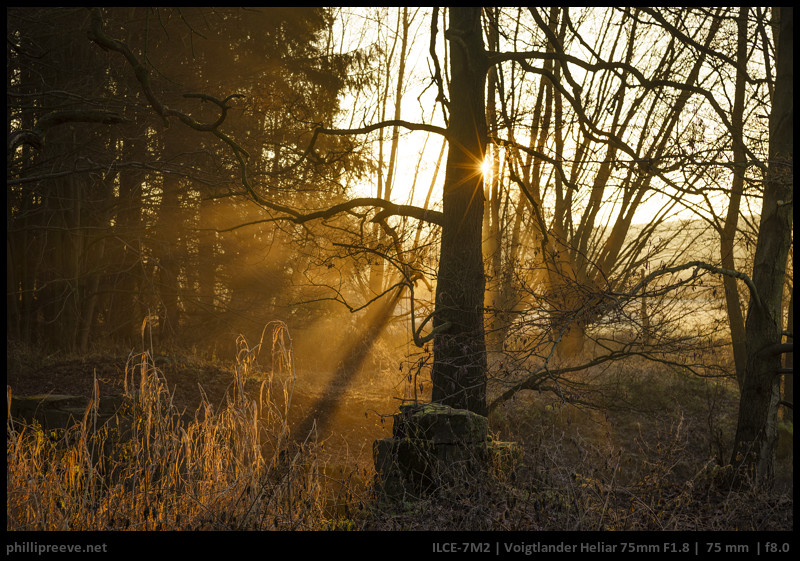 Flare resistance is generally good but you can get veiling flare as well as minor ghosting in critical situations. I didn't use a hood though which might improve performance in this regard.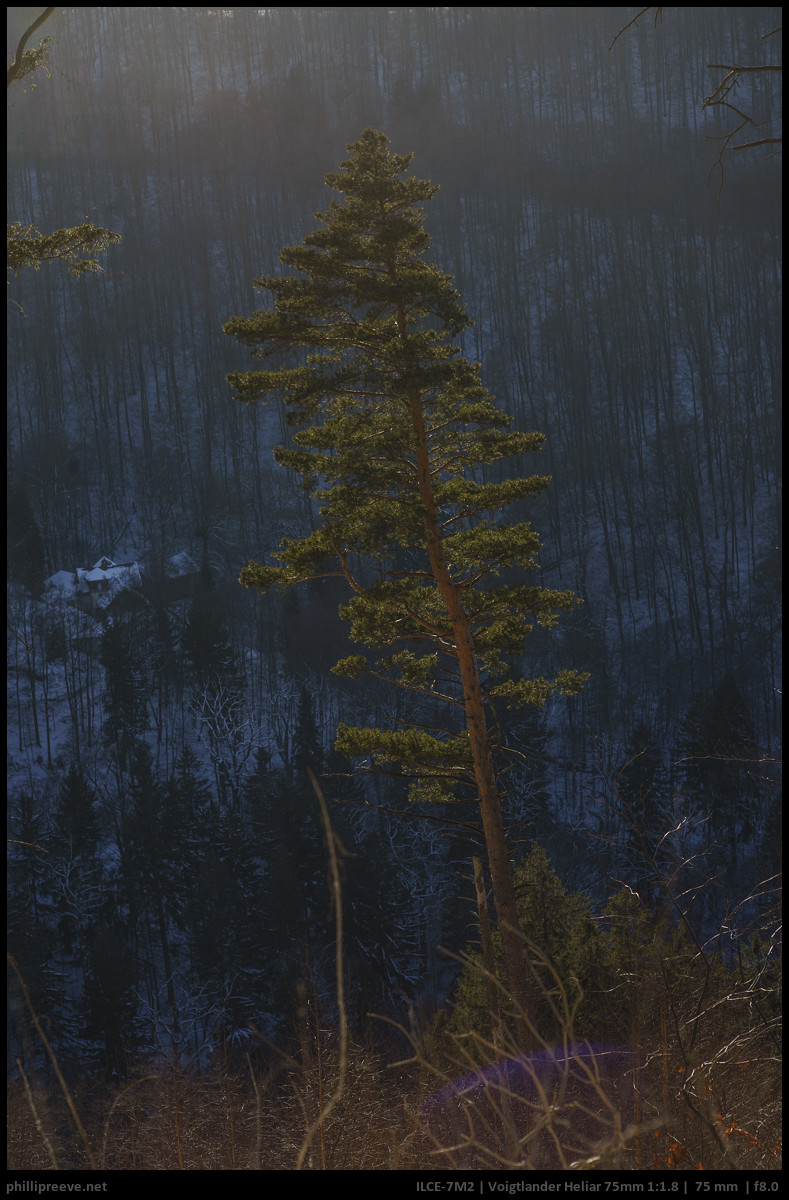 What I didn't like
The Sharpness
The 1.8/75 is part of the Voigtlander's classic line and it is indeed closer to classic portrait lenses which are usually a bit soft wide open though the Voigtlander has good contrast from f/1.8. At f/2.8 it is sharp in the center but it takes until f/4 until the center reaches an excellent level. For very good corners you should stop down to f/8.
I wasn't too happy with the sharpness: I used it wide open most of the time and found the results a bit lacking. It is sharp enough for web sized images but doesn't hold up well for bigger enlargements.
Click here to check my sharpness test.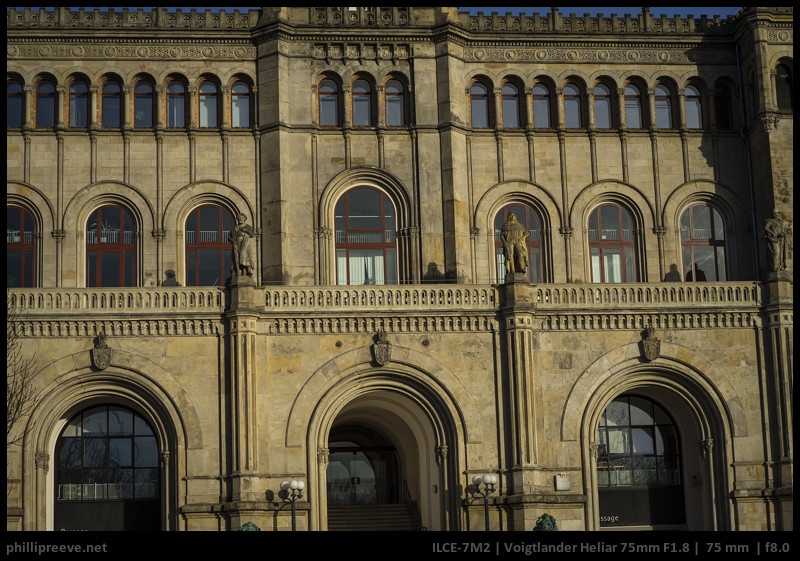 Chromatic aberrations
I had quite a few images which suffered from axial CA. The issue is very obvious especially wide open. Almost every other 85mm lens suffers from thi issue but I found it very obvious in the Heliar.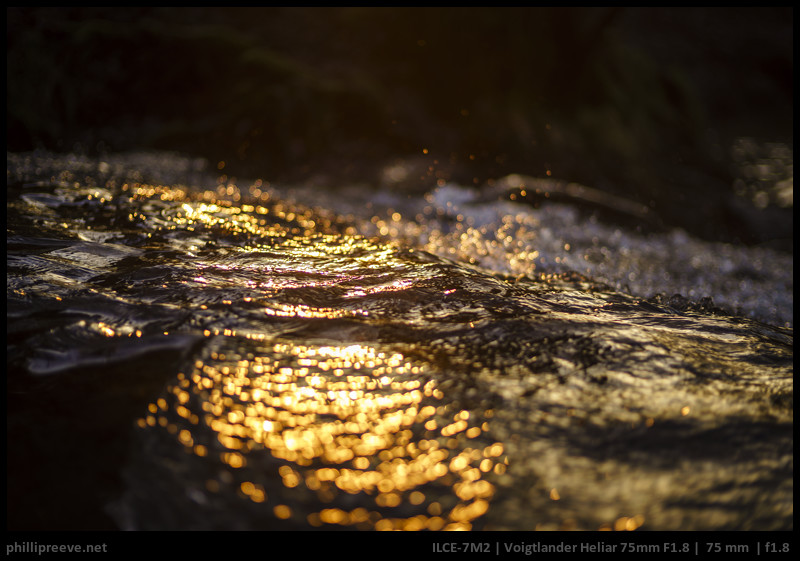 The Bokeh
The bokeh can be very smooth as in this image with an undemanding background: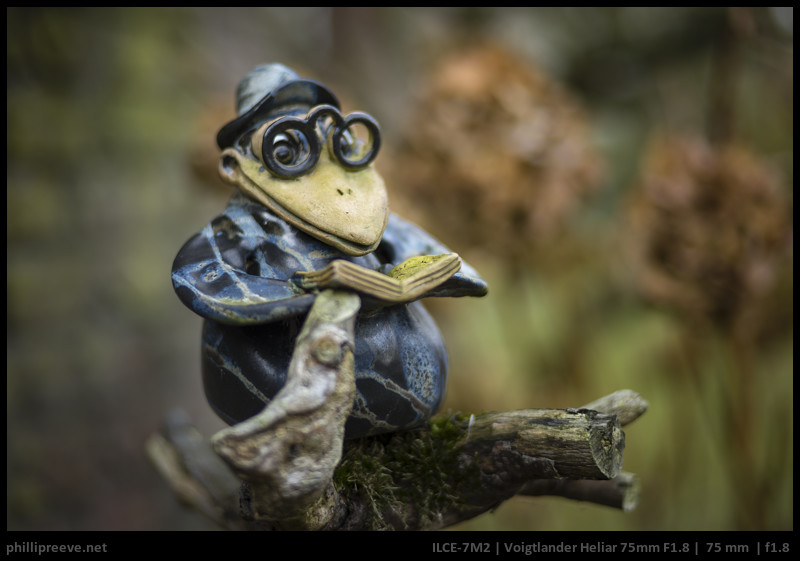 But in more challenging situations bokeh is a bit more nervous than I like: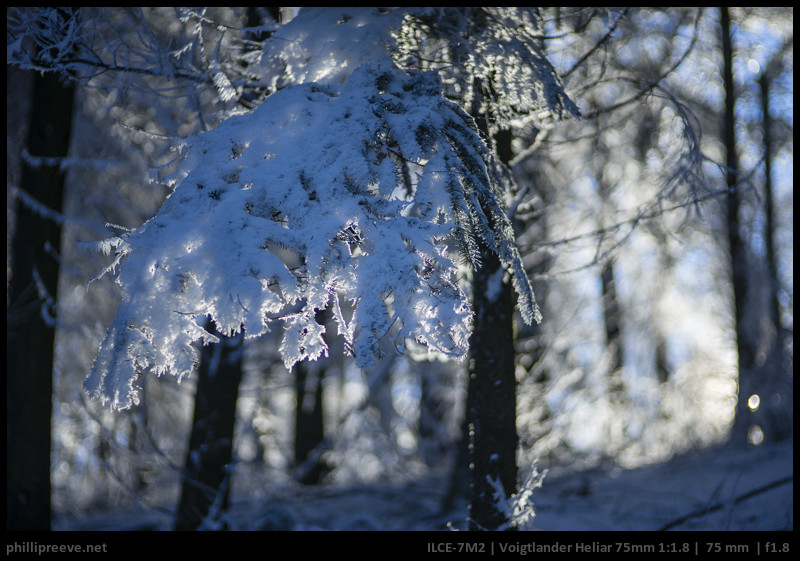 Alternatives
Olympus OM 100mm 1:2.8: Not quite the same focal length and speed but apart from the sunstars I like it better in any aspect and it costs a fourth of the Heliar.
Tokina 2.5/90 Macro: One of my all time favorite manual lenses. It is larger but it is sharper, has less CA, better bokeh and it focuses down to 1:2. The coatings of the Voigtländer are significantly more effective though.
Voigtländer Heliar 2.5/75: It's smaller brother is significantly smaller and lighter and as far as I can judge also a better performer.
Conclusion
I wouldn't recommend the Voigtländer Heliar 75mm 1:1.8 to photographers who look for a lens with similar performance to Voigtlander's modern lenses like the great 1.7/35 or 5.6/10. It isn't sharp enough at wider apertures for that and shows too many aberrations. It might be a decent option if you like a more classic look, after all there are very few alternatives when you look for a 75mm lens and it is very well made and not that expensive.
8/2019 Update: It's successor the Voigtlander 1.5/75 Nokton is a much more attractive lens in my opinion. Check it out.
The Voigtländer 1.8/75 usually sells for around $430 used at ebay.com (affiliate link). 
In Germany you can buy it used for around 400€ at ebay.de (affiliate link). 
If this review was helpful to you, please consider using one of my affiliate links. Thanks ?
Images Samples in full resolution
You can find more images in this flickr set: Voigtlander Heliar 75mm F1.8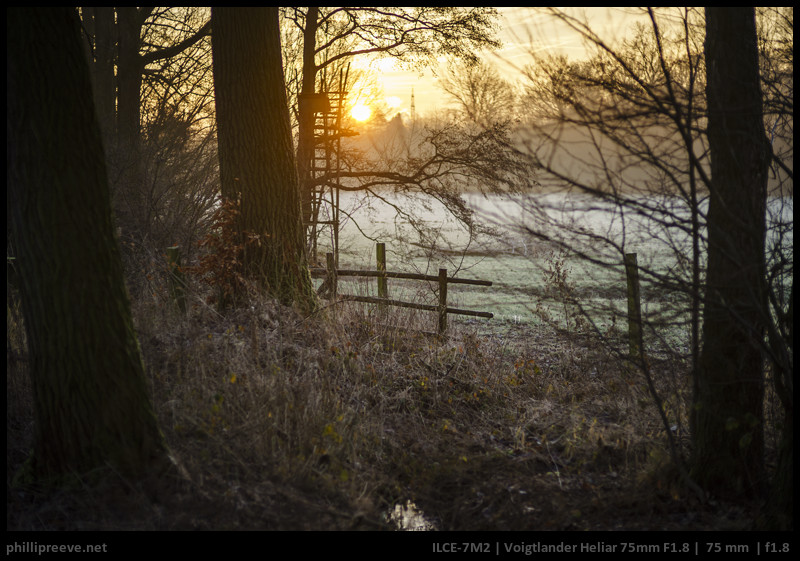 Other articles
The following two tabs change content below.
I have two hobbies: Photography and photographic gear. Both are related only to a small degree.
Latest posts by Phillip Reeve (see all)