The Voigtlander 1.4/21 is a relatively compact super fast lens for the Sony FE system. In this review I evaluate it's performance in a wide range of scenarios.
Image Samples
Most images in this review can be found in full resolution in my Voigtlander 1.4/21mm flickr set.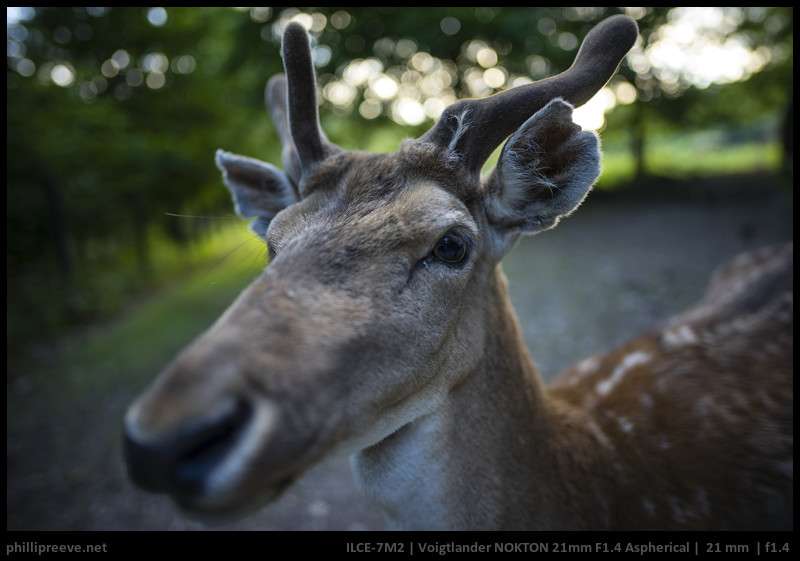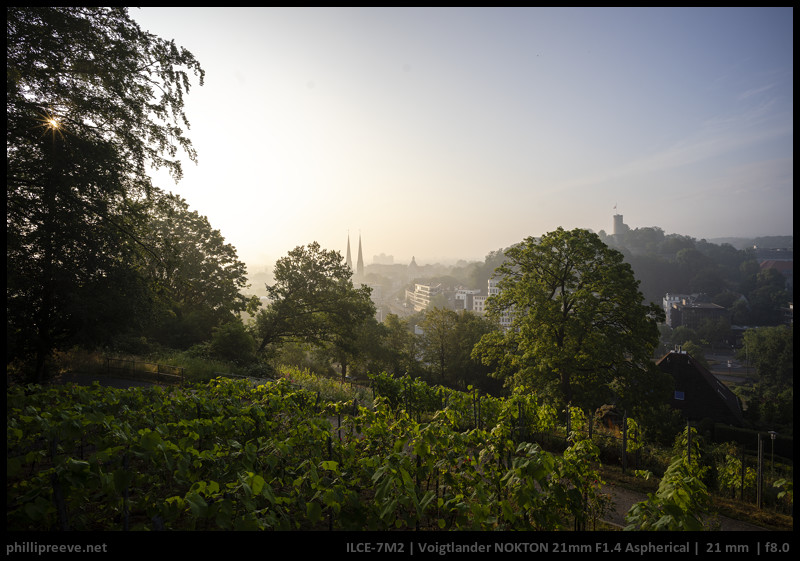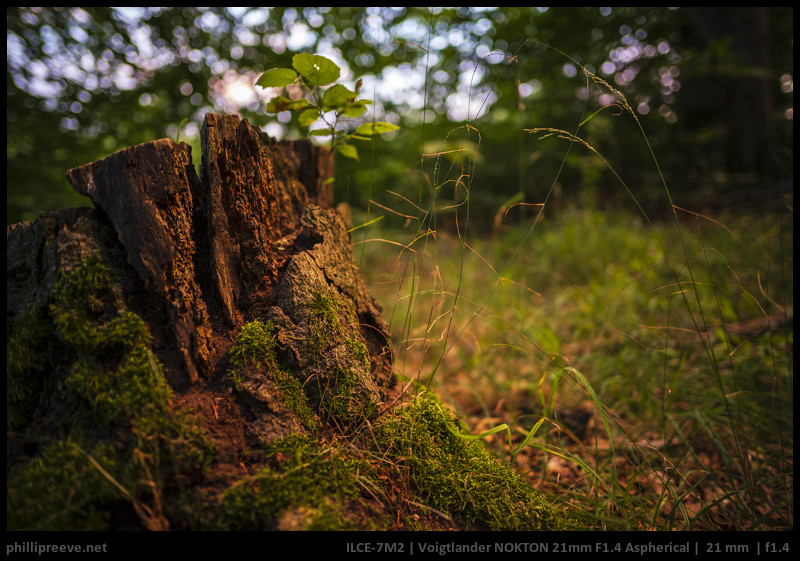 Specifications
| | |
| --- | --- |
| Diameter | 70.5 mm |
| Length | 79.5 mm |
| Filter Thread | 62 mm |
| Weight (no hood, no caps) | 539 g |
| Max. Magnification | 1:7 |
| Close Focusing Distance from the sensor | 0.25 m |
| Number of aperture blades | 12 |
| Elements/ Groups | 13/11 |
The Voigtlander 1.4/21 sells for $1199 at CameraQuest | Amazon.com or B&H. 1399€ at ebay.de or ebay.co.uk (affiliate links). If you purchase the lens through one of these affiliate-links I get a small compensation with no additional cost to you.

Changelog
28.6.2019 – Start of review
2.7.2019 – Added some Samples, linked full resolution images and updated alternatives section
finalized review
Disclosure
This copy was loaned to me free of charge from RobertWhite.co.uk for about three weeks. 
Features
The Voigtlander Nokton 21mm F1.4 is a fully manual lens so you have to change focus and aperture by yourself. The camera can't change the aperture so S- and P-mode will not work as with native lenses.
It has electronic contacts to communicate with the camera though. That provides correct EXIF-data, the OSS in all Sony cameras with IBIS will automatically know the correct focal length and the focus magnification can be automatically activated when the focus ring gets turned. Unlike Loxia lenses the Voigtlander has a distance encoder so the camera will show a pretty much useless digital distance scale and stabilization might be a bit more effective.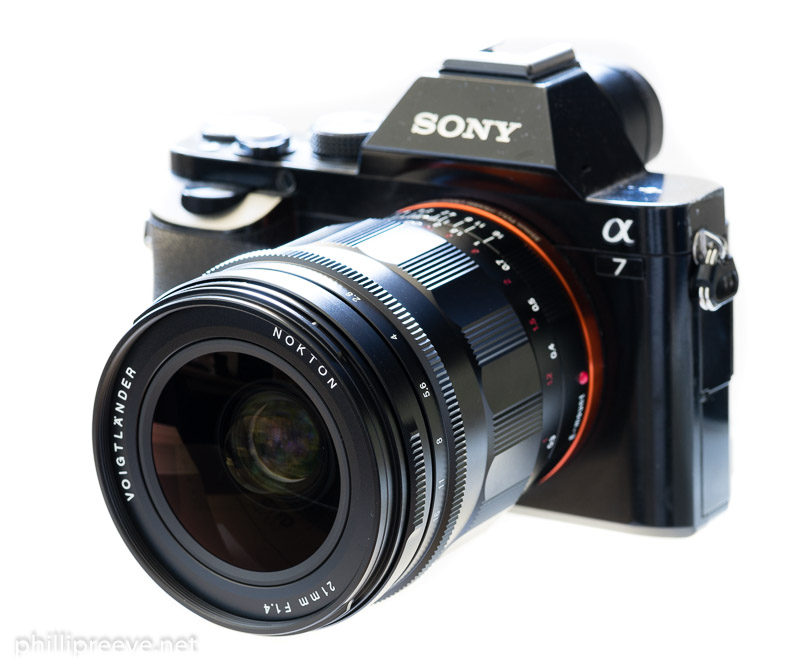 Build quality
The Voigtlander 21mm F1.4 feels really solid. The lens hull is made from nothing but metal and tolerances are very low. Most but not all markings are engraved.
There is no gasket around the mount and Voigtlander does not claim any weather resistance.
Of course I can't tell you how durable the lens will be in the long term. All I can do is give you my superficial impression which is very positive in this case.
Bastian once had to get his Voigtlander 1.7/35 repaired which had to be done in Japan and he had to wait many weeks for the repair while repairs from other manufacturers are usually much faster. Stephen from CameraQuest in the US told me that they do most repairs in house and that few lenses have to go to Japan.
Handling
If you have used Zeiss Loxia lenses you will probably have been frustrated by the fact that there is no good place to grab them when you change lenses. This is not an issue with the Voigtlander since you can easily grab it by its base which is textured for better grip.
Focus Ring
The focus ring travels around 110 degrees from 25 cm to 1 m and a further 20 degrees to infinity. I think that is a very reasonable transmission and I had no issues to focus precisely at longer distances. The ring itself is well textured and the resistance is about perfect.
Aperture ring
The aperture ring situated at the front is a joy to use. It is made from metal with distinctive stops and a very pleasant resistance. I would have preferred 1/2 or even full stops but 1/3 stops work ok. The Voigtlander stops down to f/16.
Hood
The Voigtlander 1.4/21 has a medium sized hood which locks into place very well and adds 26mm mm to the length of the camera. It can also be mounted in revers for storage. It is made from metal and weights 27g but it feels a little delicate to me, so I wouldn't store camera and lens on it like I would with a more solid feeling and rubberized lens hood as found on Sony GM lenses.
Size and Weight
The Voigtlander 1.4/21 is a medium sized lens. At 539g, it is about 70g heavier than the Sony GM 1.4/24 but less than 50g heavier than the 1 stop slower Tokina Firin 2/20.
Close Focus
The Voigtlander focuses down to 25cm which can give an interesting perspective emphasizing a subject while including the background.
It also maintains sharpness very well at close distances.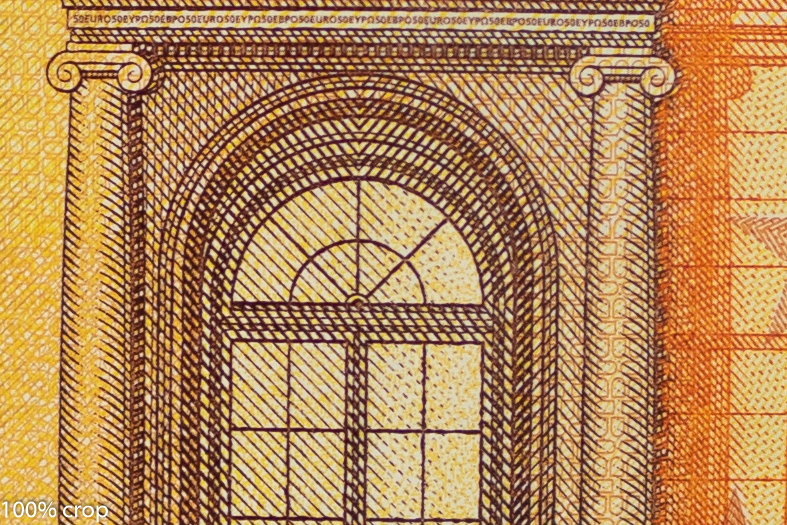 Optical performance
These results are based on the use with a Sony Alpha 7II.
Flare Resistance
As always evaluating flare is a complex matter since you can get any lens to look bad if you push it hard enough and a slight change of scenario will affect results a lot.
I think the Voigtlander compares well to other lenses, especially in regards to veiling flare. There is a small purple ghost in many more demanding images though.
Sunstars
Voigtlander lenses are known for their very defined sunstars. Personally I like this effect a lot, other people don't. You just need to stop down to f/1.7 until you get very well defined 12-pointed sunstars.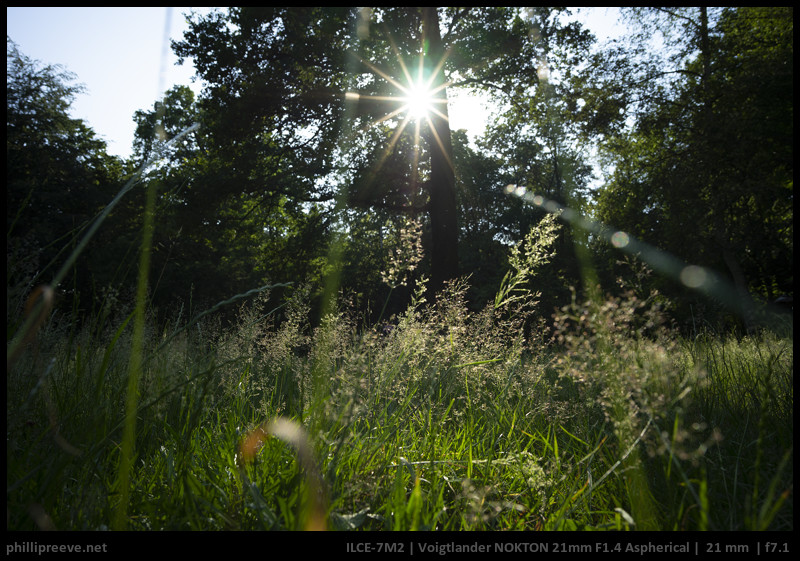 Bokeh
Thanks to the very fast aperture you can get a decent amount of subject isolation with the Voigtlander 21mm F1.4 so it makes sense to have a closer look at it.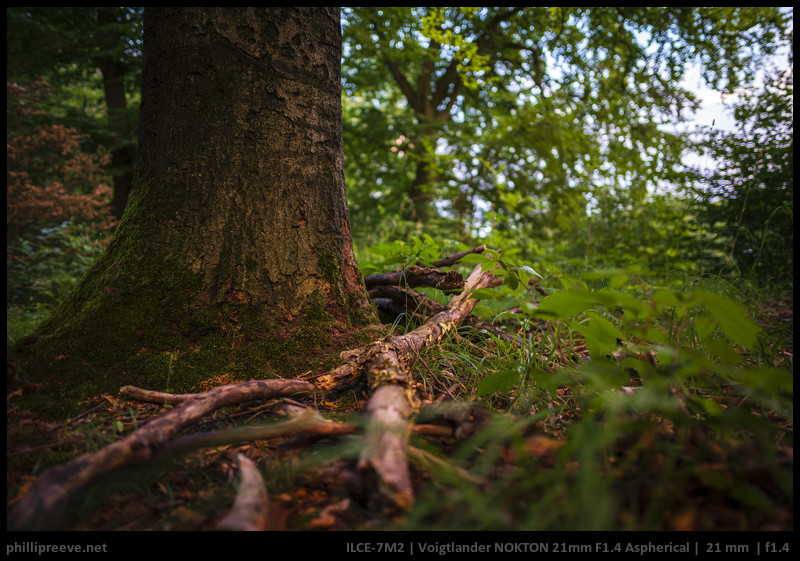 In the center the Voigtlander 1.4/21 shows neutral bokeh with no outlining of out of focus highlights and lower contrast in the out of focus area which makes for a pleasant look. Also note the smooth transitionout of focus.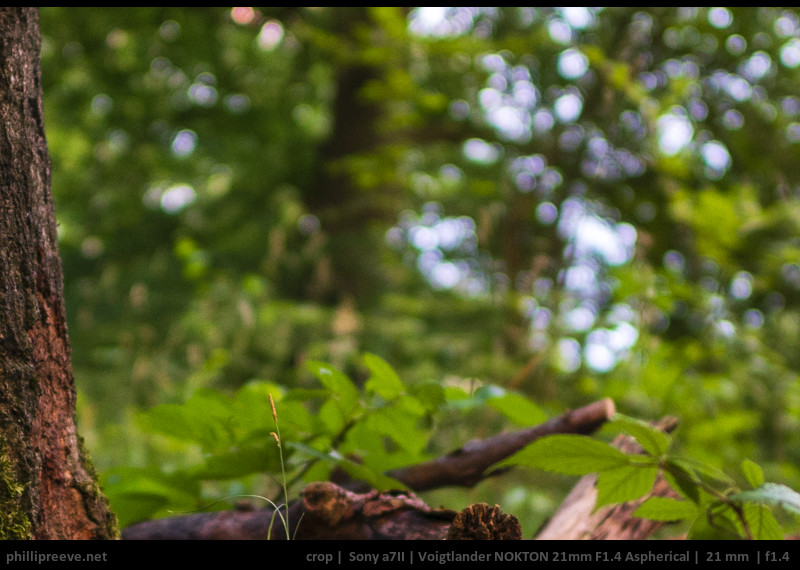 But as you move towards the corners you can see  more outlining and also smaller out of focus highlights.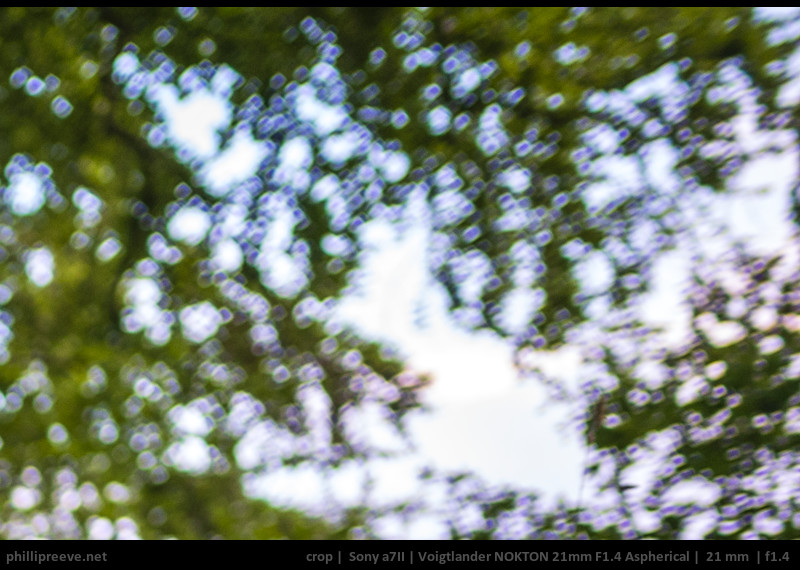 If you are focused close enough this behavior is less of an issue and you can get smooth backgrounds: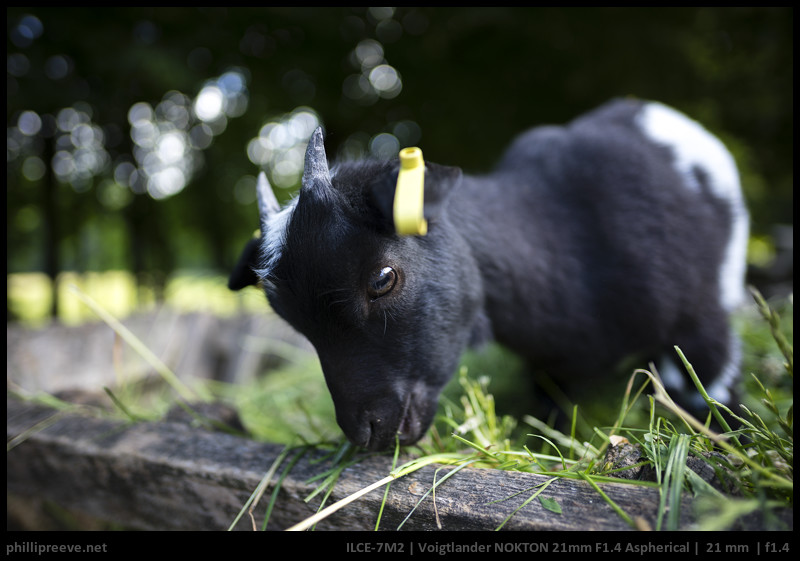 But for images with the subjects further away it causes less smooth rendering.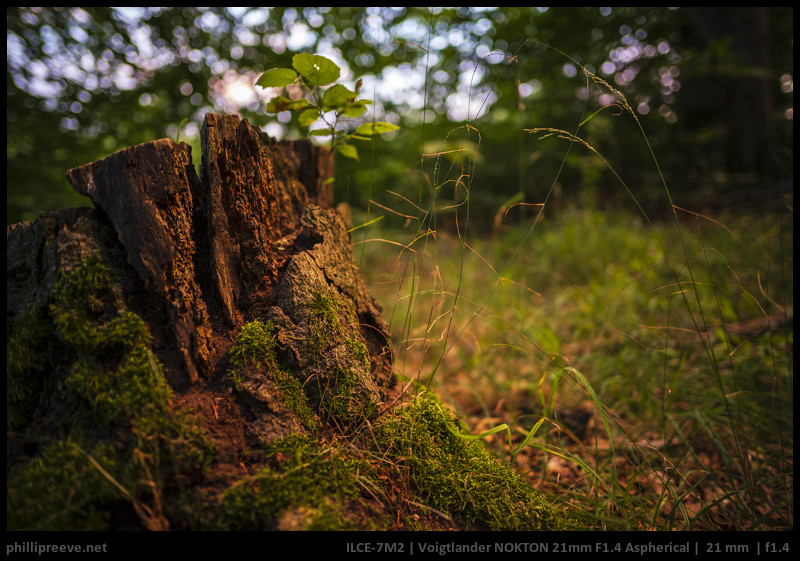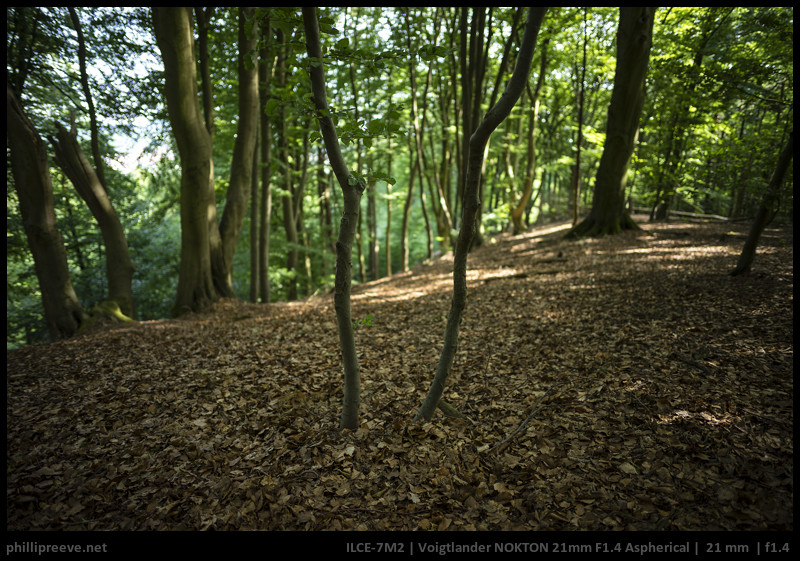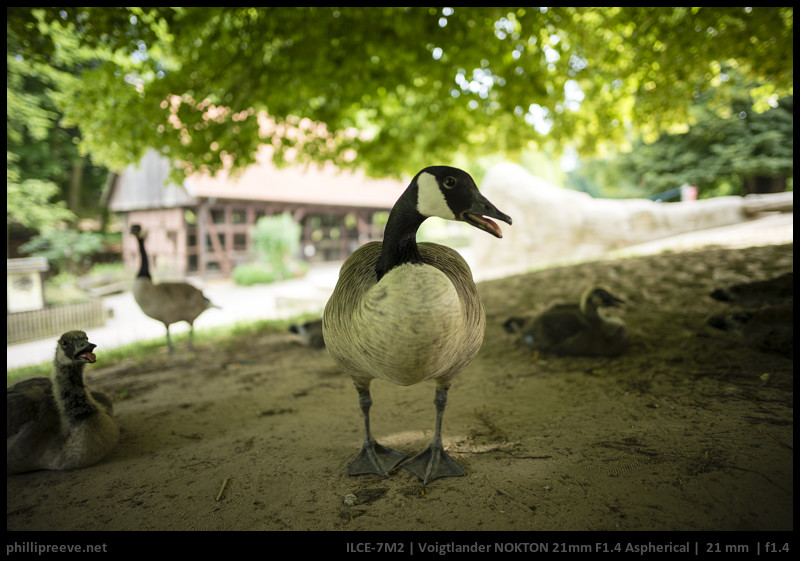 From wide open out of focus highlights stay round into the corners so cat's eyes are not an issue. Also as you stop down highlights stay pretty much round thanks to 12 aperture blades.
Chromatic Aberrations
Axial CA and bokeh fringing are controlled quite well. You see some but compared to other faster widea ngles the Voigtlander turns in a very respectable performance.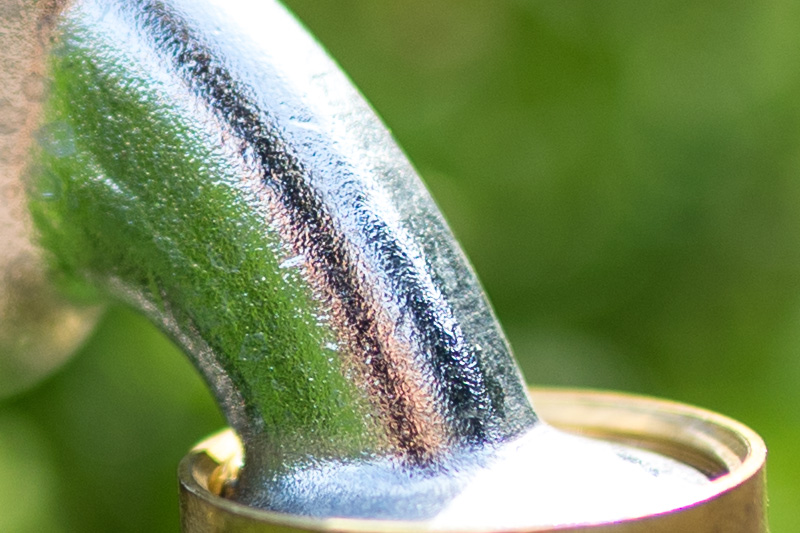 Lateral CA correction I would rate as average to good.
Vignetting
Vignetting is very high at 3.4 stops wide open which is reduced to still high 2.2 stops from f/2.8. This is easily visible in images and detrimental applications like astro-photography. As you open the aperture from f1.4 to f2 the extreme corner gains hardly any exposure.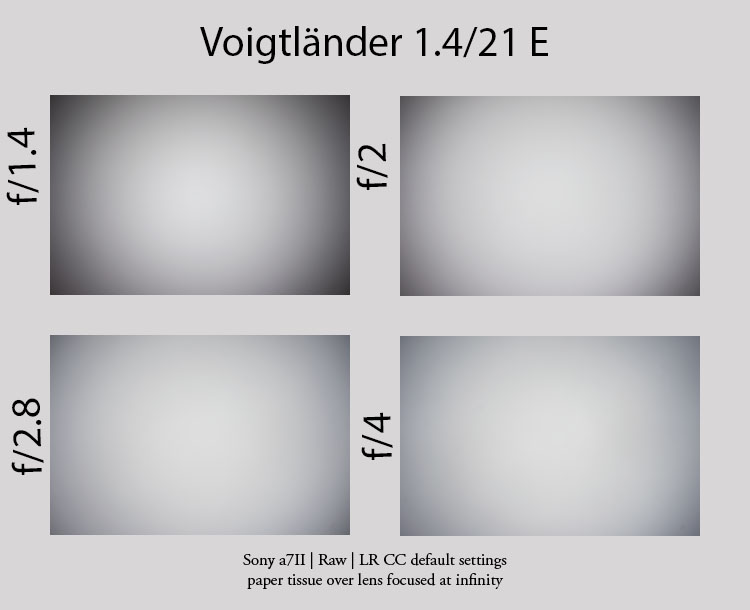 | | |
| --- | --- |
| Aperture | Vignetting |
| f/1.4 | 3.4 EV |
| f/2 | 2.6 EV |
| f/2.8 | 2.2 EV |
| f/4 | 2.0 EV |
| f/5.6 | 1.9 EV |
Distortion
Distortion isn't strong but complex. -2 in LR reduced it but didn't correct it fully.
With a profile it should be easily corrected with little loss and there will be few scenarios where it needs to be corrected.
Coma
Coma correction at f/1.4 is pretty average and it improves significantly by f/2 for any but the brightest stars. By f/2.8 coma is very well controlled.
Center
Corner

Sharpness
This copy isn't well centered. It is actually at the limit of what I would accept from a lens so keep this in mind when you look at the results below.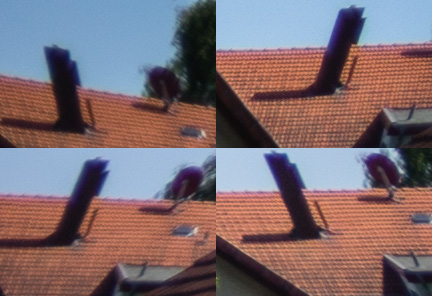 f/1.4: Very good sharpness up to the midframe area. Corners are much lower in contrast.
f/2: Center and midframe are pick up a little contrast. Hardly any improvement in the corners.
f/2.8: Corners improve a lot to very good levels.
f/4: Excellent to very good across the frame. Remarkable.
f/5.6: Since there is little to improve pretty much the same as f/4.
f/8: Since there is little to improve pretty much the same as f/4, maybe a little softer.
f/11: Some softening due to diffraction.
The Voigtlander turns in an excellent performance in this category. You can use f/1.4 without hesitation for environmental portraits and by f/4 you can expect excellent across the frame sharpness. For a super wideangle this is an outstanding performance.
Alternatives
Sony GM 1.4/24: If you are into reportage style photography the Sony is probably the better alternative since it offers AF, smoother bokeh and a little better across the frame sharpness at f/1.4 and f/2. It also comes out ahead for astro photography with less coma and vignetting. As a landscape lens I would certainly prefer the Voigtlander with better across the frame sharpness stopped down and also nicer sunstars and manual focus. The Gm is 100g lighter and weather sealed but also a little more expensive. Also see Fred Miranda's comparison.
review | 445g | $1399
Zeiss Loxia 2.8/21: Based on Fred Miranda's tests the Loxia shows more field curvature than the Voigtlander because of which the Voigtlander can be sharper in flat scenes. Overall though both are very close in sharpness. In regard to flare both seem to be different but both deliver a good performance and I don't see one as clearly better. The Loxia is of course 140g lighter and available used for less money than the Voigtlander. Handling for me is a clear win for the Voigtlander. If landscape is your only use for a 21mm then I would go for the Loxia but the Voigtlander can match it's performance and because of it's two stop advantage it is more versatile so the added weight and bulk might be worth it.
review | 394 g  | $1499
Tokina Firin 2/20: The 1 stop slower Tokina is more affordable and I think it has better coma-correction at f/2 while the Voigtlander handles backlit scenes better, has better flare resistance and nicer sunstars as well as nicer handling. I also enjoyed the handling of the Voigtlander more but the Tokina offers a lot for the money.
review | 490 g | $799
Voigtländer 3.5/21: Two 21mm lenses from the same manufacturer which have rather different strengths. The 3.5/21 is much smaller, lighter and more affordable. The 1.4/21 is more versatile because it is so much faster and also a little sharper stopped down since it does not suffer from the midzone dip.
review | 230g | $699
Voigtländer 1.8/21 VM: I haven't used this lens myself but several people asked for it. From the samples I could gather on Sony cameras but also to a lesser degree on Leica cameras it suffers from field curvature which makes it much less useful for astro and also can cause weird bokeh effects at medium distances. I also see some colorshift. If you get a good deal on it it still might be a decent investment but in general I see the not much bigger nor much more expensive 1.4/21 with electronic contacts and much better close focus ability as much more attractive on E-mount.
sample images | 412g + adapter | $1049
Sigma ART 1.4/20: The only other f/1.4 super-wideangle in E-mount is a little cheaper but weights twice as much. On reason is that it is a converted SLR-lens. As far as sharpness or coma-correction is concerned it doesn't seem to be any better so the Voigtlander seems to be the much more attractive option to me.
lenstip review | 1050g | $899
Leica Summilux 1.4/21: The only other lens with the same speed and focal length. It costs about 6 times as much, doesn't focus as close and also seems to not perform as well because of a stronger midzone dip. Poor Leica users ;).
Ron Scheffler comparison | 580g | $7795
Conclusion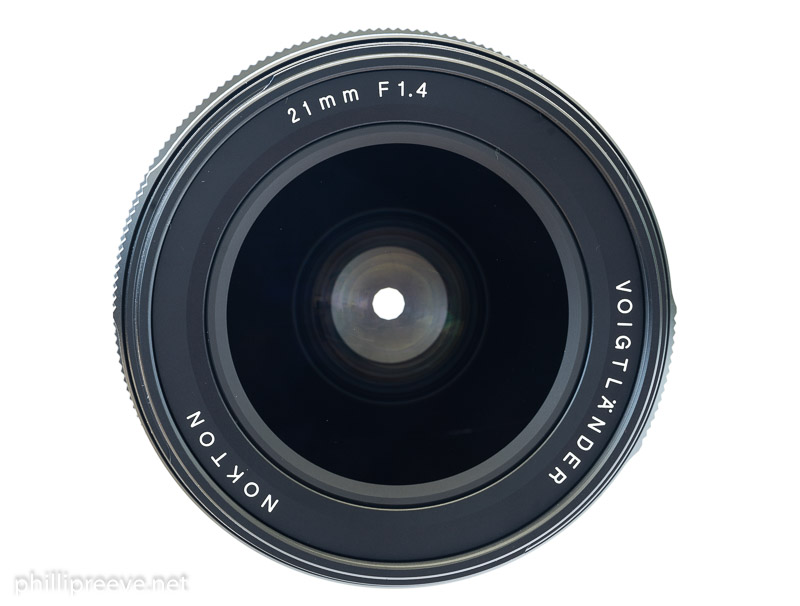 pros

Sharpness 

CA correction

Flare Resistance

Sunstars

Bokeh

Build quality

Handling

Distortion

average
cons
In my tests the Voigtlander 21mm F1.4 turned in a very good performance. It sets the standard in sharpness for a wideangle lens, controls CA well and while the bokeh has some shortcomings I would rate it as an overall positive as well. Good flare resistance and well defined sunstars also add to it's appeal as a landscape lens. While the coma correction isn't bad you wouldn't want to use it at f/1.4 which would have been a big appeal for the Voigtlander. The only real negative I could find is the very strong vignetting. As expected from a Voigtlander lens handling is best in class and the lens feels very solid. The Voigtlander is larger than some E-mount lenses, most of them slower, but for it's overall performance it is relatively small.
There isn't really any category where I would rate the 1.4/21 best in class: For reportage or astro the Sony GM 1.4/24 is an even stronger competitor but it isn't as good a landscape lens. For landscapes the 2 stops slower Loxia 2.8/21 isn't any better but it is as good and smaller and lighter. Overall though the combination of speed, handling and performance make it the most versatile and appealing wideangle lens in the system only rivaled by the GM 1.4/24. For the offered performance the price is very competitive.
The Voigtlander 21mm F1.4 Nokton packs class leading sharpness and speed into a relatively small lens which is a joy to handle and relatively affordable for what it does. Highly recommended to those who enjoy manual focus and are in need of a very versatile wideangle.
The Voigtlander 1.4/21 sells for $1199 at CameraQuest | Amazon.com or B&H. 1399€ at ebay.de or ebay.co.uk (affiliate links).
If this review was helpful to you, please consider using one of my affiliate links. I will receive a small commission on your purchase and there is no added cost to you. 
More Image Samples
Most images in this review can be found in full resolution in my Voigtlander 1.4/21mm flickr set.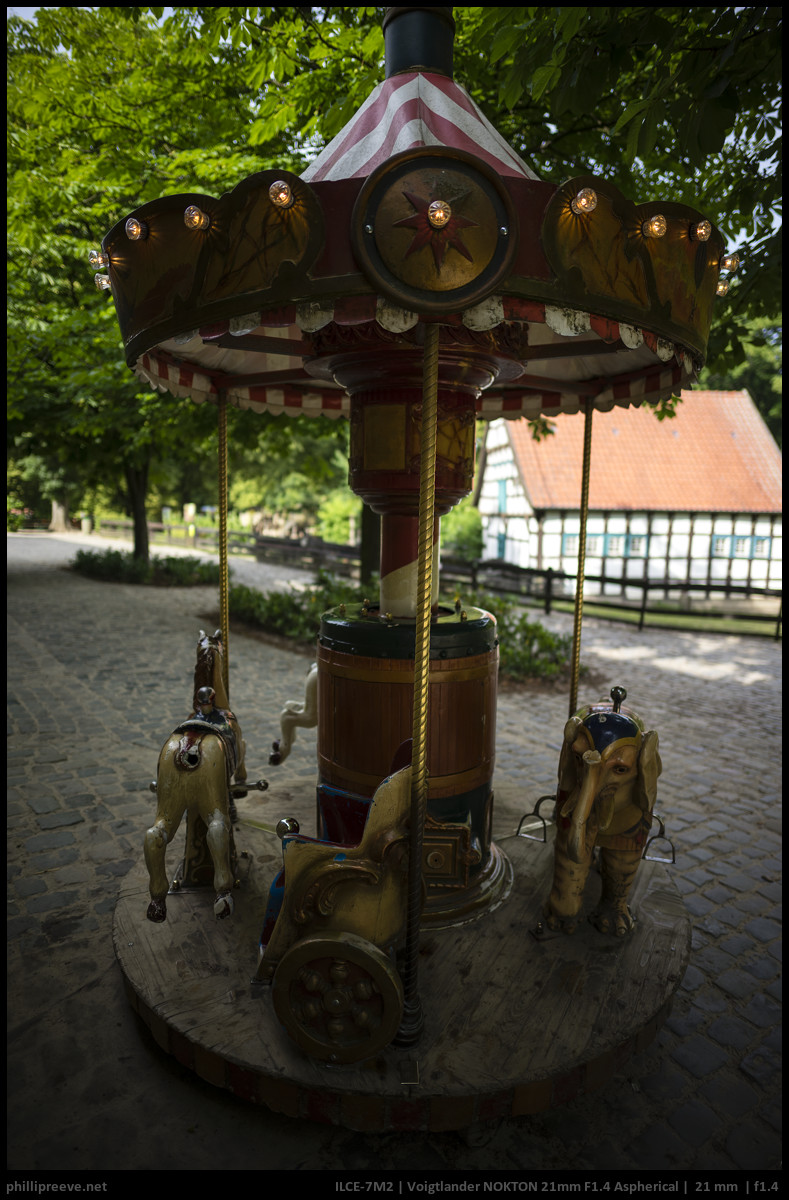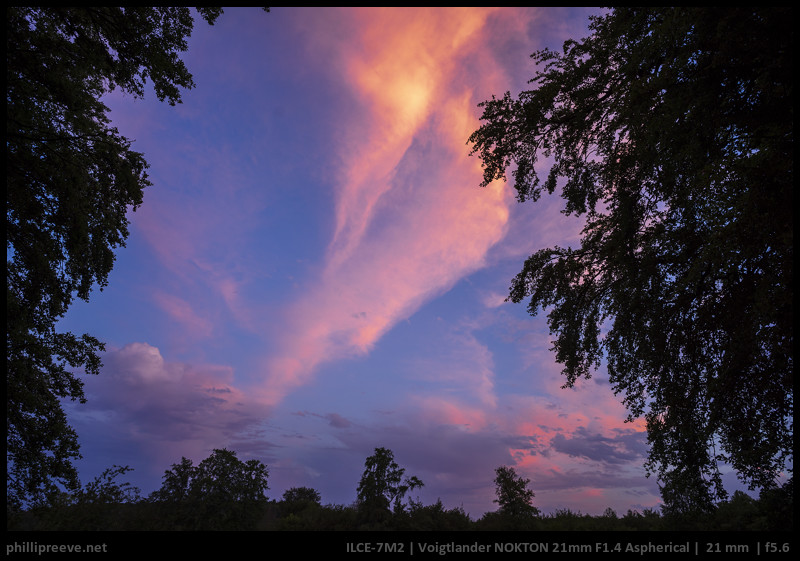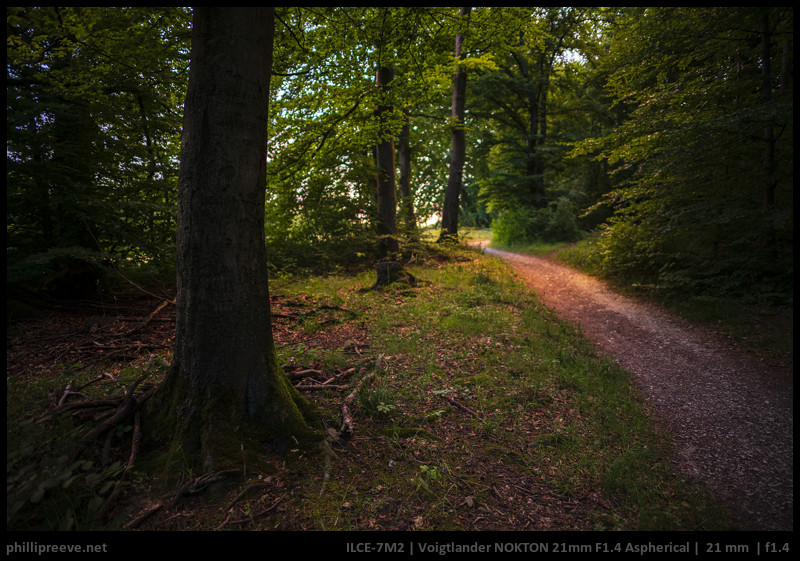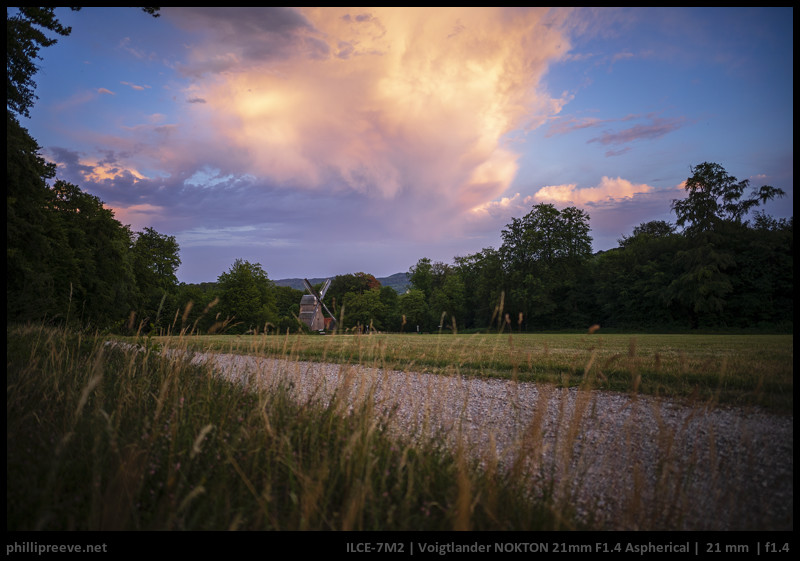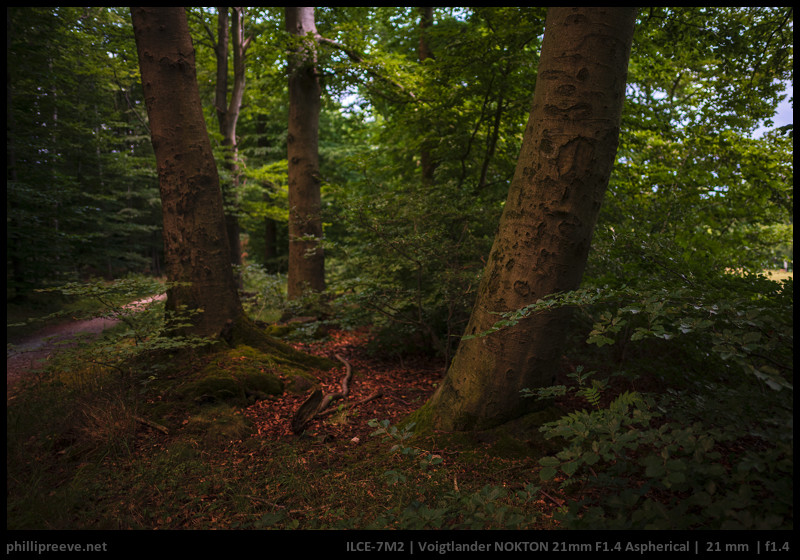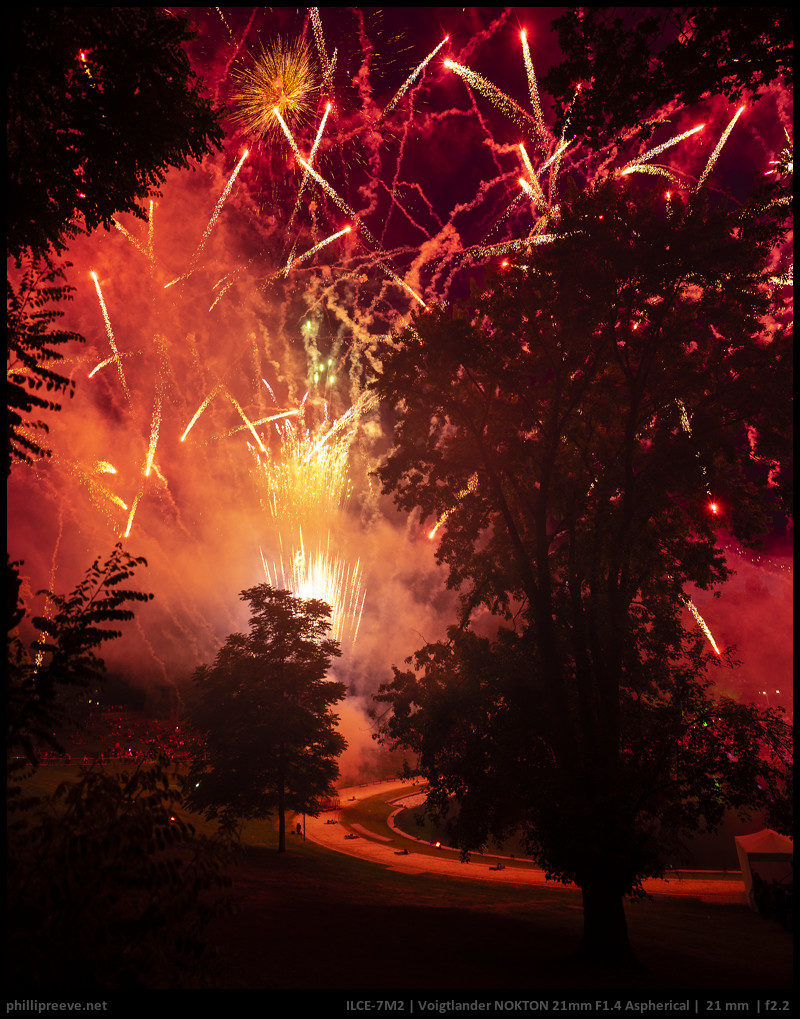 Other articles
The following two tabs change content below.
I have two hobbies: Photography and photographic gear. Both are related only to a small degree.
Latest posts by Phillip Reeve (see all)