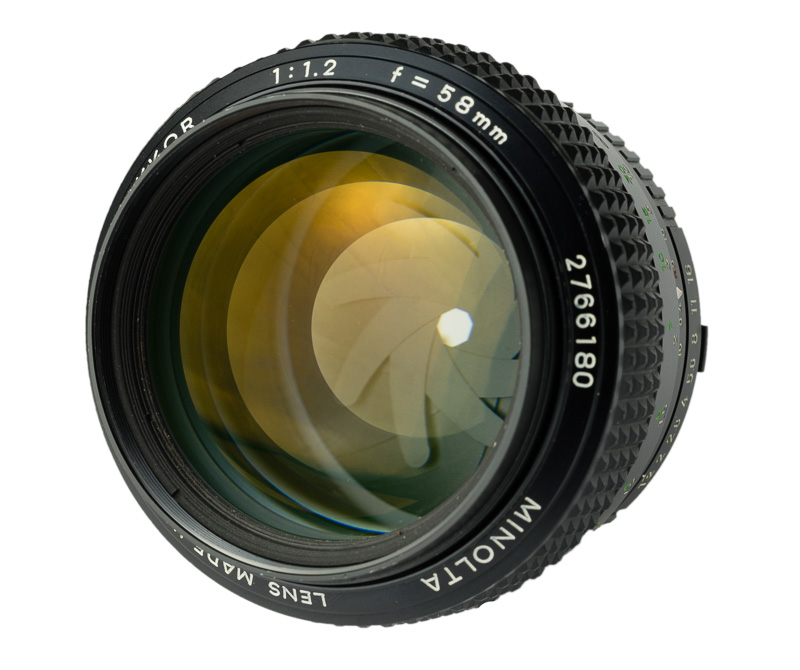 The Minolta MC 1.2/58 is probably Minolta's most famous lens and a personal favorite of mine. In this in-depth review I have a close look at the Minolta's qualities and also at its weaknesses.
Image Samples
You can find most images shown in the review in full resolution in this Minolta MC 1.2/58 flickr album.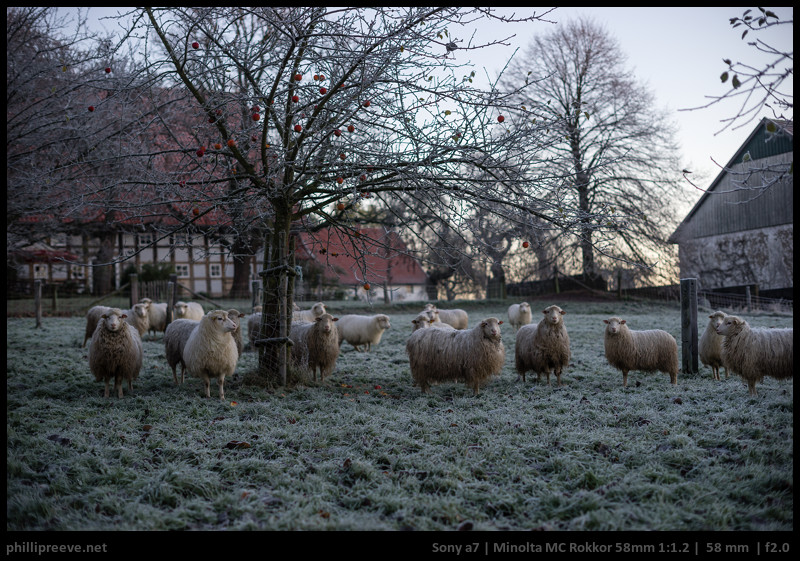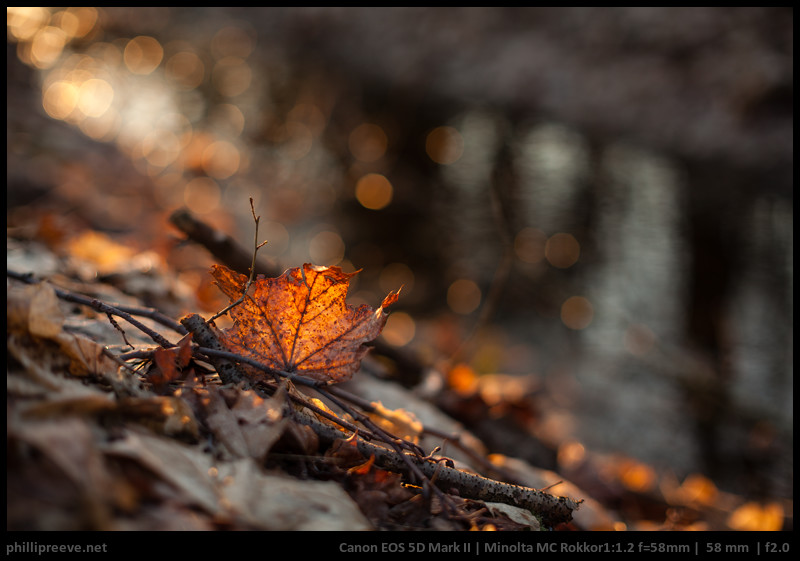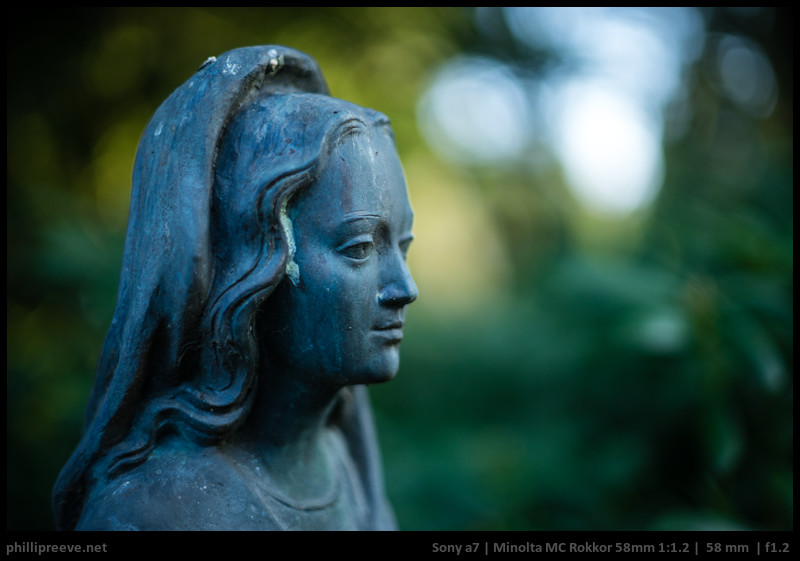 Specifications
| | |
| --- | --- |
| Diameter | 71 mm |
| Length | 54 mm |
| Filter Thread | 55 mm |
| Weight |  478 g |
| Max. Magnification | 1:8 |
| Close Focusing Distance from the sensor | 0.6 m |
| Number of aperture blades | 8 |
| Elements/ Groups | 7/5 |
TheMinolta MC 1.2/58 sells for $350-450 at ebay.com or 330-400€ at ebay.de (affiliate links). If you purchase the lens through one of these affiliate-links I get a small compensation with no additional cost to you. 
Features and Compatibility
The Minolta's most sought after feature is its speed: many photographers pay a very significant premium for the super fast aperture of f/1.2. In my experience this aperture is actually of limited practical use and I would argue that its biggest feature is the very nice bokeh at f/2. More on that in the review.
The Minolta MC 1.2/58 is a fully manual lens. Because of the mechanical construction of the lens it is, in contrast to almost every other Minolta SR-mount lens, quite easy to adapt it to either Canon EF or Sony A-mount.
Adapters are made by Leitax and Jim Buchanan. I used the lens on a Canon 5dII for some time with a Leitax Adapter which is really solid, without modification it can't be focused further than 5m without hitting the mirror though.
It is even easier to use this lens with a Sony a7 series camera or any other mirrorless system because these cameras have a flange focal distance than traditional DSLRs and this lens can be directly adapted with a adapter.
Also check out my Minolta SR-mount adapter guide.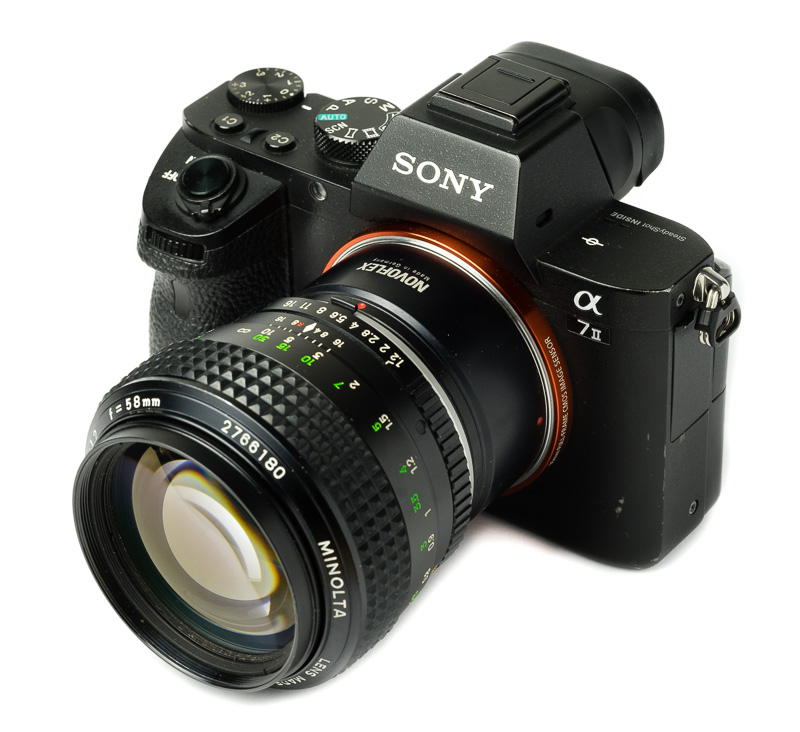 Versions
There are 3 mechanically different versions of the lens which share the same optical design.
The first version was built from  1966-1969 and the focusing ring is made completely from metal and flat. It is the rarest of the three versions and its lenses develops a yellow cast over time which might be due to a radioactive element. You can see an image of it here.
The second version was built from 1969-1973 and the focusing ring is also completely from metal but it has some elevations which the first one didn't have.
The third version is most common and was built from 1973.
The lens has a rubberized waffle style focusing ring and while all the earlier versions were labeled Rokkor-PG (indicating a 5 Groups, 7 lenses design) the PG-affix was dropped during the production of this version.
The images shown in this post depict the third version.
All versions seem to perform the same, of course there is sample variation and someone might find that his older copy performs better than a younger one but I don't know of any evidence indicating a systematic difference between them.
Build quality and handling
The lens is completely made of high quality metals with a rubberized focus ring. It feels very solid.
It is really resistant to mechanical wear, even though I have used this 45-years-old lens quite a lot there are close to no scratches.
The focus ring turns nice an smoothly. The focus ring travels about 80° from 60cm to 1m and a further 95° to infinity which is just about right for any application. It doesn't get  better than this.
The aperture ring can be adjusted in half-stops, only from f/1.2 to f/2 the is no stop between. The ring feels very solid and the clicks are distinctive.
The original hood is quite rare and pretty expensive. Since I don't own it I can't tell you much about it. I use a very solid metal hood from the MC 1.4/50 instead which is a little shorter but protects the front element well.
Size and Weight

At 478g the Minolta MC 1.2/58 is a substantial lens and significantly heavier than other f/1.4 standard lenses which are usually below 300g. So it is a little annoying to carry it but handling is about perfect on my a7II where it is very well balanced.
Optical performance
These results are based on the use with a Sony a7 and a7II.
Flare Resistance
Minolta lenses are known to be rather flare prone and the 1.2/58 has a pretty big front element so it is hardly surprising that it often shows ghosting and veiling flare. If good flare resistance is important to you, this lens is not for you.
At times I like to embrace this technical weakness and play with it.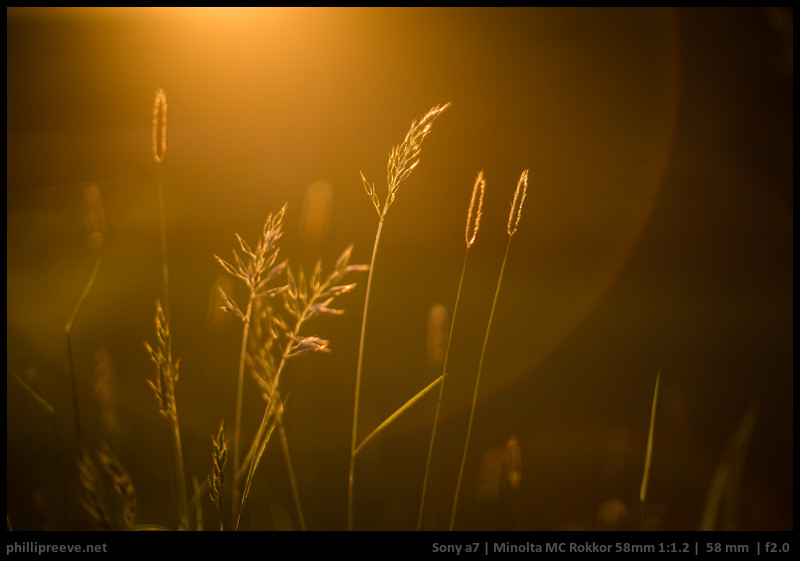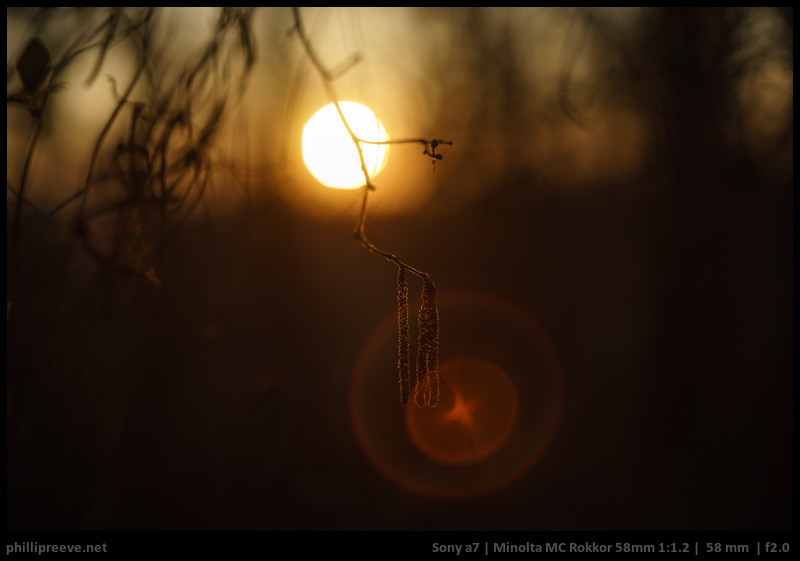 Sunstars
The Minolta is one of few SR-mount lenses with 8 aperture blades which results in somewhat decent sunstars stopped down to f/11 or f/16 but you have to consider the bad flare resistance so this isn't worth that much.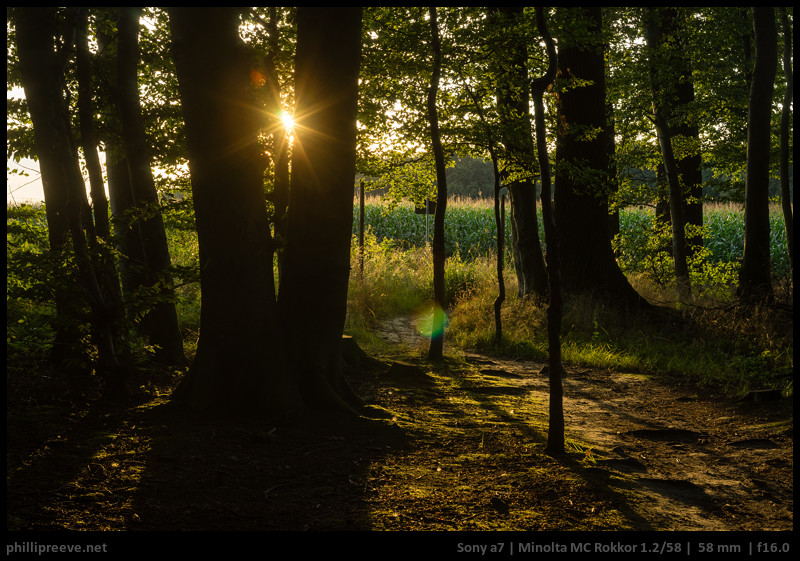 Bokeh
The Minolta MC 1.2/58 has a reputation for its bokeh so let's have a in-depth look at it.
Scenario 1: Medium Distance
At f/1.2 bokeh is somewhat busy. There is quite a bit of outlining in bright oof highlights behind the focus plane as well as quite a lot of green fringing.
At f/2 bokeh is  smooth with hardly any outlining and much less fringing.
f/2.8 is even smoother but of course with significantly less blur. The aperture shape doesn't really deteriorate.
The transition zone is rather smooth at all apertures.
Scenario 2: Short Distance, backlit
Here the busy bokeh wide open is less distracting and color fringing not an issue because of the warmer colors.
Scene 3: Medium Distance, backlit.
This is a torture test which would be a hard test for any lens. Even at f/2 which gave very good results in the tests before the Minolta struggles. As before the center shows somewhat busy bokeh wide open which improves a lot at f/2 so no real issues here. The issues are visible at the edges which are pretty busy. Stopping down to f/2.8 reduces the issue but it does not eliminate it. We also see quite a lot of color fringing behind the focus plane at f/1.2 and f/2. Only by f/2.8 fringing is controlled well enough.
Scene 4: Cat-Eyes and Aperture Shape
We see pronounced cat-eyes wide open and less defined octagons stopped down.
Conclusion Bokeh: So what to make of these results? Compared to any other legacy normal lens I have ever tested the Minolta has the smoothest bokeh. So the hype is justified to a degree. A few of the finest modern lenses have smother bokeh with less CA though even if that comes at the cost of onion rings which the Minolta doesn't have.
F/1.2 field use
F/1.2 can work well for some scenarios but it should really only be used with consideration since results easily turn rather funky when scenes have a higher contrast.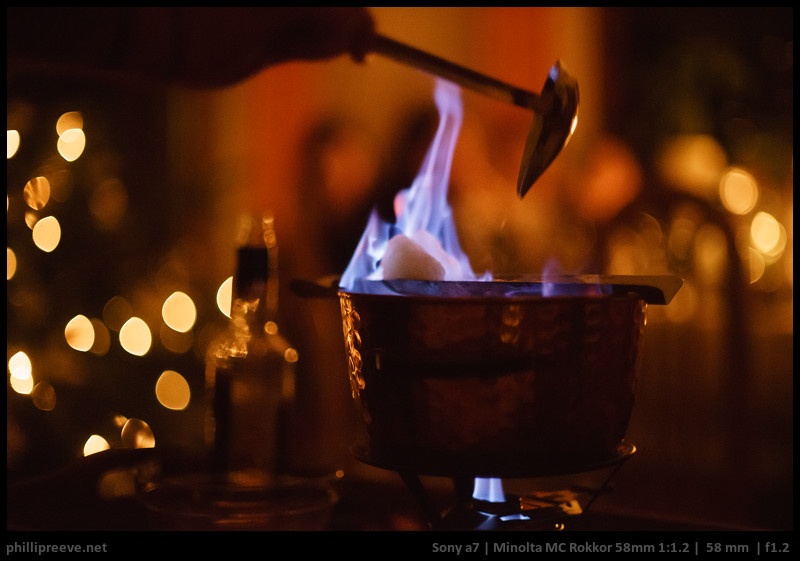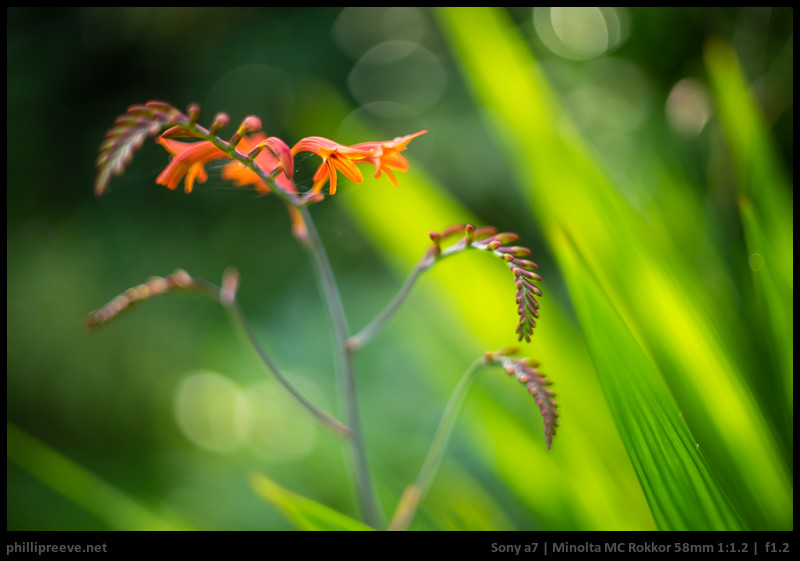 f/2 field use
Maybe 80% of the time I use the Minolta MC 1.2/58 at f/2 because at this aperture it combines decent sharpness with very nice bokeh and good blur potential.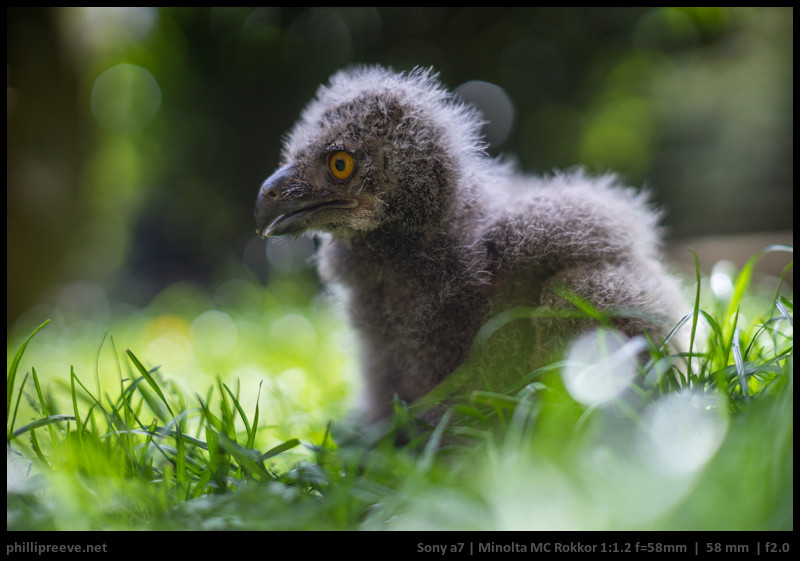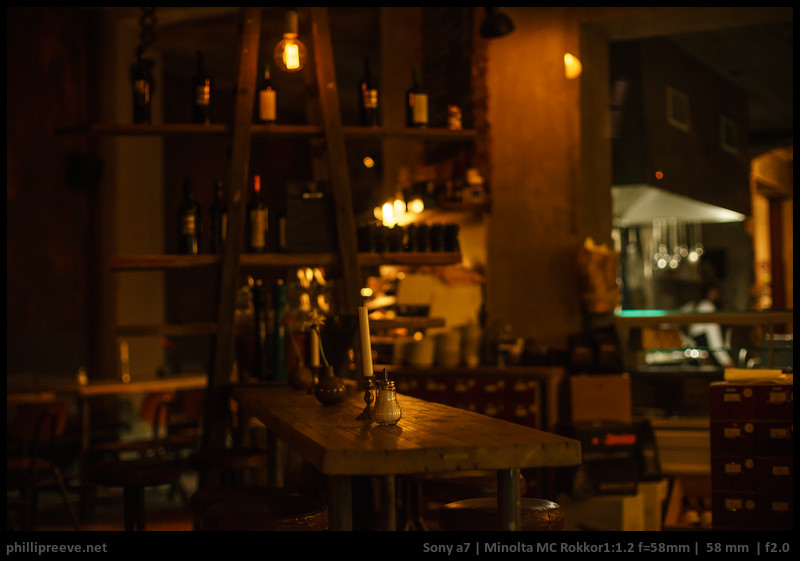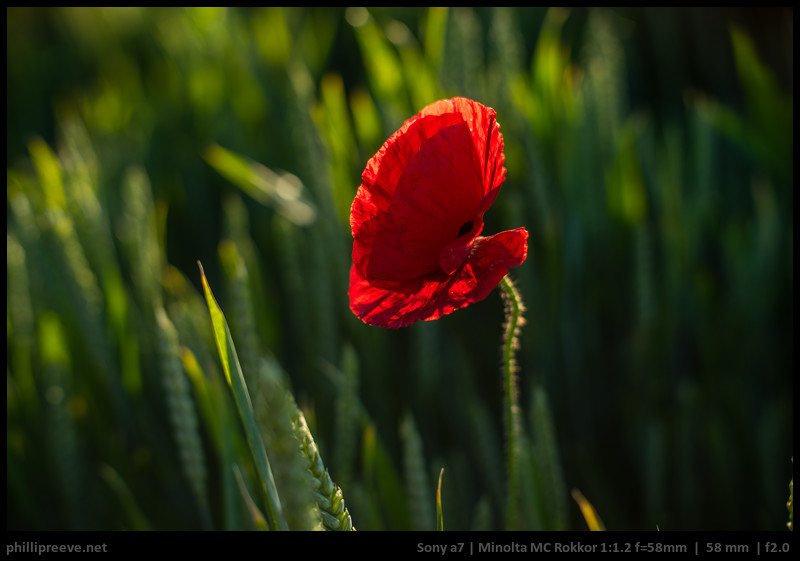 f/2.8 and above field use
I see no reason to buy the Minolta if your focus is on using it stopped down since other smaller and more affordable lenses give excellent results as well but if you have it with you you can be sure to get excellent results unless you have detail in the extreme corners at f/2.8 or shoot into the sun.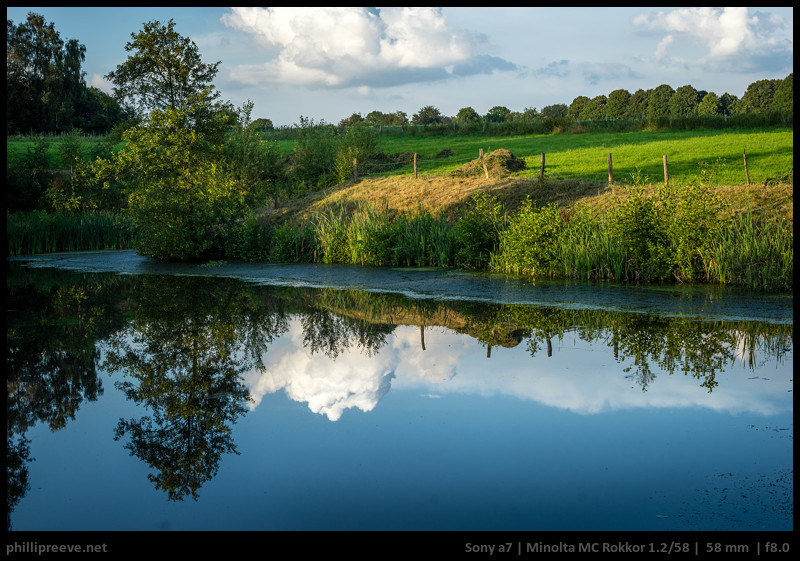 Contrast
The Minolta 1.2/58 has very low contrast wide open which improves to decent levels at f/2 and good levels by f/2.8. Sample images developed with default settings in LR.
Chromatic Aberrations
Because of the season I couldn't find any water fountains but even so I can tell you that axial CA are an issue for some scenes at f/1.2 and f/2. CA isn't gone completely but much reduced by f/2.8.
Lateral CA on the other hand are corrected really well and close to invisible in my testing.
Vignetting
f/1.2: is very strong at 2.5 stops.
f/2: is 1.5 stops which is still visible for many scenarios
f/2.8: 0.8 stops which is hardly noticeable
f/5.6: No issue at all at 0.3 stops.
From my testing I also have to report that transmission in the center is improved by just one, not the expected 1.5 stops in the center.
Distortion
The Minolta 1.2/58 shows minor barrel distortion which should be hardly noticeable but it can be corrected almost perfectly with a setting of +4 in LR.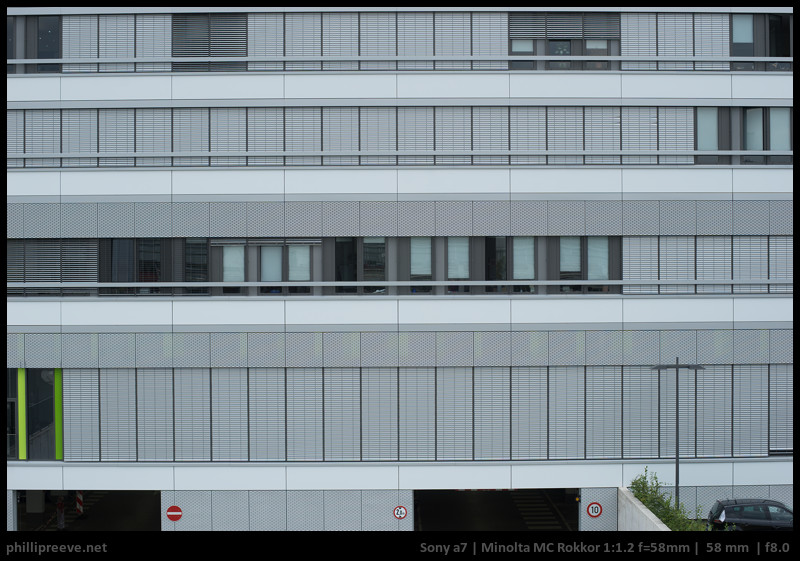 Sharpness

f/1.2: We see lots of spherical aberration which reduces contrast a lot so the sharpness impression is low. Resolution is actually quite good across most of the frame. Only the last quarter shows bad resolution.
f/2: Now most but not all of the SA is gone and the sharpness impression has improved a lot. Most of the frame is sharp to very sharp, only the last quarter of the image circle shows low sharpness.
f/2.8: By now all SA is gone and the Minolta 1.2/58 shows excellent sharpness across most of the frame. Compared to f/2 the improvements are most obvious off center. The sharp area increases quite a bit but the corners remain soft.
f/4: A minor improvement in the center and midframe area but the very sharp area extends further and stops just before the extreme corners.
f/5.6: A small improvement in the corners which are very good by now.
f/8: A slight decrease of center sharpness but a slight increase of corners sharpness.
f/11: The whole image is a little softer.
Alternatives
Minolta MC 1.7/55: The lens which comes closest to the 1.2/58's qualities while remaining very affordable. Bokeh isn't quite as nice but close. The much smaller and lighter 1.7/55 is a little less sharp and doesn't resolve as well at f/1.7 as the 1.2/58 at f/1.2 but it is usually sharp enough. Another advantage of the many times as expensive Minolta 1.2/58 is that it has 8, not just 6 aperture blades which matters stopped down to f/2.8 or more.
230g | $15-35 | ebay.com (affiliate link)
Mitakon 0.95/50: Significantly heavier and more expensive but if you want a super fast normal lens with good performance from wide open the Mitakon is the better lens.
780g | $799
Voigtlander 2/65 APO: This is technically one of the very best lenses you can buy today. It is exceptionally well corrected for any aberrations and excellent across the frame from wide open. It is a little bigger and a little more than twice as expensive as the Minolta.
635g | $999 | amazon.com (affiliate link)
The Sony FE 1.8/55 costs two to three times as much and it is sharp to the corners from f/1.8 with very smooth bokeh. Bokeh is also exceptionally smooth but occasionally spiced with some onion rings. Built quality is not as good as that of 1.2/58 and the manual focusing experience is certainly inferior.
281g | about $700 used | at ebay.com (affiliate link)
The Canon nFD 1.4/50 is a little sharper and much lighter and affordable but I don't like the bokeh as much and built quality is inferior as well.
 235g | about $50 used | at ebay.com (affiliate link)
Conclusion
pros

Bokeh (from f/2)

Sharpness (most  of the time)

Build quality

average

Vignetting (for an f/1.2 lens)
Distortion

cons

f/1.2 performance

Price

Size

Flare resistance

Axial CA
If you look at the table above you see a longer list of cons than pros. This design is 50 years old and it shows.  And yet remaking this review gave me a reason to use the Minolta 1.2/58 again and I enjoyed the experience quite a lot so I think that I will use it more often in the future. I can't quite rationalize why I enjoy this lens so much when I own modern technically much better lenses like the CV 2/65 APO but I do. If you aren't on a tight budget and want to experiment with legacy lenses then the Minolta MC 1.2/58 would be one of my first recommendations. You will be hard pressed to find a lens with better build quality and I don't know a legacy normal lens with more pleasant rendering .
In practice f/1.2 isn't of that much use unless you enjoy funky bokeh and very low contrast. You gain quite a bit less exposure than the theoretical half stop over an f/1.4 lens and you have to live with very strong  vignetting of 2.5 stops.  Wide open the Minolta can give decent results in rather dark scenes where you can count on having good resolution across most of the frame.
At f/2 the Minolta shines brightest for me: In most scenarios you can enjoy very smooth bokeh combined with good sharpness. It doesn't have quite the same micro-contrast as the best modern lenses and CA can be an issue but for most scenes I like the results a lot.
Stopped down to f/2.8 the Minolta makes very good use of a 24 MP FF sensor. About 80% of the frame shows excellent sharpness, competitive with good modern lenses. For very good corners you need to stop it down to f/5.6 or f/8 but then you won't see a difference between it and more expensive modern lenses apart from the weak flare resistance.
The Minolta MC Rokkor 1:1.2 58mm isn't the most reasonable purchase: It starts to shine only from f/2 and for a 2/58 it is bloody expensive and heavy. Despite this and a few other deficits the Minolta is one of my all time favorite lenses. After all the testing I did for this review I can't really explain why. This is a bit frustrating but maybe my images do a better job of explaining my sentiment.
The Minolta MC 1.2/58 sells for $350-450 at ebay.com or 330-400€ at ebay.de (affiliate links). Also check out my Minolta SR-mount adapter guide. 
If this review was helpful to you, please consider using one of my affiliate links. Thanks ?
More Image Samples
You can find these more images in full resolution in this flickr set: Minolta MC 1.2/58.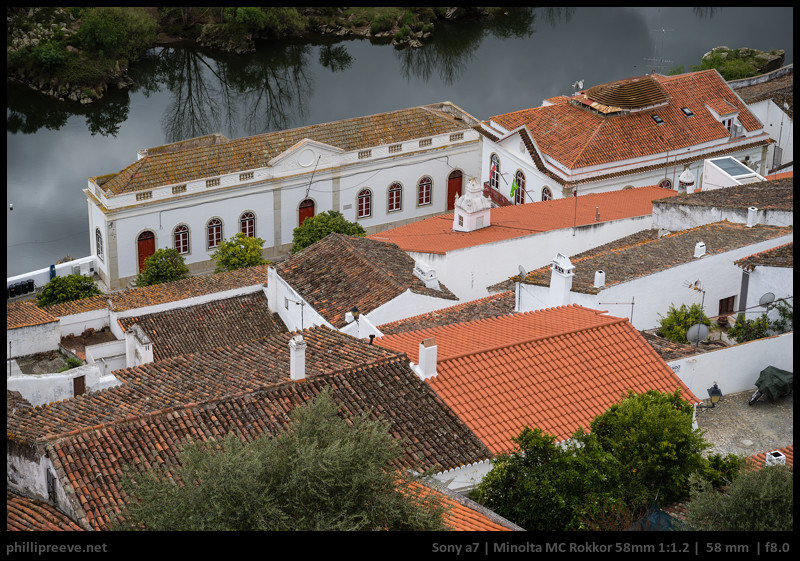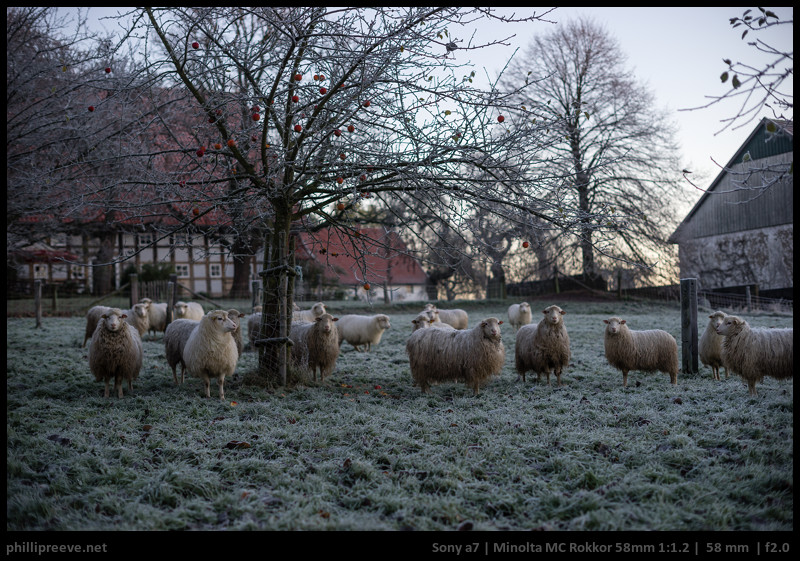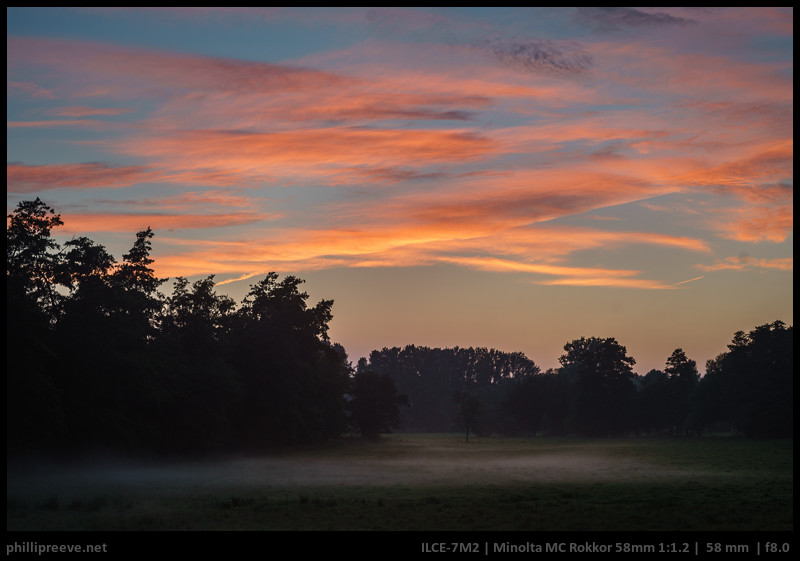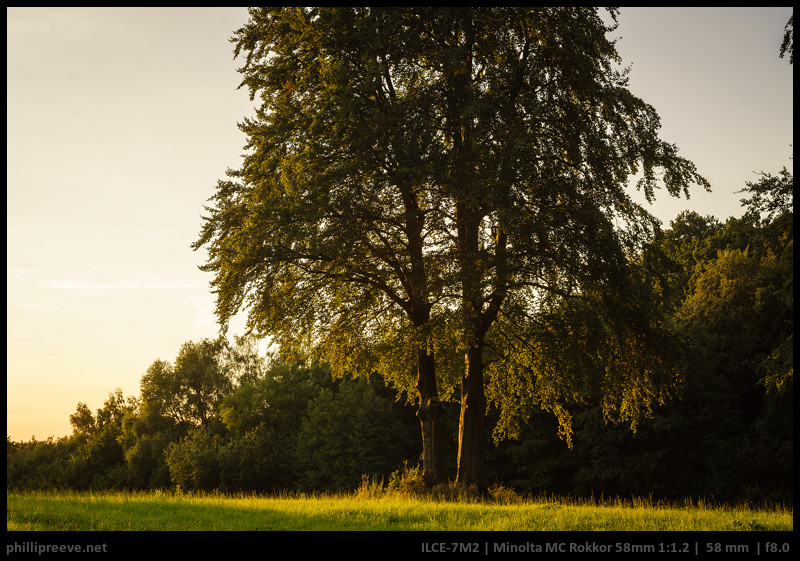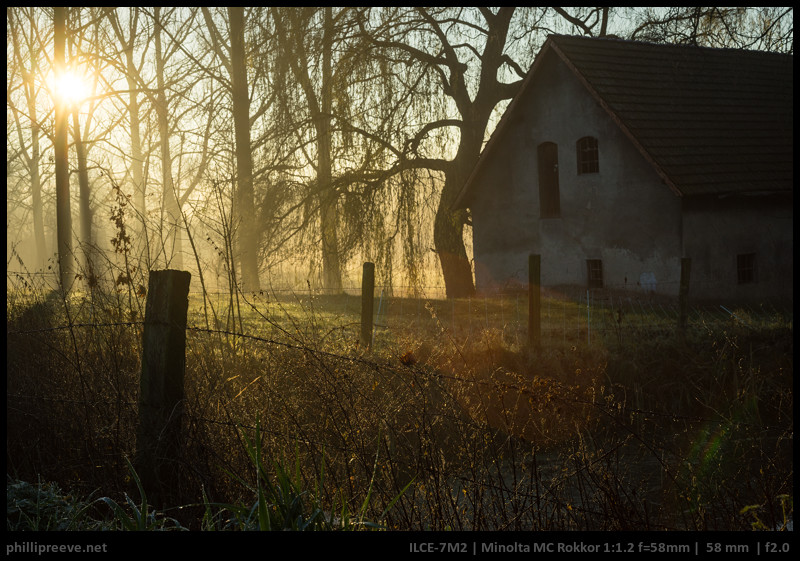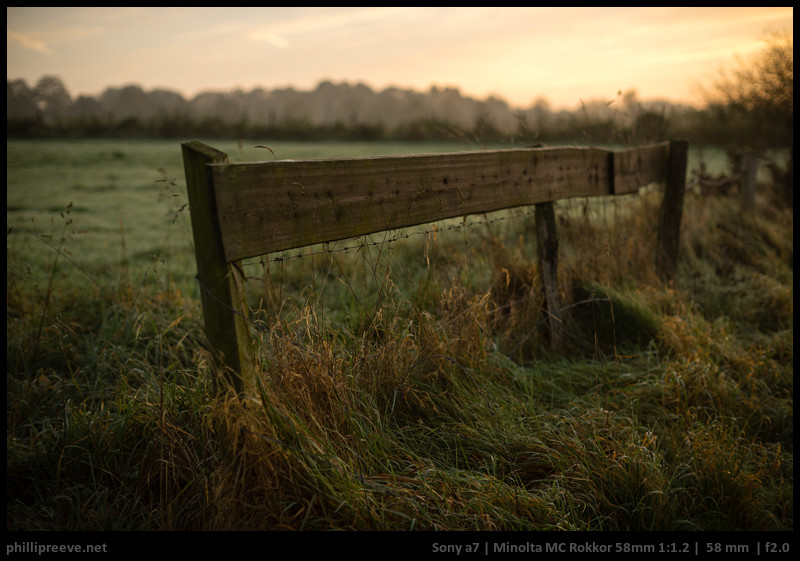 You can find these more images in full resolution in this flickr set: Minolta MC 1.2/58.
 Other articles
The following two tabs change content below.
I have two hobbies: Photography and photographic gear. Both are related only to a small degree.
Latest posts by Phillip Reeve (see all)