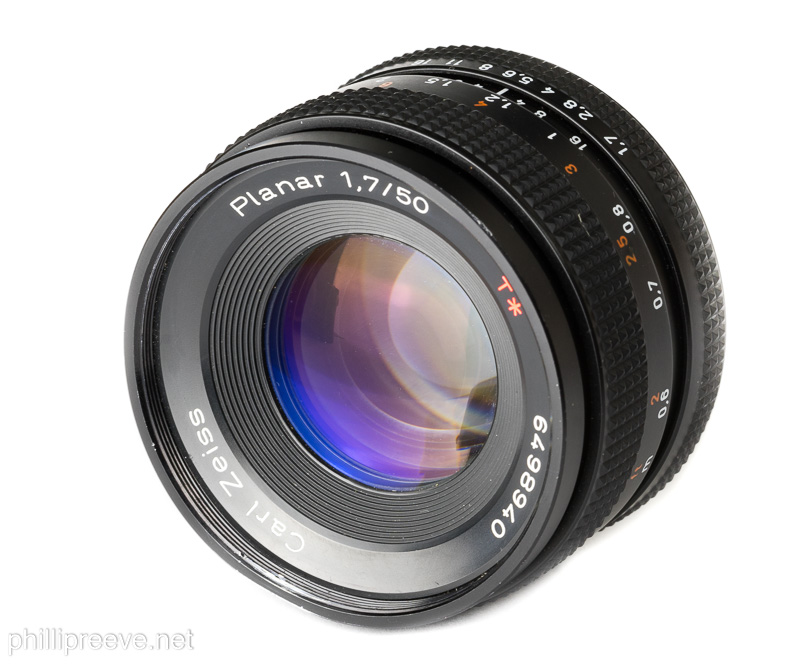 The Carl Zeiss Planar 1,7/50 is reputed to be one of the sharpest normal lenses and also the cheapest Carl Zeiss you can buy. In this in-depth review I put it to the test.
Sample Images
You can find these images in full resolution in this Carl Zeiss Planar 1.7/50 flickr set.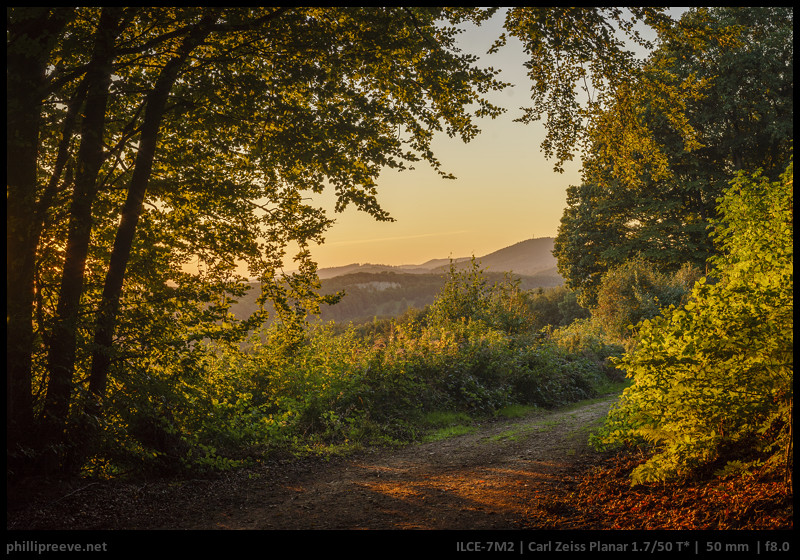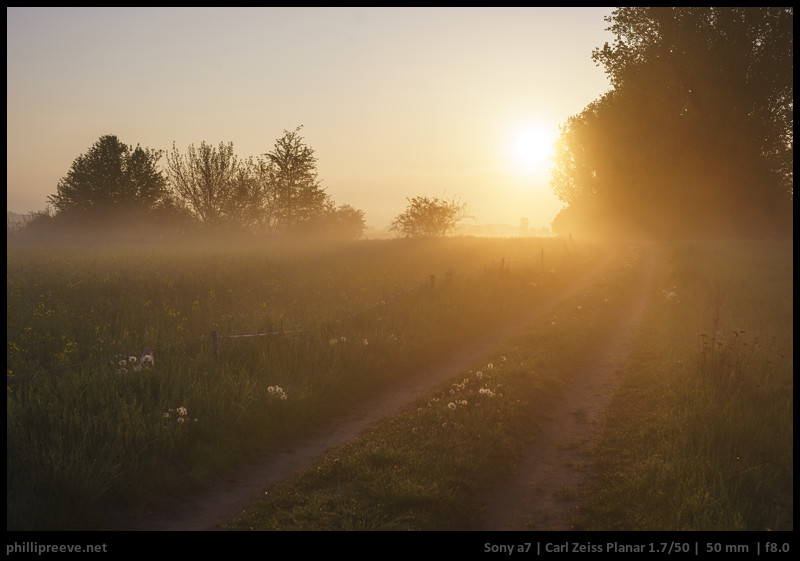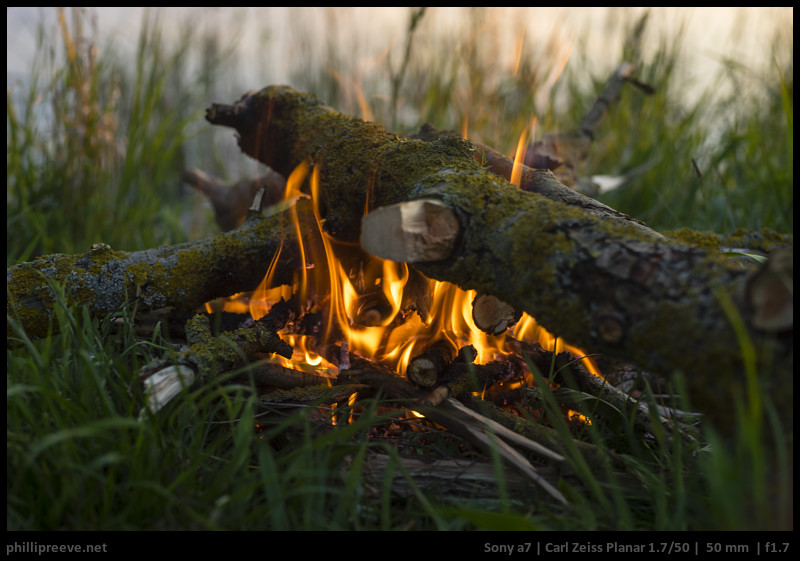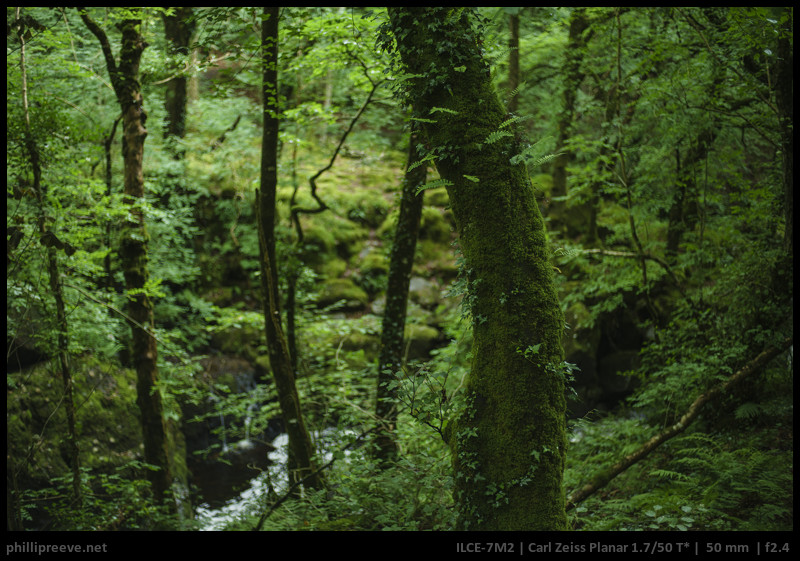 Specifications
| | |
| --- | --- |
| Diameter | 59 mm |
| Length | 36 mm |
| Filter Thread | 55 mm |
| Weight | 195 g |
| Max. Magnification | 1:10 |
| Close Focusing Distance from the sensor | 0.6 m |
| Number of aperture blades | 6 |
| Elements/ Groups | 7/6 |
More information in Zeiss' official data sheet.
At the time of this review the Carl Zeiss Planar 1.7/50 usually sells for around $120-140 at ebay.com (affiliate link). 
In Germany you can buy it for 65-100€ at ebay.de (affiliate link). 
The younger MM version usually sells for a little bit more than the older AE version.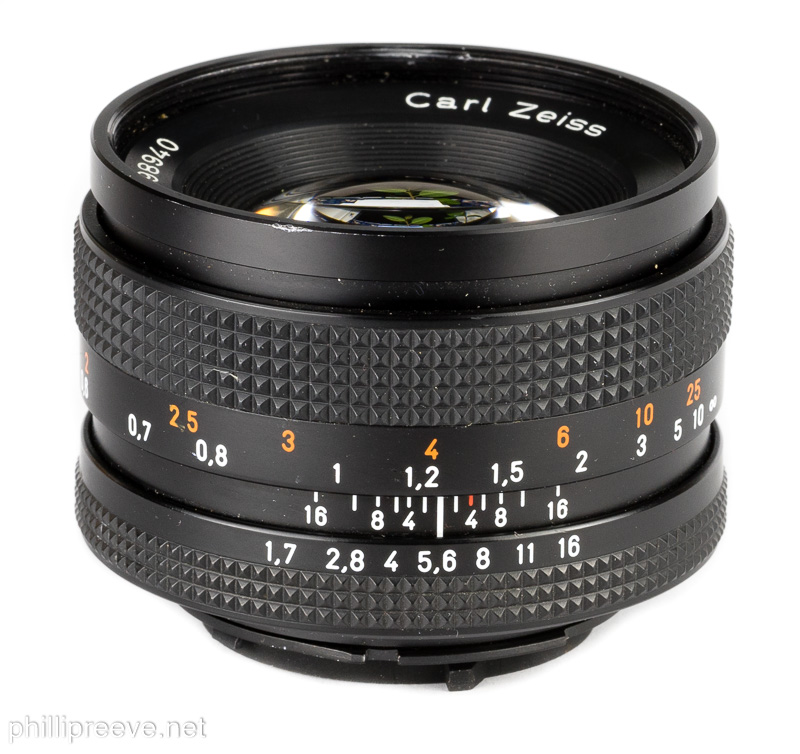 Versions
There are two versions of the Zeiss Planar 1.7/50 T*.
The older AE version introduced in the mid 70's. It  will not allow program and shutter-priority with film cameras. It was made in Japan from the beginning while other C/Y lenses were manufactured in Germany  before production was moved to in Japan (als called AEJ). Unlike with the 1.4 version ninja-star-bokeh is not an issue with the 1.7/50.
The younger MM version was sold from 1984 to 2005. It can be identified by the green color of the f/16 marking. Some people report improved coatings with the MM version but I have so far not seen a test to support that.
If you want to leitax your lens to Nikon F-mount or Sony A-mount you need to buy the MM version.
Compatibility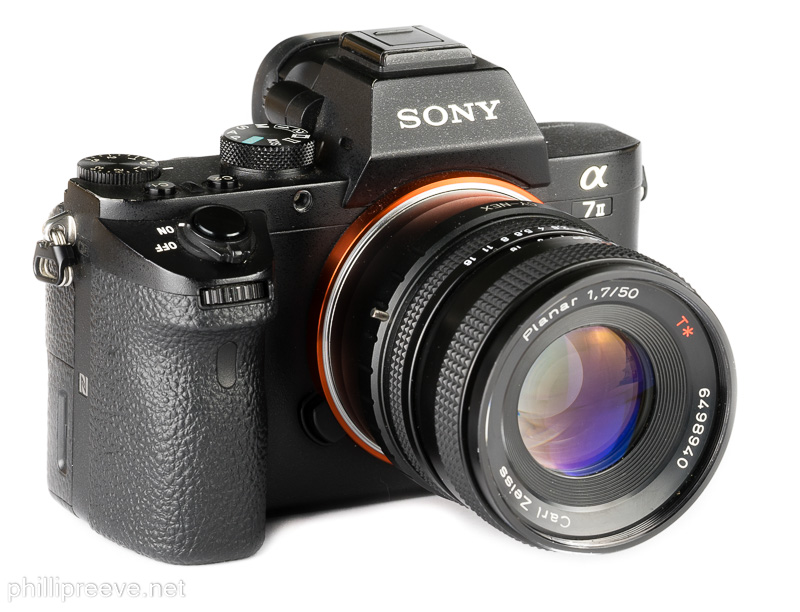 The Zeiss Planar 1.7/50  can of course be used on a wide range of Contax and Yashica film cameras but I know little about those so I can't tell you any details.
You can also buy adapters to use it on  Canon EOS cameras but in some cases the mirror will hit the back of the lens. Check out this site for more information.
To use a C/Y lens on a Nikon F-mount camera you need to replace the mount of your C/Y lens. Check out Leitax for more information. I can recommend their products, they are very well made.
The easiest way to use a C/Y lens on a digital camera is to buy a mirrorless camera. I can only recommend to buy a full frame camera so the Sony Alpha 7 series cameras are your only choice (unless you have too much money and want a Leica SL). Check out this article for more information about how to use manual lenses on the Sony a7-series.
Build Quality
This was a "budget" Zeiss lens and the build quality is not up to the standards of the more expensive Planar 1.4/50. The inner barrel, the filter thread and the mount are made from metal but the focus- and aperture ring are made from plastic. Because you touch plastics when you use the lens and because both rings are not well damped the Planar 1.7/50 feels a little cheap. That the markings are not engraved only adds to that impression.
Size, Weight and Handling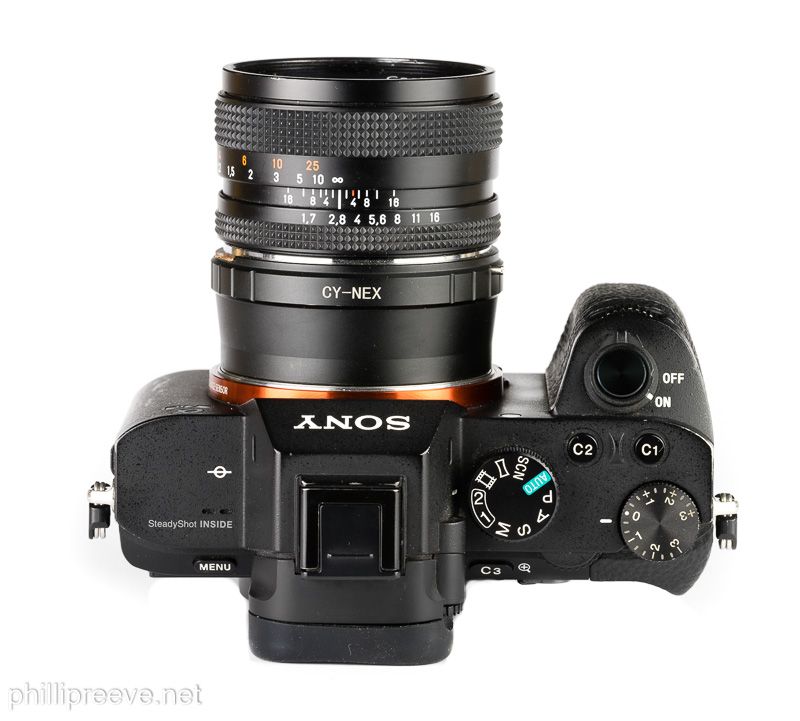 The Zeiss Planar is well well balanced on the Sony a7II. There are of course a bit smaller and lighter lenses but for handling the Planar is just the right size and weight.
The focusing ring travels about 70 degrees from 0.6 m to 1 m and a further 80 or so degrees to infinity. I think this is a very good transmission, focusing was easy at any distance. The focusing feel is quite okay: Precise enough but a little less smooth than I like.
The aperture ring has stops at f/1.7, f/2.4 and f/2.8. Between f/2.8 and f/16 it has full stops. It isn't too hard to select half-stops because the focusing ring travels quite far but is isn't that well damped.
Lens Hood
I don't own a hood for the Zeiss Planar 1.7/50 but according to mir.com there were two different hoods: The Metal Lens Hood No.4 and the Soft Lens Shade 55mm G-11.  
Since the Planar is quite flare resistant getting a lens hood wasn't a priority for me.
Filters
The 55mm filter thread is made from metal
The front of the lens does not rotate so polarizers are easy to use.
Image Quality
Vignetting
At f/1.7 vignetting is significant at 2.1 stops but that is usual for a 1.7/50 lens. At f/2.8 it is reduced to about 0.9 stops and by f/4 vignetting is down to 0.4 stops which should be irrelevant for almost any application.
Flare Resistance
The flare resistance of the Zeiss 1.7/50 is exceptional if you compare it to other lenses from the same era and still competetive with weaker modern lenses. There is only a little veiling flare which causes contrast loss and only minor ghosting in very demanding situations. This sets the Zeiss apart from many other 50mm lenses, my Minolta MC 1.2/58 is much worse and the Canon nFD 1.4/50 not much better. It is even a little better than the Zeiss 1.4/50
Distortion
The Planar shows some barrel distortion, a setting of +3 corrects it very well in Lightroom.
Chromatic Aberrations
I can see no lateral CA which isn't that uncommon for a 50mm lens but still very welcome.
Axial CA are another topic though. At f/1.7 they are very strong. Stopped down to f/2.8 they reduced a lot and by f/4 they are mostly gone as these 100% crops show:

Bokeh
At f/1.7 bokeh isn't very smooth, out-of-focus highlights have a well defined edge, stopping down to f/2 reduces vignetting and cat eyes but doesn't do much else. Stop the Planar down to f/2.8 and bokeh becomes quite smooth. The aperture shape only becomes distracting from f/4. The transition zone is pretty smooth.
Also highlighted should be the very smooth transition zone.
Sunstars
The Zeiss Planar 1.7/50 has only 6 aperture blades therefore it is hardly surprising that you need to stop down to f/11 for somewhat defined sunstars. With just 6 rays there are not very attractive.
Contrast
The Zeiss Planar has a significant amount of spherical aberration at f/1.7 which reduces contrast to pretty low levels. From f/2.8 contrast is very good across almost the entire frame.
Field Curvature
Planar is a name created from the German word plan which means flat, hinting at low field curvature. Well, the field curvature might be low by 1897 standards, by modern standards it is not. At wider apertures I see pretty strong M-shaped field curvature. If you focus on the center of the image the midframe region will be focused significantly behind the center.
This finding is very relevant if you want to get the best possible results out of the Planar. If you focus on the center and recompose results you throw away a lot of the Planar's potential sharpness. Taking a bit more time to focus directly will result in significantly better results. Another scenario where you should consider the field curvature is if you want to photograph a flat scene. Here you shouldn't just focus on the center but better about a third into the image. This is the soon-to-be-famous Roger's point. This will reduce sharpness in the center slightly but overall your image will be sharper.
Sharpness
The full aperture series can be found at flickr.
f/1.7: Very good resolution but lower micro contrast in the center. The midframe region is quite soft, as are the corners.
f/2.8: The center is excellent, the midframe region is quite sharp as well but the corners are soft.
f/4: Most of the image is excellent to very good now, only the extreme corners after r= 18 remain soft.
f/5.6: Almost of all of the image shows excellent sharpness now, noly the last few pixels in the corners are a bit soft.
f/8: On a higher resolution camera you will see a very small drop in sharpness in the center, the extreme corners are a bit sharper than at f/5.6
f/11: The whole image is a bit less sharp.
The short version: I wouldn't hesitate to use f/1.7 for portraits or when I need the speed but images won't stand up to huge enlargements and contrast will be lower. Stopped down to f/2.8 sharpness is very good to excellent across most of the frame but you should take the field curvature into consideration. For excellent landscape images I would recommend f/5.6 or f/8.
Close Focus Performance
The Zeiss 1.7/50 has a close focusing distance of 60 cm which results in a reproduction ratio of 1:10 which is below average for a 50 mm lens.
The Planar does not feature floating elements so performance suffers quite a lot at shorter distances.  I would avoid anything under f/2.8 and for best results you need to stop down to f/8 but even then the Planar is clearly less sharp than at longer distances.
Alternatives
These are alternative lenses for the Sony a7/a9 series.
Zeiss Planar 1.4/50 T* (C/Y mount) – The 1.7's big brother offers much better build quality, focuses closer, is a little heavier and it costs quite a bit more. Optical performance is similar. Wide open performance of the 1.7 is a little sharper which is hardly surprising and stopped down the f/1.4 is somewhat sharper but I wouldn't call the differences significant. The 1.4 has a little softer bokeh but the aperture shape is more annoying. The 1.7 has a little better flare resistance. For most applications I would prefer the 1.4 but for landscape photography the light weight and slightly better flare resistance of the 1.7 might make it more attractive.
Sony FE 1.8/55 ZA – Optically it offers smoother bokeh (in some aspects at least), very good corner sharpness from f/1.8 and better flare resistance. Stopped down to f/5.6 the difference will be minimal. The Sony lens of course offers AF but the manual focusing experience sucks. The FE55 is also quite expensive at $999. As a general purpose normal lens the FE55 is hard to beat on much more practical than the Zeiss.
Zeiss Loxia 2/50 – Smaller, sharper and more expensive. This modern manual lens is even more pleasant to handle and my recommendation for anyone who is willing to pay good money for a very pleasant experience. The bokeh of the 1.7/50 is about as smooth but the Loxia has 10 aperture blades so you won't have to deal with annoying hexagons at f/4 and below.
Sony FE 1.8/50 – The Sony has AF (which is very slow), smoother bokeh and it is significantly lighter. Build quality feels a lot less solid and manual focus is a lot more enjoyable with the Zeiss. The Zeiss is a bit sharper at wider apertures.
Zeiss Milvus Distagon 1.4/50 – Four times as heavy, ten times as expensive. But you get great bokeh and sharp corners from f/1.4, flare resistance is also exceptional. Handling is nicer with the small old Planar.
Minolta MC 1.7/55 – Both lenses complement each other quite well. The dirt cheap Minolta is a bit lower in contrast and flare resistance it pretty bad. But it offers smoother bokeh and great build quality.
Canon new FD 1.4/50 – The Canon is a bit sharper at f/1.7, it has 8 aperture blades and it costs about half of what the Zeiss costs. Sharpness stopped down is very similar but the Zeiss has better contrast and flare resistance.
Conclusion
good

flare resistance

sharpness from f/2.8

size and weight

bokeh (at f/2.8)

average

price
build quality and handling
bokeh (wide open)
axial CA

not good

close focusing distance of 60 cm

soft corners at f/1.7

only 6 aperture blades

sharpness at close distances
Optically the Planar 1.7/50 is a typical normal lens. Wide open it shows quite a bit of "character" which is a kind way to say that it very visible aberrations which reduce contrast and sharpnes. It is sharper than most other normal lenses at f/1.7 but still quite far from the perfection of a modern lens like the FE 1.8/55 and bokeh is a bit harsh. Stopping down to f/2 reduces these issue a little but for excellent image quality one has to stop down to f/2.8 where most of the image is very sharp. For landscapes with detail in the corners I would recommend to stop down to f/5.6 or f/8 where the Planar delivers excellent results. As mentioned the Planar is a bit sharper than many other normals but the difference isn't that obvious. More obvious is the good flare resistance which is very unusual for a lens of this age.
Unusual for a Zeiss is the average build quality for a lens of its age. It won't have an effect on the quality of your images but it detracts a little from the user experience. Still it is much more pleasant to handle than most modern lenses. A bit annoying is the close focus distance of 60 cm, I don't know any other 50 mm lens from the same time which does not focus at least to 45 cm.
I would recommend the Zeiss to those who need a light hiking lens with good but not great flare resistance for a more or less affordable price. I think there are better and more affordable general purpose normal lenses like the Canon nFD 1.4/50 but if your focus is on landscape I would have a look at the Zeiss Planar.
All in all the Zeiss Planar 1.7/50 is a versatile lens with good enough image quality wide open. It really shines from f/2.8 where image quality is very good across most of the frame and by f/5.6 landscape photographers won't find anything to complain about. The price/performance ratio is still quite good but not as good as that of similar lenses.
At the time of this review the Carl Zeiss Planar 1.7/50 usually sells for around $120-140 at ebay.com (affiliate link). 
In Germany you can buy it for 65-100€ at ebay.de (affiliate link). 
If this review was helpful to you, please consider using one of my affiliate links. I will earn a small commission on your purchase and it won't cost you anything. Thanks!
Carl Zeiss Planar 1.7/50 T* Sample Images
All images are processed in Lightroom from Raw. Many more full resolution samples in my Zeiss Planar 1.7/50 flickr album.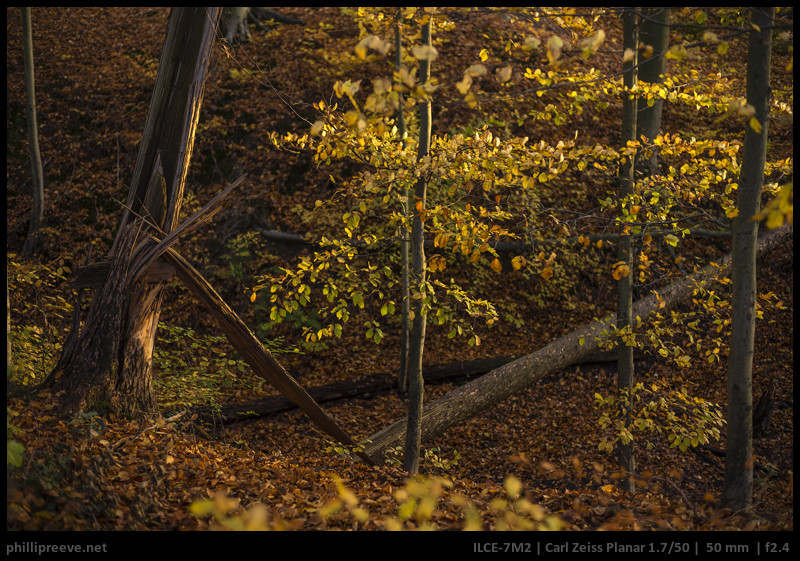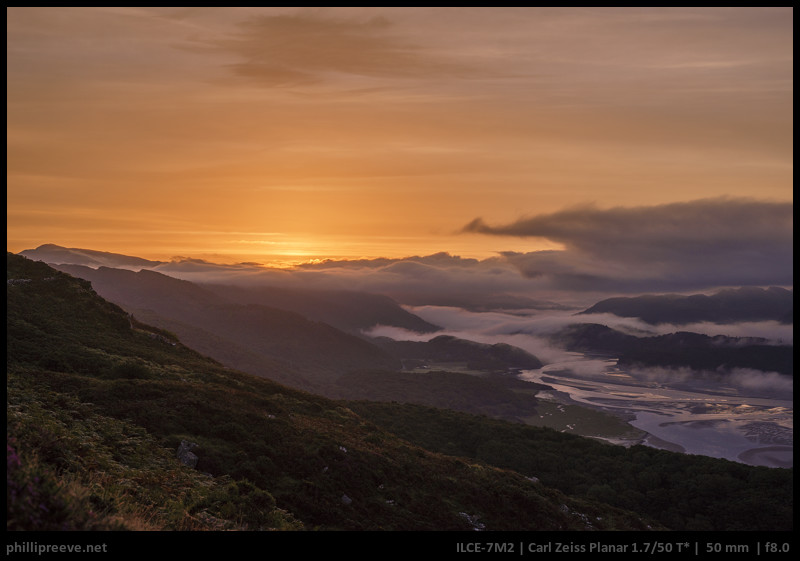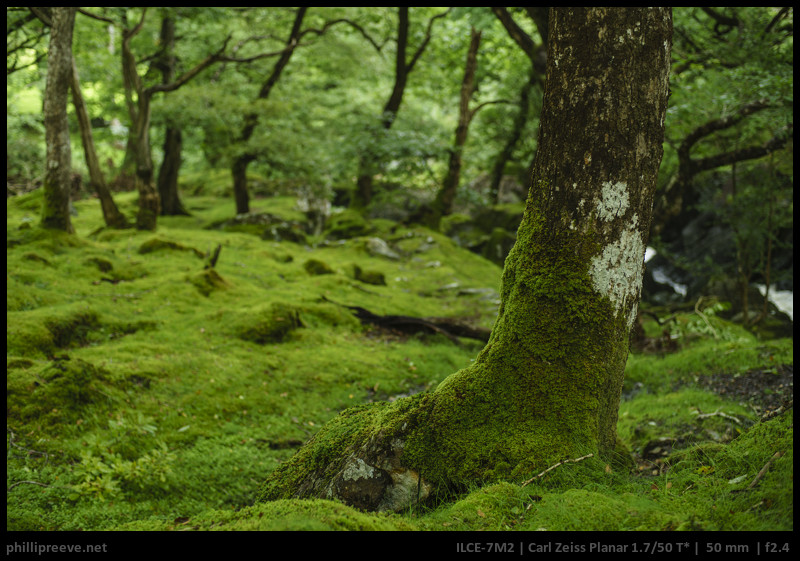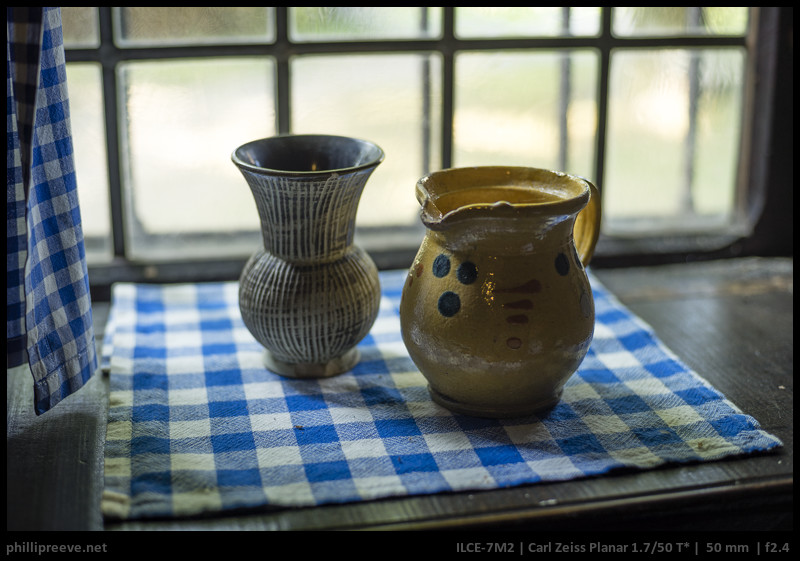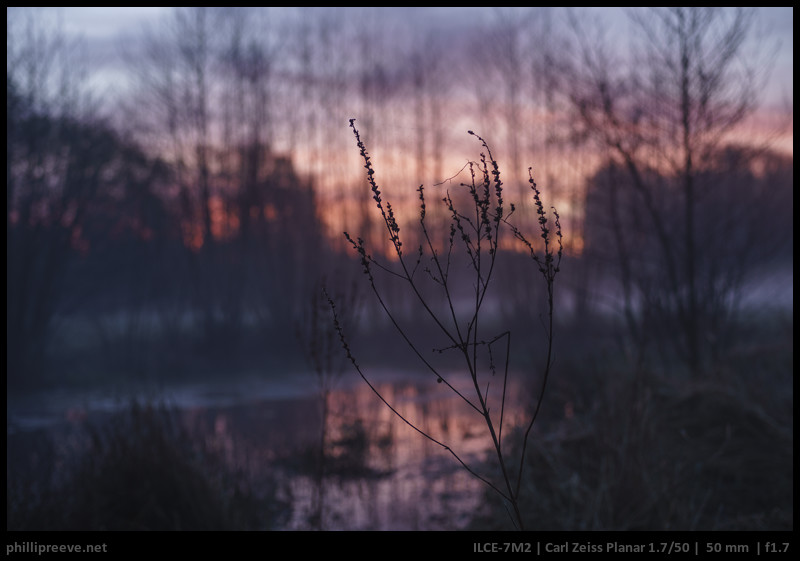 Other Articles