Introduction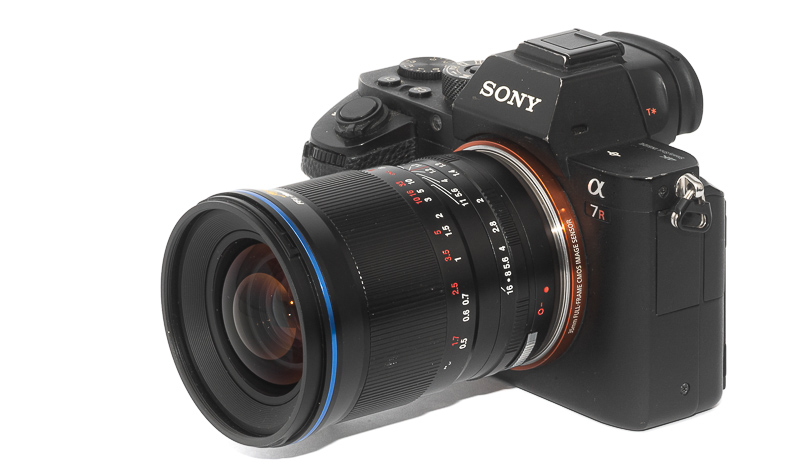 Laowa was already responsible for releasing the world's fastest 35mm lens and now they are back doing the same for the 28mm focal length. This time it isn't f/0.95, but f/1.2 at 28mm – in a more compact package – is just as impressive, especially when most manufacturers seem to have neglected the 28mm focal length altogether. But is it only impressive on paper or does it also deliver in the field? Let's find out in this review.
Sample Images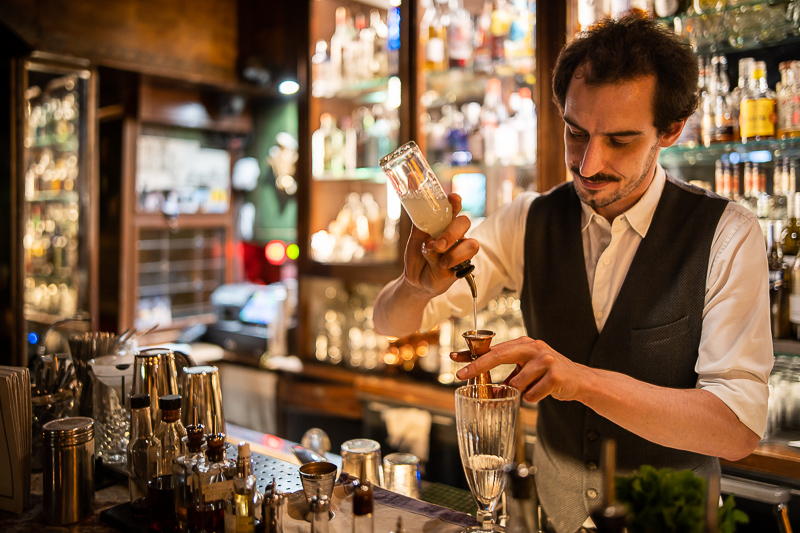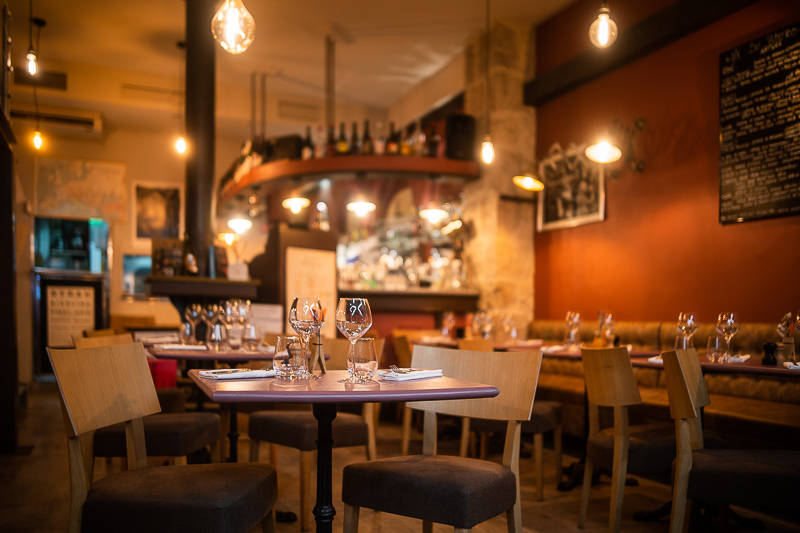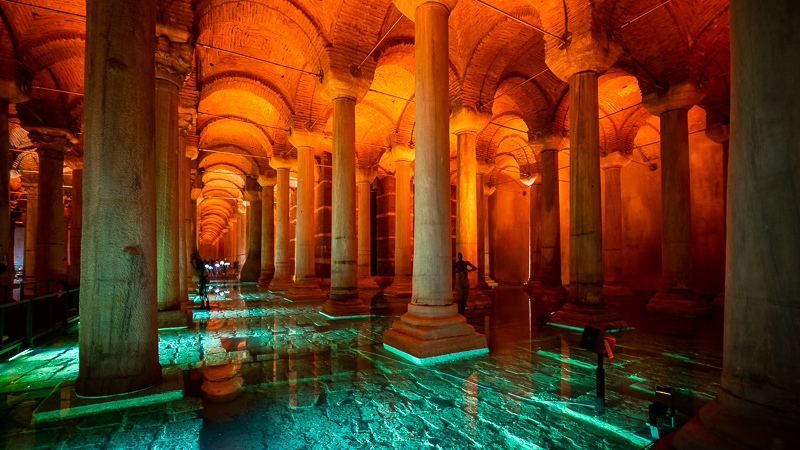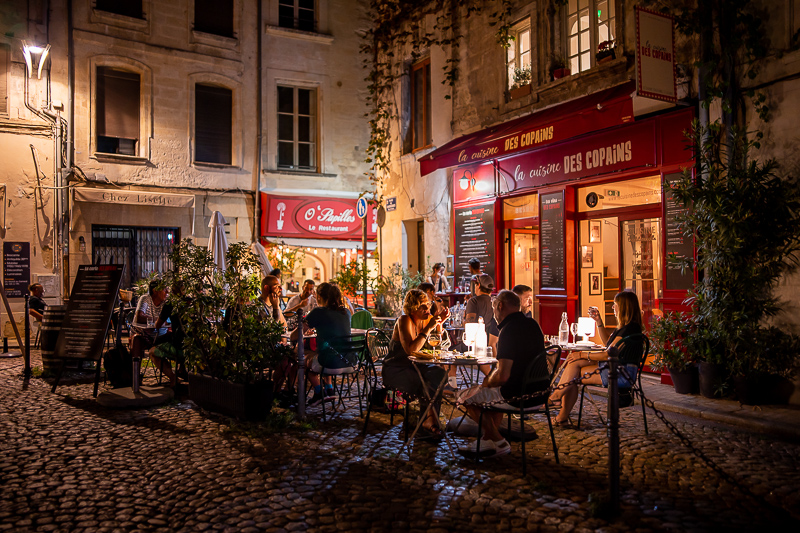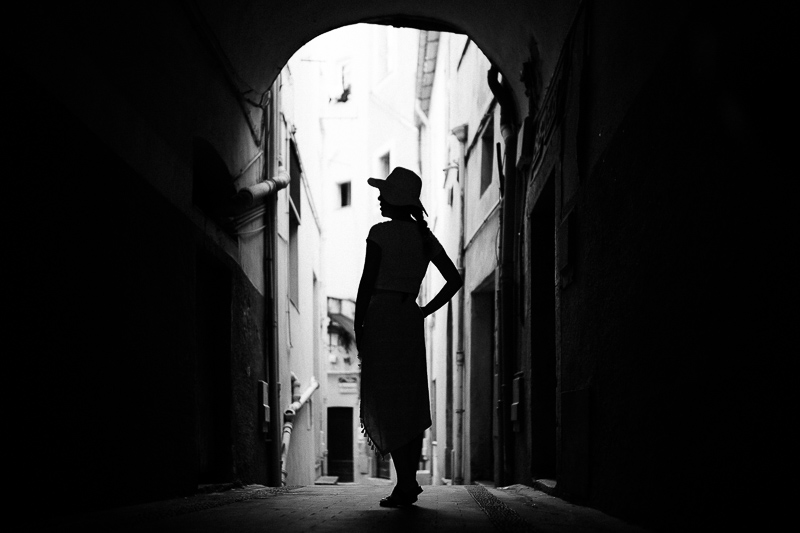 You can find many of the sample images in full resolution here.
Disclosure
The Laowa 28mm 1.2 was kindly provided free of charge by Venus Optics / Laowa for reviewing purpose for a few weeks. I already received an early prototype in 2022 which I used for a few weeks and I gave feedback on to improve the final production models.
Specifications
The Laowa 28mm 1.2 is the first fullframe 28mm lens with a maximum aperture of f/1.2. The full specifications are:
Diameter: 67 mm
Field of view: 74.5° (diagonally)
Length: 89 mm (without hood)
Weight: 550g (without hood, without caps)
Filter Diameter: 62 mm
Number of Aperture Blades: 13 (rounded)
Elements/Groups: 13/7

Close Focusing Distance: 0.50 m
Maximum Magnification: 1:14.4 (measured)
Mount: Sony E
buy from manufacturer's shop | B&H | ebay.com | Amazon.de (affiliate links) for $599
Handling/Build quality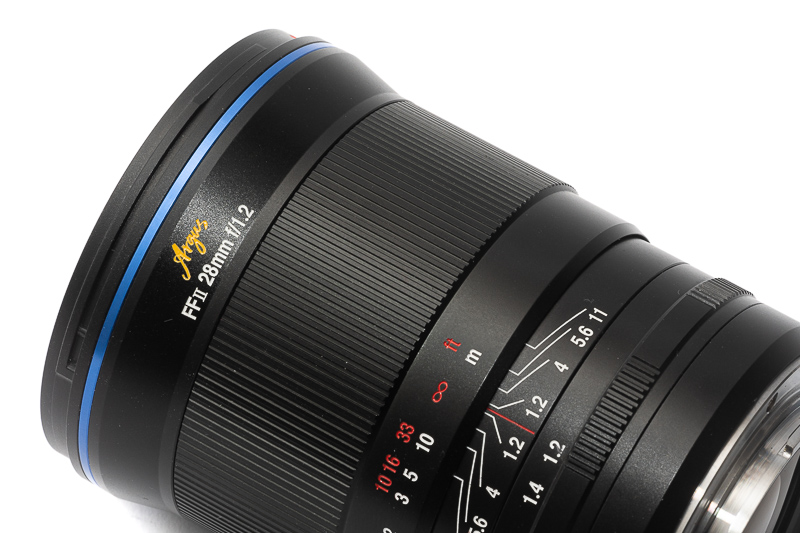 The Laowa 28mm 1.2 FFII is an all manual lens without any electronic contacts or communication with your camera. Focus as well as aperture need to be set manually on the lens.
The focus ring has a really nice resistance and turns roughly 120° from the minimum focus distance of 0.50 m to infinity.
The aperture ring does feature click stops and even a declick lever but again the stops are not equidistant and therefore really cramped together on the aperture ring between f/4.0 and f/16.
Still, thanks to the full stop click stops it is possible again to set a desired aperture value without having to look at the lens.
The Laowa 28mm 1.2 FFII features a complicated internal focus design with one fixed and two moving groups that is supposed to ensure good image quality at different distances.
This is also the reason for the not so exciting minimum focus distance: to allow the lens focusing closer it would have needed to be significantly bigger, as the space inside is limited.
The outer casing of the lens seems to be made from mainly metal and a few high quality polycarbonate parts, markings are engraved and filled with paint.
The lens comes with a small metal hood and there is even some space for having an UV or ND filter attached underneath it (a very slim polarizer might also work).
The Laowa 28mm 1.2 is noticeably smaller than the slightly longer and faster Laowa 35mm 0.95. This 28mm lens is only a bit bigger than the Zeiss Loxia 21mm 2.8, which is quite surprising considering their massive difference in maximum aperture.
Vignetting
light falloff
| | |
| --- | --- |
| f/1.2 | 3.2 EV |
| f/1.4 | 2.8 EV |
| f/2.0 | 2.2 EV |
| f/2.8 | 1.8 EV |
| f/4.0 | 1.7 EV |
| f/5.6 | 1.7 EV |
| f/8.0 | 1.6 EV |
| f/11 | 1.6 EV |
At shared apertures the values are slightly higher than those of the Laowa 35mm 0.95, but this difference would be hardly noticeable in the field. For a very fast lens with such reasonable dimensions this is the best we can expect.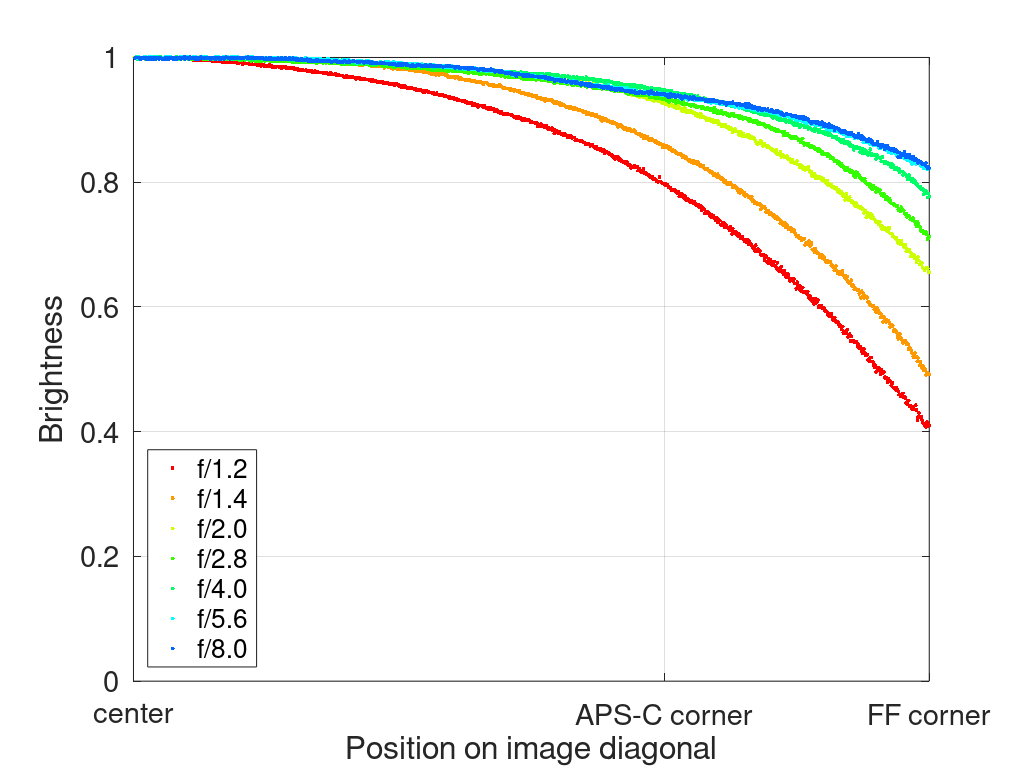 It is recommended to have a look at this article first to get an idea how this brightness graph works.
optical vignetting

Fast lenses usually show a noticeable amount of optical vignetting. Without going too much into technical details optical vignetting leads to the truncation of light circles towards the borders of the frame.
In the center of the frame almost every lens will render a perfect circle, but only lenses with very low optical vignetting will keep this shape in the corners.
So in the following comparison we move from the center (left) to the extreme corner (right) and see how the shape of the light circle changes.
I did shoot the Voigtländer and the 7Artisans lenses side by side, they were set to 0.5 m and with focusing at a target situated at exactly 0.5 m distance it was ensured the focus distance is really the same. I also shot the Laowa lens set to 0.5 m, but not side by side with the others, if I had done that the circles of the Laowa set to f/1.2 would of course be bigger than those of the 7Artisans set to f/1.4.

The Laowa 28mm 1.2 shows a very impressive performance here, showing significantly less optical vignetting than the other 28mm lenses I have used so far. It also shows onion ring structures to a lesser degree than the 7Artisans 28mm 1.4.
Sharpness
MTF-Graphs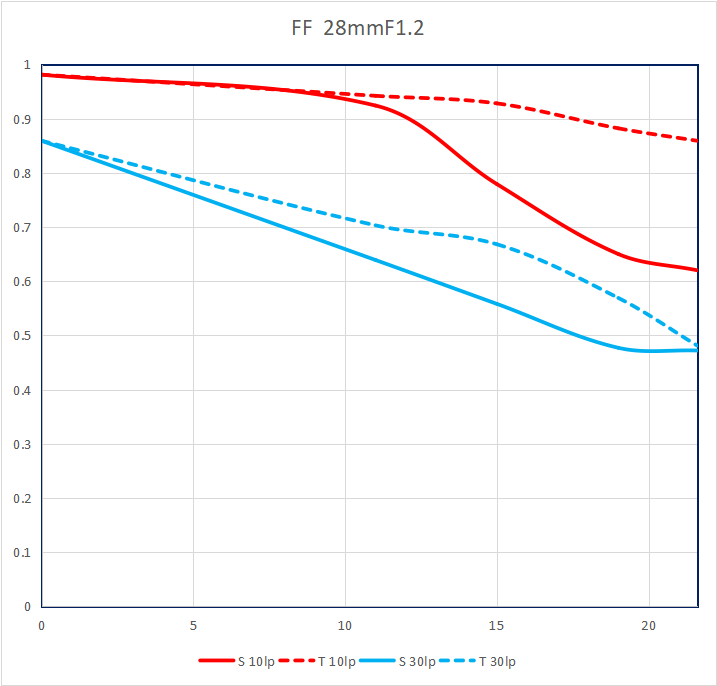 We have MTF-Graphs for f/1.2 at infinity for the Laowa 28mm 1.2. What it tells me is that we should expect high contrast (red lines) as well as resolution (blue lines) within the center of the frame and the inner midframe area up to the rule of thirds intersections.
Towards the corners the the two red lines deviate from each other (astigmatism) so contrast is expected to be lower here.
The MTF-Graphs look a bit better than those of the Laowa 35mm 0.95, so let's see how this translates into the performance in the field.
Most MTF-Graphs show calculated values that do not take into account manufacturing tolerances and sample variation. Furthermore they are usually calculated for infinity, so in the field and shooting at different distances a noticeable variation may be visible.
Focus Shift
50% crops, A7rII
There is hardly any focus shift visible.
infinity

(42mp Sony A7rII)

At infinity at wider apertures the performance is much better than that of the Laowa 35mm 0.95. Already at f/2.0 the sharpness across frame is very good and I wouldn't mind using it at that aperture for landscape or architecture shooting without a tripod if needed.
So while not as good at f/1.2 than the Sigma 35mm 1.2, the performance is still very impressive considering this 28mm is not only wider than the Sigma, but also only half its weight.
The performance is also noticeably better here than that of the Voigtländer 28mm 2.0 when used on a Sony or the 7Artisans 28mm 1.4 FE+ and also looks much better than the Sony FE 28mm 2.0 at shared apertures.
portrait distance (0.9 m,

42mp Sony A7rII

)

For portraiture it isn't so important how flat the field is, it is more interesting to see what the sharpness is like when focused at different parts of the frame to take field curvature out of the equation.

This is what I did here, I refocused for every shot and aperture to get the best possible result at different locations in the frame (center, inner midframe and outer midframe).
Focus distance was roughly 0.9 m and the circle of the dollar bill is more or less the size of a human eye.
f/1.2 <————> f/2.0
100% crops, A7rII
The biggest difference compared to the Laowa 35mm 0.95 is the performance in the outer midframe here, which also makes focusing a bit easier by comparison.
Again not as high resolving as the Sigma 35mm 1.2 Art DG DN at f/1.2, but very impressive considering the combination of focal length, maximum aperture and size.
close (0.50 m, 1:14.4,

42mp Sony A7rII

)

100% crops from center, A7rII
I expected a softer image at f/1.2, but then 0.5 m are not exactly a spectacular minimum focus distance for a 28mm lens. Still, the complicated internal focus mechanism seems to be good at doing its job.
Flare resistance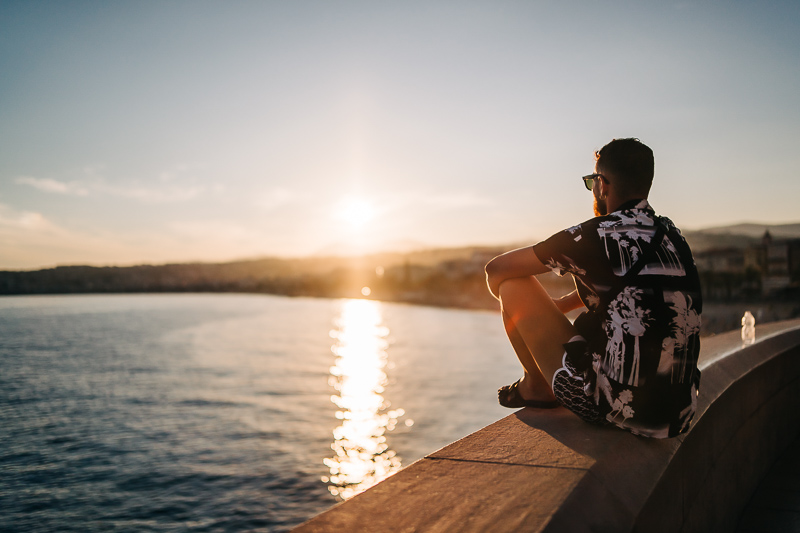 As always evaluating flare is a complex matter since you can get any lens to look bad if you push it hard enough and a slight change of scenario can affect results a lot.
Sun inside Frame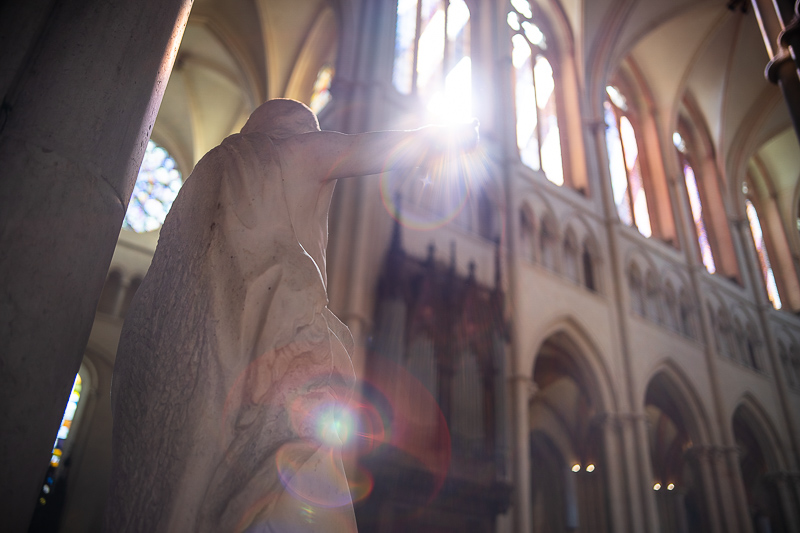 If you push this lens you can create a bunch of artefacts, but the example on top is a very extreme one so not what you will usually encounter in the field.
Nevertheless, at the maximum aperture we can encounter internal reflections, ghosts and rainbow crescents. The performance improves on stopping down, the amount of internal reflections is reduced and the crescents disappear:
This green ghost is rather persistent and easily caught with a strong point light source in the frame:
Sun outside frame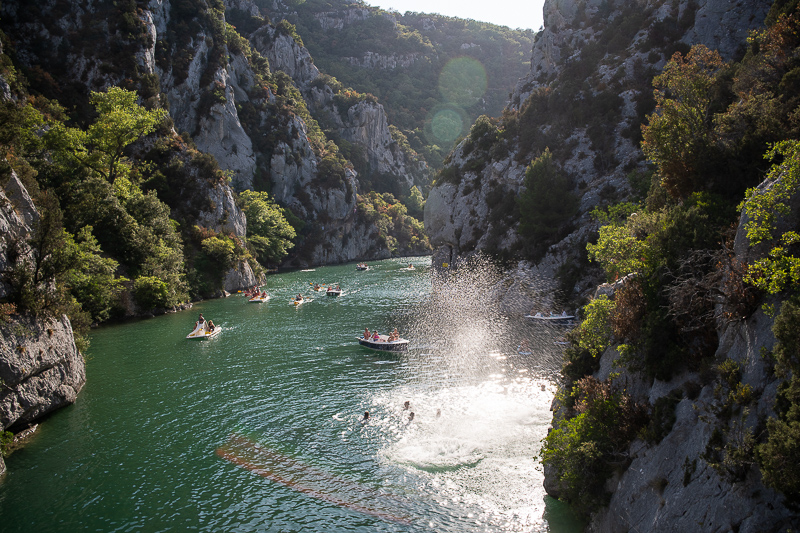 With the sun outside the frame ghosts and other artefacts can be an issue. I also used the lens hood for all the pictures in this review but does it actually make a difference? As can be seen from this comparison it does:
As is the case with most lenses with a strong point light source close to the very corner of the frame a strong flare can be created, but this is a very specific position which can easily be avoided.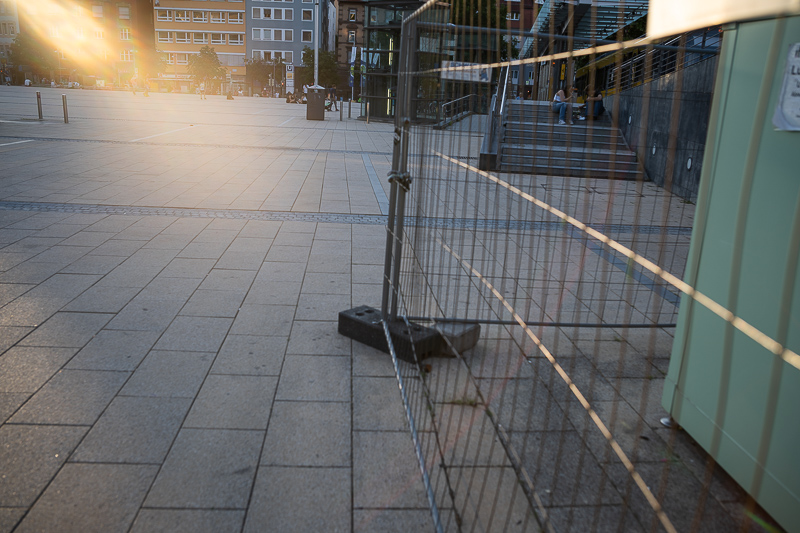 Coma
100% crops from extreme corner, focused on corner, A7rII
Coma at f/1.2 to f/1.4 is noticeable, but also well corrected considering we are dealing with a rather compact 28mm f/1.2 lens. Furthermore things improve fast and by f/2.0 the performance is already very good.
As you can see from the sample images I often used this lens at f/1.2 when not carrying a tripod, like in this case: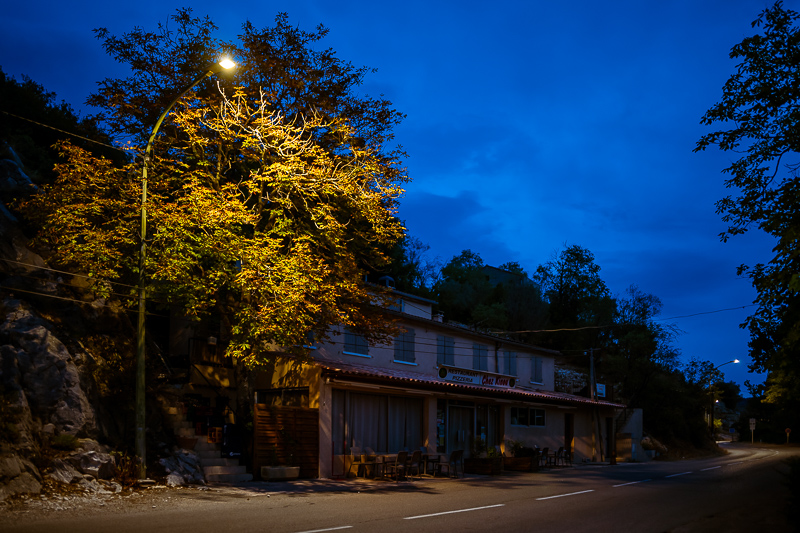 Distortion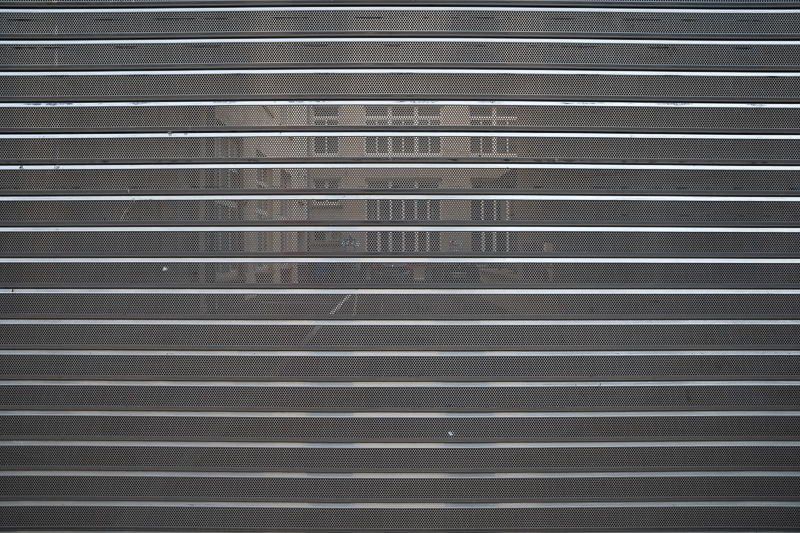 The distortion of the Laowa 28mm 1.2 is low, but it is a bit of the wavy type so a correction profile would be needed to fully correct it.
Bokeh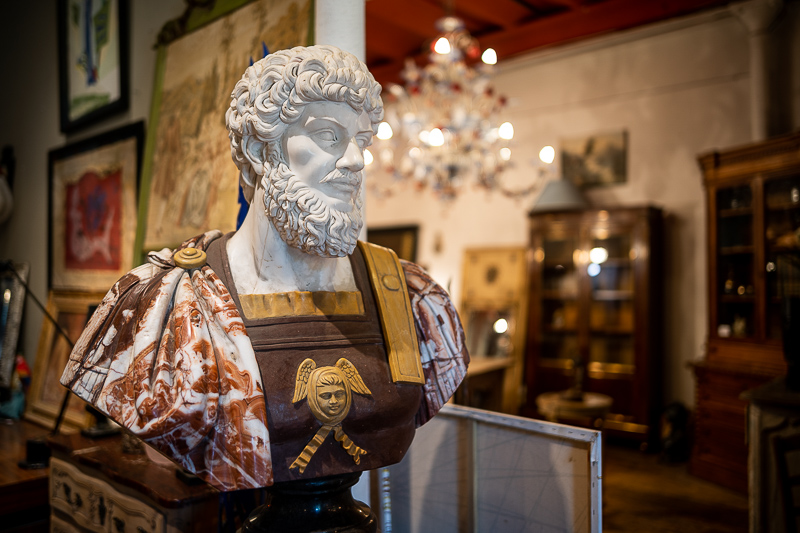 As usual we will have a look how the lens performs at different distances and in different scenarios.
Close distance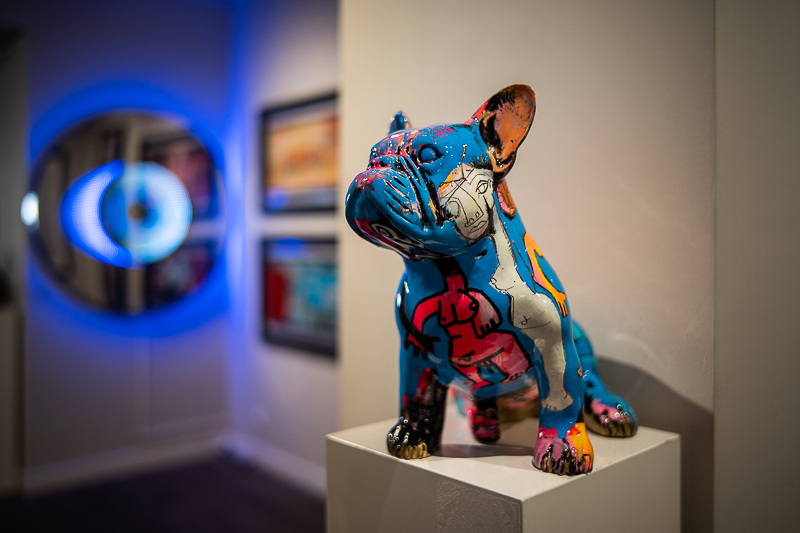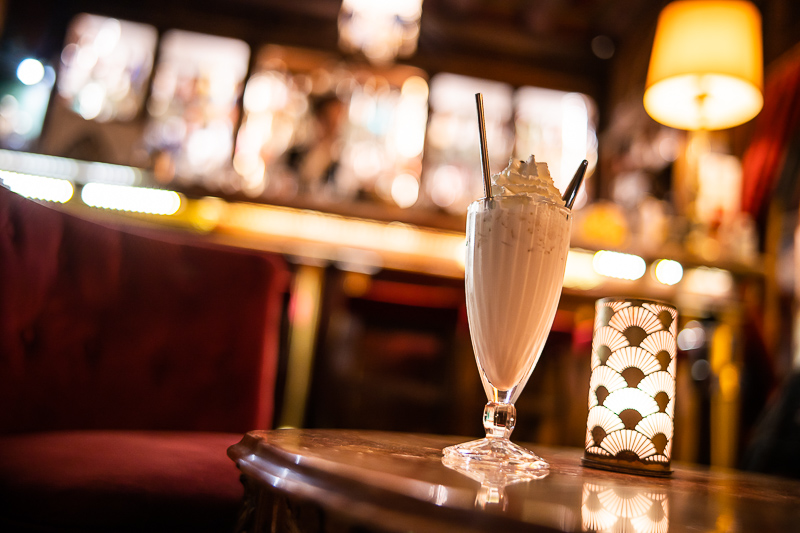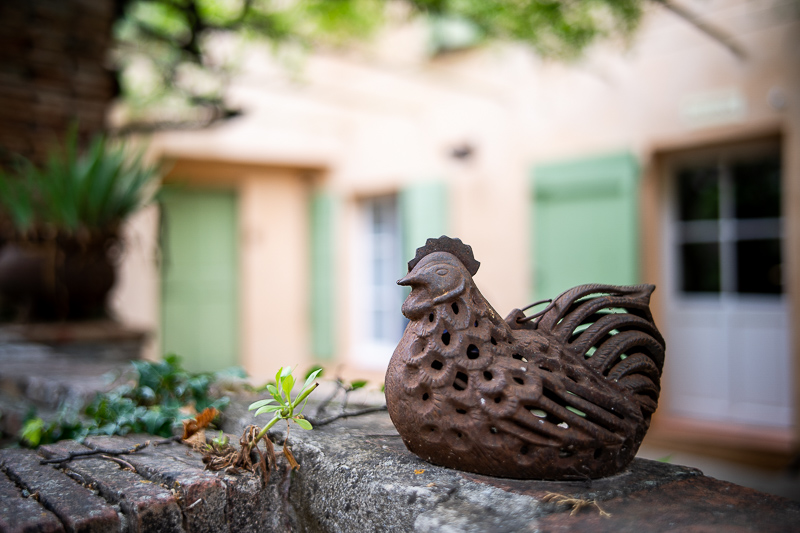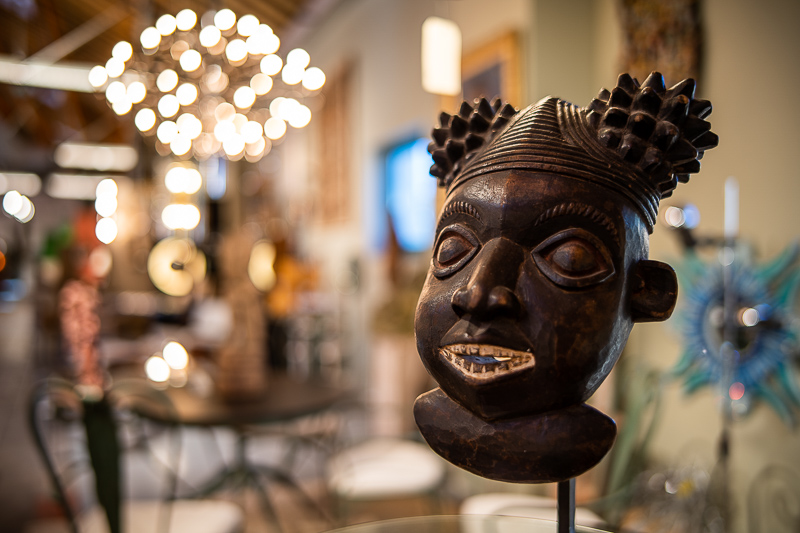 Of course in close focus scenarios the bokeh is smooth and non-distracting. Optical vignetting is also well behaved and hardly distracting – a very big difference compared the Voigtländer VM 28mm 2.0 Ultron Type I.
Sharpness and contrast at these distances is already good at the maximum aperture, this helps to give a nice impression of depth.
Mid distance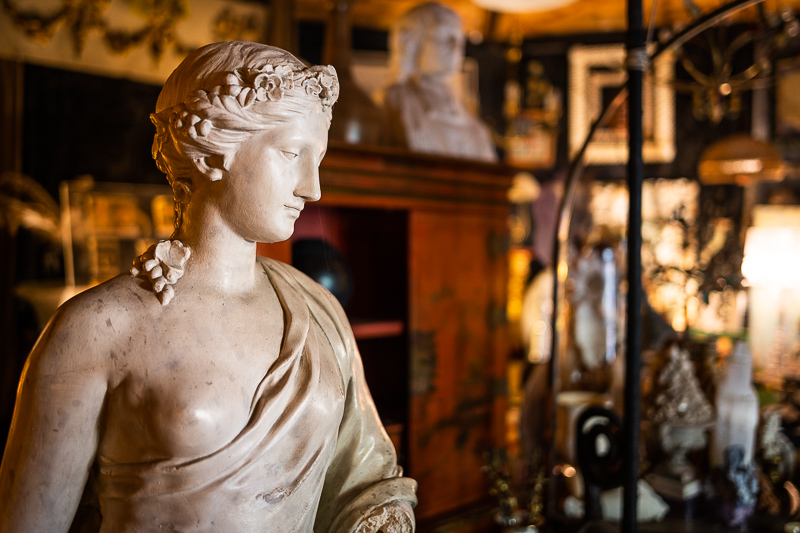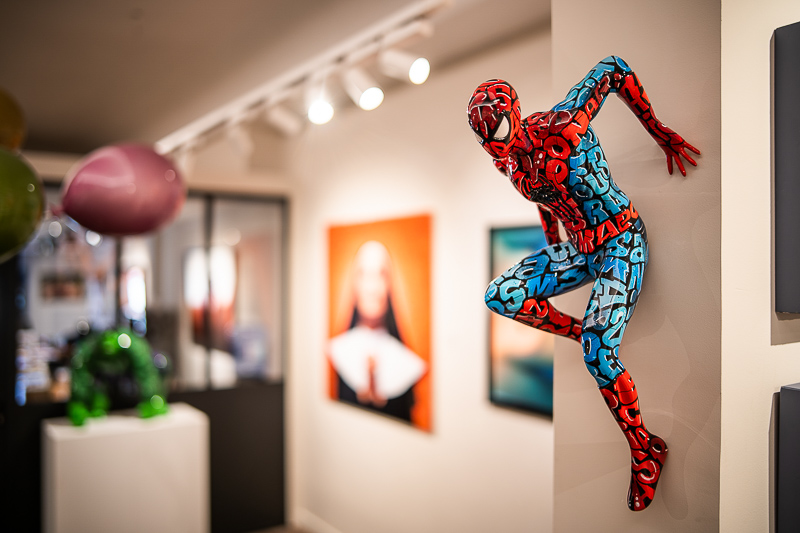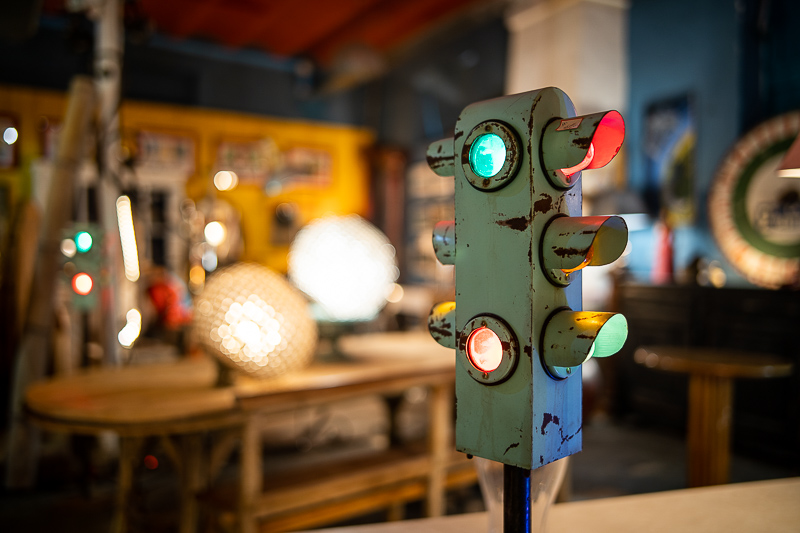 At mid distances the corners can start to look a bit messier with complex backgrounds, but in most situations I found the subject separation to be very impressive, after all there hasn't been a 28mm lens this fast before.
Long distance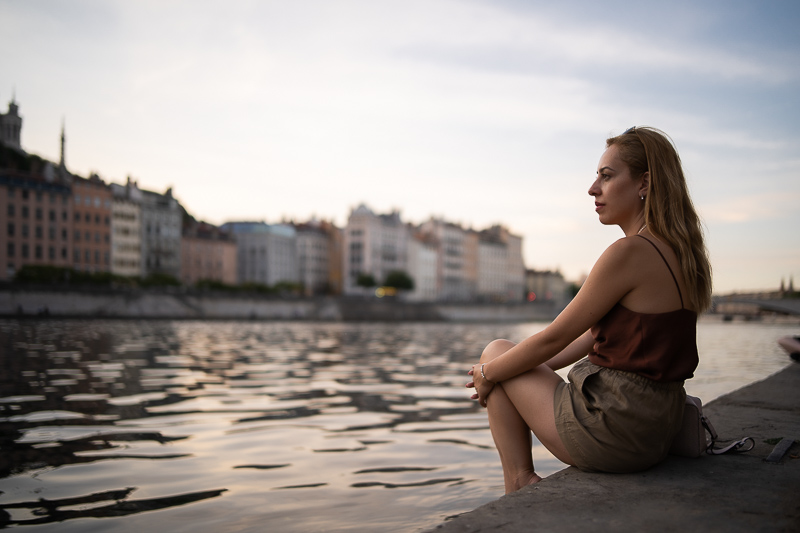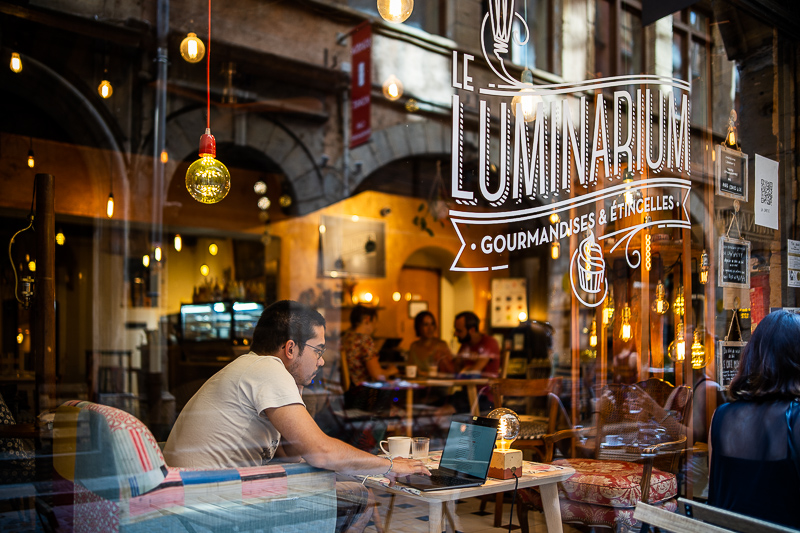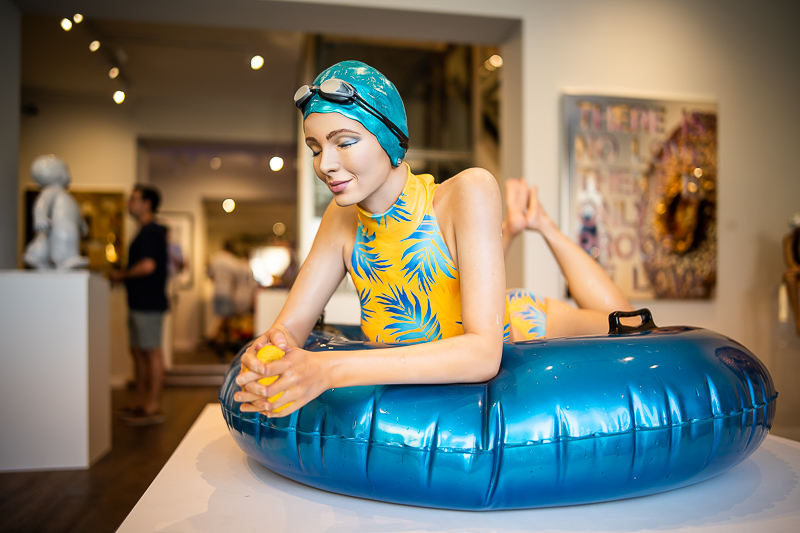 As is ususally the case things get really interesting at longer focus distances. Here it really comes down to what your backgrounds look like: if they are simple without any structures everything looks great, but if they are more complex with lots of details things can get messy to due this lens' field curvature characteristics that have the potential to mess up the bokeh a bit.
In the following example this is quite obvious, the beach in the background looks smoothly out of focus close to the center of the frame, but towards the left border becomes more distracting: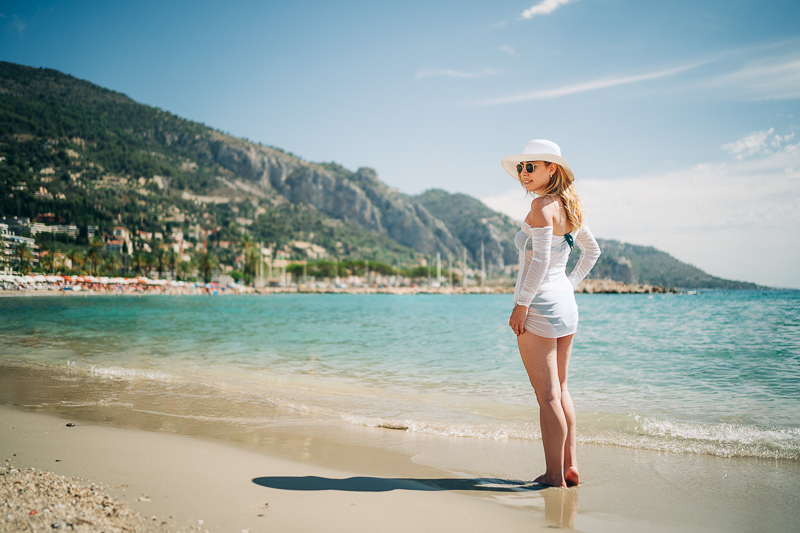 This is not something that will have a negative impact on every picture, but it is hard to unsee in those pictures where it is noticeable.
Sunstars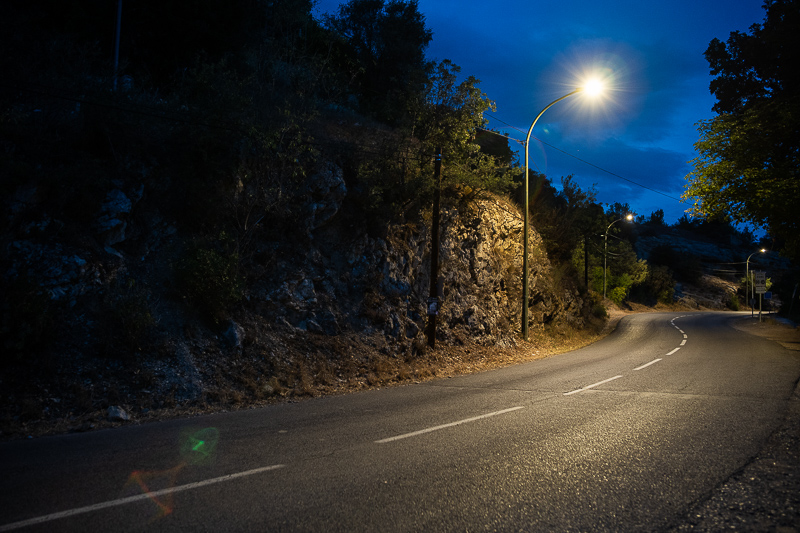 The Laowa 28mm 1.2 uses 13 rounded aperture blades, therefore you will only rarely encounter sunstars in your pictures. The alignment of the aperture blades is also not perfect on this sample, so the sunstars are usually frayed.
If you want to learn more about this topic have a look at this article.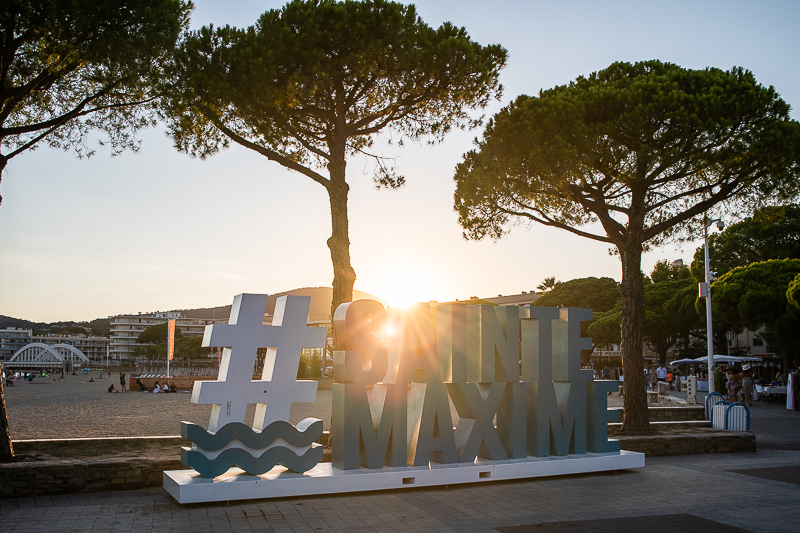 Chromatic aberration
lateral
Similar to the Laowa 35mm 0.95 it seems lateral CA were one of the design compromises and are very noticeable towards the corners when not corrected. As you know lateral CA are easily corrected in post though, so this seems like a sensible design choice.
100% crops from extreme corner, A7rII, f/11
longitudinal
Longitudinal CA are surprisingly well corrected. I wouldn't call this APO level, but still very good. This 28mm 1.2 easily beats not only the Laowa 35mm 0.95 but also the Sigma 35mm 1.2 Art here.
Sony A7III | Laowa 28mm 1.2 | f/1.2
Alternatives
7Artisans 28mm 1.4:
This was the first 7Artisans lens and it is still a really compelling option. It is half a stop slower, has a worse minimum focus distance of 0.7 m, and shares only average flare resistance and unappealing sunstars. It is a bit worse in terms of resolution and bokeh, but quite a bit smaller while being only 10% lighter.
The biggest advantage over the Laowa lens is that this 7Artisans is noticeably cheaper.
buy from B&H, amazon.com/amazon.de ebay.com/ebay.de for about $436 (affiliate links)

Sigma Art 28mm 1.4:
This might be Sigma's best balanced late f/1.4 DSLR prime, but when used on a mirrorless camera it is still a huge and much heavier lens compared to the faster Laowa 28mm 1.2. It also shares some of its issues like mediocre flare resistance and high vignetting. Still, if you want a 28mm f/1.4 lens with good AF this is currently your only choice.
buy from Amazon.com | Amazon.de | B&H | ebay.com for $999 (affiliate links)
Sony FE 28mm 2.0:
This is one of Sony's earlier fullframe E-mount lenses. It is more of a budget lens and significantly slower, but it is one of the few 28mm options with AF so worth a look if you rely on that.
buy from Amazon.com | Amazon.de | Ebay | B&H for $460 (affiliate links)
Laowa 35mm 0.95 Argus:
Laowa's even faster 35mm lens from the Argus line up. The 35mm lens is not only longer but also faster, bigger and heavier. I compared both lenses in most of the sections above already, so that should give you a good idea which works better for your needs.
buy from manufacturer's homepage | ebay.com | B&H for $649 (affiliate links)

Sigma 35mm 1.2 Art DG DN:
The Sigma 35mm 1.2 Art DG DN offers extraordinarily high sharpness and contrast already at f/1.2 and even manages to combine this with smooth bokeh rendering. It is also the fastest wide angle lens with auto focus.
buy from amazon.com | B&H | ebay.com | ebay.de for about $1499/1529€ (affiliate links)
Conclusion
good

unique combination of maximum aperture and focal length

bokeh

(mostly)

sharpness

correction of longitudinal CA

coma correction

build quality and handling

size

average
not good

flare resistance

high vignetting even stopped down

no electronic contacts
What a welcome addition this lens is in a time that most manufacturers seem to have given up on producing fast 28mm lenses. And this Laowa isn't just fast, it is the fastest 28mm lens made to this day.
The biggest difference compared to the Laowa 35mm 0.95 is the higher contrast at its maximum aperture and that sharpness holds up better farther away from the center. In combination with the wide angle view and being f/1.2 this leads to one of the most amazing impressions of depth (some may call it 3D effect) under the right circumstances I have seen yet – which I am sure many of the sample images demonstrate.
But this is not all, the correction of most optical aberrations is better than one should expect from a compact lens with such unprecedented and staggering specifications. It is possible to use this lens at f/1.2 for taking pictures of cityscapes during the blue hour even without a tripod and already stopped down to f/2.0 it resolves very fine details across the whole frame.
If I were to nitpick I would have to mention a bit unfavourable field curvature at longer distances having a negative effect on the bokeh, that flare resistance could be a bit better and that there are still no electronic contacts to communicate with the camera.
How many of the pictures I took with this lens did these things negatively affect? Not that many. In fact this Laowa 28mm 1.2 is a lens I was always happy to pick up and take some pictures with. So if you have been waiting for that high quality, fast 28mm lens, have a very close look at this one.
buy from manufacturer's shop | B&H | ebay.com | Amazon.de (affiliate links) for $599
Sample Images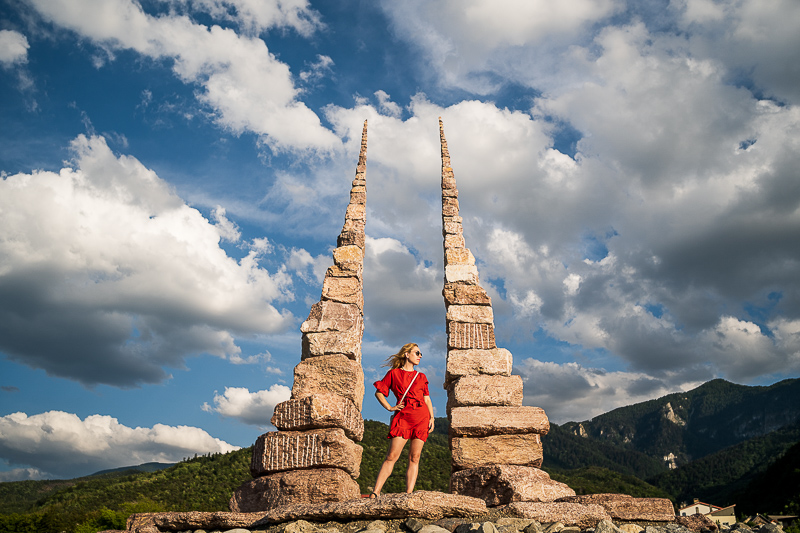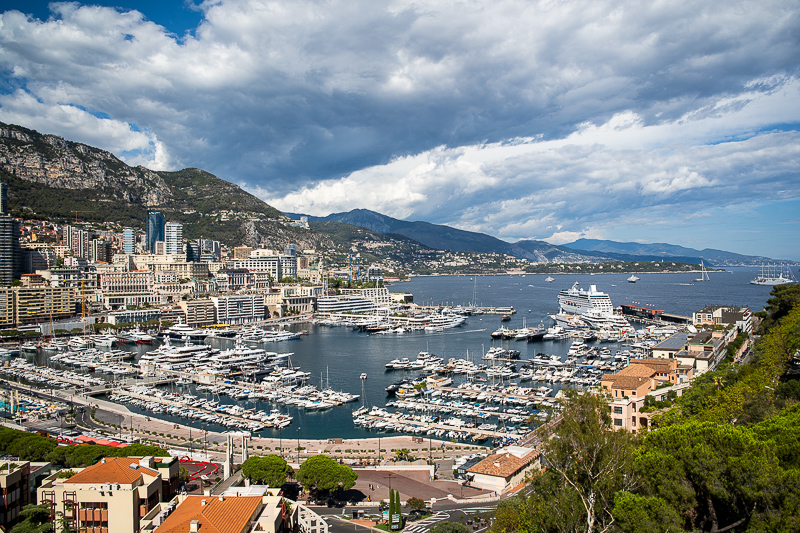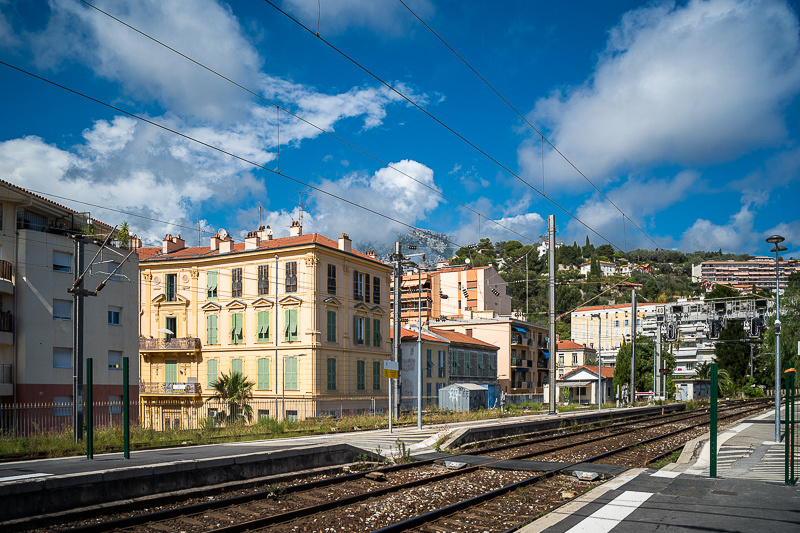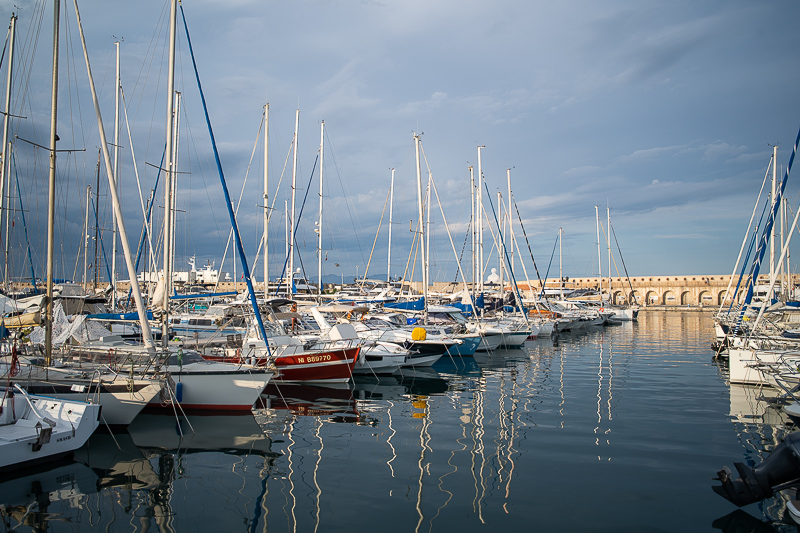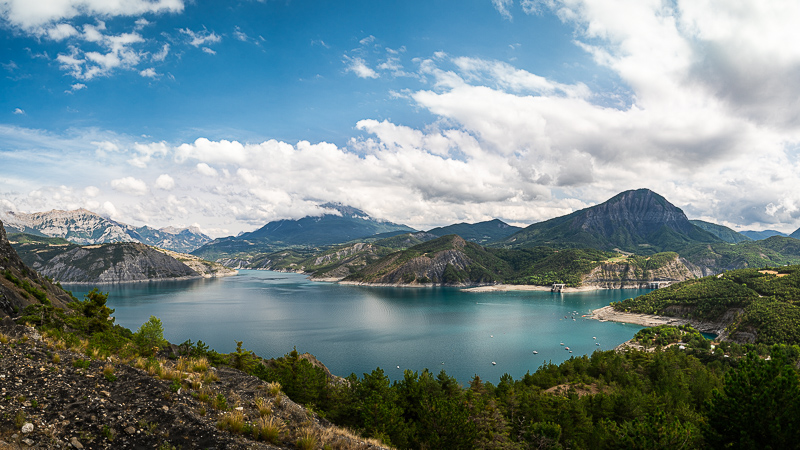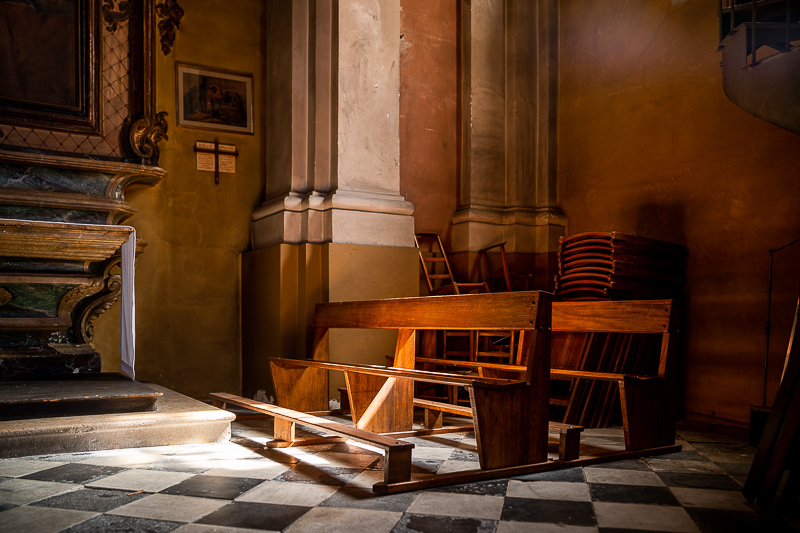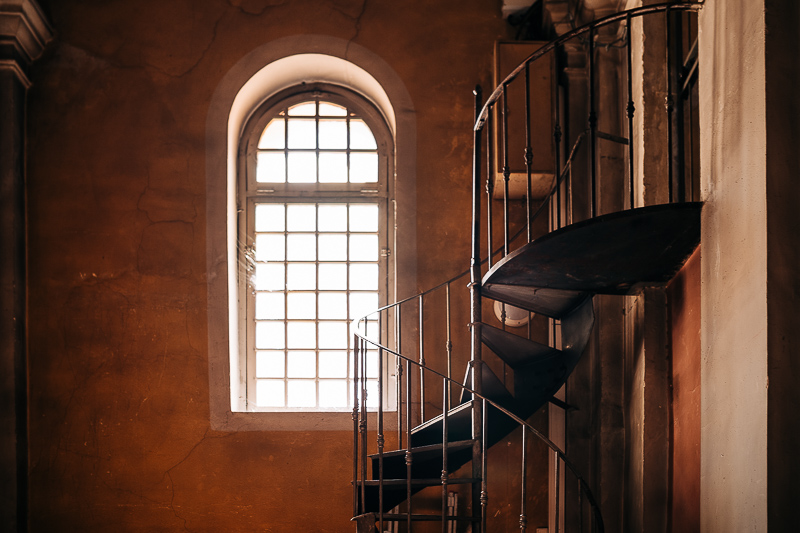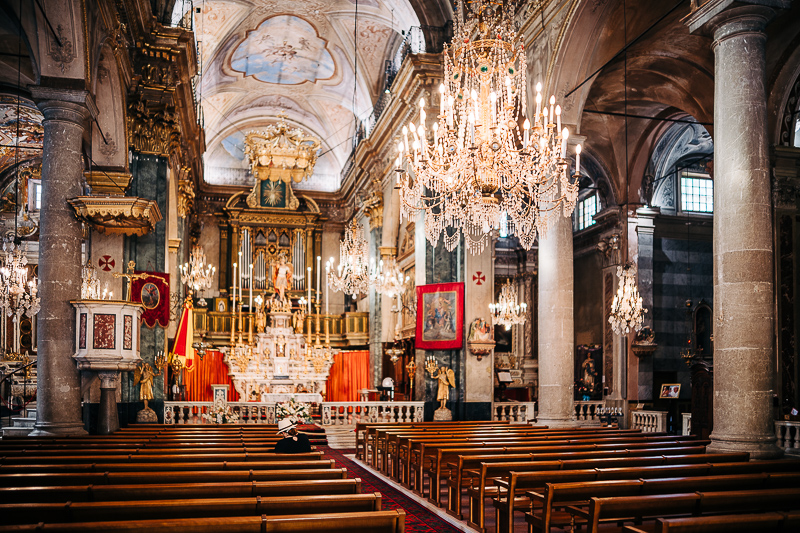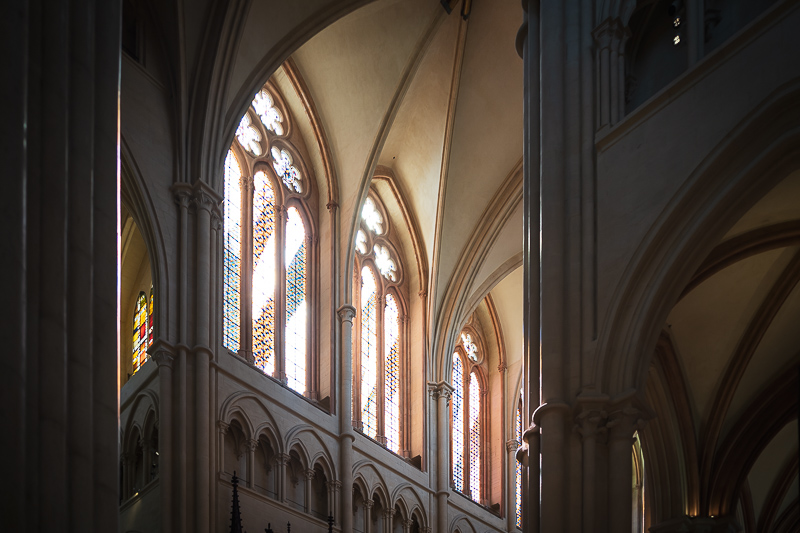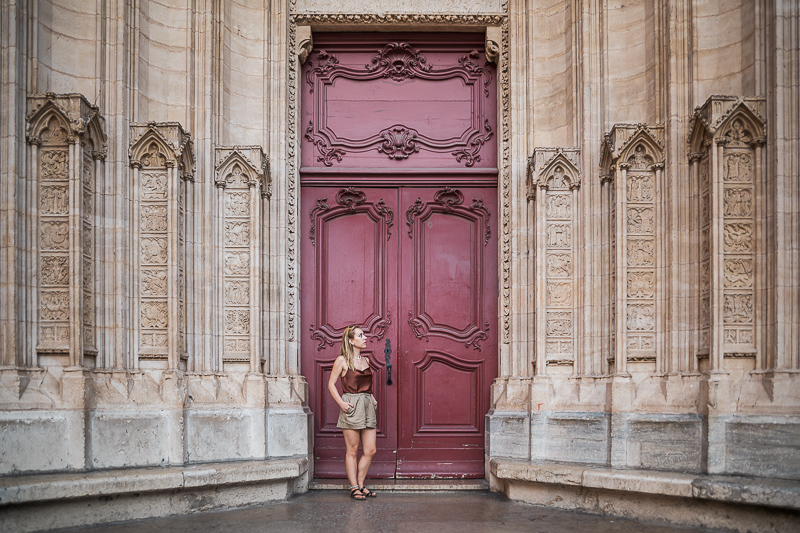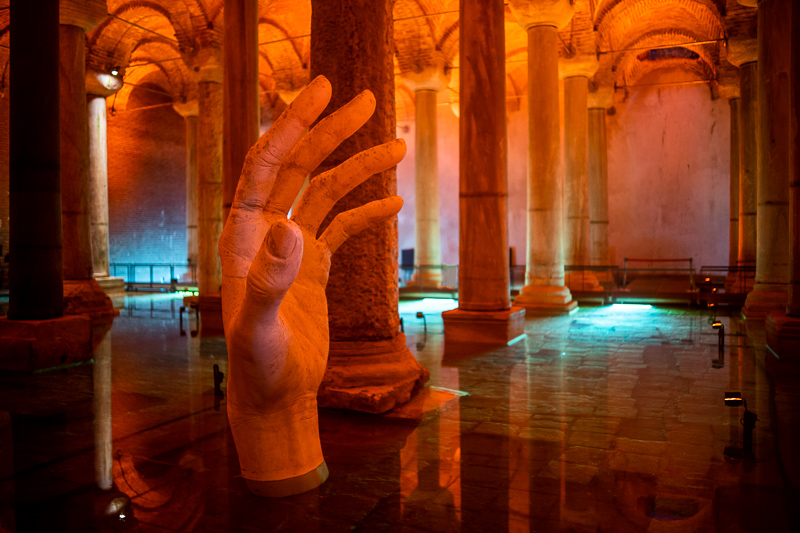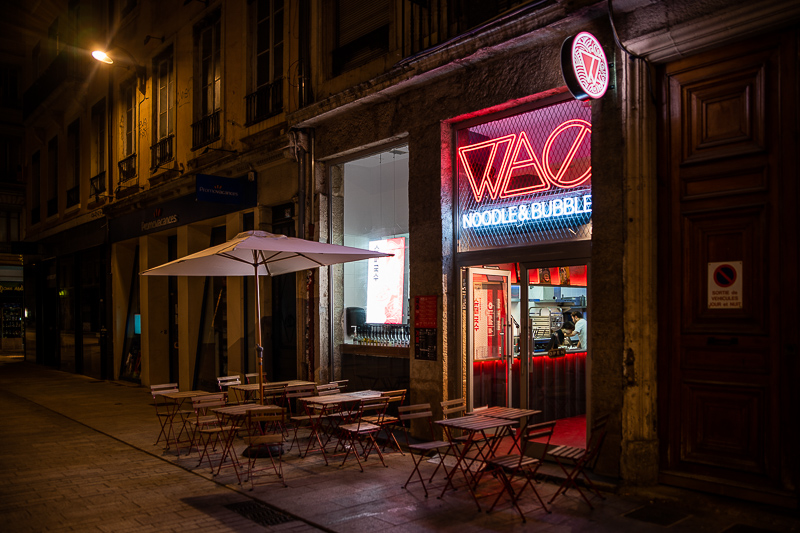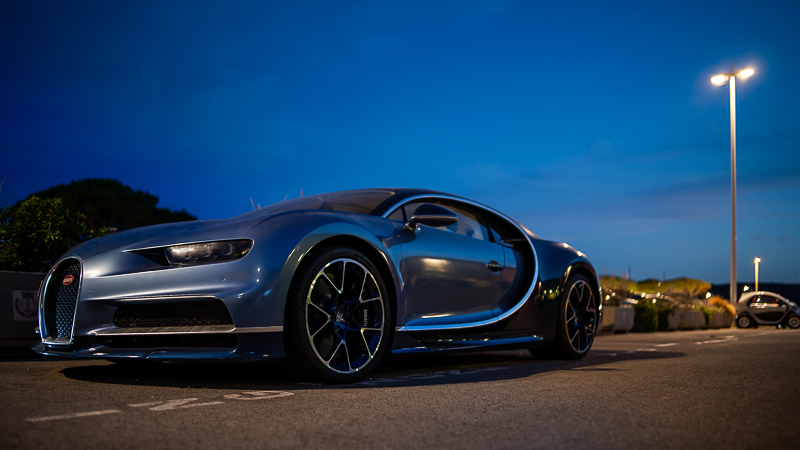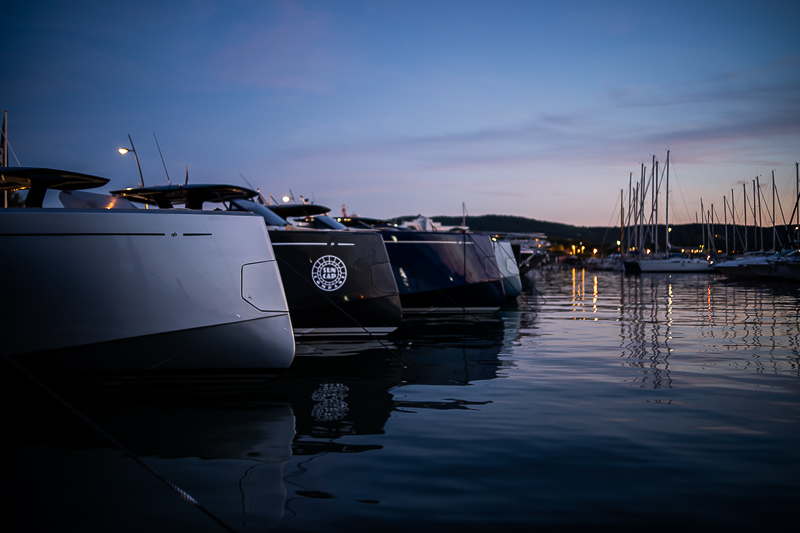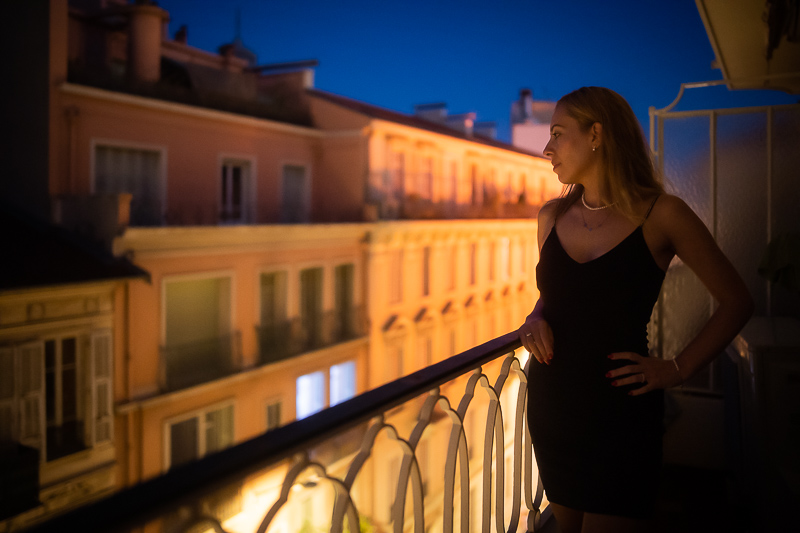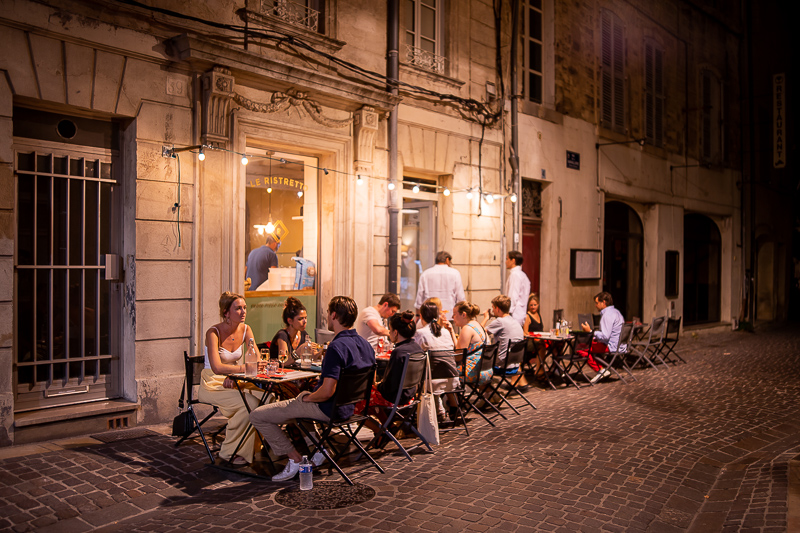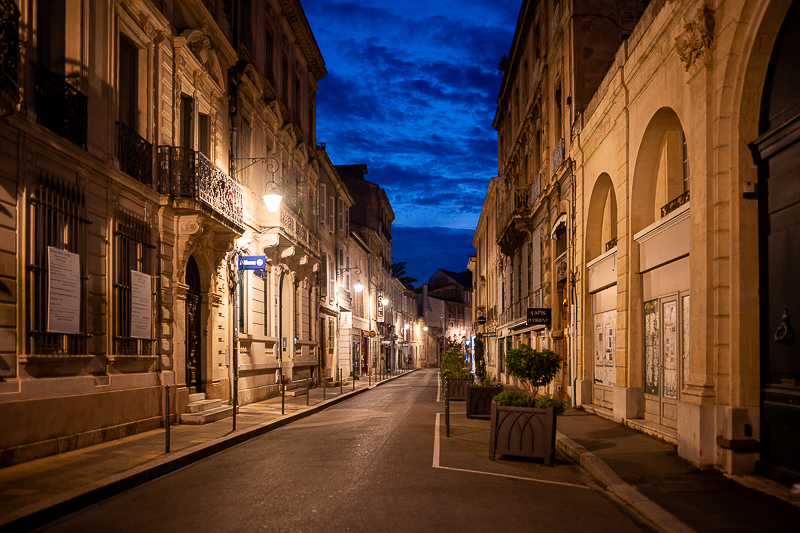 You can find many of the sample images in full resolution here.
Further Reading
Support Us
Did you find this article useful or just liked reading it? Treat us to a coffee!


via Paypal
The following two tabs change content below.
My name is Bastian and I am your expert here when it comes to ultra wide angle lenses, super fast portrait lenses (ranging from a 50mm f/0.95 to a 200mm f/1.8) and I also have reviewed way too many 35mm lenses. Don't ask me anything about macro or wildlife shooting though.