Introduction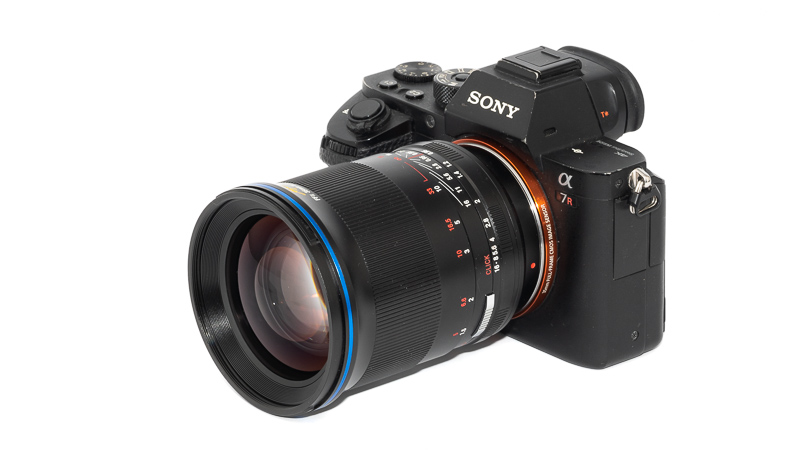 By now I have used over 150 lenses – of which 20 are 35mm lenses and most of them reviewed here – and it is safe to say that nowadays I am rarely excited about a new release in this focal length range. This Laowa 35mm 0.95 is not only the fastest 35mm fullframe lens though, it is also the widest f/0.95 fullframe lens – so two records in one lens (as of 2021 and counting).
Such bold designs often spot noticeable compromises, will this also be the case here? Let us find out in this review.
Last update: May 2023, new samples added
Sample Images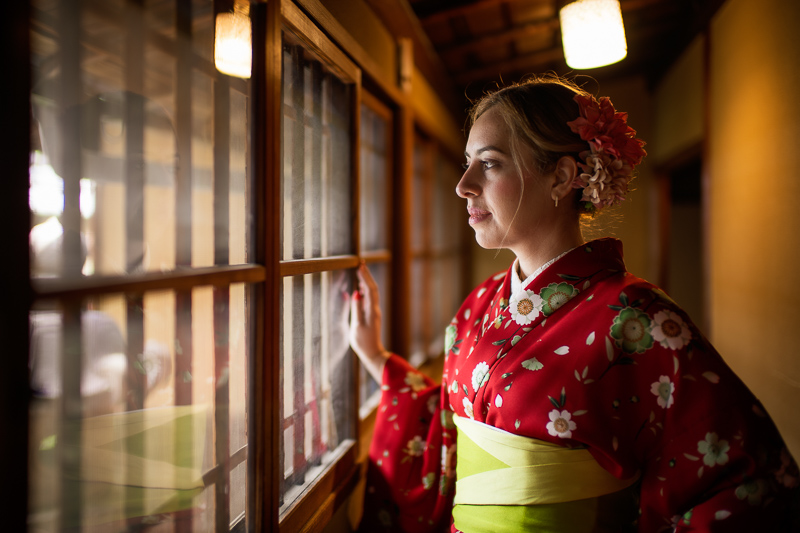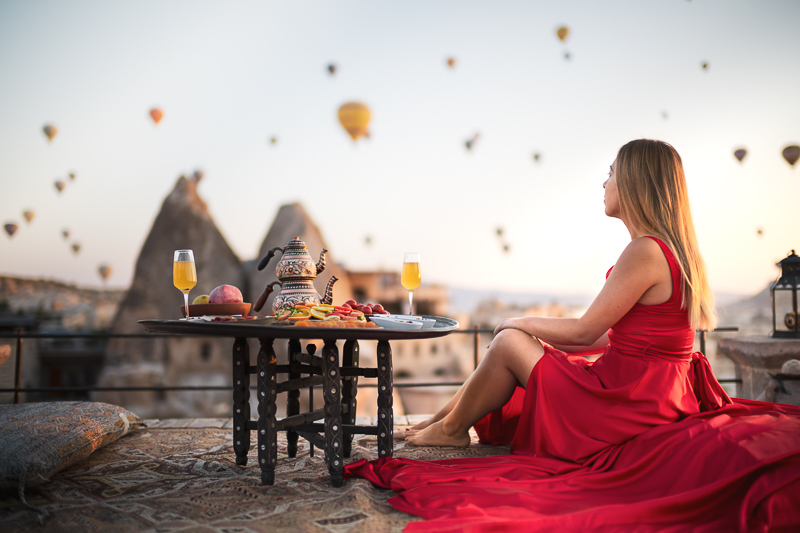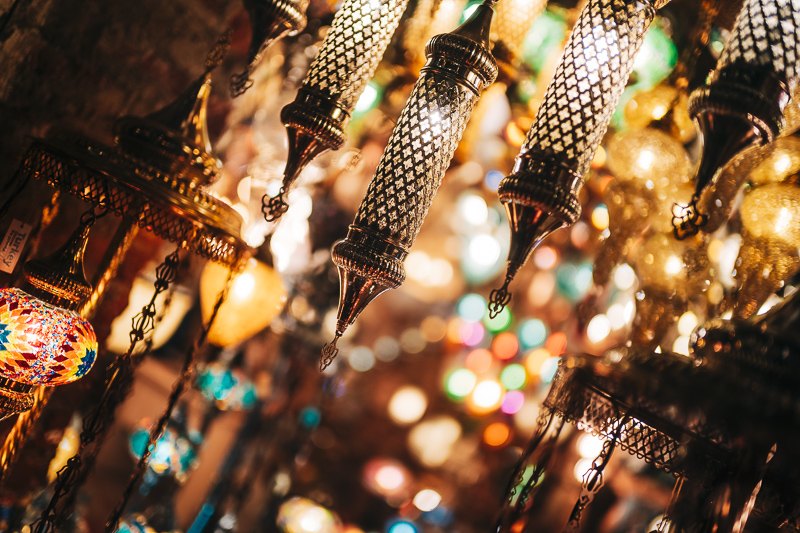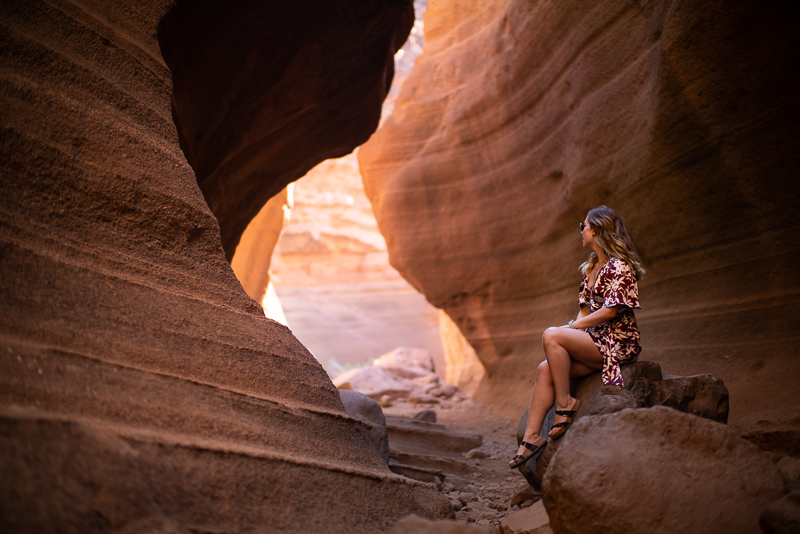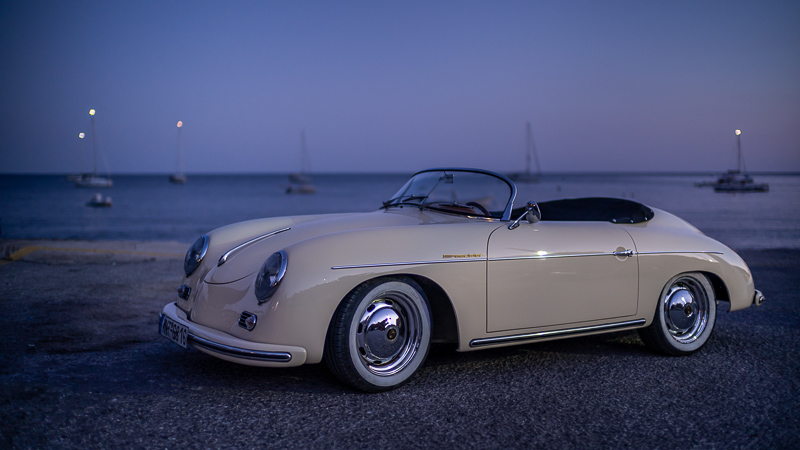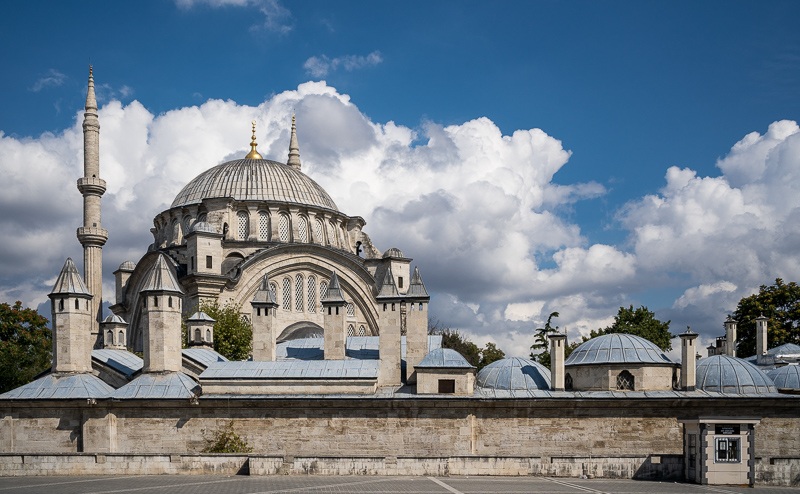 You can find most of the sample images in full resolution here.
What the optical designer says about the lens
"The idea was to design a 35mm fullframe wide angle lens with a maximum aperture of f/0.95 like the world has never seen before. Yet the goal was also to keep the size reasonable, so the lens would still be fun to use.
To maintain good optical performance across the distance range a complex floating elements design with two independently moving groups has been incorporated.
As is most important for a lens with these parameters, the optical design ensures the background bokeh is extraordinarily smooth and when shooting stopped down the highlights stay perfectly round thanks to using 15 rounded aperture blades."
Mr. Li, optical designer and CEO, Laowa
Disclosure
The Laowa 35mm 0.95 was kindly provided free of charge by Venus Optics / Laowa for reviewing purpose for a few weeks.
Specifications
The Laowa 35mm 0.95 is the first fullframe 35mm lens with a maximum aperture of f/0.95. The full specifications are:
Diameter: 79 mm
Field of view: 63.4° (diagonally)
Length: 97 mm
Weight: 795g (without hood, without caps)
Filter Diameter: 72 mm
Number of Aperture Blades: 15 (rounded)
Elements/Groups: 14/9

Close Focusing Distance: 0.50 m
Maximum Magnification: 1:10.8 (measured)
Mount: Sony E
The lens be ordered from the manufacturer's homepage | ebay.com | B&H (affiliate links) for $649
Handling/Build quality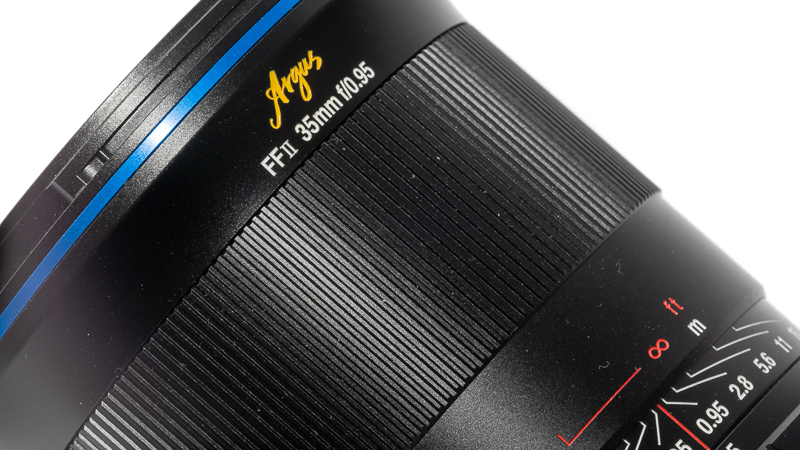 The Laowa 35mm 0.95 FF is an all manual lens without any electronic contacts or communication with your camera. Focus as well as aperture need to be set manually on the lens.
The focus ring has a really nice resistance and turns roughly 270° from the minimum focus distance of 0.50 m to infinity. This is a rather long focus throw which I think is a very good design choice for an f/0.95 lens where you will often deal with shallow depth of field and need to be able to precisely set focus.
The aperture ring does feature click stops and even a declick lever (so a clear improvement over the Laowa 33mm 0.95 CF lens) but again the stops are not equidistant and therefore really cramped together on the aperture ring between f/4.0 and f/16.
Still, thanks to the full stop click stops it is possible again to set a desired aperture value without having to look at the lens.
The Laowa 35mm 0.95 FF features a complicated internal focus design with one fixed and two moving groups that is supposed to ensure good image quality at different distances.
This is also the reason for the not so exciting minimum focus distance: to allow the lens focusing closer it would have needed to be significantly bigger.
The outer casing of the lens seems to be made from mainly metal and a few high quality polycarbonate parts, markings are engraved and filled with paint.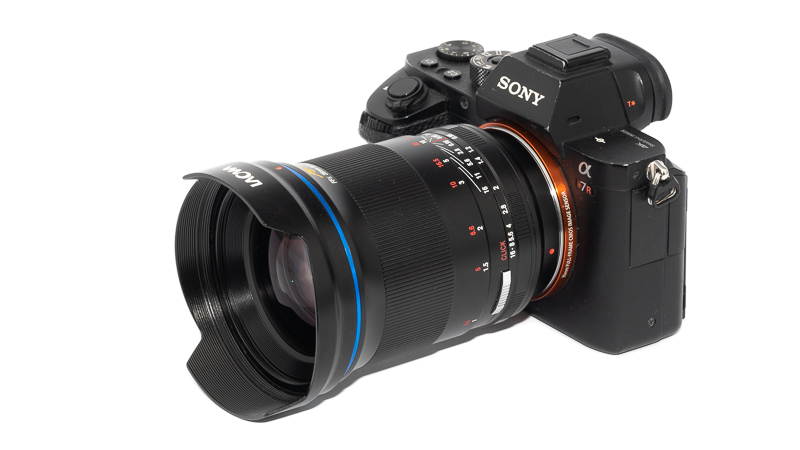 The lens comes with a small bayonet type tulip shaped metal hood. I like the small size of the hood so I wouldn't mind leaving it on all the time, but it is a bit too shiny for me on the inside, so if it was my lens I would paint the inside with matte black paint or add some felt.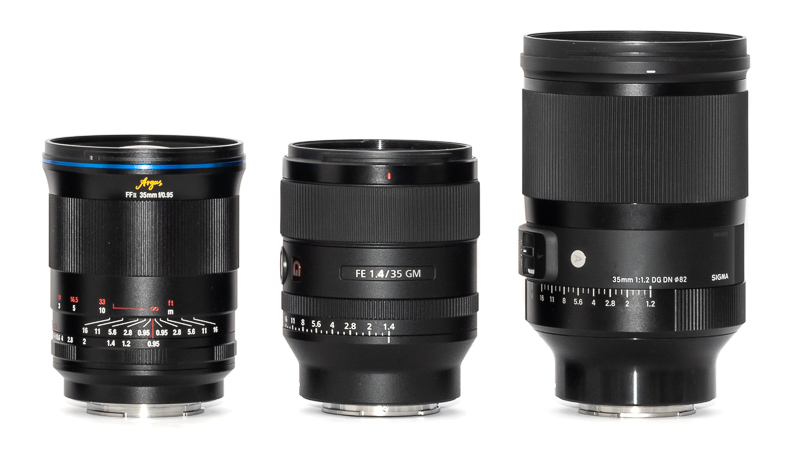 The Laowa 35mm 0.95 FF is almost exactly the same size as the more-than-a-stop slower Sony FE 35mm 1.4 GM but 260g heavier, mainly due to using mostly metal for the outer casing instead of polycarbonate as the Sony lens.
The more-than-half-a-stop-slower Sigma 35mm 1.2 Art DG DN is significantly bigger and 295g heavier.
Of course the Sony and the Sigma lenses both offer auto focus and they also spot a better minimum focus distance.
I think the size of the Laowa is very reasonable considering the maximum aperture and in comparison to the Sigma it makes more sense as an everyday lens.
Vignetting
light falloff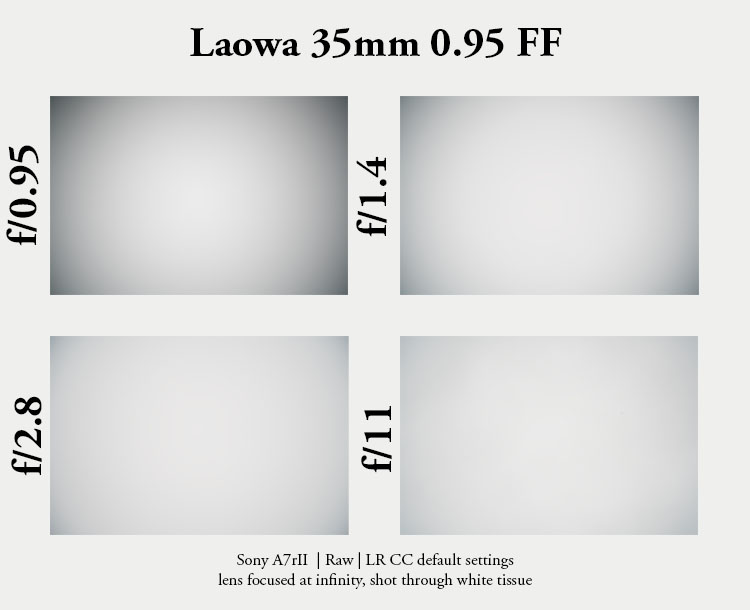 | | |
| --- | --- |
| f/0.95 | 3.2 EV |
| f/1.2 | 2.7 EV |
| f/1.4 | 2.2 EV |
| f/2.0 | 1.9 EV |
| f/2.8 | 1.7 EV |
| f/4.0 | 1.4 EV |
| f/5.6 | 1.3 EV |
| f/8.0 | 1.3 EV |
| f/11 | 1.2 EV |
I wouldn't have been surprised if the Laowa 35mm 0.95 set a new negative record for vignetting at maximum aperture – after all there has never been a 35mm f/0.95 lens before – but that crown still belongs to the Leica 35mm 1.4 FLE.
At wider apertures these values are comparable to the Sigma 35mm 1.2 Art DG DN, stopped down they are a bit worse and therefore very similar to the Sony FE 35mm 1.4 GM.
It is recommended to have a look at this article first to get an idea how this brightness graph works.
optical vignetting

Fast lenses usually show a noticeable amount of optical vignetting. Without going too much into technical details optical vignetting leads to the truncation of light circles towards the borders of the frame.
In the center of the frame almost every lens will render a perfect circle, but only lenses with very low optical vignetting will keep this shape in the corners.
So in the following comparison we move from the center (left) to the extreme corner (right) and see how the shape of the light circle changes.
I did shoot both lenses side by side, they were set to 0.5 m and with focusing at a target situated at exactly 0.5 m distance it was ensured the focus distance is really the same. Focus breathing might have an effect at these distances.

The Laowa 35mm 0.95 shows an impressive performance here. It shows significantly less optical vignetting than either the Sigma 35mm 1.2 Art DG DN and all the other f/0.95 lenses I have reviewed so far.
Sharpness
MTF-Graphs
We have MTF-Graphs for f/0.95 at infinity for the Laowa 35mm 0.95. What it tells me is that we should expect high contrast (red lines) as well as resolution (blue lines) within the center of the frame and the inner midframe area.
Towards the corners the the two red lines deviate from each other (astigmatism) so contrast is expected to be lower here.
What the graphs won't tell me if it is really fall off or just field curvature – we will find that out in the portrait distance section.
The blue lines stay very close to each other though, so resolution should still be good.
For an f/0.95 lens this looks promising, but let us see in the following sections how close to reality the MTF-graphs are.
Most MTF-Graphs show calculated values that do not take into account manufacturing tolerances and sample variation. Furthermore they are usually calculated for infinity, so in the field and shooting at different distances a noticeable variation may be visible.
infinity

(42mp Sony A7rII)

The f/0.95 lenses I previously reviewed haven't exactly been great performers in this category. The best of the bunch so far has been the Zhong Yi 50mm 0.95 M-mount, whose performance is very similar to the Laowa 35mm 0.95 reviewed here. This can already be seen as an achievement, as a 35mm f/0.95 is significantly harder to design.
All the other 50mm f/0.95 lenses I have reviewed performed way worse, you can check out my reviews of the Zhong Yi 50mm 0.95 E II/I or TTArtisan 50mm 0.95 to double check. Zenitar 50mm 0.95 E, Zhong Yi 50mm 0.95 EF-mount or also MS-Optics 50mm 1.0 ISM are not worth talking about here.
So if I was looking for a fast 35mm lens that also does a great job at wider apertures at infinity (e.g. Astrophotography) I would go for the Sigma 35mm 1.2 Art DG DN or the Sony FE 35mm 1.4 GM, but I wouldn't mind going somewhere with the Laowa 35mm 0.95 being my only 35mm lens and taking stopped down landscape or architecture pictures with it, which is something I wouldn't do with most of the aforementioned f/0.95 lenses.
portrait distance (1.0 m)

For portraiture it isn't so important how flat the field is, it is more interesting to see what the sharpness is like when focused at different parts of the frame to take field curvature out of the equation.

This is what I did here, I refocused for every shot and aperture to get the best possible result at different locations in the frame (center, inner midframe and outer midframe).
Focus distance was roughly 1.0 m and the circle of the dollar bill is more or less the size of a human eye.
f/0.95 <————> f/1.4
100% crops, A7rII
All the f/0.95 lenses I have reviewed struggled in the outer midframe area and taking into account the MTF graphs it does not come as a surprise here as well.
At comparable distances here the Zhong Yi 50mm 0.95 M is doing worse for a change and the TTArtisan 50mm 0.95 is showing a similar performance.
The Sigma 35mm 1.2 Art DG DN and the Sony FE 35mm 1.4 GM are not to be beaten here, but then it needs to be considered they are also noticeably slower.
close (0.50 m, 1:10.8)

100% crops from center, A7rII
At the maximum aperture of f/0.95 the Laowa shows a high amount of spherical aberration ("glow") at the minimum focus distance. The other f/0.95 lenses I have reviewed are either similar or worse.
By f/2.0 the performance increases to actually good levels. This is also similar to the other f/0.95 lenses.
There are no other 35mm lenses with a maximum aperture of f/0.95 to compare the performance to, so here I can only compare it to Sigma 35mm 1.2 Art DG DN and Sony FE 35mm 1.4 GM which are doing a better job despite focusing closer.
Flare resistance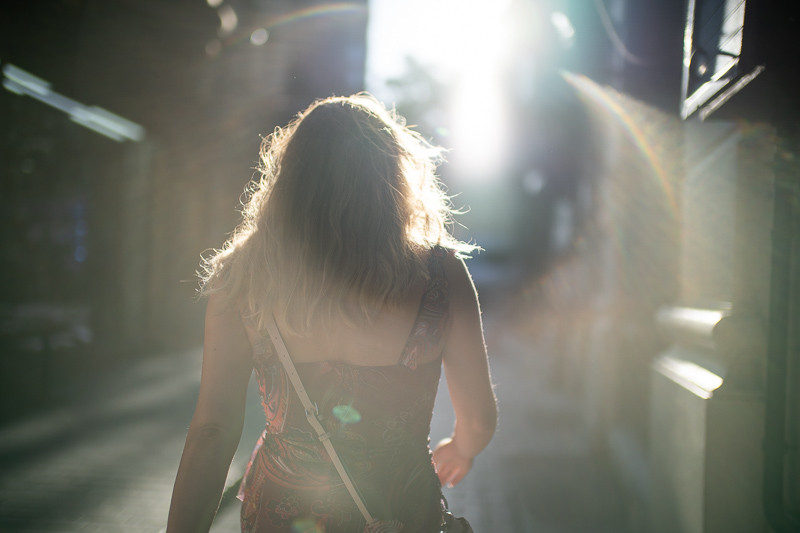 As always evaluating flare is a complex matter since you can get any lens to look bad if you push it hard enough and a slight change of scenario can affect results a lot.
Plenty and big lens elements are one of the main reasons other f/0.95 lenses performed really bad in this category, the Zenitar 50mm 0.95 E even being the worst lens I ever had a look at.
Now if you look at the header picture of this section you may think the Laowa 35mm 0.95 is just as bad, but let us check first before jumping to conclusions.
Sun inside Frame
As has been the case with several f/0.95 lenses (and even some bad f/1.4 lenses) a ring flare can be provoked at the maximum aperture. This can easily be avoided when stopping down to f/1.2 already. Stopped down a bit more also veiling flare is hardly an issue anymore and contrast stays on a high level.
At night strong point light sources can also yield this ring flare. But keep in mind I was shooting without tripod under star light at f/0.95, 1/8s and ISO12800 here.
Sun outside frame
With the sun outside the frame ghosts can be an issue, but in most cases it was possible to completely eliminate them by shading the lens with my hand. The supplied hood is rather short and a bit reflective on the inside, so I didn't use it that much.
Again I am facing the task of putting things into perspective for you: better than the other f/0.95 lenses I have reviewed but also worse than the best slower 35mm lenses in this category (e.g. Sony FE 35mm 1.4 GM or Voigtlander VM 35mm 1.7).
Considering the unique specifications a very respectable performance.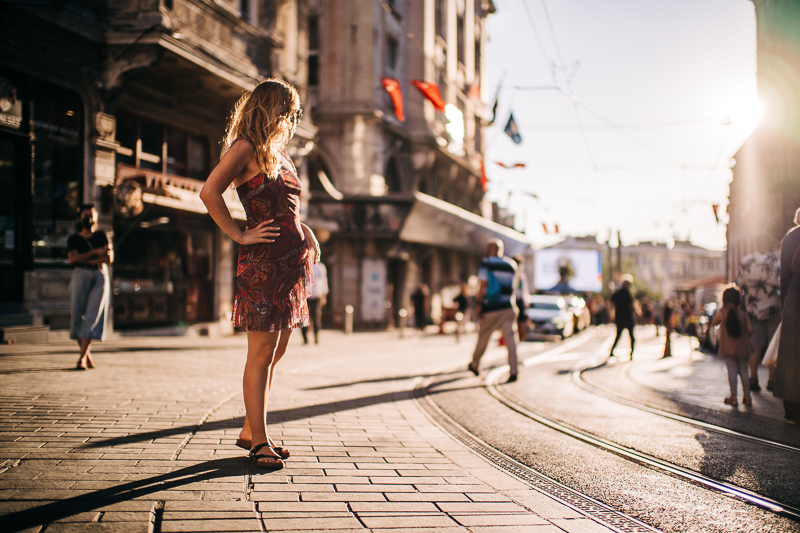 Coma
100% crops from extreme corner, focused on corner, A7rII
Coma at wider apertures is noticeable but things improve fast on stopping down. By f/2.0 it is already acceptable for many applications and by f/2.8 very clean.
As in many other categories: better than the 50mm f/0.95 lenses, worse than Sigma 35mm 1.2 Art DG DN and Sony FE 35mm 1.4 GM.
Now stars are a little less demanding than city scenes and luckily I got the chance to shoot the Milky Way with this lens as well. With a 35mm lens if you want to do landscape astrophotography you will most likely be looking at two row panoramas as with the field of view of a 35mm lens you will only be able to frame the galactic core, as can be seen in the picture below.
Now because of the high vignetting I would probably stop the lens down a little to get a more even exposure, nevertheless even at f/0.95 the amount of Coma is surprisingly low here and way better than I would have expected.
Sony A7III | Laowa 35mm 0.95 | f/0.95
Distortion
Sony A7rII | Laowa 35mm 0.95 | f/2.8
The Laowa 35mm 0.95 shows a small amount of wavy pincushion distortion. Dialing in -3 is doing a good job at correcting it.
Bokeh
This is the review of a 35mm f/0.95 lens so you are only here to learn about the bokeh characteristics anyway, aren't you?
As usual we will have a look how the lens performs at different distances and in different scenarios. We will also check in side by side comparisons how it stacks up to the Sigma 35mm 1.2 Art, the next fastest 35mm lens and also the one with the – to my eyes – most pleasing bokeh rendering in the 35mm world (yet).
Close distance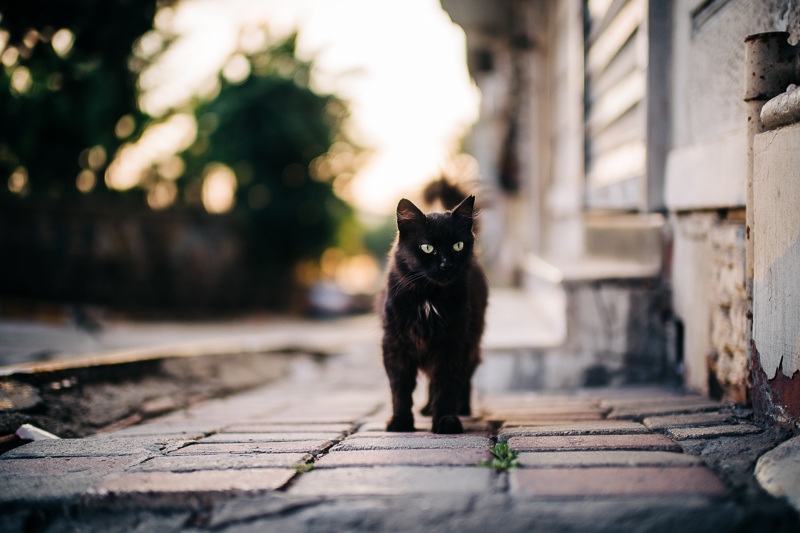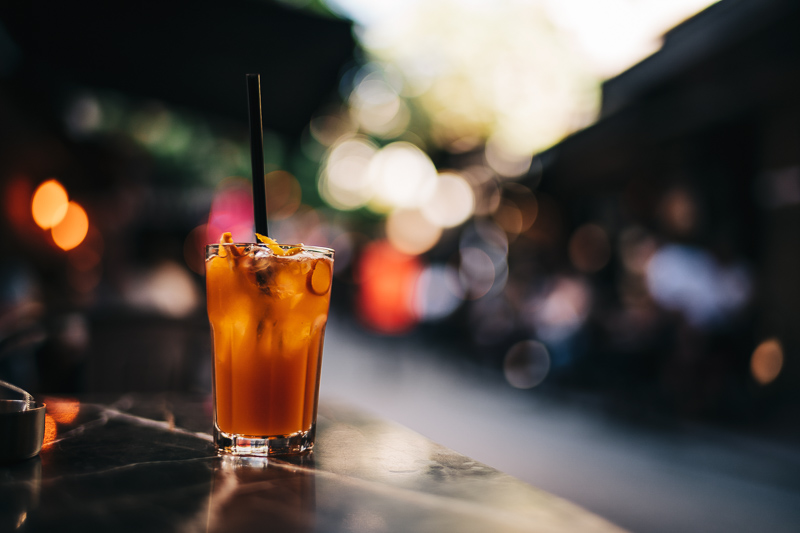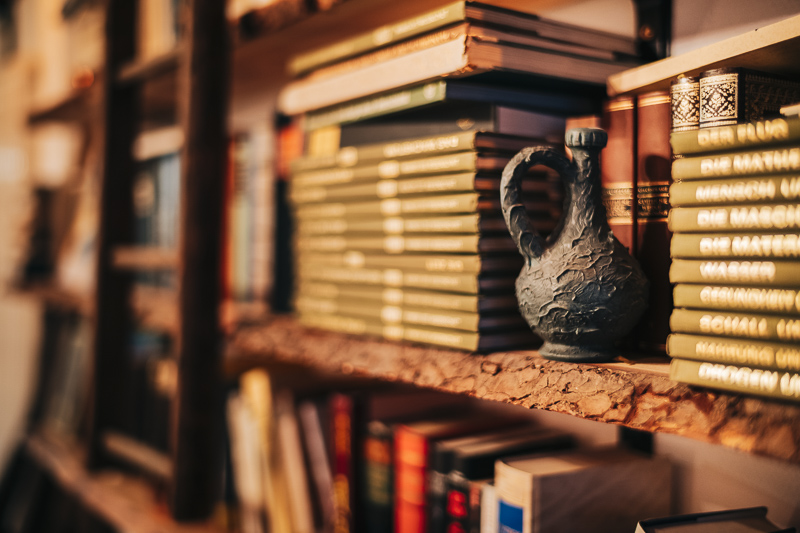 Of course in close focus scenarios the bokeh is smooth and non-distracting. Optical vignetting – while present – is also comparably well behaved.
With the bookshelf we see that bokeh in front of the focal plane is rather busy which means there is a bit of undercorrected spherical aberration and we clearly see the benefit of that in the backgrounds as they are rendered really smooth.
Mid distance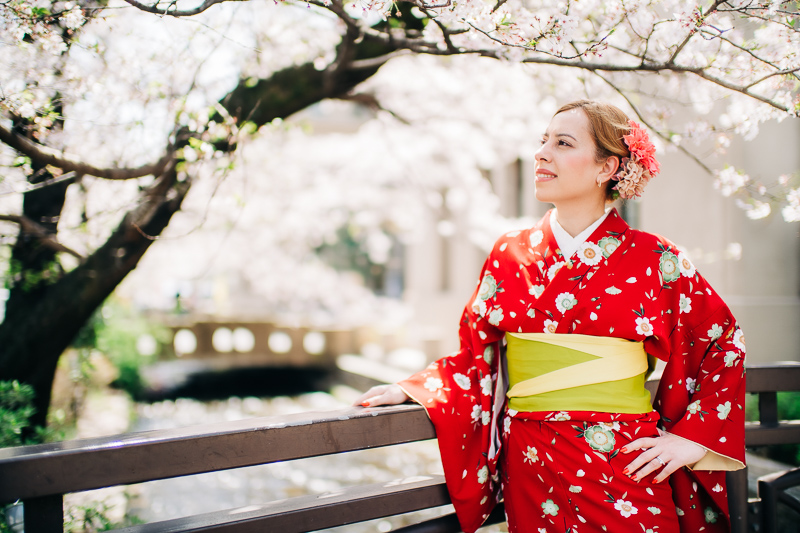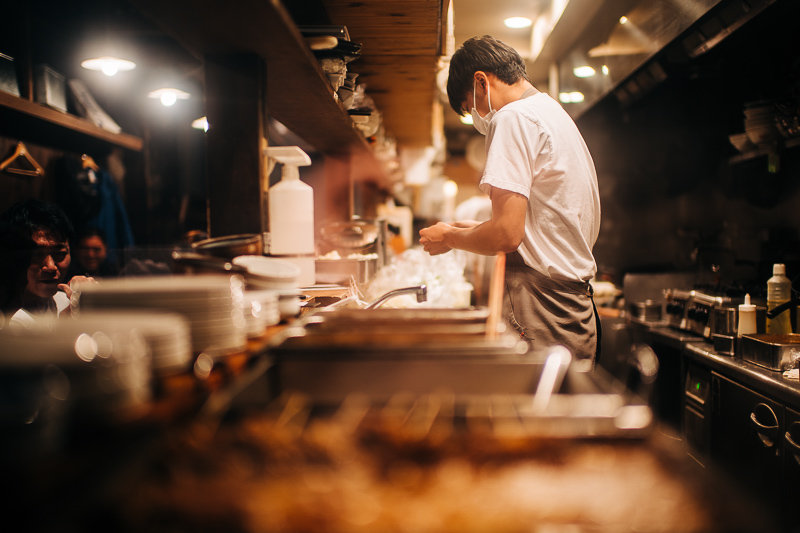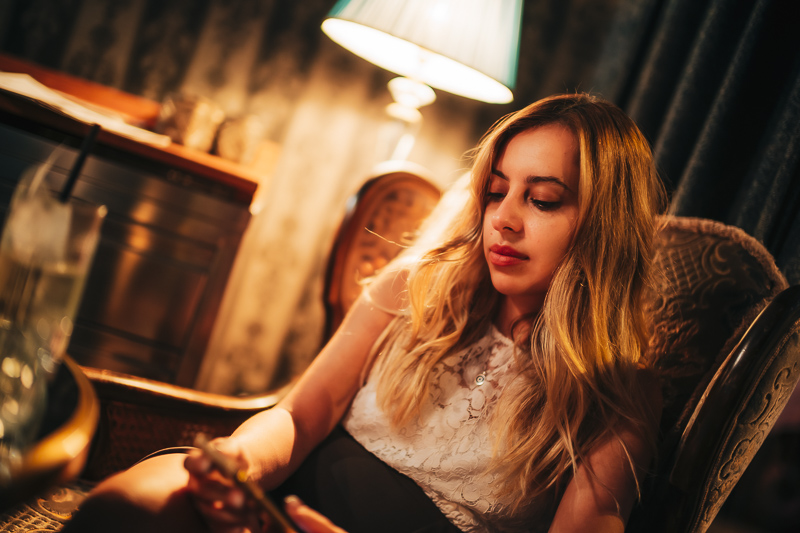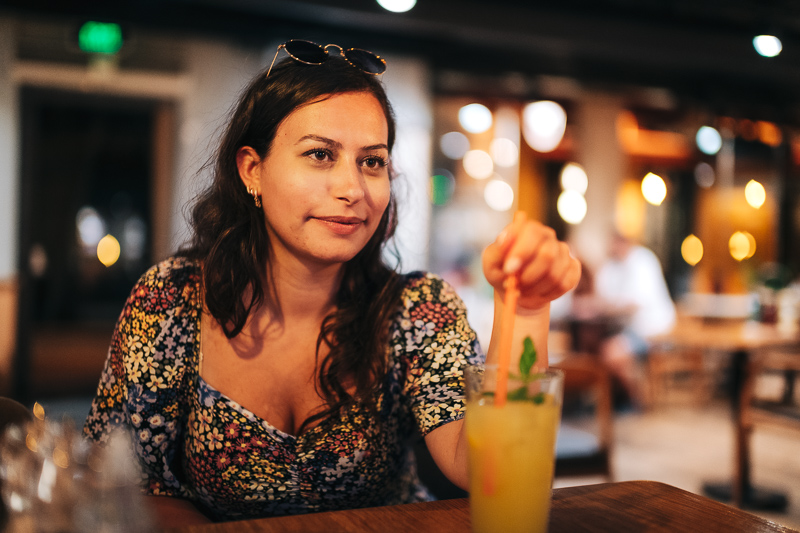 At mid distances the high amount of subject separation often made me feel I was shooting with a longer lens. Again everything looks very pleasing to my eyes, only the small light spill on the edges of off center highlights (see fifth picture) looks a bit unnatural. This is only visible at certain distances and with certain types of light sources and some other f/0.95 lenses have shown similar behavior as well. Stopping down to f/1.1 is sufficient to cut off these edges if they bother you.
Long distance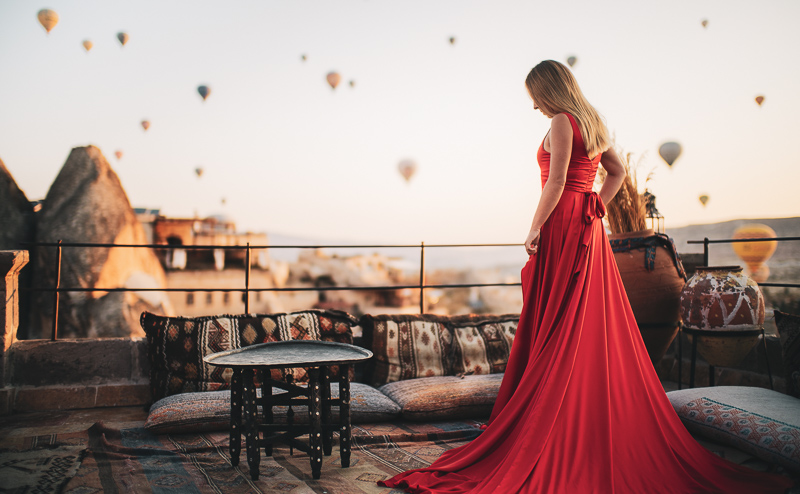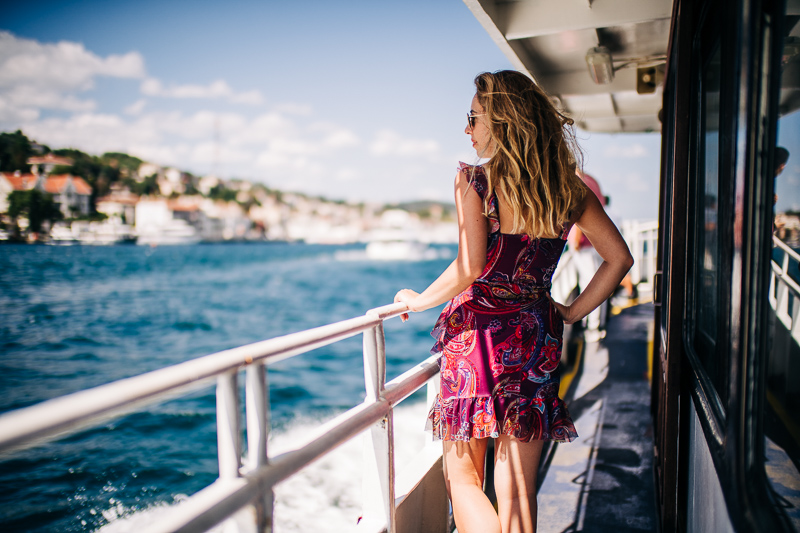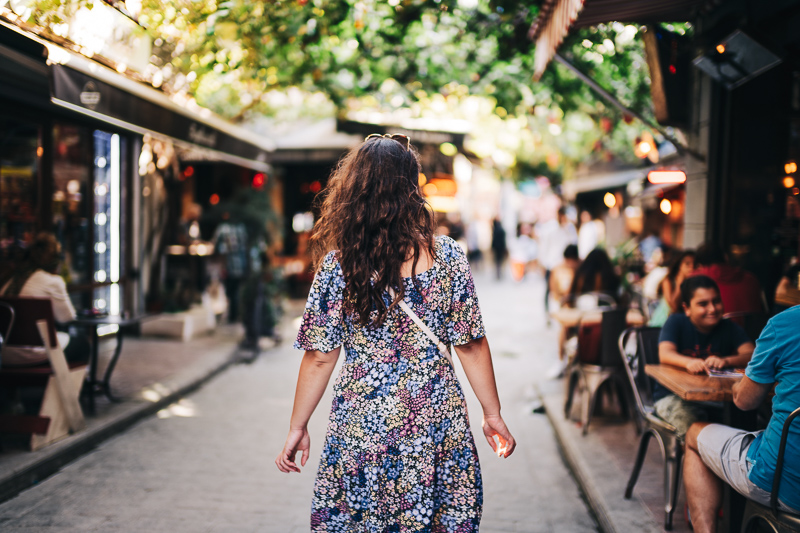 Now longer focus distances are probably the most interesting category here as this is where many lenses struggle and where being f/0.95 can have real visual impact compared to slower lenses.
Of course the lens is not free of optical vignetting so even with a completely flat background (which is rare to find in the real world) you will notice the edges and corners are not as much out of focus as the center of the frame.
Nevertheless even with full body portrait shots it is easily possible to create the illusion of depth due to the still high amount of background blur.
To put things into perspective, let's compare the Laowa 35mm 0.95's bokeh to that of the Sigma 35mm 1.2 Art DG DN.
Compared to Sigma 35mm 1.2 Art DG DN
Scene 1: City close

Scene 2: Forest mid

Scene 3: Forest far

Scene 4: City far

Observations
I had to correct the high distortion in the Sigma's images for the pictures to be more easy to compare, both lenses have pretty much the same field of view though. At infinity the Laowa is exactly 35.5 mm I was told, but this changes on focusing closer.
For my taste the Sigma 35mm 1.2 Art DG DN was the king of 35mm bokeh since its release – despite its high optical vignetting – but backgrounds were simply rendered so smooth, no other 35mm lens came close (also see my review of the Sony FE 35mm 1.4 GM where I compare it to the Sigma 35mm 1.2).
With the Laowa 35mm 0.95 I did not know what to expect. Compared to the Sigma 35mm 1.2 it is rather compact and we haven't seen a 35mm lens with f/0.95 before so I feared to make the lens sharp enough spherical aberration may be overcorrected and therefore bokeh less smooth, but as can be seen from the comparisons above this is not the case.
In the city pictures I prefer the overall look of the Laowa lens. That extra ~half-a-stop makes a visible difference to the backgrounds and yields noticeably more subject separation.
Also in terms of bokeh quality/smoothness the Laowa does not lack behind.
Now in these pictures the backgrounds are not that difficult as there is nothing structured close to the corners.
If we look at the forest pictures the Laowa comes out on top even with very difficult and structured backgrounds over most of the frame, but in the corners the Sigma shows a calmer, less obstrusive rendering.
In scene 3 I prefer the overall look of the Laowa, giving me a better impression of depth. In scene 2 it is a bit of a draw for me. Center, midframe and also the area on the top border look nicer with the Laowa, but in the top left corner I prefer the Sigma.
So is the Laowa 35mm 0.95 my new king of 35mm bokeh? It depends. If I was shooting a wedding couple in a forest I would rather use the Sigma 35mm 1.2 as it is more predictable in the corners. But in every other scene where I compared the two lenses I preferred the Laowa.
Which one would you prefer? I am curious, so maybe consider telling me in the comment section 🙂
Sunstars
The Laowa 35mm 0.95 uses 15 rounded aperture blades, therefore you will only rarely encounter sunstars in your pictures. With very strong point light sources at night you may still get 30 pointed sunstars like in the picture below though. If you want to learn more about this topic have a look at this article.
Chromatic aberration
lateral
Lateral CA were one of the design compromises and are very noticeable towards the corners when not corrected. As you know lateral CA are easily corrected in post (or in camera for Jpegs) though, so this seems like a sensible design choice.
100% crops from extreme corner, A7rII, f/11
So far f/0.95 fullframe lenses have been special purpose lenses for shallow depth of field photography with plenty of compromises, too many compromises for myself to consider using them on an everyday basis.
For the Laowa 35mm 0.95 this is not the case and this is what really makes it stand out among the other f/0.95 lenses. While it is being surpassed in several categories (e.g. sharpness, flare resistance, coma and CA correction) by slower and often more expensive lenses, the package as a whole ended up being a fully usable lens that can be used for a wide variety of applications and not just shallow depth of field portraiture.
It therefore behaves similar to the Voigtlander f/1.2 lenses while being more than half a stop faster – quite the achievement.
I am sounding like a broken record by now, but it is really time for Laowa to add electronic contacts to their E-mount lenses though, especially considering not only Samyang but also Yongnuo and Viltrox manage to do that.
This 35mm 0.95 is Laowa's first attempt at designing a fast portrait lens with an "ordinary" focal length where there is a lot of competition in the market already. Before using the lens I was afraid making it f/0.95 might have been too ambitious, but this is not the case at all. If I was to pick a fast manual 35mm lens for an E-mount camera today this would clearly be it.
The lens can be ordered from the manufacturer's homepage | ebay.com | B&H (affiliate links) for $649
Sample Images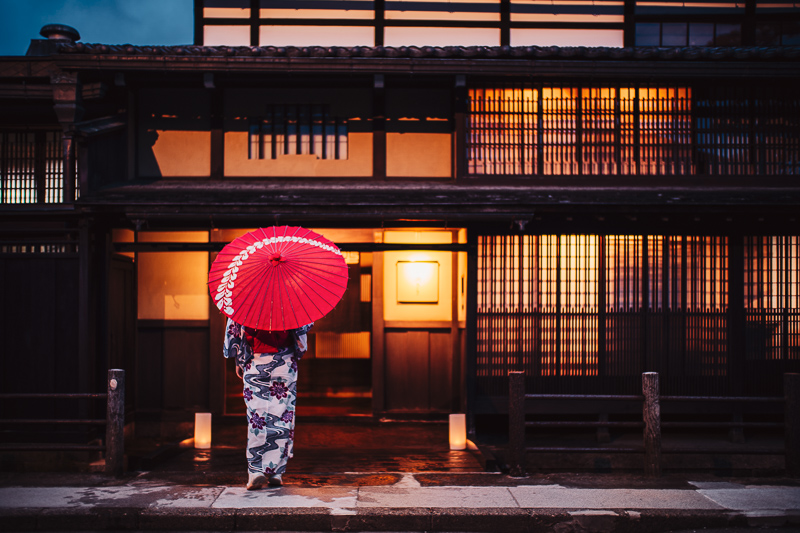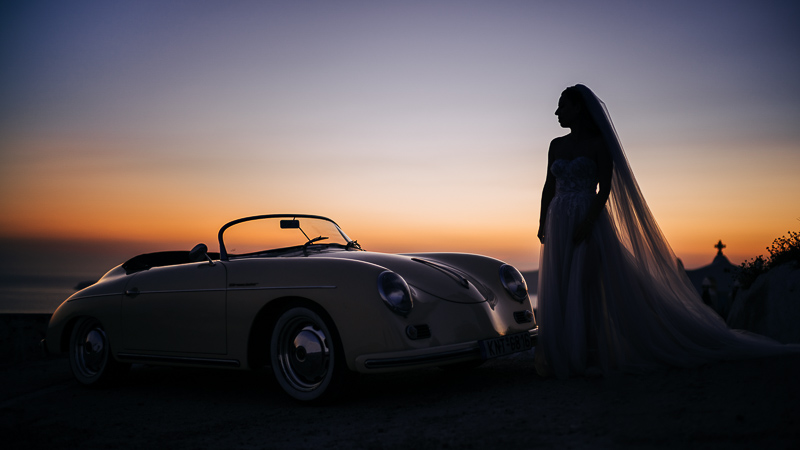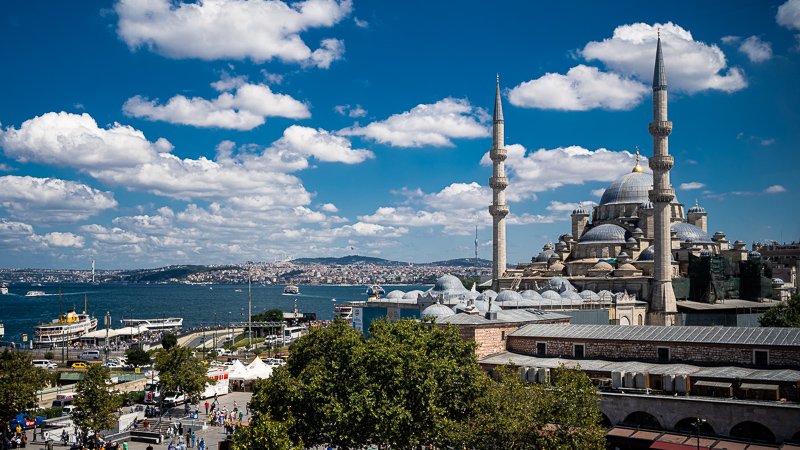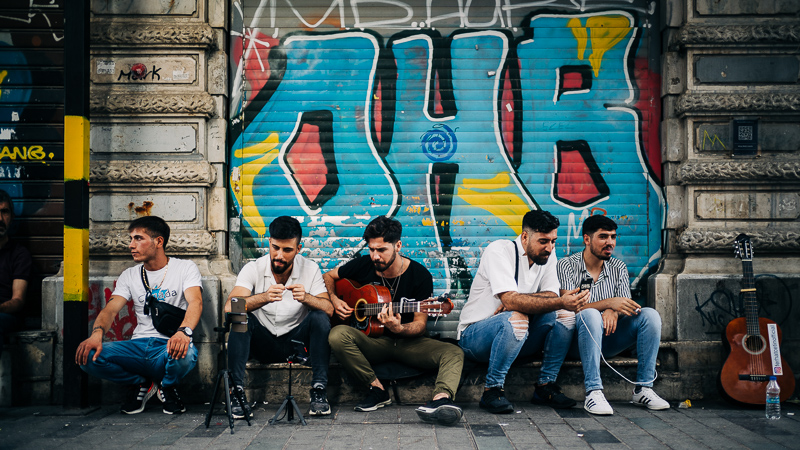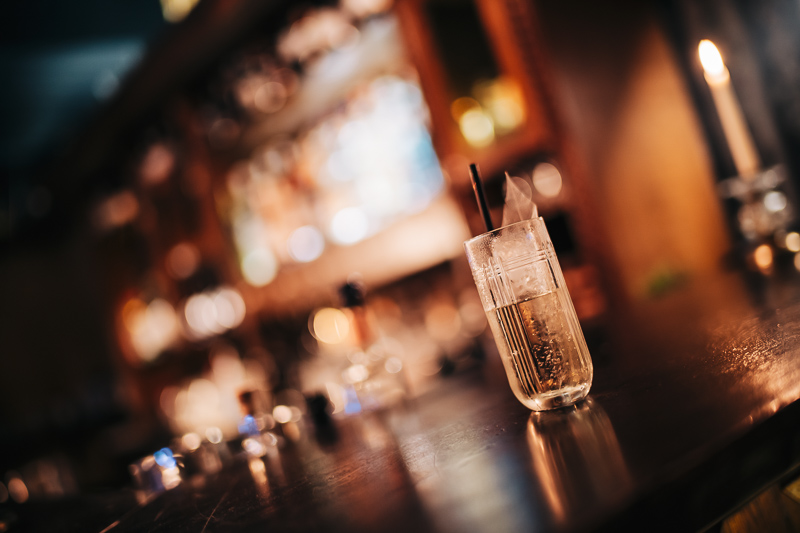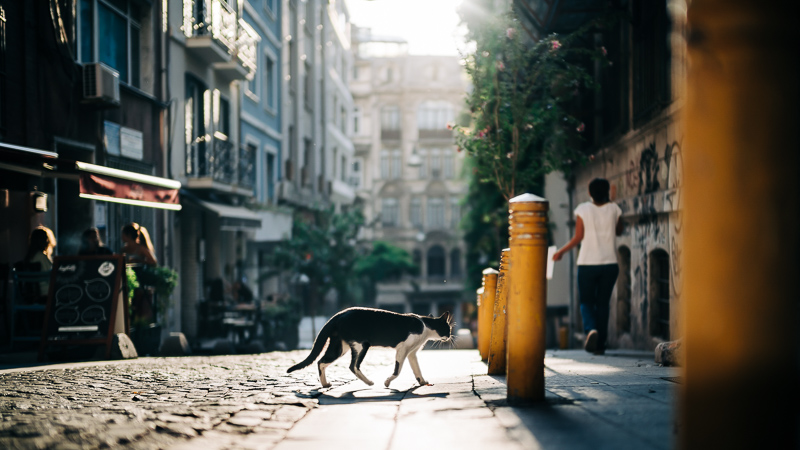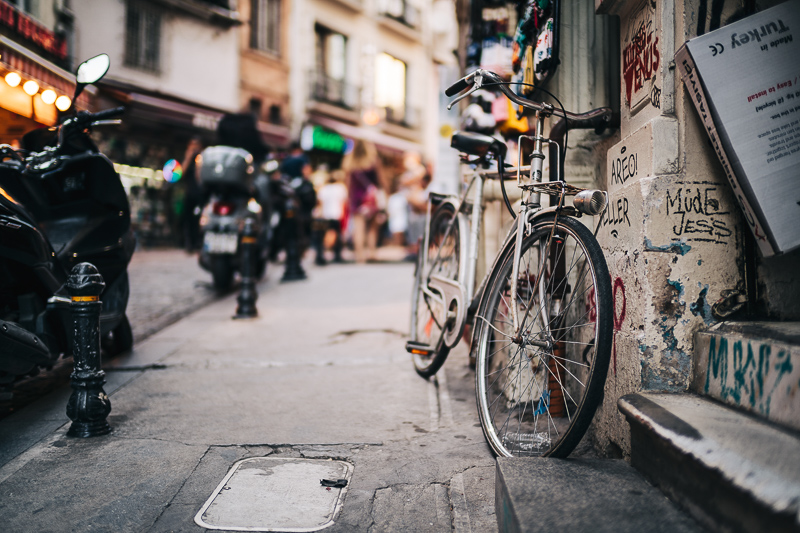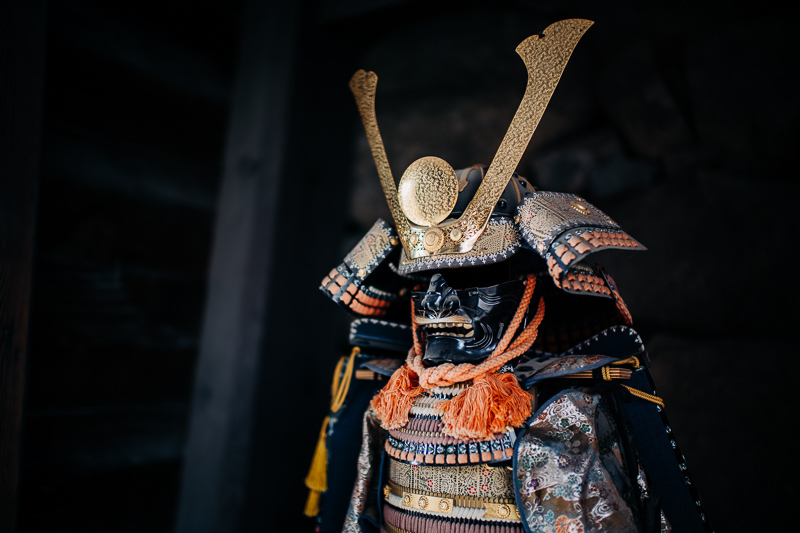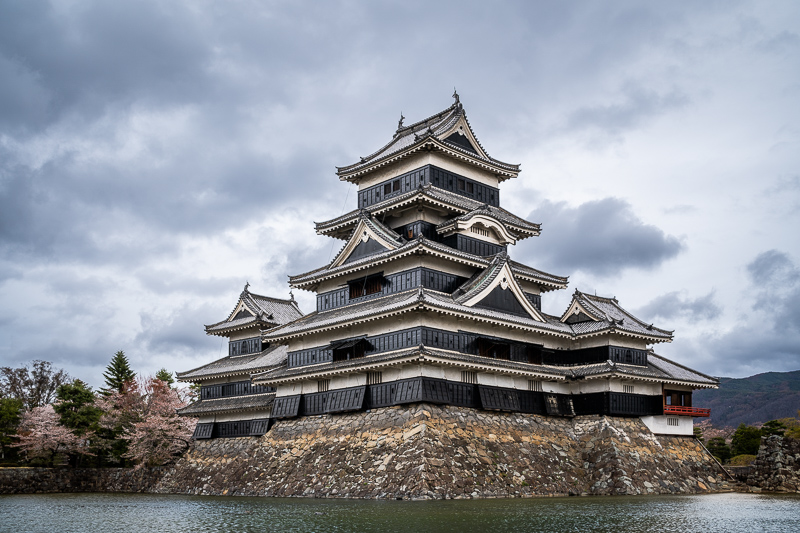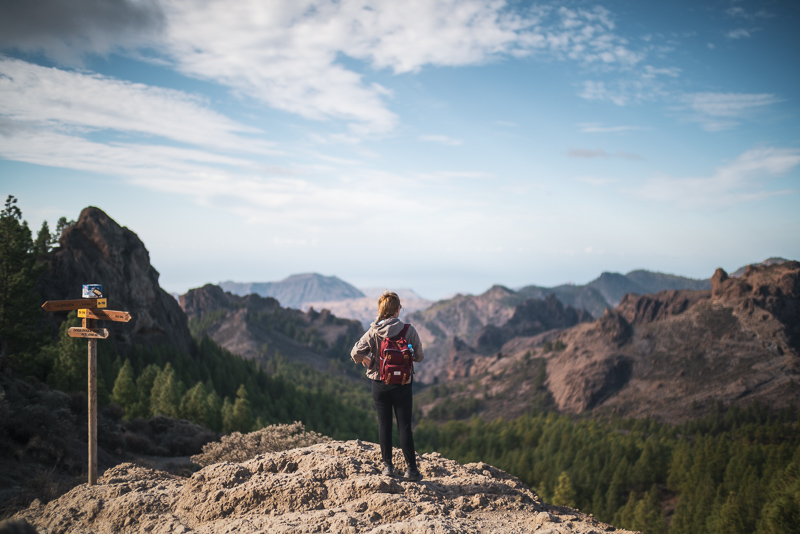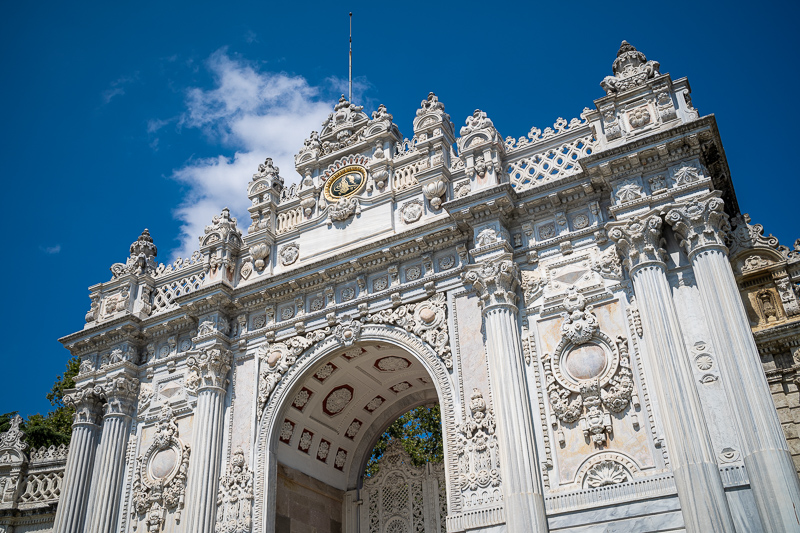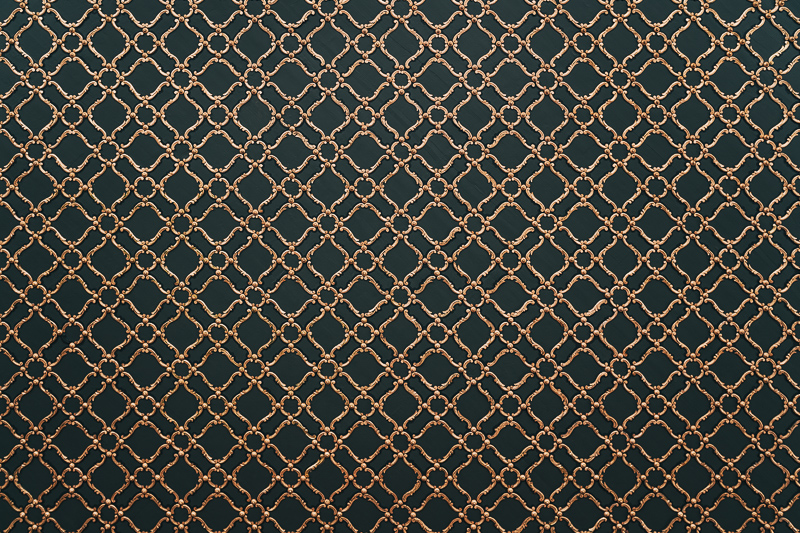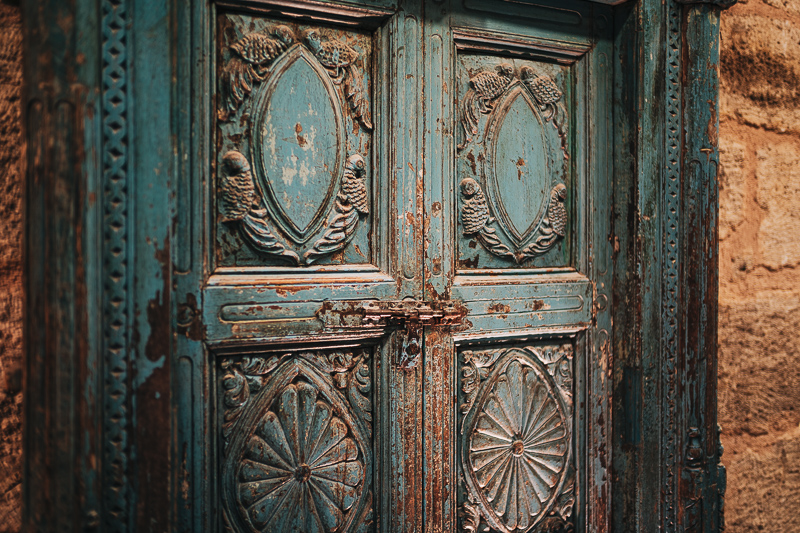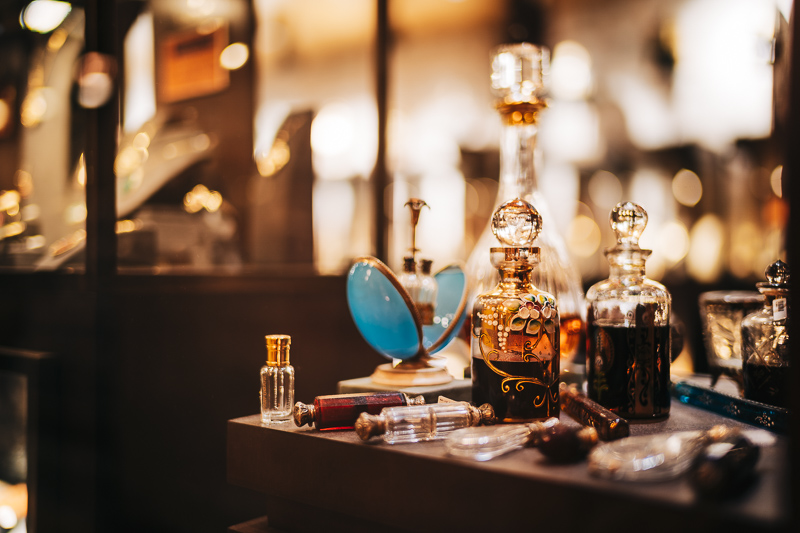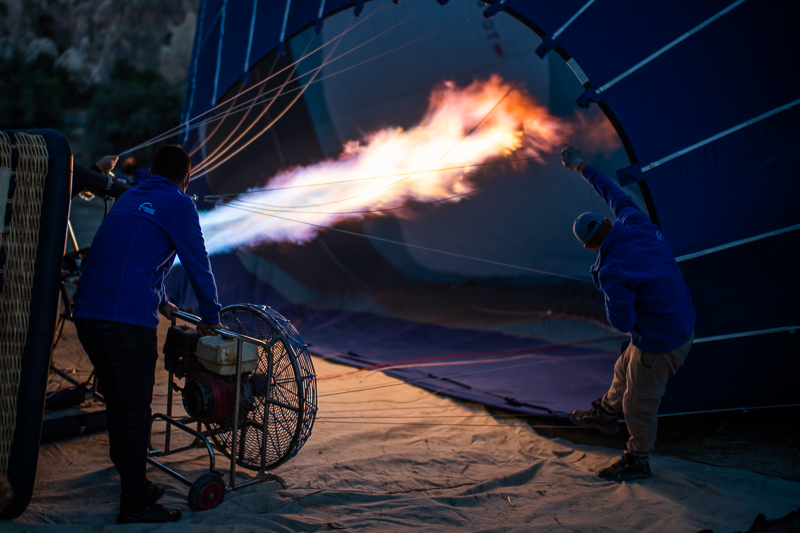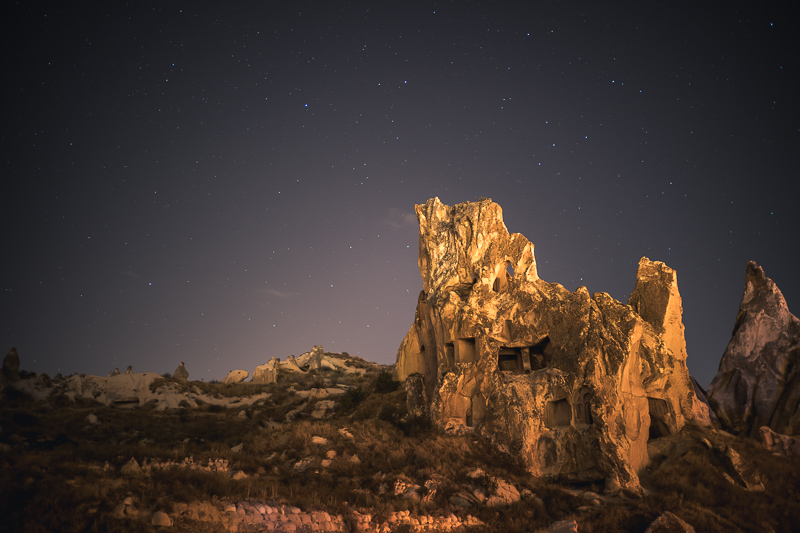 You can find most of the sample images in full resolution here.
Further Reading