Introduction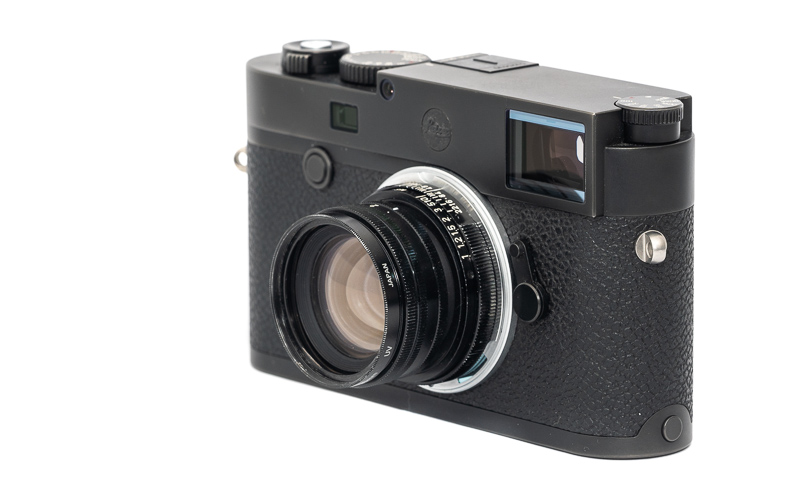 In 1971 – two years before the Leitz/Minolta CL with its 40mm 2.0 lens – Minolta released the Hi-Matic E, a compact fixed lens 35mm rangefinder camera with a 40mm 1.7 Rokkor-QF lens.
While this lens is manual focus its aperture is being controlled electronically, which is why it is very difficult to turn it into an interchangeable lens that can be used on other cameras.
There might be only one person crazy enough to salvage the lens elements from such a Hi-Matic E camera, design a new housing for them and adding a manually controlled aperture diaphragm and that is Miyazaki Sadayasu from MS-Optics.
I came across one of these rare lenses in a small camera shop in Hong Kong and as this was a bit of a "once in a lifetime opportunity" I bought it without really knowing what I am getting myself into, so here we are.
This lens will be reviewed on the 42mp Sony A7rII and the 24mp Leica M10.
Sample Images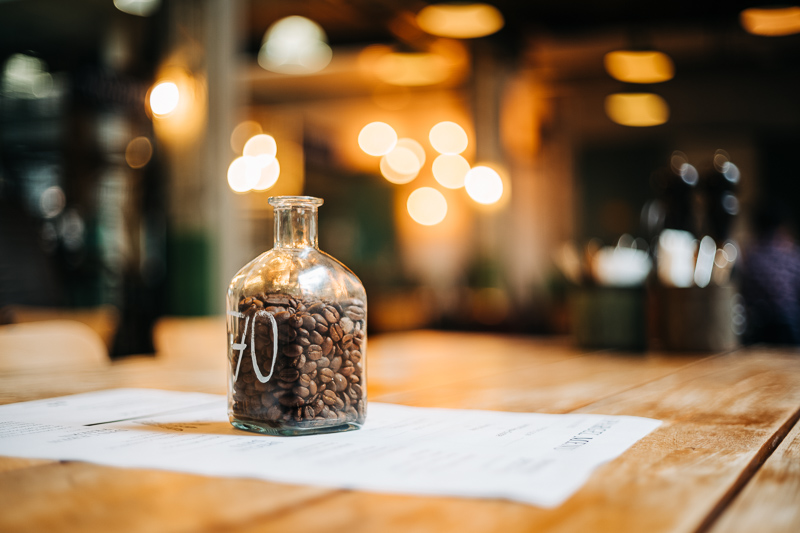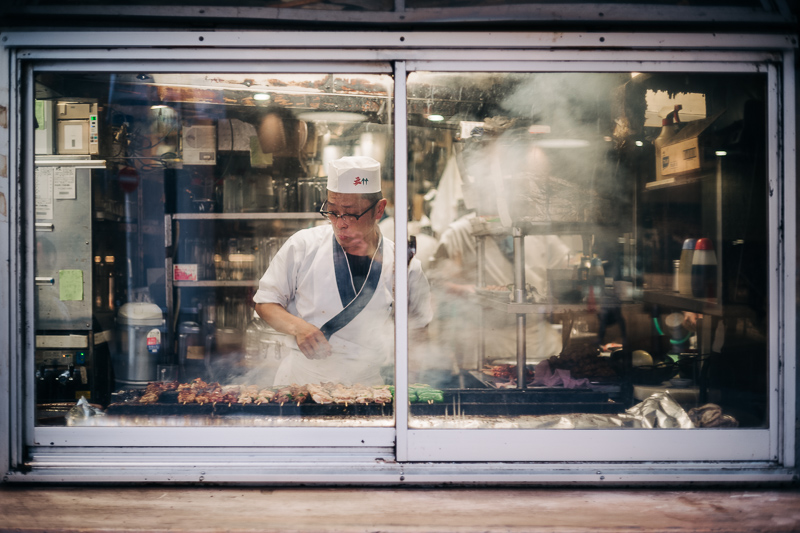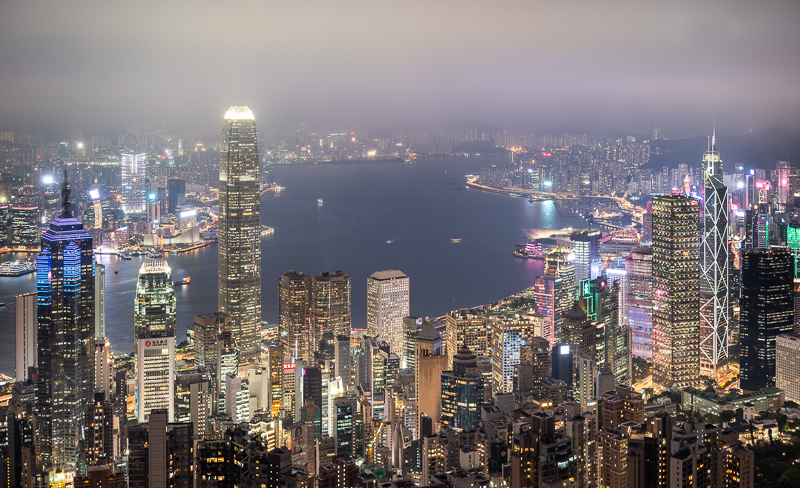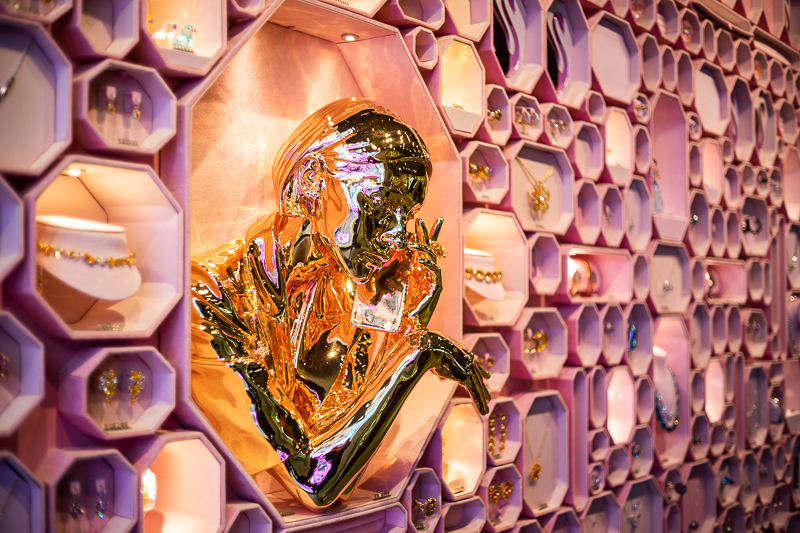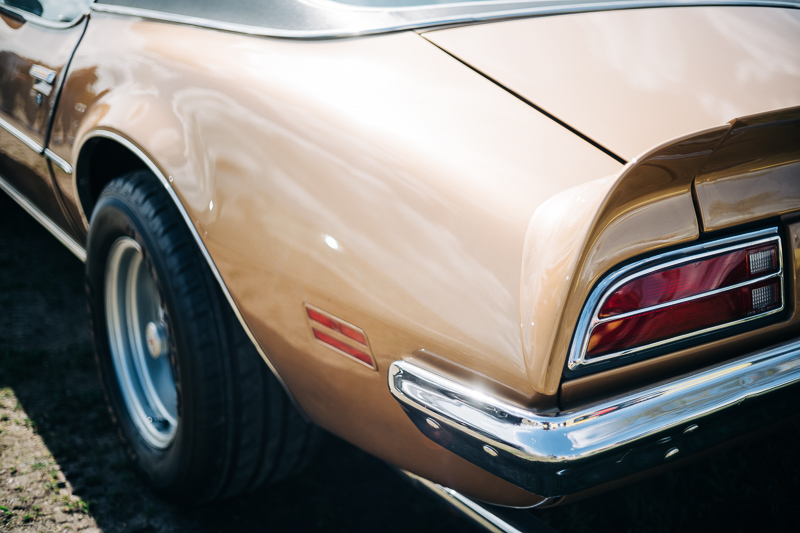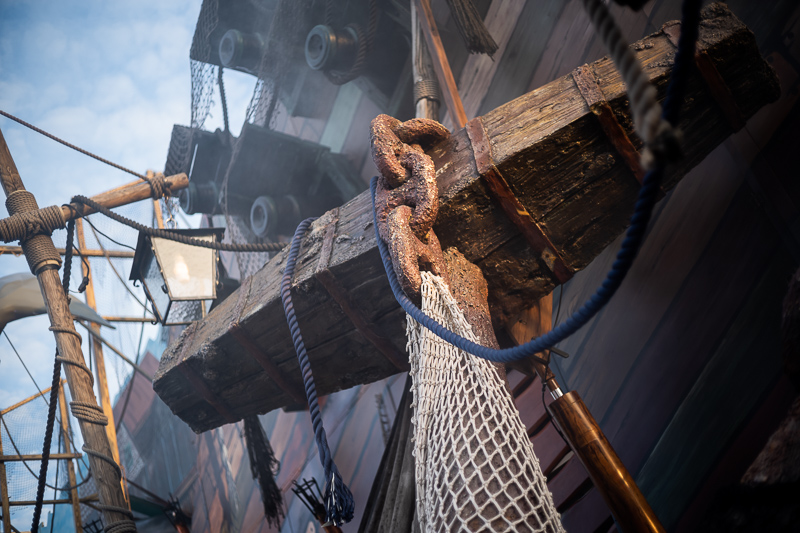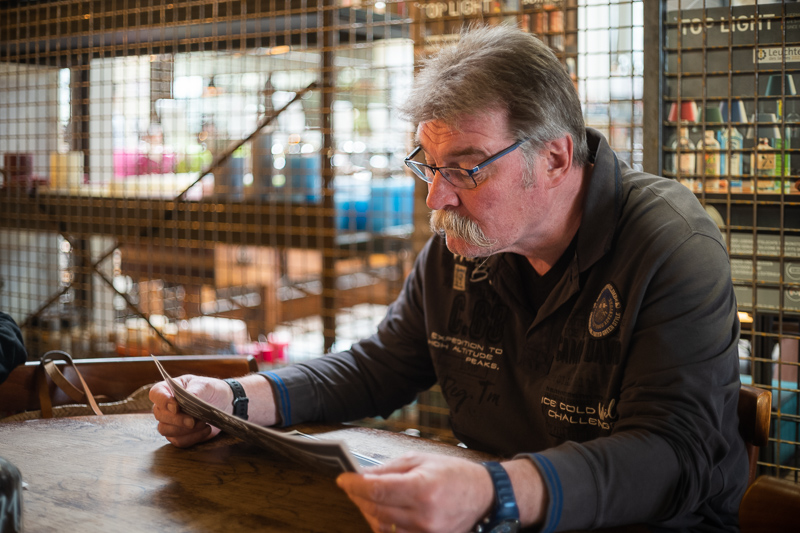 Most of the sample images in this review can be found in full resolution here.
Specifications / Version History
I don't know how many of these lenses have been converted by MS-Optics and I am also not sure if all their casing designs are the same. The one I bought has the following specifications:
Diameter: 46mm
Length: 31mm
Weight: 112g (measured)
Field of view: 56° (diagonally)
Filter Diameter: 43mm
Number of Aperture Blades: 12 (rounded)
Elements/Groups: 6/4
Close Focusing Distance: 0.7m (measured)
Maximum Magnification: 1:14 (measured)
Mount: M39/LTM
Hayata Camera from Japan is still offering a conversion service for this lens through MS-Optics, the Minolta Hi-Matic E is easily available on ebay.com (affiliate link) for ~$100
Handling / Build Quality
If you already read one of my reviews of an MS-Optics lens you know these are quirky lenses, but this modified 40mm 1.7 definitely raised the bar.
The lens actually does come with rangefinder coupling, but one with a sloped cam. This is not that uncommon, but it can create some compatibility issues as also the exact radial position of the lens on camera is part of the rangefinder calibration.
While this is an M39 lens I bought it with an M39->M adapter already attached and with that adapter the rangefinder is decently calibrated on my Leica M10 (hard stop is a bit before true infinity though).
Unfortunately there are two issues with this M39->M adapter: it brings up the 28/90mm frameline pair – the most useless one for a 40mm lens – and it doesn't cover the 6-bit reader at all, so if you are using liveview the camera constantly thinks you changed lenses and throws you out of it.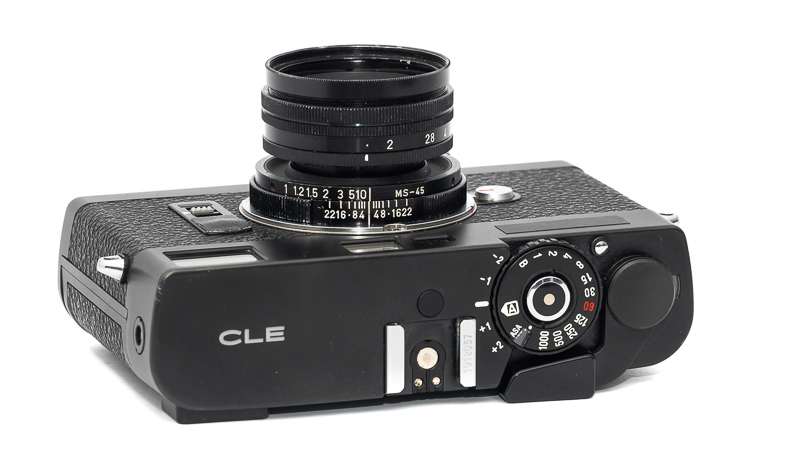 There is no viewfinder blockage on the Minolta CLE that features matching 40mm framelines – no matter what focus distance is set.
Focus and aperture rings are typical MS-Optics design: the whole lens rotates on focusing and you cannot change the aperture without also changing focus. At the bottom you can also find a tiny focus tab and using it is definitely the best way to focus this lens.
The aperture ring has no click stops and going by my vignetting graphs I am not sure the markings are very accurate.

The converted lens is very small and lightweight, even compared to the already very small Voigtländer VM 40mm 1.4.
The lens is kind of collapsible and when collapsed it is about 2 mm shorter. The whole optical block can also be pulled out of the casing by about 2 mm. This allows you to focus a bit closer but I am not really sure if this is meant to be a feature or actually more of a design flaw. That being said: I did in fact make use of this to focus closer a few times.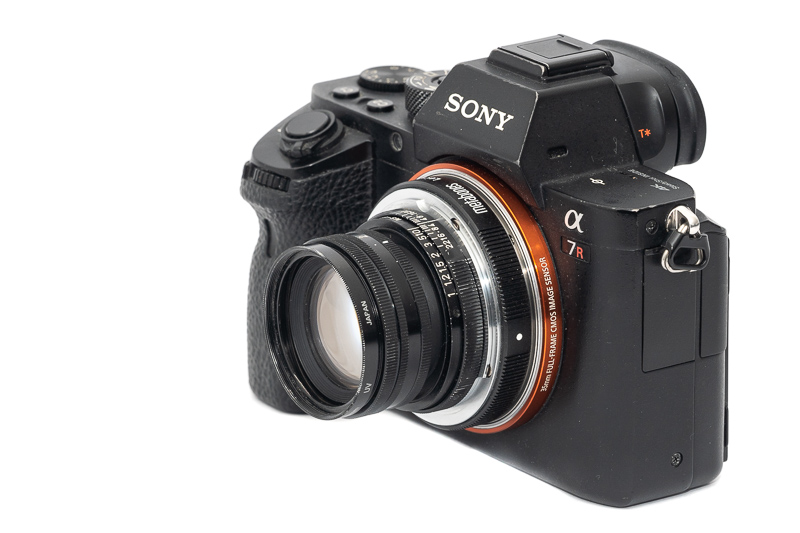 The lens can be mounted to Sony E-mount cameras via Leica-M to Sony-E adapters. You can also equip it with autofocus by using the Techart LM-EA9 AF adapter.
Vignetting

Light falloff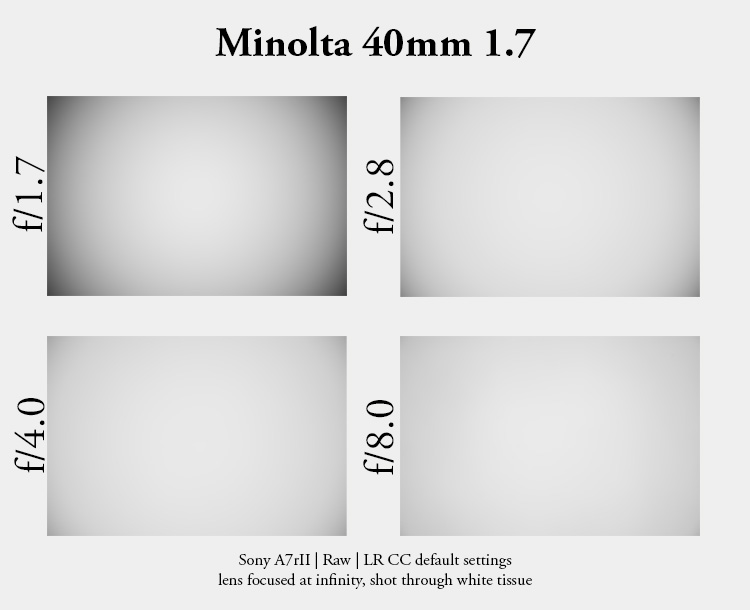 | | |
| --- | --- |
| f/1.7 | 3.3 EV |
| f/2.0 | 3.0 EV |
| f/2.8 | 2.1 EV |
| f/4.0 | 1.6 EV |
| f/5.6 | 1.5 EV |
| f/8.0 | 1.4 EV |
| f/11 | 1.3 EV |
This is a fast and very compact lens, so high vignetting figures shouldn't come as a surprise. At shared apertures the performance is very similar to that of the Voigtländer VM 40mm 1.4 here.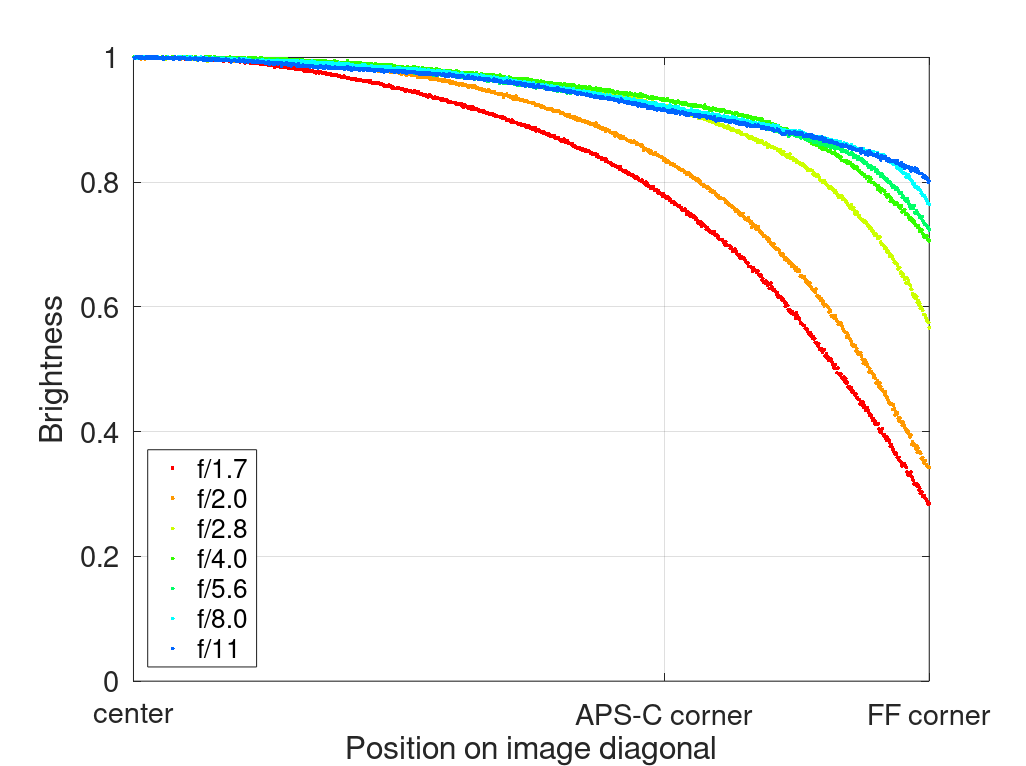 It is recommended to have a look at this article first to get an idea how this brightness graph works.
Optical vignetting
Fast lenses usually show a noticeable amount of optical vignetting, especially so the compact ones. Without going too much into technical details optical vignetting leads to the truncation of light circles towards the borders of the frame.
In the center of the frame almost every lens will render a perfect circle, but only lenses with very low optical vignetting will keep this shape in the corners.
So in the following comparison we move from the center (left) to the extreme corner (right) and see how the shape of the light circle changes.
Sony A7III | Minolta 40mm 1.7 | 0.7m
Performance here is again similar to the Voigtländer VM 40mm 1.4 Nokton, but compared to the Voigtländer lens the light points stay mostly round on stopping down thanks to 12 rounded aperture blades.
Sharpness
Focus shift
50% crops, Sony A7rII

This Minolta 40mm 1.7 shows a low amount of focus shift on stopping down to f/2.8 and f/4.0. This lens has been designed for film and I don't think at film resolution this focus shift would actually be noticeable, it really takes a high resolution camera like I am using here to see it.
Infinity (42mp Sony A7rII/24mp Leica M10)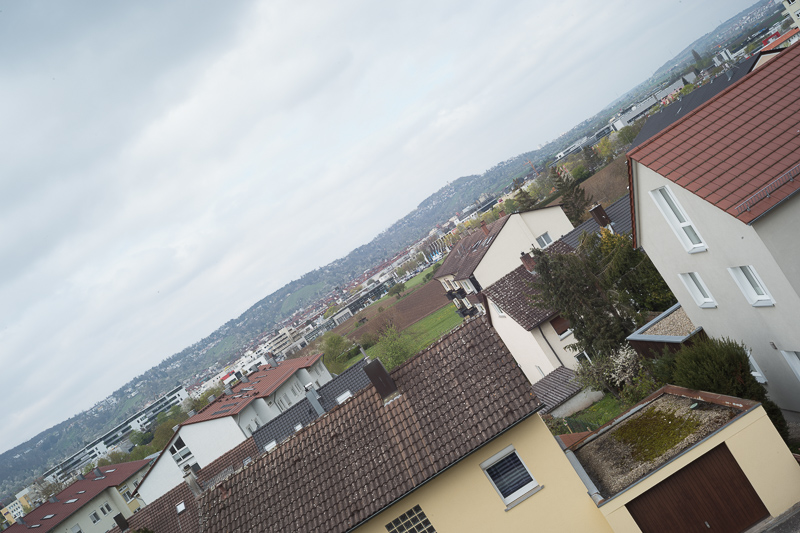 This Minolta 40mm 1.7 incorporates a rather simple 6/4 double gauss design, not untypical for a fast compact wide angle lens from the 1970s and also typical for the fast original 35mm MS-Optics lenses. From a design like this we shouldn't expect great infinity performance at wider apertures.
On my Leica M10 this lens' infinity hard stop is reached before true infinity which is why f/1.7 and f/2.0 look pretty bad. On the Sony A7rII we see that the lens is not very contrasty at f/1.7, but center and midframe already show a good amount of details.
When stopping down to f/4.0 most of the frame looks pretty good already, but the extreme corners definitely benefit from stopping down to f/11. The lens is in good company here, as the same is also true for the Voigtländer VM 40mm 1.2 Nokton as well as the Voigtländer VM 40mm 1.4 Nokton.
In terms of size and optical design (meaning here: no aspherical elements) the Voigtländer VM 40mm 1.4 Nokton is the closest competitor (together with the Minolta/Leica 40mm 2.0 Summicron/M-Rokkor which I haven't personally used yet). Both lenses perform similar in terms of resolution – in some scenes where I shot them side by side this 40mm 1.7 even showed better corner resolution – but the Voigtländer 40mm 1.4 has visibly higher contrast.
It might very well be possible that after 50 years there is a bit of haze in the 40mm 1.7 accounting for that difference though.
Portrait 1.2 m (24mp Sony A7III/Leica M10)
For portraiture it isn't so important how flat the field is, it is more interesting to see what the sharpness is like when focused at different parts of the frame to take field curvature out of the equation.

We will be looking at 100% crops from the 24mp Sony A7III and the Leica M10. Both cameras do not have an anti aliasing filter in front of the sensor.
Sony A7III <—> Leica M10
Bit soft at f/1.7 (more so on the Sony camera) but good resolution thanks to well corrected astigmatism which makes focusing with Liveview easy enough.
In the field I didn't mind using this lens at f/1.7 with the subject placed off center.
Close 0.7 m, 1:14 (42mp Sony A7rII)

100% crops from center, A7rII, refocused for every shot.
Very typical performance for a lens with a rather simple optical design without floating elements: soft at its maximum aperture but improving fast on stopping down, very good from f/2.8.
Flare resistance
This is a lens from the 1970s and one with a custom made housing, which means we shouldn't expect a performance rivaling the latest modern lenses.
Sony A7rII | Minolta 40mm 1.7
From the comparison above we see that a lot of ghosts can appear at wider apertures and that the situation is much better stopped down.
Veiling flare is still a problem stopped down though and with the sun inside or outside of the frame you will usually encounter a noticeable loss of contrast.
The lens didn't come with an actual hood, but with the sun outside the frame shading the lens can lead to noticeable improvements – of course this is only really possible on cameras equipped with Liveview.
Sony A7rII | Minolta 40mm 1.7 | f/8.0
Coma
This is a fast compact lens from the 1970s, so high coma at wider apertures shouldn't come as a surprise, but to put things into perspective a the Voigtländer VM 40mm 1.4 Nokton is hardly doing any better, it takes a lens like the Voigtländer VM 40mm 1.2 Nokton that is making use of modern technology like aspherical elements to show a real improvement here.
100% crops from extreme corner, focused on center, M10
Distortion
Leica M10 | Minolta 40mm 1.7 | f/11
This Minolta 40mm 1.7 lens shows a low amount of barrel distortion. Dialing in +2 is doing a good job at correcting it.
Bokeh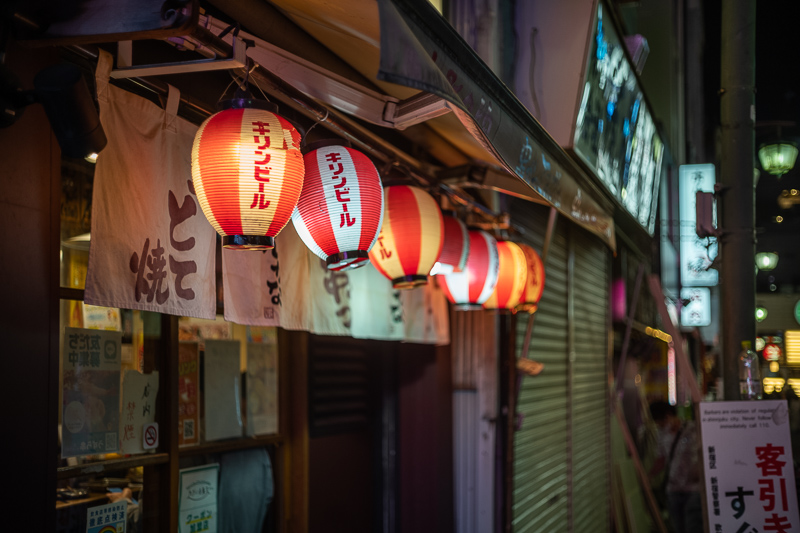 One of the main reasons to use a vintage lens like this is the different rendering (which is closely connected to the bokeh quality) compared to modern lenses. Now when it comes to 40mm lenses there is also the Voigtländer VM 40mm 1.4 Nokton Classic – which already by its name claims to have similar qualities.
Unlike this exotic modified 40mm 1.7 Minolta lens the Voigtländer lens is widely available and affordable, so let's start this section with a side by side comparisons to the Voigtländer VM 40mm 1.4 Nokton Classic. What I see here is:
the Voigtländer lens is a bit wider
the MS-Optics lens shows more optical vignetting
the MS-Optics lens renders more natural out of focus areas stopped down thanks to rounded aperture blades
the Voigtländer lens shows slightly less outlining off center at apertures wider than f/2.8
by f/2.8 they are hard to tell apart
Leica M10
Close distance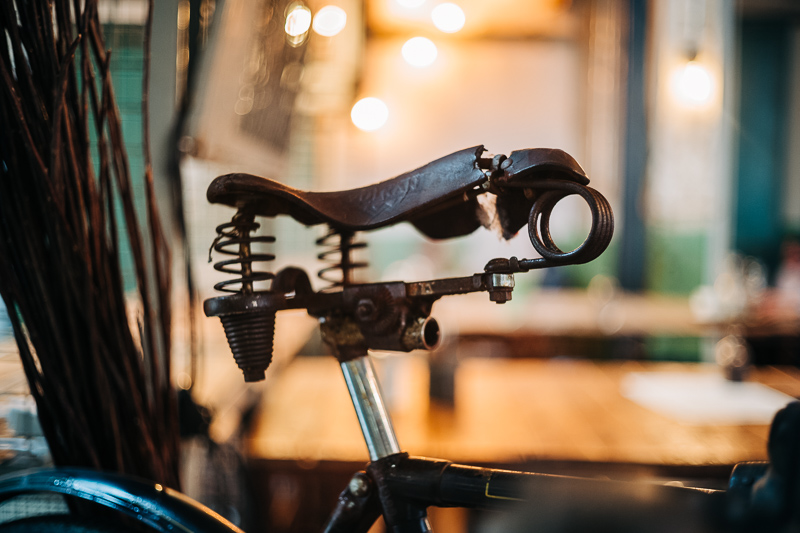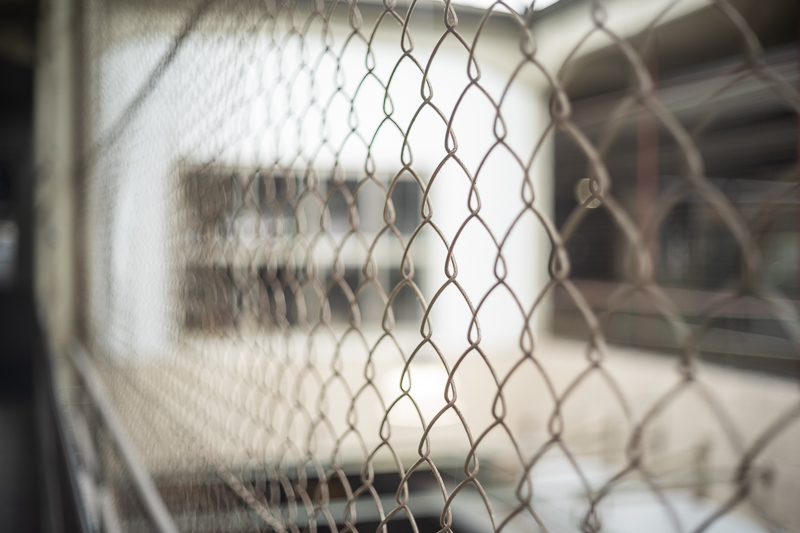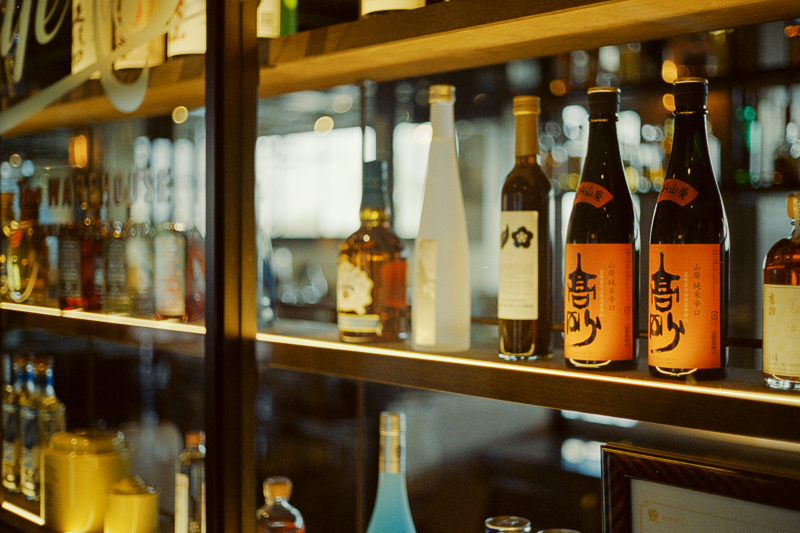 Close distances are where I liked this lens the most as its rendering looks very natural to me. Neither too high contrast (I sometimes find the VM 40mm 1.4 to have too much of that) nor distracting field curvature like we will encounter at longer distances…
Mid distance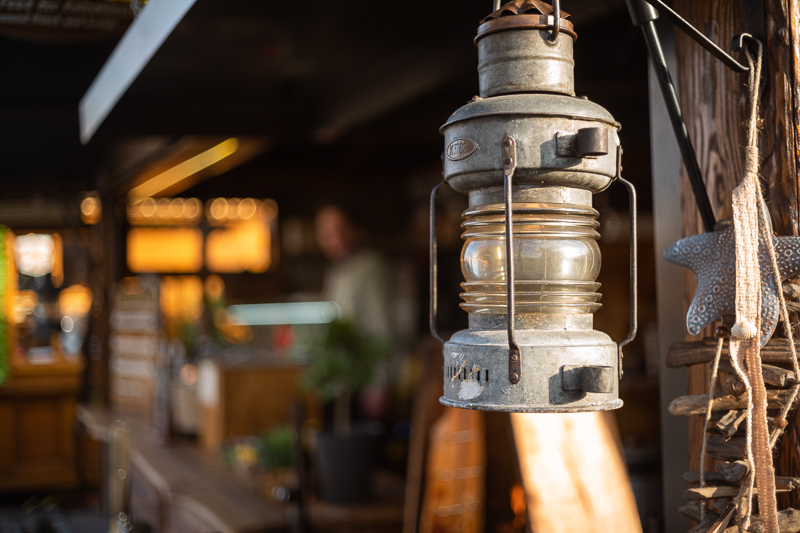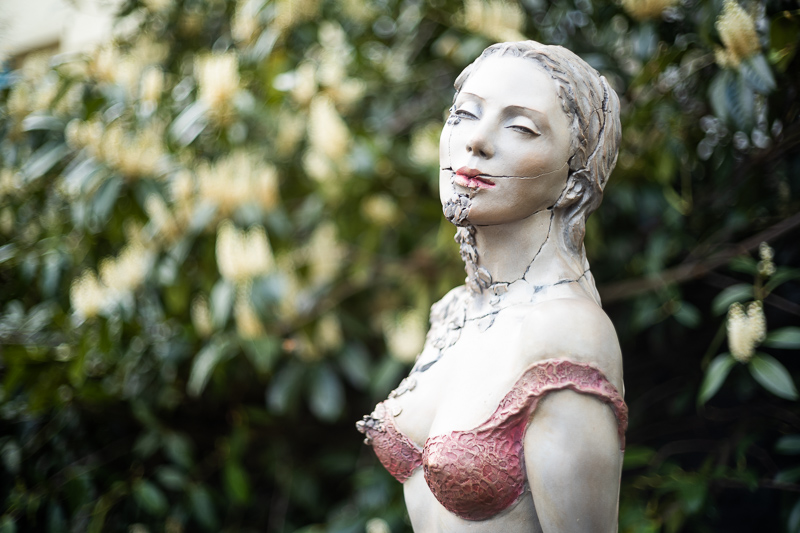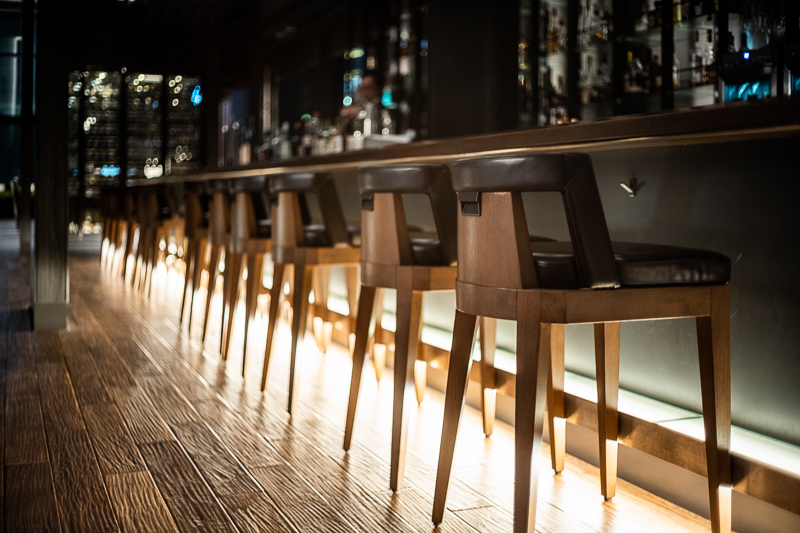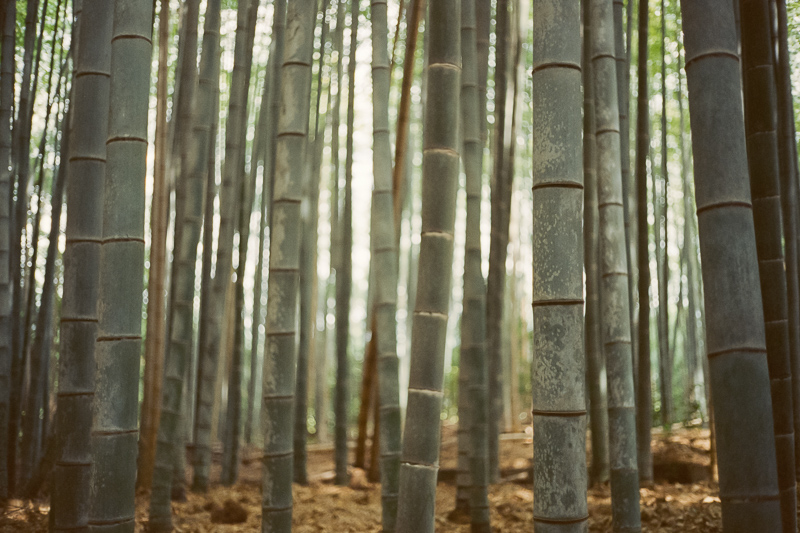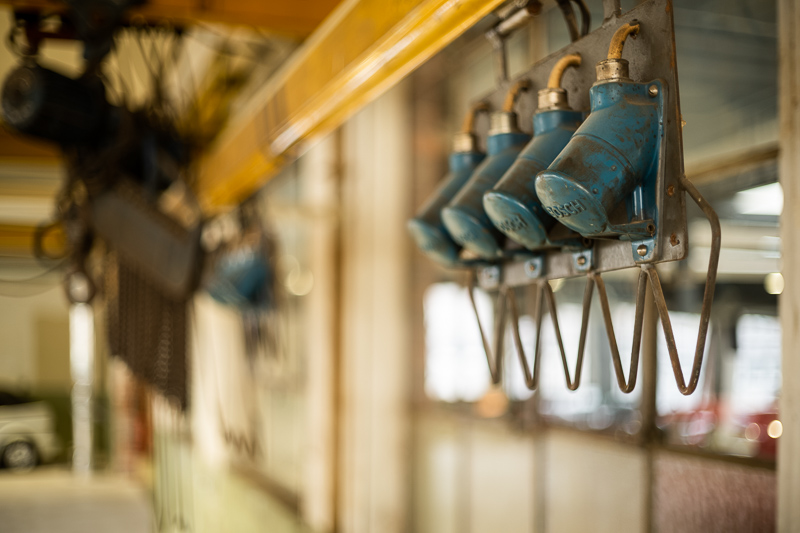 Good things first: sharpness is nice at focus point anywhere in the frame which surely helps with creating the illusion of depth. With complex backgrounds things get busy fast towards the corners though, mainly thanks to astigmatism and field curvature.
Long distance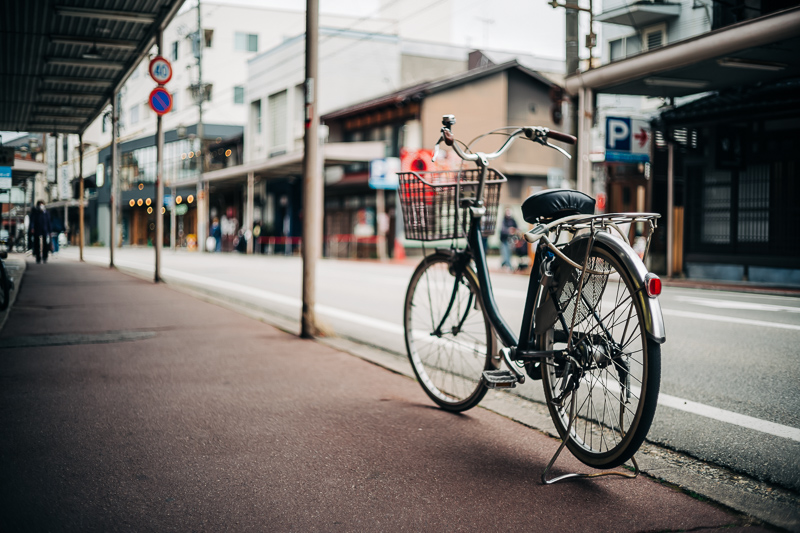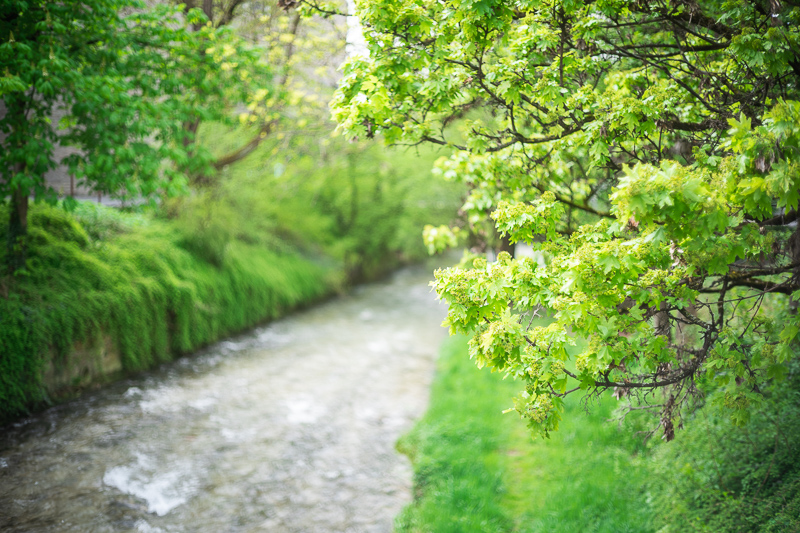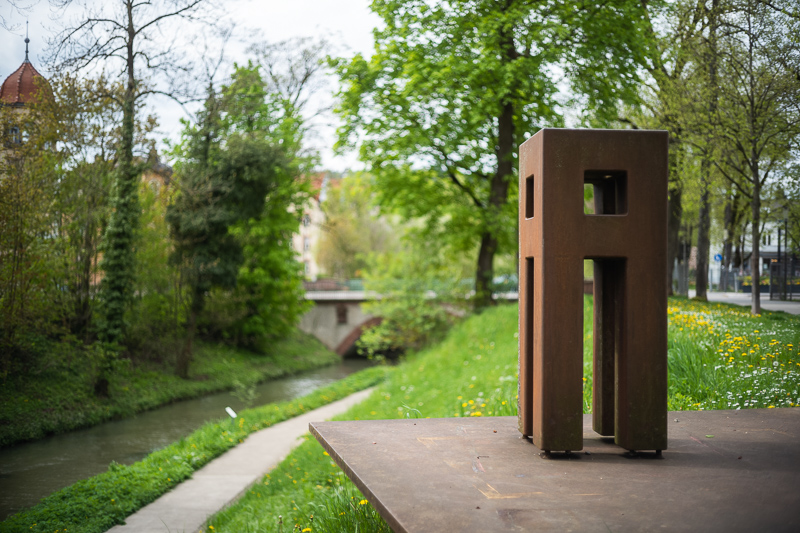 At longer focus distances the Minolta 40mm 1.7 shows very strong field curvature and it doesn't really matter whether the lens is being used on a Leica camera with its thin filter stack or a Sony camera with a thicker one:
Minolta/MS-Optics 40mm 1.7 | f/1.7
The situation is even more obvious in the following picture. While all those trees are the same distance from the camera, the ones close to the center are noticeably out of focus whereas the ones on the edges are in focus because the focal plane is severly curved: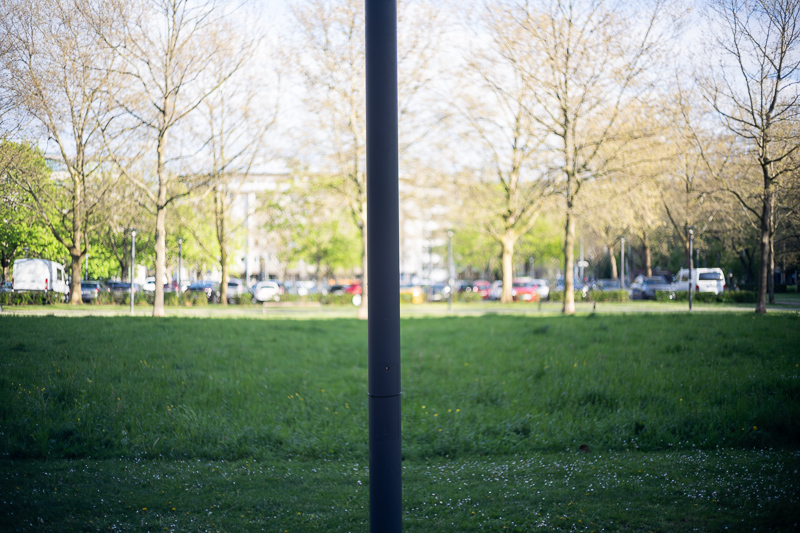 In a direct comparison the Voigtländer VM 40mm 1.4 MC has significantly less issues with field curvature and I personally prefer it because of that. That being said I can also see some people preferring this Minolta lens because of its softer, lower contrast rendering, especially at closer distances where the field curvature is not that noticeable.
Sunstars
As fast as I know the Minolta Hi-Matic E had an electronically controlled aperture diaphragm with 5 aperture blades. During the conversion process this has been replaced with a manually controlled aperture diaphragm with 12 rounded aperture blades.
The alignment of the blades is not perfect on this lens and with the sun or other big light sources in the frame it is not that easy to create sunstars at all. If you are taking pictures of a blue hour cityscape the small points of light create appealing 12 stroke sunstars though: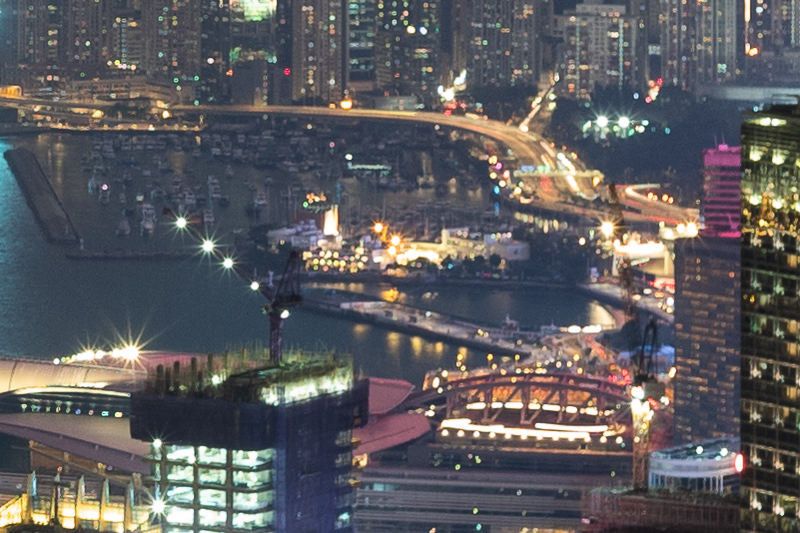 If you want to know more about sunstar rendering of different lenses have a look at this article.
Chromatic aberration
Lateral
Lateral CA are almost non-existent.
Longitudinal
There is some green outlining in the background and you also see some magenta in front of the focal plane as well as close to the focus point (purple fringing covered up a bit by spherical aberration). For a lens with these parameters from the early 1970s this is a pretty solid performance and of course you can stop down a bit to improve it.
Leica M10 | Minolta/MS 40mm 1.7 | f/1.7
Conclusion
When it was released in 1971 a compact 35mm rangefinder camera with a fast 40mm f/1.7 lens must have been an appealing package, similar to a Leica Q (28mm f/1.7) or Sony RX1 (35mm f/2.0) today. Many of these fixed lens 35mm cameras are long forgotten now, but there are some tinkerers out there going through the trouble turning those into interchangeable lenses usable on today's cameras and this alone deserves my utmost respect.
If you compare this Minolta 40mm 1.7 Rokkor-QF modified-by-MS-Optics to a modern mass production lens you will most likely be disappointed by its quirky handling and in terms of optical performance there are very few reasons to prefer this lens to e.g. a Voigtländer VM 40mm 1.4 MC, which can be easily bought for less money.
The target audience for this conversion must be mostly fans of the Minolta Hi-Matic E – or rather its lens – that want to enjoy it on a (digital) modern camera or people looking for something different/exotic. When I bought this lens I was in the latter category and I haven't been disappointed.
Even by MS-Optics standards this is a very delicate lens and one that demands some additional care, but now – 50 years after the Minolta Hi-Matic E had been released – it is still possible to take nice pictures with it on a modern digital camera (as well as on a still serviceable analogue M-mount camera). Who would have thought of that in 1971?
Hayata Camera from Japan is still offering a conversion service for this lens through MS-Optics, the Minolta Hi-Matic E is easily available on ebay.com (affiliate link) for ~$100
Alternatives
The number of 40mm lenses for M-mount is actually surprisingly low. If you also consider a 35mm or a 50mm an alternative you can find pleny of reviews of those here.
Voigtländer VM 40mm 1.4 Nokton:
If you are looking for a fast compact 40mm M-mount lens with a "classic" rendering this is the obvious choice. The Voigtländer offers better build quality and handling, higher contrast, much better flare resistance and less field curvature at longer focus distances.
buy from amazon.com | ebay.com | ebay.de | B&H (affiliate links) starting at $300
Voigtländer VM 40mm 1.2 Nokton:
Voigtländer's latest 40mm lens. It is faster, focuses closer (0.5 instead of 0.7 m) and features a modern design with aspherical elements leading to generally more impressive performance at wider apertures and also smoother bokeh rendering. But it is also much bigger.
buy from ebay.com | ebay.de | B&H (affiliate links) for $799
Leica Summicron-C 40mm 2.0/Minolta M-Rokkor 40mm 2.0:
These are the lenses that originally shipped with the Leica/Minolta CL and the Minolta CLE and they can be seen as the successor to this 40mm 1.7 Rokkor-QF. They are half a stop slower but also slightly smaller. Generally the Leica and the Minolta are using the same optical formula, but it is said that the latest Minolta lenses feature better coatings.
A review of this lens will be published soon.
buy from ebay.com | ebay.de (affiliate links) starting at $600
Voigtländer VM 40mm 2.8 Heliar:
This lens was originally only available for E-mount and had to be used in combination with a close focus adapter as otherwise it cannot be focused. It is now also available as VM and even M39 lens.
Its performance looks good – it even uses an aspherical element – but I haven't used it personally yet, as it would be too slow for my taste.
buy from amazon.com | ebay.com | ebay.de | B&H (affiliate links) for $499
Sample Images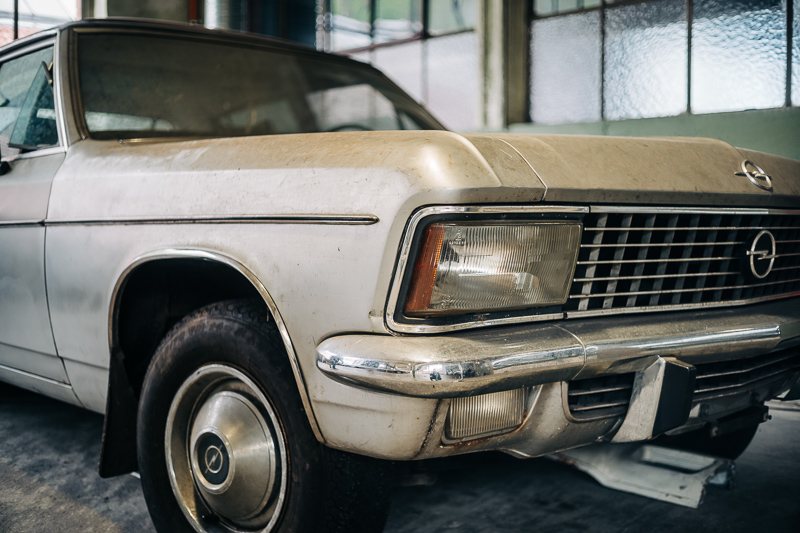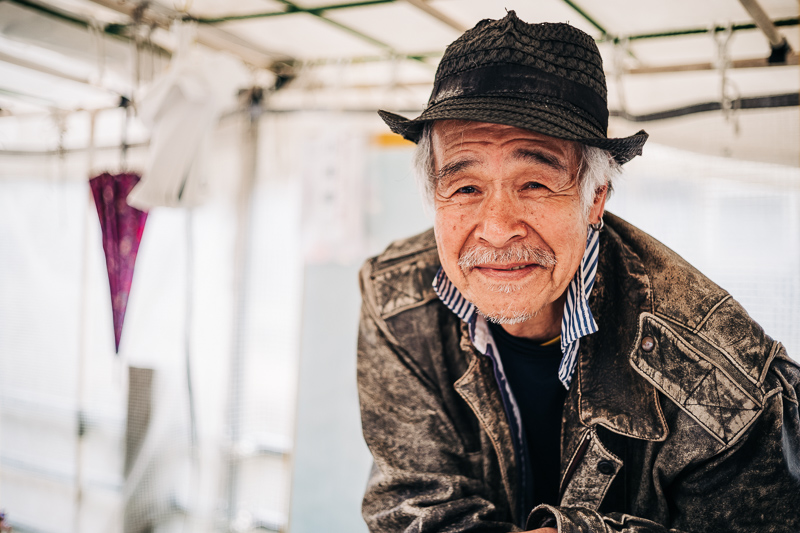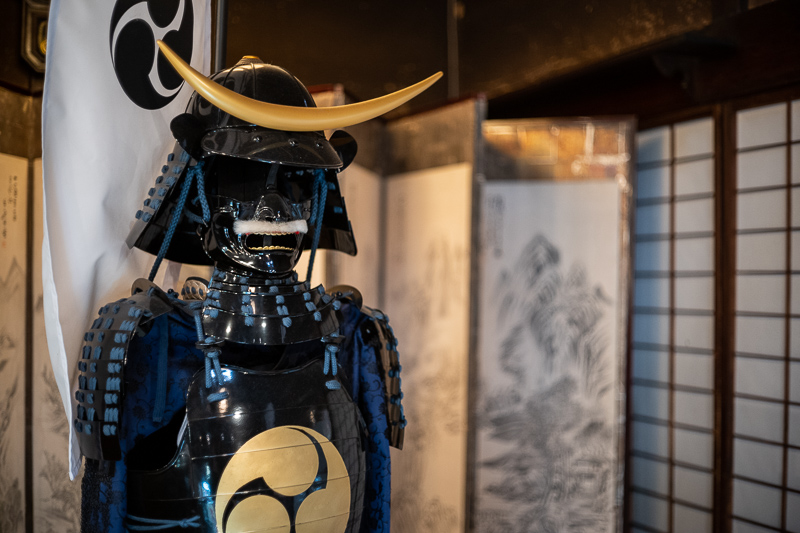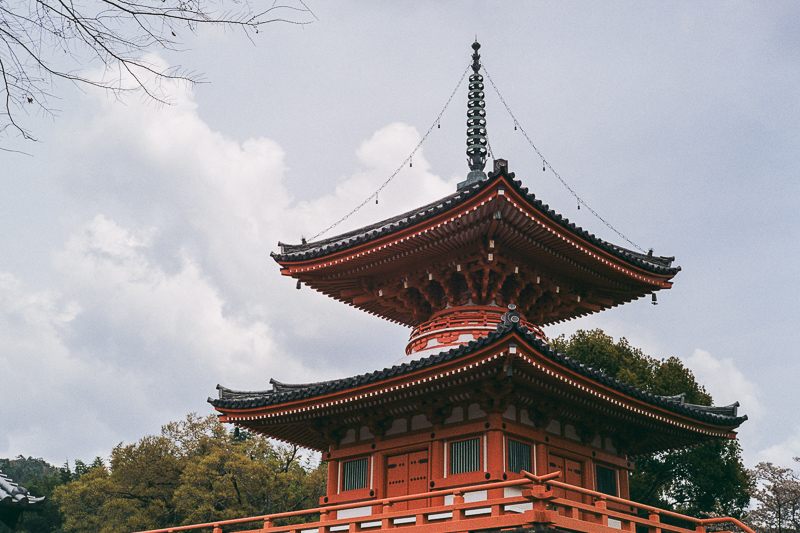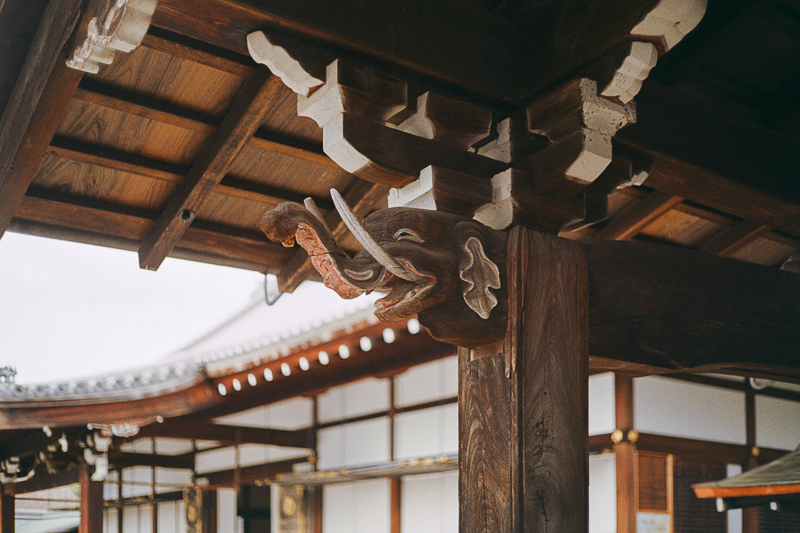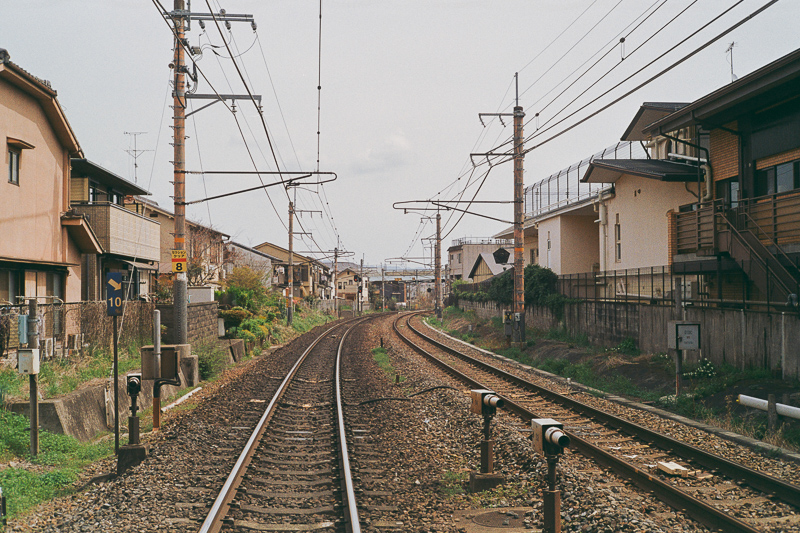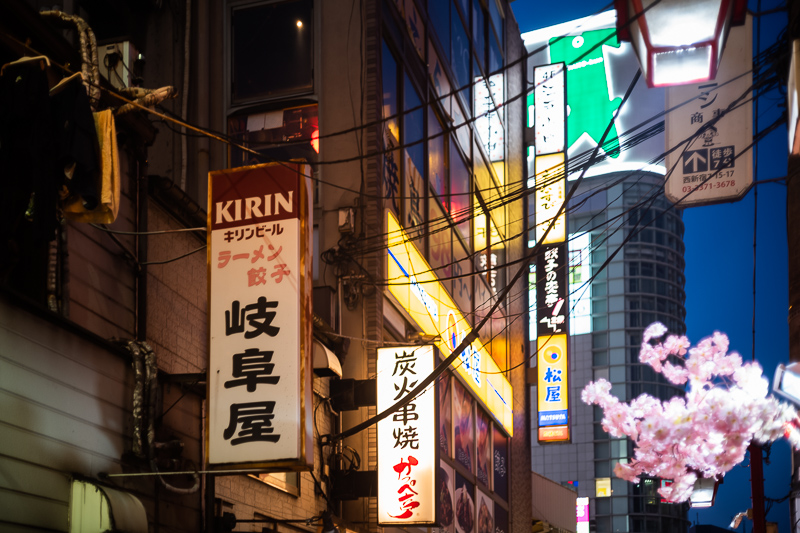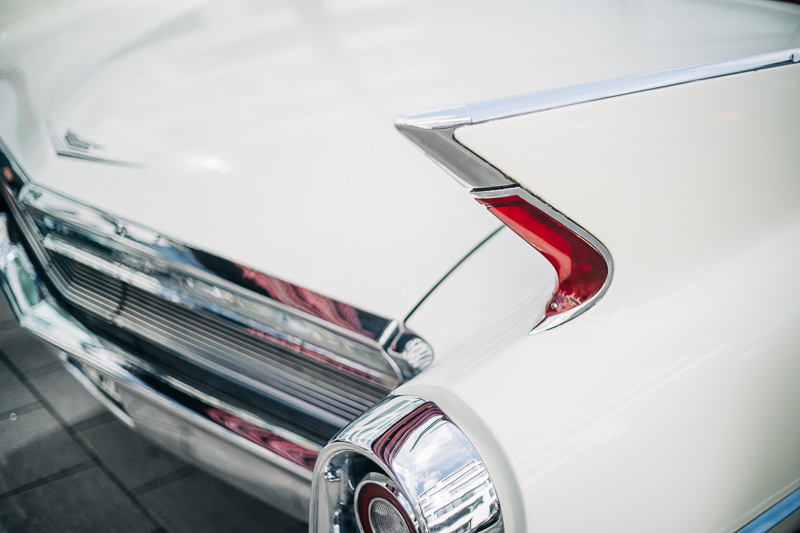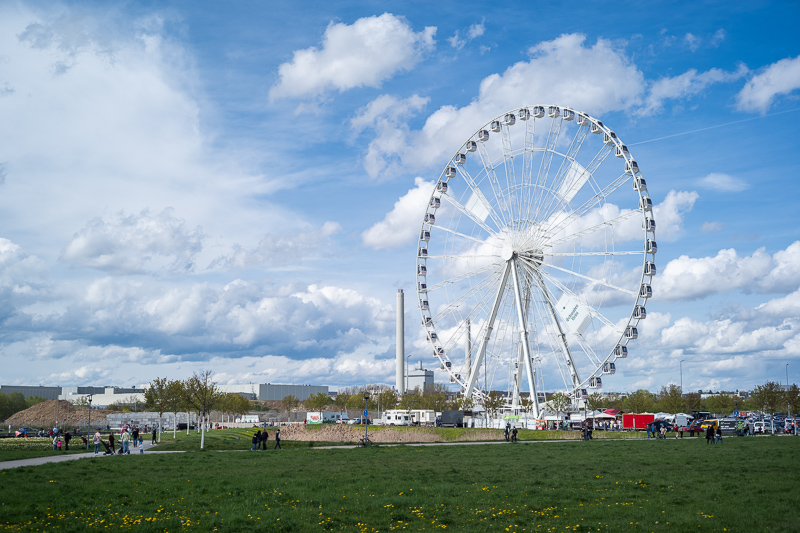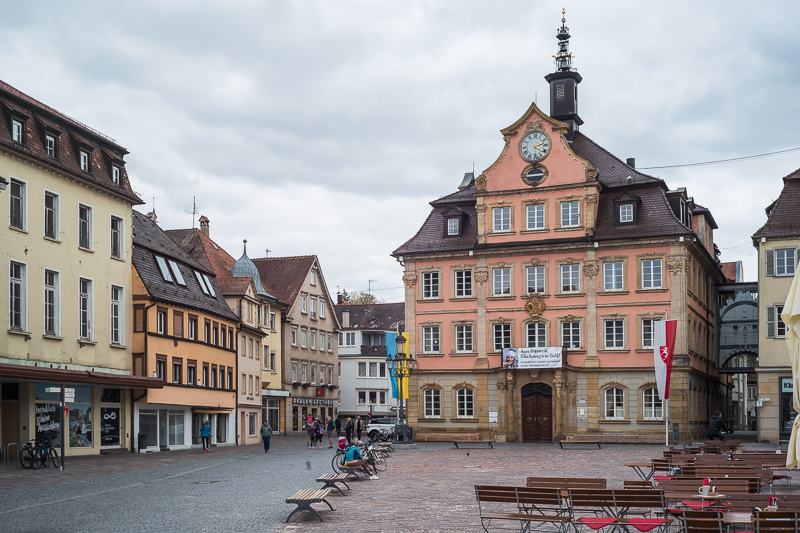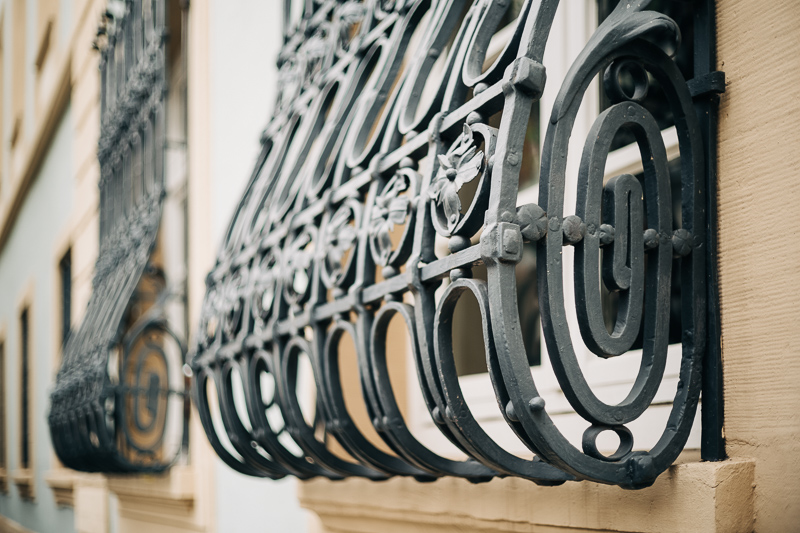 Most of the sample images in this review can be found in full resolution here.
Further Reading
Support Us
Did you find this article useful or just liked reading it? Treat us to a coffee!


via Paypal
The following two tabs change content below.
My name is Bastian and I am your expert here when it comes to ultra wide angle lenses, super fast portrait lenses (ranging from a 50mm f/0.95 to a 200mm f/1.8) and I also have reviewed way too many 35mm lenses. Don't ask me anything about macro or wildlife shooting though.