Introduction
Classic rangefinder lenses usually spot less staggering minimum focus distances compared to (D)SLR and the latest lenses for mirrorless cameras because of how focusing with rangefinder cameras works. In 2022 several manufacturers are offering close focus adapters. These adapters have their own additional helicoid which allows you to focus your lenses much closer than you could with a conventional adapter. I have used several of these myself, so let's see which ones are worth the asking price.
Sample Images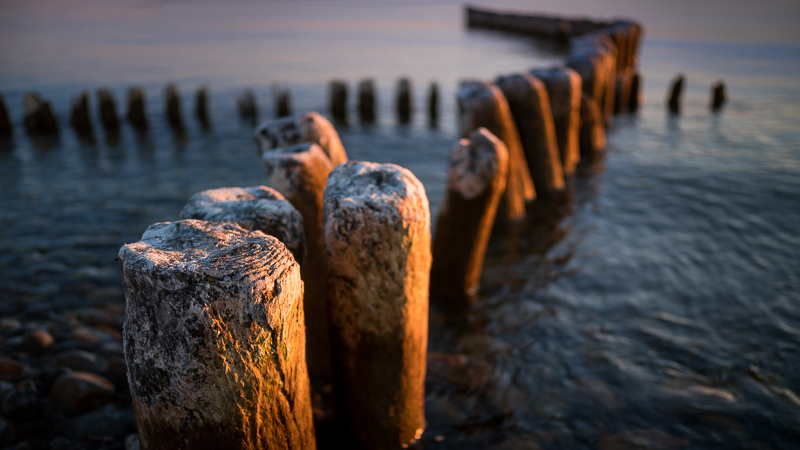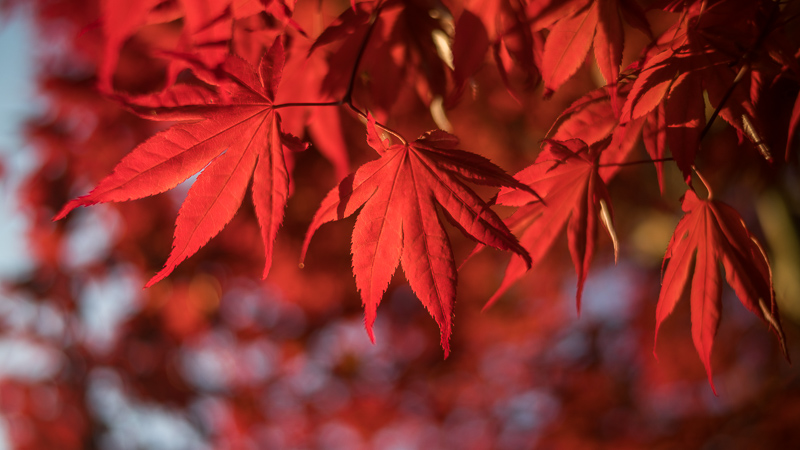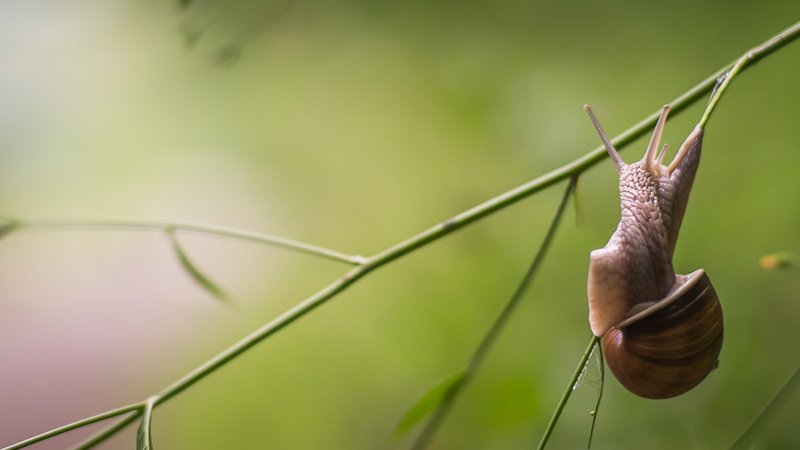 What is the difference compared to a standard adapter?
In case the adapter is set to its parking/infinity position there is none, they work just like any other M-mount to E-mount adapter. But the close focus adapters double as an adjustable extension tube, thereby decreasing the minimum focus distance and increasing the maximum magnification of your lens. This is what the Voigtländer VM-E close focus adapter looks like with no extension and with maximum extension of 4 mm:
The effect is very strong on lenses with short focal lengths (wide angle lenses) and less so on longer (tele) lenses. In the table below you can see the differences an adapter with 4 to 4.5 mm extension makes when paired with some of the rangefinder lenses I have used:
without extension
with extension
MFD
Magnification
MFD
Magnification
7Artisans 28mm 1.4
0.7 m
1:20
0.22 m
1:4.2
Zeiss ZM 35mm 1.4 Distagon
0.7 m
1:16.9
0.30 m
1:5.7
Leica 35mm 1.4 Summilux FLE
0.7 m
1:17.4
0.30 m
1:6.0
Voigtländer VM 50mm 1.2 Nokton
0.7 m
1:12
0.37 m
1:5.1
Voigtländer VM 50mm 1.5 Nokton
0.7 m
1:10.8
0.42 m
1:5.7
Jupiter-3 50mm 1.5
1.0 m
1:16.2
0.50 m
1:7.1
Jupiter-9 85mm 2.0
1.1 m
1:11.3
0.72 m
1:7.3
Leica 90mm 2.0 Summicron
1.0 m
1:9.2
0.73 m
1:6.3
Minolta 90mm 4.0 M-Rokkor
1.0 m
1:8.8
0.74 m
1:6.0
Leica 135mm 4.0 Tele-Elmar
1.5 m
1:8.0
1.25 m
1:6.8
Here is a comparison shot with the Zeiss ZM 35mm 1.4 showing the maximum magnification without extension and fully extended:
Are there any problems to be aware of?
For most older lenses which have a unit focus design it makes no difference whether you are using the adapter to focus or the lens' focus ring, image quality will be the same.
For lenses with more complex optical designs (floating elements / internal focusing / rear focusing) this may not be entirely true: these lenses are optimized for a specific flange focal distance and will only show their full potential in case the flange focal distance is correct.
When extending the adapter, you are also using the lenses outside of the scope they have been designed for. I found fully extended most lenses don't show entirely great wide open performance. The performance usually increases considerably when stopping down by just one stop.
Close Focus Adapters
Voigtländer VM-E Close Focus Adapter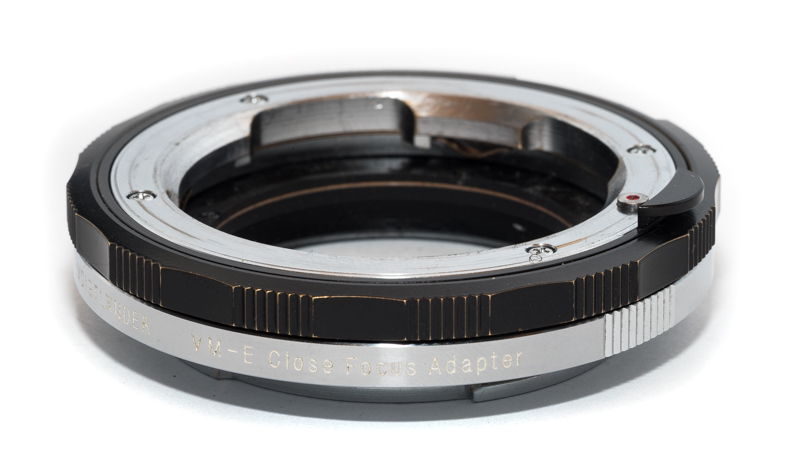 I only have experience with the first generation of this adapter (since 2022 an improved 50g lighter Mark II is available) and while it was one of the first to hit the market it is still the sturdiest and most durable I came across. It is an all brass construction and even after years of (ab)use it worked like new – it didn't look like new anymore due to severe brassing though.
The problem with this adapter: it is also one of the heaviest at 125g, which is the reason I replaced it with a much ligther Hawk's adapter.
I wonder if the Mark II is still as sturdy despite being 40% lighter – I have my doubts.
If you want your close focus adapter to be as sturdy as possible in order not to introduce any unwanted tilt (especially when using heavier lenses) and don't mind the high weight I can still highly recommend this one.
buy from B&H | ebay.com | ebay.de for $309 (affiliate links)
---
7Artisans Close Focus Adapter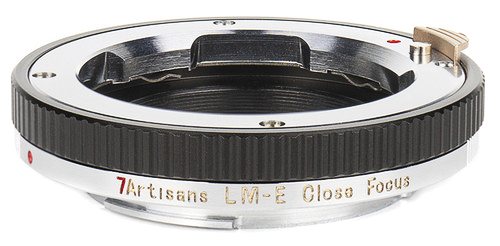 The 7Artisans Close Focus adapter feels solid and also looks sturdy at first sight, but it definitely isn't as sturdy as the aforementioned Voigtländer adapter. At 87g it is somewhere in the midfield weight-wise but at $59 it is surely one of the cheapest options.
I can only recommend this one if you are on a tight budget and mainly want to use lightweight lenses.
buy from amazon.de | B&H | ebay.com | ebay.de for $59 (affiliate links)
---
Quenox/Fotodiox Helicoid Adapter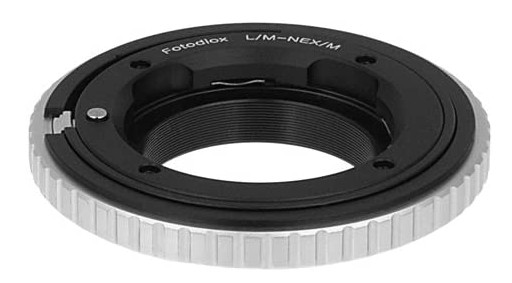 This is easily the worst close focus adapter I ever laid hands on. Compared to all the others its diameter is huge, the operation very unpleasant due to a scratchy helicoid and on top of that it was also wobbly introducing unwanted tilt.
Not recommended.
buy from amazon.com for $65 (affiliate links)
---
Fotodiox PRO DLX Stretch Adapter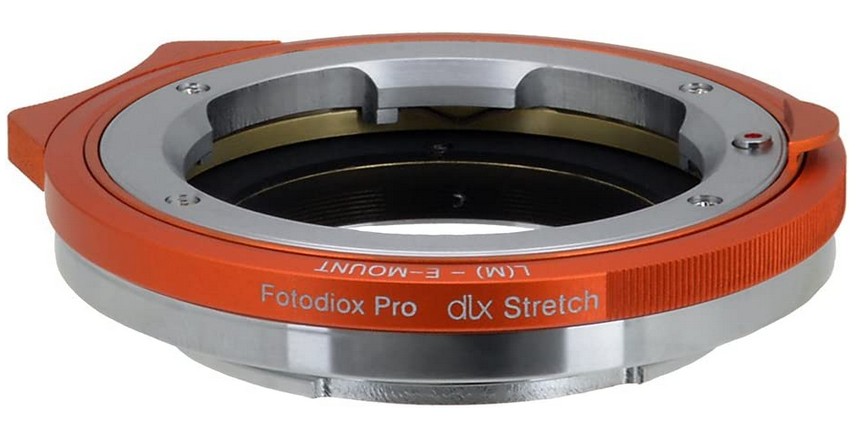 Despite the questionable choice of color and the focusing tab this looks like an exact copy of the Voigtländer adapter. The helicoid operation is also smooth, but the lens sits very wobbly in the adapter (if extended or not doesn't matter) which can easily introduce tilt and therefore decrease your lens' performance.
Not recommended.
buy from amazon.com | ebay.com | ebay.de for $110 (affiliate links)
---
Hawk's Factory Close Focus Adapter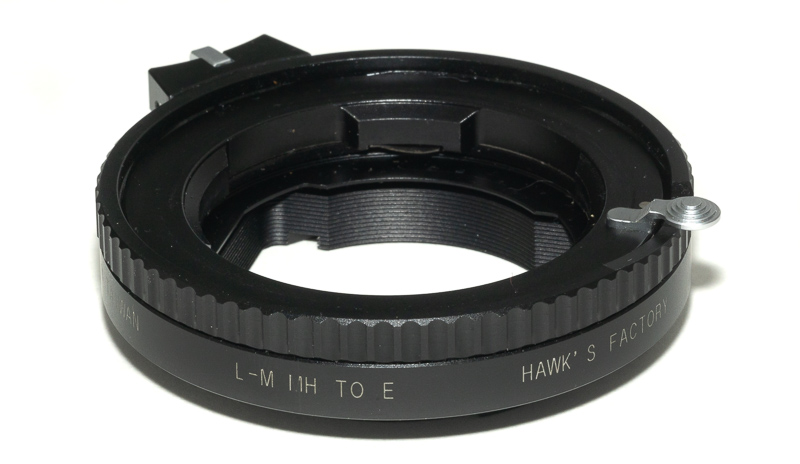 The Hawk's Factory close focus adapters were one of the (or maybe the) first to hit the market. Their design has been steadily improved and the lastest version is V5. These are somewhat hard to get in Europe as they are manufactured in Taiwan and have to be ordered (and imported) from there or B&H.
These adapters are the most lightweight at 52g and they offer an unique yet amazing feature: an adjustable infinity hard stop (only on the later versions though).
This feature is what makes them my close focus adapter of choice, but the lightweight construction comes at a price: after a lot of use the helicoid has less resistance and the lenses don't sit as tight as they used to.
The adjustable hard infinity stop and the low weight are stand-out features, but the long term durability unfortunately isn't as good as that of the Voigtländer adapter. Still easily recommended for lightweight lenses and people that like actually functioning hard infinity stops.
buy from official homepage | B&H | ebay.com for $189 (affiliate links)
---
Shoten Close Focus Adapter
There are many close focus adapters I haven't tried yet. The one I still think deserves to be mentioned here – as I heard/read a lot of good things about it – is the one from Shoten. It also offers the longest extension: 6 mm instead of the more common 4 to 4.5 mm.
buy from ebay.com | ebay.de for $108 (affiliate links)
---
Techart LM-EA9 Autofocus Adapter
This is not your average close focus adapter as it mainly uses the variable, motor drive extension to turn your manual focus M-mount lenses into autofocus lenses. It can still be used as a close focus adapter though. Best have a look at my review to find out more about this one, as it is too complex an adapter to fully cover in a few sentences here.
buy from official homepage | B&H | ebay.com for $399 (affiliate links)
---
Conclusion
Being able to use the small rangefinder lenses on a digital fullframe camera was one of the main reasons for me to get a camera from the A7 series in the first place. Their long minimum focus distance was a huge bummer compared to my DSLR lenses (e.g. Nikon AF-S 20mm 1.8G) though, so the Voigtländer VM-E Close Focus Adapter was one of the first accessories I bought for my Sony A7 back in 2015.
A lot has changed since then: we can choose from a wide variety of close focus adapters these days with different features and at different price points. What hasn't changed: I am still using such adapters regularly.
Further Reading
Support Us
Did you find this article useful or just liked reading it? Treat us to a coffee!


via Paypal
The following two tabs change content below.
My name is Bastian and I am your expert here when it comes to ultra wide angle lenses, super fast portrait lenses (ranging from a 50mm f/0.95 to a 200mm f/1.8) and I also have reviewed way too many 35mm lenses. Don't ask me anything about macro or wildlife shooting though.