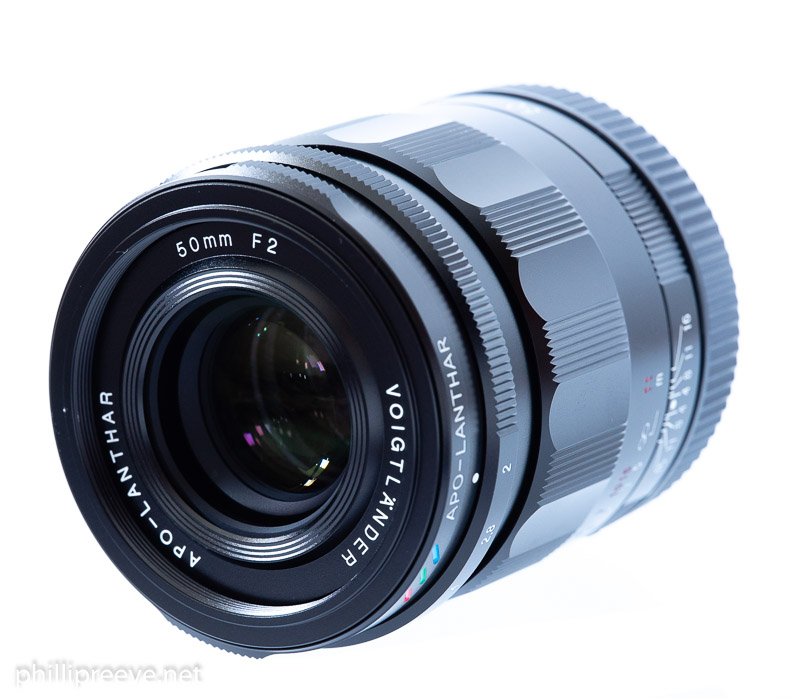 The Voigtlander 50mm F2 APO-Lanthar has been highly anticipated because of the reputation built by its APO-cousins the mighty 2/65 macro and 2.5/110 Macro. So can the much compact 2/50 APO match or even surpass those lenses performance?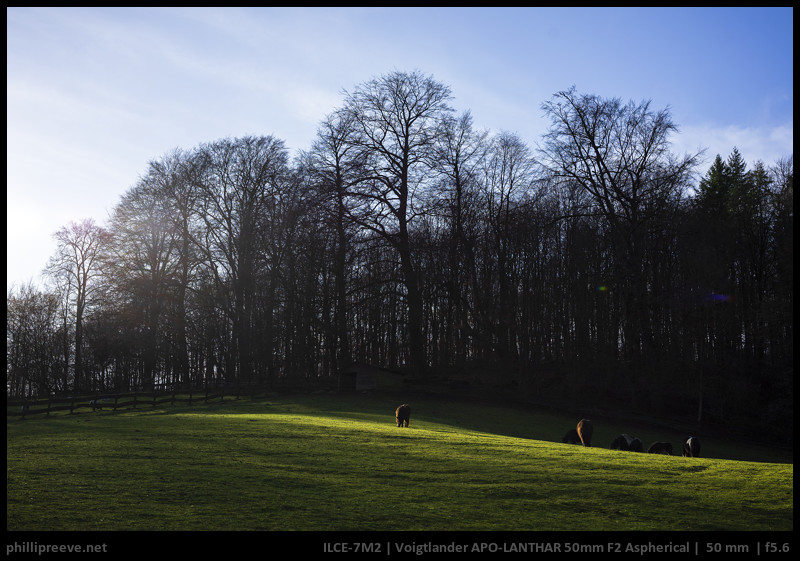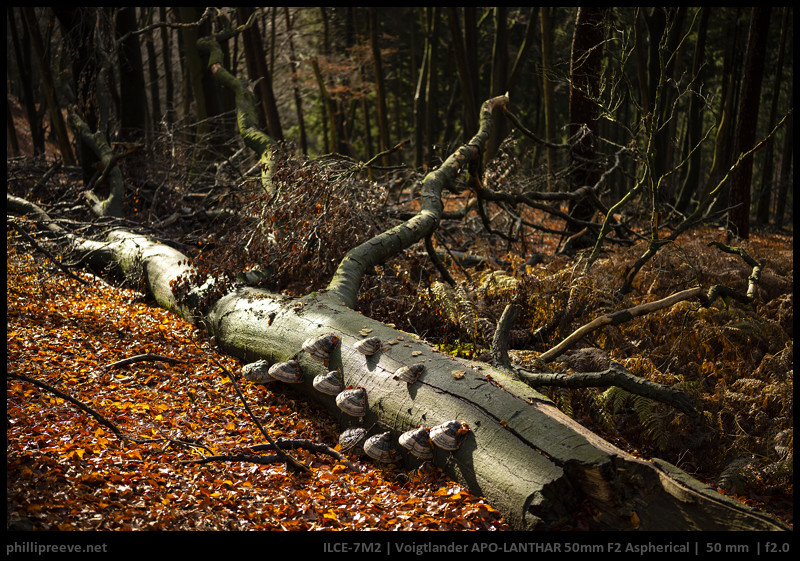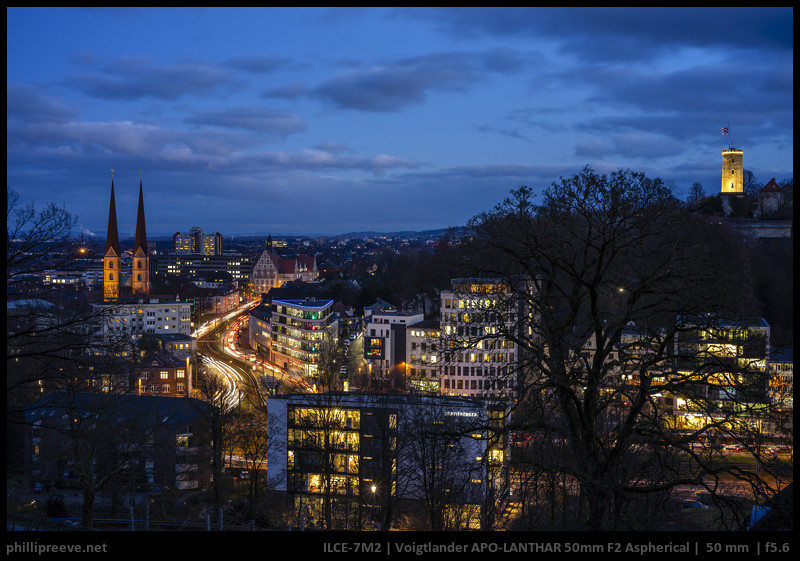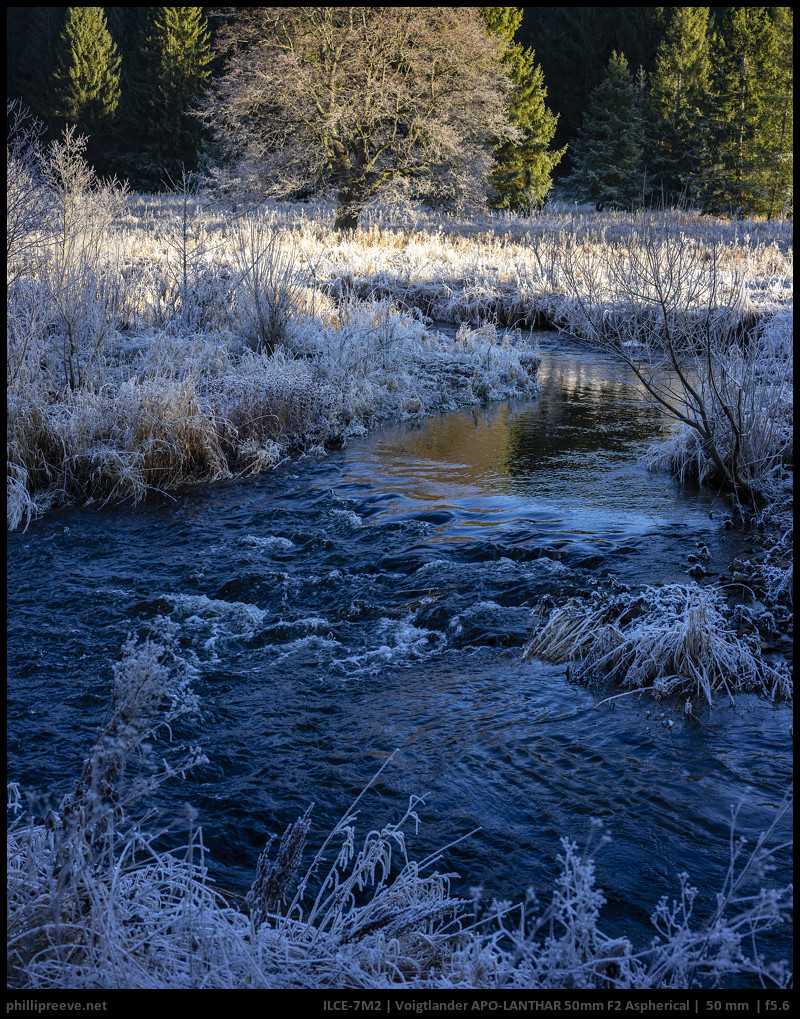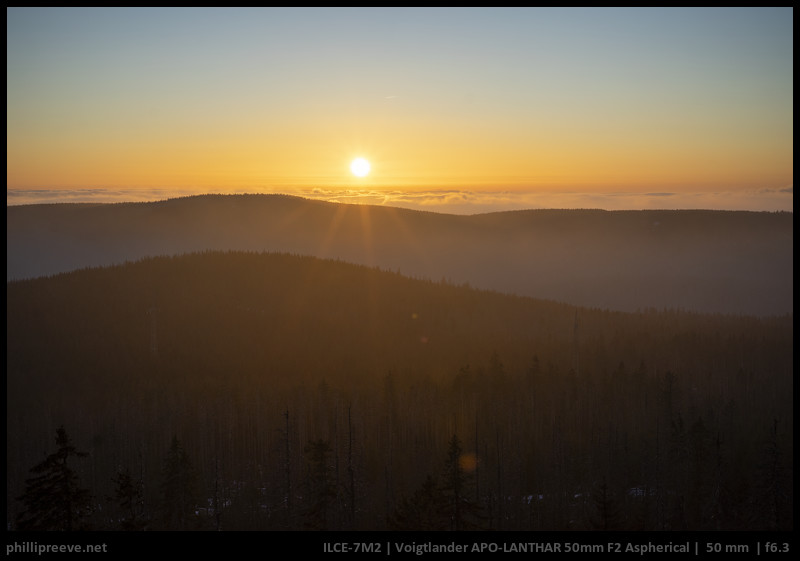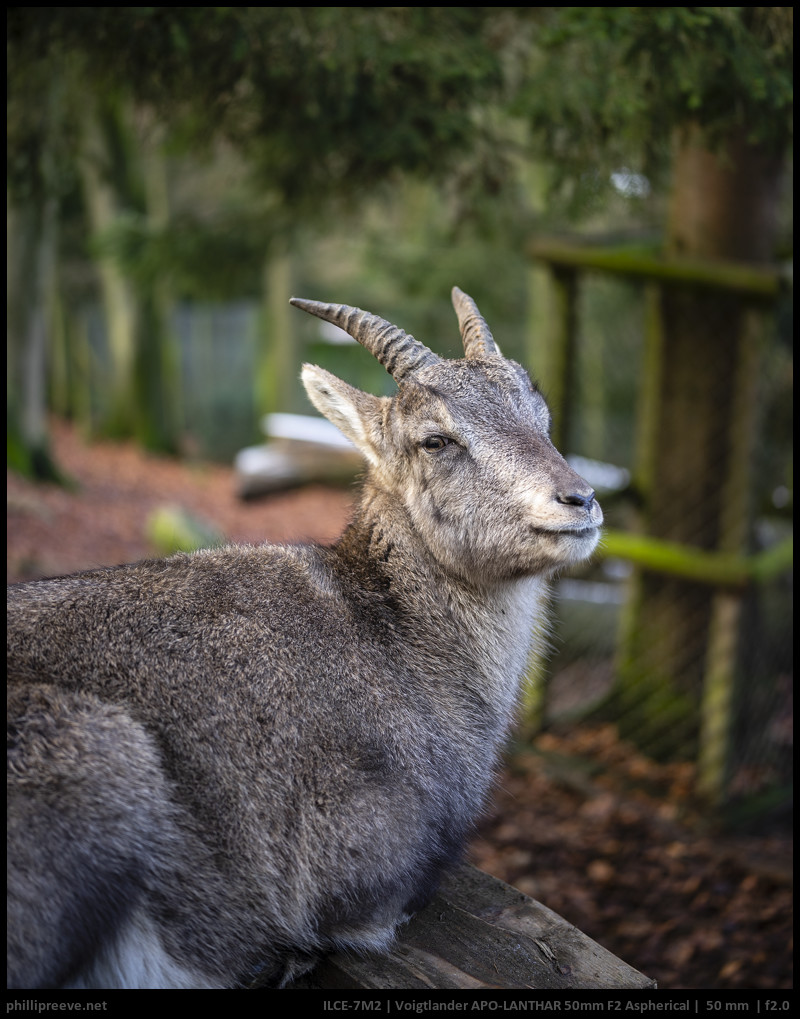 You can find most images in this review in full resolution on flickr where you can also browse them in high quality.
Specifications
| | |
| --- | --- |
| Diameter | 63 mm |
| Length | 61 mm |
| Filter Thread | 49 mm |
| Weight (no hood, no caps) | 364g |
| Max. Magnification | 1:6.4 |
| Close Focusing Distance from the sensor | 0.45 m |
| Number of aperture blades | 12 |
| Elements/ Groups | 10/8 |
The Voigtlander 50mm f2 APO-Lanthar sells for $1049 at cameraquest | Amazon.com | B&H (affiliate links).
If you purchase the lens through one of these affiliate-links I get a small compensation with no additional cost to you. 
Disclosure
This copy was loaned to me free of charge from RobertWhite.co.uk for a few weeks. 
Features
The Voigtlander 50mm F2 APO-Lanthar is a fully manual lens so you have to change focus and aperture by yourself. The camera can't change the aperture so S- and P-mode will not work as with native lenses.
It has electronic contacts to communicate with the camera. The lens provides correct exif-data and distance information so that 5-axis OSS can be used. Focus magnification can be automatically activated when the focus ring gets turned.
You can easily de-click the aperture for video use with the turn of a ring.
Voigtlander calls it an APO lens which means that chromatic aberrations are very well corrected. More on this further below.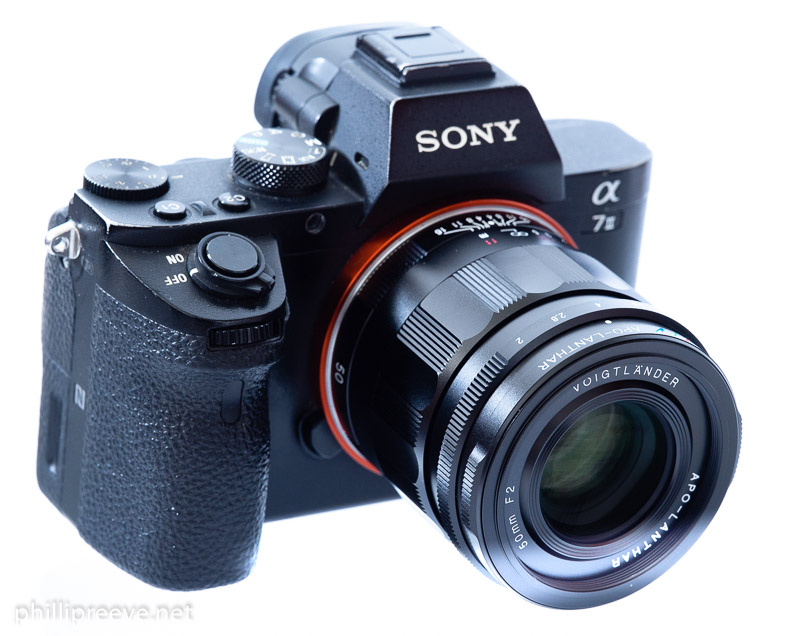 Other Resources
Cosina, the Japanese manufacturer of the Voigtlander 50mm F2 APO-Lanthar dedicated it to celebrate the 20 years anniversary of the Voigtlander brands revival. In an unusual move for them they released a 4 parts series along side it which covers the development of the lens and which I found an interesting read. It is in Japanese so google translate is your friend.
I don't cover the sharpness aspect with great depth because I don't find much enjoyment in pixel peeping and so I am still content using a 24MP camera where even 45 years old 50mm lenses deliver excellent performance at f/8. Fred Miranda did an excellent job testing it on the a7rIV, so if  you want to know if it holds up 61 MP (spoiler: it does), check out his tests.
Build Quality
The Voigtlander 50mm F2 Macro offers very good build quality. The lens hull is made from nothing but metal and tolerances are very low. Most but not all markings are engraved.
There is no gasket around the mount and Voigtlander does not claim any weather resistance which is a bit of a letdown for such an expensive lens.
Of course I can't tell you how durable the lens will be in the long term. All I can do is give you my superficial impression which is very positive in this case.
Bastian once had to get his Voigtlander 1.7/35 repaired which had to be done in Japan and he had to wait many weeks for the repair while repairs from other manufacturers are usually much faster. Stephen from CameraQuest in the US told me that they do most repairs in house and that few lenses have to go to Japan.
Handling
Handling is all-round excellent. At the base of the lens there is a wide enough area which is textured in parts to easily un-mount the 2/50 APO.
Focus Ring
The focus ring travels 90 degrees from 45 cm to 1 m and about a further 50 degrees to infinity. This transmission and the focus ring's very pleasant resistance make focusing at any distance a breeze. Manual focus doesn't get more enjoyable than with this lens.
Aperture ring
The aperture ring at the front of the lens is a joy to use. You can easily find it by touch and it is made from metal with distinctive stops and a very pleasant resistance. I am not a fan of 1/3 stops but since Sony by default uses these this is not something I blame on Cosina. The Voigtlander stops down to f/16.
Hood
The Voigtlander 50mm F2 has a rather exposed front element. So I prefer to always have the hood attached. The hood is made from metal and modest in size, it increases the length of the lens by about 23mm without changing the diameter. A nice touch is that the hood has a 58mm filter thread and comes with it's own lens cap.
Size and Weight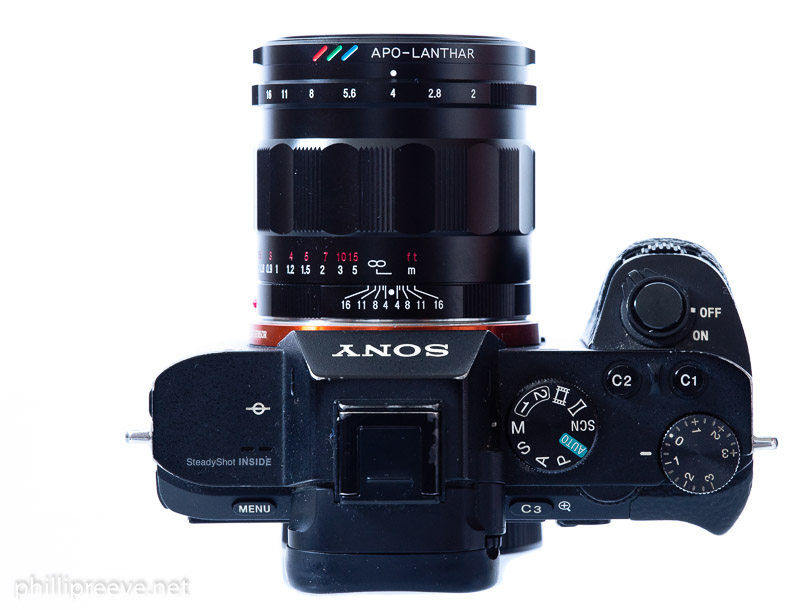 The Voigtlander 50mm F2 APO-Lanthar is rather compact lens, about the same size as Sony's FE 1.8/50 and 10mm shorter than the FE 1.8/55 and much smaller than the Voigtlander 2/65 APO. This makes it a perfect match to my a7ii on which it balances very well.
Optical performance
These results are based on the use with a Sony Alpha 7II.
Flare Resistance
Even when pushed very hard the Voigtlander will show only minor ghosting and veiling flare. A very good performance.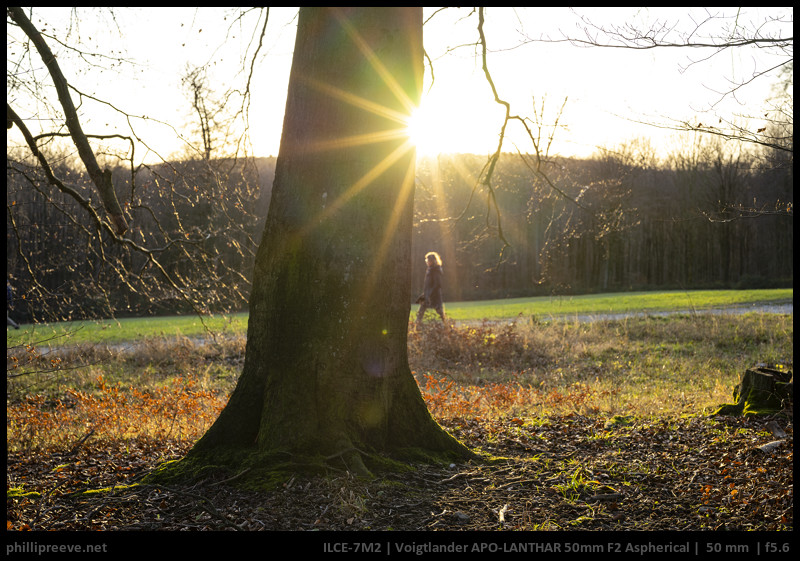 Sunstars
Voigtlander has always used straight aperture blades in the E-mount lenses. First 10, later 12-bladed resulting in very defined sunstars even if the lens is stopped down only a little. The upside of that were sunstars for those who enjoed them and the downside where that you couldn't avoid the sunstars and negative effects on bokeh. Cosina has further improved on the aperture design which is perfectly round not only at f/2 but also at f/2.8.
In consequence you need to stop down to f/4 for very well defined sunstars which is an overall improvement in my eyes.
Bokeh
Out of focus highlights are rendered neural with no defined transition
Cat's eyes are rather strong at f/2 and still noticeable at f/4
At f/2 and f/2.8 oof highlights are rendered perfectly round thanks to the new aperture design, stopped down to f/4 they are redendered as dodecagons and stopped down even further it is hard to tell them from a circle.
The transition zone is smooth in the center and a little harsh off-center
I notice no bokeh fringing
Overall bokeh is smooth in most settings but not quite as smooth as the 1.2/50 which has less contrast outside the focal plane and smoother oof-highlights.
Chromatic Aberrations
Since the apochromatic correction is one of the defining features of the Voigtlander 2/50 and the 2/65 and 2.5/110 fared excellent in this aspect I was curious how the Voigtlander APO 2/50 would fare.
This is the most demanding scenario I could come up with while fountains are off in the winter and at 100% I see traces of CA outside the focal plane. This is a way better performance than any other 50mm lens I have tested but not quite as perfect as the 2/65 and 2.5/110 APO.
Lateral CA are corrected really well as well with only traces of it visible.
Vignetting
Vignetting at f/2 is 2.3 stops which is easily visible in many images if uncorrected. Stopping down to f/2.8 reduces vignetting to 1.5 stops which are still noticeable. From f/4 vignetting becomes hardly noticeable at 0.9 stops and at f/8 I measure 0.8 stops.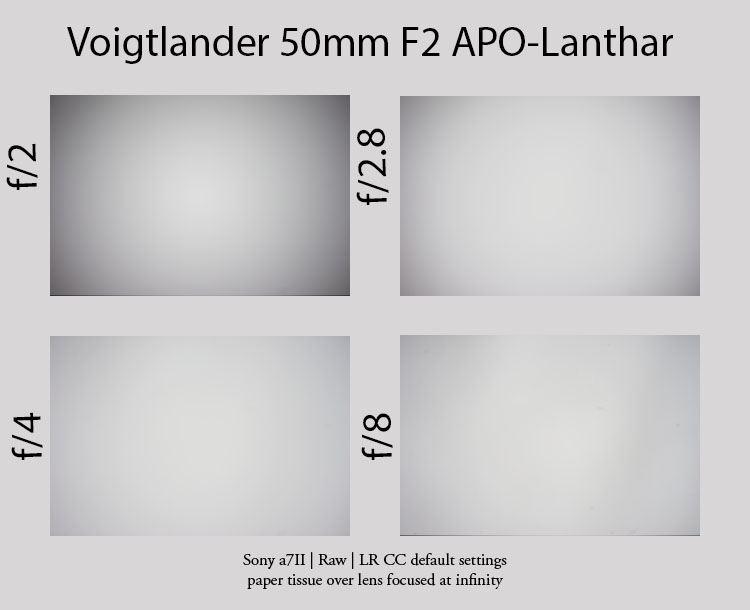 Distortion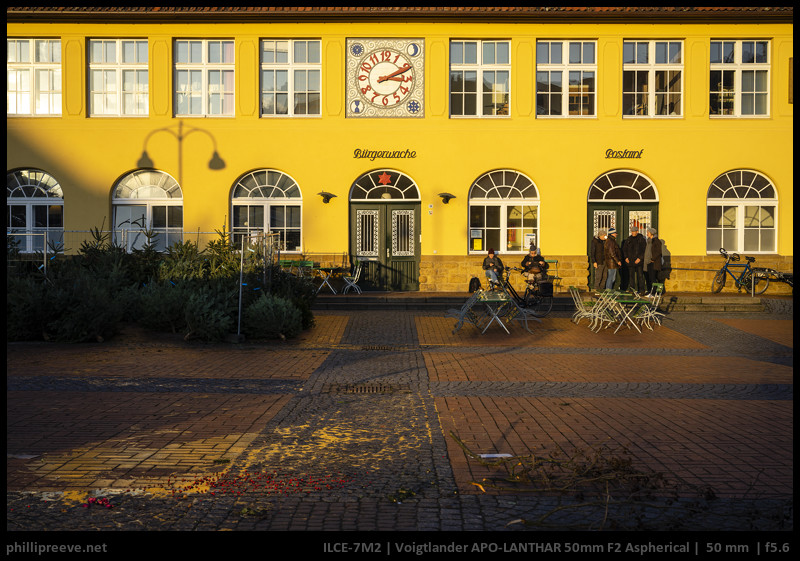 The Voigtlander 50 mm F2 APO shows very minor complex distortion which you will about never notice in an actual image.
Astro Performance
Astro performance is very good with minor deformation of bright stars.
extreme corner crop
Sharpness
closeup
At the close focusing distance of 45cm the Voigtlander 2/50 shows excellent sharpness.
infinity
The Voigtlander 2/50 turns out an excellent performance, better than any other 50mm I have ever tested. These summaries are really short when lenses are as excellent.
Alternatives
Zeiss Loxia 2/50: The Voigtlander outclasses the Zeiss in every respect. While you won't see a big difference on 24MP, the Voigtlander is easily sharper than the Loxia on 61 MP. Bokeh rendering at f/2 is also much smoother and CA correction is another plus for the Voigtlander. Used prices of the Loxia have fallen a lot, so on a tighter budget it still is a very capable landscape lens, but without the excellence of the more expensive Voigtlander.
Voigtlander 1.2/50: At just 80g heavier the APO-Lanthar's sibling offers 1.5 stops more and also an even smother rendering. It needs f/5.6 to come close to the AL's sharpness and doesn't match it on 61 MP. As a general purpose lens the 1.2/50 with its many aberrations appears more attractive to me because of its rendering but, if that matters to you, the AL 2/50 is of course much better corrected.
Sony FE  ZA 1.8/55: It has often been called a mini Otus. Undeservedly in my eyes, because while it is sharper than any compact 50mm before it, it doesn't correct CA well, and also suffers from onion rings. The Sony 1.8/55 is very sharp across the frame from wide open so that it withstands significant enlargement but the Voigtlander is clearly a league above. Besides performance differences AF is the most  significant difference between both lenses.
Sony FE ZA 1.4/50: A much bigger and heavier lens the ZA 1.4/50 is even sharper than the Voigtlander in the very center but weaker off-center with good but not as good CA-correction and less vignetting/cat's eyes. Whereas I see the strength of the 1.4/50 in more dynamic portrait settings it doesn't compete for landscape use so it is probably a good companion if money is less of an issue to you.
Voigtlander 2/65 APO: The 2/65 Macro shares many traits of the 2/50 like the excellent sharpness and CA correction. The big difference is size: The 2/65 APO is a substantial lens and you might think twice about bringing it with you whereas the 2/50 is much more compact. But of course the 2/65 reaches a magnification of 1:2 and is 15mm longer, opening other applications. Also keep in mind, that the 2/65 is a little harder to focus and does not have the more advanced new aperture design.
Conclusion
pros

Excellent Sharpness

Very good (but not perfect) CA correction

Handling

Flare resistance

Sunstars

Bokeh (most of the time)

average

Vignetting/ Cat-Eyes
Price

cons
The Voigtlander 50mm F2 APO-Lanthar is among the optically most perfect lenses on the market right now. Not only does it show excellent sharpness and contrast across the frame from f/2, it also lives up to the APO-label and corrects CA to a degree where it is a no issue even in demanding images. Bokeh is well above average for a 50mm lens. Distortion is another non issue and flare resistance among the best in class. Other lenses have a little smoother bokeh but most of the time the 2/50 APO's bokeh is unobtrusive. The only thing that is average about the APO-Lanthar is its vignetting which is a small price to pay for this level of performance and compact size.
But the Voigtlander 2/50 APO doesn't only deliver an impressive optical performance, it also is one of the most pleasant to handle lenses I have ever used thanks to a relatively small size, well thought out design and excellent mechanics. I only wished Cosina had also added weather sealing since Sony camera's have improved a lot in this regard and any other lens in its price class offers it.
The designers of the Voigtlander 50mm F2 APO-Lanthar are right to be proud of it. It currently sets the standard both for optical performance as well as for handling. For such a high performing lens the price is very reasonable but of course still high for a 2/50 lens.
Recommendation
So the Voigtlander 2/50 APO is an outstanding lens but should you buy it? In my experience buying a lens just because it is a great performer is usually bad advice.
If you are in the lucky position that spending a little over $1k on a 2/50 won't cause you any financial stress go for it: You will enjoy handling it. You will also enjoy the images you take with it and you can be certain that there is no better for some applications applications. For example for  landscape photography where speed isn't important but sharpness, contrast, flare resistance and sunstars clearly make the AL 2/50 best in class and the images you take with it on a high resolution camera will hold up to gigantic enlargement.
But if you are in the more typical situation that this amount of money is a big investment to you I can only advise to not be blinded by the Voigtlander's technical perfection. Other lenses give in my eyes nicer images for a wider range of uses. Take for example Voigtlander's own 1.2/50 which is close in price and size but offers 1.5 stops more and also nicer bokeh. Sure the 2/50 AL is a lot better corrected but at the typical enlargements I find aberrations to be hardly ever an issue while speed and bokeh are easily visible in most images.
The Voigtlander 50mm f2 APO-Lanthar sells for $1049 at cameraquest | Amazon.com | B&H (affiliate links).
If you purchase the lens through one of these affiliate-links I get a small compensation with no additional cost to you. 
More Image Samples
You can find most images in this review in full resolution on flickr where you can also browse them in high quality.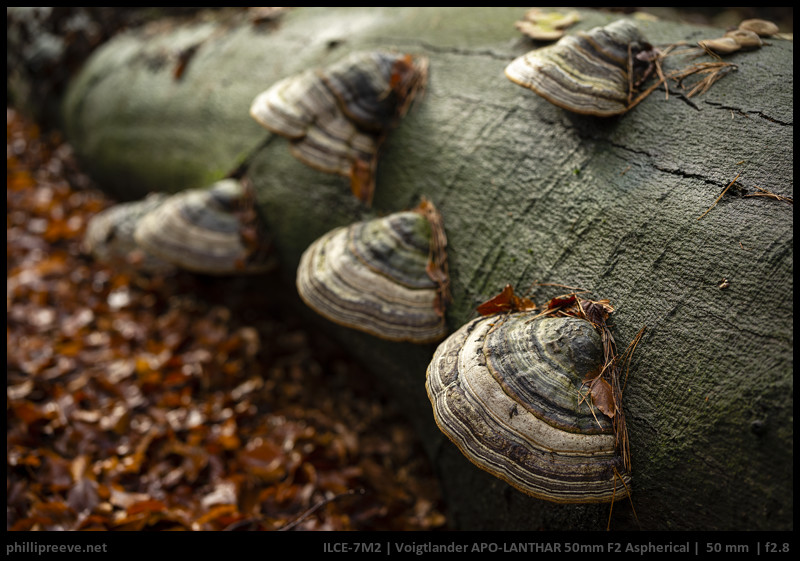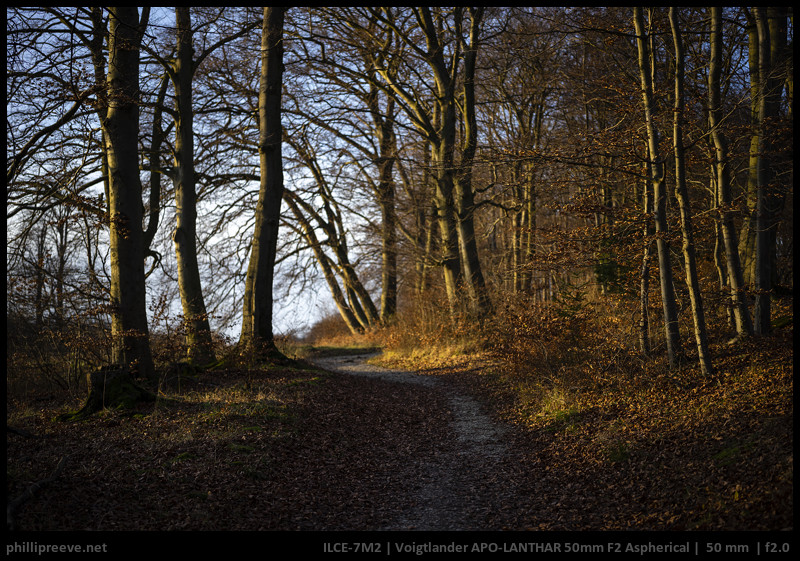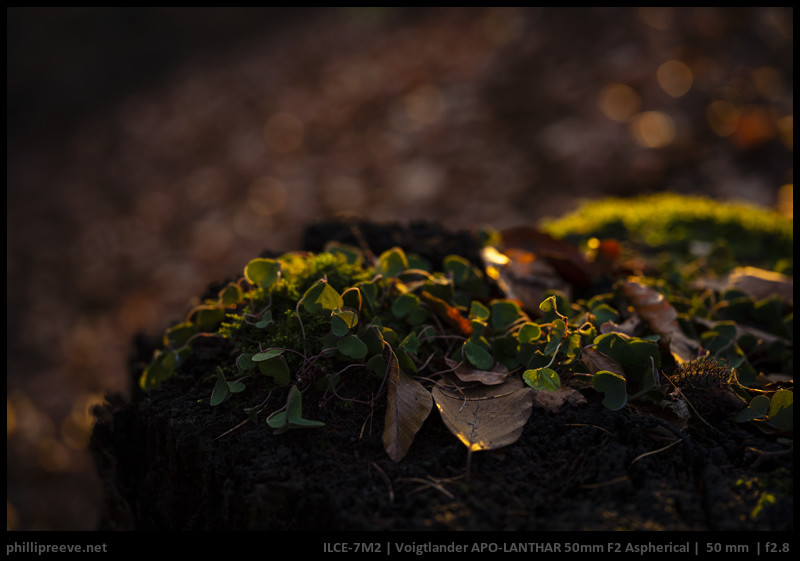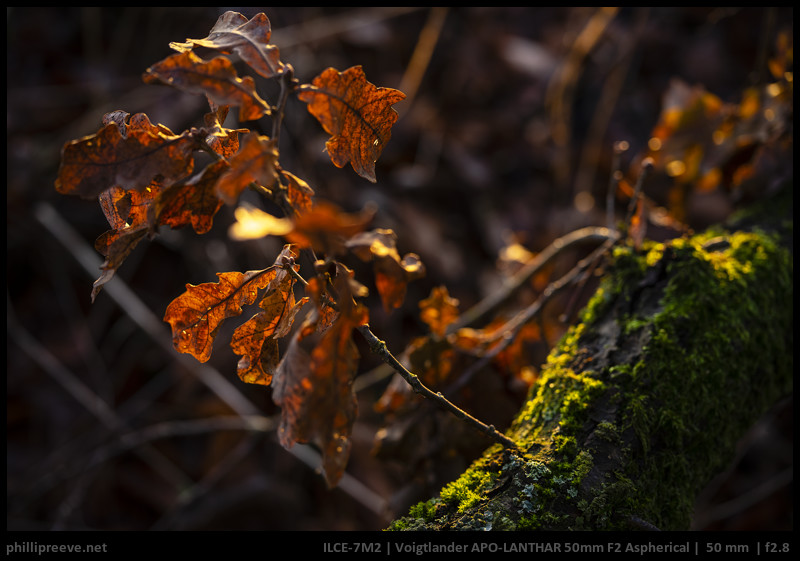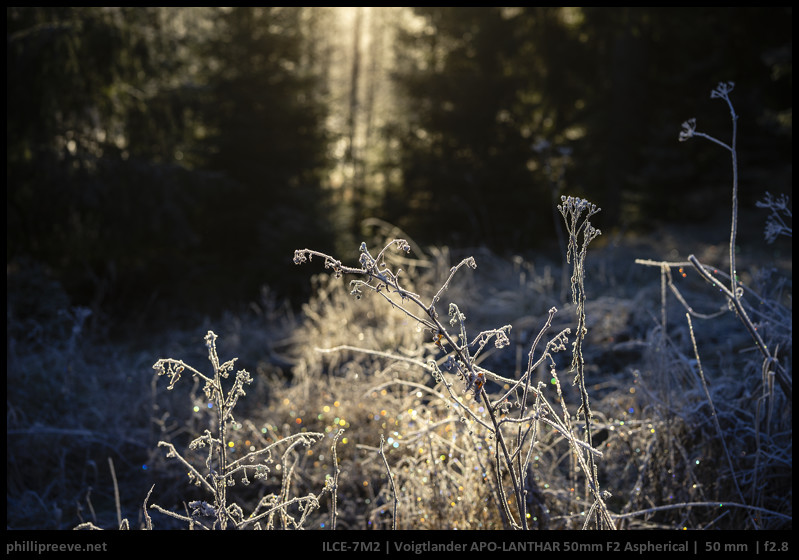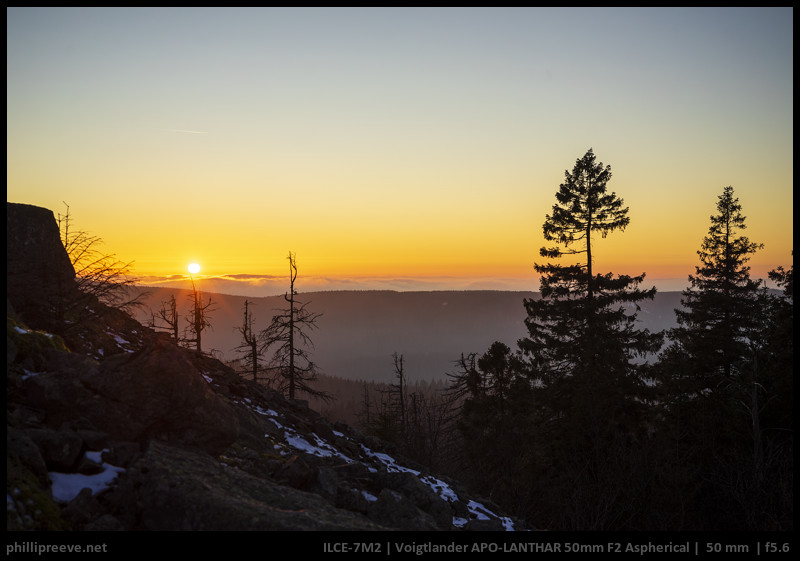 Other articles
The following two tabs change content below.
I have two hobbies: Photography and photographic gear. Both are related only to a small degree.
Latest posts by Phillip Reeve (see all)