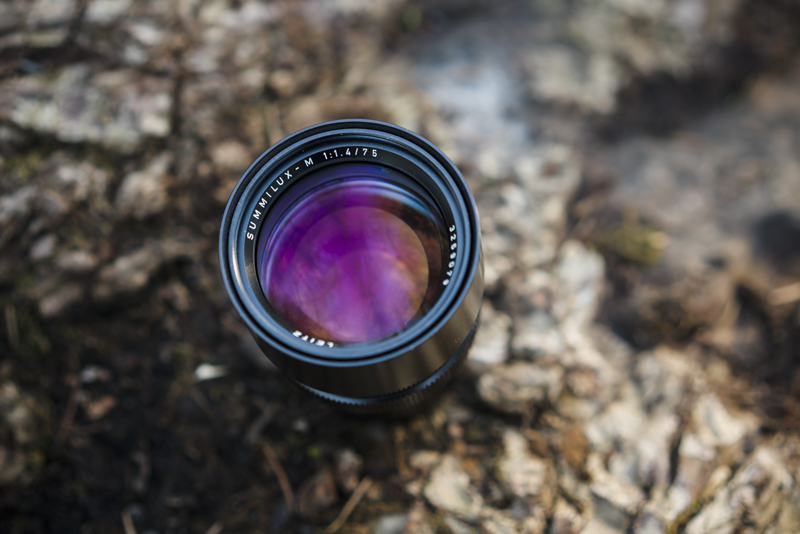 The Leica 75 Summilux (75 Lux) is legendary. It's a compact, fast, short telephoto rangefinder lens designed for portrait and shallow depth-of-field photography. Prices and praise for the 75 Lux haven't lessened over the years, and it's said to be one of Walter Mandler's favorites works. You'll be hard pressed to find a clean copy for under 3.5k. Let's dig deeper.
Click here to see all 75 Lux review photos and others at larger resolution on my flickr album.
Note 1: Throughout the review, FE or Sony 85 means the 85 f1.8, GM 85 refers to the GM 85 f1.4, and the Samyang is the manual focus version unless specified.
Note 2:  For a more extensive look at the finer distinctions between the 75 and 80 Summilux, read this.
Specifications
| | |
| --- | --- |
| Focal Length: | 75mm |
| F-stop: | 1.4-16 |
| Weight: | 600g |
| Aperture Blades: | 10 (unrounded) |
| Hood: | Permanent (retractable) |
| Mount: | Leica M |
| Internal focus: | No |
| Filter Size: | 60mm |
| MFD: | 0.8 (will focus closer) |
| Environmental Sealing: | None |
| Years Produced: | 1980-2007 |