Introduction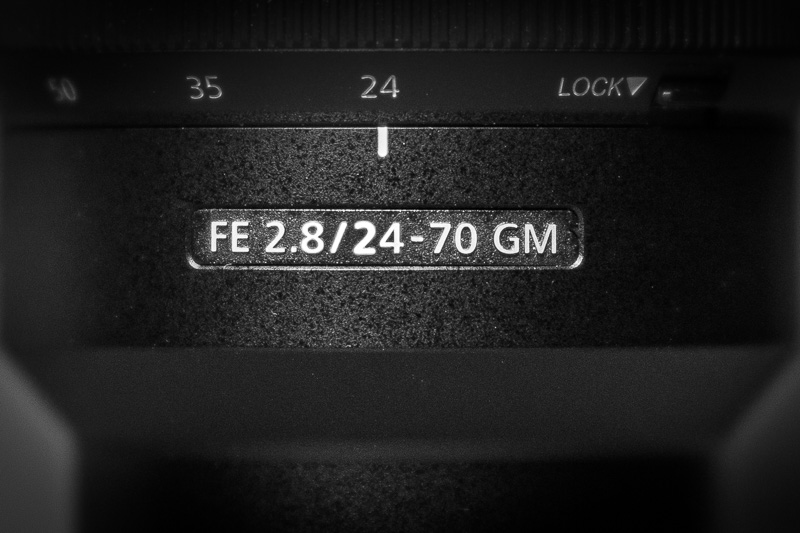 Since the introduction of the Sony A7-series cameras, many people asked for well performing f/2.8 zooms.  Although it negates the approach of the small bodies, Sony listened to their customers and developed the no-compromise GM(aster) lens lineup. The Sony FE 2.8/24-70 GM is the first lens of this new series in our hands.  In this review I will check the performance of my own copy which I have used for the last three months.
Sample Images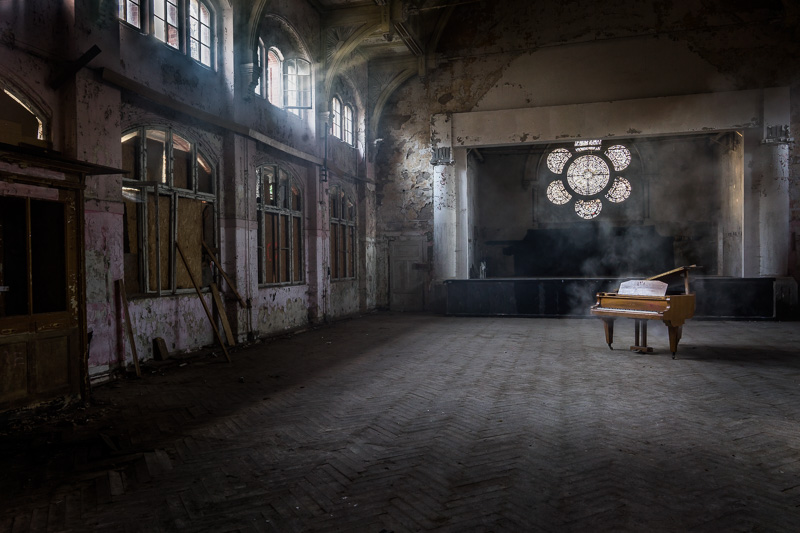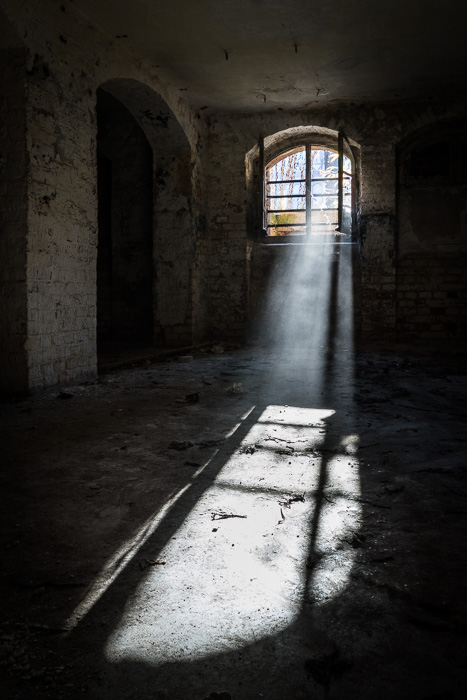 Specifications / Version History
As a Sony shooter, you currently have three native options when it comes to standard zoom lenses:
Sony FE 3.5-5,6/28-70 OSS
Sony FE 2.8/24-70 GM
All three options are aimed at different groups. The Sony FE 3.5-5.6/28-70 is a kit lens and performs decent in the center but the corners are much softer wide open and not better stopped down. It is okay as a kit lens and also usable for the documentation of the daily life, but I wouldn't recommend it for serious photography. The performance of the Sony/Zeiss FE 4/24-70 is a mixed bag, especially at the ends of the zoom range and doesn't justify the price tag in our opinion.
The Sony FE 2.8/24-70 GM is the latest addition to Sony's standard lens lineup and costs $2199 MSRP. This is almost twice the price of the FE 4/24-70 ZA OSS and almost five times the price of the FE 3.5-5,6/28-70 OSS. In contrast to the other two FE standard zoom lenses, the Sony FE 2.8/24-70 GM doesn't feature OSS so you are limited to you camera's stabilizer. I think that's a tribute to the ultimate image quality approach because the lens can be manufactured with tighter tolerances. We've seen that also in the Fuji XF 2.8/16-50mm lens in the past.
The Sony FE 2.8/24-70 GM has the following specifications:
Diameter: 87,6 mm
Field of view: 84° to 34° (diagonally)
Length:  136 mm
Weight: 886 g
Filter Diameter: 82 mm
Number of Aperture Blades: 9 (rounded)
Elements/Groups: 18/13
Close Focusing Distance: 0.38 m
Maximum Magnification: 1:4
Mount: Sony FE
You may also have a look at Sony's official page.
Reviewing zoom lenses is a real big bunch of hard work. If you appreciate this effort, please consider to buy your lens using one of these affiliate links:
You can get one for $2.198 at Amazon.com (affiliate link)
or 2.199€ at Amazon.de (affiliate link).
Sometimes, you can get a used lens or a good deal ( I bought mine for 1.700€) at Ebay.de or Ebay.com (afiliate links).
Handling / Build Quality
The first opening of the box put a smile on my face, because Sony puts a nice and practical lens pouch into it. It has a practical two-zipper mechanism and a belt loop. The latter is a very handy feature in combination with my Mindshift Gear Rotation belt bag. I put the big Sony 2.8/24-70 GM or its equally large brother, the Sony 1.4/85 GM into that lens pouch to save some space for my other equipment in the belt bag.

The lens itself is built to highest professional standards and I personally prefer this construction over a full metal lens. This might sound weird, because Sony uses plastic and rubber extensively, but the lens is very scratch resistant (in contrast to the Zeiss FE lenses) and light (for its tremendous size) because of that.
The lens hood is quite big and is made of plastic, but feels quite stury for a plastic hood. I really like that Sony has a switch in the lens hood to lock it in position. When I think of the wobbly Loxia 2.8/21 hood, I am very happy about that.
It takes about 90° turning the zoom ring from 24 to 70 mm:
Apart from the pretty stiff zoom ring and the well dampened focus ring, the lens has three external controls:
The zoom lock switch locks the lens in the 24mm position. I was expecting zoom creeping because of this switch but the lens remains in the adjusted focal lengths in every situation.
The focus hold button is a practical addition that I would like to see in any upcoming lens from Sony. It can be configurated individually in the main menu of the camera. I use the Eye AF on this button.
The lens features an AF/MF switch
One thing that I was asking myself before buying this lens is if this lens makes any sense in terms of balancing on the A7 bodies. In practical use,  these doubts didn't come true in most of the situations because I always have a hand on the lens and use a L-bracket most of the time. What bothers me more is that the camera with the lens attached doesn't fit into every of my bags anymore. You should also keep in mind that you catch as much attention as the average DSLR shooter with the Sony FE 2.8/24-70 GM.
The weight of this lens relativises when you keep in mind that usually replaces three primes in your bag. The only downside is, that the cumulated weight of these three lenses is pulling on the neck all the time.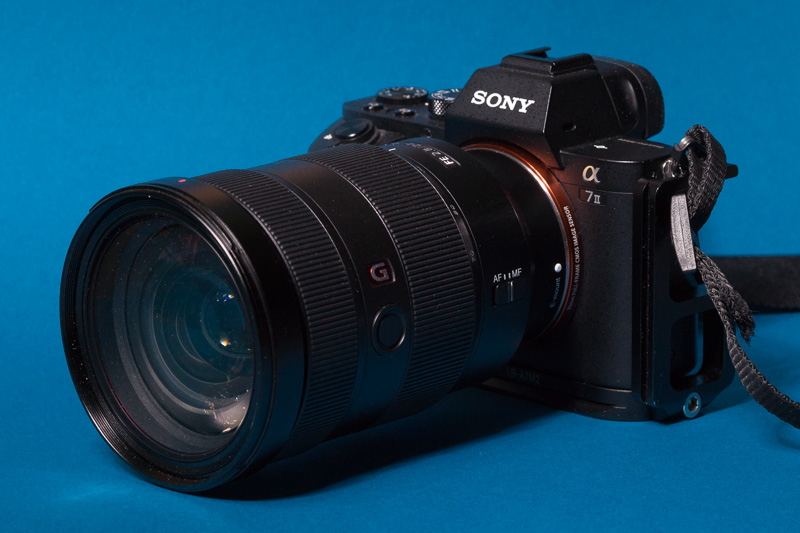 Autofocus
The lens focuses very fast, reliable and silent. The AF performance is in line with the FE 1.8/55 or the 2.0/28 and better than the 1.4/85 GM.
In the shot below, the hungry deer walked pretty fast into the direction of my wife who had some fodder. The AF nailed the shot in the way I wanted, even with the A7II and in this slightly dim conditions. I am happy with the performance, the shot below would have been a chance hit with manual focus (at least with my skills).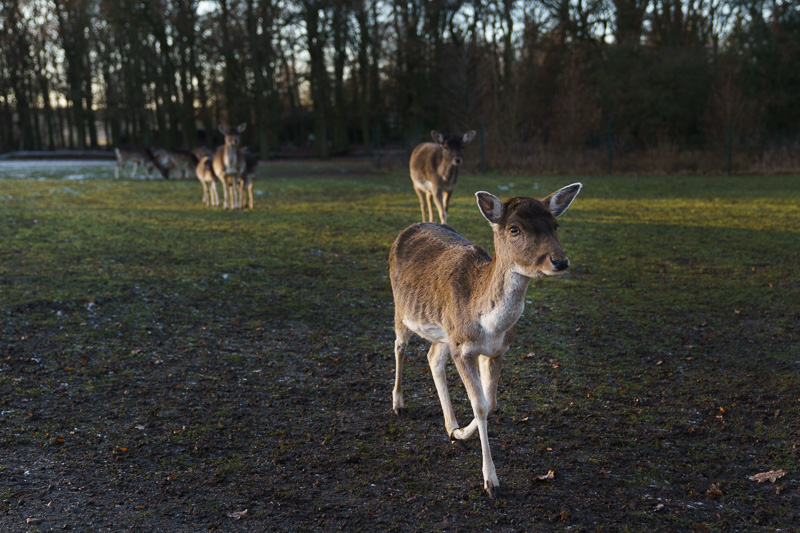 Manual Focus
This lens has got a linear transmission/coupling of the focusing ring. This comes closer to a manual lens than many other E-mount lenses and I like this development a lot. Manual focusing is reliable, predictable and feels very direct. A turn of around 110 degree changes the focus from the minimum focusing distance to infinity.
The only downside of the linear (pretty short) transmission is, that focusing at 2.8/70mm around the infinity mark can be a bit fiddly. The slightest turn of the focus ring causes a significant change and it seems to work stepwise.
Of course, this is still a focus-by-wire lens. Therefore, the lens has no hard infinity stops and not a distance scale on the lens.
Vignetting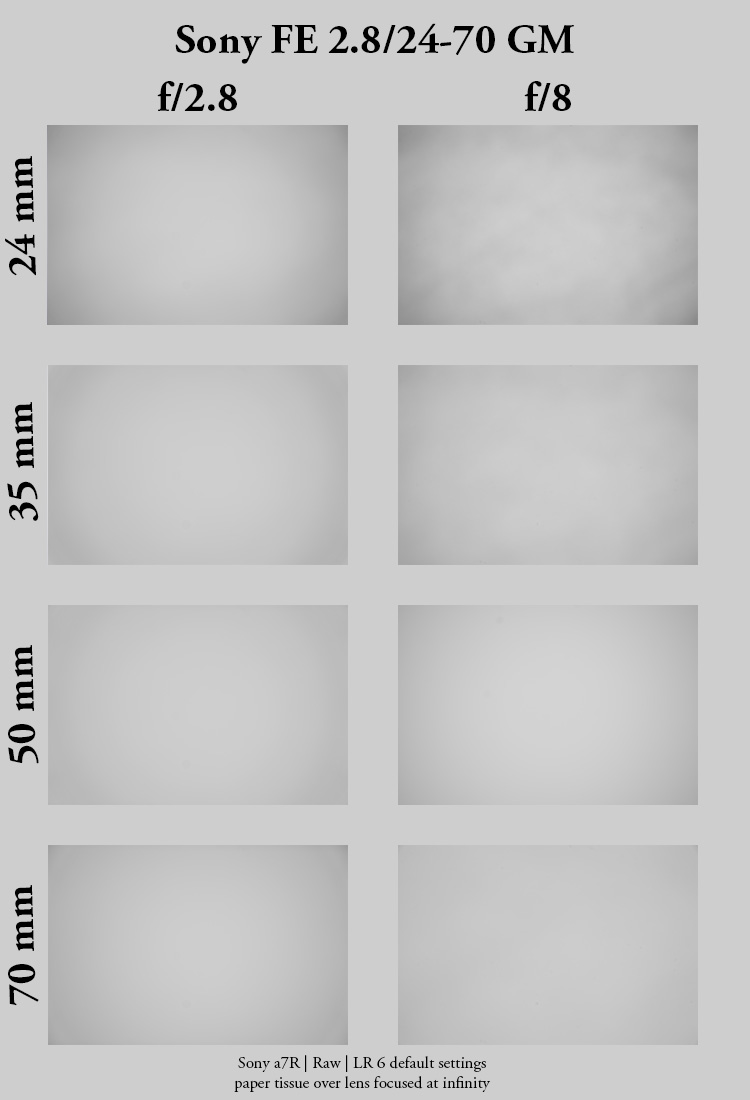 At 24mm, the lens shows the moderate amount of Vignetting of 1.3 EV (Loxia 2.8/21: 2.5 EV). At all other focal lengths, the Vignetting wide open is very low. There could be some correction baked into the RAW image but from what I can see, the performance is very good.
Sharpness
Infinity
24mm:
f/2.8: Excellent sharpness in the center, decent sharpness in the corner but some degradation of sharpness in the midframe.
f/4 & f/5.6 : midframe improves
f/8: Image is sharp across the frame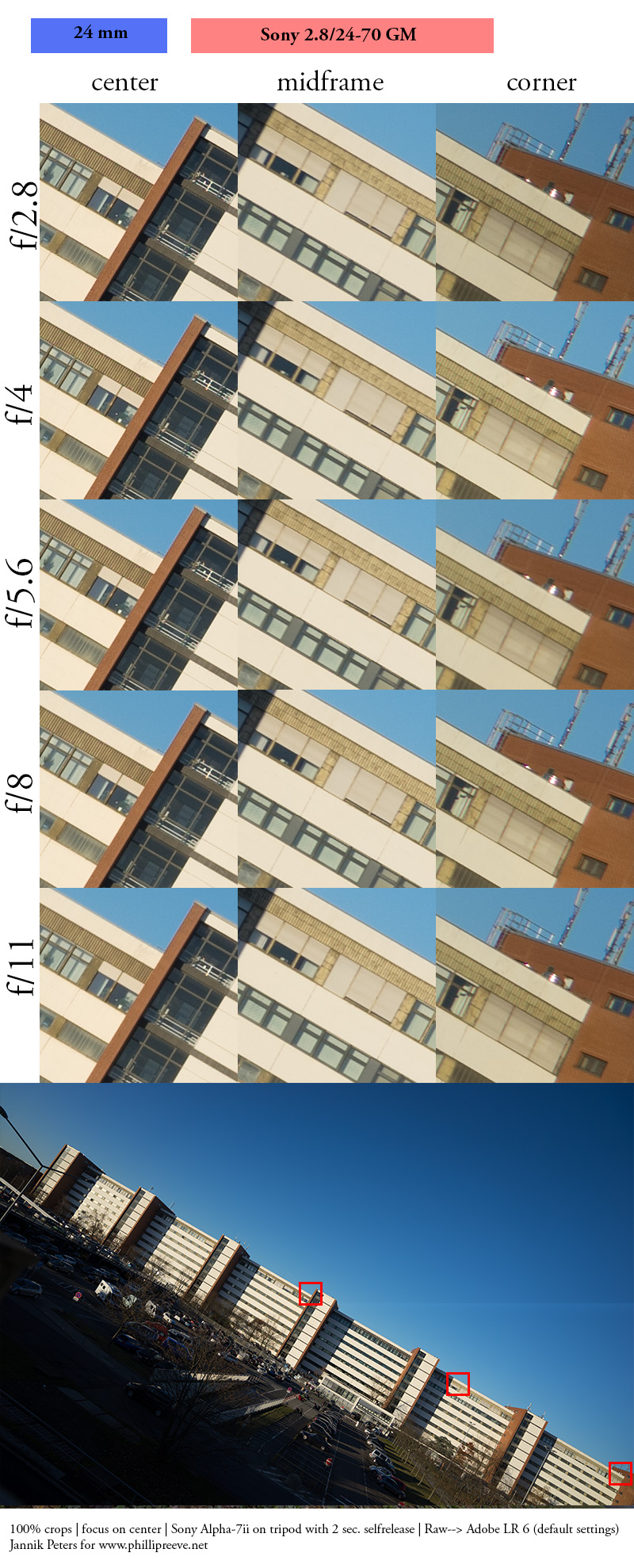 35mm:
f/2.8: Excellent sharpness in the center, and very good sharpness across the frame with slightly lower contrast in the corners and midframe
f/5.6 : Image is excellent across the frame and doesn't improve any further50mm:

f/2.8: Excellent sharpness in the center and in the midframe, good corner sharpness
f/4: corners get slightly sharper
f/5.6 : Image is excellent across the frame and doesn't improve any further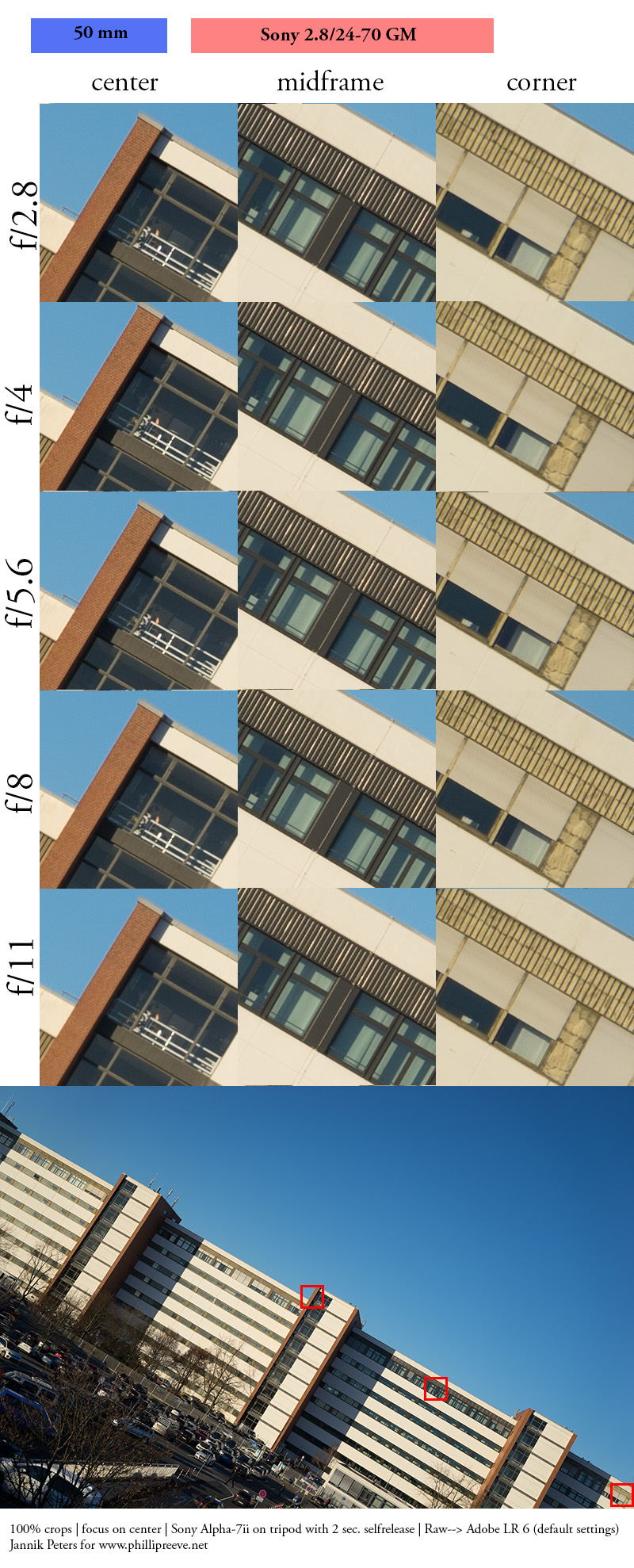 70mm:
f/2.8: Very good sharpness in the center and in the midframe, corners are a bit softer
f/4: corners sharpen up significantly, center and midframe are excellent
f/8 : Sharpness across the frame peaks, corners are very good now.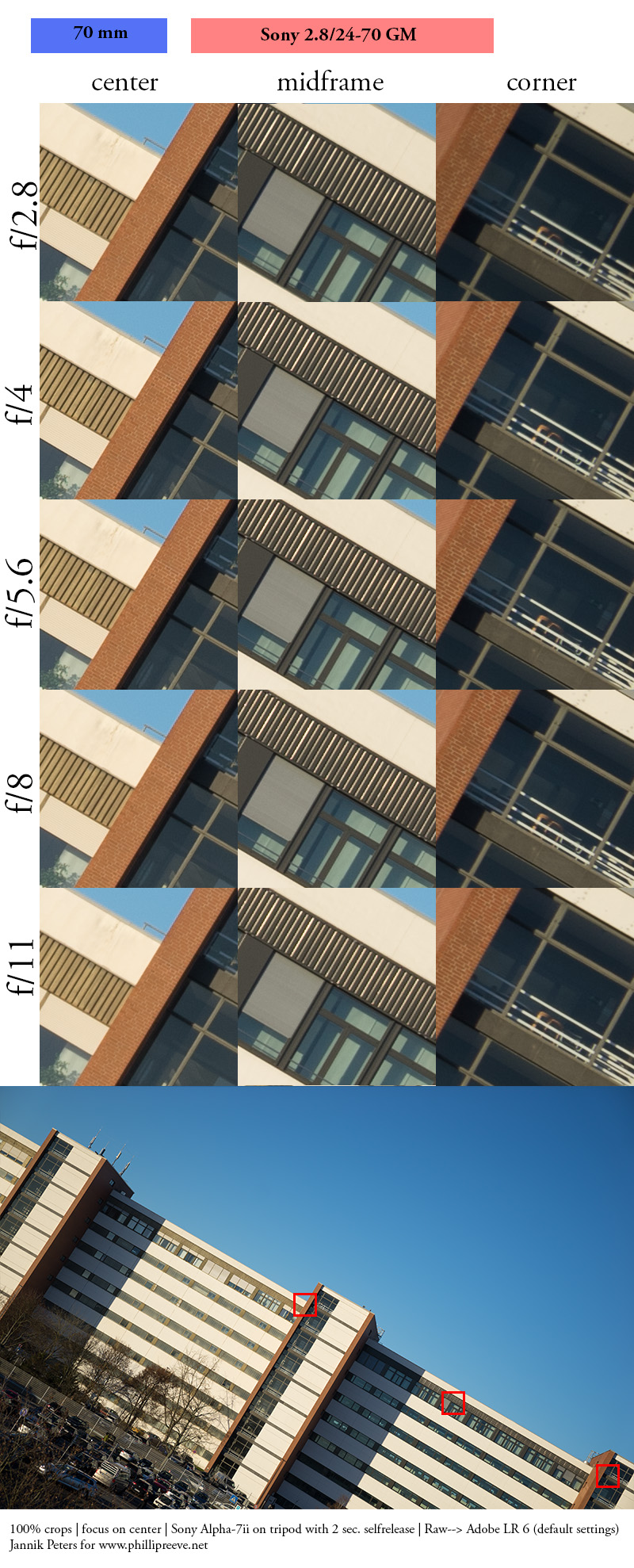 The sharpness of this lens is stunning, especially when it's taken into account, that this is a zoom lens. At least from 24-50mm, this lens can keep up with many of the best prime lenses and it's the sharpest native 35mm option in the system for landscape photography. Even at its weakest spot, the 70mm setting, the performance is not bad. The center is already very sharp wide open and the FE 2.8/24-70 sharpens up across the whole frame when the lens gets stopped down.
Close Focus
The sample below shows the performance of the Sony FE 2.8/24-70 GM at the minumum focusing distance. At f/2.8, sharpness is visibly lower than at f/5.6. At this aperture, the sharpness looks decent.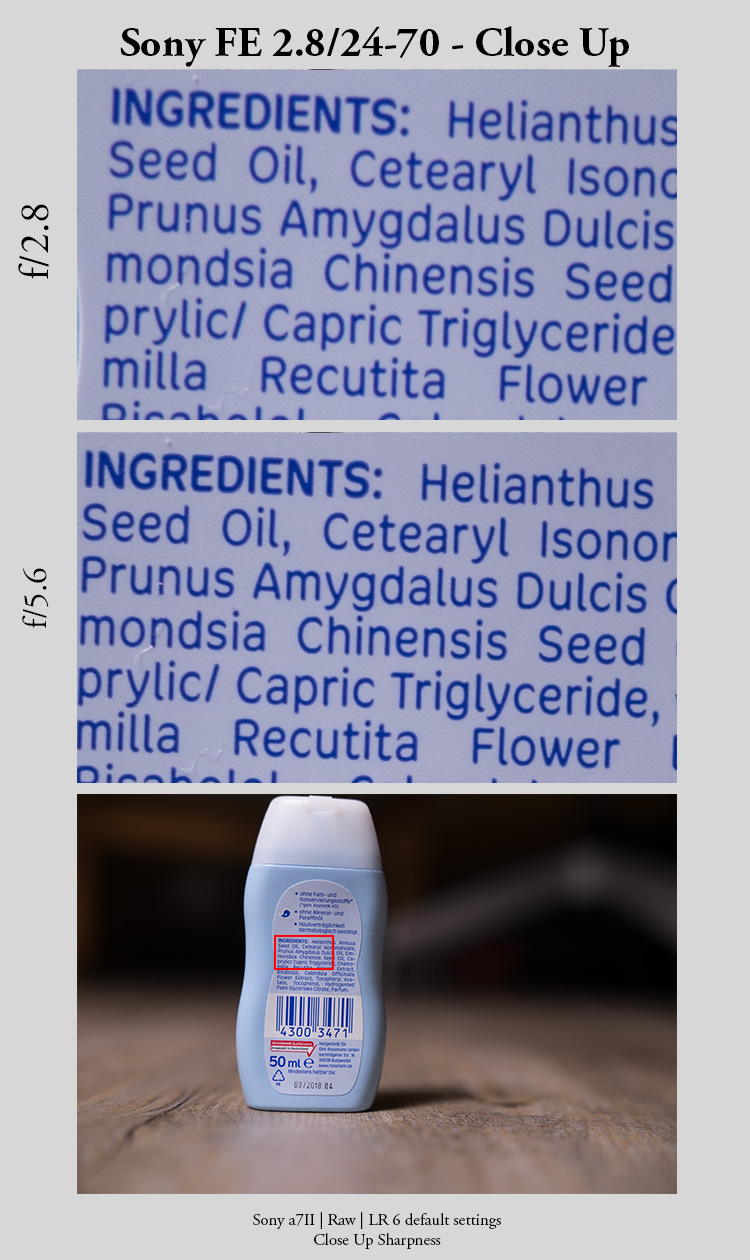 Flare resistance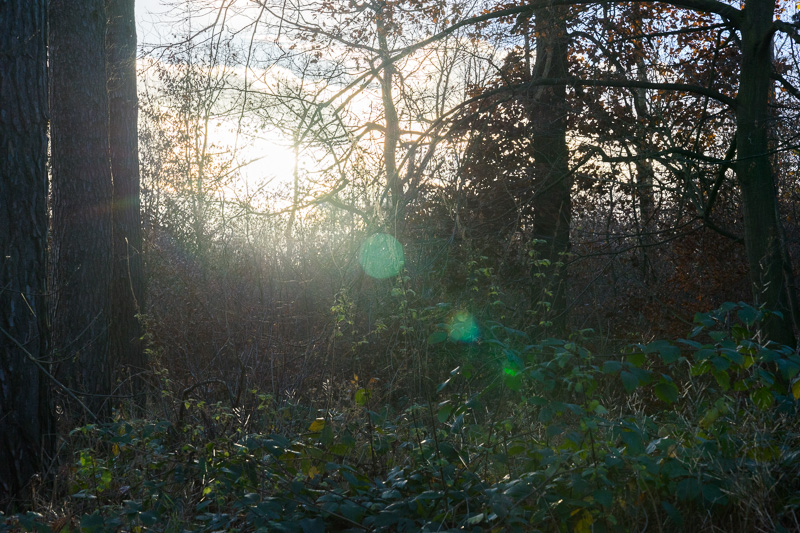 This is definetly the achilles heel of the lens. With the sun in the frame, there can be a high amount of ghosts in some constellations and at every focal lenghts. Many Zeiss prime lenses (e.g. the Loxia 2.8/21 or the 2/50) perform better in this regard.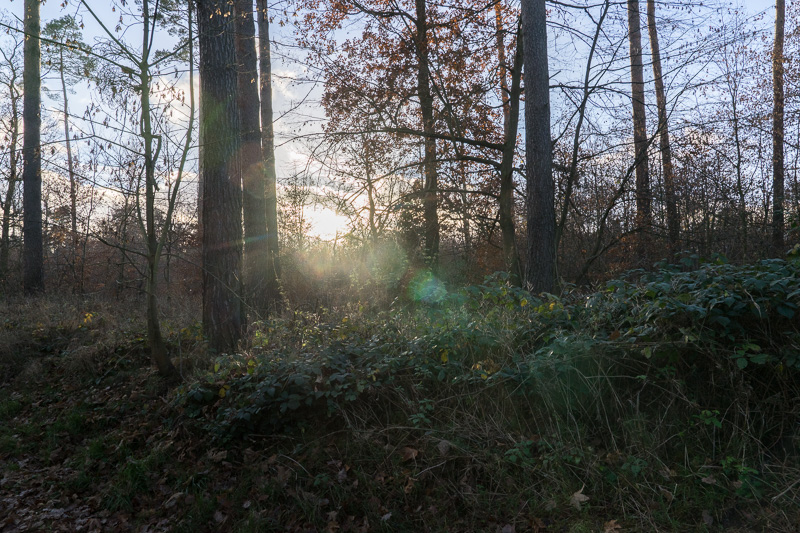 Veiling flare can also appear with the sun in the frame. Very bright light sources in the background can cause a general reduction of macro contrast in critical situations.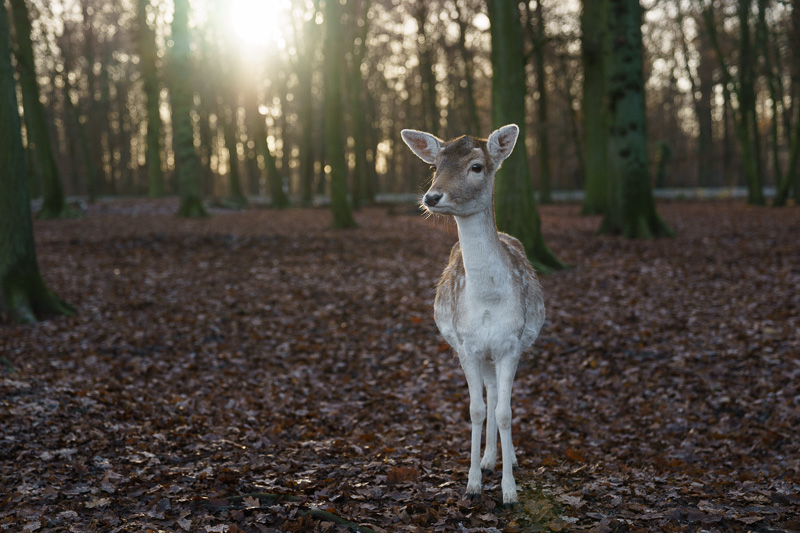 Distortion
The distortion performance is very typical for a 24-70mm lens. The Sony 2.8/24-70 GM shows pronounced barrel distortion at the short end which turns into pincushion distortion in the middle of the zoom range and stays like this until the end of the zoom range.
24mm
At 24mm, the lens shows a significant amount of barrel distortion with a mustache sub-frequency. This reminds me of the Zeiss Loxia 2.8/21.
Sony A7II | Sony FE 2.8/24-70 GM | Distortion before/after applying the lens profile at 24mm 
35mm
At 35mm, the 2.8/24-70 GM shows a slight amount of pincushion distortion.
Sony A7II | Sony FE 2.8/24-70 GM | Distortion before/after applying the lens profile at 35mm 
50mm
The same as 35mm, slightly increased pincushion distortion.
Sony A7II | Sony FE 2.8/24-70 GM | Distortion before/after applying the lens profile at 50mm 
70mm
Looks almost the same as at 50mm.
Sony A7II | Sony FE 2.8/24-70 GM | Distortion before/after applying the lens profile at 70mm 
Bokeh
Highlights are very round and clean at every focal length. The bokeh is very calm. Not only at the long end but equally at wider angles,  especially compared to most classic wide angle lenses.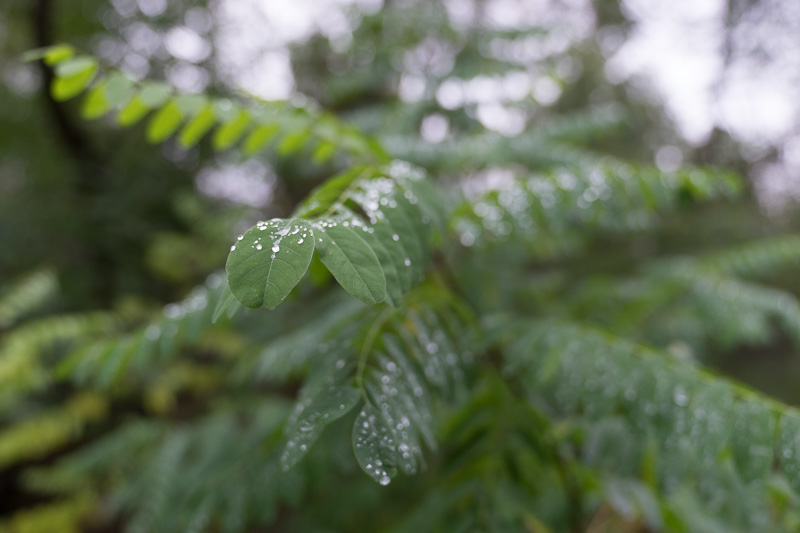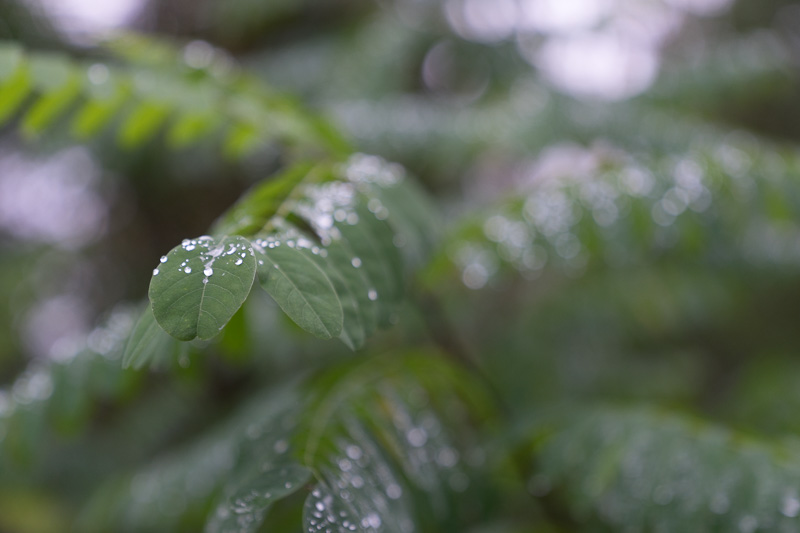 If you look closely at the illuminated highlights in the sample below, the shape of the bokeh balls remains almost round until the edge of the frame, even at 24mm.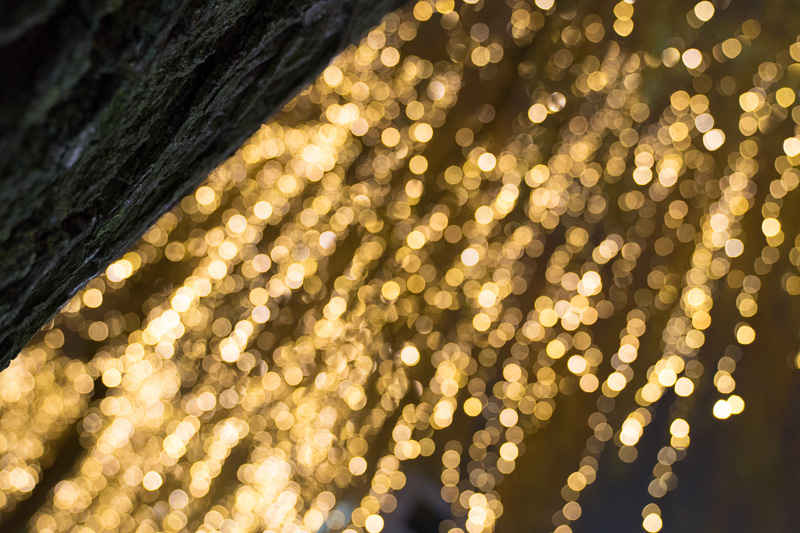 A closer look at the bokeh balls shows, despite the marketing claims you might still find (onion ring) structures in the light discs. But it seems to be indeed less pronounced compared to the competition.
In certain situations the light discs may also show a visible border, which is hard to notice at normal viewing distances.
At medium distances, The bokeh get's a little more structured with a complicated background like in the sample below. The bokeh is still pleasant to my taste. Even if it's one of the fastest full frame zoom lenses, the f/2.8 limits the subject isolation a little compared to faster prime lenses.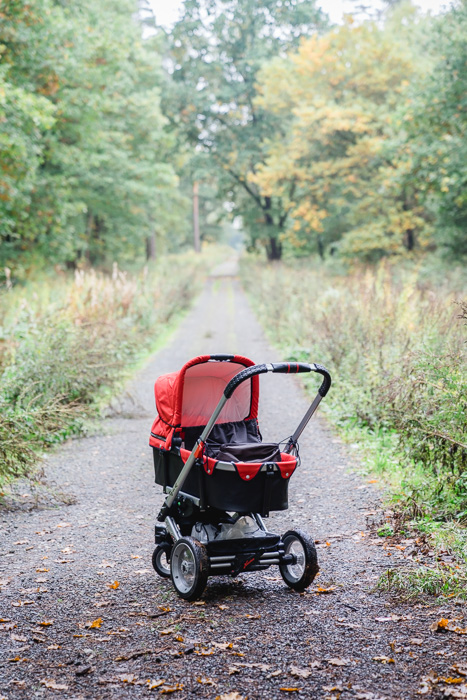 Sunstars
The Sony 2.8/24-70 GM has 9 rounded aperture blades and therefore an 18 stroke sun star . Therefore I didn't expect a good performance in this category. At large apertures, this turns out to be true. The sun stars are not very well defined until f/8. At f/11, the sun stars are surprisingly nice. They have well defined edges and pretty long strokes. They are better than I was expecting, but its obvious that they are not as beautiful as the Loxia/ZM/VM 10 stroke sun stars.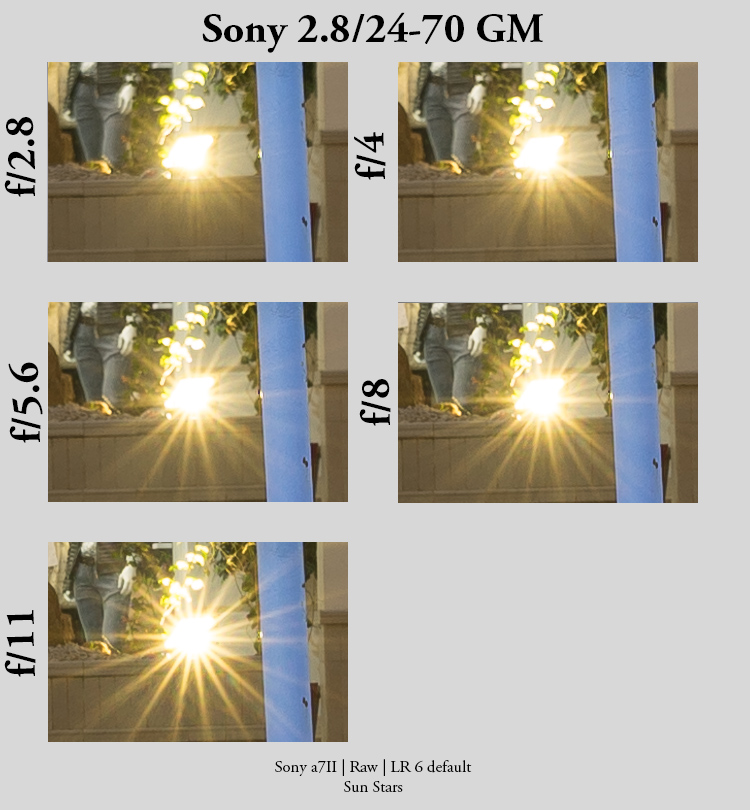 Chromatic aberrations
longitudinal
The correction of longitudinal chromatic aberrations is nothing short of phenomenal. I can't see even a trace of LoCA in any of my images, this lens has APO-Qualities in this regard.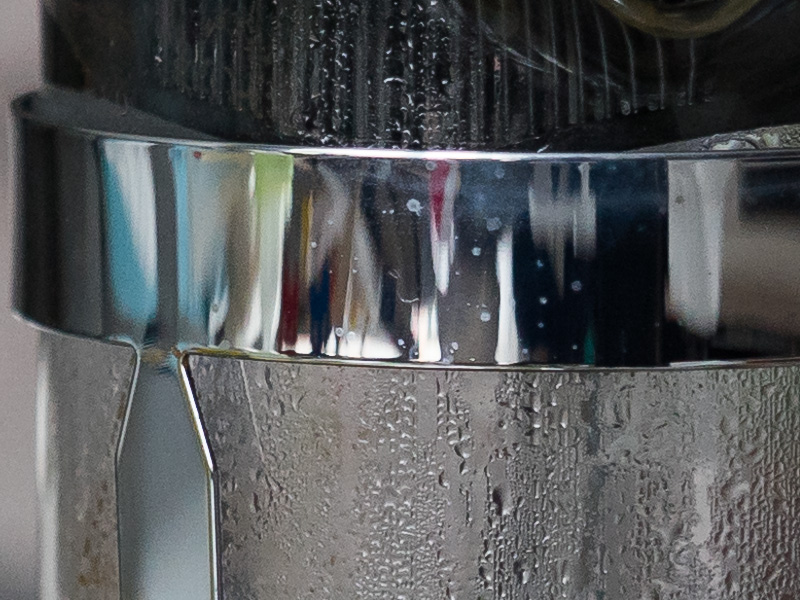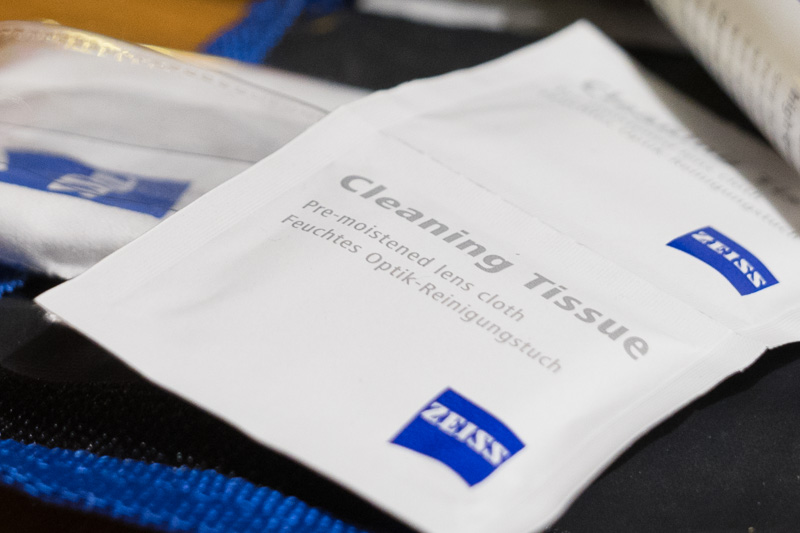 lateral
The correction of lateral CA is very good, at least from what I can see in Lightroom. There seems to be some correction baked in the RAW but I can barely see any of them in the RAW-image in Lightroom. The only focal length where they are slightly visible in the 1:1-magnification are 24mm, but I'm not sure if its really worth mentioning. Like shown in the sample below but even the correction tool doesn't change a lot.
Sony A7II | Sony FE 2.8/24-70 GM | 24mm f/11 | CA 100% crop before/after extreme corner
Coma
In absence of a fast ultrawide lens, a 2.8/24-70 can be used for occasional astrophotography.  A decent coma performance is necessary for this though.
The corner crops at 24mm look very clean already at f/2.8 in terms of coma, a good result. In the real life situation below, I don't see significant amounts of coma at all.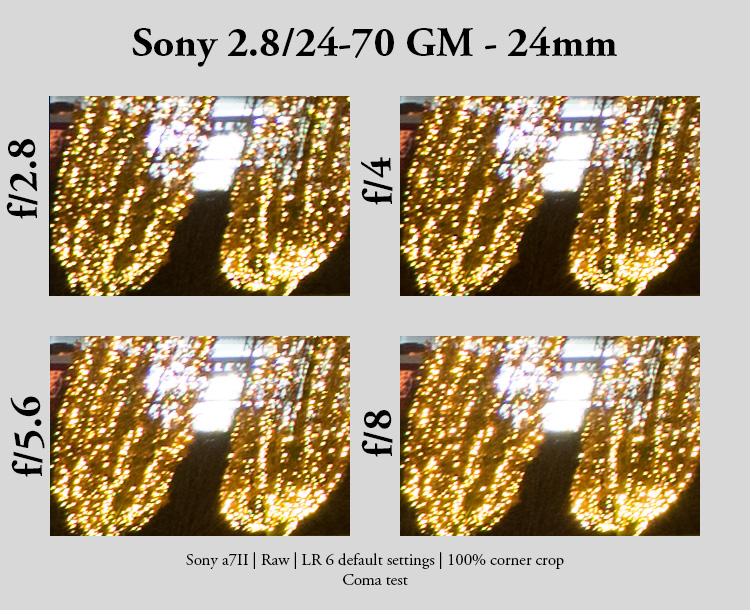 I've double checked the result at home and can find a very small amount of coma without any astigmatism. If you want to see a sample of heavy coma wide open, check out the Contax 2.0/28 review.
At 70mm, there is a small trace of coma wide open and a bit of astigmatism at all  apertures that I have looked on. Nevertheless, I think the result is pretty good here too.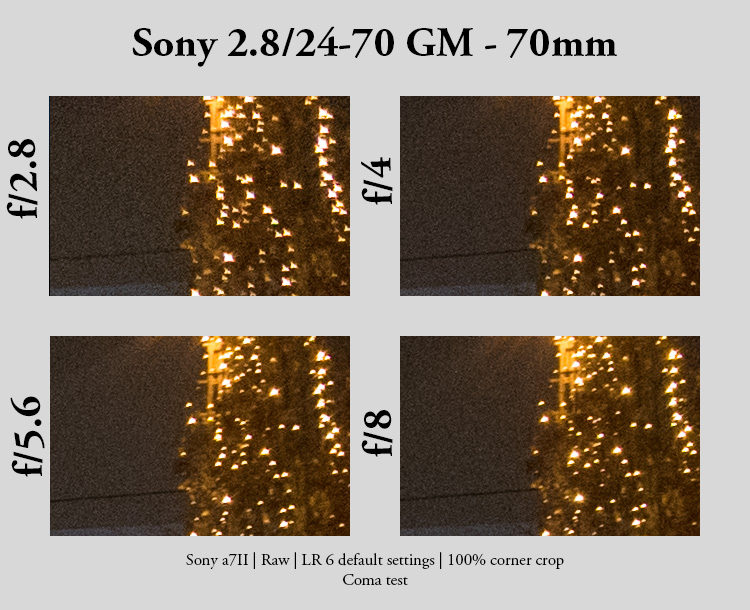 Alternatives
Sony FE 24-70mm 4.0 ZA OSS: Much cheaper, decently built and with optical stabilization. Nevertheless, its optical performance is visibly inferior in comparison to the Sony FE 2.8/24-70 GM.
Canon EF 24-70 2.8 L II*: This lens has hit the market some years ago and can be currently bought for a cheaper price. I have never used it, but it is also a superb and very sharp performer. Compared to the Sony FE 2.8/24-70 GM, it has worse bokeh and not the full native functionality.
Carl Zeiss Vario-Sonnar 3.4/35-70 MM T*: This is a legendary legacy zoom lens and regarded as one of the best performing zoom lenses ever. I own this lens and like it a lot. At 50 and 70mm, it can keep up with the GM but at 35mm , the GM is clearly sharper in the corners. Nevertheless, this lens is smaller, lighter and has a very handy macro feature at 35mm.
Conclusion
good

central sharpness at every focal length

corner sharpness at maximum aperture from 24-50mm


APO-like CA correction

bokeh

build quality

good manual focusing

fast and silent autofocus

vignetting

comes with a useful lens pouch

lens hood with locking mechanism

many external controls

average

sunstars
price

corner sharpness at 70 mm wide open



distortion

not good

flare resistance


size

sharpness wide open at max. magnification
I actually rubbed my eyes in disbelief when Sony came up with another lens line when there were already three different lens lines only from Sony itself. I have hoped that they have created something really special to justify this questionable decision.
Is this the case with the Sony FE 2.8/24-70 GM? If you look at the table above, the answer is clearly yes. This zoom lens can keep up optically with many of the best prime lenses in every regard except of speed and flare resistance. Furthermore, it is built to highest standards, offers pleasing handling, focusing and flexibility. The lens is very expensive but the price of the lens is adequate in relation to its performance and to the prices of its competitors.
Who should buy this lens? First of all the obvious people like wedding and press photographers, lens changing haters and portrait photographers. These people would have probably bought this lens anyways, but the stunning sharpness across the frame and the ability to compose an image precisely makes this lens an attractive choice for many landscape photographers. Last but not least, portrait photographers will appreciate the decent bokeh and the great central sharpness at every aperture. To sum this up – I recommend this lens for everyone who can spend this much in a standard zoom lens and who can justify its undeniable space in his bag.
Personally, I have always been a prime guy until my little son saw the first light of day. I have lost many shots of him in the first few months because my Loxia 2.8/21 was glued to my camera – even in the situations when I have needed a standard lens. I have  built my kit around the Sony FE 2.8/24-70 GM and it is my mostly used lens now.
If you found this review helpful, consider to buy the lens with one of these affiliate links. It doesn't cost you  anything and keeps this site running and independent:
You can get one for $2.198 at Amazon.com (affiliate link)
or 2.199€ at Amazon.de (affiliate link).
Sometimes, you can get a used lens or a good deal ( I bought mine for 1.700€) at Ebay.de or Ebay.com (afiliate links).
Sample Images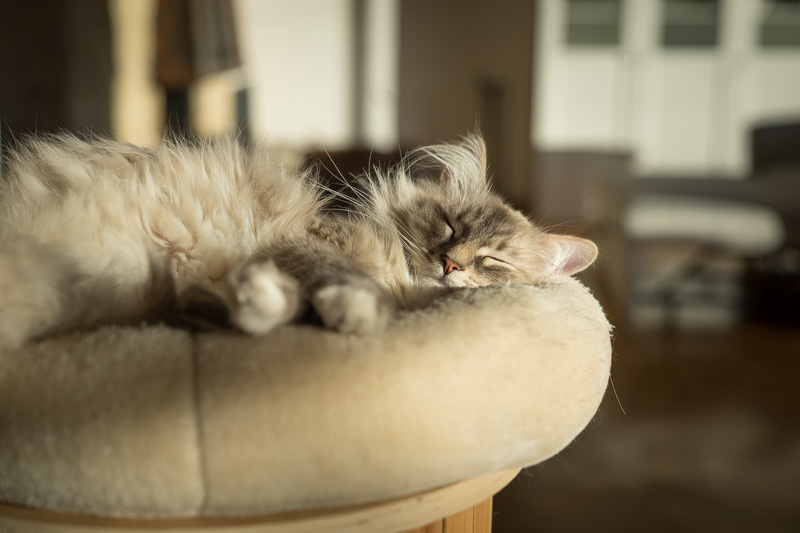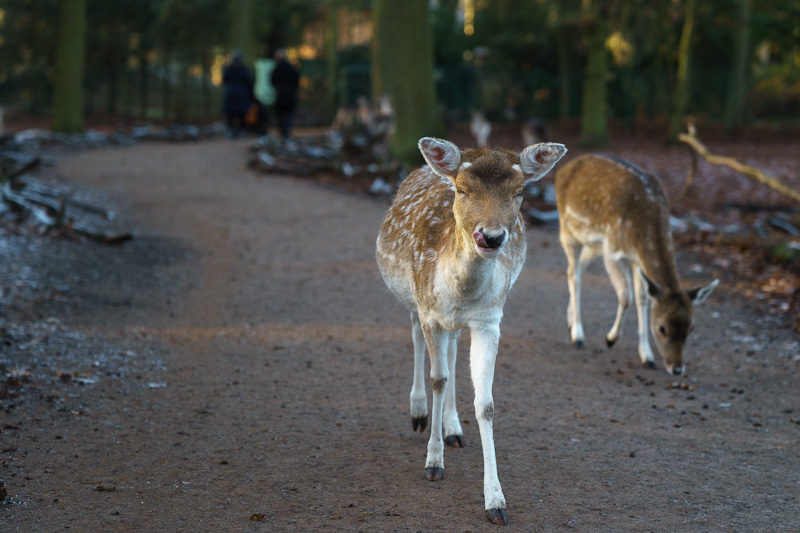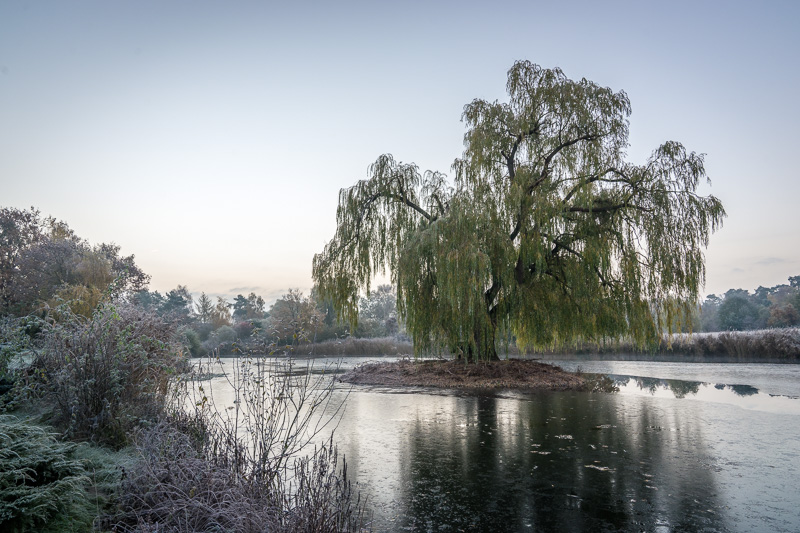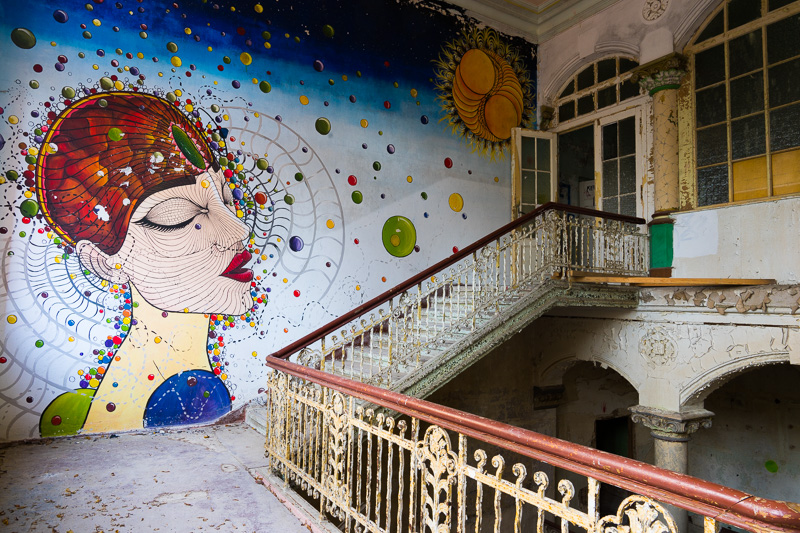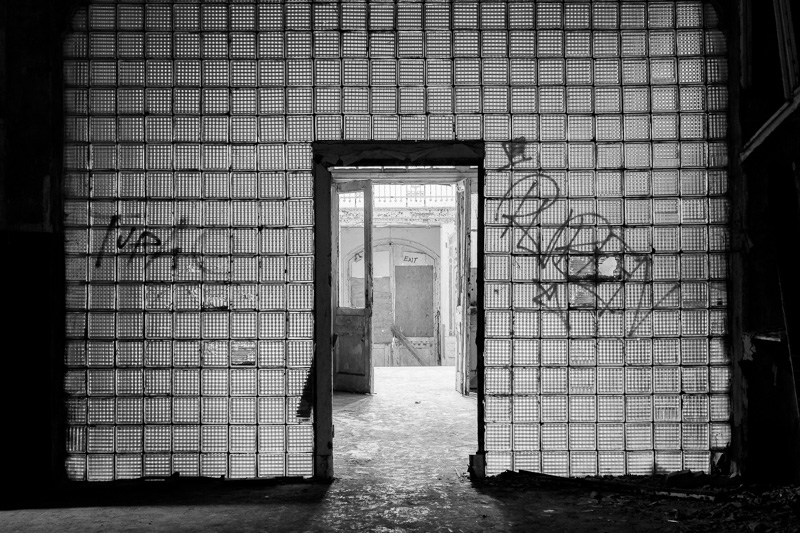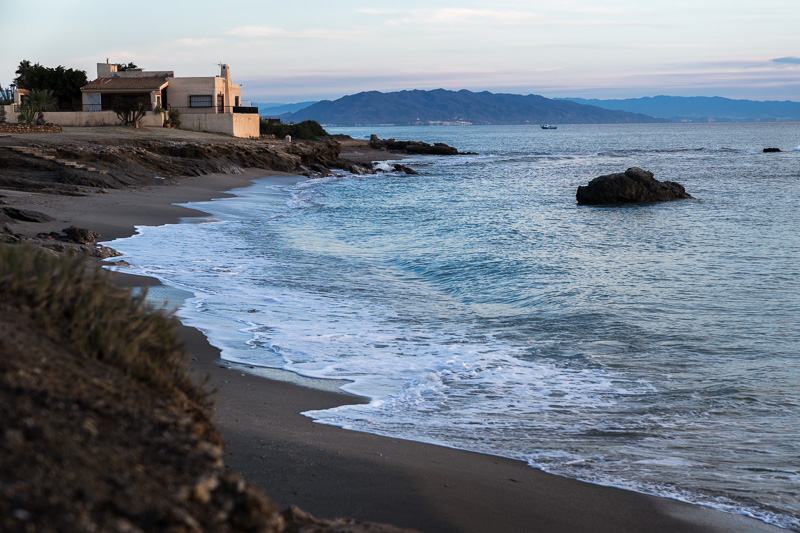 Further Reading
The following two tabs change content below.
Jannik Peters
I am a passionate photographer from northern Germany and I love landscape, architecture, travel, portrait and family photography. I use manual lenses but I also enjoy the comfort of autofocus lenses, therefore both can be found in my bag.
Latest posts by Jannik Peters (see all)