After the favorite lenses series fell dormant I thought it would be interesting to give an update on our current gear which has changed a bit and change the format a bit at the same time. So feel invited to have a look into my camera bags.
If you purchase the lens through one of the affiliate-links in this article I get a small compensation with no additional cost to you. 
The Bag
I use a Think Tank Turnstyle 10 V2. The bag fits a camera and 3 medium sized lenses.The biggest argument for a shoulder bag to me is quick access and that it is more ergonomic to carry than a messenger bag. The bag works really well for not that long hikes without a backpack and when I am on my bike. I have carried it besides a daypack on longer hikes and that is anything but enjoyable. A Mindshift Gear 180° Panorama Backpack would be a much better solution but those are expensive.
The bag just feels like a very well made, well engineered product from a company which knows how to make good bags. After nearly two years of constant use it shows few signs of wear. Even though I forgot to close the zip several times I never lost a lens thanks to its clever design which keeps lenses from falling out. It also comes with a waist strap you can easily stow away in one of the many pockets. The strap is a big help when I am on a bike. The bag comes with a cape for bad weather and has many smaller pockets so packing away accessories is easy.
amazon.de | amazon.com (affiliate links)
The Camera
I am still using my good old Sony a7II which I bought in July 2016. I know that a a7rIII would be a much nicer camera but that doesn't make the a7II a bad camera for my needs. I rarely actually feel limited by it so spending 1500€ to upgrade doesn't seem to be that smart an idea. That doesn't mean that I am tempted to upgrade.
The Lenses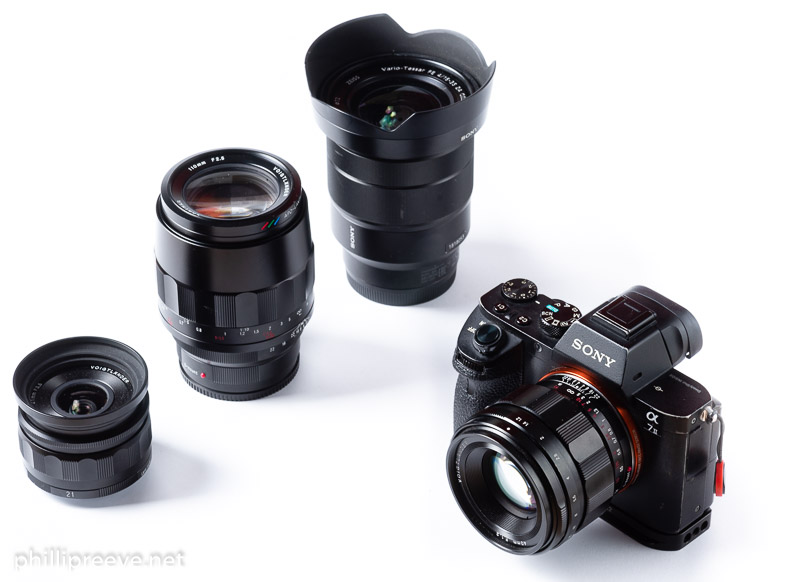 Continue reading A look into Phillip's camera bag – September 2019 Edition →