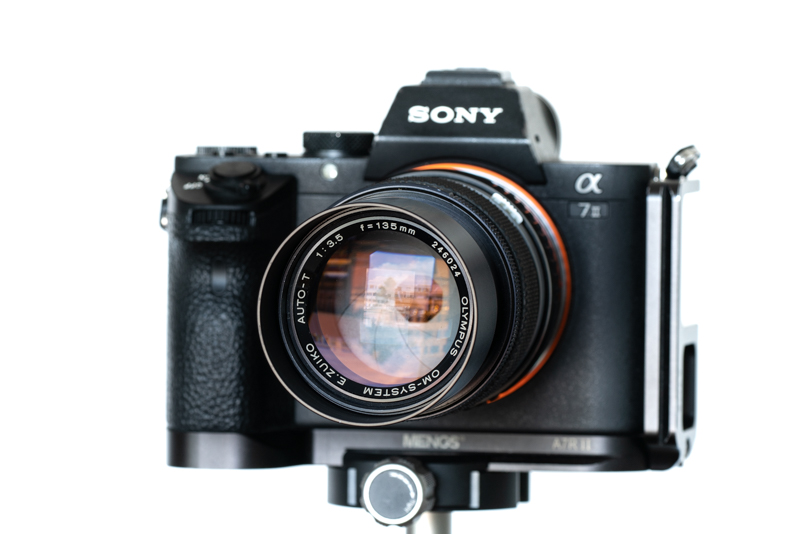 Introduction
The Olympus E. Zuiko 135mm f/3.5 is a very small but rather slow tele lens which can be found quite cheap nowadays. Is it still good value for money in these days when used on high megapixel cameras?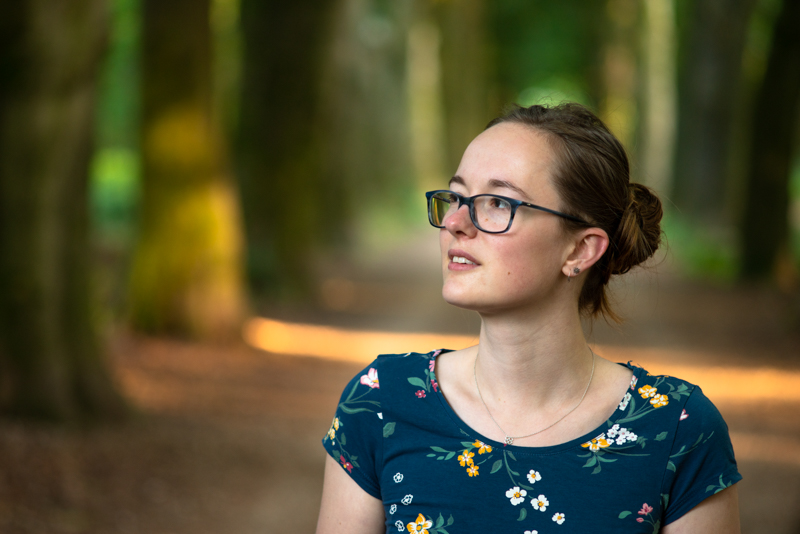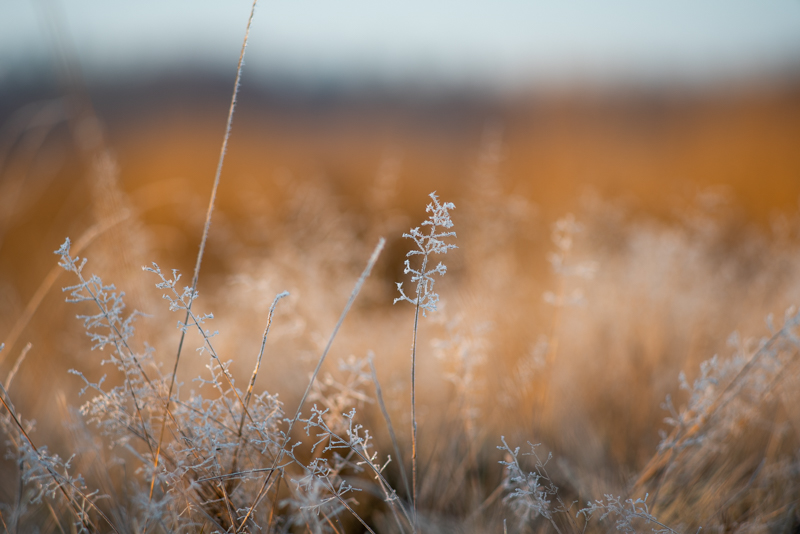 Versions and history
There are only two versions of this lens. The Olympus E. Zuiko 135mm f/3.5 which is reviewed here, and the Olympus Zuiko 135mm f/3.5. As far as I know they are optically the same, the main difference can be found in the better coating of the latter one.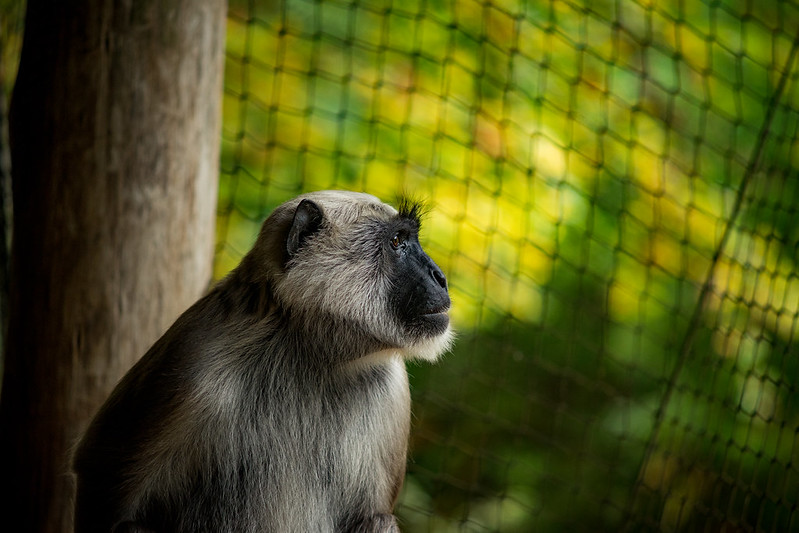 Specifications
| | |
| --- | --- |
| Category | Specification |
| Diameter | 60 mm |
| Length | 73 mm |
| Filter diameter | 49 mm |
| Weight (excl. Adapter) | 290 g |
| Aperture | f/3.5-22 |
| Minimal focus distance | 1.5 m |
| Elements/groups | 5/4 |
| Aperture blades | 8 |
The lens can be found in decent condition for under €50,- $50 at ebay.de* and ebay.com*
*Affiliate links (If you purchase the lens through one of these affiliate-links we get a small compensation with no additional cost to you.)

Build quality and handling
The lens is almost entirely made from metal and glass, the rubber grip of the focus ring is the only exception. All markings are engraved and filled with paint. Despite being small, the lens has quite some heft to it.
The lens features a built-in sun shade which is something I usually like a lot. However, the shade on this sample is somewhat wobbly.
The aperture ring sits in front of the lens and has developed a little bit of play. I don't know whether this is a common thing or the result of other factors (the play was already there when I bought the lens). The aperture ring has nice full stop clicks and it is very easy to set the aperture between those clicks. One thing I don't like too much is that the aperture ring is a bit too close to the focus ring, I happened to change focus accidentally a few time when changing the aperture.
The broad rubberized focus ring feels very nice and has a very nice resistance to my linking. Resistance is quite high though but this makes precise focusing easy. The focus ring travels +/- 120 degrees from 1.5 meter to 3 meters and another 90  degrees from 3 meters to infinity.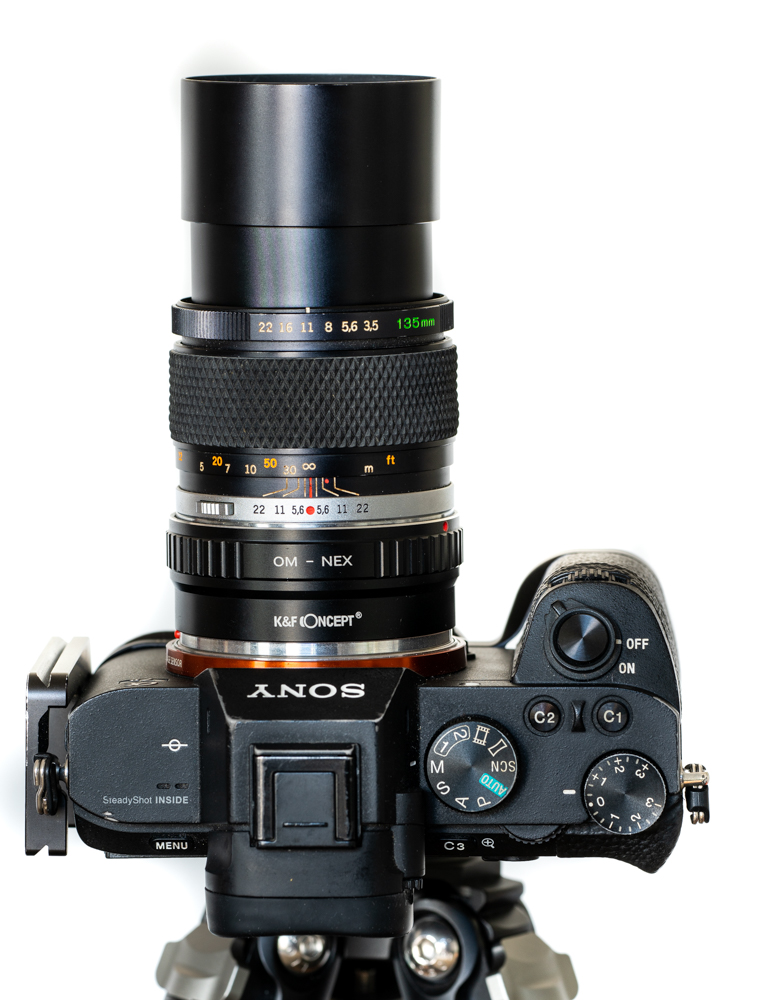 Handling on the my Sony A7II and A7rIII is great, the lens balances very well on these bodies.
Vignetting
At infinity vignetting is very low, wide open it is 1.2EV, stopped down to f/5.6 it is 0.3EV and 0.2EV at f/8.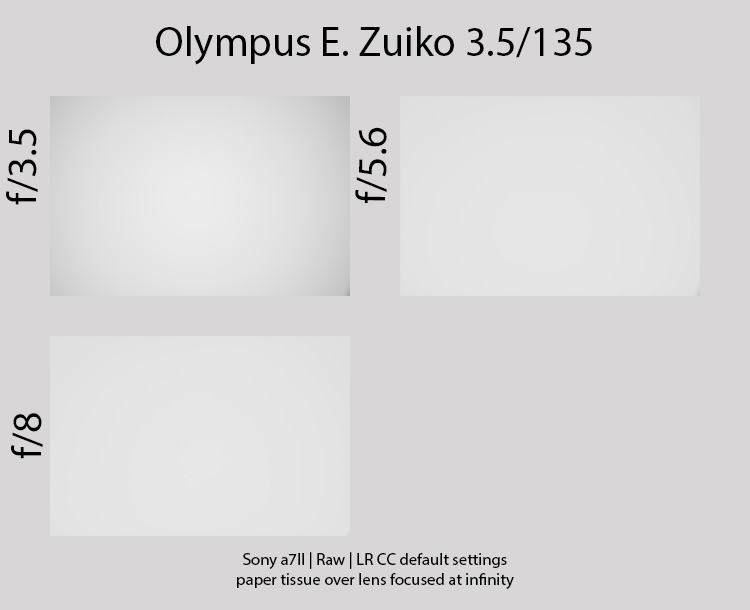 Sharpness
Infinity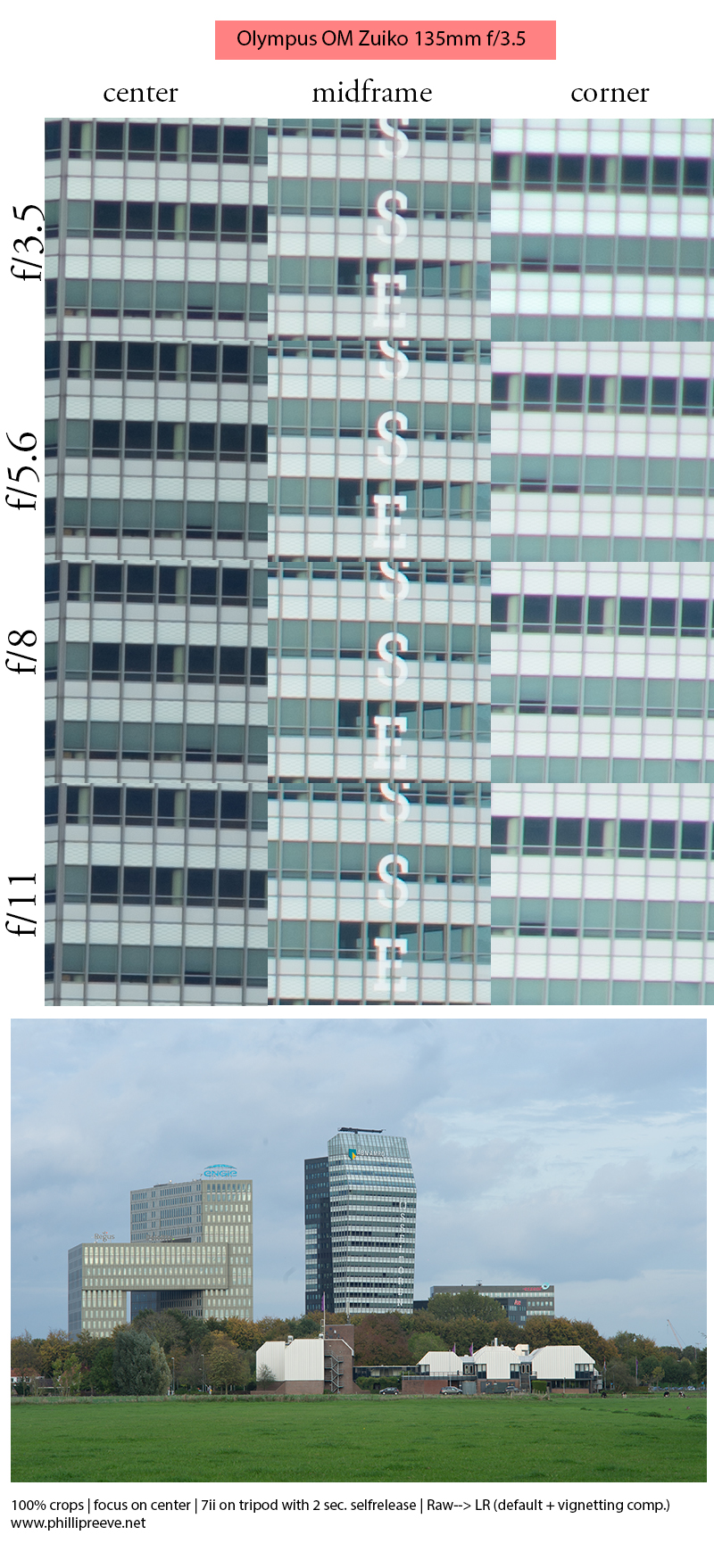 The Olympus E. Zuiko 135mm f/3.5 clearly was not optimized for infinity sharpness.
f/3.5 The center and midframe look quite OK already although there is some glow, contrast isn't very high either. The corners are noticeably softer with very low contrast.
f/5.6 The glow in the center and midframe is gone and contrast increased a bit, both look very good now. The corners are still a bit soft with lowered contrast.
f/8 The center and midframe are excellent now, the corners improved a lot and are now very good. Contrast is still a bit dampend though.
f/11 The whole image is visibly softer due to diffraction.
Portrait distance (3.25m)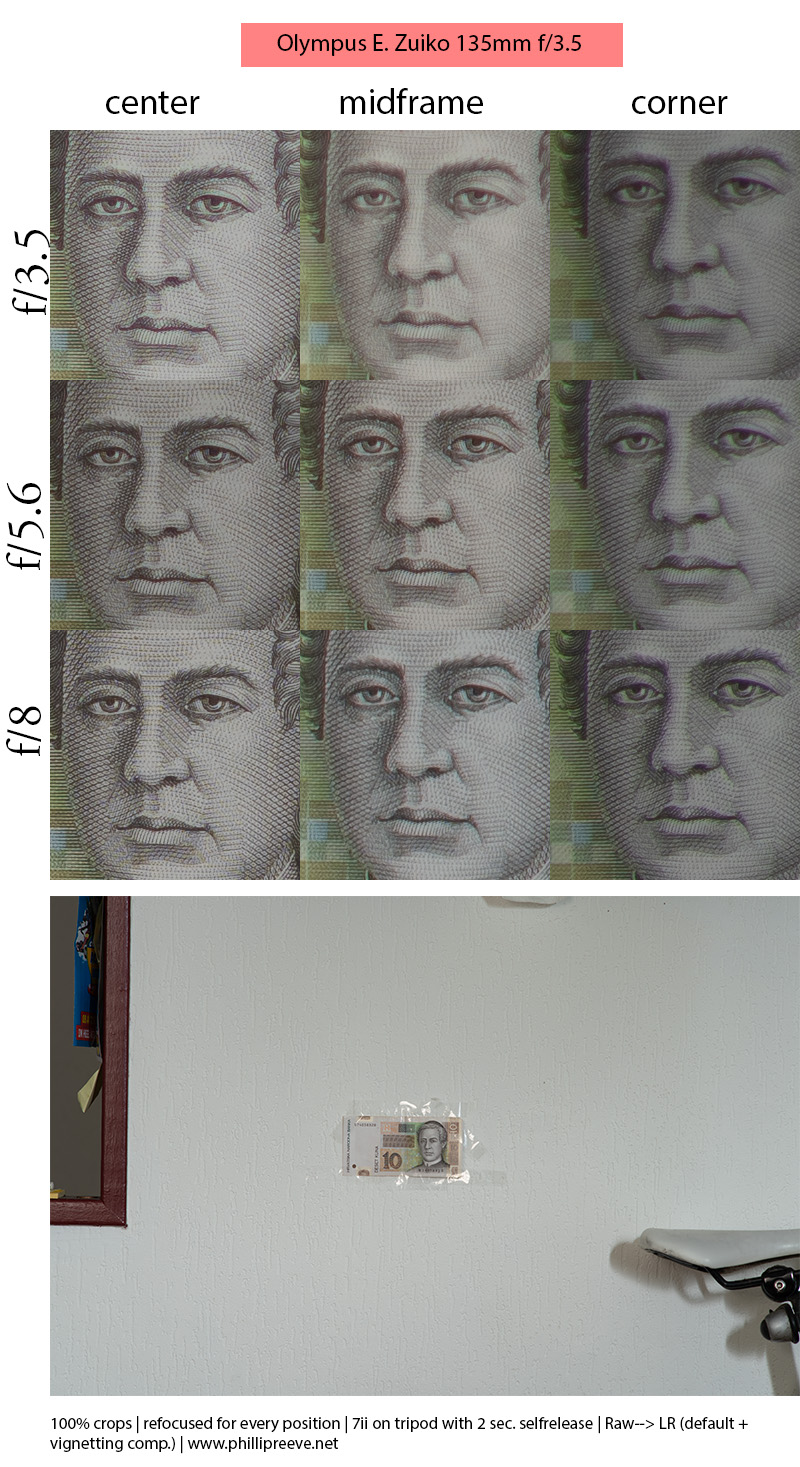 This is the distance this lens was optimized for. Sharpness is the center is great at every aperture. The midframe is good enough at f/3.5 but seems to suffer from a slight midzone dip and looks slightly worse than the corner. The midframe improves significantly from stopping down to f/5.6.
Corner resolution is good enough from wide open as well but also here stopping down improves image quality significantly.
*I refocused the lens for every position
Close up (1.5m)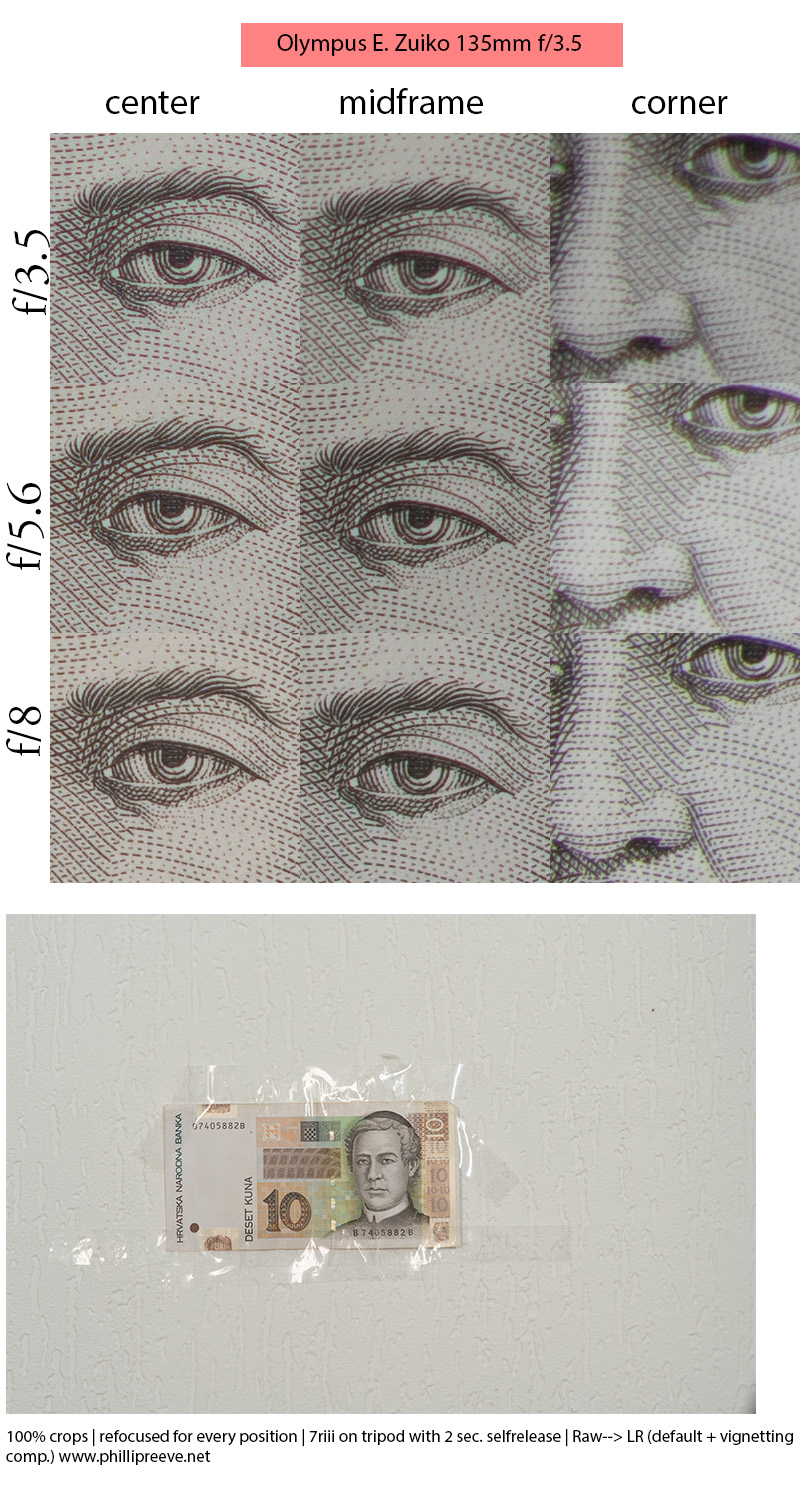 The center looks excellent from wide open and peaks at f/5.6, same story for the midframe, at f/8 diffraction becomes visible.
The corners look best at f/8 though.
*I refocused the lens for every position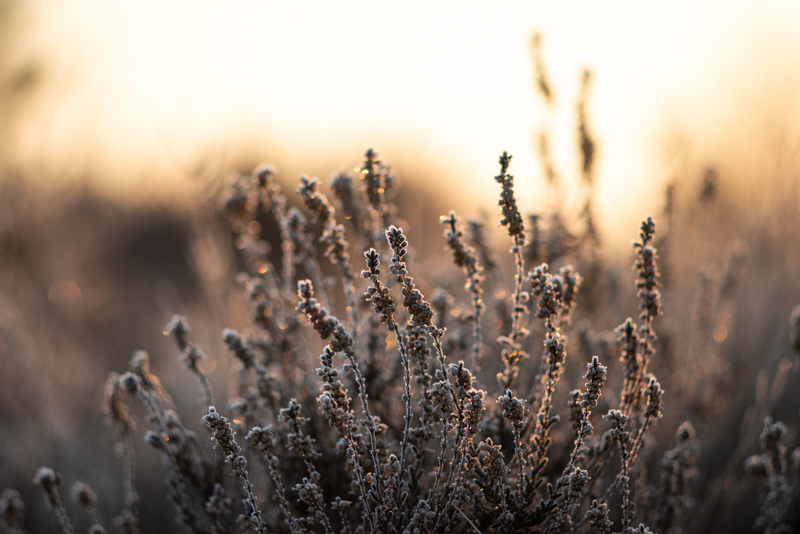 Bokeh
In general the Olympus E. Zuiko has very nice and smooth bokeh without onion rings, or strong cat's eyes. Especially at closer distances bokeh is gorgeous. At longer distances bokeh can be a bit harsh though depending on the background.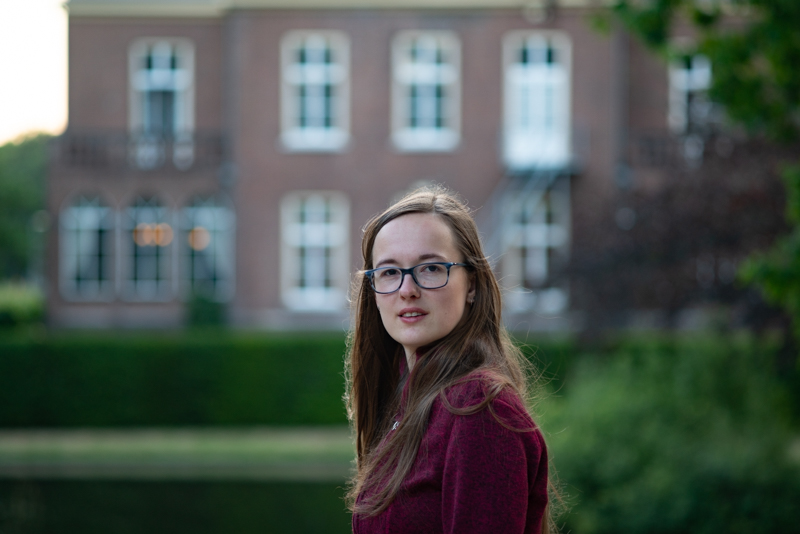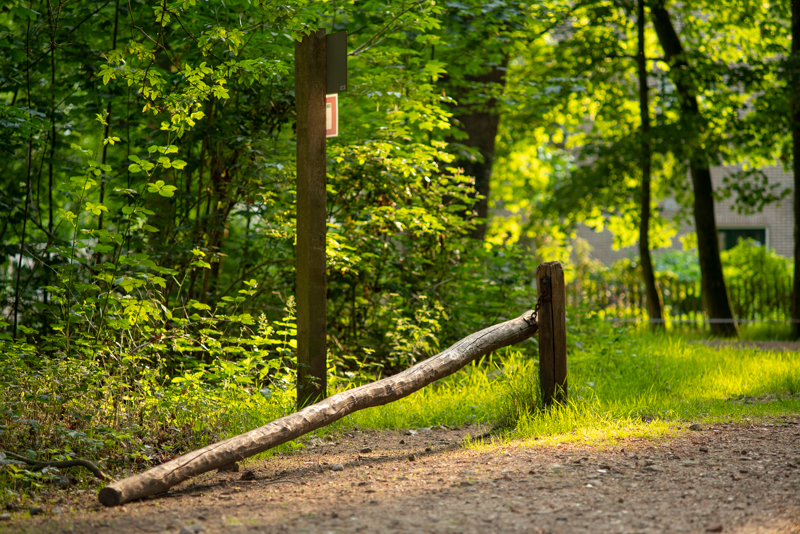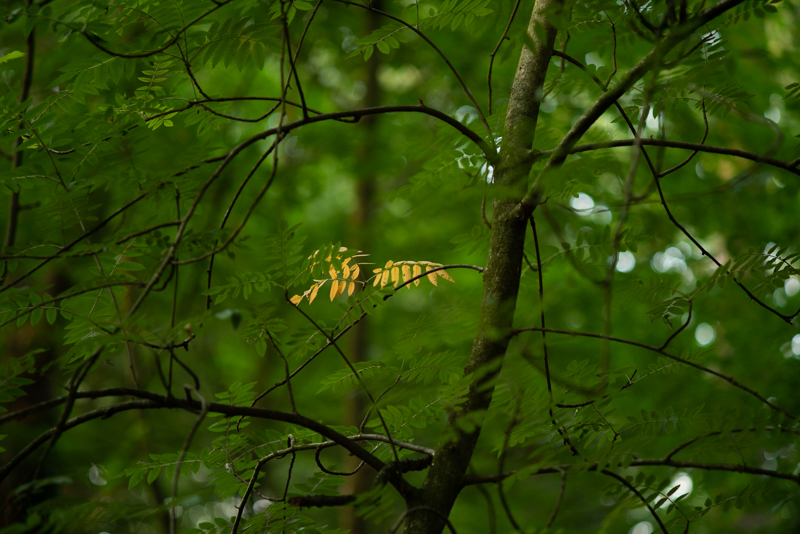 Close up
Near MFD the Olympus has very nice and smooth bokeh. Contrast is quite high but because spherical aberrations are undercorrected bokeh looks very pleasing. I like the bokeh in these kind of scenarios more than the bokeh of the Canon 3.5/135 which has lower contrast but less SA.
Mid distance
A few meters farther away (+/- shoulder portrait distance) bokeh still looks very pleasing, the Olympus and Canon 3.5/135 look very similar here. There is a bit less SA compared to closer distances but there is only minor outlining (green bokeh fringing) and bokeh therefore is plenty smooth.
Long distance
At longer distances bokeh isn't that smooth anymore. Green bokeh fringing becomes very visible especially at the edges of the frame, in some situations this can be quite distracting. The Canon, not free of bokeh fringing either, looks significantly smoother here.
Olympus before, Canon after
Chromatic aberrations
LoCA
Wide open moderate LoCAs are visible, stopping down to f/5.6 helps a lot.
I wasn't expecting such a high amount of LoCA since the lens is rather slow. In the field I did not encounter many situation where the LoCA became a problem though.
LaCA
Before and after correction
LaCA correction is one of the weak spots of this lens, as is usually the case with vintage tele lenses without fancy ED glass. Auto correction is doing quite a good job here although some traces are still visible.
Distortion
There is some slight barrel distortion, nothing to worry about.
Flare resistance
In general flare resistance is OK for a tele lens of this age. With a bright light source in the frame one can observe a purple ghost and some contrast loss.The ghost gets smaller when stopping down but becomes more saturated as well. With the sun outside the frame some veiling flare can be provoked.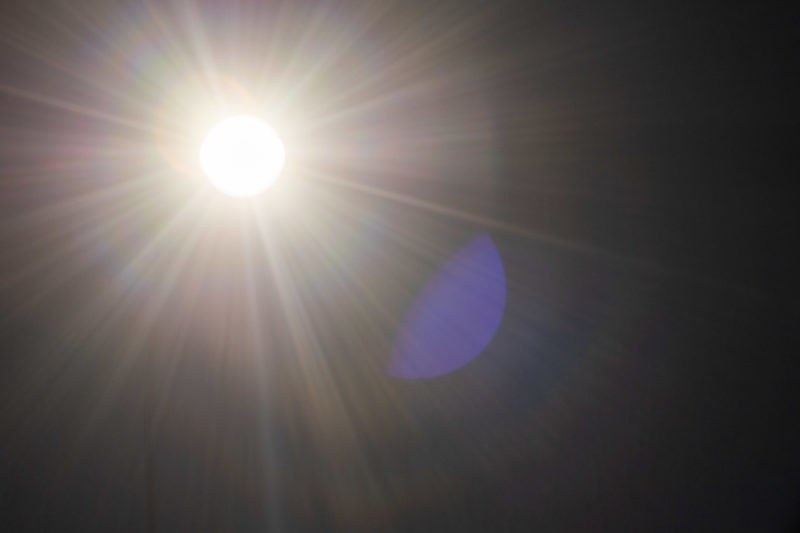 In very few cases I discovered a large sort of internal reflection of the lens which ruined the shot like in the example below.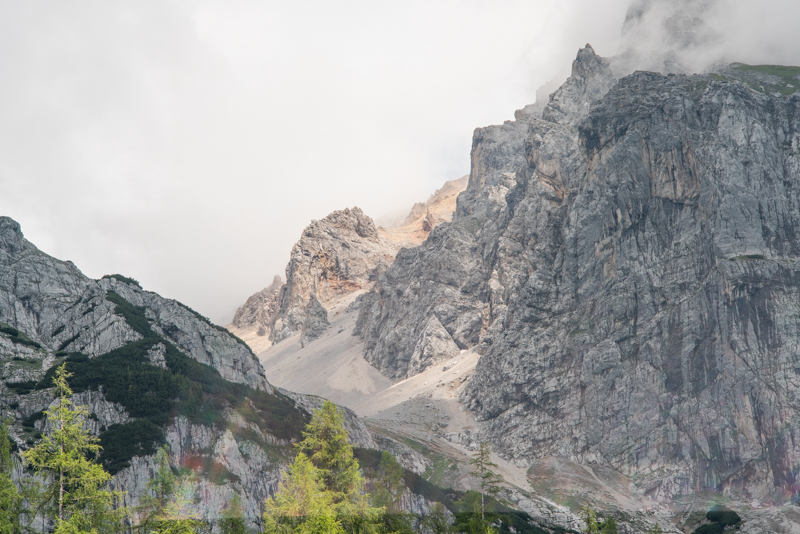 Sunstars
Thanks to the 8 aperture blades one can get quite decent sunstars from f/11. Personally I like the rendering of modern Voigtländer lenses with 12 aperture the best, since this is a subjective topic you might want to check out this article.
Alternatives
Olympus Zuiko MC 135mm f/2.8
Quite a bit more expensive, heavier, but very sharp and also faster with good bokeh. It is also better corrected for LoCA. In case f/3.5 is too slow for you, this one should be considered.
Pentax-M 3.5/135
Handling size and weight are comparable. The Olympus is optically a bit better though.
Canon nFD 3.5/135
The Canon is a bit larger and heavier with a little less nice build quality. The Canon is a bit better optically with better off center sharpness near infinity, beter CA correction and generally smoother bokeh. It can be found for more or less the same price as the 3.5/135 Olympus.
Canon nFD 2.8/135
The bigger brother of the 3.5/135 Canon shows a very similar performance but is also a bit bigger and heavier. If you really need the speed this could be a nice alternative.
Leica APO Telyt-M 3.4/135
The Leica is very expensive, used prices start at 20x the price of the Olympus 3.5/135. Bokeh is less smooth, but build quality is on a slightly higher level. I would not know a single reason to get this one over the Olympus unless money is not a restriction at all.
Jupiter-11 4/135
The price is quite similar but the Olympus offers the better performance in most regards. The Jupiter-11 is somewhat lighter though.
Leica 4/135 Tele-Elmar
Better corrected for LaCA, higher contrast and better build quality. The Leica is also heavier and costs about four times as much as the Olympus 3.5/135.
Sony GM 1.8/135
The Sony 1.8/135 offers AF, performs better in almost every regard but is much more expensive and  much larger/heavier. If you are looking for an AF 135 mm portrait lens without any compromises you should consider this one.
Voigtländer 2.5/110 Macro Apo Lanthar
A great manual lens that offers 1:1 magnification. Its better in almost every regard but also much more expensive and heavier. If you like great manual lenses this is the best money can buy for E mount.
Zeiss Batis APO Sonnar 2.8/135
The modern interpretation of a 2.8/135. The Batis is, like the other modern options, a better performer in almost every regard and offers AF. It is heavier though, but I would still not call it a heavy lens.
Conclusion & recommendation
Good
Average
Bad

Sharpness at portrait distance and near MFD

Build quality

Size/weight

Price

Bokeh at shorter distances

Vignetting

Flare resistance

Bokeh at longer distances

LaCA correction

Corner sharpness near infinity at wider apertures

LoCA correction
For a vintage tele lens the Olympus E. Zuiko 135mm f/3.5 is a decent performer, especially at closer distances. Even when combined with the demanding 42mp sensor of the Sony A7RIII the lens delivers. The below average LaCA correction and the average corner sharpness near infinity spoil the game a bit when used for landscape photography.
Although the Olympus E. Zuiko 135mm f/3.5 is neither the sharpest lens around nor has the nicest bokeh, I really enjoyed using it. It became one of my favourite portrait lenses because of the very good performance at typical portrait distances. For capturing little details in the landscape I liked the rendering as well. Besides that the Olympus E. Zuiko 135mm f/3.5 is a pleasure to use, which for me is one of the main reasons to use manual lenses.
Due to the decent image quality and nice build quality the Olympus E. Zuiko 135mm f/3.5 is a great option if you want to dive into the world of vintage lenses. It doesn't kill your bank account and it is a lot of fun. The lens is capable for taking great portrait photos, however when your focus is on landscape photography there are some smarter options.
Most images can be found in high resolution in this Flickr album.
The lens can be found in decent condition for under €50,- $50 at ebay.de* and ebay.com*
*Affiliate links (If you purchase the lens through one of these affiliate-links we get a small compensation with no additional cost to you.)
Sample images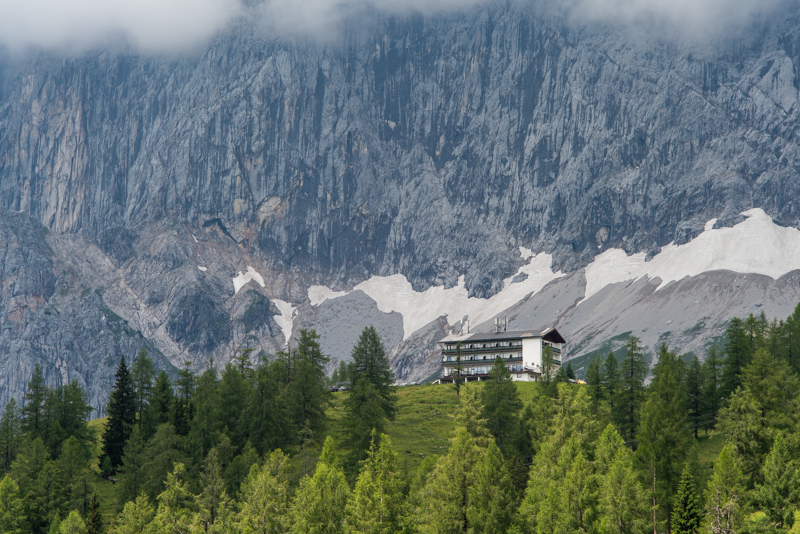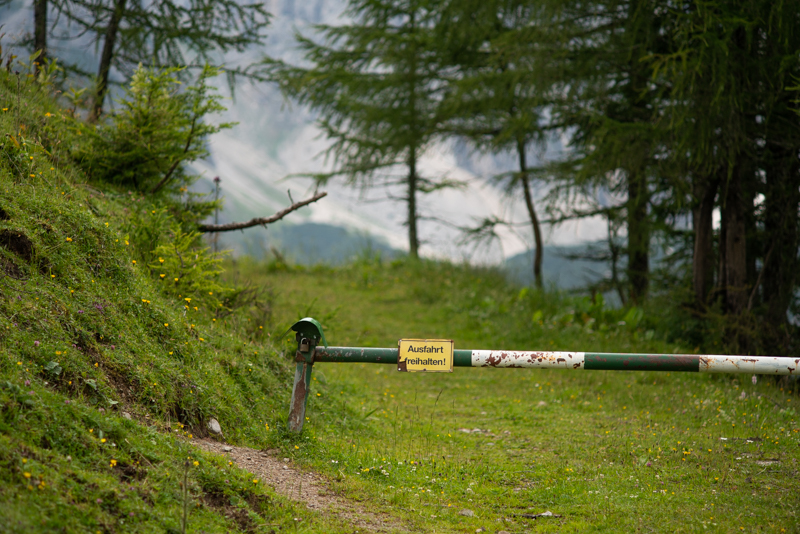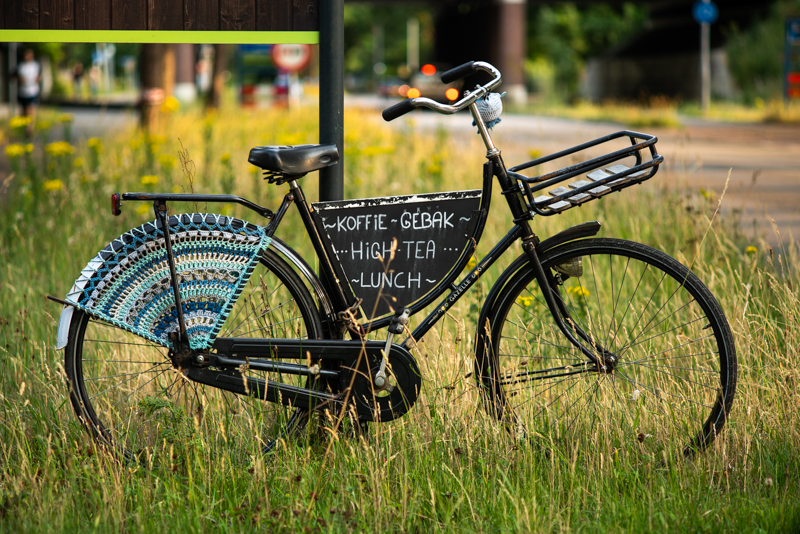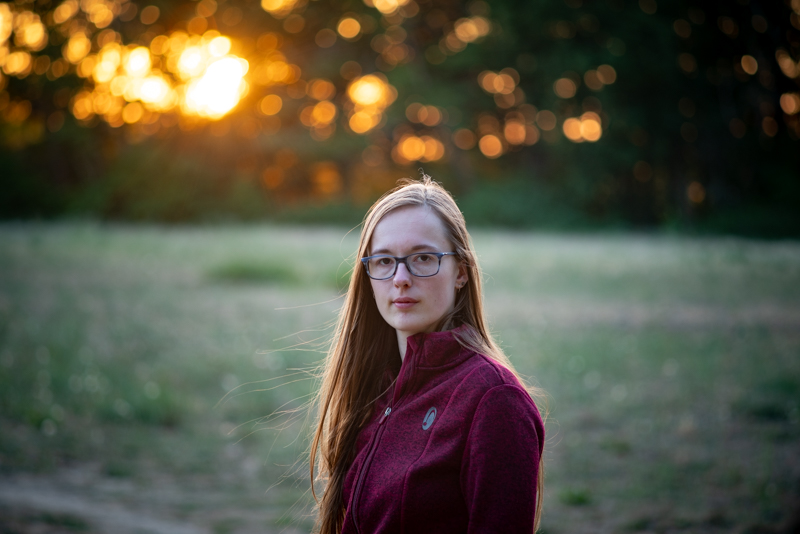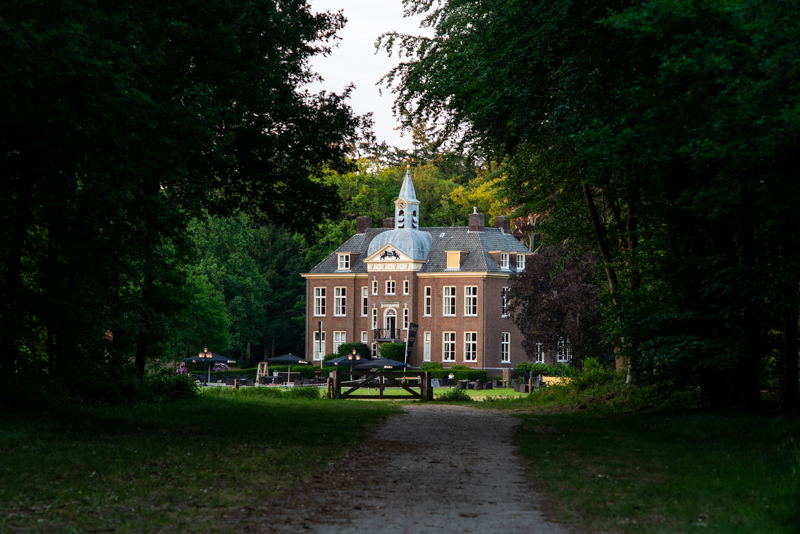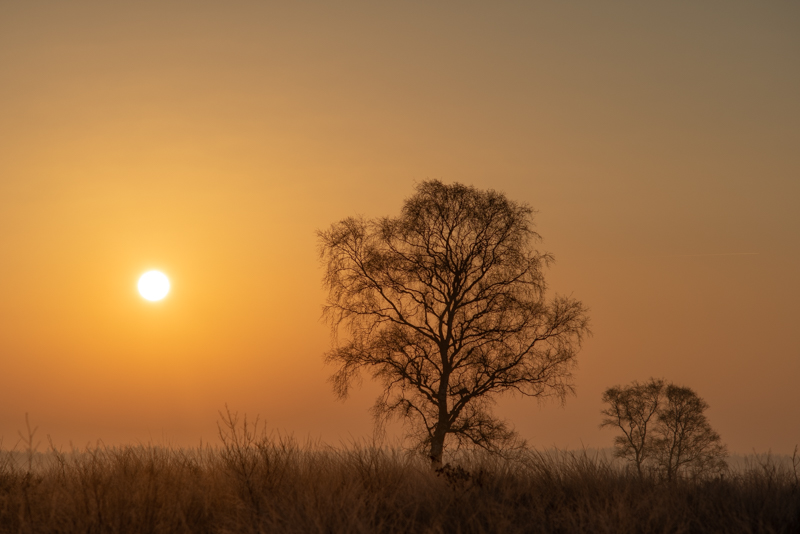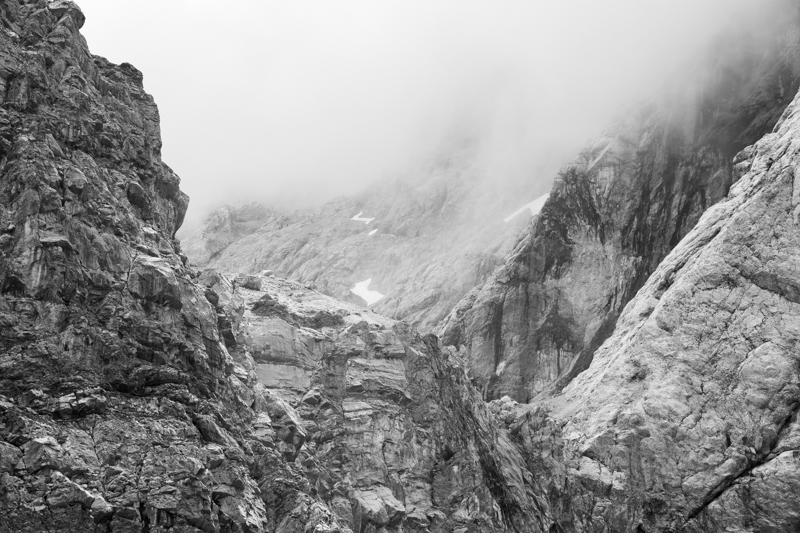 Further reading
The following two tabs change content below.
My name is Juriaan, I am a passionate photographer from the Netherlands. I mainly shoot landscapes and the milkyway and I like to travel through wild landscapes around Europe.