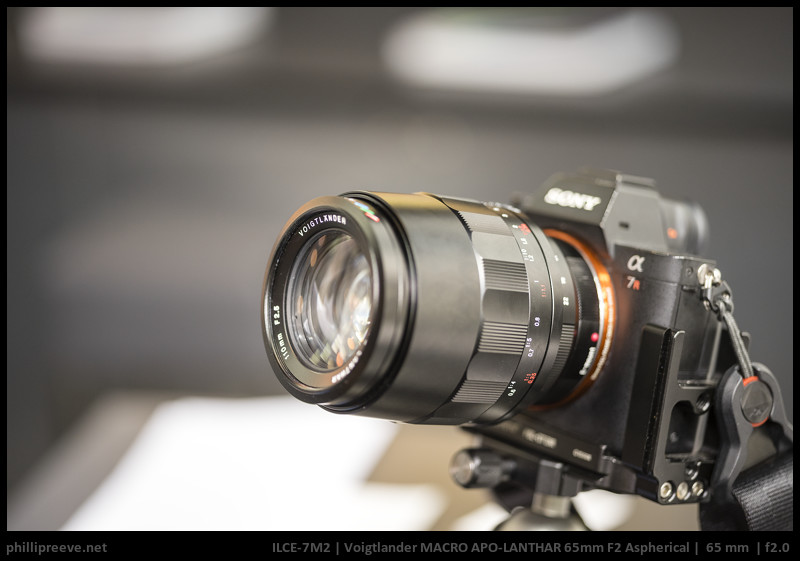 Specifications
| | |
| --- | --- |
| Diameter | 78 mm |
| Length | 100 mm |
| Filter Thread | 58 mm |
| Weight | 771 g |
| Max. Magnification | 1:1 |
| Close Focusing Distance from the sensor | 0.35 m |
| Number of aperture blades | 10 |
| Elements/ Groups | 14/12 |
$1099 at B&H (affiliate link)
I think it came across from my review that I was quite impressed by the Voigtländer 2/65's performance. So when Cosina announced the 2.5/110 they had my attention and I made my interest in a review copy known immediately. For some reason though the release date has been postponed from August. I hope we don't have to wait much longer.
Features
The Voigtlander 110mm F2.5 APO-Lanthar Macro focuses down to a magnification ratio of 1:1. Unlike the Sony FE 2.8/90 it does not focus internally so it extends a lot when focused at smaller objects. I couldn't test the working distance at PK but it will be interesting to see how it compares to the Sony macro.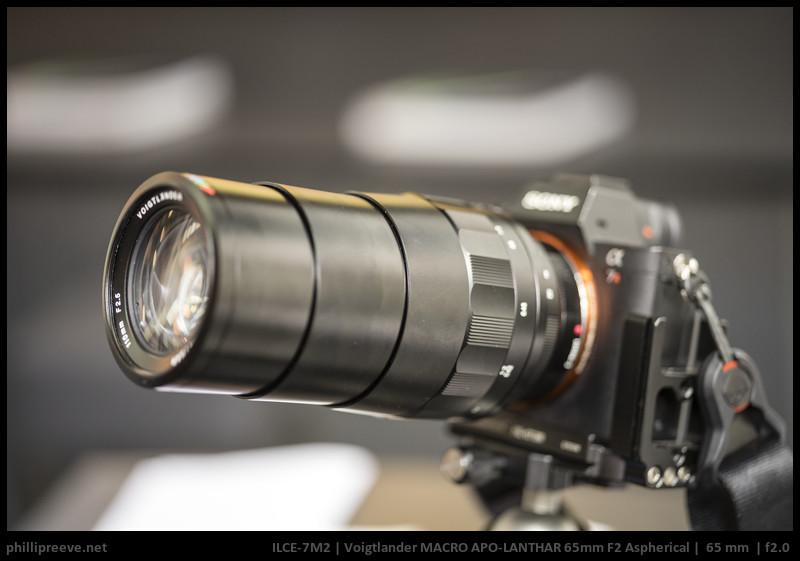 Another key-feature is the APO-correction. While other companies have used this term rather generously the 2/65 APO offers a really high degree of correction for any kind of CA so the expectation is quite high here. Conditions at PK didn't allow for much testing of the CA-correction.
Another "feature" is that this is the longest native manual focus lens in E-mount. I think together with my 1.2/40 and the new 3.5/21 it could form a really nice three prime set which covers almost any application I would have for it from landscape over macro to portrait. If your focus is on portraits you will almost certainly be better served by the mighty GM 1.4/85 and eye-AF. But if you like to take an occasional portrait while your focus is on other applications and you enjoy manual focus this lens might work very well for you. At least that is what I am hoping for.
Handling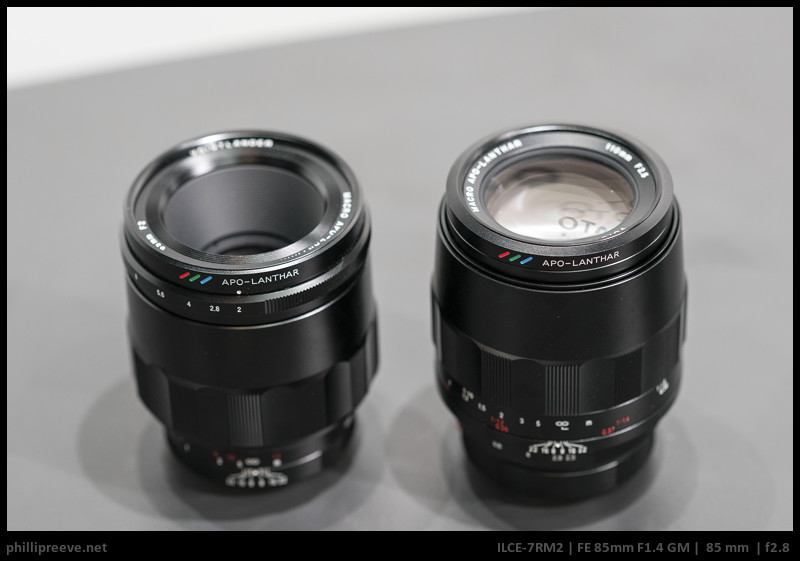 At Photokina I could handle a copy and take some images. I was positively surprised to note that the 110mm Macro is just 9mm longer than the 65mm. This is possible because while the 65's front element is deeply recessed the 110mm's is not. Another advantage is a more reasonable filter size of 58mm. This is shared by most other Voigtlanders.
I can't say that much about the handling: The focus ring felt nice. I didn't use it enough to notice how it balances. The aperture ring has moved from the front to the back which one will get used to. So it most likely will be what one has come to expect from a modern Voigtlander lens which is a very pleasant to use lens.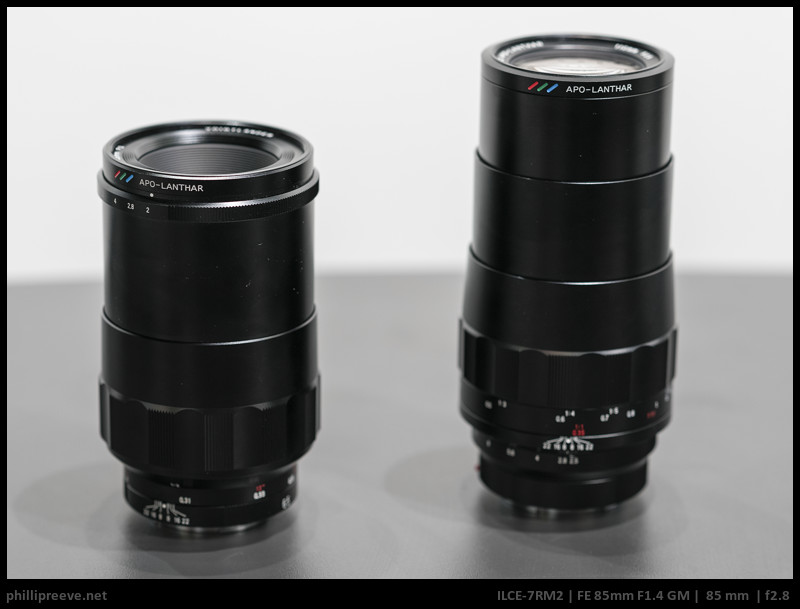 Optical performance
Again I didn't learn a lot from the short usage at PK. An exhausting fair where you are constantly bombarded by information and sounds isn't a good testing ground. You can find my test images in this set. They were handheld and didn't show anything unexpected.
One aspect I looked at was bokeh and cat-eyes. This is the full image and out of focus highlights look pretty smooth and not defined. Cat-eyes are pronounced though.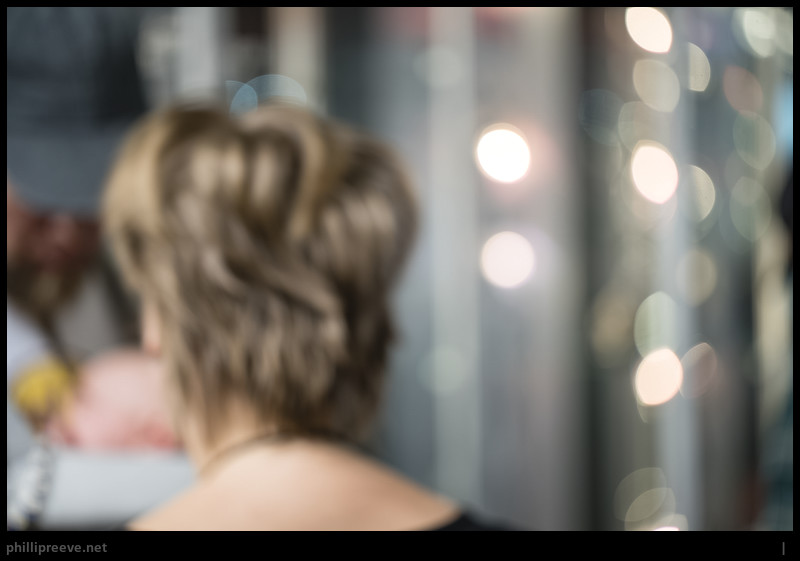 I also don't see any onion rings which is good news.
Conclusion
I didn't learn much about the CV 2.5/110 APO at Pk but I didn't learn anything negative either. I look forward to either reviewing it myself or reading David's review, depending who gets one first. I think it could find a constant place in my kit.
The following two tabs change content below.
I like to be outside with my camera and I am also a gear head with a love for manual lenses.
Latest posts by Phillip Reeve (see all)