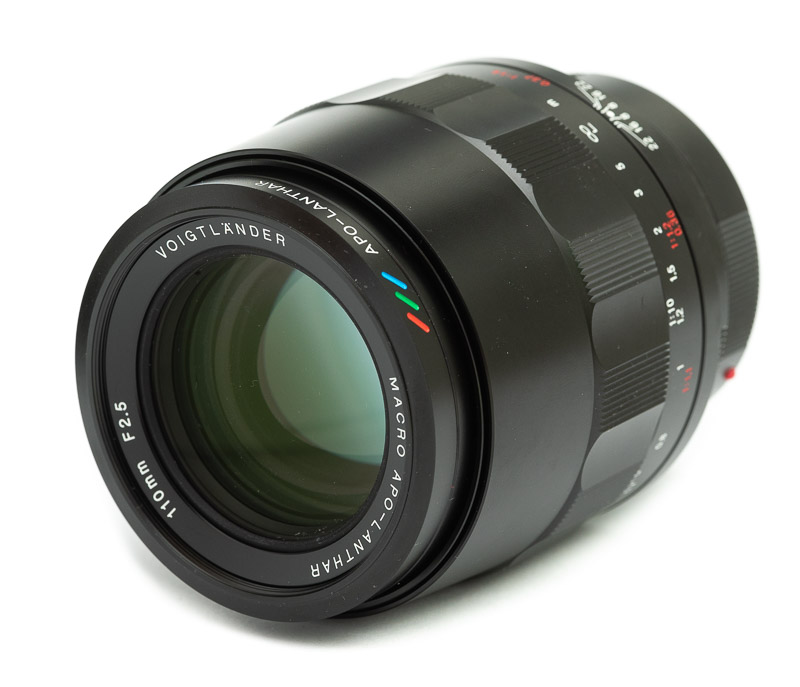 The Voigtlander 110mm F2.5 is among the very best E-mount lenses you can buy. In this review I evaluate whether the price and relatively large size are worth it.
Image Samples
You can find all images shown in this image in full resolution in this album.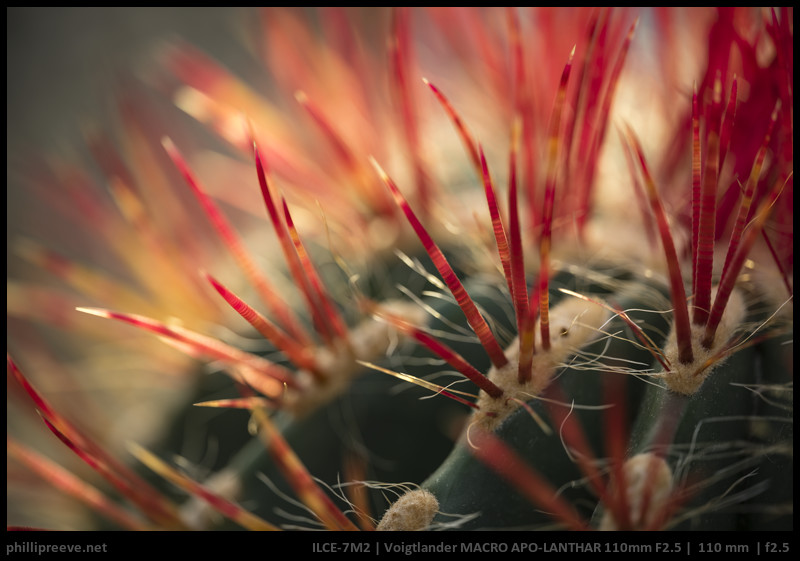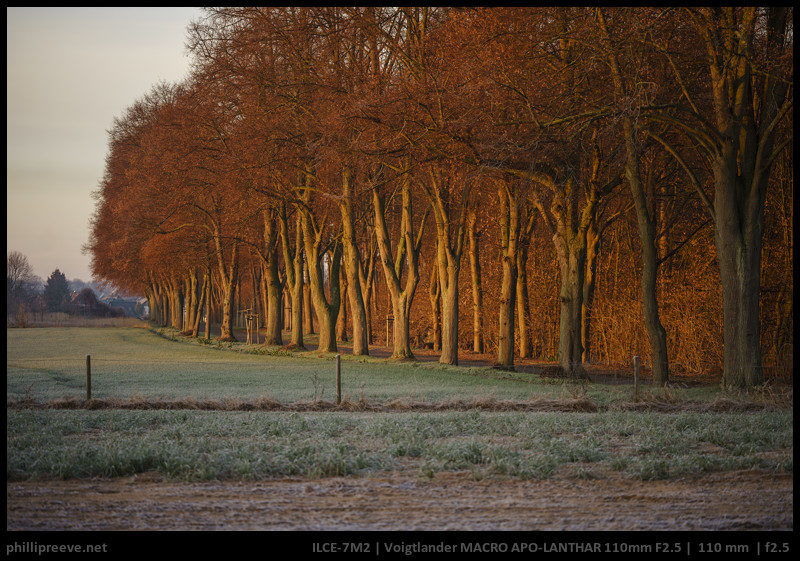 Specifications
| | |
| --- | --- |
| Diameter | 78 mm |
| Length | 100 mm |
| Filter Thread | 58 mm |
| Weight | 771 g |
| Max. Magnification | 1:1 |
| Working distance | 17 cm |
| Number of aperture blades | 10 |
| Elements/ Groups | 14/12 |
$1099 at CameraQuest, Amazon.com or B&H (affiliate links). If you purchase the lens through one of these affiliate-links we get a small compensation with no additional cost to you. 
If you are in Australia you can purchase it from the Australian distributor, Mainline Photographic for AUD 1595.
Disclosure
Phillip bought this lens at full price from his own money.
David has a review copy from the Australian distributor, which he will return after the review is completed. If he wants to keep one, it'll be purchased with his own money in the usual way.
Features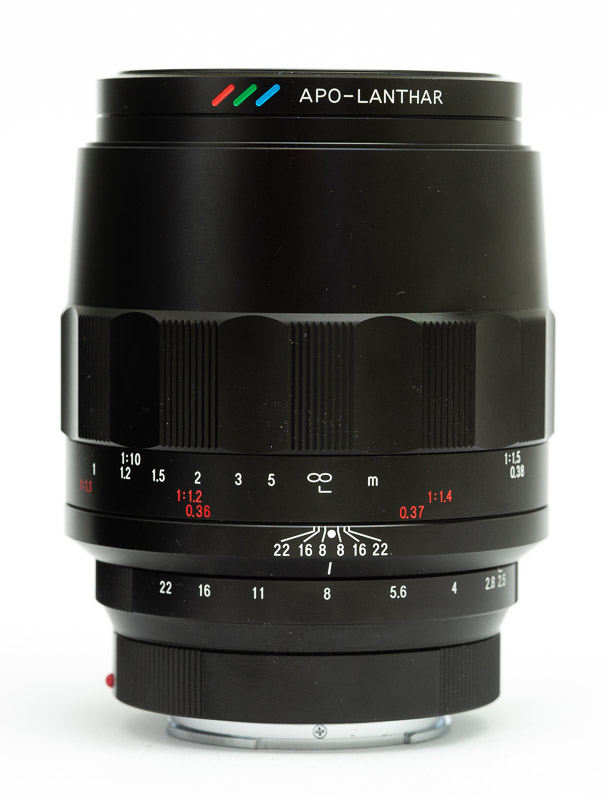 The Voigtlander 110mm F2.5 Macro APO-Lanthar is a fully manual lens so you have to change focus and aperture by yourself. The camera can't change the aperture so S- and P-mode will not work as with native lenses.
It has electronic contacts to communicate with the camera though, so you will have correct exif-data, and the OSS in all Sony cameras with IBIS will automatically know the correct focal length and distance to use the 5-axis stabilizer. Focus magnification can be automatically activated when the focus ring gets turned.
The Voigtländer focuses down to life size magnification (1:1) like the Sony G 2.8/90 Macro or 2.8/50 Macro. It's little brother the 2/65 APO only focuses to half life size (1:2).
Voigtlander also calls it an APO lens which means that chromatic aberrations are very well corrected. More on this further below.
Build quality and handling
The Voigtlander 110mm F2.5 Macro offers very good build quality. The lens hull is made from nothing but metal and tolerances are very low. Most but not all markings are engraved.
There is no gasket around the mount and Voigtlander does not claim any weather resistance.
Of course I can't tell you how durable the lens will be in the long term. All I can do is give you my superficial impression which is very positive in this case.
Dealing with Voigtlander repairs can be a hassle since these are done in Japan and usually take many weeks.
Changing lenses
If you have used Zeiss Loxia lenses you will probably have been frustrated by the fact that there is no good place to grab them when you change lenses. This is not an issue with the Voigtlander since you can easily grab it by its base which is even textured for better grip.
Focus Ring
The focus ring travels around 250 degrees from 35cm (1:1) to 42cm (1:2), and a further 160 or so degrees to 1m and then about 70 degrees to infinity. That is a very reasonable transmission for a macro but it is steep at longer distances and therefore a bit slower to focus precisely. The ring itself is easy to grip and the resistance is about perfect. 
The Voigtlander focuses quite a bit beyond infinity which is also indicated by the focus scale.
Aperture ring
The aperture ring sits close to the mount and is less easy to reach than with some other Voigtlander lenses where it is a at the front. It is still pleasant enough to use. It is made from metal with distinctive stops and a very pleasant resistance. I am not a fan of 1/3 stops since it makes it harder to count the stops but that's what we get. The Voigtlander stops down to f/22.
Hood
The Voigtlander 110mm F2.5 Macro's front lens is rather exposed and it comes with a biggish hood. 
will be updated later
Size and Weight
The 110mm F2.5 does not focus internally and therefore extends a lot when it is focused at short distances.

The CV 2.5/110 is a substantial lens. Handling is still pleasant but many smaller lenses feel better matched with my a7 series In light of the great performance this is not a big issue but something to consider when you decide whether to purchase the lens.
Optical performance
These results are based on the use with a Sony Alpha 7II.
Flare Resistance
If you have the sun in the frame you will notice a significant amount of veiling flare which reduces contrast:

The lens hood can make a dramatic difference when there is direct light on the front of the lens: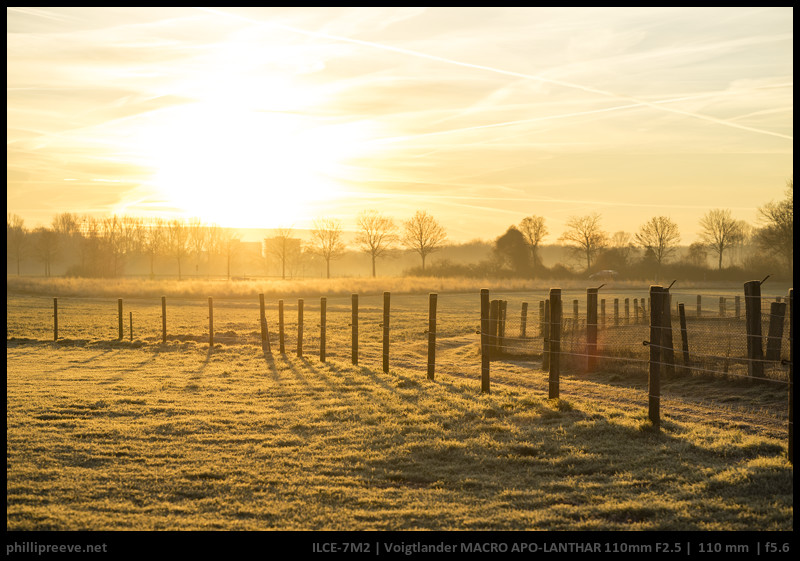 So flare can be an issue but that is true for any longer lens I know of. The Voigtlander's performance is actually above average for a lens of this focal length.
Sunstars
Well defined 10-pointed sunstars from f/2.8. I don't have any decent samples yet though.
Bokeh
Scene 1: Short distance
Scene 3: Short distance
Scene 4: Longer distance
Observations
f/2.5 and f/2.8 look virtually identical at very close distances
Out of focus highlights are rendered very smooth
Cat-eyes are rather pronounced
As usual bokeh gets a bit harsher at longer distances
Stopped down the shape of highlights can be a little distracting
No onion rings
So most of the time the Voigtlander 2.5/110 APO Macro has very good bokeh but there are a some situations where it can become a little distracting.
Chromatic Aberrations
I was seriously impressed by the Voigtlander 2/65 APO's correction of CA and came the conclusion that it delivered very well on the APO-label since it is really hard to produce any CA from it. Leica for example has been more lenient with it as has been Zeiss with their Otus lenses (which are f/1.4 lenses which makes it much harder to correct for CA). 
The Voigtlander 2.5/110 APO so far seems to be corrected even better than the 2/65 APO. So far I didn't manage to provoke any CA. I am tempted to call it the best corrected lens on the market right now but I need to compare them directly before I make that statement.
Consider this worst case scenario: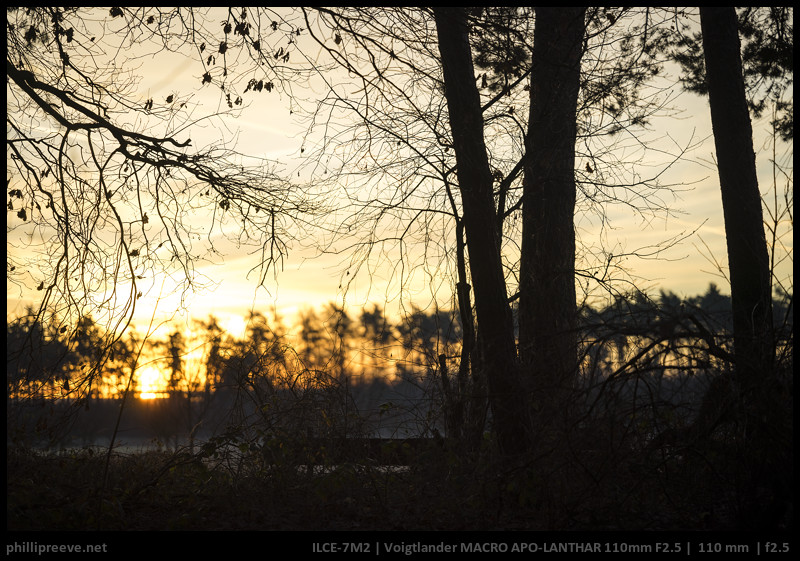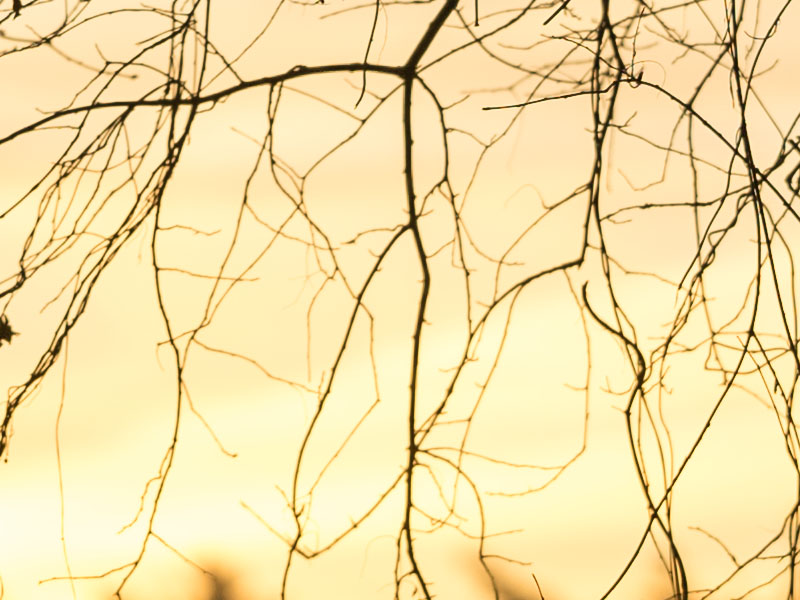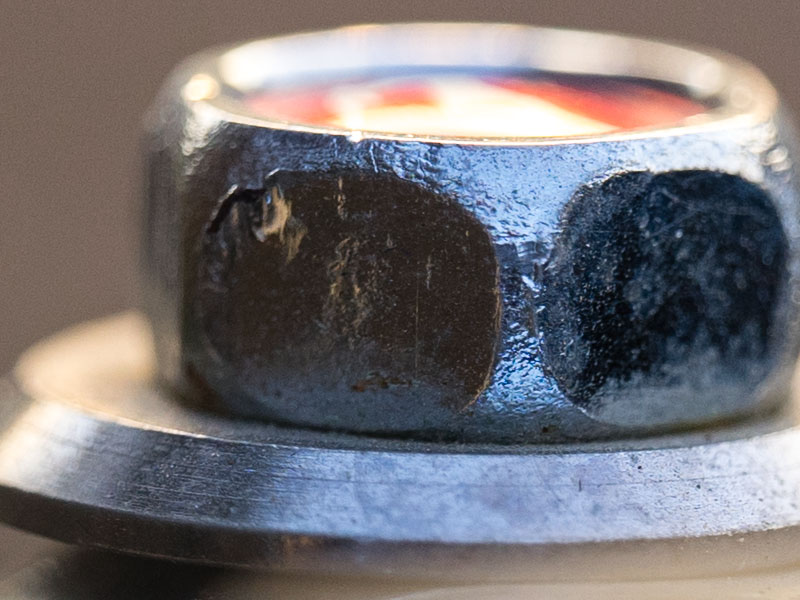 Vignetting
Wide open an at f/2.8 Vignetting is rather strong, by f/4 it is much reduced.
test will be added later
Distortion
will be added later
Sharpness
I have only done a preliminary test but that shows excellent performance from wide open. Here are 100% crops with default settings at f/2.5: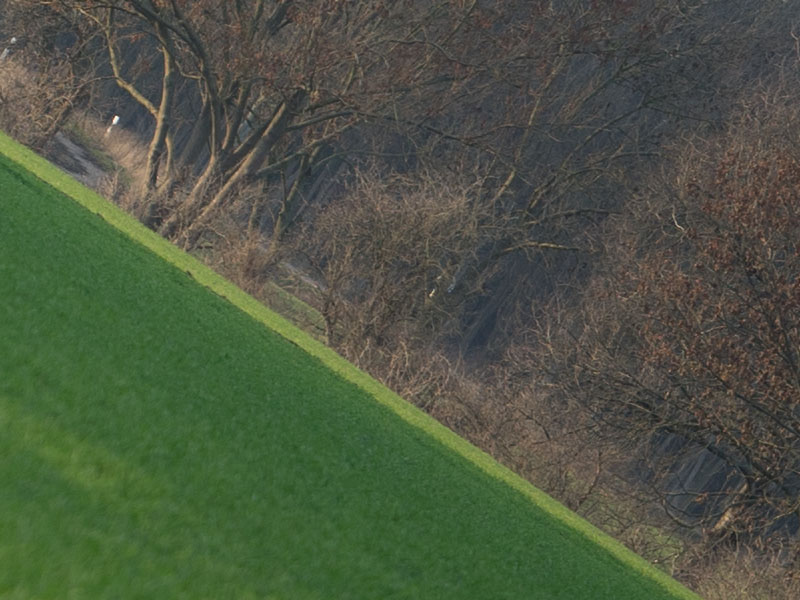 First Impressions for macro use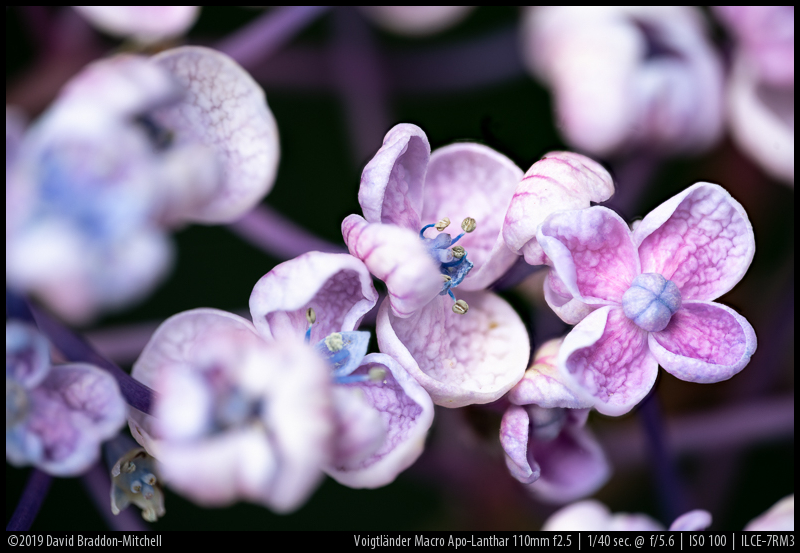 I (David) will be adding to review for macro purposes. Much more of this will come in early Feb, though I'll be gathering samples while travelling in the coming weeks.
My first impressions, from life-size samples like the one above, are positive. It seems a touch sharper than the Sony at long distances, and at least as sharp as that impressive lens when you reach 1:2 and 1:1. You'll need to wait a bit for me to confirm that, though.
A significant advantage to the Voigtländer is that it has a much longer focus throw. Although the Sony has a remarkably good manual focus experience for an AF macro, the throw is, while linear, a bit short in linear mode, so it's harder to make small precise changes (and less importantly less pleasurable to use because not as buttery smooth). 
The effective focal lengths are rather different at macro distances. The Voigtländer I estimate to have roughly a 27 degree diagonal field of view on a full frame sensor, the Sony 34 degrees (this means the Sony has an effective focal length of around 70mm, the CV 90mm, so both lose a bit: which is surprising in the case of the CV given how much it extends). This means the CV gives a noticeably more telephoto perspective, magnifying the background relative to the subject of macro shots a little more, which serves to isolate the subject. It also, of course, affects working distance: you can keep the front of the lens about 4cm further away from your subject on the CV rather than the Sony, which may be of use for bug hunters.
People who do a lot of handheld close macro may like to use AFC on the Sony so as to help cancel out small movements towards and away from the subject. This, combined with IBIS, may give you a slightly higher keeper rate. But it's not a big deal.
The only other preliminary observation (I've only been shooting for a few hours since receiving the lens) is that I think that CV is even better corrected for spherochromatism than the Sony. The Sony is extremely good, but the very slight touch of magenta discolouration in the middle of bokeh balls and hint of green edging is missing in the CV. But again, this is based on preliminary shooting not on direct comparison of the exact same scene. So you'll need to wait!
Bokeh at Macro 1:1
I have begin testing the bokeh at life-size (1:1), comparing the Sony and the CV. This is a complex matter, because there are at least three scenarios that need testing.
(1) Lens set to same magnification, bokeh elements at same distance from sensor.
(2) Lens set to same magnification, bokeh elements at different distances to sensor corresponding to the different camera position for the same subject to be in focus (remember 1:1 corresponds to a different postion of the image plane in these two lenses)
(3) Lenses set to somewhat different magnification, focussed on elements the same distance from the sensor plane. (recall that if you focus on items the same distance away, the magnifications will be different between the two lenses.
Each of these has some claim to be called "comparing in the same situation" 
So far I have only got some final results from scenario (1) but it's interesting. You'll have to wait until I get back from travel next month for more.
But here's a taster: Wide open there doesn't seem to be much difference in the shape of the bokeh (i.e. much difference in cats eye effect). But oddly, the bokeh balls are much larger in the Sony (probably an artefact of scenario 1 – I leave it as an exercise to figure out why)
But by f5.6 cats eyes are noticeably more visible in the CV:
CV on left, Sony on right.
This result, and some others, makes choice difficult. By f5.6 the Sony is starting to show visibly nonagonal shapes. The CV is showing even (slightly) more visible decagonal shapes. At wider apertures, the Sony is ahead, at this aperture to my taste there is not much in it.
But the cats-eye distortion of the CV bokeh rugby balls is less to my taste than the more rounded Sony shapes. On the other hand there are some (very mild) polishing artefacts visible in a couple of the Sony bokeh balls.
On bokeh grounds (not others) the Sony is looking slightly ahead at this point in testing, but more to come.
Alternatives
Sony FE 2.8/90 Macro: David will compare them directly but so far I can say that the 180g heavier Voigtlander is better corrected for CA and offers a longer working distance (17 cm vs 12.5 cm). Another big difference is that the Sony is an internally focusing AF lens while the Voigtlander is a manual focus lens which extends a lot as you focus closer. Both are excellent lenses optically and I am curious if the Voigtlander can maintain it's slight advantage at shorter distances. 
Review | 602 g | $998 | amazon.com (affilate link)
Zeiss Batis 2.8/135 Apo: Both lenses are as close to technical perfection as currently possible with similar aperture and focal length. The Batis is a little larger, the Voigtlander a little heavier. What sets them really apart is that on offers AF while the other one offers a superior manual focus experience and much better close focusing capacities.
Review | 614 g | $1699 | at B&H (affiliate link)
Tokina 2.5/90 Macro: A legacy lens which is a lot more affordable (still not that affordable for being more than 20 years old). Flare resistance, CA correction, and off center sharpness at f/2.5 are what is most noteable in comparison.
My review | ~630 g with adapter  | about $300 used | at ebay.com (affiliate link)
Zeiss Macro Planar 2/100: A more affordable manual focus macro which is an excellent lens with the exception that it shows a lot of CA. It also only reaches 1:2 magnification. If you aren't very sensitive about CA it might be an alternative.
MTF-data | review | 660 g + adapter | about $750 used | at ebay.com (affiliate link)
Zeiss ZE/ZF/Milvus APO 2/135: Also a modern manual focus lens which is faster but only focuses down to a magnification of 1:4. With adapter it is almost 300g heavier but at shared apertures it has less pronounced cat's eyes, a longer focus throw and of course it can isolate the subject even more so it is an alternative for some applications like portrait photography. 
Zeiss C/Y 3.5/100: If your focus is on landscape photography the much smaller and more affordable Zeiss could be a good alternative since it will take really large prints to actually see a difference for that application.
Review | ~380g with adapter 
Sony GM 1.8/135: An even sharper (not that it matters) lens which offers very quick AF and is therefore an interesting alternative for those who prefer to use AF and who are willing to pay and carry even more.
Review
Preliminary Conclusion
pros  

Excellent CA correction

Excellent Sharpness

Bokeh (most of the time)

Build Quality

1:1 Magnification

average  

Vignetting/ Cat-Eyes
Price
Size/ Weight
Flare Resistance

cons  
So far I am impressed by the Voigtlander 2.5/110 APO Macro. Optically it is hard to find any real fault with it beyond a few minor compromises like vignetting and some flare which any longer lens will display. I will of course perform more tests to make sure of my results but I am already certain that I haven't tested a technically better lens.
I think the interesting question at least for me will be how often the Voigtlander will end up in my camera bag and how it handles in different roles I would use it for (occasional Macros, Nature Closeups, Portrait, Landscape). I didn't use my Voigtlander 2/65 a lot after I got the optically inferior but more versatile Voigtlander 1.2/40 which I often paired with a modified Zeiss 2.8/90 since optical perfection by itself isn't worth much. I think the 2.5/110 will pair well with my 3.5/21 and 1.2/40 but at close to 800g I will need to evaluate how often I actually take it with me. My 2.8/90 weights about a third of it.
Some time later David will explore the macro side more in-depth for which he is more qualified since he is a real macro enthusiast who until now swears by the Sony 2.8/90 Macro. Expect him to have a very close look at the performance of the Voigtlander in it's macro role.
The Voigtlander 2.5/110 Macro sells for $1099 at CameraQuest, Amazon.com or B&H (affiliate link)
If this review was helpful to you, please consider using one of my affiliate links. Thanks ?
More Image Samples
You can find these more images in full resolution in this flickr set: Voigtlander 2.5/110 APO.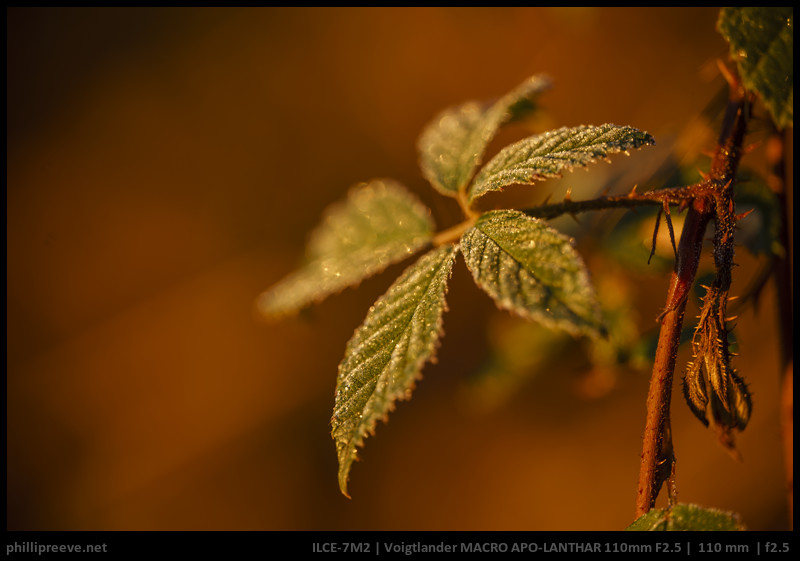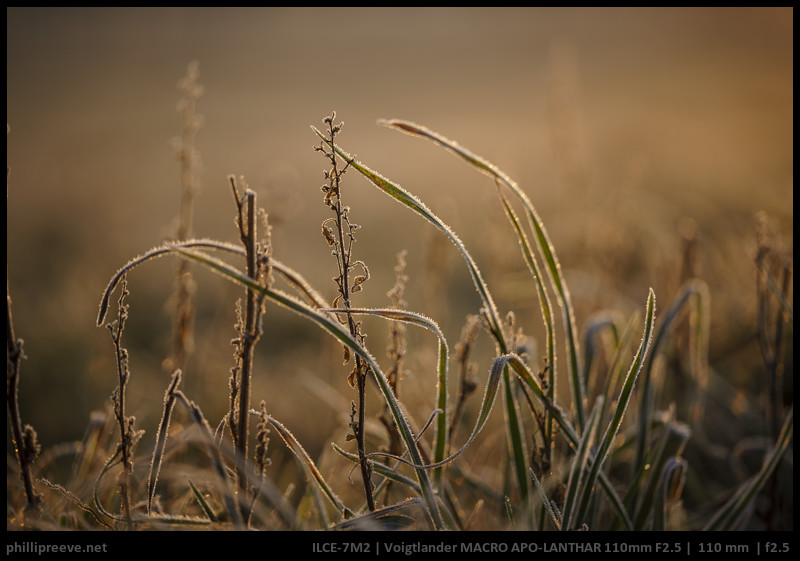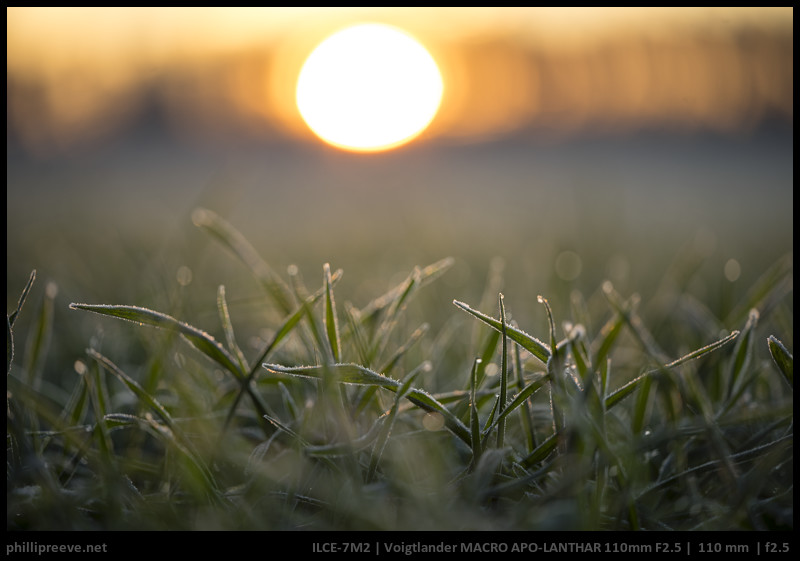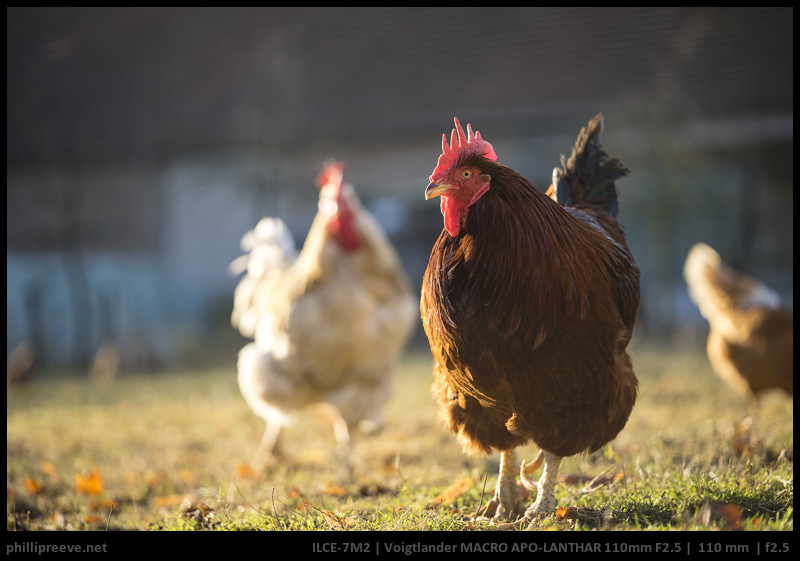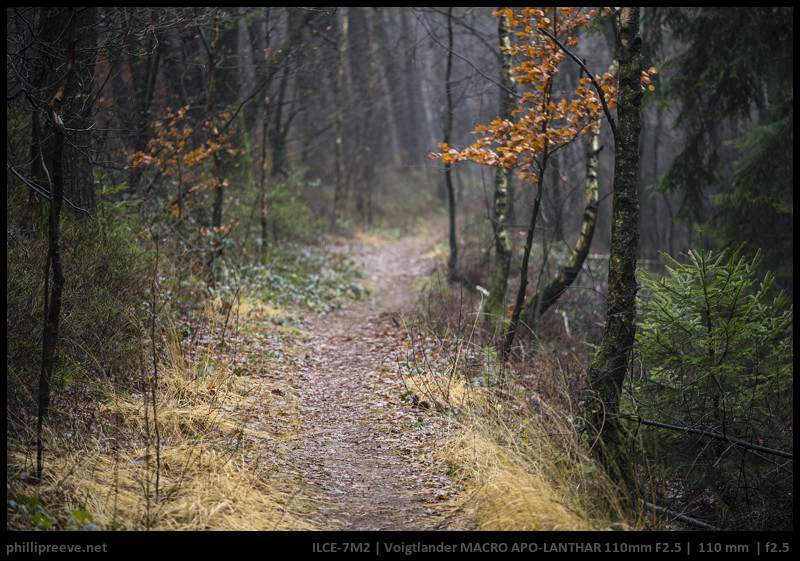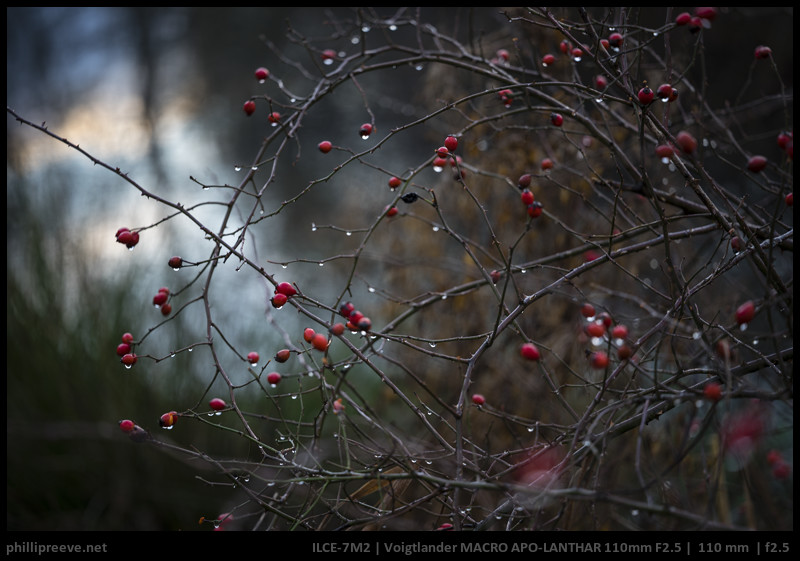 Other articles