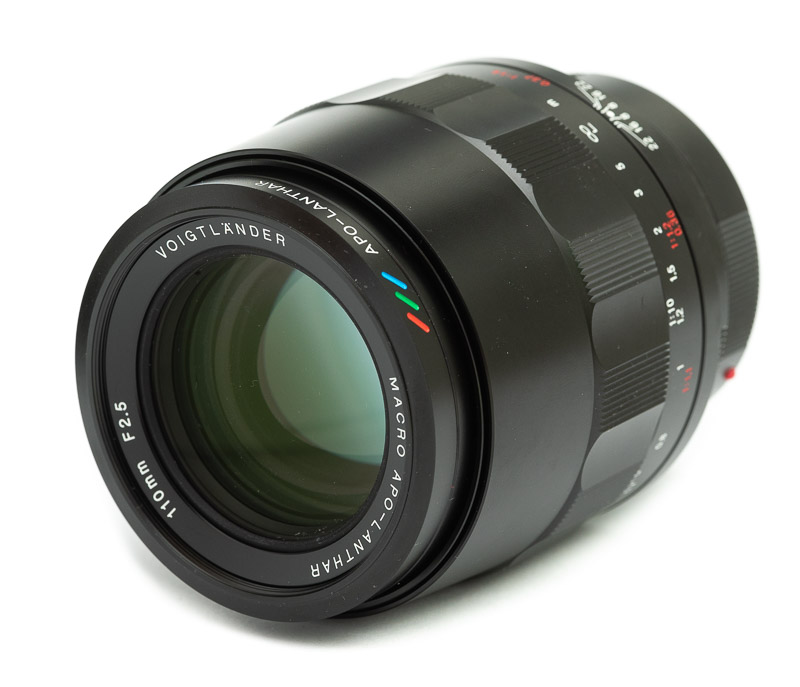 The Voigtlander 110mm F2.5 is among the very best E-mount lenses you can buy. It has been part of Phillips standard kit for 18 months and David has used his a lot as well. In this review we evaluate it in-depth and also share our experience.
Image Samples
You can find many of the images shown in this review in full resolution in this album.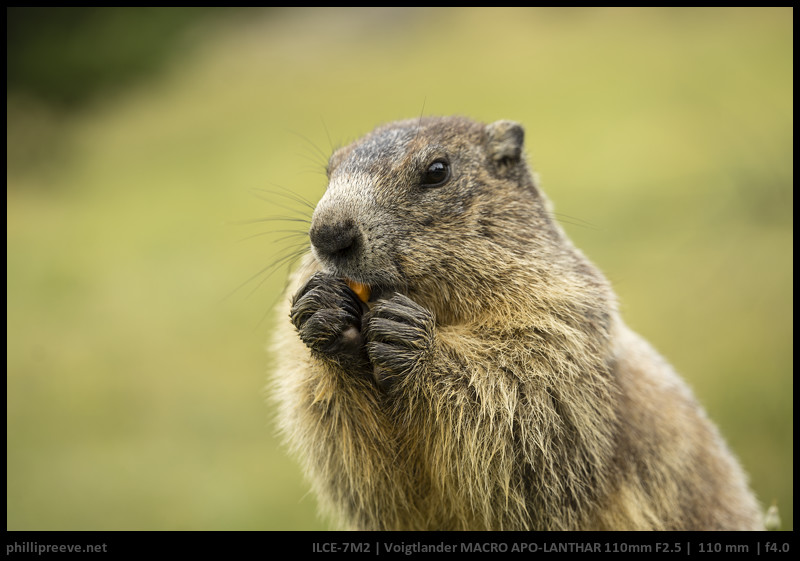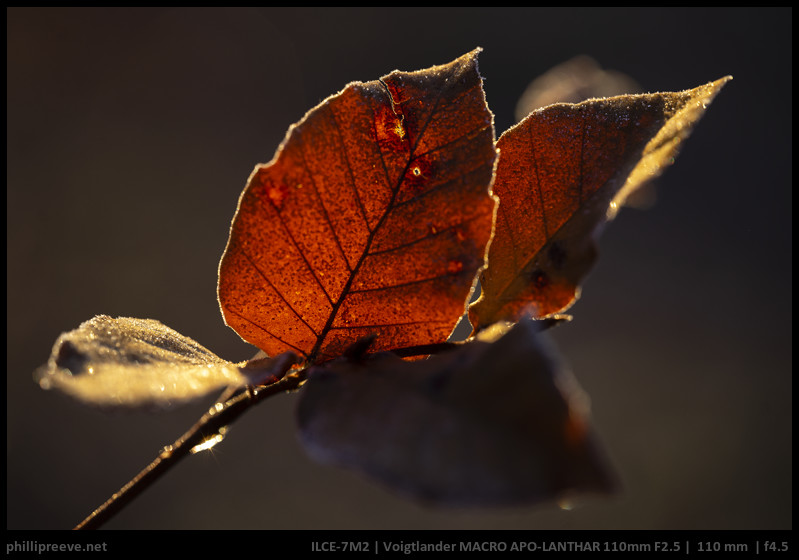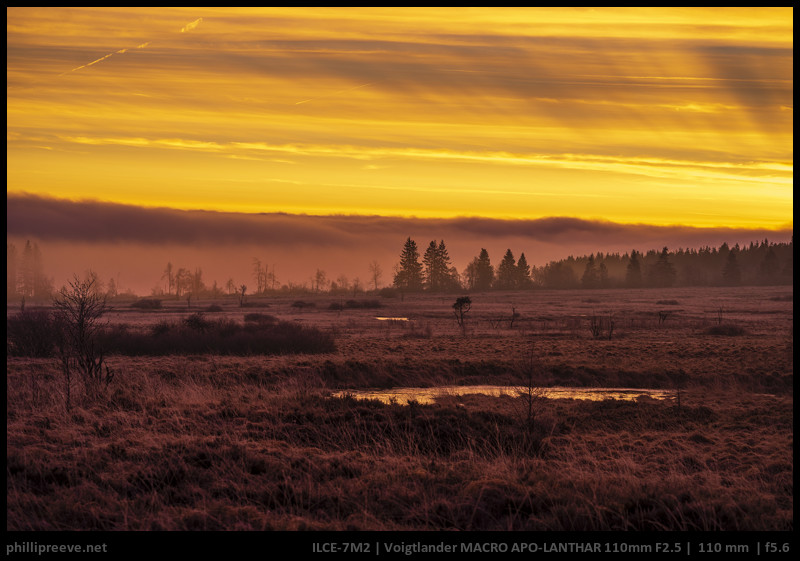 Specifications
| | |
| --- | --- |
| Diameter | 78 mm |
| Length | 100 mm |
| Filter Thread | 58 mm |
| Weight | 771 g |
| Max. Magnification | 1:1 |
| Working distance | 17 cm |
| Number of aperture blades | 10 |
| Elements/ Groups | 14/12 |
$1099 at CameraQuest, Amazon.com, B&H, ebay.com (affiliate links). If you purchase the lens through one of these affiliate-links we get a small compensation with no additional cost to you.  If you are in Australia you can purchase it from the Australian distributor, Mainline Photographic for AUD 1595.
Disclosure
Phillip bought this lens from his own money. David got a review copy from the Australian distributor, which he then purchased.
Features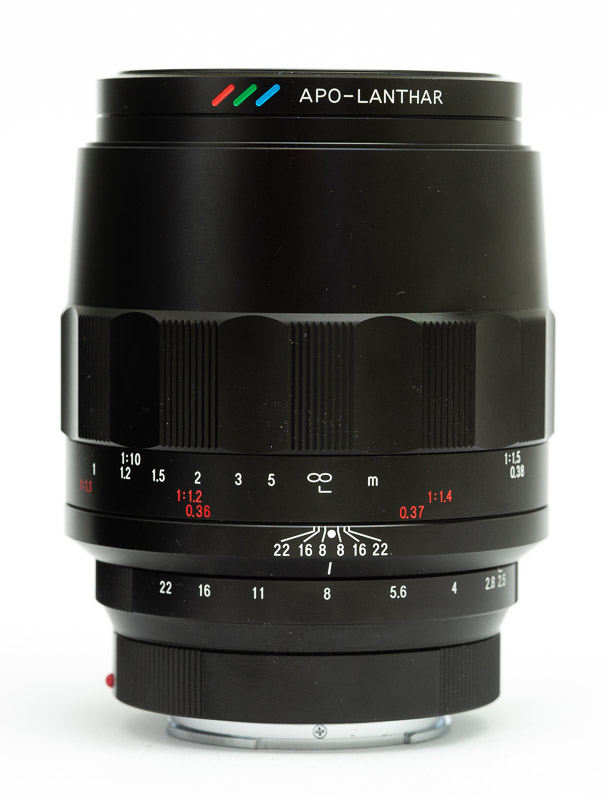 The Voigtlander 110mm F2.5 Macro APO-Lanthar is a fully manual lens so you have to change focus and aperture by yourself. The camera can't change the aperture so S- and P-mode will not work as with native lenses.
It has electronic contacts to communicate with the camera though, so you will have correct exif-data, and the OSS in all Sony cameras with IBIS will automatically know the correct focal length and distance to use the 5-axis stabilizer. Focus magnification can be automatically activated when the focus ring gets turned.
The Voigtländer focuses down to life size magnification (1:1) like the Sony G 2.8/90 Macro or 2.8/50 Macro. It's little brother the 2/65 APO only focuses to half life size (1:2).
Voigtlander also calls it an APO lens which means that chromatic aberrations are very well corrected. More on this further below.
Build quality and handling
The Voigtlander 110mm F2.5 Macro offers very good build quality. The lens hull is made from nothing but metal and tolerances are very low. Most but not all markings are engraved.
There is no gasket around the mount and Voigtlander does not claim any weather resistance.
After 18 Months of regular usage Phillip's copy shows a small scratches at edges. 
Of course I can't tell you how durable the lens will be in the long term. All I can do is give you my superficial impression which is very positive in this case. Dealing with Voigtlander repairs can be a hassle since these are done in Japan and usually take many weeks.
Changing lenses
If you have used Zeiss Loxia lenses you will probably have been frustrated by the fact that there is no good place to grab them when you change lenses. This is not an issue with the Voigtlander since you can easily grab it by its base which is even textured for better grip.
Focus Ring
The focus ring travels around 250 degrees from 35cm (1:1) to 42cm (1:2), and a further 160 or so degrees to 1m and then about 70 degrees to infinity. That is a very reasonable transmission for a macro but it is steep at longer distances and therefore a bit slower to focus precisely. The ring itself is easy to grip and the resistance is about perfect. The Voigtlander focuses quite a bit beyond infinity which is also indicated by the focus scale.
Aperture ring
The aperture ring sits close to the mount and is less easy to reach than with some other Voigtlander lenses where it is a at the front. It is still pleasant enough to use. It is made from metal with distinctive stops and a very pleasant resistance. I am not a fan of 1/3 stops since it makes it harder to count the stops but that's what we get. The Voigtlander stops down to f/22.
Hood
The Voigtlander 110mm F2.5 Macro's hood is about 4 cm long and adds about 40% to the volume of the lens. 
Since the front lens is rather exposed it makes sense to use a hood for protection. If your camera bag can fit the original one go for it but a cheap aftermarket lens hood (affiliate link) which is only half as deep can be a good alternative.
The lens hood makes a difference for flare resistance when the sun is just outside the frame. 
Size and Weight
The 110mm F2.5 does not focus internally and therefore extends a lot when it is focused at short distances.

The CV 2.5/110 is a substantial lens. Handling is still pleasant but many smaller lenses feel better matched with my a7 series In light of the great performance this is not a big issue but something to consider when you decide whether to purchase the lens.
Optical performance
These results are based on the use with a Sony Alpha 7II or a7rII.
Flare Resistance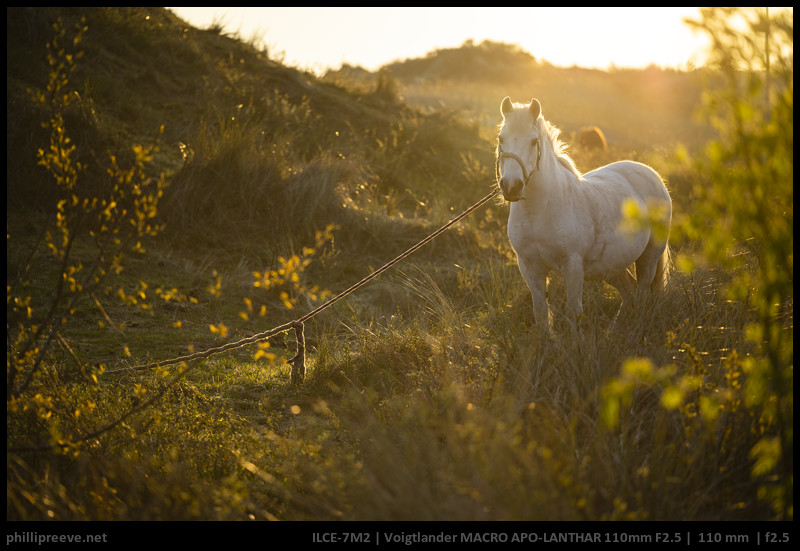 If you have the sun in the frame you will notice a significant amount of veiling flare which reduces contrast:
The lens hood can make a dramatic difference when there is direct light on the front of the lens:
Ghosting is very minor and only visible in more extreme scenarios: 
So flare can be an issue but that is true for any longer lens I know of. The Voigtlander's performance is actually above average for a lens of this focal length.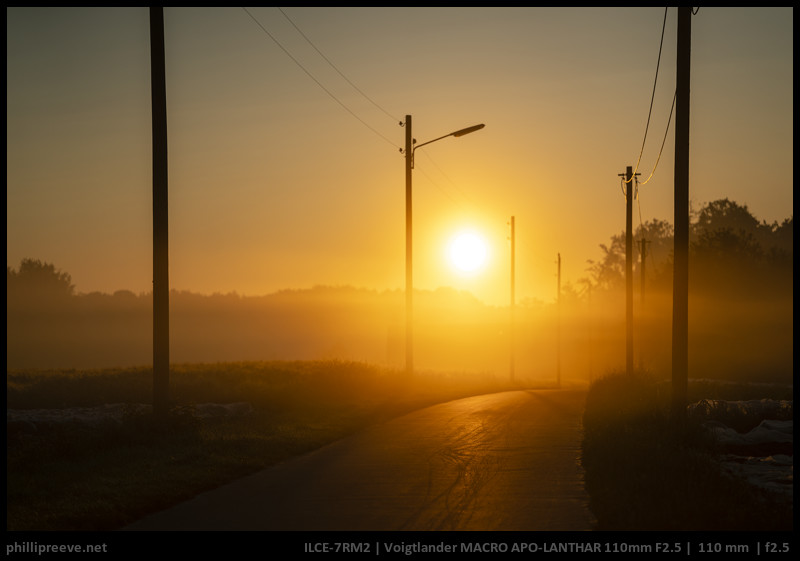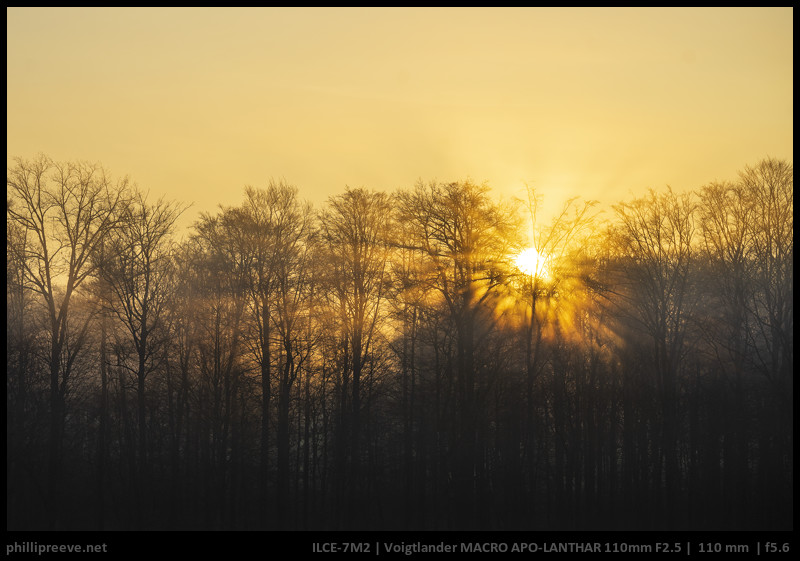 Sunstars 
Well defined 10-pointed sunstars from f/2.8. 
Bokeh
Scene 1: Short distance
Scene 2: Short distance
Scene 3: Longer distance
Observations
f/2.5 and f/2.8 look virtually identical at very close distances
Out of focus highlights are rendered very smooth
Cat-eyes are rather pronounced
As usual bokeh gets a bit harsher at longer distances
Stopped down the shape of highlights can be a little distracting
No onion rings
So most of the time the Voigtlander 2.5/110 APO Macro has very good bokeh but there are a some situations where it can become a little distracting.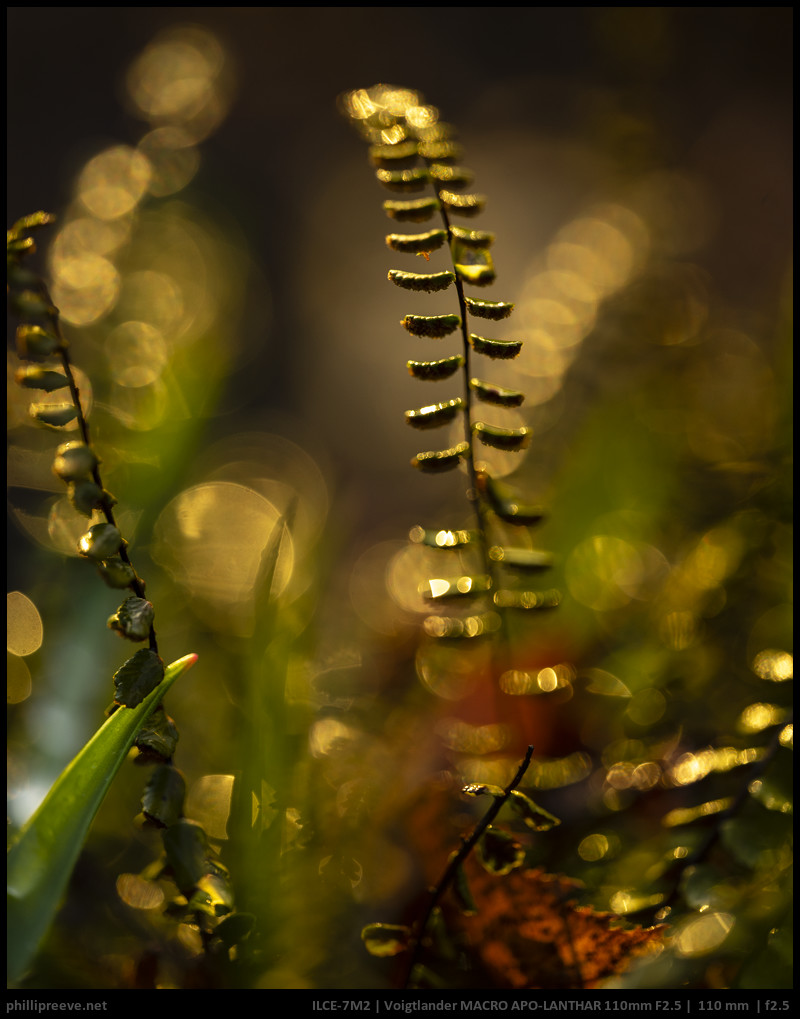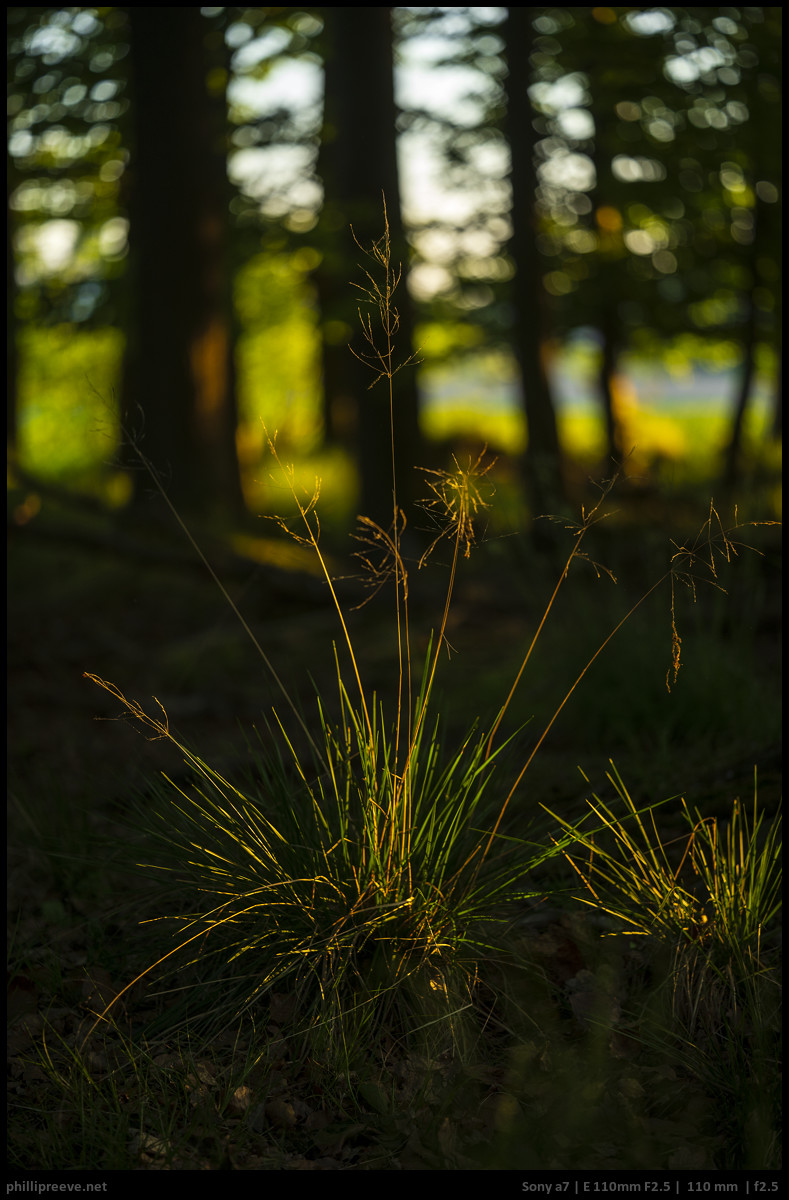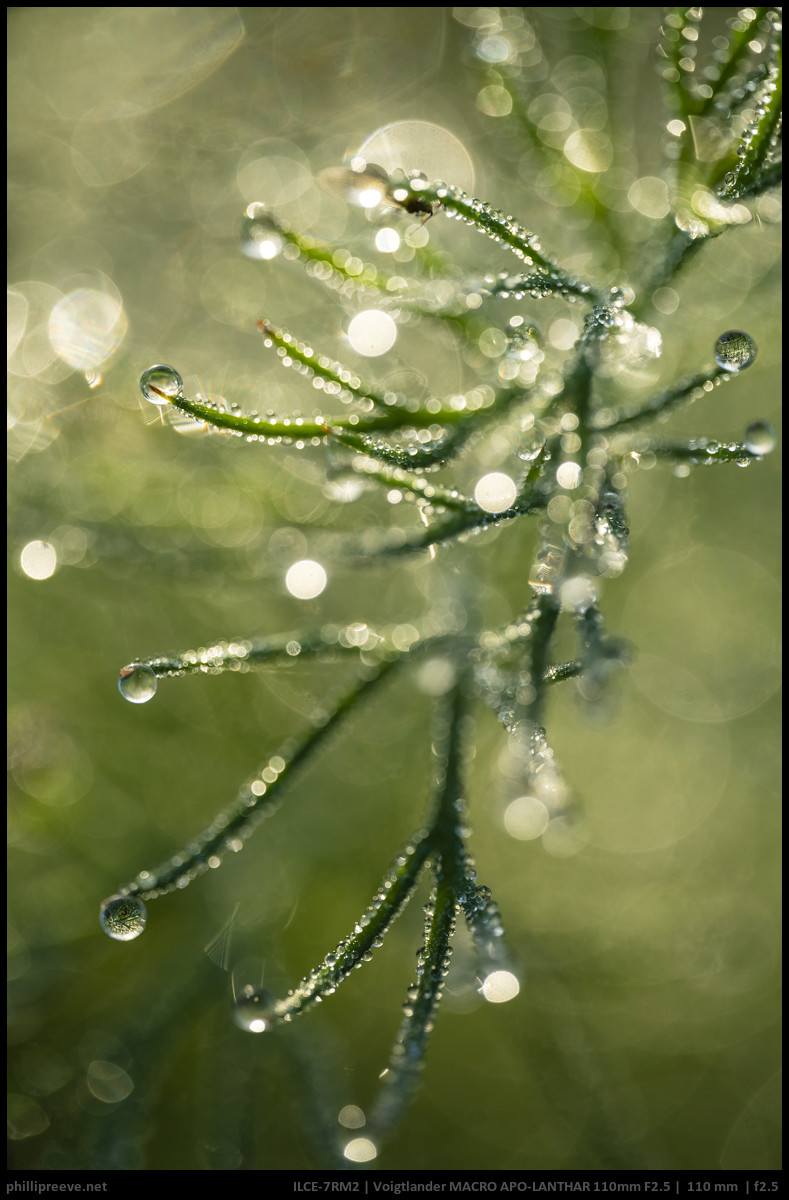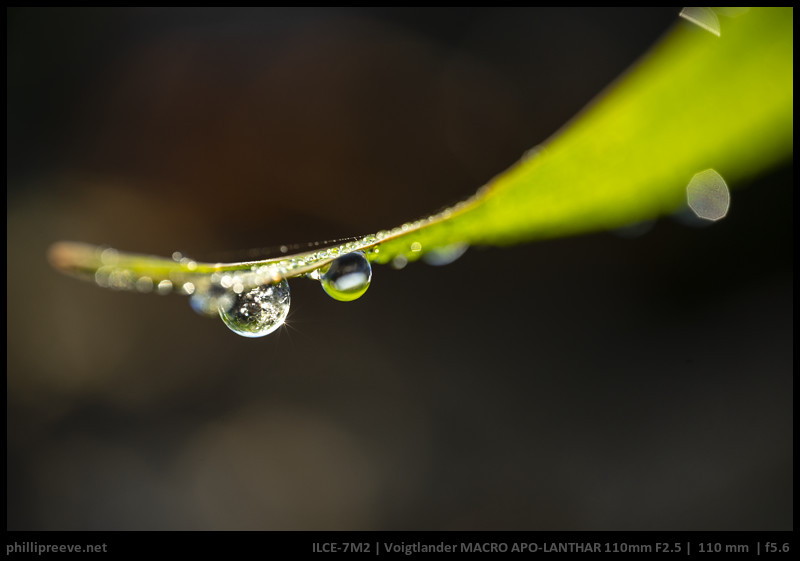 Chromatic Aberrations
Both Zeiss and Leica Leica have been more lenient with the APO label in the past. But in 18 months of regular usage I haven't managed to produce a single image with any CA in it. The Voigtlander 110mm f2.5 APO Macro's level of CA-correction is simply outstanding. Consider this worst case scenario: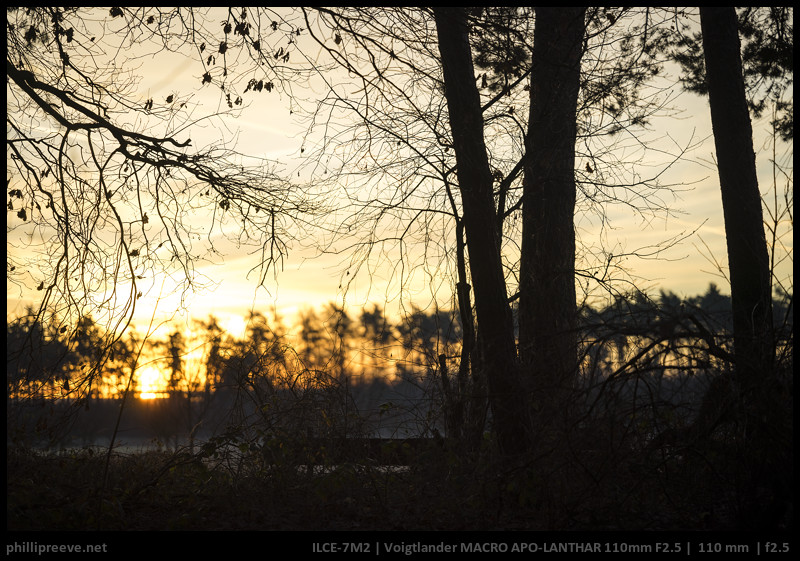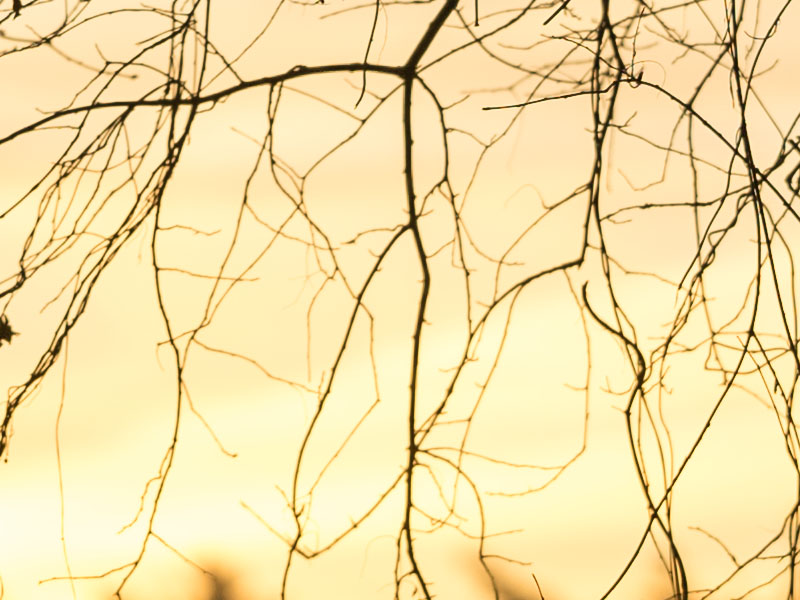 Vignetting
| | | |
| --- | --- | --- |
|   | corrected | uncorrected |
| f/2.5 | 1.1 ev | 2.0 ev |
| f/4 | 0.6 ev | 1.7 ev |
| f/5.6 | 0.4 ev | 0.9 ev |
| f/8 | 0.3 ev | 0.5 ev |
The true vignetting figures of the Voigtlander 2.5/110 APO are rather high at 2 stops wide open. Only by f/5.6 they fall below 1 stop. Most users won't notice that though since vignetting is automatically corrected to significantly lower 1.1 stops at f/2.5 even if you shoot raw.
Distortion
The Voigtländer 110mm f2.5 shows a very small amount of pincushion distortion. It will hardly ever be noticeable in you image and if it is the supplied profile corrects it perfectly. Still most other macro lenses show no visible distortion at all.
Sharpness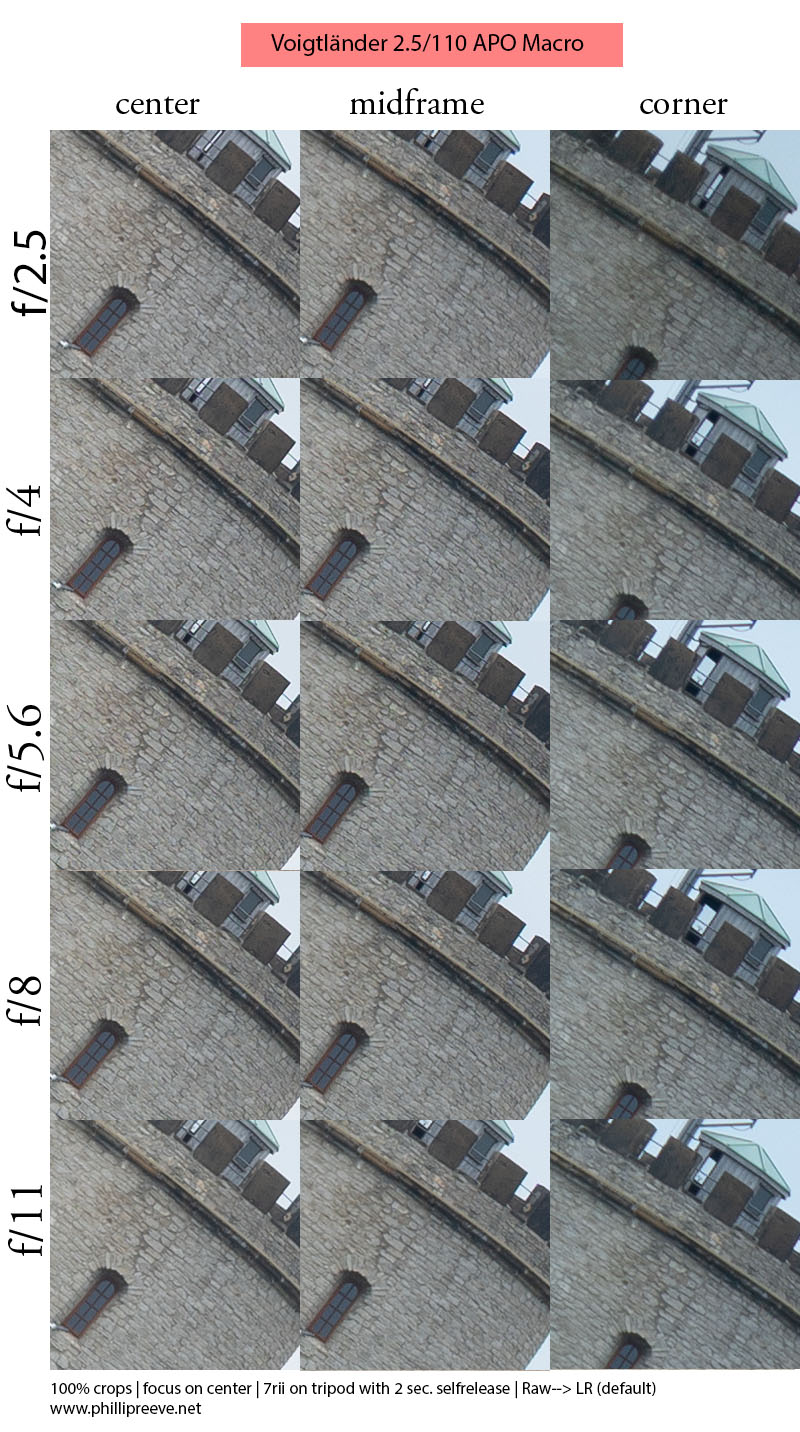 f/2.5: Excellent in the center, very good in the midframe area and good to very good in the corner.
f/4: Excellent center and midframe, very good corners.
f/5.6: Excellent across the frame.
f/8: A tad softer everywhere due to diffraction but we are still in excellent territory.
f/11: A tad softer but still on very good level.
All in all an excellent performance. 
Notes on macro use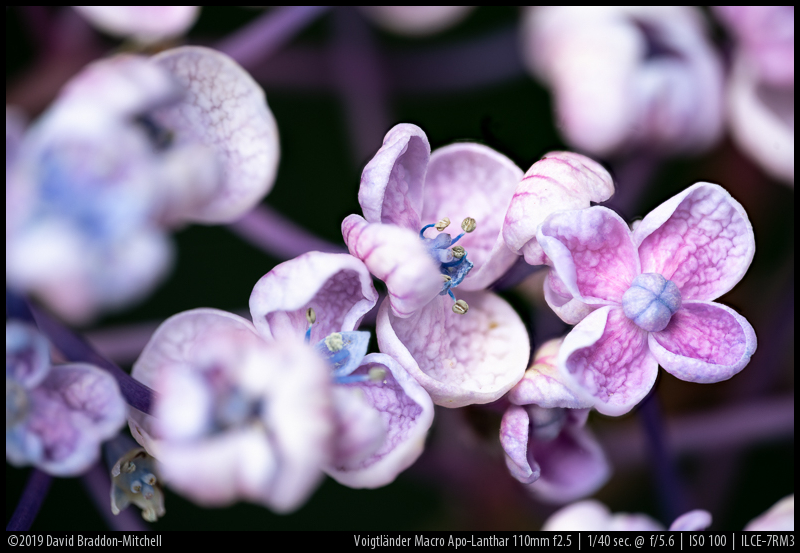 When we first published this review, we promised an update with careful macro tests.
That never came – we should explain why. Testing macro lenses in their macro range accurately is a very difficult business. If you use the lens lots you can get a very good idea of roughly how it performs, and how it compares. We'll share those impressions with you after this introduction. But impressions are not detailed tests that we can show you, and which are the evidence you, the reader, can use to judge for yourself.
But the problem is that most tests you see online of macro lenses are essentially useless. The problem is that if you are interested in flat field performance, there are only two ways you can do it. The first is to have an optical bench, but that costs up to a million dollars, and is far out of the reach of mathematics teachers, engineers, professors and scientists doing this out of love – and that's our team! The other is to have a target of extremely high resolution (sometimes we use banknotes, but at true macro distances even they aren't really precise enough) and they need to be on planar surfaces. They also need to be help parallel to the sensor with extreme precision. An etched glass slide with target markings which can be held in a slide duplicator at the correct angle would do. These are very expensive as well from lab suppliers, but perhaps not impossibly so.
So we were hoping to do something like that. But it hasn't happened for reasons of time, and maybe money. But we can share with our impressions, and add some more samples.
We are fairly sure now that from life-size samples like the one above that its a superb macro lens. It seems a touch sharper than the Sony G 90mm  at long distances, and at least as sharp as that impressive lens when you reach 1:2. At life size the Sony 90mm is a touch sharper, has nicer bokeh, but a tiny touch more CA. If I was only shooting at 1:1 I would probably choose the Sony, though the CV is nicer to use. As a general purpose lens for the manual focus lover the CV is a better bet.
A significant advantage to the Voigtländer is that it has a much longer focus throw. Although the Sony has a remarkably good manual focus experience for an AF macro, the throw is, while linear, a bit short in linear mode, so it's harder to make small precise changes (and less importantly less pleasurable to use because not as buttery smooth). 
The effective focal lengths are rather different at macro distances. The Voigtländer I estimate to have roughly a 27 degree diagonal field of view on a full frame sensor, the Sony 34 degrees (this means the Sony has an effective focal length of around 70mm, the CV 90mm, so both lose a bit: which is surprising in the case of the CV given how much it extends). This means the CV gives a noticeably more telephoto perspective, magnifying the background relative to the subject of macro shots a little more, which serves to isolate the subject. It also, of course, affects working distance: you can keep the front of the lens about 4cm further away from your subject on the CV rather than the Sony, which may be of use for bug hunters.
People who do a lot of handheld close macro may like to use AFC on the Sony so as to help cancel out small movements towards and away from the subject. This, combined with IBIS, may give you a slightly higher keeper rate. But it's not a big deal.
Bokeh at Macro 1:1
The bokeh at life-size (1:1) is very interesting, comparing the Sony and the CV. This is a complex matter, because there are at least three scenarios that need testing.
(1) Lens set to same magnification, bokeh elements at same distance from sensor.
(2) Lens set to same magnification, bokeh elements at different distances to sensor corresponding to the different camera position for the same subject to be in focus (remember 1:1 corresponds to a different postion of the image plane in these two lenses)
(3) Lenses set to somewhat different magnification, focussed on elements the same distance from the sensor plane. (recall that if you focus on items the same distance away, the magnifications will be different between the two lenses.
We have tested Scenario 1.
Wide open there doesn't seem to be much difference in the shape of the bokeh (i.e. much difference in cats eye effect). But oddly, the bokeh balls are much larger in the Sony (probably an artefact of scenario 1 – I leave it as an exercise to figure out why)
But by f5.6 cats eyes are noticeably more visible in the CV:
CV on left, Sony on right.
This result, and some others, makes choice difficult. By f5.6 the Sony is starting to show visibly nonagonal shapes. The CV is showing even (slightly) more visible decagonal shapes. At wider apertures, the Sony is ahead, at this aperture to my taste there is not much in it.
But the cats-eye distortion of the CV bokeh rugby balls is less to my taste than the more rounded Sony shapes. On the other hand there are some (very mild) polishing artefacts visible in a couple of the Sony bokeh balls.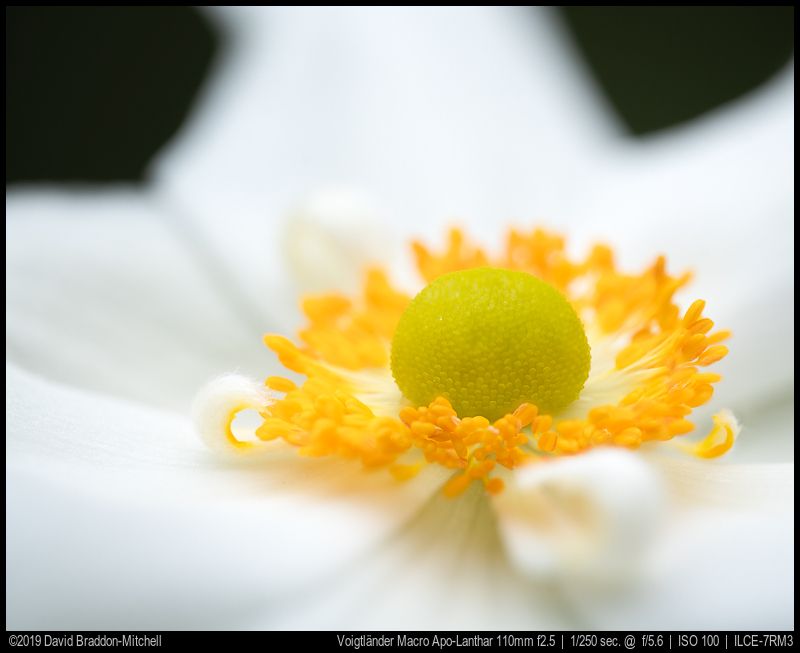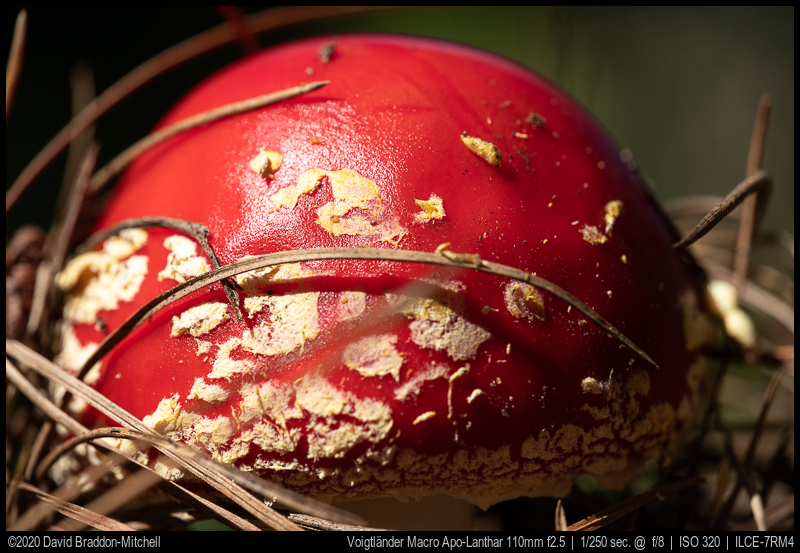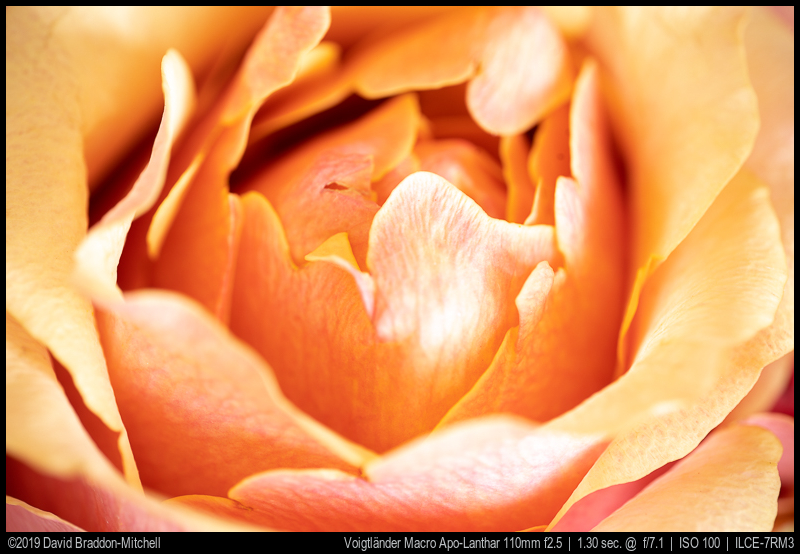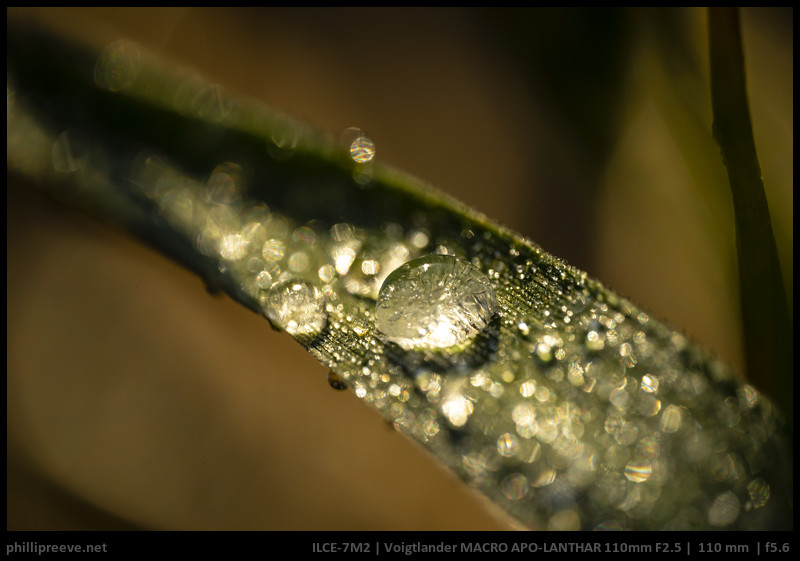 Brief Comment on Portrait Use
Phillip and David have both used it a fair bit for portraiture, and it shines. Hard to share these with you, because of getting permission. But David's friend Annie was happy to apply her pawprint to the paperwork, so this may give you some idea of what it's like: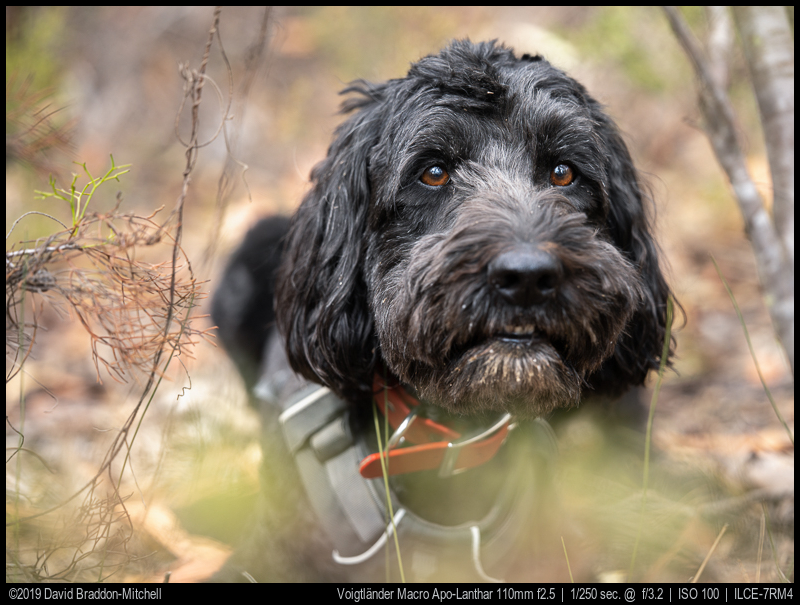 Alternatives
Sony FE 2.8/90 Macro: The 180g heavier Voigtlander is even better corrected for CA and offers a longer working distance (17 cm vs 12.5 cm). Another big difference is that the Sony is an internally focusing AF lens while the Voigtlander is a manual focus lens which extends a lot as you focus closer. Both are excellent lenses optically. The Voigtlander is a bit sharper at longer distances while the Sony has a little higher contrast around 1:1.
Review | 602 g | $998 | amazon.com (affilate link)
Tokina Firin 2.8/100: I had hoped that this would be the budget macro lens for E-mount which would make one ignore the stronger CA and handling compromises but it still isn't that affordable so that I would usually recommend to save longer and get the Sony 2.8/90 or this Voigtlander instead.
Review | 570g | $599
Zeiss Loxia 2.4/85: The only other manual focus lens in E-mount has a more conventional focal length and only reaches a magnification of 1:7. Both play in the top league in terms of sharpness and the Loxia is very well corrected for CA but not quite as well as the Voigtländer. At ~600g the Loxia is about 180g lighter than the Voigtländer but still rather heavy for a lens with this moderate speed. At least new it is also more expensive.
Review | 594g | $1399
Zeiss Batis 2.8/135 Apo: Both lenses are as close to technical perfection as currently possible with similar aperture and focal length. The Batis is a little larger, the Voigtländer a little heavier. What sets them really apart are not the optics but that one offers AF while the other one offers a superior manual focus experience and much better close focusing capacities.
Review | 614 g | $1699 | at B&H (affiliate link)
Tokina 2.5/90 Macro: A legacy lens which is a lot more affordable (still not that affordable for being more than 20 years old). Flare resistance, CA correction, and off center sharpness at f/2.5 are what is most notable in comparison.
Review | ~630 g with adapter  | about $300 used | at ebay.com (affiliate link)
Zeiss Macro Planar 2/100: A more affordable manual focus macro which is an excellent lens with the exception that it shows a lot of CA. It also only reaches 1:2 magnification. If you aren't very sensitive about CA it might be an alternative.
MTF-data | Review | 660 g + adapter | about $750 used | at ebay.com (affiliate link)
Laowa 100mm f2.8 2x Macro: A lens which goes to 2x and which is very sharp indeed, especially in the macro range. If you need a short telephoto lens with 2x magnification which also focusses to infinity, it's the only game in town. If you mainly care about 1x to 2x this lens is cheaper and just as sharp. It's not quite as sharp as the Voigtlander at infinity, and has noticeably worse contrast under normal conditions, and is easily subject to veiling flare.
Review | 657g | about $450 | B&H Photo or eBay.com (affiliate link)
Zeiss ZE/ZF/Milvus APO 2/135: Also a modern manual focus lens which is faster but only focuses down to a magnification of 1:4. With adapter it is almost 300g heavier but at shared apertures it has less pronounced cat's eyes, a longer focus throw and of course it can isolate the subject even more so it is an alternative for some applications like portrait photography.
Zeiss C/Y 3.5/100: If your focus is on landscape photography the much smaller and more affordable Zeiss could be a good alternative since it will take really large prints to actually see a difference for that application.
Review | ~380g with adapter
Sony GM 1.8/135: Sony's sharpest lens  also plays in the first league optically but its specs target it at other applications. 
Review  | 950g | $1899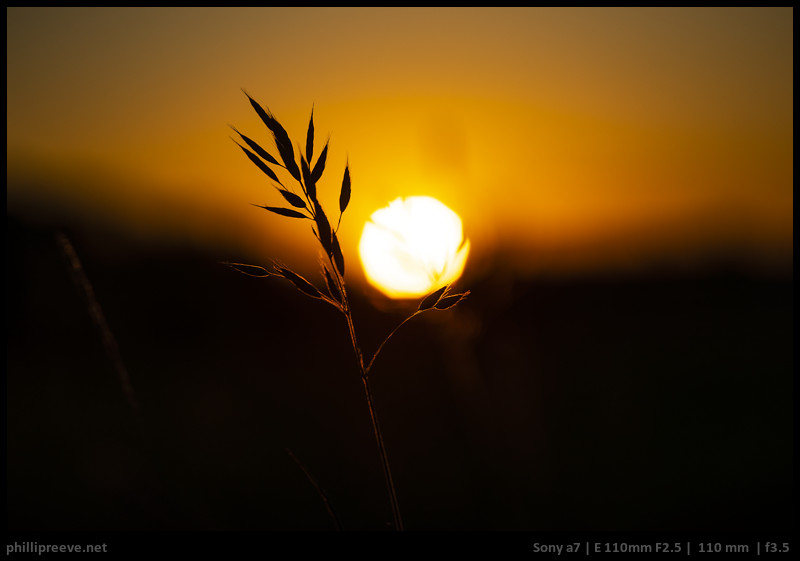 Conclusion
pros

Outstanding CA correction

Excellent Sharpness

Bokeh (most of the time)

Build Quality

Handling

1:1 Magnification

average

Vignetting/ Cat-Eyes
Price
Size/ Weight
Flare Resistance

cons
Optically it is hard to find any real fault with the Voigtlander 2.5/110 APO Macro beyond a few minor compromises like vignetting and some flare which any longer lens will display. CA correction and sharpness are simply outstanding. Bokeh is very good, only the decision to use straight aperture blades becomes a bit bothersome if you work stopped down. As expected of a macro distortion is corrected to a very high degree. Overall very few lenses perform on this level.
Voigtlander lenses still set a gold standard for handling and the 2.5/110 APO is no exception. Everything is as it should be but there are a few trade-offs caused by this being a macro lens: It is rather larger and heavy for a 2.5/110 and the focus transmission is a bit on the steep side at longer distances. Also mentioned should be that all other lenses in this price class offer some degree of weather resistance.
Overall the Voigtlander 110mm F2.5 APO Macro is technically among the very best lenses you can buy with outstanding sharpness and CA-correction. Handling of this manual lens is a joy but as macro the Voigtlander is of course bigger than a non-macro lens. The price matches the performance: This is an expensive lens but only until you compare it to other high end lenses.
Recommendation 
For the last 18 months the Voigtlander 2.5/110 has been part of my standard all manual kit together with the Voigtländer 3.5/21 and 1.2/40. Optically this lens is so good that I never felt that a shortcoming of the lens degraded my image. That is a very rare experience. I bought it because I wanted a native manual focus tele with which I could cover a wide range of applications and maybe also because of its performance. At times I wished it wasn't a macro lens and 200g lighter but then I find a small detail in nature and am reconciled. I am very happy with the 2.5/110 APO for landscapes and details of nature in general. It also works ok when I need to shoot a portrait: I shot two weddings with it and was happy with the results. At times I wished the focal length would be a bit shorter and I still hope on a 2/90 APO from Voigtlander to go with their outstanding 2/50 but until then the 2.5/110 will have a safe spot in my kit.
So if you also have a clear preference for manual focus lenses, aren't too weight sensitive, can integrate a 110mm lens into your kit and are also willing to pay about $1k, then I can only recommend the Voigtlander to you. Now that were a lot of ifs and I am not too surprised that the Voigtlander 2.5/110 has stayed a niche lens since few people are willing to work without AF at this focal length even when it is a lens as optically outstanding as the Voigtlander 110mm f/2.5 APO.
If you are looking for a macro lens, then the significantly longer working distance can be a deciding factor when shooting insects  and the superior CA-correction can make a difference when shooting metallic objects. The Sony 2.8/90 on the other hand offers AF which makes it a better allrounder for many and it is also a tiny little bit sharper with higher contrast at 1:1.
For landscapes the somewhat smaller and lighter Loxia 2.4/85 should be considered since it is a bit lighter and probably integrates better into most kits. Optical performance is very similar for this purpose. On the used market the Lox is a little more affordable. The downside of the Loxia is that isn't a macro and also offers less blur for portraits so adapting the lighter ZM 4/85 or even Voigtländer 1.5/75 should als be considered. If you are not that weight sensitive the GM 100-400 performs as well or even better than the Voigtländer 2.5/110.
As a general purpose tele which has to cover many applications many go for a 4/70-200 which is bigger and comes with a number of optical compromises but of course it offers AF and a wide zoom range. Sony's GM 100-400 comes with few optical compromises but it is a lot bigger and also more expensive. For many a simple 1.8/85 will do the job but personally I only bring mine if I really need AF since image quality and bokeh as well as handling of the Voigtlander are so much nicer. For those who want the excellent IQ of the Voigtlander but prefer AF the Batis 2.8/135 is a logical alternative.
$1099 at CameraQuest, Amazon.com, B&H, ebay.com (affiliate links). If you purchase the lens through one of these affiliate-links we get a small compensation with no additional cost to you.  If you are in Australia you can purchase it from the Australian distributor, Mainline Photographic for AUD 1595.
More Image Samples
You can many images shown here in full resolution in this flickr set: Voigtlander 2.5/110 APO.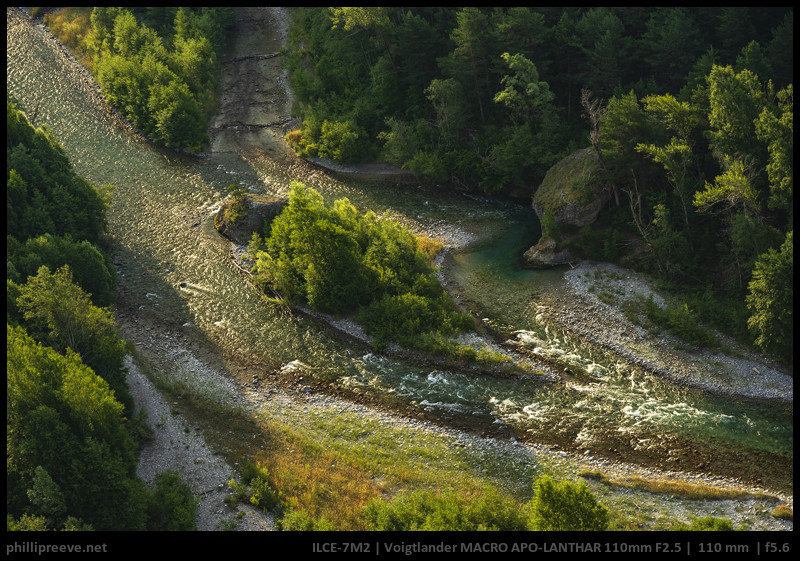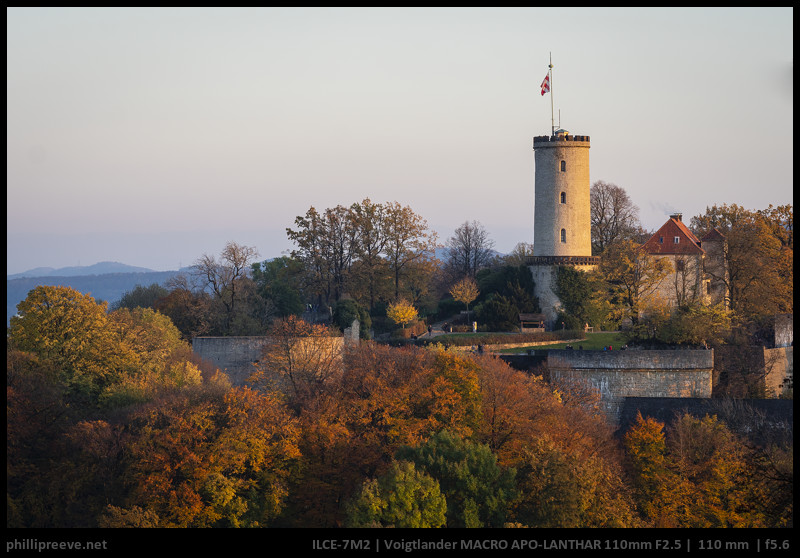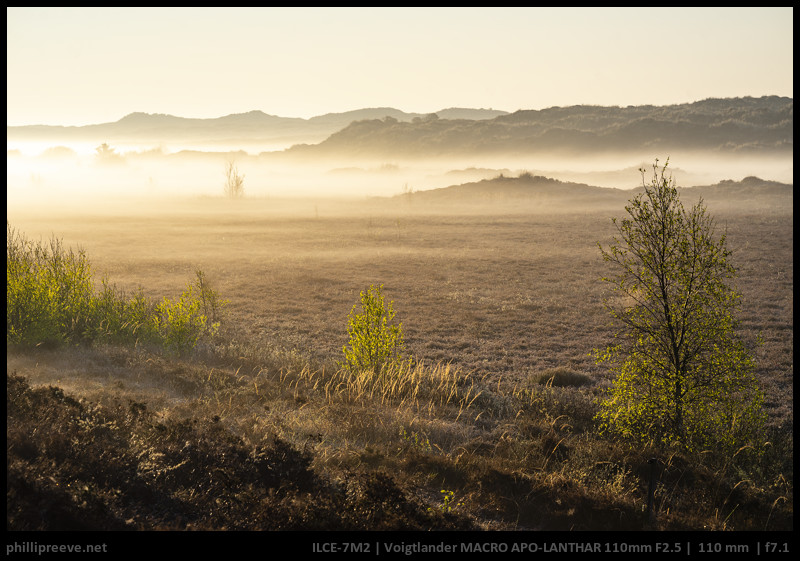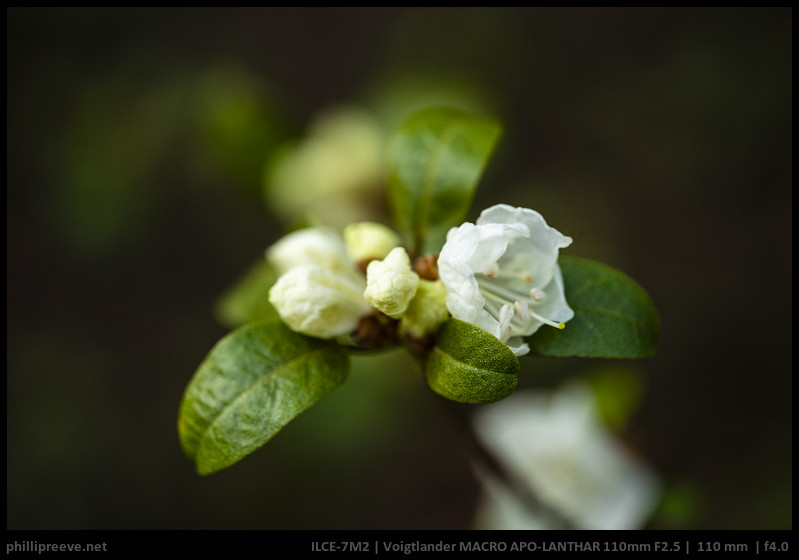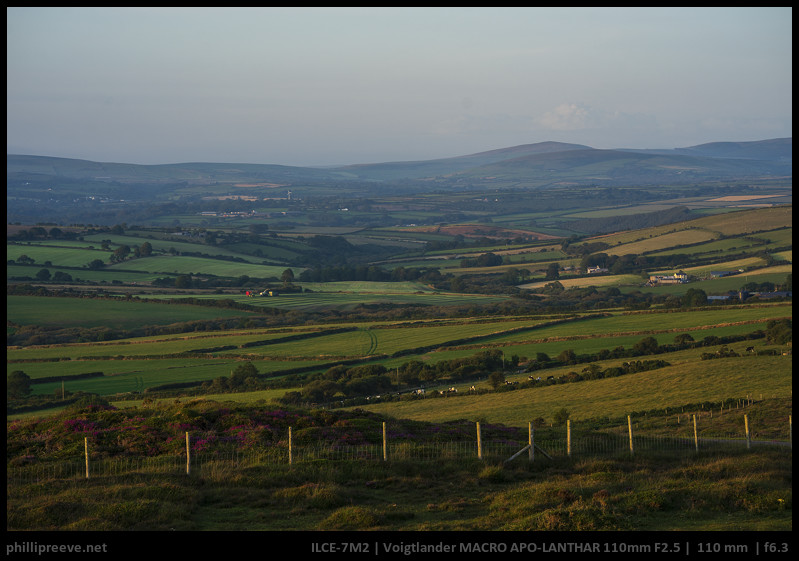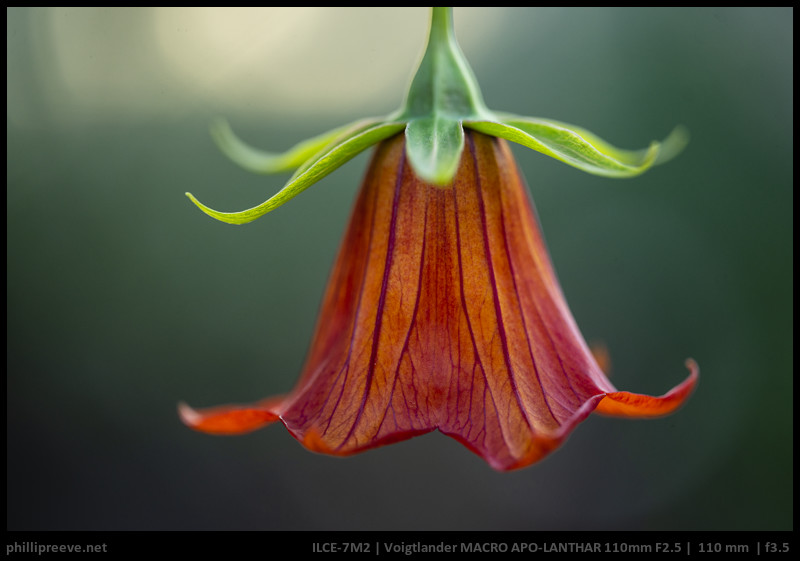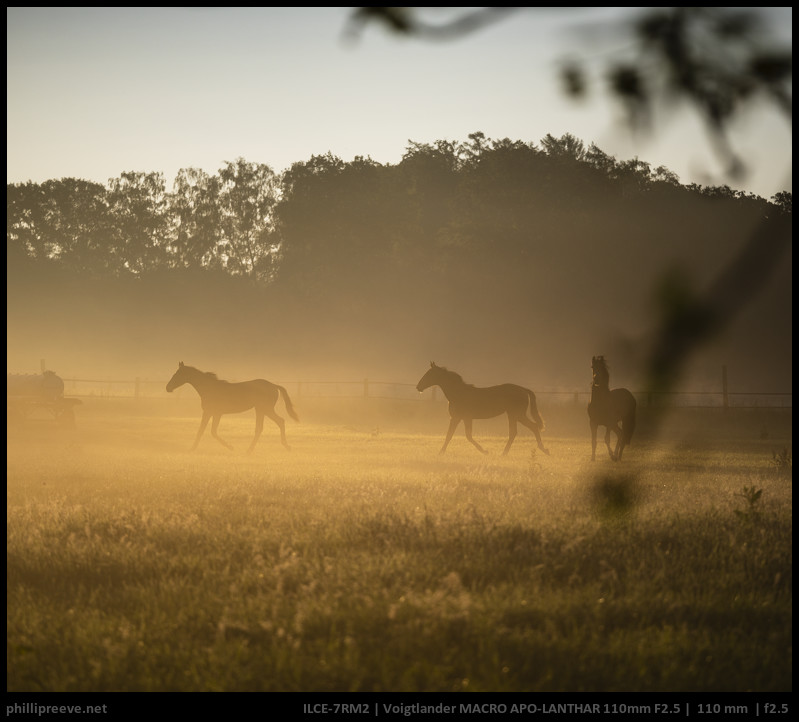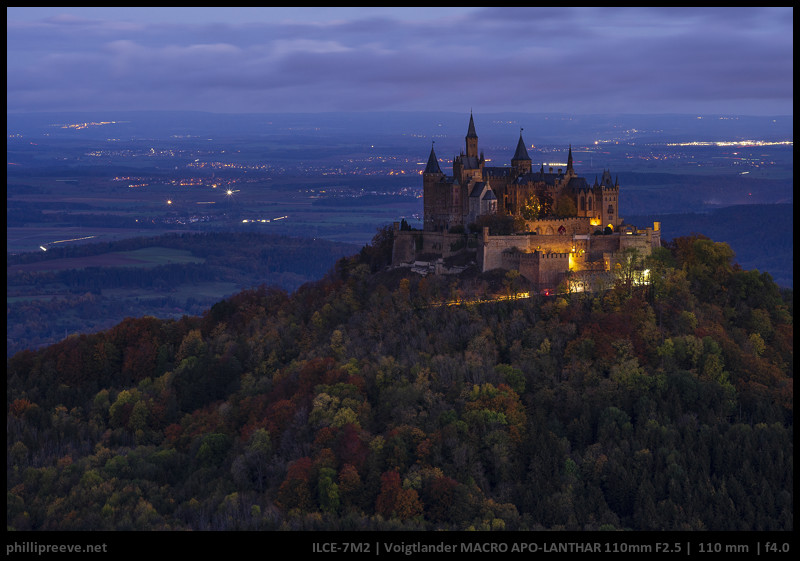 Other articles
The following two tabs change content below.
I have two hobbies: Photography and photographic gear. Both are related only to a small degree.
Latest posts by Phillip Reeve (see all)