Introduction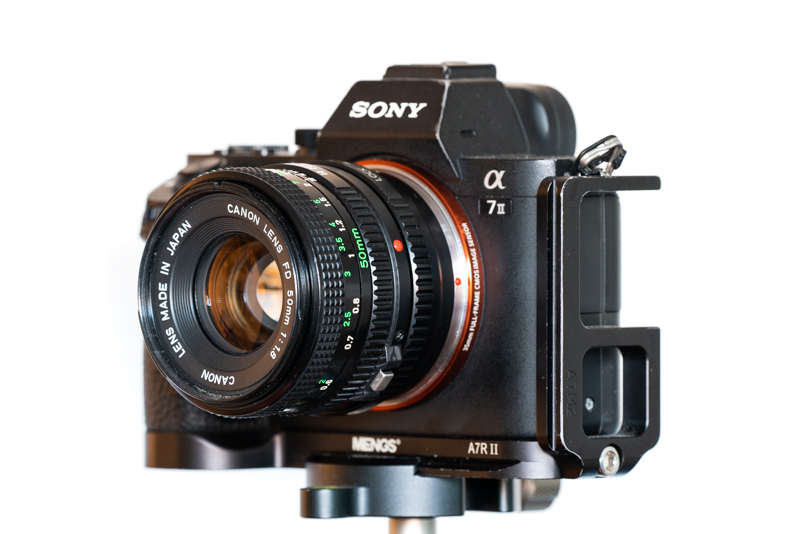 The Canon newFD 50mm f/1.8 is one of the cheapest manual lenses one can find nowadays. Does this small lens give you the best bang for your buck?
Sample images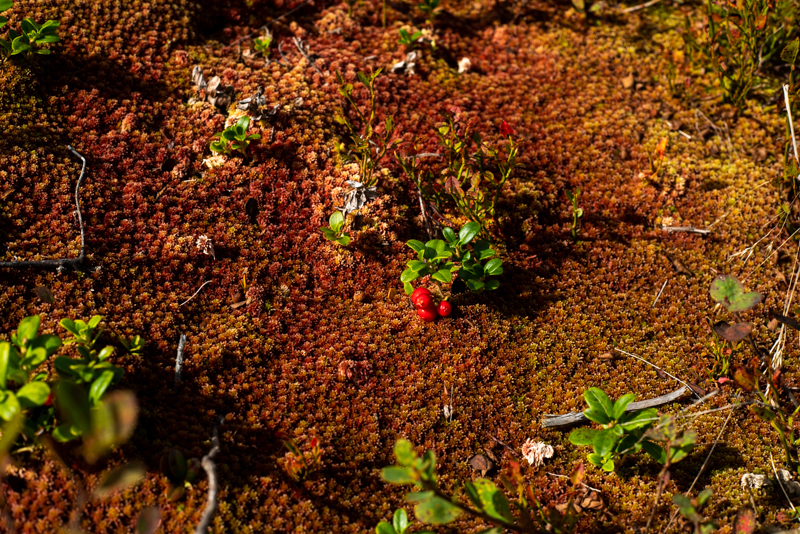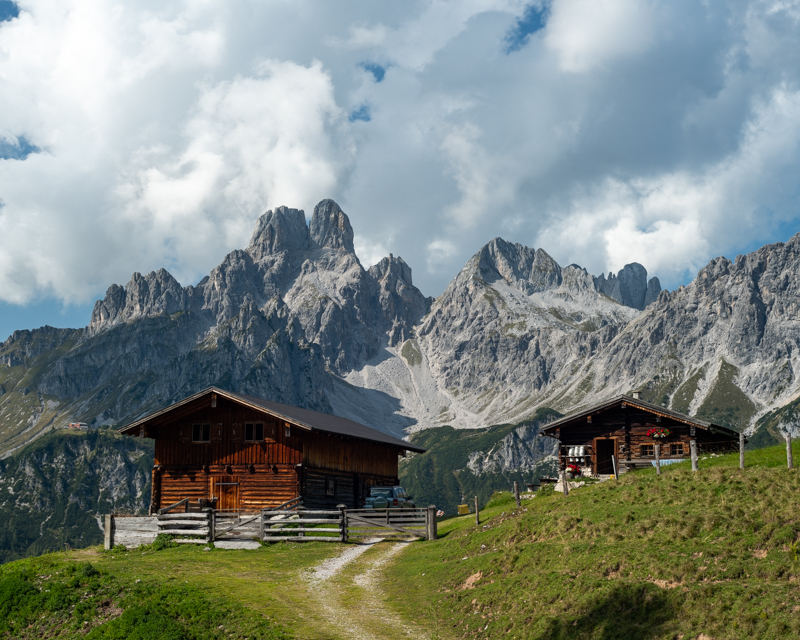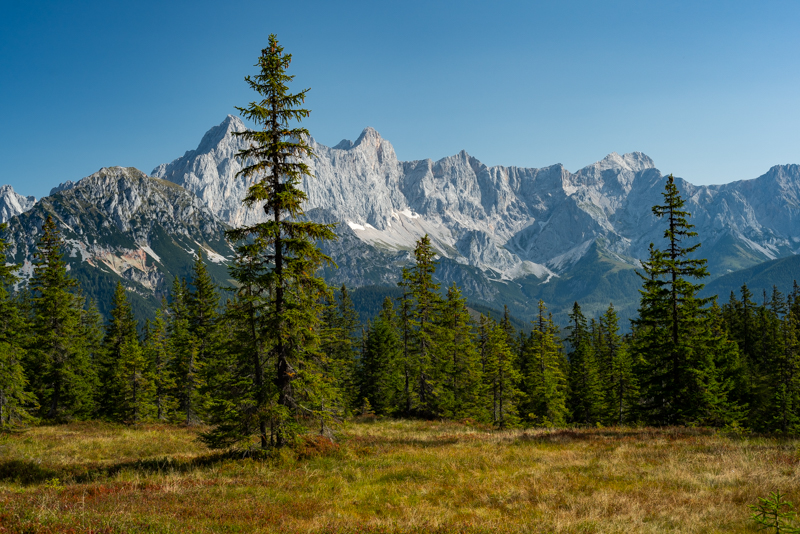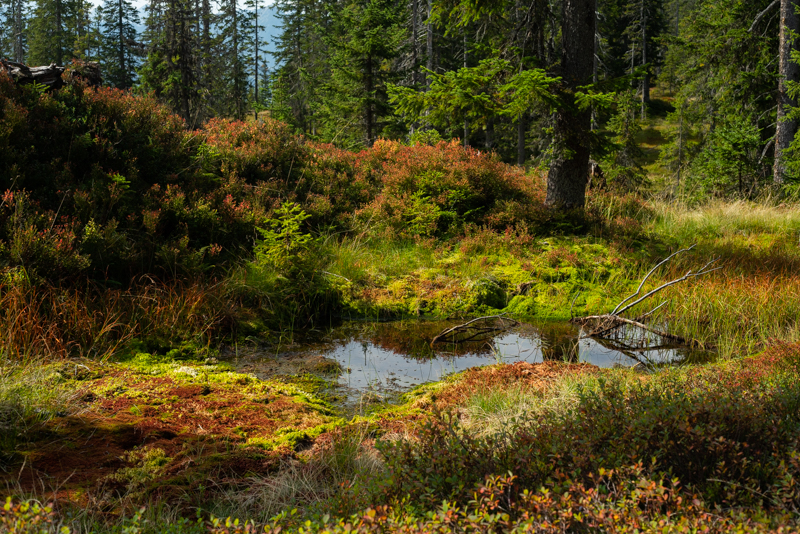 Versions and history
As far as I know there are roughly three versions of this lens which are optically the same (version 1 and 2 can be split up as well but differences are minimal), the main difference can be found in the number of aperture blades (Version 1 has 6, the others 5), the build quality and mounting system. All three versions are coated with the S.C. coating, unlike all other Canon FD lenses which were coated with the more effective S.S.C. coating.
The first version features 6 aperture blades and seems to be build to much higher standards than the last version. You can recognize the first version by its chrome nose, this version features the breech lock mounting system.
The second version is a bit lighter than the first version and only features 5 aperture blades. This version doesn't have a chrome nose. This version works with the breech lock system as well.
The third version is much lighter due to the use of much plastic, this version feels very cheap compared to the other versions of this lens, or compared to other 50mm lenses from the same period. The third version does (Fortunately!) not longer use the breech lock system but uses a release button which makes mounting and unmounting the lens less awkward.
More information can be found here.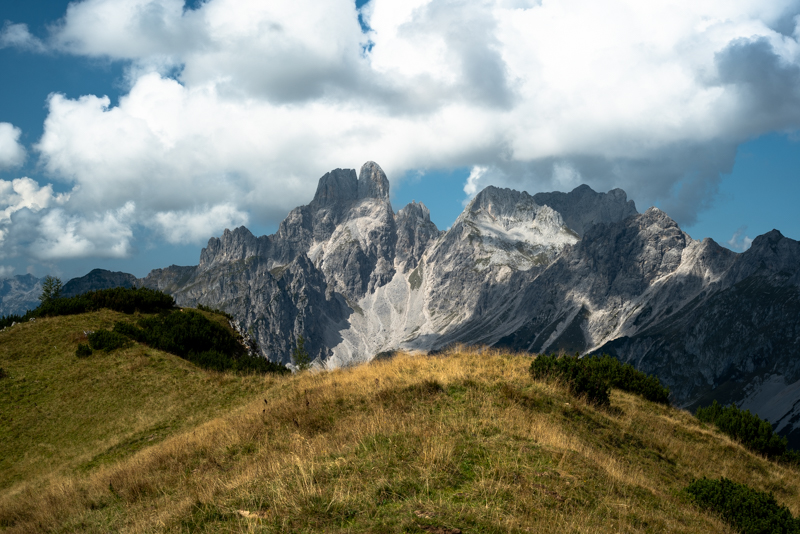 Specifications
| | |
| --- | --- |
| Category | Specification |
| Diameter |  63 mm |
| Length | 35 mm |
| Filter diameter | 52 mm |
| Weight (excl. Adapter) | 170 g |
| Aperture | f/1.8-22 |
| Minimal focus distance | 0.6 m |
| Elements/groups | 6/4 |
| Aperture blades5 | |
The lens can be found in decent condition for under €35,- $40 at ebay.de* and ebay.com*
*Affiliate links (If you purchase the lens through one of these affiliate-links we get a small compensation with no additional cost to you.)

Build quality and handling
The lens is mainly made from plastics in combination with metal and glass. All markings are engraved and filled with paint. Due to the extensive use of plastics the lens feels very light but also a bit cheap.
The aperture ring sits at the base of the lens and is made from plastics.The aperture ring has a high resistance and feels cheap. Except for the click between f/1.8 and f/2.8 where the click sits around f/2.5, the aperture ring features 1/2 stop click stops.
The plastic focus ring is knurled and easy too find. The focus ring has an OK resistance but somehow doesn't feel very smooth. The focus ring travels about 160° from 0.6m towards infinity, the first 90° take you from 0.6m to 1.5m. In comparison with other manual lenses from the same era the Canon nFD 1.8/50 feels cheap and the whole experience is significantly less nice.
The lens balances well on my a7II and a7RIII.
Vignetting

At infinity vignetting is high with 2.4 stops, as is often the case with small yet fast lenses. At f/2.8 vignetting is already reduced a lot to 1.2 stops, at f/5.6 vignetting is negligible with only 0.5 stops.
Sharpness
*This sample was decentered, I've used the second best corner for the charts below. A well centered sample might perform a little bit better or worse in the extreme corners. 
Infinity

Wide open the center looks already quite good but contrast is low and there is some glow. The midframe is a different story and looks very bad. The corners show quite good resolution from wide open but contrast is very low and there is some spherical aberration. The corners look a bit better than the midframe.
Stopping down to f/2.8 hugely increases the contrast of the center. The midframe and corners improve a bit, but not nearly as much as the center.
At f/4 the center reaches its peak performance,the midframe and corners improve as well.The corners still look a bit better than the midframe although corners show lower contrast.
At f/5.6 the midframe looks decent, the corners look good as well now. Now for the first time the midframe looks better than the corners.
At f/8 the image is very sharp from corner to corner.
At f/11 the whole image is a bit softer due to diffraction.
Portrait distance (1.75m)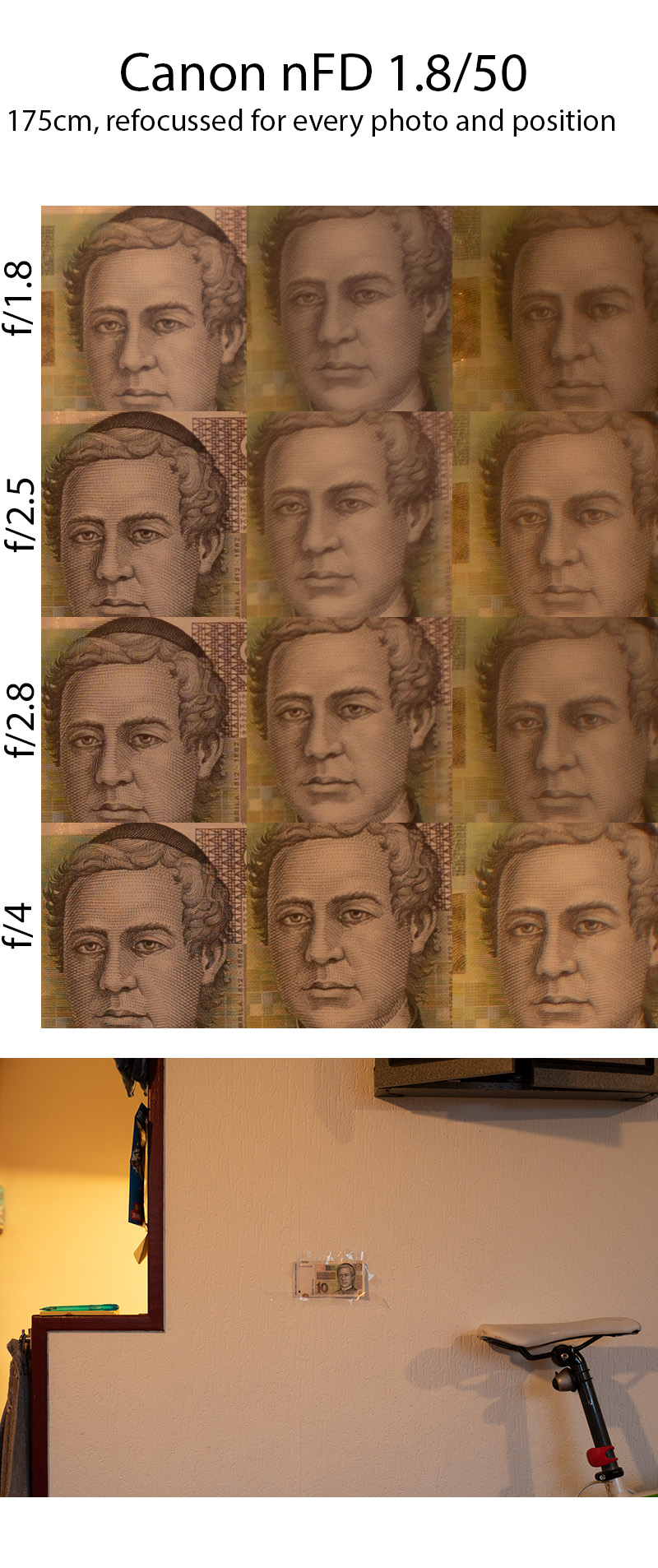 At typical portrait distances the Canon 1.8/50 newFD suffers significantly. The center looks OK from wide open with some glow caused by spherical aberrations. At fl2.5 the center looks very good. The midframe looks soft wide open and needs f/4 to look good. The corners have slightly higher resolution than the midframe but also suffer from spherical aberrations and low contrast. Even at f/4 contrast is still low.
In terms of real use it means that you can place your subject in the center of the frame without any problems, even for somewhat larger prints. Wide open, with the subject in the midframe images are still fine for web use and small prints.
*I refocused the lens for every position
Close up (1.5m)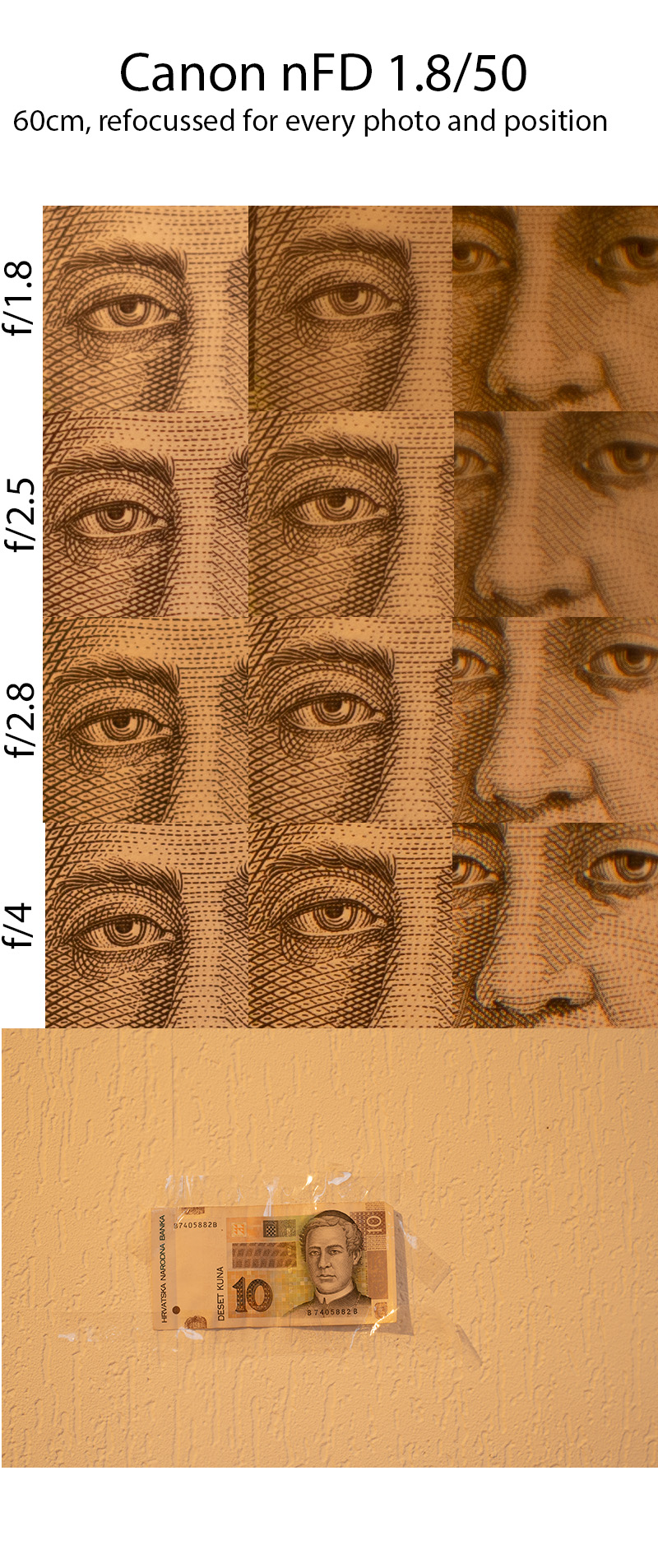 At the minimal focusing distance things look much better. The center and midframe look decent from wide open, despite some glow. At f/4 center and midframe look excellent.
The corners never look great but are quite decent at f/4.
*I refocused the lens for every position
Bokeh
Bokeh is certainly the most important drawback of the Canon f/1.8 50mm newFD. Near MFD bokeh is smooth but at longer distances bokeh quickly gets very distracting, the direction of the field curvature doesn't help here.
Close up
Near MFD the bokeh of the Canon nFD 50mm f/1.8 is smooth and pleasant to look at.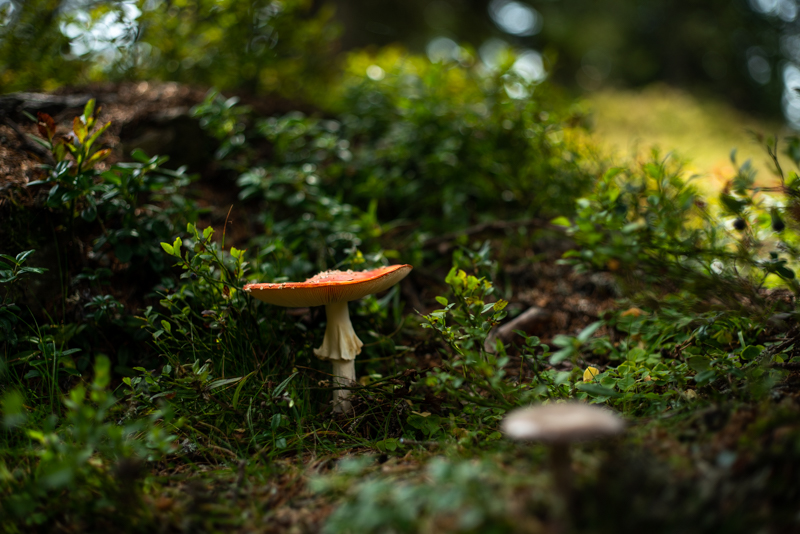 Mid distance
At slightly longer distances, like for example for a shoulder portrait bokeh starts to get more nervous. Especially towards the corners there is quite some outlining and bokeh fringing.
Stopping down only helps a little bit, at f/2.8 bokeh is still very busy.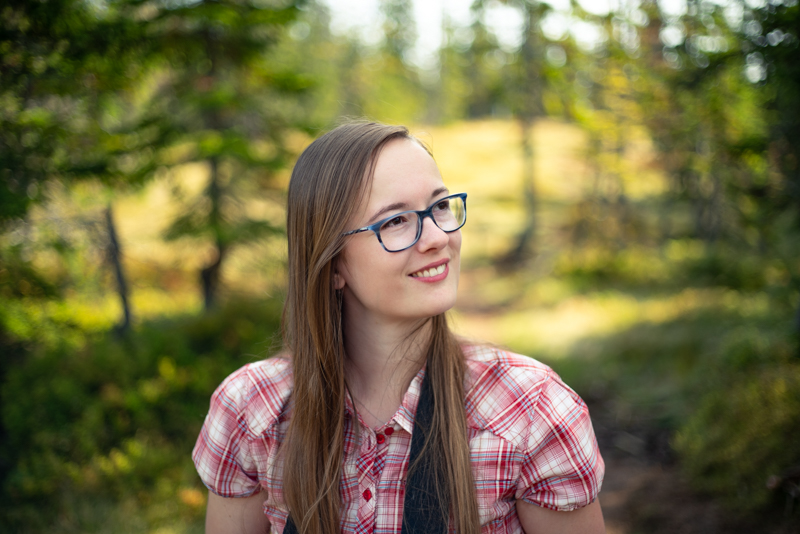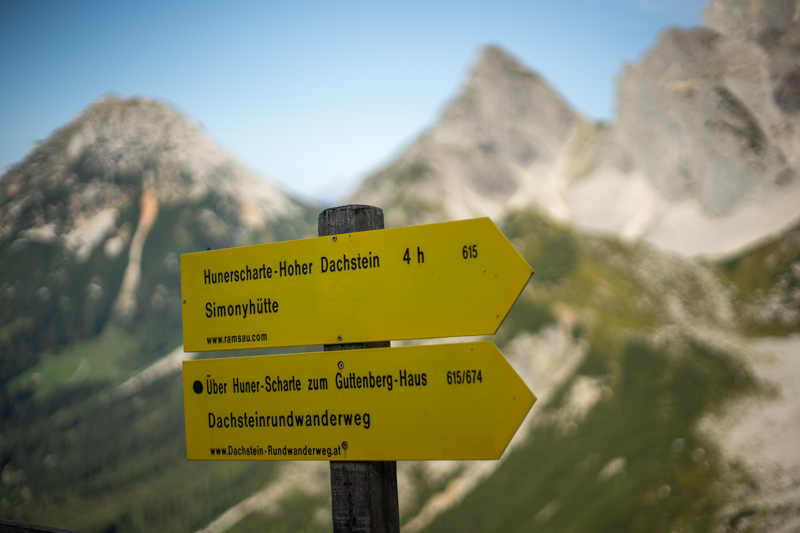 Long distance
At longer distances bokeh is very busy, especially in the corners and it takes stopping down to f/4 to tame the bokeh significantly.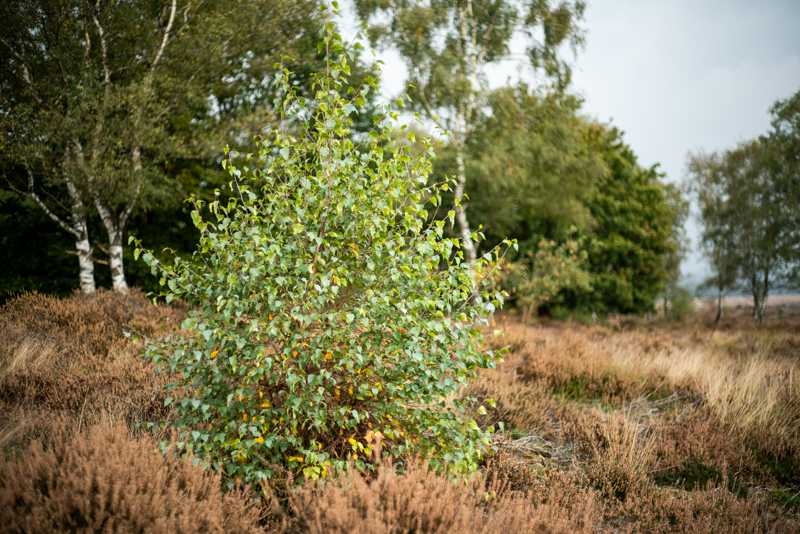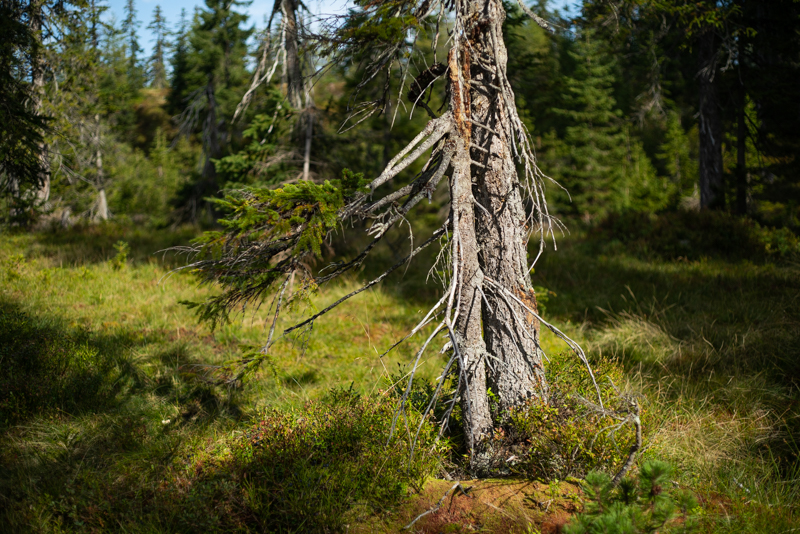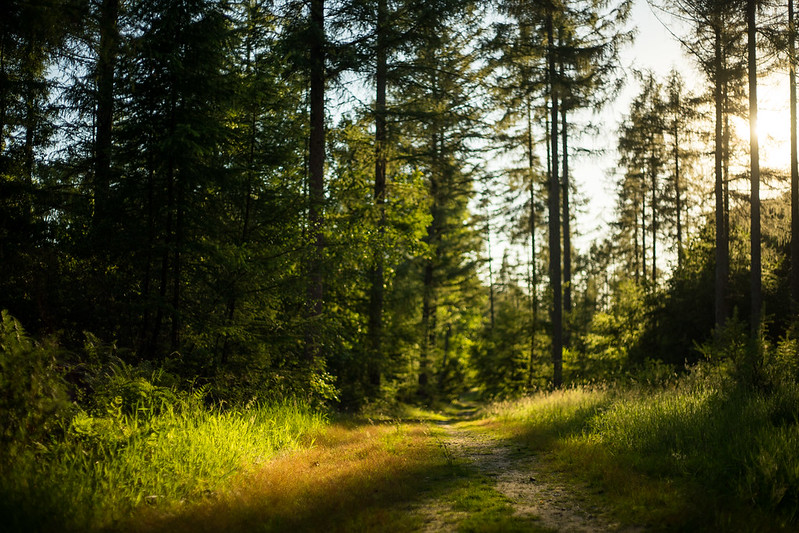 Chromatic aberrations
LoCA
Longitudial chromatic aberrations are visible wide open, stopping down to f/4 eliminates most of it. See a worse case scenario below.
LaCA
Later chromatic aberrations are corrected very well, I could not spot any!
Distortion
There is a very little barrel distortion which can be corrected easily when needed.
Coma
Coma correction isn't great, and stopping down to f/5.6 is needed to get mostly rid of it. As corner resolution wide open is pretty bad stopping down is needed anyway.
Flare resistance
The Canon FD 1.8/50 did not get the S.S.C. coating, the cheaper and less effective S.C. coating was used.
This is clearly visible in the less than mediocre flare resistance. You easily catch large blue/purple ghosts with the sun in the frame and with the sun just outside the frame one can observe significant contrast loss.
Even city lights cause significant ghosting as can be seen in the sunstar section.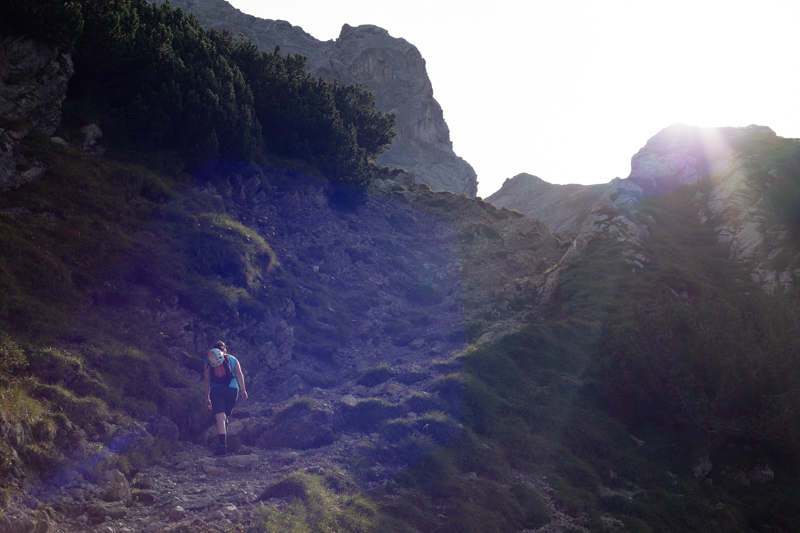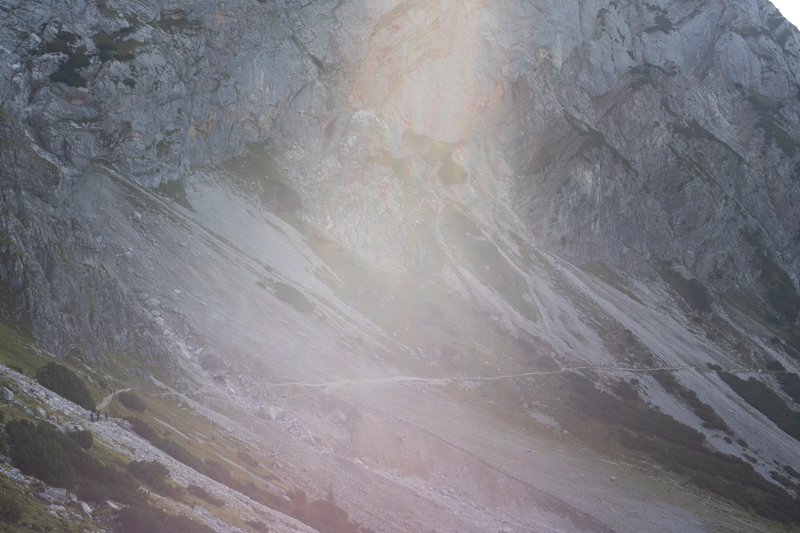 Sunstars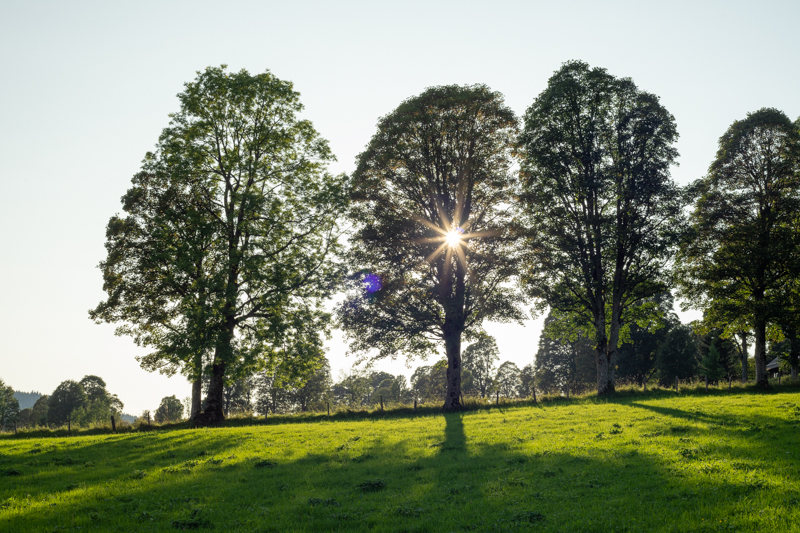 Thanks to the 5 aperture blades one can get quite decent sunstars from f/11. Unfortunately the blades aren't aligned too well and therefore the rays don't all have equal length. Personally I like the rendering of modern Voigtländer lenses with 12 aperture the best, since this is a subjective topic you might want to check out this article.
Alternatives
Minolta 2/55
Sharper with nice bokeh, but also heavier and more expensive. Both lenses are made very well and are a joy to handle. Both are very vulnerable to lens flares.
Sony 1.8/50 FE
A modern alternative with AF, it is also more expensive, build quality is less nice though. The Sony is optically better in most regards. If you depend on AF and your budget is low, this one might be an option.
Sony ZA 1.8/55
Much, much more expensive, but also much better in almost every regard. Bokeh of the Sony ZA is much smoother but you can encounter onionrings from time to time.
Pentacon 1.8/50
Another fifty with very classic bokeh, although the rendering is hard to compare. The Pentacon isa bit nicer to handle. Both are cheap and have very bad flare resistance.
Zeiss Loxia 2/50
Much more expensive with similar nice build quality, maybe even a touch nicer. The Loxia is better in every regard and on of the nicest manual fifties one can get.
Voigtländer APO Lanthar 2/50
The perfect manual focus standard lens. It is much better in every regard and a joy to use. This lens is also much more expensive, if budget is no problem and you are looking for the best corrected fifty for the system get this one.
Canon FD 1.4/50
Heavier and more expensive but with much smoother bokeh. In case your looking for a 50mm lens that won't be used exclusively for landscape photography, the Canon FD 1.4/50 might be the smarter choice.
TTArtisan 1.4/50
A modern manual 50mm lens with very smooth bokeh, its much heavier though. In case you are looking for a nicely built manual 50mm lens with very smooth bokeh and good sharpness, without spending big this might be your lens.
Olympus F.Zuiko Auto-S 1.8/50
A nicely built 50mm lens which is also very light. Optically the Canon performs better, but this one is a joy to work with.
Olympus Zuiko 1.8/50
This version has another optical scheme than the one mentioned above here. This version is a sharper with less distracting bokeh. See our OM guide for more information.
SMC Pentax 50mm f/1.7 or 2.0
These are also very small and light and nicer to handle. They are a bit more expensive though and bokeh also is rather busy.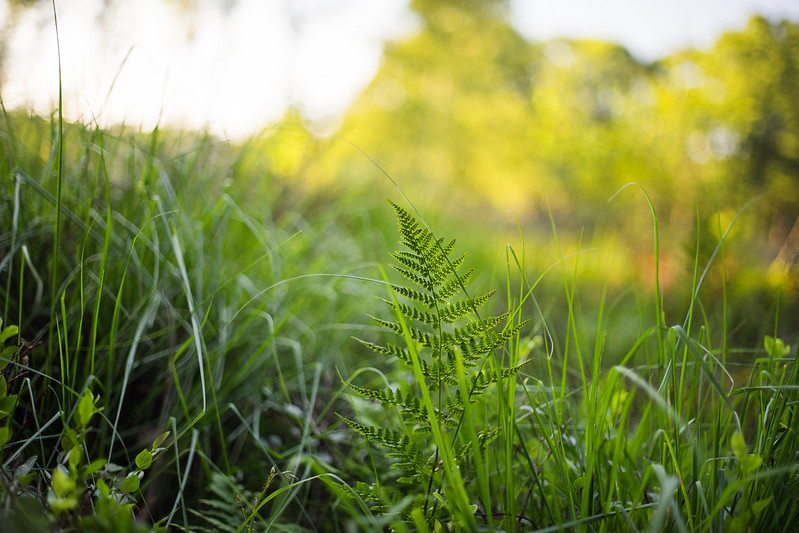 Conclusion & recommendation
Good
Average
Bad

Sharpness at infinity stopped down

Size/weight

Price

Sunstars

LaCA correction

Build quality

LoCA correction

Bokeh at short distances

Sharpness at wider apertures

Sharpness at portrait distances

Bokeh at longer distances

Flare resistance
The Canon newFD 50mm f/1.8 is a very small and light lens that's very sharp when stopped down. Distortion is low and LaCA is virtually absent. However there are some serious flaws which make recommending this lens difficult. Bokeh is very busy already a bit away from MFD, sharpness at typical portrait distances is rather lousy and flare resistance is pretty bad. On top of that handling isn't nearly as nice as one would expect from a manual prime lens from his period.
Therefore I can only recommend this lens in case you are looking for a very light and sharp, yet very  50mm lens for your landscape kit. In case budget and/or weight are less critical to you there are plenty other options which are better optically and more enjoyable to use.
In case you are the one looking for this light and cheap, yet sharp landscape lens, the Canon newFD 50mm f/1.8 is a great budget tool that will deliver decent pictures as long as you step down a bit and avoid direct sun light on the lens.
The lens can be found in decent condition for under €35,- $40 at ebay.de* and ebay.com*
*Affiliate links (If you purchase the lens through one of these affiliate-links we get a small compensation with no additional cost to you.)
Sample images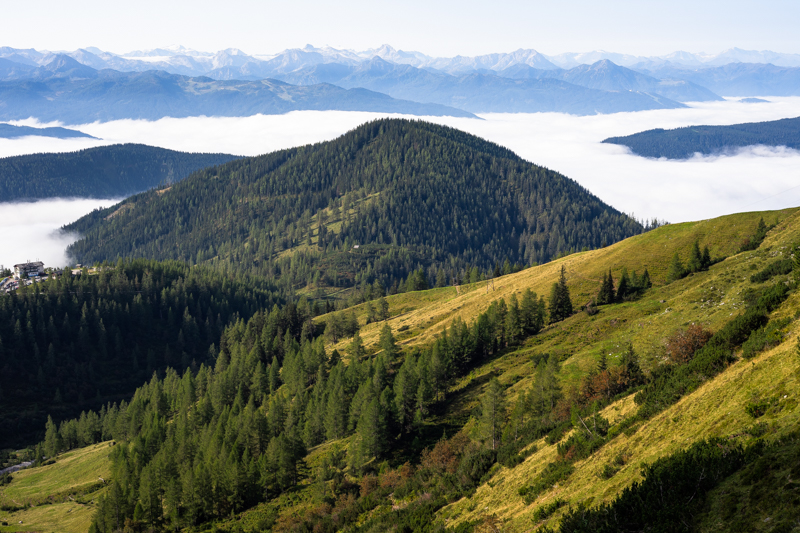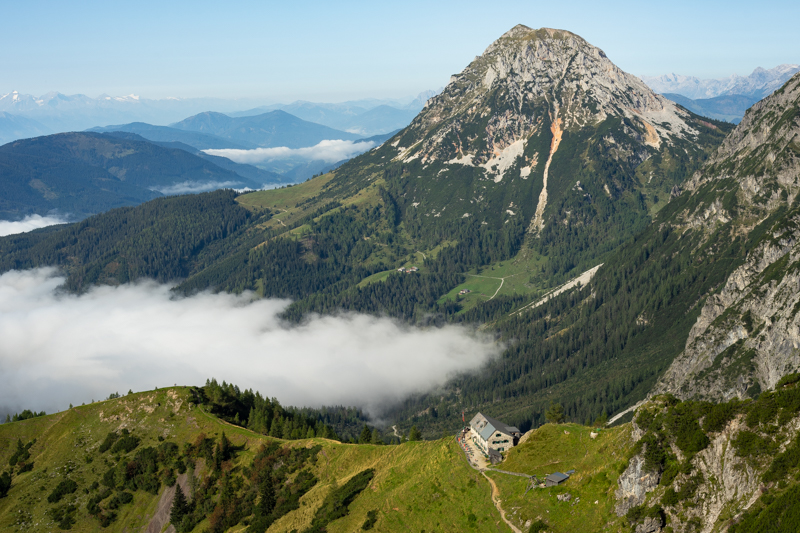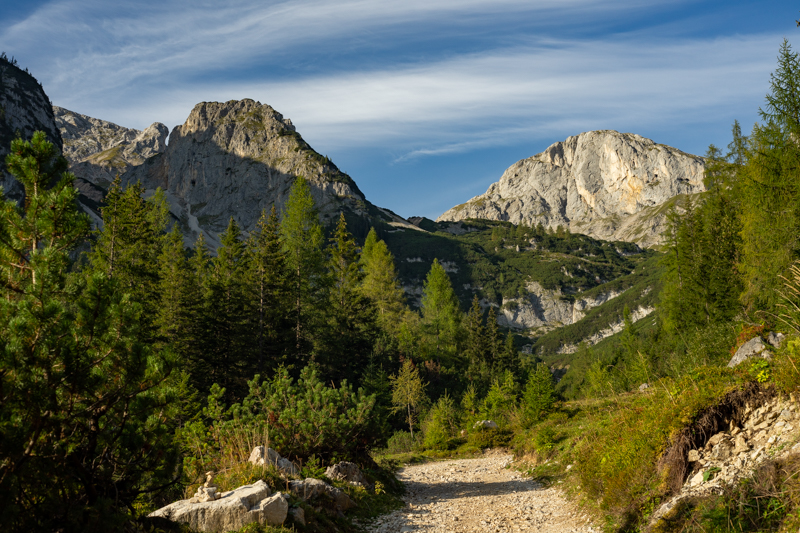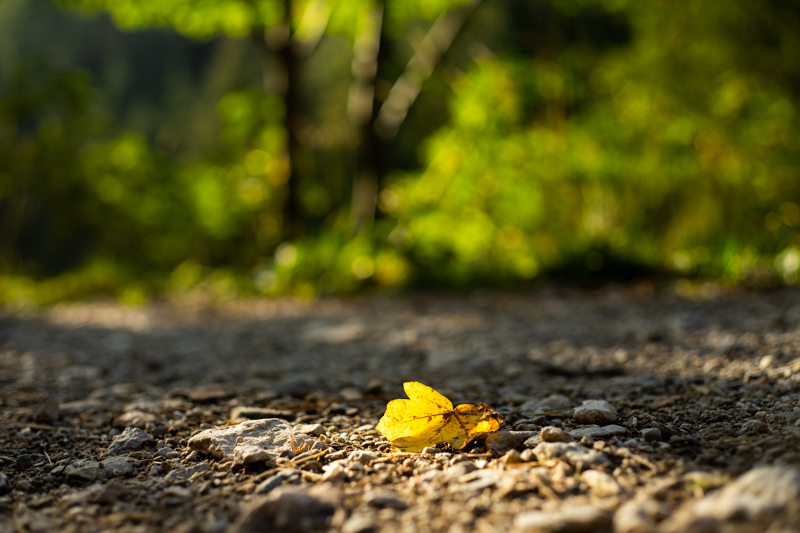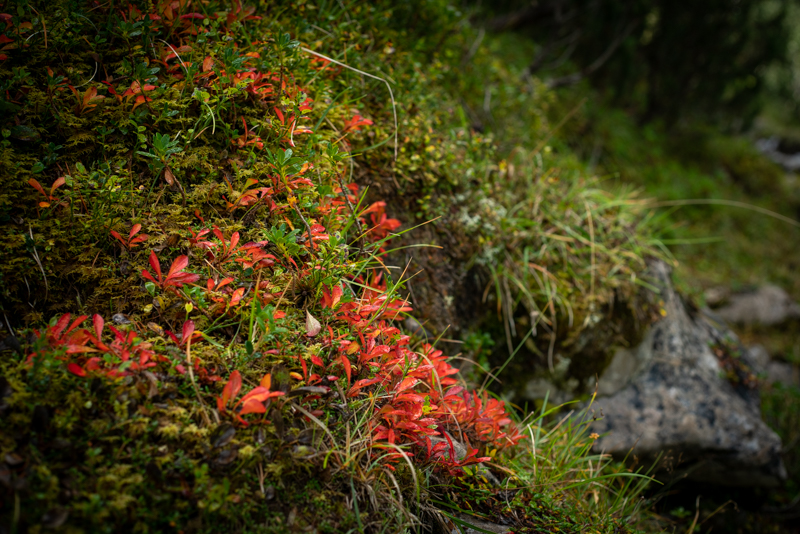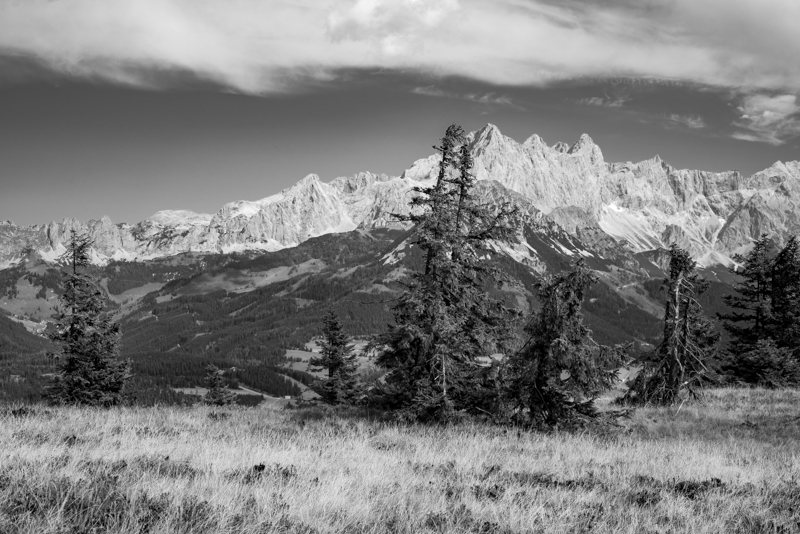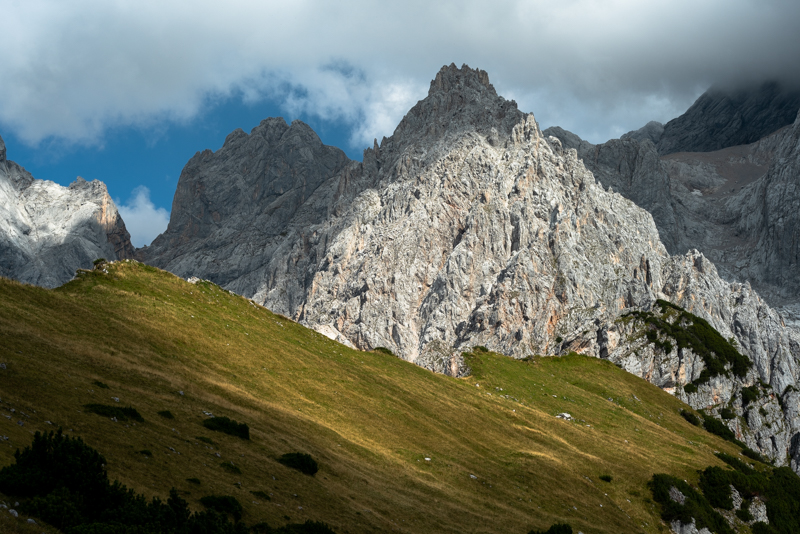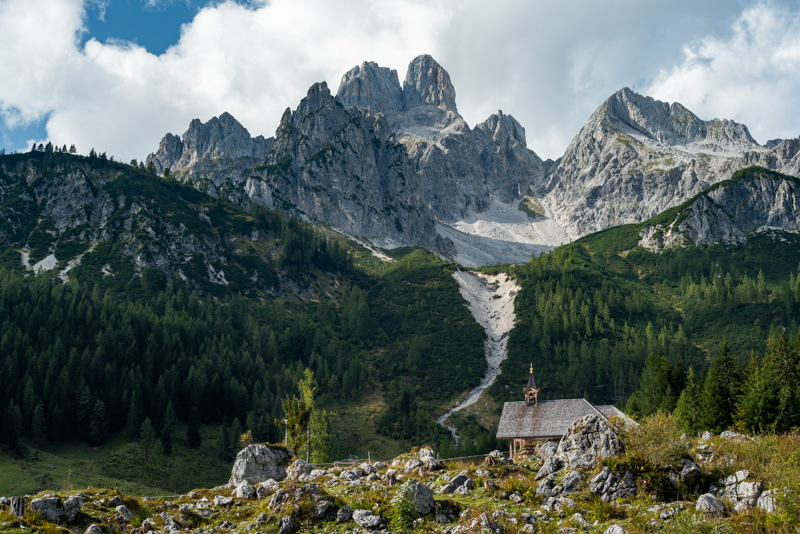 Further reading
The following two tabs change content below.
My name is Juriaan, I am a passionate photographer from the Netherlands. I mainly shoot landscapes and the milkyway and I like to travel through wild landscapes around Europe.