Introduction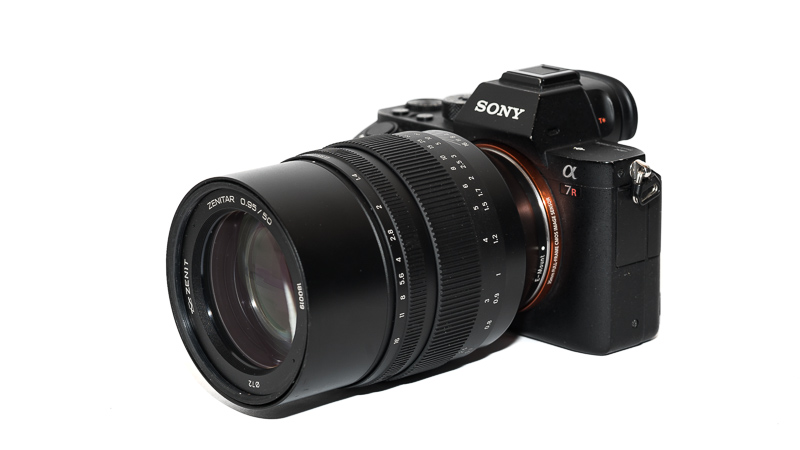 Zenith is mostly famous for still producing decade old designs like the Helios 2/58 and some Kickstarter lenses like the Petzval. But this Zenitar 50mm 0.95 E is a completely new design with staggering specs. But how does it stack up to the Zhong Yi Mitakon 50mm 0.95?
This was supposed to be a full scale review, but unfortunately this lens is so inherently flawed that I decided writing one would be a waste of time, read on to find out why.
Samples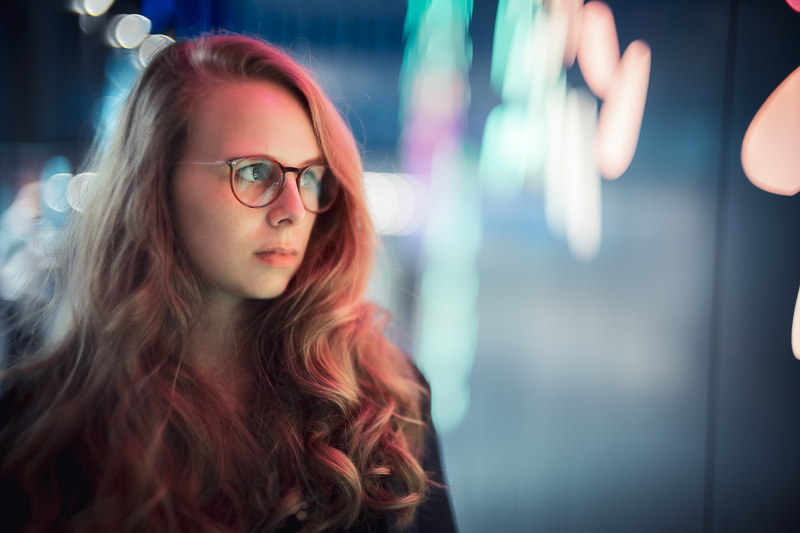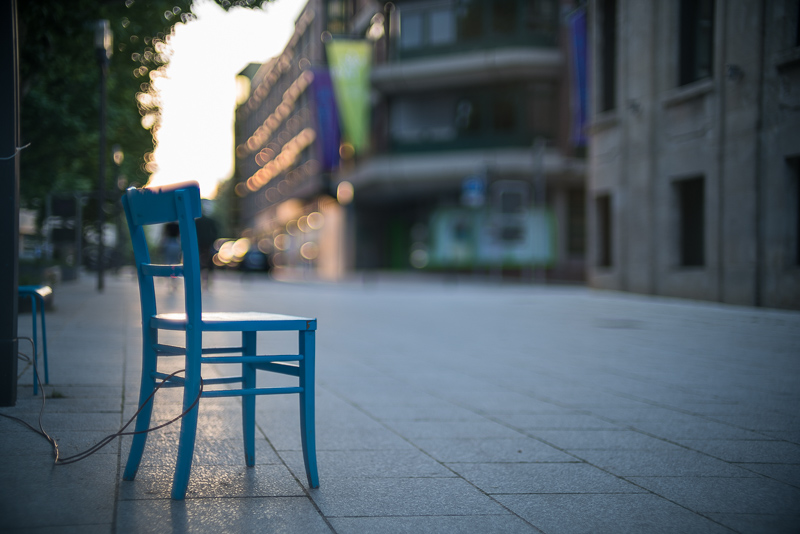 Disclosure
This lens was kindly provided by a reader who bought it directly from Zenith in Russia.
Specifications
Diameter: 85mm
Field of view: 47.5° (diagonally)
Length: 119mm
Weight: 1110g
Filter Diameter: 72mm
Number of Aperture Blades: 14 (rounded untif f/1.2, then inwardly curved)
Elements/Groups: 9/8
Close Focusing Distance: 0.7m
Maximum Magnification: 1:10.8 (measured)
Mount: Sony E
At the time of writing this report the only way to get this lens is to order directly from Zenith in Russia for ~880€ or hoping one shows up on ebay.com/ebay.de (affiliate links)

Build quality / Handling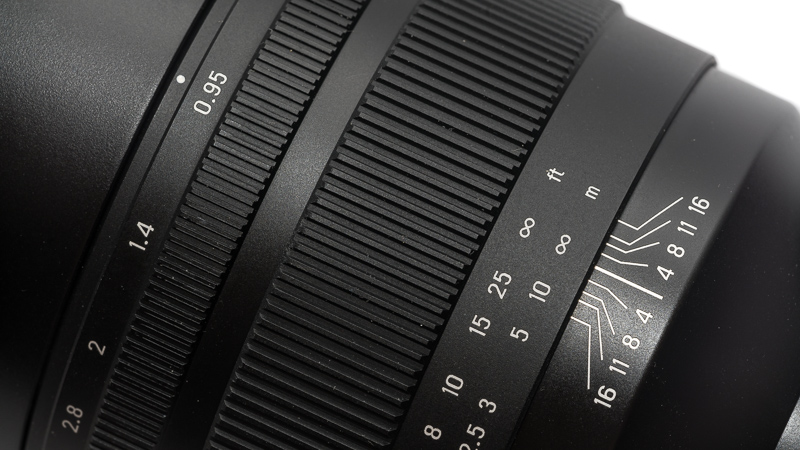 The focus ring has medium resistance and has a scratchy feel towards infinity. It rotates ~120° from the minimum focus distance (0.7 m) to infinity.
The clickless aperture ring has a slight scratchy feel at f/0.95 and is really stiff near f/16.
The Zenitar weighs a hefty 1.11 kg, so I was expecting it to be an all metal construction, but interestingly the aperture and focus ring seem to be made from plastic. Markings are also not engraved but simply painted, I am pretty sure over time they will wear off.
Compared to the Zhong Yi 50mm 0.95 MK II this Zenitar 50mm 0.95 looks really huge, but while the outer diameter is quite big, the front element has only a  diameter of 54mm.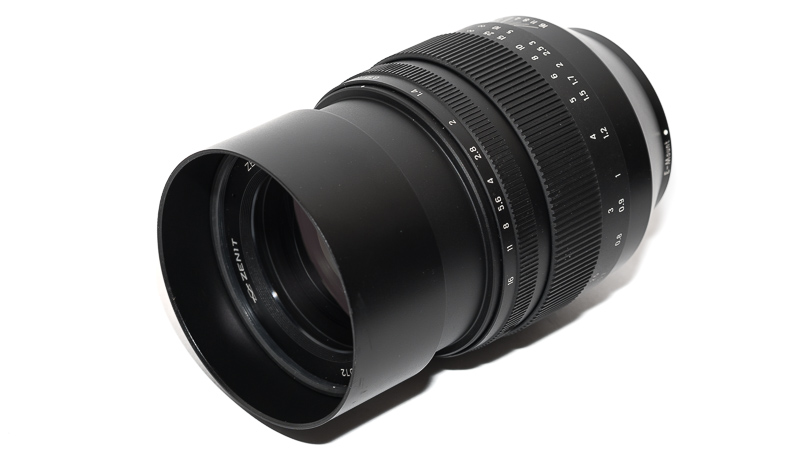 The Zenitar 50mm 0.95 offers a built in retractable hood. I am a huge fan of these in general, but this one is a bit wobbly and the inside is not even matte but rather reflective.
Vignetting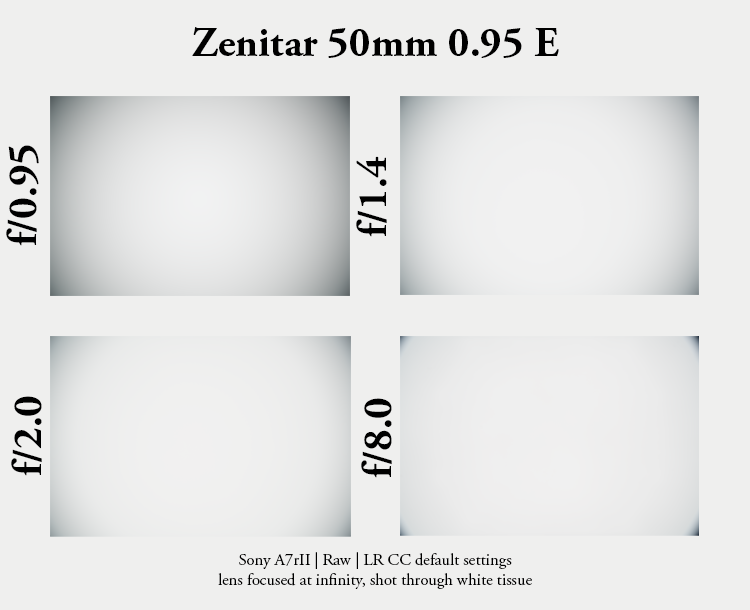 Wide open there is massive vignetting of roughly 3.7 EV in the corners, stopped down to f/1.4 this improves to 2.8 EV, stopped down to f/2.0 it is still 2.5 EV and then – interestingly – gets much worse as you stop down and amounts to a whopping 5 EV at f/8.0. There is no Lightroom profile available for this lens.
As you can see on stopping down you get pitch black corners which looks very distracting in actual pictures: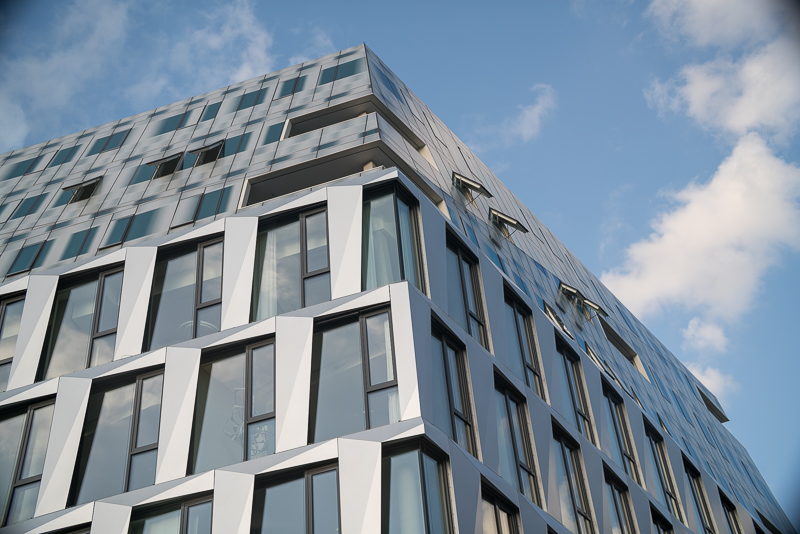 There are two different causes I can think of: either the image circle of the lens is too small or the aperture diaphragm is in the wrong position in the optical path. Neither is good news.
It is recommended to have a look at this article first to get an idea how this brightness graph works.
Sharpness
As most people will be using this lens at portrait distance this is what I will have a closer look at. Furthermore you buy this lens to use it at f/0.95, if you are okay with a slightly slower lens save yourself some trouble and get the Voigtlander 50mm 1.2 E Nokton.
So I will compare it to the Zhong Yi Mitakon 50mm 0.95 E MK II.
Zentiar 50mm 0.95 E <—> Zhong Yi 50mm 0.95 E MK II

100% crops, A7rII
In the center the performance is similar, but the Zhong Yi is slightly contrastier. Differences are much bigger in the midframe area (where I usually put my subject): the Zenitar's contrast is really low here.
You should keep in mind that you are looking at 100% crops from 42mp files. You will rarely see fine details like these, but the contrast does matter.
The Zhong Yi allows to take decent portraits where the subject is in the midframe at f/0.95, with the Zenitar that is almost impossible, especially as focussing is much harder (even more so on higher resolution cameras).
At f/1.4 the image quality of the Zenitar improves noticeably, but why buy a 1.1 kg 50mm 0.95 to use it at f/1.4?
I am also not so sure the lens has actually been optimized for the Sony E-mount filterstack. The field curvature is really massive (similar to the 7Artisans 50mm 1.1 designed for the Leica filterstack).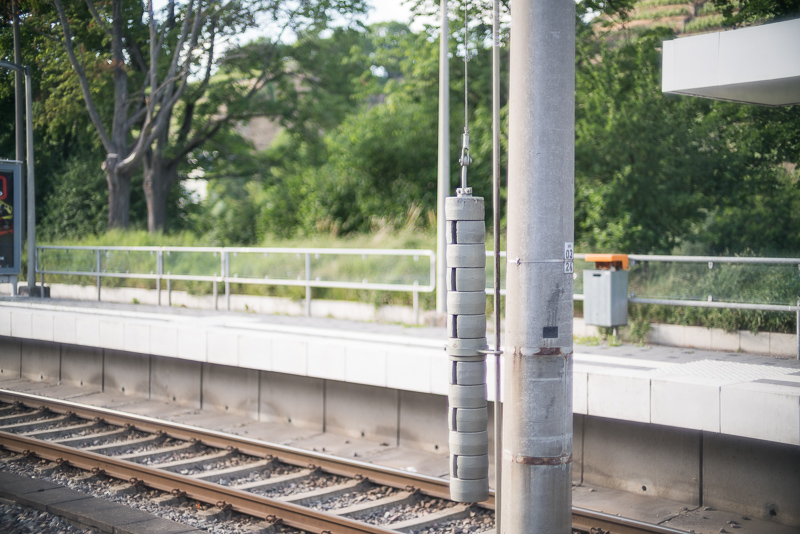 The focus is actually on that pillar in the center. But notice how the top left corner is also in focus, despite being ~30 m behind that pillar?
Flare resistance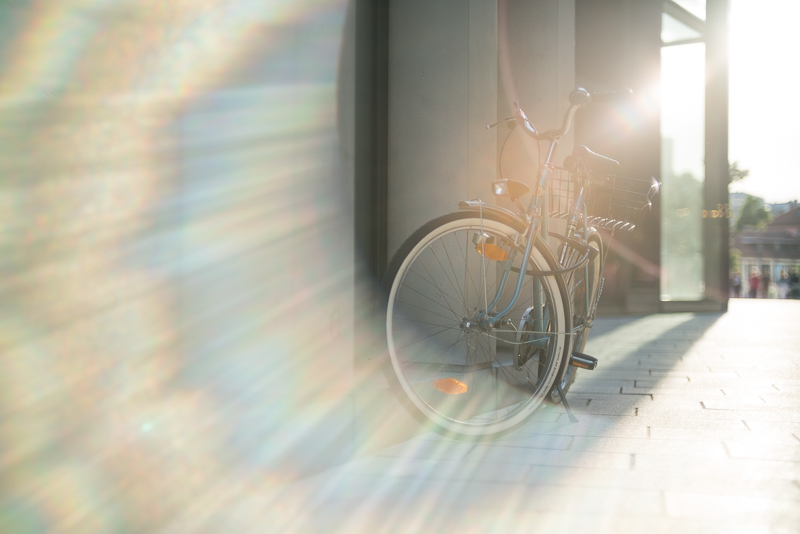 The Zhong Yi Mitakon 50mm 0.95 shows a weak flare resistance, so this is one category where I was hoping to see an improvement. This is not the case, the Zenitar shows even worse flare resistance.
When shooting against the sun wide open you will get frame filling artifacts. The performance slightly improves on stopping down, but there will still be ghosts all over the frame (and you will find having pitch black corners again).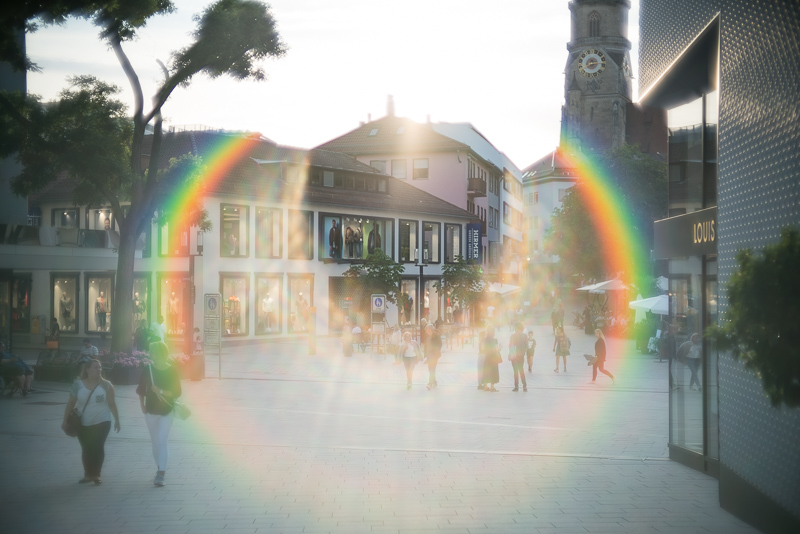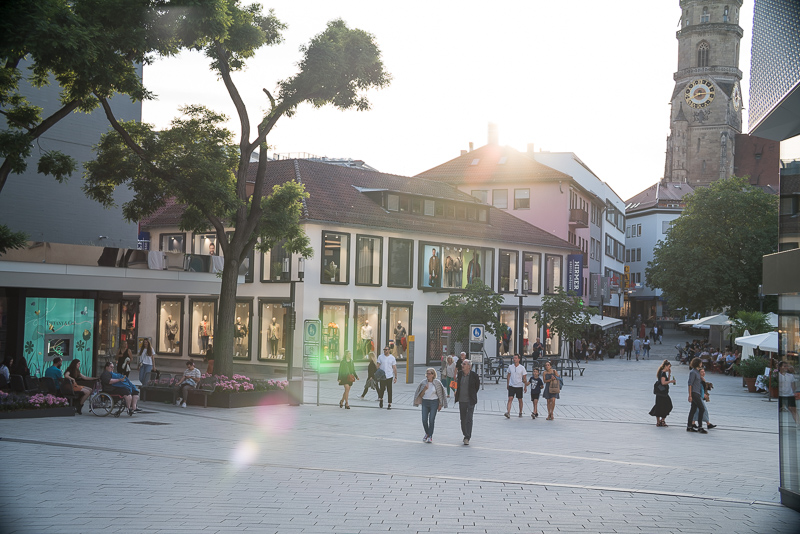 Bokeh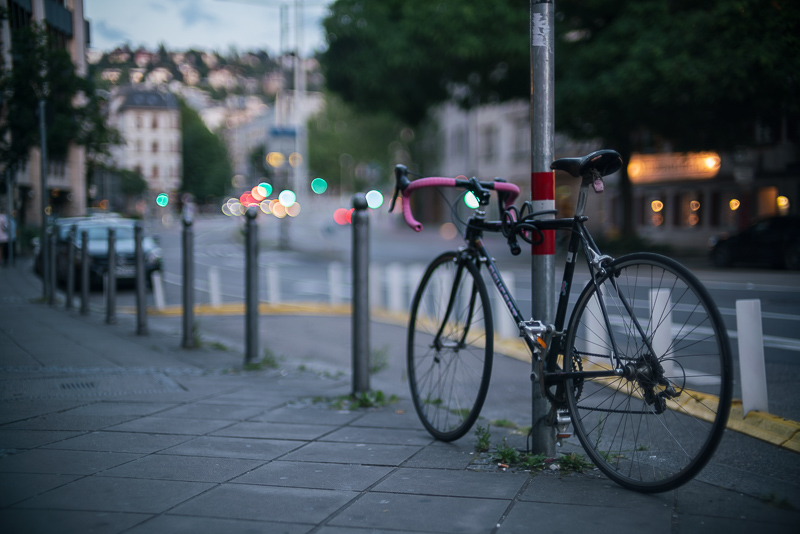 The Zhong Yi Mitakon 50mm 0.95 II (and III) offer very smooth bokeh with even lightspread and very little outlining. The Zenitar is very different with often busy bokeh, looks more comparable to the 7Artisans 50mm 1.1 at times.
Even when focusing on something close to the camera you can see lots of outlining close to the borders.
Focusing on something farther away you will start to notice the high field curvature. At half body distance it is noticeable: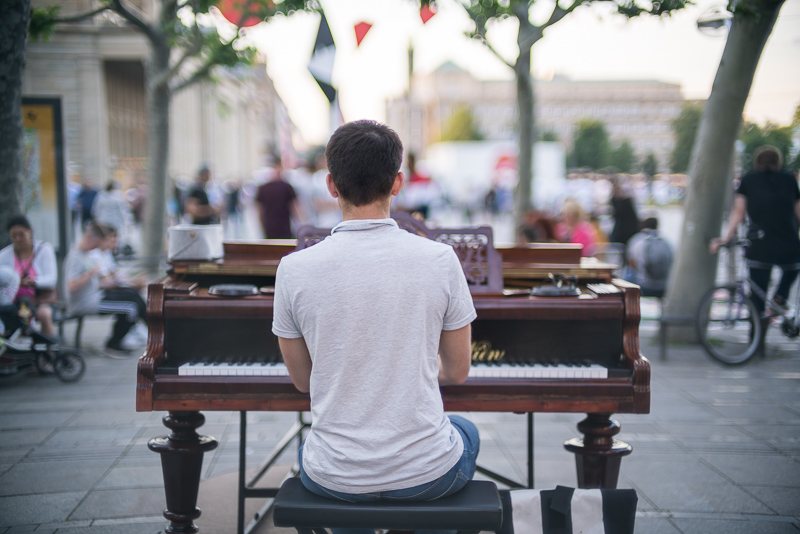 But at full body distance it starts to become really distracting: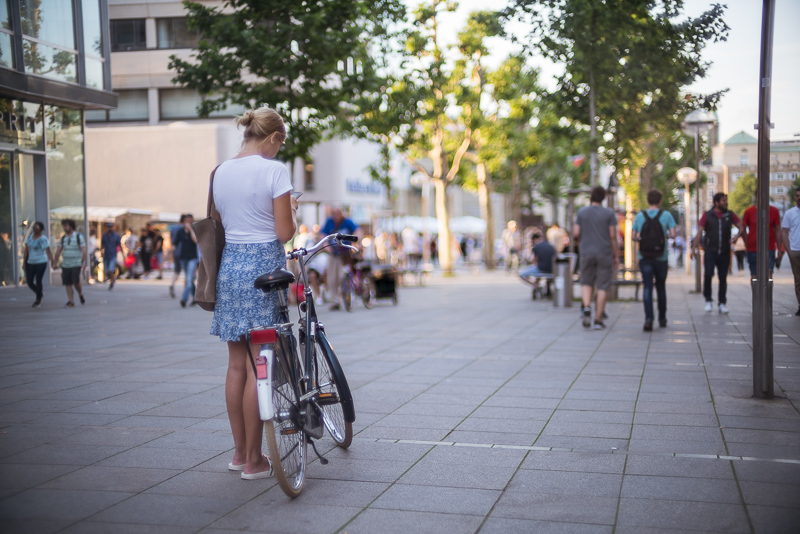 The Zhong Yi Mitakon 50mm 0.95 offers much smoother bokeh rendering which is what I like and the reason I kept it for so long.
If you prefer rather busy bokeh with lots of field curvature it might make sense to have a closer look at the 7Artisans 50mm 1.1, which will do the same thing for much less money and bulk.
Distortion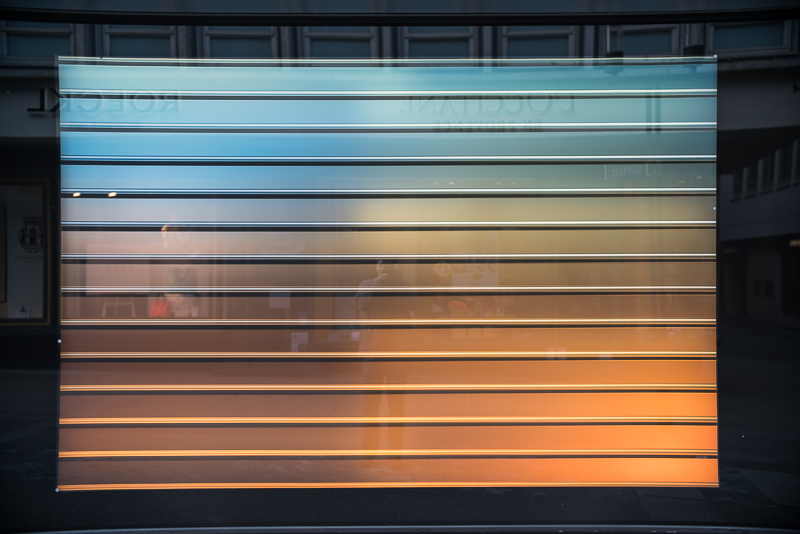 There is unusually high pincushion distortion for a 50mm lens. Dialing in -7 in Photoshop/Lightroom somewhat corrects this but a wavy sub frequency remains.
Impressions
So much is wrong with this lens, I don't even know where to start.
The lens is super heavy, yet the build quality isn't exactly great. Both rings are a bit scratchy with uneven resistance, markings are not engraved, the lens hood is wobbly and reflective on the inside.
Sharpness and contrast at f/0.95 are far from good, especially off center. By f/1.4 the lens starts to show acceptable resolution and contrast, but there are many more reasonable 50mm f/1.4 lenses available that offer the same and more for much less money and bulk.
Distortion is unusually high for a 50mm lens. Astigmatism and coma are both very badly corrected. You get completely black corners when stopping the lens down and flare resistance at wider apertures is the worst I have ever seen.
Now all those things may still be acceptable for some, if the only alternative was the Leica Noctilux 50mm 0.95 costing 10 grand. But that is not the case. We have the Zhong Yi Mitakon 50mm 0.95 MKII and MKIII. Both lenses are optically superior, seem to have actually been designed for E-mount cameras and at the same time they are much smaller and lighter and not even more expensive.
In my opinion there is absolutely no reason to get this lens. You have been warned.
Rather have a look at one of the following lenses:
Zhong Yi Mitakon 50mm 0.95 MK II, MK III or Voigtlander 50mm 1.2 Nokton E if you want smooth bokeh rendering or 7artisans 50mm 1.1 if you want that busy bokeh wide open with very high field curvature.
At the time of writing this report the only way to get this lens is to order directly from Zenith in Russia for ~880€ or hoping one shows up on ebay.com/ebay.de (affiliate links)
Samples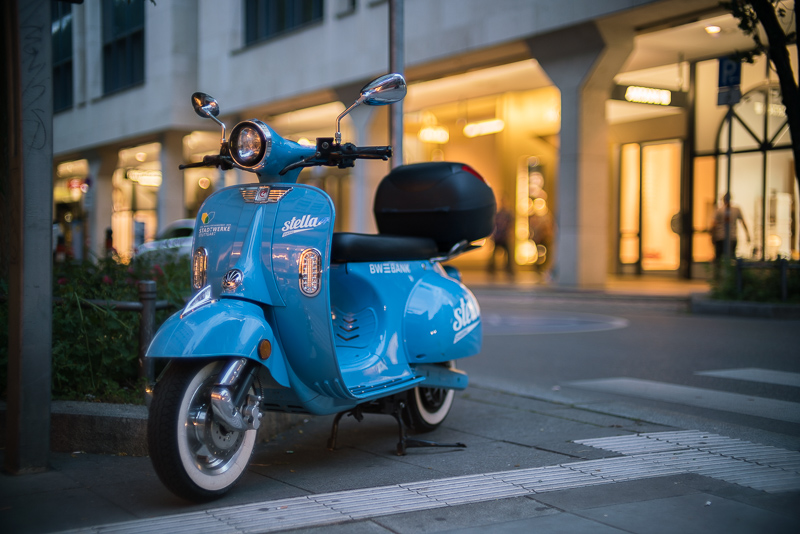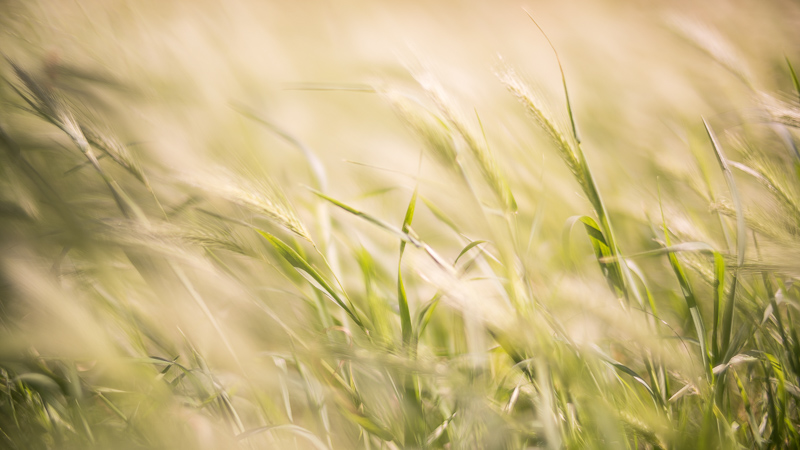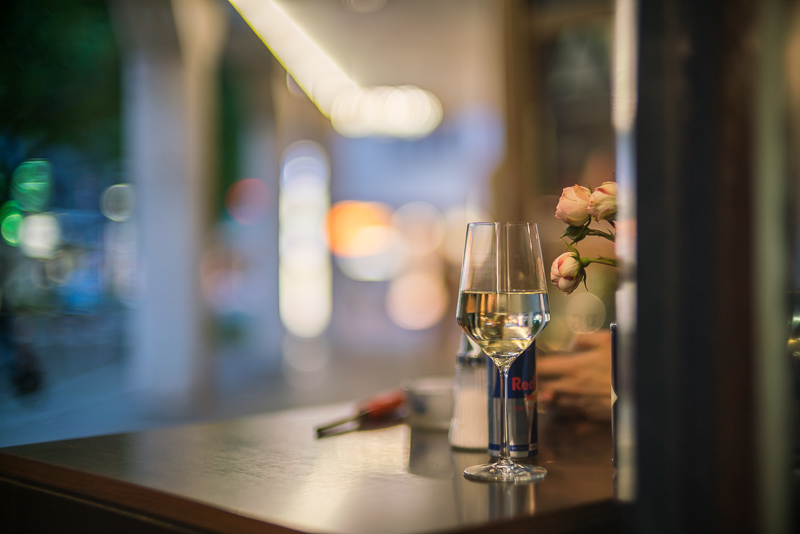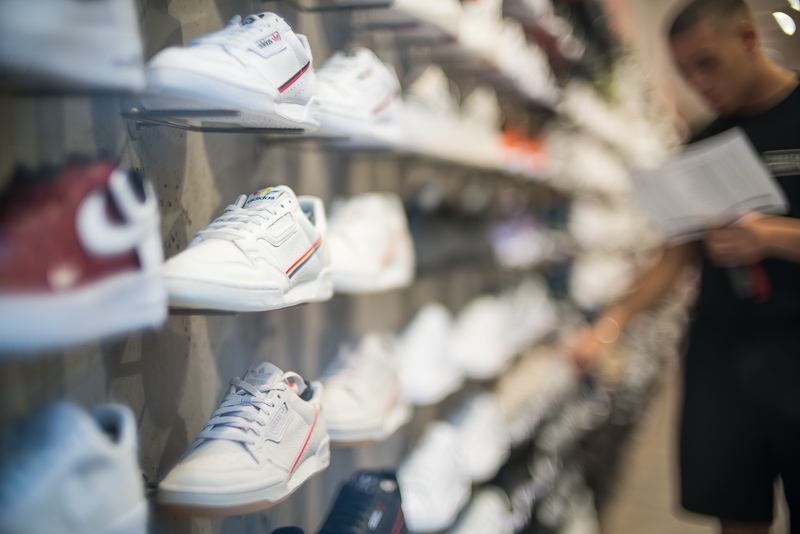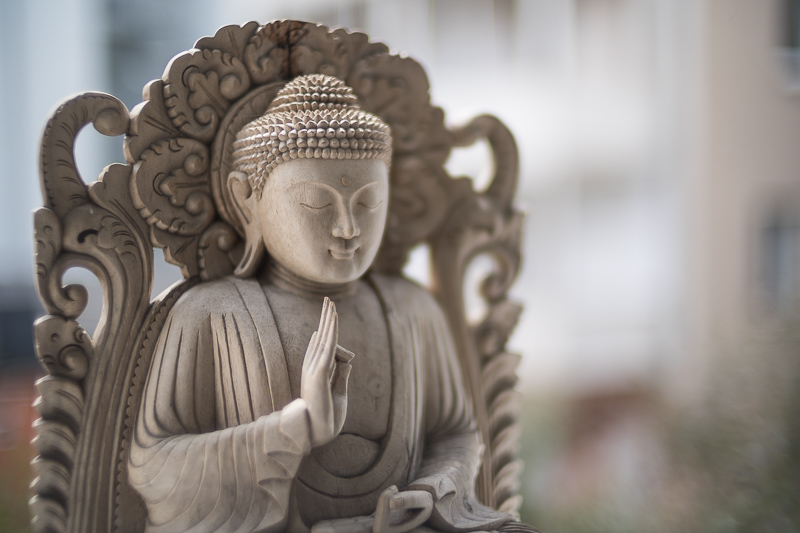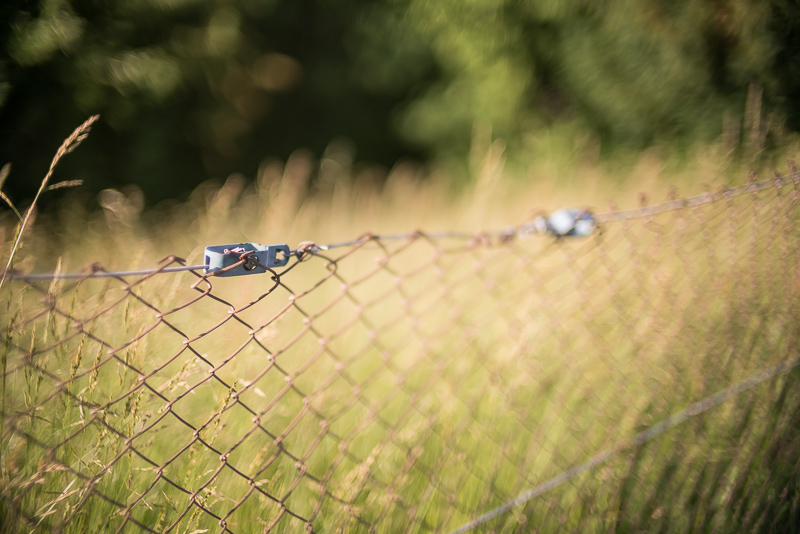 Further Reading
Support Us
Did you find this article useful or just liked reading it? Treat us to a coffee!


via Paypal
The following two tabs change content below.
My name is Bastian and I am your expert here when it comes to ultra wide angle lenses, super fast portrait lenses (ranging from a 50mm f/0.95 to a 200mm f/1.8) and I also have reviewed way too many 35mm lenses. Don't ask me anything about macro or wildlife shooting though.