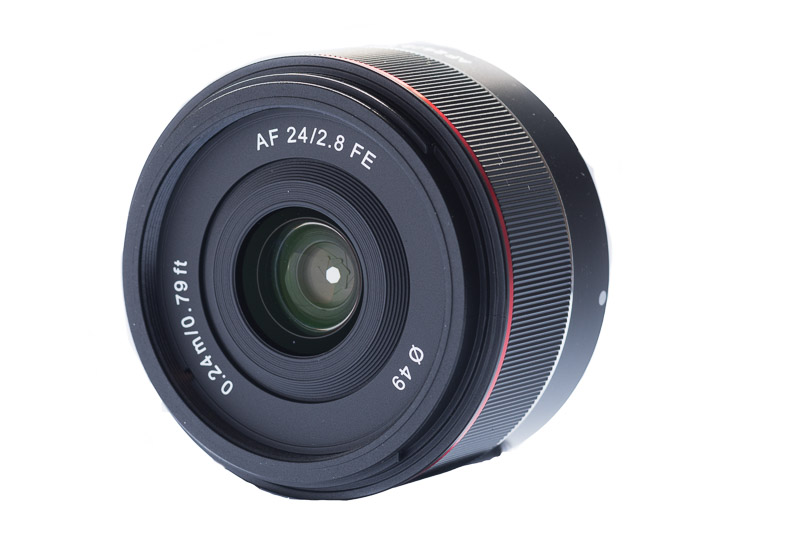 In my review of the  Samyang AF 24mm f/2.8 FE I tell you why I think that Samyang has made a few compromises too many in order to keep it small.
Sample Images
Most images in this review can be found in full resolution here.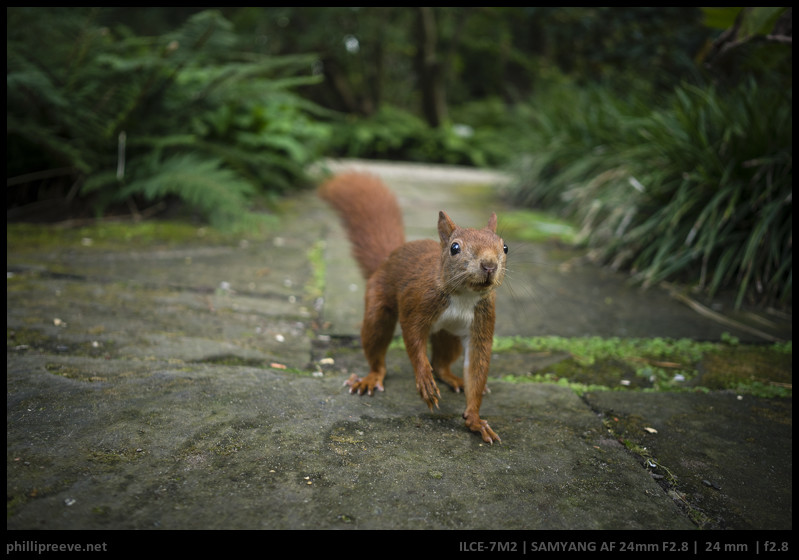 Specifications
| | |
| --- | --- |
| Diameter | 61 mm |
| Length | 37 mm |
| Filter Thread | 49 mm |
| Weight | 93 g |
| Max. Magnification | 1:6.4 |
| Close Focusing Distance from the sensor | 0.20 m |
| Number of aperture blades | 9 (rounded) |
| Elements/ Groups | 7/7 |
The Samyang 2.8/24 sells for $279 at amazon.com or B&H and for 299€ at amazon.de (affiliate links). If you purchase the lens through one of these affiliate-links I get a small compensation with no additional cost to you. 
Build Quality
The Samyang has a metal mount but I think it is of less durable aluminium. The rest of the lens is made from plastics. The focusing ring is wide enough but doesn't feel as smooth as that of most Sony FE lenses.
The lens hood is a bit flimsy, rather thin and cheap plastic. It is the right size to protect the front element from most damages but too small to really have any effect on the flare resistance.
In general the Samyang 2.8/24 feels a little cheap. Not as cheap as your typical $99 kit lens but Sony's more affordable lenses feel nicer.
Samyang lenses have a reputation for failing more often and having higher variance than most competitor's lenses. We certainly have had our share of bad copies from them (more than half). There is no public data on the newer AF-lenses but according to a trusted source they haven't improved in this aspect. I think this is one reason why Samyang can offer their lenses at very competitive prices. This issue is in part offset by the generous warranties of up to 5 years.
Size,Weight and Handling
The 93g Samyang is a very small lens which makes the small FE 2/28 look big. Only Smayang's own 2.8/35 is smaller and lighter.
The size is the Samyang's most important quality. If your focus is on a very light and small kit then there is no real alternative to the  tiny 2.8/24.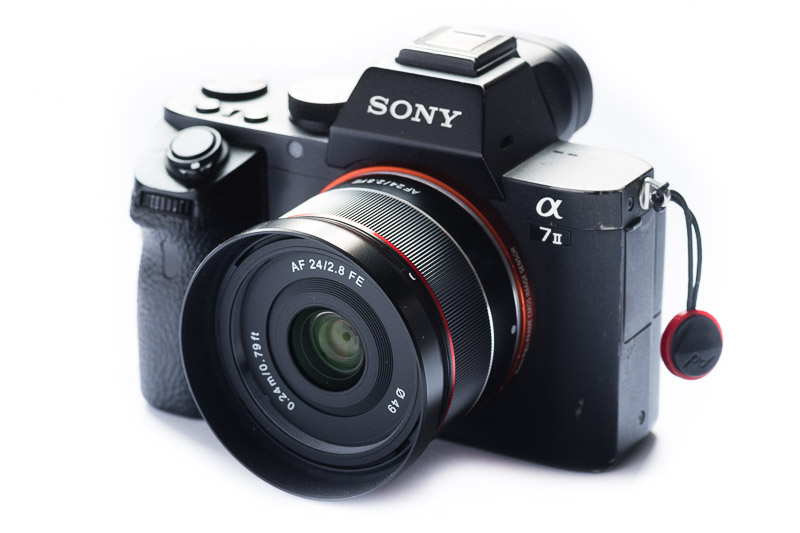 Manual Focus
As mentioned before the focusing ring feels ok with a little high resistance and a hard to describe lack of smoothness. I have used worse, but again every Sony lens has a nicer feeling focusing ring. As every other E-mount AF lens the focus is by wire but at least it does not depend on the speed with which you turn the focus ring. The focus throw is short at about 80 degrees. All in all a below average performance.
Autofocus
I used the Samyang 2.8/24 on the older a7II with a rather dated AF module. Usually it is a bit slow but reliable. Not so with the Samyang: I had higher number of misfocused images than I would have expected or had I used my FE 2/28 or FE 4/16-35. I didn't investigate this further with another camera but it made me enjoy the Samyang even less.
AF is mostly quiet but at times you hear a scraping noise.
Optical performance
The Samyang has a narrower field of view than my other 24mm lenses so it is more like a true 25mm or 26 mm lens.
Bokeh
Out of focus highlights are rendered quite smoothly by the Samyang 2.8/24 but there are distinctive onion rings in some scenarios as well as significant bokeh fringing.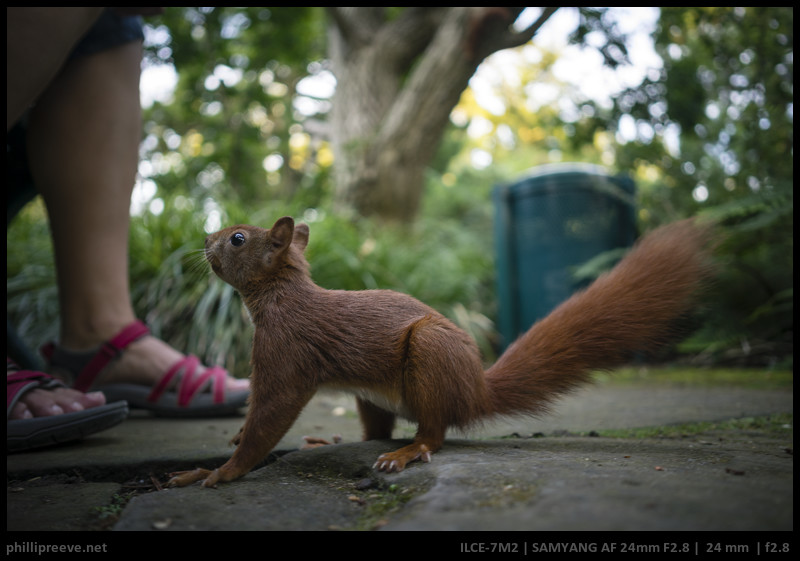 Scenario 1: Close Distance with demanding background
Scenario 2: Close focus, less demanding background
Scenario 3: Medium distance focus, demanding background
Scenario 4: long Distance with demanding Background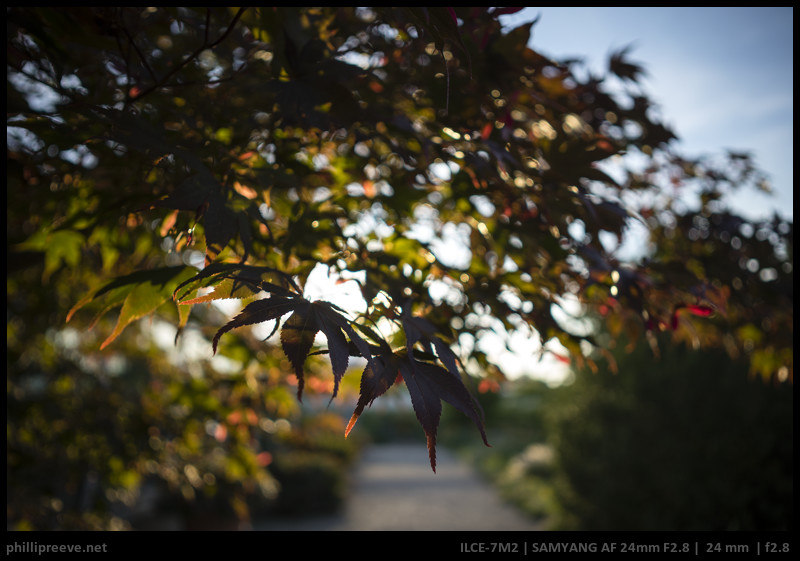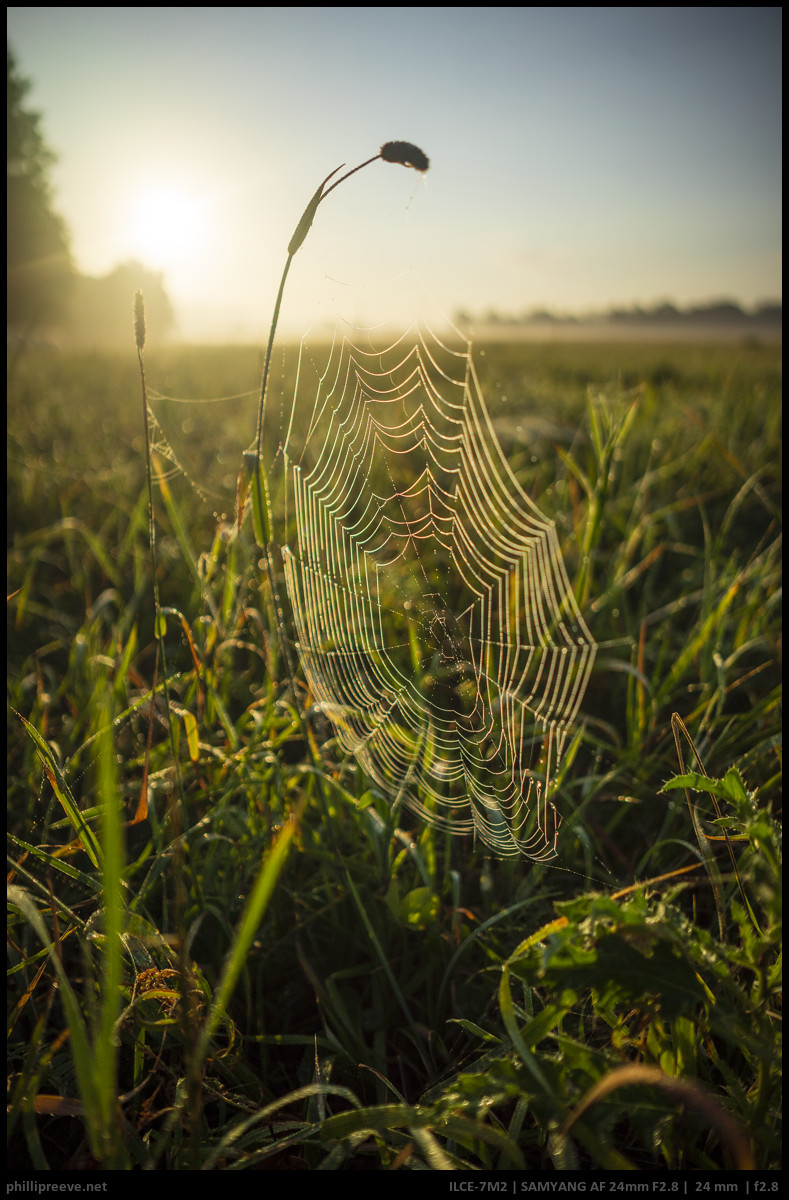 So for a wideangle bokeh is good in most scenarios but there are some scenarios where it gives less than ideal results.
Flare resistance
The Samyang's flare resistance is below average by modern standards. There is very little ghosting but veiling flare is an issue in more demanding scenarios. I would rate it better than almost any legacy 24mm lens but on par with the FE 4/16-35. I took quite a few images where veiling flare resistance was a real issue and I find this to be pretty limiting for landscape photography.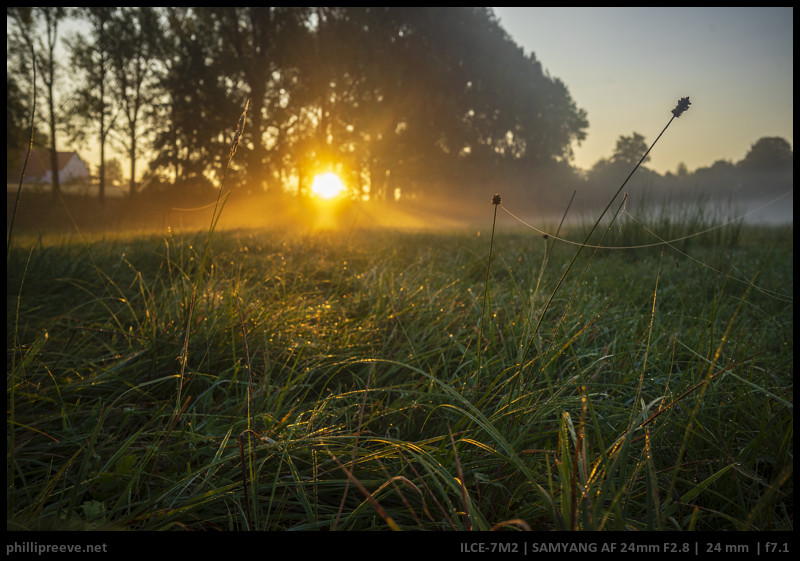 Vignetting
At 3.3 stops wide open the Samyang set a new record for any lens I have tested so far. This means that the extreme corners are basically at f/9 when the lens is used wide open. Numbers improve a little as you stop down but the remain close to two stops.
This is easily corrected but it costs some time and increases noise in the corners.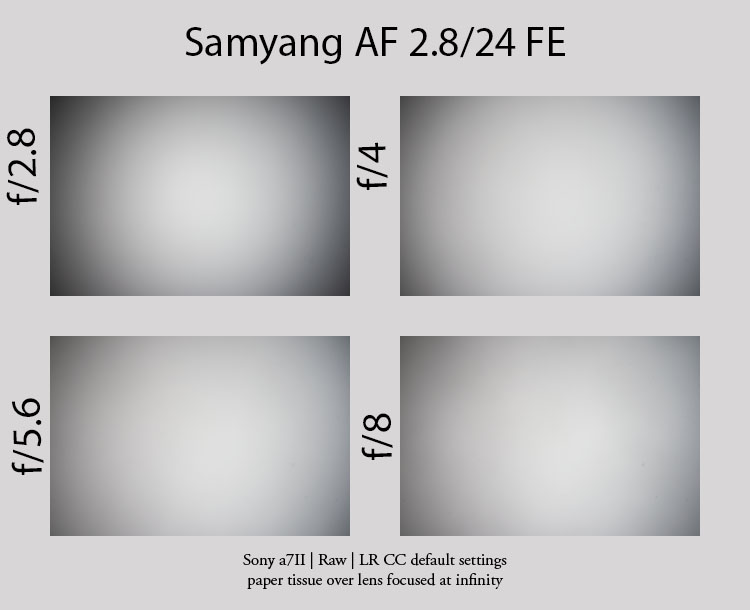 | | |
| --- | --- |
| Aperture | Vignetting |
| f/2.8 | 3.3 EV |
| f/4 | 2.5 EV |
| f/5.6 | 2.1 EV |
| f/8 | 1.9 EV |
| f/11 | 1.9 EV |
Distortion
The Samyang 2.8/24 displays pretty complex distortion which can't be easily corrected by manual adjustments. -4 in LR gave the best results but visible distortion remains. At the time when I write this review (9/2018) the is no profile available in LR but this might change in the future.
before: no correction. after: -4 correction.
Sunstars
Since the Samyang has 9 rouneded aperture blades you get fuzzy 18-pointed stars at most apertures. At f/16 they are somewhat defined by won't excite anyone.
Sharpness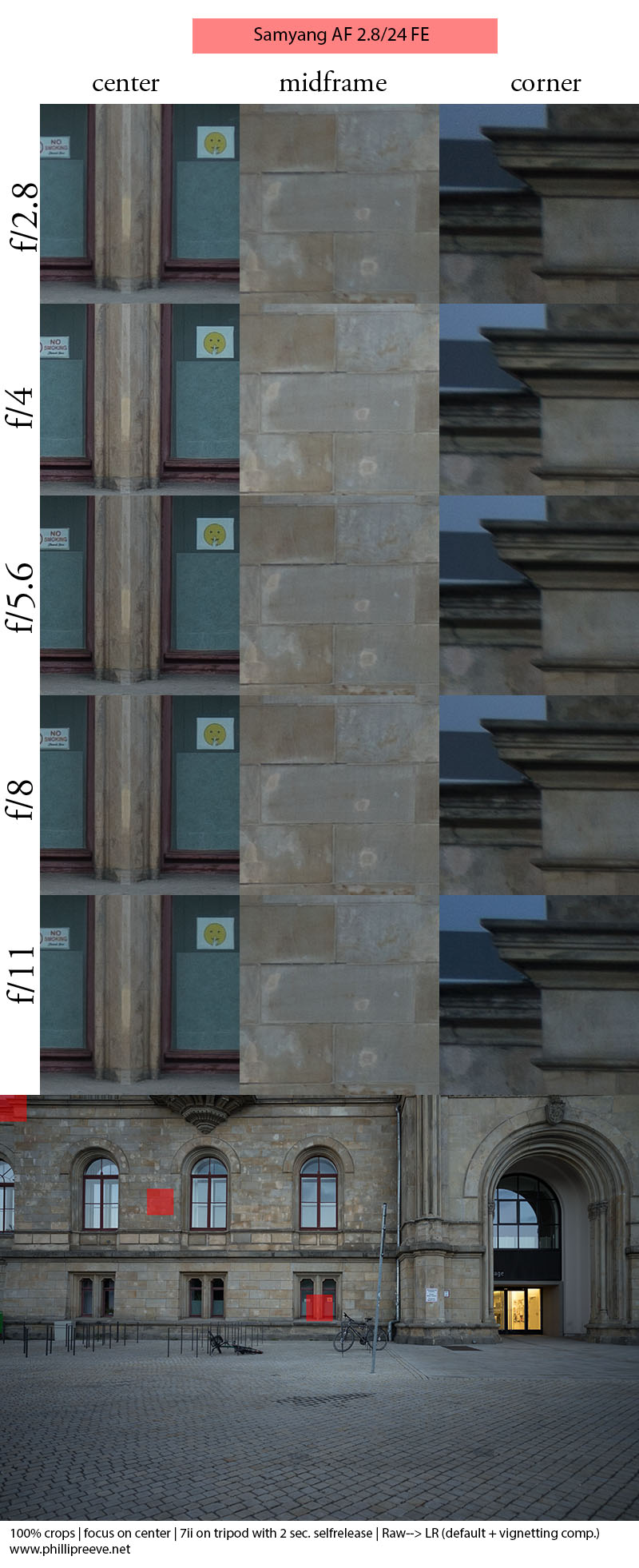 f/2.8:Good sharpness in the center, okayish midframe and softish corners..
f/4: Very sharp in the center, good in the midframe area und still softish corners.
f/5.6: Very good across most of the frame but the corners remain somewhat soft.
f/8: Corners are okay now.
f/11: Corners improve a little while the center is a tad softer.
Not a very impressive performance. The Samyang 24/2.8 FE is sharp enough for many applications but almost any competing lens is sharper.
Compared to other lenses
Voigtlander 3.5/21: The Voigtlander is also a very small lens but it weights and costs twice as much. I think it is a more attractive lens since it overcomes all the Samyang's weaknesses except the strong vignetting.
The Sony FE 4/16-35 ZA is about five times as big and heavy and about three times as expensive. It is also a little sharper and much more versatile because of the larger zoom range.
Legacy 2.8/24 lenses. I compared the Samyang to the Minolta MD 2.8/24 (plan MD) which is one of the better classic 24mm lenses. I found the sharpness pretty similar (at f/8). The Samyang has better flare resistance, smoother bokeh and is much smaller AF while the Minolta is more affordable and more enjoyable to handle.
Zeiss Loxia 2.4/25: The half a stop faster, four times as heavy and much more expensive Loxia is of course the technically better lens. It is a lot sharper. From f/2.4 it is sharper across the frame than the Samyang ever gets. In regards to CA, contrast, flare resistance and sunstars the Loxia is also superior. So if you take your landscape photography serious go for the Loxia.
Zeiss Batis 2/25: A tiny little bit little weaker than the Loxia but bulkier and with AF it also runs circles around the Samyang.
Sony FE 2/28: The not much more expensive Sony weights 200g which is twice as much but very little overall. It outperforms the Samyang in any aspect but distortion and is a stop faster. Unlike with the Samyang I found the AF to be very reliable. So unless you put a lot of emphasis on small size I would always recommend the Sony over the Samyang. It is also a little wider than 28mm so rather close in focal length.
Conclusion
pros

Small Size

Price

Bokeh (most of the time)

average
cons

Flare resistance

Complex Distortion

Very strong Vignetting

Unreliable AF (at least on a7II)
Every lens is a compromise between performance, price and size. The Samyang AF 2.8/24 FE puts a very small size and relatively low price over performance. and I would like to offer two points of view here.
If small size and low price are important to you the Samyang could be a very good fit: It is one of the smallest and most affordable E-mount lenses available and offers a good performance in most settings. I would prefer it over almost any legacy 24 mm lens which would perform worse overall and be much larger.
If on the other hand performance is very important to you then most alternatives will perform better the Samyang 2.8/24 needs to be stopped down to f/8 to deliver a sharp image and it retains very strong vignetting at these apertures. Even more annoying can be the the below average flare resistance which is very relevant for a wideangle lens.
Personally I didn't warm to the Samyang AF 2.8/24. While appreciate the very small size and low price they come with a few compromises too many but I can see some appeal for very price and/or size minded photographers.
The Samyang 2.8/24 sells for $279 at amazon.com or B&H and for 299€ at amazon.de (affiliate links).
If this review was helpful to you, please consider using one of my affiliate links. I will receive a small commission on your purchase and there is no added cost to you. Thanks 
More Sample Images
The following two tabs change content below.
I have two hobbies: Photography and photographic gear. Both are related only to a small degree.
Latest posts by Phillip Reeve (see all)