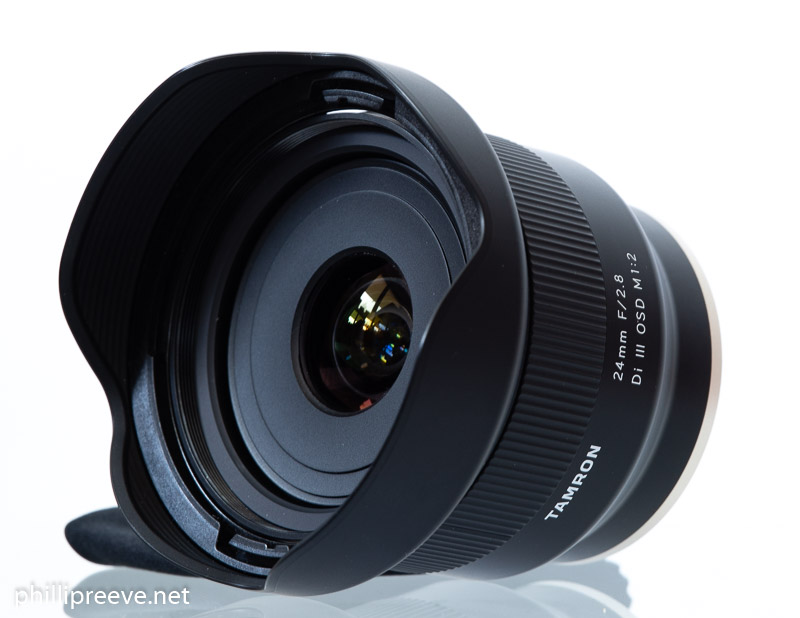 After the success of their compact and affordable f/2.8 zooms Tamron has released a pair of f/2.8 primes: A 2.8/24 and 2.8/35. In this review I check, if the 2.8/24 is another big hit.
Tamron 24mm f/2.8 Di III OSD M1:2 Review
Most images in this review can be found in full resolution here.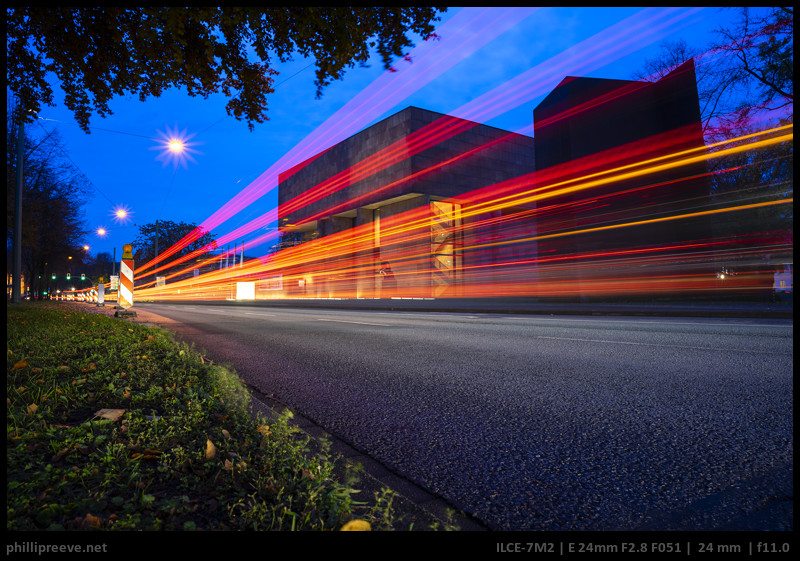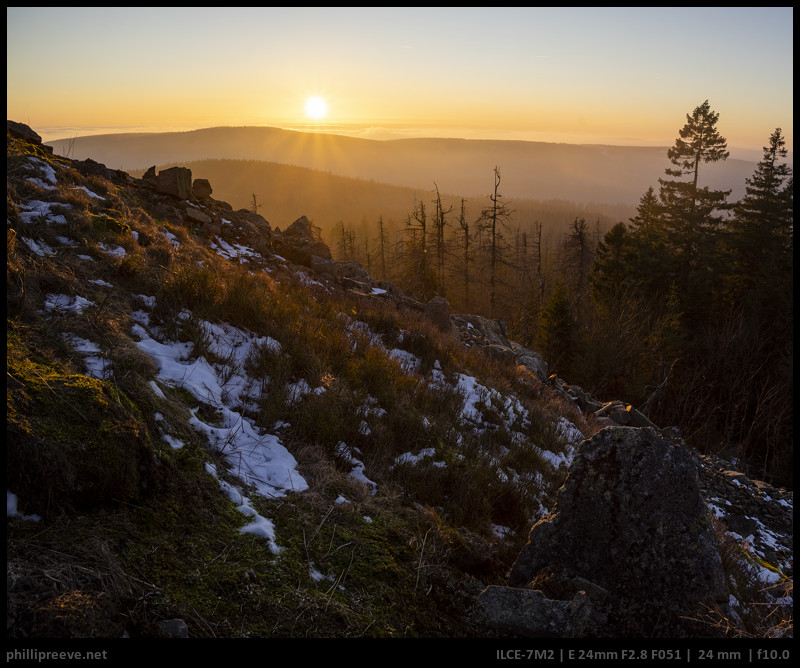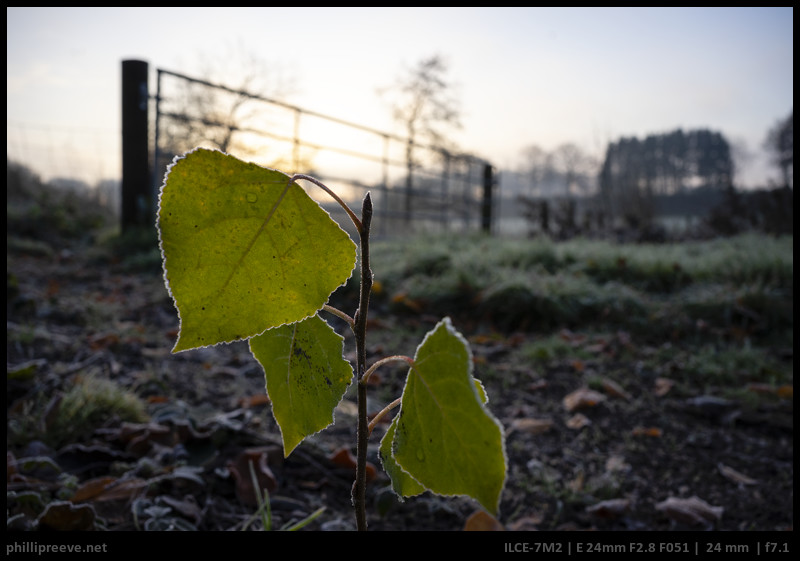 Specifications
| | |
| --- | --- |
| Diameter | 73 mm |
| Length | 64 mm |
| Filter Thread | 67 mm |
| Weight (no hood, no caps) | 215 g |
| Max. Magnification | 0.5 |
| Close Focusing Distance from the sensor | 12 cm |
| Number of aperture blades | 9 |
| Elements/ Groups | 10/9 |
| Mount | E-mount |
The Tamron 2.8/24 has a recommended price of $349. Check current prices at amazon.com, B&H or ebay.com. In Germany the recommended price is 429 €. Check at amazon.de.
If you purchase the lens through one of these affiliate-links I get a small compensation with no additional cost to you.

Disclosure
This copy was loaned to me free of charge from Tamron Germany for a few weeks. 
Features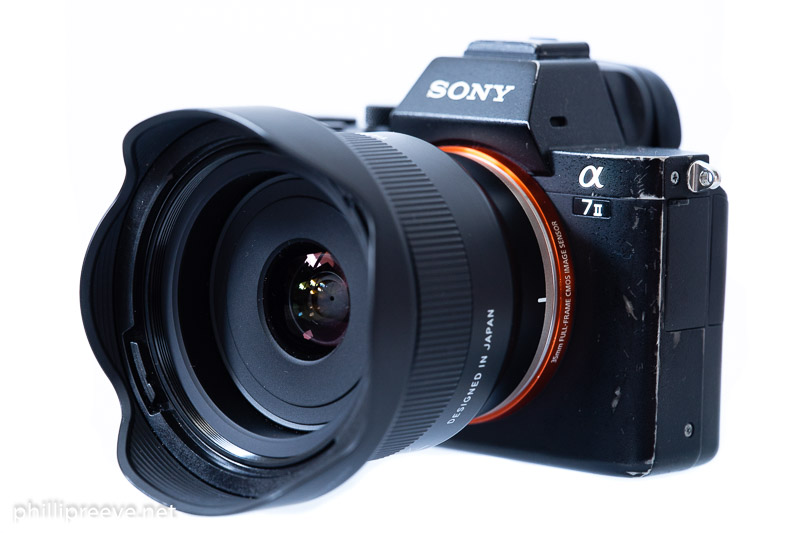 The Tamron's biggest feature is its unusual close focusing ability. With a close focusing distance of 12 cm it reaches a magnification of 1:2 which is a unique feature for a 24mm lens.
Beyond that there are no features to mention. It has no buttons and switches.
Build quality
The Tamron 24mm f/2.8 feels solid enough. The outer hull is made from plastics with a metal mount. The rubberized focus ring is easy to grip and resistance is on the low side.
Tamron claims "moisture resistance" and the Tamron 24mm f/2.8 has a rubber gasket. As always I can't tell how much these claims are worth.
I would say the Tamron feels a little nicer than Sony's cheapest lenses like the 1.8/50 but not by much.
Handling
AF
I used the Tamron 24mm f/2.8 only on my a7II wich is a much slower focusing camera than the a7III and Sony's other new models. AF was ok but a little on the slow side. One reason might be that focus isn't internally but the front group moves about 6mm. AF isn't noisy but can be heard in video.
Manual Focus
Manual focus is non linear, focus angle depends also on the speed with which you turn the focus ring. Like most I think that this behavior makes focusing manually harder. Another issue is that sometimes the focus change isn't continuous but happens in jumps. Add the small lag experienced with all focus by wire lenses and overall I found the Tamron to be harder to focus manually than most other E-mount lenses.
Hood
The Tamron 2.8/24's hood is made from plastics, locks safely into place and protects the front of the lens well but adds quite a bit to the already large diameter of the lens.
Size and Weight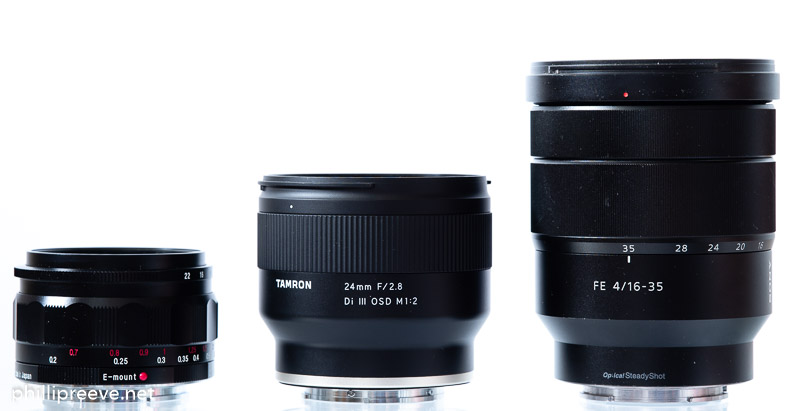 At just 215g the Tamron 24mm f/2.8 is one of the lightest E-mount lenses so one would expect it to be one of the smallest as well but it isn't because Tamron decided to use a 67mm filter thread like their existing zoom lenses. Overall size is still quite moderate but the Tamron won't make those happy who want to keep their kit as small as possible.
Optical performance
These results are based on the use with a Sony Alpha 7II.
Flare Resistance
As always evaluating flare is a complex matter since you can get any lens to look bad if you push it hard enough and a slight change of scenario will affect results a lot.
I would rate the Tamron 2.8/24's flare resistance as good. There is a very small ghost and minor veiling flare but overall my impression was pretty positive.
Sunstars
7 rounded aperture blades result in ok  sunstars at f/16 and fuzzy sunstars before.
Bokeh
Scene 1: close focus, demanding background

Scene 2: shorter distance, lower contrast background
Scene 3: shorter distance, high contrast background
Out of-focus-highlights are rendered neutral with little outlining, even in more demanding scenarios at longer distance.
Bokeh circles are mostly clean with no obvious onion rings.
Aperture shape becomes rather obvious from f/5.6.
Cat's eyes are visible but they aren't very pronounced.
The transition zone is mostly smooth.
Not that Bokeh is a major aspect for a 24mm lens but especially because of the Tamron's close focusing ability you can blur the background quite a bit and it will rendered mostly smooth. One issue when working close though is out of focus highlights become septagons from f/5.6 on.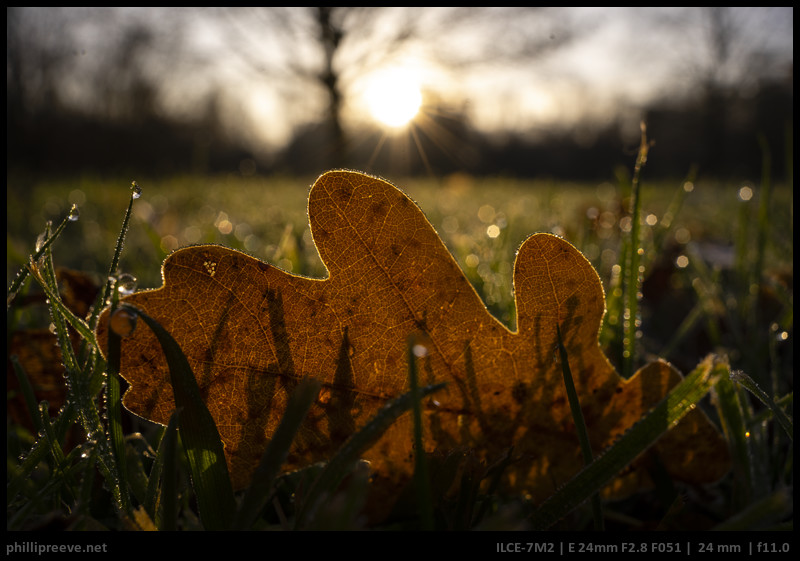 Chromatic Aberrations
LoCa are corrected very well.
Lateral CA correction is average and easily corrected electronically.
extreme corner with and without correction in LR. Lens disconnected from camera.
Vignetting
| | |
| --- | --- |
| Aperture | Vignetting |
| f/2.8 | 2.5 EV |
| f/4 | 2.2 EV |
| f/5.6 | 1.8 EV |
| f/8 | 1.7 EV |
Vignetting is pretty strong wide open and still noticeable stopped down. This characteristic is shared with most other compact wideangles like the Loxia 2.8/21.
Distortion
Distortion is beyond very high and will have to be corrected in many images. A value of +28 in LR corrects it well enough but not perfectly because distortion isn't simple barrel but complex. Probably we will se a profile which corrects it better in the future.
After correction and cropping the 24 MP image of my a7II has only 20.5 MP, which is a loss of about 15% in resolution.
Astro-Performance
will maybe be added later
Sharpness
close focusing distance
I just tested central sharpness at 1:2 magnification but it is very high from wide open with some improvement as you stop down to f/4.
infinity
f/2.8: Very good sharpness across the frame. With distortion correction corners suffer quite a bit.
f/4: Excellent to the midframe, corners also improve a bit.
f/5.6: A slight improvement in the corners.
f/8: A tad softer in the center.
f/11: Some what softer due to diffraction.
All in all an excellent performance performance for a 24mm lens. You can use f/2.8 without hesitation. f/5.6 yields across the frame sharpness competitive with the very best 21/24mm lenses which are significantly more expensive. If you take the distortion correction into account though results are less impressive. You lose 15% of the pixels and the remaining ones are noticeably softer in the corners
Alternatives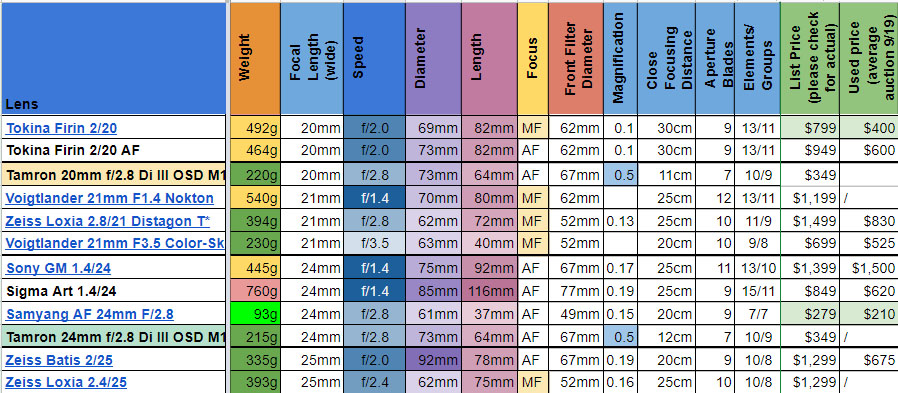 Samyang 2.8/24: A much smaller lens and at the time of this review also a more affordable one. It is significantly less sharp, comes with stronger vignetting and has worse flare resistance but distortion is well under control.
Zeiss Batis 2/25: A stop faster and optically superior because it corrects distortion well, only CA is stronger. It is 100g heavier and it is also fatter. Used prices have come down a lot but still it is nearly twice as expensive as the Tamron.
Zeiss Loxia 2.4/25: Optically superior and a lot more pleasant to handle so it is the logical choice if you want a prime lens around 24mm for landscape photography.
Voigtlander 3.5/21: Significantly wider and smaller the more expensive manual focus lens is a lot more pleasant to handle. The midframe area is less sharp than that of the Tamron but you don't need to correct distortion and can therefore expect better corners.
Sony FE 2/28: The similarly priced Sony is of course a 28mm lens and a god alternative if you are looking for a versatile wideangle prime. It isn't quite as well corrected and shares the Tamron's very high distortion. Since it is a stop faster and has no AF-Issues I find it to be significantly more versatile for reportage style photography.
Tamron 2.8/17-28: Tamron's own zoom lens is an attractive alternative to this prime since it does neither have the focus issues nor the very strong distortion and shares the otherwise good optical characteristics of the 24mm. Sure it is bigger and more expensive but also a lot more versatile so it is a much better deal.
Conclusion
pros

Sharpness (without distortion correction)

1:2 Magnification

Flare Resistance

Bokeh (mostly)

CA-correction

average

Size (relative to speed)
Build Quality
Price

cons

Distortion

AF

Manual Focus
The Tamron 24mm f/2.8 is a very sharp lens with good flare resistance and the unique feature of 1:2 magnification. While it isn't as compact as some competing primes it is still a lot smaller than any zoom covering 24mm and build quality leaves little to complain about. There are two weaknesses which weigh rather heavily in my eyes though. First is the very strong distortion which needs to be corrected for many images. Once distortion correction is applied the sharpness no longer looks that impressive but rather average. The second issue is the AF drive. The Tamron 2.8/24 is pretty slow to focus and also one of the hardest AF lenses to focus manually. In light of these compromises the price seems to be not as competitive as it might look at first.
Tamron tried to apply their usual formula to the 24mm f/2.8: Make it affordable, compact and high performance at the same time with a few trade-offs. Unlike with their f/2.8 zooms the trade-offs in this case are harder to swallow since they affect both image quality (distortion) and handling (AF/MF) so the 1:2 macro feature remains the only big plus for the Tamron. 
Recommendation
I wouldn't recommend the Tamron to many photographers. It is an easy recommendation if you want a wide angle macro. No other 24mm lens reaches such a 1:2 magnification though several zooms reach 1:4 magnification. The 7 aperture blades should be kept in mind though.
Beyond that application price is the only argument of weight I see for the Tamron. Especially if you shoot mostly nature where the distortion isn't often an issue you get a very high performance lens for your money but you will have to live with the focus issues.
I would probably prefer a smaller and more affordable Samyang 2.8/24, an all round better Batis 2/25 or Loxia 2.4/25 or a more flexible zoom like Tamron's own 2.8/17-28.
The Tamron 2.8/24 has a recommended price of $349. Check current prices at amazon.com, B&H or ebay.com. In Germany the recommended price is 429 €. Check at amazon.de. If you purchase the lens through one of these affiliate-links I get a small compensation with no additional cost to you. 
More Image Samples
Most images in this review can be found in full resolution here.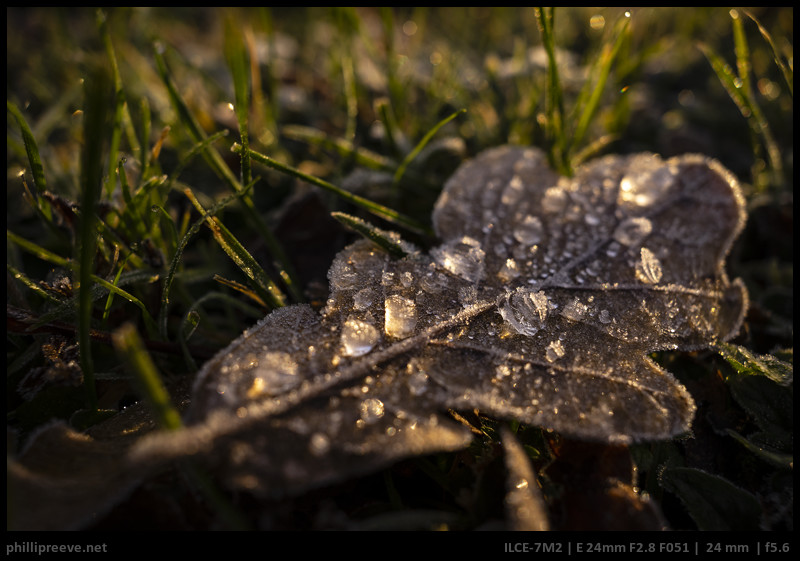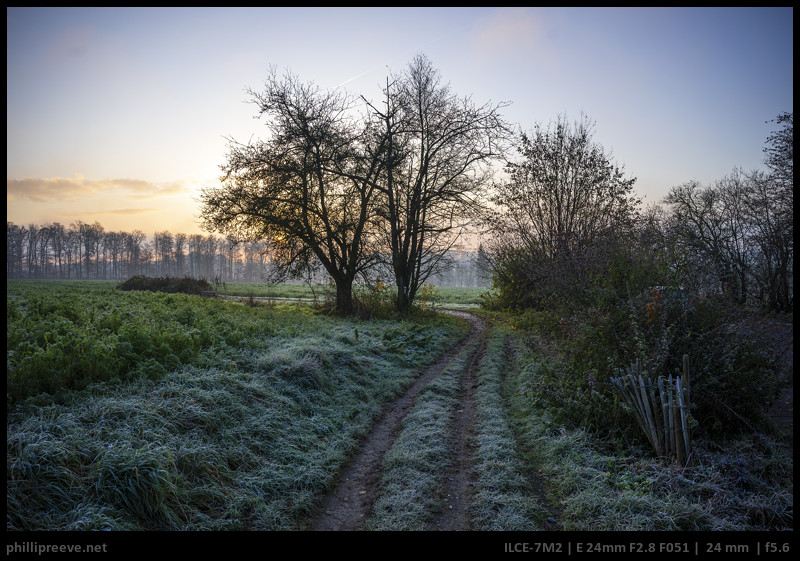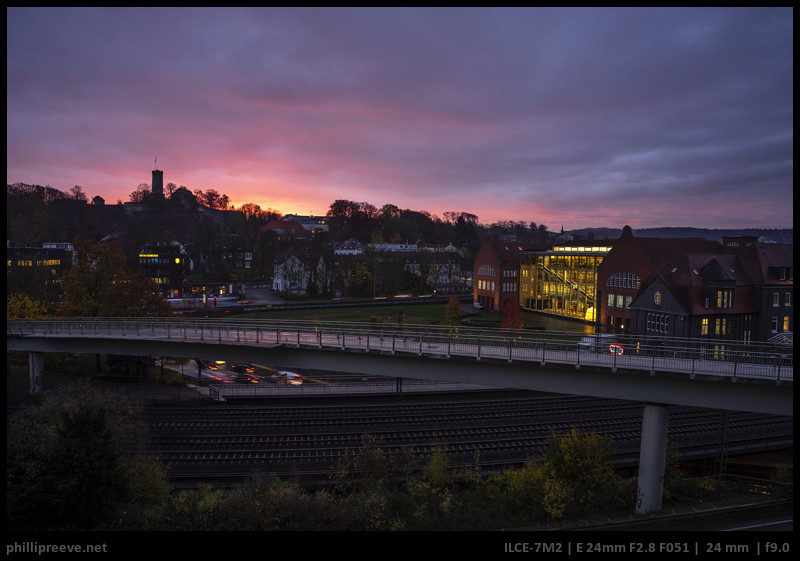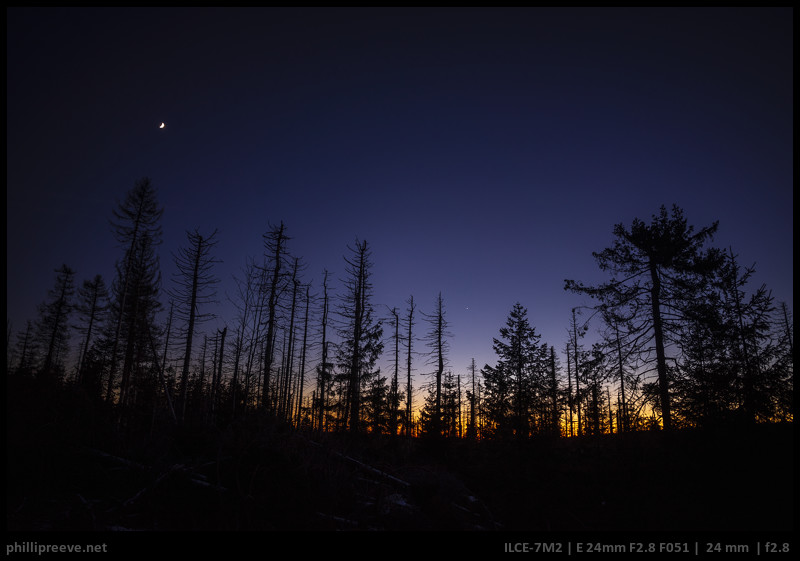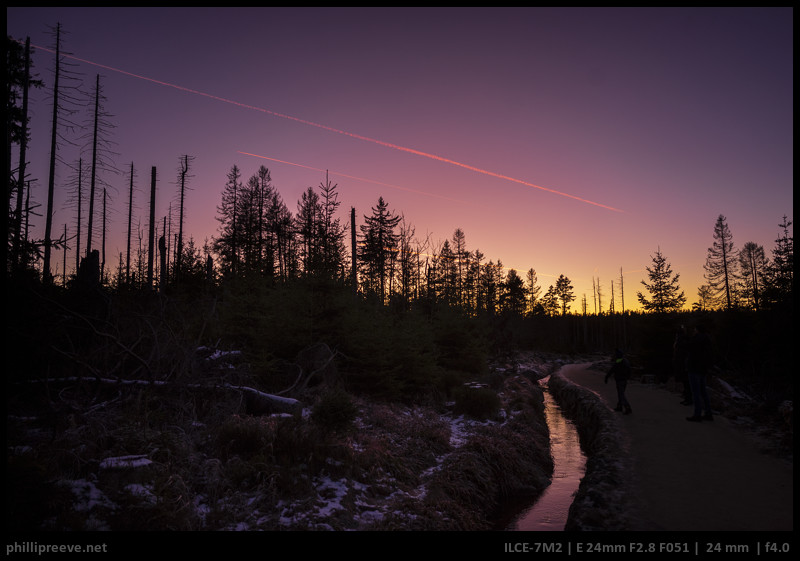 Other articles
The following two tabs change content below.
I have two hobbies: Photography and photographic gear. Both are related only to a small degree.
Latest posts by Phillip Reeve (see all)