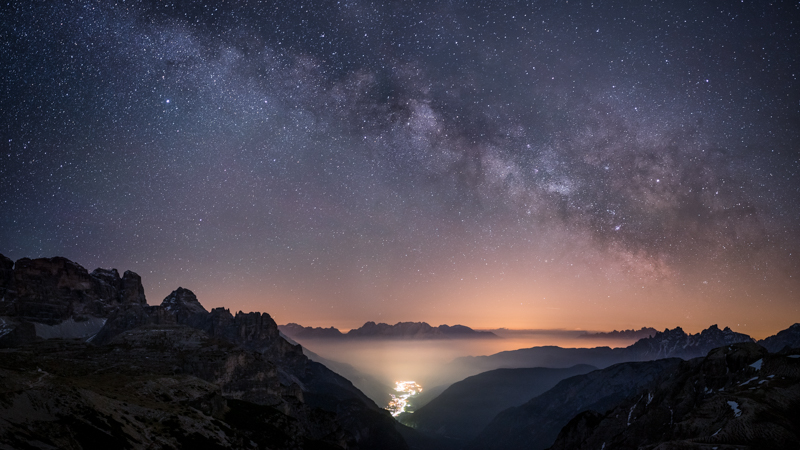 For decent Milky Way shots you need really good conditions – which don't come often – and a good location. Regarding the latter I decided to go for the Dolomites in Italy, so I followed the weather forecast for quite some time and one weekend the conditions were finally said to be what I needed, so I decided to go there and challenge my luck…
In the Bag
As I wasn't bound by airline carry on restrictions this time I brought a little more gear than usual. For astrophotography I carried my trustworthy Mindshiftgear rotation 180 panorama* backpack. In the belt comparment I was carrying my A7s, Zeiss Loxia 21mm 2.8, Voigtlander VM 35mm 1.7 + 5m filter and my Samyang 14mm 2.8. I also carried a very sturdy Gitzo Series 4 tripod and of course a remote trigger.
Before the shot
The Dolomites are roughly a 5 hours drive away from where I live, so I checked the weather forecast to show at least two days in a row with no clouds. Of course it also had to be around new moon to capture the Milky Way at its best.
I scouted the area from afternoon right into the evening to see what spot might work best. Before that I also checked in which direction the Milky Way will appear. There are several Apps that will help you to figure this out, I use Stellarium.
This shot was taken at the end of the blue hour, I quite liked the valley with the small town in the middle: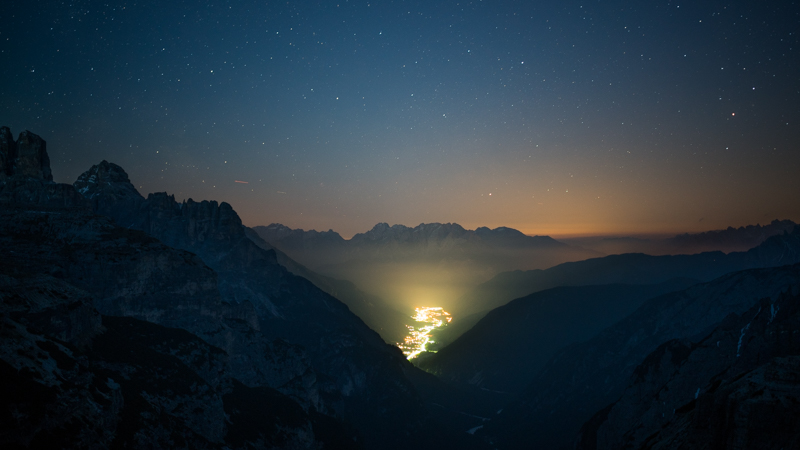 So I decided to come back later, when the Milky Way spans over the valley.
Taking the shot
When doing astrophotography I always use my A7s, shadow noise and dynamic range at higher ISO are still worlds ahead of the A7rII. For these type of shot I also almost always take panoramas as these will significantly increase the quality of the final image (and also the pixel count of course).
This was the first time I used the Voigtlander 35mm 1.7 + 5m filter for astrophotography. As can be seen in my 35mm comparison coma correction isn't exactly perfect, but stars are far less demanding than cityscapes so I decided to give it a try.
All my bigger tripods have a rotating plate on top (see also this article) so I can easily take panoramic shots. As there wasn't something very close to the camera in the frame a nodal rail wasn't necessary in the first place.
Here I decided to take an array of 2×2 shots, of course all with the same settings: f/1.7, ISO3200 and 15s: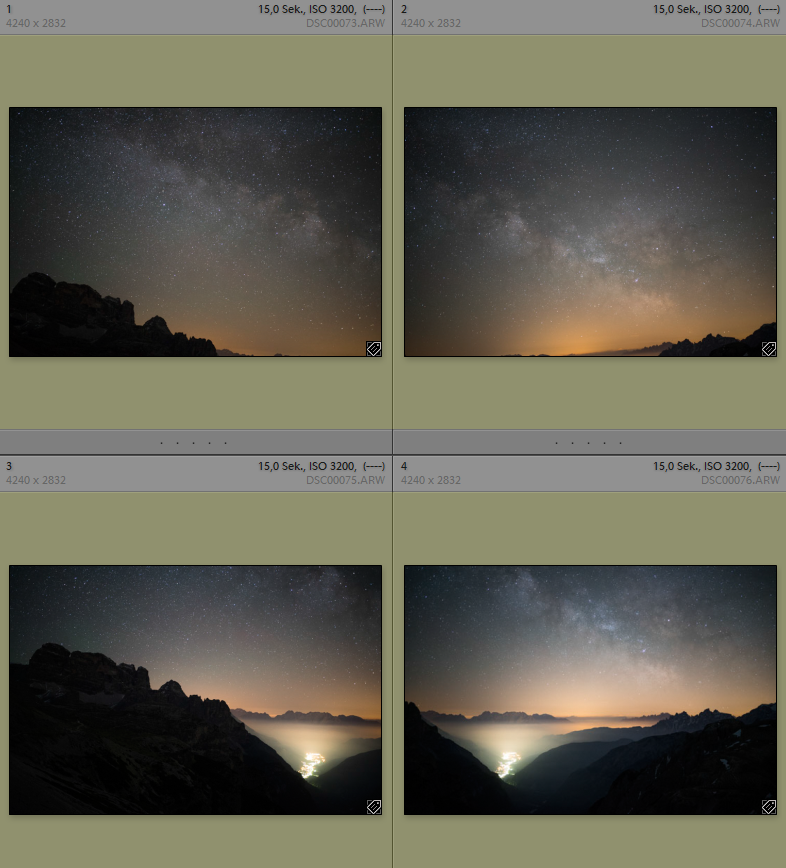 I exposed for the highlights (town) to not blow them out and lose too much information there. Also 15s is actually a bit too long for a 35mm lens and the stars will already become short streaks, but this will hardly be noticeable in the final image.
After the shot
Nowadays it is possible to create panoramas directly in Lightroom, this offers a few benefits as you don't have to adjust white balance to match each of the shots before combining them and you won't loose any information which often happens when using external software. This is the still unedited panorama in Lightroom: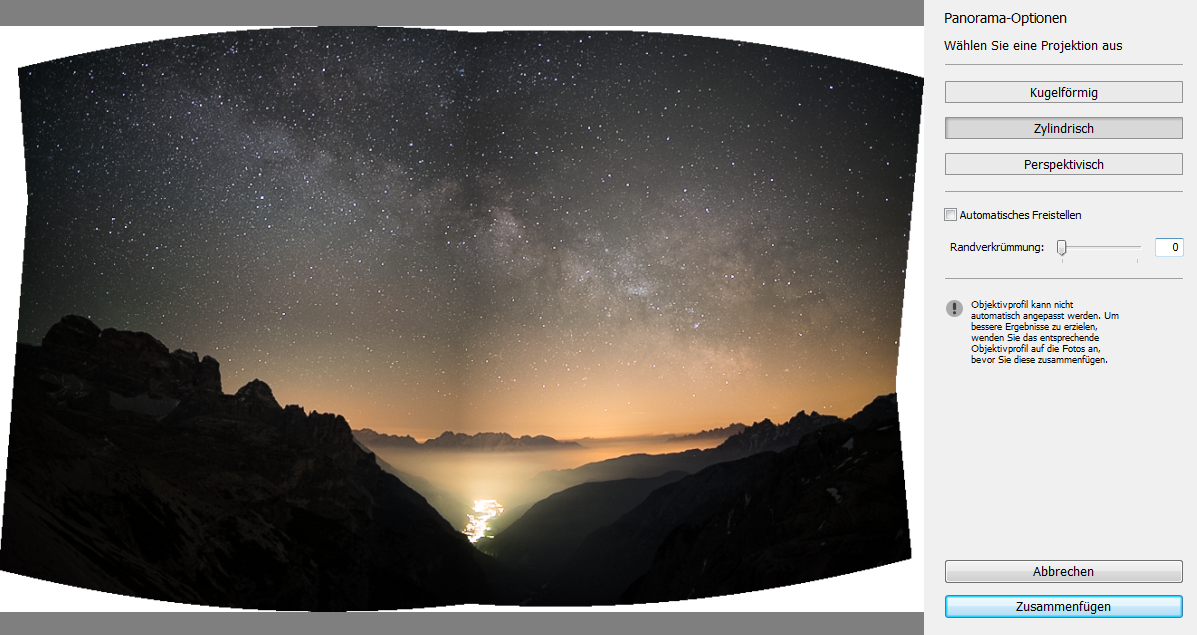 Unfortunately there is no decent profile for the Voigtlander 35mm 1.7 to correct vignetting, so you will see dark seams where the single images connect. Furthermore the horizon is bend as the camera wasn't leveled.
But before addressing these issues let's have a look at the global settings I chose for this shot:

I also did some alterations to the blue color: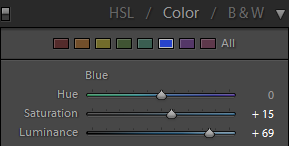 We still have to address the seams between the single images though, which I did by the use of the local adjustment brush (slightly increased exposure):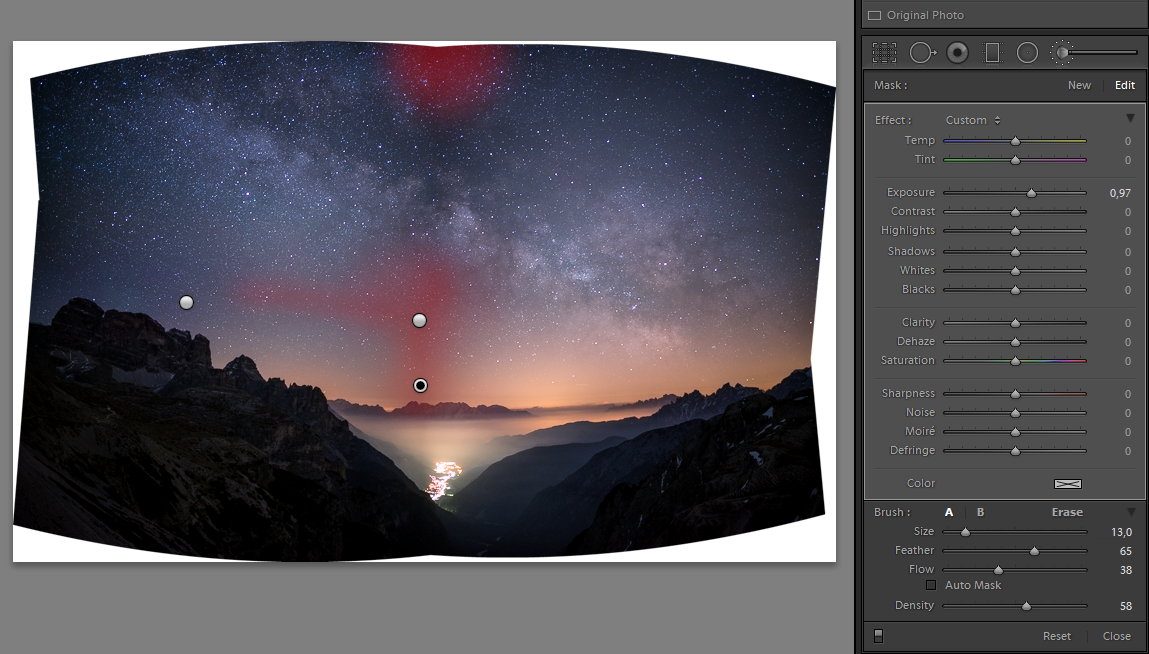 I also corrected some green color near the left border this way.
I improved the outcome of the Milky Way with a local brush as well, called "Night – Enhance Milky Way" created by David Kingham, which can be downloaded here.
PS: David's presets and tutorials are very good, so be sure to check them out!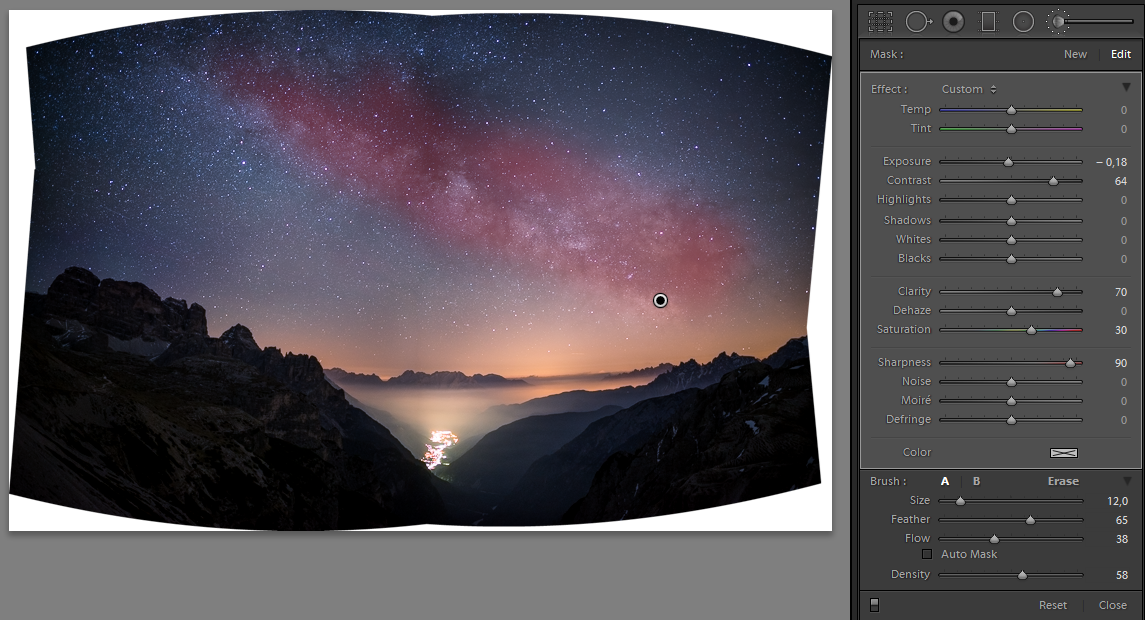 This leaves us with the bend horizon. To correct this I will use Photoshop's "Adaptive Wide Angle Correction":

This is pretty straightforwarded, you just draw a line from the left border to the right along the bend horizon and tell photoshop this is a horizontal line: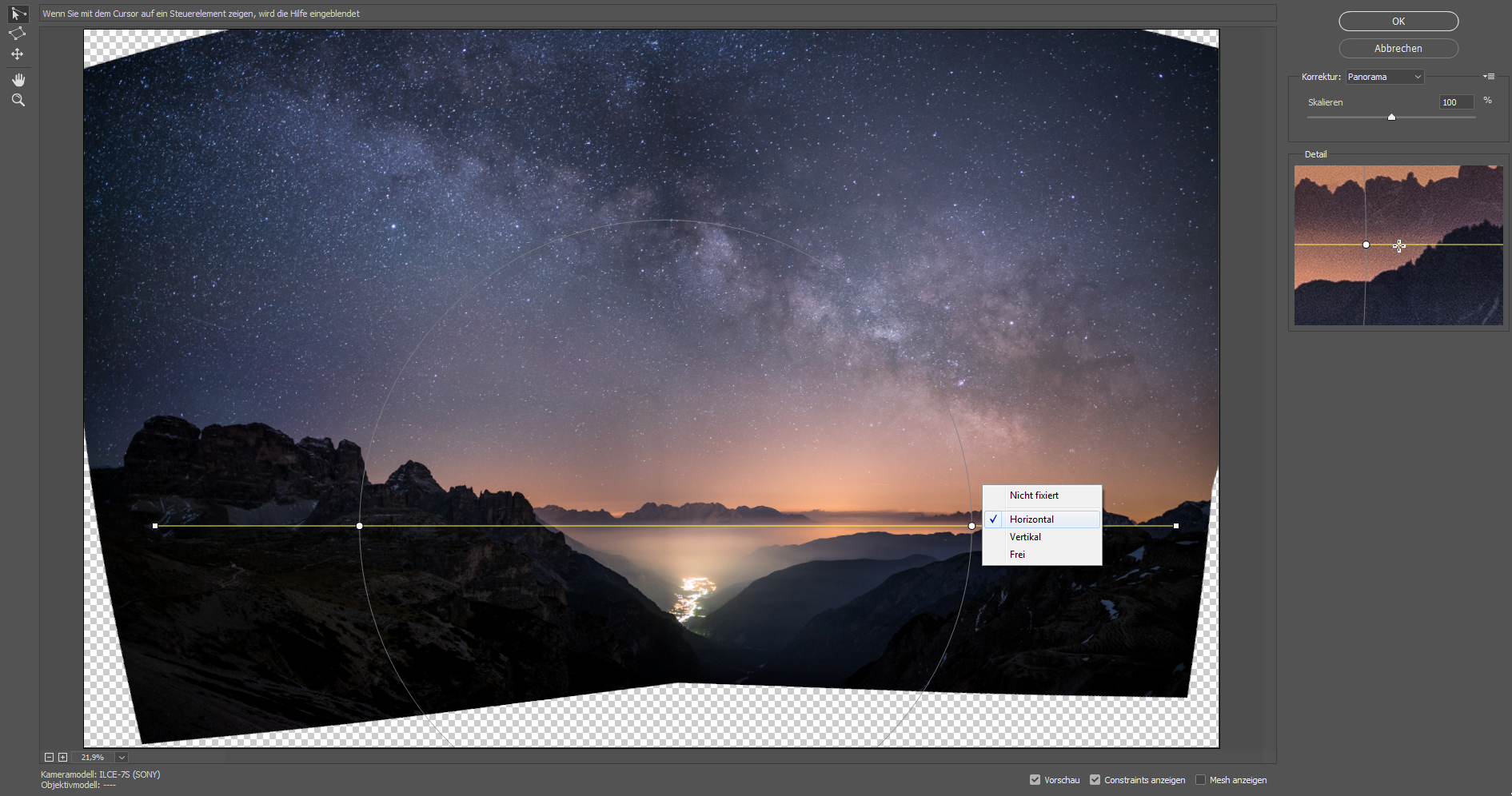 Now the image can be cropped to the desired ratio and that's about it!
Final image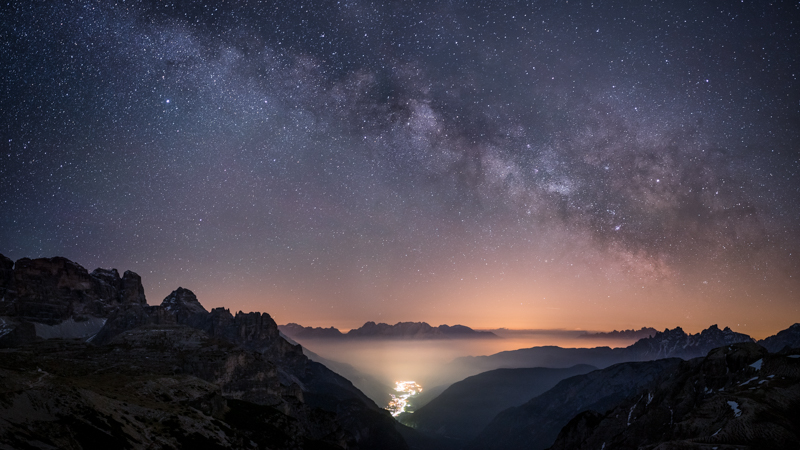 This is the final image as I uploaded it to flickr.
Other Articles
Support Us
Did you find this article useful or just liked reading it? Treat us to a coffee!


via Paypal
The following two tabs change content below.
My name is Bastian and I am your expert here when it comes to ultra wide angle lenses, super fast portrait lenses (ranging from a 50mm f/0.95 to a 200mm f/1.8) and I also have reviewed way too many 35mm lenses. Don't ask me anything about macro or wildlife shooting though.